OMG – you'll never want to shop for dungarees anywhere else again.
We're reaching to 1-year mark for the pandemic and there's one this I know for sure: I can never go back to uncomfy outfits. I live in soft, stretchy things now. And dungarees are the PERFECT outfit to wear on the couch, but also cute enough for errands or even happy hours (yes, I would wear these dungarees out on the town wit heels and a fun top!)
I Found the CUTEST Womens Dungarees For You!
My purple dungarees are from Lucy & Yak. They're a small business that makes simply the best clothes that are size-inclusive AND has a focus on paying workers livable wages and being as sustainable as possible in the production. For all this, they're only $75 a pair (Waaa?!), ship fast and come in so many different colors, patterns, and sizes. I went with the purple/pink pair of their classic dungarees style.
There's actually gender-neutral, so if you're looking for mens dungarees you can find styles available here for you, too!
WTF Are Dungarees?
Yeah, I was wondering that too because I have never encountered that word before. Robin, my husband, knew exactly what they are, though: overalls. Specifically, they originated as denim overalls, though Lucy and Yak make them out of a few different types of fabric for anyone who's not a fan of denim.
Denim dungarees originated in India and eventually made their way over to Europe and then the United States. Levi started producing overall jumpsuits for workers and the word "dungarees" was a bit lost in the American vocabulary,y but it's important to know this garment style has been around for ages and wasn't invented by Levi Strauss.
Why I Love Lucy And Yak
I think Lucy and Yak make simple the best dungarees for women out there. There's a few different companies that specialize in women's overalls and dungarees. Carhartt is an example – but their styles look more appropriate for old timey railroad work, not for a 21st-century gal on her apartment couch writing all day.
Luck and Yak has mastered taking the dungarees and transforming it into a fashion modern cut. They have a few different dungarees styles and denim washes. I'm wearing the original in these photos, which is a corduroy material. It's really soft and has tons of pockets (YASS POCKETS).
I loved this light purple color, which is so different from traditional dungarees (which tend to be brown or black). This style also comes in blue, orange, pink, yellow, red even, to match your wardrobe perfectly.
On top of making cute AF dungarees, Lucy and Yak also makes other clothing too! They have shorts, shirts, dresses, scrubs and traditional jumpsuits/boilersuits. Browse all their styles here, and sale styles here.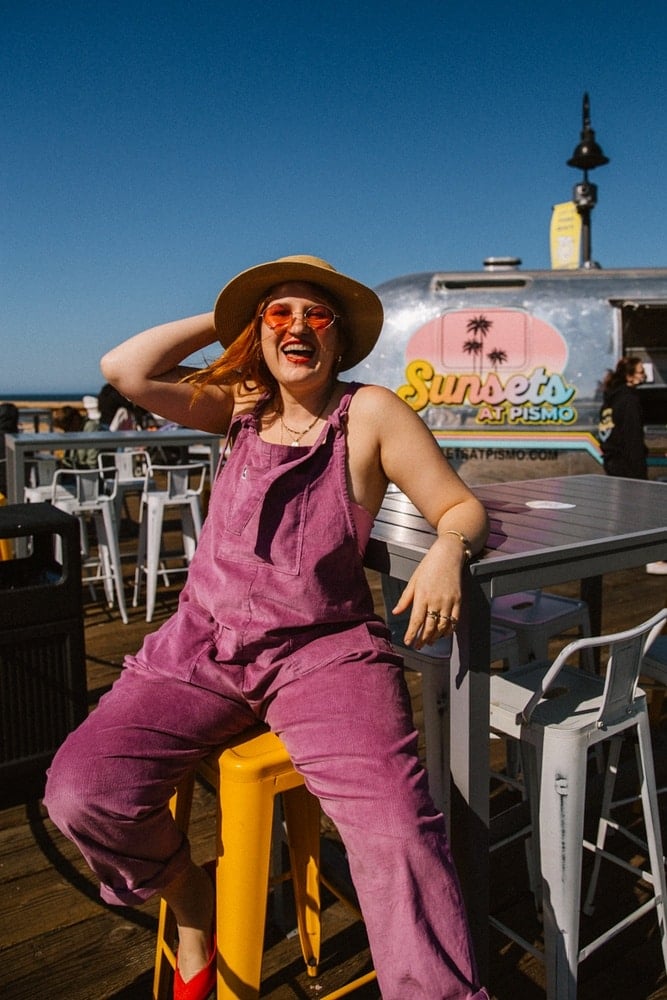 Lucy and Yak goes up to size 22L. I'm wearing a 16R in here, but I kinda wish I sized down to 14 or even 12 — they're roomy! On that note, I don't think they have officially maternity sizes but if you're looking for comfy outfits to wear while pregnant, just size up a couple of notches and get yourself some Lucy and Yak. You'll love them.
This is my official warning for any frequent blog readers: I will be buying more dungarees this year. I may just never wear anything else again, they're that comfy and cute.
Do you wear dungarees? Do you have a favorite brand to shout out? Drop a comment below so everyone can see! Got questions? Comment or DM me on Instagram @thewhimsysoul and I'll be happy to help!
More Fashion Posts You'll Love