Here in our household, we love our Taco Tuesdays.
Lately, we've been really into making margaritas or tequila-based cocktails to pair with our tacos. A few weeks ago we tried chili salt on our rims but were itching to drink a totally new style of margarita. I put my amazing foodie husband to the challenge and boy, he did deliver on one tasty AF yet super easy cocktail recipe. And I'm sharing it with you here!
5 Minute Tequila Basil Cocktail Recipe (SO DANG TASTY!)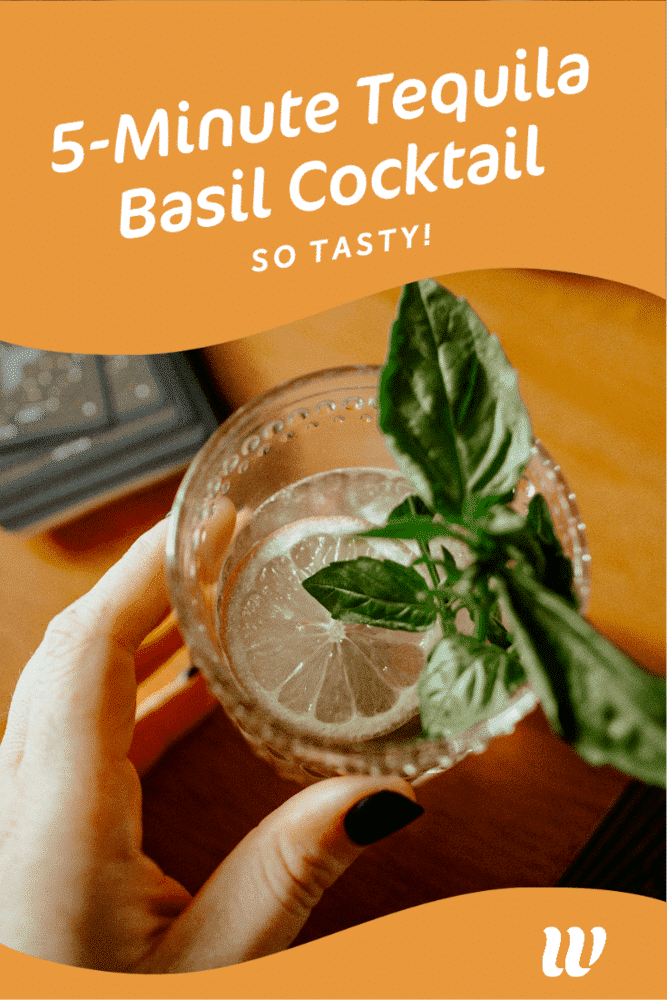 >> Got a question about this recipe or anything else that you need answered quickly? DM me on Instagram @thewhimsysoul and I'll be happy to help!
We had picked up a bunch of fresh basil for a vodka sauce and were wondering what interesting things we could make with basil tequila. Like, does that even go together?!
It's been warmer here in San Francisco and pretty sunny, so it sort of feels like summer. Plus, right now with the shutdown, we have a LOT of time on our hands to play around with ingredients and make a unique basil margarita recipe.
This one uses Reposado tequila, which is a special kind of tequila. Reposado means "rested" in Spanish and, as you can guess, this kind of tequila is aged anywhere from 2 months to a year before they are bottled. Because of this, the liquor takes on a nice gold color from the barrels and tends to take on notes of oak and vanilla.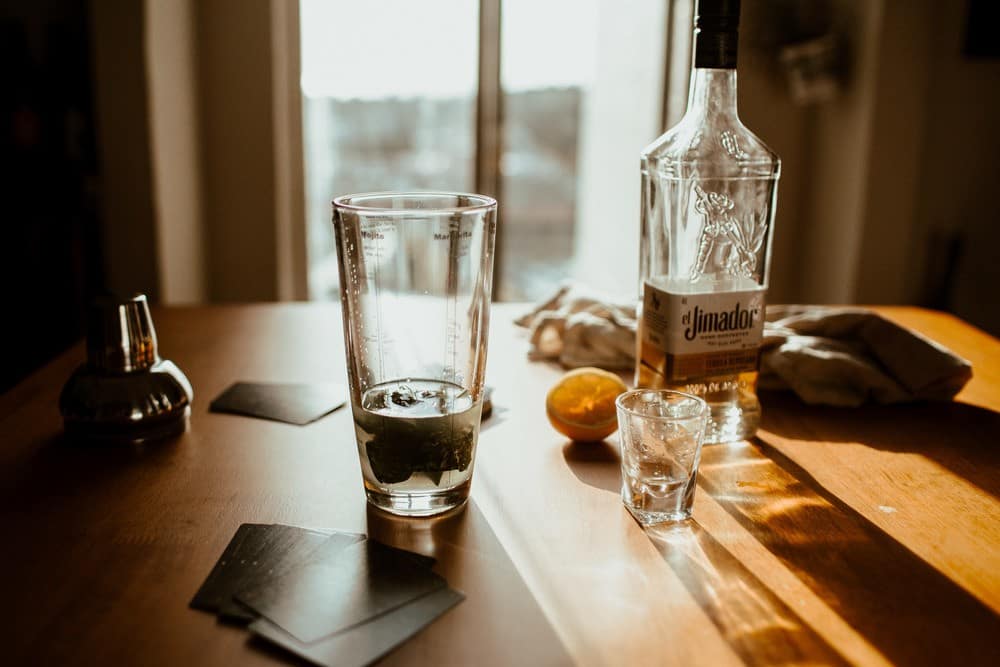 While you can make this cocktail recipe with any kind of tequila in a pinch (or you know, lockdown) I recommend you pick up some Reposado tequila on your next grocery run. Here we're using Jimador but we're currently testing out different tequila brands to see which one is best. (Got a favorite? Leave a comment below so we can see!)
As I promised, this cocktail takes very little time to make. You start by taking 6 leaves of fresh basil to make a double and place those in your cocktail shaker. Grab a muddler, or a long spoon if you don't have a muddler (we don't, but adding that to my shopping list!)
Muddling is important to release the flavors of herbs into a glass. The concept is to shred or press the leaves almost into a pulp so the essential oils are transferred to your shaker, which will then be transferred into your cocktail (but without the pulp!)
Next, add the lemon juice. Yes, that's right – this cocktail recipe doesn't use fresh lime juice but instead lemon! Basil pairs with lemon better than lime and tequila totally goes with lemon citrus, too.
Now, add the tequila, simple syrup, bitters, ice cubes and SHAKE THAT BABY to mix everything together. The drink should be a bit cold after being shaken with ice, but put a few ice cubes in your serving glass, too.
Then simply pour out the drink into your glass and top with a few more bitters shakes and a sprig of fresh basil. BOOM, you're done and ready to party!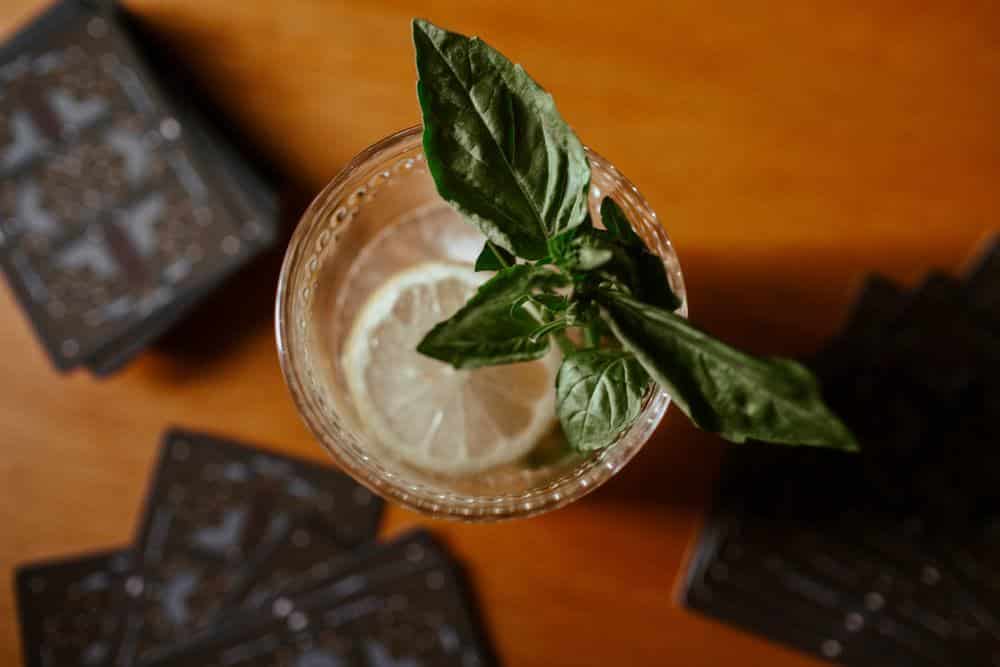 >> Pairing Tip: Pair this cocktail with any Mexican food, but it also drinks well on its own for happy hour!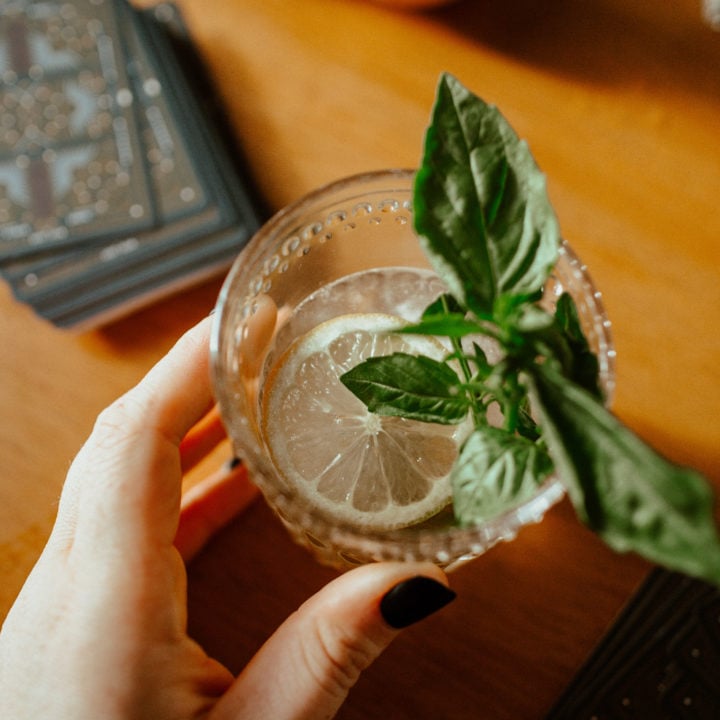 5-Minute Tequila Basil Cocktail Recipe
Looking for a unique margarita? This Reposado tequila basil cocktail is tasty but easy to make. It uses lemons instead of lime juice and is the perfect addition to any Taco Tuesday or solo for happy hour!
Ingredients
6 fresh basil leaves
1.5 oz fresh lemon juice
1 oz simple syrup
4 oz tequila
12 dashes of Bitters
Ice cubes
Extra fresh basil sprigs (for garnish)
Instructions
Place 6 basil leaves in your cocktail shaker & muddle them.
Juice your lemons & add the fresh lemon juice.
Add the tequila.
Add 2 dashes bitters.
Add at least 5 ice cubes to the cocktail shaker & SHAKE IT well.
Place the desired amount of ice cubes into your serving glasses and pour out the mixture into your glasses.
Top each glass with 5 more bitters shakes each.
Top with a sprig of fresh basil for garnish. Add a lemon slice if desired.

ENJOY!
Notes
While you can make this cocktail recipe with any kind of tequila in a pinch, I recommend you pick up some Reposado tequila on your next grocery run!
Recommended Products
As an Amazon Associate and member of other affiliate programs, I earn from qualifying purchases.
Nutrition Information:
Yield:

2
Serving Size:

1
Amount Per Serving:
Calories:

169
Total Fat:

0g
Saturated Fat:

0g
Trans Fat:

0g
Unsaturated Fat:

0g
Cholesterol:

0mg
Sodium:

1mg
Carbohydrates:

8g
Fiber:

0g
Sugar:

7g
Protein:

0g
Skip The Wine — 3 Other Cocktails & Recipes You May Like: