There's a cold wave in San Francisco right now and it's making me WEAK. See, I grew up in Wisconsin where cold meant -30 degree winters but I must admit, there is just something about Bay Area fog that chills you to the bone…
I own more coats and jackets now, living in California than I ever did while living in the Midwest. I counted more than 10 last time I was in my closet…Does that make me a coat expert? You know what, I'm going to take that title and run with it.
You may be seeing ads for spring lines coming out but it's barely February people. This is the coldest month and if you haven't gotten yourself a good coat yet, I got you covered! No need to break to bank to stay warm AND chic this winter with my favorite H&M coats under $60.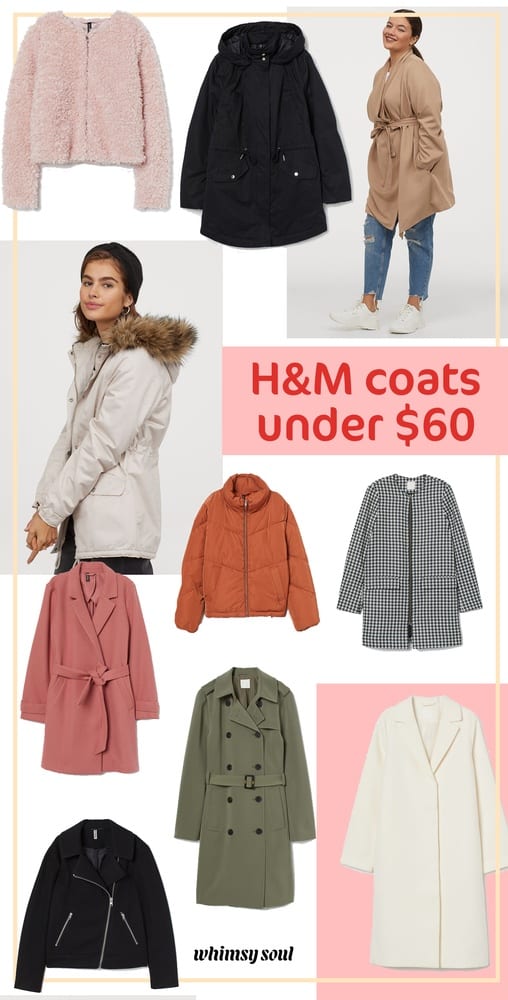 I have all sorts of coats. There's the heavy-duty parkas and hoods for any winter trip back home. Chic, classy coats for date nights, a few medium-weight ones for everyday wear, a sherpa jacket for when I'm feeling funky, a few rain jackets, a puffer jacket for hikes and man.. I could go on and on (there's more). I really do have a coat problem.
I like to stay warm, ok?!
Some of my favorite coats are the ones I bought from H&M, which is one of my go-to stores for anything trendy but affordable. This season I'm seeing a lot of blush-colored coats which I'm all about. I'm having a total pink moment right now.
Whatever coat catches your eye, I hope it helps you stay warm and stylish this winter!