We walked up to our campsite and my jaw dropped — you could see the Golden Gate Bridge poking between the trees, right behind where our tent would go.
Getting reservations at Kirby Cove Campground is almost like a competitive sport — but if you snag one, it's going to be one of the coolest California camping experiences you'll have. In this post, I'm sharing more photos and tips for camping at Kirby Cove!
>> Got a question about camping that you need answered quickly? DM me on Instagram @thewhimsysoul and I'll be happy to help!
I've been hiking to Kirby Cove for years to soak up Bay views and swing on the famous Kirby Cove swing, but I've never been able to get a campsite reservation. Until now.
There's only 5 campsites and, because it's such a cool spot that's literally right across the water from San Francisco, it's a highly competitive campground. Slots open up about 3 months in advance and usually fill within minutes.
Last Tuesday, Robin and I checked in at 1pm and left around 11:30am, staying almost a full day just hanging out at the campsite and beach. We walked along the water a lot, found a cool little sea cave, read books, people watched hikers, drank twilight beers on the beach and fell asleep under an (almost) full moon. It was everything I had hoped camping here would be.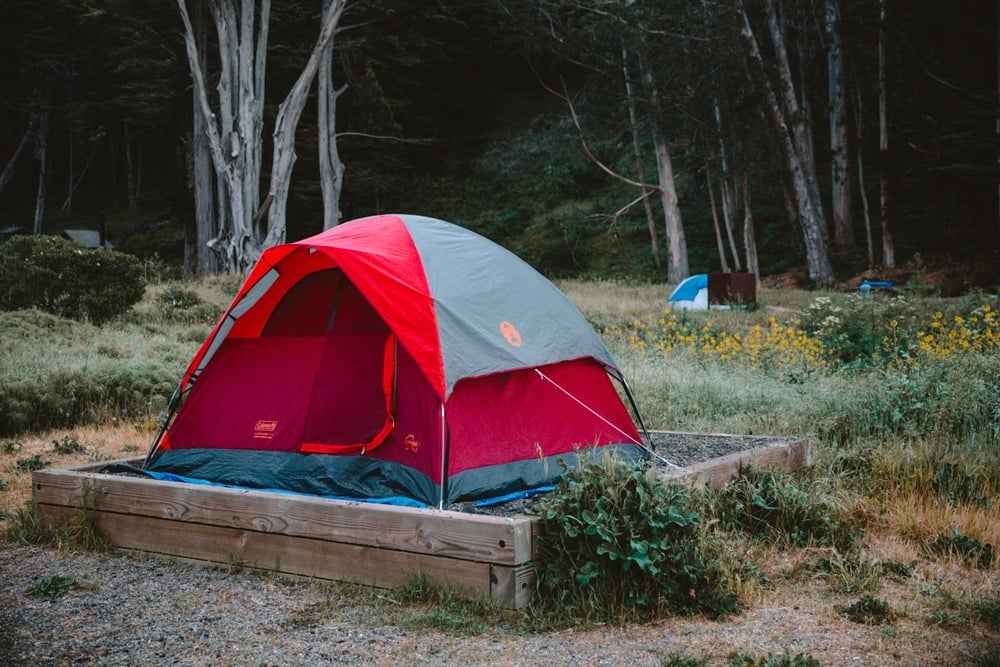 Where Is Kirby Cove Campground?
It's in the Marin Headlands to the West of the Golden Gate Bridge and the East of Point Bonito Lighthouse. You access it via Conzelman Road. There's a little gravel road off of Battery Spencer that you either hike down or drive down if you are camping. It's about a mile long and winds down the mountain to the campground and beach.
You can van camp here in the parking lot, but you still need to reserve a campground.
How To Get A Kirby Cove Camping Reservation
Sites can be booked up to 3 months in advance. To get one, you have two options. First, you can set your calendar for the first of the month to try and snag a site on Recreation.Gov here. I'm not sure if they go live at midnight or sometime in the morning (if you know and are reading this, please leave a comment below so everyone can see!)
OR, you can try and get a last-minute cancellation, which is what we did. I randomly checked the reservation site and happened to get really lucky — a site had opened up! And we were free on that night! I booked it ASAP. We didn't have a choice in the site number but I honestly think we got the best site in the campground.
I don't believe there is any camping in San Francisco, so this is quite literally the closest thing you can get. I think this site is amazing for experienced campers and newbies alike, especially for anyone you're camping with that doesn't have a car. You literally can Uber here from the city if you needed to.
What Is The Best Kirby Cove Campground?
There are 5 sites and one day-use site (all need reservations, even the day-use.) We stayed in site #2, which I loved because you could see the Golden Gate Bridge and the bay from the picnic tables so it made for great boat watching and morning views of the San Francisco bay.
It's also close to the beach and Battery Kirby, so you can quickly pop down to the water to hang out or crab fish. It was a little windy but nothing to crazy.
#5 was next to ours and nice as well, but shadier and not as great of views. #3 is further away from the beach and lower down, so it's a bit more blocked by the wind which is nice, but no views of the bay. #4 is the worse one in my opinion — it's crammed way up in the trees, but could be good if you are looking for a lot of privacy.
#1 is a hit or miss. It's right on the bluff on the beach, it's as close to the water as you can get. The site itself sits behind a mound to be blocked by the wind (yay!) and there's a picnic table on top of the mound so you can eat with a sweeping view of the bay RIGHT THERE.
The only time this isn't ideal is when the rope swing is up, as you'll have a constant stream of people in your campsite visiting. If that happens to you, I would urge you to be nice during the and let them swing, as the swing is so fleeting and a rare thing to find.
Important! Bring Your Own Water!
The campsite is part of the Golden Gate National Recreation Area in the Marin Headlands, so it's managed a bit differently than campsites in national parks like Lassen. For instance, the national park service in those big parks are pretty hands-on to clear out trash and bathrooms, and the sites will have water.
But here at Kirby Cove, there's no water pumps, no onsite staff. There is a fire pit and plenty of tables, along with one trash can for the area, and bear locker (which really isn't for bears here but instead other wildlife like raccoons.)
The only slightly annoying part about camping here is you have to bring in all your own water. Since we live in the Bay Area (like, a legit 20-minute drive away) and were only staying for one night, we resolved to not wash the dishes until we got home. But if you are staying longer than one night, make sure you pack not only enough water for cooking and drinking, but also for cleaning AND some for the firepit. For reference, we brought 4 gallons and used 3.
NOTE: hide your valuables. Many hikers come through the campsite throughout the day to visit Kirby Cove beach, so if you leave things (like a camera) out on your campsite table and walk away, it might not be there when you get back.
When you camp, you get to drive down and park. If you've hiked the Kirby Cove Trail before you probably remember walking past a locked gate — campers get a gate code and have permission to drive down. But the beach is still public and anyone can hike down anytime.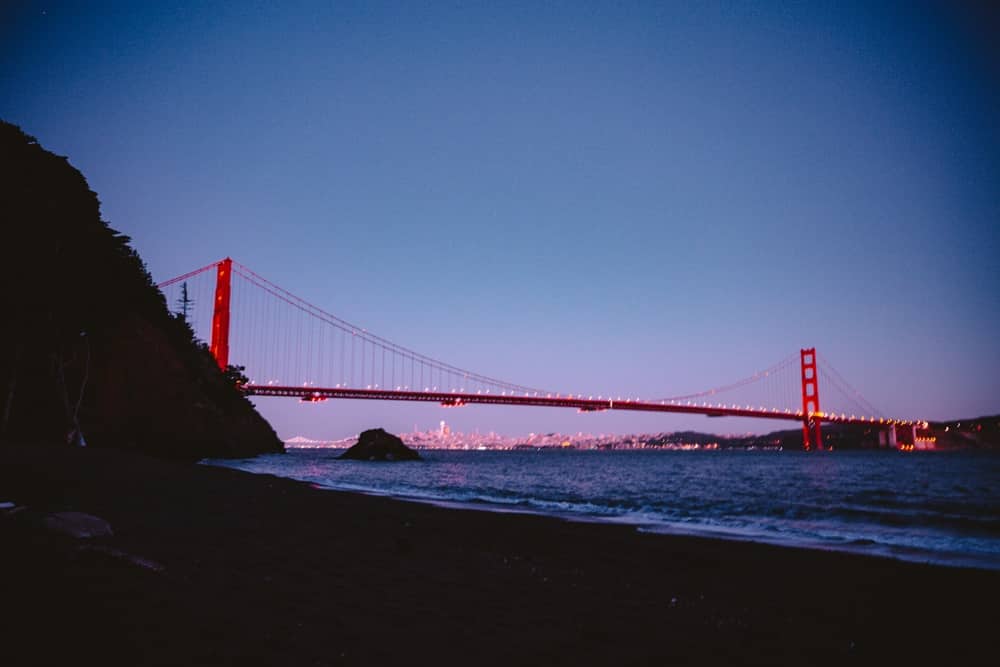 What To Pack For Kirby Cove
As mentioned above, more water than you think you need!! Kirby Cove weather is a little all over the place, but expect it to be warm in the day and foggy AF at night. Fog = cold, so bring a thick sleeping bag and extra blankets. You won't have to hike down to the site but you will have to carry things about 200 feet from the parking lot to our site, so keep that in mind when packing.
Shorts + t-shirt for the day
Rothy's slides (easy to take off when you go into your tent)
Beanie (to wear in the tent at night)
Leggings for sleeping
Pair of socks for the night (keep the toes warm!)
Hand lotion + hand santizier
Waterbottles + at least 3 gallons water
Beer, wine, etc
Bottle opener
Cooler with ice
Cooking stove + fuel
Tea kettle
Ground coffee
Meals you plan on making
Firewood
Lighter
Extra blankets
Paper towels
The fog will leave everything damp in the morning so don't leave clothes outside at night!
My Favorite Camping Outfits
When camping, I love to pack a variety of outfits. At night, I prefer to wear black leggings or skinny jeans around the fire with boots and a warm sweater that I don't mind smoke getting on. During the day I like wearing dresses or skirts, there's something really fun about being feminine while camping.
I always wear slides, like Rothy's, that are easy to take on and off plus pack a pair of boots for around the fire. Embers can fly out and boots protect your feet!
Shop My Camping Style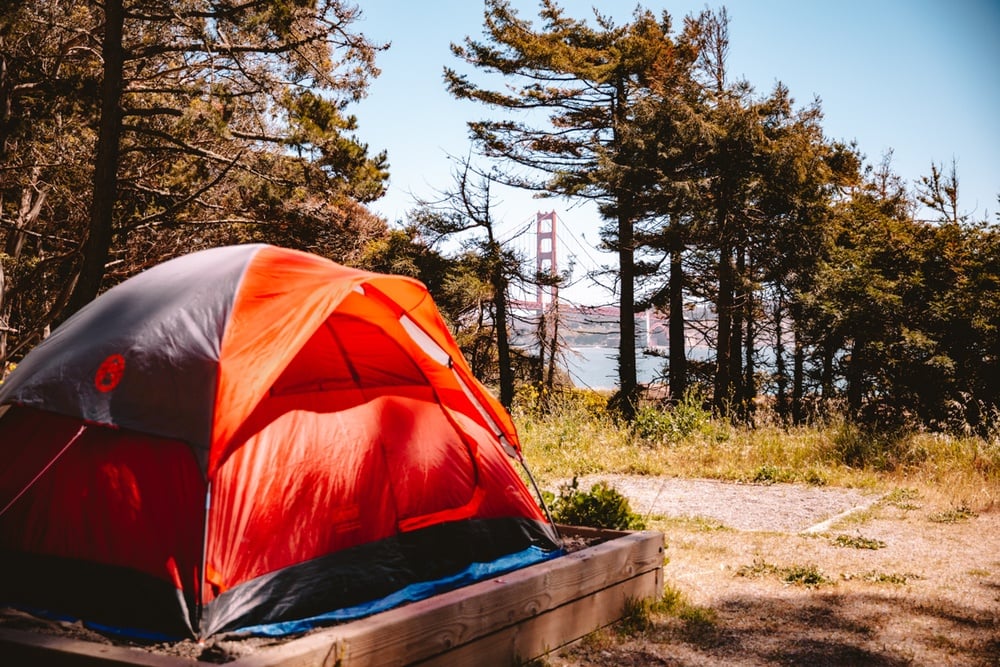 Looking for more fun parks in the area? Check out Golden Gate National Parks Conservancy website to learn about all the area parks, camping and hikes! A nearby favorite of mine is Muir Woods, where you can Redwoods!! If you like kayaking, considering doing a morning kayak paddle in Sausalito before checking into your campsite.
I hope you're able to get a Kirby campsite reservation!! I'm also on the prowl again because a few of my friends want to camp here too. The sites can fit up to 4 tents each so I think it would be such a fun group camping trip!! I'll keep you posted if I luck out.
If you have any questions, drop a comment below or DM me on Instagram @thewhimsysoul and I'll be happy to help!