Robin and I were running ahead of schedule, so on our way to the stables, we pulled into the Smith Rock State Park visitor center lot just to check it out. And we were instantly bombarded with cars vying for limited spots and people spilling out onto the trailhead.
Smith Rock State Park gets over a million visitors each summer season, and it's a beautiful park so I can't blame everyone for wanting to experience it. But I was happy we had a trail ride already booked just a few miles away on the other side of the canyon so we could soak in the beauty of the rocks without all the chaos.
When planning our Central Oregon travel to Bend, I knew I wanted to hike Smith Rock State Park. Hey, it's one of the 7 wonders of Oregon after all. (My favorite wonder has to be the Painted Hills – they feel like Mars!)
But then I started looking into Smith Rock and realized the most popular trail is called Misery Ridge and is a straight-up incline on the side of one of the red rocks (which I can do but isn't my favorite way to hike.) Everyone on AllTrails also mentioned that the park gets really busy on weekends and I knew we would be in the area on a Saturday.
Just a few weeks before we did a horseback ride through the desert near Mesa, Arizona and I wondered if there was a nearby ranch offering horseback riding. Smith Rock Trail Rides is located just on the other side of the Crooked River Canyon and offers daily tours. BINGO.
After feeling very overwhelmed at the crowded visitor center, we made our way to Smith Rock Trail Rides to check-in for our afternoon with the horses. The ride out was peaceful, with hardly any cars, and we when we pulled up we were greeted by the ranch owner and the other group doing on the trail ride with us (and a few farm dogs eager for belly rubs.) Already this was 1000% times more relaxed.
What To Expect Horseback Riding Smith Rock State Park
As with any horseback riding company, they'll gather your height, weight and skill level prior to the trail ride so they can pick the right horse for you. All the horses are experienced trail horses who are well trained and used to the park's trails.
I rode Slim, an 18-year-old spunky guy, and Robin rode Dreamer, the lead Mare who's all white and absolutely beautiful. We checked in, got a quick lesson on how to hold reins and off we went.
The ranch is located maybe a mile or so from the State Park boundary well away from the trailhead, so there's hardly anyone out there minus a lone rock climber or two. I loved this. I can't stress enough how stunning it is to be trotting on a horse flanked by towering rocks with views of snow-capped Mount Bachelor, Broken Top and The Sisters in the distance.
Book yourself horseback riding Smith Rock here on their website!
Frequently Asked Questions About Horseback Riding In Oregon
What Should I Wear Horseback Riding Oregon?
After our trail ride in Arizona I had major fomo over our guide's cowboy hat and immediately drove myself to a Boot Barn to buy myself my own white cowboy hat. And let me tell you, it's super fun to wear one while riding horses, especially out here in this amazing landscape.
Hats aside, you'll need closed-toed boots to ride. Horses are also dusty so I prefer to wear black leggings, denim jeans or overalls (anything that's sturdy and can be easily washed). Lastly, you'll want something with pockets that you can easily grab your phone out of for photos as you won't be permitted to wear your purse or backpack on a horse.
How Often Do They Give Tours?
Smith Rock Trail Ride does just one trail ride a day in order to not overwork their horses. So, if you know what day you want to visit it's best to book sooner rather than later.
We visited in March at the beginning of their season so our trail ride was at Noon, but come summertime the rides will probably be closer to 9am to avoid the summer heat.
Will We Go Fast On The Horses?
The fastest you might go is a light trot if the horses fall behind and need to catch up a little. Or sometimes they just really like to trot almost like a form of play. My horse was low-key crushing on the guide's horse, so we could quicken his pace to stay close to her.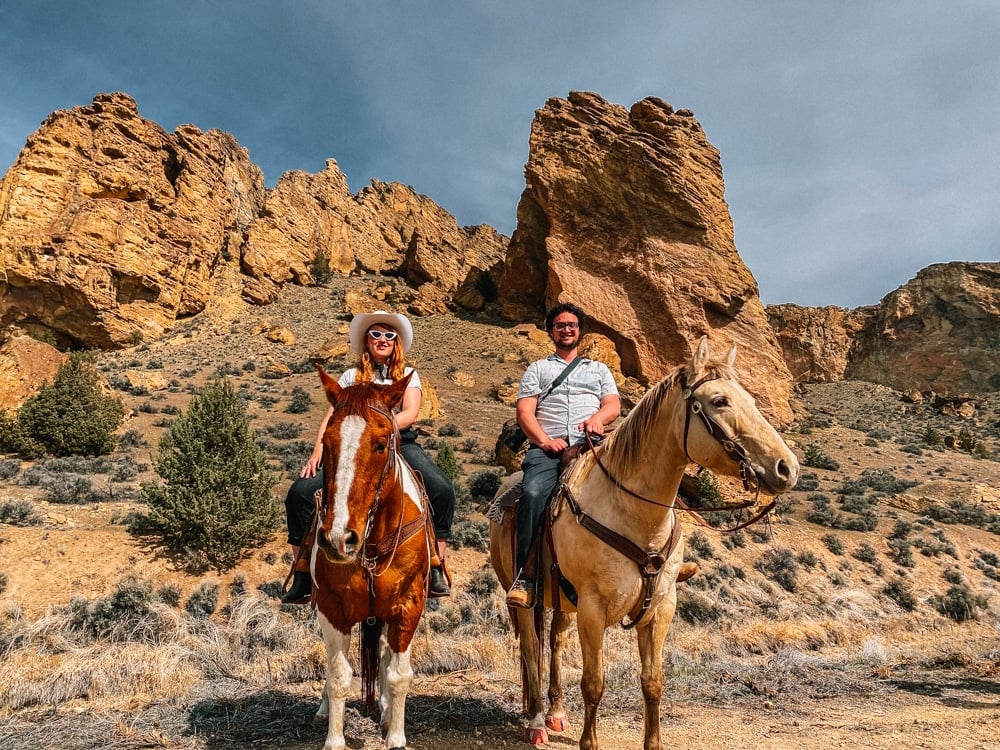 Can I Bring My Camera?
You can, but you'll need to wear it sans the camera bag for safety. Robin is our photographer and rode with it around his neck. He's had practice stabilizing it while on a horse and keeping it safe from bumps while trotting (he got a lot of practice when we visited Greenhorn Ranch).
Basically what I'm saying is, bringing a nice DSLR is risky on a horse, especially if you aren't used to riding. I would strongly urge you to just use your phone. Plus, the guide will stop you at a couple of scenic spots and take photos of you!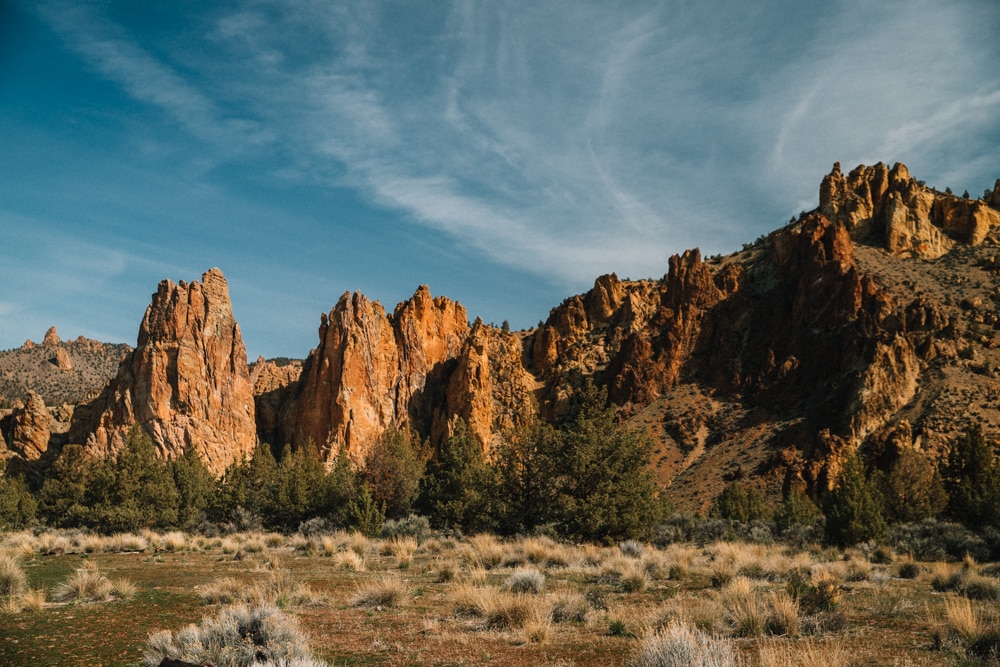 I think Smith Rock horseback riding is such a unique way to experience the park. We lucked out on perfect 70-degree weather, but it gets hot here in the summer and personally, I hate hiking in harsh heat. Instead, you do these Oregon trail rides around the park to soak in nature while the horse does the hard work for you.