Hotel Los Gatos is in the charming Silicon Valley city of Los Gatos, a community full of trees, Victorian style houses, a small but bustling food scene and a hop away from some of the best Santa Cruz Mountain wineries. When you're on the hunt for an oasis to retreat to after a day exploring, Hotel Los Gatos has you covered.
Location: Los Gatos, CA
Type: Hotel
IG Rating: 2/5 aesthetics
Good For: Couples
This hotel made me feel like I took a step into Italy. The Tuscon Villa aesthetics are beautifully executed, and it helps that Los Gatos is typically much warmer than up here in San Francisco, so the sunny weather helps visitors feel like they really are in Europe. From the painted tiles in the courtyard to the blue waters of the pool and even the ivy covering the front of the building, Hotel Los Gatos is undoubtly beautiful.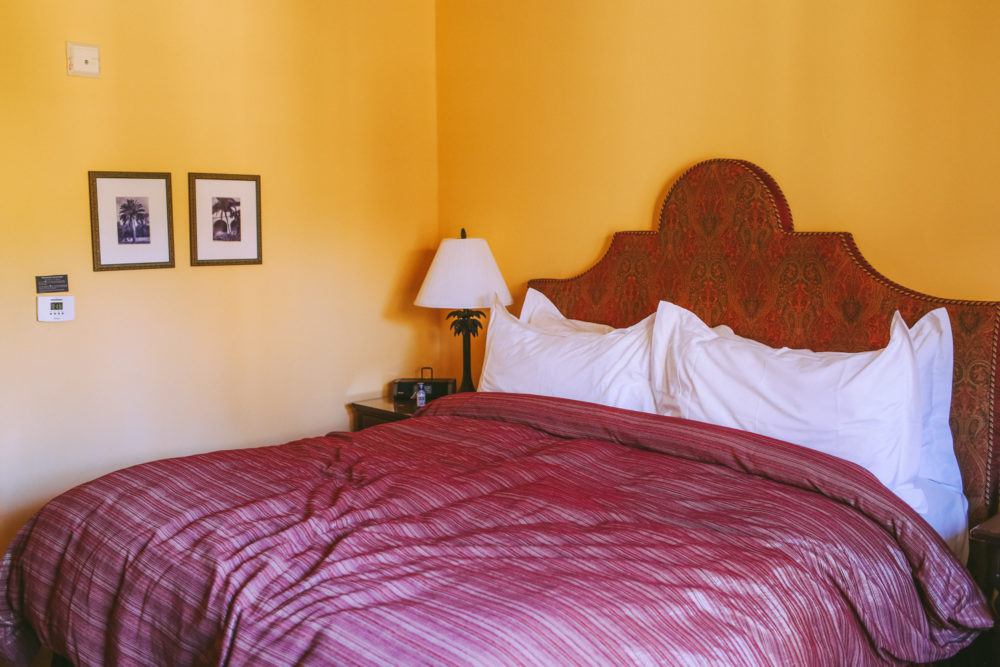 This Greystone family hotel is dog friendly (score!) and has all the perks you want after a weekend wine tasting (like a pool, open courtyard, a spa and a Michelin Star restaurant!
We drove down from San Francisco and were greeted by warm, sunny weather. I immediately headed to the pool to soak up all the sunshine we famously don't have up in San Francisco (it is the foggy city after all!) We had a spacious room on the second floor overlooking the courtyard and pool. I think these are the best rooms. Private but still lets you people watch everything happening in the courtyard.
Ask for a courtyard facing room to people watch at night.
We had dinner at Dio Deka, the onsite Michelin Star restaurant. I happened to be craving Greek and Mediterranean cuisine that day and boy did the menu deliver! I especailly loved the Manouri Rollo – I could write love notes to the tomato sauce in this dish. We also really enjoyed their house-made pita bread that paired oh so well with Htipiti. This dish was topped with saffron that I accidentally ate all in one bite (sorry to my husband who didn't get to try to the saffron. Opps!)
No matter what you order at Dio Deka, you'll love it.
All the rooms have balconies. My husband and I bought a bottle of wine to share in the fresh air. We played trivia as we watched the sunset behind the hills, and later the string lights in the courtyard twinkle in the breeze. It made for such a relaxing end to a great day!
Hotel Los Gatos Amenities
Bring your swimsuit for a late night hot tub soak!
High Speed Internet
Daily Housekeeping
Complimentary Parking
Triple-Sheeted Bedding And Down Comforters
Flat Screen TV
Fully-Stocked Honor Bar
Intelity In-Room Service Tablet
24-Hour Front Desk Staff
In-Room Dining Service
Concierge Services
Room Service
Book On Your Preferred Platform Now!