Over 4 years ago my now-husband and I packed up our tiny car and left Wisconsin for a new chapter of our lives in San Francisco. We were fresh out of college and had no jobs, no apartment lined up and didn't know anyone in the city. Oh, and here's the kicker – I've never even been to San Francisco when we decided we wanted to move here.
I get asked all the time online and in real life the same question: Why did you leave the Midwest and move to San Francisco?
I usually joke and say something like "we were tired of all the cold winters!" which is partially true but there's so much more that went into our decision around moving to San Francisco after college. It was probably the hardest thing I ever did (those first few months living in San Francisco were ROUGH) but it's one of the things I'm most proud of myself for having the courage to do.
>> Got questions about moving to San Francisco or a new city? Let's chat on Instagram @thewhimsysoul!
It all started on my porch the summer after Senior Year in college. I was living in Minneapolis since that's where I went to college and Robin had moved in with me and my roommate a few months earlier. We had this awesome, huge two bedroom apartment with a porch, a parking spot, laundry, tons of natural light and it was so dang cheap compared to what we pay now! Like, I can't believe I used to think our Minneapolis apartment rent was high like omg, little Kara was so naive!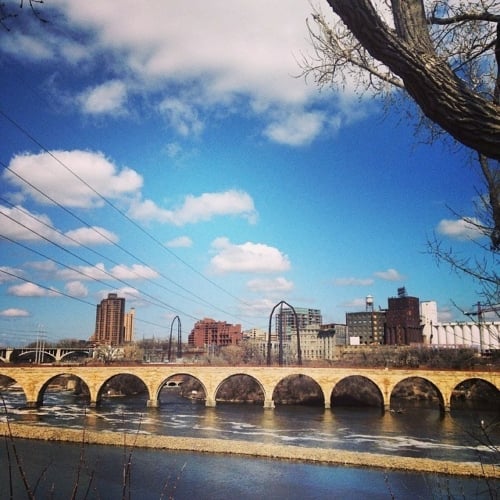 I double majored in art and advertising in college. back then I was set on becoming an art director at an ad agency. I was having one of those "just graduated WTF do I do with my life now" sort of crisis. (Adulting is hard!) I was having a big internal struggle with figuring out if I wanted to stay in the Twin Cities or move. And if I moved, where do I move to?
Almost all my friends were staying in Minneapolis. They were turning their summer internships into actual jobs or already had gigs set up for post-graduation. And while I was applying and interviewing around town, I just couldn't shake the feeling that I wasn't meant to stay in Minneapolis or even Wisconsin where I grew up.
It was this gut feeling that there was more in life than what I was comfortable in. I just knew that I could do better, greater things for myself if I left.
My husband, Robin, and I love porches. We don't have one here in San Francisco, but dang, I loved our porch on at our Como Ave apartment in Minneapolis. I loved having morning coffee and watching people go to class. Almost every night we had drinks or tea on the porch, watching the sunset over the city. It's there we chatted almost nightly about what exactly we wanted to do with our lives.
One night we would chat seriously about moving to New York City – I did sleep next to a poster of the skyline all throughout college and I always sort of thought I would end up there. (Spoiler alert, didn't take my first trip to New York City until just last year.) The next night, I'd be scouring the job boards in Austin and trying to convince Robin that the heat won't be so bad, or looking up apartments in Seattle, or Portland, San Antonio or Miami or Boulder…
(Thing is, we've now traveled to most of the cities we considered moving to due to travel blogging! Funny how the universe works.)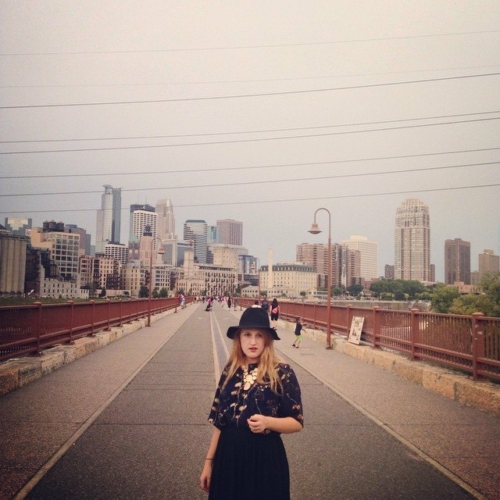 My main goal was to head to a city that had a decent amount of ad agencies, as that was my end goal. San Francisco wasn't on our list. I can't tell you why, but it was never a city I even thought about. It just wasn't on my radar over here in the Midwest. But it came up in conversation one night after Robin vetoed the idea of living in Los Angeles. (Side note, very happy we did NOT move to LA as I'm pretty sure I would hate it.)
Looking back I realize that San Francisco life was sort of Inception-ed into me. There are SO many classic 2000's romantic comedy movies that take part around the Bay Area, if only for a few scenes. It was a city that was always in the background for me, just waiting. During our LA conversation, we realized we really liked the idea of living in California.
New York City has so many job opportunities, sure, but I wasn't so keen on moving to another city with winters. After dealing with a polar vortex winter for -16 degrees for an entire month, I loved the idea of moving to California and escaping these freezing temps, if only for a while. So when we decided LA and even San Diego wasn't a good fit, I pulled open a map of the state and was like like "Oh, what about San Francisco?!")
Yes, really, that was how we picked San Francisco. On a whim. I swear to god. That night I started googling more about the city. I found pictures of the Painted Ladies, Golden Gate Park and of course, the Golden Gate Bridge. I looked at the job boards and saw that were SO MANY agencies in the city, which got me excited. I started dreaming about catching cable car to my fancy San Francisco office, jetting past colorful houses and soaking in California sunshine (read why that's not such an accurate thing here.)
And then I looked at the average rent prices in San Francisco.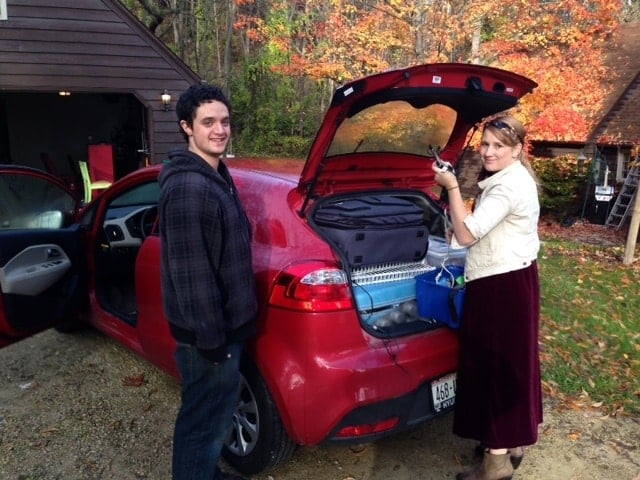 Moving to San Francisco without a job is not something I recommend to people. I remember that day when I realized "Oh shit, the cost of living in San Francisco is HIGH." But to be honest – and this is probably due to my young stubbornness – I didn't think San Francisco living costs should stand in our way of moving there. It just felt right. If I was older, I probably would have been a tad smarter and not moved to a city that cost triple what I was living in, but I was young and could take the risks.
I knew it would be hard to find an apartment, but I had about $12,000 saved up and the more I thought about a San Francisco move, the more I liked the idea. (Spoiler alert – we spent almost $10,000 on our first, last and deposited on our apartment, so if you are moving here, you'll need at least that much in savings to get settled.)
But really, it all just felt right. I had spent the whole summer thinking about where in the world I wanted to live and having a quarter life crisis in a way. And when I decided that moving to the Bay Area was a solid option, that gut feeling told me YES. That's really my other main point of advice.
If you are thinking of moving (anywhere, doesn't have to be San Francisco) you need to listen to your gut. If your gut says it's time to move, you should listen to it. If your gut says you won't like living in a certain city, keep looking until you get the right fit.
Luckily, Robin has an aunt who lives in the East Bay and she was kind enough to let us crash at her house after our road trip across the country until we found an apartment. We literally couldn't have made this move possible without her generosity. I remember the day we asked her. Robin casually mentioned how he's only been to the San Francisco Bay Area a few times and that was to visit his aunt who lives in the area. I was like "HOLD UP – you have family over there?! Why didn't you say anything earlier?!" We were struggling to figure out how to move to San Francisco without an apartment lined up and that was our major roadblock in the move.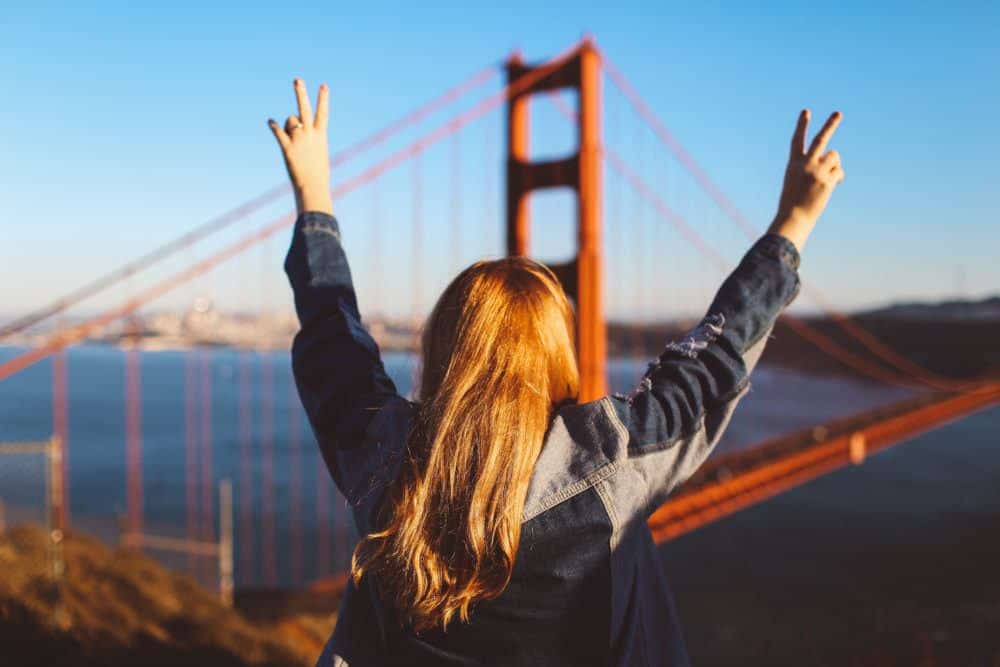 Most people are moving to San Francisco from NYC (or so it feels like) and find it much easier to apartment hunt as they usually have jobs and a solid income in place to show landlords. Us? A college degree and a big savings account was not enough. It took us over two months to find an apartment because it's on a whole other level of tough here.
We made ourselves little intro packets to give to landlords during apartment showings (and we weren't the only ones – I actually picked this idea up from a couple touring the same unit as us one day.)This packet had our photos and bio to read along with resumes. I had copies of my bank statements to prove we had money and letters of references from past landlords from college. But it's hard competing against tech workers who can out pay us every time.
We eventually lucked out were offered an apartment in the Sunset Neighborhood and we're still in the same apartment four years later (hello rent control, we're not leaving!) As I mentioned at the start of this post, those first few months in San Francisco were so hard. It's mostly because I didn't know anyone other than my husband, so I was pretty lonely.
I was doing intense job hunting and it was hard getting turned down when I had such an expensive rent looming over my head. We were pretty broke as we spent all our money on our first, last and deposit. We literally slept on a futon mattress for the first year of living in San Francisco because we couldn't afford a real bed. We didn't eat a lot because food is expensive. Our apartment was so dang empty.
That's when I started blogging here at Whimsy Soul. I really needed a distraction and something to fuel my creative energy into. As you know, I did find a job. I spent a few years working with startups in the city and also Silicon Valley before eventually leaving that world to work on Whimsy Soul fulltime.
If you are trying to figure out "should I move to San Francisco?" I say trust your gut. I won't sugar coat it – moving to this city is HARD. San Francisco is only 47 square miles there's a lack of space and the real estate market here is insane. (Want to buy a house here? For 800k you can maybe buy a FLOOR in a house in Noe Valley, not the whole house!)
The homeless people crisis here is really bad and the weather throws some people for a loop (it's really foggy and chilly here in summer but I personally enjoy the stable weather compared to freak blizzards!) I do miss having a porch, but there's so many nice things about living in San Francisco.
I find San Franciscans are really nice. We get people from all over the world living here so the city is full of cultural diversity. It's actually pretty easy to make friends here as so many people are transplants also looking for friends. I love how each neighborhood is different. You can feel like you're traveling the world without ever leaving the city. Craving Pho? Head to the Richmond. Dumplings? Chinatown. Italian? North Beach! Mexican? The Mission! A killer cup of coffee? Ocean beach!
>> Follow me on Instagram
@thewhimsysoul
for tons of California travel ideas!
If you want a day trip, there are SO MANY fun things to do near the Bay Area. Wine country is 45 minutes North. You can drive to Mendocino, one of my favorite places in the United States. You can head to Yosemite National Park and sleep in a glamping tent under Glacier Point. Or, up to Lake Tahoe and spend a few days in a cabin by the water. Go horseback riding at the only dude ranch in the state, go hunting for hot springs in the Sierra Nevadas. You can go camping in Big Sur or visit the fairytale town of Carmel. If you have a car, head down the coast to Santa Barbara or even as far as San Diego for the best fish tacos on the coast.
Life in San Francisco is awesome, but it's not without its struggles, especially now that we are working for ourselves so we don't have that consistent paycheck as most people do in this city. But moving to SF was the best thing I ever did. I would do it all over again if I had to.
If your gut is telling you that it's time to move on from your current chapter in your life, listen to it. It's not going to be easy. So many friends and family will question you and probably try to talk you out of moving away but if you know it's what you need to do, you need to do it. That leap of courage can utterly change your life, like it has changed mine. Is moving to San Francisco worth it? 10000000x yes!
If you want to chat more about how to live in San Francisco or moving to a new city, leave a comment below or DM me on Instagram @thewhimsysoul!
Other Posts You May Like