When you're visiting Berlin and want a hotel that elevates your trip – one that has luxury amenities like a sauna but also some of the best food in the city at your fingertips – Hotel Palace Berlin is the spot for you.
I just came back from a girl's trip to Berlin to soak up both the last bits of autumn in the city, but also hit the Christmas markets early over Thanksgiving break.
We stayed at the Hotel Palace Berlin hotel and I honestly can't think of a better place to make home base for a trip to the city.
Hotel Palace Berlin At A Glance
Location
: Budapester Str. 45 (near the Zoologischer Garten station)
Best for
: girls trips, couples, business
Try the
: sauna on winter days & cocktails at House Of Gin
Book directly at the hotel or on hotels.com to earn rewards nights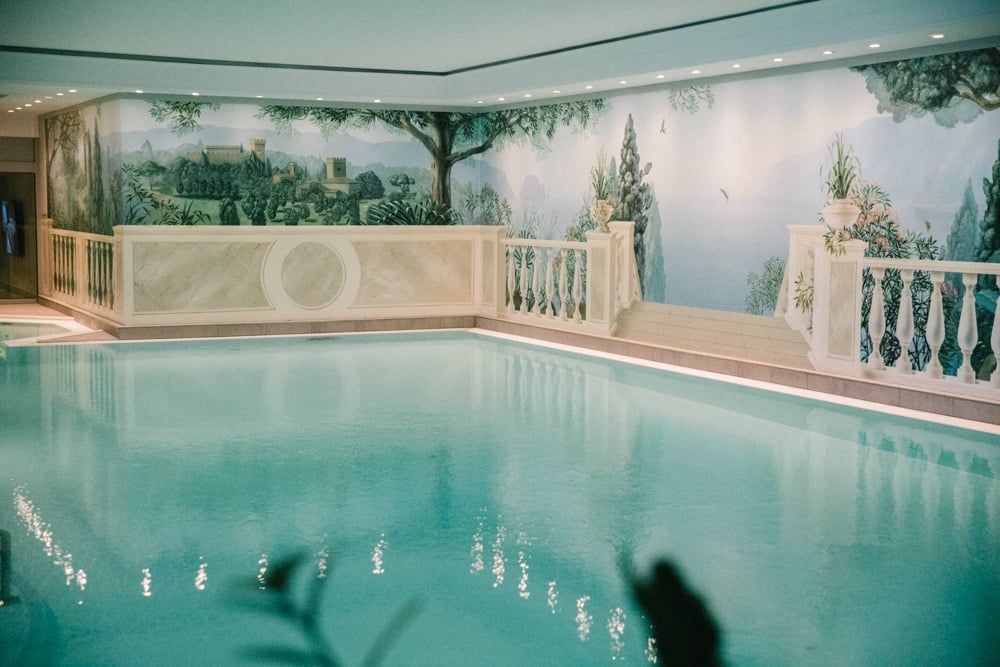 After a long 18+ hour travel day from San Francisco to Berlin, we were exhausted as we rolled our luggage out of the Zoologischer Garten train station but instantly felt wired awake when we suddenly found ourselves in the middle of a classic German Christmas market.
Hotel Palace Berlin is literally right next door to Gedächtniskirche, an old famous church that has, what we learned later, one of the best Christmas markets in the city.
As we rolled over to the hotel lobby lounge, things just got better. Incredibly welcoming front desk staff (complete with little candies guests are welcome to take, and I stashed a few in my coat pocket for later).
As two women traveling, we appreciated the elevators that required key card access for an extra layer of security as we made out way up to the top floor of one of the senior suites. We couldn't tell that evening, but our room looked out at the Christmas Market on one side, and Tiergarten and the Victory Column on the other.
The latter still had fall foliage and it was a special treat to see autumn through one window and Christmas through the other. Most other hotels in Berlin can't give you that.
Hotel Palace Berlin Ammeneites
Wifi
Standard rooms and suites available
Robes & slippers in room
Room service
Blackout currents
Key card access elevators
Spa area with pool and sauna
Gym
Club lounge access
Free breakfast
Close to major train stations
Fast check-in & check-out process
Beef 45 restaurant on-site
Hotel Gin bar on-site
Bon Dia Restaurant on-site
24 hour front desk
Children stay free
Dog friendly
Conference rooms available
Multilingual staff
Hotel Palace Berlin History
When you wander Hotel Palace Berlin, you'll feel a sense of old city meets new.
The hotel first opened in the 1960's and has undergone a few rounds of facelifts. The entrance to Beef 45, the fabulous sous-vide restaurant, almost feels like you're walking into one of Berlin's famous clubs.
But yet there are still many elements (like the hallways) that are still rooted in time unchanged. You're left with this wonderful retro feeling, almost like old Hollywood glamour mixing with the personality of Berlin today. It's unique, welcoming and exciting, all at the same time.
Beef 45
A perk of staying at Hotel Palace Berlin is that one of the best restaurants in the city is right below your hotel room. Beef 45 specializes in sous-vide meat dishes that melt on your tongue and almost feel like butter since they are always cooked to perfection.
I recommend the Dry Aged beef fillet tartare, Parsely soup (especially in the winter!) and the Dry Aged beef fillet which comes with this delightful chickpea and eggplant side which balances out the heaviness of meat.
For your first round of drinks, order the beef 45 Cocktail which features gin, lime water, sparkling wine, sugar, seasonal herbs & fruits and it's dang tasty.
House Of Gin Cocktail Bar
After dinner, we popped over to House Of Gin next door for a couple of post-dinner drinks. As a gin lover, this bar was heaven. I lost count of how many gin brands they have available (at least 20 from Germany alone) and the cocktails are utterly unique.
My favorite drink of the night was one I've never seen offered at any cocktail bar before. The Peach & Rose Sherbet features Hayman's Peach & Rose gin, sparkling wine and rose sherbet. It comes with a spoon so you can eat or drink it. Hands-down the best cocktail I had in Berlin.
Hotel Palace Berlin really is the best hotel in Berlin for foodie lovers, but also lovers of luxury (those black out currents and plus pillows really came in handy to help defeat my jet lag!)
And, being steps away from the Zoo, a major metro stop and a bus line, it's easy to navigate the city when you aren't warming up in the hotel's sauna or sipping cocktails at House of Gin.