Just a quick flight from the West Coast makes Baja California a favorite vacation destination, especially for couple trips or weekend getaways with the girls.
I've been down to Cabo San Lucas and San Jose del Cabo a few times now and I'm always impressed by the sheer amount of activities that have literally nothing to do with sitting at a resort. Though, there's plenty of beautiful resorts and time to relax.
But if you're like me and enjoy a mix of lounging by the pool and seeing local culture, you'll love all these unique things to do in San Jose del Cabo in my complete travel guide to the area!
What's The Difference Between Cabo San Lucas & San Jose del Cabo?
In general, "Cabo" refers to both to Cabo San Lucas & San José del Cabo and the surrounding area. They have different vibes and are about 45 minutes apart, so they are different.
When needed, I'll clarify which city or area I'm talking about.
Cabo San Lucas is a further drive from the Los Cabos International Airport and I personally think the downtown area is more toursity. But they have the iconic Rock Arch here, more clubs, and closer access to some of the few swimmable beaches in Cabo.
San Jose del Cabo is much closer to the airport so it's easier to pop off your flight and be at your hotel in minutes. They have fewer swimmable beach options here (but you can find them!) but I think the downtown area is so much cuter and a little more authentic to Mexico.
Plus, it's near some of the famous activities like Flora Farms.
Below I'll chat about my favorite Cabo resorts and where to stay but first, let's chat Cabo activities!
16 Very Best Things To Do In San Jose del Cabo Mexico
1. Snorkeling Sail
The first activity I highly recommend you do to kick off your Baja California Sur trip to Cabo is a snorkel tour that doubles as a boat tour to see the famous Rock Arch (book here!)
There's a few different snorkel companies you can book, private or grouped with others. The first time I visited Cabo, the girls and I booked a private snorkel sail for a few hours and to this day, it's one of my favorite memories.
We docked in Cabo San Lucas (though boats do leave from San Joe Del Cabo, too) and got an up close and personal view of The Arch of Cabo San Lucas. We then went to Pelican Rock and went snorkeling in the cool water which felt amazing on such a hot day.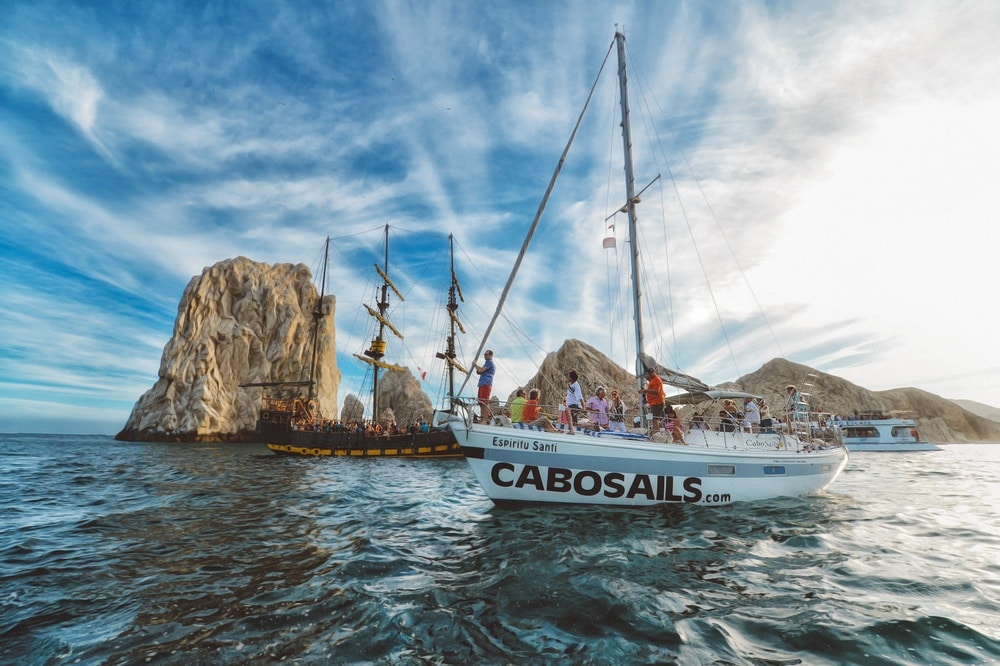 Our boat provided snacks and drinks to top it all off. 100% one of my favorite day San Jose del Cabo excursions you'll want to take.
We wanted to focus on snorkeling but if you book a private boat you can ask them to take you to the other side of the Arch to Lover's Beach and Playa del Divorcio (aka Divorce Beach). Lover's Beach is one of the few swimmable beaches in Cabo and you can also access it by boat.

2. Whale Watching Tour
If snorkeling isn't your thing, you still should get out on the water. Try a whale watching tour! Cabo San Lucas is visited every winter by giant humpback whales.
Throughout this sailing adventure, you'll witness their majestic breaches, listen to the whales communicate in the deep using an onboard hydrophone, and enjoy delicious appetizers and an open bar. Book it here.
If you're coming in the summer, instead try this Glass Bottom Boat Tour for just $40 so you can still enjoy the ocean's crystal clear waters. You might even spot some whale sharks!
These boat tours are always one of the best things to do in Cabo San Jose you can't miss them!
3. Eat Paletas In Old Town San Jose del Cabo
Paletas are Mexican ice cream popsicles, but different because they're packed with local fruits and dang tasty on a hot day.
When you're exploring the San Jose del Cabo main square area, look for little paletas carts pushed by locals. These are always the best spots to buy them. Make sure to bring some pesos with you so can grab a paleta to go.
A lot of the San Jose del Cabo restaurants will also sell these as desserts but the little carts will always have the best quality.
4. Explore The Art District
Every Thursday evening from November through June, the Gallery District in downtown San Jose del Cabo closes streets to cars and creates a big art walk (usually with wine). It's such a fun night to have dinner in town.
First, explore all the local art galleries and maybe bring back a painting, sculpture, ceramic bowls or other local artisan goods.
If you don't own a Mexican blanket, this is a great time to buy one. It's the most popular time to go shopping in Dan Jose del Cabo.
After, stick around town for dinner and try one of the many delicious restaurants or breweries.
Note: all the online sources say the art walk is only from November – June, but on my last trip we were there in August and a shop owner told us the art walk was happening that week so I would double check with shop owners or your hotel front desk to see if it's happening in the summer or not.
5. Find A Swimmable Beach In Cabo
I love Cabo but the thing I admittedly don't like about the area is the lack of swimmable beaches. I'm a water bug and adore jumping into the ocean (or alpine lakes or waterfalls or hot springs… I can't stay away!)
Because Cabo is on the Pacific Ocean the water can be really choppy and isn't safe to swim in many areas. I can attest that the current here is STRONG, even on swimmable beaches, and the waves can get really gnarly.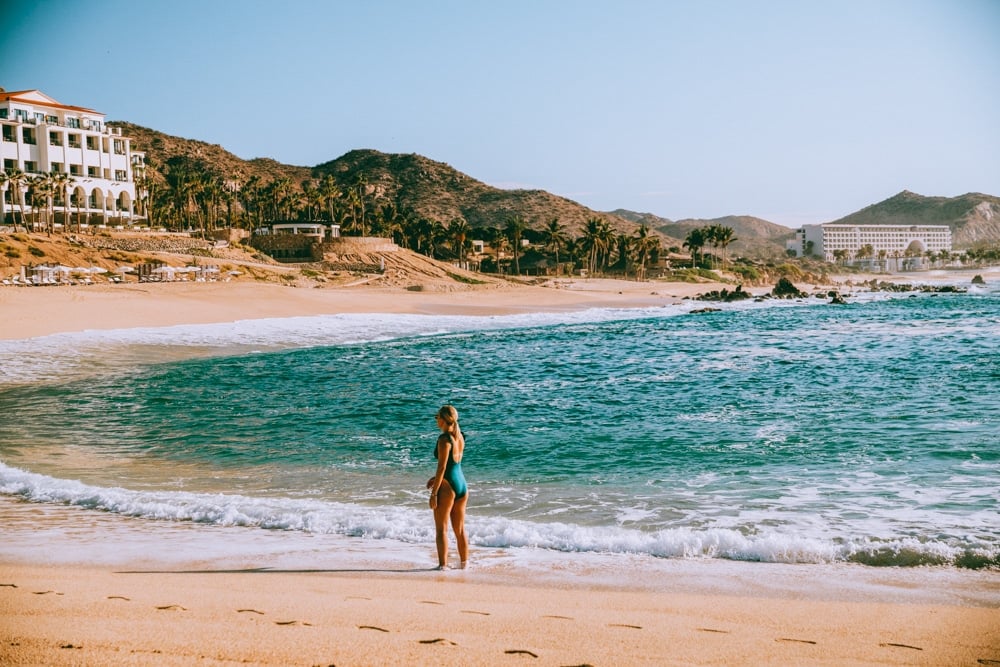 But there are some coves and beaches that have areas it's safe to swim in:
Medano Beach (it's very long and has many resorts here)
Lover's Beach (only access by boat)
Chileno Beach
Santa Maria Beach
Palmilla Beach
Cannery Beaches
Cabo Pulmo on the East Cape
Costa Azul beach (great for surfing)
The beach in front of Paradisus Los Cabos resort (I've stayed here before, it's great!)
Even if you find a beach that is listed as safe, use your eyes to determine how the waves and currents are that day. Hands down, my favorite San Jose del Cabo activities are always something in the ocean water but it's not always safe.
While at the Paradisus Los Cabos resort, I chatted with this family who brought little tub floats and they had such a fun time lounging in them and riding the waves safely. The mom told me this was something they started when their children were young to help them get in the water in a safe way. Brilliant!
6. Visit The Misión San José del Cabo
Right on Plaza Mijares sits the Misión San José del Cabo, a church built circa 1730 and is open to the public to visit. It's still a working church, so if there's a service or wedding or something, it may be not the time to pop in, but otherwise, go and see some of the local history.
And the floors in there are really pretty. I low key want the floor tiles in my kitchen.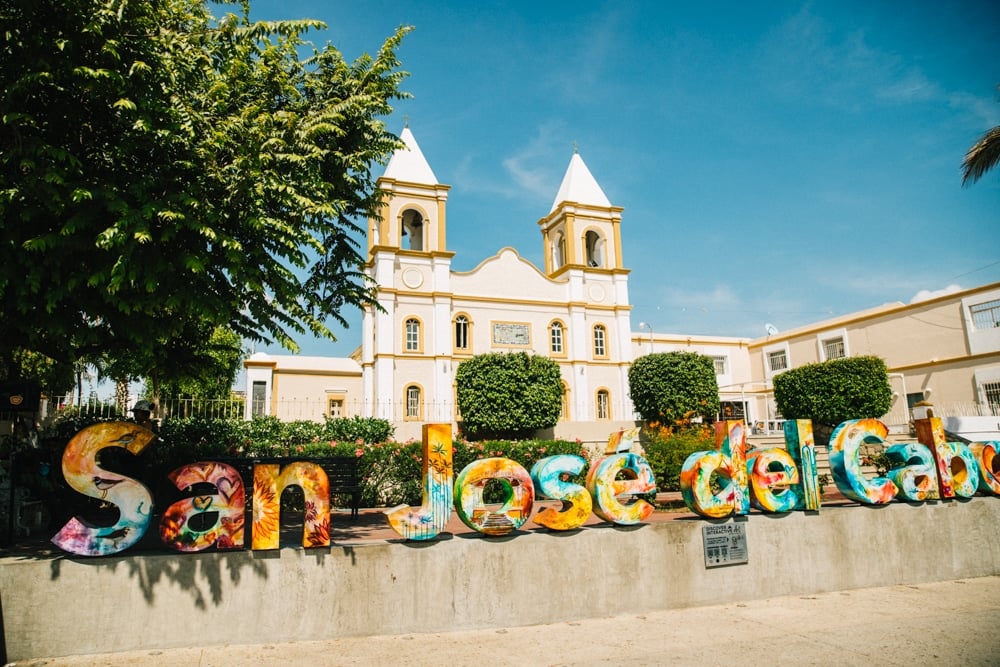 7. Take A Photo With The San Jose Del Cabo Sign
Hey, it's one of the top San Jose del Cabo tourist attractions for a reason. This large sign is right in front of the mission and is such a great spot to grab a few photos for the 'gram (or the memories!)
7. Acre Farms
Up in the hills of San Jose del Cabo are two eco farms that are open for guests and visitors to visit.
Flora Farms is one of the most popular San Jose del Cabo attractions for visitors, but I suggest instead you head to Acre Farms literally right next door.
See, Flora Farms is a little too popular these days but Acre offers all the same perks with a fraction of the crowds. The property is super lush and feels like you're walking in a jungle.
There's an on-site restaurant that has some dang good food if you want a sit-down brunch but we opted to grab smoothies at their cafe (so tasty!)
They also have an animal sanctuary with dogs, cats, donkeys, pigs, chickens, goats, bunnies and even a camel (and yes, you can pet them all). And if you fall in love with a pup you can adopt them, too!
My friend Amy and I spent a morning wandering the property and we even got a tour of one of their tree house hotel rooms (more on that later).
It's one of my favorite boutique hotels ever and visiting is one of the most unique things to do in Cabo san Lucas area since everyone else goes to Flora.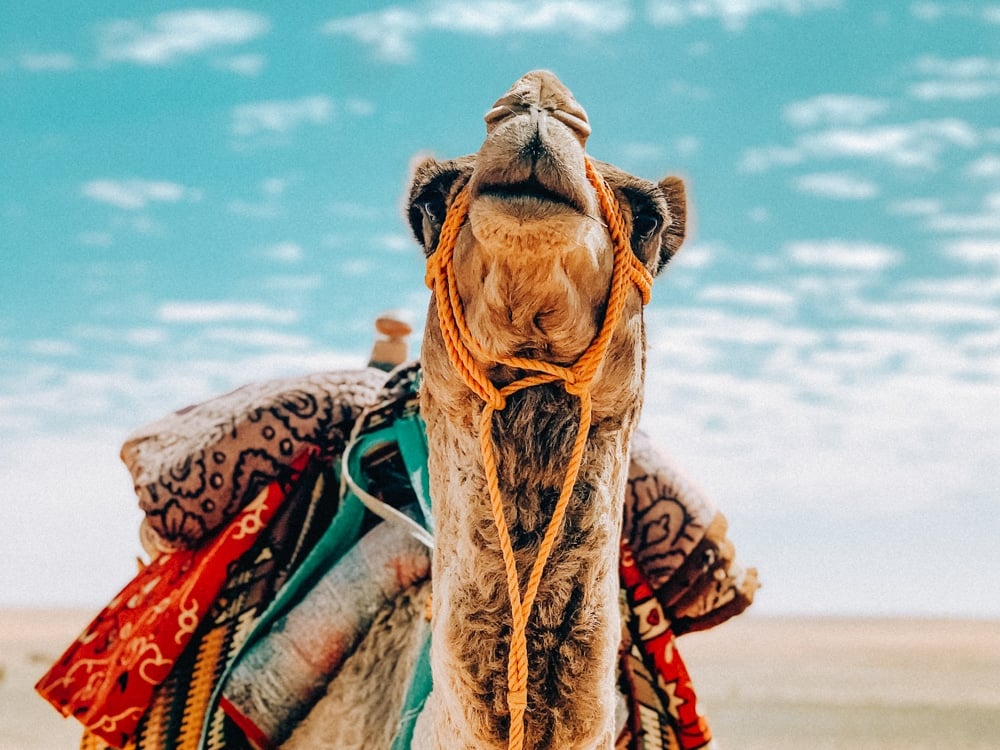 8. Ride A Camel On The Beach
No need to visit Africa's desert to have a camel experience. There's an actual camel safari in Cabo San Lucas that's a whole day trip in itself.
Your guide will accompany you on a short hike through desert terrain and teach you about the unique flora and fauna in this famous Turtle breeding area. Then you'll ride a camel and if you're visiting in the winter, you'll be able to see spot some whales if you're lucky!
And then, to top it all off, you'll end at a local ranch to make Mexican tortillas and enjoy a fun tequila tasting session. If you're looking for unique Cabo san Lucas activities, this it. Book it now!
9. Sunset Horseback Rides On The Beach
If camels aren't your thing, instead opt for a sunset horseback beach ride. From our resort, we could spot these tours happening every night and I got a little FOMO that we didn't go these for ourselves.
There's a lot of tour companies that offer horseback tours and the best bet is probably asking your front desk for the one that's nearest your hotel. But when in doubt, book this tour which includes hotel pick up and bottled water!
10. Get A Thrill With Wild Canyon Adventures
Looking for day trips and want to knock something off your bucket list?
Wild Canyon Adventures is, well, one of the most adventurous things to do in Cabo. They have UTVs and ATVs to explore off-road and see the natural beauty of Baja Sur. There's bungee jumping, swings, camel rides, horseback rides los Cabos Canyon, ziplines and so many more thrilling activities.
I'm someone who has a hard time sitting at a resort all day so this is right up my alley. I wanna move and get the blood pumping!
It's best to book tickets online in advance as the pass includes a hotel shuttle to the park and back.
11. Take A Taco Tour Downtown San Jose del Cabo
Who else loves tacos? On this walking food tour, you'll visit a Tortilla Factory and learn about the whole process of turning corn into tortillas for tacos.
Your guide will walk with you to several local eateries where you will enjoy some of the most popular Mexican comfort foods including from street carts and small locally-owned restaurants. YUM. Book it now.
12. Shop The Puerto Paraiso Mall
One of the top activities in Cabo San Lucas on a hot day is wandering the mall for some A/C and I almost didn't put this as an activity, but then I remembered my the first visit to Cabo.
It was super hot and we wanted to get off the resort so we decided to walk the beach to downtown and the Cabo Marina.
But by the time we got downtown we were sticky and hot and cooling off in the mall's A/C while looking at cute shops was 10/10 relief.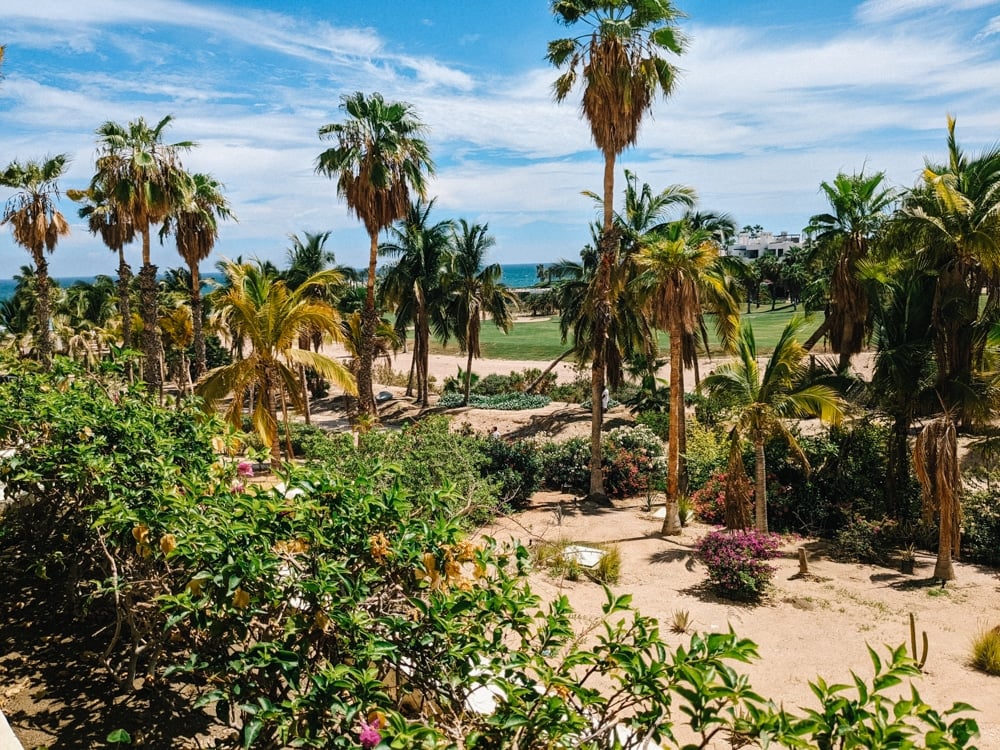 13. Hike The Pedregal
That hill (mountain?) you see behind Cabo is called Pedragal, which translates to rocky ground. And yes, this trial is a bit steep but it's not terribly long.
And at the top you'll be rewarded with stunning views of Baja. Plus, the houses over here are super swanky so they're fun to peep as you make your way up to the viewpoint.
The best time of day to hike Pedregal is the morning so you don't bake in the afternoon sun (there's not a lot of shade here.)
If you're looking for a more challenging hike, try the Mount Solmar summit.
14. Visit The Fox Canyon Waterfall
The Maya de Sol waterfall in Fox Canyon is more than just one of the most Instagrammable places in Cabo that so many tourists miss.
It's about 1.5 hour drive from Cabo but so worth the trek. You'll wander up Fox Canyon trail and end at the Maya de Sol waterfall.
And yes, you can swim in the pool at the bottom which is so dang refreshing after the hot hike! You can do this on your own but I recommend you book this tour which includes a guide to help you get there safely.
15. Party At Squid Roe
To be clear: I'm in my 30's and already over the club life (I go to bed at like, 9pm lol!) but if I was visiting Cabo in my 20's, boy oh boy I would have loved a night partying El Squid Roe.
It's a huge three story club with tequila spray tanks, house DJs, and non-stop partying until late into the night. There is a cover, so bring $20 US cash or pesos.
If you're looking for a lively scene but don't want to go clubbing, try the Cabo Wabo Cantina instead!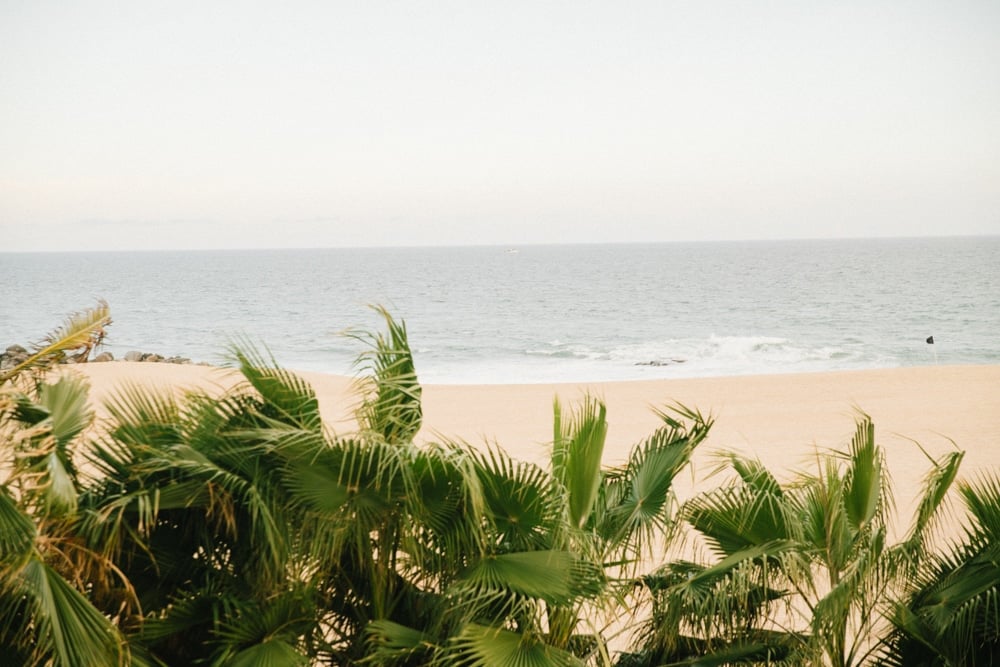 16. Day Trip To Todos Santos
Rent a car and head up the coast about 1 hour to the charming town of Todos Santos tucked in the Sierra Laguna mountains.
The locals have a slow way of life here in their beautiful little village. Come to wander the galleries, cafes, mango gardens or the white sand beaches. You can go hit up golf courses, go suffering, so simply grab lunch with an ocean view.
Cabo is pretty touristy but Todos Santos gives a glimpse of authentic Mexican living and Baja's only "Pueblo Magíco"
Best Cabo Restaurants
So, those are my favorite activities other than hang at a resort. Or eat. Hey, it's Mexico and they have some really good food here.
Sometimes we book an all-inclusive resort that covers our meals, but even so we always make it out into the town to try some local cafes and restaurants.
These are all the best restaurants in San Jose del Cabo and Cabo San Lucas. I'll keep this updated after every visit but please drop a comment below if you have a favorite spot that didn't make the list!
Acre Farms: try the cafe for breakfast smoothies
Coffee LAB: An off-the-beaten-path coffee shop that's so dang cute, has good wifi and is work the extra walk off the main square.
Los Tamarindos: This is an organic farm & restaurant just one mile away from the sea of cortez and San Jose del Cabo's estuary. It's great for date night!
Cielomar Rooftop: This translate to "sky sea" since it's rooftop bar with amazing views of the ocean! It's on top of the Viceroy Hotel and is best for dinner at sunset.
Jardín Secreto: Aka the Secret Garden serving fresh seafood and Mexican dishes like Elote.
The Hangman Surf & Tacos: This rad taco shop has vegetarian and gluten-free options!
Baja Brewing Company: The best cervezas in town.
Best Cabo Hotels & Resorts
There's a LOT of resorts in Cabo. So many that I could spend a year visiting them all. The good news is you'll most likely have a fun time whatever hotel you end up picking.
That being said, there are some properties that are better than others.
You have to decide if you want an all-inclusive or not. Personally, I love an all-inclusive in Cabo since I want those unlimited margaritas (with extra tajin on the rim!) at the pool, coffee in the morning, late night snacks, and all the tacos my little hear desires.
But all-inclusive tends to run a bit higher (though we always end up getting them on sales). You also have to decide if you want an adults only spot or one that allows kids, a resort with a pool or swimmable beach access and other amenities like a spa.
When I got with my girlfriends we prioritize a swimmable beach since I love to be in the ocean, and all-inclusive with highly rated restaurants so we can eat all the yummy foods. But we don't rule out hotels that aren't inclusive.
Here's the short list of best hotels in the Cabo area to book:
Paradisus Los Cabos: A Hilton hotel located just outside San Jose del Cabo. It's a beautiful property that's not too small, not too big. They have tons of restaurants and daily activities like mezcal tastings we never got bored. And, it's one of the rare hotels with a swimmable beach right out front!
Pueblo Bonito Los Cabos Beach Resort: I love this cute little resort. It looks almost like something you would find in Greece and it's right on El Medano Ejidal so you can go swimming here! We got a ocean view room and I loved watching the cruise ships come in. And they have a great food!
Hyatt Ziva Los Cabos: This is a massive all-inclusive resort that a friend of mine visited and loved. It has 5 different pools including an adults only pool so you can find some zen. Grab a pina colada and relax!
Acre Treehouses: The treehouse hotels rooms at Arce are so dang cool, they're like luxury glamping. They come with a bathroom, shower, private terrace and a comfy bed. It's such a unique way to experience Cabo.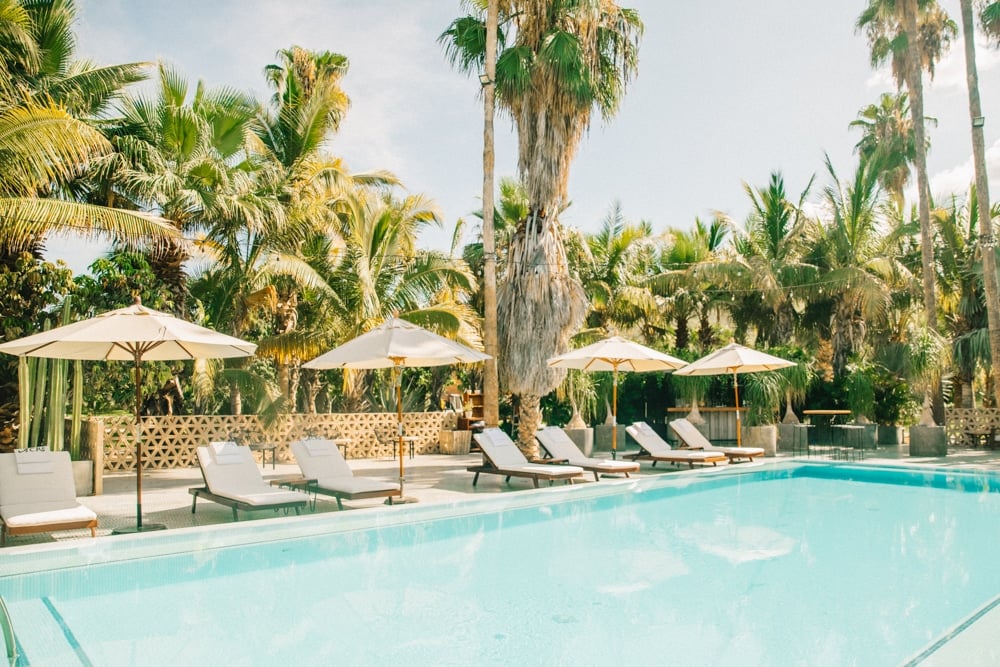 Frequently Asked Questions About Cabo
Got more planning questions? I can help you out!
What Is Cabo San Lucas Best Known For?
The Baja Peninsula is known for rock formations, ocean views, Mexican food, luxury resorts and crystal clear waters in secret coves. You can even go scuba diving here though I prefer snorkeling.
It's a quick flight from the West Coast so it's California's favorite vacation spot.
Is It Worth Visiting San Jose del Cabo (like for real?)
OMG YES. I've traveled all over Mexico in my years and while San Jose del Cabo is very much a tourist-friendly city, it has the most authentic Mexican city vibe to me compared to Downtown Cabo San Lucas.
It's not the same as Mexico City and Cabo is very geared toward tourists but you can find little corners that represent Mexico well. It's such a cute little town to visit when you need a quick getaway from the West Coast.
Can You Walk Around San Jose del Cabo?
Yes and now. Downtown San Jose del Cabo is super walkable since it's small. But you'll need to take a taxi from your resort to downtown as your hotel is probably 5-20 miles from the town.
Good news is Uber is very reliable and cheap here. Your hotel front desk can also call a taxi for you.
Is 3 Days In Cabo Enough?
Totally! That's enough time to relax by the pool, do a couple of activities like a snorkel cruise or shop downtown San Jose del Cabo, and still have time for margaritas.
If you want to do a day trip from Cabo to Todos Santos of the Fox Canyon Waterfall you'll want to come for at least 4 days to not be rushing.
What Should I Pack For Cabo?
This totally depends on what time of year you are visiting Mexico! And, to help you out I have a whole guide on what to pack for your trip to Cabo depending on the season.
Do I Need To Bring Pesos?
You should bring some pesos (maybe $50-$100 worth in USA dollars) to use for tips, shopping at the local artisan markets and emergencies. But most of the time you'll be able to use your credit card without any problems.
How To Get From The Cabo Airport To My Hotel
I recommend you schedule a shuttle to pick you up from the airport and drop you right off at your hotel. We always use one of these shuttle companies and it's so easy.
They'll give you water which is needed after long flights and if you book a private shuttle, they'll also give you beer.
On the way back to the airport, we either do one of these shuttles again or just book an Uber depending on our group size.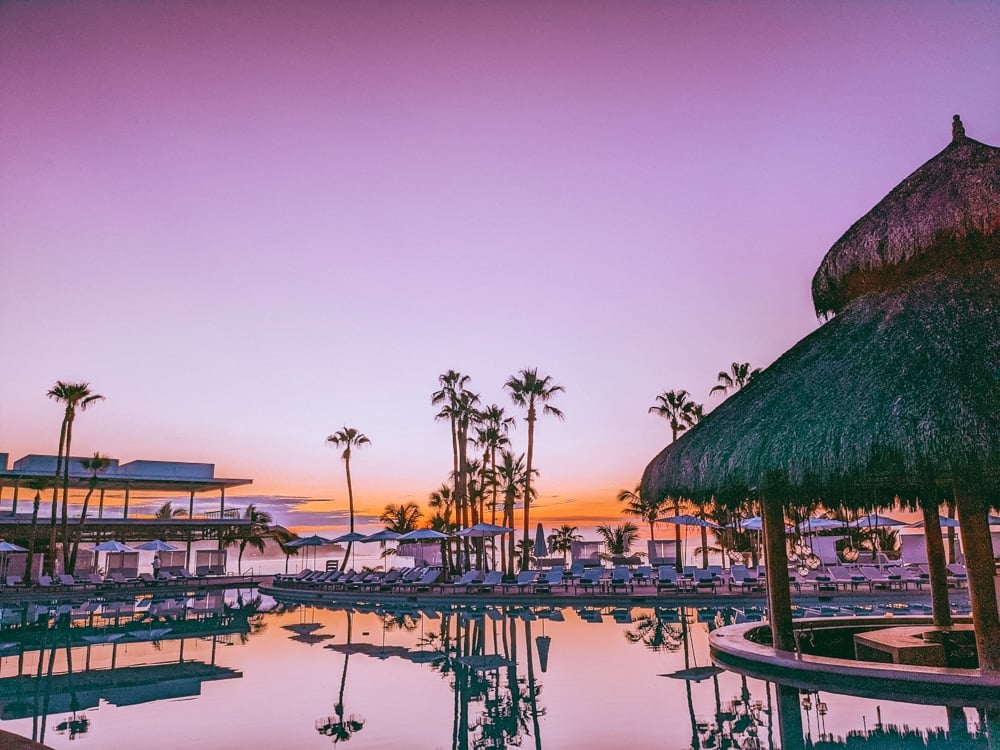 I hope this helps you find tons of cool gems to do in Cabo! If you have more tips to add, drop a comment below so everyone can see.
Happy adventures.