Confession: one of my favorite nostalgia holiday movies is the Barbie Nutcracker. I watched it every year as a kid and you know what? Still holds up.
So many Christmas cocktails (like this one) are rooted in heavy creams and chocolates. Which I'm not mad about, I LOVE chocolate, but I can't drink that much dairy for the entirety of December. That's where my Sugar Plum Fairy Cocktail steps in – it's light, fizzy, sweet but feels super festive. Plus, it's like, really really pretty (just look at that pink color!)
Festive Sugar Plum Fairy Cocktail Recipe For The Holidays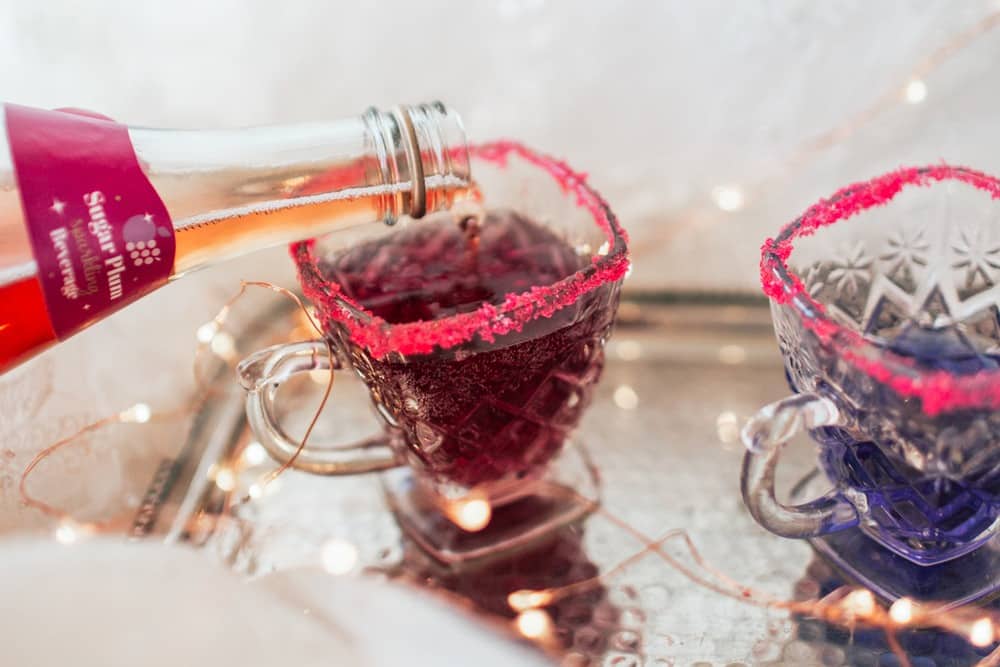 My Sugar Plum Fairy cocktail recipe uses the Sugar Plum Sparkling Beverage from Trader Joe's which is available seasonally. I love this soda since it's low in sugar. If I drink too many cocktails packed with TONS of sugar I break out so I like to find ways to reduce sugar when I can. (Don't worry, this is still a sweet cocktail!)
It also uses Empress Gin. While you can use any botanical gin you have on hand in a pinch, I highly recommend using Empress Gin for this one. It's my personal favorite gin brand (last used on the blog in this cocktail recipe) and it's PURPLE! Which makes it extra fun for this Sugar Plum gin cocktail.
I think it's fun to make a couple of Sugar Plum Fairy Cocktails for the fam and gather around the Christmas Tree to watch your favorite version of The Nutcracker. You can also make this sans-gin if you have kids so they can join in on the fun! They'll love coating the rim of their glasses with sugar and will also enjoying watching your cocktails turn from blue to pink!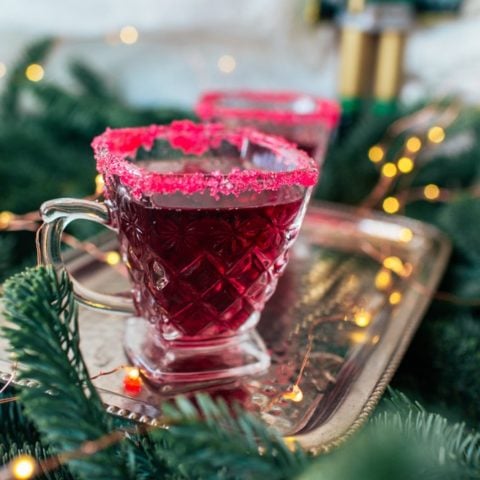 Sugar Plum Fairy Cocktail Recipe For The Holidays
A tart yet sweet Sugar Plum Fairy cocktail (using Sugar Plum soda) that's perfect for sipping while watching the Nutcracker movie.. Can be made kid-friendly, too!
Ingredients
Pink sugar to coat the rim of your glass
1.5 oz Empress Gin
1 egg white
1.5 oz pomegranate simple syrup
Sugar Plum Sparkling Beverage to top
Ice
Instructions
Pomegranate Simple Syrup Recipes
Deseed a fresh pomegranate
Boil 1 cup water and 1 cup sugar together in a pot along with about 1/2 cup pomegranate seeds
Boil until the sugar is fully dissolved.
Turn off heat and let cool.
Strain out the seeds and store your pomegranate syrup in the fridge. (We like to make a batch ahead of time so it's already cool for drinks!)

Sugar Plum Fairy Cocktail Recipe
Pour your coating sugar onto a plate
Rub the rim of your cocktail glasses with lemon juice or water (anything to help the sugar stick!) and press the rim into the sugar to line your glass.
Mix the gin, simple syrup and egg white into a cocktail shaker and shake well to mix.
Add in a few ice cubes to the shaker and shake again.
Pour the mixture into your glasses leaving a few inches at top for the soda.
Top with the Sugar Plum Sparkling Beverage and serve!
Notes
Don't have a fresh pomegranate on hand? You can substitute the fresh pomegranate seeds for fresh cranberries instead. Boil them in the same way with equal parts sugar and water to make a cranberry simple syrup! Skip cranberry juice, though, you want that extra sugar kick from the syrup.
I hope you enjoy this sugar plum cocktail! It's such a fun change in holiday party drinks and is a total crowd pleaser. If you make it, make sure to post to Instagram Stories and tag me @thewhimsysoul so I can see!!
More Popular Cocktails You May Like