(Updated Nov 2022.) When I was 16, I got a job at a ski resort near my hometown at the ticket office. I got free equipment rentals so that winter, I decided I was going to learn how to ski.
Short story? I really suck at it. Fast forward 12 years, and I still don't ski or snowboard. When we moved to California a few years ago, I spent many years thinking I would never do a Lake Tahoe winter trip because I'd have nothing to do.
WRONG! so so so wrong!
This past winter I finally went on that classic Lake Tahoe in the winter trip. Jammed myself in a car with a group of friends, rented a cabin, drank heavily in the evenings- you, know, the classic trip.
They all ski or snowboard, so my husband and I were left alone in the day as they hit the slopes. This is when I discovered there are a lot of epic Lake Tahoe Winter Activities that aren't skiing!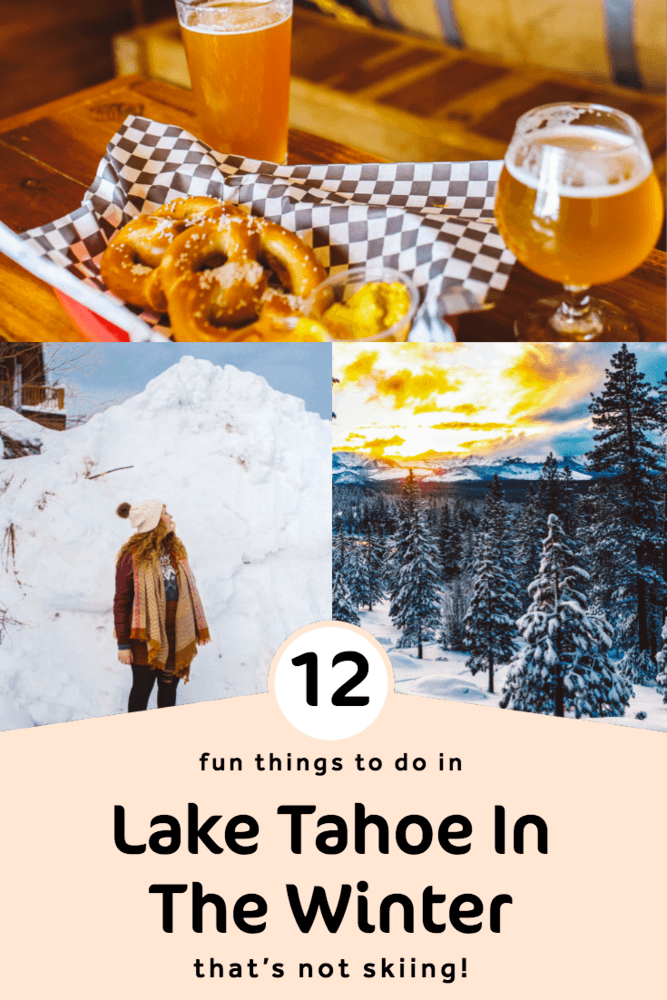 I've been to North Lake Tahoe in the fall a few times before, and also once to Squaw Valley (Now Palisades Tahoe), so that was my first time on the Tahoe South properly (mind that day we drove around the entire lake, which is really fun to do in the summer but probably impossible in the winter due to snow!)
Since first writing this post, 've done many winter Lake Tahoe trips.
And I haven't hit the slopes once. All my favorite ways to spend the weekend are in this post for you to copy.
Pro tip: buy these chains
at Walmart to keep in your trunk in case you need them! This brand is easy to put on, the girls and I figured out how to put them on under 3 minutes during our
Sequoia winter trip
this year!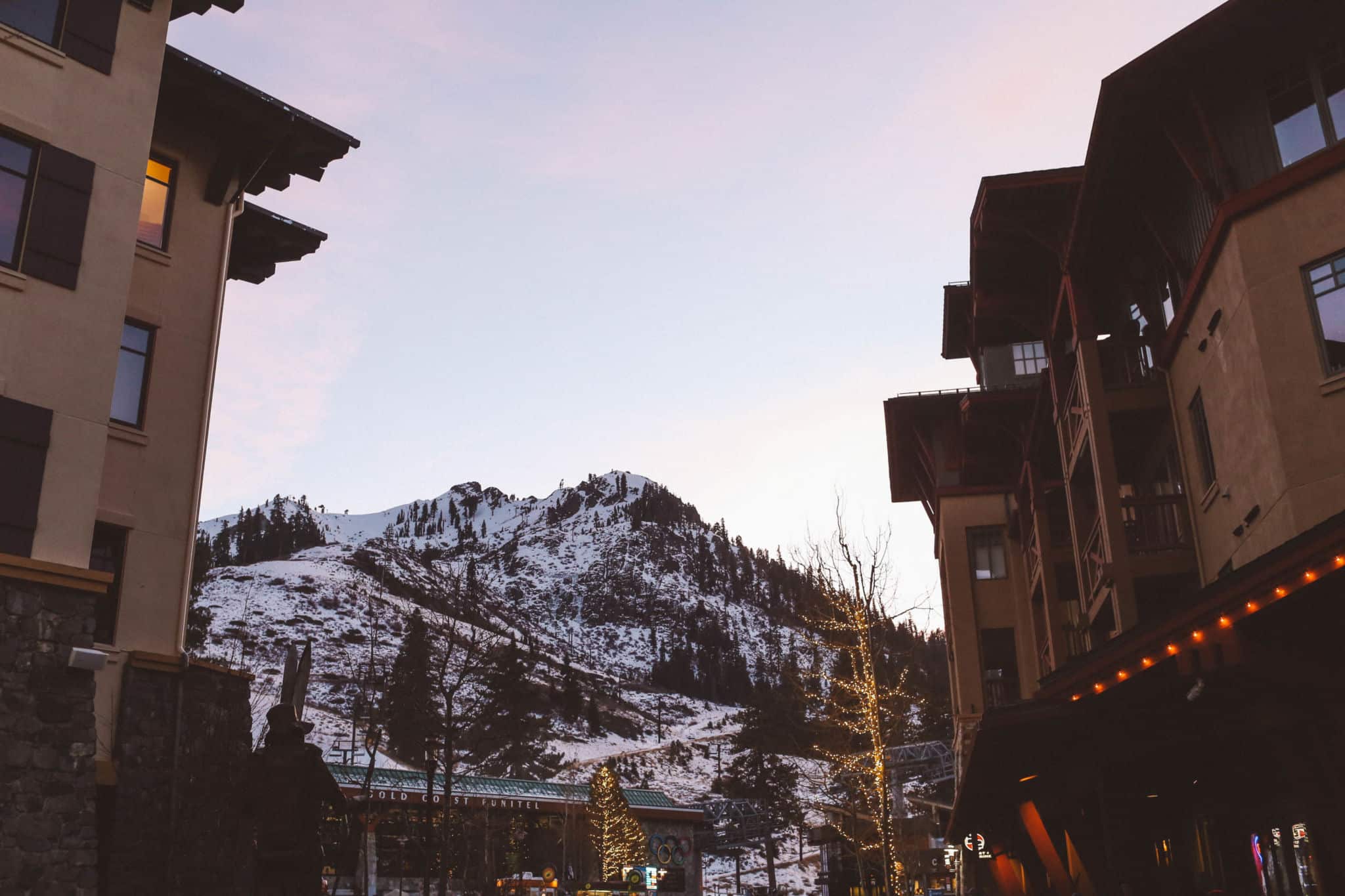 Where To Stay In Lake Tahoe In The Winter
Before I chat my favorite things to do in Lake Tahoe in the winter, let's go over the best places to stay.
Booking can be competitive in Tahoe so book a hotel first then plan! We love Incline Village, Kings Beach and always stay at the Hyatt.
We also think Truckee and Donor are super cute, so the other side of the lake was new territory for us and we had to get creative with what we did!
If you're looking for South Lake instead, which is more focused on breweries and Heavenly resort, we adore the Coachman Hotel. It oozes modern mountain charm & is dog friendly!
For this trip, there was 6 of us, so we found a (shitty) Lake Tahoe winter cabin in South Tahoe — I'm not going to recommend that cabin because it was pretty awful in every way, but I did round up a list of other amazing South Lake Tahoe Airbnbs if you want to check that out!
Here's my top recommended places to stay in Lake Tahoe in the winter.
Hyatt Lake Tahoe: Incline Village at North Lake. It's a top destination Lake Tahoe hotel with a private beach, restaurants, casino, and spa!
Coachman Hotel: Southlake Tahoe. It's a cute boutique hotel with dark decor, live music on weekends, and outdoor fire pits.
Basecamp: Southlake Tahoe. Come here and plan on hanging out in their beer garden. They have heat lamps and firepits for the weekends!
I don't recommend staying at Camp Richardson in the winter as sometimes that section of the roads get closed off due to snow and it's just too far to walk to any of the South Lake places, so it may be really hard to get around if you base yourself there!
The Lake Tahoe Basin Management Unit tries to keep things clear but it just gets hard at a point.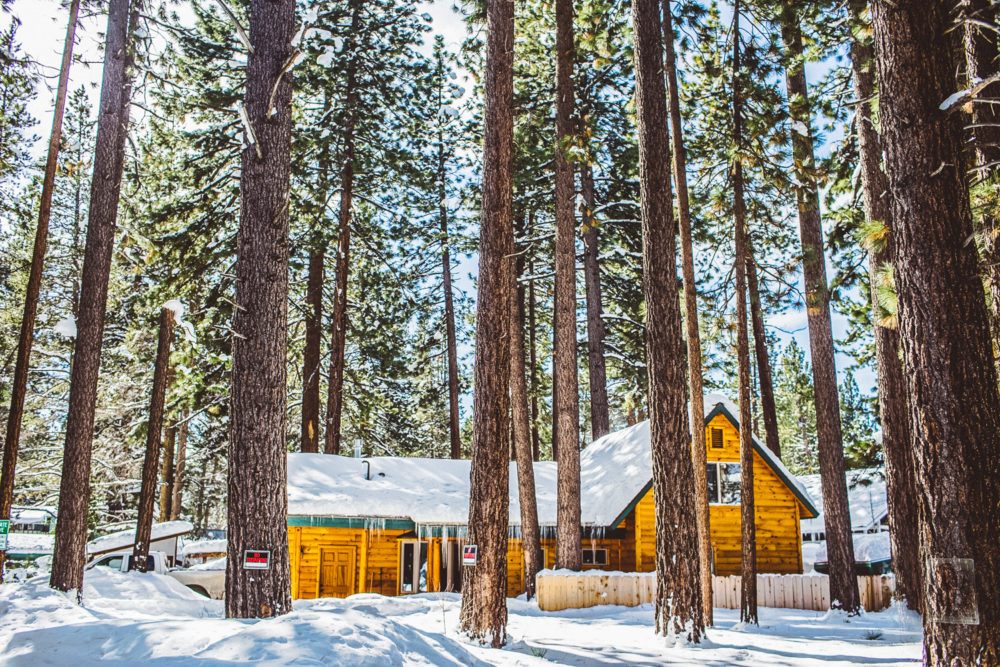 Lake Tahoe Winter Activities 2022 (That Are Not Skiing!)
While our friends suited up for a day on the mountain at Heavenly, we put on snow boots and went out exploring like a local!
We visited right after a snowstorm, so mounds of snow over 10 feet tall made walking to town a bit of a scramble. Most likely you'll have to walk in the street due to all the Tahoe snow, so just watch out for cars!
Brewery Hoping
My husband and I are from Wisconsin, so naturally, we love beer. When you are trapped inside due to cold AF winters for 6+ months of the year, you drink. Like, a lot.
Turns out, the culture is very similar in Lake Tahoe, so there are a lot of breweries in the area! Some even hold events and things at night during the winter.
We just walked around and visited a couple of taprooms. Sidellis was our favorite. They have AMAZING food and the interior is full of wood, it really makes you feel like you walked into a cozy mountain cabin.
I recommend ordering a pint and the beer cheese soup! It's one of my favorite things to do in South Lake Tahoe in winter or summer.
If you are hanging out around South Lake, I have a whole guide on the best South Lake Tahoe breweries you can check out to help you plan!
Hike To Vikingsholm Castle On Emerald Bay
Did you know there is a castle on the lake?!
Vikingsholm Castle is tucked on the shores of Emerald Bay and while it's usually the hot spot to hike or boat into during the summer months, a friend of mine loves to hike here in the winter instead as it's usually pretty empty.
Park at the lot up top and make your way down to the castle. The trail can be icy so wear shoes with a good grip! It's one of my favorite Lake Tahoe things to do, no matter the season.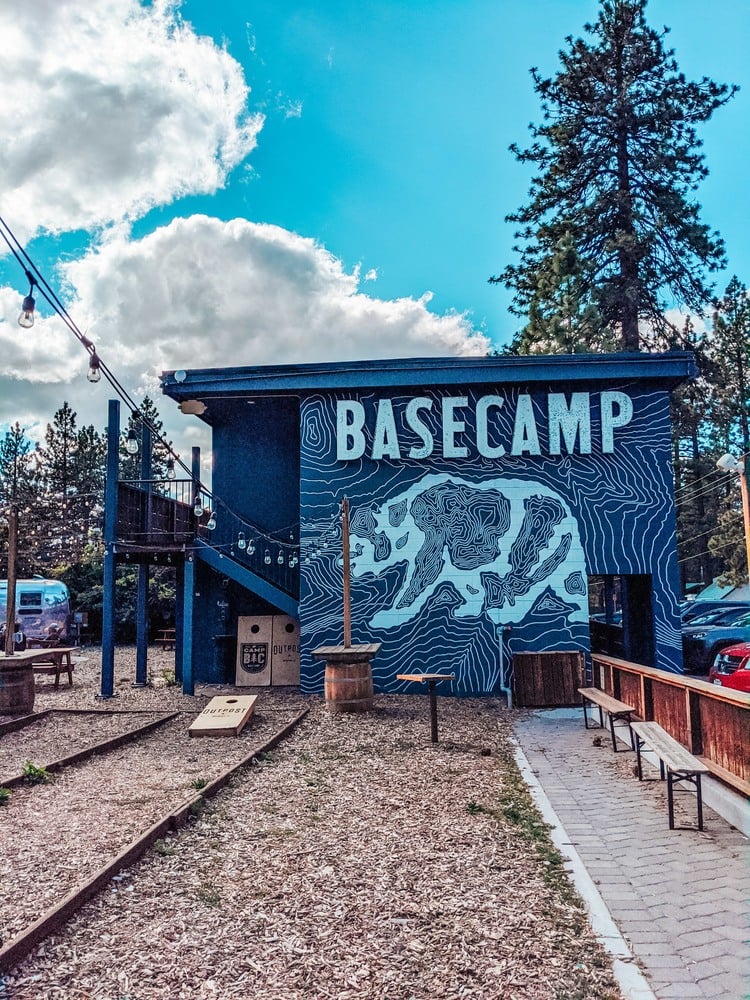 Ice Skating
When you can't go water sports in the winter, swap for ice skating! There are indoor rinks that offer year-round ice skating but I prefer to visit the outdoor ones.
Heavenly has an outdoor ice skating rink in South Lake Tahoe and Squaw has one in North Lake!
Spa Day
When the weather outside is frightful, it's time to head inside for a facial!
Our friends came back from a day on the slopes tired and sore, but imagine spending your afternoon getting pampered instead?
Check here for the best spa offers at Hyatt, they have a really nice spa, one of the best massages I've had in a while.
Cross Country Skiing
Cross country skiing is totally different than downhill skiing! Get out on the trails, wind around sugar pines at a comfortable speed, and see untouched parts of the lake!
Head here for a full list of the best places to cross country ski in Lake Tahoe.
Snow Shoeing
Tahoe has some of the highest levels of snowfall in North America, and definitely the most in the state, so it also makes a great place to go snowshoeing!
Grab a set and walk around a park or the beach, which will be covered in snow!
Honestly, these would have been handy to have while we explored downtown South Lake Tahoe — the snow as at least 10 feet tall and sidewalks totally covered. Everyone was just walking on the roads!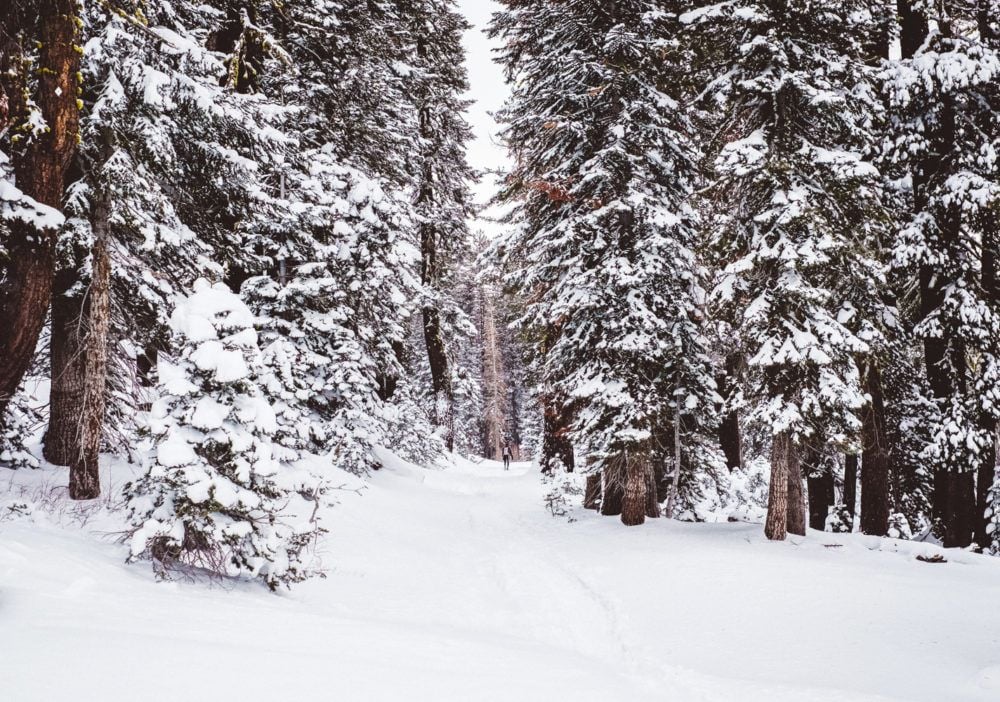 Hit Up The Casino
Half of Tahoe is in Nevada, which means there's casinos! Try your hand at blackjack or slots at the Hyatt in North Lake Hard Rock Hotel in the South. Maybe you'll win big?!
Après Ski
Pretty much all of the big lake Tahoe ski resorts have Après ski happy hours. You may have even seen sweaters with "apres ski" written on them before. It's like, a whole mood.
It means "after ski" in French and is basically an excuse to have a drink!
Lake Tahoe resorts, ski villages and restaurants go all out. Think wood fire pizzas, fire pits and blankets to cozy up to, champagne and killer happy hour specials!
Aerial Tram Ride
Views! Views for days! We road the aerial tram at Squaw with all the snowboarders and skiers.
At top there's a small center with a cafe and outdoor seating, so we grabbed lunch on top of the mountain that day. We could see the lake below, that's how tall it is!
You don't have to be skiing to ride the tram and it's so much fun.
Sleigh Rides + Christmas
Christmas in Lake Tahoe is major vibes (it's one of my favorite places to spend Christmas in California after all)
All the resorts go all out with sleigh rides, Christmas trees, special dinners, you name it.
While staying at Squaw Valley Alpine a few winters back, we totally did a Santa sleigh ride around the valley. It's not just for kids!! This place totally in the holiday spirit.
Cozy Fireplace
Looking for romantic things to do in Lake Tahoe in winter?
Honestly, I love exploring but I also have a soft spot for cold weather outside but being warm and cozy next to a fireplace inside (with a glass of wine of course!) Tahoe City
has some of the best Airbnb cabins with awesome fireplaces, and many resorts also have them in rooms.
Cozy up and read with a cocktail or wine! Make sure to buy firewood at the grocery stores. Safeway will sell bundles for about $10-$15 each.
Resorts will try to sell you that for mega bucks.
Fancy Lunch
While your friends are on the slope eating squashed sandwiches or overpriced food at resort cafes, treat yourself to a fancy lunch!
On the North Shore, Lone Eagle Grille is right on the water or in South Lake Tahoe, try the Riva Grill. Order steak, a desert, wine.
Look at the water and roll out of there happy & full!
Outdoor Hot Tub
One of my favorite things to do in Lake Tahoe in winter is to sit in a hot tub!
Growing up in Wisconsin, soaking in a hot tub when it was snowy and cold outside was like, THE THING to do! Bring a beer or cocktail (don't forget your hat to keep your ears warm!) and enjoy the outdoors.
If it's at night, you can see millions of stars up here without all the light pollution! Always my favorite Lake Tahoe winter activity at night.
Donner Memorial State Park
Yes, THAT Donner name (from the group of pioneers who stupidly crossed the Sierras during winter and basically all died because Lake Tahoe winter temperatures are crazy cold when you're only in a covered wagon.
Don't worry, no creepy vibes are left here.
These days, Donner Lake is a popular retreat for people who want that Lake Tahoe winter classic trip just without all the crowds.
Donner Lake is outside Truckee, an adorable mountain town about 20-30 minutes North of Incline Village.
A lot of the best Nother Lake Tahoe winter activities are actually around Truckee and Donner Lake, but the snow levels can deter tourists from making the trek.
You can sometimes ice skate on the lake during the winter, but what I love most about Donner Lake area are all the trails.
Winter in Lake Tahoe means cross country ski season! One of my favorite trails, Angela Floral and Fauna, which features 3 tiny alpine lakes, can be accessed with snowshoes or cross country skies in the winter.
Ok… But I Want To Go Skiing. Which Lake Tahoe Ski Resort Is Best?
Hey, I get it! Lake Tahoe is a legendary ski and snowboarding town.
If there's anywhere in the United States to spend a day on the slopes, it's here. There's a LOT of ski hills (15 to be exact) and I won't be covering all of them.
Instead, these are the top 4 I think you should look into based on the opinions of friends who have annual passes to these places.
Northstar: I've never been here, but I have a couple friend who gets passes at Northstar almost every winter and they LOVE the mountain! The resort is on Mount Pluto, which is an extinct volcano, 20 lifts and 100 trails. It's located in Truckee so it's usually a little less crazy than ones closer to Lake Tahoe.
Heavenly: Heavenly is smack in the middle of South Lake Tahoe, just a block or two from the border of Nevada. I've walked by it a bunch and have explored the resort. If you'll looking to never use a car and merge days on the sloped with nights partying in the town, you'll love Heavenly. It was 30 lifts and 97 runs.
Squaw Valley Alpine Meadows: ~34 lifts and jaw-dropping views, Squaw has it all. I've stayed here as a non-skier and adored the cozy hygge vibe of the ski village. I loved riding the famous aerial tram up t the top of the mountain, where you can see Lake Tahoe from by the way!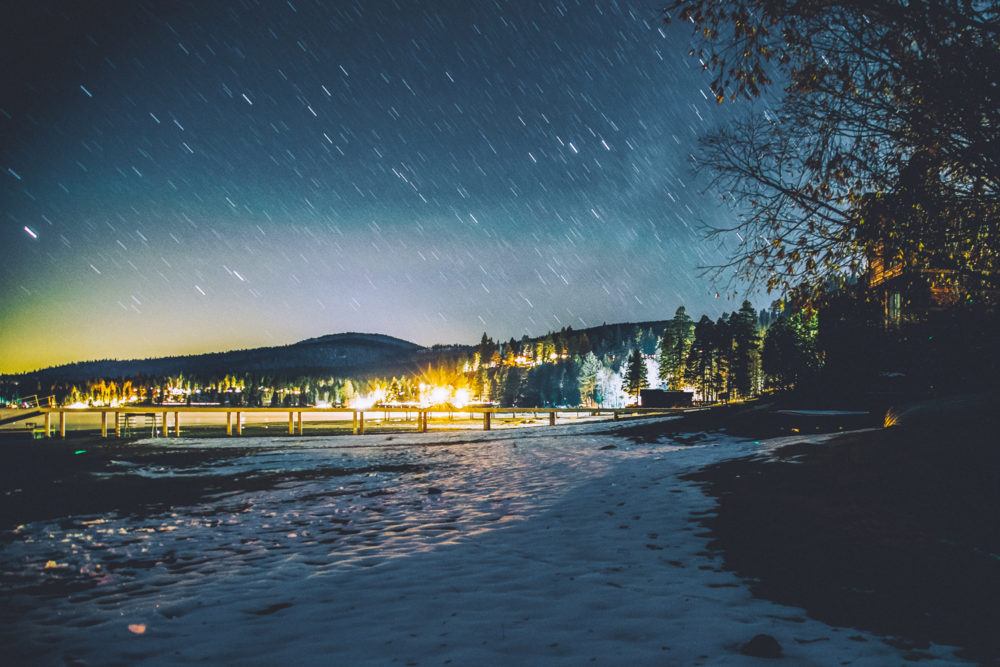 This list is now longer than 12 ideas as I keep updating this post as I visit Lake Tahoe.
I hope this helps you plan a great Lake Tahoe winter vacation, even if you don't ski!
I can't wait to go back this winter for a second cold weather trip. We first to Lake Tahoe in February and it's my favorite place near the Bay Area to get wintery vibes.
Lake Tahoe doesn't get as cold as Wisconsin, so I'm so into what I think is a mild winter – HA.
If you're thinking of hearing to the area in the summer instead, these are all my favorite Lake Tahoe summer activities for a fun, warm day on the lake!
There are so many fun Lake Tahoe area things to do no matter the season.
One of my favorite things to do in Lake Tahoe in the summer is renting a paddle board and spending hours out on the lake looking through that clear water…
If you have any other tips to add, leave a comment below so others can see! If you have questions about Lake Tahoe activities, also drop a comment or DM me on Instagram @thewhimsysoul and I'll be happy to help!
Other Travel United States Posts You May Like