Remember that trend on TikTok during quarantine where everyone was painting over ugly thrift shop vases with paint and making them look hip and chic? After seeing like, the 10th video in a row I wanted to try it out for myself so I popped down to my local thrift store to pick something up.
And while I was wandering to check out, arms full of $1 vases soon be covered in paint and baking soda, I saw this red Christmas sweater peek out on the clothing rack. It was only $4, and since I'm a lil sweater gremlin (I can't get enough!) I grabbed it and took it home with me.
Gosh, I live thrifting magic moments like that.
Here's the thing: love ugly Christmas sweaters. My husband and I have matching ugly cat holiday sweaters that we wore ice skating in San Francisco last December, and they were a huge hit with people. BUT, sometimes a gal wants to channel that holiday season energy in a slightly more sophisticated way.
What I really love about this thrifted Fair Isle sweater is that it totally has all those Christmas vibes – but you could actually wear this year-round if you styled it a bit differently. It's not blatantly Christmas if you know what I meant – no reindeer or snowmen here!
But it pairs so nicely with my Anthropology pants that are so dang soft and comfy (perfect for the Christmas season when I'm stuffing my face with wine and cookies!) Toped off with a white beanie, winter books and a wreath – by golly, I feel like a proper Christmas betch in this thrifted Christmas sweater.
Christmas Sweaters You Can Shop Online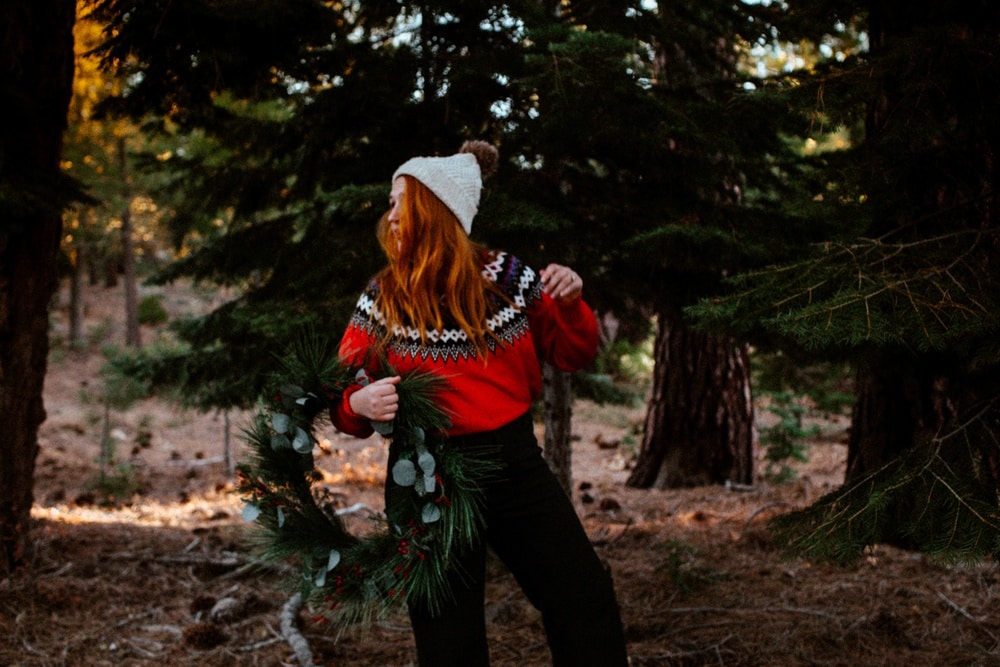 Do you go thrift shopping much? I love to go thrifting with my friend Gen up in Sacramento. That city has SO many Goodwill stores it's a little overkill, but they're all somehow filled with fun treasures. I find the Savers and Goodwills tend to be a bit picked over here in San Francisco. Gen lives up in Sac so it's always fun to combine a friend day date and hunting for thrift treasures.