Our Christmas tree is always changing. Every year, we add a new ornament or two to our collection, something that embodies that year, or something we did, or a big life moment.
This family ornament tradition was started by my mother, who gifted us as children a new ornament or two each Christmas. I got bears, my sister got fish. Some families swear by uniform Christmas ornaments, and that's totally ok. But I simply love walking down memory lane each December. Our tree is special, it's home to the story of my years.
An Ornament For Every Year: Our Christmas Tree Tradition
One year I broke my arm, so there's a bear on my tree with a cast. There's a little bear holding an "Obama" sign for the year in High School when I volunteered on his campaign. And another fishing from the summers my dad would take us kids out on the lake. As an adult I've steered a bit away from the bear theme, and try to pick up an ornament when traveling about, or from small Etsy shops.
The key to annual ornaments is you have to write the date on them somewhere, otherwise, you'll totally forget their meaning in 10 years. I have a lot of ornaments that don't have dates and I'm like "hmm, why do I have a frog nutcracker… was I in play? Was this from the years I bought a lot of toads as a kid?" Sometimes it's a challenge, and you always think you'll remember, but probably won't. So make sure you have a thin sharpie to help you out.
I know I've chatted about this holiday tradition before on Instagram but I wanted to finally take you on a tour of my Christmas tree and share the story behind some of my FAVORITE ornaments
Some Of My Favorite Special Christmas Ornaments
When I say I have a LOT of ornaments, I mean it. I can't possibly begin to show them all off, but I do have a few favorites with some fun stories behind them:
Schoolbus
Dated from 1994, this little yellow school bus has a note on the bottom that my mom wrote explaining how at this age, I LOVED the short school buses. Not the long ones, but the short ones. Apparently, I thought they were cute, or fun. I would point them out giddy every time we drove by one.
I'm Speaking / 2020
Of course I had to grab myself a 2020 ornament. I highly doubt that I will forget this year and all the TP shortages, the TikTok dances, the election anxiety, the triggering words of "6 feet", masks, etc… but I got this Etsy ornament anyway. Maybe I'll have a chance to tell some youngin "in my day, we had to fight each other for toilet paper at the grocery store…" *you have the read that last sentence in an old lady voice.
AND, I put an "I'm Speaking" sticker on the back to always remember/celebrate our first Madam Vice President. Dang, this year has packed a lot, hasn't it?
Pint of Beer
I went to college in Minnesota, and my senior year apartment had a great nice balcony overlooking a park. It was huge and was the perfect place to drink beer and people watch. Robin and I got REALLY into craft, local beers this summer and would make date nights on the balcony around trying new beers, or head to pubs on Trivia nights to try new taps. We used the app Untapped and logged like, 150 new beers that summer.
We also spent a lot of time chatting over beers about our plans after the summer lease was over. This is where we decided to move to San Francisco – the idea was hatched on that balcony.
The Tardis
Back in college I studied abroad in Italy. Rome specifically. Robin and I did long-distance and yes, it was hard and it sucked, especially since this was in 2013 on the cusp of quality video hang options, so we didn't get to see each other's faces that much outside Snapchat. After my semester ended, Robin flew out to Italy and we spent a whole week traveling around, everywhere from Capri and up to Tuscany.
You're probably thinking: where does a Tardis come into play here? Well, we spent a few days in Florence and one night we wanted to stream something to watch. Robin had a few episodes of Doctor Who downloaded. I've never seen Doctor Who before, it was a show he kept trying to convince me I would simply love. And what episode did he choose to start me off with? The Angels. (If you know, you know.)
It startled me so much, I SCREAMED really loudly, and everyone on the floor heard. It didn't help that we were in an old city with tons of statues everywhere, so we kept pointing out angels for the rest of the trip. And now, of course, Doctor Who is one of my favorite shows. This Tardis represents our relationship and a shared love that we have. Two actually (travel and Doctor Who!)
The Pizza
Behind the Tardis is a big shiny pizza ornament. This one actually has two meanings for me now. My mom got this for me back in High School since my first "real job" outside babysitting was at a local pizza shop. This is where I learned how to toss dough up in the air (yes, I can do that!)
And these days, Robin and I make a pizza every Friday night. I've been perfecting the recipe for years. We pour happy hour drinks, listen to a podcast (usually it's The Office Ladies) and I make dinner. So I like that the pizza also is still relevant to my like right now.
Sutter Home Wine Bottle
YES – that's an actual mini wine bottle that's on our tree. It's not the only alcohol bottle, we have a couple of whiskey bottles from our honeymoon in Scotland. I think it's totally ok to turn ordinary items into a Christmas ornament, as long as they hold a special meaning to you. And this bottle sure does have a special story.
Back in 2015, right after we moved to San Francisco, Robin and I decided to check out that "famous Napa Valley" we keep hearing about for Valentine's Day. The only problem? We both came down with terrible colds. I was really stubborn and had us go anyway (I don't think I realized that I would absolutely be visiting Napa Valley many many times again the future.)
As you can imagine, being sick and wine tasting isn't any fun. We made it to one wintery (Sutter Home, since it was free and we were also super broke) before turning around and going home because we felt terrible. I always giggle when I hang this ornament up.
Baby's First Christmas Book
Props to my parents for making a tiny "Baby's First Christmas" ornament book. It has photos of 3-month-year-old Kara, plus my parents and aunt and uncle. Everyone has those 1991 hairstyles that really haven't left the 80's yet. I love looking at these photos each year and reading about my first Christmas. If you're a new parent, I think you absolutely should make a book like this to look back on.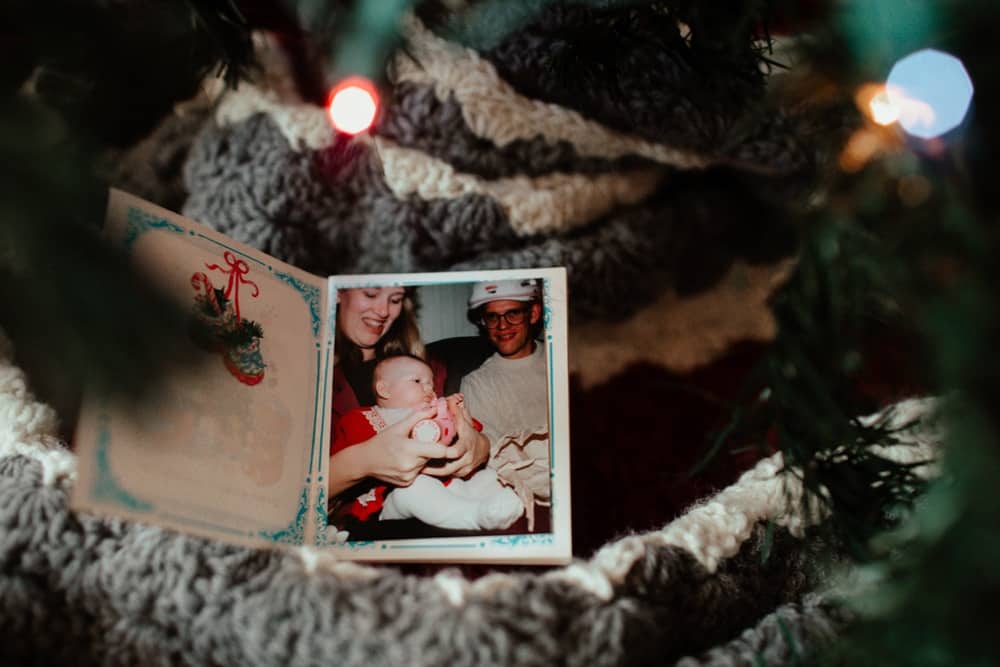 My Christmas ornament collection is getting a little too big these days, I'm running out of space in my Christmas Box! But, it's a wonderful problem to have. And, by the time we have a real house and everything that can fit a 12-foot tree, I'll have enough ornaments to cover it top t bottom, and plenty of stories to tell as we decorate.
Do you have any Christmas decoration traditions? I'd love hear what your family does!