Union Square Ice Skating in downtown San Francisco has been on my list of things to do in San Francisco for years. Literally 4 years, ya'll! For one reason or another, we've always missed the chance to go ice skating at the Union Square rink, but this year we finally visited. We put on our ugly Christmas sweaters and headed out!
Keep on reading for my Union Square ice skating: tips before you visit
including tips on how not to fall over like my husband did 2 times, what to wear and the best time to visit.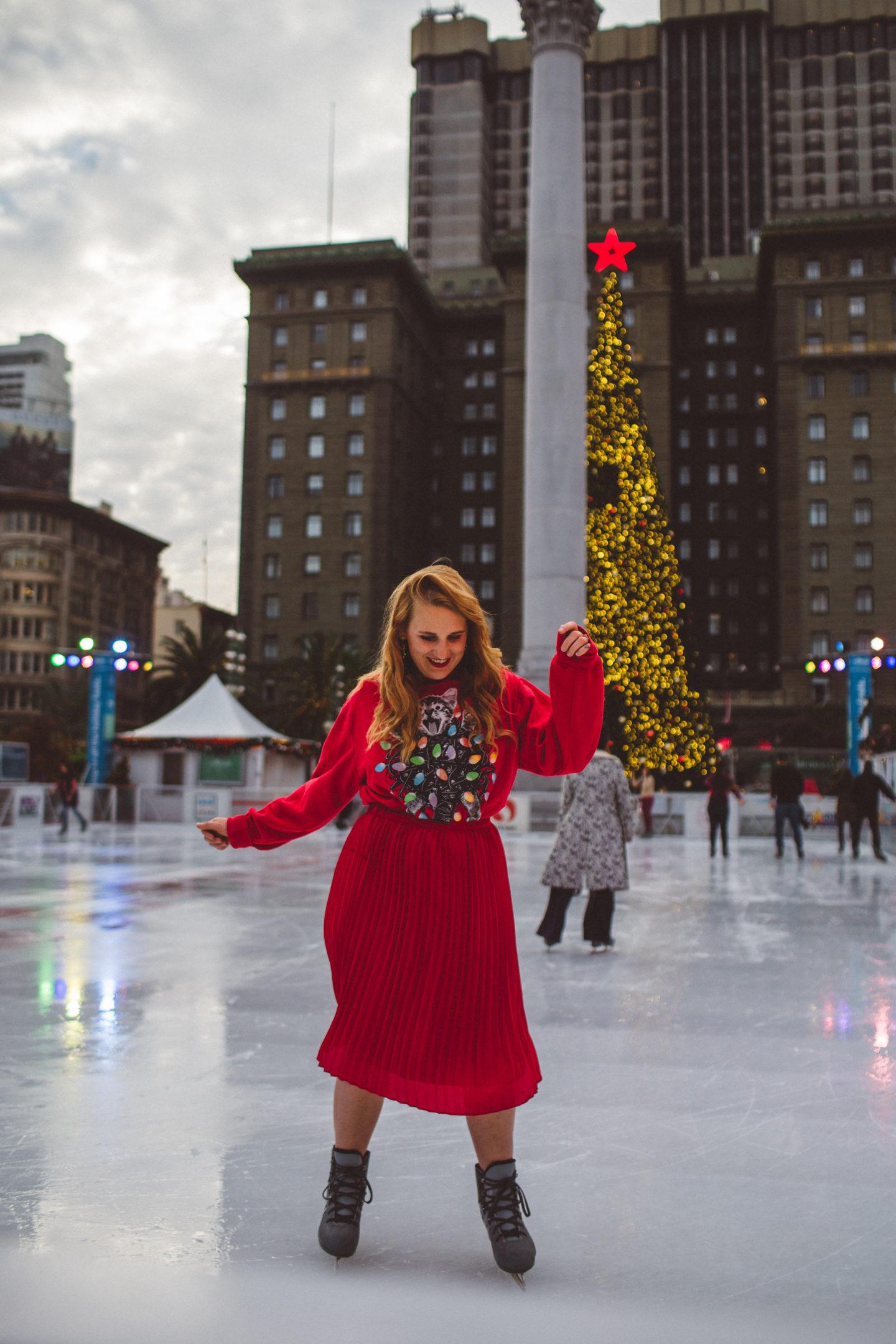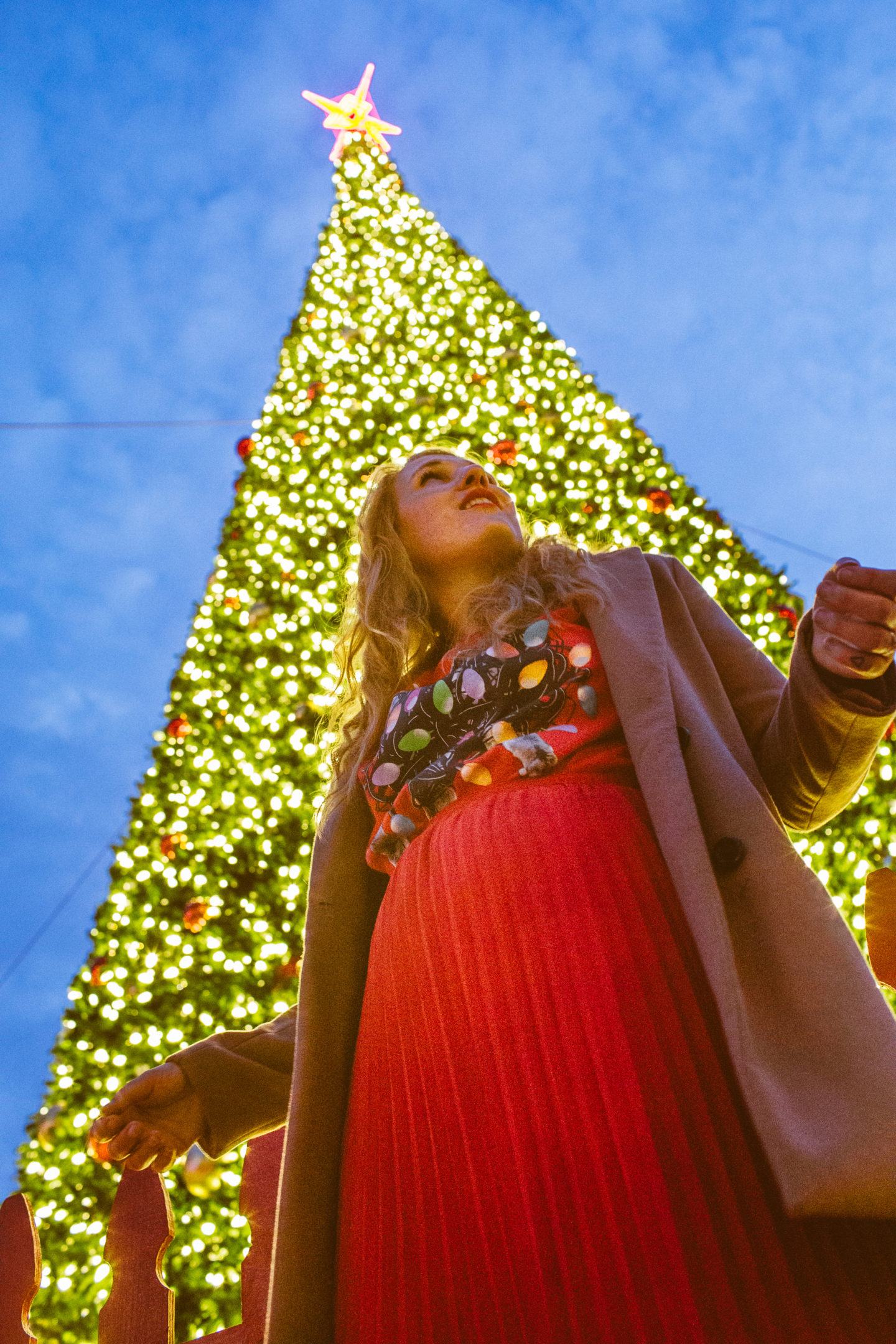 The ice rink is smack in the middle of Union Square in San Francisco and is by far the best Bay Area city ice skating rink for the holidays. There is another holiday ice rink near the Ferry Building (called the Embarcadero ice rink), the Yerba Buena ice skating and a few skating rinks in San Jose, but I love the magical feeling of the giant Christmas tree with the big, tall building towering over you. Such a festive experience! Truly the best ice skate in San Francisco.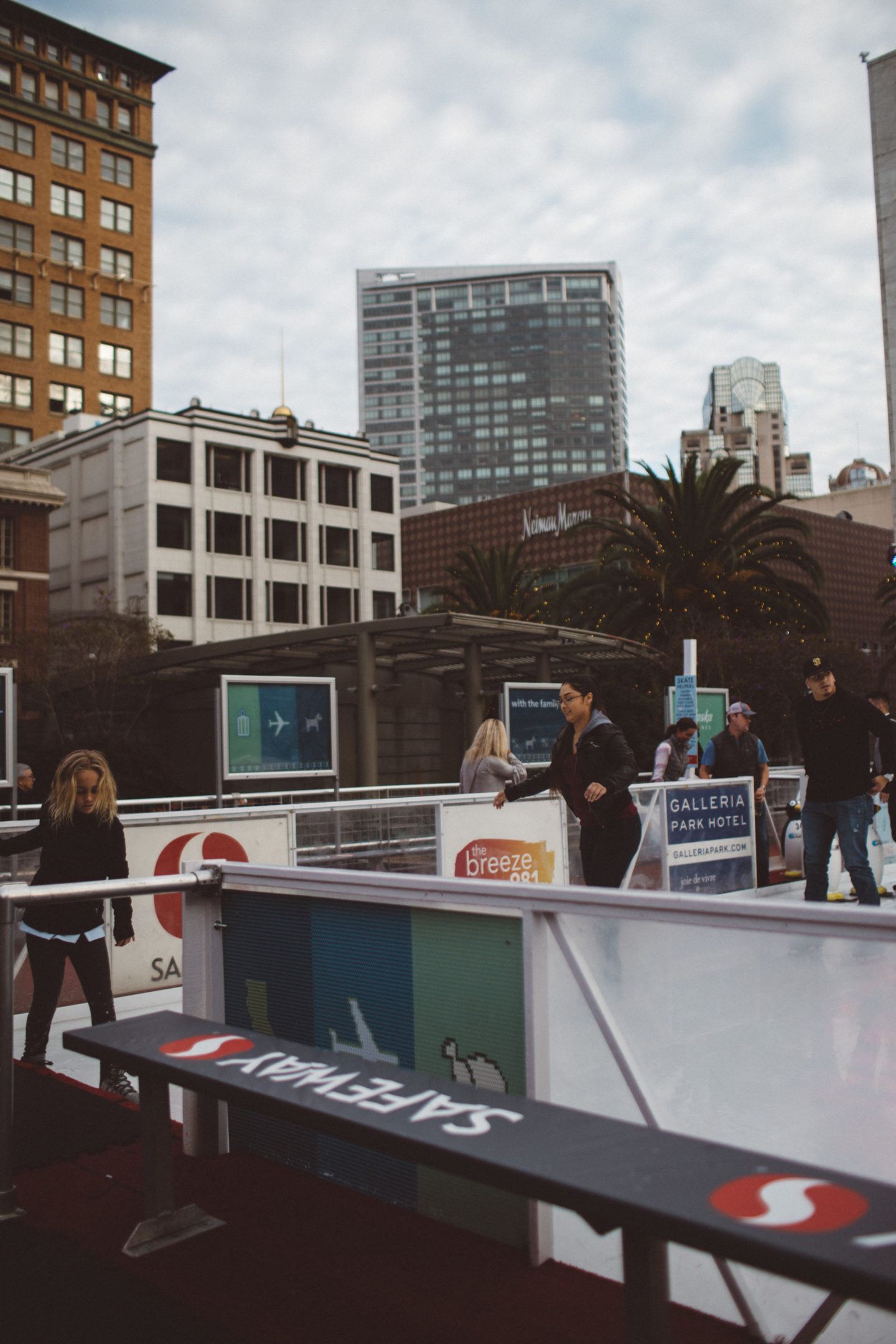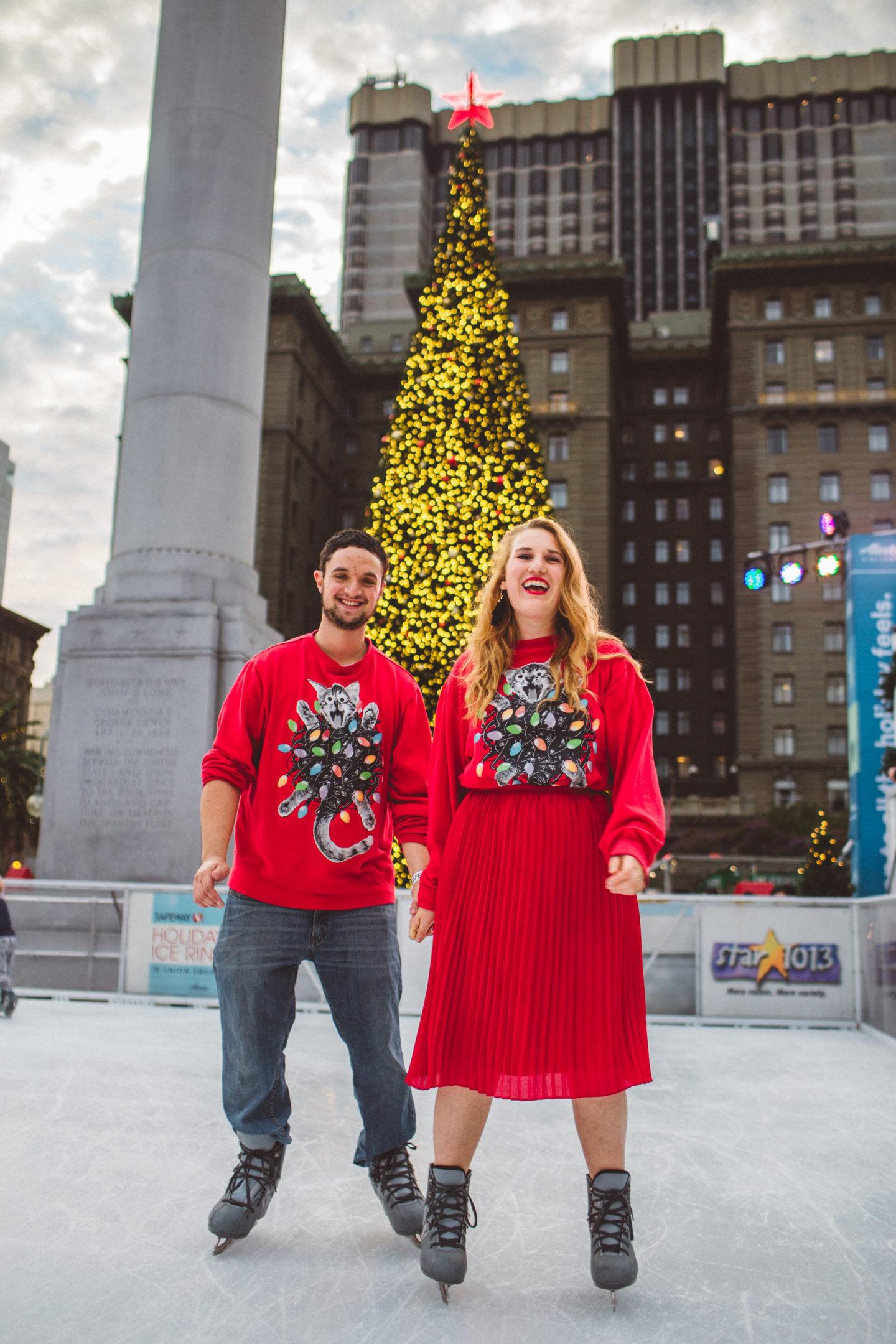 We were able to visit the holiday ice rink in Union Square on a Monday night, which I think is probably the easiest time to visit as the crowds are less. Weekends will be very busy – be warned! You may even have to stand in line until slots open up. Ice skate times are 1.5 hours each, and then a half hour to reset the rink.
We arrived at about 3:50pm and were able to join the 4pm slot which was honestly the best time to go as you'll avoid major crowds and be skating during magic hour – that time when the sun turns to dusk and all the lights start to twinkle. This is why I love ice skating in Union Square!
Union Square Ice Skate Quick Sheet:
Location: Union Square proper
Skate Rental: Skate rentals are included!
Tickets: You can buy tickets online here or at the rink on site. Adults are $18 each.
Union Square ice skating hours: 10am to 11:30pm daily from November 7th – January 21st.
Lockers: $3 per token
Also, here's another tip. Size down a half size so the ice skate is snugger and make sure to lace up REAL tight! Your ankles have to be really stiff/supported, otherwise, you'll be falling all over! I realized this after ice skating at Tenaya Lodge last year and once I figured that hack out, I haven't fallen on the ice since.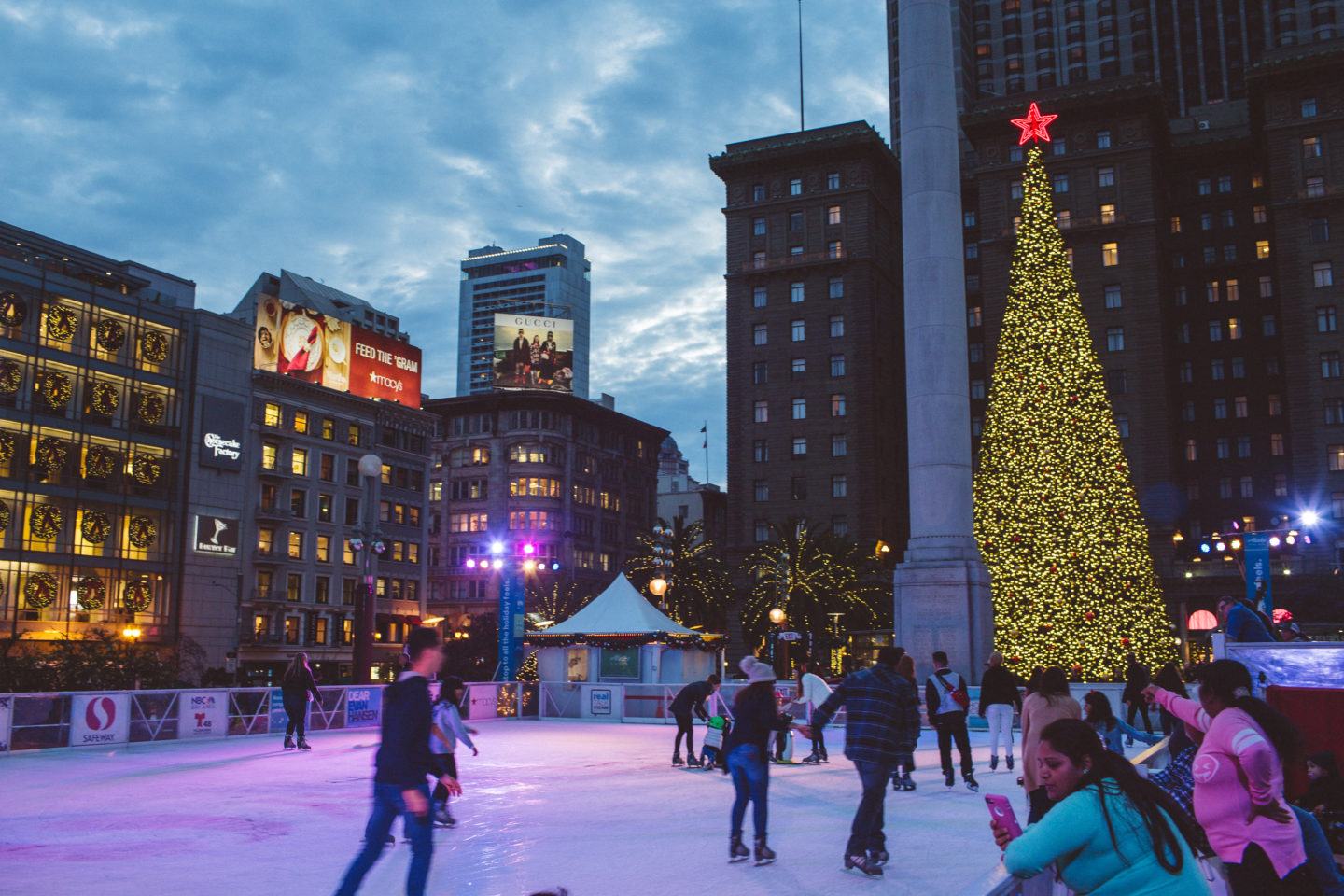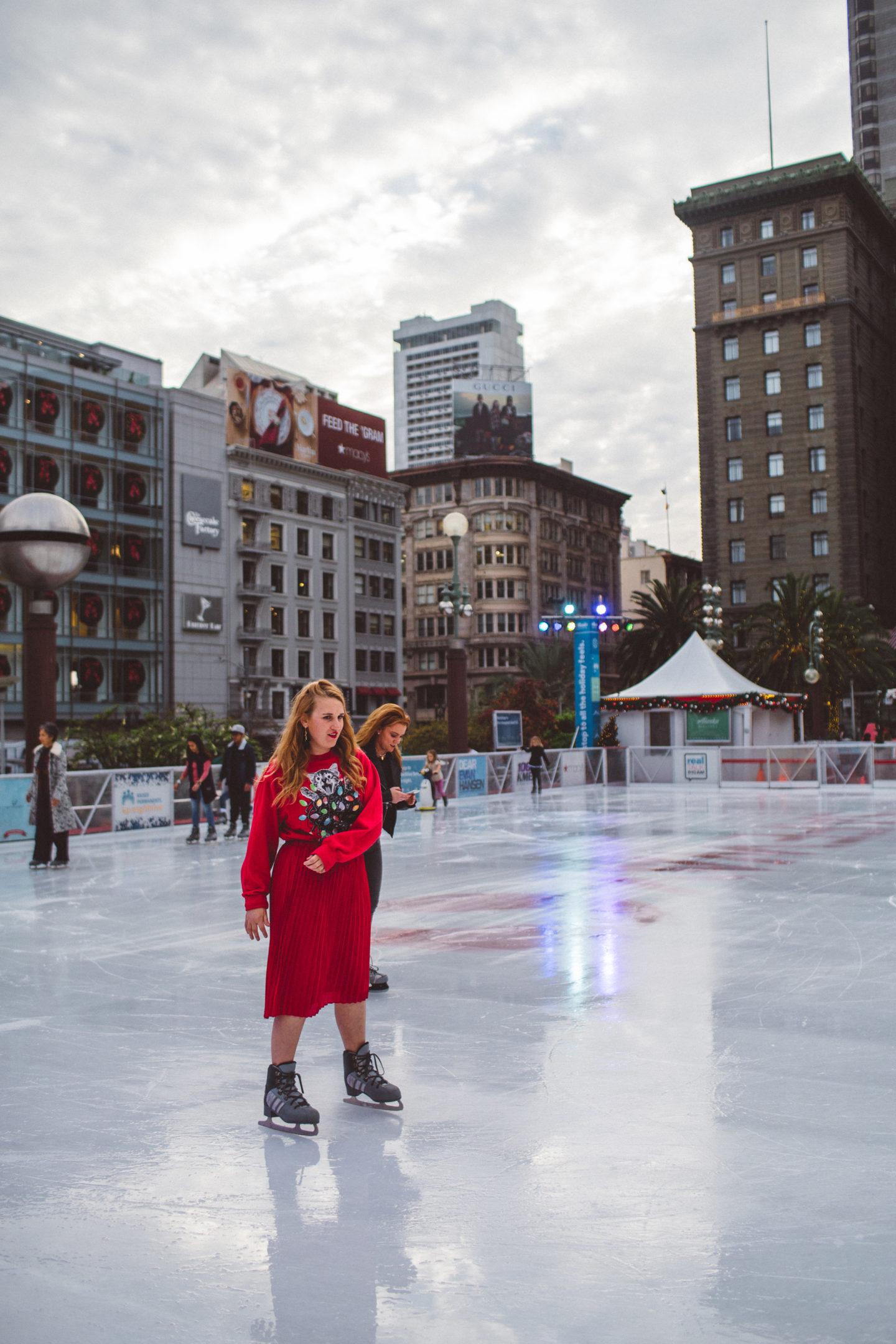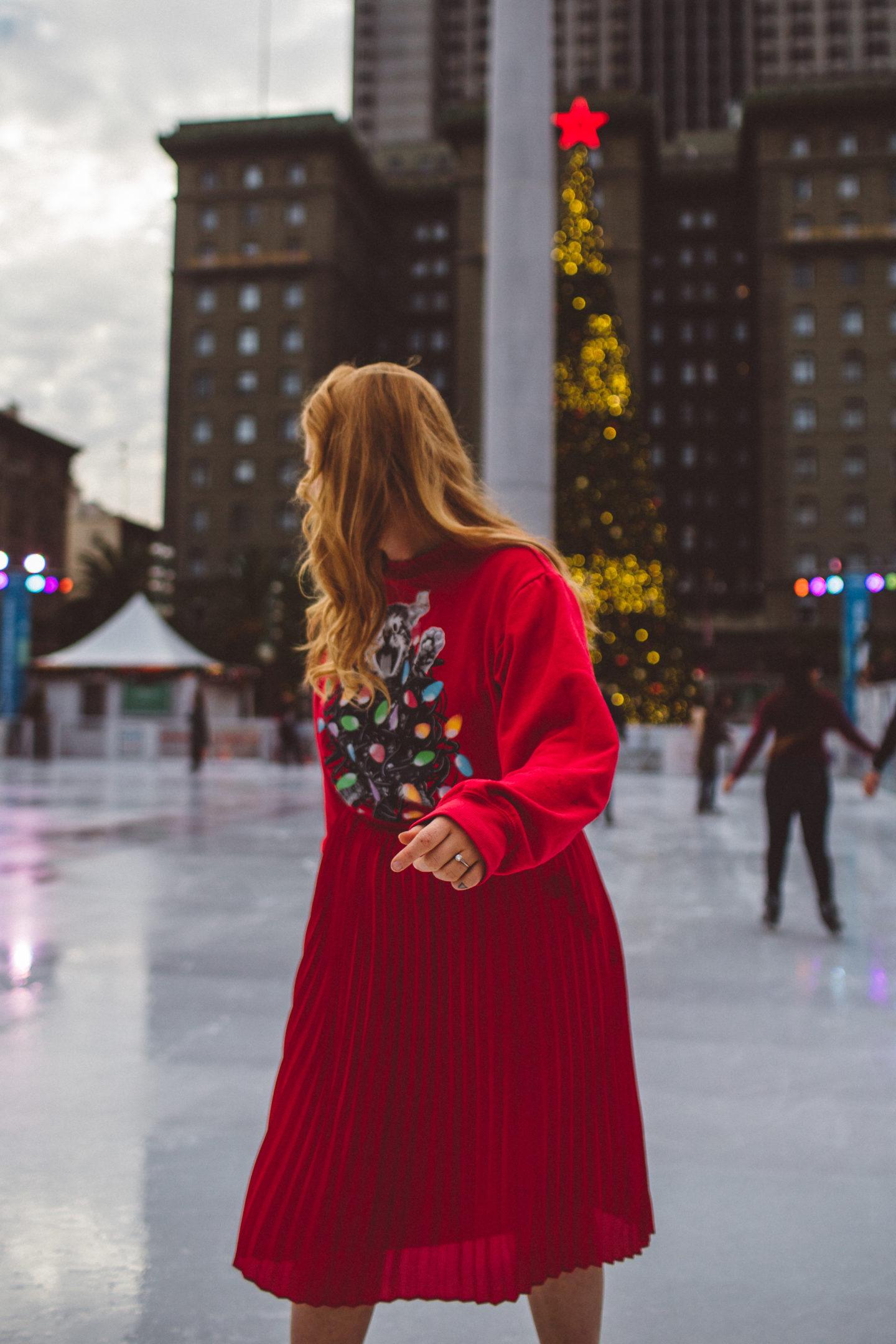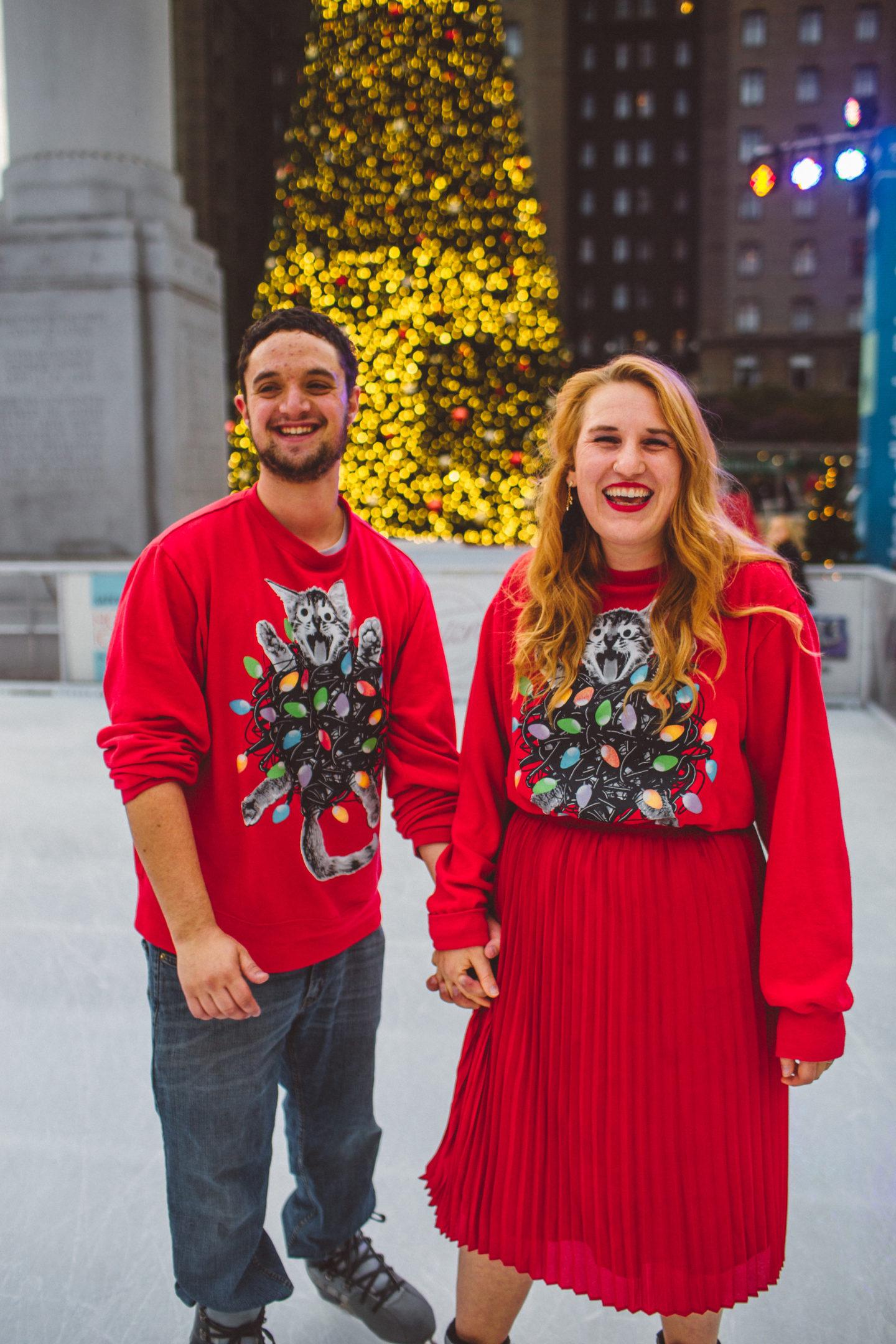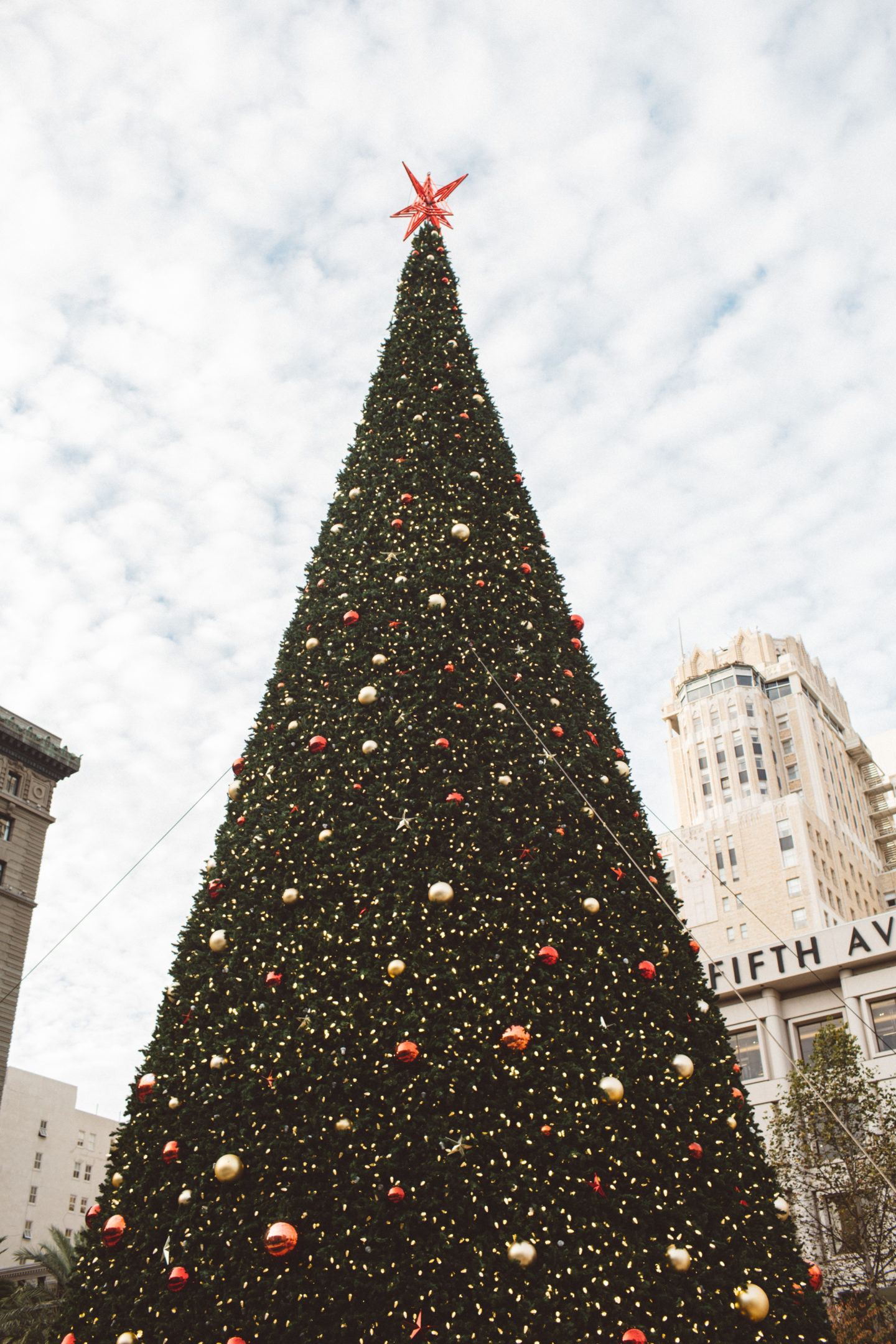 Don't worry – you don't have to skate the whole 1.5 hours. There's a little Safeway Holiday corner with chairs you can lounge on if needed. There are lockers for $3 a token that you can safely store your things. Purses and backpacks aren't allowed on the rink, so take your photos before skating as you may not be allowed to take cameras on.
Plus, if you fall you'll probably break it. (We have nice photos of the two of us on the rink because a really nice staff member legit just randomly offered to take photos of us!)
Don't forget to bring socks along so your feet don't have to touch the inside of the skate rental!
Ice skate Union Square in a cute dress, pleated coat on chilly days or – like we opted for – ugly Christmas sweaters! We got these a few years ago from Target and basically live in them during the month of December. I paired mine with a red skirt, also from Target and a classic camel coat. Everyone always loves our matching sweaters – they're 100% goofy and totally fun! Made ice skating in sf so much better because I could see people smile when they saw us.

I love all these ugly Christmas sweaters from Target! Grab one for you and your date to rock the rink!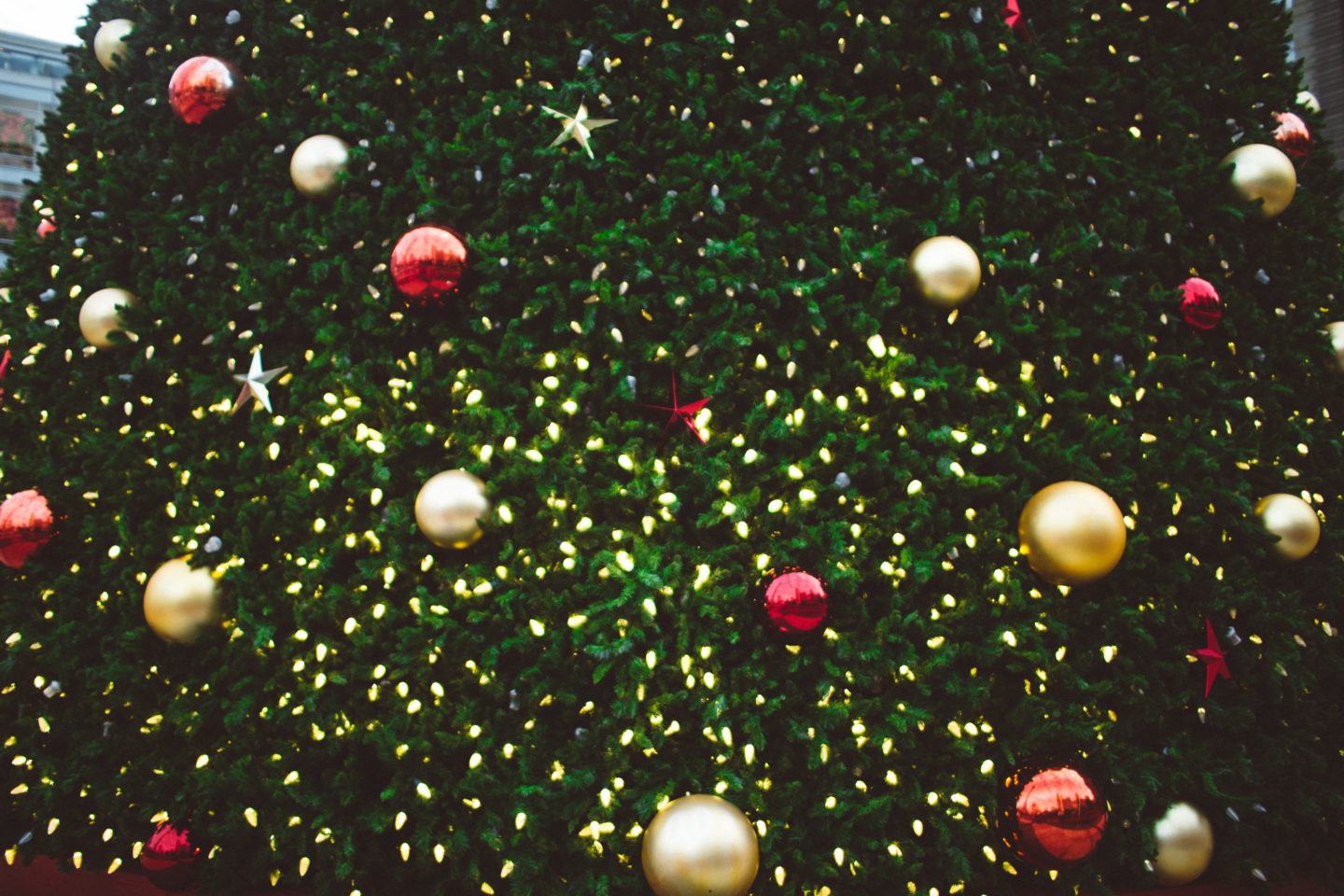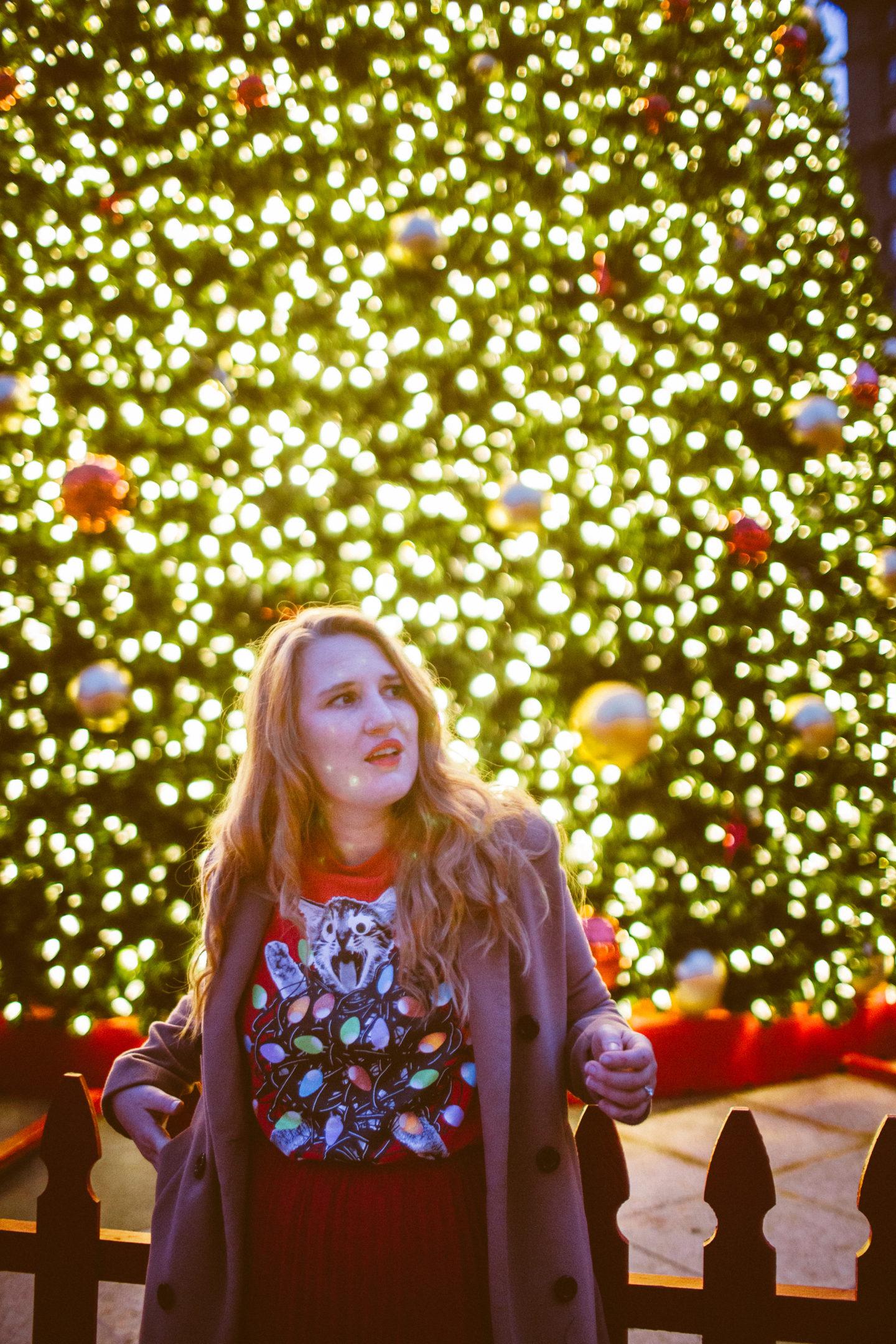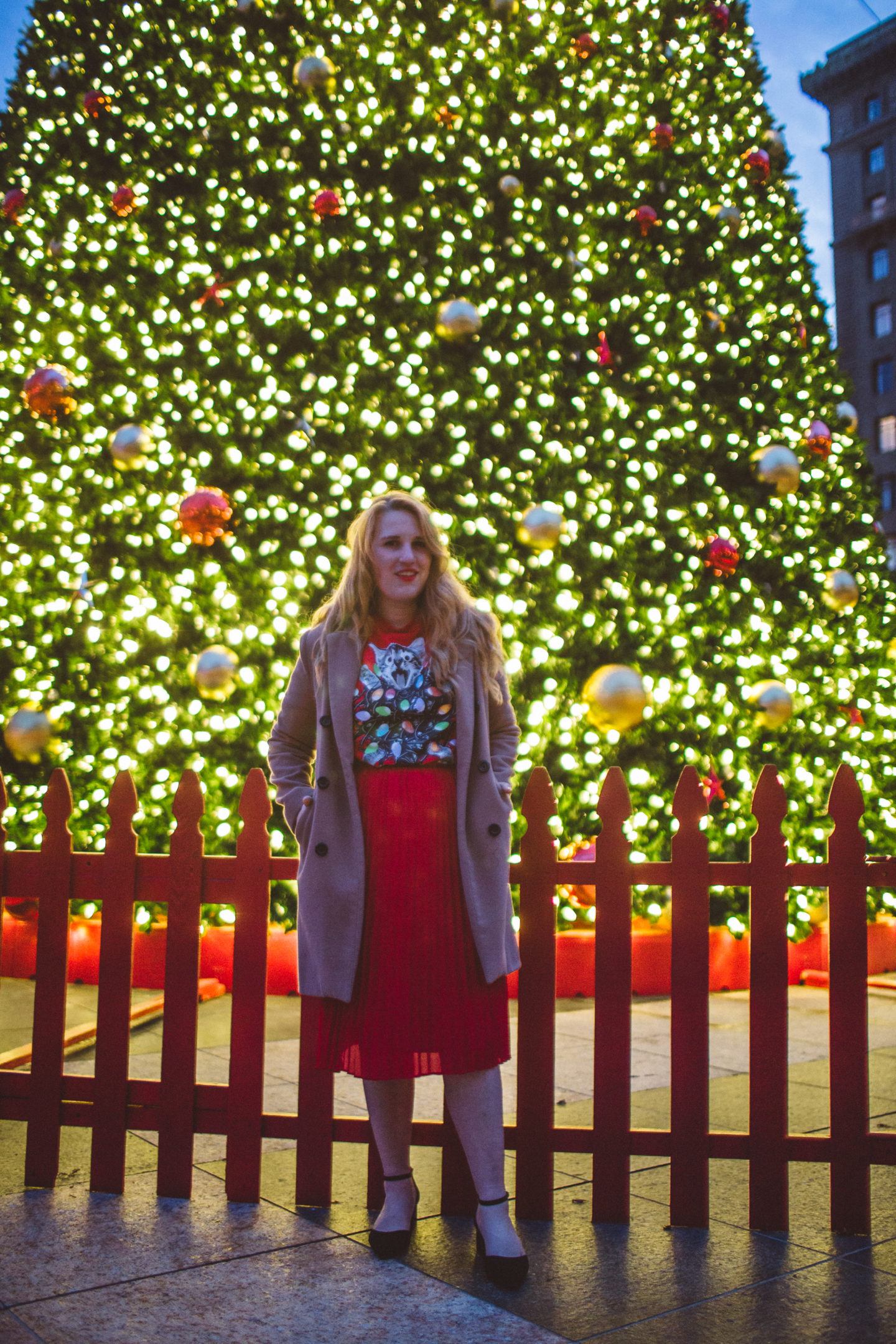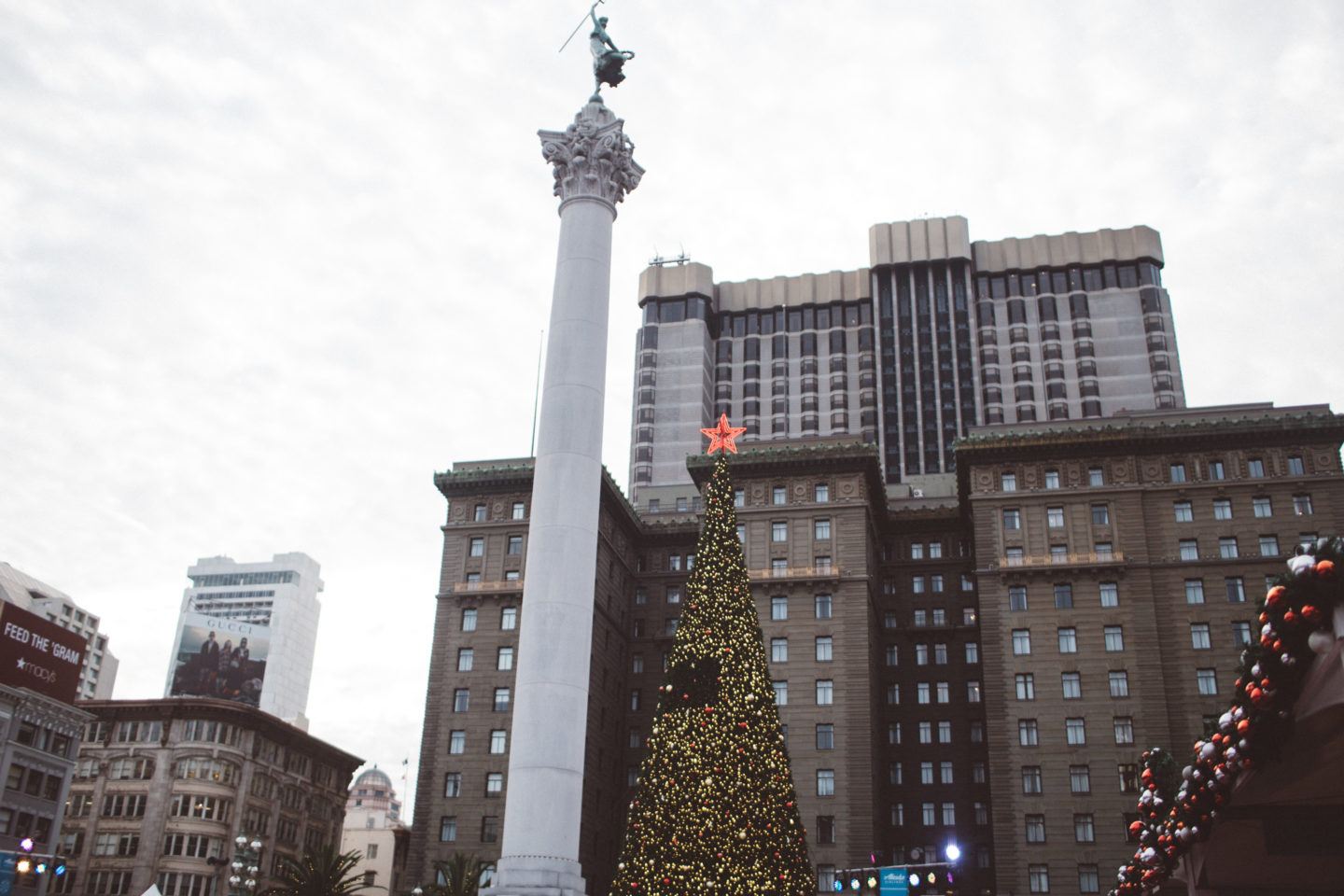 So, bring your friends, kids or your date to this San Francisco ice skate rink. My reviews are simple: this is the best ice skating in San Francisco! Afterward, head to the Winter Walk for food trucks, beer and more! It's free to visit and oh-so-fun.
One day, I'll love to go to New York and and do a few skates around Central Park or Rockefeller Center. Have you been?