For the longest time, I didn't even think I had anxiety. Adulthood is stressful, that's all.
But then my 19-year-old cat (who was like a family member) passed away last fall and my mental health went hurdling. After months of sleepless nights, body aches, increased irritability and having more and more days in my head, I realized: I have anxiety, and I've had it for a while now.
I heard that CBD could help me treat anxiety without the less than desirable side effects of traditional prescriptions. There are many practices beyond CBD that I use for a healthy self-care and mental health routine, but as a small business owner, I literally can't afford to spend a whole day in my head (or a whole day taking a break!)
How to Use CBD Oil For Anxiety The Right Way (My Personal Journey With CBD)
So, I spent the past few months testing out various CBD products and seeing how it affected my anxiety. And, spoiler alert, CBD is a GAME CHANGER for me. If you're interested in a totally raw, unfiltered personal account on how I use CBD for treating anxiety, how to use it the right way, the best brands out there and more tips, keep on reading!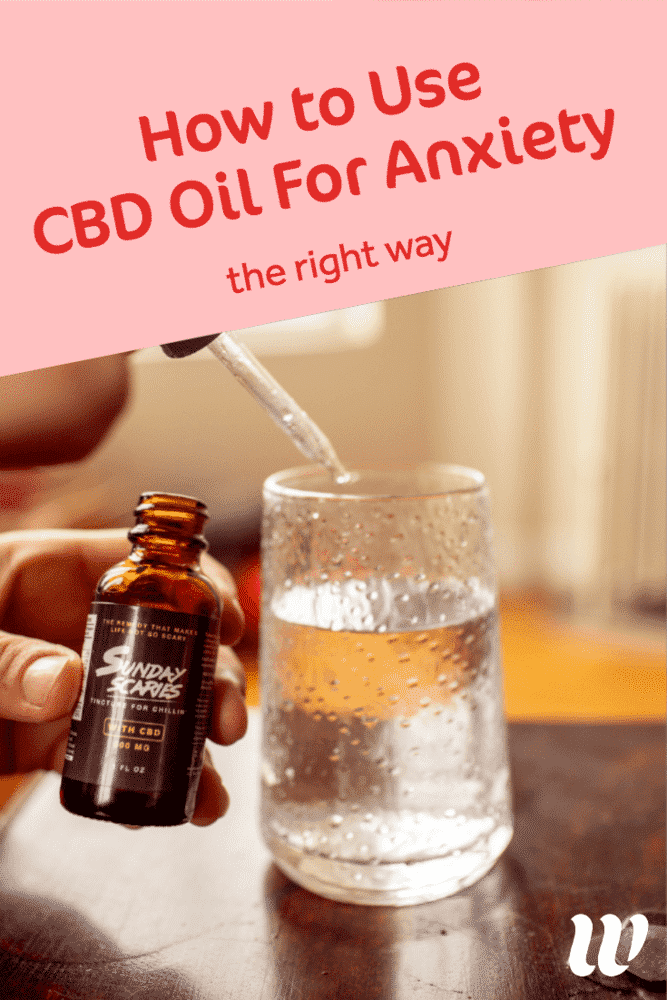 >> Got a question about CBD that you need answered quickly? Or just need someone to chat to in a safe space? DM me on Instagram @thewhimsysoul and I'll be happy to help!
I'm constantly learning about my mental health and anxiety symptoms. Like, what triggers that tight chest feeling or why my whole body can just be super sore sometimes.
I think our brains are super old creatures who are still in the "survival mode" even when we really don't need to be anymore.
It's almost 2020 and I'm lucky to live a privileged life where I have a roof, clean water, food, a community and an income. Logically, there isn't anything to feel anxious about, so I feel like my brain will latch on to other things to worry about.
Like emails! Sometimes, I get so anxious at my huge inbox! And I can't spend half a day avoiding an important task like talking to my clients. So, for me, a Sunday Scaries tincture or gummy can help totally silence that "survival mode" part of my brain that's overreacting so I can focus on living and working.
HOW TO USE CBD OIL FOR ANXIETY
I already use cannabis for fun, so when a CBD first came on the market, I tried CBD vape oil for anxiety for a while since we own a vape. But I found that – for me – the vape just didn't do the trick. I felt it more in my head vs in my body. It was too close to a THC head high than I wanted. It also never lasted as long, maybe 30-60 minutes while if I take a Sunday Scaries CBD oil tincture in the morning, it'll last until after lunchtime.
I have some friends who have tried CBD but complain it doesn't do anything for them. I think that's the problem – so many people think CBD will have the same effect as THC, or even alcohol (aka, a quick noticeable change in mental state.)
But for me, CBD is something I usually forget I took. I'll be going on a busy day and all of a sudden at lunch notice that I haven't had any anxiety attacks yet, or my normal body aches haven't been aching, like at all.
Sunday Scaries CBD oils are really powerful but not overwhelming if that makes sense? I never get high taking CBD (again, it's not a psychoactive product!) but I reap all the benefits that cannabis has, like a chilly body and minimized pain.
You know when you are on vacation and you have that moment when you're like "Whoa, I feel so relaxed right now! I want to be on vacation forever!" That's how taking Sunday Scaries help me feel, but on a normal day.
That's the magic of CBD for me: it works in the background to help support me through the work day.
On days I know I'll be busy and probably stressed out (or days when I wake up feeling anxious, man those are the worst!) I'll make a Sunday Scaries oil tincture in the morning. Here's how to make that:
Sunday Scaries CBD Tincture
1/3 dropper of CBD oil
A full glass of water
Fill & drink the glass twice to really wash all the oil out and into your body!
Then, when it wears off around 1pm, I'll decide how I feel. If I feel like I could use another dose, I'll pop 1-2 CBD gummies. Sunday Scaries has awesome gummies (both regular and also vegan) which are easy to carry around in my bag. All I need is one gummy and they start working pretty quickly.
Sunday Scaries has a wide variety of CBD products. My favorites are the oils and vegan gummies. You can buy them as you need them or get Sunday Scaries delivered to your door on a subscription plan so you never run out. I think they make the best CBD oil for anxiety!
LEARN MORE HERE.
I think so many people my age are dealing with long-term life situations that trigger anxiety and could really benefit from incorporating CBD for anxiety into their daily routine (on top of other treatments and practices like therapy, exercise, etc.) I mean, my generation has it hard. Toxic social media habits, crippling student loan debt, an impending recession, super high cost of living, a worldwide environmental crisis and so much more…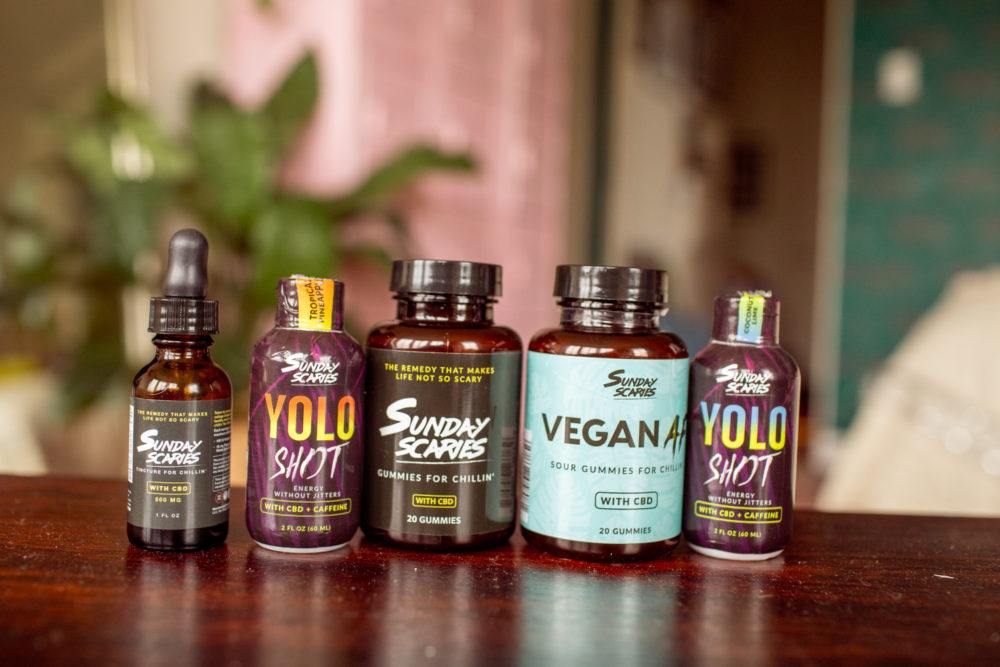 CBD DOES WAY MORE
I also have chronic shoulder pain (I messed it up in college) and taking Sunday Scaries has health benefits for me that include alleviating that annoying soreness, too! If you have chronic body aches, you can also use CBD oil for pain. There are a lot of CBD lotions and topical products out there, and I have tried those for sore muscles. Some of them work a bit like Icy Hot, but honestly, gummies or oils work so much better for me.
CBD can help alleviate so many things beyond just pain and generalized anxiety disorders. There's been many clinical studies, and research around CBD. The list is long, but here's a quick view of other mental and physical issues CBD can aid in:
Seizures
Traumatic stress disorder and PTSD
Depression
Social anxiety disorder (my husband robin has this!)
Panic attacks
Chronic pain
Parkinson disease
Crohn disease
People undergoing Chemo
Hangovers!!
Eating disorders
Insomnia
And so much more!!
Frequently Asked Questions About CBD
What Is CBD?
CBD stands for cannabidiol. It is a compound found in the hemp/cannabis plant. It does NOT contain THC, which is the psychoactive compound found in cannabis. CBD is legal and is heavily regulated.
Isn't That Just Weed?
NO! CBD does not contain THC and can't get you high like recreational cannabis or medical marijuana. As I talked about earlier in this post, for me at least, a good CBD helps my chill but not in an overwhelming noticeable way that recreational cannabis or alcohol does.
Are All CBD Companies The Same?
No! I personally feel that CBD is toted as a cure-all snake oil product right now (it's very trendy!) There are a lot of companies jumping on the bandwagon but are making low-quality products that don't actually work. (Even worse, sometimes these products can actually contain THC if they aren't regulated well!!) I vetted Sunday Scaries before writing this and can happily say they are the real deal.
So, that's my personal journey with CBD oil for anxiety. You probably can't tell from my Instagram when I'm having a bad day, but since incorporating CBD into my lifestyle, I've been functioning so much better. I can't stop telling all my friends about it and I'm trying to get everyone on the CBD bandwagon. I'm still just constantly surprised by how much using Sunday Scaries has helped me.
Got any comments to add or questions? Leave a comment below so everyone can see! You can always DM me on Instagram @thewhimsysoul if you want to chat privately.