There's no doubt, Olaplex is having a moment. It's all over Instagram, TikTok, Pinterest – you name it. But does the Olaplex hair treatment actually work?
To start, my fine hair is dry and slightly damaged. For this Olaplex review, I've been using the products for about a month. I would test the Olaplex hair repairing treatment for 6 months or more for a more robust opinion, but we wanted to give you the lowdown ASAP and we've seen many people start seeing results in a day or two.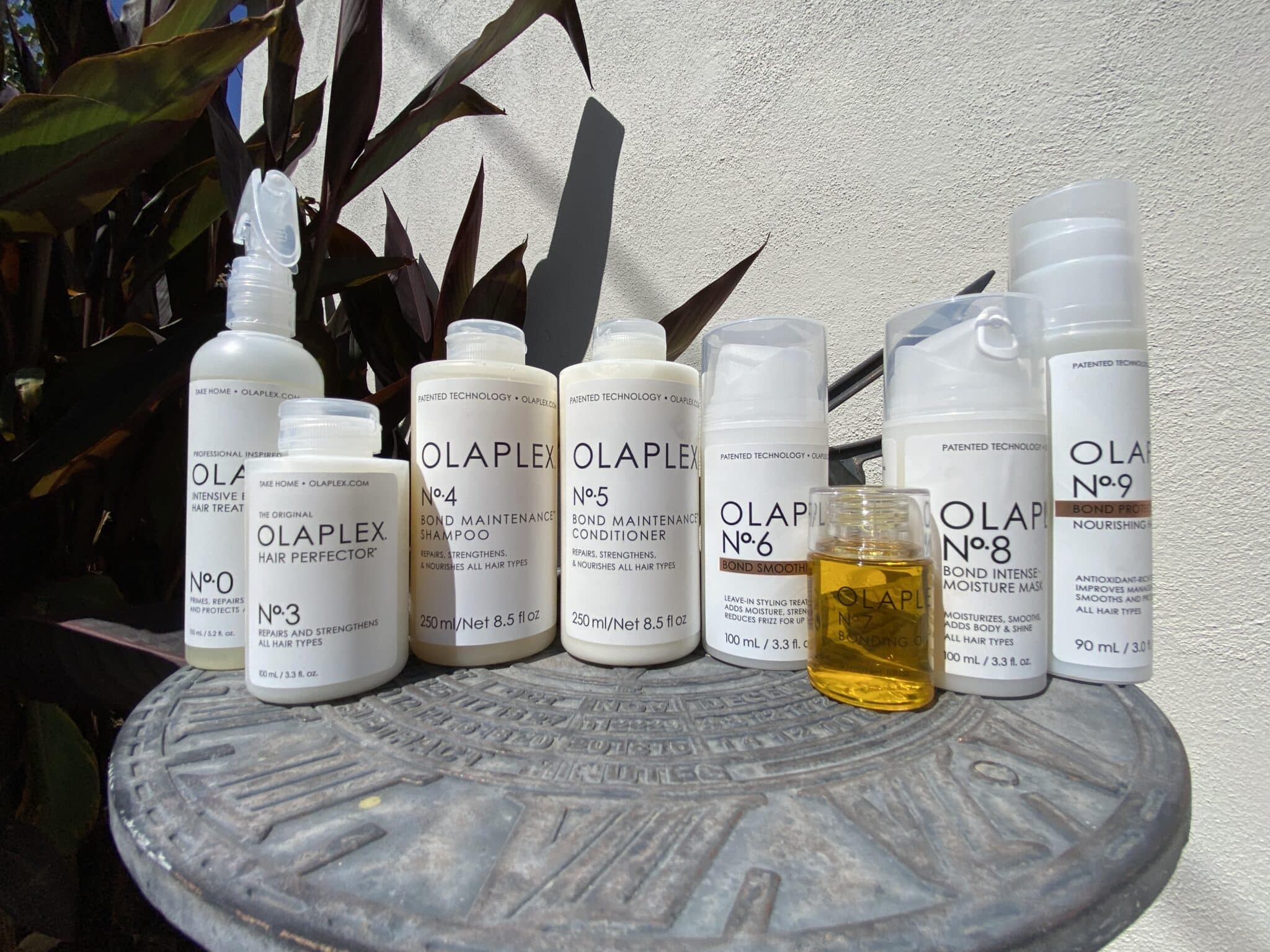 Real Talk: Does the Olaplex Hair Treatment Actually Work?
In the time I have been using Olaplex, I've already begun to see changes. My hair holds curl better, feels stronger, and maintains moisture (even with the horrid, hard California water spewing from my shower head and the heat applied post-shower to blow dry my roots).
Before I began testing, I researched – well… I scrolled through TikTok for all the Olaplex before and after stories I could find. Reviewers boasted about the brand, and there were some fantastic Olaplex No 3 reviews (it seems to be the golden egg in their product line) along with some Olaplex Shampoo & Conditioner reviews.
It appeared to do magic, so I did what any normal person would do and got ahold of the entire line. I didn't hold back. Lucky for you, because I'm going to break down each one and give my honest thoughts on it – including what's worth it and what's not.
Shop The Olaplex Products I Tried

How Does Olaplex Work?
Science. To be specific, chemical bonds on a molecular level. Your hair is made up of proteins and bonds including hydrogen, salt and disulphide. Anything from stress to poor diet can impact these bonds.
When there are broken disulfide bonds (a stabilizer for hair protein) your hair loses its strength and becomes damaged. Broken bonds are caused by heat styling, bleaching, coloring, and perming.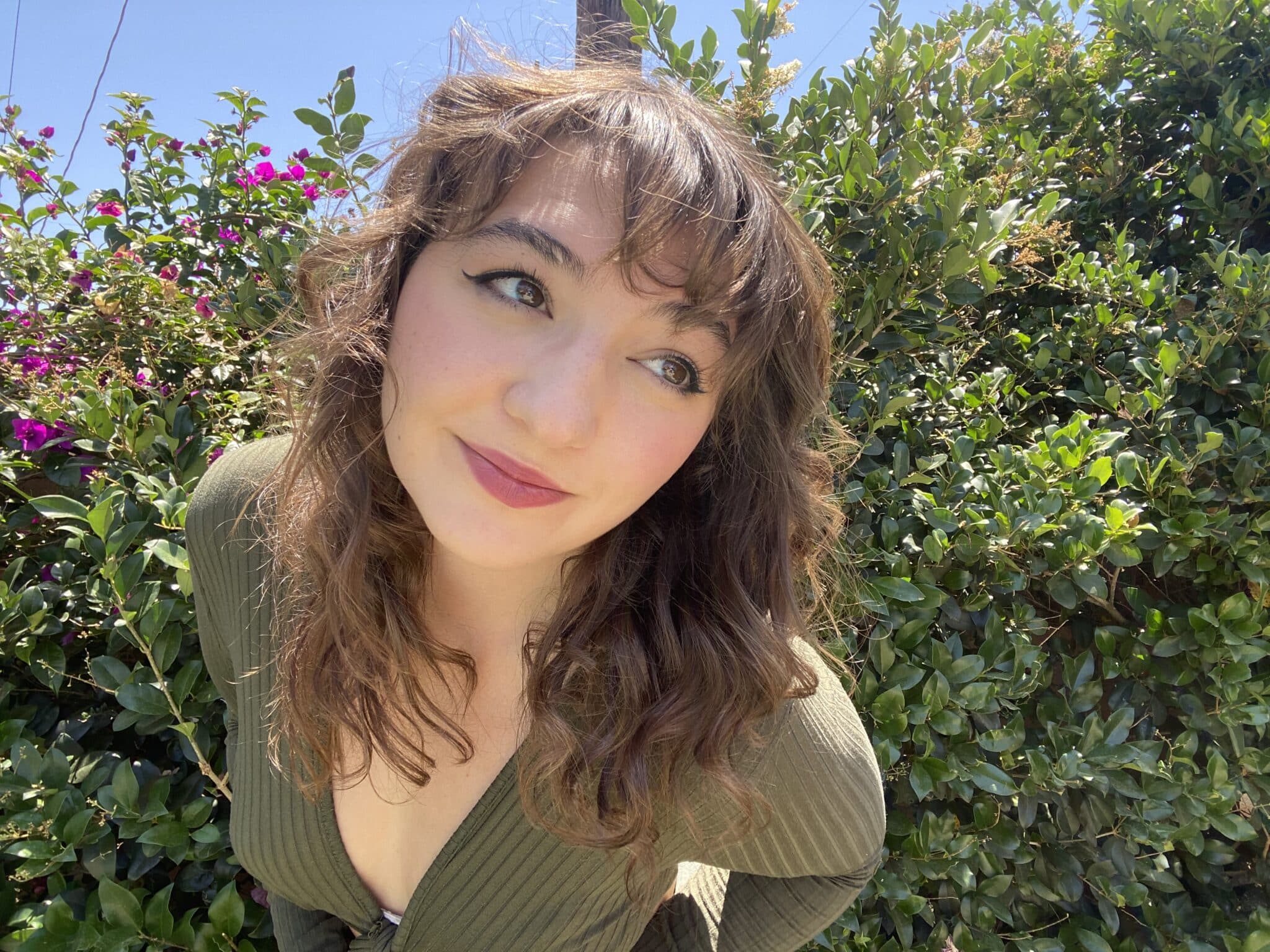 Olaplex created a patented, single active ingredient called bis- aminopropyl diglycol dimaleate, which repairs the hair from "the inside out." This ingredient is used to protect hair from further damage and give back some of its armor by repairing the disulfide bonds.
Using Olaplex keeps your hair from further damage and repairs the protection of your hair cuticle permanently. It's a bond-building treatment that works for all hair types.
Which Olaplex Should I Use?
I'll dig into thoughts on each product, but my high level recommendation…
For those who want a quick hair care routine:
For first time users, try:
For anyone who wants the full effect of repair: get it all. But I guess you could spare yourself the… actually, no, you'll want all of it. Pick up the Olaplex kit "The Complete Hair Repair System" on their website and you're good to go.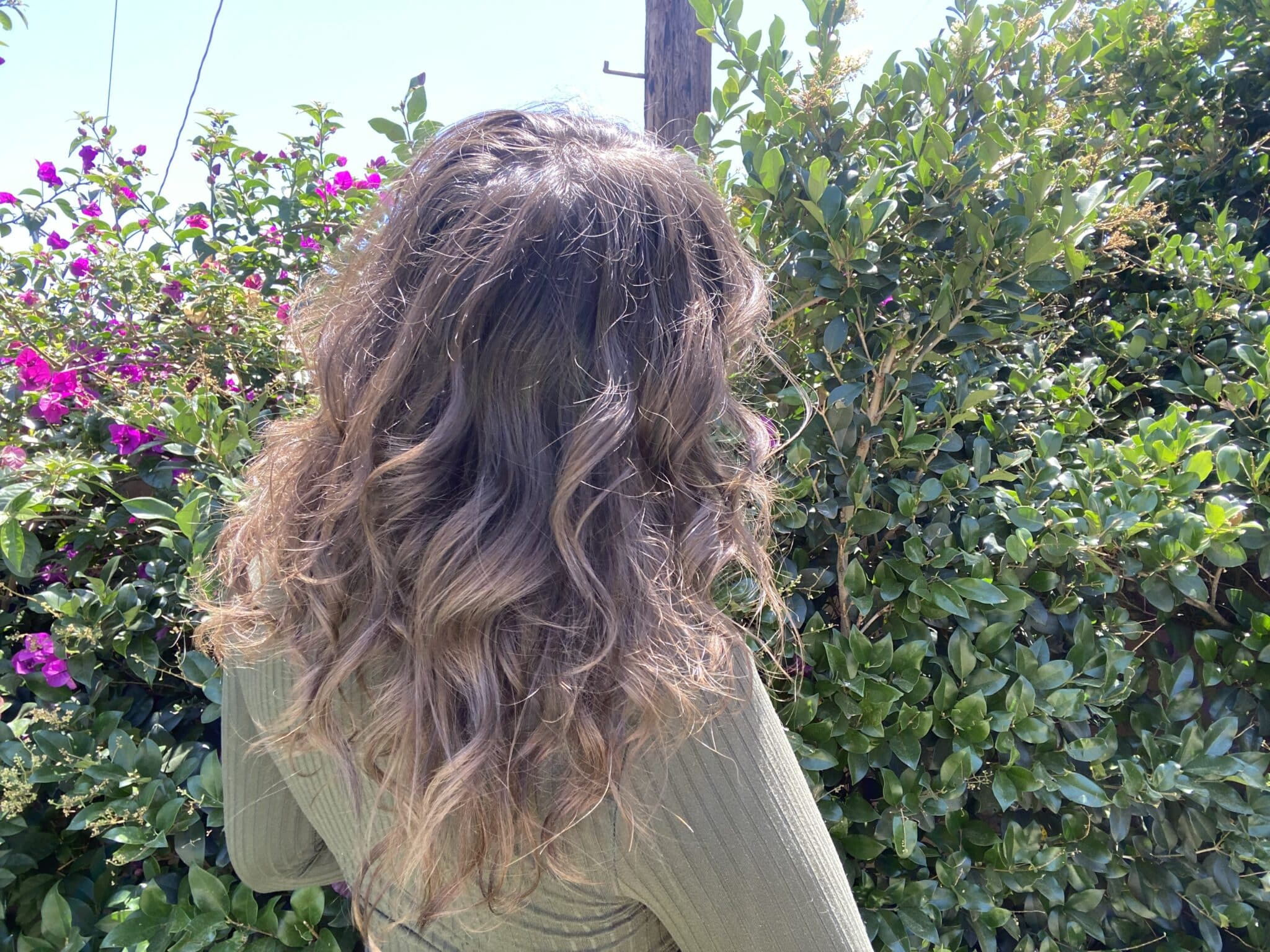 No.0 Intensive Bond Building Hair Treatment
First, don't buy the No.0 Intensive Bond Building Hair Treatment alone. It has a partner, and that partner is No.3. They are in love, inseparable, and your hair likes it that way.
Second, this treatment is meant to be used one to two times a week depending on the intensity of your damaged, dry hair. I have split ends out the wazoo, so I was a two times per week girly.
Olaplex says when you use the No.0 together with the No.3 it repairs your hair damage up to 68% more and strengthens it three times better. My Olaplex results can affirm this. My hair feels brand new again which opens the door to explore more hairstyling options and potential hair coloring!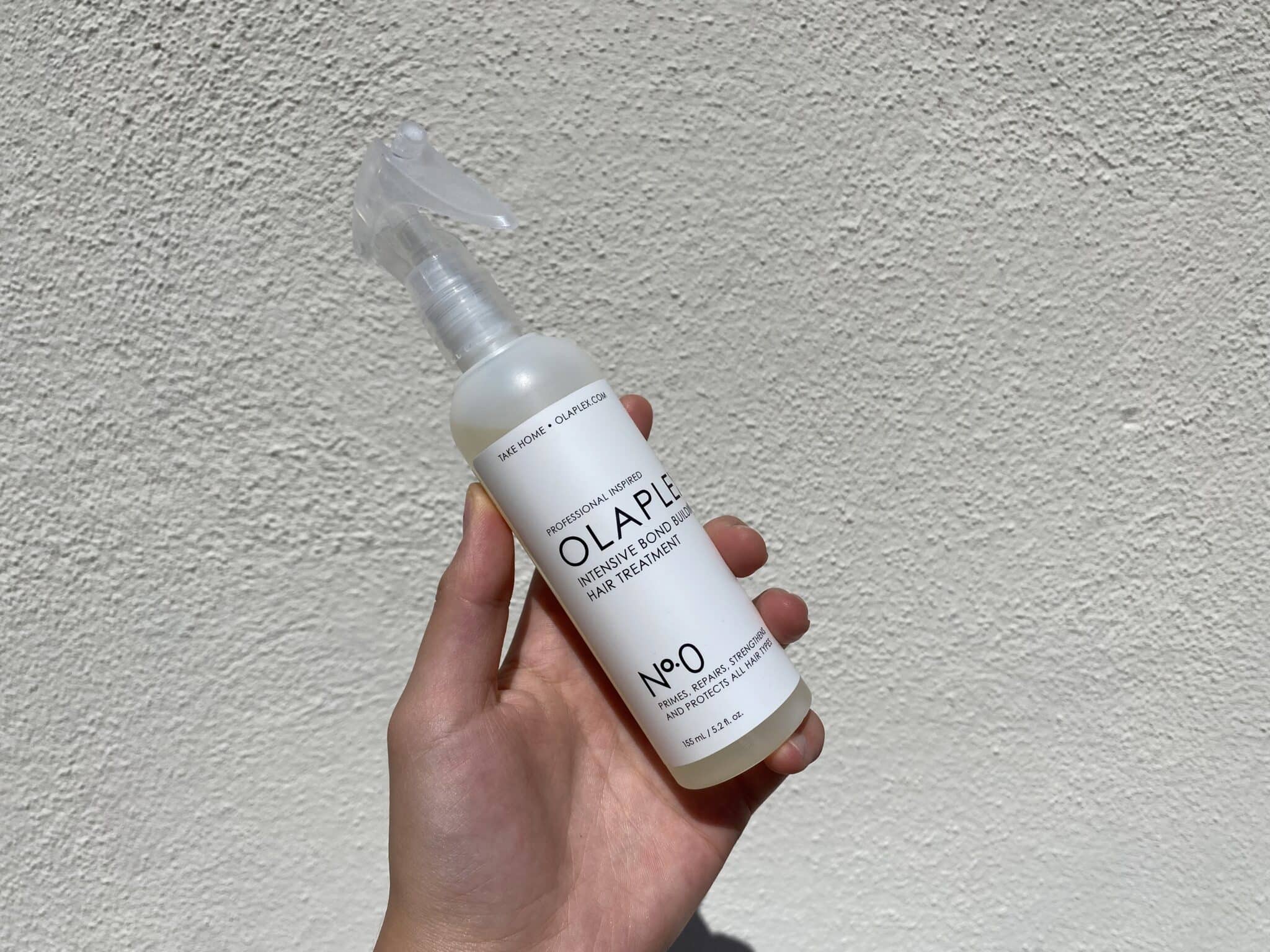 But there are two things I didn't like about this process: 1) it takes a lot of time, and 2) the No.0 applicator kind of sucks.
The instructions say to apply the No.0 on your hair from roots to end for 10 minutes, and then apply the No.3 after for another 10 minutes. I'm not a patient person.
When should I use these Olaplex products?
That said, if you can't factor in an extra 20 minutes before work or wherever you need to be (like myself). Use Olaplex products on the weekends, or when you have time to hang around the house.
Olaplex advises to apply this hair treatment for a minimum of ten minutes so you can keep it on longer. I actually have both on my hair right now as I'm writing (very meta), and I've had it on for probably close to 45 minutes. Just rinse it off in the shower and go about your day.
No.0 Intensive Bond Building Treatment Applicator
It's in a spray bottle, but the spray bottle doesn't really spray as much as it shoots me in the head like a water gun. I'm guessing they did this on purpose because the ingredients of No.0 can be harmful when inhaled. Got to do what you got to do to avoid a lawsuit, but I found it really difficult to saturate my ends.
To work around this, I spray product into my hands and directly apply it to my hair. I wish the applicator was mistier, but I also don't want to end up at the ER.
No.3 Hair Protector
Wait, what happened to 1 and 2? Well, they left those to the professionals. No.1 is a bond multiplier and No.2 is a perfector for salon use only before chemical treatments. If you have a cosmetology license, go ahead and grab some.
Okay, now the No.3 Hair Protector. The reason behind why Olaplex is so famous. Go onto any social media platform, where you'll find an abundant amount of Olaplex No 3 before and after reviews, which is what got me really excited for this product.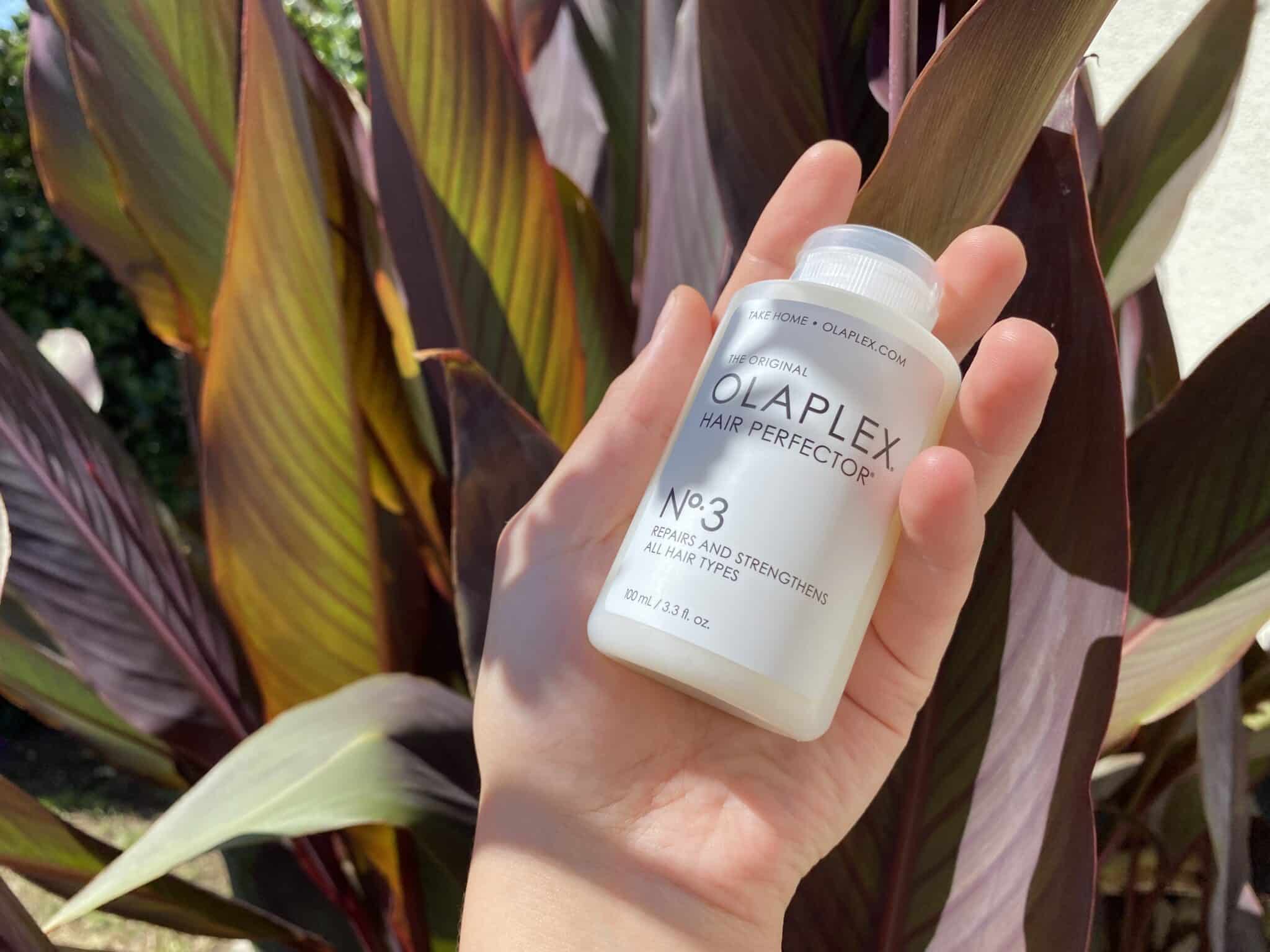 Earlier, I discussed the science behind this bond-building hair brand, and No.3 is where it packs its punch.
Technically, you really only need the No.0 and No.3 from the Olaplex line to help rebuild your hair structure. If you're asking yourself, "should I use Olaplex?" The answer is yes yes yes, but if you already have great items in your hair rotation, just pick up one and three.
The Hair Protector repairs and strengthens strands immediately using a single molecule. It made my curly hair super silky and gave me my nice ringlets back (courtesy of my white father who rocked a curly nest on his head when he was younger).
Don't forget:
This at home treatment needs to be applied to damp hair using either
the No.0
or water.
No.4 Bond Maintenance Shampoo
Okay, maybe it doesn't do the same amazing restructuring to the hair as No.3, but I LOVE the No.4 Bond Maintenance Shampoo. It smells like fresh pears and apples, plus it lathers beautifully.
It's the perfect texture, and I only have to use a penny size amount to cover my entire scalp. It starts as a lightweight gel and instantly turns into this nice, tacky lather that builds up really well when I use a scalp massager to massage it in.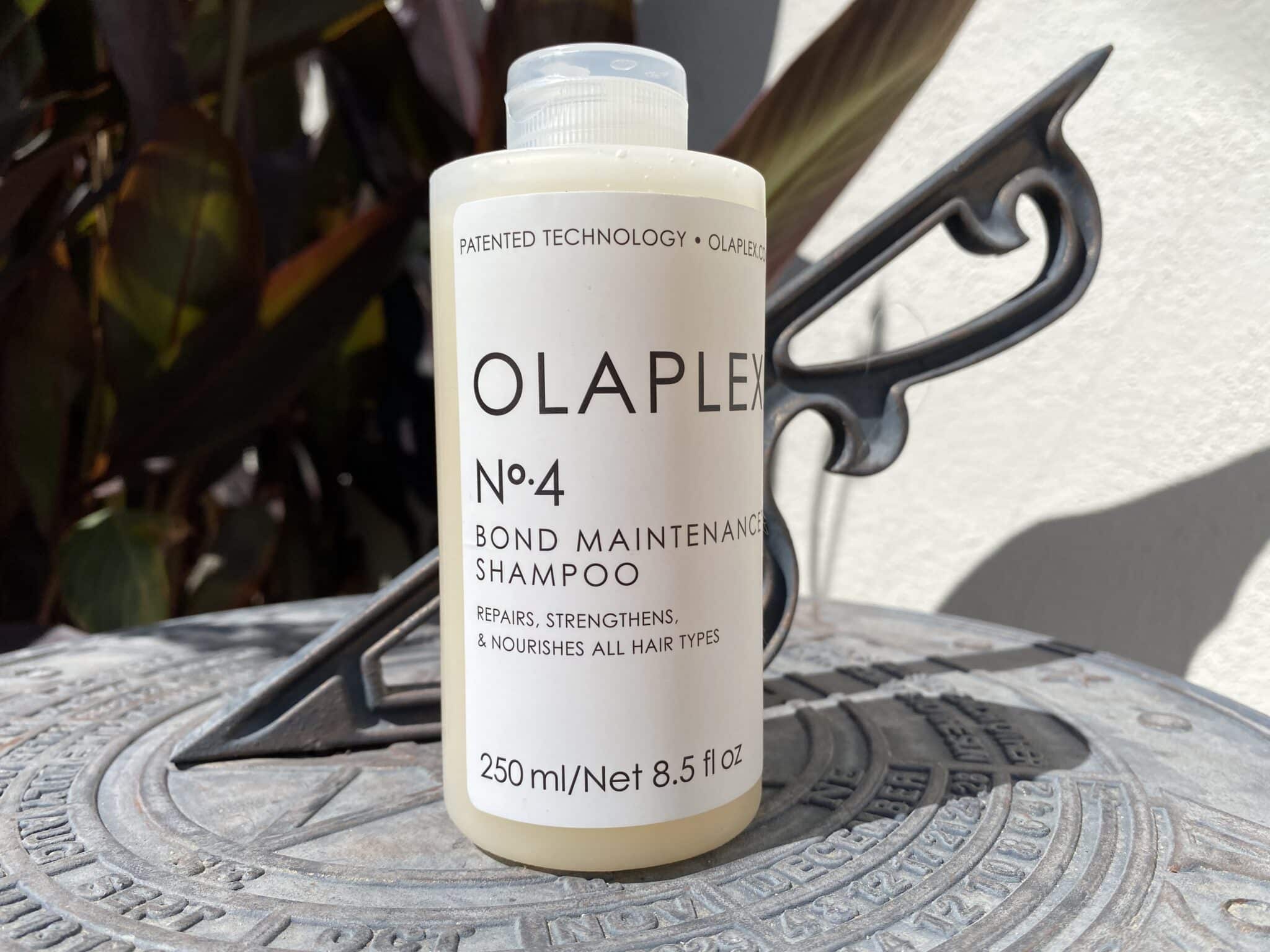 Some shampoos strip the hair of its moisture, but Olaplex puts moisture back in which makes it great for both natural hair and color treated hair. My Olaplex shampoo review: it's fantastic and even though it comes in a small bottle, it really does last.
Olaplex also offers the No.4P Blonde Enhancer Toning Shampoo to remove brassiness from lightened and/or blonde hair.
It's a highly concentrated purple shampoo with the same moisturizing factors and feel as the original. I have darker, brown hair, so I stuck with the No.4.
No.5 Bond Maintenance Conditioner
Another match made in heaven, the No.5 Bond Maintenance Conditioner works best when paired with the shampoo. It's another product that helps to repair split ends, give hair better strength, and, of course, it's packed with ingredients for intense moisture.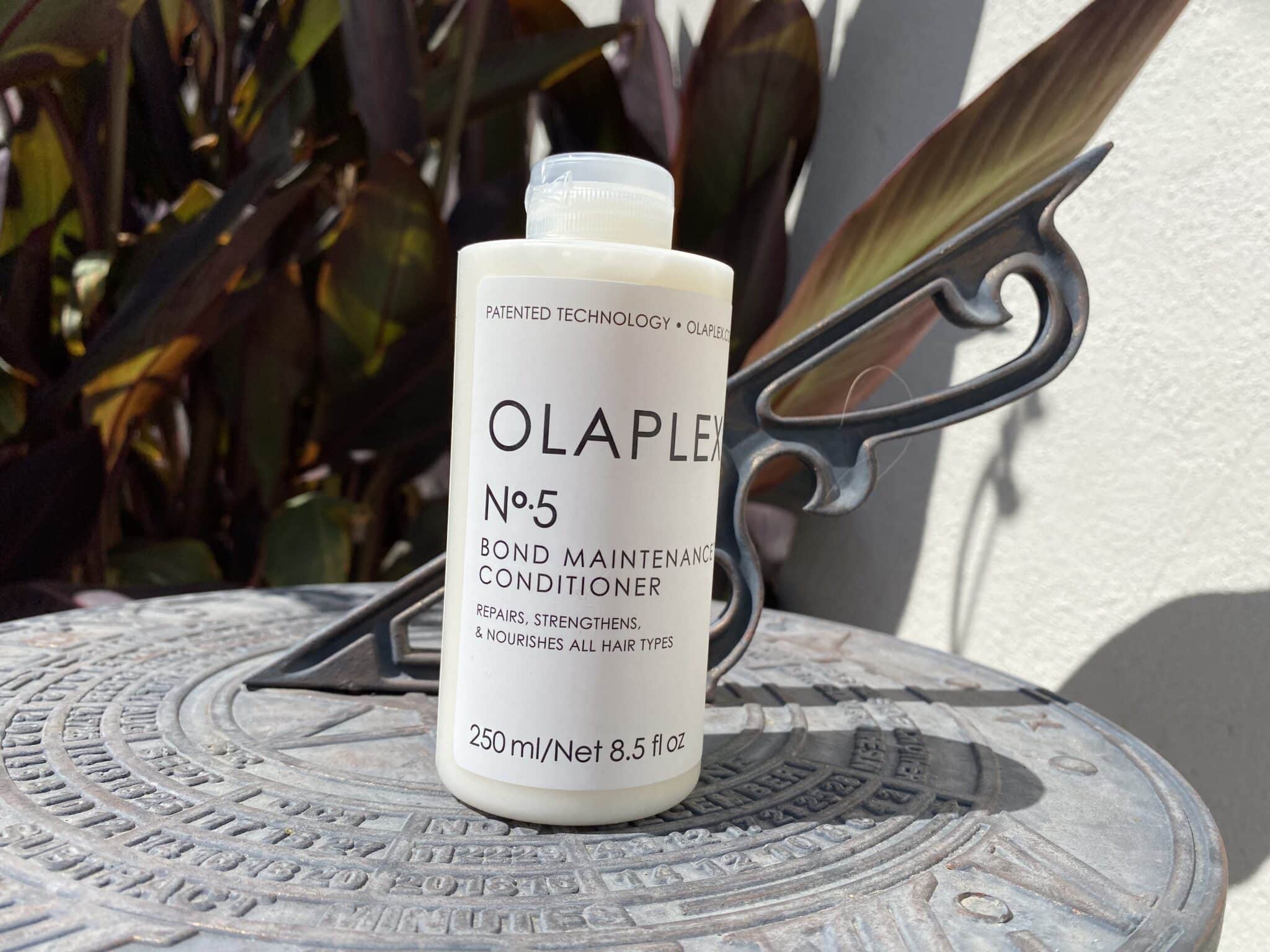 I really like this product too! I only use a small amount for the mids and ends of my hair (basically everything, but the root). The rinse-off is super easy, and it leaves my hair detangled. I can also physically feel my hair being softer immediately after I get out of the shower.
Using the Olaplex shampoo and conditioner along with a scalp messenger really feels like you're giving yourself a salon treatment. My aim for 2022 is to live like I'm a pampered queen, even if I have to be both the pamperer and the queen.
Pro Tip: Shampoo your scalp and roots, condition the mid and ends of your hair. Leave the conditioner on as long as you can (3-5 minutes).
No.6 Bond Smoother, Leave-In Styling Treatment
A few months ago, I had this fun issue where I applied leave-in things to my hair and my hair felt like it had been soaked in honey. It became so crunchy, I didn't want to leave the house.
Thanks to Tik Tok I learned why this was happening: I was applying product to hair that was too dry or not damp enough.
Listen to me closely, you need to apply leave in serums to Sopping. Wet. Hair.
Hair that's been given a light squeeze by your hands right after you turned the water off and nothing else.
The No.6 Bond Smoother (leave in styling treatment) has given my hair life again. It's only available in the United States, so if you're an American or visiting, this is a great buy.
It's an excellent serum for my curls. I've been trying out the "hair coiling" method (as seen on TikTok) where you section your hair into 4-5 parts, and coil each part to air dry. I apply the No.6 and No.9 beforehand onto my wet hair to get this really tight, smooth curl. When I shake it out, I have voluminous curls!
Where to buy Olaplex
: Shop for in-store purchases at
Sephora
or
Ulta
, and
Amazon
or the Olaplex website for online orders.
No.9 Bond Protector, Nourishing Hair Serum
This is where the numbering system gets messed up. If you've noticed, we've been going in a consistent line from 0-6 with a few missing pieces. Now, we're mixing it up.
The No.9 Bond Protector is a nourishing hair serum and protector of "hair pollution." It works as a heat protectant (up to 450º) and is meant to be followed by the No.6 Bond Smoother. My hair looks *chefs kiss* with both products.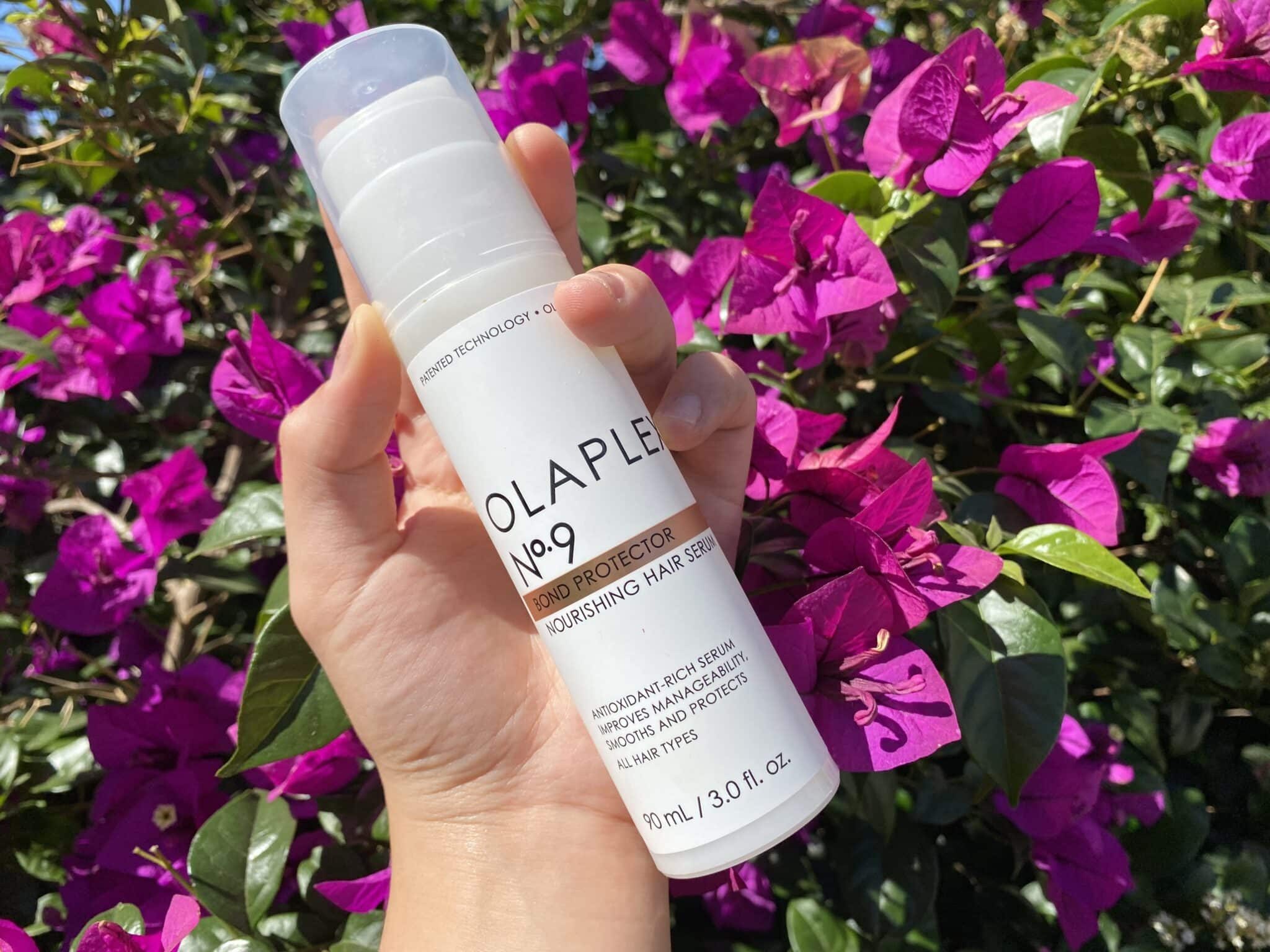 My hair routine consists of blow drying my bangs and fixing up a few curl spots with a curling iron, but I don't have to worry about severely damaging my hair with two pumps of this stuff.
It comes in a nice, clear gel that saturates into the hair easily.
No.7 Bonding Oil
This is probably the cutest, most aesthetic product Olaplex makes. It also lasts a crazy long time, and you seriously only need a few drops for your entire head.
I'd say pretty much all of the Olaplex hair products will last a few months (if not longer), except for the No.0. It runs out because of the application style.
The No.7 Bonding Oil acts as an Olaplex hair perfector for when your hair is dry, and you want to tame those flyaways. Plus, this oil is another great heat protector and bond building hair treatment.
I really like this one because it doesn't leave my hair feeling greasy – a little goes a long way! I feel like a real IT girl when I use it!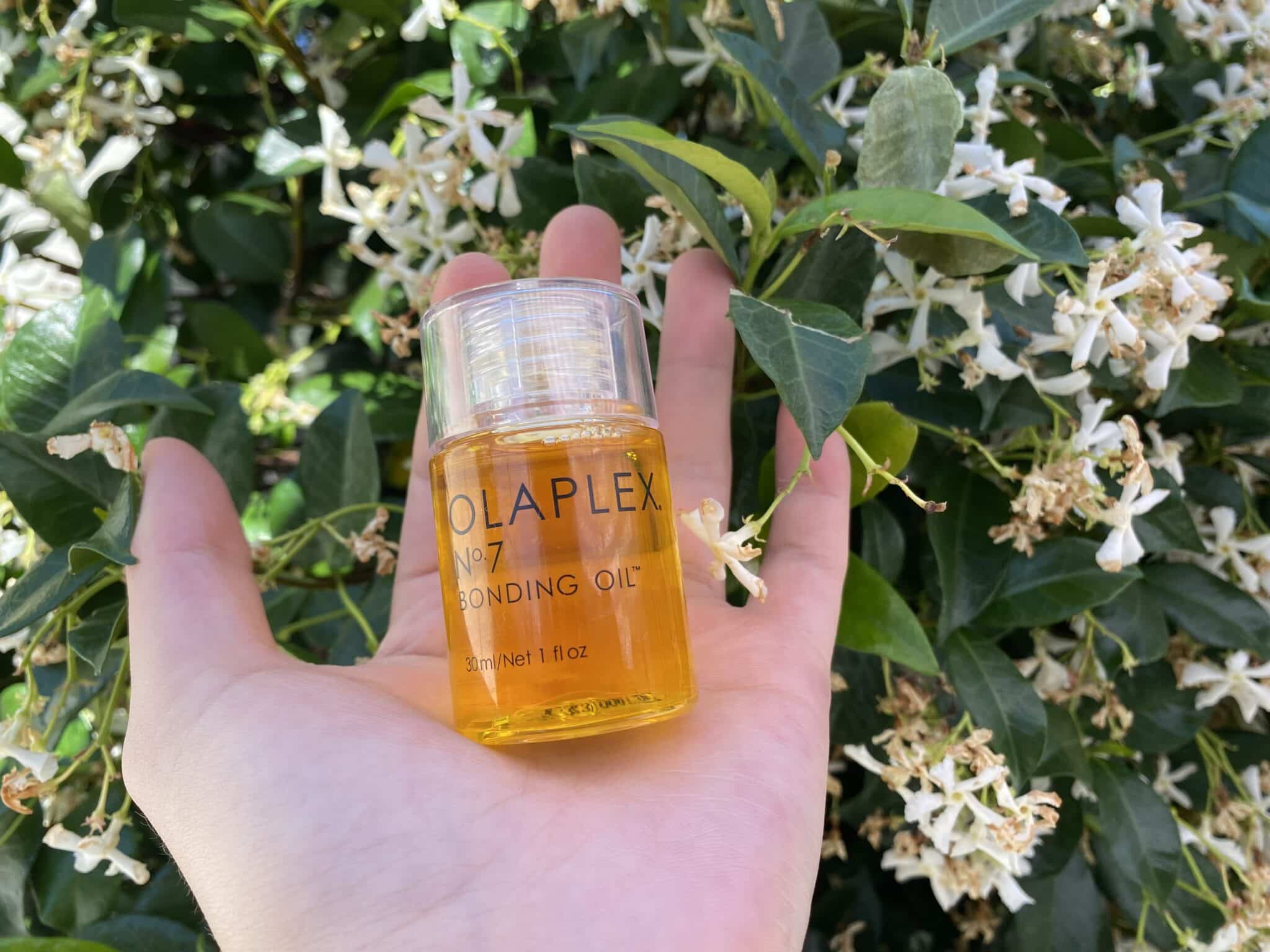 The reviews for this product are wishy-washy. Some people say using an oil-based heat protectant actually cooks your hair, while others say it's literally formulated to protect against heat.
I did see a TikTok by @foli_q where she put a strand of her hair with the No.7 against a flat iron, and looked at it under a microscope. The results were really impressive and it was clear that this oil does more protecting and re-building than anything else. With all that said, this is a definite add to your hair care routine if you like to style your hair with heat.
No.8 Bond Intense Moisture Mask
The N°8 Bond Intense Moisture Mask is a bond perfector to be left on for a minimum of 10 minutes once or twice a week after you've shampooed.
I kind of like the results of this beauty product, but it can be a pain to use it. I don't like cutting my shower off halfway through to let some ingredients soak into my head. If you have a nice kitchen or bathroom sink where you can simply rinse and shampoo only your hair, then this is a convenient product.
That said, It's great for damaged hair. If I ever get one of those huge, farm-style kitchen sinks you'll be seeing me use this at least twice a week. The Olaplex treatment before and after reviews for No.8 were really intriguing. People went from straw-like hair to silky, healthy hair in just one use.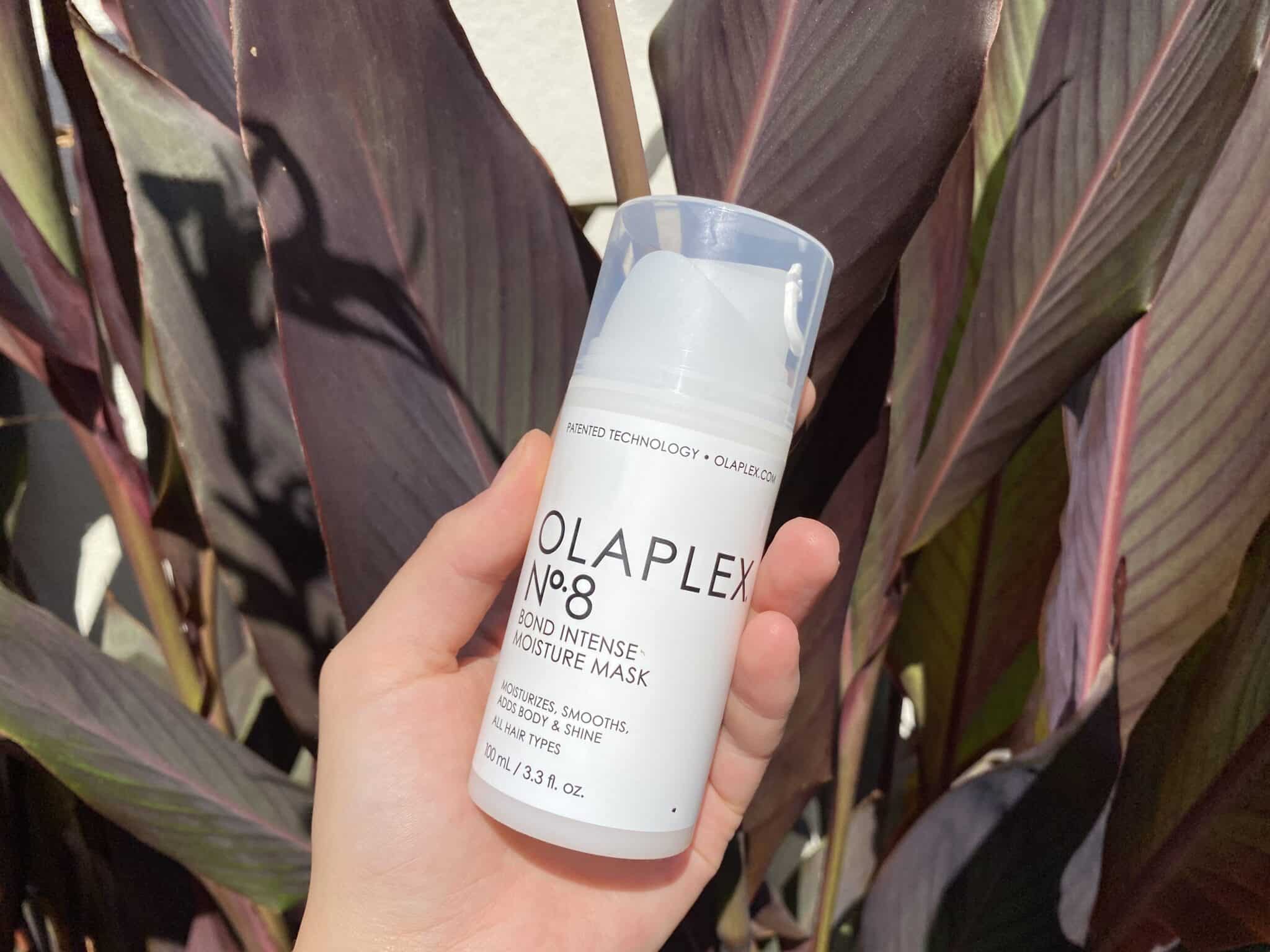 For me, I noticed a slight change, but my hair isn't incredibly damaged by heat or coloring. It's just thin. So I don't know what I was really expecting. Also, I used it maybe once or twice in three weeks because it's just such a time-consuming process for me.
Answers to Your Burning Questions
We've given your our honest take on Olaplex products, but let's break it down further to answer your burning and yearning questions!
Olaplex Reviews, Bad and Good and Confusing.
The beauty brand is famous for being so good for your hair. Because it's gotten so big, there's been speculation about its actual effects on hair. Most people love it, but some have had bad experiences with it (like most things in life).
There's a lot to unpack in the ingredients list of Olaplex products, but people really just want to know: Does it Work?
Short answer, yes. For me, at least. I'm not a hair stylist or a scientist, so I can't provide a satisfaction guarantee or even a safety guarantee because everybody is different.
Editor's Note:
Olaplex recently reformulated due to complaints around a specific chemical used. Learn more
here
!
Do I Have To Spend All My Money Buying The Entire Line?
Okay, lean in. I'm going to whisper it so the little birdies at Olaplex don't hear… No. Stick to the No.0 and No.3.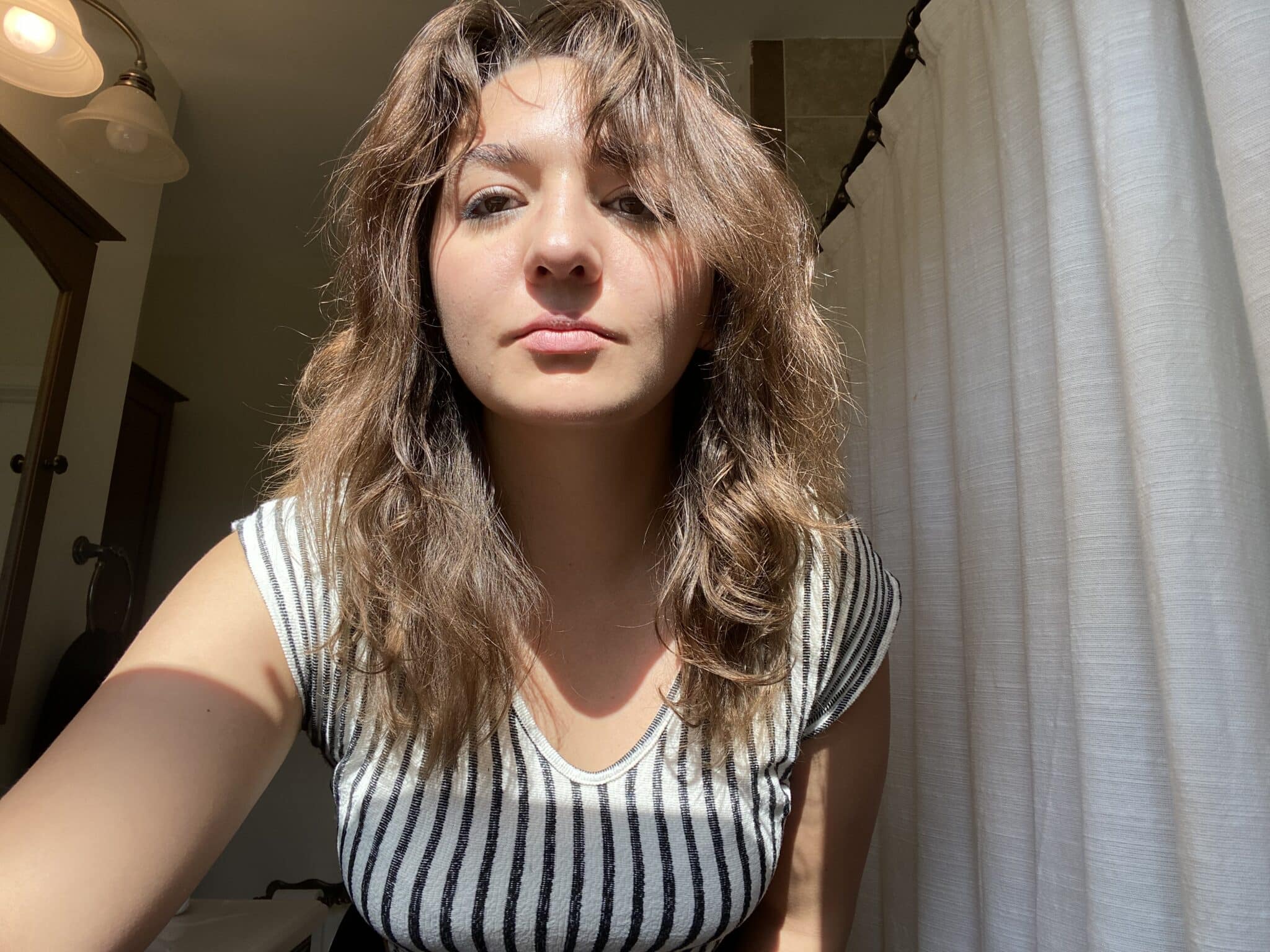 Can I Return The Stuff I Got?
Yes. If you don't like the product for any reason, you can return Olaplex within 60 days. What I don't love is they make you pay a $5 return fee. From the Olaplex reviews I've been reading, I can't imagine that many people are returning their products. It seems like a weird cash grab the company could easily cover.
What Do I Do Now?
Go get yourself some Olaplex – if you are financially ready. Its price point is expensive, but it's worth it and it lasts.
Okay, Question For You guys, Have You Tried Olaplex?
Tell us what you thought of it in the comments. Which product was your favorite? Which one was a waste of time? Are there other brands you like more? We want to hear from you!