Before diving into my Thinx Underwear Review, let's start with a little history on my use of reusable and environmentally friendly period products. When the first DivaCup came out, it was a turning point for people who menstruate. Especially for those sick and tired of the waste and costs associated with disposable pads, tampons and panty liners.
I jumped on bandwagon almost immediately and was really excited to buy my first DivaCup. But it turned out to be painful experience. Without sharing too much, I got my first (and worst) UTI from the DivaCup after my first time using it. I could have been misusing it or insufficiently cleaning it. Regardless, it wasn't worth the trouble.
I never EVER want to have that experience again, but the fact still remains that I don't want to buy tampons month after month. But, what's left now with an experience that as scarred by opinion of reusable/insertable menstrual products?
Editor's Note: Everyone's period is different and you should use whatever is the most comfortable for you. This article is not meant to sway you to avoid waste, but rather share an honest review. We support all choices on how to manage menstrual blood.
My Thinx Period Panty Review: Is It Time to Make the Switch To Thinx Underwear?
Cue, Thinx Period Underwear. This brand has been on my radar for more than four years. The only reason I haven't bought in was the price. It's hard to gauge how well reusable period underwear will work because everyone's periods are so different.
It's especially important with menstrual products. You don't want to waste your money on something that can't handle the first day of you cycle (iykyk). But fear not! I got my hands on some Thinx period panties and I'm going to give you my honest opinion.
Are Thinx Underwear Worth It?
To sum it up, yes. Thinx menstrual underwear are very much worth it for me. They're stylish, easy to clean, and comfortable. Each pair is around $25-$38, and with proper care, will last a long time.
The price is pretty reasonable in comparison to other reusable period products. The only difference being you will need more than one pair for everyday use, so your investment will likely be over $100.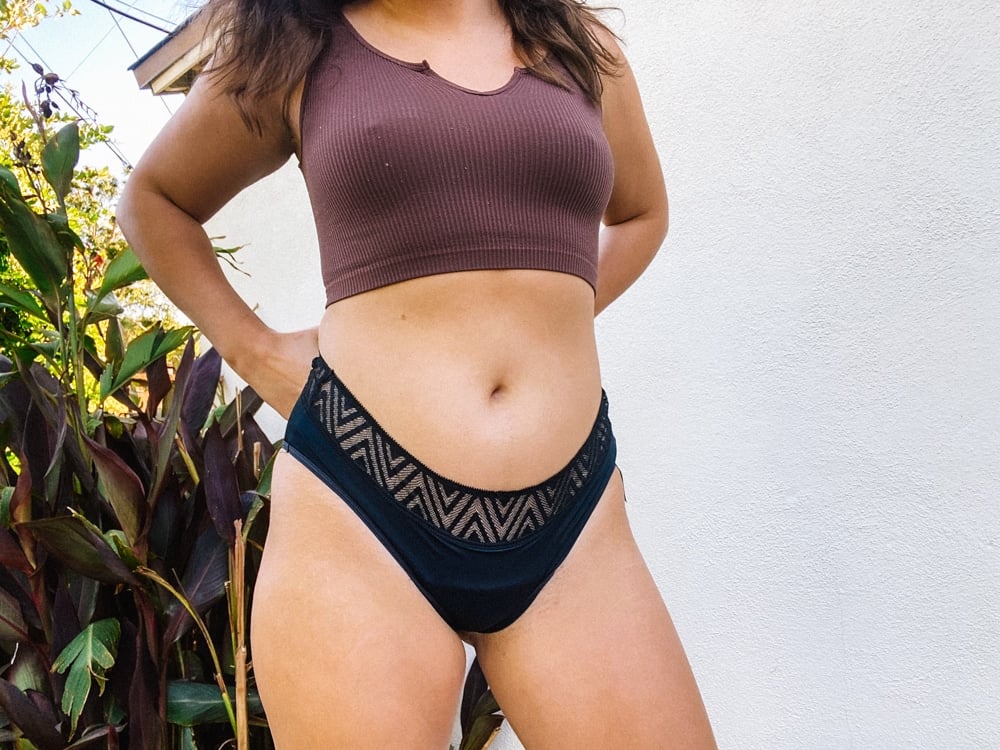 If you have a light flow, a pair of Thinx will last you all day. With a heavy flow – I'm talking those who use a mix of tampons, pads and cups on a daily basis – plan accordingly. Thinx are the best period underwear overall that I've found (and I'll be using them every month from now on), but for those of us with heavier flow days you're going to need to prep with additional sources of protection for daytime use.
What I mean is, you probably don't want to change your underwear in the middle of work or school (I don't), and that's where Thinx might not work for you. In that case, other menstrual care products like tampons or menstrual cups are much easier option.
The products with super absorbency (the most absorbent they offer) hold up to 5 tampons which might not do it for everyone. Based on my experience, I recommend wearing a combination of Thinx underwear plus a tampon or menstrual cup on heavy days. For lighter days, consider another pair of Thinx with light absorbency or moderate absorbency.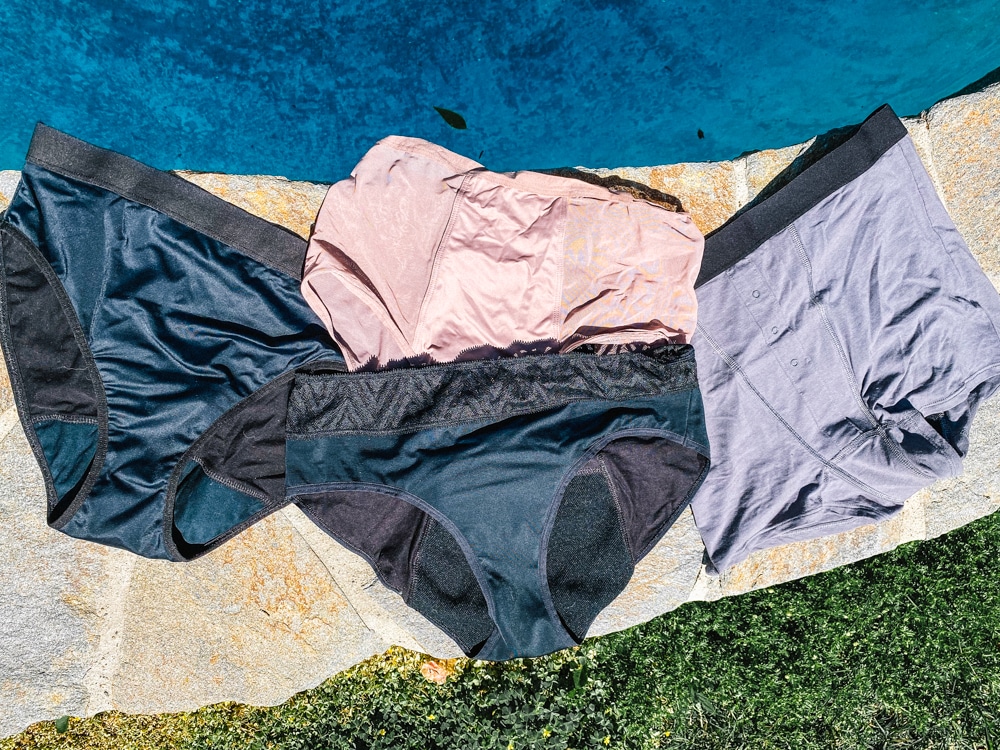 What Period Underwear Styles Does Thinx Offer?
So many! But I tried four different styles: the Heavy Hiphugger (similar to everyday underwear), Cotton Boyshort, Heavy Hi-Waist, and French Cut. They have a lot more on their website including apparel for working out and sleeping!
My favorite, by far, was the Cotton Boyshort with super absorbency. They feel like a tight boxer brief and I was able to wear them like shorts around the house! They provided protection against leaks all night on one of my heavier days. I like them so much, and I might get a few more pairs!
The other styles I received were high waist and they really held me all in. I wore the Heavy Hi-Waist to the beach with only a skirt (yes, I felt like testing my luck) on a medium flow day, and they performed perfectly. It felt like I was wearing a high waist bikini, and I felt surprisingly sexy while my insides churned and burned (I just love being a person who menstruates)!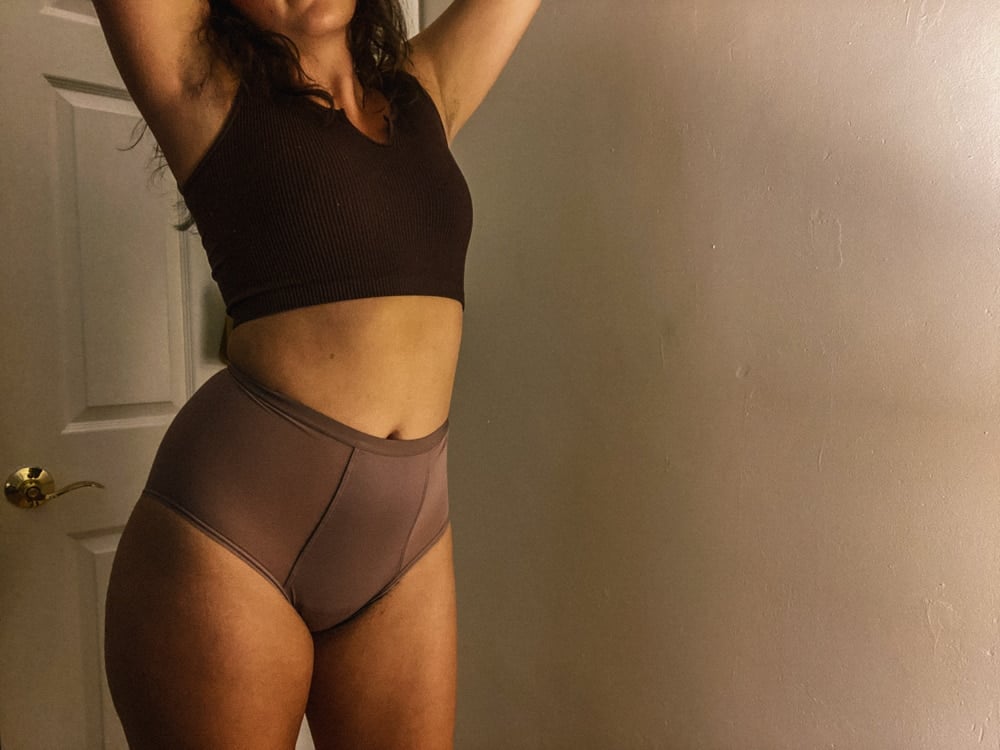 I really liked the high waist underwear because it helped me feel a little less bloated during Aunt Flo's visit. If you don't like that feel, definitely look into different styles that sit more on the hip than the waist like the Sport, Thong, and Cheeky.
I wore a size medium and they all fit very snugly. Some were a little tighter than others around the thighs, but I think that was to ensure it was leak proof on every type of flow days. If you prefer a looser fit, I would opt for a larger size than what you might get in regular underwear
If you're worried about the slight hugging effect. The Thinx website is pretty comprehensive with a robust sizing chart to help determine the best size for you. It also has frequently asked questions, absorbency levels, details styles + fit, fabric and more!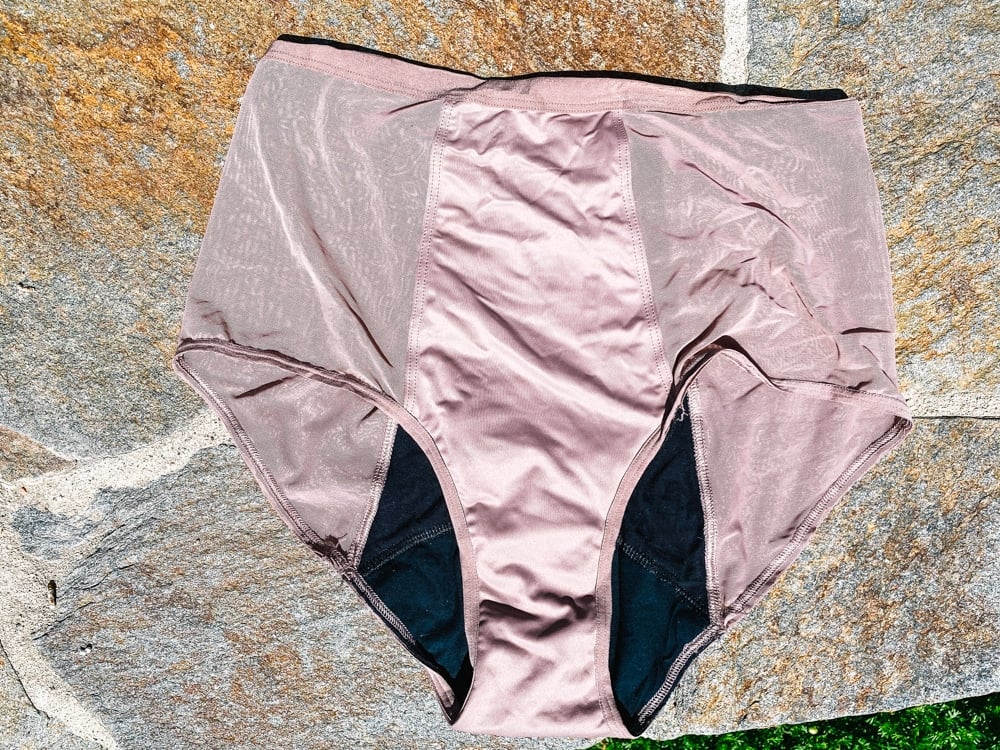 One thing I LOVE about Thinx is their size range (XS-4X) and the diversity of their models. They feature menstruating people of all kinds, and it helped to envision how it would feel/fit on my body. Their period underwear styles appear to fit all body types, and I'm happy to support them! Thinx thought of everyone and everything which is why I think it's the best underwear for periods.
How Absorbent Are Thinx Period Underwear?
Absorbency levels vary depending on the style you choose, but each product page features full details on absorbency and how many tampons, menstrual cups, pantyliners, pads it's equivalent to!
The levels range from super absorbent to light absorbent which typically means anywhere from one to five tampons worth!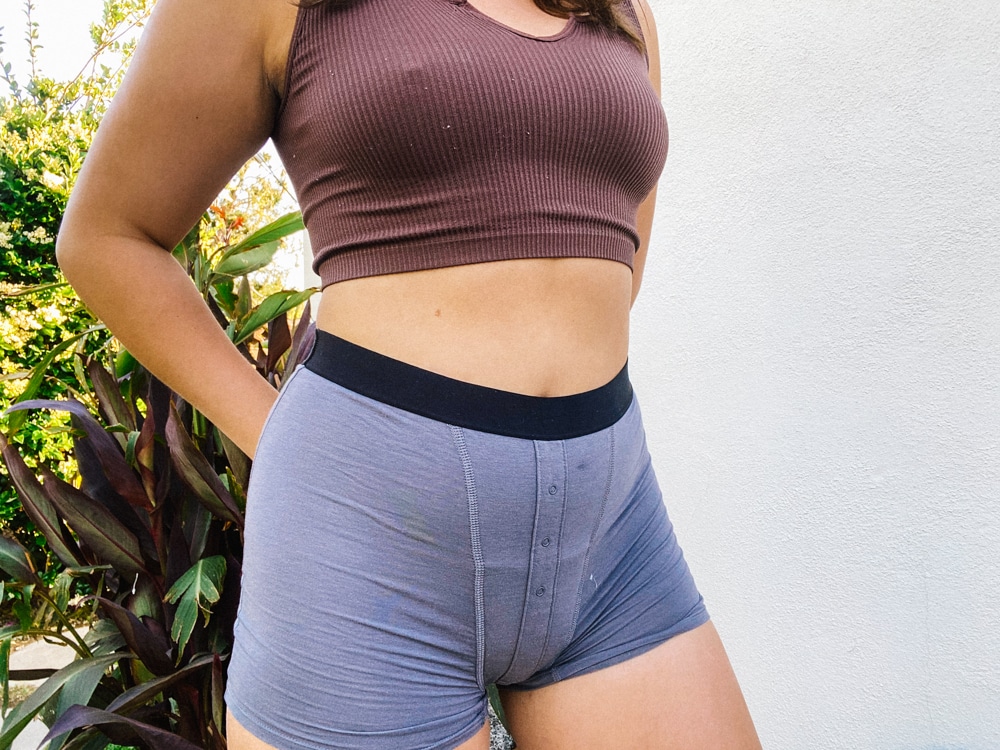 I've heard a lot of people are curious about it feeling like a diaper, smelling, or not really absorbing the "chunks." I don't know how Thinx did it, but I didn't have any issue with smell, and all styles were able to absorb different textures!
All of them simply felt like I had a regular pair of underwear on.
Editor's Note: I have the Thinx Sleep Shorts and lovingly refer to them as my bedtime diaper. The inside panel (made of 95% cotton) feels slightly like a diaper. That said, I love them so much! I simply wash after use and lay flat in the sun to dry. – Taylor
The Cotton Thong
The Cotton Thong is the lightest and sleekest panty that Thinx offers. It only holds about one tampon's worth of liquid (or 9 mL) meant for lighter flow days, "just in case" days or the last days of your cycle.
I like this option for the day before I get my period and those last few trickling days after so I don't ruin my regular thongs.
They are made with breathable organic cotton that's really soft! If you're already spending a pretty penny on underwear at retail stores, this could be a nice addition to your top drawer for only $25.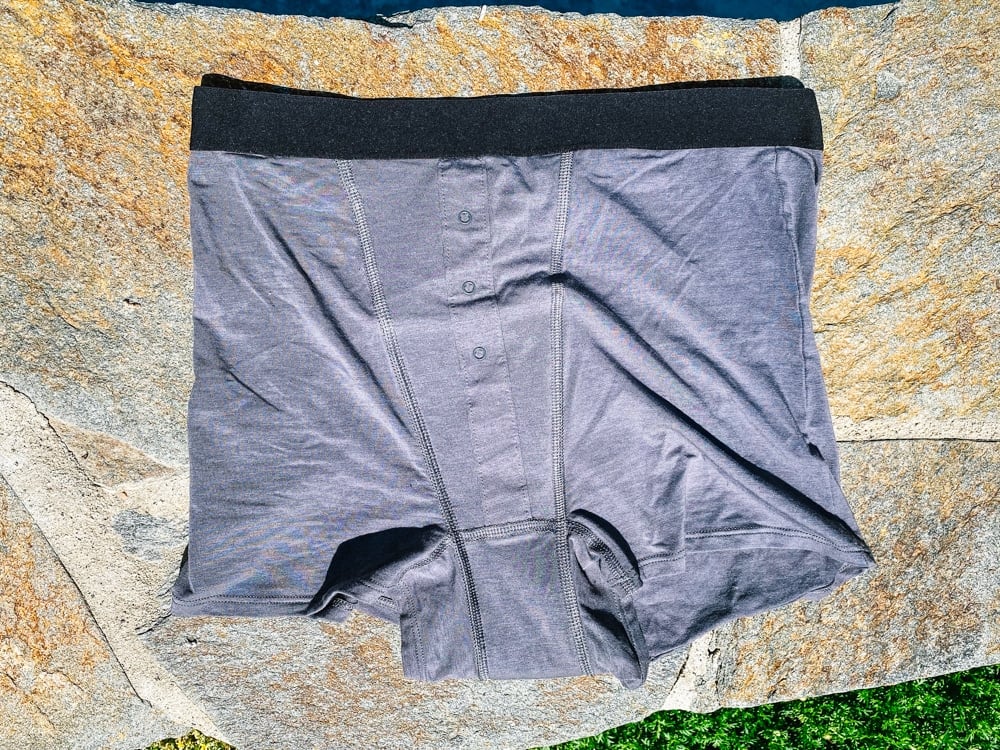 Air Over Cotton, Please!
The air Bikini is another light panty holding about two tampons (or 18 mL) worth of blood made of an "ultra-thin Micromesh." This makes it ideal for working out and keeping yourself cool and dry.
Thinx air Hiphugger holds seamlessly to your body. I recommend these pairs for active folks and those that aren't looking for anything particularly thick.
The panties are super cute and range in size from XS to 4X plus they come in a variety of colors.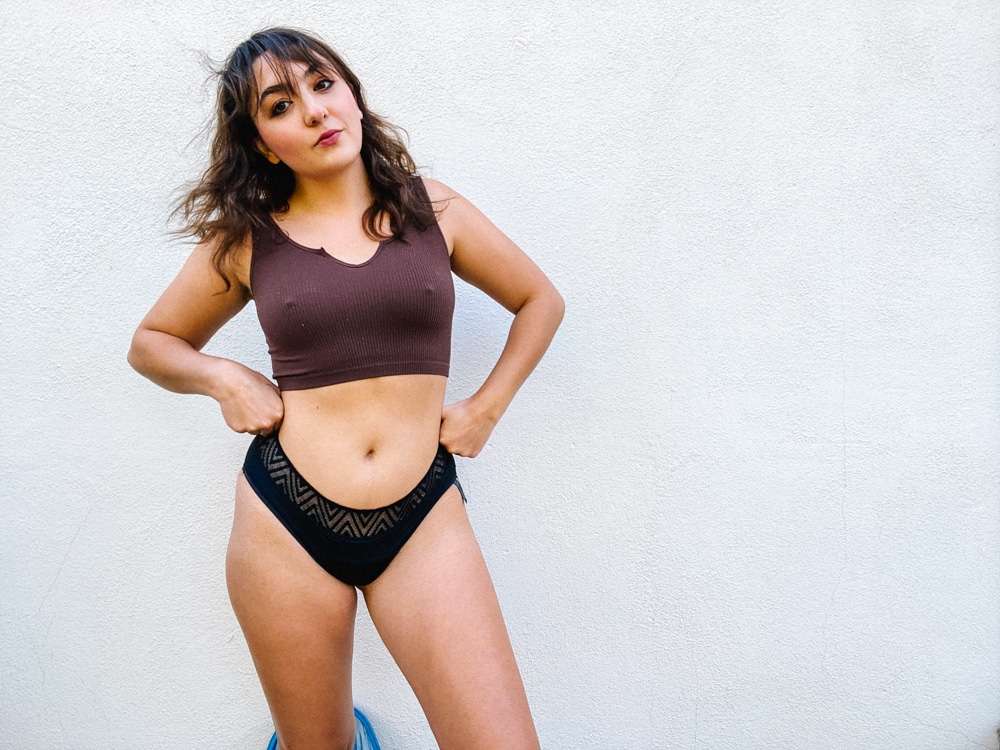 What are the best period panties for heavy flow?
The Thinx Super Hiphugger, Cotton Briefs, and Boyshorts are all great for heavy flows. You can choose how absorbent you want them from three regular tampons, four regular tampons, or five regular tampons.
For a heavier hold, I recommend getting the full 5 tampons worth. If you're going to wear period underwear anyway, you might as well buy a pair that can hold every ounce of fluid possible.
You might be worried it will feel like a diaper with too much full coverage, but it doesn't. The full coverage and moderate coverage feel the same to me, so get your hands on the super-absorbency!
But, How Do Thinx Period Panties Work?
While the science behind the "signature, innovative technology" isn't clear. The brand explains "How Thinx do their thing" in 4 layers:
Moisture-wicking to draw away wetness and dry fast
Odor-controlling treatment
Super absorbment core
Leak resistance
If I created a product as good as Thinx I would also be trying to keep the magic to myself.
They also claim:
"Every pair of Thinx is made with our signature, innovative technology for the ultimate period protection. Our breathable products are safely made with cotton, nylon, and elastane (for a little stretch!)"
I'm just going to say they use magic. Science-magic. But this magic is moisture-wicking, odor-controlling, and super absorbent. While it says it's leak-resistant, but I don't believe that's not all true.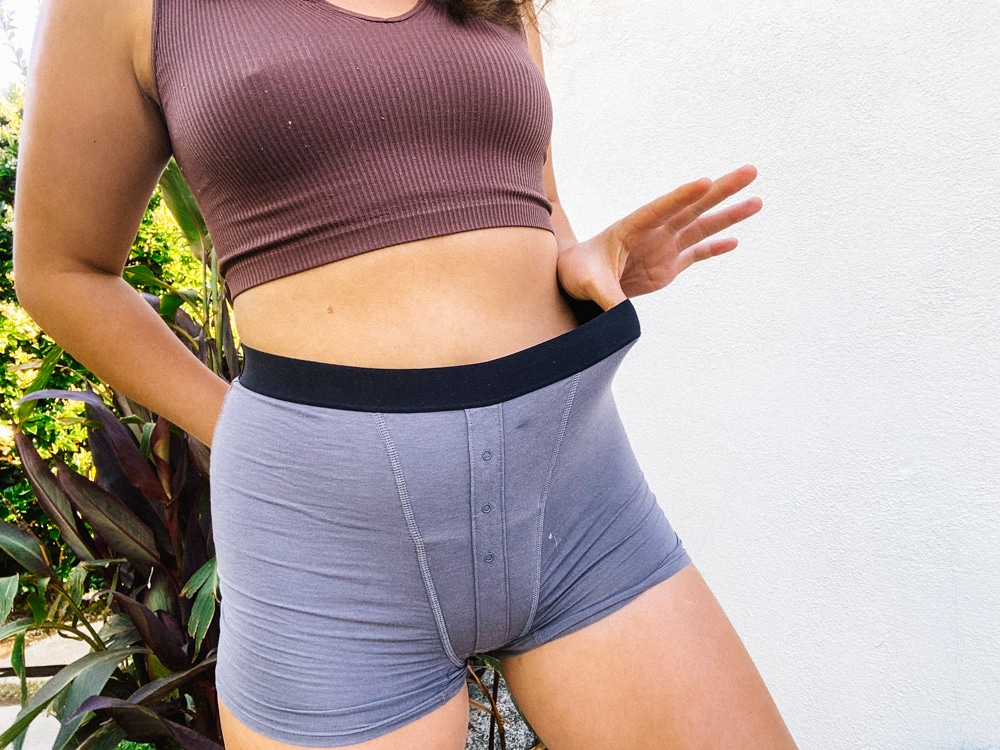 Unless you're having a light or semi-moderate day, Thinx will likely be leaking at the end of a 9-5. That's if you don't use menstrual cups, pads, or tampons to help manage your flow.
How to Wash Thinx Period Panties
So you made it to the end of your shift or your day has come to a close, it's time to change in the comfort of your home or a public restroom… or your car (no judgement).
Before you toss your reusable period products in the hamper, run them under some cold water. If you don't want to get your hands a little dirty, just toss them in the washer in a garment bag.
It's best to try and wash the period panties all together to save water. I like to hand wash right away and wait until I have three or four ready. Machine wash cold with a gentle fabric detergent. I use Woolite Delicates and then I hang dry the underwear for a day or so.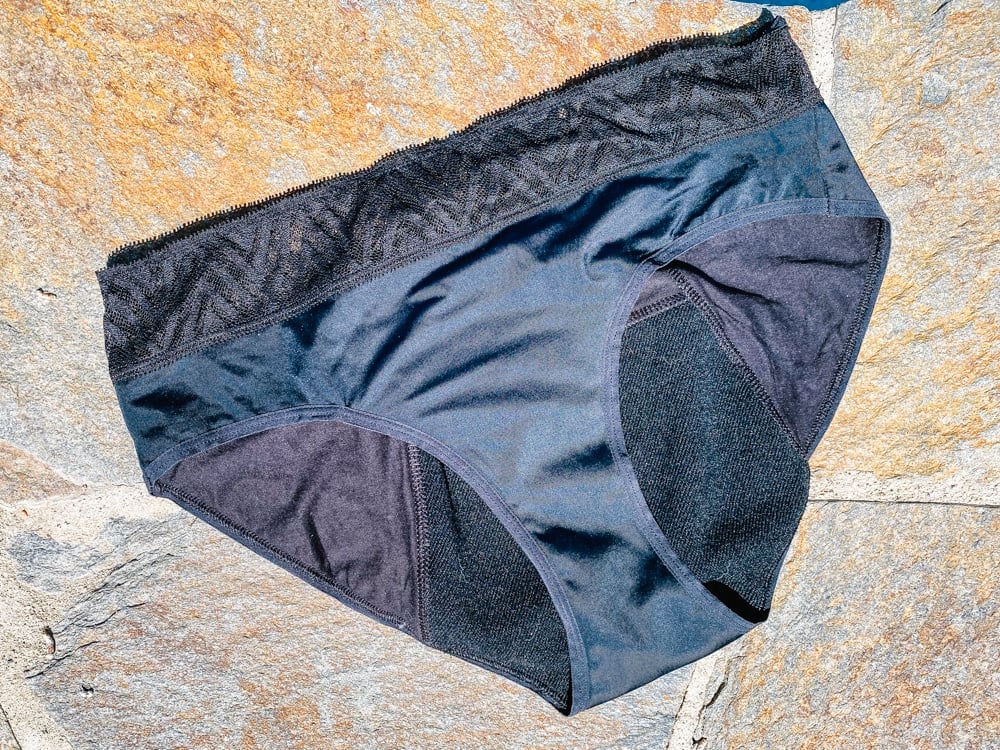 Using period underwear is pretty simple. The most complicated part is probably the washing and even that is a piece of cake once you get it down.
Can You Return Thinx?
I really thought the answer was no. I mean, you can't even return a bathing suit to Target unless it has that little sticker thing on the crotch, but I was wrong!
You can absolutely return Thinx panties! If you don't like the style or the underwear doesn't fit, you can start a return or exchange on their website within 60 days of purchase.
The best part? They will pay for the return shipping within the US!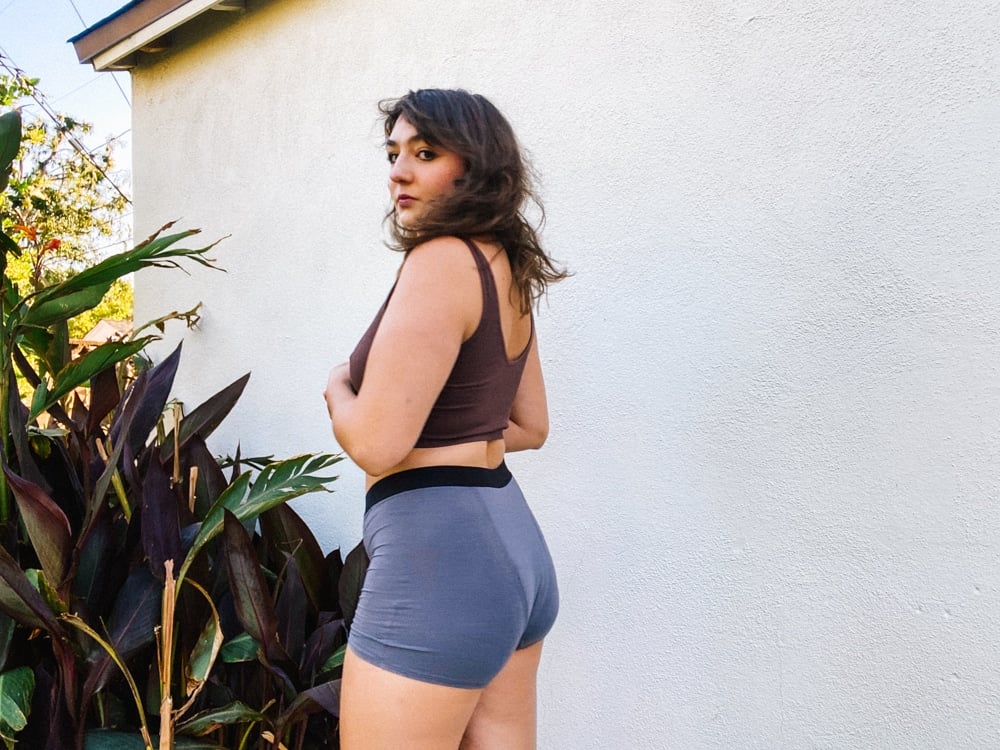 It's small, but accommodating return policy really speaks to their brand and how much they care about their customers. They want you to be comfortable in your skin, your choices, and your underwear.
Is Thinx Underwear Toxic?
No. They are rigorously tested for chemicals. I think there was some concerns circling about the underwear having some PFAS (chemicals) in them in 2019.
But, Thinx has certified methods in place to make sure their products are safe for use. To be completely honest, every building in California now has a "cancer warning."
In LA, I'm surrounded by toxic air all day. That to say, I'm not super concerned about underwear safety, because I'm pretty sure something else will kill me first.
It's still an important thing to note. Thinx takes care to make safe products.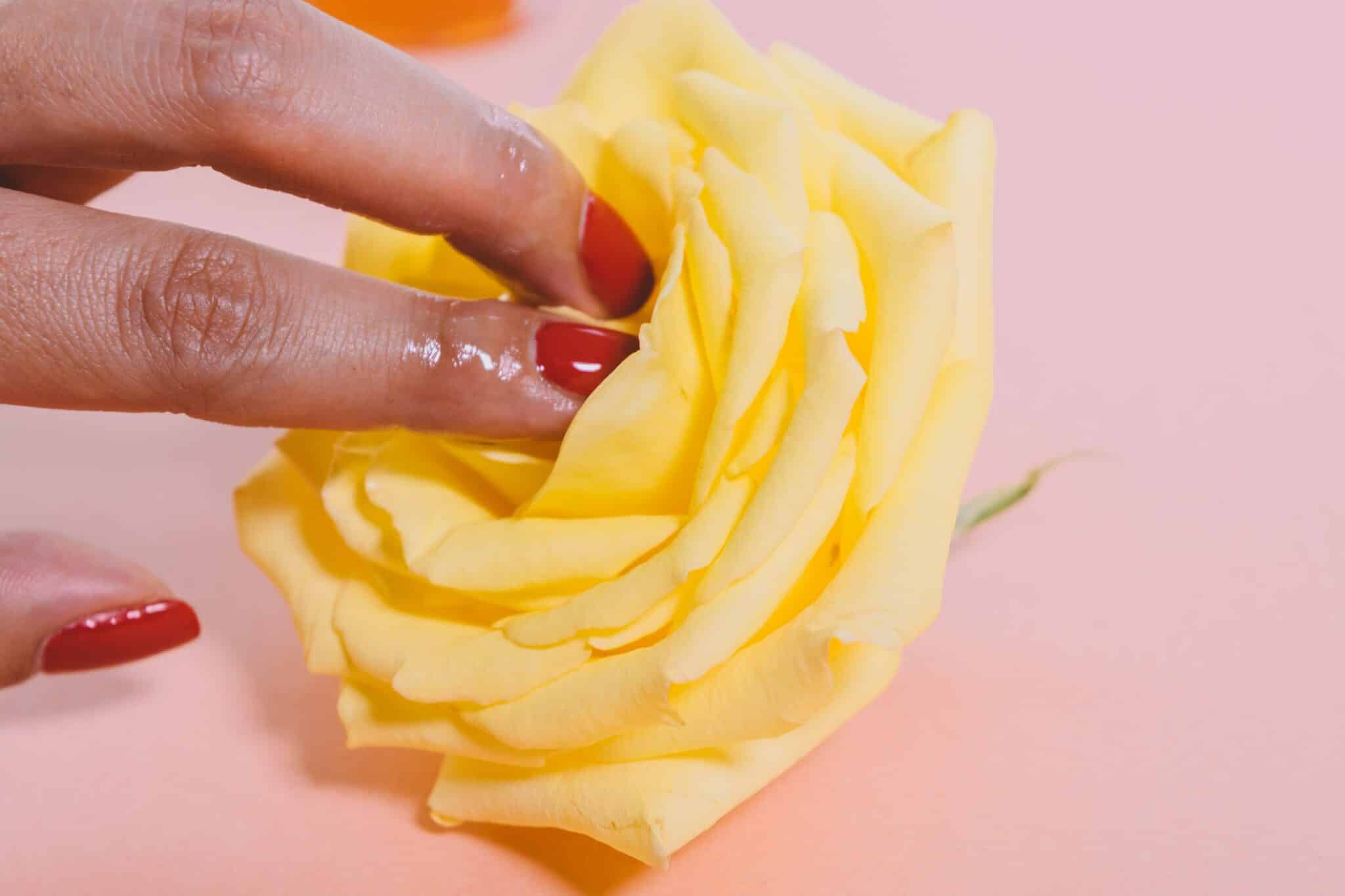 Period Care is Personal Care
It's important you make the right choice for you, your body and your period. Personally, Thinx panties have proven to be a wonderful product for me, and I will continue to use them. They are the best period underwear brand that I've found.
That's not to say, there aren't some other stellar options out there for menstrual care and I'm still on the lookout for sustainable period products that don't cause me insufferable UTIs (I literally thought I had cancer, it was that bad). I also really like Thinx because they take care to make their products available for everyone no matter the size, color, background, identity, etc.
They include everyone in the conversation including those who don't menstruate and those who with a period who identify as non-binary, male, or other. One Thinx review talked about their gender dysphoria and how the boy-short model really helped them to process their period anxiety.
Using tactile things like tampons and pads was a lot for them, but by simply slipping on a pair of underwear that looked like all the rest, they were able to have a normal period without making it feel less like themselves.
There are a surprising amount of other period underwear brands out on the market right now, but I trust Thinx the most. Maybe it's because they were "first" on the scene or they have such a great online shop, but nevertheless, they will be in my wardrobe for life.
If you're on the fence with Thinx, I recommend checking out all of the Thinx period panties reviews on their website to gain more perspective. There's a ton and people are pretty honest about what they thought.
My Thinx panties review? They are the
best period undies and you should invest!
You can purchase them
right off of the Thinx website
or on
Amazon
.

Don't Forget About Your Vaginal Health!
While it's not recommended to get a pap smear until you're 21, it's important to talk to your general doctor about your period even when you're young and just starting your period (anywhere from 10-15+).
Most health care plans cover regular gynecologist visits and well-woman exams. It's important to note for the young adults (like myself) who've just started paying for their own health insurance.
I definitely didn't know how much I had covered until it was time for birth control. Most plans cover the entire cost!
Planned Parenthood is also a great resource if you don't know where to start and need guidance. They are known to be exceptionally helpful, and provide affordable medical care regardless of your health insurance status.
Remember, your period is a totally natural thing! Whimsy Writer Kerasa wrote a fantastic article about the history of menstruation, so be sure to check it out!
Oh, one more thing I have to mention – speaking from personal experience…. If you think you have something wrong down in your nether regions, don't google a photo of it to compare it to. It will likely leave you scarred and give you false information. Always consult your doctor!
Have you tried other reusable menstrual products not mentioned in this article? Drop a comment below to let me know your favorite products!