Kiel James Patrick is the zaddy of fall. (The man and the store)
You've seen their spooky season content hit the feeds each autumn (if you haven't seen that video of Pumpkin Head skateboarding you are living under a rock) and you have absolutely seen their sweaters on every cool girl's Instagram post come September 1st.
After lusting over KJP sweaters for years I finally pulled the trigger on one for my autumn wardrobe for an honest Kiel James Patrick review.
Will A Kiel James Patrick Sweater Cure Your Seasonal Depression?
When posted to Stories that I bought a Fox and the Foliage sweater, one of my friends asked "will it heal my seasonal depression" and honestly? Maybe.
KJP sweaters are literally just so dang cute. Nobody else has nailed charming Fair Isle-style sweater designs as the Kiel James Patrick store has.
Trust me, I have looked all over the internet. And while Amazon and Shein of course love to rip off these designs, they aren't the same as the OG.
Shop My Favorite Kiel James Patrick Sweaters

Kiel James Patrick review: I Tried A Famous KJP Sweater So You Don't Have To
We all know these styles are cute AF. But, how does the sweater actually feel? And what was the shopping experience like? And is it really worth the ~$125 price tag? Let's get into it.
KJP Sweaters Are The Perfect Weight & Feel
For real. It's not itchy, it's not so heavy I start sweating if I'm not in a literal blizzard and I can layer it under coats without being too bulky.
The quality isn't cloud-soft like my recent Sezane cardigan but I like it that way. It's more wearable in all temperatures.
Each sweater is made with something a little different, usually a mix of wool, nylon or acrylic blend. You'll have to check the details on the sweater you're looking at to get a better idea of weight and feel.
Shipping Is Slow
The Kiel James Patrick brand is a cult favorite at this point and sweaters sell out in a matter of hours. Most likely you'll have to get a sweater on pre-order at least 6-8 weeks before you intend to wear it.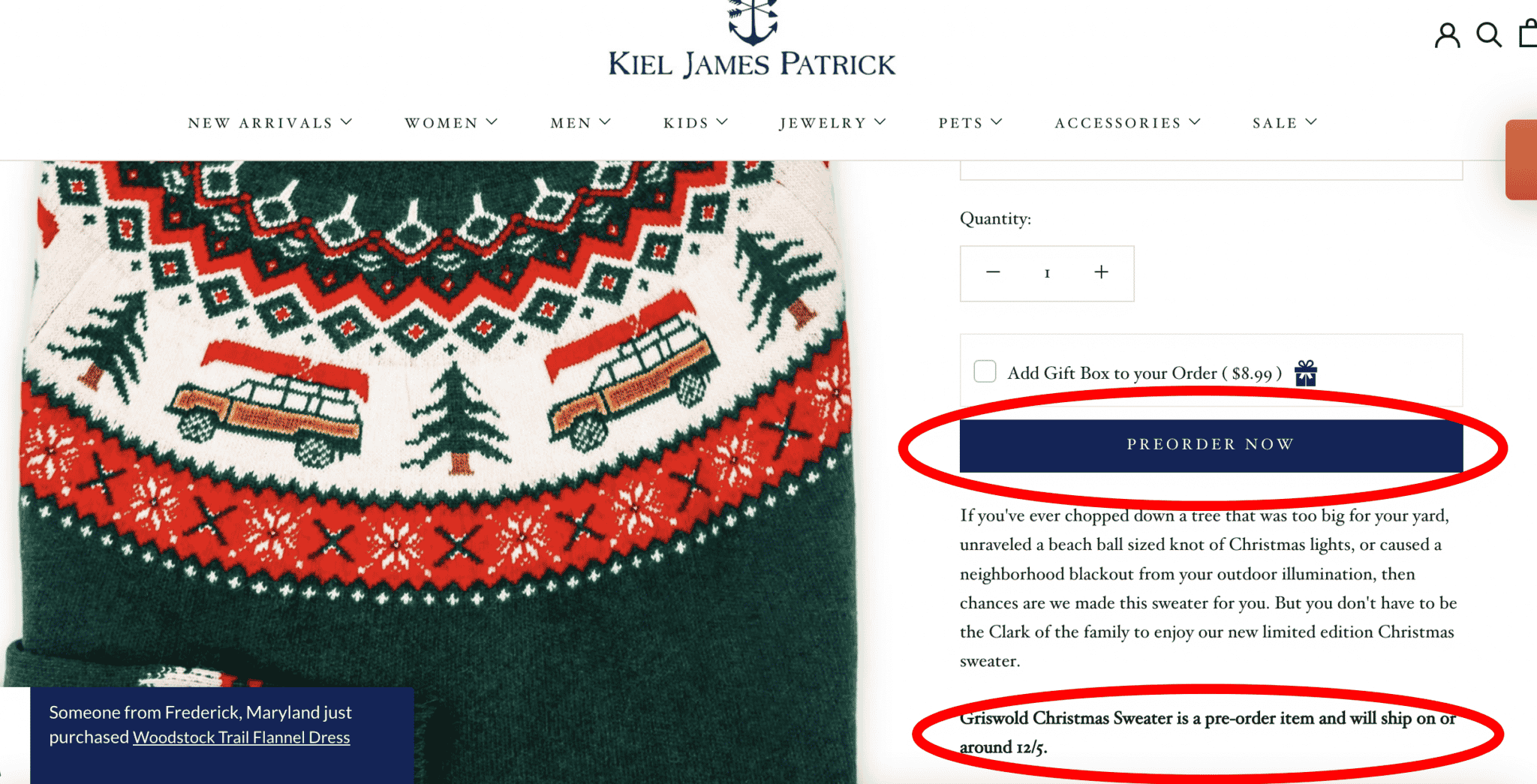 I bought my fall sweater in mid-August and it was set to ship on September 30th. Just keep this in mind! If it's September right now and you want a cozy cabin Christmas sweater, buy it right now so it arrives in time for the holiday season.
Another downside to slow shipping are returns. If you need to swap out a size, you may have to wait another 6 weeks for a restock on that sweater (or it may just be sold out entirely like my Fox and Foliage one is currently).
Just all stuff to keep in mind! They aren't fast fashion like you may be used to shopping so shipping and returns aren't fast like with Amazon or Walmart.
They're Unisex
Was I a little annoyed that my husband Robin could not only fit into my new KJP sweater but actually looked better in it? Yes.
But isn't that so neat? For me, the fact that we can both share and wear this helps justify the cost of the sweater.
My Sweater's Colors Are Off
The major disappointment I had with my sweater was how the colors of the leaves look very different in real life vs what was pictured online. The online photo showed the leaves a bright red color but on my sweater, they're a marroon.
I still love my sweater but I was expecting different colors and these are different from what's pictured.
Customer Service Is Just Ok
I ordered my sweater in Mid-August on Pre-Order which was slotted to ship on 9/30. I knew I had my fall folaige trip to Utah coming up in October and really wanted to have my KJP sweater to wear on it.
So, I reached out to customer support mentioning asking how things typically take to ship from their warehouse. They answered me within 24 hours (yay!) but the agent sort of gaslighted me.
They told me that my sweater can't be pre-order shipping on 9/30 since they won't even get the sweaters in the warehouse until October 15th so "there's no way we could ship it out the 30th".
Turns out, the customer service was wrong and my sweater did ship out on the 30th and made it in time for me trip. But that definitely let a sour taste in my mouth and left me confused about what's even happening with my order.
My tip: if you are pre-ordering, screenshot the page confirming when your ship date is, so if your customer service agents try to gaslight you into thinking it's a different date, you can send them that screenshot to help get things moving properly.
Sizing Is Accurate But Only Goes Up To XXL
Happily, is the size chart is pretty accurate. I went with a large one since I wanted this to be fitted and it's not too small. So yes, Kiel James Patrick's sizing is accurate/standard.
Unfortunately, they only go up to XXL which is a real disappointment. KJP if you're reading this: plus size folks want to wear your sweaters, too!! I promise.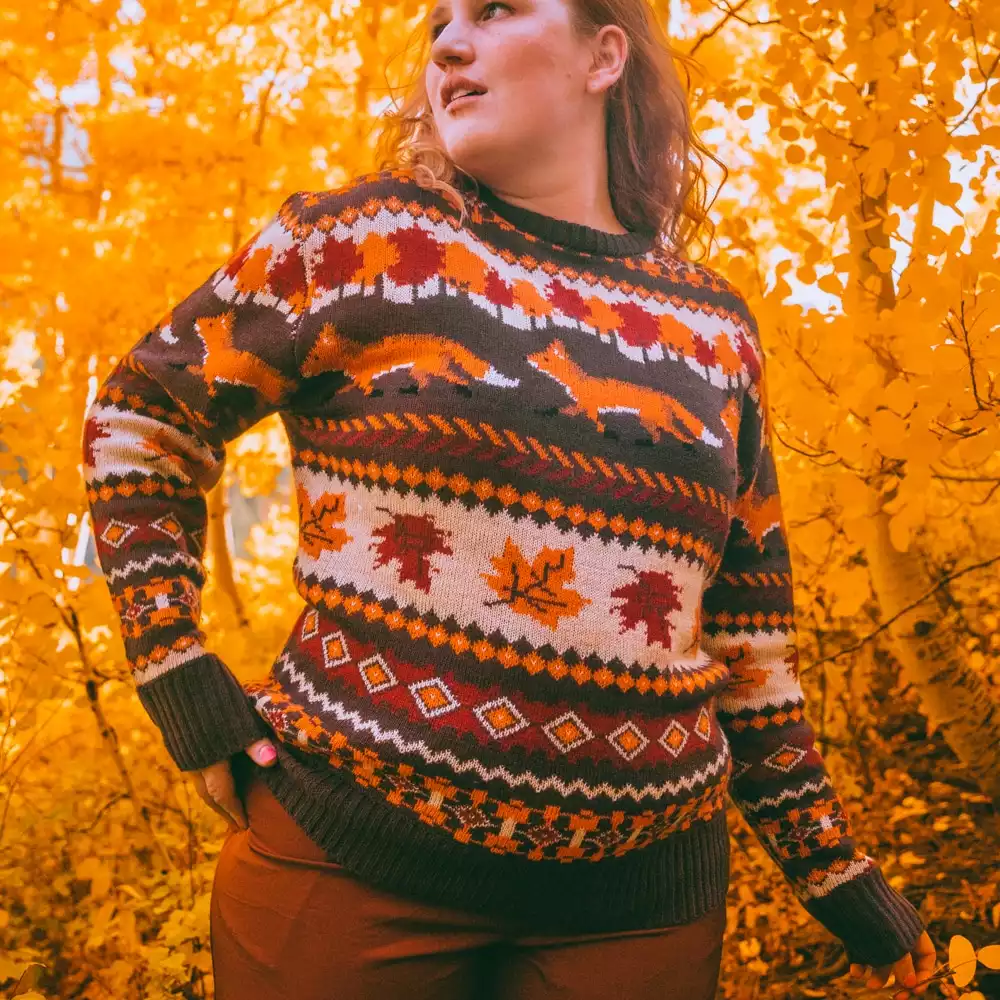 Kiel James Patrick Sweaters
Kiel James Patrick sweaters are a cult favorite. They have unique seasonal designs that spark joy and can be worn for years to come.
Sizing: XS - XXL
Pros:
Unique, timeless designs

Not too heavy, not too light

Accurate size chart

Unisex
Cons:
Slow shipping on pre-orders

Colors can be off

No extended plus sizes
Shop Now
Are Kiel James Patrick Sweaters Worth It?
Absolutely. It takes ages to ship and you have to order way ahead of time, but my fall sweater makes me feel like I'm living in Stars Hollow.
That's what I love about fashion. Some clothes are meant to be functional but some are reserved for pure joy. I love wearing this sweater around home or on fall adventures (most recently wore it around Utah finding fall foliage!)
They run a high price tag but I'm already eyeing this cute Christmas sweater to wear this December. Their designs are truly timeless so I think of them as an investment, something I can look forward to wearing year after year.
I haven't tried their bracelets, jewelry or other women's clothing items so you'll have to lean on other customer reviews if you're shopping for those.
The Best Kiel James Patrick Sweaters
Ok, so now that we have the stamp of approval, what are my favorite Kiel James Patrick sweater designs you ask?? It's honestly hard, they're all so fun, but the ones that really catch my eye are:
Shop My Favorite Kiel James Patrick Sweaters

I hope this helps you decide if you want to invest in a KJP sweater! If you have your own KJP sweater review to add, drop a comment below so everyone can see.