I'll blame it on New England and that Woodstock barn for flooding Instagram each year that I've never seen a single photo of Utah in autumn. Turns out – Utah fall colors are fantastic.
And super easy to visit (read: easy scenic byways to access and a fraction of the crowds the East gets). Robin and I booked tickets from San Francisco to Salt Lake City, rented a car, and hit the road to go leaf peeping in Utah. Here's all the best stop for my fellow autumn lovers.
When Are Utah Peak Fall Colors?
You'll want to consult a local Utah fall color report yearly, as peak season varies a bit each year due to weather but generally, they start popping off the last weekend of September and will go until mid-October.
As with anywhere, fall leaves in Utah start changing from North to South and high elevation to low elevation. This means the leaves way up north in the mountains will change before the leaves in Southern Utah. Southern Utah fall colors are usually more towards Mid-late October. Plan accordingly!
We visited October 11-13th which I think was peak season for most of the places we visited. I could see some patches of trees that lost their leaves already but it didn't feel anywhere near dead and bare yet.
Nothing like California fall colors (where we live). Those are harder to nail down so I was nervous that Utah would prove to be equally as challenging. Nope! As long as you use this guide, you'll have a grand time finding fun things to do in Utah in the fall.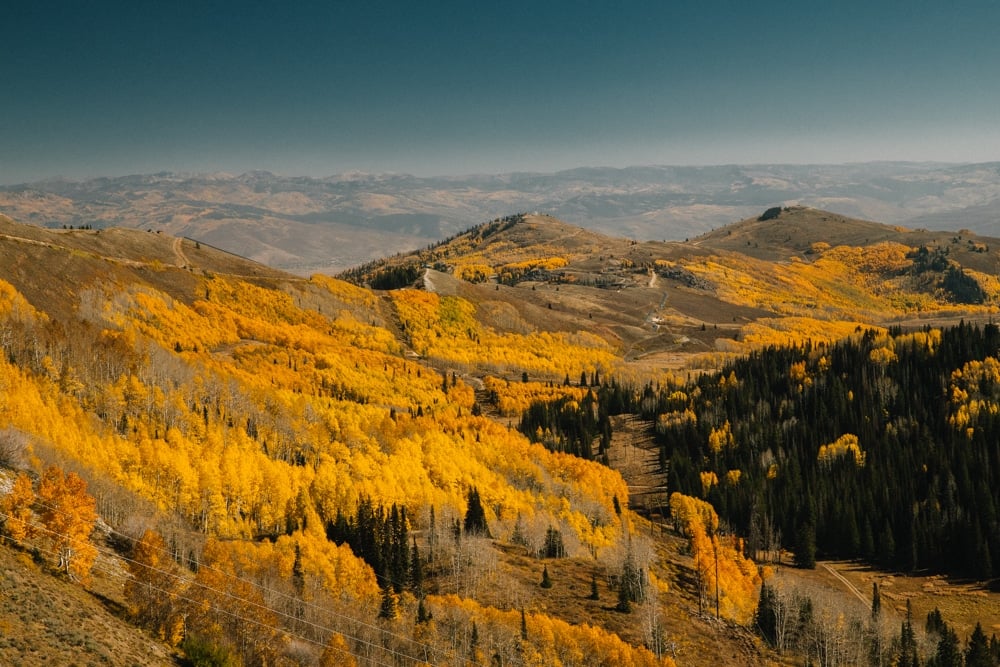 The Best Places To Find Utah Fall Colors This Autumn (Your Leaf Offical Guide!)
Now, onto all the leaves!!
1. Provo Canyon
We chose to anchor ourselves in Provo so we'd be a quick and easy access to the Wasatch Mountains for fall in Utah road trips. Each morning we'd head into Provo Canyon and be rewarded with stunning views of orange, yellow, red and sometimes purple?? trees lining the mountainside.
As we drove along, we kept finding more and more foliage at every turn. This eventually leads to either the Alpine Loop or Midway, so I recommend driving Provo Canyon first thing in the morning.
2. Bridal Veil Falls
Located in Provo Canyon is Bridal Viel Falls. If you've ever been to Yosemite National Park you know there's a Bridalveil Falls there, too. Different waterfalls, both incredibly stunning!
This Bridal Veil Falls is located a paved and flat walk from the parking lot and takes you to the base of the waterfalls on a little bridge/viewing platform so you can gaze up at the water cascading down the mountain.
It's not blanketed in fall leaves, but the base does have aspens and other colorful trees to make it a great spot to get nature vibes and fall leaves all at once. The best time of day to visit is early in the morning (before 9:30 am in October) when that side of the mountain is in the shade.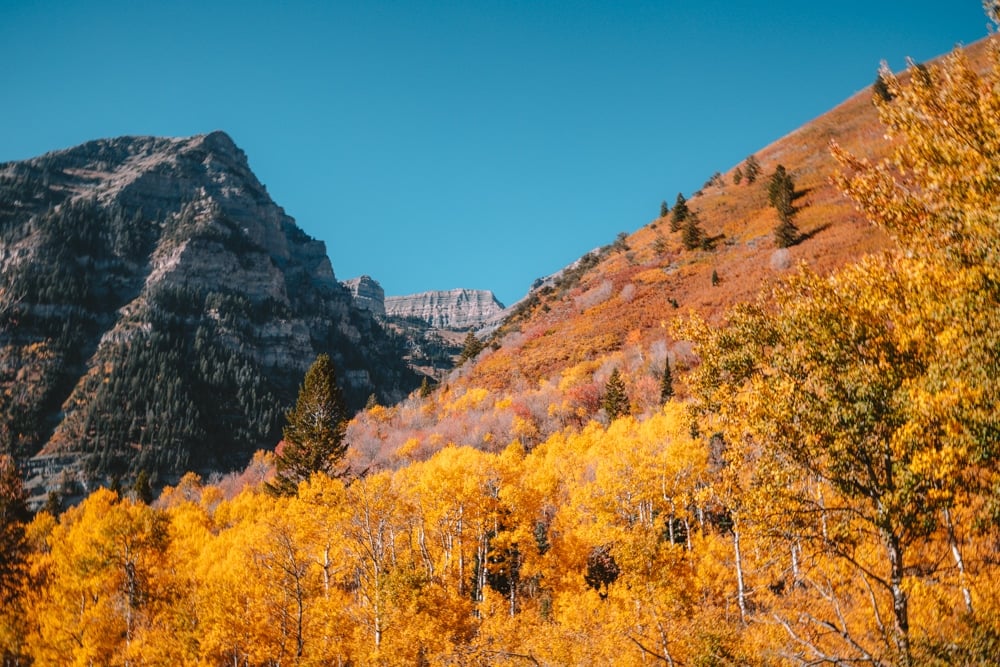 3. Alpine Scenic Byway Loop
This national scenic byway is probably the most coveted of places to find Utah fall colors. It's ticketed just like a national park, but you can use your Interagency Park Pass for free entry (otherwise it's just about $6 to enter).
I think I was constantly gasping every turn we made – yellow! Huge mountain peak! Red! More Yellow! Orange! More mountains! We drove in the late morning but I would love to come back here at sunrise or sunset for photos.
We started on the Provo side and ended at the Uinta National Forest and the American Fork Canyon. I adored the views we saw.
I think both ways are probably stunning but I loved the views of the mountains heading in that direction, so I would recommend doing the same (start on the Provo side and head North!)
The road is narrow and winding so plan on going slow and note that the only places to park on the road are the gravel turnouts, some which can be pretty dicey so plan carefully on where you want to pull over.
Expect lots of people walking about and taking photos so that's another reason to drive carefully.
Got more time?
The Alpine Loop is one of the best scenic drives in the state and it all ends at the famous
Timpanogos Cave National Monument.
Here they offer free cave tours so you can experience the stalagmites and stalactites firsthand.
If you are visiting on a weekend you'll need to make reservations prior but on a weekday you can probably get a walk-in.
4. Sundance Resort
Sundance Resort is towards the start of the Alpine Loop and you can actually spend the night here! It's a sprawling resort with cabins and luxury rooms and of course, some trees that change colors! We tried to book a night here but they were all booked out, so if you want to sleep literally footsteps away from a stunning view of the Wasatch Mountains covered in colorful trees, book your room fast.
Otherwise, it's worth a quick pitstop. They have a restaurant and cafe here if you need to grab coffee (there's nothing else on the loop until you get out of the mountains). From October 20-31st, there's a Halloween Lift Ride that takes you on the lift chairs up the mountain, through the fall leaves and gets you sweeping views of the area.
6. Uinta-Wasatch-Cache National Forest
This national forest is a huge 2 million + acre area in Northern Utah and Southern Wyoming that gets amazing fall colors mid-October.
For this route, start in Brigham City and head toward Logan. From here, take 89 to Bear Lake.
Along the whole route, you'll find different fall foliage viewing points. In a canyon, high on the mountain peaks and eventually to Bear Lake's beautiful blue waters flanked with fall colors.
8. Bear Lake Utah Fall Colors
Bear Lake is worth mentioning alone. It's part of the Uinta-Wasatch-Cache National Forest but also is technically in Idaho as well as Utah (and super close to Wyoming).
I recommend heading to Garden City and making a beeline to Bear Lake State Park at sunset to see fantastic fall colors on the shores of this lake. You can rent kayaks and do a nice paddle out on the water as well.
Keep in mind that Bear Lake is further up north than Salt Lake City and Provo, so fall colors will start to change earlier than some of the other spots. If you're doing a large road trip, start here.
8. Little Cottonwood Canyon
In the afternoon, head over to Little Cotton Canyon, an in-and-out highway pass that's lined with colorful trees and stunning in the afternoon golden light.
You'll wind up and up all the way to Alta, a cute ski town and be rewarded with tons of colors along the way.
There's plenty of hiking trails and turnouts, but these are the stop we made:
Alta hiking trail: Park your car near the Snowpine Lodge and find the hiking trailhead across the street from it. About a 5-minute hike into this trail you'll find a huge grove of yellow aspen trees that are just stunning in the evening light!
Tanner Flat Campground: On your way up the mountain, look for signs for Tanner Flat Campground. There will be a large turnout area near the entrance road. Here you'll get an epic view of the mountain and there's some little footpaths that lead inot the yellow aspen trees for photos.
Snowpine Lodge: After your leak peeping, grab dinner at Snowpine Lodge's outdoor patio – which, you guess it!- overlooks the mountain and fall colors. It's best in the later afternoon so the sun lights the valley and then you'll catch the sunset as you make your way back down the mountain.
9. Mirror Lake Highway
Mirror Lake is also in the Uinta-Wasatch-Cache National Forest area, but further South and East of Park City is Mirror Lake and its namesake highway.
This stunning scenic byway stretches for 42 miles along state Route 150 and ends near Mirror Lake, a beautiful alpine lake.
If you love cold plunges as I do (I got obsessed after cold plunging in Oslo, Norway!) then I dare you to take a dip in Mirror Lake in October in between fall foliage hunting.
10. Park City
Park City fall colors are famous, mostly because (in my opinion) it's hard to find a mountain ski resort at the caliber of Park City that also has the plethora of fall foliage that they have.
You can book condos or hotels that face a thousand yellow aspens on the mountainside (goals!) Or stay at luxury hotels a quick drive from the scenic roads.
Or, like us, you can pop by on your fall foliage road trip. It's on the East side of the mountains so in the afternoon the trees are in shade (aka easier photos!)
Park City also has tons of restaurant options so it's a great place to end the day to have dinner here. I regret not booking us our hotel here since it was so cute and I wish we had more time to explore the city itself.
Here's some stop to consider when in Park City for fall.
Mountain Coaster: Fly down the mountainside on a coaster (only if you're brave). The Park City mountain coaster is only available until early October but imagine how fun it would be to ride through the changing trees!
Old Town Park City: Park City's historic strip is super charming and low-key feels like a Hallmark movie set in the autumn (but I have a feeling it's even more magical in the winter!) This area has some trees, but I love looking up into the hillside and seeing all the houses and the fall foliage from this vantage point.
McPolin Farmstead: A historic barn with trails and a viewing platform.
Park City Brewing: If you love beer, drive a town over to Kimble Junction's Park City Brewing for happy hour! Their taproom faces the mountains so you can sip on craft IPAs while looking.
11. Dixie National Forest
The Dixie National Forest is one of the most Southern places in Utah to see vibrant patches of fall colors.
It's in between Zion National Park and Bryce Canyon, so if you're aiming to visit some of these iconic national parks on your trip, you'll want to plan a stop through the Dixie National Forest first.
12. North Pine Canyon Road & Guardsmans Pass Overlook
This mountain pass legit some of the best fall colors in Utah.
It's dripping in foliage and only got better as we drove up. We drove this during the day but came back for golden hour to take photos since I loved it so much.
I think one of the best fall things to do in Utah is grabbing cheese curds at Heber Valley Milk & Artisan Cheese store in Midway and then take a drive on this pass.
Park at the Bonanza Flat Trailhead and wander through the trails amongst the aspen trees. Heaven!
If you're coming for photos, swing by there at golden hour – sunset. It's a super popular spot to take photos t(the light is amazing!)
Got more time?
Take a dip at the famous
Homestead Crater
in Midway! It's basically a giant hot spring in a cave and utterly unique. Book tickets online in advance ($15 per person), bring your swimsuit and towel and spend an hour floating around this 96-degree geothermal waters.
13. Fishlake National Forest
This lake is located in central Utah and is flanked by aspen trees. That means they'll turn bright yellow in the fall! Expect leaves to change more mid-late October since it's further south than Salt Lake City.
14. Fall Colors In National Parks Of Utah
Utah is really known for their national parks but I'm not exactly sure that the Utah national parks for fall colors will be the jackpot you're looking for.
Not in the same way Provo Canyon or the Alpine Loop hits. They still have trees that change colors so if you're looking to do a large Utah road trip, these parks are worth a stop in October but I would recommend a drive to one of the other scenic byway loops mentioned to really soak up the leaves!
If you do head to some of these national parks in October, you'll be rewarded with fewer crowds and great weather (though
Canyonlands National Park
Bryce Canyon National Park
Zion National Park
As you can imagine, autumn isn't the only peak time to visit all the parks in Utah. They're stunning year-round but spring is the other season I'm really itching to go visit. There are just so many fun spring activities in Utah National Parks from horseback riding, hikes amongst blooms, biking, scenic drives and hiking more empty trails before summer crowds.
Utah Fall Colors Map
I jotted down all the spots the internet has told me there's fall leaves in this handy Google Maps along with food recs and other things to do in Utah in the fall, like hot springs!
What To Expect For Utah Fall Vibes, Food & Activities
I loved finding all the fall colors Utah has but my only complaint is the lack of fall food culture or charming activities you usually associate wiht autumn.
Unlike the PNW which has cute little coffee huts or donut shops in the mountains so you can grab to fuel those basic fall vibes, we found Utah to be lacking on that front. (Not even Sundance Resort's cafe had any fall-flavored coffee drinks or even hot chocolate!)
When you're driving around the Watasch Mountains, pack your own snacks and grab a pumpkin spice latte from Starbucks in Provo or Salt Lake City.
We loved the pumpkin cream donuts at The Big O in Salt Lake City! Have breakfast at The Vertical Diner and then walk across the street to pick up donuts before heading out on the road!
When you make it to Heber City, the cheese store does offer a hayride and a chance to meet the cows which is at 11am daily which we just missed during our visit, but looked like a fun fall activity other than hiking or looking at leaves.
Where To Stay In Utah For Fall Colors
The nice thing about fall foliage hunting around Northern Utah is everything is really close to each other. We opted to anchor ourselves in Provo but if I had to do this trip again, I would totally stay in Park City.
Park City is slightly further away from the byways and would require a bit more backtracking, but it's super cute and just an overall fun vibe to be. And again, everything is so close.
Waldorf Astoria Park City: The Waldork is a beautiful luxury hotel on my bucket list. It has stunning views of the mountains, upscale rooms, pool & hot tub and is a magical place to come back to after leaf hunting.
Kimpton Salt Lake City: We love Kimpton Hotels. They're always cute, have free happy hours and in great locations.
Carriage House On The Stream: This coveted cabin on the Alpine Loop is whimsical and even has a river running through it (hence the "on the stream" part!) I wanted to stay here but it's popular so book it asap!
I hope this helps you plan the perfect Utah fall foliage trip!
I loved our October trip and so happy we decided to come here. I'll get to New England one of these days, but Utah is such a hidden gem on fall leaves that's seriously slept on.
If your favorite Utah fall colors spots didn't make the list, drop a comment below so everyone can see! And if you have questions, pop me a DM on Instagram @thewhimsysoul and I'll try and help.