Is the Klamath tour thru tree worth it?
You may have heard about these famous Redwood trees in California that you can drive through. While on our big 9-day campervan road trip, we knew we'd be driving rigth past both the Klamath Tour Thru Tree and the Chandelier Drive Thru Tree on Highway 101.
It's touristy and kitschy and hot dang it, I grew up in the Midwest and driving through a dang Redwood tree has been on my United States bucket list for ages!
So, we did it and I'm here to report if it's actually worth it or not.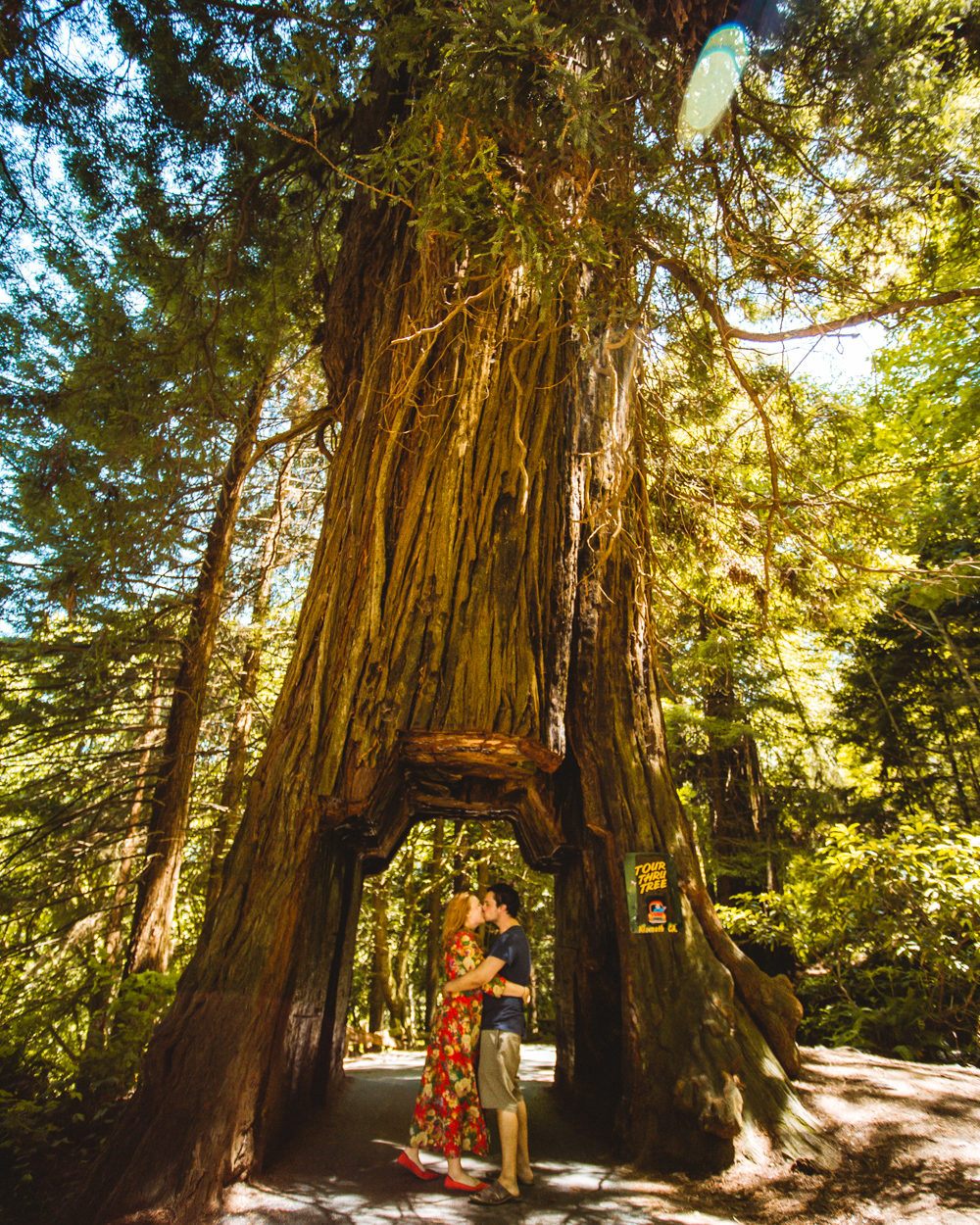 We picked the Klamath Tour Thru Tree because we were on our way to the Prairie Creek Redwoods State Park to hike the Fern Canyon trail and see Redwood coastal trees. It's a quick drive from the highway and there are TONS of signs to get you there. You can't miss it!
>> PS I really hate how all these trees are called "thru" trees. The spelling just erks me!
It costs $5 to enter. I'm not sure if they take cards but I don't think so. We stopped by on a random Tuesday and found it mildly busy, we probably ran into 5 other cars while enjoying the tree.
This would be a very annoying and stressful place to visit when it's busy, so if you see a long line out front, I'd skip it.
We pulled up around the corner and BOOM, there it was, the huge redwood tree you can drive through. We were in a Ford Transit and it fits when we tucked our mirrors in. If you are in a very large truck or van ask the people at the front pay gate if you'll be able to fit.
So, was it worth?
YES! It was a quick 10 minute stop but fun! Plus, the Klamath Tour Thru tree is only $5 compared to $10 at the other trees, so you know you aren't totally being ripped off.
How many drive through trees are there in California? These are all 4 I know about.
Chandelier Tree (Drive-Thru Tree Park)
Shrine Drive-Thru Tree ( online reviews say this one dead due to water damage)
Wawona Tree at Yosemite National Park (can't drive through this one, but you can walk through the tree tunnel!!)
On your way to the Avenue of Giants and the Redwood National Park, you'll probably drive right past the Shrine Tree and Chandelier Tree. But if you already stopped at the Klamath Tour Thru Tree, you can skip the others.
I hope you do this bucket list item on your next California road trip! Make sure to tag me @thewhimsysoul in your photos so I can see them!
other travel guides you may like
How To Spend A Weekend in Yosemite National Park
48 Hours in Mendocino Travel Guide
How To Wine Taste in Napa Valley
Ultimate San Francisco City Guide
Pin This For Later!