Yosemite National Park is one of my most favorite places on the planet. Robin and I first visited over Labor Day last year (read here) and fell in love with the hiking trails, the fresh air and how freaking beautiful Yosemite Valley is. For that summer trip, we stayed at Camp Curry (currently called Half Dome Village) so the valley and nature could be within footsteps of our beds. This time around, we visited the park after Thanksgiving in late November for a fresh way – and a colder way – to experience Yosemite.
The park changes so much with each season so there are a whole bunch of new things to share and do while visiting. These are my top things to do in Yosemite National Park during fall or winter season. Read on to find my quick list of tip things to do, and then a more detailed itinerary to follow!

Top Things To Do In / Around Yosemite
Mariposa, CA – a cute old miners town outside the park full of local shopping and craft beer.
Tunnel View – the classic view of Yosemite Valley that begs for photos
Mirror Lake Hike – around 2.5 miles roundtrip.
Tenaya Lodge – fun year round, but especially for the holidays – they do decor so well!
Lunch at the Majestic Hotel – top-notch dining (I recommend the trout!)
Ice Skating – at Tenaya Lodge or the Half Dome Village rink!
Snow-shoeing – there are free guided tours in the winter.
Grand Grape Celebration– if you're in the park in late November, check out the Grand Grape Celebration for free wine tastings + a multi-course dinner.
Lower Yosemite Falls Hike – the best first hike of the morning to wake up.
---
DAY ONE
---

Mariposa, California sits on the outside of Yosemite National Park. It's a cute old miners town that has tons of local shopping, craft beer, good eats and loads of charm. We spent a night in Mariposa and I highly recommend that you add in a night as well if you have the time. It's a great way to start a trip to Yosemite. Read my full Mariposa travel guide here.
Hotel
The Adair House is a charming vacation rental with modern decor and a wonderful porch for late nights with wine. You can book it on Airbnb – use this link for $40 off your stay on Airbnb!
Local Shopping
Wander the main street to shop local stores. I recommend stopping by CostaLivos for a free olive oil tasting and Chocolate Soup for a huge selection of gifts.
Happy Hour
Beeline over to The Grove House for craft beer and friendly owners.
Dinner
After, head to 1850 Restaurant for a tasty dinner. I recommend a burger or the ravioli.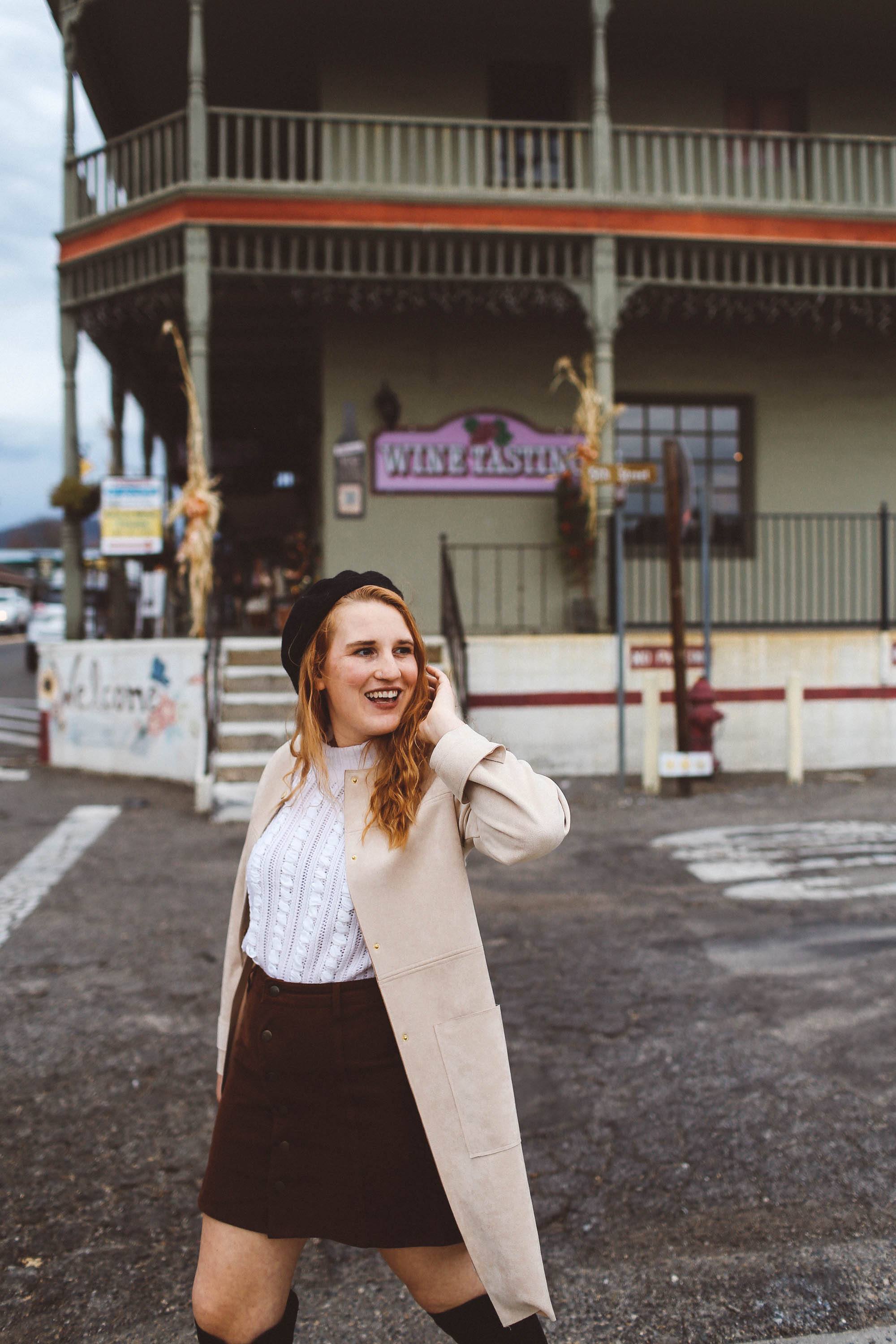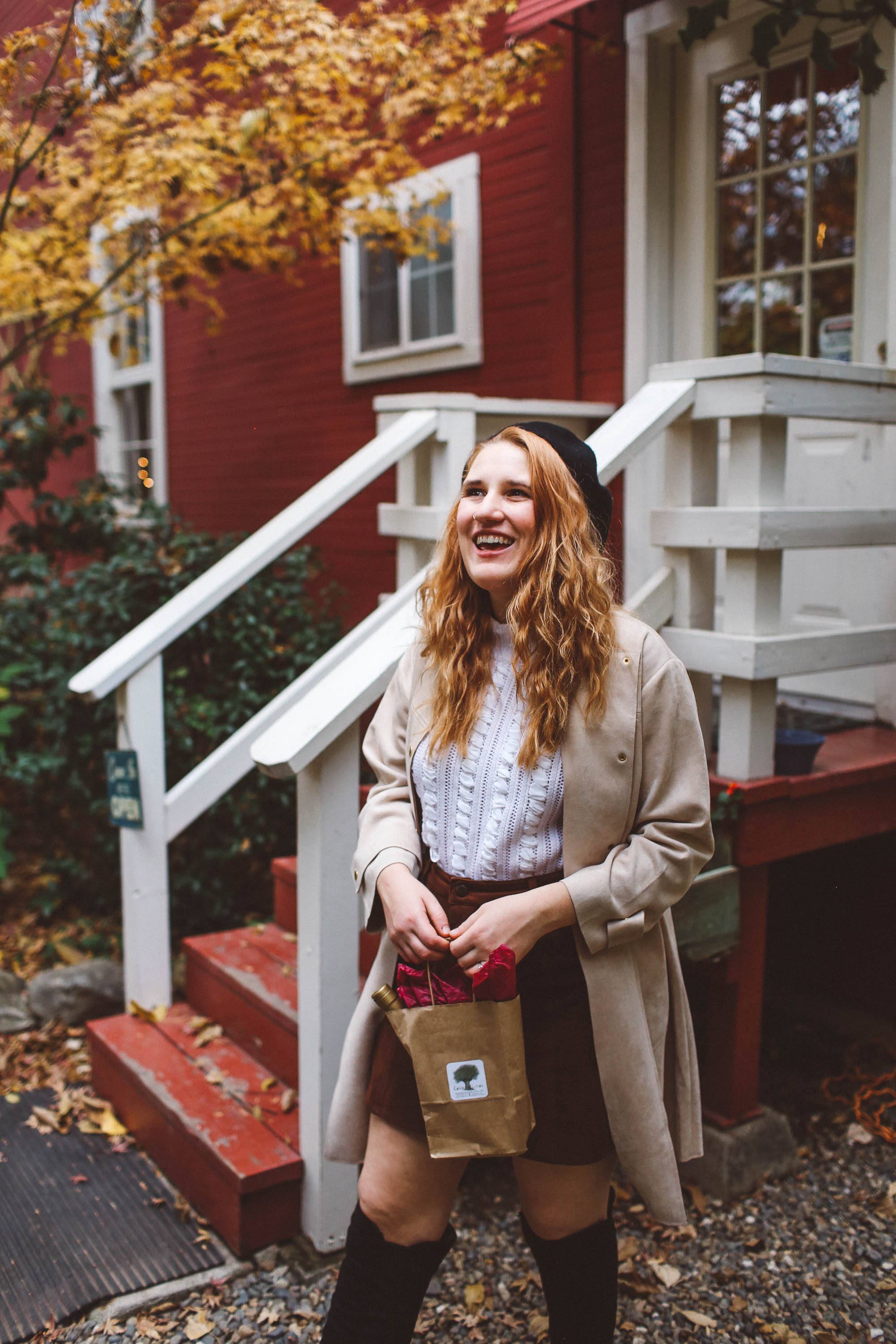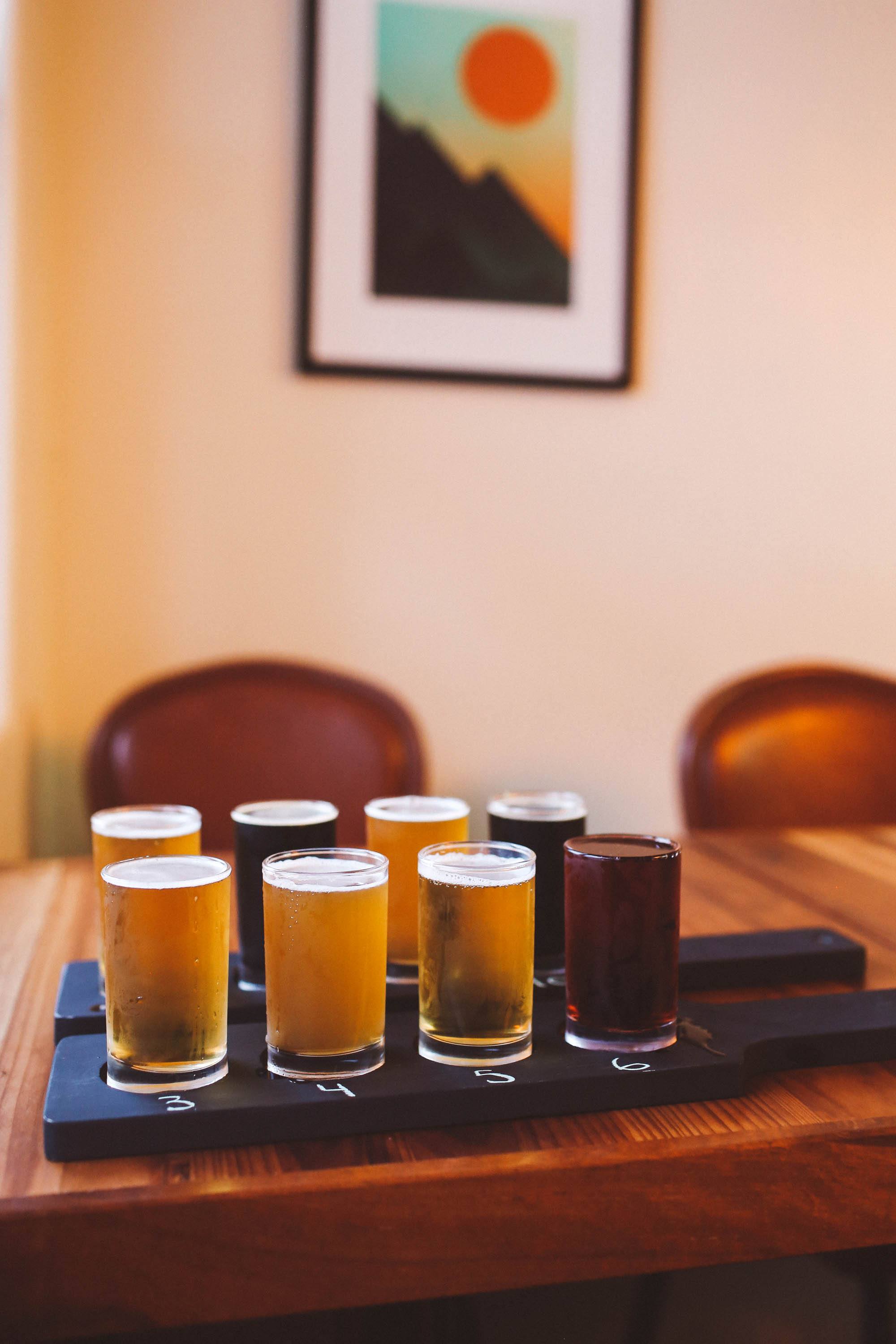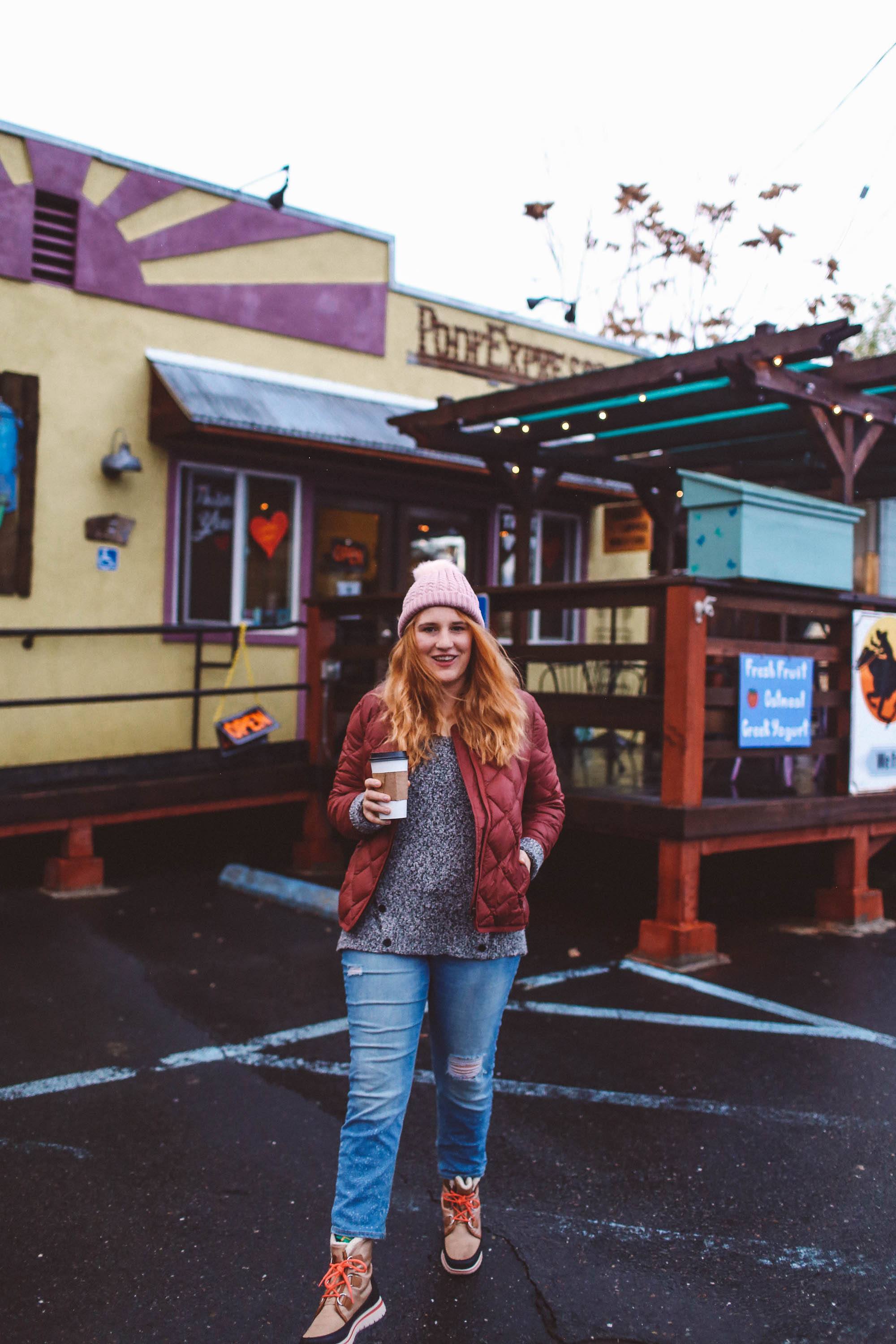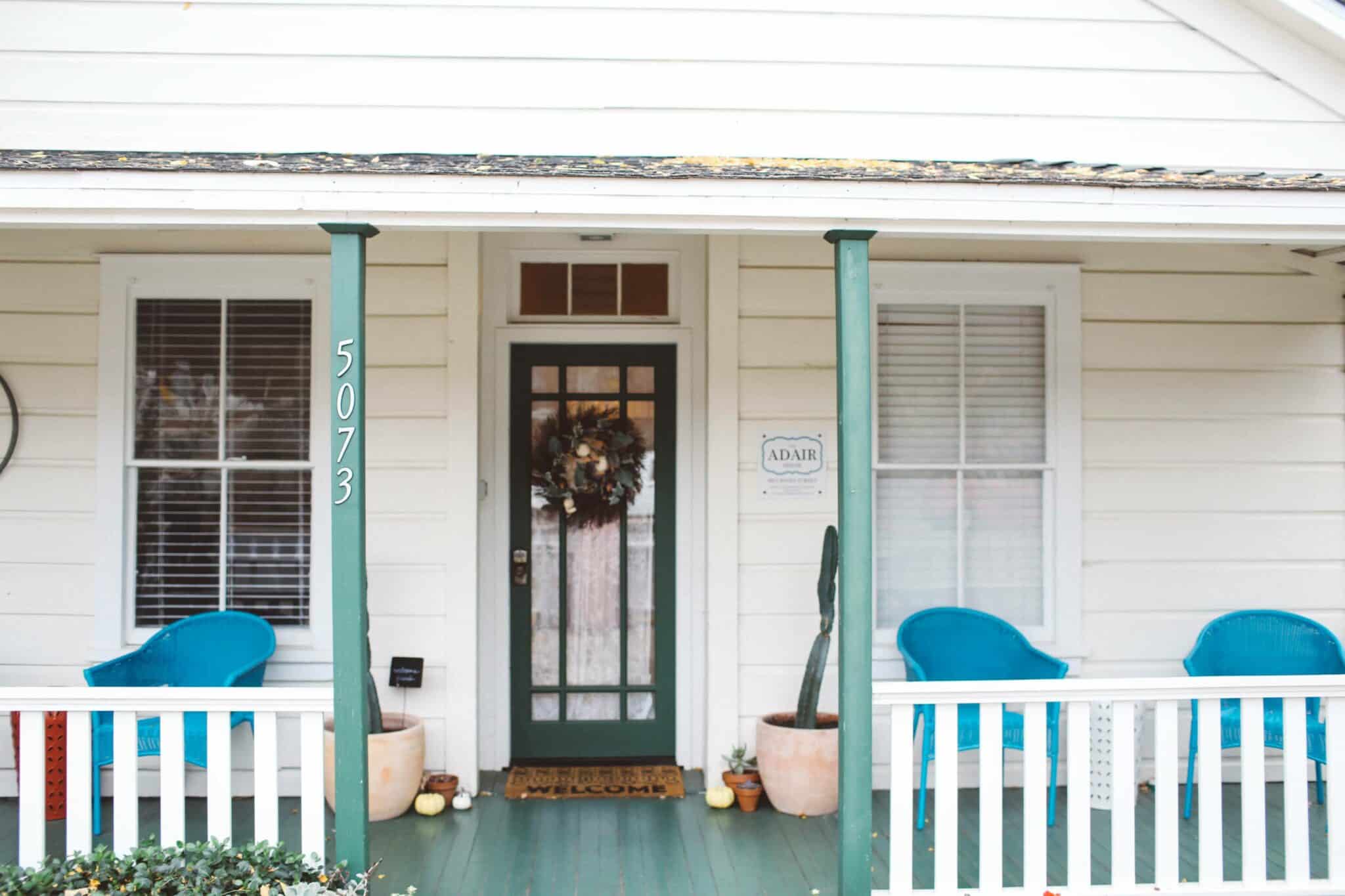 ---
DAY TWO
---

Wake up to a cool morning in Mariposa. I recommend grabbing coffee at Pony Expresso or Jantz Bakery and – if you have the time – bring it back to your porch at Adair House for a cozy way to wake up. From Mariposa, it'll be about an hour into the valley.You should be heading into the park no later than 8:30am as it can take a while in the winter due to weather and can sometimes take up to 2 hours to get into the park.
Breakfast
Grab a coffee at Pony Expresso or pastries at Jantz Bakery in Mariposa, California. 
Park Pass
It's $30 for a 7 days pass. OR, you can buy the 12-month park pass for $80. This pass allows you access to almost 2,000 recreation sites + parks for 12 whole months. If you plan on visiting any other park in the next year, this is the pass to get.
Morning Hike At Lower Yosemite Falls
I always swoon over the way the valley looks while driving into Yosemite. El Captian is huge and towering and it's always magical when you get far enough in to see Half Dome peaking out. To start the morning off, do a quick swing around the valley to see everything and then head to Lower Yosemite Falls. It's an easy paved path about 1-mile round trip. It's perfect for elderly people, families and when you're still processing your caffeine in the morning. If you're lucky, you'll see a rainbow over the falls like we did!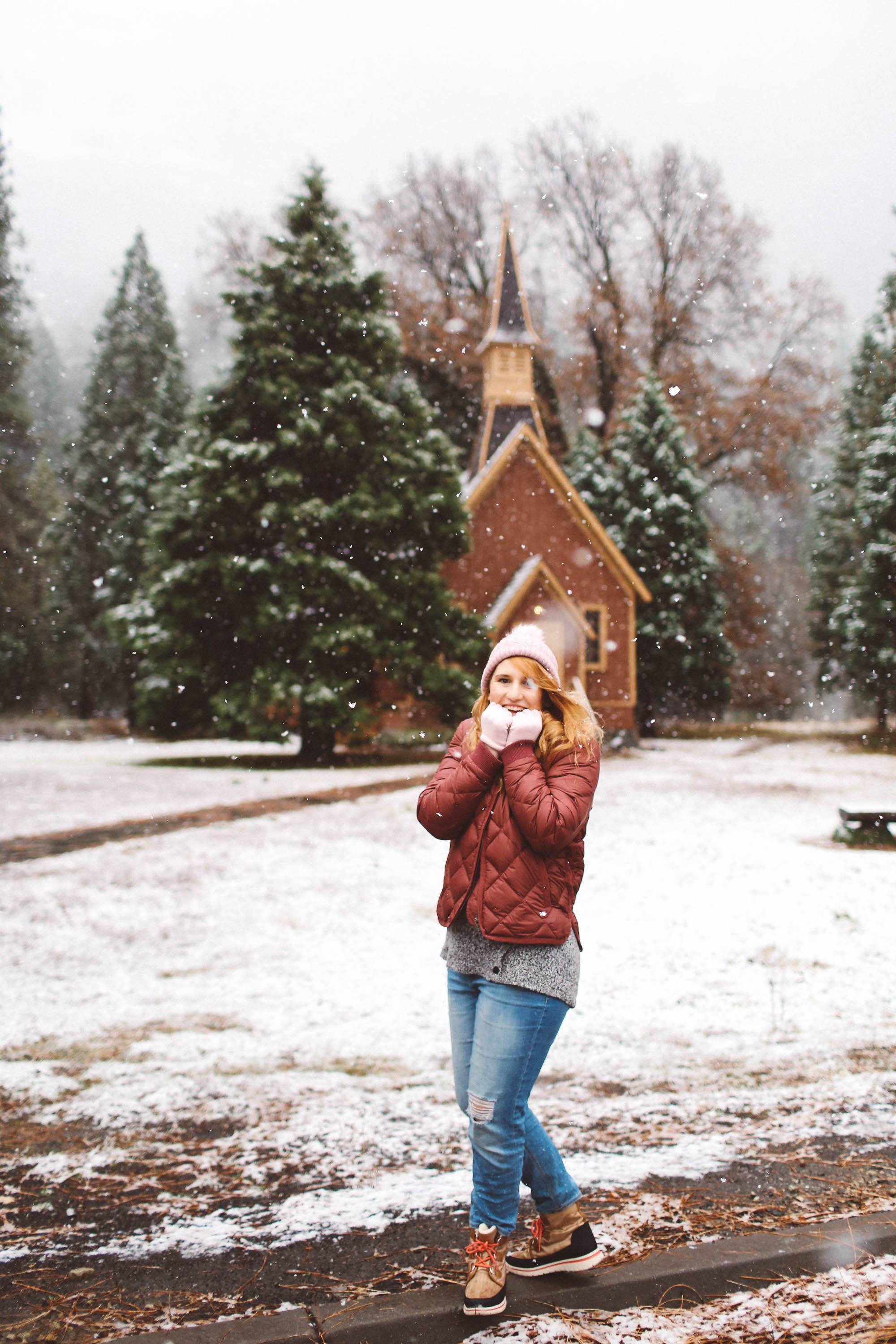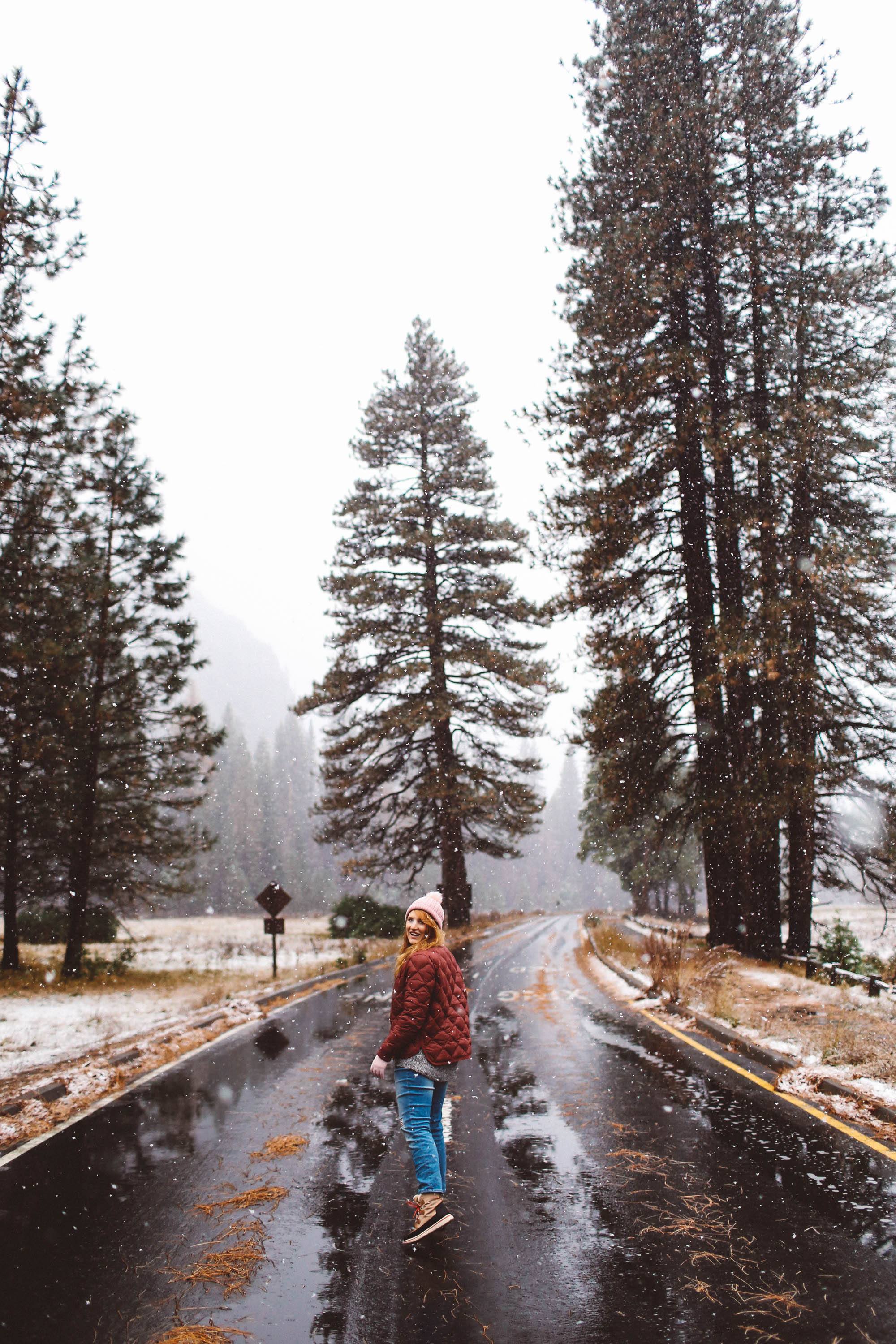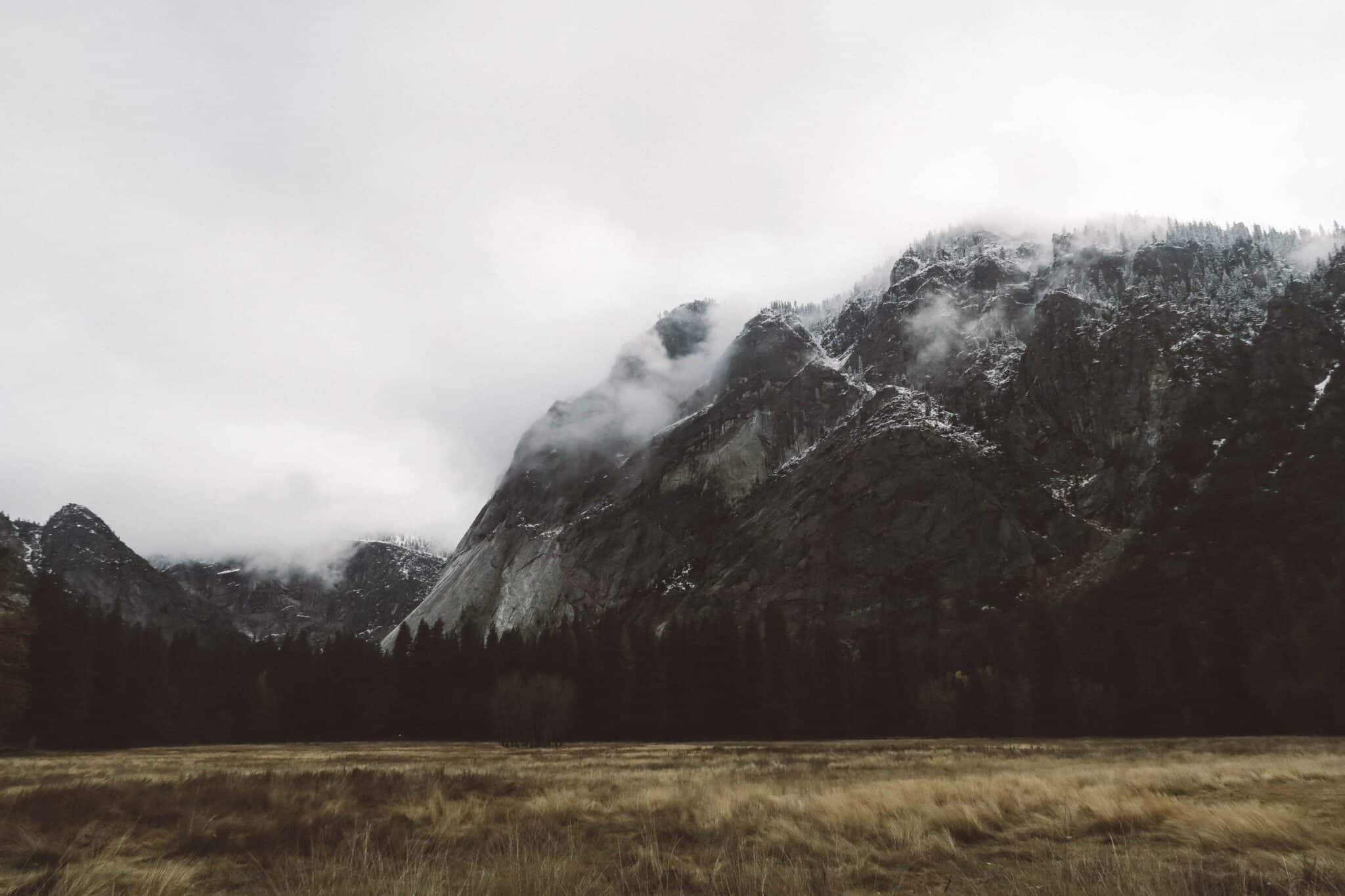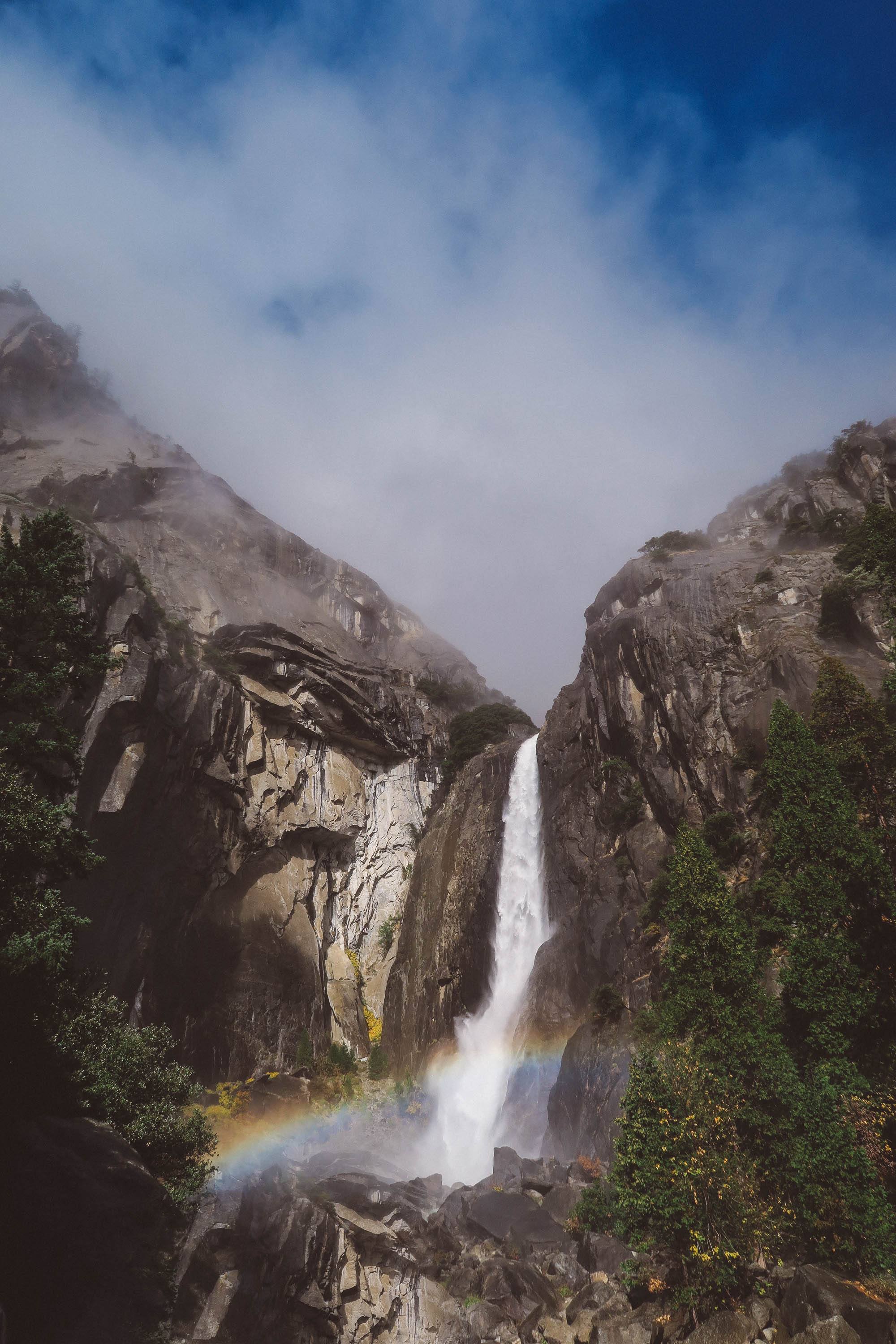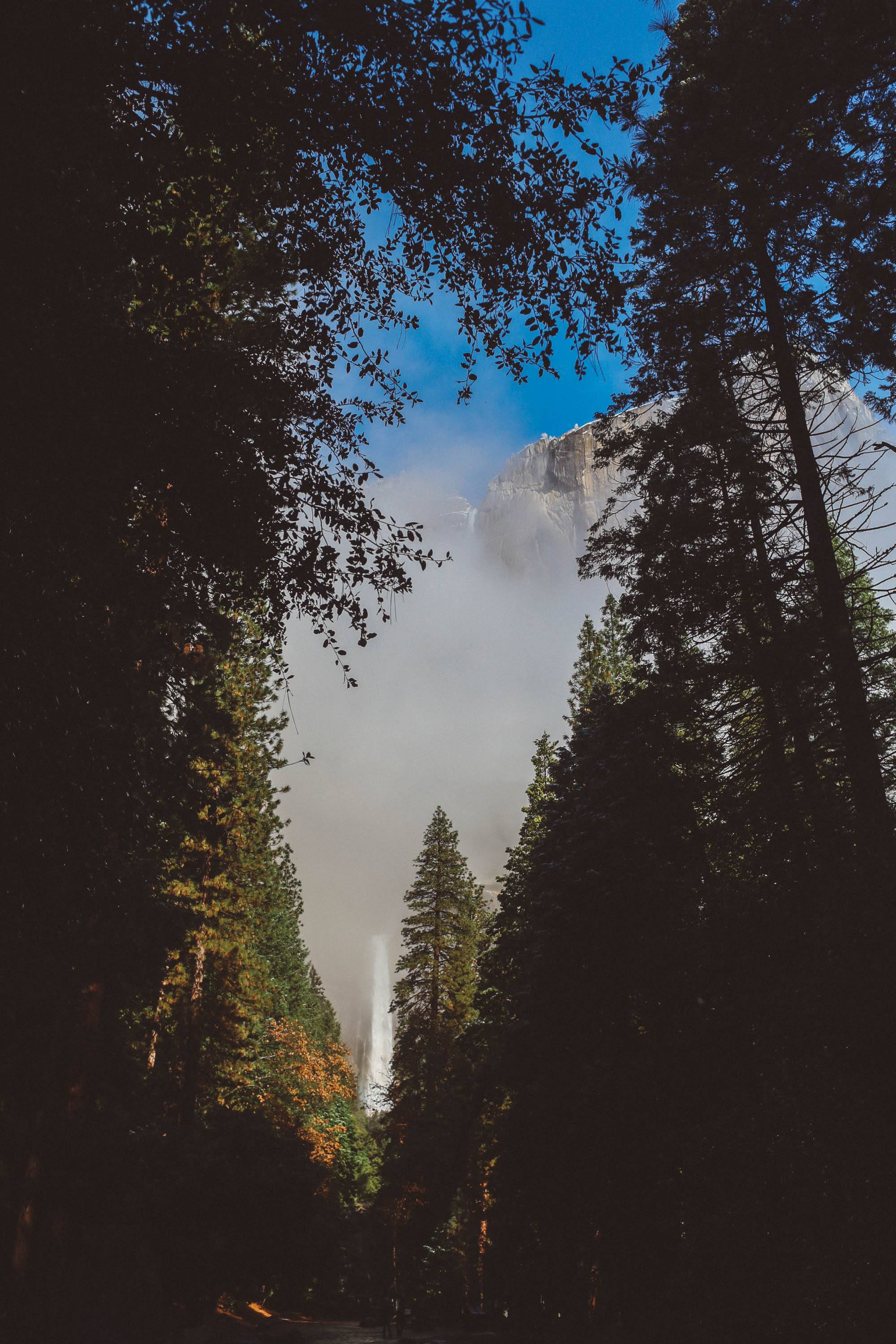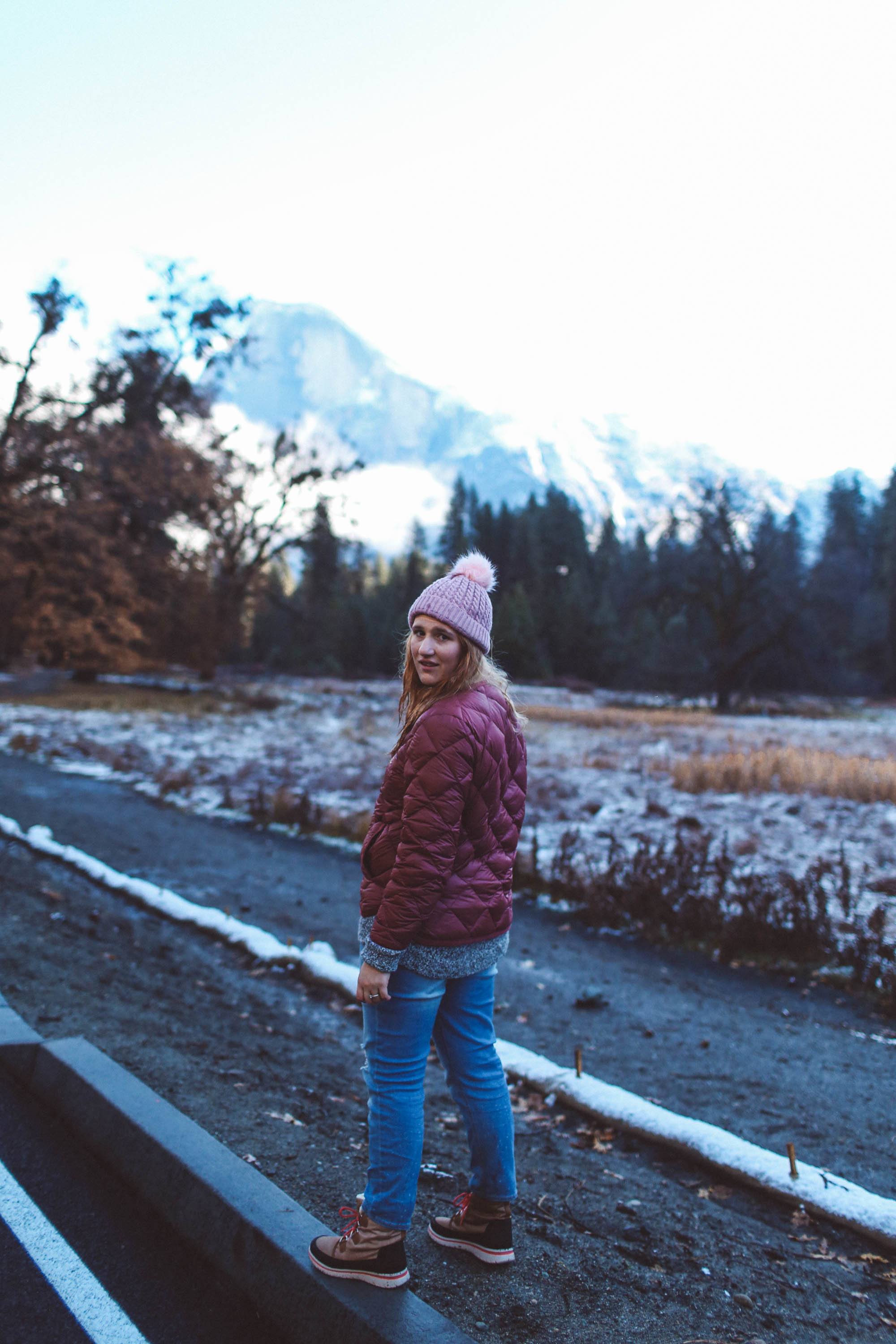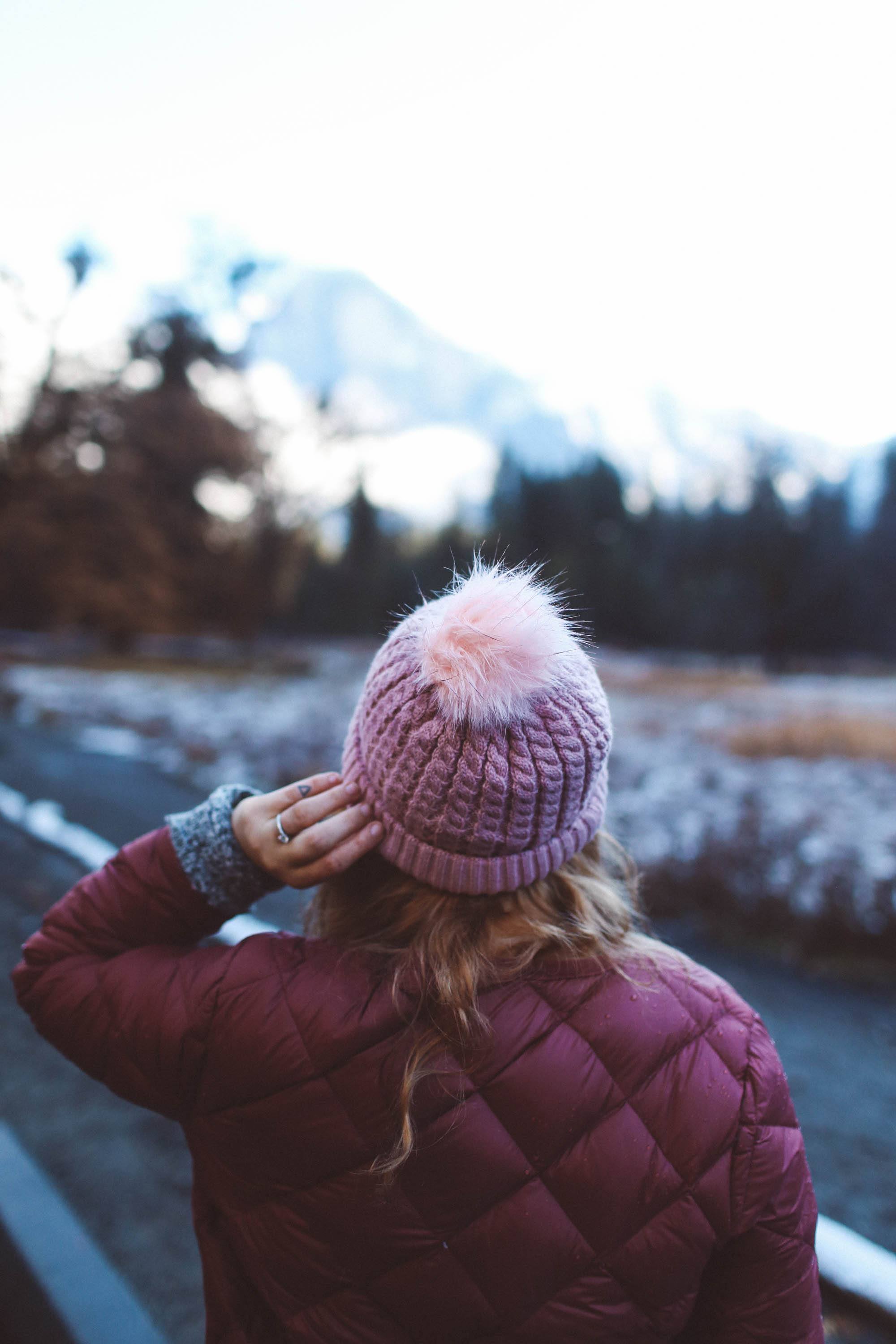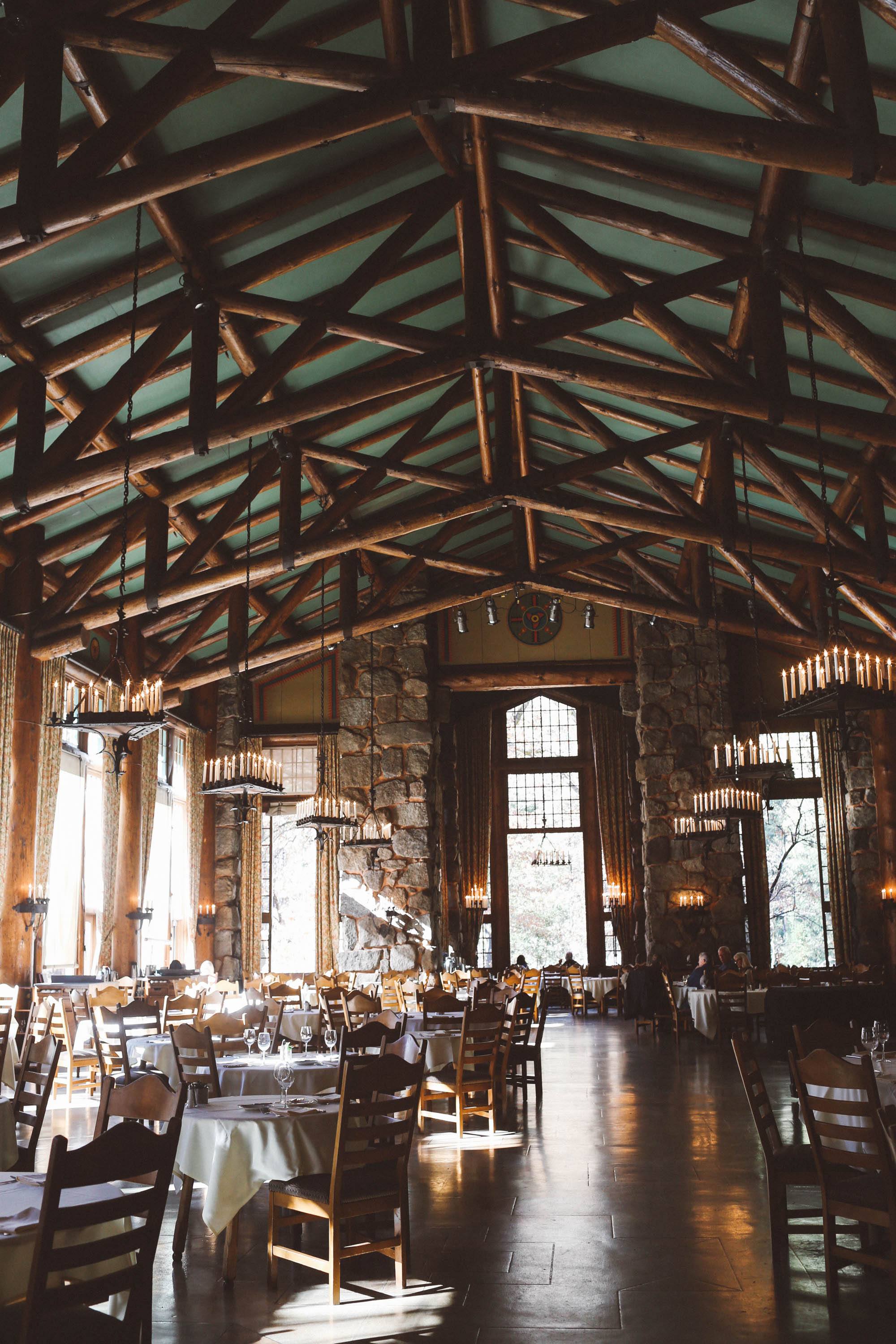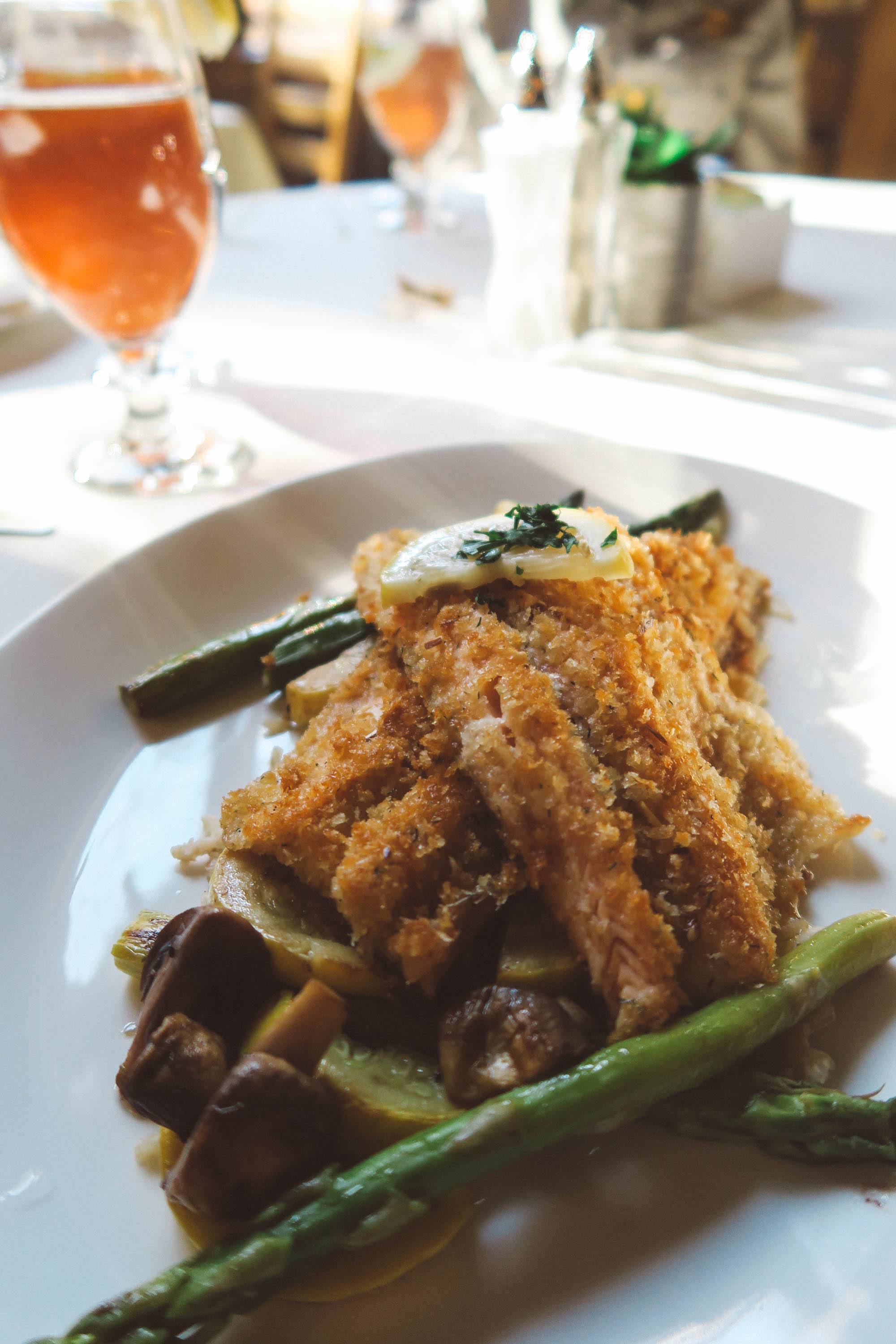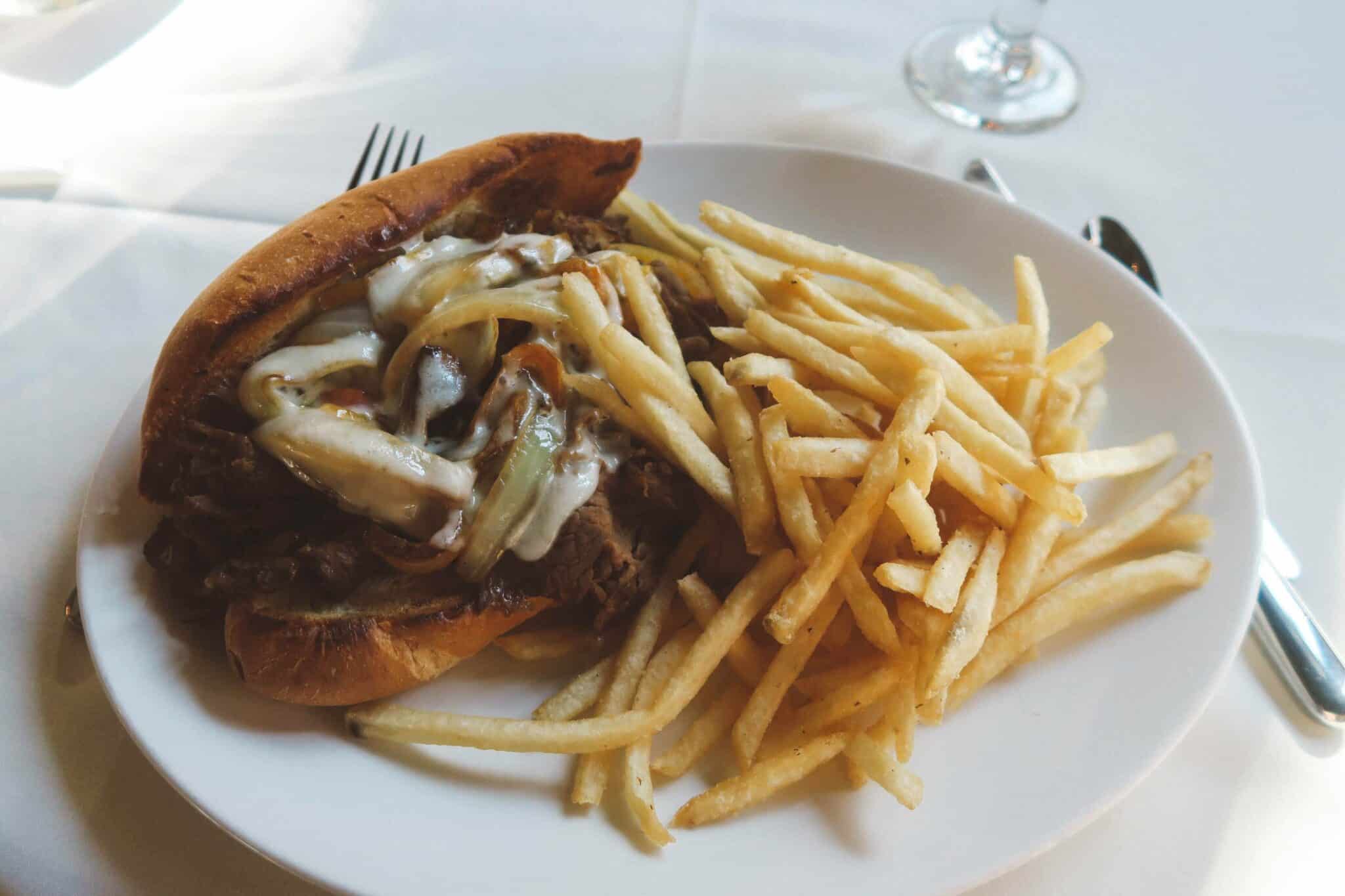 Lunch
For lunch, head to the Majestic Hotel for fine dining in their grand dining room. On weekdays you should be able to walk in for lunch, but you may need a reservation on weekends. I recommend the Trout or Philly Cheesesteak Burger – both are wonderfully cooked with quality ingredients and are sure to fuel you up for more exploration.
Afternoon Hike At Bridalveil Fall
After lunch, take a stroll up to Bridalveil Fall. It's a short hike and the falls are most beautiful in the afternoon when the light hits it right. After, stroll along some of the meadows on the valley floor around El Captian. Before you head out of the valley, make sure to stop at Tunnel View lookout point to find that classic Yosemite Valley view. You can see the WHOLE valley from here, it's beautiful.
Hotel
Book two night stay at Tenaya Lodge right outside of Yosemite. It's a huge lodge that gives you all the rustic cabin feels with a chic upgrade. They have 9 restaurants, indoor and outdoor pools, ice skating in the winter, tons of trails to hike, a spa… the list goes on! The lodge is about an hour from the valley center and will take you through a different part of Yosemite than you drove in. You'll love the scenic drive!
Hot Tub
After you settle into your room, I recommend heading to the hot tub. If you were anything like me, you were a bit sore and cold from a day in the park. The perfect way to unwind!
Dinner
For dinner, head to one of the main restaurants at Tenaya Lodge. Embers is cozy romance, Sierra is upscale dining and Jackalope Bar & Grill has fantastic food with a more laid-back vibe.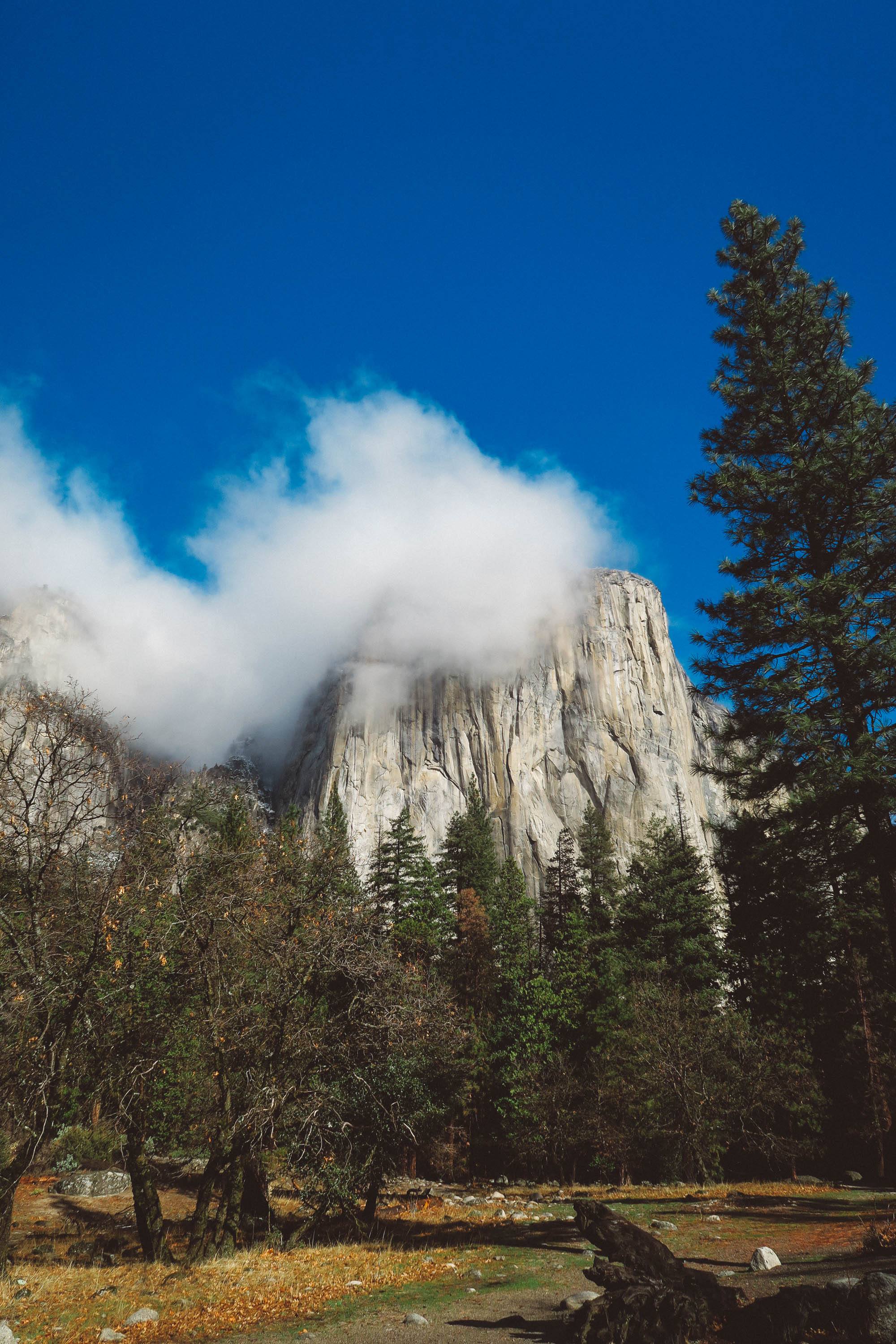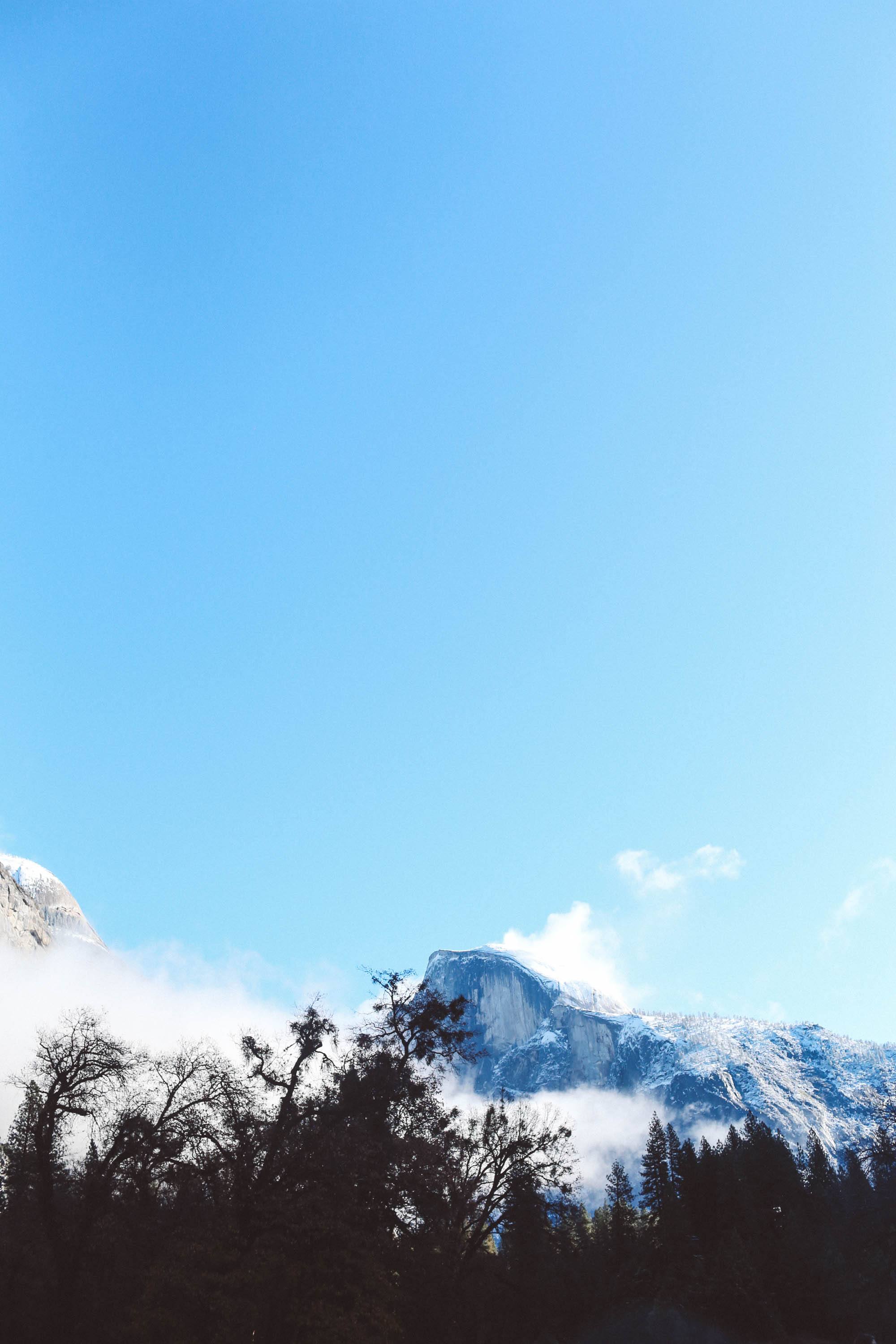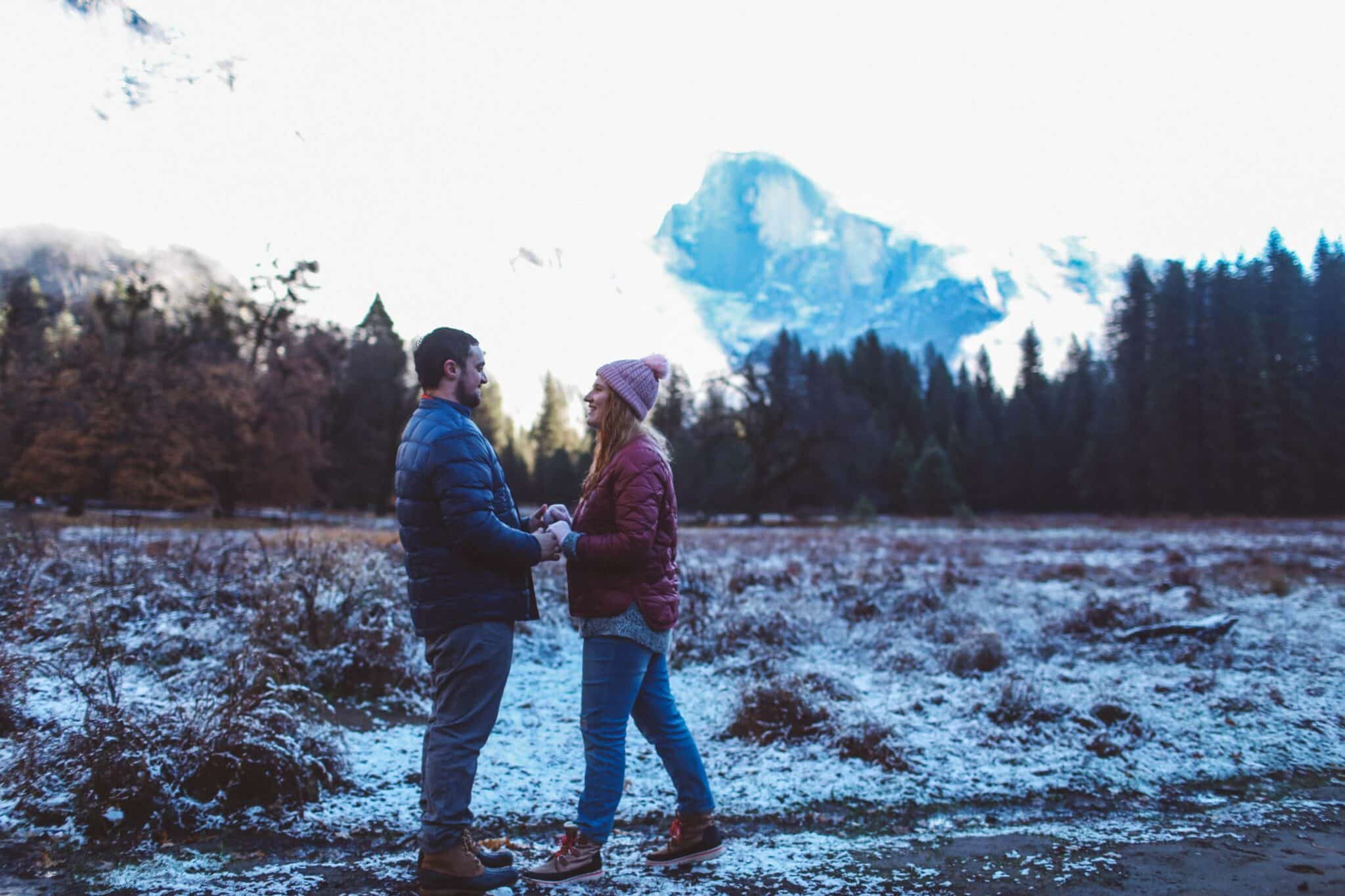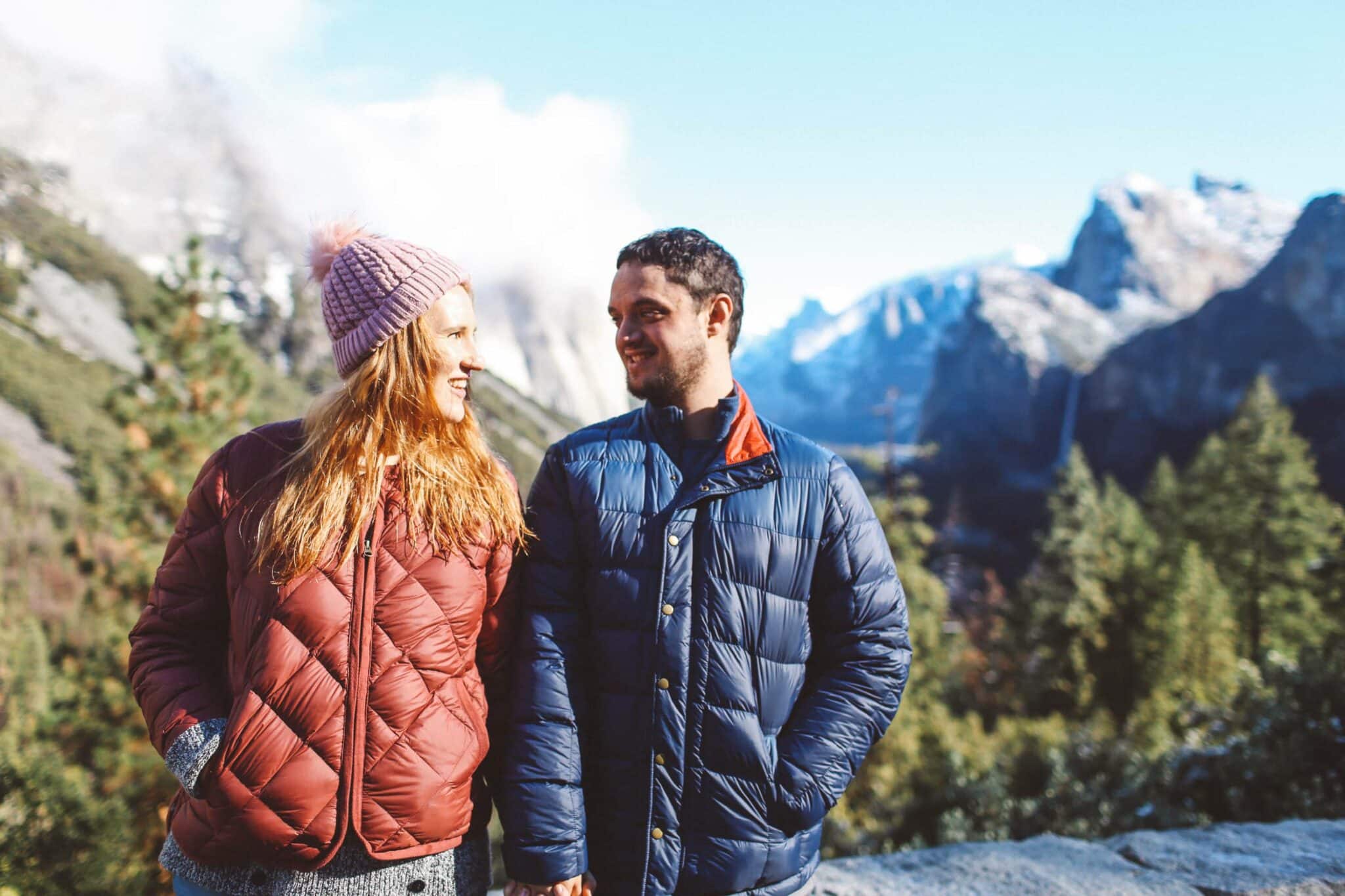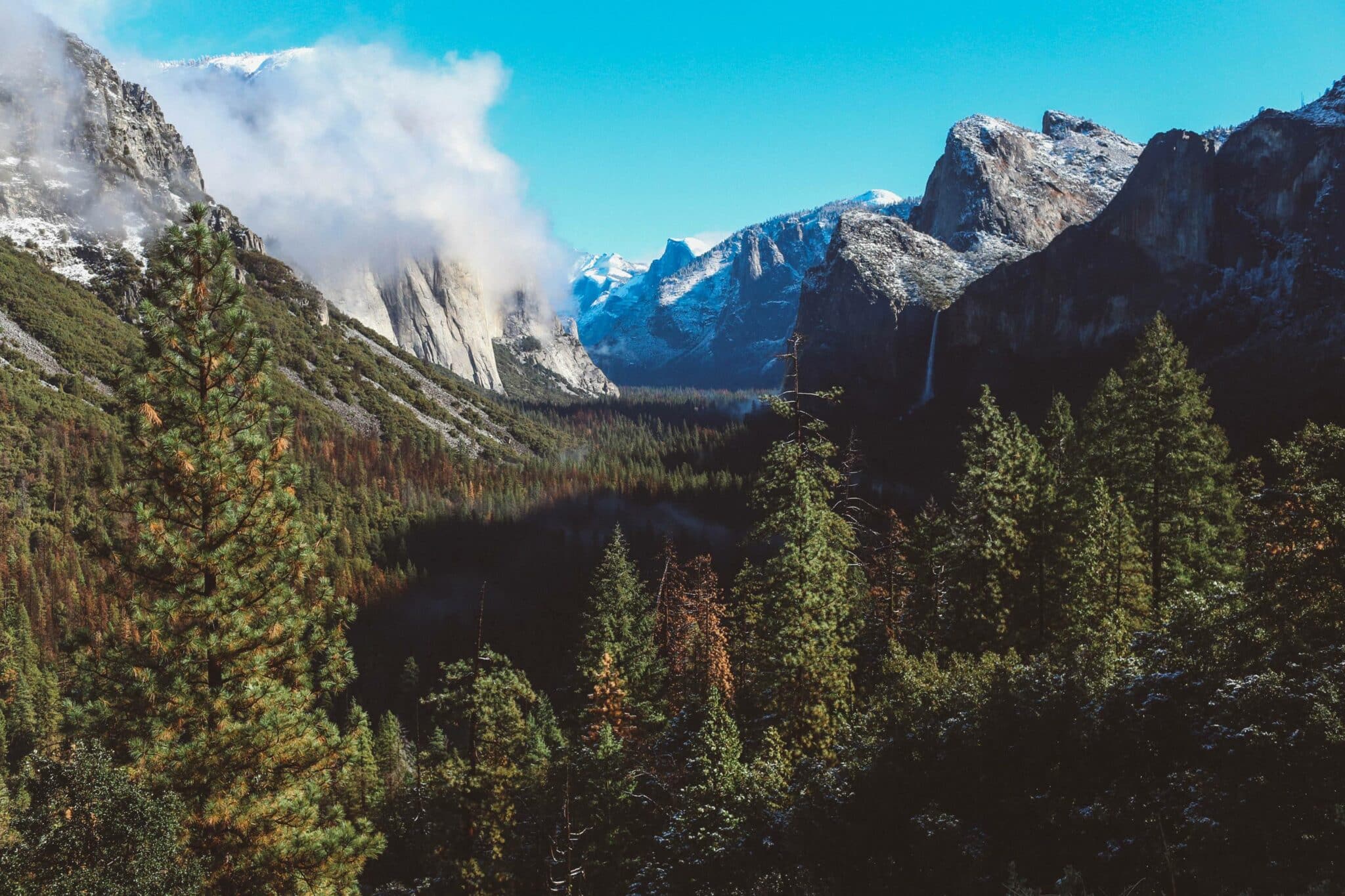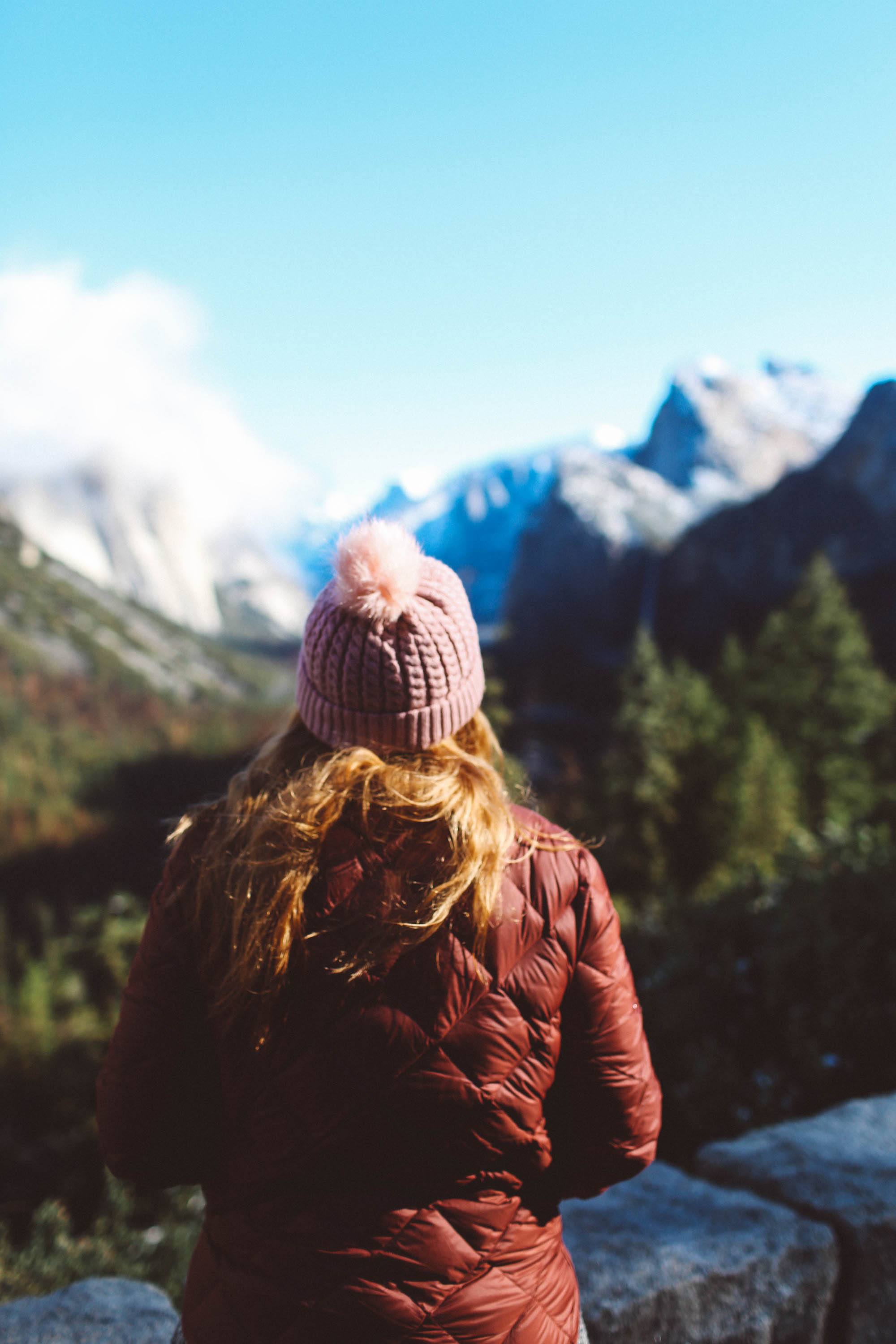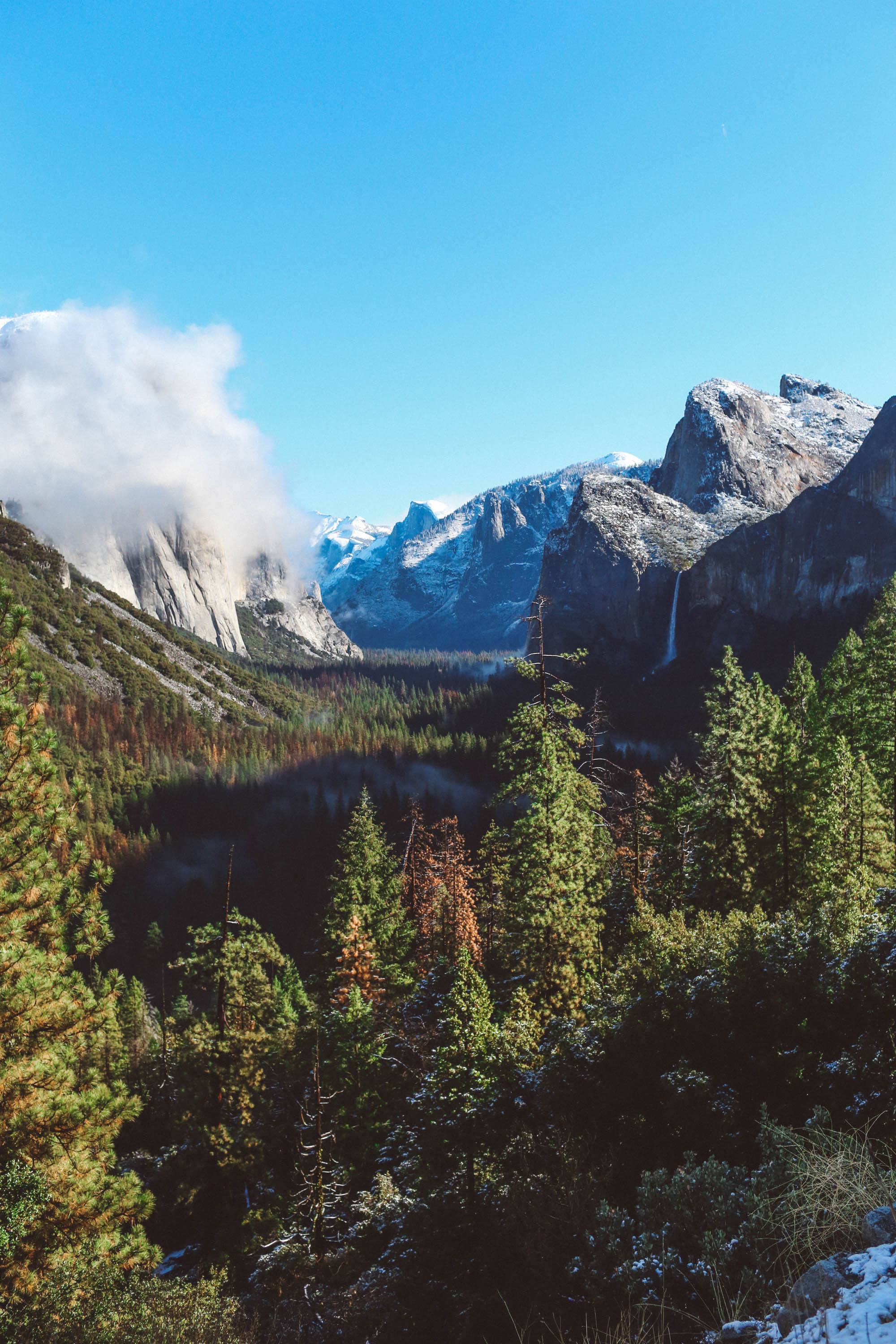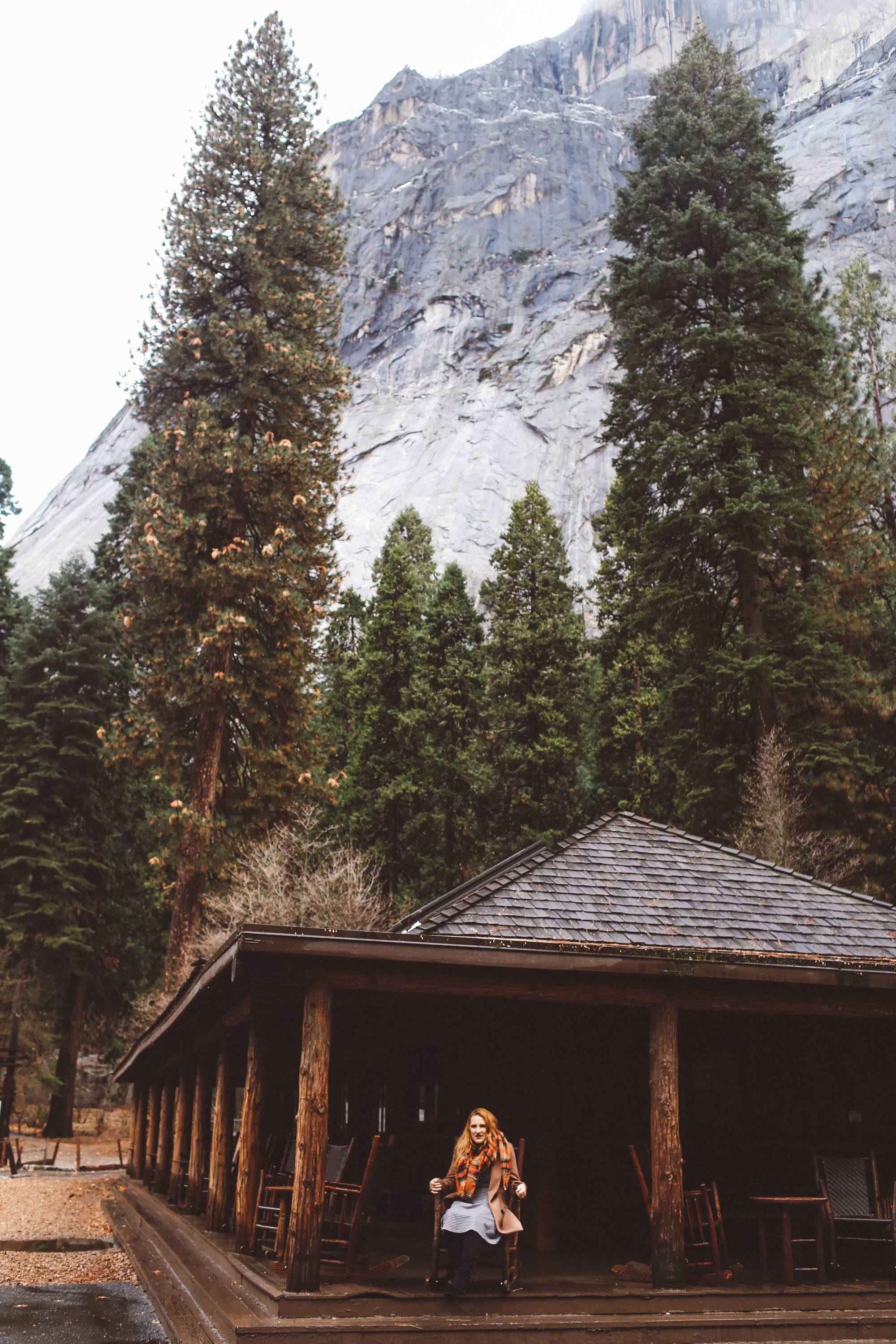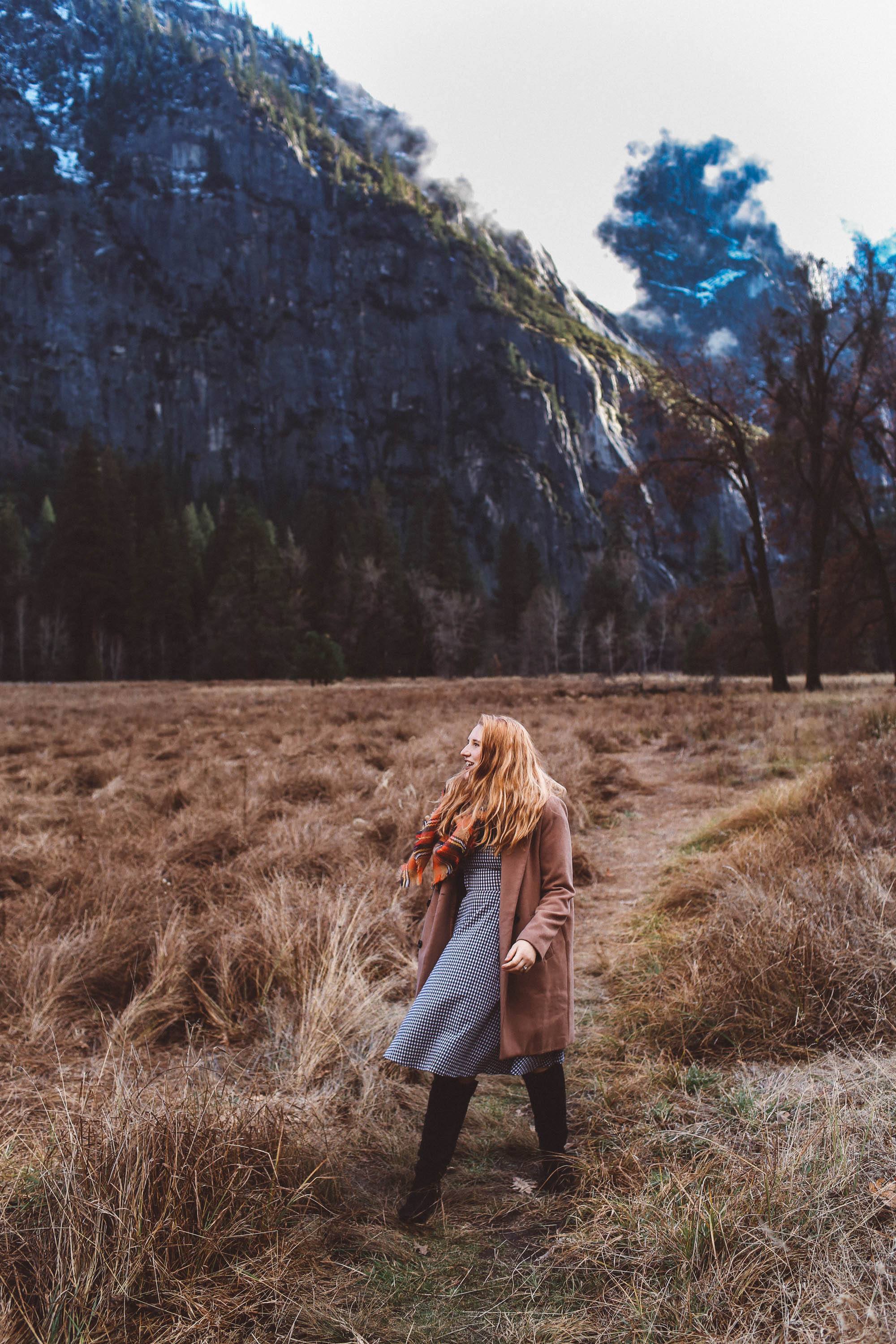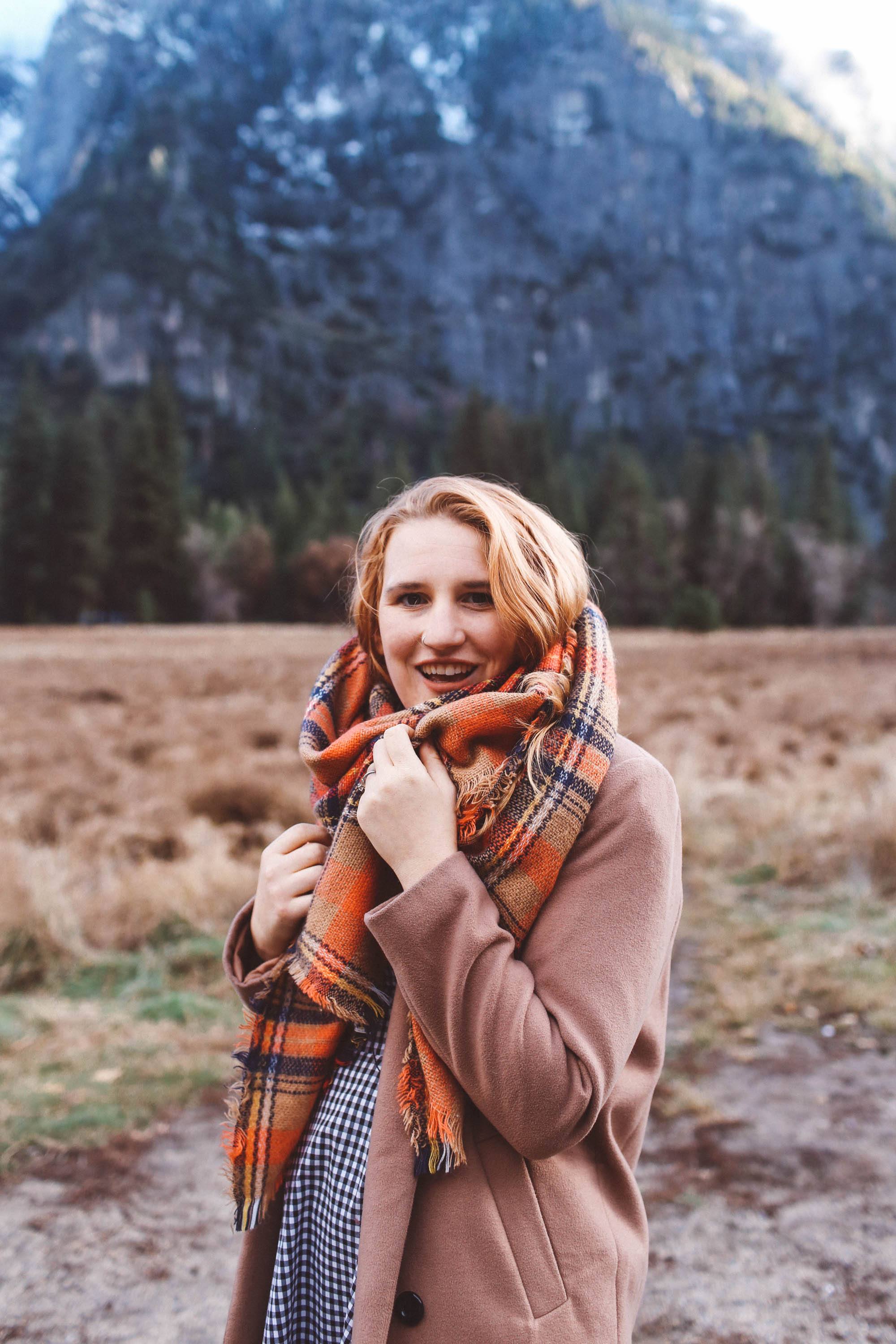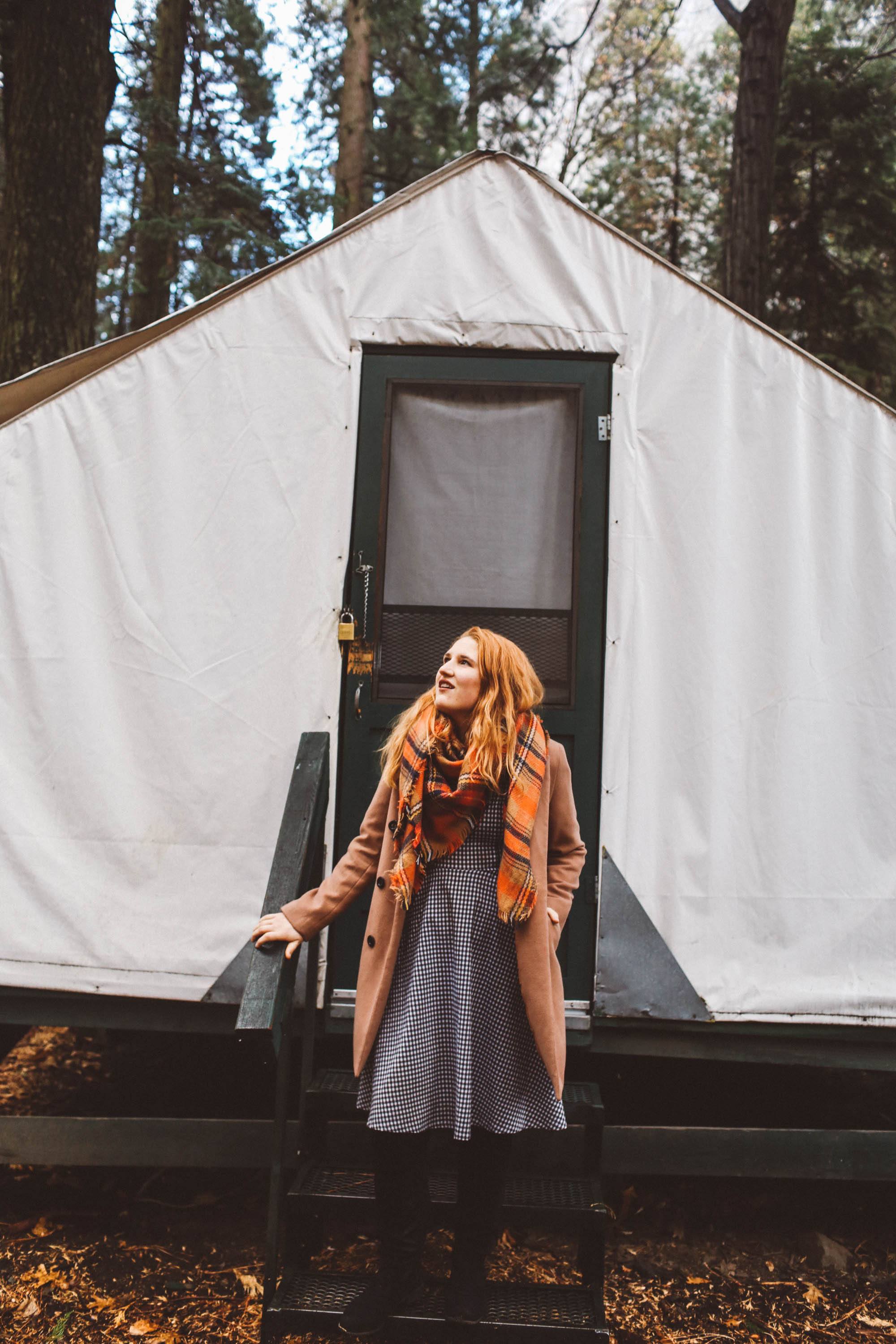 ---
DAY THREE
---

The lodge has complimentary breakfast, so wake up, load up and head out to the valley for another day in beautiful Yosemite! Make sure to stop by the Big Tree convenience store right inside the entrance of the park to grab snacks, water, and lite lunch fare. If the weather permits, you should do a picnic in the park!
Morning Hike At Mirror Lake
To start the day off, I recommend hitting up the Mirror Lake trail. Park in the lot near the North Pine Campgrounds and walk .2 miles to the trailhead. You can go either left or right – I recommend going right on the way in as it's an actual trail and not paved, so it's extra beautiful. Depending on how wet the fall is, you may or may not find water in the lake. On the way back, cut across the bridge to walk some of the paved part for a different view.
Lunch
Eat at Mirror Lake! If there isn't any water, take your lunch to the clearing to have a killer view of the mountains.
Afternoon Festivities
After lunch, you should do one of two things. If you are itching for more hiking, I suggest the Mist Trail up to Vernal Falls. It'll take a few hours but you'll be rewarded with being up close and personal with Vernal Falls and it's a magical experience. If you don't want more hiking, I suggest snowshoeing the valley or, if it's the holiday season, visiting Half Dome Village for ice-skating, sleigh rides and festivities. Half Dome Village is my favorite part of the valley!
If none of that sounds fun, I suggest going back towards the lodge to the ski and snowboard area of Yosemite, which is open during the winter season when there is snow! You can ski, snowboard, snowshoe and more!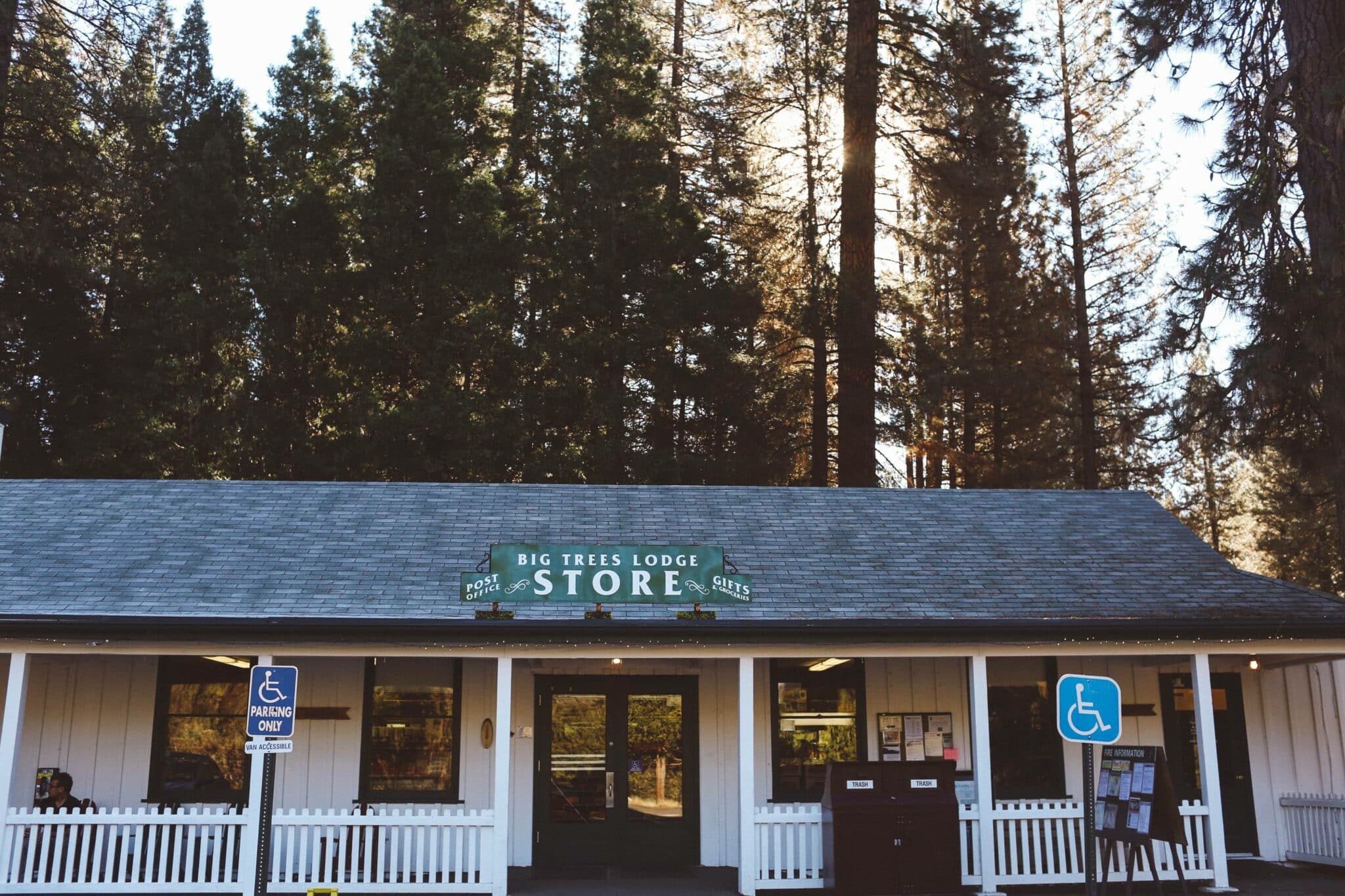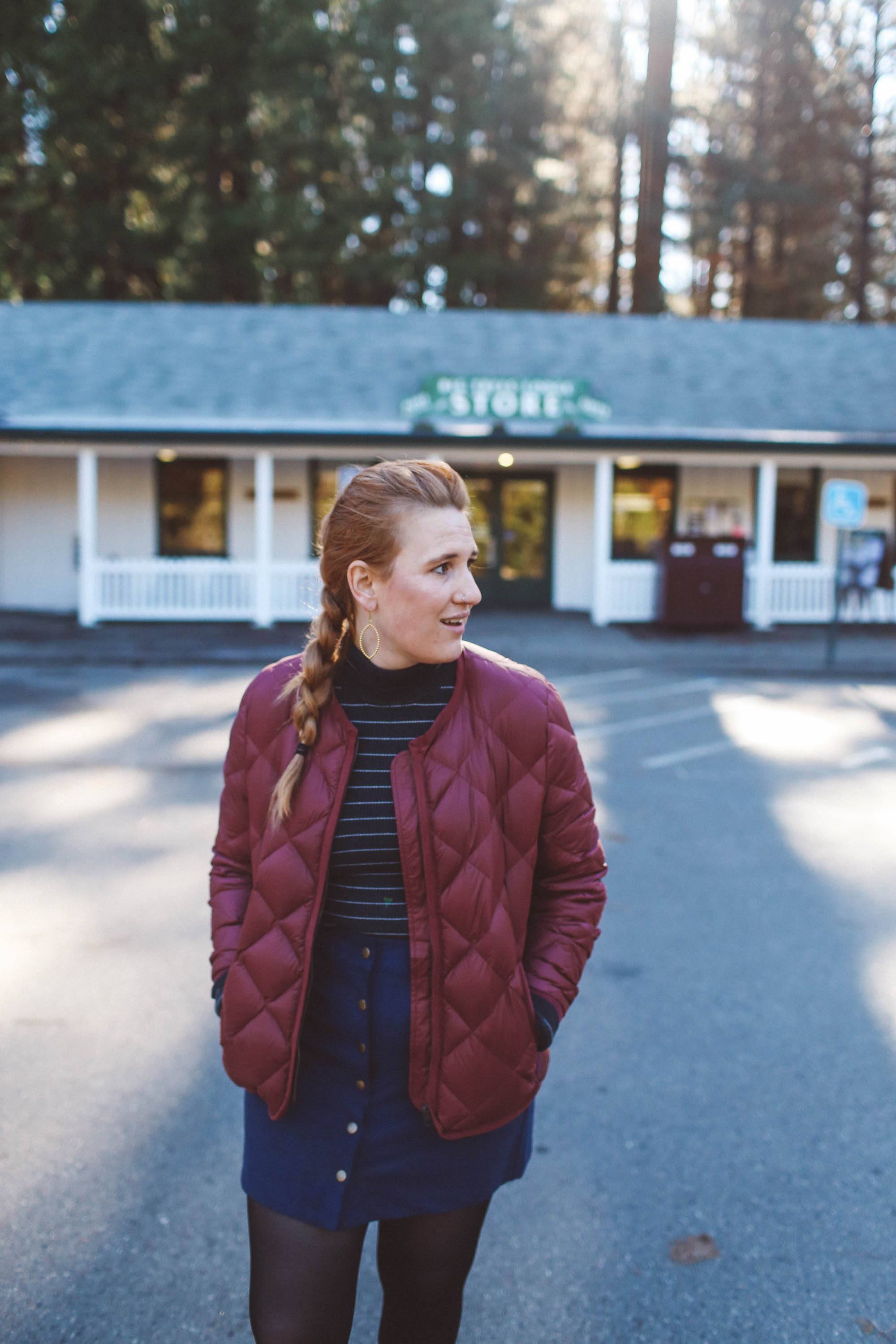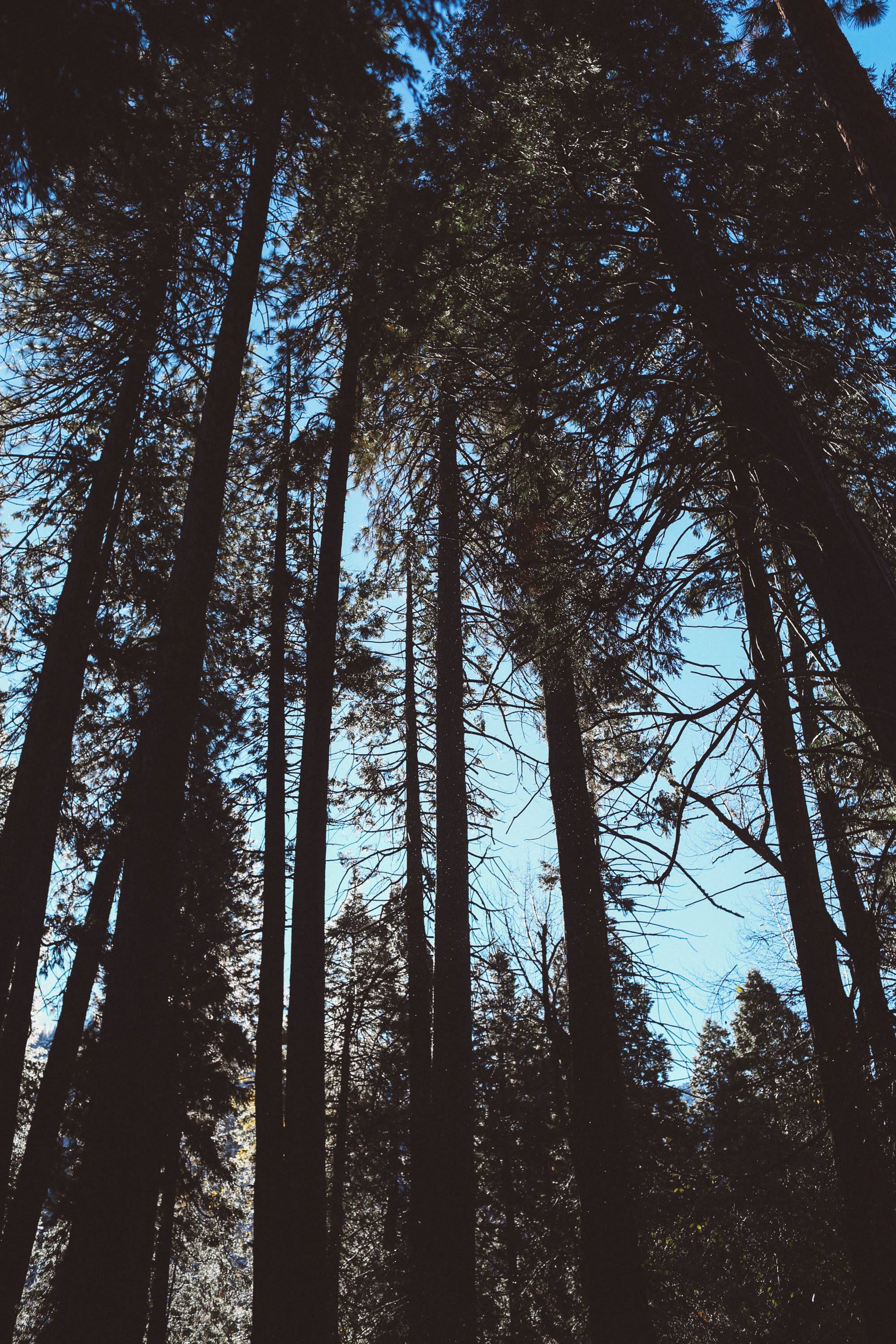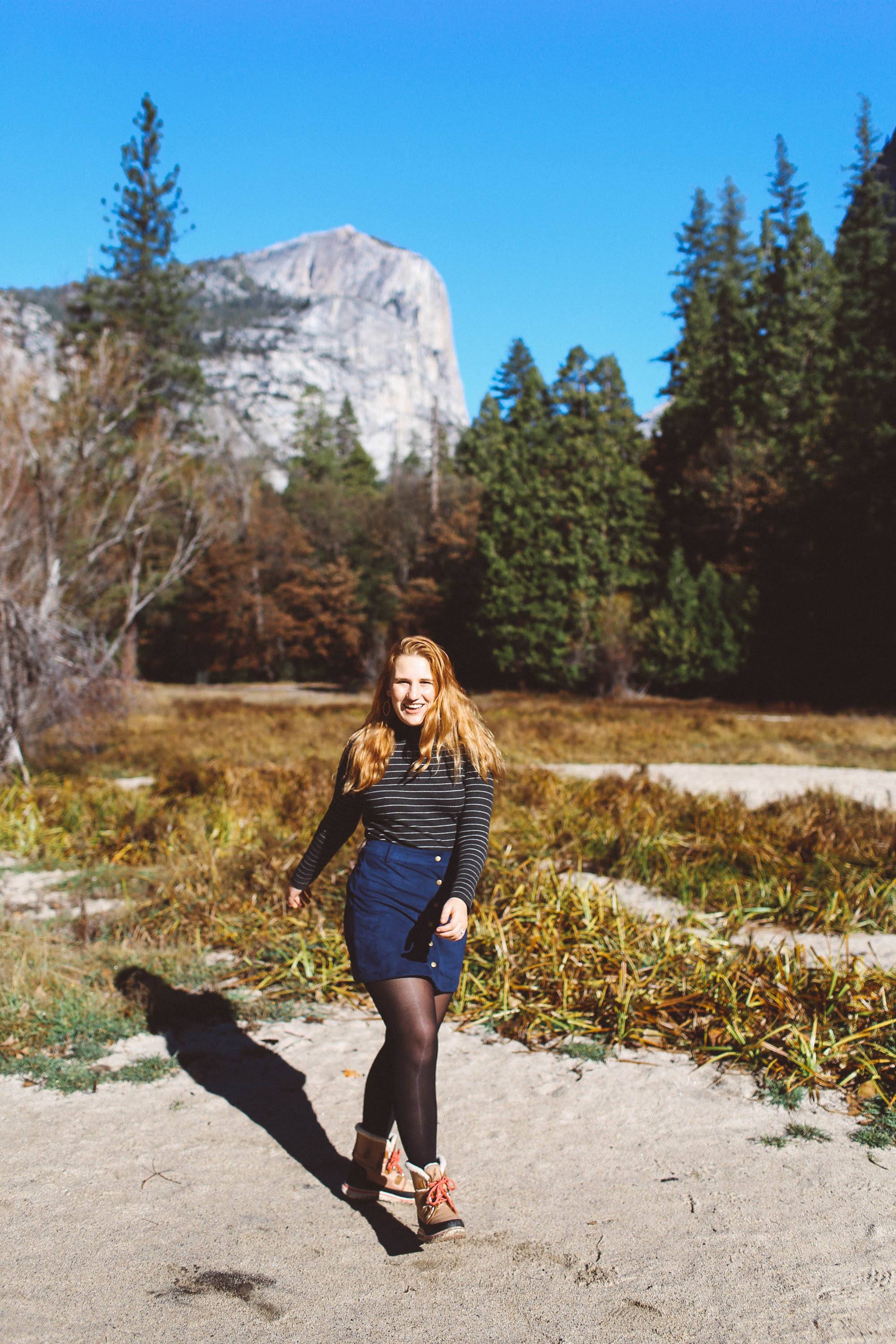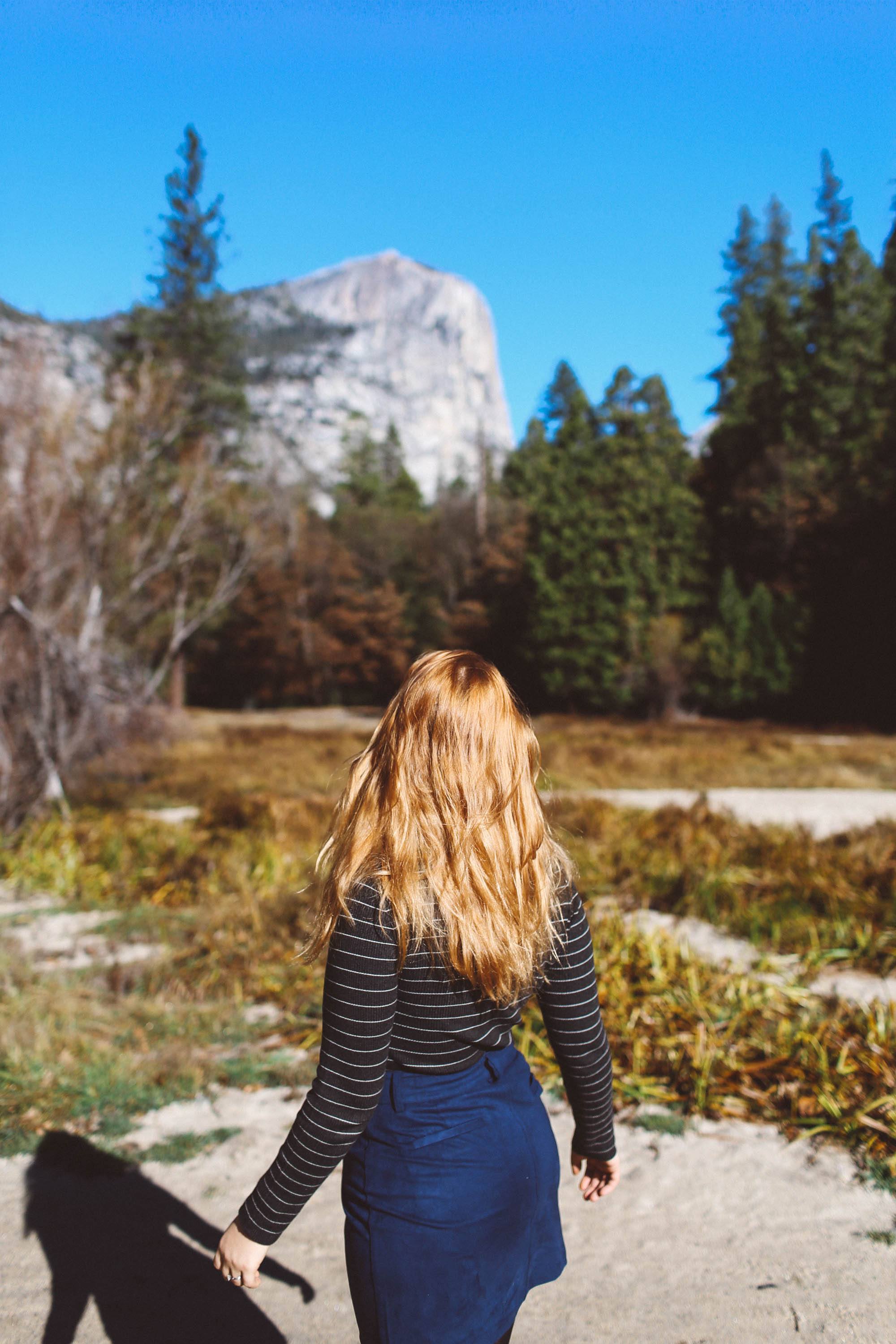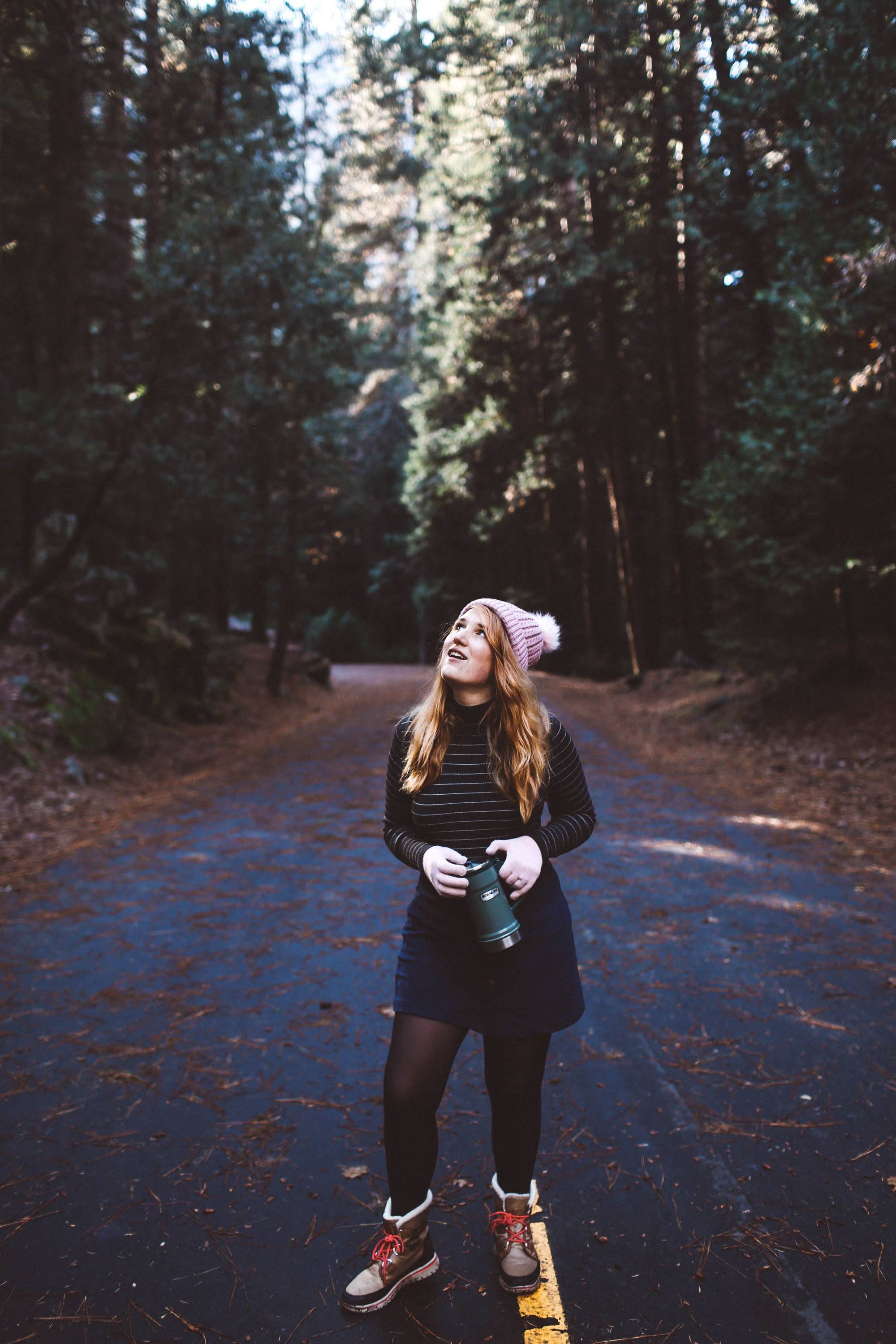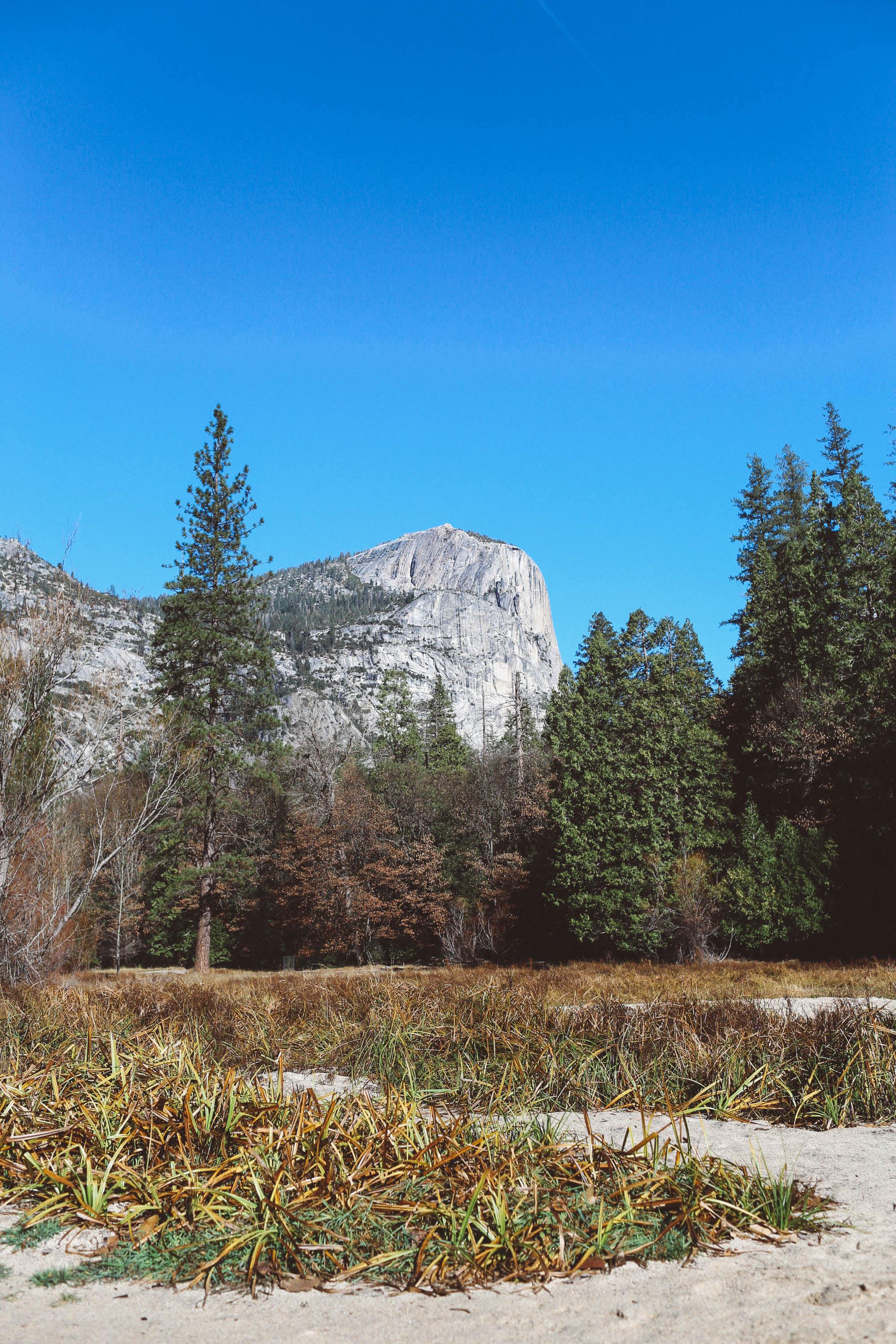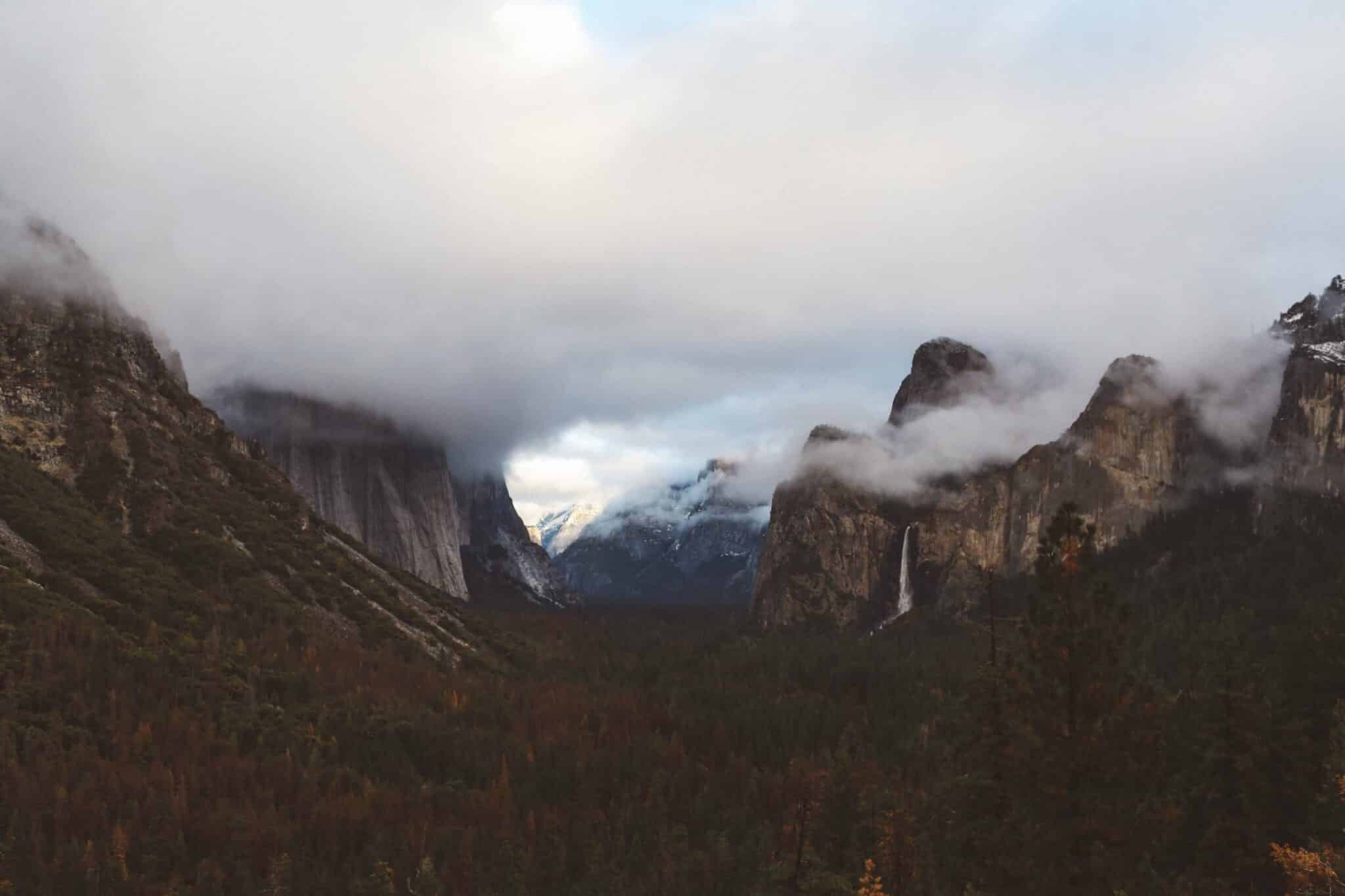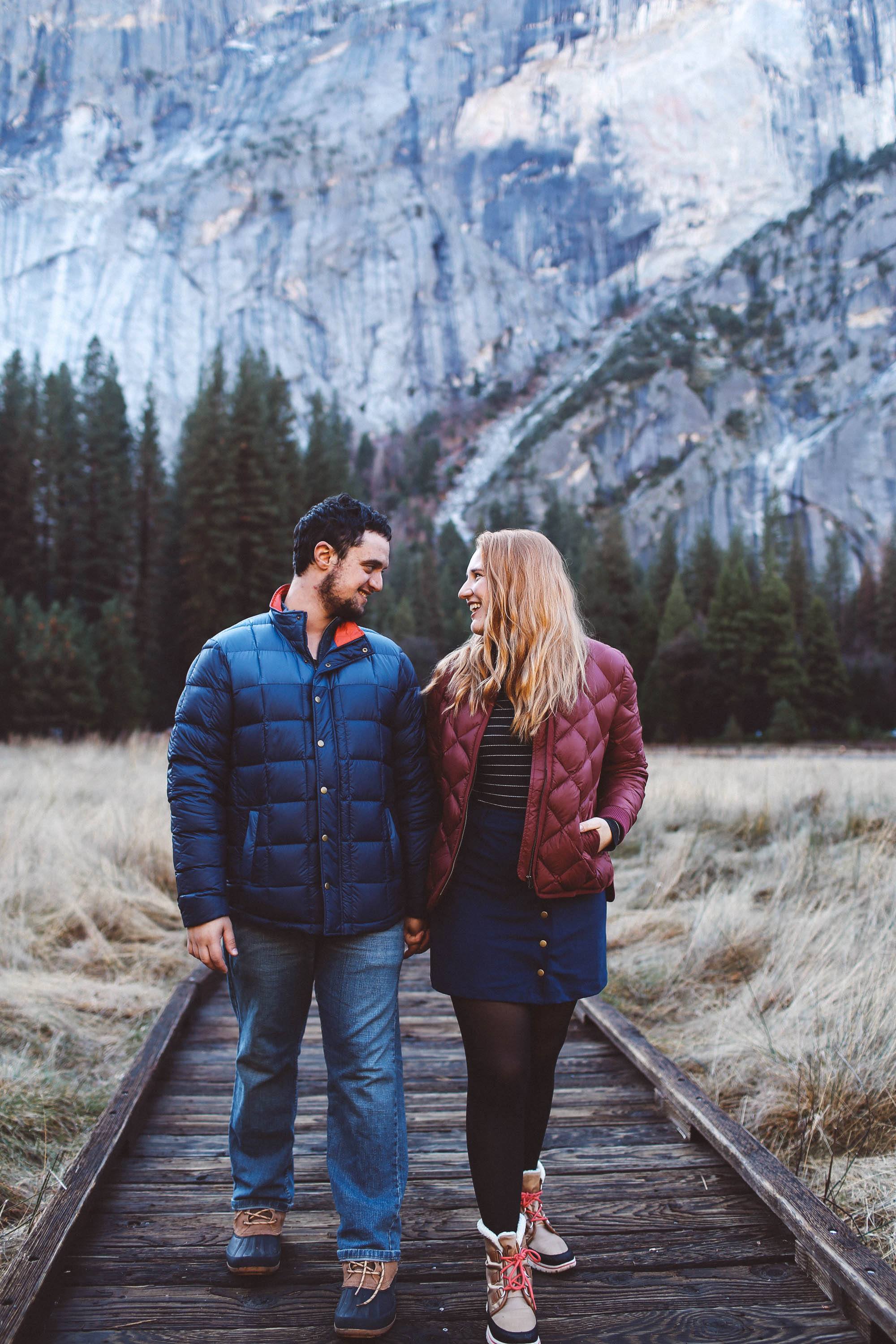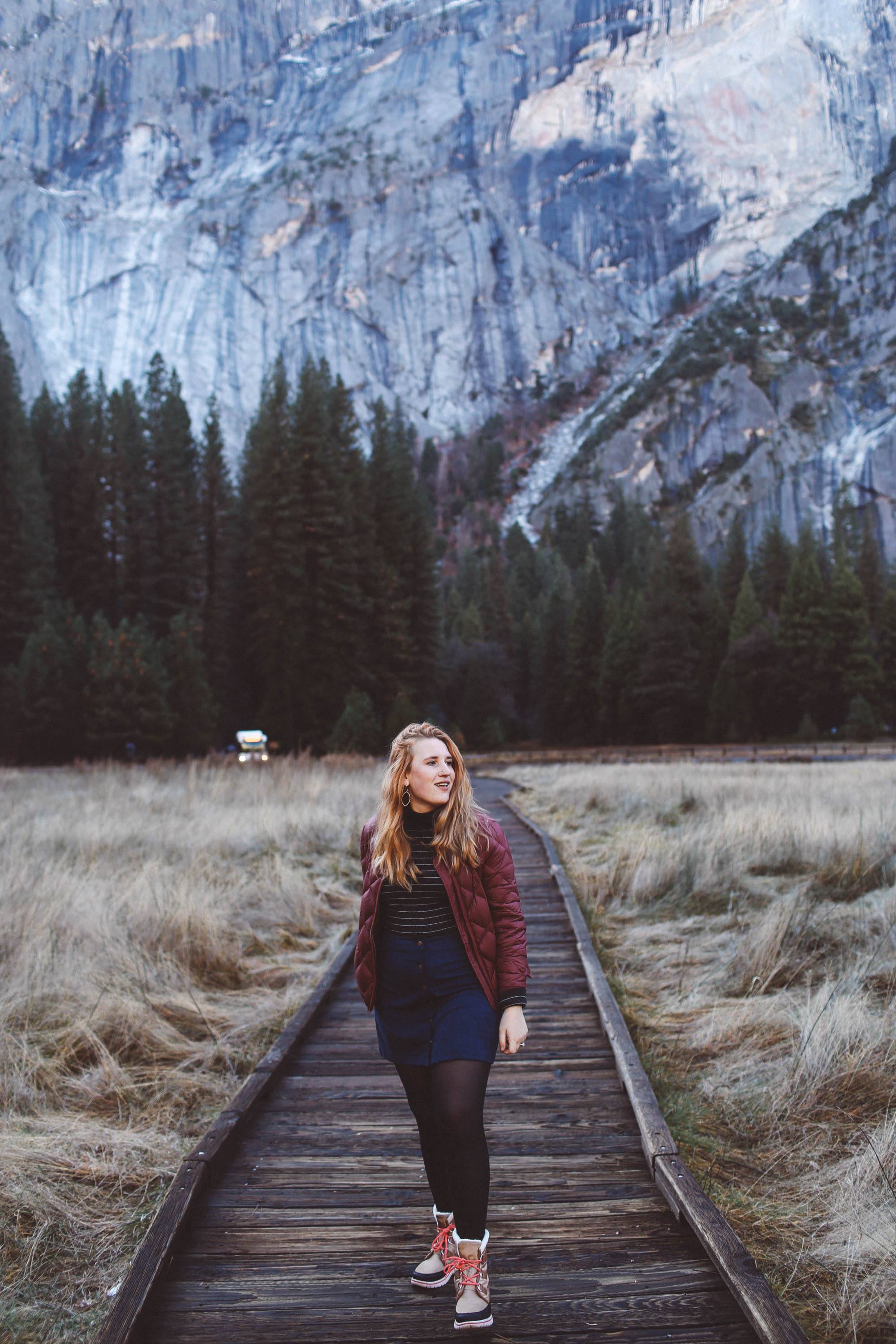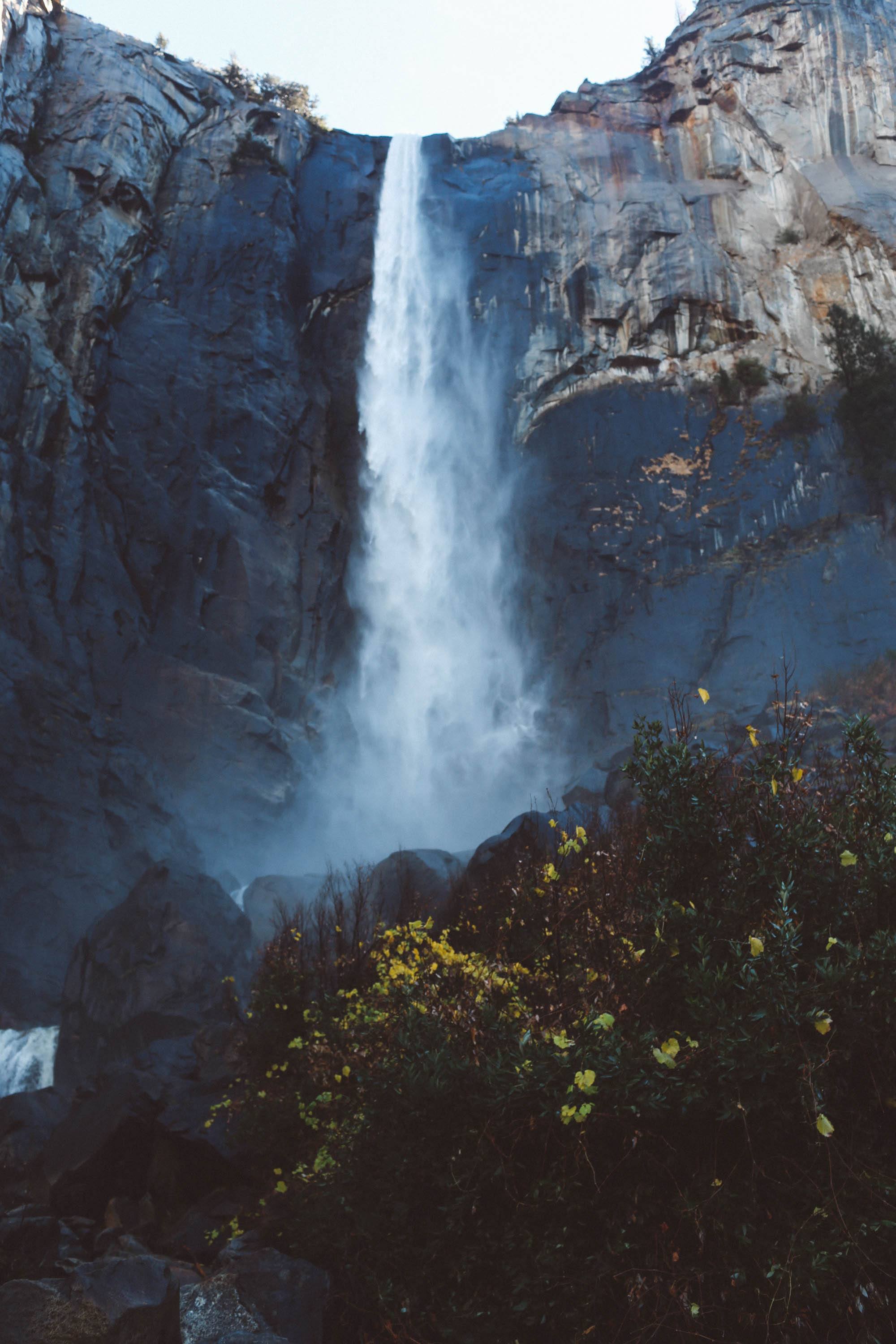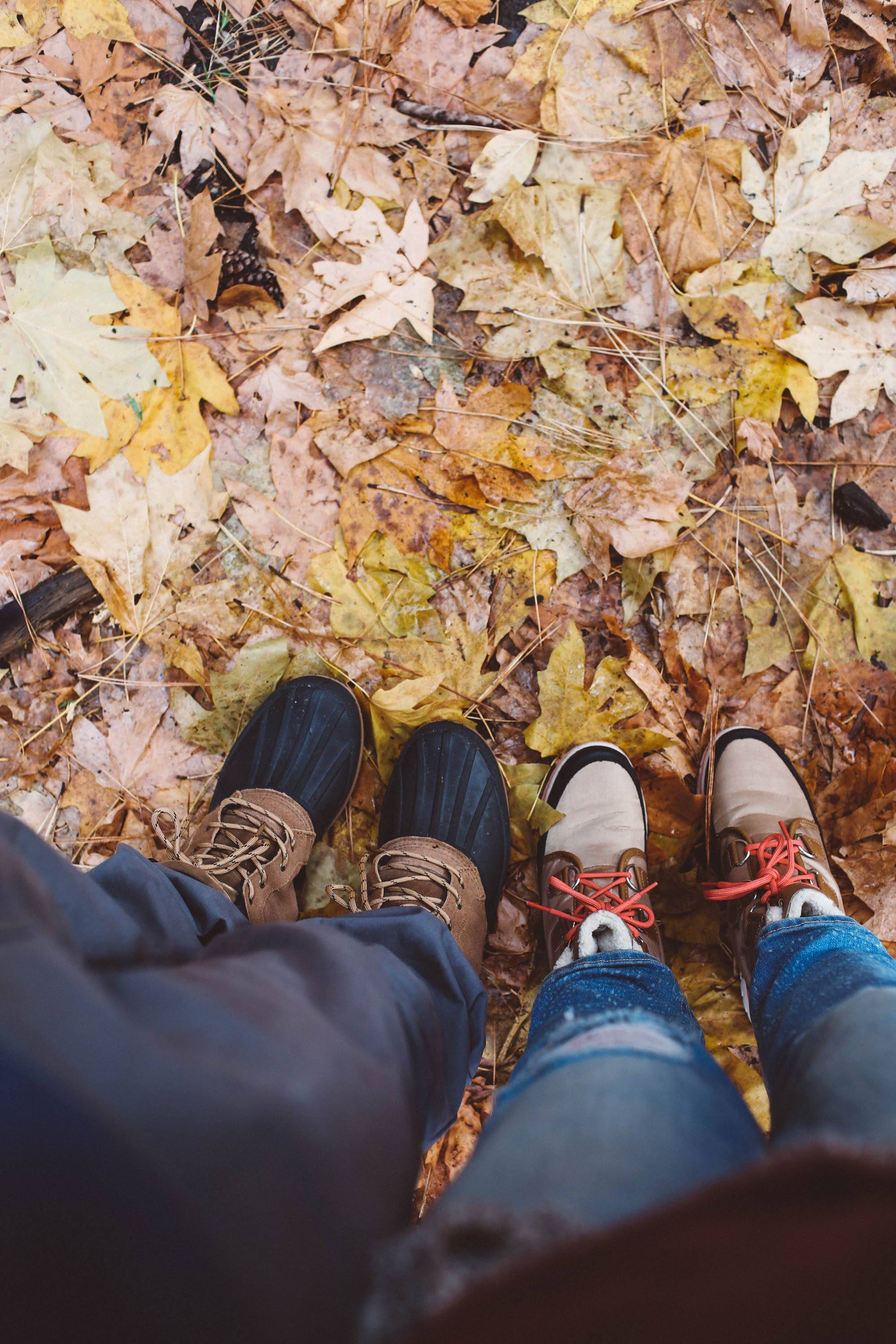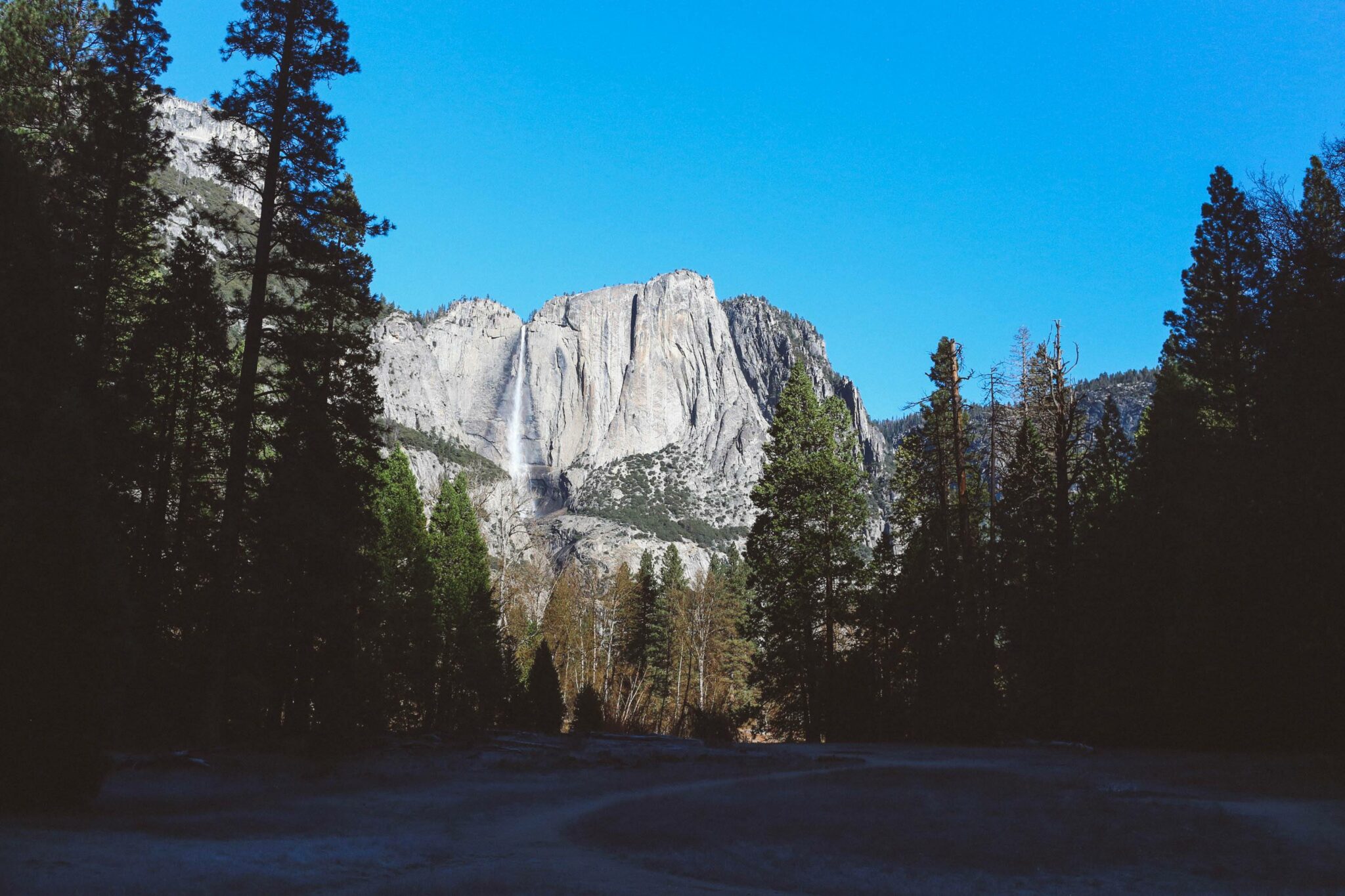 Ice Skating
At 5pm, ice skating at the Tenaya Lodge starts! We had the whole rink to ourselves for almost an hour. There's string lights, holiday music, a campfire going… it's so much fun!!! I recommend going right at 5pm before dinner. Make sure to size down on iceskates so you can skate better!
Dinner
For dinner, treat yourself to festive cocktails and fine dining at Jackalope Bar & Grill. Robin and I LOVED our dinner here. I had the Pumpkin cocktail which tasted like fall in a cup. Robin tried the local Tenaya Red IPA which was a darn good beer. Then treat yourself to the steak or pork chop and for dessert, I recommend the cookie pizza.
Evening By The Fire
After dinner, grab a bottle of wine and cozy up next to the Christmas tree and fire. I think this was our favorite part of our stay at the lodge. Music was playing, the fire was crackling, the holiday vibes were strong. We even made new friends and chatted until almost midnight.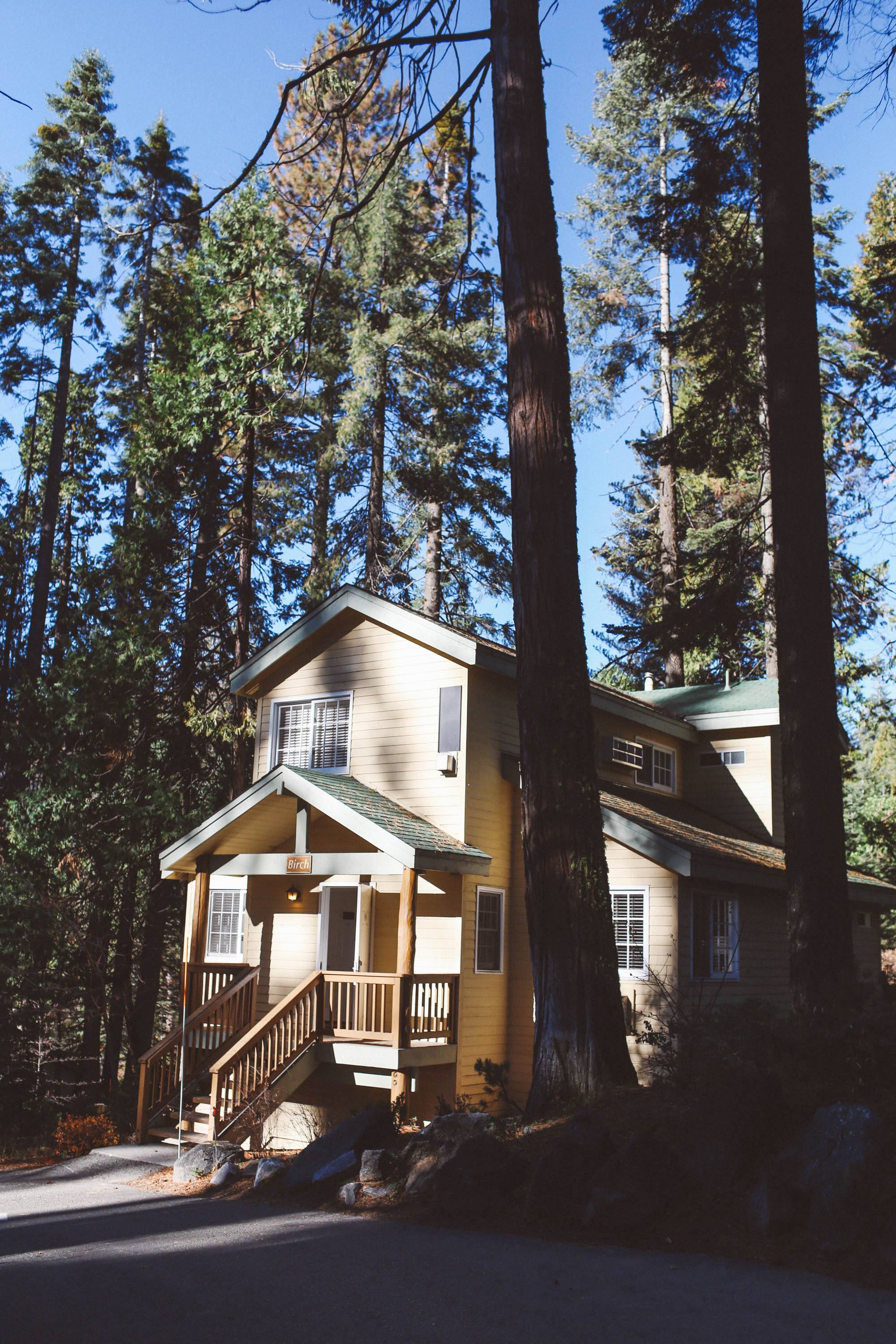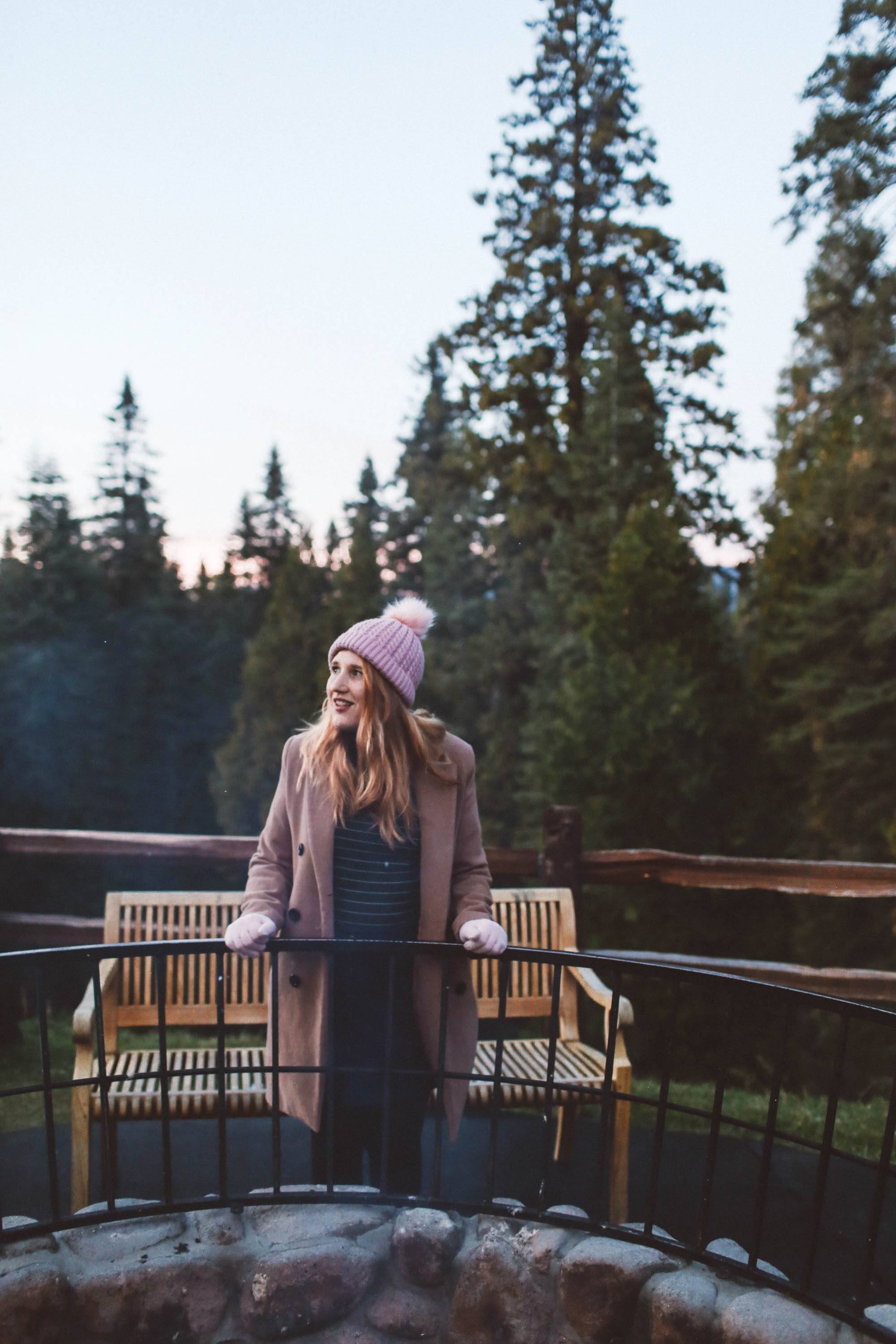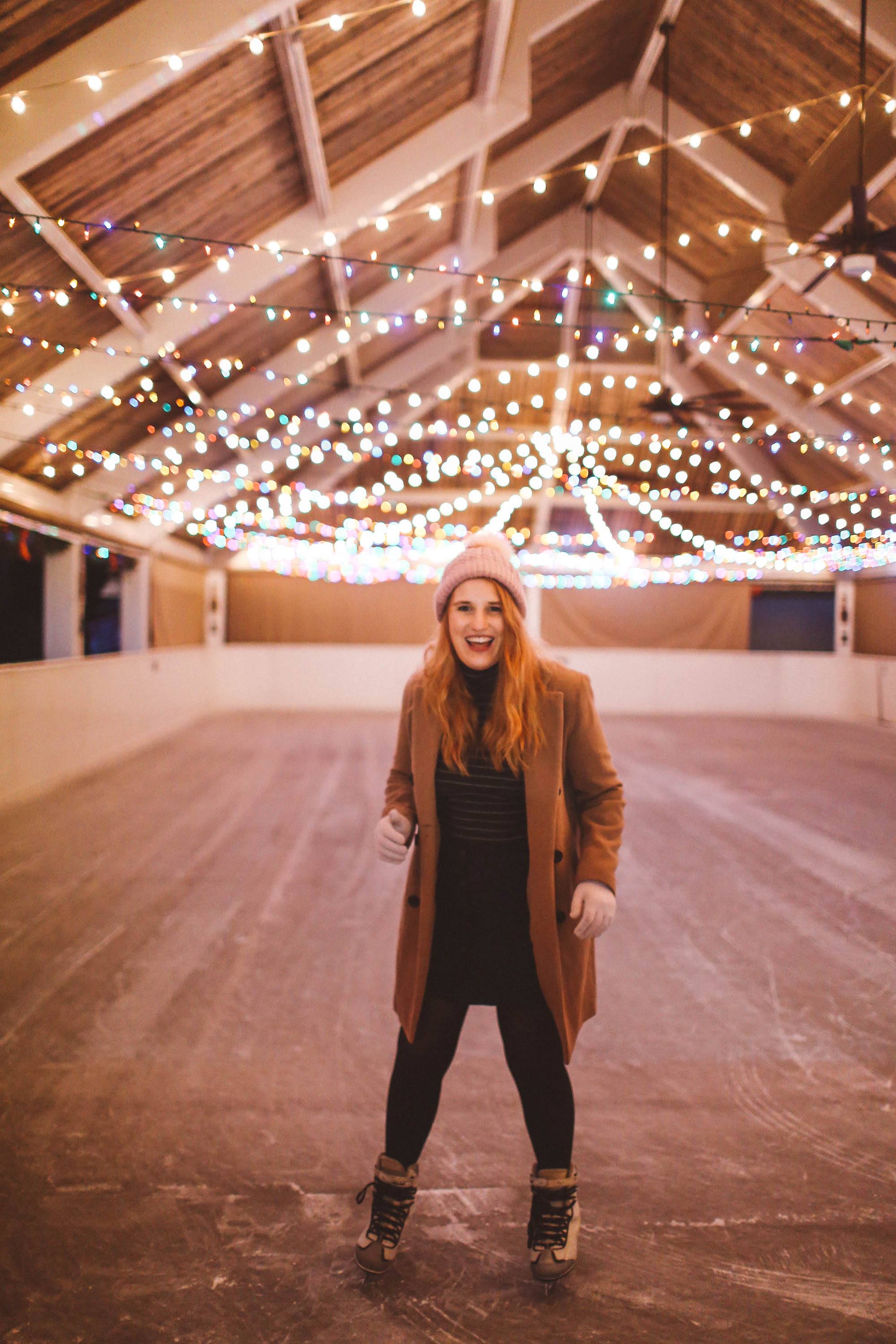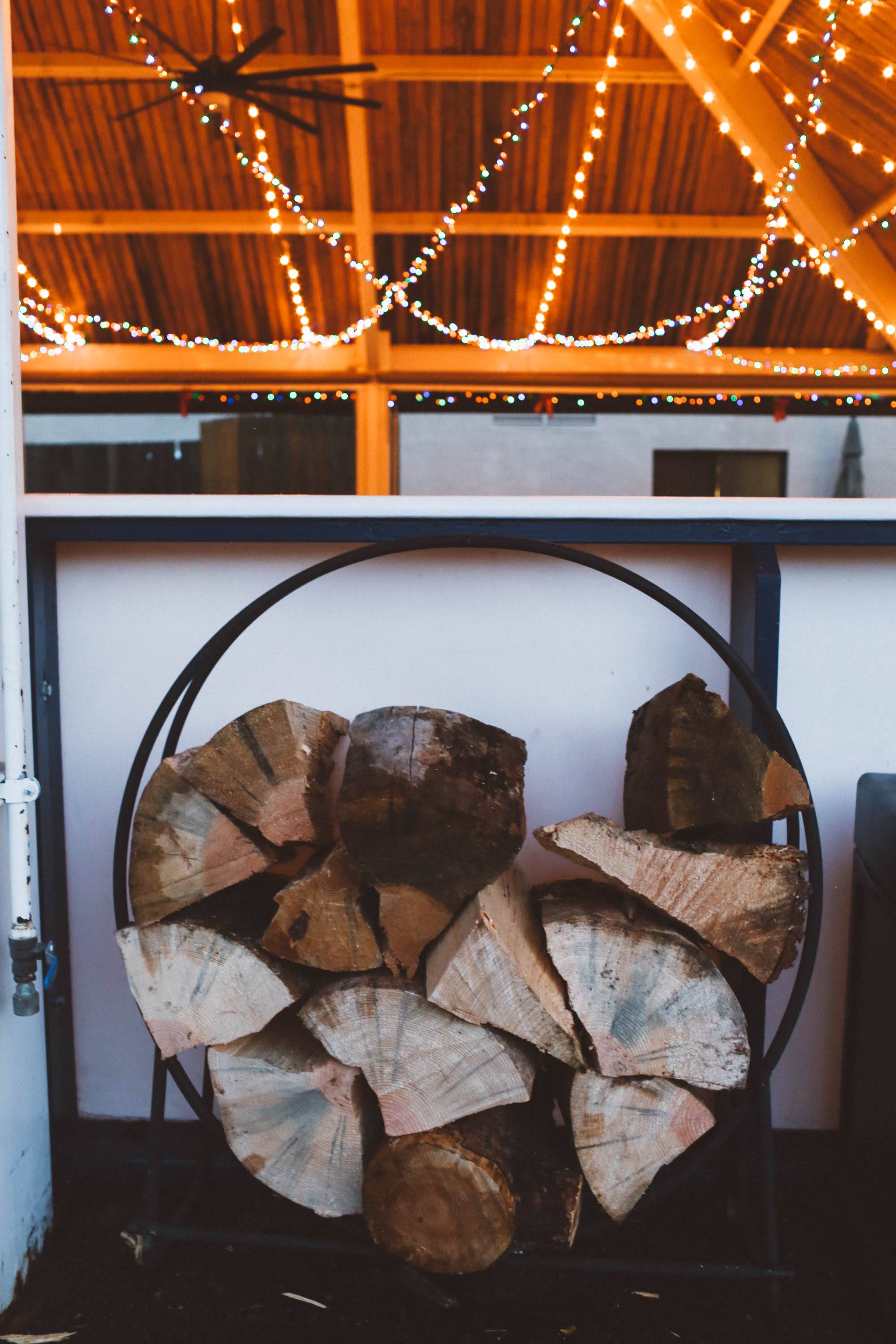 ---
DAY FOUR
---
I recommend taking your last morning to the lodge slow and soaking in all the amenities before checking out.
Morning Spa
You have free access to the steam room and sauna, which are a great way to cure any hangover you may have from wine the night before. If you're looking for more, the Ascent Spa is fabulous and even has couple rooms so you can relax together if you are up with your boo!
Oakhurst Wine Tasting
The Oakhurst area right outside the forest is wine region. Idle Hour Winery is a great stop for a tasting, though there are more if you are looking for a longer tour!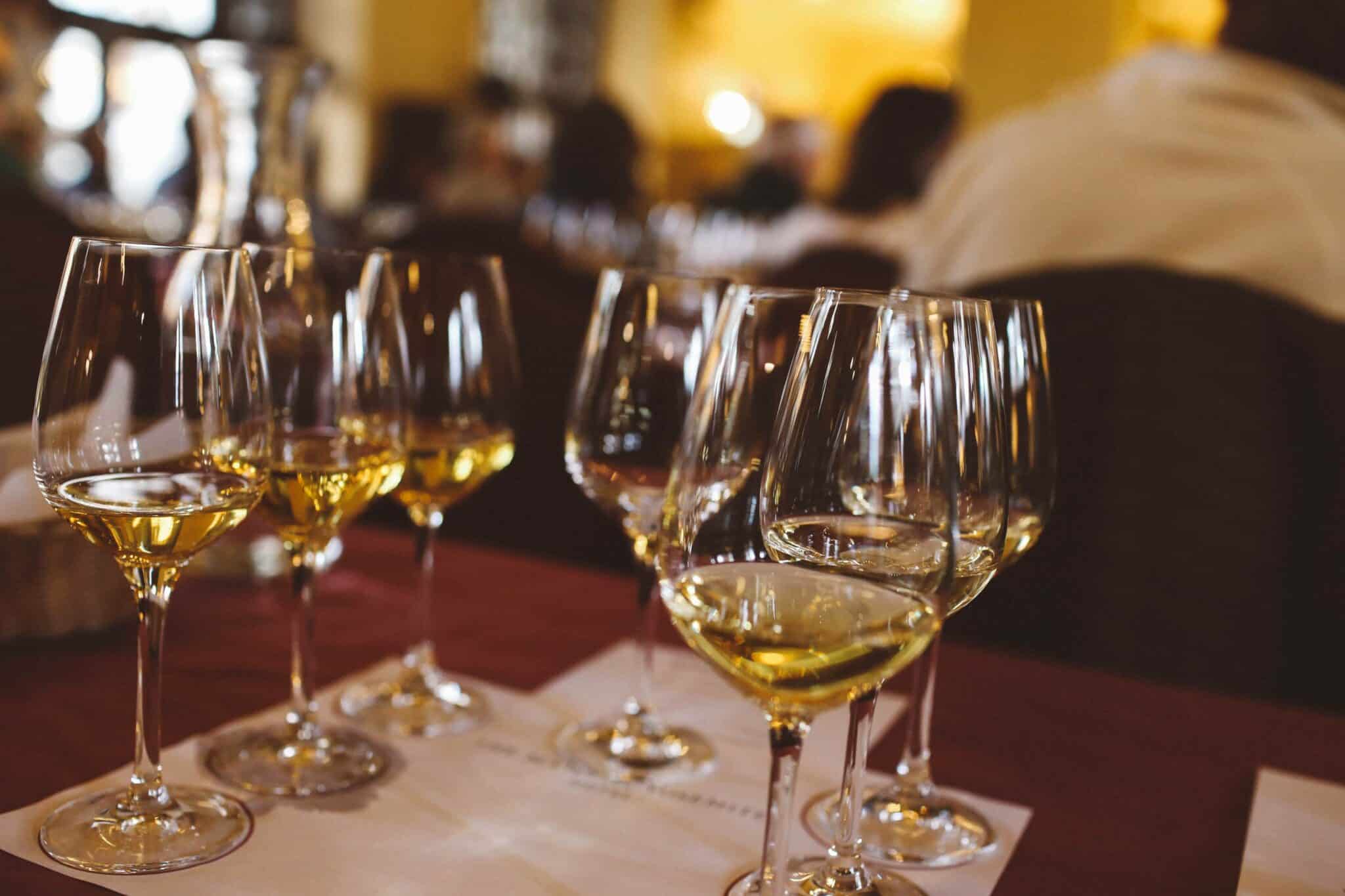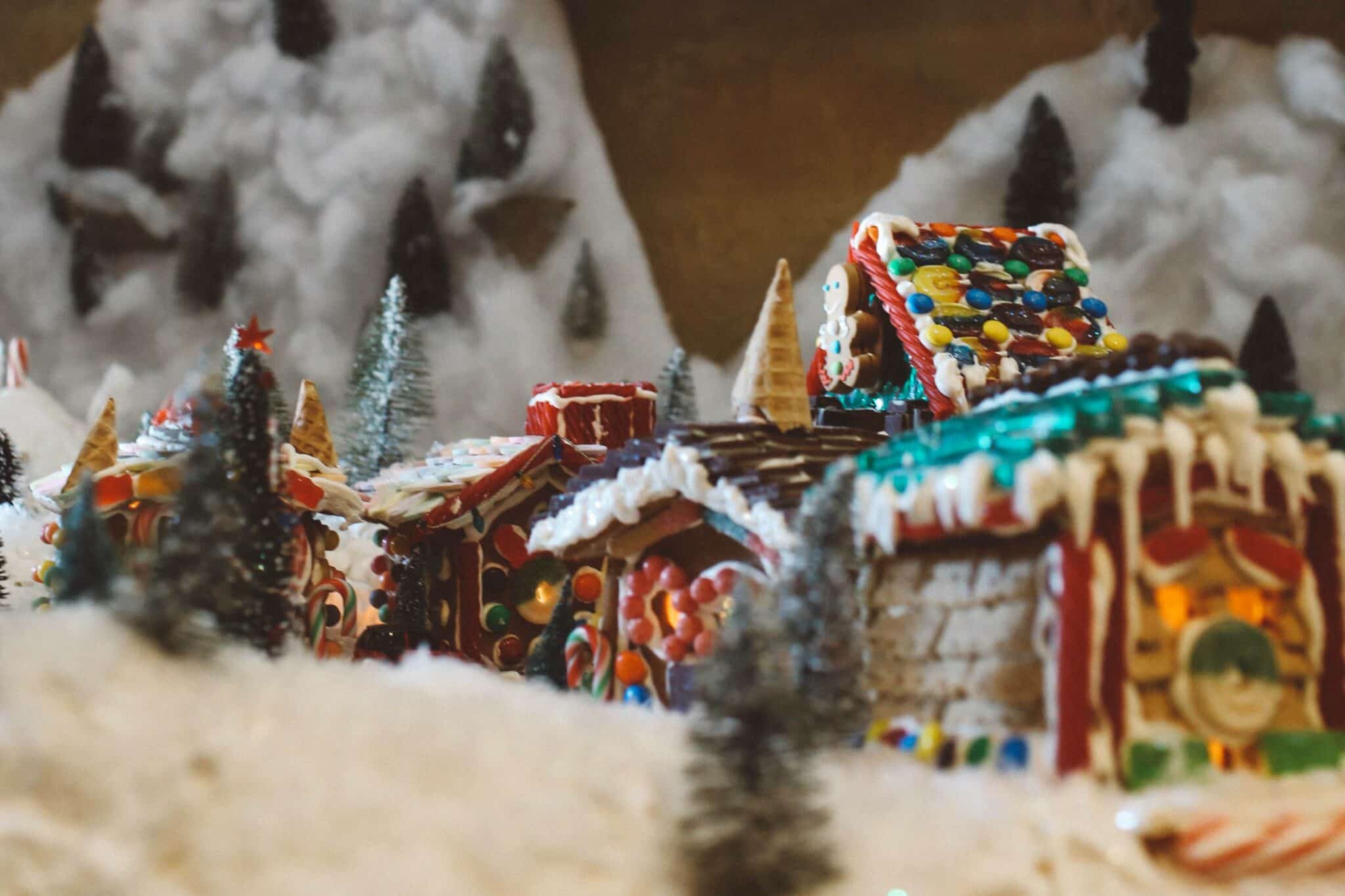 ---
WHAT TO PACK TO YOSEMITE
---
Yosemite in the late fall and winter can change quickly. For instance, on Monday we drove in to the park with snow and chilly temps. By the afternoon, it was warm and sunny. Because of this, I recommend that you pack a variety of hiking clothes and then some nicer outfits to wear around the lodge for dinner. Bring a backpack for hikes along with a waterbottle and sturdy shoes. Shop my recs below!






---
I hope this helps you plan an awesome trip to Yosemite National Park in the fall or winter season! If you have any questions at all, please leave a comment below!!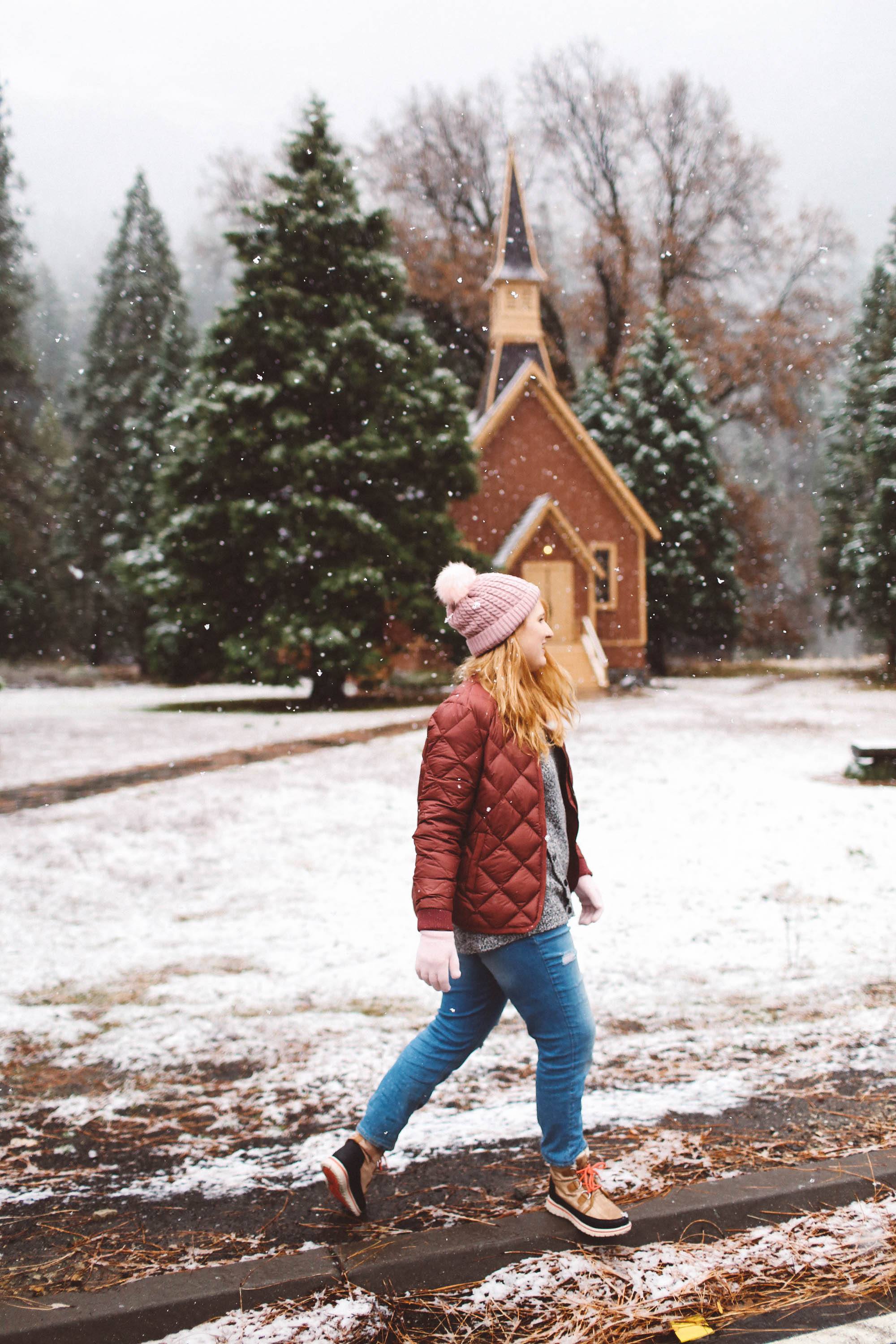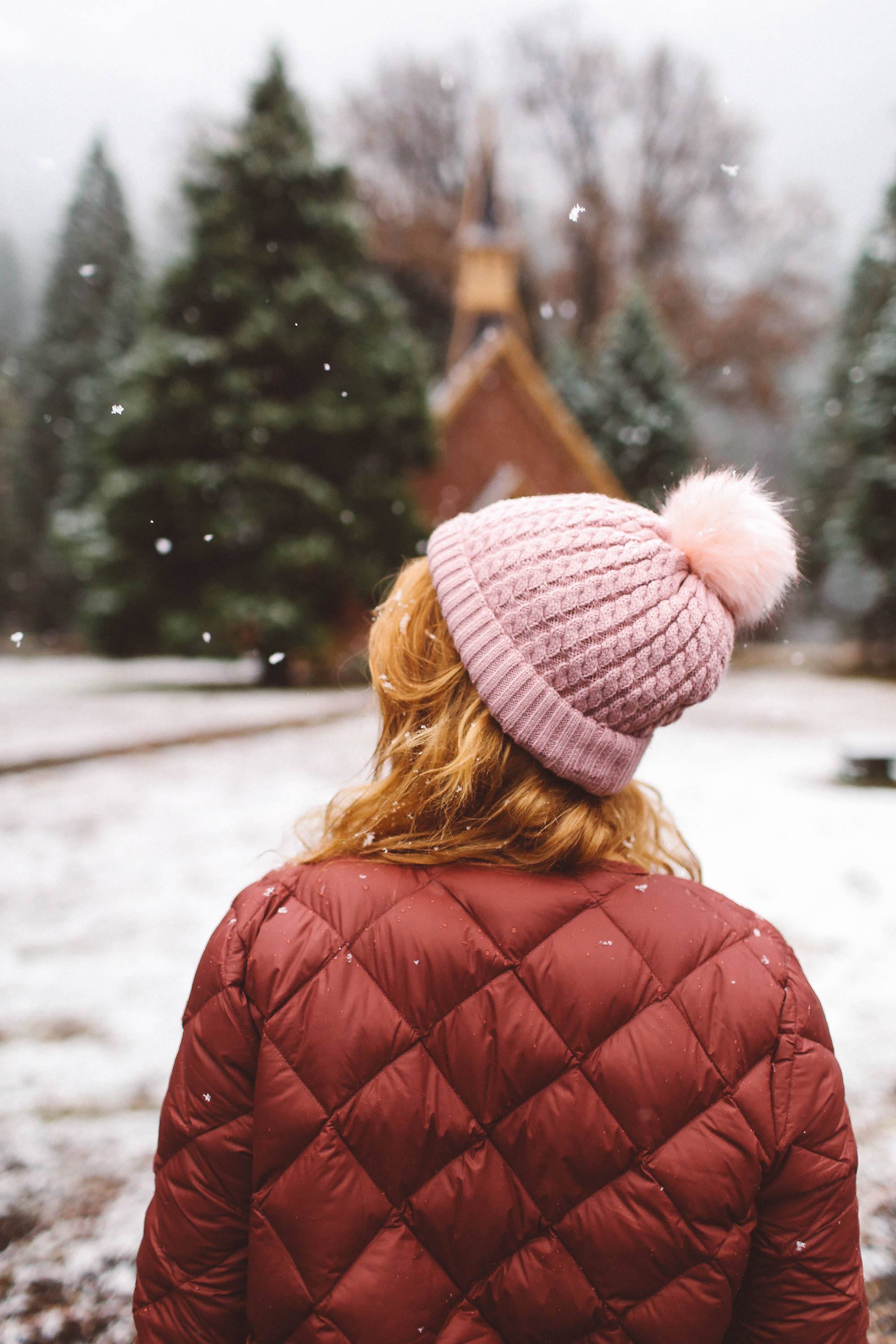 Thank you to Yosemite Nation for hosting us on this trip.