I remember when I was around 13 and first getting into makeup. I wanted a natural look. I was never the kid who wanted crazy eyeshadows, intense blushes, or fake eyelashes (I was not like the other girls, lol).
This was mainly because I was terrible at blending – contour or even eye shadow, so I stayed far away from it. But I also always loved the look of a minimalist beauty routine.
Since then, I've been on the hunt for the next product to help elevate my natural beauty so I look like myself, but a little hotter. And I came across Merit Beauty. After using them for a few weeks, here's my honest Merit Beauty review!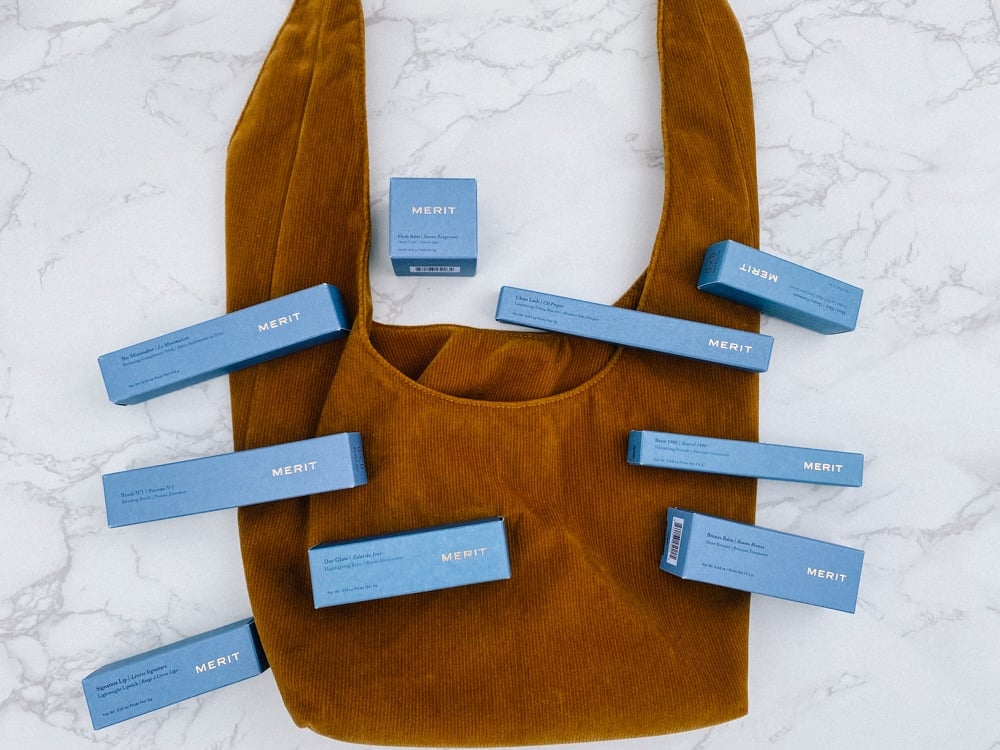 Merit Beauty Review: Pros & Cons of The Best Merit Beauty Products
I might have found my match. After constantly seeing Merit on my Insta feed and TikTok FYP, I snagged some Merit beauty items (plus their iconic Merit bag).
After some time testing out the clean beauty brand, I'm ready to give my honest opinion on whether this brand has quenched my desire to look naturally beautiful!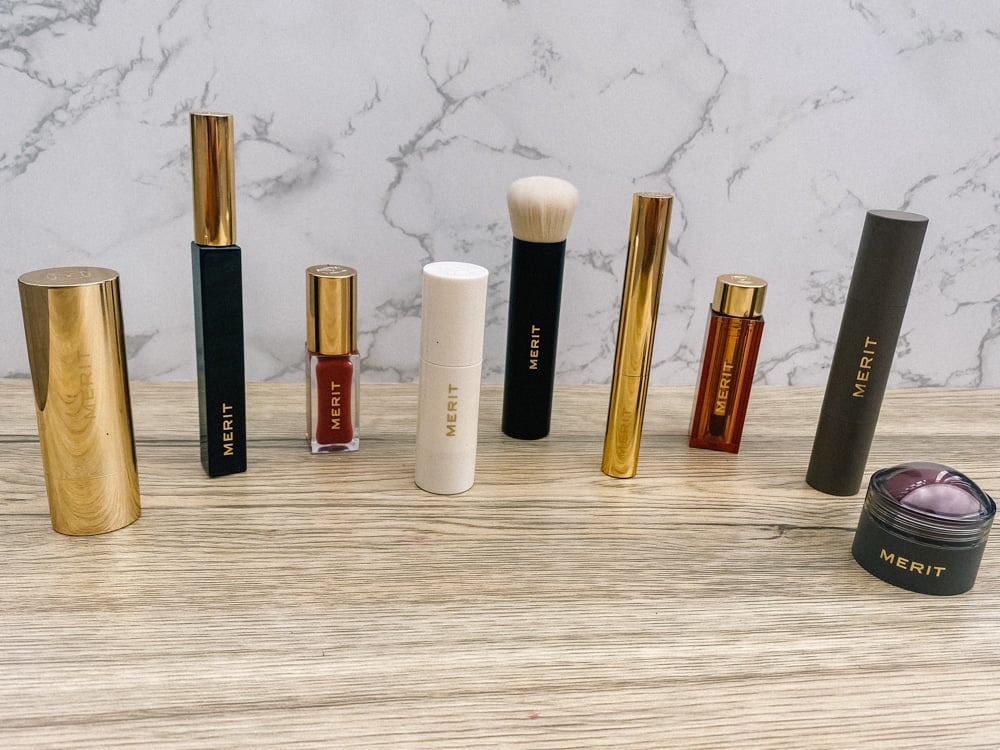 Let's get into the best Merit Beauty products and whether this brand is worth your hard earned money.
How It Started: Where is Merit Beauty From?
It all started with a 5-minute beauty routine video on Instagram.
Katherine Power, a successful brand builder, created a minimalist makeup video, and with its success found many women were looking for a routine just like hers.
So she began developing a minimalist makeup brand. Taking her time (nearly three years to perfect the complexion stick alone) to ensure Merit is a truly clean beauty brand…
The Merit Beauty Standard
Is Merit Beauty Clean? Very clean.
Merit Beauty is clean in every aspect – everything from the packaging to the ingredients and application.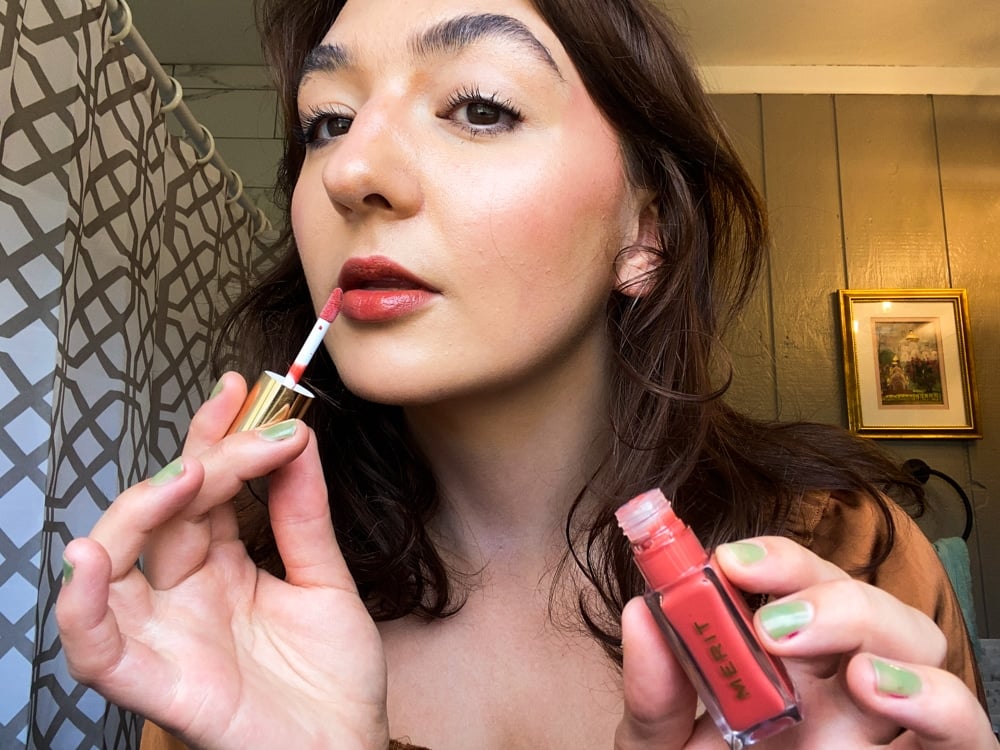 The products are vegan, cruelty-free, and held to EU standards (which are much more strict than the U.S.). And the packaging is either recyclable, biodegradable, or made from reusable items.
On top of the products being held to EU standards, Katherine took it one step further and removed 73 more ingredients that could potentially cause breakouts and inflammation.
Merit partnered with Biba de Sousa, a Hollywood esthetician, to ensure their products were gentle on the skin. They followed her "no-list," so their products only benefited the skin.
Some of the ingredients they kept were:
B5
Rose Hip Oil
Jojoba Oil
Olive Fruit Oil
Shea Butter
Vitamin E
Everything was made with care and attention to our skin, the planet's health and overall quality. Even their makeup bag is durable, machine washable, and double lined.
But how does the makeup actually look on the skin? Let's get into my Merit makeup review!
Putting It To The Test: What I Got From Merit
Merit Beauty offers its full collection online at meritbeauty.com. You can purchase individual products or choose from a handful of sets. To test as much as possible, I got the full minimalist beauty routine with the Full Collection set, which comes with:
Best Merit Beauty Products
Since Merit only offers eight products, it was easy to decipher what I really liked and what I would leave behind.
Let's start with what I can't live without!
Newly Released Merit Bronze Balm
Milky, soft, and blends like a dream. I got Merit's new minimalist makeup product, the Bronze Balm in the shade Seine, and it's quickly become my favorite contouring stick I've ever used.
This sheer bronzer is lightweight and blends seamlessly with my foundation. I used Brush No.1 to blend everything in and I've never seen my cheekbones and jawline so naturally defined.
The formula contains fatty acids to lock in moisture and has over 130 positive reviews online, you'll want to add this to your makeup collection!
PROS
Easily blendable
Smooth formula
Lots of product
CONS
The applicator doesn't work well with nose contouring
Packaging gets smudged quickly
Merit Flush Balm
Another favorite of mine is the flush balm cream blush. It's buildable, lightweight, and the perfect color for my skin.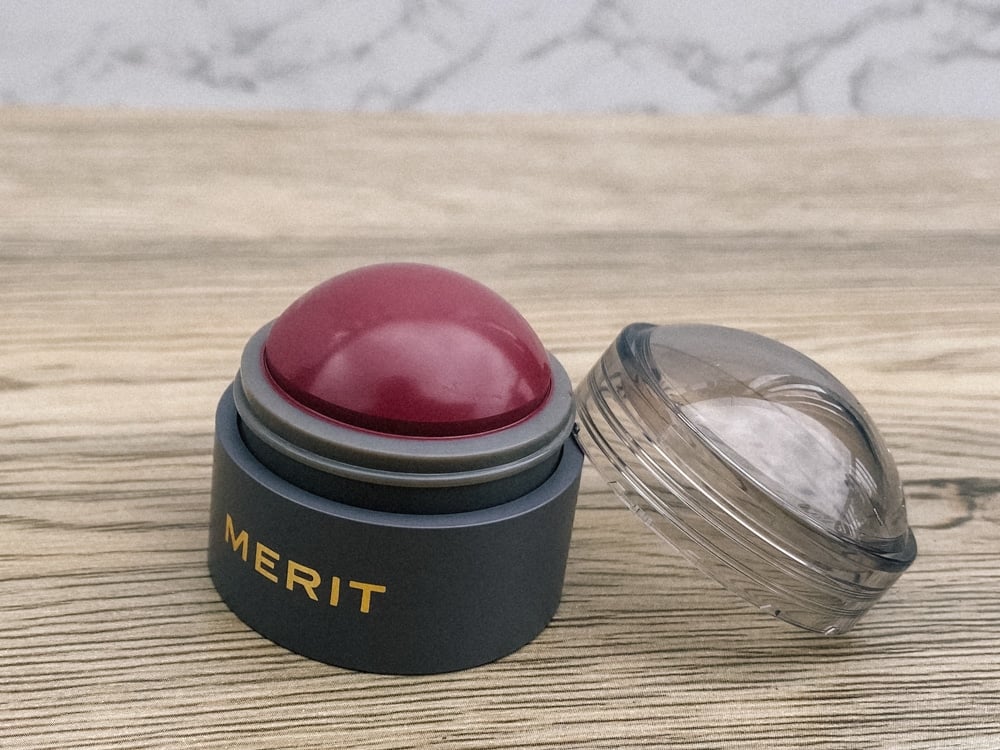 Before using this balm, I used lipstick for all my needs – lips, cheeks, nose, temples, you name it. Lo and behold, lipstick is not meant for anywhere other than your lips and I would constantly get small bumps on my cheeks.
Since switching, my cheeks have been smoother and blend so well with the color of the balm.
I got the color Raspberry Beret and it's a lovely, deep pink that works well with olive-toned skin.
COOL FEATURE: If you don't know what shades to pick, you can email hi@Meritbeauty.com a photo of you in natural light, and the Merit team will get back to you with their recommendations!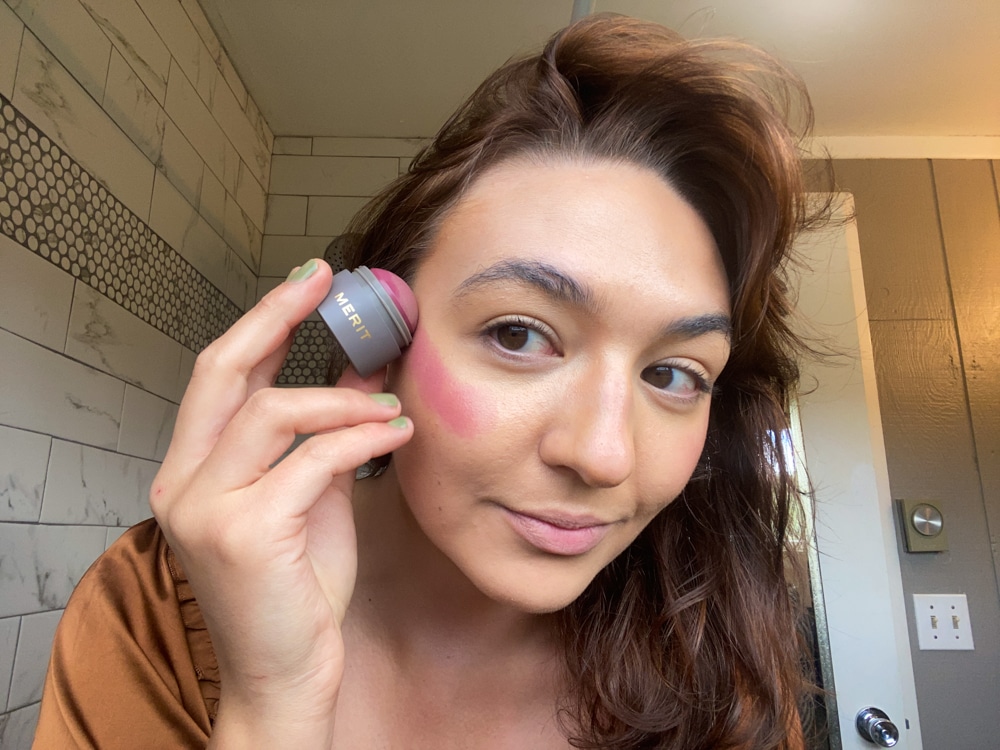 PROS
Easy application
Perfect color
Lightweight
CONS
Light pigment
Re-application needed
Brow 1980 Volumizing Pomade
For those new to the minimalist makeup routine, the brows are a center point for your simple look.
Merit created a luxurious and pigmented pomade with a great hold on the eyebrows.
I like to comb my eyebrows with the brush they supply and then press the hairs down with my fingers. It gives my brows a laminated look and tames my bushy brows for the rest of the day.
The hold is excellent for this pomade and gives my brows a great shape.
PROS
Good Hold
Nice Tint
Easy Application
CONS
Not a lot of product for the size of the bottle
Holder smudges quickly
The tip of the brush needs to be wiped before applying
Merit Beauty Clean Lash Lengthening Mascara
This clean lash mascara is packed with B5 for shine, fatty acids, and olive oil esters to condition the lashes.
It's a perfect addition to the minimalist makeup routine with no clumping and buildable formula.
I wore it on the eye with a little highlighter and felt like I had the "clean girl aesthetic" down. It gave me a doe-eyed look which I loved and made my brown eyes pop.
For $26, this mascara is worth it. Yes, it's a little pricey, but the formula and clean beauty make your money count.
Of course, you can always find a good mascara dupe at the drugstores. Check out our article on 12 Drugstore Dupes that Work Better Than High-End Products if you're looking for something easy on the wallet!
PROS
Lightweight
Buildable
Conditioning
Great Pigment
CONS
It easily gets on the eyelids
Too much product on the tip of the brush
The Minimalist Perfecting Complexion Stick
It's not a concealer or a foundation, but it's supposed to replace both. This concealer stick is a lightweight product with medium coverage.
The Merit concealer glides on the skin like butter and it's the first product Merit ever worked on!
I think it's a great addition to my makeup bag, but it won't replace my Morphe Hint Hint Skin Tint anytime soon.
I like to apply my tint first and go in with the complexion stick after, tackling dark under eyes and acne spots.
If you're looking for something that tackles spot correction, this complexion stick is for you. You can add as much or as little coverage as you want and blend it seamlessly with your skin.
PROS
Blends nicely into my pores (with a sponge or brush)
Covers up dark spots and acne
Smooth application
Beautiful packaging
CONS
It doesn't replace my face tint
Hard to blend with the fingers
Creased slightly under the eyes
Brush No. 1 Blending Brush
The Merit blending brush transformed all the products I used. From the bronzer to the blush and concealer, this brush melted everything into my skin and made me look photoshopped.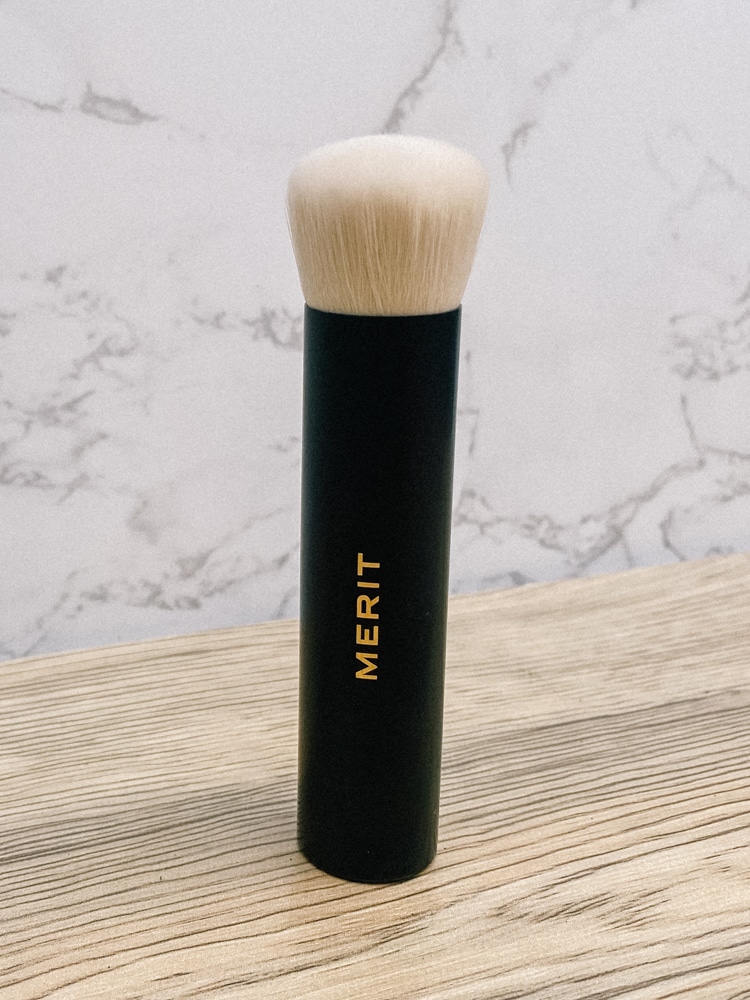 It has the perfect amount of stiffness and give to the bristles and works better than my sponges!
If you're buying anything that needs blending, you're going to want to pick up this brush.
Looking for more brushes to add to your collection? Check out Kara's article on Sigma Beauty Brushes and Makeup to Invest In!
PROS
Perfect blending
Soft Brush
The right amount of density
CONS
Expensive
It needs to be lightly cleaned between products
Signature Lip Lightweight Lipstick
I picked up the Merit lipstick in the shade Tiger and quickly became obsessed. It's slightly sheer on the lips, but bold enough to give me that lipstick look without the lipstick feel.
Other lipsticks are thick, intense, and leave a ring around my mouth after I've eaten something, but Merit's is soft and blends right in.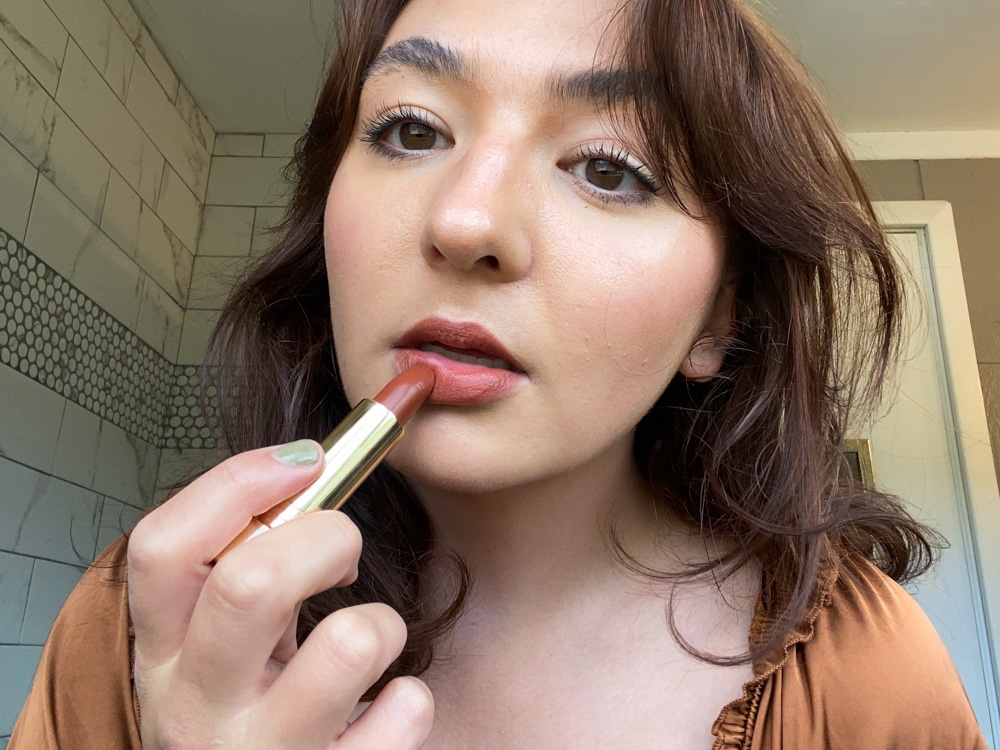 It feels more like a lip balm when applied and will be in my makeup rotation for a long time!
PROS
Soft and silky on the lips
Beautiful packaging
It lasts for a while
CONS
Sheer
Color Bleeds slightly
Shade Slick Tinted Lip Oil
I chose the shade Marrakech for the Merit beauty lip oil, which compliments the Tiger lipstick perfectly.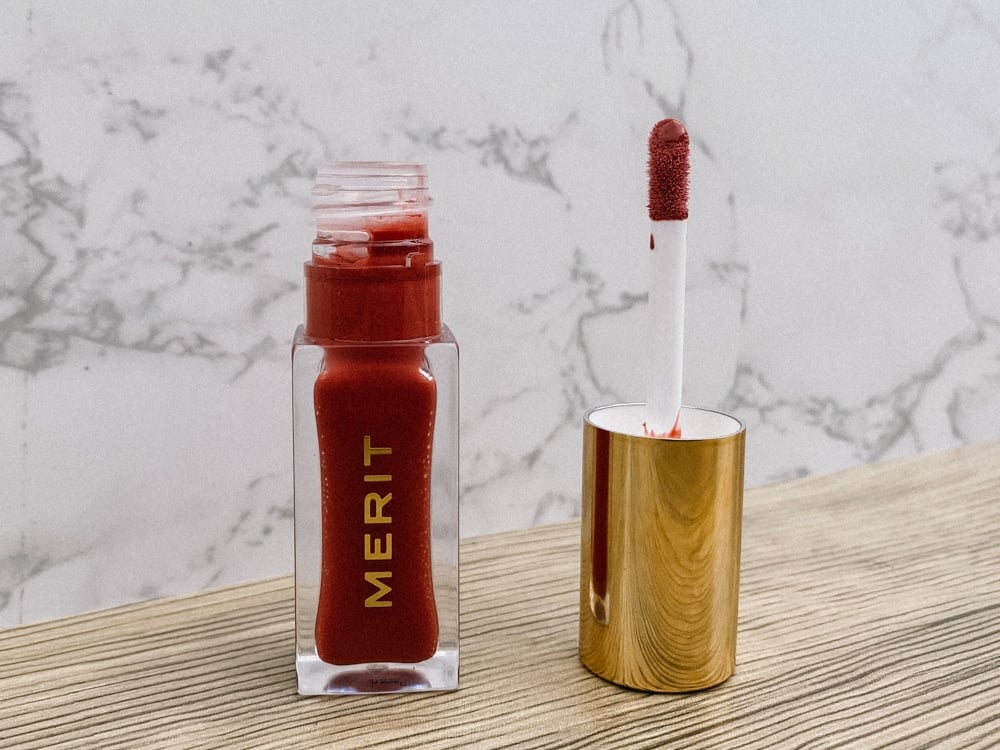 The Shade Slick has jojoba oil, shea butter, and rosehip oil to give your lips the nourishing goodness it needs. It can replace your chapsticks to elevate your lifestyle and keep you looking cute all day long.
Pop this sucker in your purse and you're set for the day.
PROS
Beautiful shine
Hydrating
Light tint
CONS
It doesn't last very long
Light pigment
Merit Beauty Day Glow Balmy Highlighter
In almost every beauty review I've seen on TikTok or online, everyone always wants their highlighter to be the maximum amount of sparkle.
Merit decided to stay as far away from sparkle as possible and give us a highlighter that offers a "dewy, balmy sheen."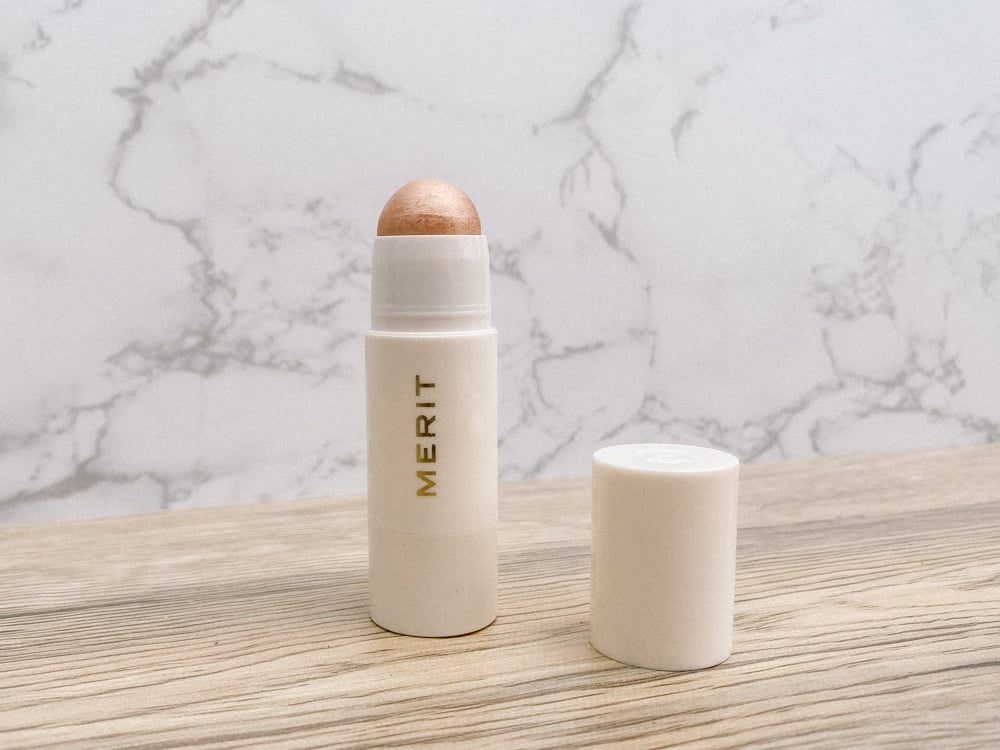 I like the slight shine this highlighter gives to my cheek, but it's not a winner for me. Although it's buildable, I found this formula to mix quickly with the complexion stick and get lost almost instantly.
If you're someone who barely wears any makeup, you'll like this product as it clings to bare skin much better than covered.
PROS
Dewy finish
Easy application
Pearly Color
CONS
Not very pigmented
It soaks into the skin fast
It doesn't work well on foundation or concealer
Merit Beauty Bag
Lastly, the merit makeup bag. The creme de la creme of beauty bags!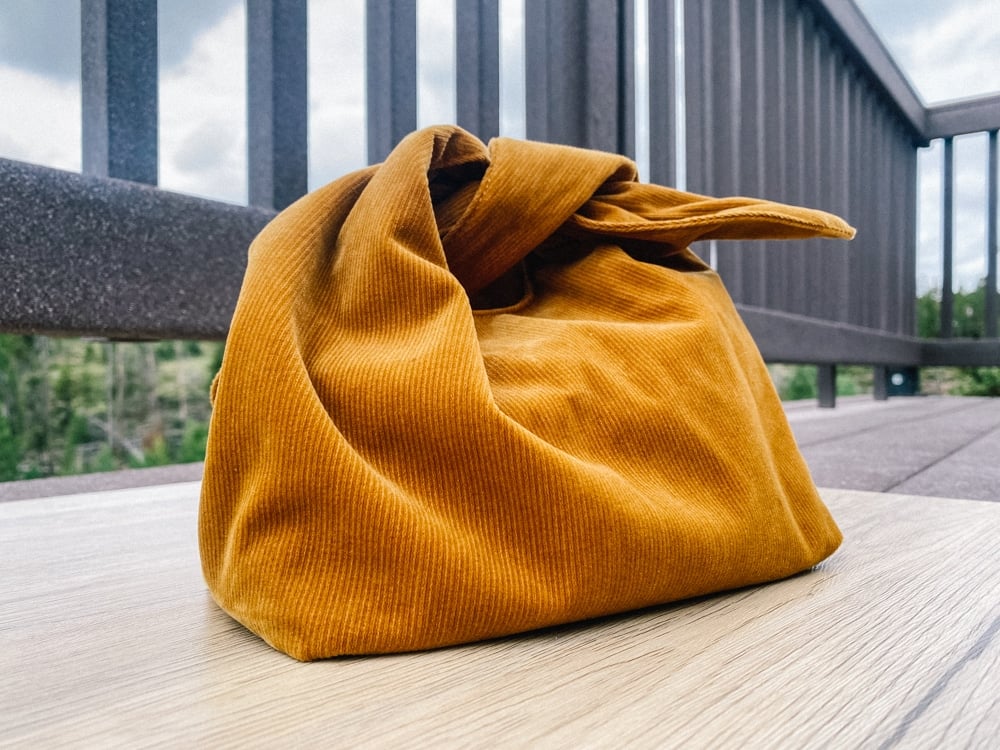 It's super cute, built to last, and holds a surprising amount of product. After I stuffed away all my Merit merch, I could add my face wash, lotion, glasses, and much more.
You get this FREE with your first order from Merit Beauty's website!
So, Is Merit Beauty a Good Brand?
Yes. 100%.
They aren't just putting the label of "clean beauty" on their products to sell more. They're doing the hard thing of making products that are safe for your skin, safe for your wallet, and safe for the planet.
It's not easy taking the road of responsibility in the makeup industry, but Merit is devoted to bringing in luxury products that work and don't leave a stain on the planet.
Plus, I enjoyed and audibly "wowed" at almost every one of their products. They're worth the investment.
If you're looking for more minimalist beauty items, view Kara's article on a Minimalist Makeup Routine: 6 Products to Replace Them All.
Shop the Merit Beauty Makeup Collection
Now that we've gotten through my clean beauty review on all things Merit, it's time to get yourself a piece of the action!
Let's get into where to buy Merit makeup. You can easily go on their website and find everything you're looking for, or visit Merit Beauty Sephora to browse the collection in person!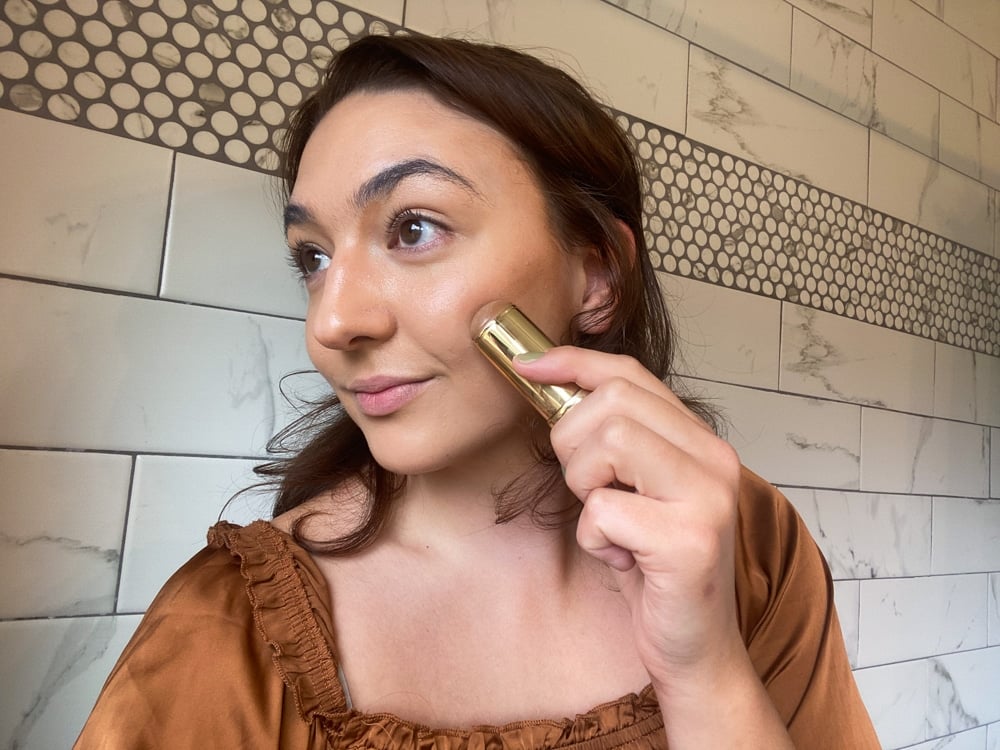 They've made color matching online as easy as possible with different models and complexions to compare products to.
I could match myself precisely with all the photos and swatches they provided online, but for those who don't trust their computer, you can always head to your local Sephora and sample in person!
Merit is the first clean beauty line I've ever tried and it's set the bar very high.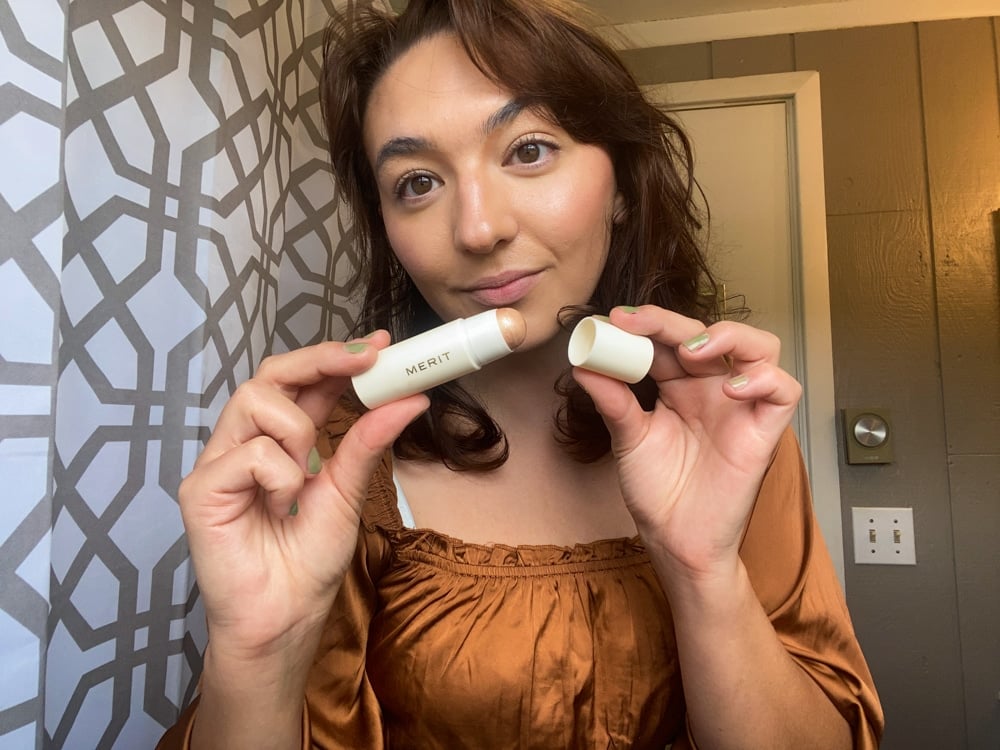 Have you heard of other clean beauty brands? What are they? Leave a comment below so I can test them next!