Who doesn't love a good dupe? While it may seem that there's nothing quite like having an original, that couldn't be further from the truth. While high-end makeup may often appear to be of better quality; this isn't always the case.
There's likely a much bigger budget for marketing, overall packaging, and formulation for luxury products intended to persuade shoppers to think their product is superior. But don't be fooled, some of the best makeup dupes rival luxury brands.
These budget friendly cosmetic dupes might just exceed your expectations! When it comes to the best drugstore makeup dupes foundation is the most sought-after especially when the quality is up-to-par or better than the luxury product.
Prepped skin is the first step in any makeup routine. Kara's Drunk Elephant review makes it super easy for you to choose which cleansers and moisturizers to use prior to makeup application based on your skin type. A flawless base is a goal for many beauty buyers and when it's done right everything else seems to just fall into place.
12 Drugstore Makeup Dupes That Work Better Than High-End Products
What's in a name? With celebrity endorsements and aspirational Instagram unboxings, high-end makeup products seem to have many beauty enthusiasts in a chokehold. Many luxury products are seen as a status symbol, like the latest designer 'it' bag. But what's shocking is that some luxury makeup products are made in the same factory as the high end makeup dupe!
It's possible to achieve the look you want for less and these affordable alternatives might even be more sustainable. While it may come as a surprise many high-end products, despite their top-tier ingredient list, are not so eco-friendly. There are many cruelty-free and easily accessible clean beauty dupes at CVS, Walgreens, and Target that won't break the bank.
Many don't have a problem forking over the hard-earned money for high-end skincare, makeup however might not seem like such a worthy investment.
If your goal this year is to do beauty on a budget, shop for cleaner, cruelty-free drugstore makeup products in lieu of expensive makeup, or if you're just in the mood to switch things up there are a plethora of excellent high end makeup dupes for you to choose from. Here are 12 drugstore makeup dupes 2022 TikTokers and OG beauty YouTubers absolutely obsess over.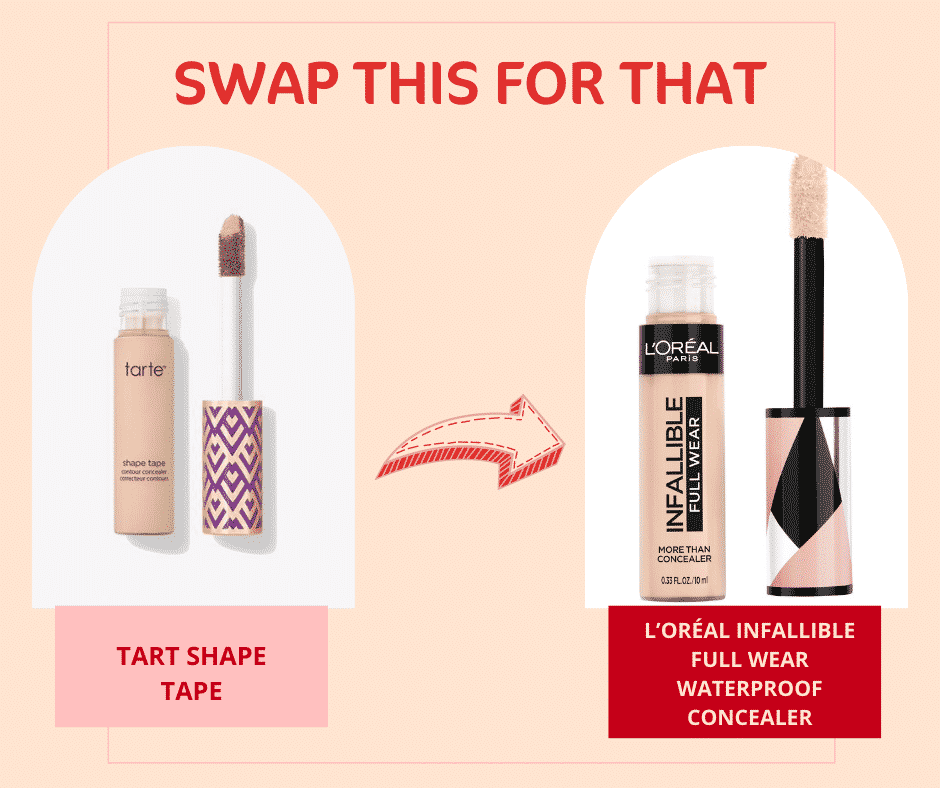 1. L'Oréal Infallible Full Wear Waterproof Concealer
Need to quickly cover up a pimple, carve out your brows or sculpt your face for an ultra-glam look? A full coverage, opaque concealer like this one from L'Oréal does it all for a lot less when compared to the highly coveted, high-end Tarte Shape Tape Concealer.
While both concealers are waterproof, Tarte's formula is more moisturizing as it uses key ingredients like shea and mango butter. However, L'Oréal's Infallible Full Wear Waterproof Concealer is more suitable to cover larger areas with its extra-large applicator and can even be worn as a foundation.
Last-minute touch-ups are a thing of the past with this concealer.If you have combination skin make sure to hydrate and prime your skin before applying to prevent any dry patches from clinging.
PS – wondering if Tarte is worth all the hype? Check out our full Tarte review.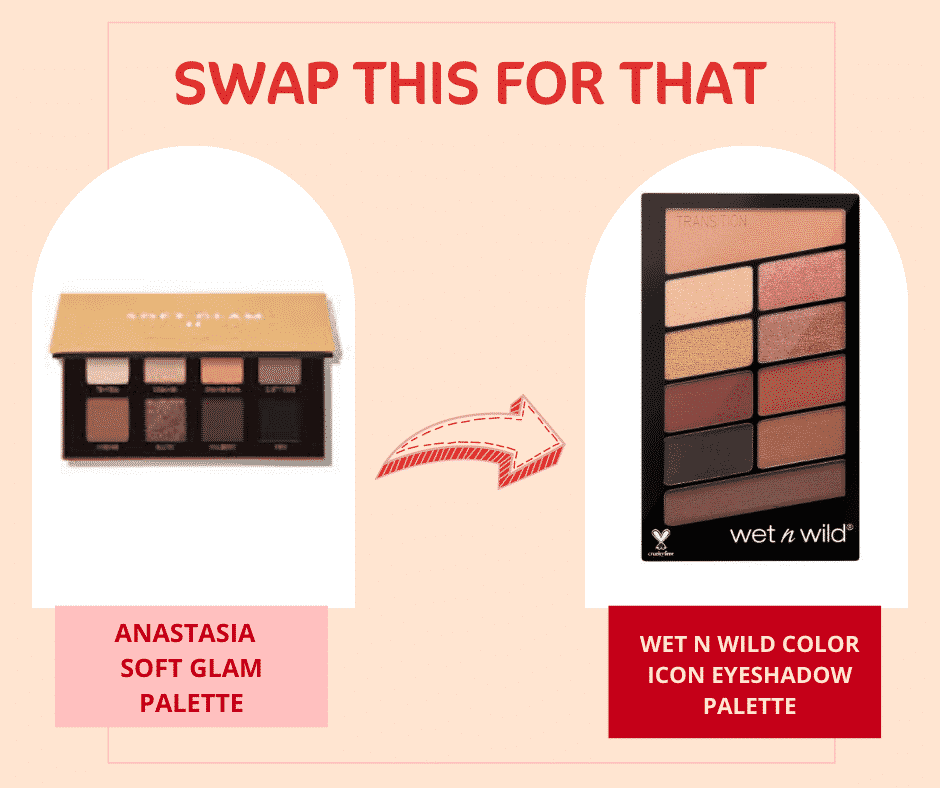 2. Wet N Wild Color Icon Eyeshadow Palette in 756A My Glamour Squad
If You Like the Anastasia Beverly Hills Soft Glam Palette, Try Wet N Wild Color Icon Eyeshadow Palette in 756A My Glamour Squad
In need of an eyeshadow palette, you can use for your everyday makeup routine? This one from Wet N Wild (Color Icon Eyeshadow Palette) is a perfect dupe for the Anastasia Beverly Hills Soft Glam Palette.
With several pigmented earthy tones and the right amount of shimmer, you'll have tons of neutral go-to looks in your arsenal to get ready at a moment's notice with this darling drugstore dupe. There are 10 shades in the Wet N Wild palette and 14 shades in the ABH Soft Glam Palette.
Both products are highly pigmented, cruelty-free, and easy to blend. A little goes a long way with this makeup dupe! The real difference comes down to the packaging. The ABH Soft Glam palette offers a more luxurious feel with its suede cover and it also has a mirror.
The Wet N Wild palette has a clear plastic cover which makes it easier to clean but you'll need to carry a compact mirror in your makeup bag if you're on the go with this one.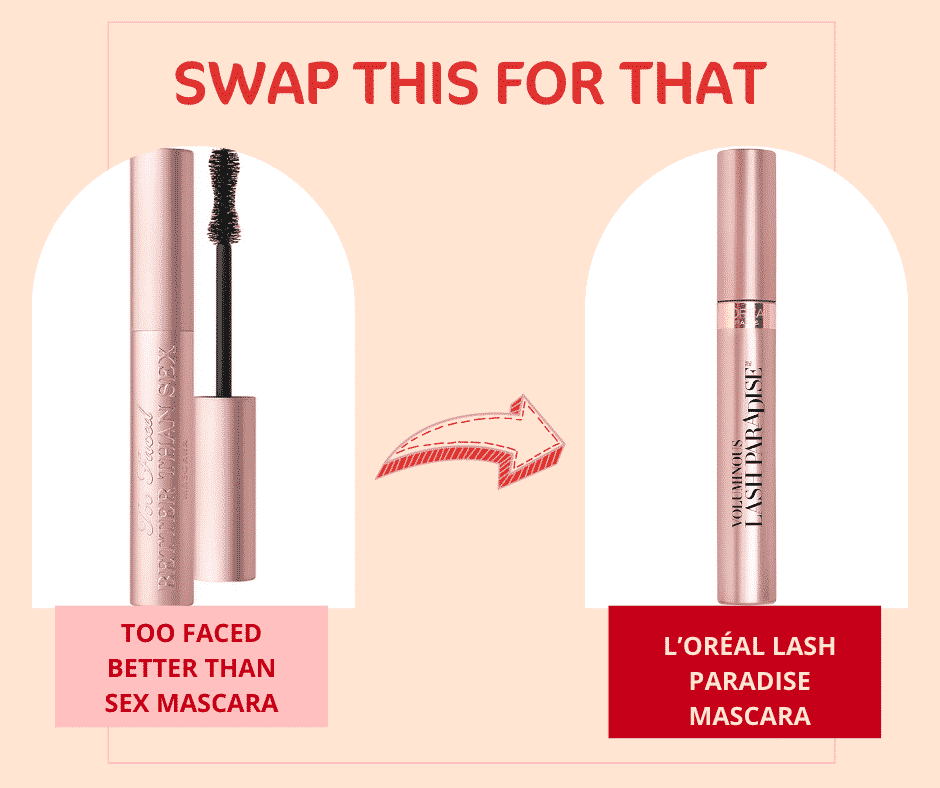 3. L'Oréal Lash Paradise Mascara
If You Like Too Faced Better Than Sex Volumizing Mascara, try L'Oréal Lash Paradise Mascara
What makes Too Faced's Better Than Sex Volumizing Mascara formula so legendary is its film-forming polymer which helps to keep lashes curled. It also has plant extracts and collagen for volume and a bold, doll-eyed look. The wand has firm bristles and its unique hourglass shape evenly coats your lashes in a single swipe.
The queer-owned brand is paraben-free, gluten-free, and cruelty-free. Read why Kara is obsessed with the Too Faced Hangover Rx Primer if you want to look even more refreshed and wide-awake.
Want length and volume at a reasonable price point? L'Oréal's Voluminous Lash Paradise delivers with their volumizing, lengthening mascara that's a fraction of the cost of the cult favorite from Too Faced.
It has a similarly shaped wand with over 200 soft bristles that precisely define and isolate your lashes. However, it takes more than one swipe for this mascara to work its magic as its formula is a bit drier than Too Faced's.
Maybelline Sky High Mascara and L'Oréal Lash Paradise Mascara are the best drugstore dupes for Better Than Sex Mascara! Both mascaras are ophthalmologist tested. If you have sensitive eyes or wear contacts these are great go-to's.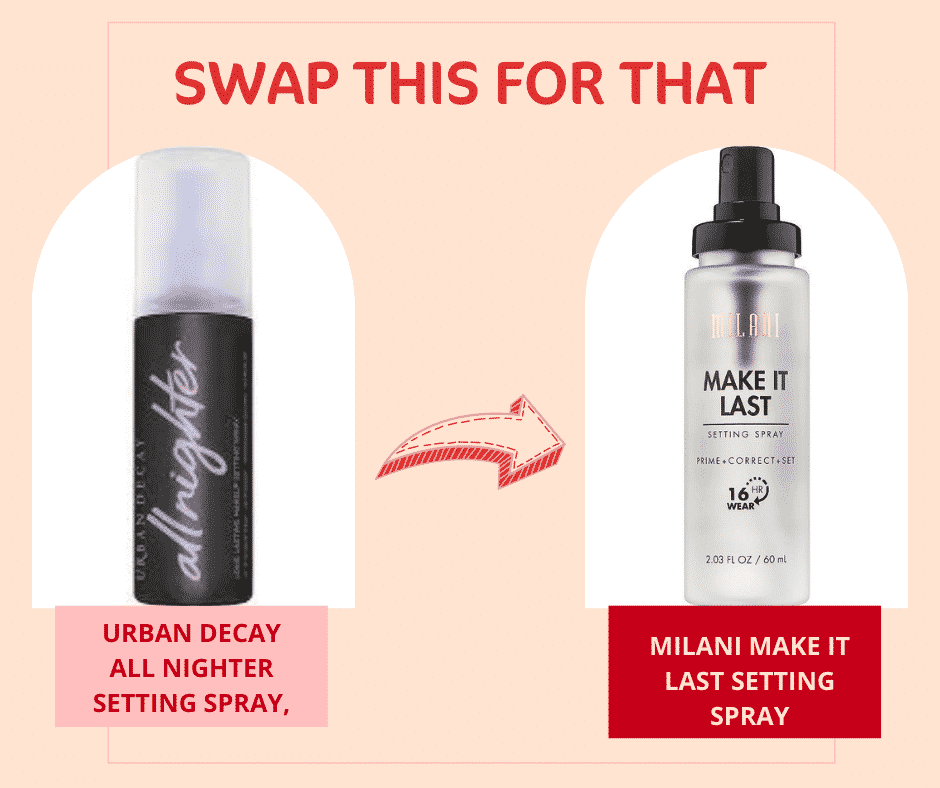 4. Milani Make It Last Setting Spray
If You Like Urban Decay All Nighter Setting Spray, Try Milani Make It Last Setting Spray
Urban Decay's All Nighter Setting Spray is well-loved by makeup artists and enthusiasts alike because of its staying power. It's an oil-free ultra-fine mist that will keep makeup fresh and locked in for up to 16 hours without settling into fine lines.
Urban Decay claims that the vegan, cruelty-free, parables-free setting spray won't smudge or transfer and it's suitable for all skin types. It also features a Temperature Control Technology that claims to lower your makeup's temperature so it lasts longer on your skin.
However, according to some reviews on their website if you have super oily skin or if you know you'll be sweating a lot throughout the day you might want to skip this setting spray. It also isn't the best-smelling option.
The Milani Make It Last Setting Spray is an affordable alternative to the coveted All Nighter. It's also cruelty-free and acts as both a primer and a setting spray so you can apply it before and after applying your makeup.
Perfect for a makeup minimalist, this spray can do it all! Just make sure to shake well before each use. There's no need to touch up as the formula is smudge-proof, doesn't cause creasing, and claims to last just as long as the high-end option. It seems this is the superior setting spray with its multi-use formula and ultra-low price tag, what's not to love?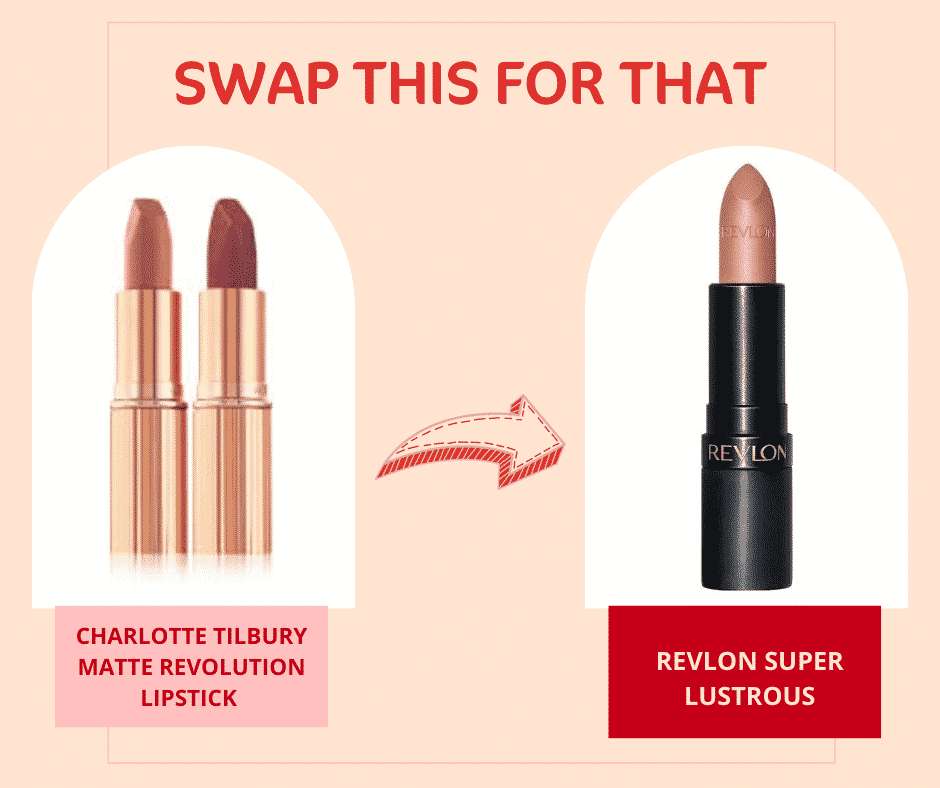 5. Revlon Super Lustrous The Luscious Mattes Lipstick in 003 Pick Me Up
If You Like Charlotte Tilbury Matte Revolution Lipstick in Pillow Talk, Try Revlon Super Lustrous The Luscious Mattes Lipstick in 003 Pick Me Up
The perfect pink lip exists. When Charlotte Tilbury launched its line of Matte Revolution Lipsticks, the shade Pillow Talk was the most sought after by both makeup enthusiasts and makeup artists alike. And for a good reason!
Charlotte Tilbury Pillow Talk is an ideal color to offset bold colorful eye looks or a neutral everyday beat and a universally flattering lipstick that's just the right shade of nude pink. It has a blend of tocopherol and plant extracts that helps soften lips and glow pigments for added shine. The beauty brand claims it lasts for up to 10 hours.
Revlon's Pick Me Up is a gorgeous satin-matte lipstick that is infused with moringa oil and cupuaçu butter. Its formula offers a velvety smooth texture that isn't drying and doesn't tug at your lips which is phenomenal since mattes tend to be on the drier side.
It's lightweight, creamy, and pigmented enough to add color with a single application with a matte finish. This shade is an exact dupe for Pillow Talk when swatched side by side. Have you ever found a lipstick under $10 more worthy of a slot in your makeup bag?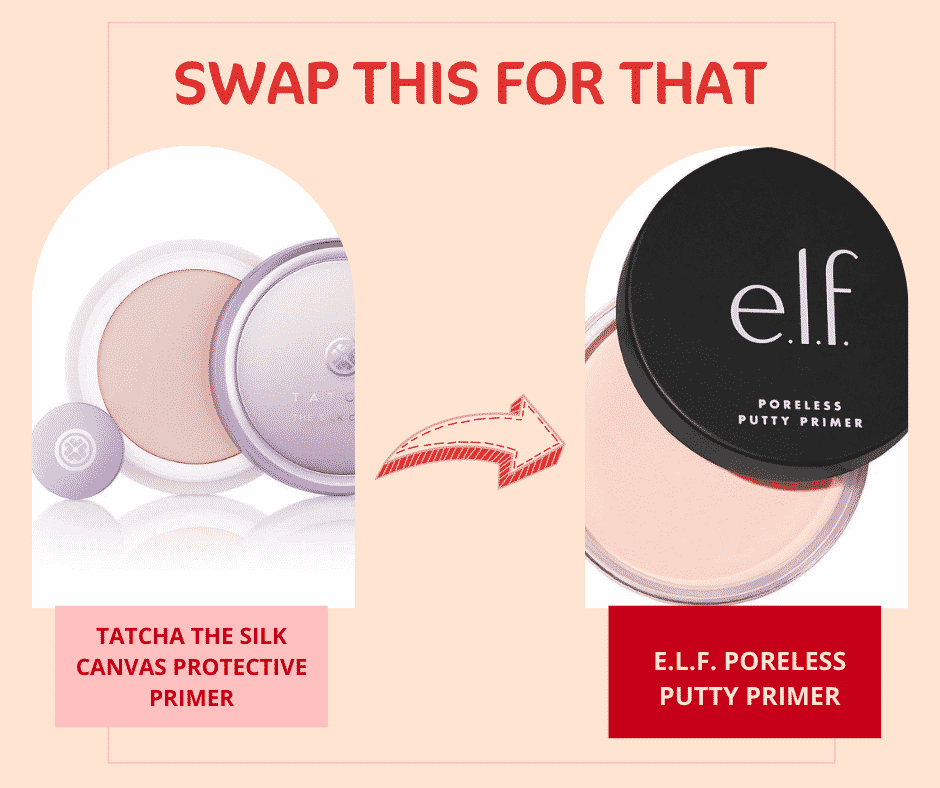 6. e.l.f. Poreless Putty Primer
If You Like Tatcha The Silk Canvas Protective Primer, Try e.l.f. Poreless Putty Primer
Made with real silk extracts, green tea, and algae, the Tatcha Silk Canvas Primer promises to blur imperfections and reduce the appearance of pores, fine lines, and wrinkles. The silk powder in its formula allows makeup application to be more even and the pink and gold pearl offers a healthy glow.
Its botanical blend fights against free radicals and prevents breakouts. It also works to protect the skin from oxidative stress leaving it brighter, and tighter. This BIPOC beauty brand is dermatologist tested, cruelty-free, and free of parabens, mineral oil, and sulfates.
The Poreless Putty Primer is infused with squalene so that your makeup will adhere to your skin for all-day wear. It provides you with a long-lasting, hydrating base with a silky finish so your foundation will glide on smoothly.
You can apply it with the Poreless Putty Applicator and then blend using your fingers. This primer is cruelty-free, phthalate-free, paraben-free, and free of silicones and sulfates.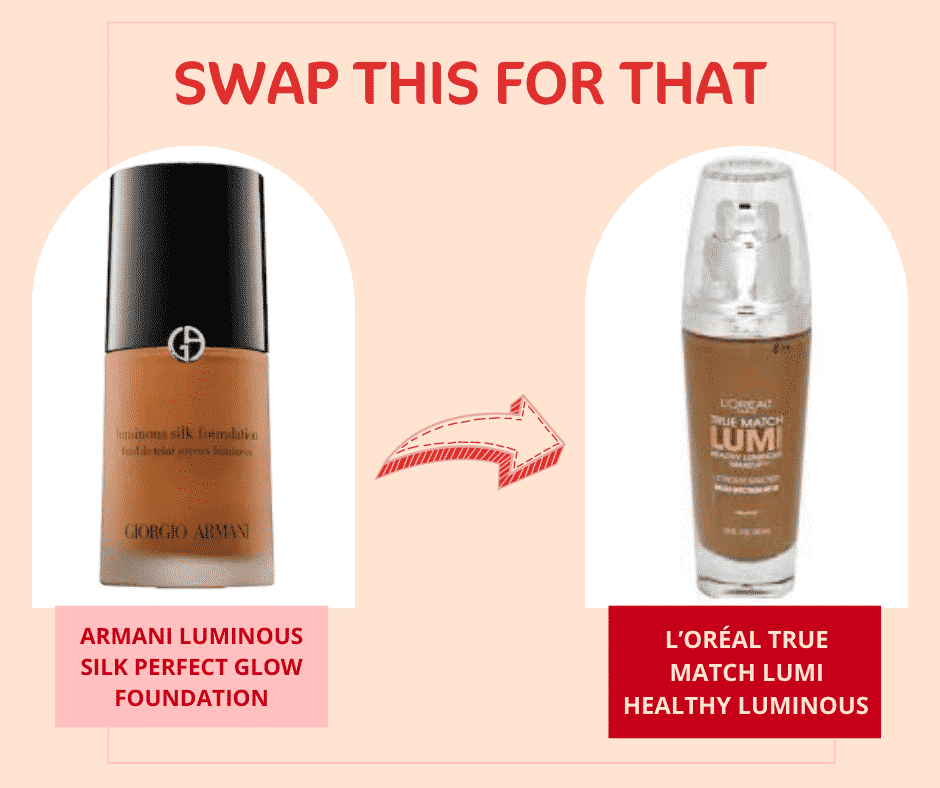 7. L'Oréal True Match Lumi Healthy Luminous Makeup
If You Like Armani Luminous Silk Perfect Glow Flawless Oil-Free Foundation, Try L'Oréal True Match Lumi Healthy Luminous Makeup
The Armani Luminous Silk Foundation has been a cult favorite in the beauty community for more than two decades. This lightweight, buildable foundation leaves skin with a glowy, natural finish. It's medium coverage, oil-free, and comfortable enough on the skin to wear throughout the day. The unique Micro-Fil technology allows you to layer and blend seamlessly.
Inspired by charmeuse silk, Armani Luminous Silk gives a 'your-skin-but-better' appearance that looks airbrushed and is available in 40 shades. Unfortunately, this foundation isn't the most forgiving on very dry skin according to reviews on its website.
If you're on the market for drugstore foundation dupes, L'Oréal True Match Lumi foundation is an amazing alternative to Luminous Silk as it offers medium coverage with a radiant finish and also hydrates and improves your complexion the more you wear it.
It's formulated with vitamins C and E to nourish and brighten your skin. It also has added antioxidants and SPF 20 to protect skin from damage. It is available in 15 warm, neutral, and cool-toned shades. For a flawless finish every time, check out Kara's Sigma Beauty Review: 13 Holy-Grail Sigma Brushes & Makeup To Invest In.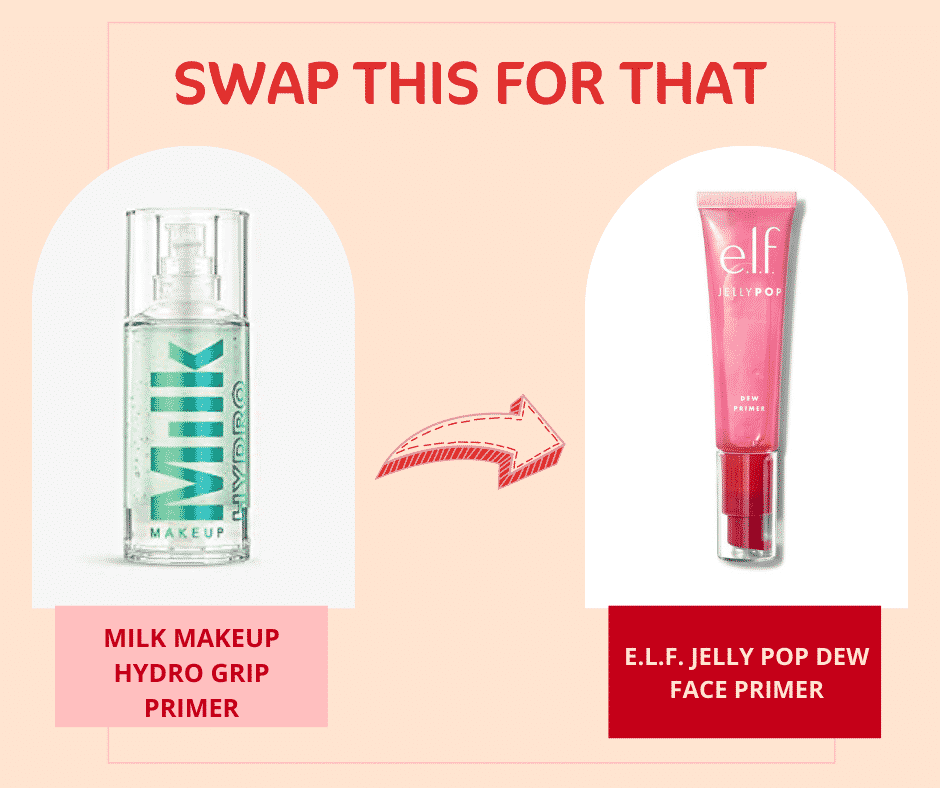 8. e.l.f. Jelly Pop Dew Face Primer
If You Like the MILK Makeup Hydro Grip Primer, Try the e.l.f. Jelly Pop Dew Face Primer
Prepped, primed skin is the key to long-lasting makeup. If you're after a more fresh-faced look with a dewy finish it's best to opt for a lightweight, hydrating primer that provides a natural glow.
Both Milk Makeup and e.l.f's primers have a gel formulation and use plant extracts and hyaluronic acid that nourish and hydrate the skin. BIPOC beauty brand Milk Makeup's Hydro Grip Primer is cruelty-free, gluten-free, and vegan.
Although Milk Makeup's primer is silicone-free and oil-free, it can leave a slightly sticky feel once it sets, and using too much can cause your makeup to look patchy, according to reviews on their website. Many noted that the smell isn't too pleasant either.
The Jelly Pop Dew Face Primer smooths your skin and blurs imperfections while providing moisture with its vitamin and antioxidant-rich formula. It helps to minimize the appearance of pores and there isn't any sticky feeling after applying it to your skin.
Your best bet would be to go with the more affordable option here if you have very dry skin, but if simply the thought of wearing a layer of intense watermelon-scented gel primer gives you a headache you may want to pass.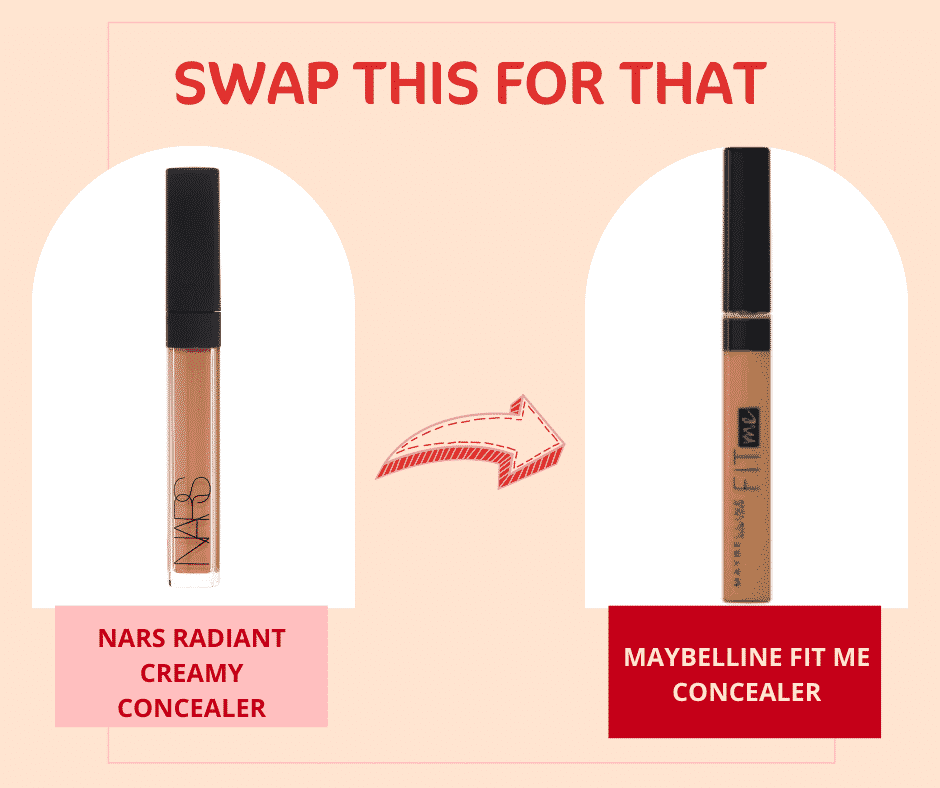 9. Maybelline Fit Me Concealer
If You Like Nars Radiant Creamy Concealer, Try Maybelline Fit Me Concealer
On the hunt for a medium coverage concealer that brightens your skin, corrects imperfections, and doesn't crease? The Nars Radiant Creamy Concealer is a favorite of many since it has a wide shade range and lasts for up to 16 hours.
This concealer is transfer-proof and will last even in more humid climates. It is dermatologist and ophthalmologist-tested, available in 30 shades, and is buildable so you can easily cover up blemishes without looking cakey. It's also a great concealer for sculpting the face while maintaining a natural-looking finish. It is non-comedogenic, fragrance, and paraben-free.
For less than half the price of the Nars Radiant Creamy Concealer, Maybelline's Fit Me concealer covers up redness and other skin concerns. Although there are fewer color matches this concealer is non-comedogenic and fragrance-free so it won't clog your pores or irritate sensitive skin.
It's also dermatologist and ophthalmologist approved. It has a medium, natural coverage with adequate pigment that can be layered and will blend easily. It's super light on the skin and doesn't transfer so you won't have to worry that your makeup will move around when you're out and about wearing a face mask.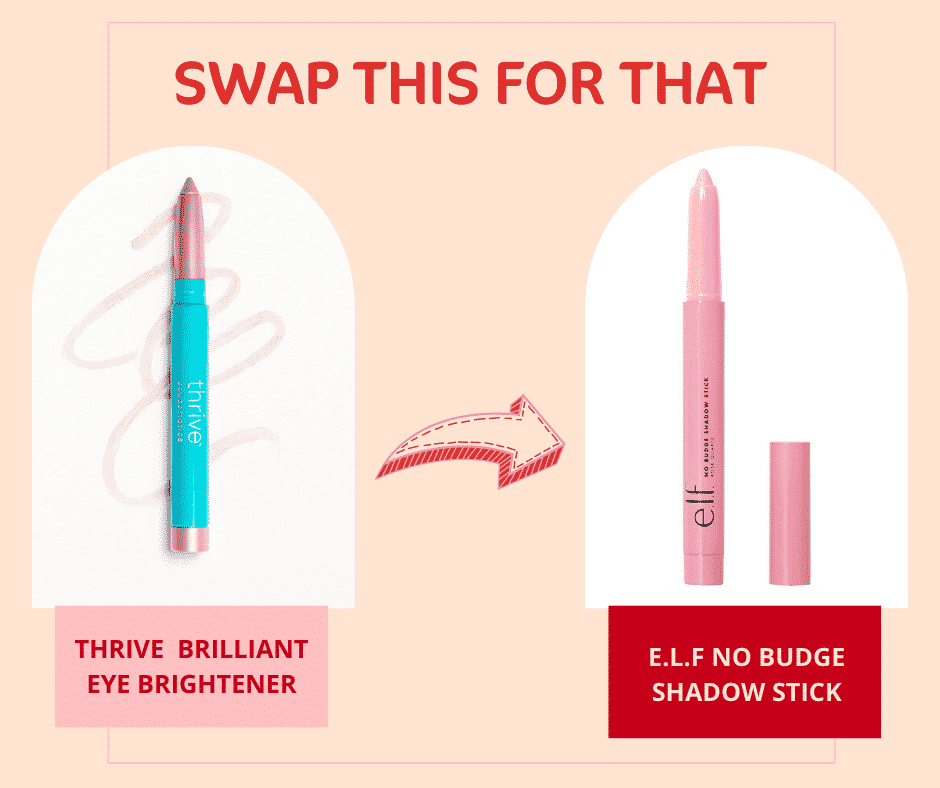 10. e.l.f No Budge Shadow Stick
If You Like the Thrive Causemetics Brilliant Eye Brightener, Try the e.l.f No Budge Shadow Stick
Thrive's Brilliant Eye Brightener is perfect for a vibrant, shimmery eyeshadow look. It can be worn as a base for shadows all over your lid, or on your waterline for a pop of color. Infused with plant oils like jojoba oil, sunflower seed oil, and mango seed oil, this pencil offers a smooth, creamy consistency for a flawless application every time.
You can also use it as a cream highlighter. It's super pigmented and ideal for all-day wear. The brand is female-founded, vegan, cruelty-free, and non-toxic.
When it comes to drugstore makeup, e.l.f. Cosmetics does affordable beauty products like no other. They are cruelty-free, paraben-free, phthalate-free, and don't contain sulfates. No Budge Shadow Sticks are available in 8 shades and are an almost exact drugstore dupe for Thrive Eye Brightener.
It can be worn as eyeshadow or eyeliner for a variety of makeup looks and has a built-in sharpener. These metallic colors have a crease-free formula that blends easily and is vegan and cruelty-free.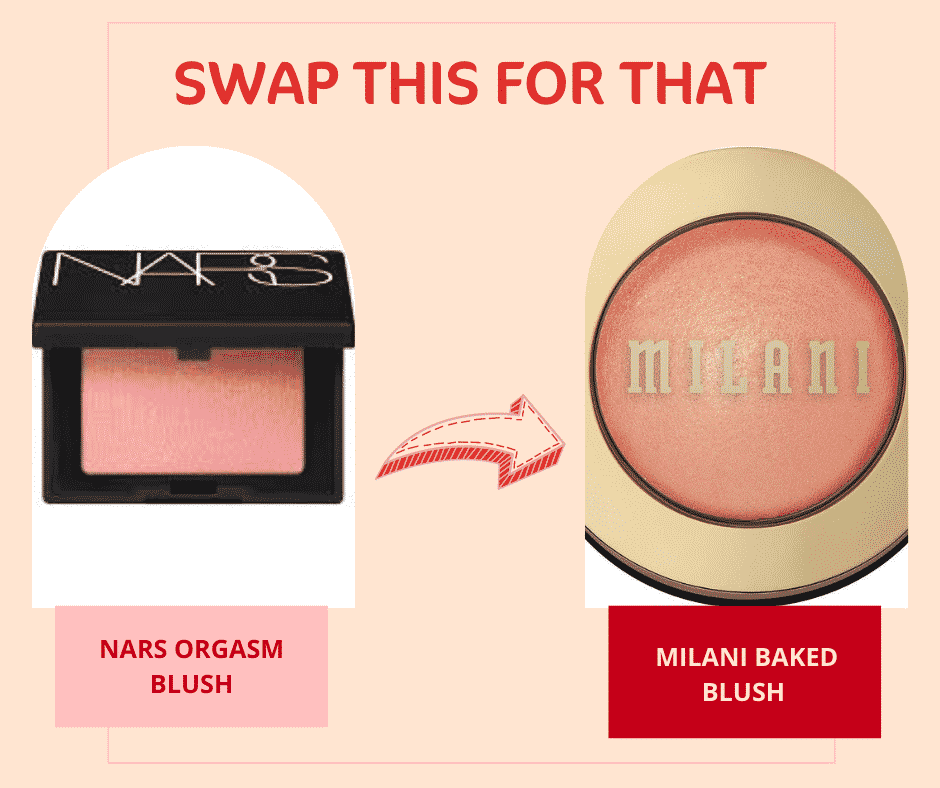 11. Milani Baked Blush in Luminoso
If You Like Nars Orgasm Blush, Try Milani Baked Blush in Luminoso
If you were into beauty tutorials on YouTube in the early 2010s, Nars Orgasm was the blush of the era, and beauty gurus couldn't stop raving about it.
It's a pigmented blush that suits a range of skin tones and its shimmer gives the perfect rosy glow for a fresh-faced flushed look. It's the perfect peachy pink that amps up any natural beat or a more glam look since it's buildable.
For a super low price point and with all the glamor of the high-end option, the Milani Baked Blush is a certified cult favorite that's vegan and cruelty-free. Luminoso is a peach blush with flecks of golden shimmer that gives off a satin finish.
Baked on Italian terracotta tiles, this blush adds a little something extra to your overall makeup look by highlighting your cheeks and is the perfect size for travel. Both the Milani and Nars blushes include a mirror but the drugstore alternative also comes with a brush applicator.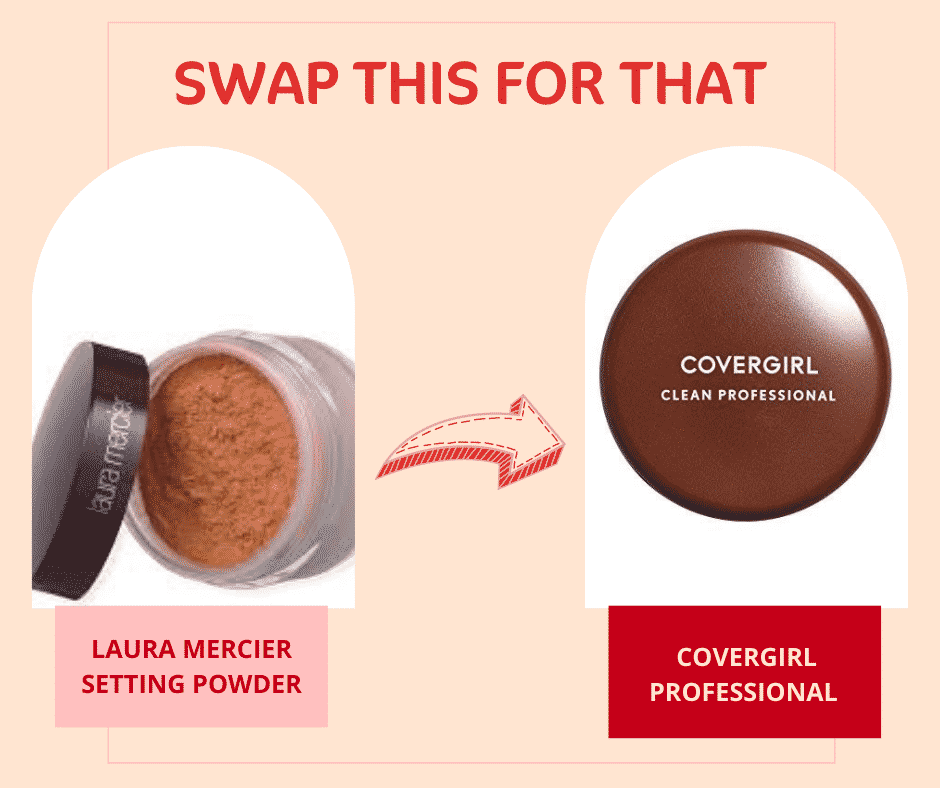 12. Covergirl Professional Loose Finishing Powder
If You Like Laura Mercier Translucent Loose Setting Powder, Try Covergirl Professional Loose Finishing Powder
Set it and forget it. Laura Mercier's Translucent Loose Setting Powder is loved because of its blurring effect and staying power. You don't have to worry about flash photography at your next event since there isn't any flashback with this setting powder.
This lightweight, finely milled, improves complexion and absorbs excess oil with a botanical blend including vitamins C and E. It's available in 3 shades suitable for medium to deep skin tones and all skin types.
Covergirl Clean Professional Loose Powder is a smoothing and absorbing translucent powder that helps to reduce shine so your makeup can look its best all day long. It's buildable, easily blends and instantly sets your makeup.
It can be worn alone or over a full face. It is available in five shades that are perfect for light to medium tones. This clean, translucent powder is cruelty-free and keeps your makeup looking fresh, and won't clog your pores.
If you're looking for more of the best drugstore powder foundation there are even more options out there for ya to choose from that are affordable!
Have you tried any of the high-end or drugstore products we mentioned? Do you have a specific makeup product you simply can't live without? Leave a comment below to explain how your favorite got its title 👑