Whether it's your first time or millionth time in New York City, a NYC packing list is kind of almost always necessary. New Yorkers can be intimidating! And you want to be sure you're dressing for the ~vibes~ as well as the weather.
This city packing list is an attempt to keep you covered on both fronts. I love being comfortable, but I also love feeling cool. That's just what happens in the chicest and biggest city in all of North America!
I've got you covered on a New York city packing list that will get you up to speed on all the things you need, as well as any wants in between.
P.S. Everyone knows New Yorkers love to wear black, but don't worry, you'll see a healthy variety of color in the list!
NYC Seasons Are Extreme
The seasons are mercurial in the Big Apple. The winter is freakin' cold, and the summer is hot and humid enough you'll be wishing you booked a summer trip to San Francisco. Fall and spring are pretty amazing, weather wise.
As you're thinking about what to bring, don't forget to check the weather for your stay. If it's summer, assume you're going to be sweating your ass off in a packed subway. Winter, assume you'll be tramping through snow.
Fall and spring, assume you're going to be thanking yourself for visiting the best times of year!
New York City General Packing Tips
Something I noticed right after the pandemic was that my packing skills had completely gone out the window. After a year of staying in one place, the first trip I took featured the worst packing job of my entire life.
So, if travel hasn't been at the top of your list these days and this is the first trip you've been on in a wild, here are some general tips.
1. New York City Packing Lists
Lists run my life. As embarrassing as that is, it is completely true. I cannot function without a to-do list, goal list, reminder list, and yes, packing list.
Usually I just use my phone to jot down anything I'll need for a given trip, but lately I've been super into physical lists. They're harder to ignore!!
This packing list from Amazon not only organizes what you'll need by category, but is a great way to stay organized.
2. Layers
I almost want to say to treat your NYC packing list like a capsule wardrobe. Basically just a bunch of items you can mix and match, and layer! As we'll get into next, weather can be extreme and layers are always good to add and remove.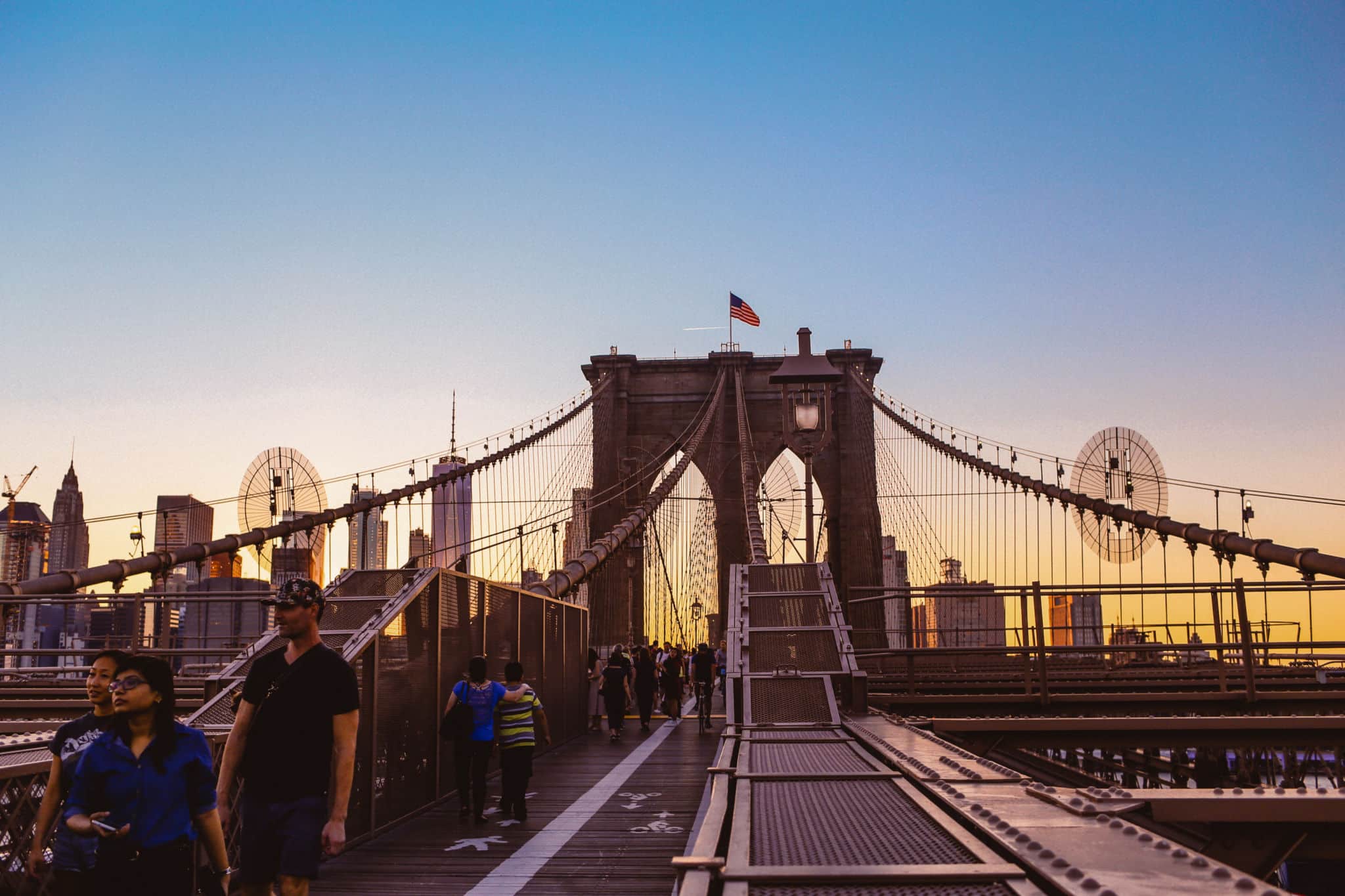 3. Portable Chargers
I can't go anywhere without a portable charger. My iPhone is so old, she's barely breathing. A portable charger is not a want, but a need.
After much trial and error, this is my absolute favorite portable charger for a couple of reasons. It's super reliable and fast, but small enough you can fit it in your wallet. Not every plane has outlets, and New York is stingy when it comes to free charging stations.
4. Packing Cubes
God love the person who invented packing cubes. I struggle to picture a functioning society without them, at this point.
Packing cubes allow you to overpack without ever overpacking. I'm a massive fan. Plus, it keeps all of your different clothing separated. I'm especially big on keeping dirty clothes away from clean clothes, which packing cubes are great at.
All packing cubes are pretty similar, but I prefer cubes that come in slightly different colors to make it easier to distinguish what's what in my suitcase.
5. Refillable Water Bottle
I can't stress this enough: there are not too many places in the city that offer up free water. So when you find one, be ready! Plus, flights are one of the best ways to dehydrate your body. Fight the good fight by refilling your water bottle frequently in the airport and during the flight.
I am a HydroFlask girly through and through. I'm not typically a brand loyalist, but I stay strong here. HydroFlask is king. It keeps drinks hot or cold, and the color options can't be beat.
What to Wear in New York in Summer (June-August)
New York in the summer is hot. Like, hot hot. The type of hot that'll make you wish you never stepped outside. Part of it is the humidity, and the other part is the fact the entire city is built on concrete with tons of giant black reflective buildings. It's a pressure cooker.
Regardless of what you're up to, you're going to want to dress to stay cool. I recommend linen, as it's breathable and dries quickly while you're sweating through your clothes on the subway platform.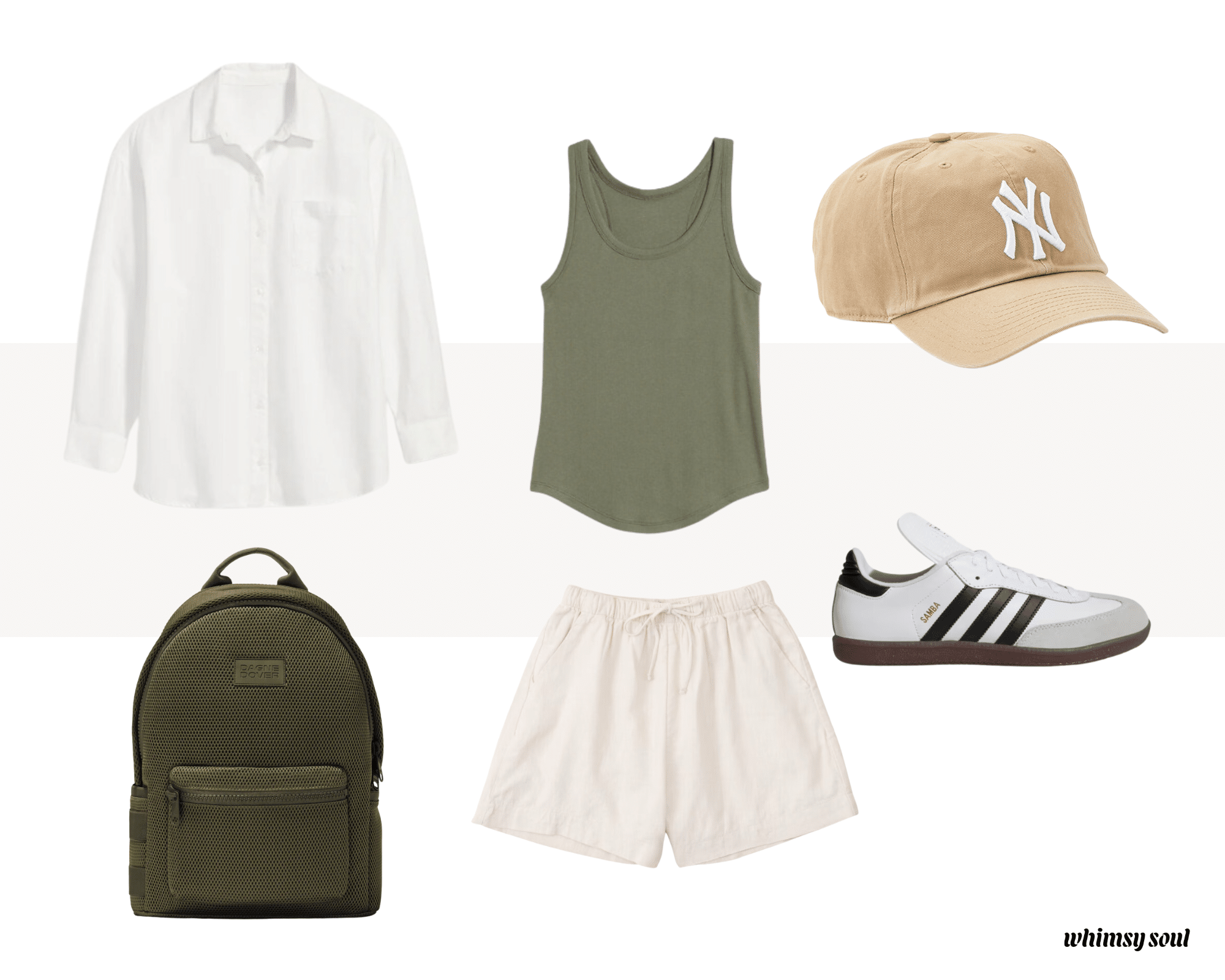 White Linen Button Down | Green Tank | New York Yankees Dad Hat | Adidas Sambas | Linen Shorts | Dagne Dover Backpack
I'm a big fan of the linen section on Abercrombie, including these cute drawstring linen shorts. They also have a bunch of awesome matching sets– I own this top and the shorts that go with it, and I can't emphasize enough how essential it has been to get through a summer in the city.
The last thing you'll want to be wearing is anything denim. It's sticky, and denim shorts that ride up are a bad call for sitting on the nasty subway seats. Stick with something longer and breezier to avoid sitting in a stranger's sweat puddle.
Dresses are always a good call, too. I would go with a linen maxi dress to maximize comfort. This dress from Everlane is the perfect low key chic vibe you'll see all around the city. You'll fit right in as a New Yorker.
In terms of shoes, ditch the sandals. Please. I beg you. Every city has gross streets and sidewalks, but none are more filthy than New York City. Plus, assuming you'll be walking around and exploring or picnicking in Central Park, the last thing you want is sandal blisters.
Adidas Sambas are my personal obsession right now, but I understand the stripes can be an acquired taste. These Reebok sneaks are super casual and comfortable as well. I wore mine into the ground– they go with everything. Just remember, comfortable shoes are an absolute must!
If you're planning on going full on tourist (which I highly recommend– there's so much to see!), you're going to want a bag.
Full on tourist mode requires a backpack. Or at least a really big over the shoulder bag. I personally opt for a backpack just because of how much walking I do in this very walking-heavy city.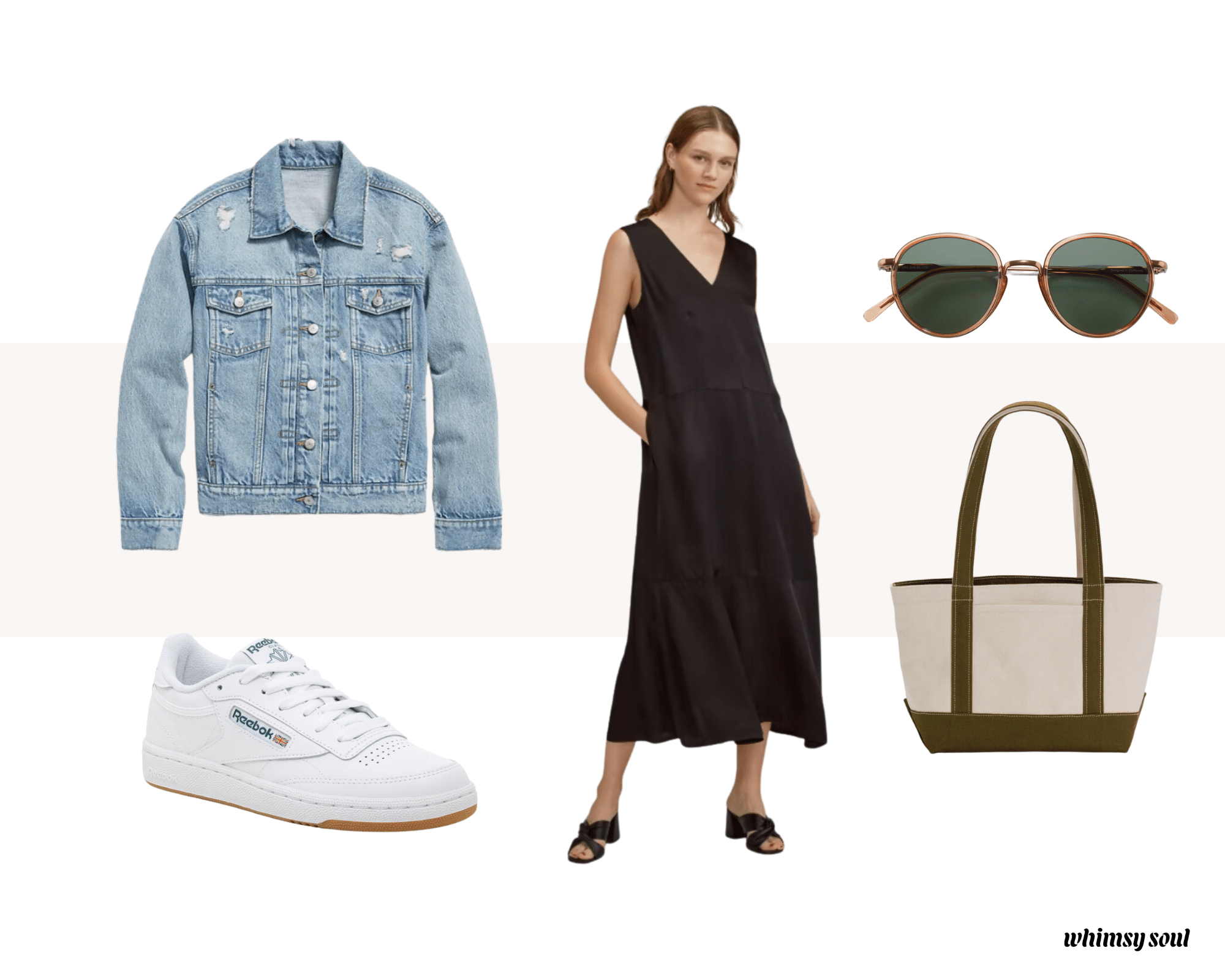 Jean Jacket | Everlane Dress | Reebok Sneakers | Sunglasses | Baggu Tote
If you're looking for something super sturdy, I've had this Dagne Dover bag for years and absolutely love it. It's definitely more of a splurge item, but it comes in handy as the perfect carry on that can easily be converted into streetwear.
They also make a smaller purse that's one of the top rated anti-theft travel purses if you're looking for one.
There are a ton of pool and spa options in the city if and when you need to cool off. The Williamsburg Hotel has a gorgeous view of Manhattan from its rooftop pool. Pack a bikini just in case you can't take the heat.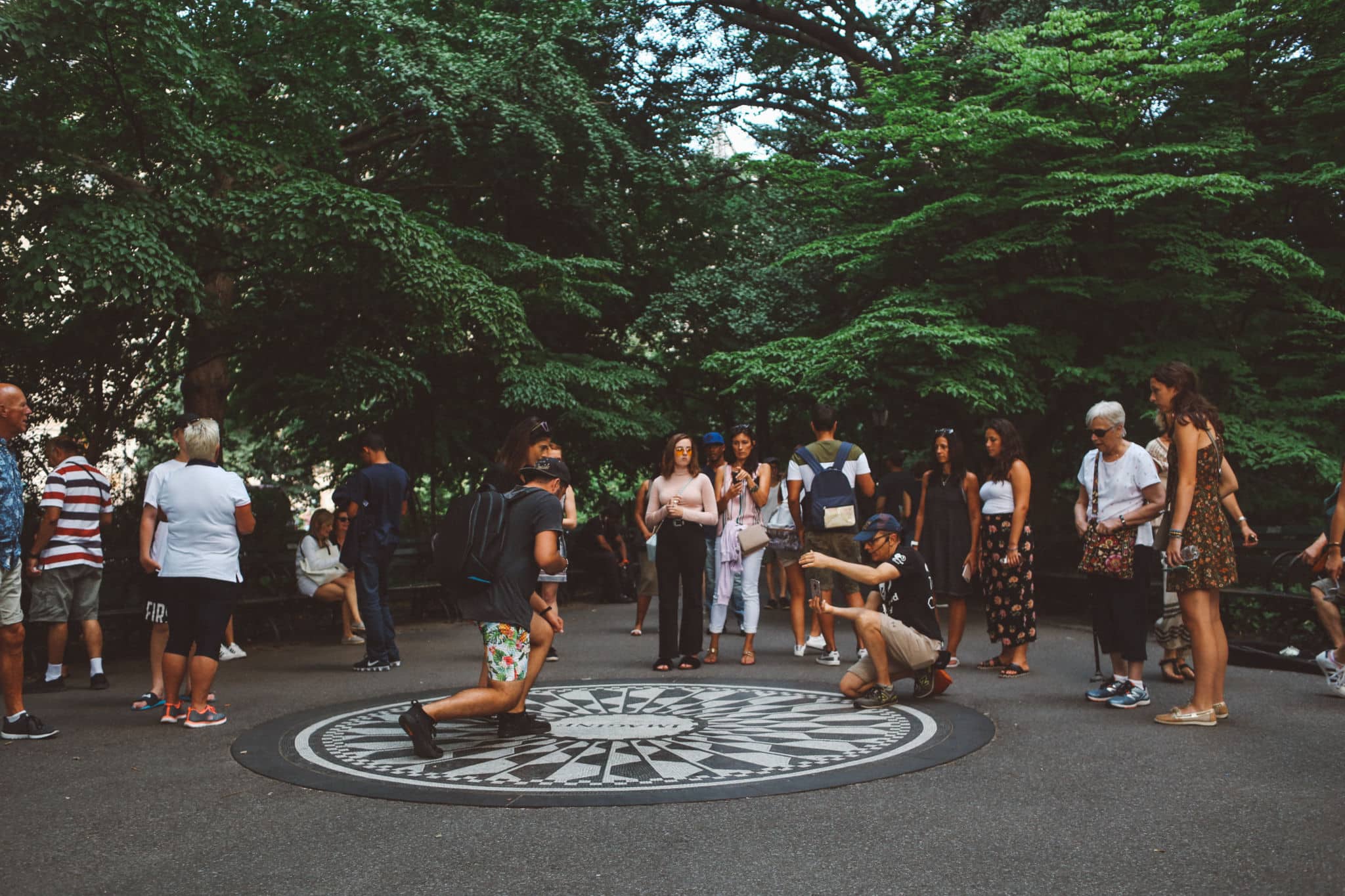 What to Wear in New York in Fall (September-November)
Fall in New York City is like springtime in Paris. It's that good. It's my absolute favorite time of year in the city, and although I'm fairly biased, I have to say that autumn in Manhattan is better than any other fall destination in the United States.
In the fall, I typically opt for a pair of comfy jeans and a sweater. Depending on how deep into the season your trip is, you may want to bring a light jacket as well.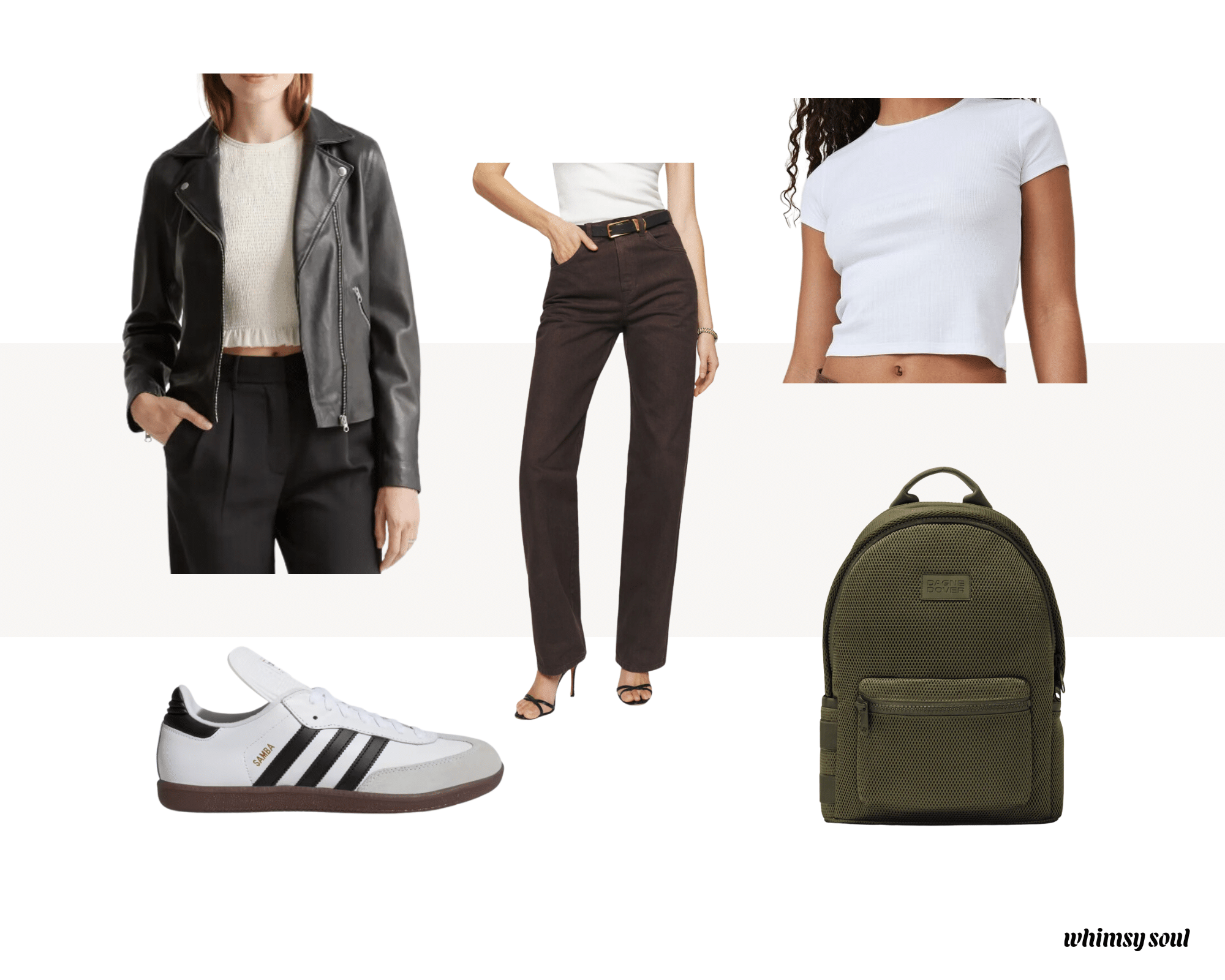 Leather Jacket | Reformation Jeans | White Tee | Adidas Sambas | Dagne Dover Backpack
September is typically pretty warm during the day and cool at night, so definitely pack layers. Ditch the sweater for a t-shirt, and then bring a leather jacket along for when the temperature drops at night. Especially if you're going to be walking around.
Ever since I became a straight leg jeans convert, I've been obsessed with this pair of jeans from Reformation. Super adaptable to any weather and very pumpkin spice latte coded (just make sure you click on the "espresso" color).
In terms of shoes, you're still going to want to think about comfortable walking shoes over anything else. The absolute worst feeling in the world is a fresh blister with ten blocks to go.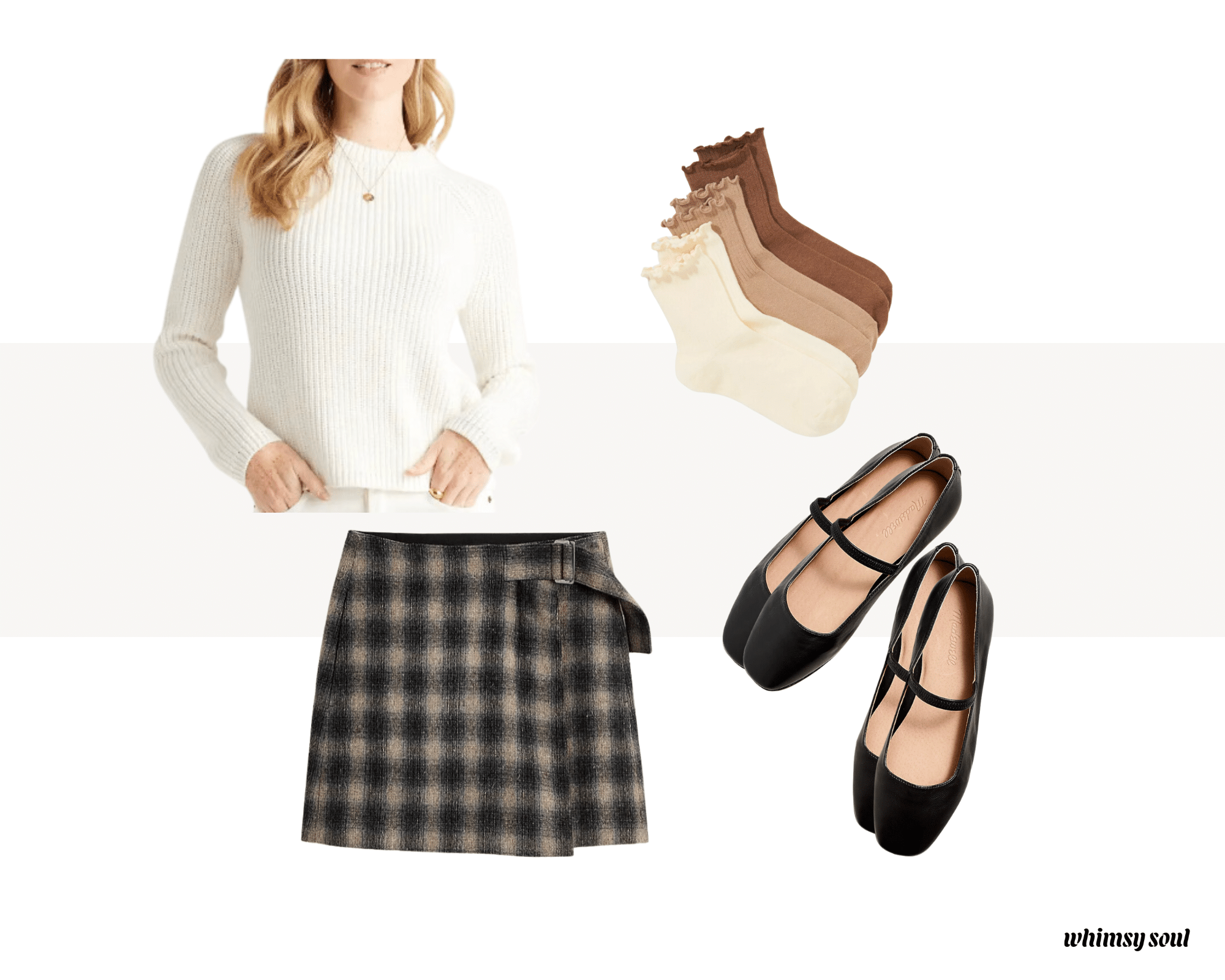 Quince White Sweater | Madewell Plaid Skirt | AE Ruffle Trim Socks | Madewell Ballet Flats
I'm still going to suggest you wear sneakers– it usually doesn't get chilly enough to need boots unless you visit in late November. If you must wear boots, I completely understand that fashion comes first, but make sure it's a pair that's well worn in. You're going to want to walk around a ton!!!
Did I mention I love fall in NYC?
Grand Bazaar
While you're planning your trip, I want to plug the Grand Bazaar on the Upper West Side. It's the coolest flea market I've ever been to, featuring art, clothing, furniture items, basically anything you could possibly think of.
While it's open year round, I do want to suggest you go in the fall. The Upper West side is gorgeous with all the fall colors and big trees. The weather is perfect for walking around, and it's just chilly enough that the hot food from the vendors is just that much better.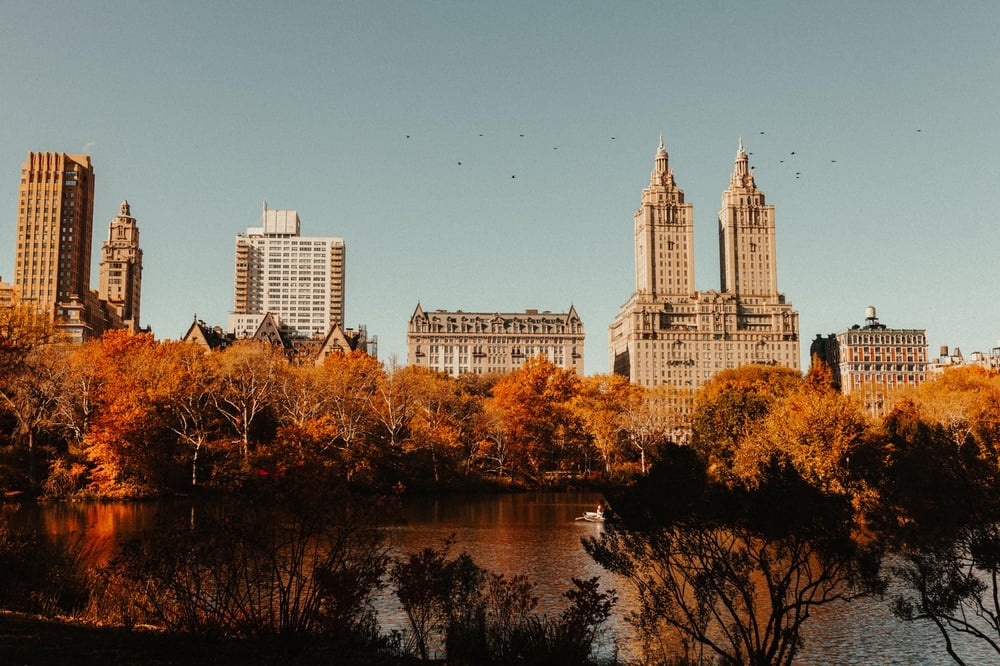 What to Wear in New York in Winter (December-February)
I have veryyyyyy mixed feelings about winter in New York.
Because on the one hand, you have the Rockefeller tree, a Broadway show, Dyker Heights Lights, the list goes on. Elf was filmed here!! People like it for a reason.
I just hate the cold. And when considering what to wear to NYC if you're coming from December onwards, think cold, cold, freezing, cold. The skyscrapers build a sort of wind tunnel on a lot of streets in the city, so you are going to need a warm coat or jacket, and plenty of waterproof boots.
Last year we got lucky with no snow. In general, there's a decent dumpage every year, and you're going to need waterproof boots. I go with the classic Timberlands because I despise having wet socks, but anything waterproof will do.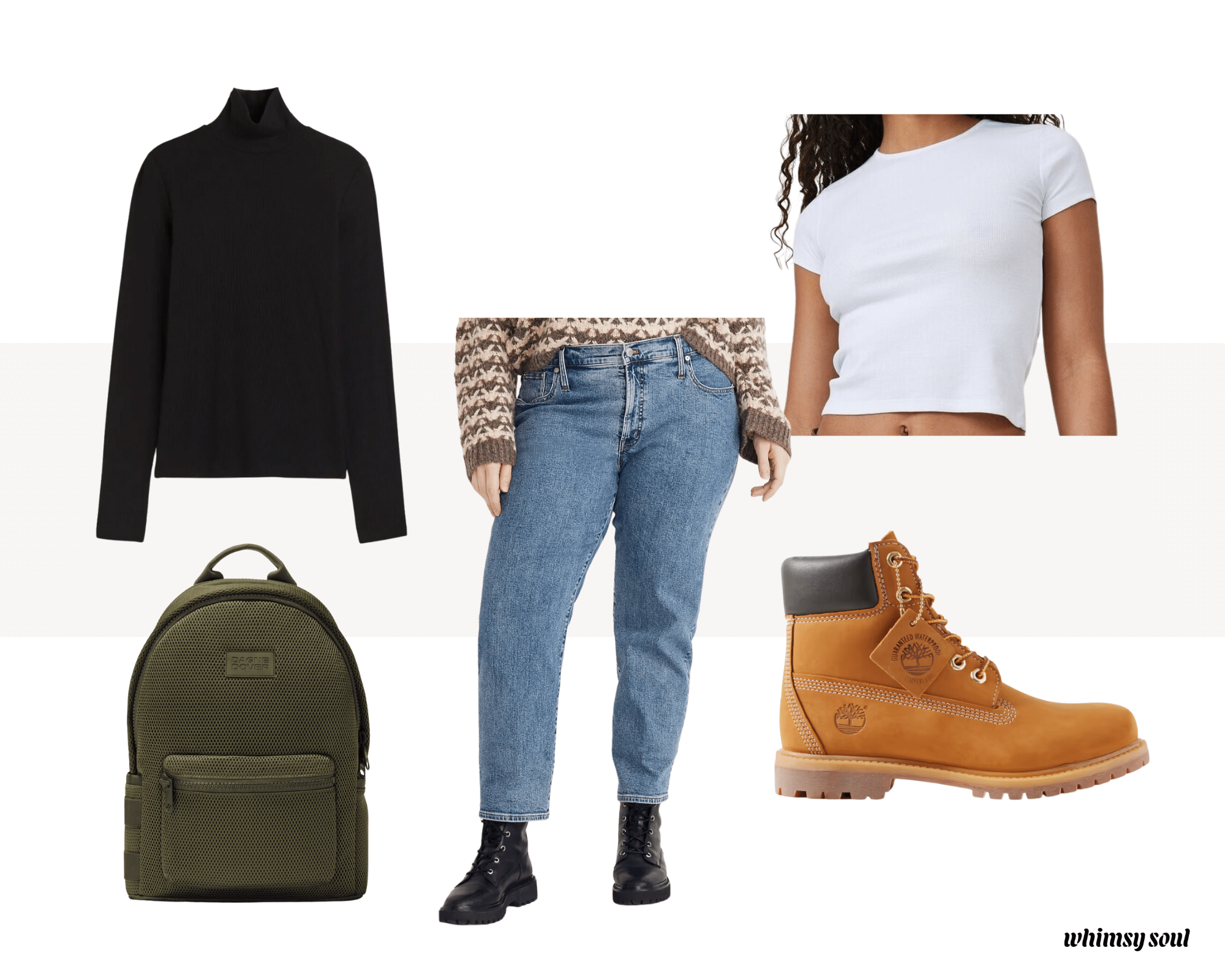 Black Turtleneck | Madewell Jeans | White Tee | Timberlands | Dagne Dover Backpack
In terms of clothing, layers are key. I am almost always wearing a sweater with a t-shirt underneath in the winter time. New York packing may require an extra suitcase for the winter, because you're going to need quite a few chunky sweaters.
I'm also a big turtle neck girly in the winter because the wind seems to always find a way down the neck of my sweater otherwise. I love opting for a thinner turtleneck underneath a sweater or sweatshirt because then I've double warmth. This simple staple is my go-to.
A beanie and gloves are a must on any winter packing list. Scarves are kind of up to you, but if you're anti-turtle neck, I suggest grabbing one. There's never been a moment in time in which I've regretted too many layers of warmth during a New York winter.
Perhaps consider packing a fancier outfit, too! Winter in the city is the perfect time to feel bougie. There are so many ways to celebrate, and so much to do.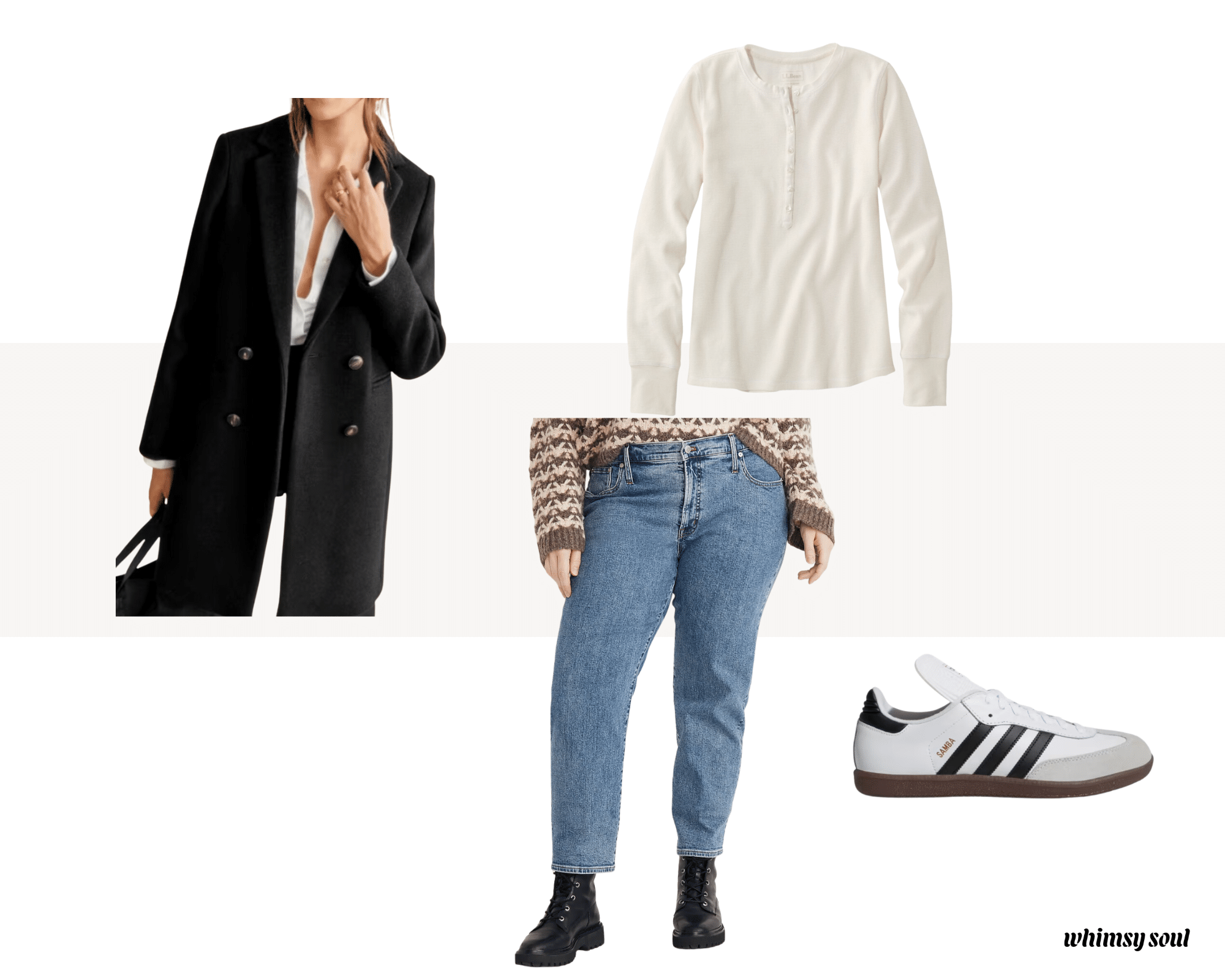 Sezane Coat | Madewell Jeans | LL Bean Henley | Adidas Sambas
One of my all time favorite memories from a winter in New York was visiting the Blu Notes Jazz Club during Christmas time. It's up on the top floor of the Columbus Circle mall, and you can see the entire city all lit up.
The music was holiday themed, and we couldn't have felt more ~fancy~ with our glasses of wine!
What to Wear in New York in Spring (March-May)
Spring in New York can be volatile, so this depends completely on what time of spring you visit!
March is still pretty chilly. Your packing list should definitely still include sweaters, sweatshirts, and light jackets. Short sleeve shirts alone won't quite cut it.
New York can be very rainy in March and April. Rain boots are a must. I always opt for a pair for a lowcut pair of boots so that I don't feel like Paddington the entire day.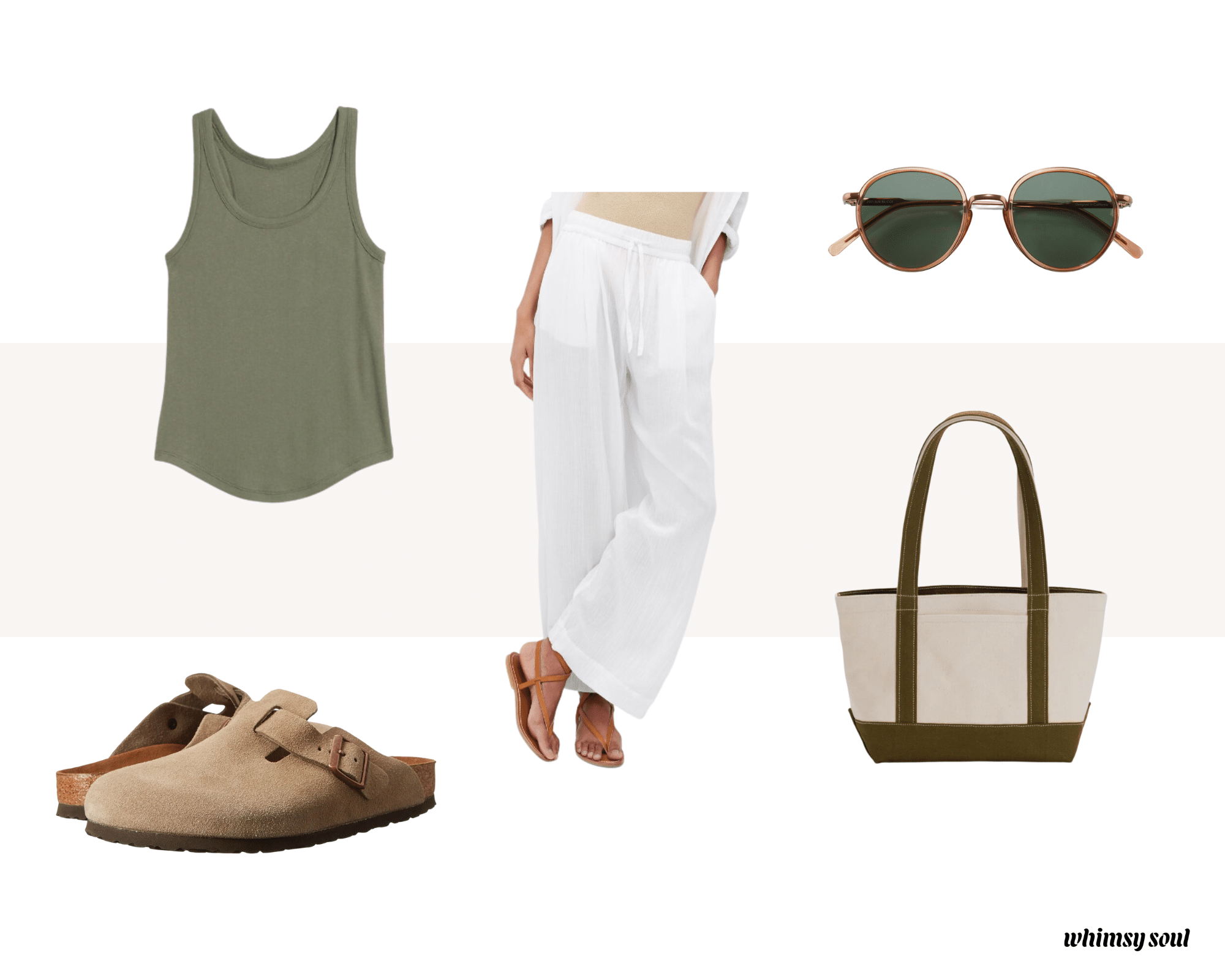 Green Tank | White Linen Pant | Boston Birkenstocks | Sunglasses | Baggu Tote
An umbrella wouldn't be a bad idea either. Assuming you're going to be going shop to shop, view to view, there's going to be quite a bit of walking involved and you won't want to feel soggy! I love a compactible umbrella so it fits in any bag.
Towards the end of April and beginning of May, things get perfect. The weather turns gorgeous, Central Park is bursting with tulips, and you can actually walk around without a jacket on.
For the end of April through May, I'm almost always wearing linen pants and a light t-shirt. It's not hot enough yet that you need to go full on shorts, but you'll definitely be reluctant to put on a pair of stiff jeans.
In terms of shoes, last spring I was a Boston Birkenstock extremist. They're absurdly comfortable, and I always prefer a close toed shoe on the suspicious streets of New York City.
Spring is one of the best times of year to peruse Central Park, so definitely consider packing some athletic wear to take a walk, run, or bike through the park. It's crowded, but if you go in the morning or early evening you can usually beat the massive crowds.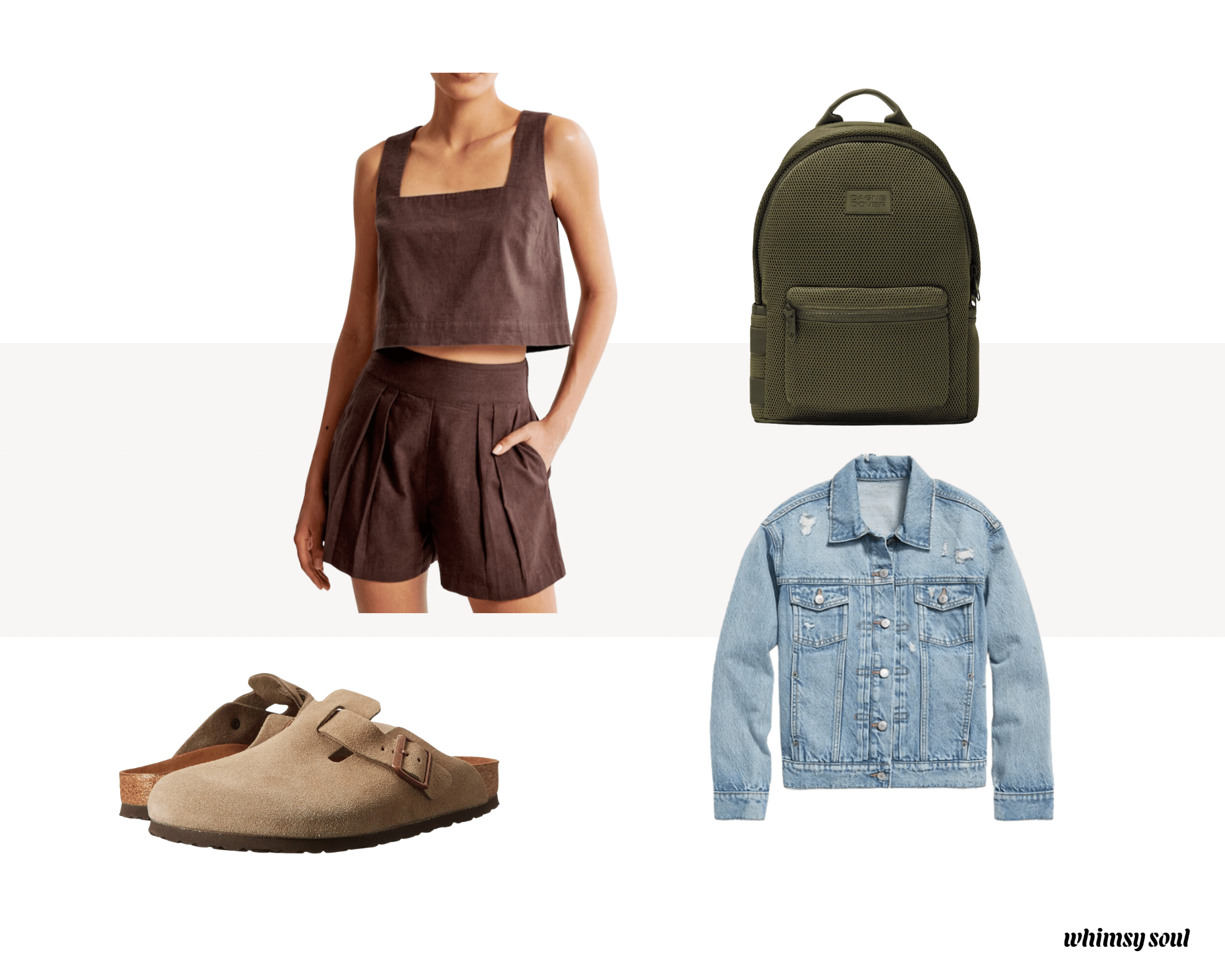 Linen Tank | Linen Shorts | Boston Birkenstocks | Dagne Dover Backpack | Jean Jacket
There's never a bad time to visit New York. There's something for everyone during all times of year. You just want to be sure you've got the right clothes for the weather.
As far as NYC travel tips, travel insurance is a great idea when booking your flights and hotels. The last thing you want to stress about while planning your trip is any last minute changes. Also, all tours aren't bad! Again, embrace being a tourist…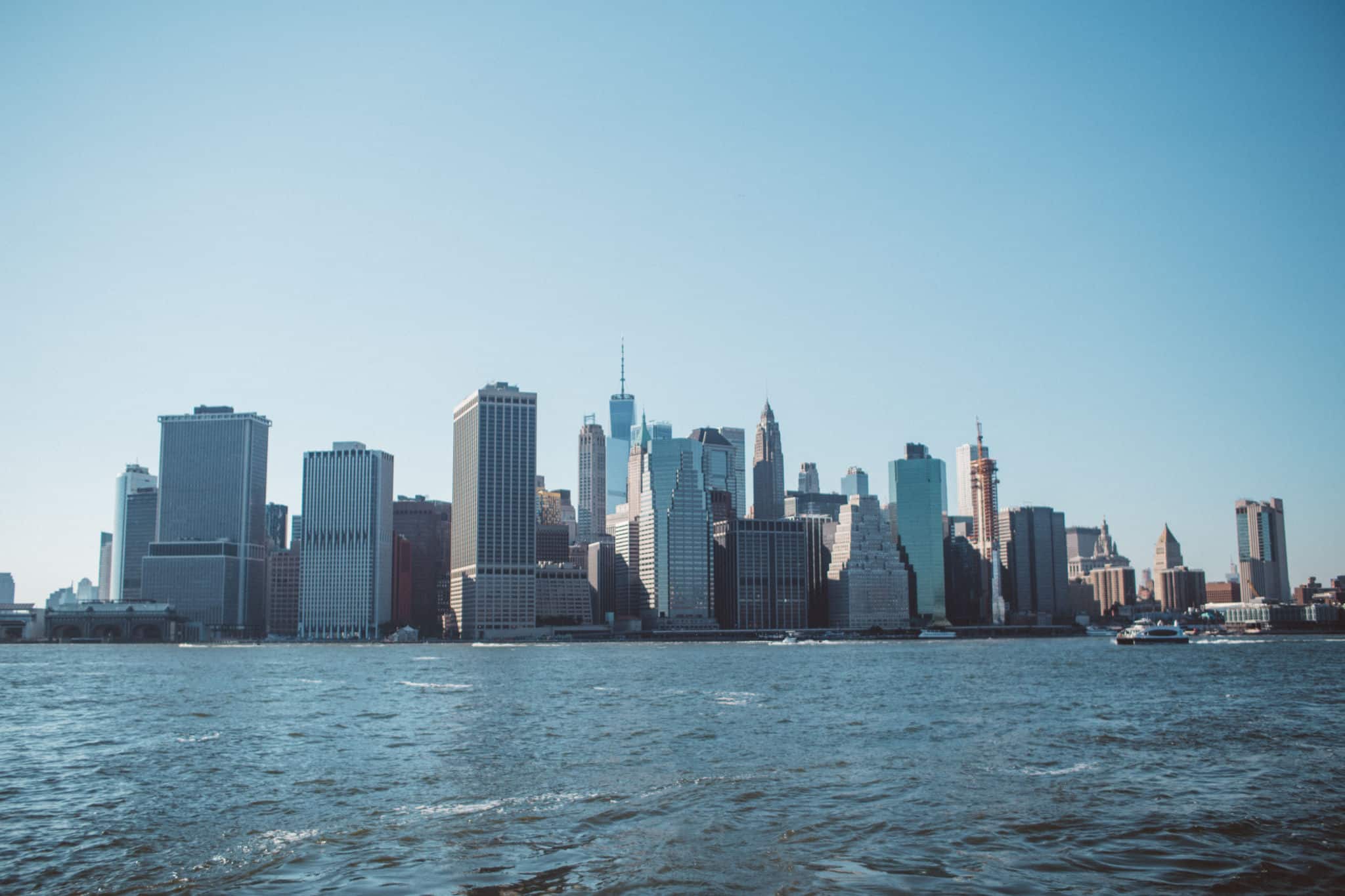 If you take anything away from this packing list, please beware: you will probably get blisters even in the most comfortable, well worn shoes! Be sure to pack some blister pads, and enjoy your trip!