When you drive South of Tucson, look out your righthand window for something shining bright white against the mountains. In a sea of red rocks and cacti, it sticks out like beckon of light during a dark night. The Mission San Xavier Del Bac (aka the White Dove of the Desert for obvious reasons) is probably one of the most famous missions in Arizona. It's been around since 1797! Keep reading for pictures of San Xavier Mission and insider tips for visiting!
Location: 1950 W San Xavier Rd, Tucson, AZ 85746
Hours: 7am-5pm (closed to visitors during mass.)
Price: Free
The San Xavier Del Bac Mission is a working mission that also welcomes visitors, so on a sunny afternoon, my husband and I drove to this beautiful Spanish mission church to soak in the history, architecture, and gardens. After traveling South American and Europe many times, I've grown accustomed to dressing in outfits that cover my shoulders and knees when visiting churches. The San Xavier Mission doesn't have a dress code (that I am aware of) but I jumped at a chance to wear to this beautiful maxi dress.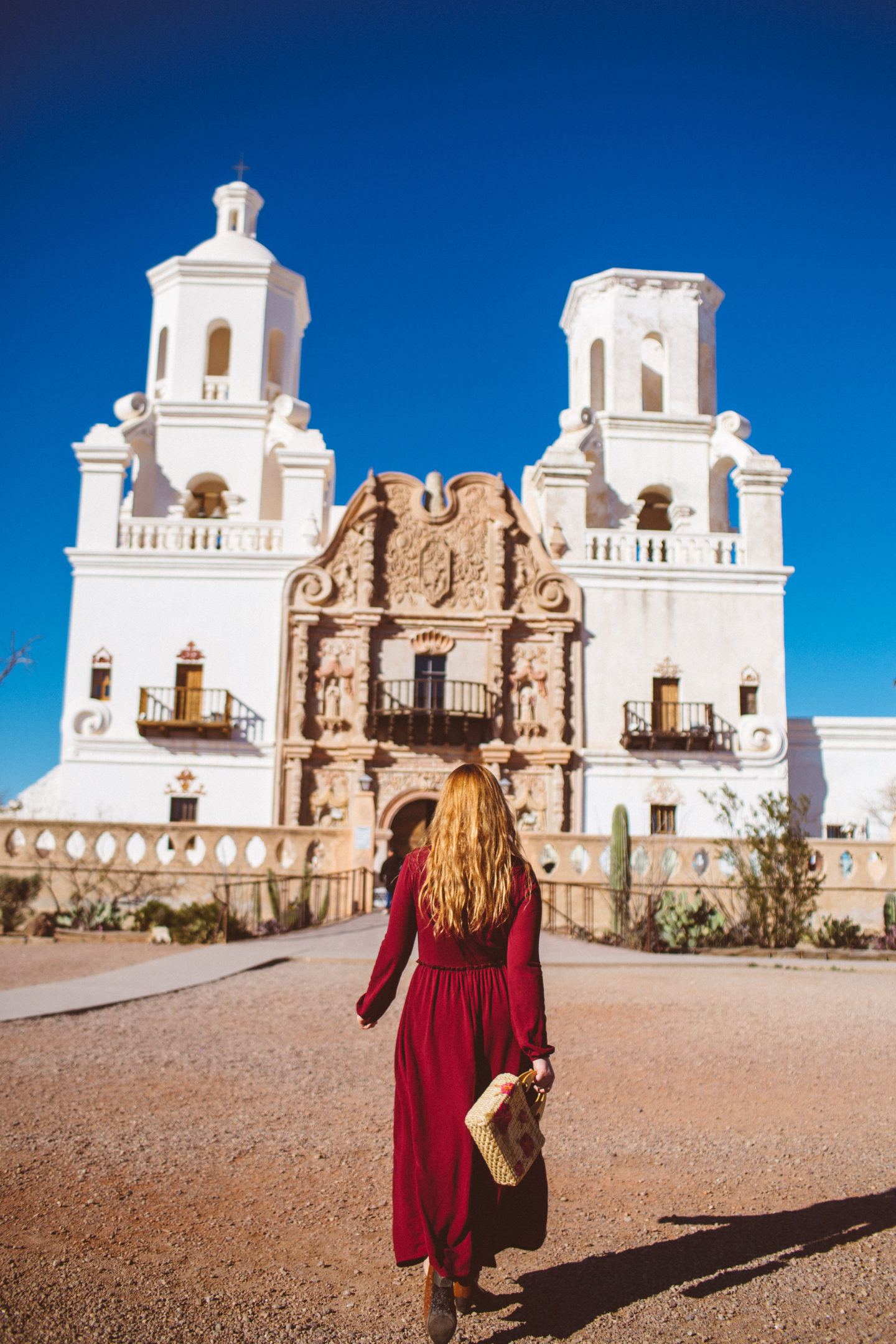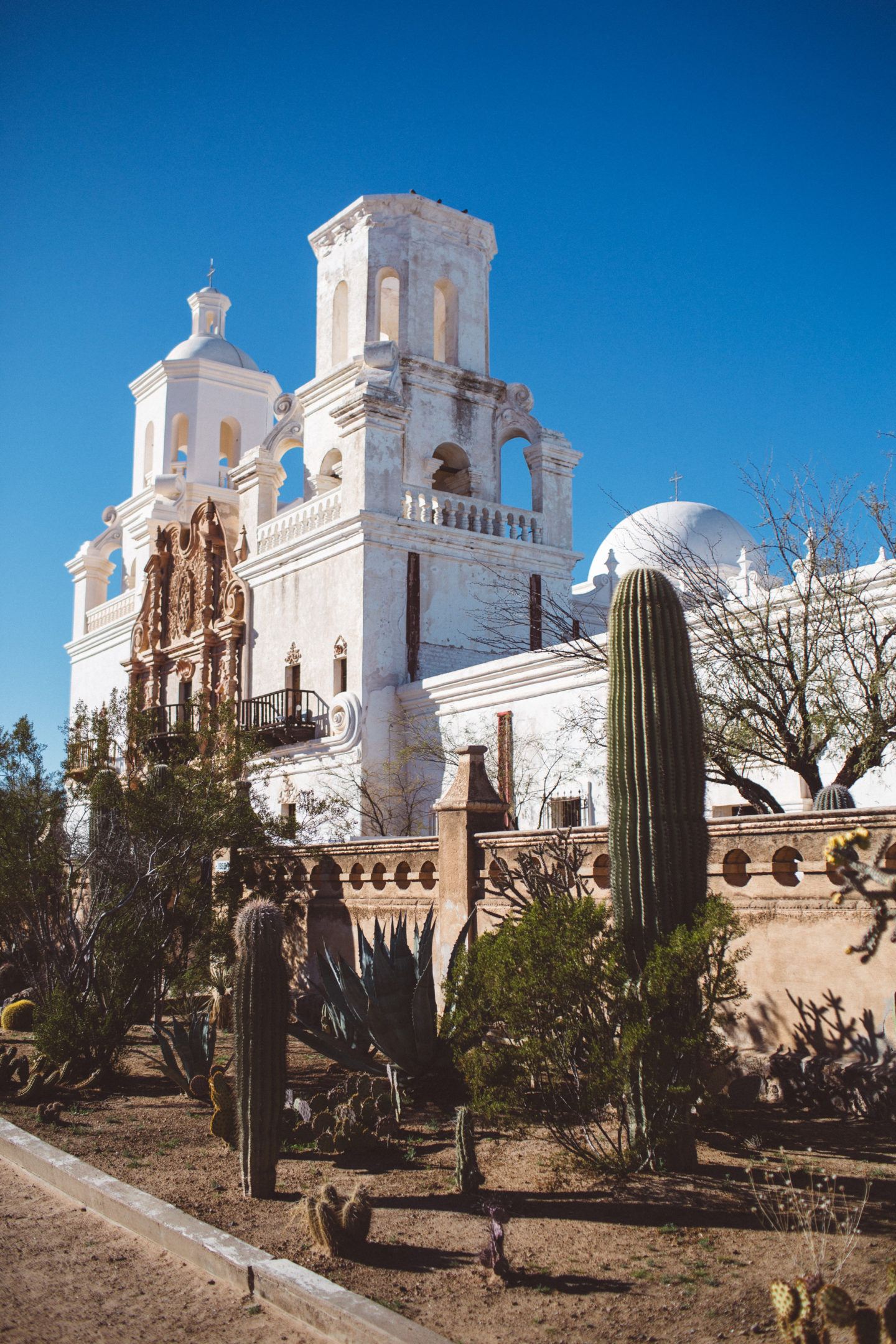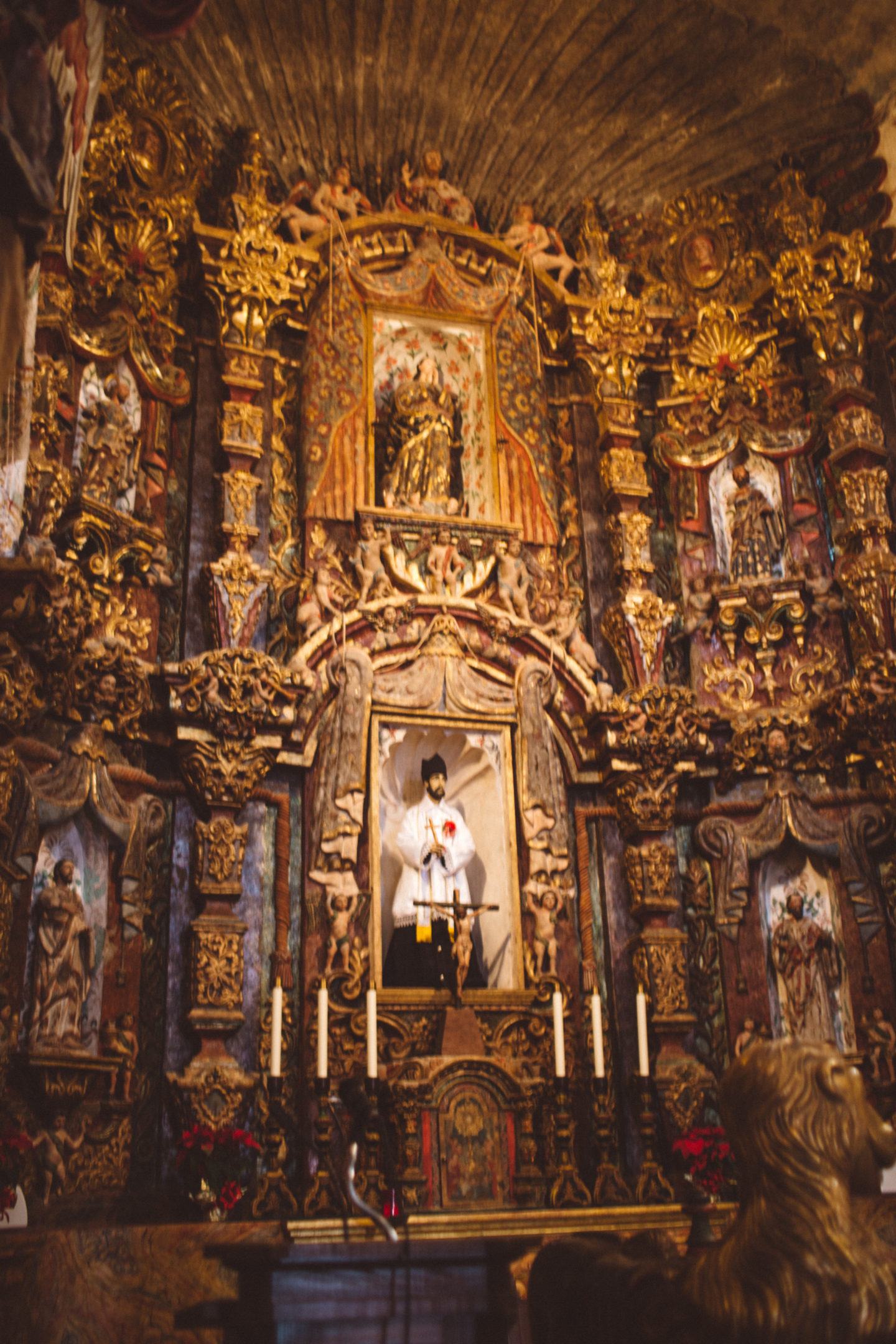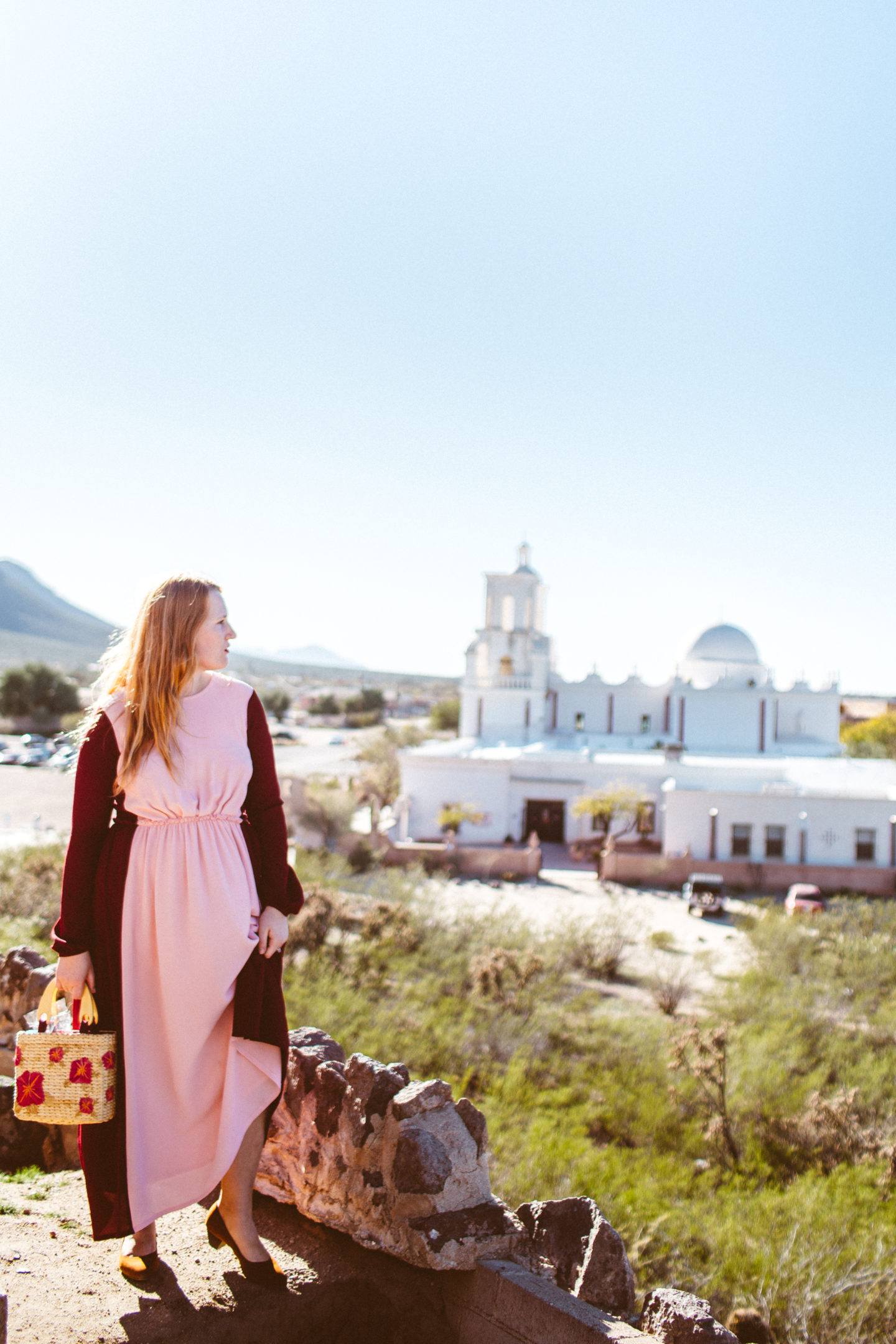 This mission is on the Tohono Odham Nation San Xavier Indian Reservation and is on about 14 acres of land. In the native tribe's language, this site means "where the water goes in" as the Santa Cruz river once ran year-round near here, bringing water to the local community. Finished in 1797, the San Xavier Del Bac mission is the oldest European building in Arizona. You can feel the history when walking around the gardens and inside the church.
For me, this beautiful historic Mission made me feel like I walked into a small Spanish village. I wore a long, flowing red dress paired with a vintage straw purse and simple brown heels. (If you follow me on Instagram @thewhimsysoul, you know that locations frequently inspire my outfit for the day.) There is something about Southern Arizona as a whole that makes me want to wear colorful, airy dresses all day. This is the dress I'm wearing, or try one of these other dresses I found!

The best time to visit the Mission is in the afternoon when the day is warmer and the light is golden. There is daily mass at 6:30am and many other services, so check before visiting if mass is happening as it will be closed to tours then. There is plenty of parking in front of the mission, though I have a feeling it gets crowded around mass hours, which is why the afternoon is the best time to visit to really have time and room to explore.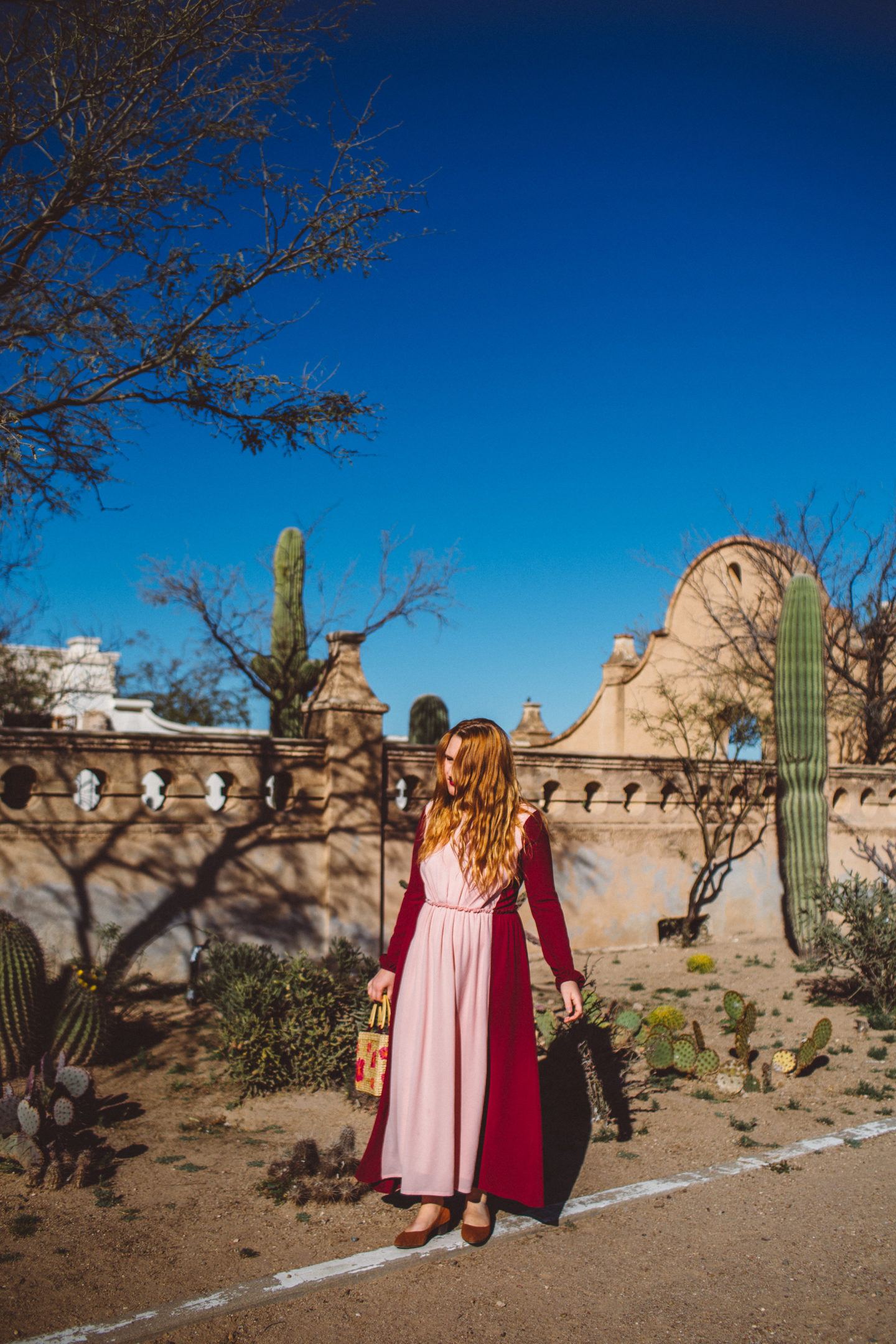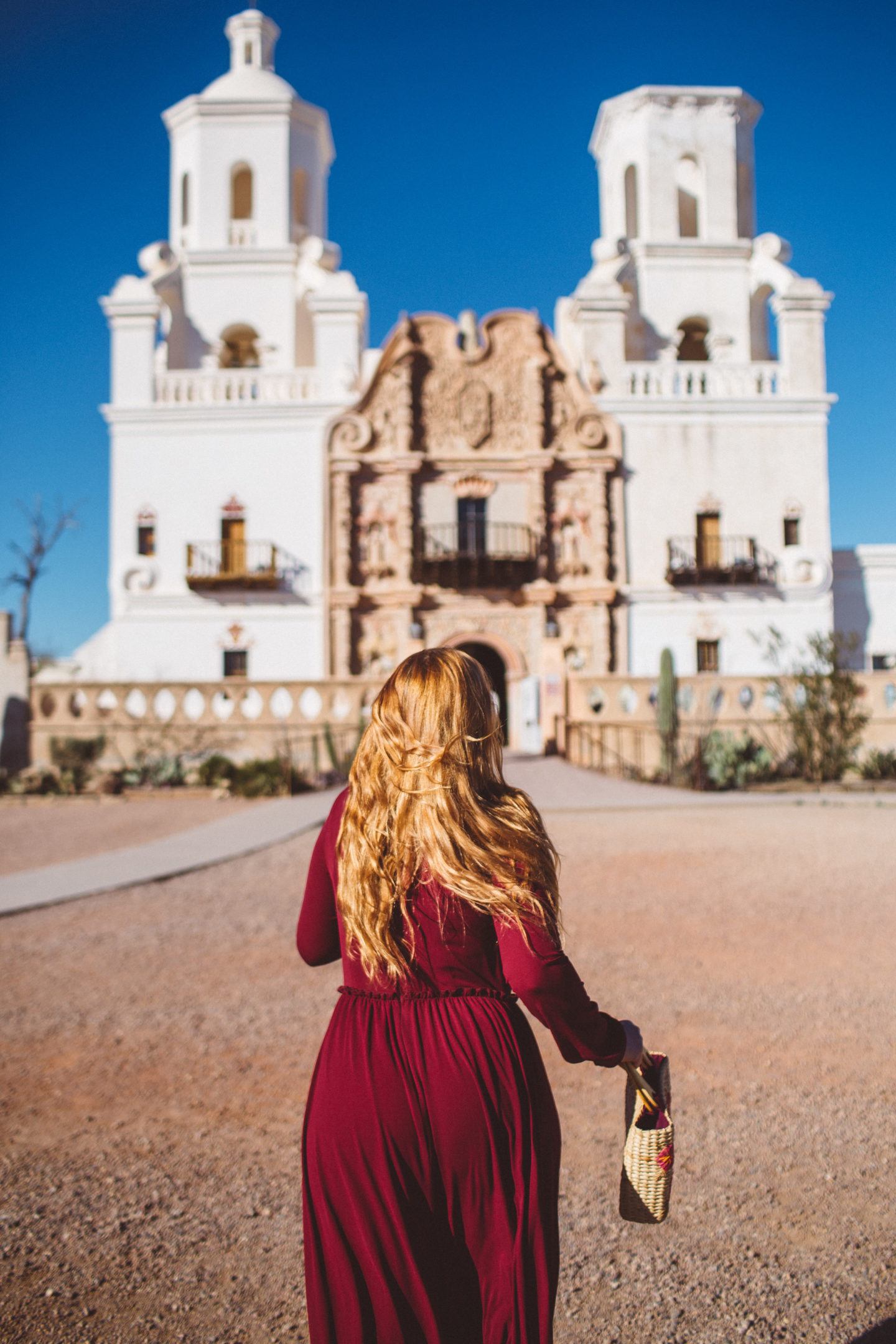 The website says there are free tours every morning but Sunday, but we visited around 3pm and found a free walking tour happening. Because of this, I think they do them more than just once in the mornings! We chose to listen to a bit of the tour then go explore ourselves. Make sure to wear flat, comfy shoes as this is an old historic mission (ie rocky paths, gardens and tiles that are easy to trip over.) There is also a hillside next to the Mission that is fun to hike, another reason for to comfy shoes!
Fun fact: this church in Tucson goes by many names/spellings!
1. San Xavier Mission
2. Mission San Xavier Del Bac
3. Mission San Javier Del Bac
4. The White Dove of the Desert
5. San Xavier Church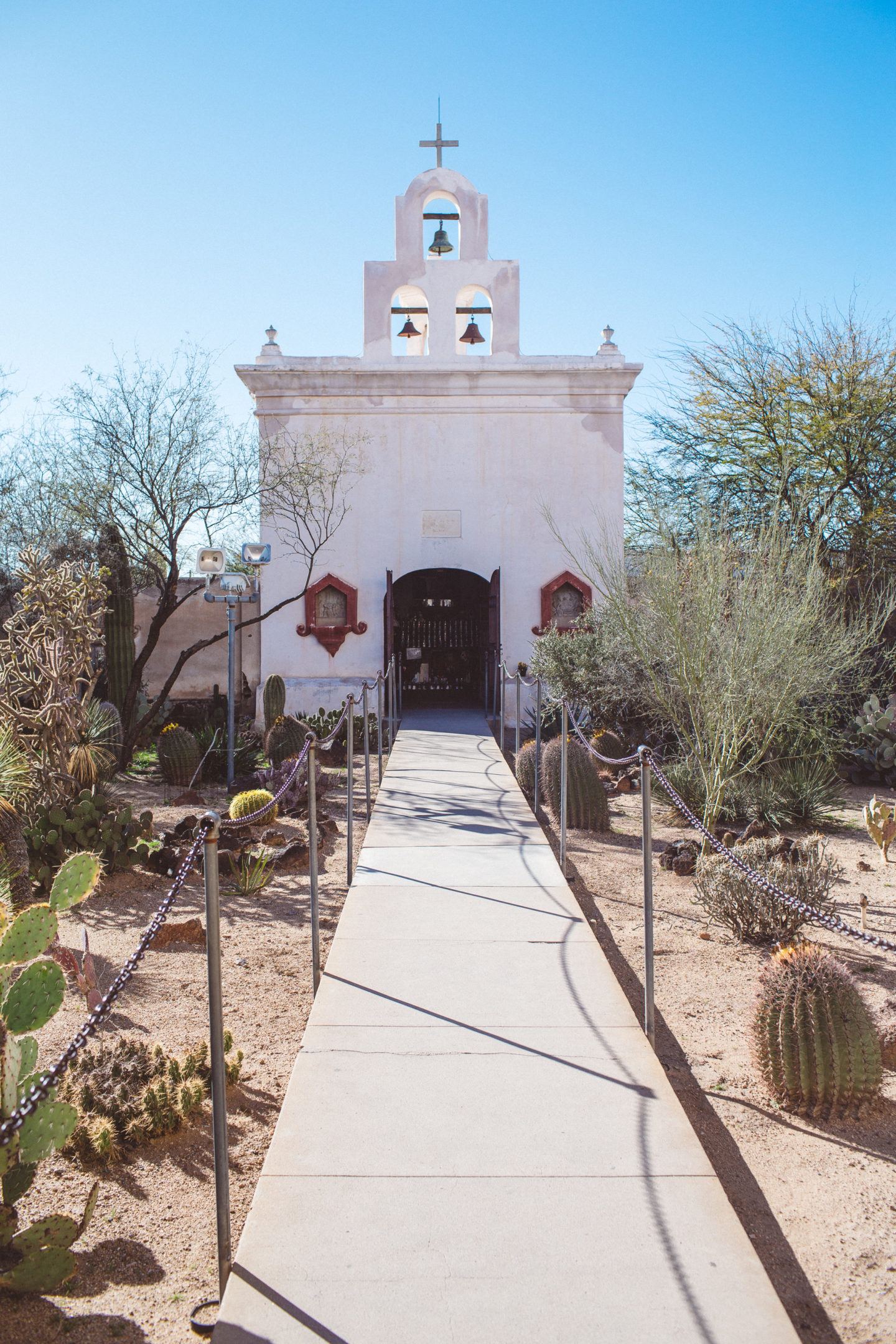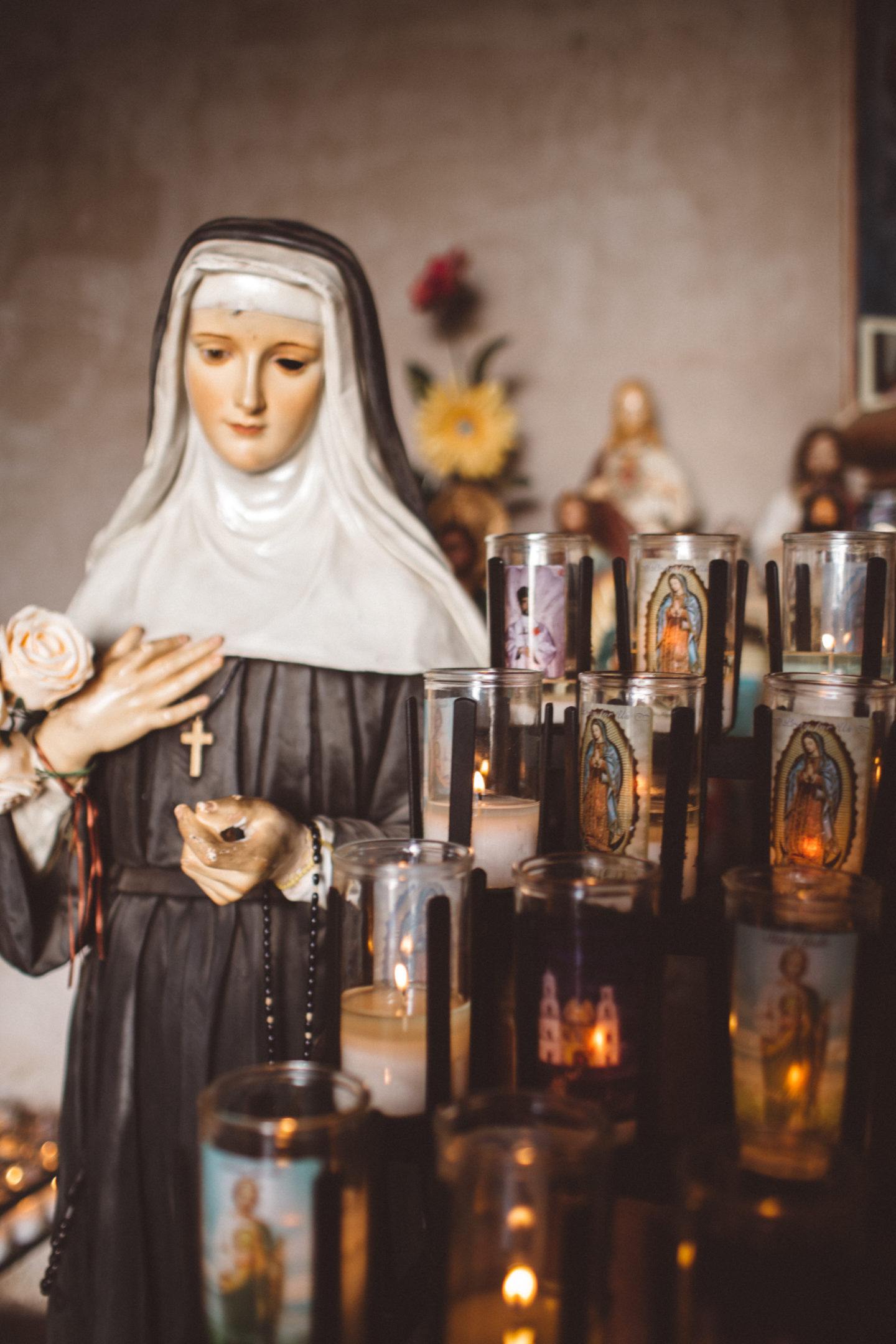 Inside the main chapel, you'll find the famous San Xavier Mission mummy. It's not actually a mummy, but rather a status of namesake St. Francis Xavier that is usually adorned with flowers from visitors. (I'm sure this is why everyone things the San Xavier Mission is haunted!) Other than the mummy, There is also a gift shop, which we found prickly pear cactus margarita mix in. You can also buy candles here to light at the altar.
Next door is a museum that costs $3 to enter. We chose not to go inside, but if you're craving history, I'm sure it's worth a stop! Before you leave, swing by one of the vendors outside that are selling San Xavier Mission fry bread – it's a favorite among locals! It's about $4, cash only.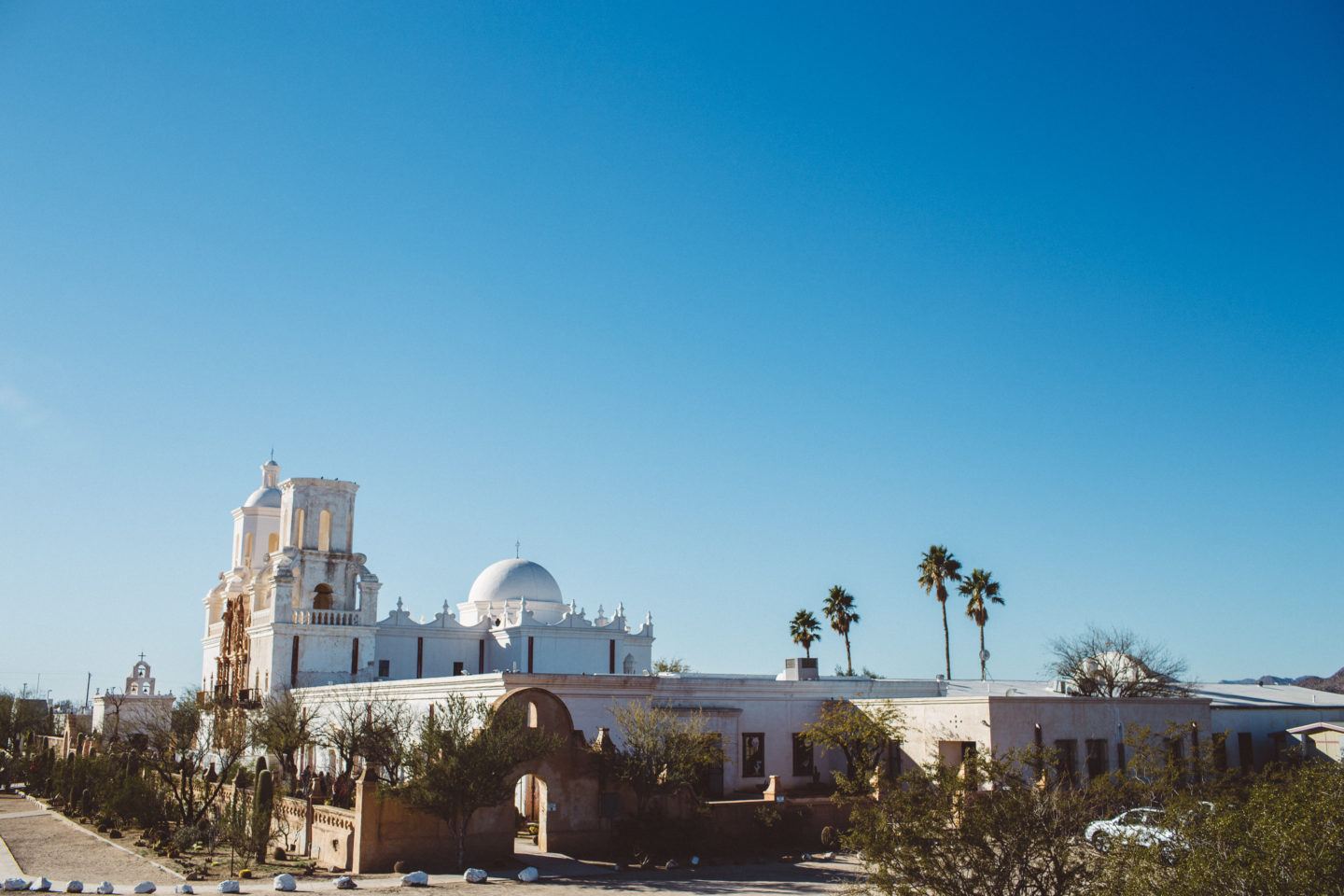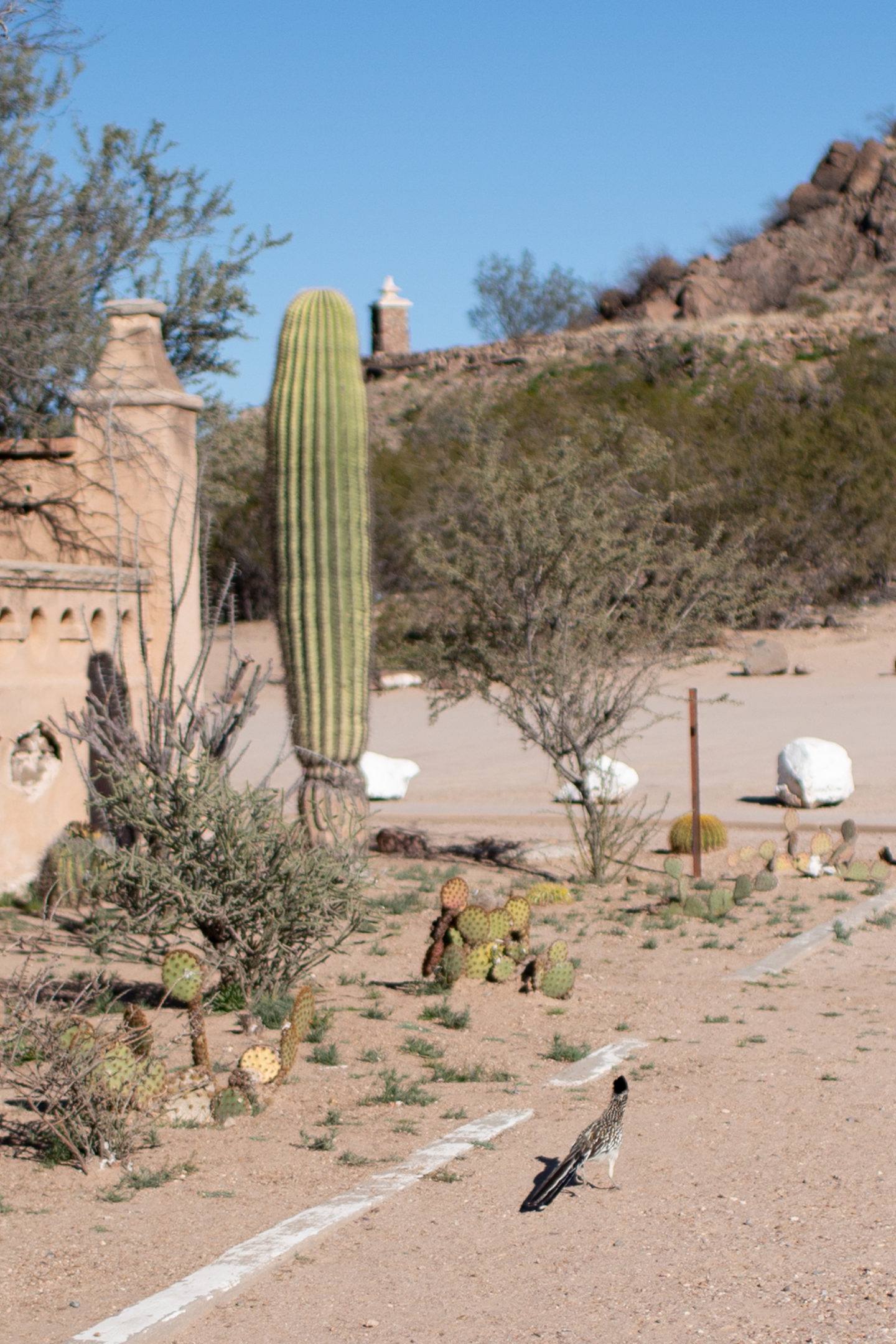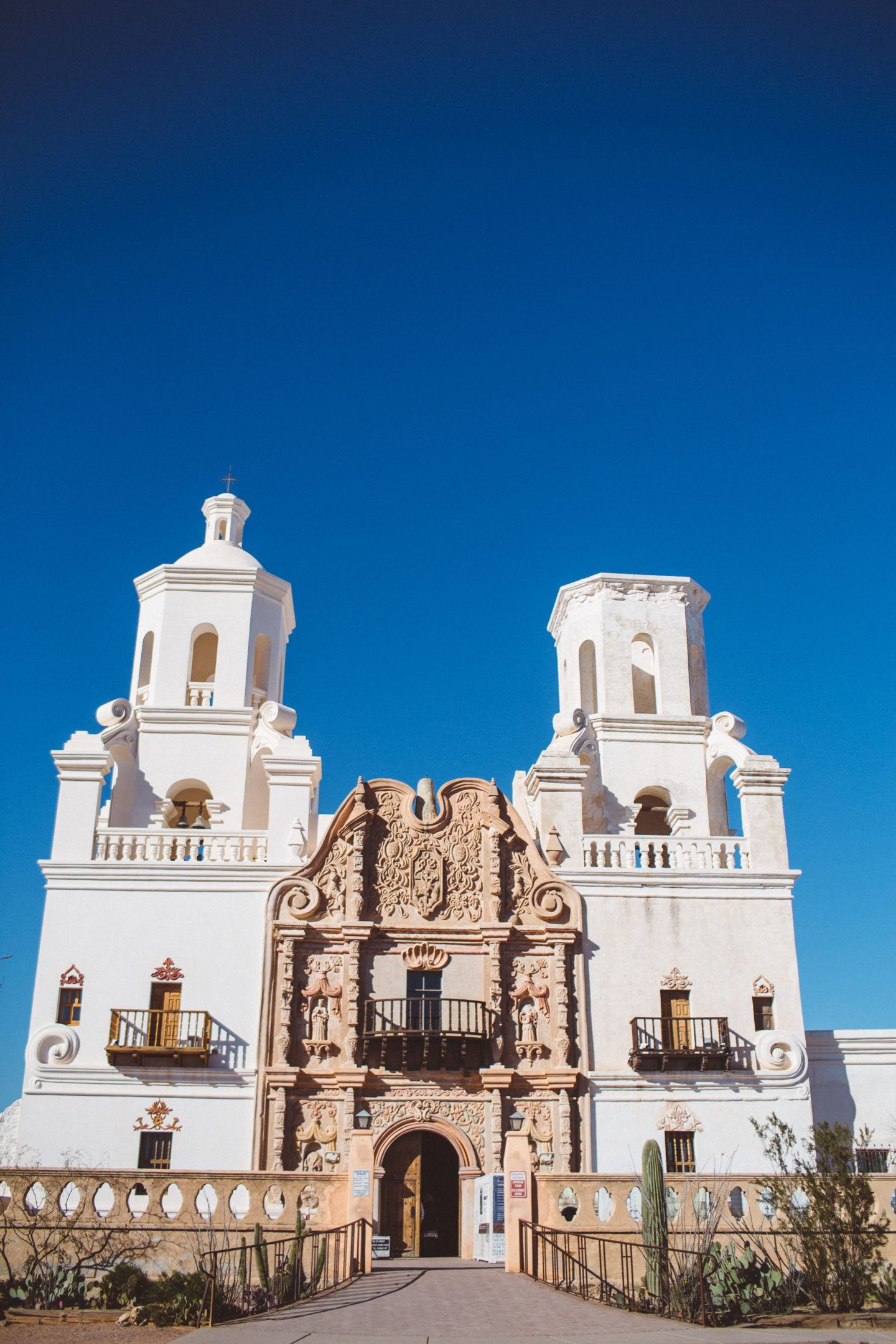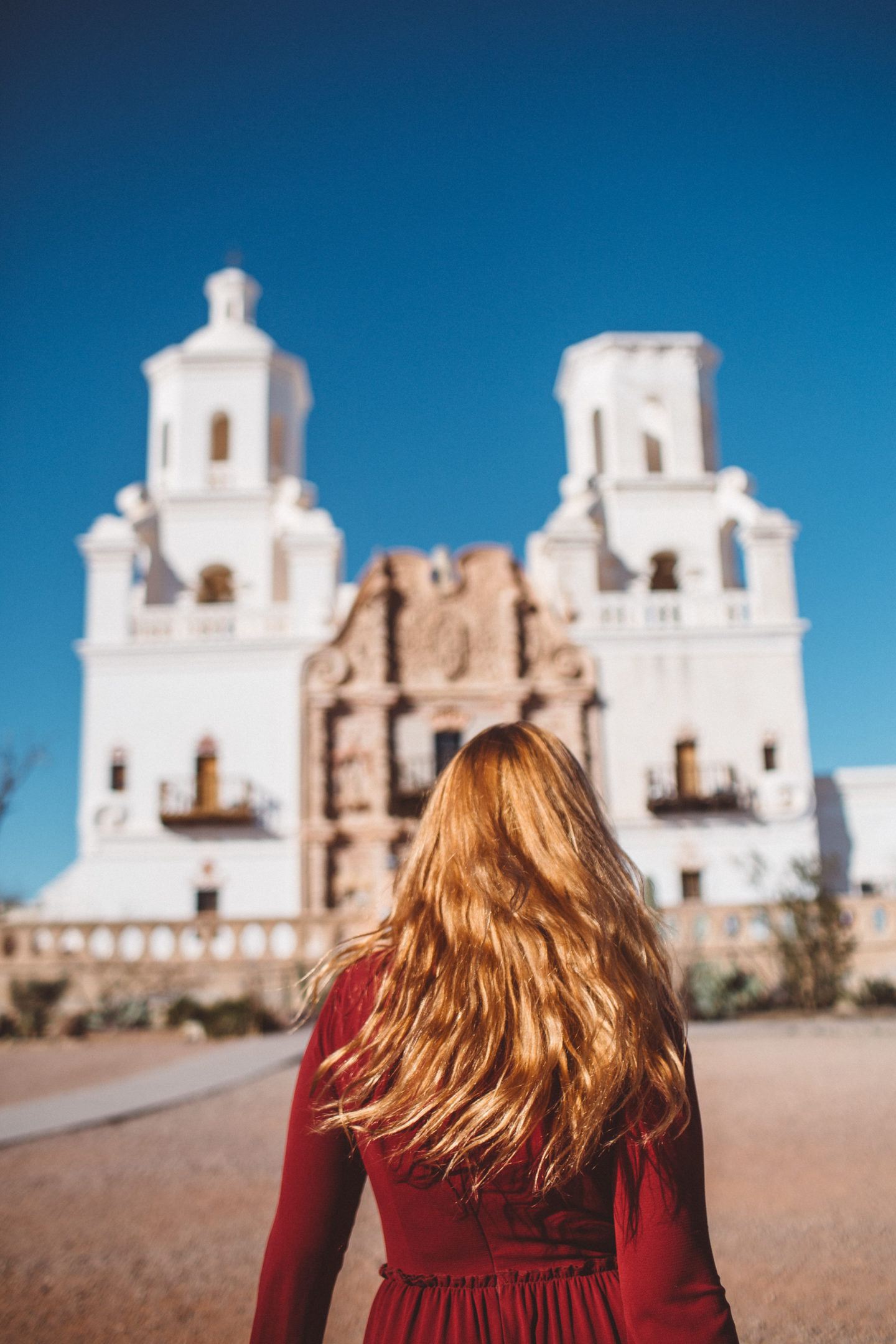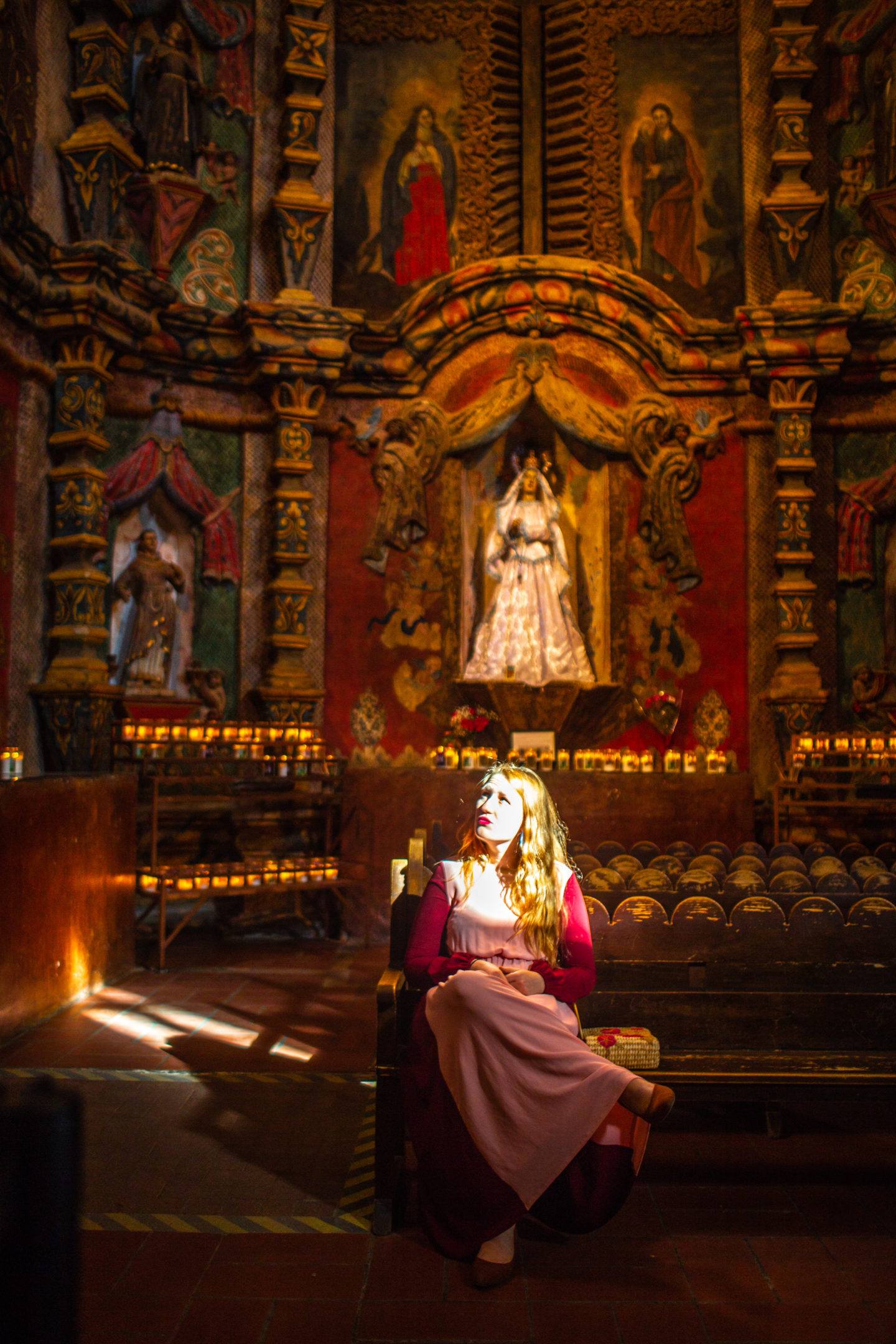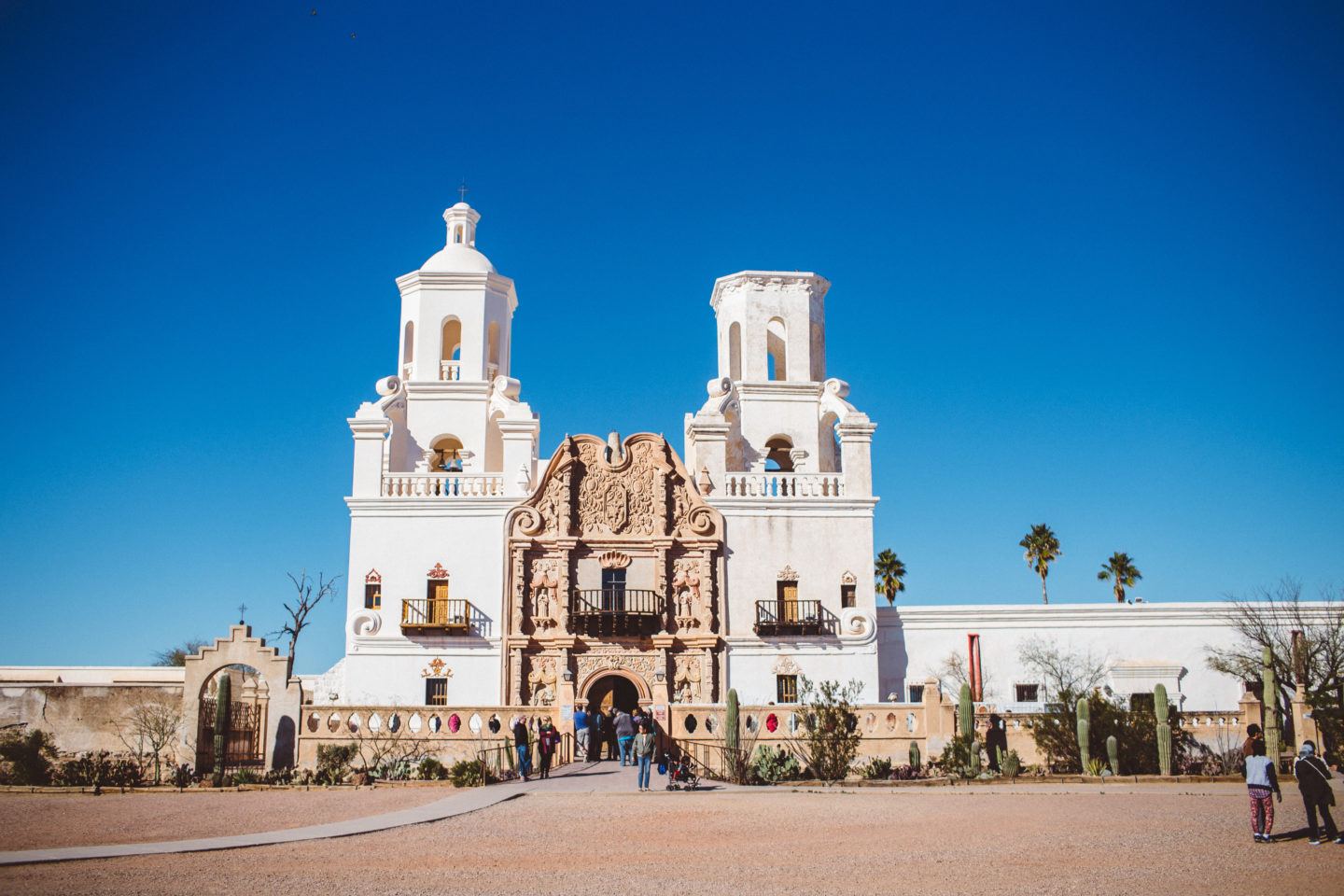 We loved our visit to the Mission San Xavier Del Bac! I hope this helps you plan a visit of your own, or be inspired to try a long statement dress like the one I am wearing. If you have any questions at all, DM me on Instagram @thewhimsysoul or leave a comment below!