When we visited Quebec City, I wasn't expecting to end every night practically rolling myself down the hill to my hotel since I was stuffed to the brim with tasty Québécois cuisine.
When you come to Quebec City, be prepared to eat. Like, a lot. Here you'll find some special traditional Québécois foods you can't really find anywhere else in the world, along with some dishes that the locals just do to perfection.
After spending a few days running around the city eating everything local I could find, these are the best must try foods in Quebec City for fellow foodies.
Must Try Foods In Quebec City
Québec City has a rich French history and it's not just the streets that look like Europe – the menus will, as well. You'll find a lot of traditional French recipes being cooked up, of course, but also French Canadian foods with their own twist on classic recipes.
I found the food in Quebec City to be rich but not greasy (think more cozy and perfect for our winter travel in December).
It's more meat-forward with rabbit, meat pies, maple bacon and other meat dishes but at many of the restaurants, I found vegan or vegetarian options available. It's also known for blackcurrant.
Here's what to keep an eye out for on the menus:
1. Maple Taffy
Did you know that Quebec doesn't just produce the most maple syrup in Canada but is the leading producer in the whole world? 70% of maple syrup comes from Quebec and if you have a chance to do a maple tasting, please do. There's such a fun flavor profile difference between light, amber, and dark maple syrup.
Amber is the syrup usually used for Maple Taffy sticks, which is a famous Quebec City Street Food. Head to Old Town and look for La Petite cabane à Sucre de Québec on Rue du Petit Champlain. They usually have a trough of snow out from of the snow ready to hot maple syrup onto.
You'll then be given a stick so you can roll the taffy onto the stick and eat like a popsicle! It's sofy and chewy and dang good.
If you'll be visiting Île d'Orléans, you must stop by Le Relais des pins which is open every day. It's a traditional sugar shack (more on that later) and in the boutique, they offer fresh maple taffy on ice!
Robin and I got our taffy poured by the founder's granddaughter, so it was a special experience knowing this is such a family-fun sugar shack. And I swear taffy tastes 10000% better when you're in the woods surrounded by maple trees.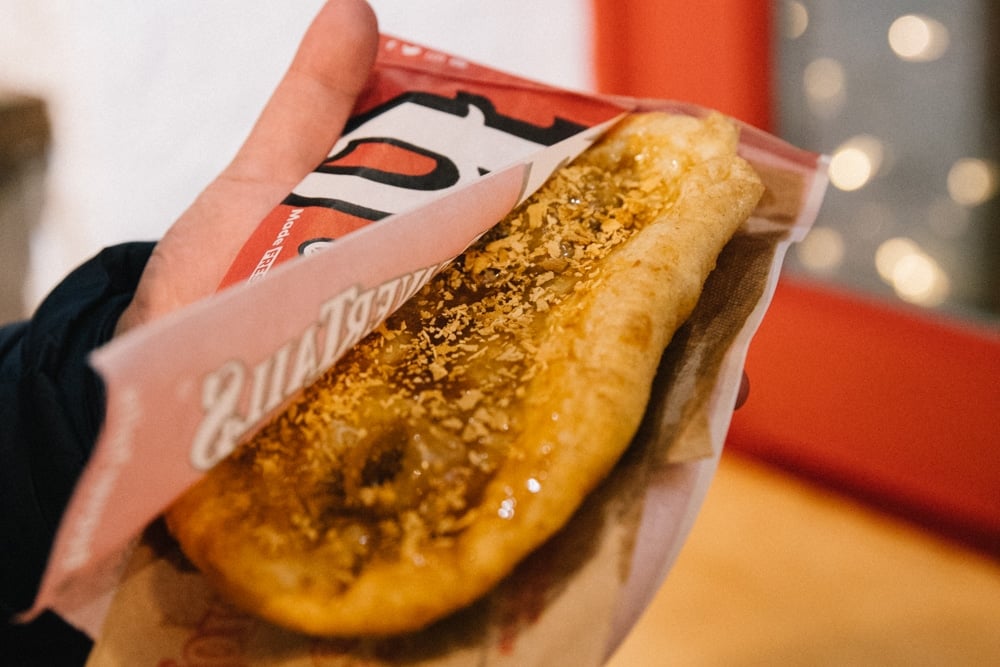 2. Beaver Tails
No – not literal tails of beavers, don't worry! One of the Quebec City famous foods are Beaver Tails, a dessert that tastes a lot like a funnel cake if you've had one in America at a summer festival.
Beaver Tails are made of fried dough shaped into flat, oval shapes that look like, well, tails of the animal namesake. They're topped with anything from Nutella to nuts to fruits and syrups. You can find this classic Quebec City food right in Old Quebec at Queues de Castor Vieux Québec.
It's open lateWe walked over from Hotel Le Germain where we were staying around 9pm for a late night snack one night and it hit the spot!
3. Kir
Kir is a French cocktail made of wine and cassis that has a lot of variations (some with sparkling wine instead of white, some with fruits added in, and so one.
It's one of those Quebec local foods that I haven't seen on menus anywhere else, and as wine lover (and WSET 2 student) I loved trying this drink.
It was wonderful in the winter but I can tell it hits the spot in the summer. It's very blackcurrant forward, so a little sweet and a little tart. Each bar will make it a little different so try it at a bunch of spots to figure out which is your favorite!
Pop culture reference: if you're a fan of Emily in Paris, during a scene in Season 3, Luc orders a round of Kir Royale for the gang. Now you know what it is!!

4. Sugar Shack Plate
This traditional Quebec food plate is a must try at some point during you visit. As we chatted about above, Quebec makes 70% of the world's maple syrup.
And all that syrup magic happens in Sugar Shacks! These little cabins process and boil maple water to turn into maple syrup & products.
As you can imagine, the long cold days meant works grew a bit appetite. These days, the traditional sugar shack meal experience is offered in restaurants all around the city and Provence. Expect a party with shared tables, music and plenty of food and drinks.
Sugar Shacks usually serves up never-ending sausage, baked beans, maple bacon, crepes, potatoes, omelets and cretons ( a pork dish that looks like pate and is spread on bread). Depending on where you go for a sugar shack, you'll maybe also find meat pies and other dishes added into the mix.
I tried a Sugar Shack Plate at La Bûche, a highly recommended brunch spot that I would fly back to Quebec for in a heartbeat. They also served this tasty Foie gras I can't stop thinking about…I think this spot makes some of the best food in Quebec City so please make a reservation!
5. Onion Soup
One of the top 10 foods in Quebec is always French Onion Soup. Well, just onion soup here.
Especially if you are visiting in the winter as we did, there's nothing that hits the spot better than a bowl of savory caramelized onion soup topped with bread and Gruyere cheese. *chef kiss*
1640 Bistro, right across the plaza from the Fairmont, makes a tasty onion soup you can't miss within the city. It's a cool restaurant, too. Very cozy chic on the inside with dark colors, a cool red glow from lights all around and of course, a really tasty onion soup.
If you're doing day trips outside Quebec City (perhaps skiing at Stoneham?) please swing by La Souche – Microbrasserie & Restaurant. It's a hip microbrewery with some of the best beers I've tasted all year long, but they also serve a tasty onion soup on the menu. It's best to make reservations for this one.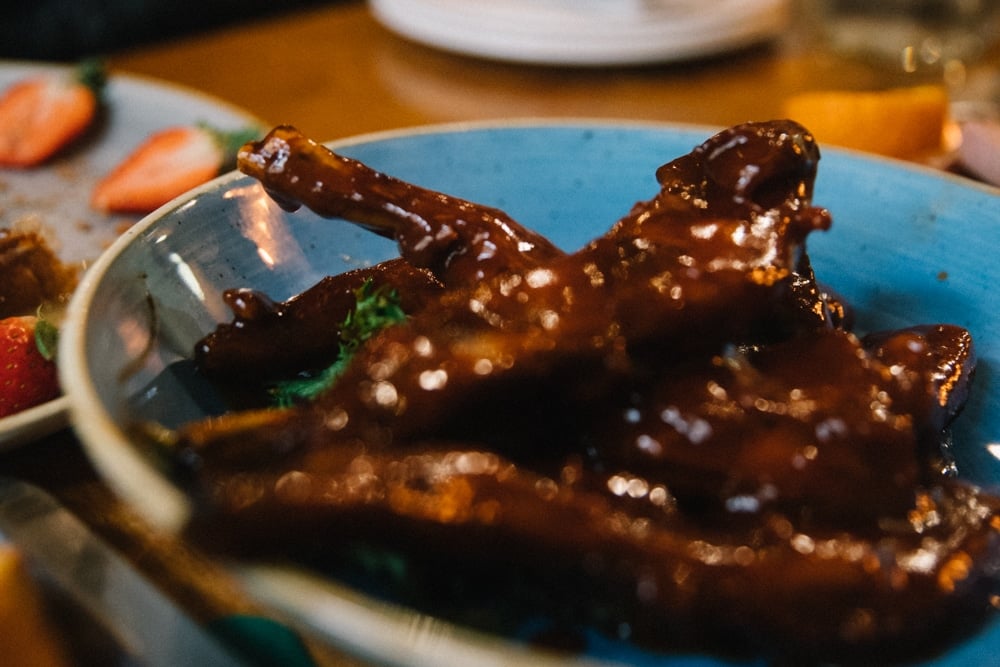 6. Rabbit Wings
When dining at La Bûche, we saw something called Rabbit Wings on the menu and obviously had to order this.
No – rabbits don't have secret wings you didn't know about. The "wings" are actually legs. I found them to be similar to BBQ chicken wings but richer and more savory as rabbit usually is.
It's a dish I've never seen offered in any other city in the world yet, so it's a must try when visiting Quebec!
7. Wendat Cornbread
The Huron-Wendat Nation are the native peoples of this region of Canada. While visiting, we spend at night at the Hôtel – Musée Premières Nations up in Wendake (about 20 minutes outside Quebec City).
This is a super special hotel experience where guests can immerse themselves in Wendat culture, including the food. The hotel's restaurant, La Traite, serves up many dishes inspired by Wendat foods.
And my favorite? The Wendat cornbread, which isn't what you probably cook as cornbread. It's denser and moister, and tastes really really good with a little bit of butter spread on top.
I firmly believe it's important to try local flavors while traveling, to get a true literal taste of the local culture, and it's hard to be able to taste Native flavors. That's why if you have a chance to visit La Traite, or see Wendat foods on other menus in the city, try it.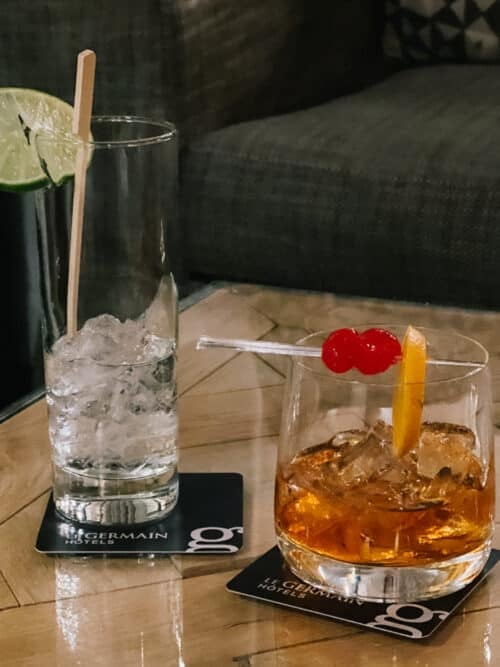 8. Quebec Gin
Gin is having a moment lately (a global renaissance almost) and Quebec City is cooking up some dang good gins lately.
Distillerie de Quebec is the most well known local distillery making local gins. You can easily find their gin on cocktail menus all around the city, or can ask for it at a bar and they'll probably have it.
Also keep an eye out for Distillerie du Granit, specifically their Quebecol maple gin. We found a bottle sold at the German Christmas Market and holy moly, I have never tasted a better winter drink.
Their gin tastes just like maple syrup but not too sweet. It's served cold plain or on ice and I would fly back to Quebec City just to get my hands on this stuff again. So keep your eye out for this treat!
9. Quebec Maple Whiskey
On top of gin, there are some really wonderful whiskey houses in the area.
My favorite was the Sortilege Canadian Maple Whisky, especially when used in an Old Fashioned. Head to the bar at Hotel Le Germain for a maple Old Fashioned that you won't soon forget. I personally made our bartender write down the name of this whiskey for me so I can buy it at home since I loved it so much.
The real takeaway, though, is if you are a cocktail drinker don't be afraid to ask your waiter or bartender to swap the Hendricks for something local. Especially if it's something with maple flavors.
10. Crème de Cassis
Creme de Cassis – aka blackcurrant liqueur, is a local flavor staple. Over on Île d'Orléans, a small island about a 15 minute drive outside the city, you can find wineries, farms and sugar shacks but also blackcurrant shops.
The plant grows well in the island's damp soil and on top of maple, cassis is one of the flavors I'll forever associate with Quebec City. If you have a car, visiting Cassis Monna & Filles for a cassis tasting of blackcurrant wines, liquors and syrups is a must.
If you're staying inside the city, look for Cassis items on menus or as candy in stores for a true taste of Quebec.
11. Tomato Wine
Yes, this is a thing! And while it sounds gross, it's actually very tasty. We found a stall at the German Christmas Market selling tomato wine and also mulled tomato wine.
We grabbed glasses of the latter and were blown away by the sweet and tart taste of the wine. It wasn't what we were expecting and we loved it. If you're coming for Christmas, look for a tomato wine booth at the markets!
12. Poutine
Poutine is a Canadian staple, and the poutine in Quebec City is honestly my favorite I've had in the country. This classic dish is made of french fries, cheese curds, and a dark gravy, though most restaurants take their own unique spin on it.
We had some poutine with rabbit, other with maple bacon or topped with Yukon gold mashed potatoes. It's a hearty dish so usually best as a shared appetizer.
13. Tourtière Pie
Tourtiere Pie is a traditional double crusted meat pie you can find in Quebec City. It's similar to a pot pie and in Quebec, probably filled with rabbit or other savory red meats.
I had a tasty rabbit pie at Lapin Saute in Old Town which I would absolutely order again in a heartbeat. It was savory but not too heavy or greasy like pies as this nature can get.
Aux Anciens Canadiens on Rue Saint Louis is also supposed to have one of the best Tourtière Pies in the city.
14. Crepes
Or, crêpes in French. These thin delicacies are typically made with milk, flour and eggs and traditionally cooked on a billig pan. They're paper-like and can be served hot, cold, with sweet flavors or savory.
Personally I love desert crepes as I'm a sucker for Nutella. When in Quebec City, head to Chez Jules Crêperie for streetstyle summer crepes (we recommend the lemon ones!)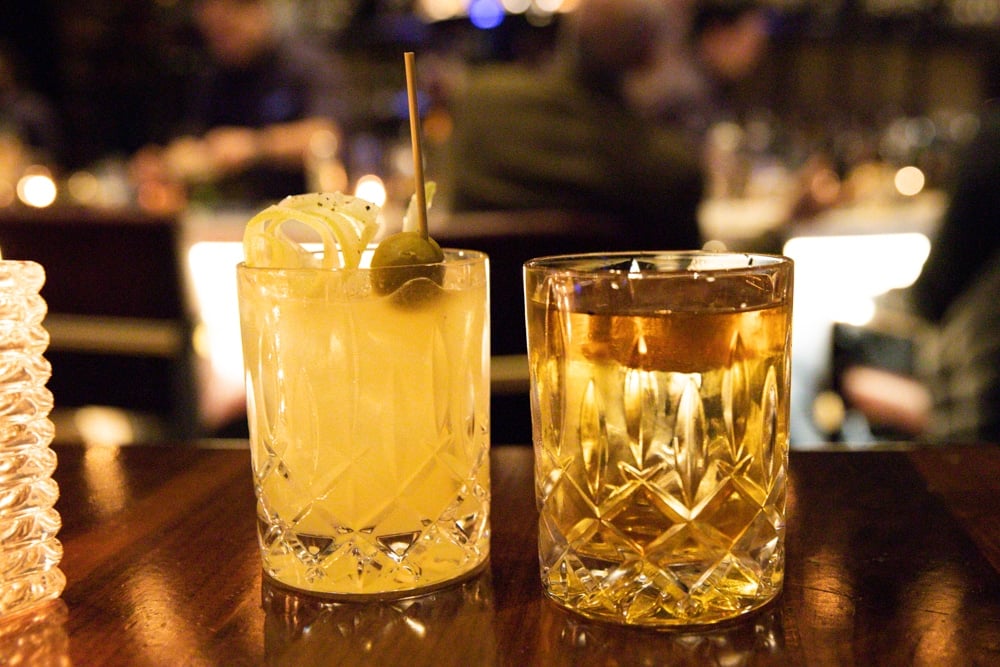 15. 1608 Cocktails
1608 is the cocktail bar inside the Fairmont hotel (you know – that giant castle like building on the banks of the city). You can't come to Quebec City and not have a drink here in this iconic building and bar.
These bartenders whip up some of the most elaborate cocktails I've had in ages. Everything will be good, but if you like whiskey try the Opération Neptune. This is what I ordered and isn't complete without a little fire glaze that happens right at your table.
This bar is super popular so it's best to make reservations to arrive right as they open to grab seats without a wait.
16. Smoked meat sandwich (aka viande fumée)
Viande fumée is a smoke meat usually served in sandwich form. It's actually a Montreal thing, but is still a popular sandwich in Quebec City and worth the try.
The meat is traditionally kosher cured and smoked brisket, though some bakeries and shops will put their own spin on the sandwich. Stop by Paillard to order this Montreal smoked meat dish (and try some of their other tasty baked goods, too which you're at it!)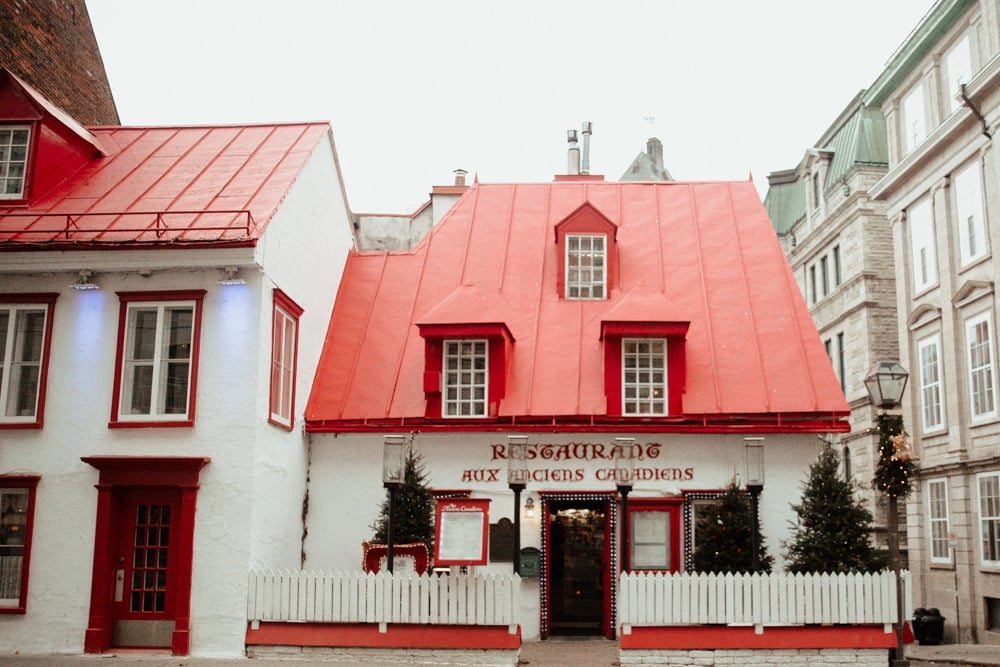 17. Soupe aux pois
Aka Pea Soup! This soup is one of the oldest food traditions in Quebec City. When Samuel de Champlain's ships landed in Canada in 1608, they were stocked with dried meats and dried beans – everything to make this pea soup recipe!
It's often served in households and in restaurants, but it's best when you can visit a sugar shack as pea soup is usually one of the dishes served there.
18. Pouding chômeur
Aka Poor Man's Pudding. This is a Quebec traditional food from the Great Depression era since it's sweet but doesn't require many ingredients so it was easy for poor families to make it with what they had on hand.
It's made with a simple batter that's dolloped on top of caramel or maple syrup and baked. We didn't get a chance to try this but are told Bistro sous le Fort in Old Town makes one of the best Pouding Chomeur in the city!
And by this point if you get a chance to try even half these dishes, you're probably bursting at the seams like I was (but in all the best ways).
I hope this helps you figure out what to each in Quebec City. When in doubt, maple anything is going to be yummy and local.