Help me, Obi-Wan Kenobi. You're my only hope… for something fun to watch this week! Yes, Disney+ is rolling out yet another new Star Wars series, this time with Ewan McGregor reprising his role as the Jedi Knight turned exiled hermit, Obi-Wan Kenobi.
Keep reading for a quick refresher on what Obi-Wan has been up to before the show premieres, and for a refreshing tomato water martini recipe that's out of this world.
There's already a galaxy full of Star Wars drinks, but I've made an Obi-Wan Kenobi cocktail specifically inspired by his time on the desert planet Tatooine.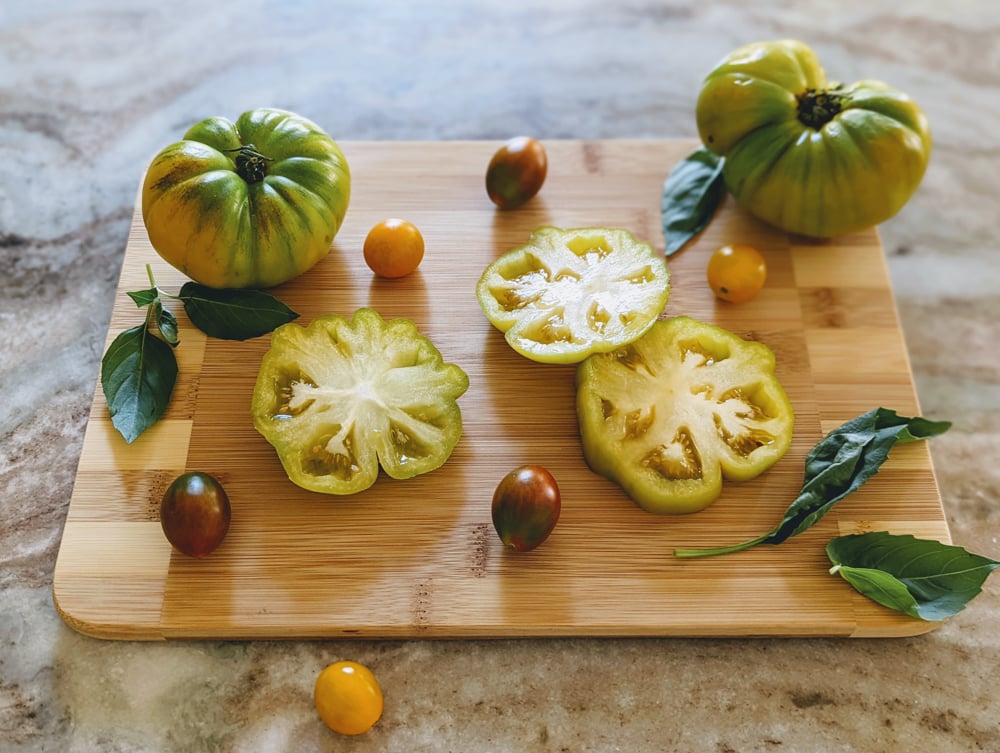 Obi-Who?
If you need a little refresher on who Obi-Wan Kenobi is and what he's been up to, I'm not surprised—there are so many things happening in the Star Wars universe! Not to mention, it's been over 15 years since we last saw Ewan McGregor on-screen as Obi-Wan.
So I've put together this timeline of major events for the Obi-Wan Kenobi character. Obi-Wan has appeared in video games, comic books, novels, animated series, and other media throughout the Star Wars Expanded Universe, but I'm keeping it simple by sticking to the theatrical feature films.

But first, the TL;DR on Star Wars (just in case): Star Wars is a science-fantasy space opera set in a faraway galaxy where some can control a mystical power known as the Force. It's a battle of good vs. evil with starships, wacky aliens, and swashbuckling adventures.
The Prequel Trilogy
Obi-Wan Kenobi is played throughout the prequel trilogy by Ewan McGregor. Obi-Wan takes on Anakin Skywalker (Hayden Christensen) as his Jedi apprentice and teaches him the ways of the Force. But Anakin rebels against the Jedi Order when he falls in love with and marries Padmé Amidala (Natalie Portman).
In hopes of saving Padmé's life, Anakin is lured to the Dark Side by the evil Emperor Palpatine, who is bent on destroying all Jedi. Anakin, now Darth Vader, faces off against Obi-Wan in a lightsaber duel. Though Vader is defeated, he and the rest of the Sith (evil Jedi) remain a threat.
To protect Anakin and Padmé's newly born twins, Luke and Leia, Obi-Wan decides to conceal them. Leia is sent away to Alderaan while Obi-Wan delivers Luke to his uncle and aunt on the desert planet Tatooine.
Which leads us to…
The Obi-Wan Kenobi Series
This new Disney+ series bridges the gap between the prequel and original trilogies, following Obi-Wan on Tatooine as he secretly watches over a young Luke Skywalker. Obi-Wan must also contend with the consequences of Anakin's fall to the Dark Side.
The Original Trilogy Of Star Wars
When Princess Leia is kidnapped by the Empire, "Old Ben" Kenobi (played by Alec Guinness) reveals his true identity to Luke. Obi-Wan gives Luke his father's lightsaber and begins to train him to use the Force. With Han Solo's help, they rescue Leia but are cornered by Darth Vader aboard the Death Star. Obi-Wan once again faces off against his former apprentice and friend, sacrificing his own life to allow the others to escape.
Obi-Wan reappears throughout the trilogy to dispense wisdom as a ghostly "Force spirit." He tells Luke to continue his training as a Jedi Knight, reveals that Leia is Luke's twin sister, and watches over Luke at the finale, alongside Yoda and a redeemed Anakin.
Obi-Wan Kenobi on Disney+
The Star Wars series that have so far premiered on Disney+ have been something of a mixed bag.
The Mandalorian was a massive critical and commercial hit, and the adorable Baby Yoda (aka Grogu) became an instant fan favorite. The Book of Boba Fett, on the other hand, had a lukewarm reception at best.
I personally have high hopes for the six-episode Obi-Wan Kenobi series and have been looking forward to its premiere for a long time—not in the least part because I had a huge crush on Ewan McGregor when I first saw him in The Phantom Menace.
Though I don't like Star Wars' tendency to explain the crap out of even the littlest bit of lore, I do think there's narrative potential in exploring what happened with Obi-Wan during those ten years on Tatooine.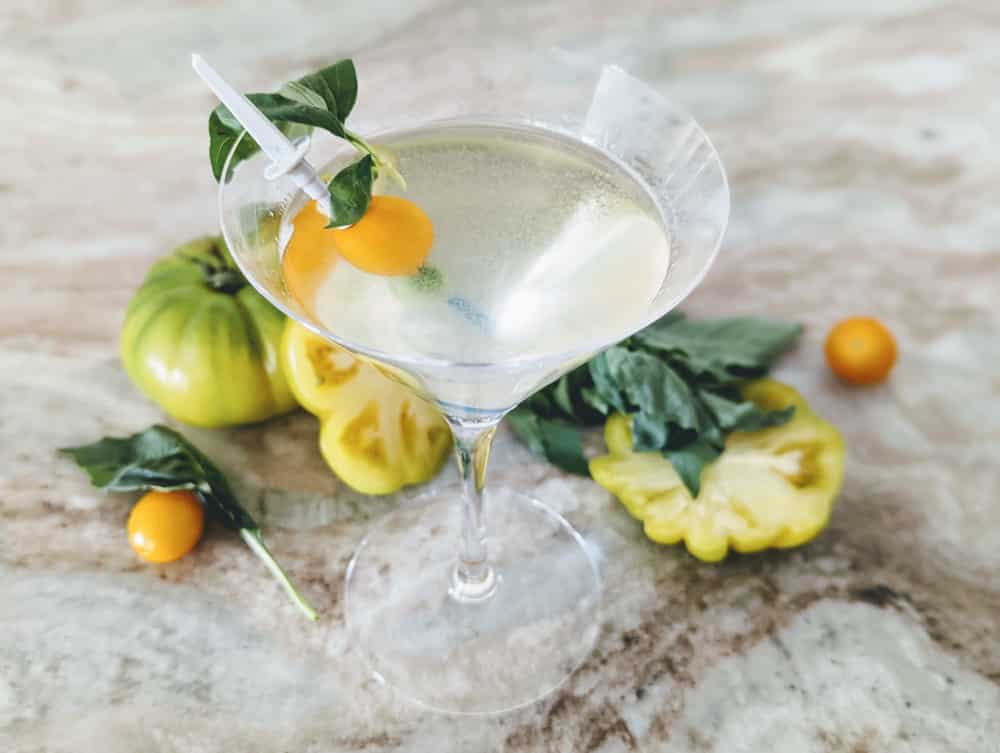 How to Make a Star Wars Cocktail (That's Not Blue Milk)
When you think "Star Wars cocktail," you probably think "alcoholic blue milk." But that's so overplayed! I had to make something different with this tomato cocktail. Inspired by the desert planet Tatooine, its native Jawa species, and their popular exclamation, I bring you the Utinni Martini!
This riff on a dirty martini recipe swaps the olive brine for tomato-basil water, turning it into something like a Caprese martini. Fresh tomato water is essentially clear tomato juice—it's both savory and naturally sweet—perfect for any Tatooine moisture farmer.
Pro tip: If you have a home garden you can grow cocktail tomatoes in there if you want! We're always looking for creative ways to use the abundance of tomatoes we grow in the summer and drinks are a fun way to use them up.
I also wanted to evoke the dusty deserts of Tatooine without, ya know, putting sand in the drink. So I added an extra smack of salt to complement this tomato water cocktail.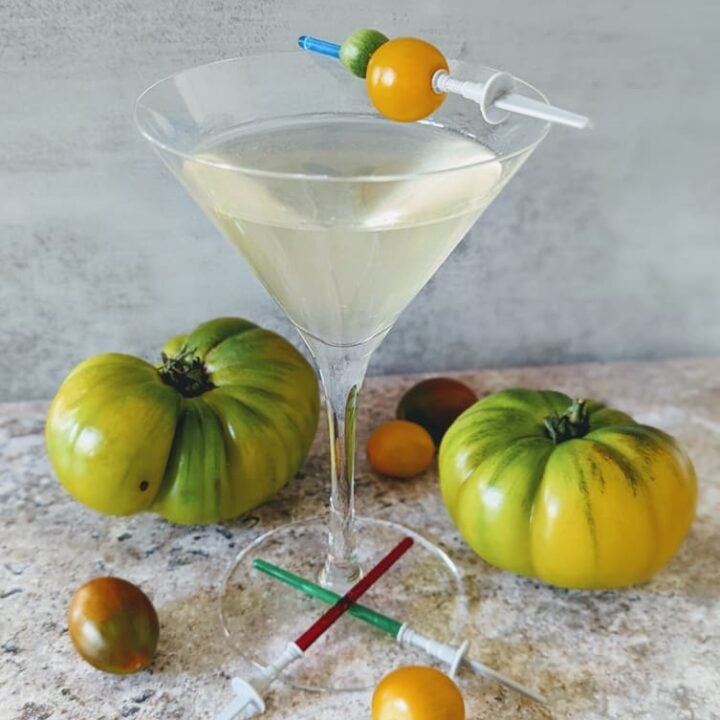 Utinni Martini Cocktail Recipe with Vodka & Tomato Water (The Obi Wan Kenobi Cocktail)
Additional Time:
12 hours
Total Time:
12 hours
10 minutes
This salty, vegetal tomato water martini may be "dirty" but tastes surprisingly clean and refreshing. It's the perfect summer sip for chilling with Obi-Wan Kenobi on a hot Tatooine day.
Ingredients
Tomato Water Ingredients
2 large green heirloom tomatoes
5 fresh basil leaves
1 tsp kosher salt (Diamond Crystal recommended)
Cocktail Ingredients
2 oz vodka
1/2 oz dry vermouth
1 oz tomato water
small cherry tomatoes to garnish
Instructions
Clear Tomato Water Recipe
Line a colander or fine-mesh sieve with cheesecloth and set it over a bowl.
Roughly dice the tomatoes and tear the basil, then toss with salt.
Transfer the tomato-basil mixture to the prepared sieve. (TIP: For clear tomato water, do NOT stir or press on the solids.)
Cover with plastic wrap and refrigerate overnight.
Discard solids; keep tomato water covered and chilled until use.

Mix the Cocktail
Fill a mixing glass or cocktail shaker with ice.
Add vodka, vermouth, and tomato water.
Stir until well-chilled.Strain into a chilled martini glass.
Garnish with tomatoes as desired (or little light sabers if you have them!)
Notes
As a nod to Star Wars' many alien-looking creatures, I suggest you use lumpy, bumpy green heirloom tomatoes (like Jedi Master Yoda!) for your tomato water martini. You could use regular green tomatoes instead, but they're just unripe red tomatoes, so that type won't be as juicy.
Salt will not only draw more juices out of the tomatoes but also add a nice briny flavor to the tomato water. As a salt lover myself (I have over 19 varieties in my home kitchen lol), I suggest you bump up the salt to your liking.
Nutrition Information:
Yield:

1
Serving Size:

1
Amount Per Serving:
Calories:

226
Total Fat:

1g
Saturated Fat:

0g
Trans Fat:

0g
Unsaturated Fat:

0g
Cholesterol:

0mg
Sodium:

1290mg
Carbohydrates:

18g
Fiber:

5g
Sugar:

11g
Protein:

4g
I think the Utinni Martini would fit right in at the Mos Eisley cantina on Tatooine. Or maybe I could lobby for an Obi-Wan Kenobi cocktail to be added to the menu at Oga's Cantina at Galaxy's Edge in Disneyland (hint: keep an eye on Whimsy Soul for more on where to drink in Disneyland!).
As for me, I'll be mixing up these Tatooine inspired cocktails / tomato martinis to watch the premiere of Obi-Wan Kenobi on Disney+ this May 27th. Why didn't it premiere on May the Fourth?! Huge missed opportunity!
We don't have any more Star Wars cocktails on the blog, but if you're looking for more original cocktail recipes inspired by Disney+ series, check out Bourbon'd With Glorious Purpose: A Loki Cocktail Recipe or Agatha All Along: A WandaVision Cocktail Recipe. Or for a space-themed drink that's not Star Wars, try the Luna Fizz: A Sweet Sailor Moon Cocktail Recipe With Gin & Yuzu Sake. Or, if you're still craving some salty cocktails, try our Jackie Daytona Bloody Mary. ( Food Network has nothing on these drinks!)
Like this recipe? Pin it to Pinterest to share on Facebook to spread the love! And we hope this inspires you to try more tomato based cocktails this summer.