LA PUSH BABY IT'S LA PUSH!!
I shouted this randomly at least 20 times in the past few days. Finally today, Robin asked me "why do you keep saying that?" I then realized he's never seen Twilight or read it, so I had to explain that whole scene to him. And also clue him onto "Hey Bella, where ya been loca?!"
Shop My Outfit

Anyways, today we pulled into a VERY rainy Forks which only felt appropriate. And very welcome, I've been craving these moody vibes so much lately and we just don't have rain or weather like this in San Francisco.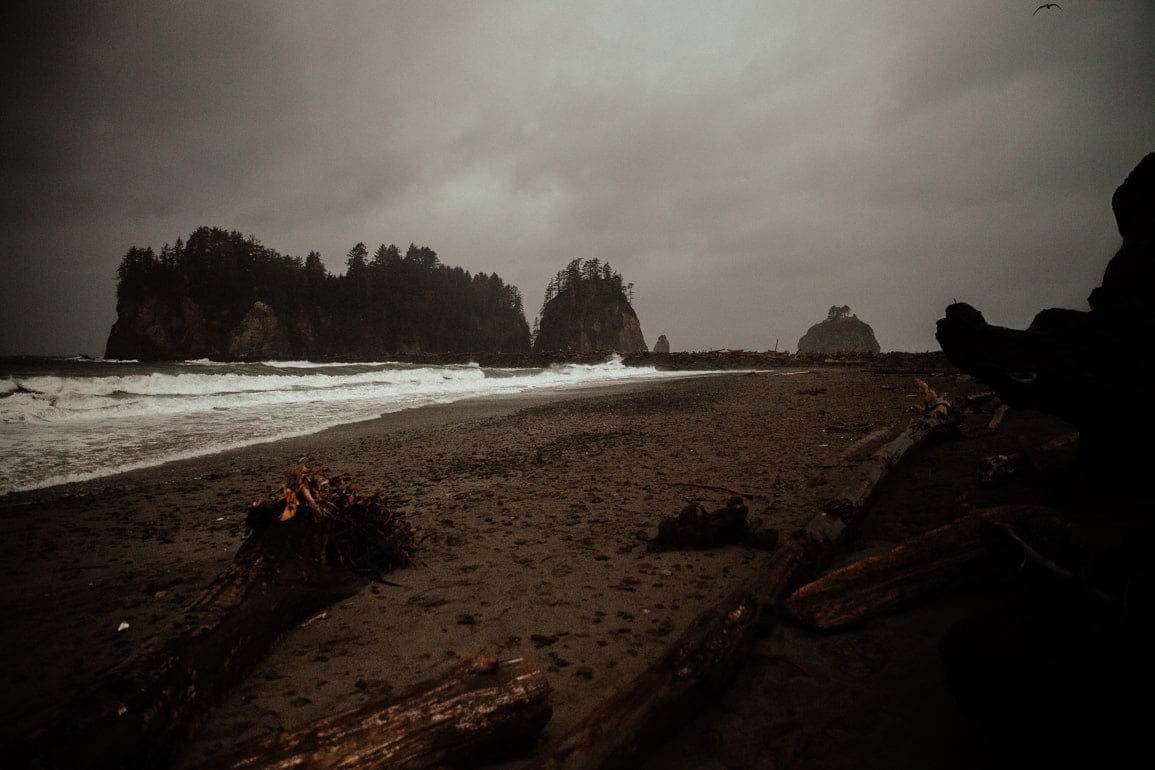 We spent the morning exploring Hoh National Rainforest and were super tired once we got back. We almost just holed up in our hotel room watching the Food Network but decided to go scout out La Push, which is on the Quileute tribal reservation. We had the goal of visiting First Beach and Second Beach but the weather was not on our side.
The second we opened the door, my beanie almost flew off my head. The wind was sharp and fast and cold and wet today I loved it all. We walked a bit on the beach, watching the waves violently roll up and down. First Beach has many large fallen trees and logs scatted on it, adding to the rugged beach feel.
I was happy I wore this new orange raincoat, which is longer than the red one I bought from Amazon for hiking. My butt would have been totally soaked if I didn't wear this long orange raincoat! Plus, I loved the pockets, and the hood, even though the latter didn't stay up at all in the wind.
I wore these Madewell jogger pants, which feel like I'm wearing clouds. I raved about how much I loved these pants in my 14 fall fashion favorites posts and I'm still not over how soft and warm they feel. Perfect cozy outfit for exploring First Beach in!
My boots are also Madewell and are rainboots in the Chelsea style and have been doing an A+ job at keeping my feet dry in all this water. Hat is from the Banana Republic.
We had First Beach all to ourselves for the 15 minutes we were brave enough to stand out there in the wind and rain. Then we ran back to our car, put our audiobook back on and drove to our hotel where we ordered Chinese takeout, took hot showers and drank wine.
Tomorrow, we're exploring more nearby beaches, and I'm hoping we're lucky enough to go tide pooling. Fingers crossed! You'll see more of this orange raincoat on Instagram @thewhimsysoul if you follow me there!