When my cousin Hope asked me to be a bridesmaid in her wedding, my first thought was OMG YES. My second thought was bachelorette trip!!!!!!!!!!!!!!!!
She and her fianceé are tying the knot this August, and are the cutest ever– they were high school sweethearts. We spent a weekend celebrating them in style with a Charleston bachelorette party.
There were a couple different cities in the mix to begin with. We considered Austin, Nashville, Miami, New Orleans, and even Phoenix/Scottsdale.
After much deliberation, we settled on Charleston. It has beach access, a great nightlife, highly rated restaurants, and was just a short flight for most of us East Coasters.
We wanted Hope to take a break from the stresses of wedding planning, kick back, and have a relaxing weekend. Her maid of honor did a fantastic job creating the best bachelorette party guide ever.
Charleston is both a rockin' city with a vibrant nightlife and a sleepy beach town all wrapped in one. It really is the best of both worlds, and the only downside is there is just too much to do in too little time. Here are some of my top tips for our favorite spots.
How to Get to Charleston From the Airport
As with any travel, how to get away from the airport depends on where you stay. City transportation in Charleston is handled by CARTA. For $1.50 you can hop on a bus right outside the airport and get to the downtown area.
However, many bachelorette party destinations are closer to the beach than the city, and therefore farther away from the airport.
We stayed about 45 minutes away from the airport. Splitting a $45 Lyft between three people (I was lucky to arrive with some other bridesmaids flying in from NYC) made the trip super easy.
Where to Stay: Beach or City?
This really depends on what your group is prioritizing! Better yet, what is the bride prioritizing? Hope is a neonatal nurse in the middle of planning a wedding, so the emphasis of our trip was rest and relaxation.
If you are traveling with a rowdier crew, I suggest staying in the downtown area. We stayed pretty much right on the Isle of Palm Beach, and were about a twenty minute drive from the heart of the city.
We booked a party van for the nights we spent eating and drinking in town. This was such a good call because the Uber rate for a group our size would've been through the roof, and we definitely would've had to split up.
Should your group choose to stay in town and commute to the ocean, just remember you'll have to schlep to the beach in the morning! Decisions, decisions. The good news is, it's impossible to go wrong.
We stayed at a Vrbo that was on the property of the Wild Dunes resort. This was the perfect option for us because of the size of our group, and the fact a lot of our activities were at the house.
This property in particular is great because we had access to all the free resort amenities. Here are some other options for whichever way you go!
Best Beach Hotels In Charleston For Bachelorette Parties
1. Wild Dunes Resort
Our group stayed in a Vrbo that was connected to the Wild Dunes Resort, and we were so happy to have access to these amenities!
Beyond just a gorgeous pool and bar area, we had front beach access to the Isle of Palms and were able to rent a beach chair and umbrella set up for a great price that was totally worth it.
2. Tides Folly Beach
This is such a good option if your group is leaning towards the famous Folly Beach. Tides Folly Beach offers an in-house restaurant, pool bar, and boardwalk right off the edge of the hotel making this a super fun option if your group is in need of activities. Plus, they've got beach cabanas available to rent!
3. The Cottages on Charleston Harbor
The Harbor is a little closer to the city center, but with all the sun and sand you'll need. The Cottages on Charleston Harbor are a touch bougier with a more adult vibe than some of the other hotels on this list.
They've got a very classic Old South feel with plenty of stretched out green lawns and loads of palm trees. Perfect opportunity for Insta stories!
4. Uncork & Unwind ~ Oceanfront Condo
I've been drooling over this oceanfront condo on the beach since I heard we were going to Charleston. Unfortunately, our group was a little too big for the 3 bedroom, 4 bed limit. But if you are traveling with a smaller group, this could be a key piece to your trip!
This rental is decked out in cream and white colored furniture. You'll be living the coastal dream. It is in a prime location on Folly Beach, and is a shockingly good price!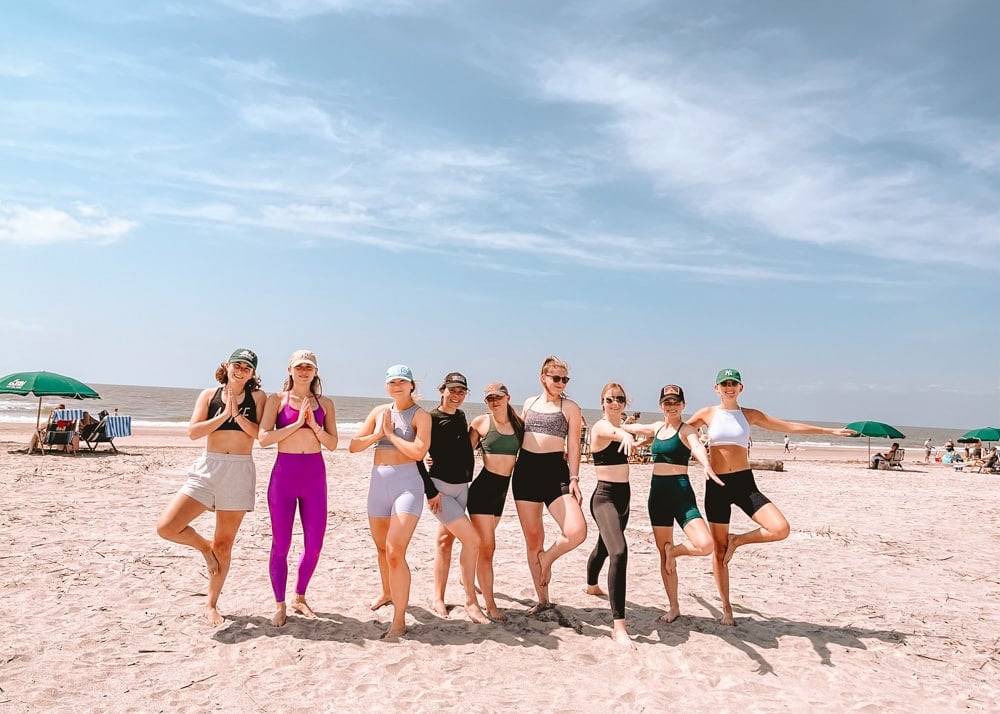 Best Charleston Hotel Options In The City
1. The Charleston Place
The Charleston Place has one of the best locations in the city. Smack dab in the French Quarter near upper King Street, you'll be near a lot of the best bars and restaurants.
It's got a very antique feel with some top notch amenities for a bachelorette squad. Free transfers to and from the airport, an in-house spa, and a pool bar are just a few of them.
2. Hotel Bennett
The rooftop pool is reason alone to book at Hotel Bennett. Seriously, imagine the photo ops.
It doesn't hurt that this place is steps away from the gorgeous and iconic Charleston College campus, and only about a fifteen minute walk from the Charleston Market.
The vibes are giving bougie, chic, and totally bachelorette friendly. One of the hotel bars is completely decked out in pink velvet. If that's your bride's vibe, look into Hotel Bennett!
3. Suite Retreat Steps Off King Street
If you're looking for more of a Charleston bachelorette party house, I've still got your back.
This VRBO is truly is steps away from King Street, where all the action is happening. When thinking about a Charleston place to throw down in, you want enough rooms and proximity to the bars. This rental has you covered on both fronts.
Best Bars in Charleston For Bachelorette Parties
Most of the best bars are located on Upper Market St and King Street in the downtown Charleston area. This is one of the coolest downtown areas in the South, and is a definite party destination.
Live music, good drinks, and great walkability will keep you plenty busy.
The group I went with were super into the going out scene (the bride got to Charleston on a red eye she caught directly after a 12 hour nursing shift), so we stuck mostly to cozy nights in our rental house.
Still, from walking around King and Market Street during the day, we were able to catch the vibes. Here is the Charleston nightlife guide for you if your bach party is ready to rage before the knot gets tied.
1. The Griffon
This is *the* spot for a beer, a plate of nachos, and the dive bar scene you've been missing from your freshman year of college. Arguably, this is one of the best dive bars in the whole country. With every square inch covered in dollar bills and bumper stickers, it's super authentic.
The Griffon is the intersection of the tourists and locals. You'll find an almost even split of both, which is perfect. The bar food is top notch too, so feel free to skip dinner plans.
Be sure to try the local Westbrook White Thai– it supposedly packs and punch and is very unique tasting, with notes of lemongrass and ginger.
2. Vintage Lounge
Not everyone is a dive bar kind of girly. Some of us are wine bar girlies. The Vintage Lounge is the perfect place to drink wine and spill tea. The vibes are stylish and cool, with lots of dim lighting and barstool seating.
Just be sure your group enjoys wine– even the cocktails are wine-based!
3. The Commodore
You can't go to Charleston and not check out the music scene. It'd be like going to San Francisco and not seeing the Golden Gate Bridge!
The Commodore is probably the swankiest jazz club in the city. Leather booths, crystal chandeliers, and a lengthy posh cocktail menu make this the key to a classy night.
They have reservations available for groups, so book ahead of time!
4. Carolina's Aloha Bar
I don't think it's possible to have a bad time at a tiki bar. Not to my knowledge, anyway.
Carolina's Tiki Bar is a super unique experience that will be sure to give you and your girls the beach vibes you're going for. The key is the drinks here– the cocktails are tropical themed and include plenty of rum.
5. Royal American
I loveeee the vibe of this bar. The industrial design is just too cool.
Great drinks and bar food are a guarantee at the Royal American. Another guarantee? Ridiculously good live music. This is less of a dive bar than it is a 100 percent authentic Charleston music experience.
Where to Eat in Charleston
Half of the fun of a bachelorette weekend is the food. This is not new information. Visiting a new city means getting to explore and experience all the delicious food!
The cool thing about Charleston is the diversity of the food options. You're in South Carolina, so Southern food is on the menu. However, you'll also be by the sea, so seafood is top tier here. There are a ton of brunch options, and the whole city is influenced by French cooking as well!
Here were some of our faves from the trip.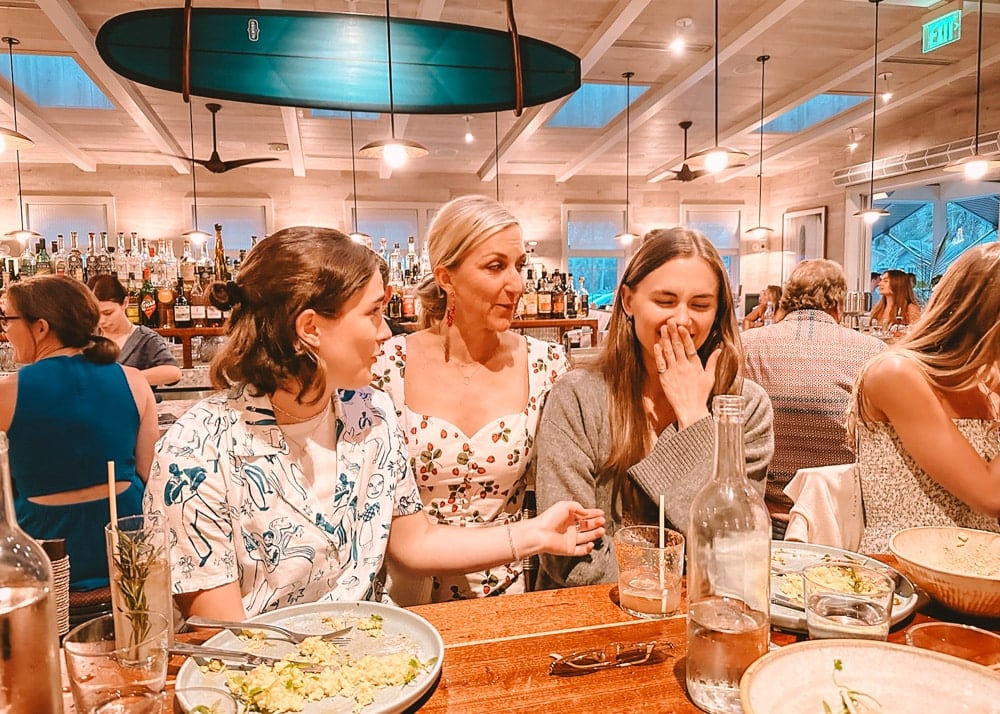 1. The Junction Kitchen
The Junction is easily one of the best brunch spots in Charleston SC. They have donuts as sides. It's a slam dunk.
Other than just the delicious Southern breakfast menu and lengthy breakfast cocktail menu, this place is known for its private group dining. For larger groups, consider booking to ensure you get a good seat.
2. The Longboard
We started our night off at The Longboard with a round of tequila shots. I'd advise you to do the same– they do not skimp when it comes to shot pouring.
The food at The Longboard was absolutely delicious. I got the yellowfin tuna, and it couldn't have been better or more fresh. The atmosphere was fun, and we were able to stay at the bar long after closing out our dinner check!
3. 167 Raw
Charleston is an oyster town, and 167 Raw is the top oyster bar. This New England style restaurant is all things seafood with a kickass local beer menu to boot.
The vibes are casual and fun, and the bar is big enough that your whole crew can hang.
4. Charleston City Market
Charleston City Market is both a sight to see and a place to eat. It's a super iconic Charleston market filled with food and shopping vendors alike, all from local businesses.
They've got outdoor seating and a liquor license. This should be top of your list to visit during the day for a snack before dinner.
Top Things to Do in Charleston On Bachelorette Parties
As far as Charleston bachelorette activities went, we really didn't have enough time for everything. If you and your group can, try to go over a long weekend so you have time to see everything!
The beach and the city are where you're going to be splitting most of your time, and they are equally important. Here are some of the best sights to see and places to go.
1. Folly Beach
Also called "The Edge of America," Folly Beach is a barrier island with nothing near it besides the Atlantic Ocean. That makes for some pretty awesome views.
Just a 12-mile drive from Charleston, it's surprisingly accessible despite how remote it sounds. The natural beauty is astounding, and there are a ton of restaurants within walking distance.
One of the coolest things about Folly Beach is the pier. Be sure to check it out, as there are a ton of new restaurants post Spring-2023 re-opening.
If you want to create the ultimate beach day, check out Folly Beach Chair Company for all the supplies you might need.
2. Rainbow Row
We were maybe a little too hype about Rainbow Row. Don't get me wrong, any stretch of brightly colored historic houses is a sight to behold (think Painted Ladies in SF), but we took enough pictures to create our own Rainbow Row brochure.
Located on East Bay Street along the Battery, this is one of Charleston's most iconic areas. Besides being gorgeous and dotted with palm trees, it's a great place for a cute group shot.
3. Tiki Tours
Sadly, we did not have enough time on our trip to do the famed Tiki Tours. *sob*
But you might! The Tiki Tours are famous for being the best bachelorette party boat in town. Take a semi-private boat charter tour around the bay and enjoy food, alcohol, and tons of party games that are included.
Just be sure to pack your sunscreen– nothing says sunburn quite like a booze cruise.
4. King Street
King Street by far lived up to the hype. My only complaint was (and I'm sure you're sensing a theme here) we didn't have enough time to explore everything.
King Street has dual appeal: the shopping is top tier, but so is the history. We focused on the history by walking around the more historic area known as Lower King Street.
While we had the best time bumbling our way around, I recommend a guided walking tour. City guides are the best.
To make the most of your day, be sure to save time to shop. King Street has some of the bougiest, best boutiques in the state of South Carolina.
5. Isle of Palms
The Isle of Palms was as chill as chill gets. There were multiple groups there while we were (and even two weddings), but somehow the whole thing felt very chill. Maybe it's the Southerness of it all.
Isle of Palms is not only gorgeous, but is also less crowded than Folly Beach. Using the chair rental service from further up in the guide, you'll be set for a day of tanning, reading, and maybe even catching some waves.
6. Charleston Ghost Tours
Like many Southern cities, Charleston is, of course, haunted. Or so they say. Give yourselves a good scare by going on one of the city's many ghost tours!
Ghost City Tours is particularly cool because they take you to some otherwise restricted areas including a dungeon, jail, and the very haunted Battery Carriage House.
7. Sightseeing Cruise
Charleston is very much a water city, so hop on a boat and take a cruise! This can be smart to schedule in the mornings after a late night out since you can just sit for a couple of hours and soak in the views.
There are also dinner cruises and historical cruises available if that's more your jam.
Other Fun Stuff
Our group had a couple Charleston bachelorette party itinerary items not particular to Charleston that I'd love to share.
Full credit to Hope's maid of honor Katie, of course, for party planning, organizing, and setting these super cute activities up for the perfect Charleston bachelorette. There's no one I admire more than the girl who has to figure out everyone's Venmos.
Editor's Note:
If you're planning a bachelorette party (or any sort of group travel), have the group download
Splitwise!
You and everyone else can upload expenses to split, AND it connects to Venmo to pay out!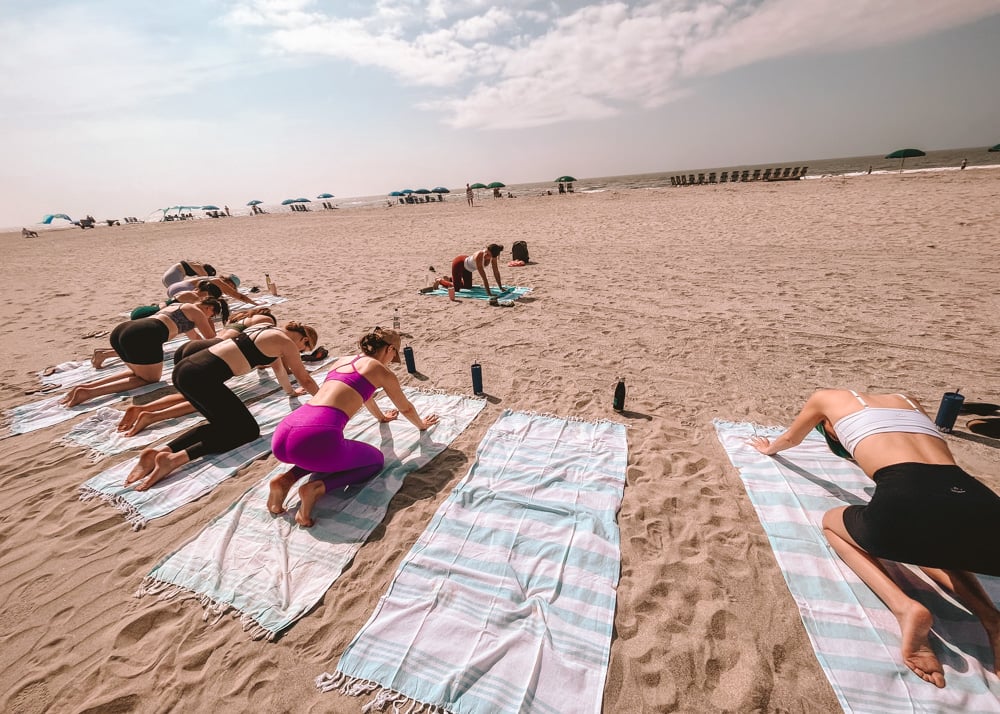 1. Yoga on the Beach
As Hope rested up for the big day, we decided that yoga was a much needed rest from picking out floral arrangements and working 12 hour nursing shifts.
There are plenty of spas in Charleston SC for bachelorette party groups, but this honestly felt better than any spa. We got a little sweat in, some fresh air, and felt totally refreshed for a day of lounging on the beach.
We used Vacation Yoga and had an incredible experience with our instructor, Olivia. Misting eucalyptus spray and calming yoga music included! Another great local option is Serenity Tree Yoga!
2. Private Chef
One of the evenings, rather than going out to eat we hired a private chef to come straight to the house. Another great reason to stay in a vacation rental is to have basic kitchen essentials to make your own meals, and it was such a fun way to feel bougie and lazy all at the same time.
I would definitely recommend this option for a lowkey crew. Chef Phil whipped us up a delicious menu including kale salad, grouper, and homemade chocolate mousse cake.
What To Pack For A Trip To Charleston
Some of this may seem obvious, but trust me when I say you won't want to forget anyyyy of this. Think of it as a Charleston survival guide.
And if you do forget any of it, just remember that bachelorette parties in Charleston are like ducks in water, and you'll be able to find what you need pretty quickly.
Decorations
Whether you're in an Airbnb or a hotel room, you gotta deck it out for your bride-to-be.
If you're looking for unique bachelorette party ideas, our Charleston bachelorette party theme was "on cloud 9," so we went for a very cloud themed vibe.
These letter balloons were so easy to blow up (there's a tool included) and were super cute in pictures. We had tons of different ring confetti as well to make it feel extra festive.
Lastly, there is no bachelorette party without fatheads of the groom. Unfortunately, the groom's heads were dropped off at the maid of honor's house as she was heading to the airport. But we've got plenty for the bridal shower now!
Sunscreen
Sunscreen should be top priority of your packing list. The sun in Charleston is no joke, y'all!
For my face, I have been using the same La Roche-Posay facial moisturizing 30 SPF for years. And I love it. It doesn't feel or smell like sunscreen, and yet my face never burns. It's like magic.
For my body, I am a huge fan of the Blue Lizard Australian sunscreen. It's mineral sunscreen for sensitive skin that is light and smells awesome. Plus, the bottle glows blue anytime you're in direct UV sunlight.
Sunglasses
Charleston is hot, and Charleston is sunny. The best way to ruin a good pic is to squint through it, so be SURE to pack sunglasses!
I bought these black rectangular sunglasses last year for a Halloween costume. My girlfriend and I went as Travis Barker and Kourtney Kardashian, and it was a slay. However, lately I've been wearing them non-ironically. They are so cute and for $10, great against UV.
Tote
A good tote goes a long way on a walking/beach vacation. Personally, I am very partial to the classic L.L. Bean tote. These always fit so much more than they look like they can fit, and are super comfortable to walk around with all day. Much less sweaty than a backpack.
This tote has a zipper, too. I so, so, so appreciate a zipper while on the beach to keep out all the sand!
Whimsy Editor Taylor also swears by her Baggu Duck Bag! Perfect for travel or working at your local coffee shop!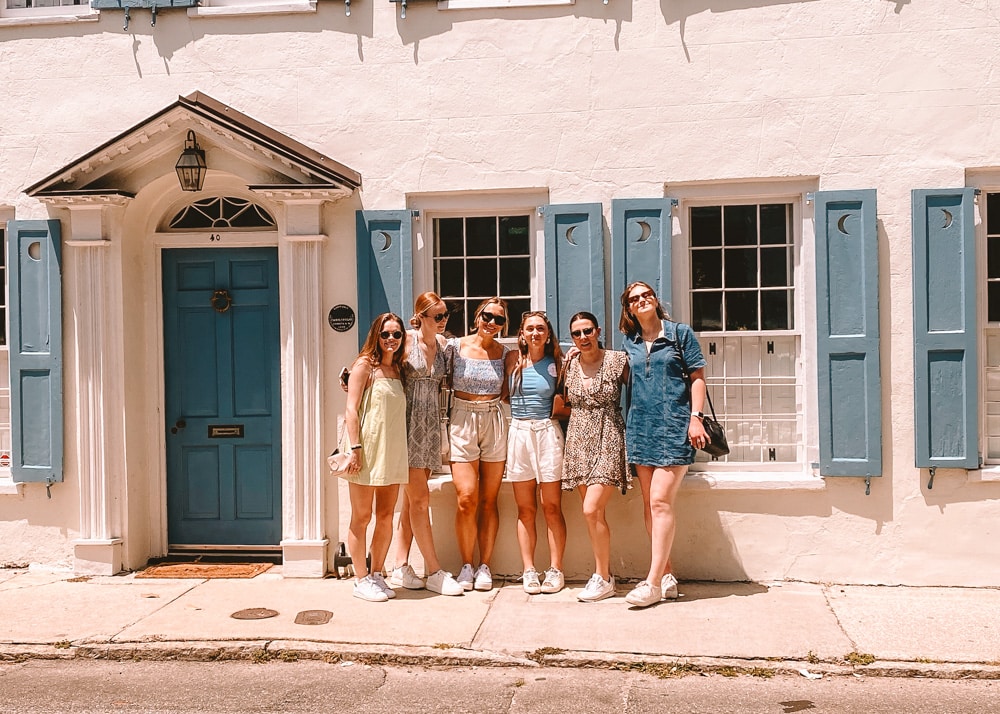 Walking Shoes
We. Walked. So. MUCH on our first day. A cute walking shoe is key here. I would avoid sandals or flip flops because while Charleston is very clean, it's still a city. You're going to want to keep your toes fresh!
Lately I've been vibing hard with colored Adidas Sambas. I think they are so fun and cute, and can go with pretty much anything.
Cowboy Boots
This is a country music town! A pair of cowboy boots are as essential as a bathing suit at the beach.
I went cheap and easy on these because there is a low chance I'll ever wear mine outside of Charleston again. I live in New York City, and I don't know that I've ever seen anyone in a pair of cowboy boots here!
This pair from Amazon was super comfortable and had a nice little heel that, as a short person, I very much appreciate.
Hat
The sun was killing us all trip long. We all went home looking very rosy despite the precautions we all took to stay out of the way of UV rays.
The girls who had hats like this honestly did better than the rest of us. They understood the assignment completely.
If you're more of a bucket hat type of girl, this one from Abercrombie is adorable and should keep you from overdoing it in the sun.
These days I've been rocking a classic Yankees hat because it matches everything. They have options from just about every city so you can rep your set while you're out of town!
Matching Pajamas
The maid-of-honor had the genius foresight to look into matching pajamas for our entire group. These Gap pajamas have honestly been one of the best purchases of my entire summer. Not only did we look super cute, but I've worn these so much even after the trip!
The shorts and shirt combo were perfect for the temp, and the material is super breathable. The sizing is very inclusive, too. Just don't forget to buy the bride a white set!
If there's anything to take away from this guide, it's that there just isn't enough time to explore all of Charleston. I would recommend trying for a three day weekend if your group can manage it!
Cute Day Outfits
When in doubt, grab linen pants, short white dresses and anything that really screams "Outer Banks"! Here's some more outfit inspiration: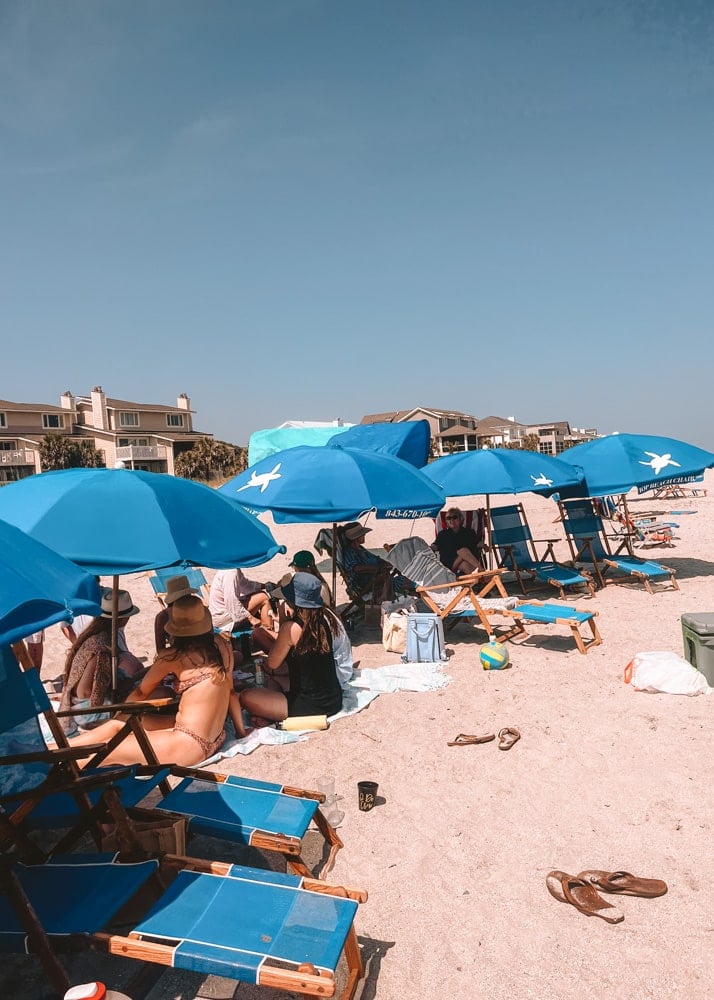 The best part about Charleston is that it is both an amazingly historical city with lots to do, and it is home to one of the best beaches in the country. That is hard to top, making it one of the best destinations for bachelorette trips. There is something for everyone.
Bachelorette trips in general are such a lovely celebration of friendship and a way to show the bride just how loved she is. Definitely don't skimp on the drinking games, country music bars, or good beach reads.