And it was that night, an hour into listening to a big brass band performance on the street below, with the warm wind in my hair and a slight buzz from a local beer, that it hit me: New Orleans is a magical city.
It's really not like any other United States city I've ever been to. New Orleans is about food, history and music (and a lot of it!) Which can make it a bit hard to narrow down exactly what to do on a short trip to The Big Easy (and where to eat!) So, I'm helping you out!
Keep reading for my New Orleans itinerary breaking down exactly how to spend your time for the best trip possible, along with local travel tips and fun history facts. Consider this your one-stop-shop for your New Orleans trip planning!
Foodie Approved 3 Days in New Orleans Itinerary + Huge City Guide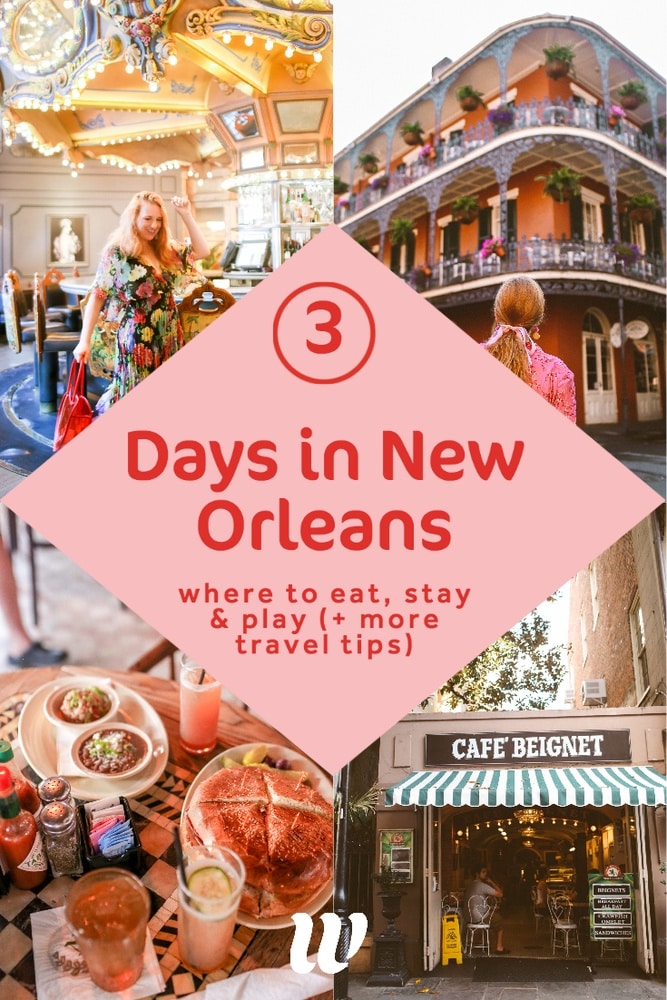 >> Got a question about New Orleans that you need answered quickly? DM me on Instagram @thewhimsysoul and I'll be happy to help!
A few years ago, my sister moved to Pensacola, Florida, which is in the Panhandle and just a few hours drive from New Orleans. Instead of dropping mad cash to fly directly into Pensacola, my husband and I decided we'd tack on extra time to our family trip by flying into NOLA and visit the city first.
It was our first time to The Big Easy, and I was concerned if 3 days (which is basically a New Orleans weekend trip) would be enough time to explore this historic city. Spoiler alert: Three days in New Orleans is honestly not enough time to eat all the things we wanted to eat. I wish I could eat 10 meals a day sometimes when I'm traveling…
BUT we felt like this itinerary got us to the highlights and a great crash course to the city. (But of course, we're low-key planning future New Orleans trips with more days included on those, just so we can eat more food on each visit!! HA!)
A weekend trip to New Orleans is enough time to fall in love, eat a lot of beignets, listen to jazz and soak up the history. Just make sure you wear comfy, stretchy pants (more on that later!)
Where To Stay In New Orleans
New Orleans in 3 days means you'll need to book a hotel for 2 nights. There are a lot of hotels in New Orleans but I think the best place to anchor yourself for your first visit is the French Quarter.
The entire city is full of history, but the French Quarter is the epicenter of culture and history, in my opinion. True to the name, wandering these narrow streets really makes you feel like you are transported to an old-world European city.
Hotel Monteleone
One of the best hotels in New Orleans is Hotel Monteleone, aka the carousel bar hotel! Dating back to 1886, this hotel has a super-rich history. It has played host to names like Ernest Hemingway and Truman Capote, along with appearing in tons of films and TV shows.
Its famous carousel bar (which is just as it sounds – a revolving carousel bar for a truly unique happy hour) is a New Orleans bucket list item itself. Oh, and the hotel is haunted (but by friendly ghosts, don't worry.)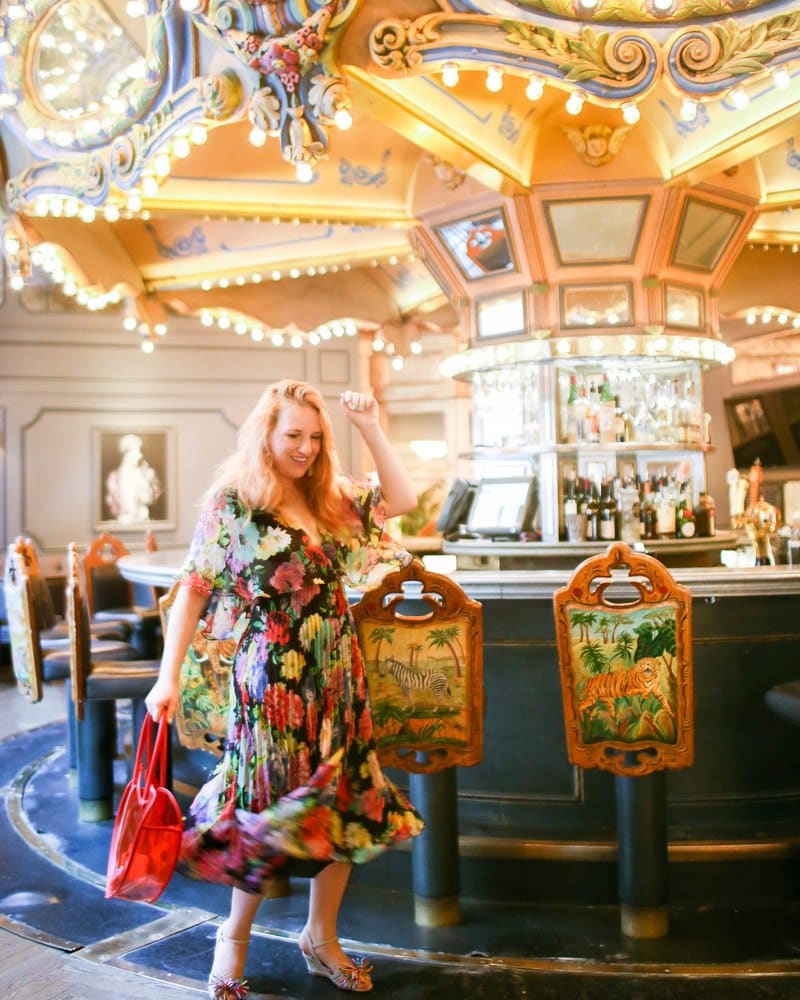 It was humid when we visited, but despite the heat my favorite part of New Orleans (other than eating!) was just wandering the French Quarter, listening to street musicians, looking at all the cute houses and popping into shops. The French Quarter is really the heart of New Orleans, so having your hotel in the heart of the heart is the best choice.
I'm only recommending this one hotel because I truly think it's the best hotel for a short 3 day trip to New Orleans, plus it's pretty affordable (average room rates are $169/night!) I wrote a dedicated hotel feature on the property if you want to read more!
Do I Need A Car In New Orleans
Nope! New Orleans is super walkable. They also have an efficient streetcar you can take to neighborhoods that are a bit further away (like the Garden District.) We used Uber once when it got too hot to bear, but walked and took public transportation the rest of the time.
You'll need a car if you plan on doing any day trips outside of the city (like to visit a Plantation) but otherwise, skip the rental.
3 Day Trip To New Orleans Itinerary: Day By Day Breakdown Of What To Do In New Orleans When You're Short On Time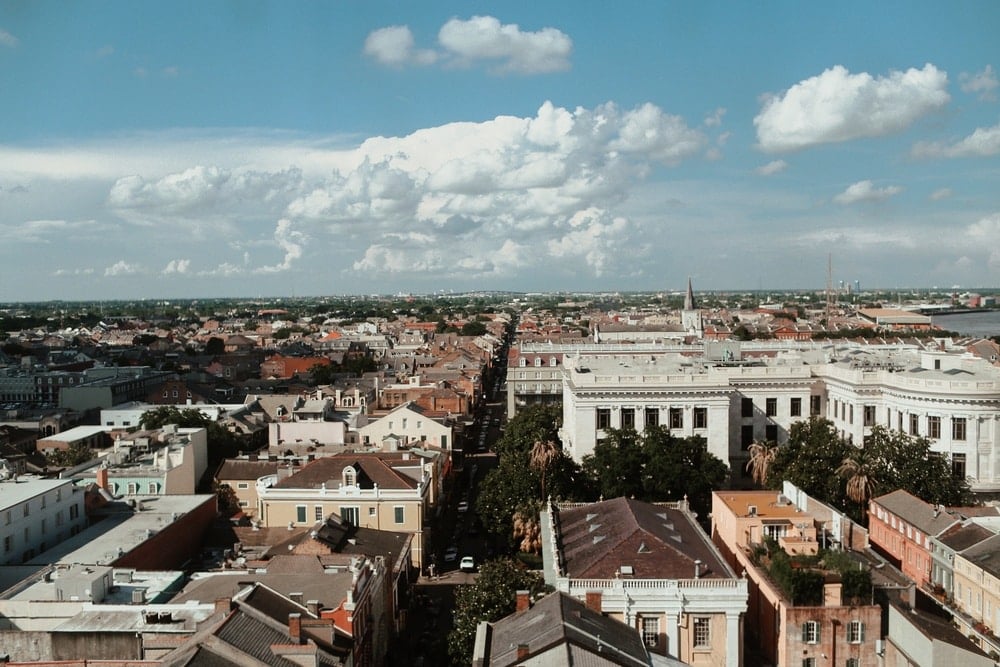 DAY ONE: Arrive, Beignets, French Quarter, Oyster Dinner, Voodoo Haunted Tour
Now, let's get your 3 days in New Orleans itinerary started!
By 1pm Check-in To Hotel Monteleone
We opted to take an uber into the city from the airport, which wasn't too expensive. When you're short on time, it's sometimes better to bite an $20 extra to get your vacation started quickly, vs. wasting time on a long bus ride.
Check-in to Hotel Monteleone, or drop your bags off if you can't check-in yet. Since we were coming from San Francisco on the West Coast, we arrived late enough to check-in right away. We freshened up and then hit the streets to explore (and start eating!)
2:30pm Cafe Beignet for Coffee and Beignets
OK, so there's a big debate about who has the best beignets in the city: Cafe Du Monde or Cafe Beignet. I'm team Cafe Beignet for a few reasons. I thought the beignets were fluffier and less greasy than at Cafe DuMonde. Plus, i really adored their cute shop on Royal Street.
It's totally Instagram-worthy on the inside and out. There's also a garden area for outdoor seating at this shop, and if you're lucky, you can spot the beignet cat! Order yourself some fresh beignets and an iced coffee to perk up and cool off.
(And don't worry, you'll have time later in your trip to visit Cafe DuMonde to compare.)

3:30pm-5pm: Explore French Quarter To Get Your Barrings
My favorite thing to do when we arrive in a new city is to just walk around a bunch that first day so I can build a mental map and see what's there.
After you get a caffeine buzz and a snack from Cafe Beignet, just start wandering the French Quarter! Stroll down Royal Street, pop into art galleries. You'll probably pass someone playing the saxophone, so pause to listen for a while (that's one thing you'll notice about New Orleans – I swear there is ALWAYS jazz music playing in the distance.)
5pm-6:30pm: Happy Hour + Dinner at Royal House
Robin and I don't have any outdoor space in our apartment here in San Francisco. Hence, when we travel, we always aim to find restaurants with outdoor seating so we can soak up the fresh air! Unless it's the middle of August (aka hot AF in New Orleans) you'll probably also want to grab dinner outside.
We stumbled upon Royal House (on Royal Street, a few blocks down from Hotel Monteleone) and asked to sit on their upstairs balcony. Here's the thing about New Orleans balconies: they're really tiny and narrow!
But, because it's narrow, that means every table got a front-row view of the streets below (aka amazing people watching.) Oh, and the food here is BOMB! Skip the Acme Oyster House and treat yourself to a plate of oysters here instead. For the main course, try the cheesy shrimp and grits, which I'm drooling over just thinking about.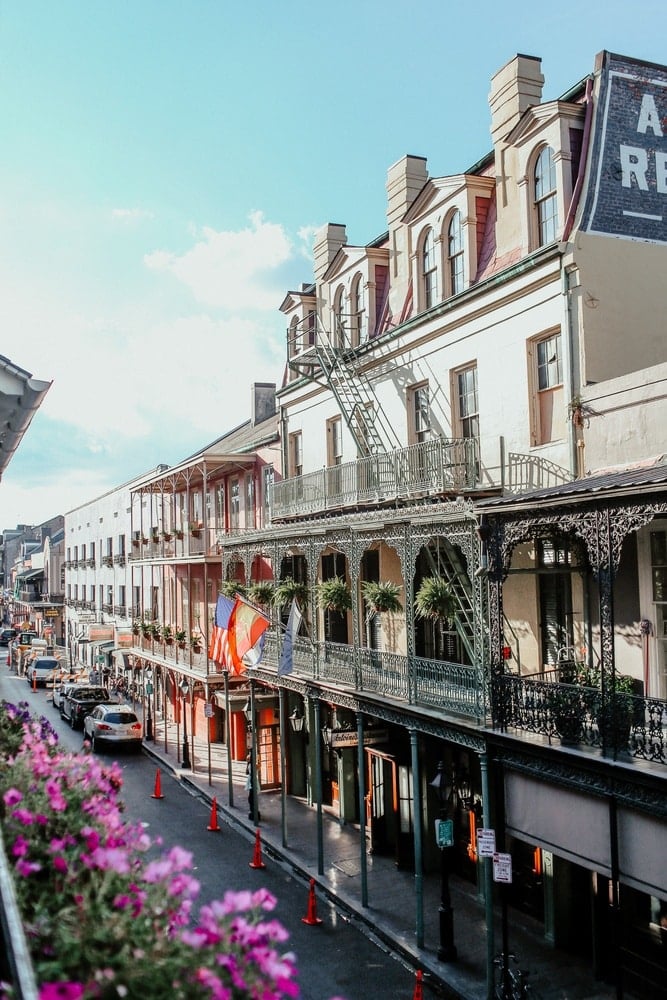 7pm: Voodoo Walking Tour
If you need to, pop back to the hotel real quick to change or freshen up. Depending on the time of year, you may want to grab a light jacket because this Voodoo Walking Tour takes place at night!
I don't always love guided tours, but I highly recommend doing a haunted New Orleans Voodo Walking Tour on your first night in the city. It's a great way to learn about the history of the city, local lore and landmarks around the French Quarter you may have missed.
We did the Witch's Brew Ghost, Voodoo & Vampire Walking Tour which was so much fun. All the guides sort of dress up a bit and do an excellent job at navigating your group around the French Quarter without feeling too rushed. We learned a lot of interesting local lore (like a SUPER haunted house that Nicholas Cage once bought and the house that a Vampire supposedly used to live in.)
It's about 2 hours, but it flies by fast and you even get a break in the middle to grab a drink at a bar if you want, making this voodoo tour a fun nighttime activity. I felt like it was the perfect way to get introduced to New Orleans.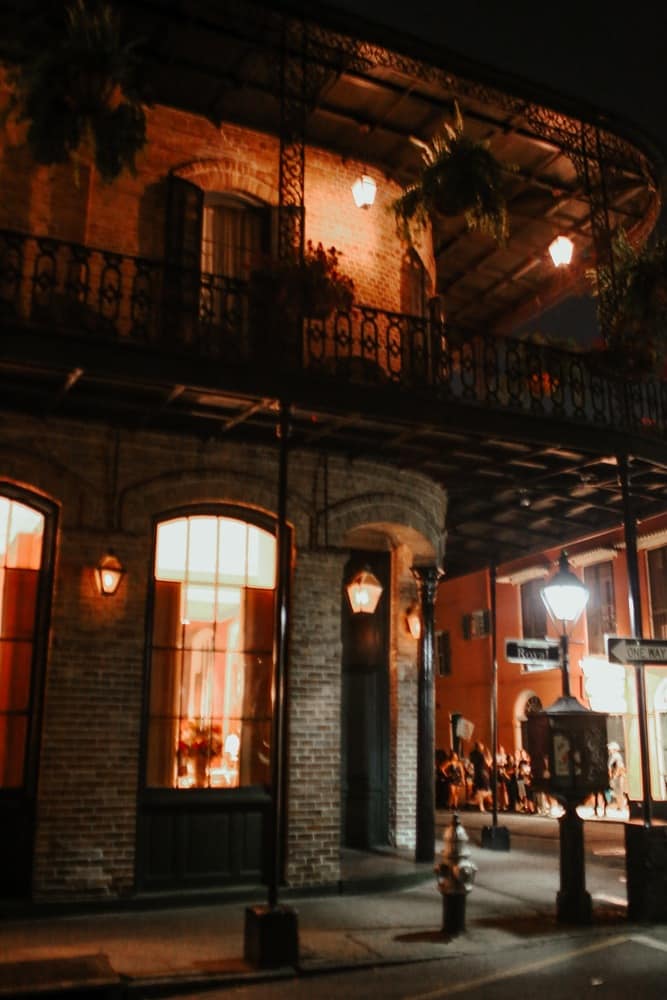 DAY TWO: Garden District, Lafayette Cemetery, Bourbon Street, Frenchman Street Jazz
Woohoo, time for day two! Wear something stretchy around the middle because today is going to have even MORE food stops slotted in. Try to get yourself up early and out the door. You'll be exploring the Garden District today and it's most enjoyable well before the heat of the day sets in (and the crowds!)
Head to St. Charles Ave & Common Street to catch the streetcar that runs on St. Charles Ave towards the Garden District. Get off at 6th street. You can also take the #11 Magazine Street bus. It'll take you about 20 minutes (cheaper and probably faster than waiting for an uber!)
8:30am: Gracious Bakery breakfast
Fuel up at Gracious Bakery, an affordable little cafe/bakery shop near Lafayette Cemetery. You can grab baked goods here if you love a sweet breakfast, or bagel sandwiches (which is more my jam. Hello lox and cream cheese!)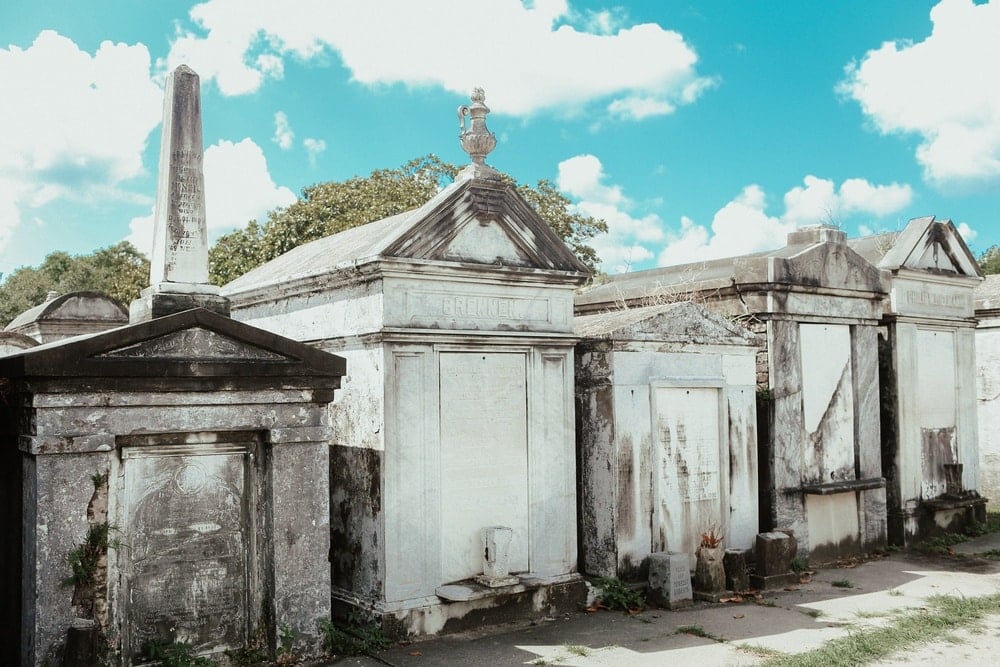 9am: Lafayette Cemetery No. 1
There are a LOT of cemeteries in New Orleans but Lafayette Cemetery is probably the most famous (and more beautiful!Yes, cemeteries can be beautiful!) Because of the wet marshland that Lousiana is made of, you can't really bury people… well, because there's a high chance they'll float back up or their grave will be flooded.
So, Lousiana cemeteries are usually always above ground, complete with intricate marble headstones or tombs and thus, it's a very cool place to visit if you enjoy history. Or, a film buff (MANY movies and shows have been filmed here!)
There may be a few tour guides outside hoping you'll pay them for a guided tour (and you can) but instead, I recommend you take THIS totally free self-guided tour. We used it to navigate our way around the cemetery by ourselves and loved going at our own pace.
10am: Explore the Garden District
Spend some time exploring the historic Garden District and look at pretty houses! All the houses here are so dang dreamy, with huge flower gardens and tower oak trees.
This neighborhood dates back to 1832 and is now considered to be one of the best-preserved historic neighbors in the South. There are a LOT of famous houses but perhaps start at Gilmour – Parker House on 1520 Prytania Street, which was home to a former Lousiana governor.
11am:-Lunch at Commander's Palace
My biggest regret on our trip to New Orleans is we DIDN'T have lunch at the Commander's Palace. I'm honestly not sure why, I think we had to book it to Florida to visit my sister… or perhaps Robin didn't pack proper attire (they have a dress code) but regardless, I've been having FOMO ever since.
See, Commander's Palace is probably the most famous restaurants in New Orleans. Built in 1893, it's grown famous for its blue exterior, fantastic food, jazz brunches (with live music of course) and their 25 cent martinis. You read that correctly.
Do yourself a favor and book yourself a table here for lunch. Don't forget to check their dress code, first, to make sure you pack the right clothes!
1pm: Site By The Pool To Cool Off + Relax
After an early morning of a lot of walking and a huge brunch, take a little downtime to relax by the pool. Hotel Monteleone has a stunning rooftop pool with sweeping views of the city.
They also have huge fans blowing mist on guests so you don't overheat, a must in the sticky hot weather of Lousiana! I was VERY grateful for this.
If you aren't a poolside person and are eager to go go go, opt instead to visit some of the wacky museums in the French Quarter. Like the New Orleans Pharmacy Museum (also low-key haunted but totally fine in the daylight if that freaks you out.)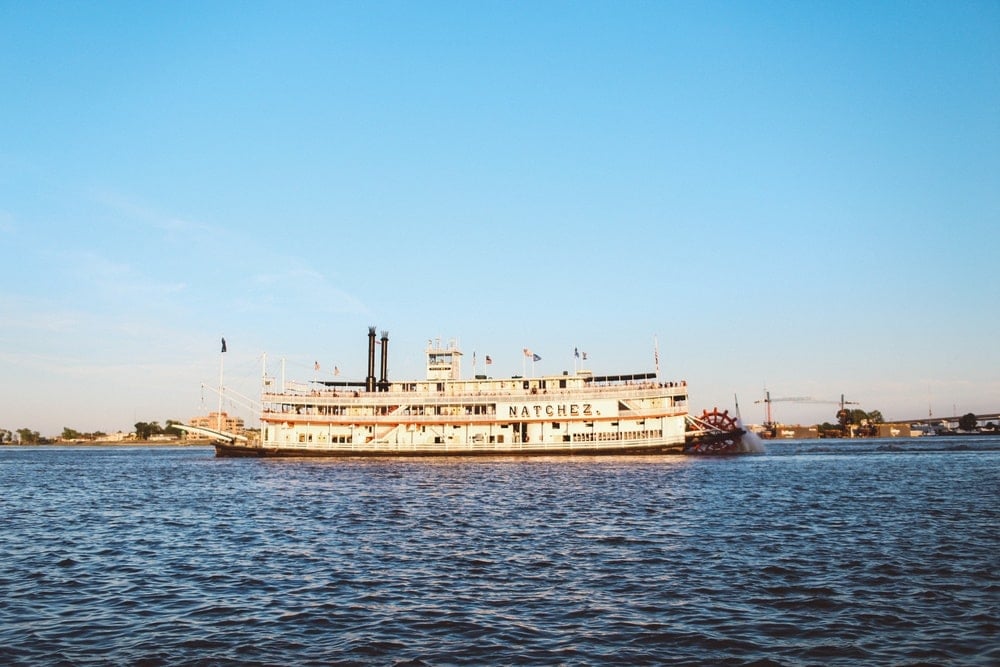 3:30pm: Cocktail To Go
You simply cannot go to New Orleans and NOT take advantage of their to-go cocktails. That's right: here in NOLA, you can order a cocktail to go… and then… leave the bar… and take it with you outside!!!
Apparently there are also drive through cocktail places which sound like a really bad idea. This whole concept is single-handily probably the reason why so many people get plastered in New Orleans, but I WAS HERE FOR IT.
There are many bars that have cocktails to go but I suggest you head to Daiquiri Delight on Bourbon Street. Use this time (in the daylight hours before the drunk 22 years old come) to explore this street a bit. It's fun seeing in in the daylight and nighttime, the vibe changes a lot!
You can also head to the Tropical Isle Bar and try a Hand Grande cocktail, which is a famous New Orleans cocktail that only 5 bars in the whole city are licensed to sell ( Tropical Isle bar is the OG spot.) Warning: this lime green cocktail gets you DRUNK, fast. We split one since it's so powerful.
4:15pm: Drinks By The Water
Once you order your cocktail to go, head to Washington Artillery Park, which is right across the street from Jackson Square. There's steps that sit right on the water here and when the weather is nice, it's super relaxing to sip your cool cocktail and watch the steamboats chug by.
5pm: Frenchman Street
Once you got your happy hour on, head to Frenchman Street, aka Faubourg Marigny, aka the center of live music and culture! Our night on Frenchman Street was by far my favorite memory of our entire New Orleans trip, and easily one of the top 10 nights of any trip I've ever taken. Ever. Yes, I'm hyping it up that much.
Get dolled up and get ready for a night of music, dancing and soul food!
I highly recommend you walk to Frenchman Street (vs taking an uber) because you'll get to see more of the city this way. It's not too far, I did it in heels. Plus, save that money for more drinks or food!
5:45pm: Dat Dog + Big Band Jazz
We were on the hunt for alligator hot dogs and that led us to Dat Dog on the corner of Frenchman Street. Dat Dog is a funky little gourmet hot dog shop with psychedelic decor and some really interesting takes on dogs (alligator and crawfish are my recommendations!) They also serve vegan dogs.
I tell you to get there by 5:45pm for a specific reason: street music below tends to pop off starting around 6pm and then goes every other hour on the hour (with room for variation of course.) There's usually a large Big Band Jazz group that performs each night here.
Dat Dog has a second level with a huge porch that just happens to overlook Frenchman Street. Hurry up there and stake your claim on a table that has a good view of the intersection. Once the music starts, the porch will get crowded with fellow onlookers and you'll want your seat already!
Here's the thing: we had plans to go jazz bar hopping this night. We had every intention of checking out some of the popular clubs and hoping form one bar to the next. But, we never left this porch. I think we sat here for over 3 hours, eating weird hot dogs, drinking beer and listening to Big Band Jazz.
We had the best seats in the house, best seats on the whole street that night in my opinion.
When we left, we did dance in the middle of the street for a few songs. Also a favorite memory of mind. So, head to Frenchman for music and food. If you don't want to anchor yourself down all night, use this handy street guide to find other clubs to hit up!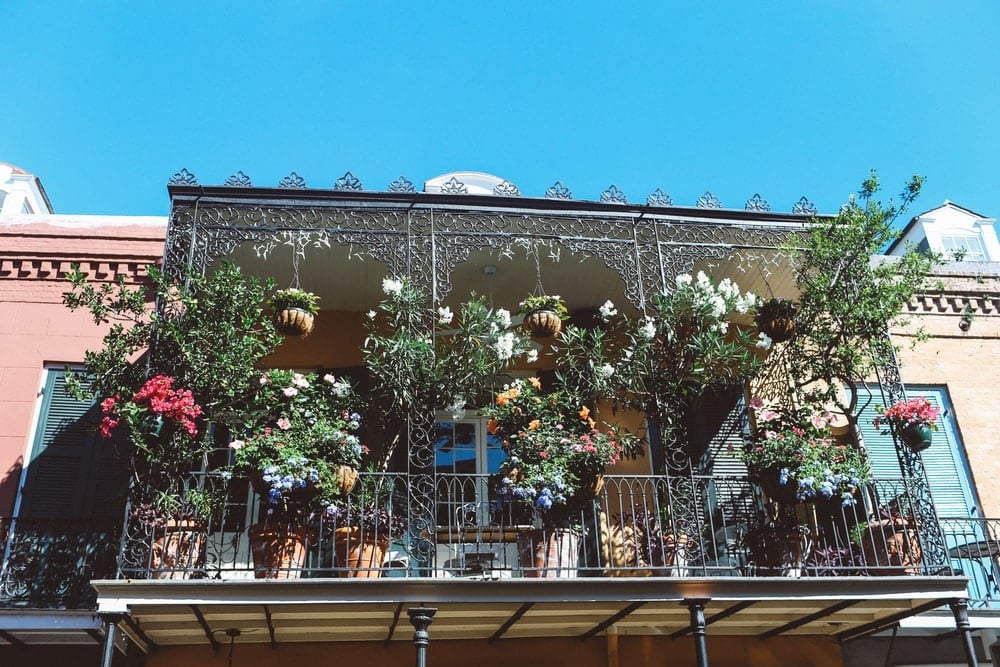 DAY THREE: Beignets, Jackson Square, Swimming,
9am: Beignets At Cafe Du Monde French Market
And now it's time to taste test the beignets at Cafe Du Monde! As I mentioned earlier, people are torn on which spot they think has better beignets. Cafe Du Monde is the MOST famous of the beignets shops, so it's worth a stop just for the notoriety.
I personally found it to be crowded beyond its own good. They have a large seating area with waiters, but despite flagging down multiple servers, we still were ignored for over 20 minutes. Instead, we grabbed beignets and coffee to go and took them across the street to eat.
Jackson Square / Louis Cathedral
We found a nice shaded bench in Jackson Square that overlooked the famous Louis Catherdral, which was honestly such a nice way to wake up and ease into the day!
After breakfast, we wandered the square, looked at the street art and took a moment to visit some shop and galleries we missed on earlier explorations.

11am: Brunch at The Country Club
Don't eat too many beignets because you are about to have the BEST and more unique brunch experience of your life. Head over to Baywater / Ward 9 the Country Club. This yellow building is unassuming from the outside. You would never know that on the inside is tons of colorful decor AND A POOL!!!
Yes folks. This country club has a pool, which is open to the public and made for a super unique (and relaxing) way to cool off in New Orleans for us.
Before we chat about the pool, let me tell you about the food. Fried green tomatoes, chopped salad, truffle mac & cheese, crab cakes. We feasted here and it was one of the best meals we had in New Orleans (and that says a lot because, New Orleans!!)
Go Swimming At The Country Club
And now, time to rave about the pool! Tickets are $15 for a day pass (super affordable) and if you go on a weekday, you'll have no trouble grabbing a chair. There's a bar back there with drinks and a small menu (if you somehow still have room for more food!)
It's far enough away from the French Quarter that not too many tourist visits and I enjoyed kicking it with locals in a stunning IG-worthy pool during that hot day. Put this on your bucket list!
5pm: Happy Hour + Dinner at Napoleon House
For your last dinner in New Orleans, you can't miss out on Napoleon House. This 200+ year old landmark has a cool history around Napoleon and famous artists throughout the ages. The decor is old-world feeling which I also loved.
But, of course, the menu is what you came for and you HAVE to order a Pimms Cup here. It's kinda what they're most known for. Also, their muffuletta, which is a New Orleans style sandwich and holy moly, it's so good. Think soft bread, tons of meats and tangy oils.
What to pack for 3 days in New Orleans
New Orleans food is off the hook and as I've stressed before, bring stretchy clothes! The last thing you want after feasting on soft shell crab and beignets is a tight pair of jeans.
The weather can also be HOT and humid. We visited in May and my husband, Robin, was just covered in sweat the entire time due to the humidity. But, the winters are cool and require sweaters and jackets. Here's a rough packing list for the seasons.
What To Pack For New Orleans In The Summer

What To Pack For New Orleans In The Winter

When Is The Best Time To Visit New Orleans?
We visited in late May and it was HUMID AF. I think April is probably better. If you absolutely hate the heat, then come in the winter. It'll be chilly (like, a sweater and light jacket sort of chilly) during the winter months. But if you're like Robin who melts in the heat, winter may be better.
More Fun Things To Do In New Orleans
There are SO many New Orleans things to do. For me, my favorite things to do in this city is eat… like, seriously, my stomach wasn't exactly happy with the amount of amazing soul food I was shoving into each day but my taste buds were on cloud 9.
Check out my huge New Orleans City Guide for even MORE ideas on things to do that didn't make this 3-day itinerary. Or, my must-eat New Orleans restaurant list for more eating suggestions.
Day Trips From New Orleans
Looking for fun New Orleans day trips from the city to add onto your 3 day New Orleans itinerary? Lousiana is full of beautiful and history-rich locations that make for a fun day or overnight trip (though I suggest adding that on to your 3 days vs. taking away a day in New Orleans.
Robin and I had a chance to visit the Nottoway Plantation which is a hotel now but was a former working plantation. We both grew up in Wisconsin and I really appreciated having a chance to learn about the history of slavery and the role of plantation in America's foundation firsthand at the Nottoway. We didn't grow up with that.
Other day trips from New Orleans:
Oak Alley Plantation
Whitney Plantation
Baton Rouge
I hope this helps you plan what to do in New Orleans on your trip! I put a lot of thought into this New Orleans 3 day itinerary for the perfect trip, but if you have any hidden gems you LOVE in NOLA that didn't make it to this post, leave a comment below so everyone can see it!
And, if you have any questions about things to do in New Orleans, leave a comment or DM me on Instagram @thewhimsysoul and I'll be happy to help you out!!
Other Posts You May Like