The sun was shining as we peddled around Old Town with beers in our hands, Lizzo pumping and us all there (loudly) celebrating love, marriage and all that jazz with a bachelorette party.
Not my bachelorette party – I got married two years ago, but for a couple of hours we were honorary members of a bride squad. On my first visit to Scottsdale a few years ago, I kept thinking "dang, I should have taken the girls here for MY bachelorette party!" Fast forward, we're back in Arizona, this time to craft the perfect Scottsdale bachelorette party guide for my readers.
Keep reading for my tips on the best hotels for your squad, where to drink, where to eat, what to pack and tons of other insider tips for having an EPIC last hurrah with the girls!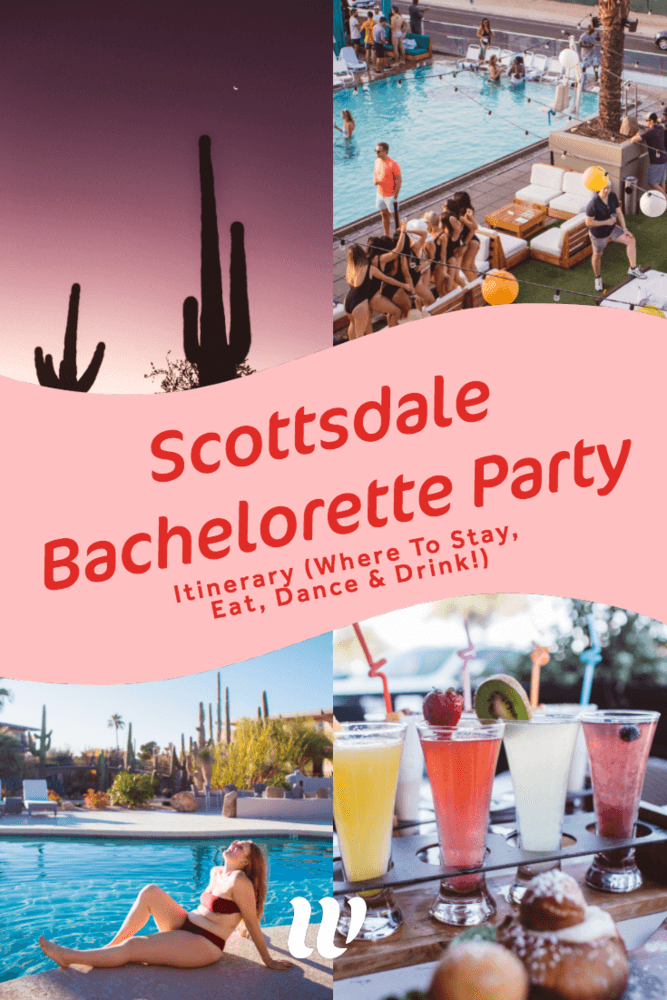 Note: this post was updated in May 2022 after our editor Taylor went on a Scottsdale bachelorette party so it's extra packed with updated info and bachelorette planning tips!
Keep reading for more information about Scottsdale (with tips like if you need to rent a car, what to pack, etc) or scroll to the bottom to access my Scottsdale Bachelorette Party Itinerary that basically recaps this whole post in an easy one-sheeter.
Why Scottsdale Makes The Perfect Bachelorette Party City
There are a LOT of bachelorette party destinations in the USA. So, why does Scottsdale Arizona stand out? In short: It's warm, it's colorful, the pools at most hotels are LIT, there's tons of happy hours and craft margaritas, it's so walkable and it's basically built for a long Bachelorette party weekend (or a bachelor party weekend!)
Oh, and the sweet spots for deal hunters are the warmer months of May – September, when rates are an average of 60% off peak season, or the 'secret season' between Thanksgiving to New Year's Eve (with perfect weather), for about a 30% savings.
It's also next door to Phoenix, which is easy to fly into from almost everywhere in the United States. I live over in San Francisco and as we boarded our Southwest flight, the pilot noted it'll last just 1 hour and 28 minutes. Not too shabby. (Nobody wants to start a vacation with a long flight!)
If you love the Palm Springs vibes, go to Scottsdale instead. It's hip, walkable, less crowded and easy to fly into.
My husband and I love using the Arizona desert as our "backyard playground" to California, which is why I'm so eager to share all my nuggets of advice for a fantastic weekend party with your girls!
Seriously. I mean, I know I'm biased but I think this
is going to be the best Scottsdale Bachelorette Party blog post guide out there.
If it's not, DM me on Instagram
@thewhimsysoul
and I'll try to help ya out with other area tips!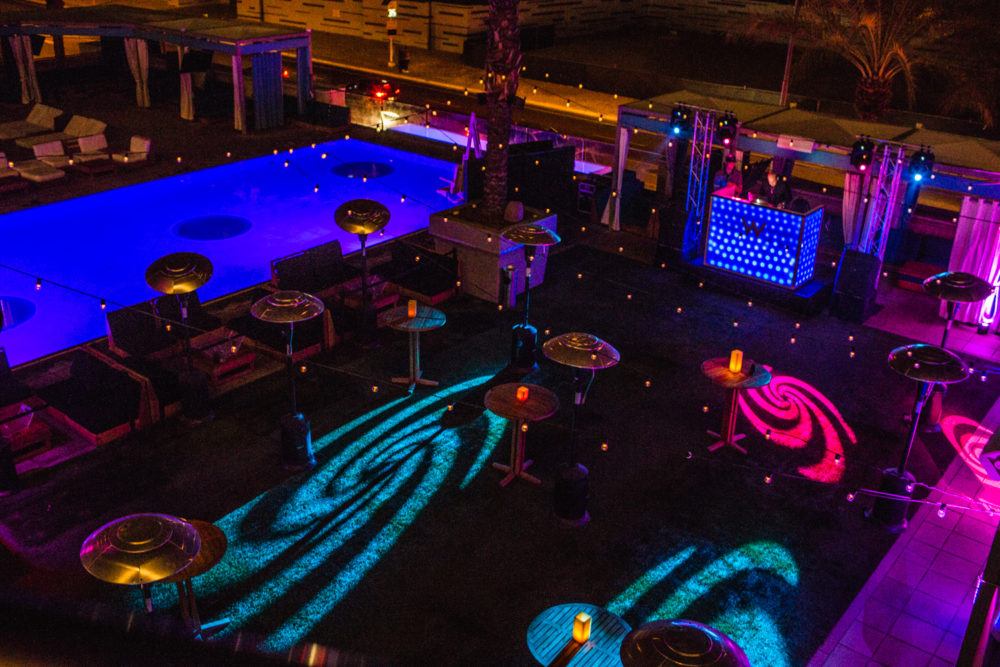 Where To Stay In Scottsdale For A Bachelorette Party (Best Hotels & Rentals)
No matter what your party size, budget or travel style, there's a hotel or house rental in Scottsdale for you.
W Hotel Scottsdale
That being said, you're going to LOVE the W Hotel . They basically live and breathe bachelor and bachelorette parties. Located right downtown in Old Town just steps away from the best bars in Scottsdale, the W Hotel has an AWESOME pool party scene that almost has a Vegas-y vibe to it (but you know, like way cheaper than Vegas!)
Scottsdale Arizona nightlife varies on where you are, but the clubs and party bars (perfect for weekend bashes with the girls) are literally right next door to the W Hotel. You can party at the pool all afternoon, get glammed up in your room and then walk like, ONE BLOCK to El Hefe and all the night clubs. (No need for $$ Ubers!)
The W Hotel also has awesome services at the AWAY Spa for you and the girls, like 15-minute makeup touch-ups or blowouts to help you glam up before celebrating after pool parties. This area can be rented out for a private getting ready sesh, too!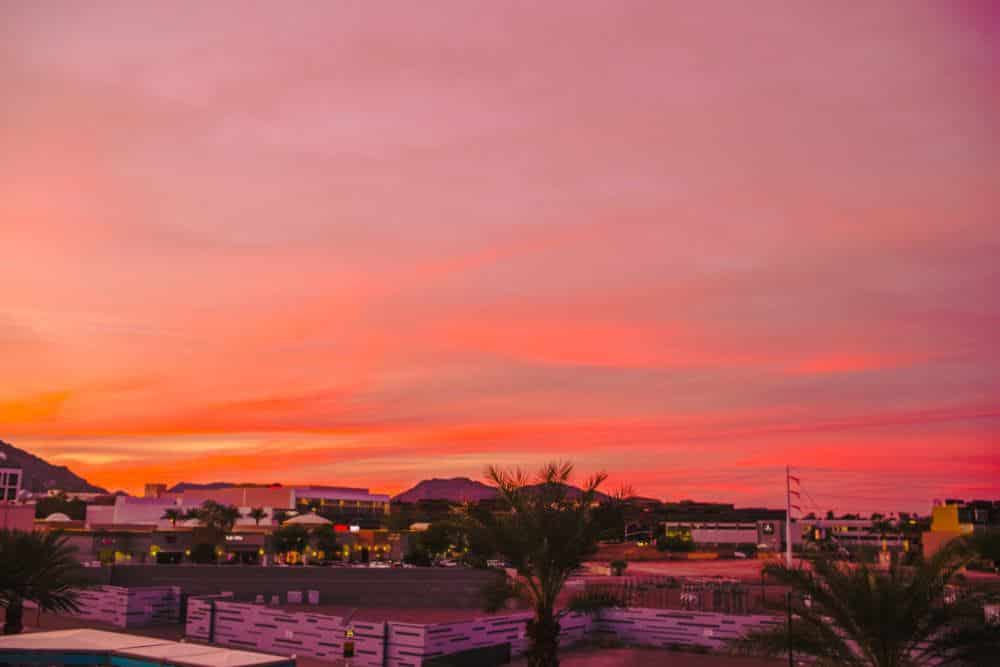 2. Private Scottsdale Bachelorette Airbnb With Pool
If you're coming with a large group, you'll want to book a private Airbnb with a pool so everyone has tons of space to spread. Our editor Taylor book this exact house for her and her friends and they loved the private pool out back for lazy afternoons and the location to downtown.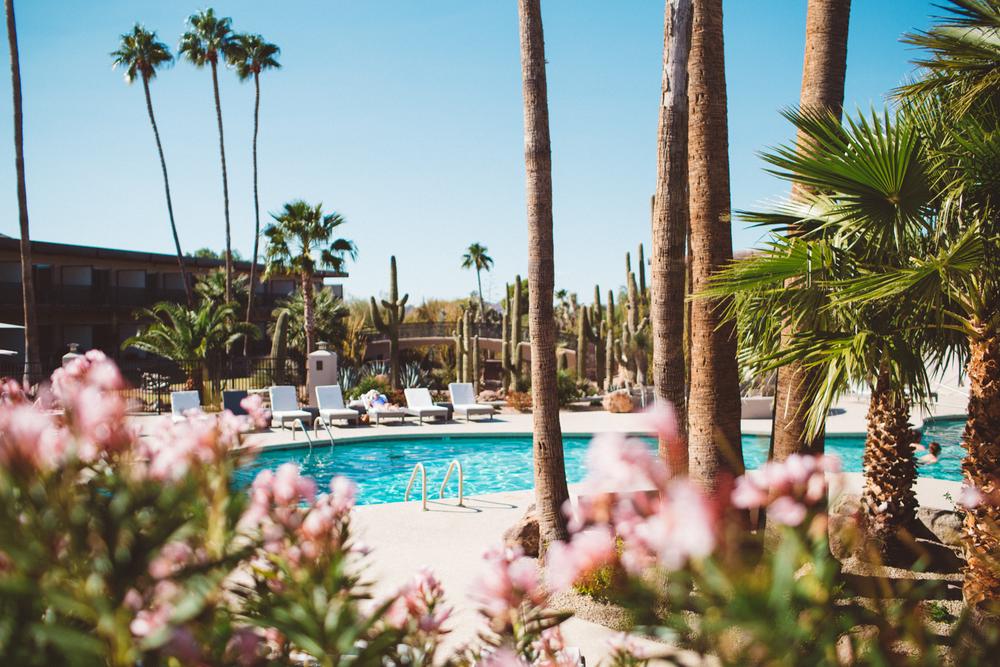 3. CIVANA
If you're looking to swap the Scottsdale nightlife for something calmer – think luxury Bachelorette party that's focused more on lounging by the pool, hikes, spa treatments and seated dinners, CIVANA will be better a scene for you and the gang. You can swap the Camelback Mountain views for the Black Mountain views at the North end of Scottsdale.
CIVANA is a wellness resort with all the perks (like tons of workout classes and spa access) but without all the pretentiousness that fancy wellness spots can have. I loved every minute at this spot! Plus, it's way out in the Sonoran Desert aka you can see alllll the stars. (PST this also makes a great honeymoon hotel!)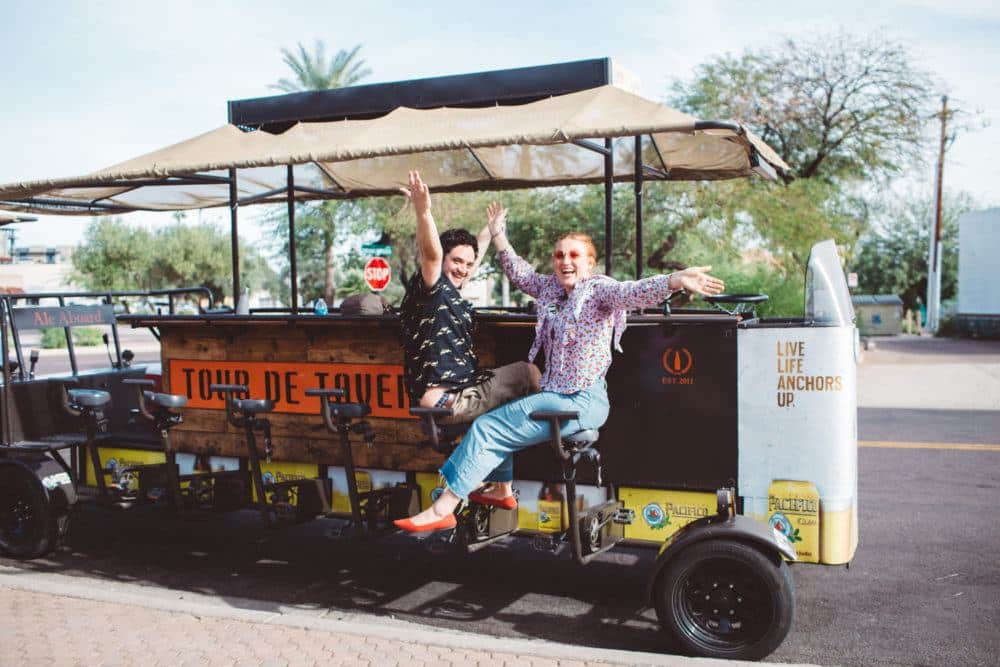 Step 1: Rent An Arizona Party Bike
First things first: go book your whole group a ride on the Arizona Party Bike!! You can usually do this last minute if you slack, but I recommend getting that out of the way asap and planning a day around this activity.
The Arizona Party Bike is a pedal pub crawl that is THE THING to do when in town for a bachelorette or bachelor party. My husband and I join a tour with a bachelorette party and the whole vibe is so much fun, I even got my husband to Wooo a bit (you know, a woo girl!)
The bike can seat about 15 people and don't worry, it's electric so you will pedal but it's not by any means a workout. The guides are really fun – they have drinking rules on the bike (like take a sip whenever the bike stops at a stop sign) and take you to 4-5 bars around the city where you get heavy discounts on drinks. You can also bring your own alcohol on the bus (which most people do) to live it up.
I think this group activity will probably be the highlight of your party weekend, so do it!It's a great time to throw on those matching bachelorette party shirts & rock those squad goals vibes. PS If you have a really large group (over 10 gals) rent out the whole bike to save about $50. Book the Old Town Scottsdale bike crawl now!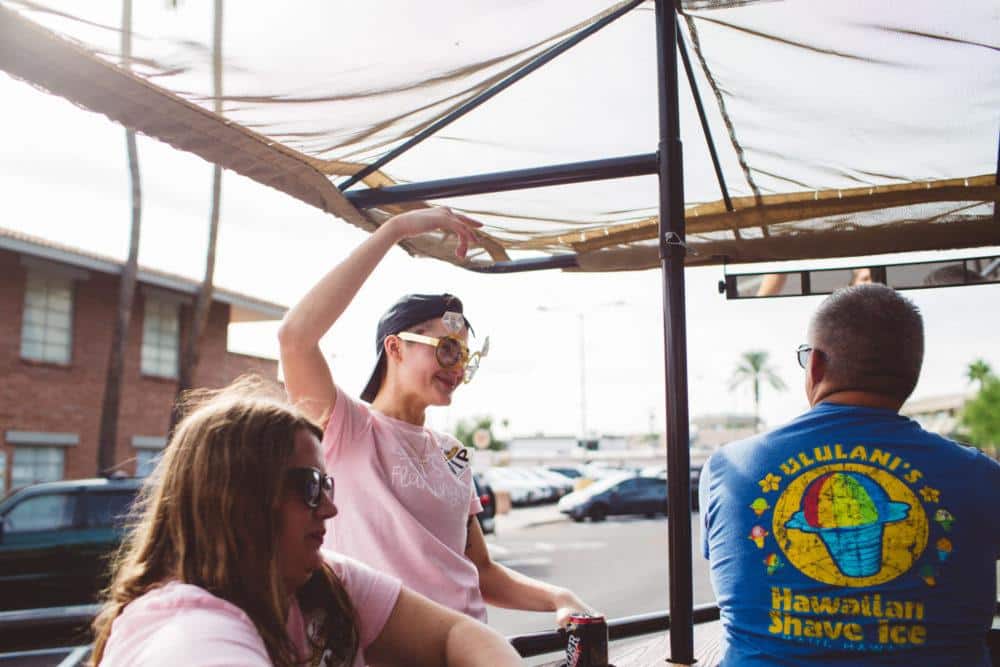 Do I Need To Rent A Car In Scottsdale?
No – you can easily Uber everywhere. It'll be about $30 into town from the Airport but most likely you'll be staying in Old Town and can walk or bike everywhere once you arrive. Very occasionally you'll need to Uber (like to brunch) but it shouldn't run more than $10.
Note about CIVANA: this Scottsdale resort is about a 30-minute drive from Old Town and it's pricey to Uber to and from. Most guests just stick around the property since they have so many great activities, but if you plan on taking the group into town, you may want to rent a car instead OR do all your in-town activities on one day to cut down on rides.
Where To Eat In Scottsdale Bachelorette Parties
Ok, narrowing the list down for you was HARD guys. Scottsdale is a major foodie city. That being said, I think the following restaurants will be the most fun for you and the group!
1. Diego Pops
Diego Pops is my favorite affordable Mexican place in the city! It's super trendy and cute (think palm wallpaper, neon signs, pink and yellow decor pops) but the food is also really, really good. They make all their sauces in house and do fun drinks like a prickly pear margarita.
2. Farm Craft
Right on the corner of Scottsdale Road, this airy spot is always buzzing around brunch and lunchtime. They have tons of outdoor patio seating and the menu is focused on farm to table, healthy meals that are actually really good. (I have had my fair share of sad salads, this is NOT that place!) They also have a lot of gluten-free dishes for anyone that has an allergy in your group.
3. SumoMaya
If you're hungover, this is THE place to beeline to! Bring the girls for their bottomless brunch (just $29 a person, with an extra $10 for drinks) that will literally keep you full all day. They just keep bringing the food out!! SumoMaya is a Mexican and Asian restaurant and it doesn't sound like that would work together, but it's so tasty.
Favorite dishes include the bean hummus, enchiladas, pink sushi, waffles with ice cream, cheesecake, Chinese Pineapple Rice, Bloody Mary. Oh, did I mention it's cute AF as well? (Hello IG worthy photos!) I think they have the best brunch in Scottsdale.
4. New Wave Market
New Wave Market is a cute little restaurant in Old Town Scottsdale that's affordable but still delivers everything you want (cute space, KILLER cocktails, fantastic food.) I personally had the Stetson Chopped Salad with Salmon (this is NOT a sad salad!!) Also try the burger, curry fries or bagels, the later which they are quickly gaining a reputation for. Oh, and that pink and orange cocktail you see below? That's the Karma Chameleon which is just as tasty as it is pretty.
5. Hash Kitchen
Lastly, Hash Kitchen is another fantastic brunch spot with super original menu items like Cereal Shooters (with booze!) and mimosa flights. This is another spot I recommend coming for brunch after a night at the bars. You'll fill up so fast! Menu highlights include the S'mores Pancakes, Carnitas Hash, Avocado Toast and Brunch Lasagna.
6. Prep & Pastry
Prep & Pastry was our first stop after landing in Arizona from a 6am flight and it was just what my body needed to fuel up! Aka, I think this will make an awesome brunch spot the morning after a party. The decor is super chic & the food is BOMB! I recommend getting a dish with potatoes in it (some of the best I've ever had) and a stuffed donut. Trust me on this.
Best Bars In Scottsdale For Bachelorette Parties
Find the best nightlife in Scottsdale right next to the W Hotel. There are a lot of Scottsdale bars and clubs, but more of them are in this one block making it easy to hop around. I was here with my husband and we're like, an old married couple now (lol at age 28, whatever) so we did not go clubbing personally. BUT I got the inside scoop from a local 20-something on the best party bars to head to with the girls.
Best Bars In Scottsdale For Partying & Clubbing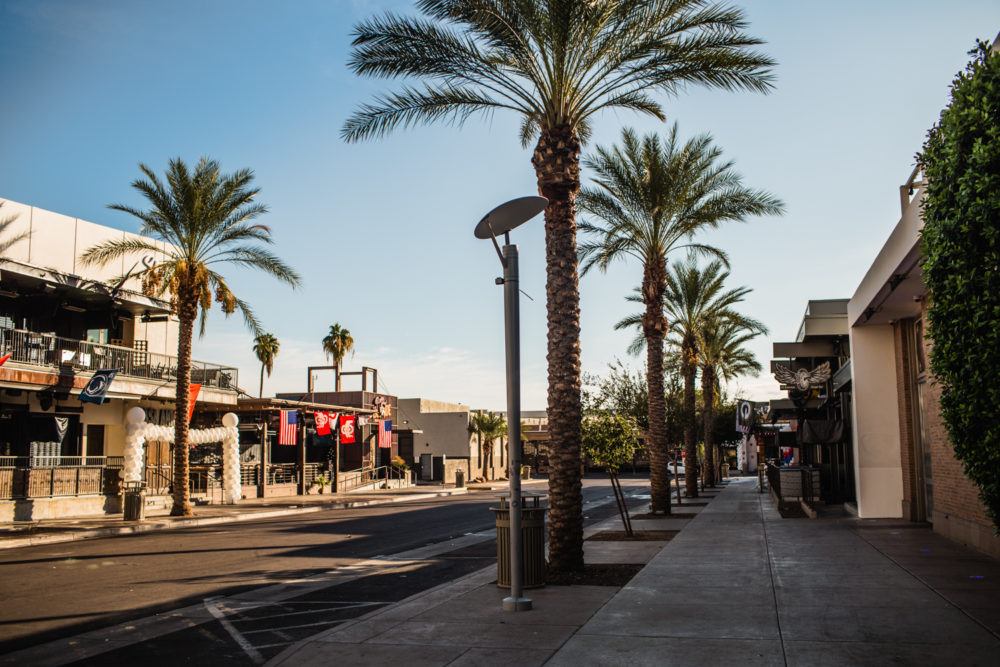 Best Non-Clubby Spots To Drink In Scottsdale
If you are looking for alternatives to the sports bar and clubby scene,
The Mission Old Town: Seriously, this place is SO good! They have a fantastic menu if you want to stay for dinner (I recommend the Poblano Grits and Chorizo Porchetta) but at the very least, come for an Avocado Margarita. IT's HEAVEN ON EARTH and makes for a fun Scottsdale bachelorette party dinner spot before hitting the clubs.
Wine Tasting at Merkin Vineyards: Founded by a member of the band Tool, this winery isn't your normal tasting room. It has more of a wine bar feel with lots of seating and big windows that open when it's nice out. They make almost every kind of wine here (from Chardonnay to Cabs) so everyone in your bachelorette party will find a wine she loves with her custom flight.
Wine Girl: A newish trendy wine bar in Scottsdale with 12 rotating wines available in flights or by the glass, along with beer and cocktails. They're built for bachelorette parties so you can absolutely bring a large group (just make sure to set a reservation first!)
Top Things To Do In Scottsdale For A Bachelorette Party
Looking to do more Scottsdale activities outside poolside lounging, dancing, drinking and eating? Good, because there is so much to do in Scottsdale! Here's my favorite things to do in Scottsdale (other than eat and drink!)
1. Hike the McDowell Sonoran Preserve
We hiked the McDowell Sonoran Preserve sunrise on our first trip and holy moly, it's just so dang pretty (sunrises in Arizona tend to be pink and purple!) It's mostly flat, so you don't have to commit to a hard hike, but its a park will with Saguaro cacti and trails weaving around the desert.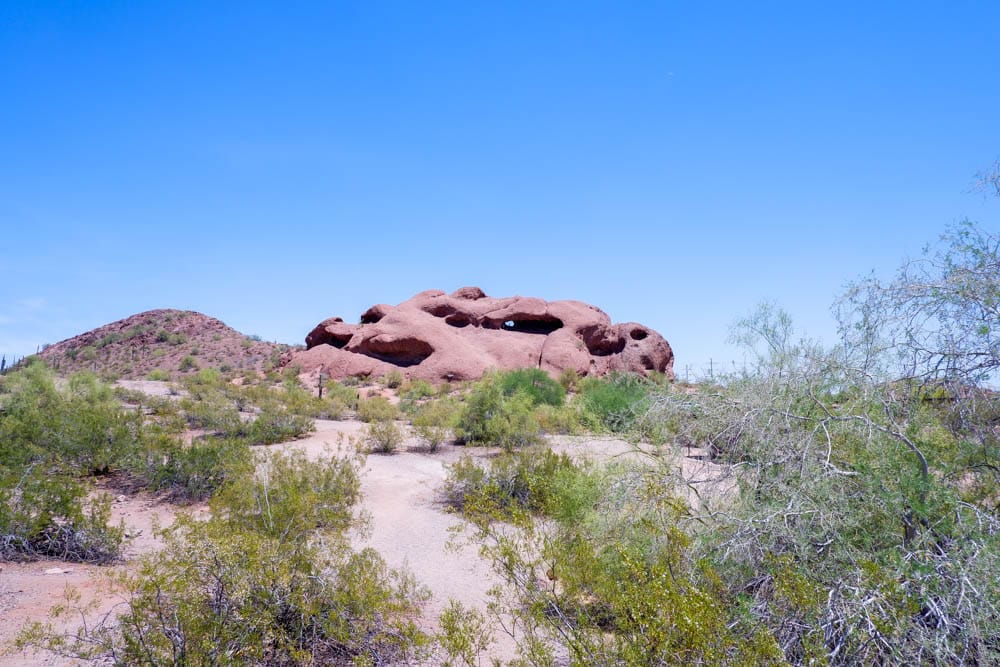 2. Hole In The Rock
Another really cool nearby hike is the Hole In The Wall hike at Papago Park. It's one of the best easy outdoor activities in Scottsdale this weekend of your party, especially if the group is a wee bit hungover. The hike isn't hard, but the views are beautiful.
3. Hot Air Balloon Ride
If your bride is a thrill-seeker, consider surprising her and the group with a sunrise hot air balloon ride that ends with a pop-up champagne brunch in the desert. It's a great bucket list thing to check off, too! We did a sunrise ride a few years ago and it was the highlight of our trip.
3. Desert Botanical Garden Lights
If you are throwing your bachelorette party in December, swap a happy hour for a visit to the Botanical Garden Christmas Light display (aka the Las Noches de las Luminarias) They cover the whole garden with string lights and fun surprises, like live music between the cacti!
5. Wonderspaces
Ever heard of the Color Factory? Wonderspaces is a bit like that, but with a more serious focus on interactive art. We had a really fun time running around this place and looking at all the installations. My favorite is the room of lights, it looks like magic! If the weather is hot outside, Wonderspaces is a great place to visit to cool off.
6. Canal Convergence
For a couple of weeks each November, the canal in downtown Scottsdale is taken over by art for Canal Convergence. This was one of my favorite parts of our trip this fall!! Tons of whimsical, IG-worthy moments, live music, beer and food tents and more. Oh, and it's totally free and just a few blocks away from the W Scottsdale.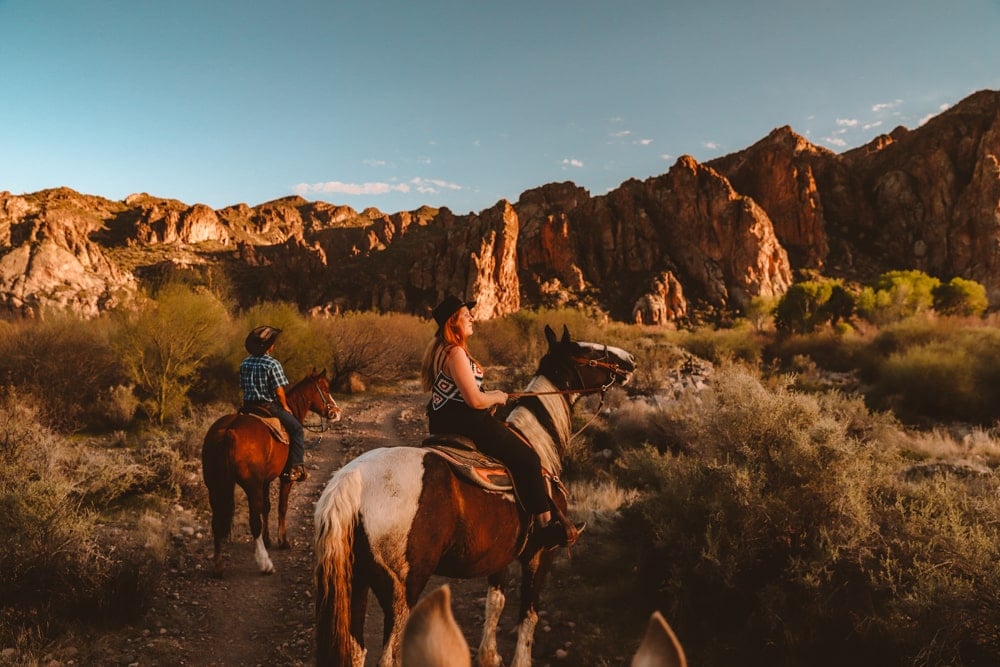 7. Sunset Horseback Riding
Most Scottsdale parties don't make it out of Old Town and they're missing out on some majorly cool nature gems. Like horseback riding in the desert! My favorite hidden gem thing to recommend for a scottsdale or phoenix bachelorette party is horseback riding at sunset.
It's affordable at $60 per person and you don't need the experience to do trail rides. This ranch will guide you through towering cacti to overlook Lake Saguaro and back down at sunset just in time to watch the sky turn amazing colors. If you did go on a Scottsdale bachelorette hike, this is an easy way to still get out into nature.
8. Goat Yoga
Sure, you can book a private yoga class but yoga with baby goats is WAY more fun! In Gilbert, next door to Scottsdale, is AZ Goat Yoga, the folks who started the goat yoga movement! They host yoga classes almost daily so it can easily fit into your schedule. I did this on our recent trip to Mesa, Arizona and i haven't laughed so hard in years. It has to be on your ultimate Scottsdale bachelorette weekend itinerary!
Looking for more travel tips?
Check out my
Scottsdale Travel Guide
full of everything you need to know about the city! Or DM me on Instagram
@thewhimsysoul
and I can suggest more things to do.
Scottsdale Arizona Bachelorette Party Itinerary
Ok, maybe you read the whole thing or maybe you just skipped ahead to get the snackable itinerary.
Day One In Scottsdale
11am: Check-in to the W Hotel (tuck bags behind the counter if they don't have a room ready yet) or your Scottsdale bachelorette party house Airbnb!
11:30am: Farm & Craft brunch
12:30: Walk around Scottsdale to get the lay of the land.
1:30pm: Drinks by the pool & getting your tan on.
4pm: Sunset horseback ride in the desert
6pm: Blow out at the AWAY Spa in the W Hotel (optional)
7pm: Dinner! I recommend one of the restaurants listed above or head straight to Bottled Blonde for pizza if you are eager to get the party started.
9pm-??? Clubbing & bars in the entertainment district ( top spots listed above)
Day Two In Scottsdale
8am: Hiking at McDowell or Hole In The Wall
10am: Hash Kitchen brunch
12:30: Wonderspaces exhibit at Scottsdale Fashion Square (to give your body a little break in AC before the pedal bike!)
2pm: Arizona Party Bike (don't forget to bring your own booze, cans only no glass!)
4pm: Choose your own adventure! Stick at the bars to keep the party going, go wine tasting in Old Town or relax by the pool.
7pm: Diego Pops for margaritas & dinner
9pm: Dancing at the clubs
Day Three In Scottsdale
10am: SumoMaya bottomless brunch
Noon: Check out of the W Hotel (tuck bags behind counter if needed.)
12:30 pm Walk around Old Town & visit shops
2pm: Lounge by the pool until you have to leave for the airport
??: Fly Home! It'll be about a $20 Uber ride to the airport
What To Pack For A Scottsdale Bachelorette Party
It really depends on what time of year you are visiting and what your bachelorette party ideas are for activities. Summer is HOT HOT HOT (think over 100 degrees) and the springs and falls are still very warm. We just visited in November and it was mid-80's and perfect. Come winter, it'll be chillier and you'll want sweaters.
Summer packing list

Winter packing list

Cute Bachelorette Party Favors & Outfits

Here's to weddings and epic parties to celebrate love! I hope this helps you plan the most EPIC bachelorette or bachelorette party in Scottsdale for your bride, groom (or yourself!) I really think Scottsdale is probably the best place in the entire country to host a bachelorette party. There's just so many fun things to do for all types of travelers, so much good food and the weather is awesome.
If you have any more tips to add to help others with their bachelorette party planning, leave a comment below so others can see! If you have any questions, comment below or DM me on Instagram @thewhimsysoul and I'll help you out.