Earlier that day the girls and I were cooling off at Barton Springs under the hot Texas sun. A few hours later, we were listening to live music over BBQ and then went dancing at a bar made from shipping containers.
My Austin bachelorette party was the absolute perfect way to celebrate with my best girls. This city is full of great food and bars for nighttime parties, but also tons of fun things to do in the day.
I wanted to share my perfect bachelorette party Austin guide for my readers. Keep reading for my tips on the best hotels for your squad, where to drink, where to eat, what to pack and tons of other insider tips for having an EPIC last hurrah with the girls!
Austin Texas Bachelorette Party Guide (Where Stay, Eat, Dance & Drink!)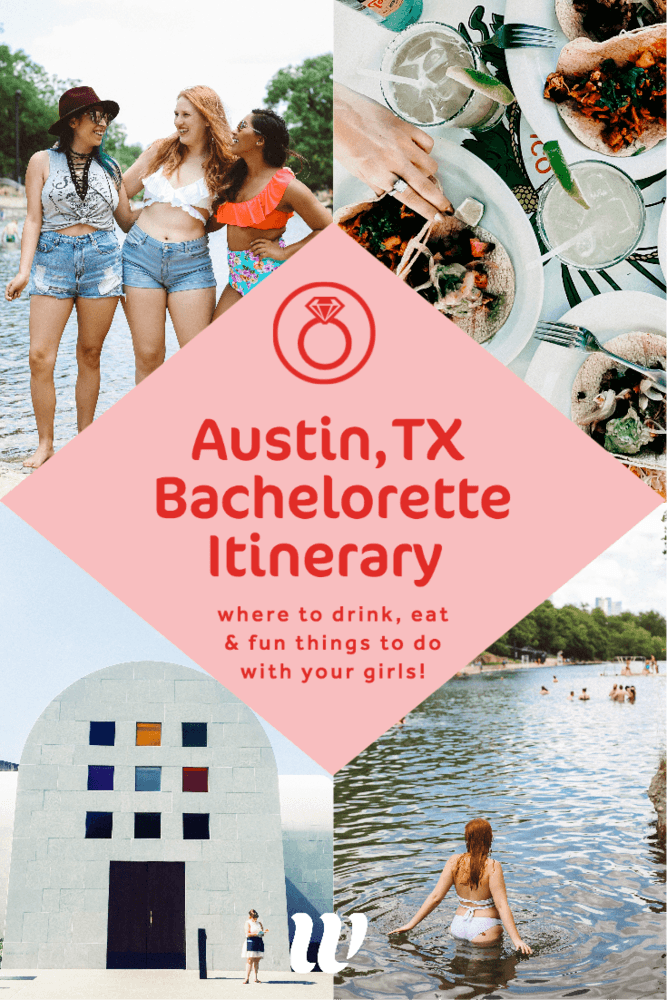 I got married in the fall but decided to head to Austin for my bachelorette party in April (to avoid the crazy summer heat!) I had no idea what to expect as it was my first visit to Texas, but DANG, I can't wait to show you why Austin is the perfect place to take your bride!
I'm not a crazy party person so I didn't want to club it up in Miami for 3 days straight, but I did want to pick a place that had an approachable nightlife.
Since all my girlfriends are foodies and fellow travel bugs, I also wanted a destination that had fun activities during the days.
Austin has natural springs and lakes to swim in, amazing TexMex + BBQ, cheap AF cocktails (seriously, I felt like a queen here) and a super cool vibe for a girls trip. Let's get this itinerary guide started!
Headsup:
I really wanted this Austin Texas bachelorette party itinerary guide to be a one-stop-shop for planning. There's a lot of info here to help you but if you have any more questions just DM me on Instagram
@thewhimsysoul!
How To Get To Austin From The Airport
To get from the airport to downtown Austin, take the Airport Flyer bus for $1.25 instead of a ride share. It takes 30ish minutes and is cheap! Make sure to have cash or use the app. If you want to opt for an Uber of Lyft, it will cost about $25.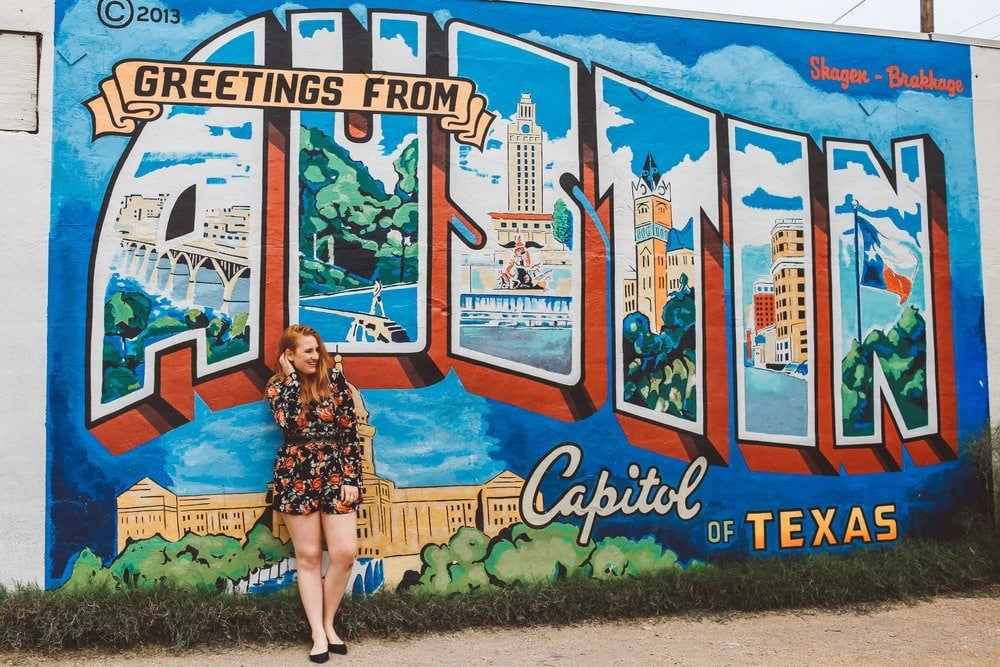 Austin Bachelorette Party Where To Stay?
Should You Get An Austin Texas Bachelorette Party House Or Hotel?
I think this depends on the size of your bachelorette party Austin Tx! If you have a small group, a hotel near Rainy Street or on South Congress will make it easier for bar hopping and parties as they're all within walking distance!
But if you have a large group, getting a VRBO or Airbnb with a pool and enough space to spread out with the gang will be more comfortable. Just keep in mind that you'll probably have to take a rideshare downtown to all the hot party spots.
Kimpton Van Zandt: I LOVE Kimpton hotels – I've stayed in Kimptons all over the country and they're always so well decorated and have free nightly happy hours. The Van Zandt stands out in Austin for its stunning rooftop pool, but also the proximity to Rainey Street. It's literally a block off so you can pop over to the bars!
Flat With Rooftop Near 6th: If you have a big group of girls, THIS is the apartment to rent! It can fit up to 11 people and right downtown near 6th street (that other party spot!) and live music venues. AND has a rooftop!!
South Congress Hotel: This one is a bit further from the party streets, but close to the elevated happy hour spots and dang is this hotel SO freaking cute!! I plan to stay here on our next Austin visit. 100% one of the top bachelorette party hotels.
Modern House With Pool: Looking for a private house with a massive pool just steps away from Downtown Austin? This pad ROCKS for large group parties. Everyone can have their own bedroom, too!
East Austin Hotel: A small hotel in East near top Austin food spots. It's more affordable yet still super cute so you save money for the top party places in Austin TX!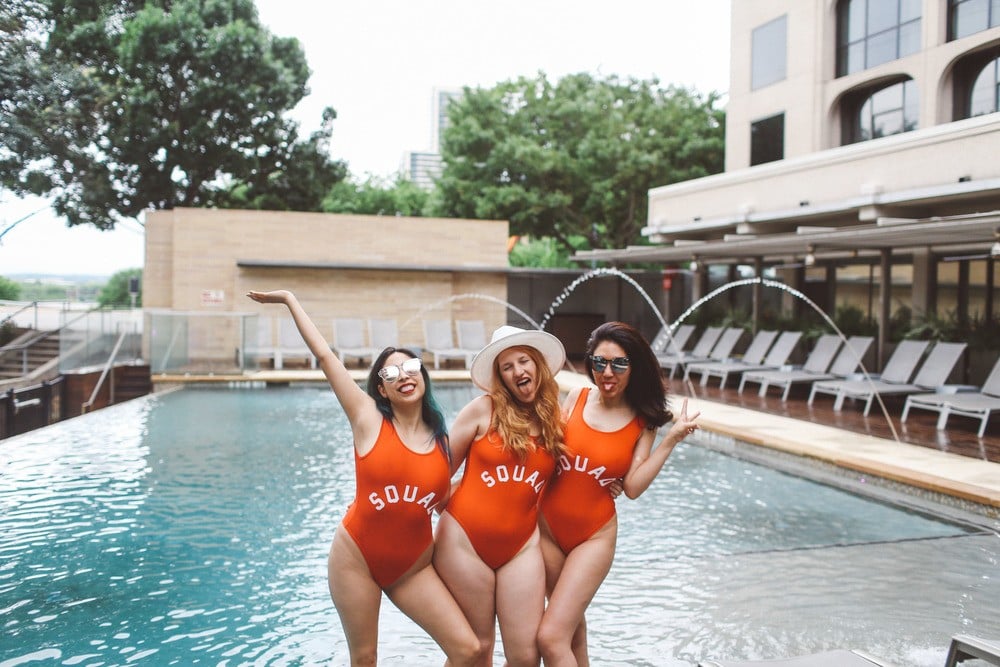 The Best Bars In Austin For Bachelorette Parties
Austin has such a vibrant nightlife, it's perfect for bachelorette parties because there's a scene for everyone and every type of group. Seriously – on that Saturday night I counted 17 other bachelor and bachelorette parties out celebrating!
There are two main party spots you'll want to take your girls while in Austin. 6th Street, which is a lot like Bourbon Street in New Orleans, and Rainey Street, which is quirky and cute. You should plan a night on both streets, though I personally liked Rainey Street MUCH better!
Best Bars On Sixth Street
Located in the heart of Downtown Austin, 6th Street is the type of place you should get dressed in clubwear to visit. There's a couple of places I recommend steering towards, but the gameplan for this street is to start at one end and walk down. If I counted correctly, there are over 50 bars and clubs on this street.
There will be club promoters outside and if you're a group of women, odds are you'll be offered free drinks if you spend some time dancing inside. Like all party spots, this street really gets going closer to 11pm.
When we went, the girls and I ran into a bachelor party so they had fun flirting with guys and bar hopping.
Here's my recommended spots:
Handlebar: This bar off 6th street has a KILLER rooftop with good views of the city and cheap drinks. I'm talking $3.50 cocktails, we felt like queens. (It's closed right now for the panny but hoping it opens again soon!)
Jackalope: This spot is divey with good late night food, but it stands out for the giant jackalope statue which makes for funny group photos.
Midnight Cowboy: If your group is looking for a classy lounge on 6th, this is the spot.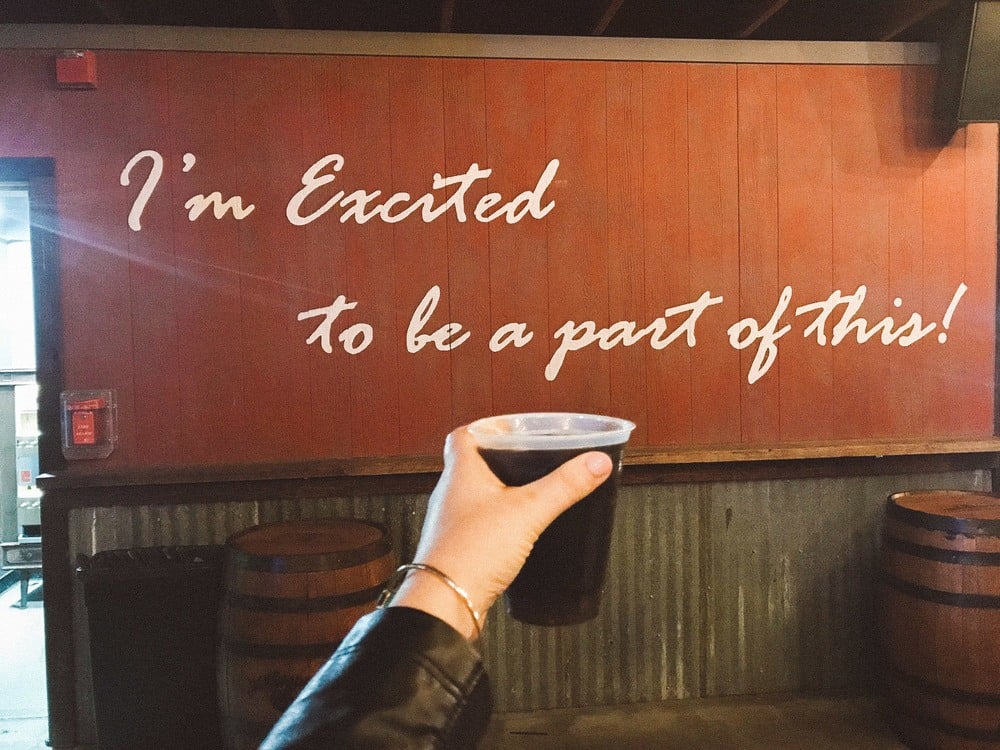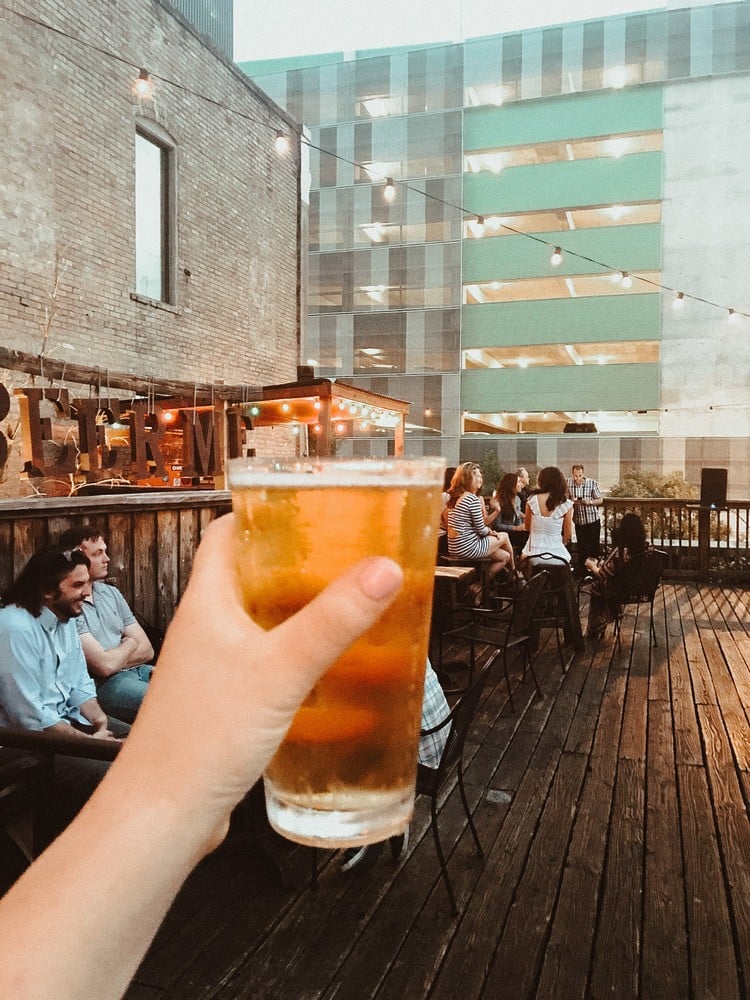 Best Bars On Rainey Street
As I mentioned before, Rainey Street is still a party street, but a party street with TONS of charm. There's lots of trees and super unique restaurants and bars.
I personally like it a lot better than 6th. This is the perfect spot to come on a Saturday evening for dinner and then stick around to party all night at the bars.
Bangers: Head here first for gourmet sausages, cold beer and outdoor seating! Some nights there's live music, too. We had fun starting the night at this classic beer garden, plus it's a great spot to meet Bachelor parties, which my single girls loved.
Clive Bar: This multi-story bar packs tons of charm and like, really good dancing.
Unbarlievable: This is a circus-themed bar that looks tame on the outside but packs tons of wacky decor and outdoor lounge seating in the back. They have a slide, great music and tasty cocktails.
Note: Container Bar is CLOSED! This is a bar made out of shipping containers!! The dance floor is open air & makes for a super fun late night dance spot. Sadly, it closed in April 2022 and hasn't made the update on other bachelorette Austin Texas guides. The good news is, the Clive Bar next-door is similar in style and a good alternative!
Other Fun Bars In Austin
Of course, there's some fun places that aren't on Rainey Street or 6th Street!
Eberly: Upscale and the perfect place for an uber fancy happy hour cocktail. It was a refreshing change of pace after hanging out on 6th street!
Broken Spoke Bar: Looking for a classic Texan Dancehall? This is the spot! It's a bit further from downtown so you'll need to ride share there but if you're craving a good ole' fashion no-frills hoe down, head here. It was featured on Queer Eye!
Whislers: Rustic chic with IG-worthy cocktails.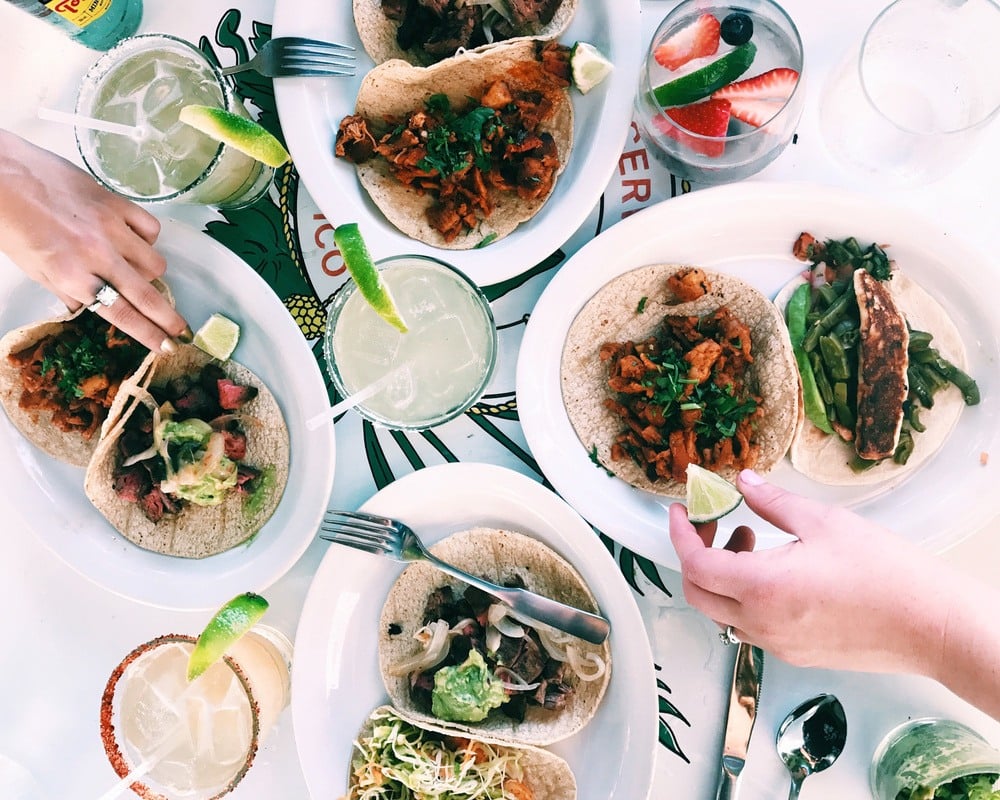 My Favorite Places To Eat In Austin, Texas
Austin left an impression on me in the same way that New Orleans did. I could spend a year eating my way through all the BBQ, tacos and farm to table restaurants in this city. Here are my favorite spots to take your girls!
Hillside Farmacy
This East-Austin brunch spot is called the "Farmacy" because it used to be a pharmacy back in the day and they've kept that theme going but in a chic, modern way. Think subway tile and old-timey cupboards. Order a virgin house soda – the strawberry balsamic one is so tasty. The perfect thing to sip on a hot summer day.
Revival Coffee
Located in East Austin, Revival coffee shop is like Elle Wood's wet dream. It's all pink on the inside and has a large outdoor patio that's also colorful AND has a food truck with bangin' breakfast tacos. I loved my specialty coffee drink, and they're constantly swapping around the drink menu for the seasons.
Juiceland
There are a few Juicelands all over Austin and holy moly, Jamba Juice has NOTHING on these guys. All the ingredients are incredibly fresh and raw (you can get things like hemp milk, fresh ginger or or cbd added to your smoothie!) I highly recommend the Wild Child with ginger added, it's so dang zesty and was the perfect fuel before hiking Mount Bonnell.
Torchy's Tacos
You've probably heard about Torchy's, it's like THE taco place in Austin. I was wary that they wouldn't live up to the hype, but as a taco snob I can confirm these are pretty dang good tacos. There's a few spots around the city, but we visited the one on South Congress.
Fresa's On First
Another alternative taco spot that is a little less touristy but equally tasty is Fresa's on First. It's a few blocks down from the Congress Torchy's location and has a huge beautiful patio under oak trees.
There's happy hour all day at the bar and plenty of booze-free drinks, too, like Pineapple Mint Aqua Fresca. I recommend any of their tacos plus elote and a drink for a dang tasty lunch.
Jo's Coffee
Jo's is the place with the "I love you so much" wall. I actually really wanted to grab tacos here, but they ran out of tacos early on! So, if you come here to eat, make sure you go early enough to beat the crowds. Instead, we grabbed their house coffee, which was sugary and delightful.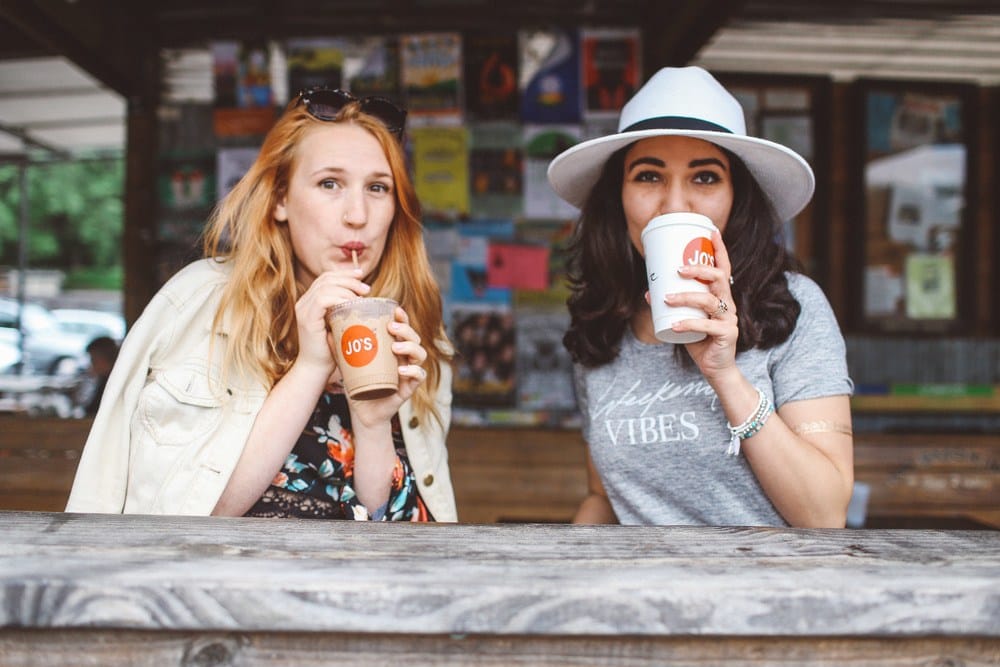 Bangers Sausage House + Beer Garden
As listed above, Bangers is on Rainey Street and THE spot for dinner! It's a large outdoor beer garden serving up over 3o styles of gourmet sausages and 200+ beer options.
There's an outdoor stage for live music a few nights a week, though I personally had fun just sitting in the sunshine chatting with other bachelor + bachelorette parties before a night on the town.
El Alma
El Alma is a cute little Mexican place with a beautiful rooftop patio hidden among some trees. It's very unassuming from the front, but the rooftop – man, it's stunning. If you haven't had cactus tacos before, order them here!
Elizabeth Street Cafe
A Vietnamese brunch spot with tons of outdoor seating and cute decor. Grab a table outside if it's not too hot for the most relaxing way to start the day!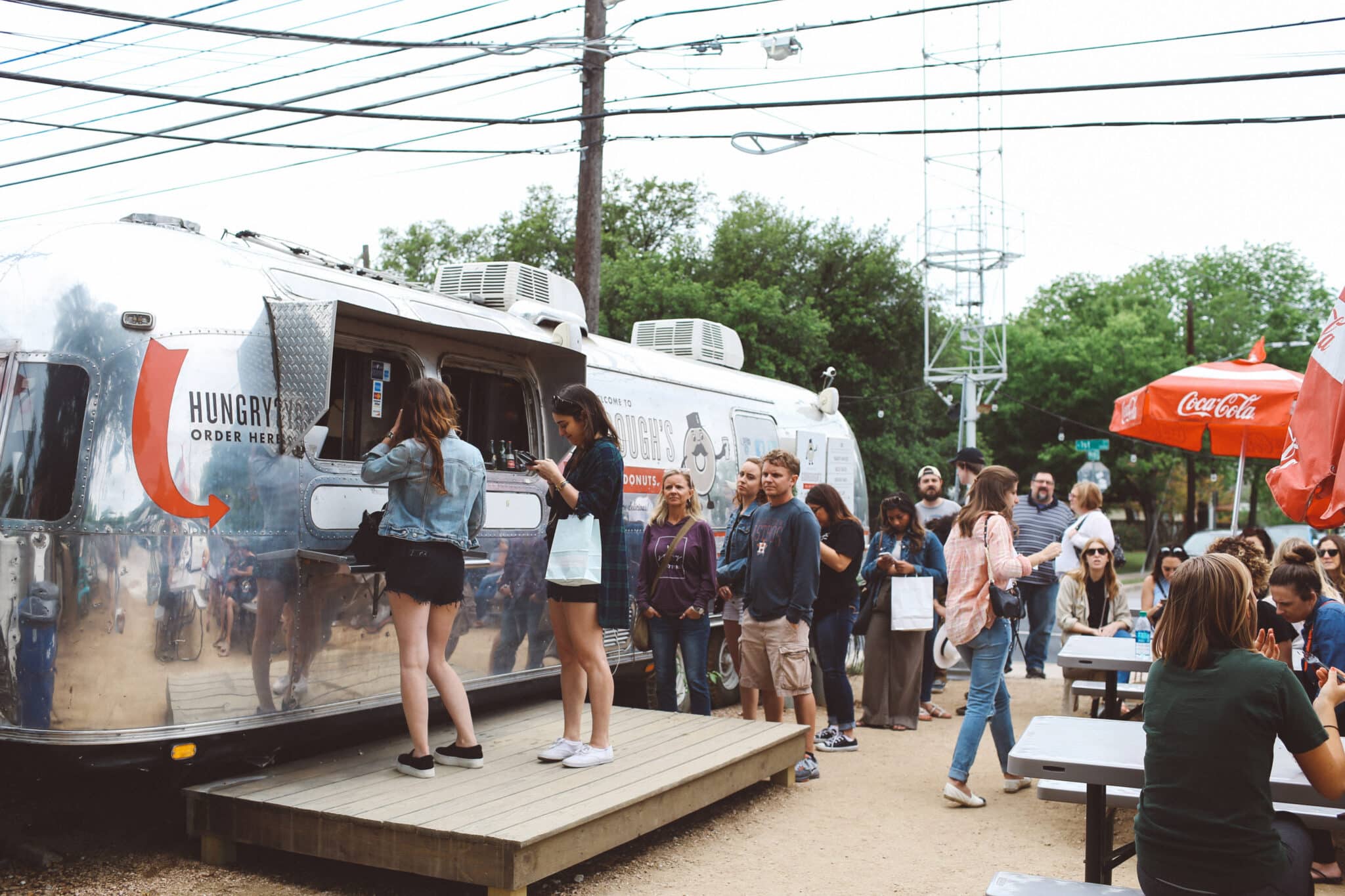 Gourdoughs Donuts
Gourdough's is a classic donut shop operating out of an airstream in a small food park. The line can get long but it's totally worth it for the unique craft donuts they sell here.
Tiny Grocer
Located on South Congress, this tiny grocery store packs a really tasty deli. It's a great stop if you need to buy some refreshments (iced coffee, CBD drinks, etc) or snacks, or just grab a quick bite to eat on the go. I had an amazing potato salad here.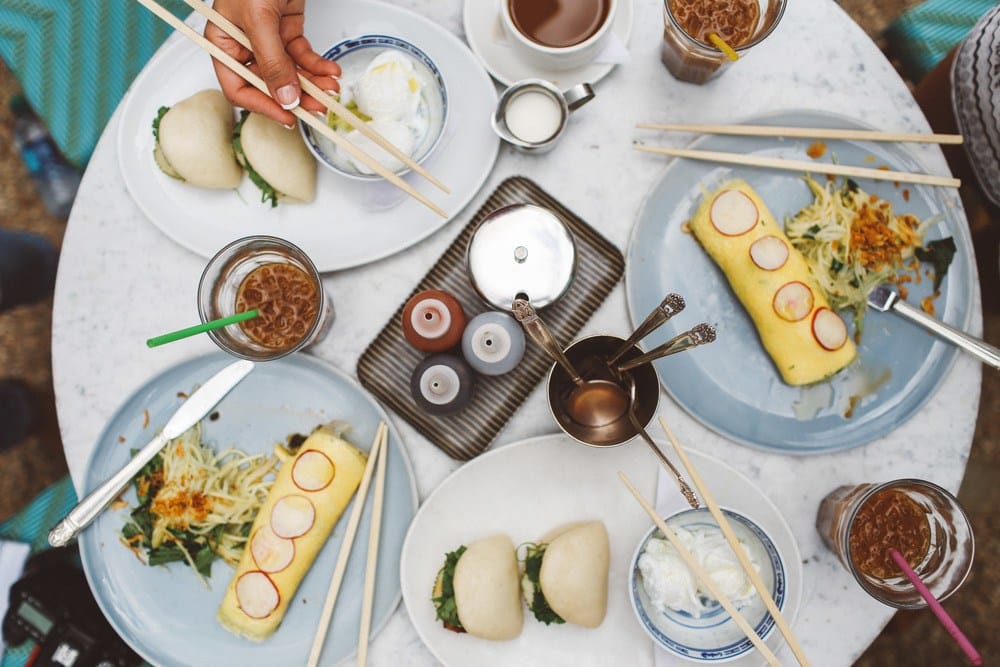 Things To Do In Austin With Your Bachelorette Party
I promised you that there are a lot of fun things to do in Austin, Texas with your bachelorette party that ISN'T partying.
Barton Springs Pool
OMG you simply MUST spend an afternoon at Barton Springs! This natural swimming pool is made from underwater springs and it's such a unique experience that you can't find anywhere else.
You'll get treated to an amazing downtown Austin skyline view and swimming here feels amazing on a hot Texas day. Fees are $9 per person but it is free before 8am if you're looking for free bachelorette party ideas.
Hamilton Pool
Looking for a less crowded natural swimming pool? The Hamilton Pool is about 45 minutes outside town and looks simply stunning in photos. We tried to visit but it was closed, so double check if the park is open before you make the trek out there.
Pro-tip:
Texas has a lot of cool swimming holes, most which are open Memorial-Labor Day. Use our guide of
best secret Texas swimming holes
to help you find some ones near Austin if you are up for a road trip!!
Visit The Blanton Museum of Art
Free on Thursdays, and open daily, this cool art museum is a great choice for your Bachelorette in Austin TX on really hot days when you just want to stand in A/C. Or for fellow art lovers life myself!! I loved this side building pictured below (the white one with colorful windows) as it has a really neat light space on the inside. Plus it's just so dang Instagram-worthy.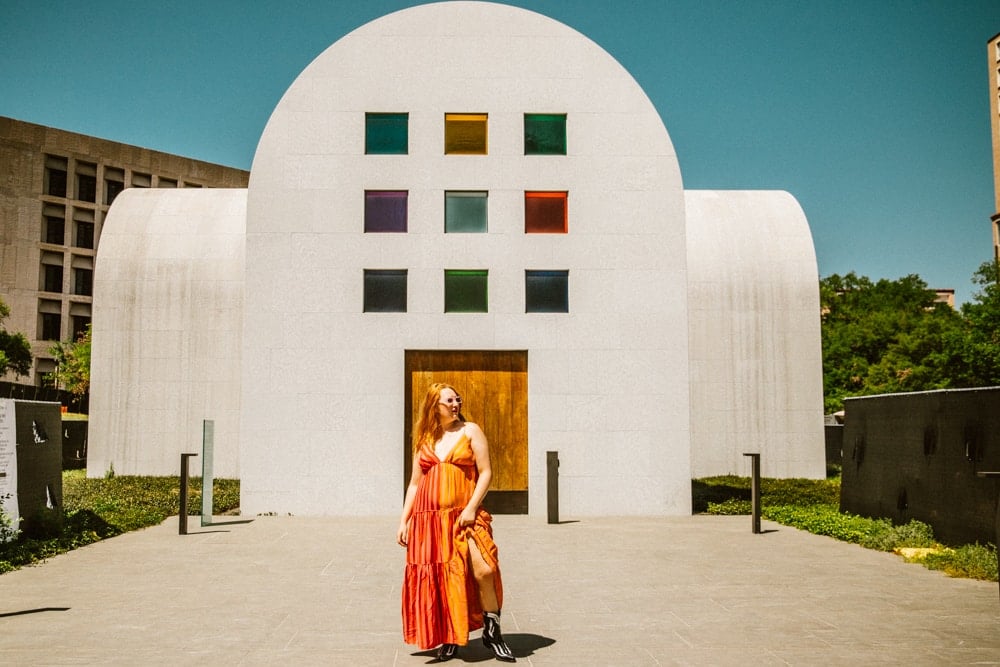 South Congress Street
Austin is full of cute vintage stores and locally own boutiques. Start on South Congress Avenue, the street that runs all the way downtown with the capitol building on end, and lots of eats and shopping along the way. From thrift stores to hipster boutiques, South Congress Ave has so much good shopping!
A notable shop is Allen's Boots, which will satisfy all your cowboy boot needs. Also check out Bloomers and Frocks, where I found my favorite vintage dress for just $10 (and later was featured don Queer Eye!)
My biggest regret during my bachelorette party weekend was NOT buying cool cowboy boots, so when I came back to Austin 5 years later I beelined to Allens to buy some cool boots.
Hike Mount Bonnell
Hike is a loose term here, Mount Bonnell is more like walking up 5 flights fo stairs to find a killer view of Lake Austin and the skyline. It's easy enough to do while hungover and gets the blood pumping so it's a great option for an outdoorsy group of gals.
We grabbed Juiceland first and then headed here to shake off a hangover. it takes about 30 minutes in total, so plenty of time to hit the pool after.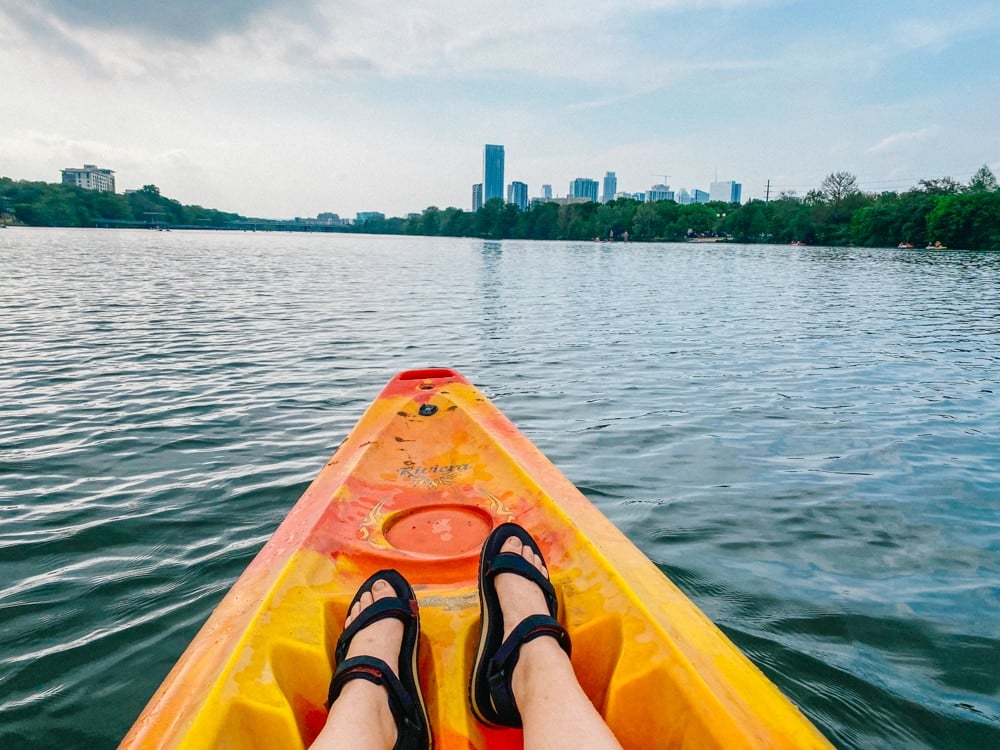 Lady Bird Lake Austin, Texas
Kayak Lady Bird Lake
If your group is into outdoor recreation, spend a morning kayaking on Lady Bird Lake! There's a neat little island you can paddle to and the water is super calm.
If your bachelorette party is in the summer, you'll probably want to ensure your paddle is over before 10-11am to avoid the intense summer heat. OR, load up with drinks and a cooler to make it a party!
I went kayaking Lady Bird Lake on my most recent trip to Austin and loved seeing how so many locals just used it as a floating bar.
Head to Live Love Paddle, rent paddleboards or kayaks for $15 an hour, bring cooler and waterproof speakers and you instantly one of the coolest party ideas for your group.
Haunted Austin Pub + Walking Tours
We did one of these haunted tours in New Orleans and I'm honestly a little bummed I didn't think to plan a haunted pub crawl with my girls! I'm a huge true crime fan and love learning about the seedy underbelly history of old towns. Find a list of all the tours here.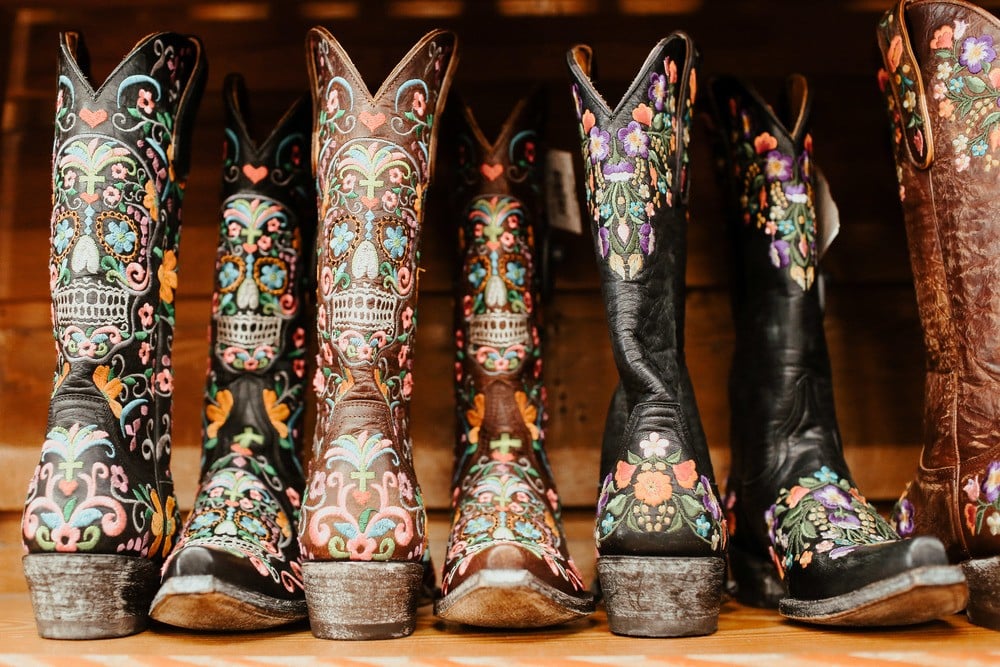 Watch the bats
Yes, you read that correctly! Watching the bats in Austin is a THING! They sleep under a bridge during the day and at dusk every evening they fly out to conquer the city and destroy man (jk on that last part.) This thing to do is probably in every Austin travel guide book as it's such a city classic!
Riverboat tour
See Austin by boat! There's a river that goes right next to the Austin city skyline and is a popular thing to do in the evenings! I recommend the Lone Star River Boat (it's really cute!) They have bat watching tours and sightseeing tours on Lady Bird Lake.
If you want to get out of the city, you can also head to Lake Travis for a day on a proper lake and rent a boat there or opt for a tour. A good boat rental company such an epic way to spend a day – plus you get to contain everyone and have a DD to get ya back to shore.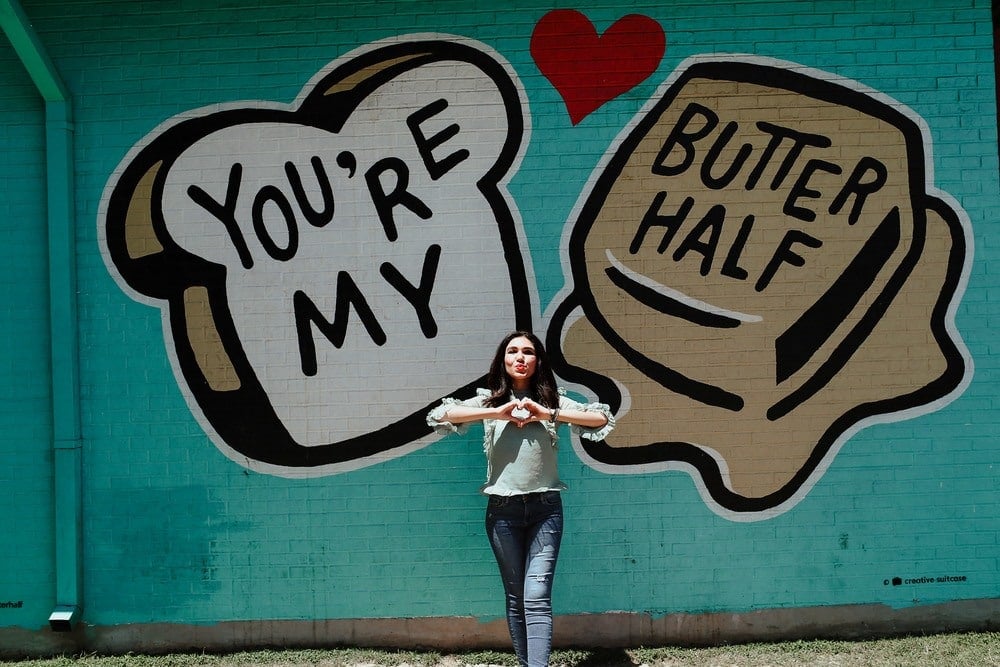 Mural Hunting
Austin has so many murals and colorful street art! They make for Instagram-perfect snapshots and a fun way to explore the city by foot. Right now my favorite Austin murals are:
Tau Ceti Mural (tall rainbow) at E 2nd St &, Brazos Street
You're My Butter Half mural in East Austin
Love From Austin outside Prima Dora on Congress
I Love You So Much on the side of Jo's Coffee on Congress
Pool party
Summers get HOT! Make sure to set aside some time for a cold cocktail by the pool with your girls. All the hotels have really nice pools (one of the reasons Austin is one of the best bachelorette party destinations) and many Airbnbs also have pools.
But of course, if you are lacking a pool in your digs, go to Barton Springs or float on Lady Bird instead. I think the best time to visit Austin is springtime when it's warm enough for dresses and swimming, but not too hot you're dying outside.
Day Trip To Fredericksburg For Wine Tasting
Did you know Texas has wine country? Just about an hour outside Austin is Texas Hill Country and the cute German town of Fredericksburg which makes such a fun spot to go wine tasting!
You can rent a car or do this day trip guide (picks up from downtown Austin!) to visit a few wineries and then have dinner in Fredericksburg before heading back to Austin.
A lot of bachelorette parties never make it outside the downtown area so this is such a unique thing to do in Austin to surprise your crew. Use my guide to Fredericksburg wine tasting to help you plan!
What To Pack For A Bachelorette Party In Austin Texas
Packing for Austin can be a bit tricky. My wedding group of gals totally failed a bit on our Austin bachelorette party outfits because we didn't take into account Texas' very midwest-like weather.
The first few days were hot (in the 80's) but on the last day the weather shifted to low 60's and chilly.
So, heads up, the winters and spring can be chilly, so you'll want to pack a sweater if you're throwing your bachelorette party then. Otherwise, pack lots of swimsuits, party dresses, crop tops and sunscreen!
If you are coming in the dead of summer, plan on it being hot hot hot but other seasons you will want to pack for any type of weather.
But, in the meantime, here are some of my go-to items fo Texas bachelorette party outfits:


Austin Bachelorette Weekend Itinerary
Here's my recommended Austin bachelorette itinerary in a copy and paste format so you can email it to your girls or use it to plan your trip.
FRIDAY (Day One In Austin)
Noon: Try to fly in and arrive around Noon to take advantage of Friday. Take the bus into town (only $1.25 per person, cash only to use the app!)
2pm: Check in hotel or Airbnb & lounge by pool until everyone in your group arrives. If you are on South Congress, you can also use this time to browse stores.
5pm: Early dinner to get the party started! Of course, order a round of margaritas or cocktails. Choose from El Alma, Aba, r June's.
7pm: After dinner, ride-share over to Handlebar in Downtown Austin for a night on the town! Don't forget your party outfits.
8pm:-???: Wander 6th Street with the girls for however long you want. There are a few late-night pizza places on 6th Street for munchies.
NOTE: Friday would be a great night to do a haunted tour if you're interested. Schedule that around 7pm and then pick up this itinerary when you're done!
SATURDAY (Day Two In Austin)
9am: Gather the girls for brunch at Elisabeth's Street Cafe, Revival Coffee, or Foreign & Domestic.
10:30am: Wander over to South Congress for some shopping & exploring! If you're on the hunt for a pair of real cowboy boots, this is the street to visit.
Noon: Lunch at Torchy's Tacos on South Congress. YUM! A few blocks off from Torchy's is the famous "Austin" mural if you want to stop by afterward. An alternative lunch spot is Fresa's South First. They have a great outdoor patio and tasty tacos, too!
1pm: Head over to Gourdough's for donuts. Everything is good here, but I urge you to try a unique flavor of donut.
2pm: It's time for Barton Springs! Bring your swimsuit, sunscreen and towels for a fun afternoon!
4pm: Hit up Lady Bird Lake for an hour of kayaking or paddle boarding.
6pm: Use this time to refresh & change after your afternoon swim. Be speedy about it though because Rainey Street is calling…
7pm: Banger's BBQ for dinner! This is another spot where everything on the menu is fantastic so you can't go wrong.
8pm: Bar hop on Rainey Street. Our night partying on Rainey Street was my favorite night of the whole trip. Make sure to top by unbarlievable, it was our favorite spot.
Midnight: Need a late night snack? There's a pizza food truck on the North end of Rainey Street that's open late!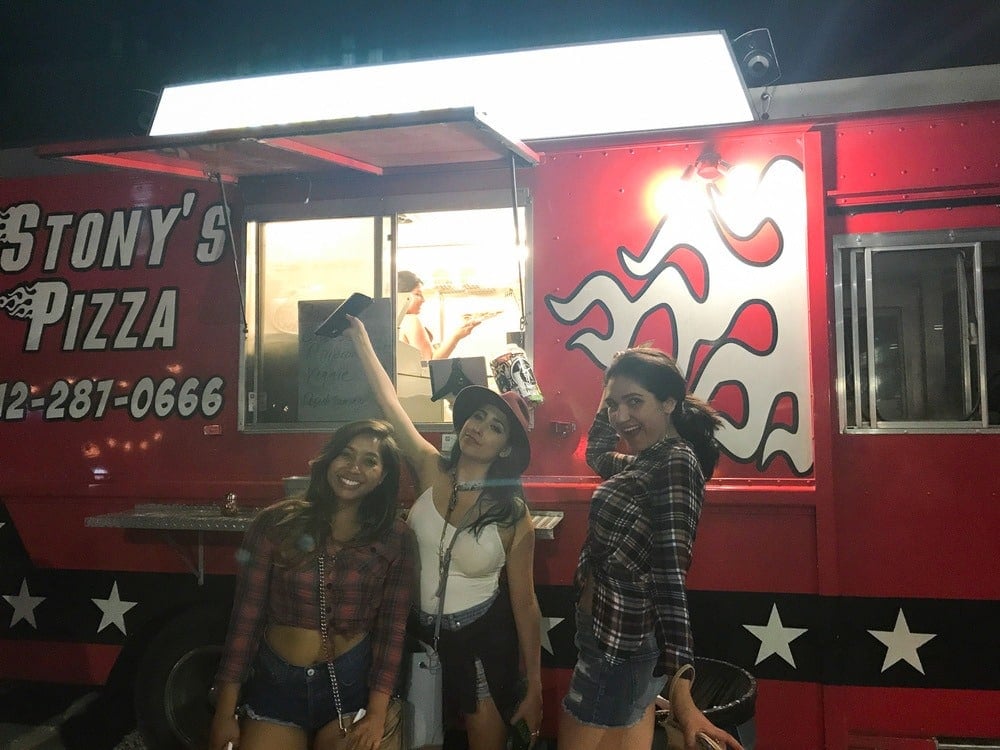 SUNDAY (Day 3 in Austin)
9am: Morning hike on Mount Bonnel to get the blood flowing and get a great view of Lake Austin and downtown! It's an easy hike that you can do hungover if needed.
11 am: Head to OMG Squee in East Austin for mochi donuts! This Asian-American bakery was featured on Queer Eye and it's super good. It opens at 11am and the line can get long, so arrive early.
Noon: Brunch at the Hillside Farmacy (if you can, try to make reservations first!)
3pm: Check out of your hotel or grab your luggage, but ask if you can stay later to lounge by the pool before your flight out if it's later. OR, just this afternoon to go mural hunting around town if you haven't done so yet!
… and that's it! Time to head to the airport! This airport is a bit chaotic right now. The city has expanded rapidly but the airport hasn't, meaning you should expect crowds and long lines. Arrive a little early.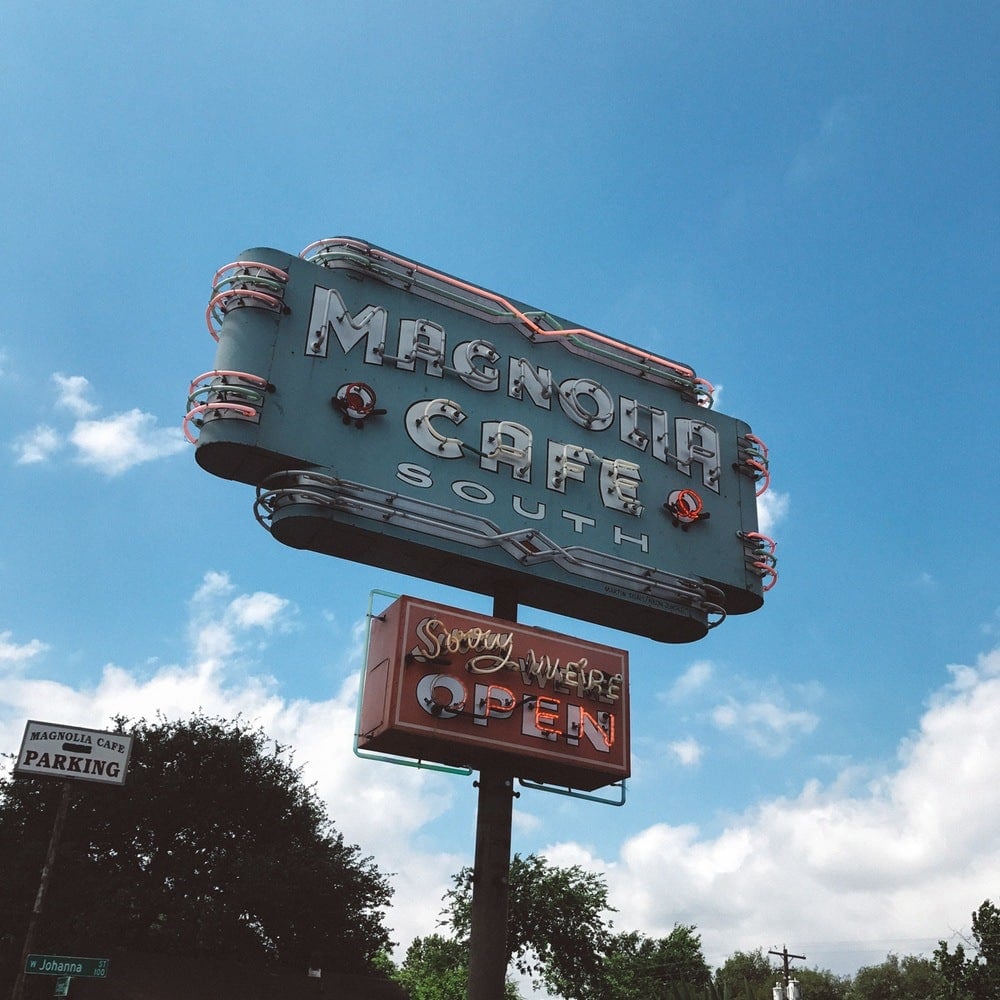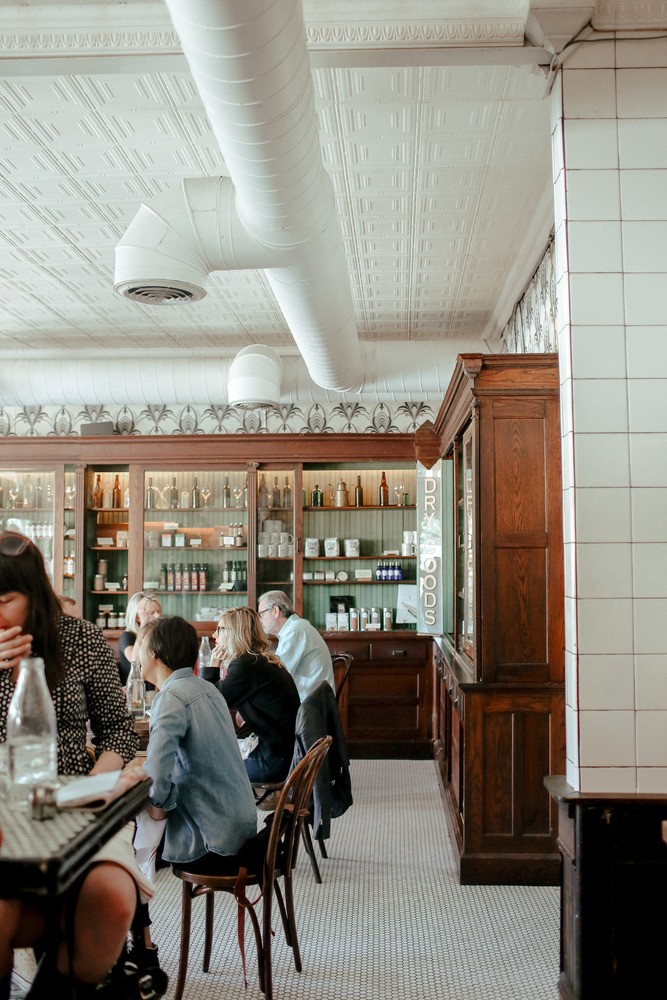 I hope this helps you plan a super fun bachelorette party in Austin for your bride! I can't wait to head back to Texas, this time with my husband because I know he's going to want to eat allll the BBQ!
If you have any tips to add, leave a comment below so everyone can see. If you have any questions leave a comment or DM me on Instagram @thewhimsysoul and I'll be happy to help!