We spent a week in New York City and I could have spent years there just eating!! From vegan Mexican to rooftop cocktail bars to oysters on a boat, there is literally every type of food in the world somewhere in New York. We spent much of our time in the city hunting down the best eats so we could share them with you! You can find my full NYC Travel Guide here, but keep on scrolling to find my recommendations on food!
Psst – sharing your NYC pics on Instagram? Use #whimsysoul so I can follow along YOUR adventures!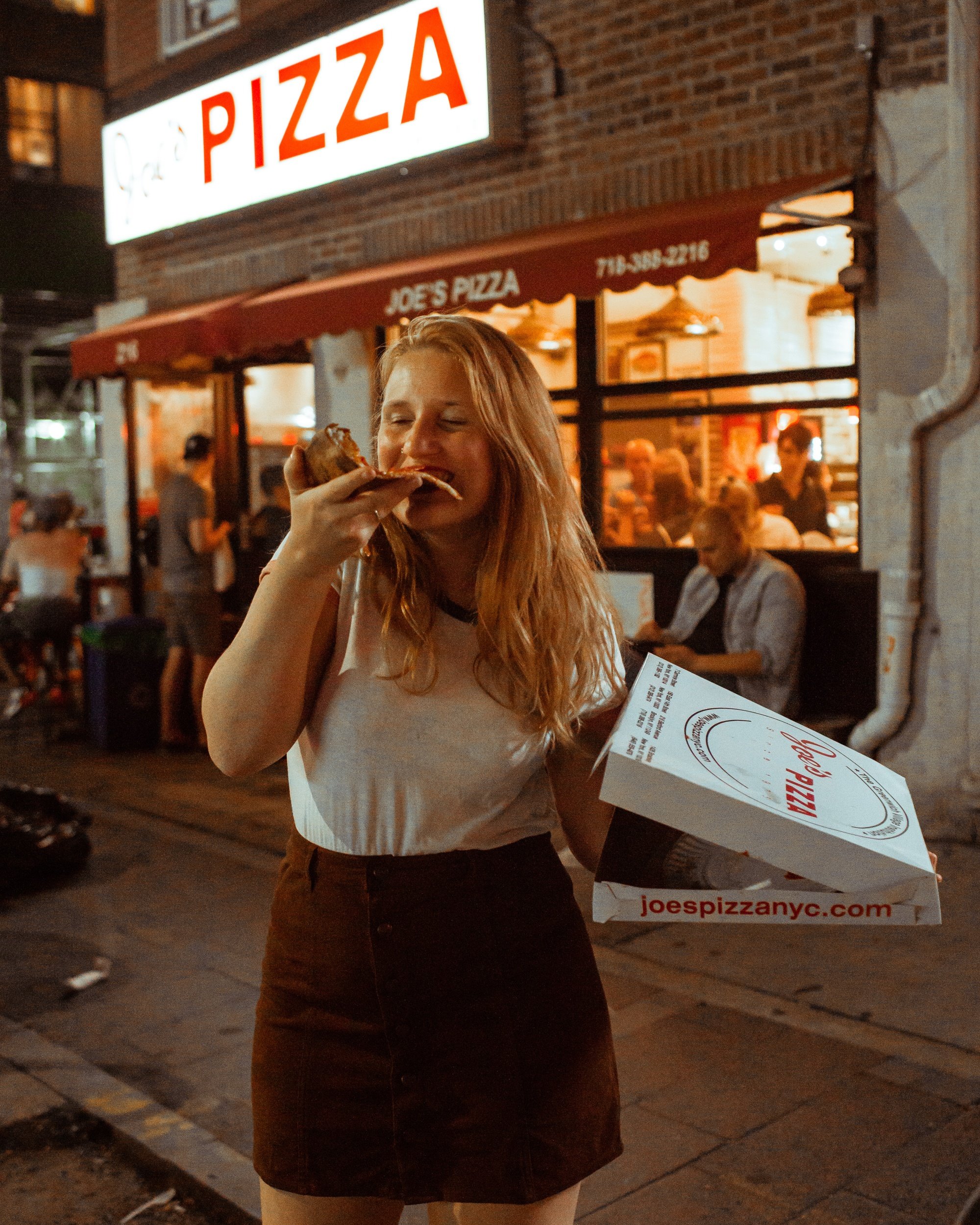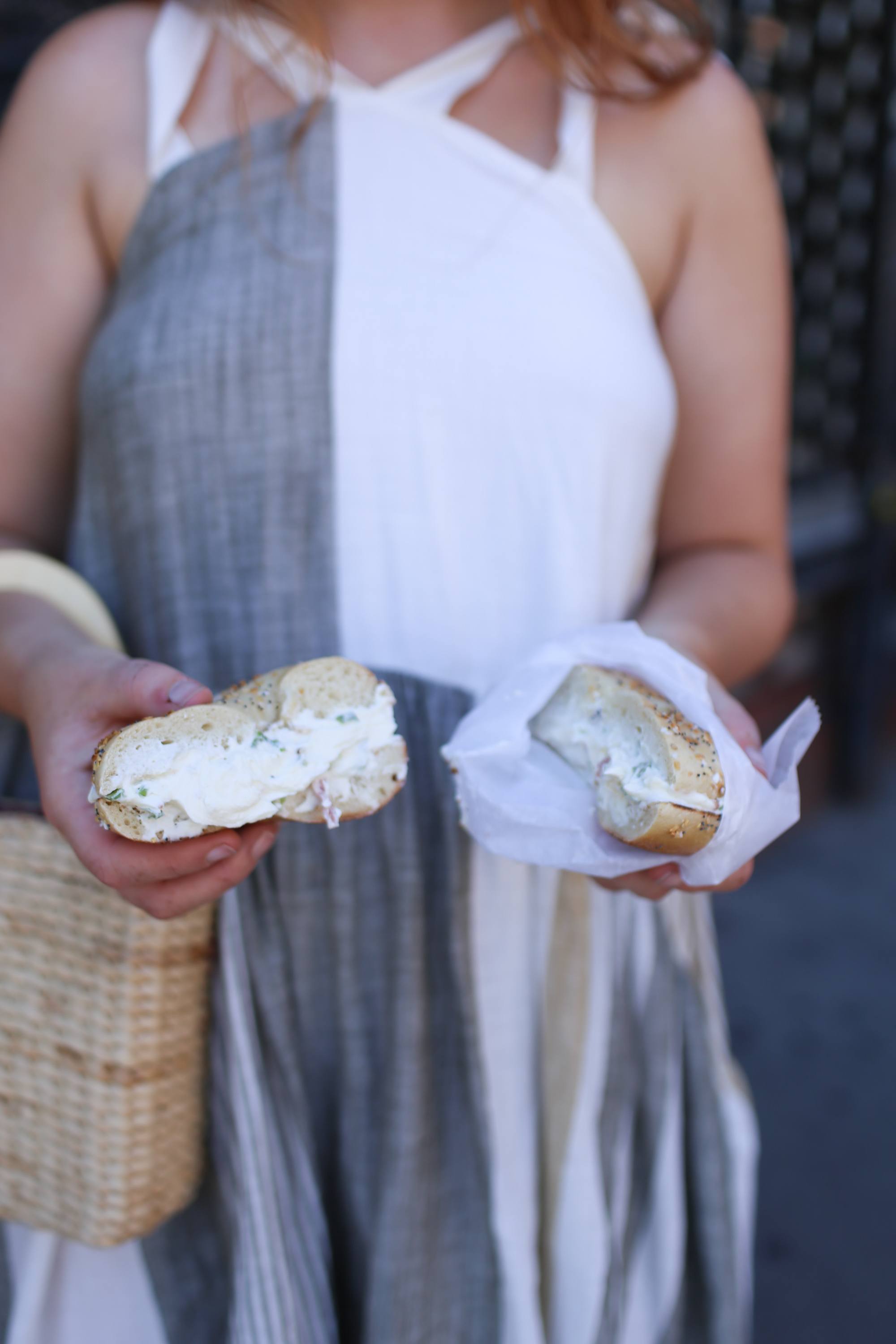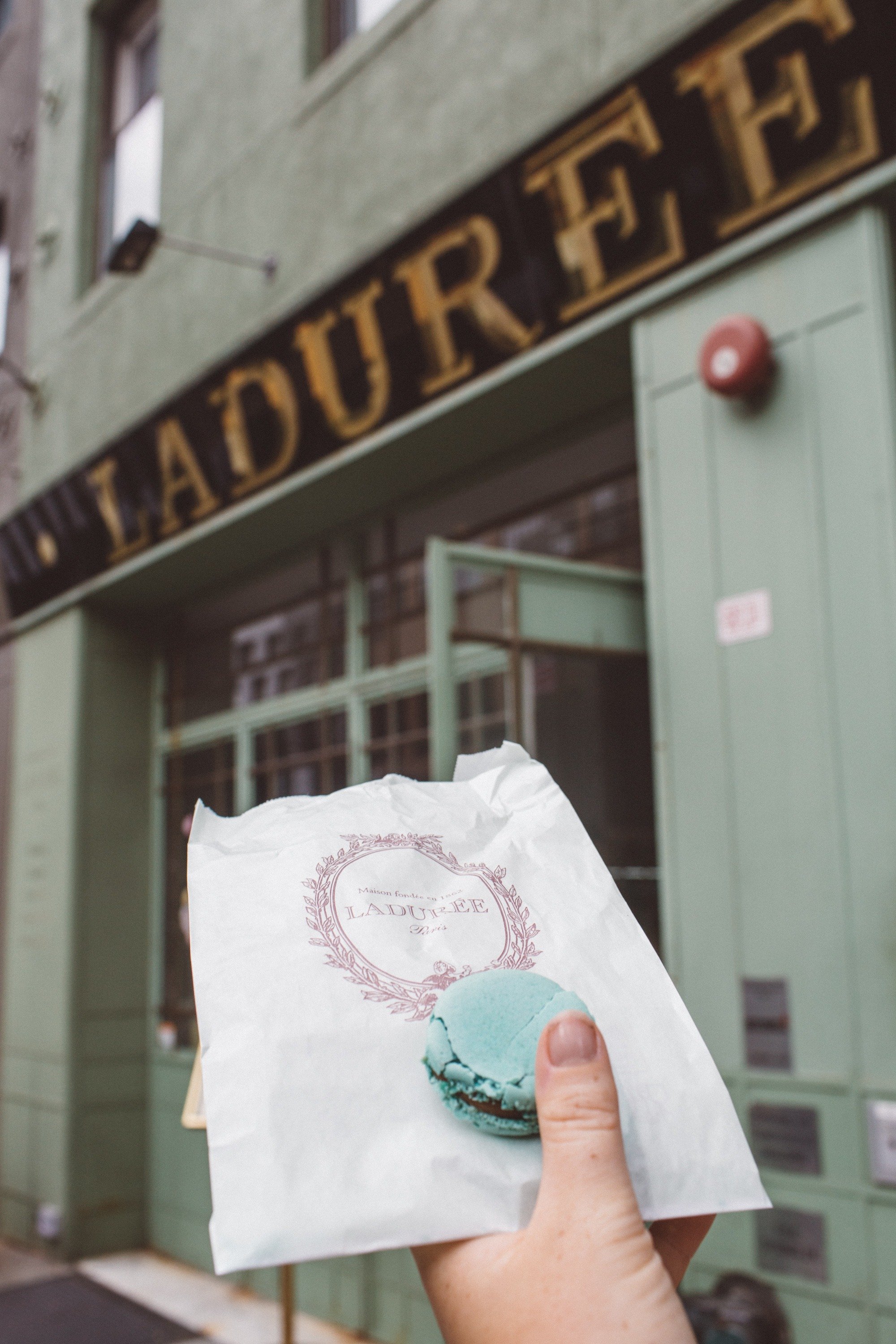 Ladurée: A world-famous French luxury bakery that I first visited while in Paris years ago. I fell in love with their Marie Antoinette macaron and bought one for me and Robin. They don't have too many US locations, so make sure to stop by here in Soho! If you have more time, grab tea in the back garden.
*Jajaja: A vegan Mexican spot in the Lower East Side that makes literally the best vegan food I've ever had (and I live in California, so that's saying a lot!) I didn't tell Robin it was vegan and he didn't even notice the "meat" wasn't actually meat.
Bagel Bobs: Authentic NYC bagels. It's cash only, but a local favorite. Try the egg bagel and don't get it toasted!
*Joe's Pizza: One of the most classic NYC pizza by the slice joints. There's a few locations around the city, so you'll probably find one near your hotel. I suggest trying a classic cheese slice.
Artichoke Pizza: Another famous pizza restaurant that we didn't have a chance to visit, but multiple trusted friends highly recommended this place for a pizza.
*1803: This is a must stop! Everything from the fun palm wallpaper to the upstairs railing that hints at the Garden District, this place is a little slice of New Orleans from the moment you step in the door. We were blown away by the food here – fried, but not greasy in that perfect Southern style. They make housemade Sazerac and also housemade tomatillo and chili garlic hot sauce. If you're craving New Orleans style cuisine, head here.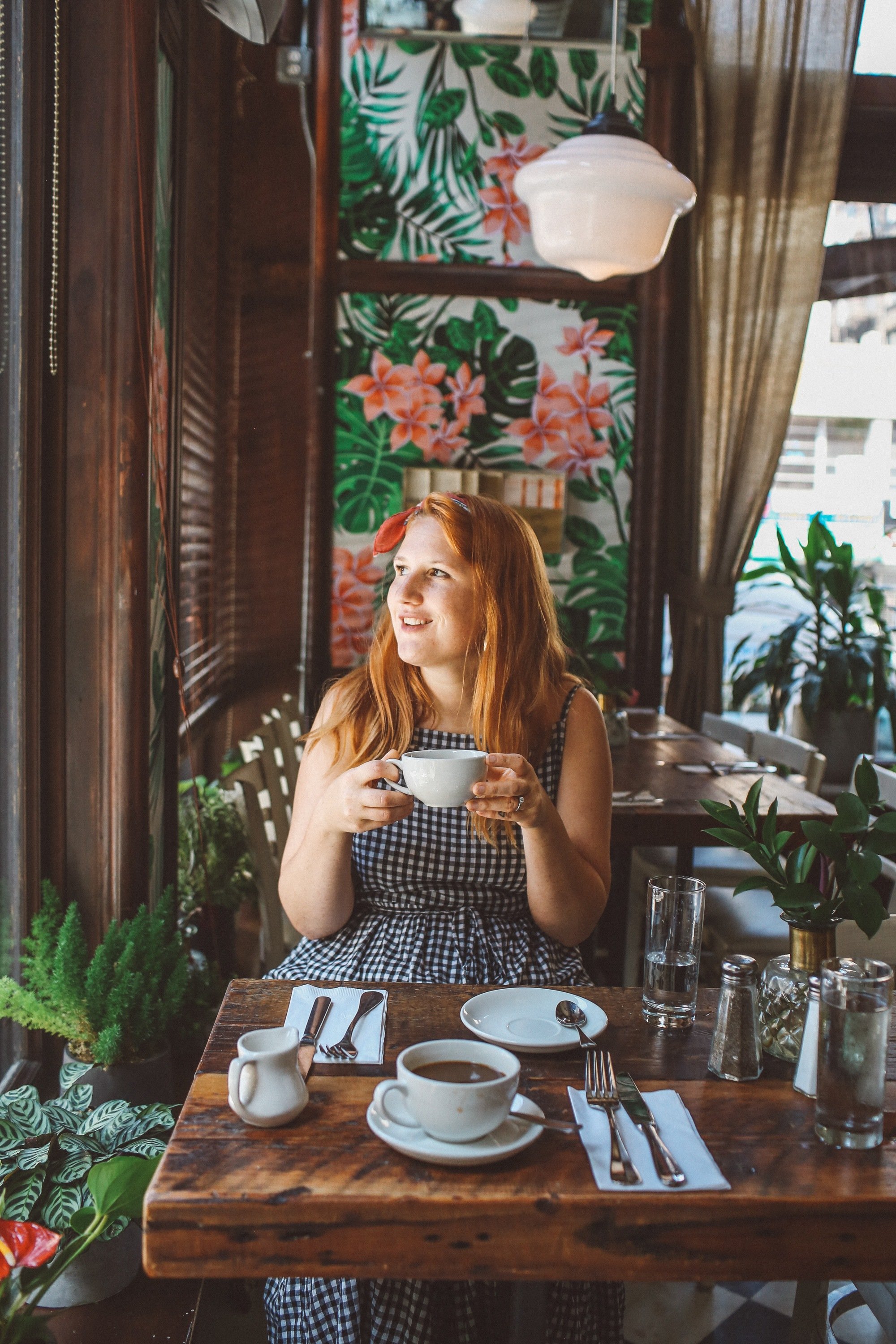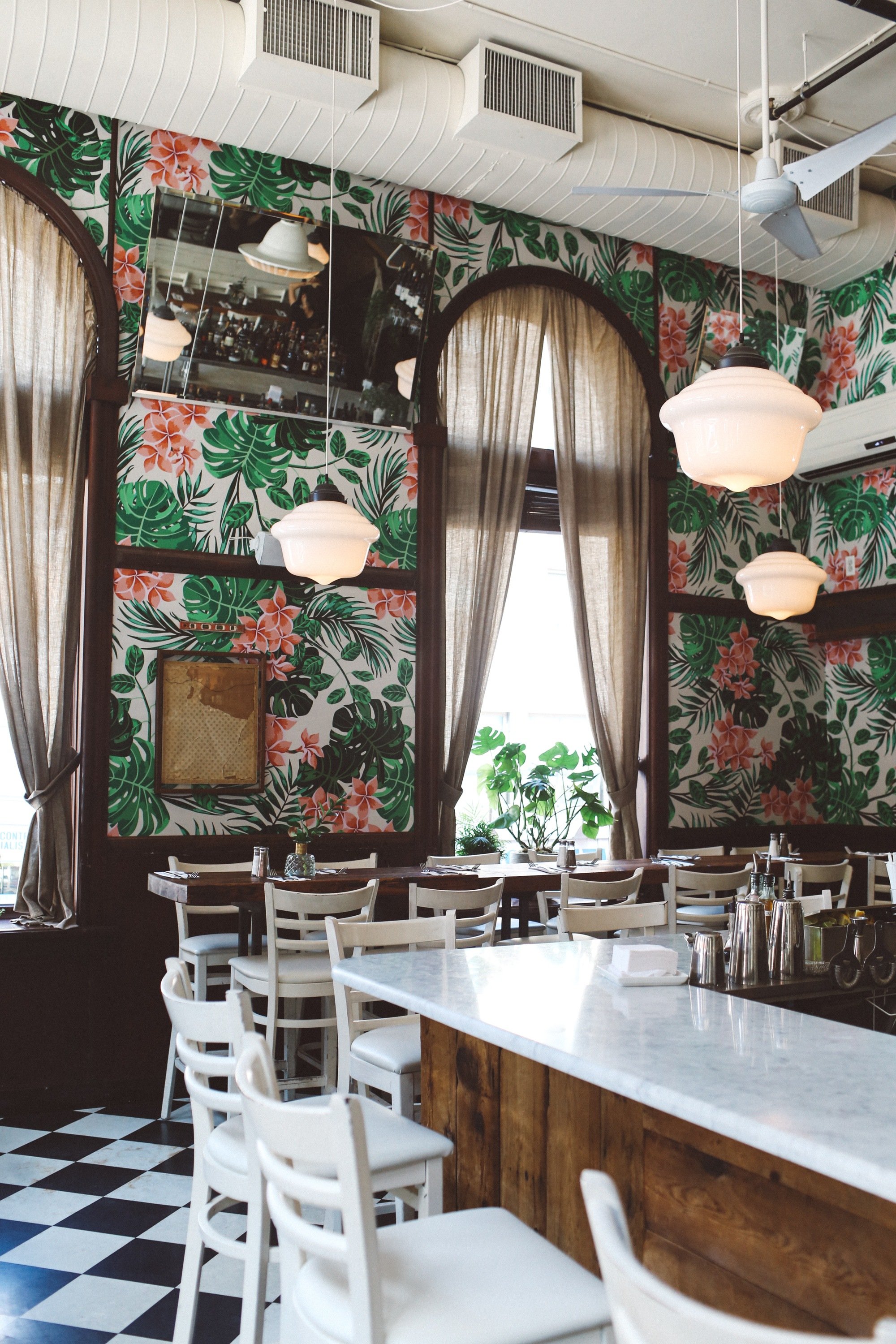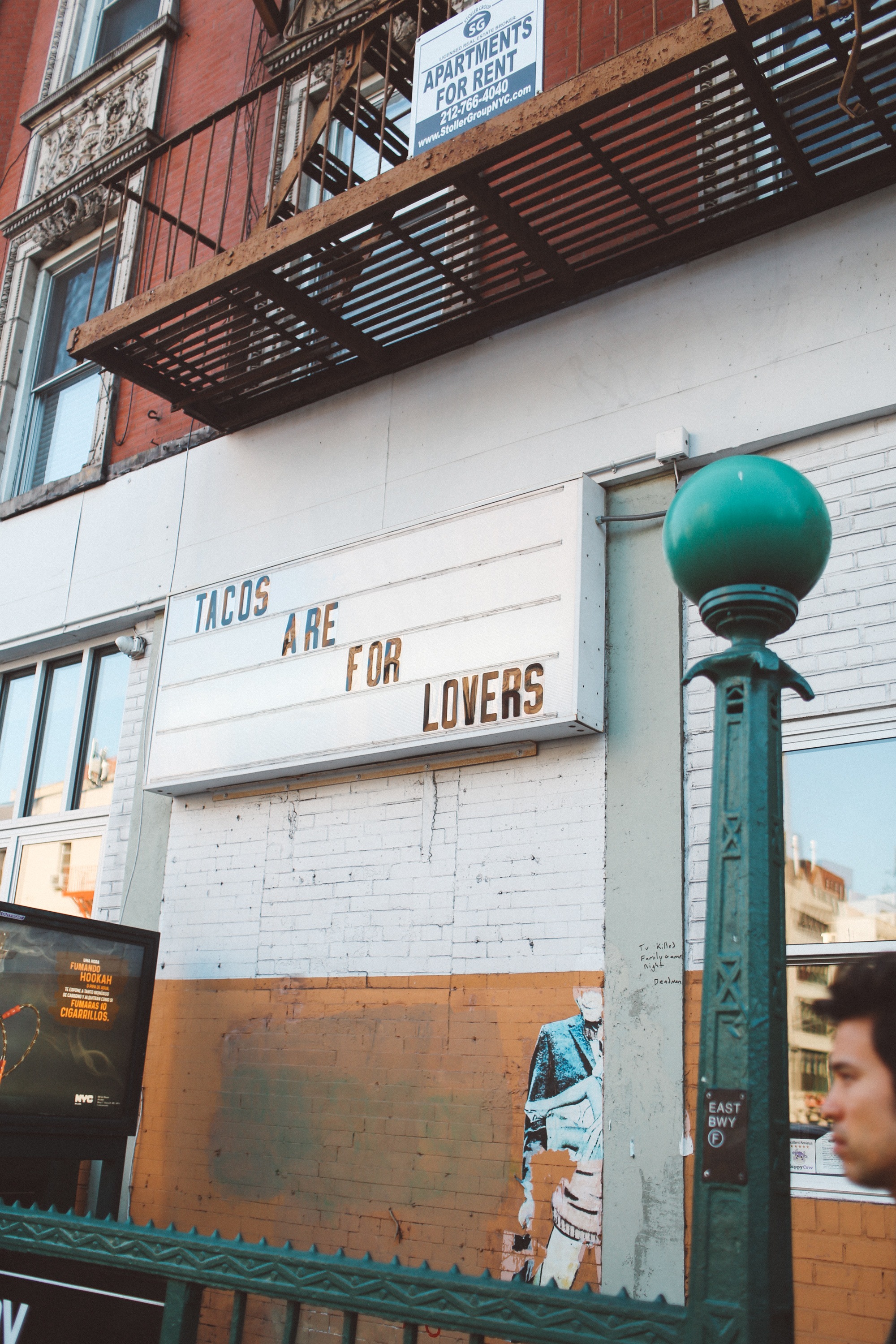 *Ludlow Coffee: A trendy chic coffee shop in the Lower East Side that has some pretty dang good avocado toast and lots of seating + wifi.
*Native Bean: A coffee/bagel joint with fantastic smear. It's cash only, but worth it. Try the lox smear!
Radegast Hall: A German Biergarten in Williamsburg that has the outdoor seating and everything! After visiting Oktoberfest in Munich last year, we've fallen in love with biergartens and while we didn't get a chance to grab a stein here, it had all that German vibes we loved.
*Monarch: If I lived in New York, I'd probably be doing a lot of happy hours at Monarch. It's a rooftop bar new the Empire State Building that has amazing views of the city and top-notch cocktails. I tried the "All The Way Up" cocktail that has a slice of watermelon in it. Seriously, so refreshing on a hot summer day! Don't miss their small plates, like the tacos!
*Barlovento: A latin bistro with the friendliest staff and a cute glass patio that brings in a beautiful natural light and makes for great people watching! Make sure to try their paella and pair it with a glass (or two!) of sangria. They offer it in red or white. I also loved their Cuban Avocado Salad.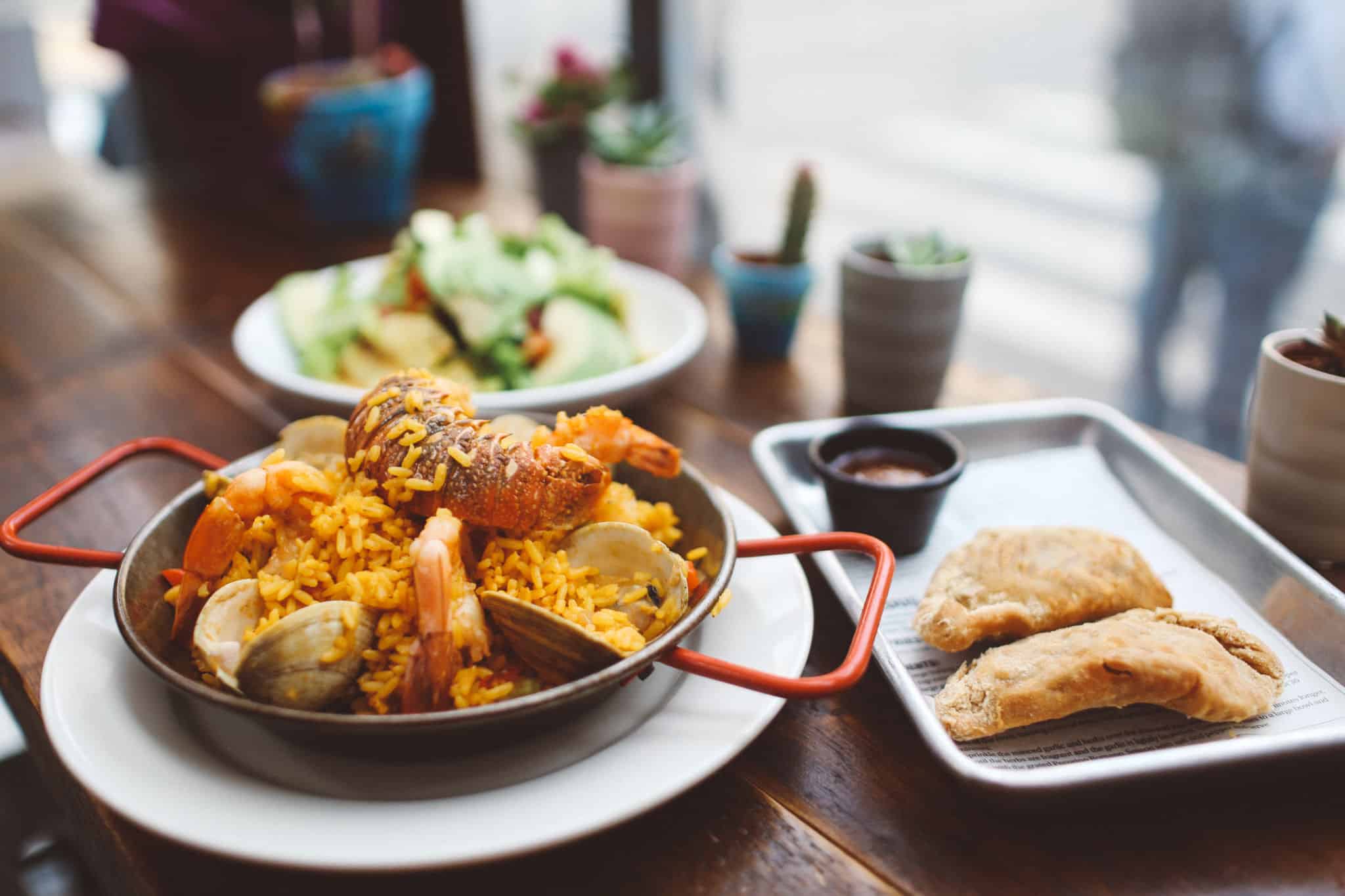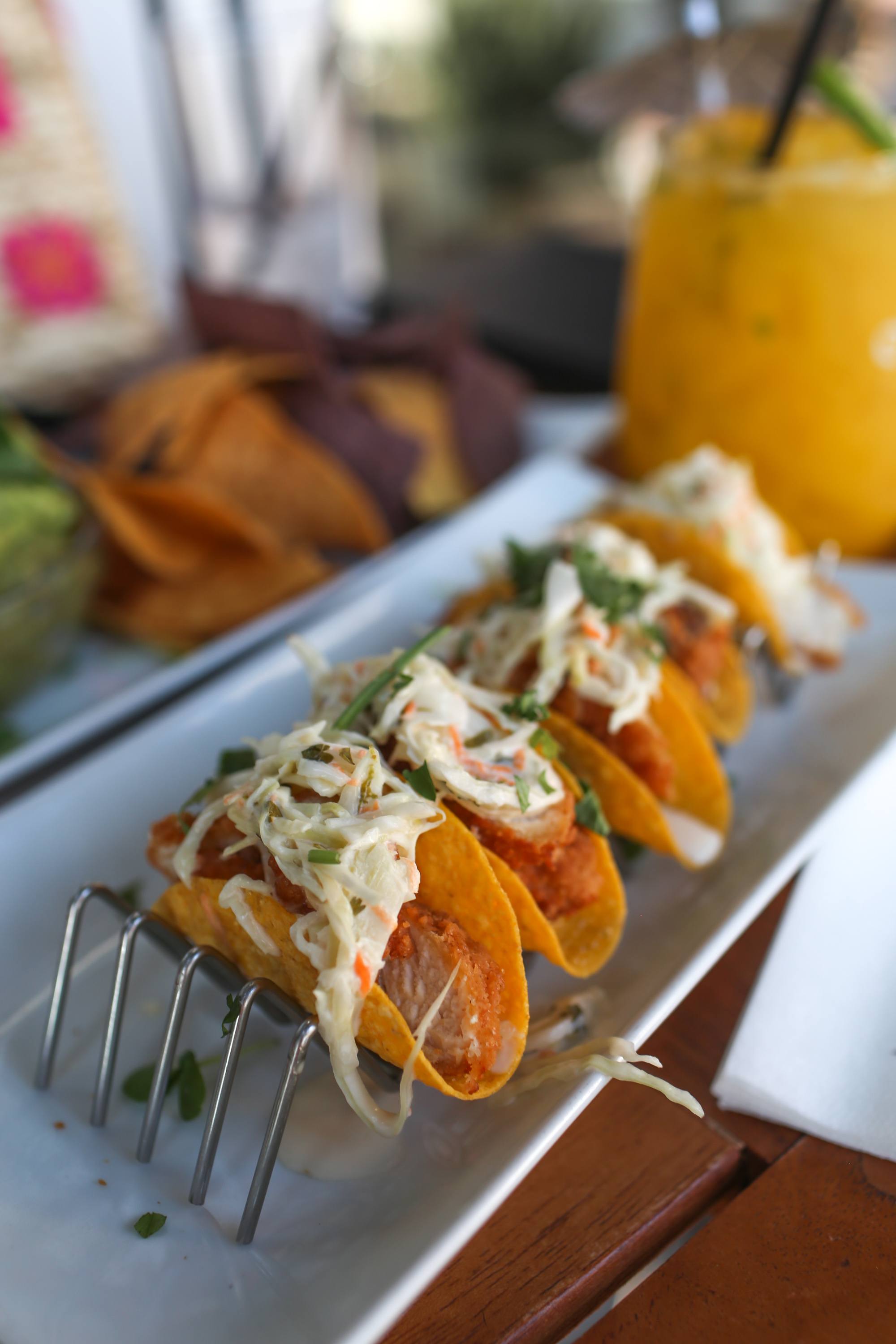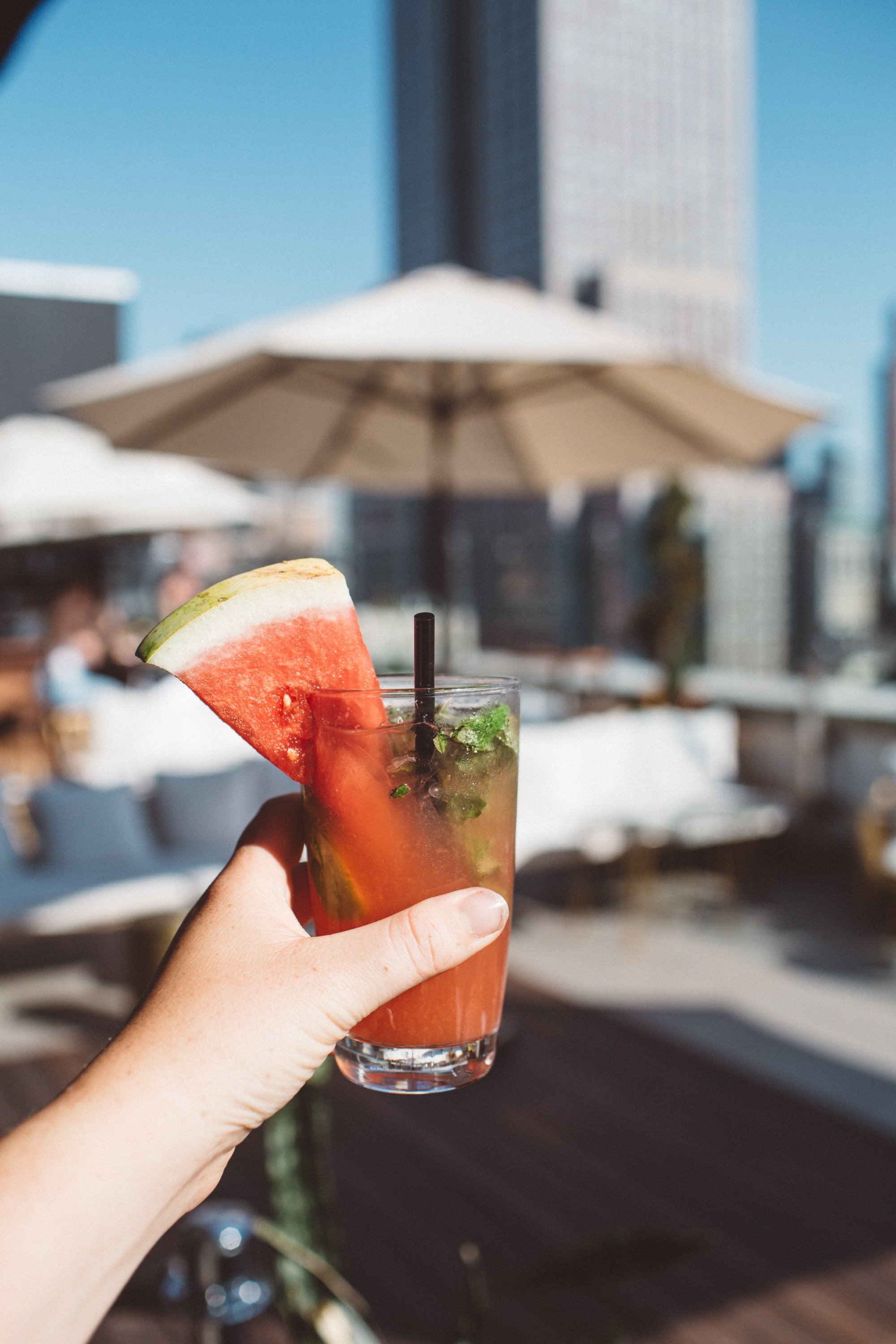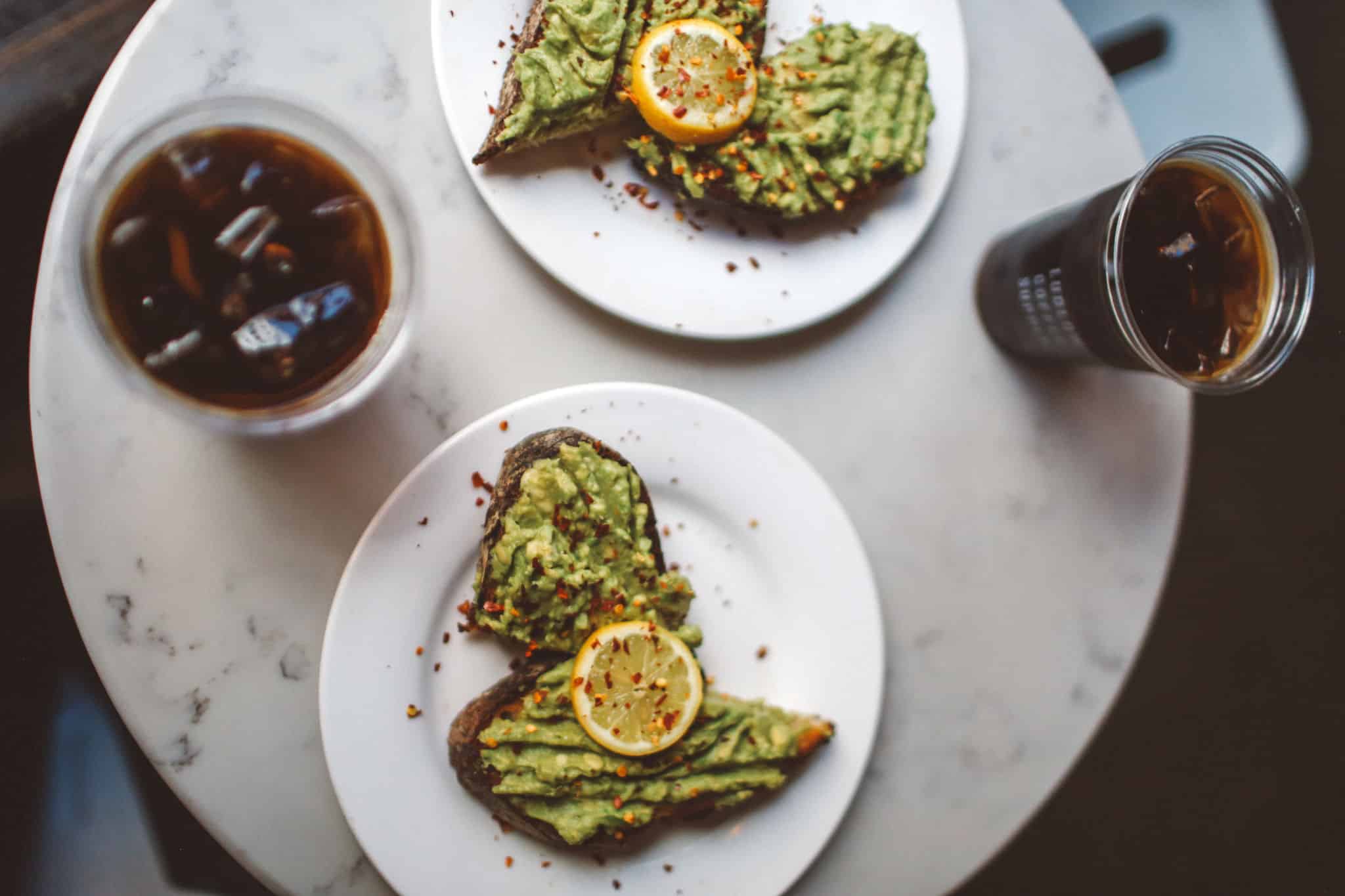 *Pilot: OMG you have to visit this restaurant if you are in NYC during the summer! They took an old pilot ship and transformed it into an oyster bar. If you can, grab a seat at the captain's table, but anywhere will have sweeping views of the Manhattan skyline. On a summer evening, this is the place to be. All the food we tried was drool-worthy, but standouts include the Seabrined Martini, lobster roll, burrata and, of course, the oysters!
*Grunhaus: Another German spot, this one is less authentic feeling and airs on the side of modern trendy, as it's located in the Lower East Side. We watched a World Cup match here on a $5 a stein deal. It has open windows in the summer and is a fun spot!
*Mayville: This American Whiskey bar is a great spot for cocktails, but also makes a fantastic lunchtime visit. The interior is delightful – from the marble countertops to the ceiling lights that are actually a map. Make sure to try the roasted oysters because I'm drooling a little just thinking about them. Everything on the menu is great, but I especially loved my carbonara. Don't forget to grab a cocktail. It is a whiskey bar, after all!
Lombardi's Pizza: Built in 1905, this spot claims to be the first pizzeria in America! Some argue it's a must-stop for anyone visiting New York City based on the history.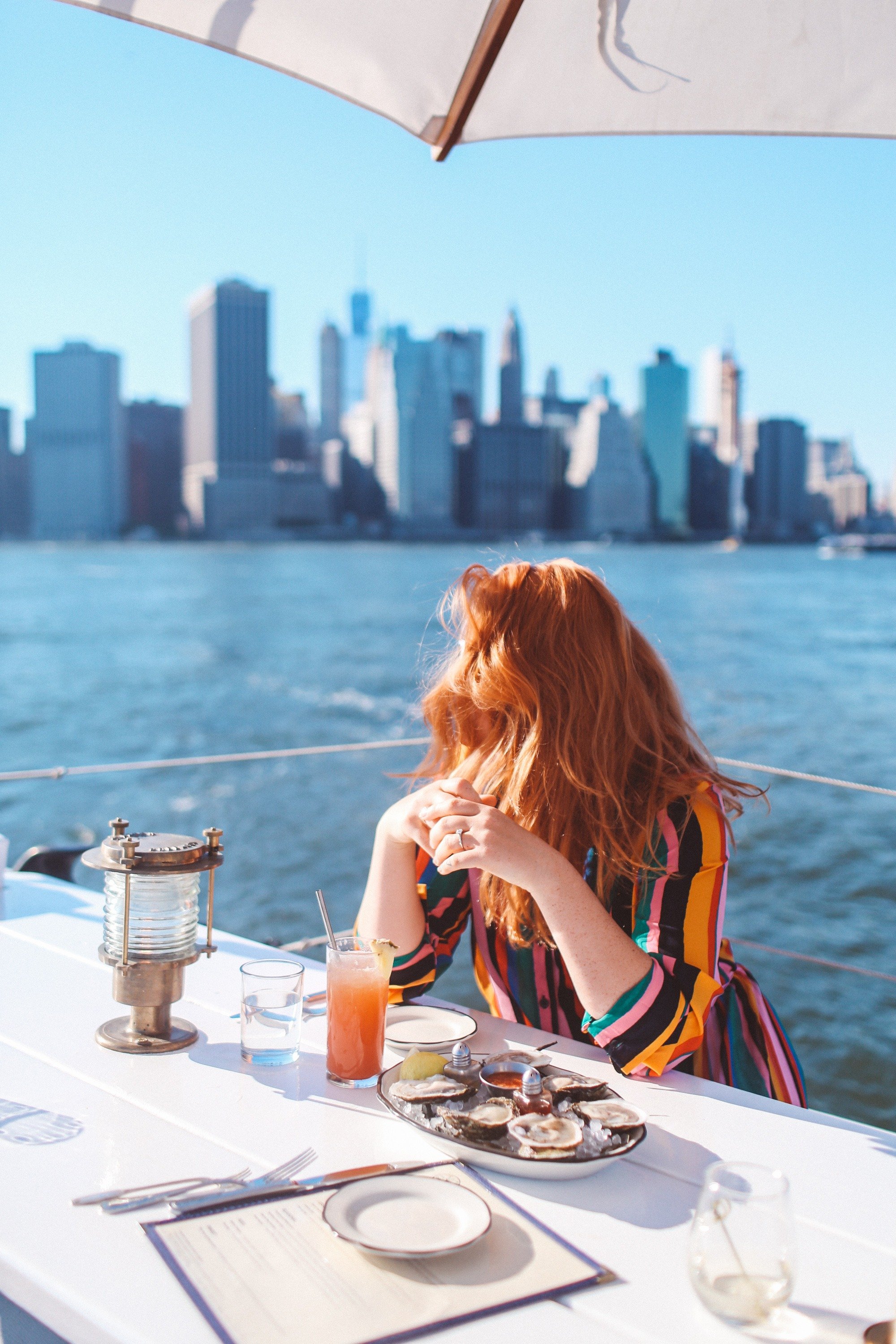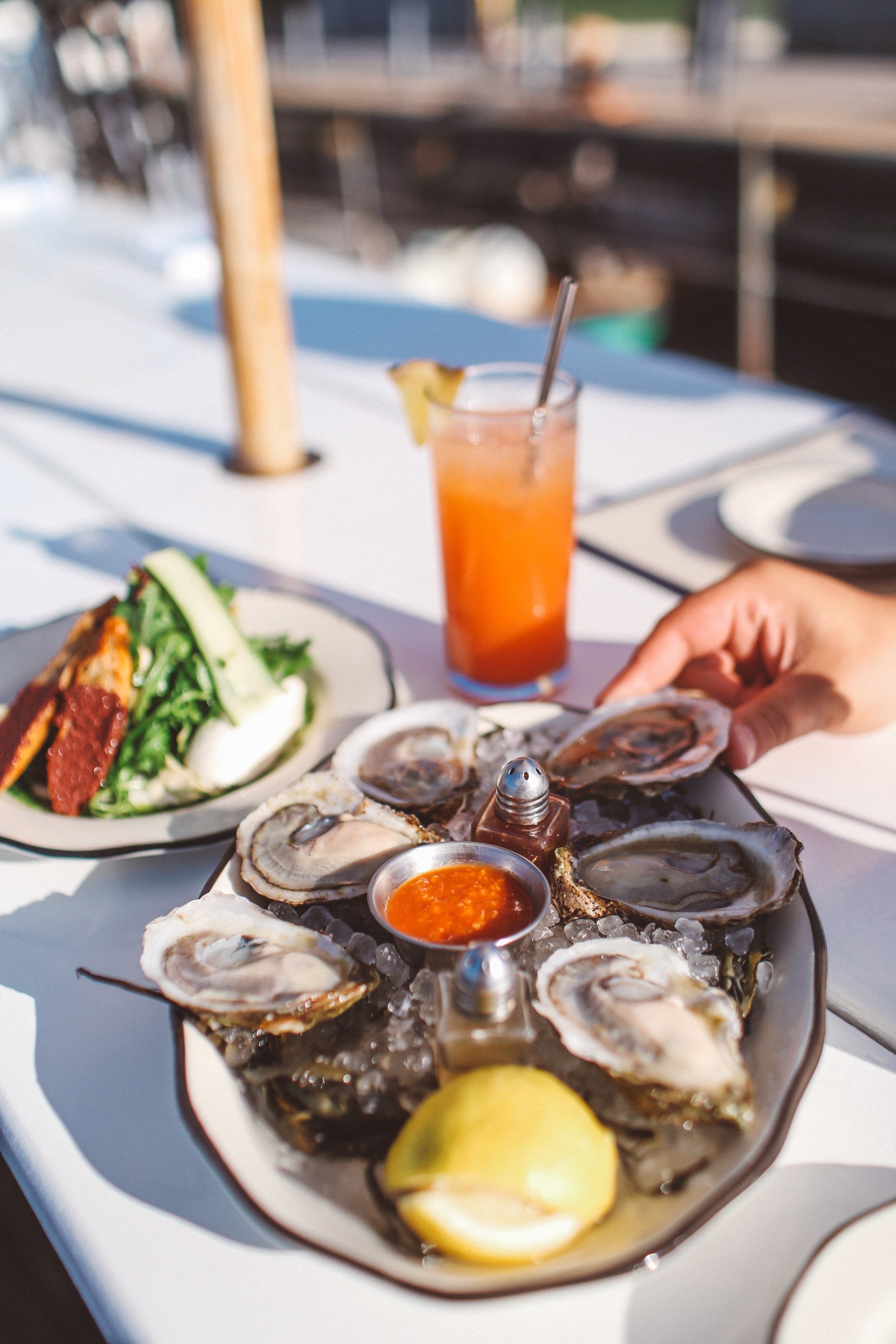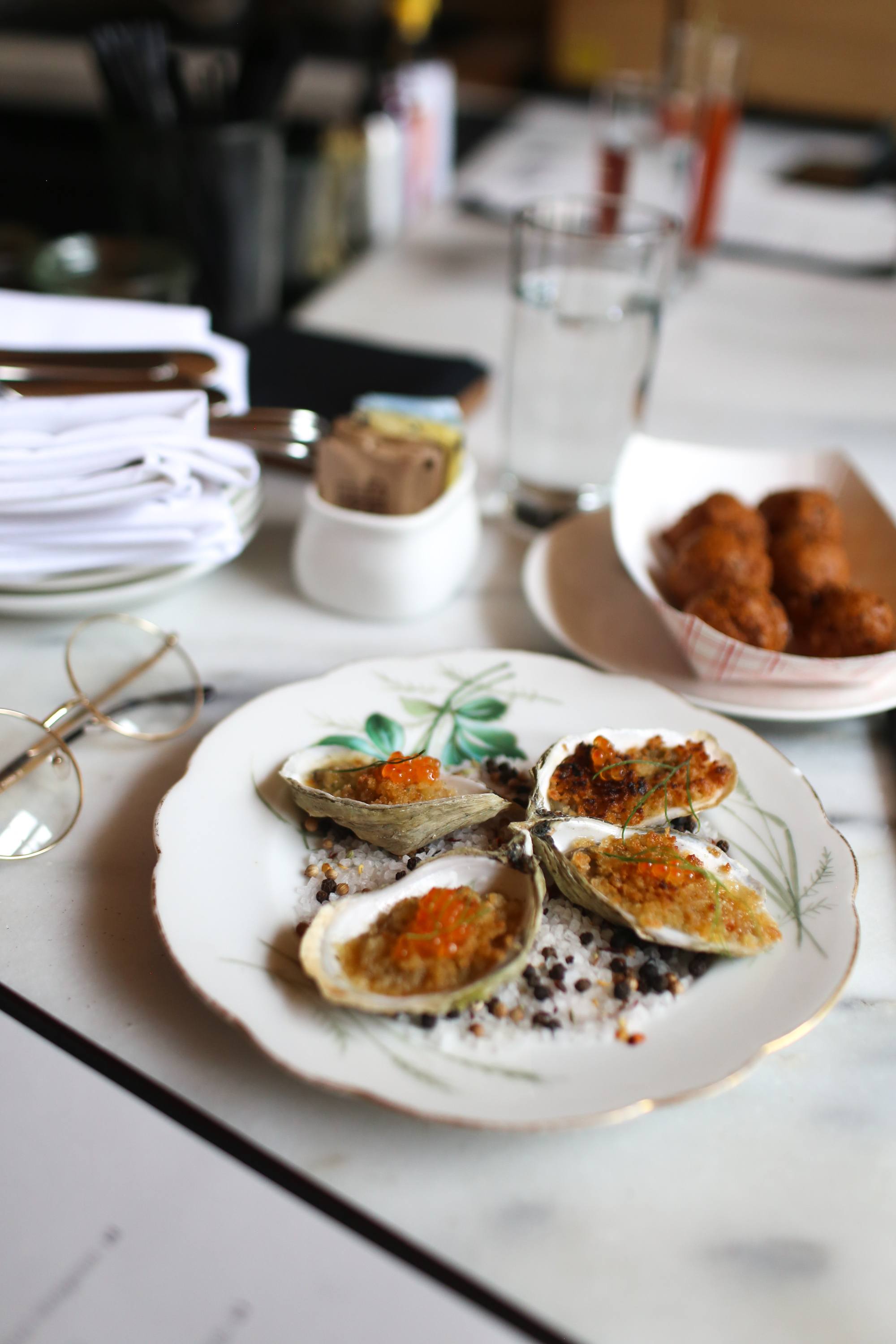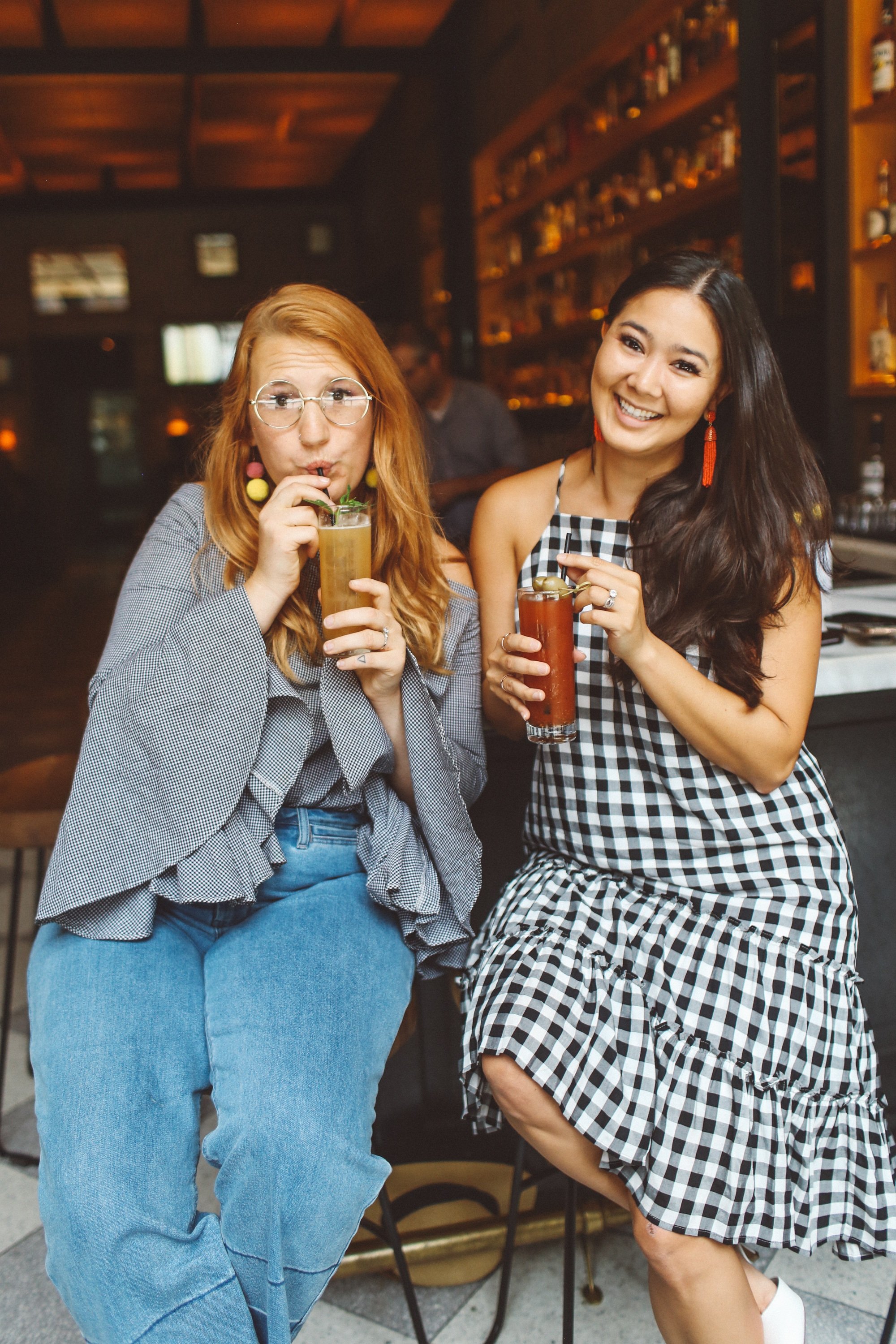 *The Milling Room: A few blocks off of Central Park in the Upper West Side is The Milling Room. You can eat there, but instead, I suggest grabbing one of their new picnic baskets. They'll fill it with delicious menu items like sunflower toast, steak, soup or theThe Milling Room burger. It comes with a cute checkered blanket and silverware. Take it into Central Park, find a good spot and enjoy a picnic in outside! Such a fun summer activity.
Rice to Riches: Craving rice pudding? This spot has over 100 different kinds to try!
Pietro NoLita: You know that pink restaurant you see everywhere on Instagram? This is that place!
*Olio E Piu: Did you know I lived in Italy for a bit in college? After that stint,  I set my bar for Italian food pretty high. Olio E Piu is hands down some of the best Italian food. I've found outside of Italy. Everything about this place makes me feel like I walked into a Trattoria on Capri. Side outside if you can, as it's great people watching. I highly recommend the meatballs and risotto, with a pannacotta for dessert, but you can't go wrong with anything on this menu. It's a great date night spot, or a last hurrah before leaving the city!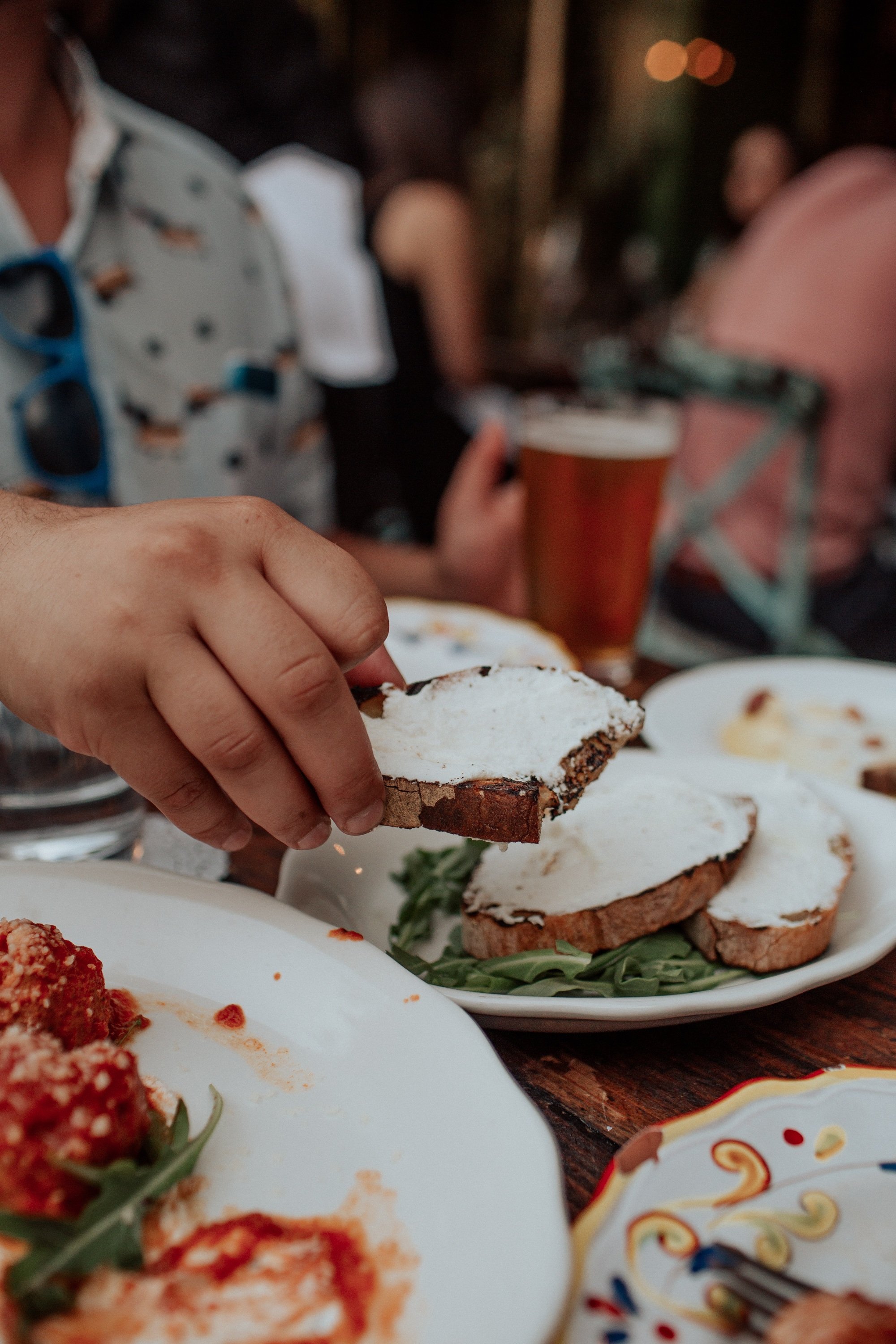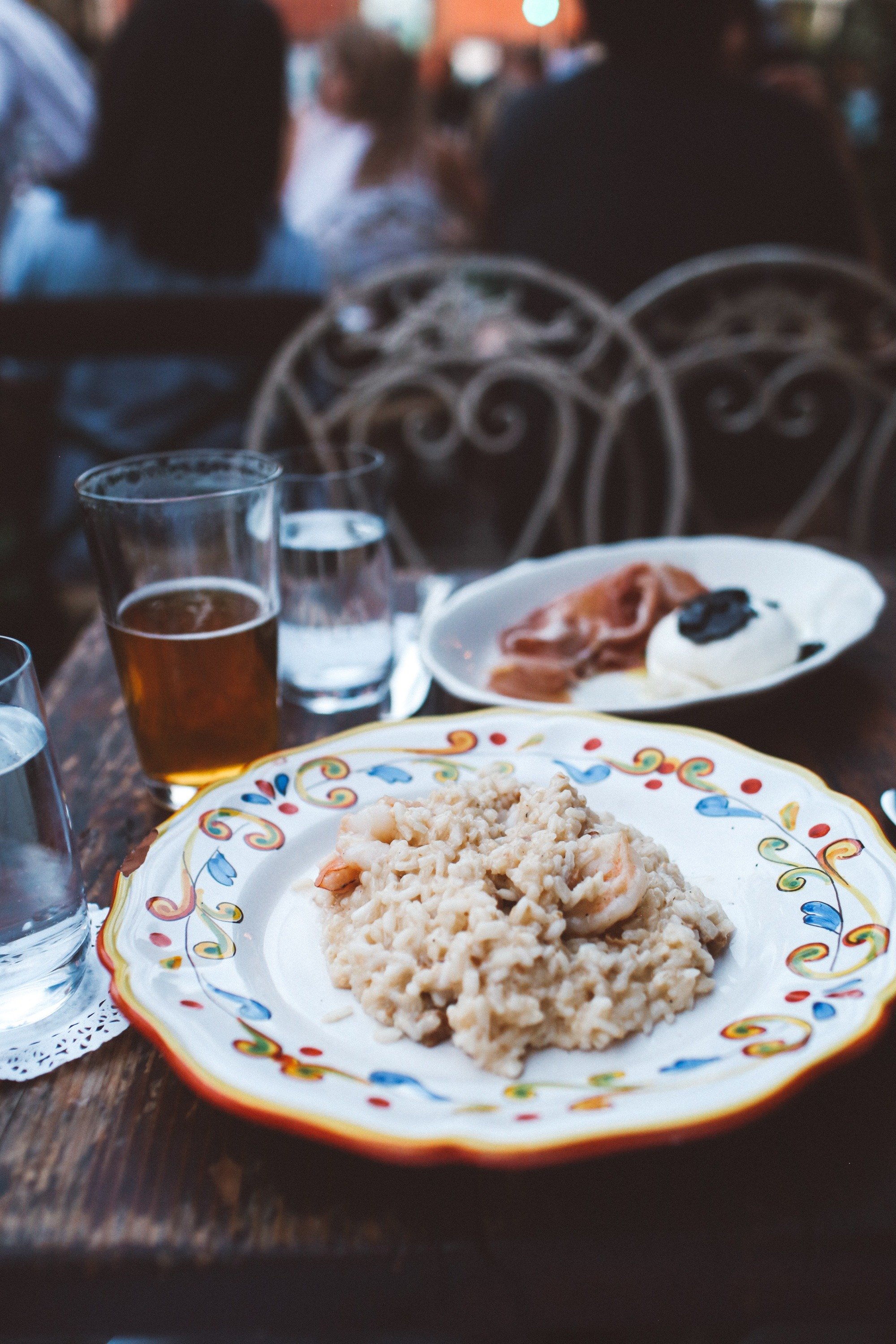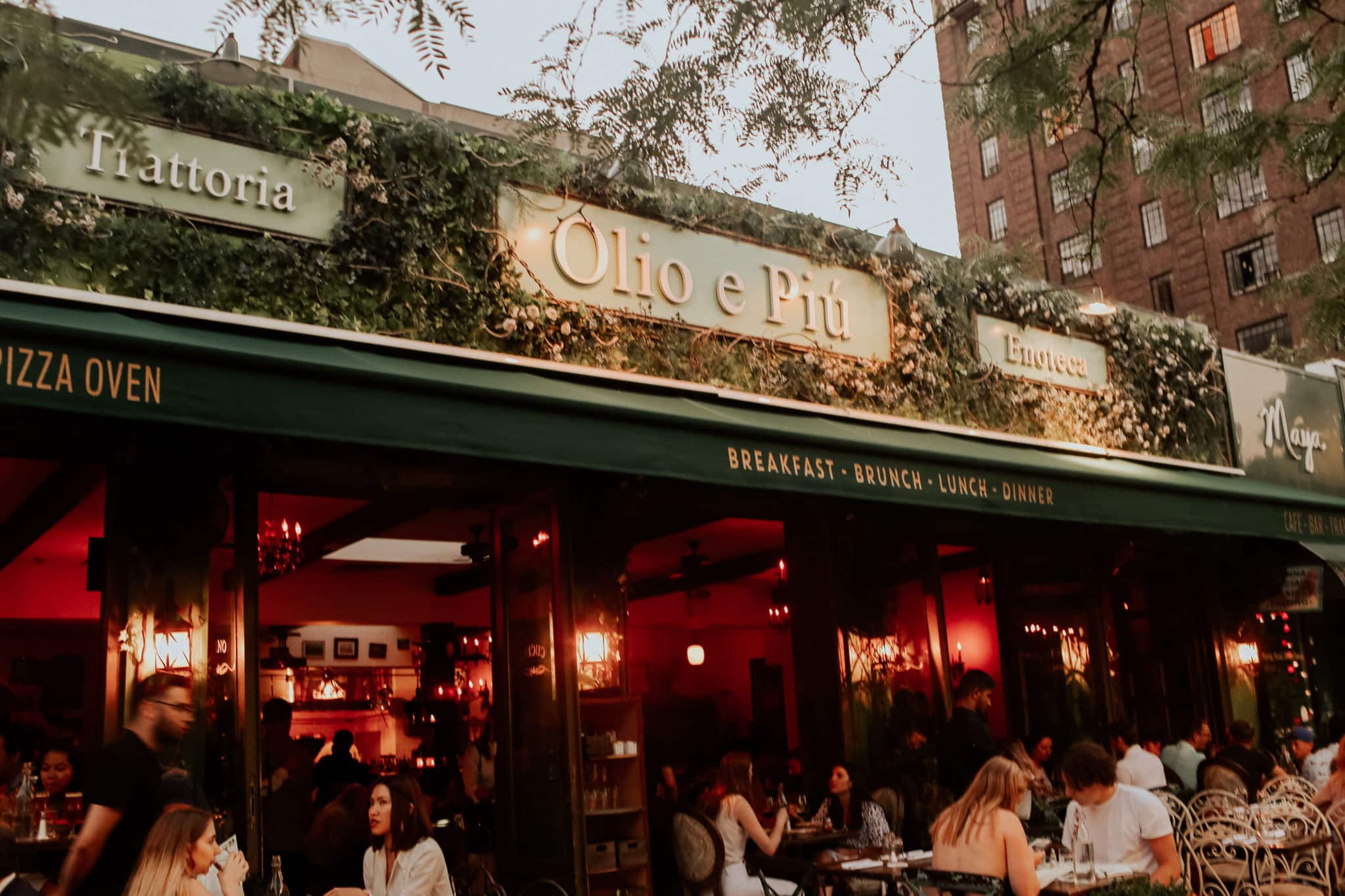 La Newyorkina: On the Highline during the summer? Look for this little popsicle cart that has crazy good Mexican popsicles to help you cool off.
Milk Bar: A famous bakery that takes ordinary baked goods and has delightful twists to make them AWESOME. Oh, and they're really famous – the founder made the Fortune 40 under 40 list, among other notable press.
*Highlands: This West Village gastropub bar merges New York with the Scottish Highlands perfectly. We grabbed a great happy hour deal here – $5 for a pint. A great spot for pre-dinner drinks!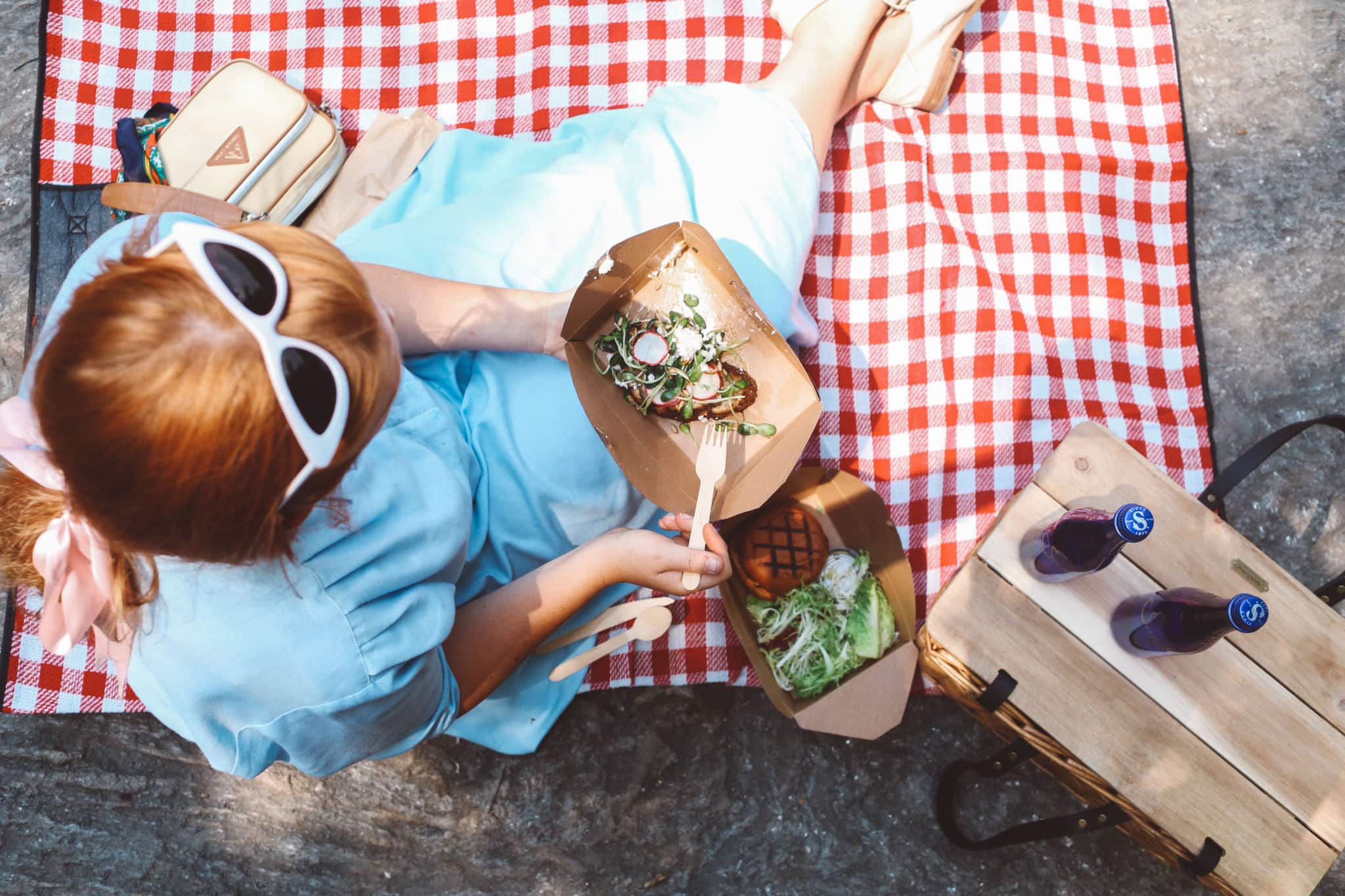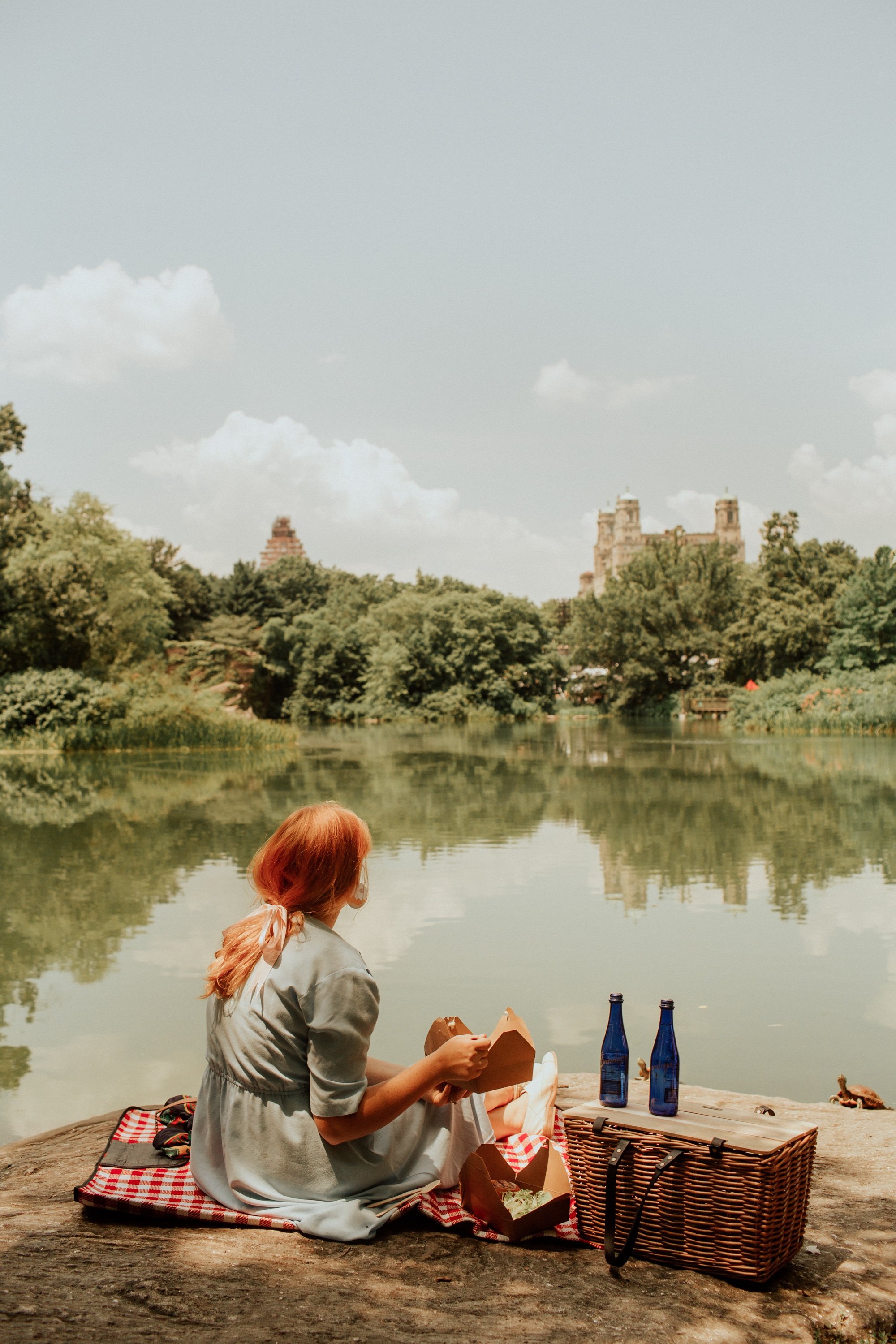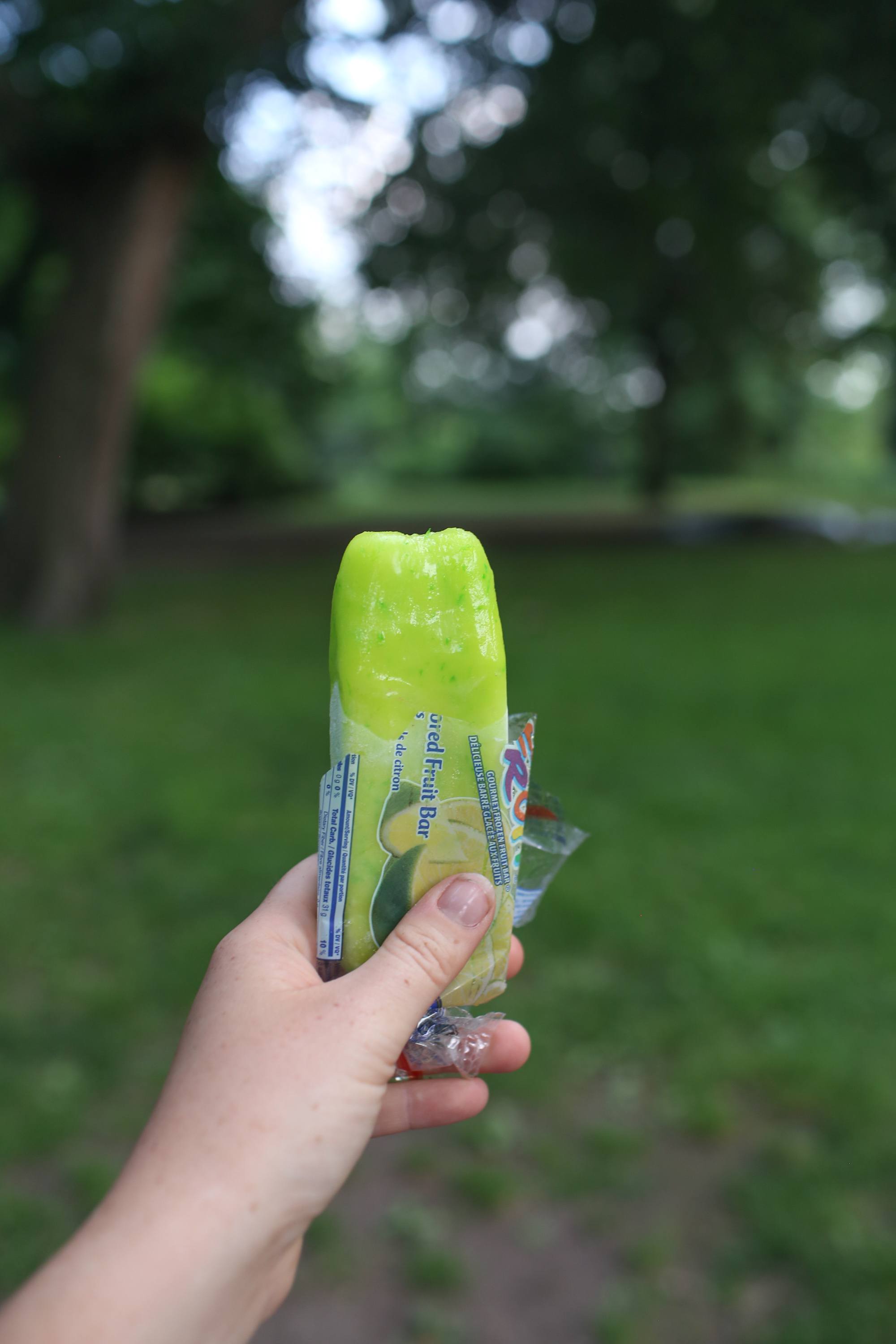 I hope this helps you discover great places to eat while in New York City! If you have any spots to add to the list, please drop a note below. If you have any questions, drop a comment or DM me on Instagram @thewhimsysoul.
Happy eating!