New York City is probably on everyone's bucket list. Hard to not want to visit one of the most popular cities in the entire world! NYC has been a city I've wanted to visit since I was a teenager. I even thought I wanted to move there one day (sidebar – super glad we moved to California instead!) but it took me 26 years to finally get my butt to the Big Apple. It was my first time in New York City visiting and to be honest, it's overwhelming. Especially when we had to plan our week in New York. It's simply just so HUGE! And that's coming from me, someone who travels for a living.

So, I created this huge First Time In New York City: The Ultimate Travel Guide, a first time to New York guide that will help you plan your trip as a first time visitor, navigate the city and airports and most importantly- have a great time in the city that never sleeps! Don't worry, this NYC city guide is also good for people who have visited before and even local New Yorkers who are looking for fresh New York tips and tricks!

*a star means we ate at this restaurant, did this activity or stayed at this hotel. Basically, this means we put our personal stamp of approval on it!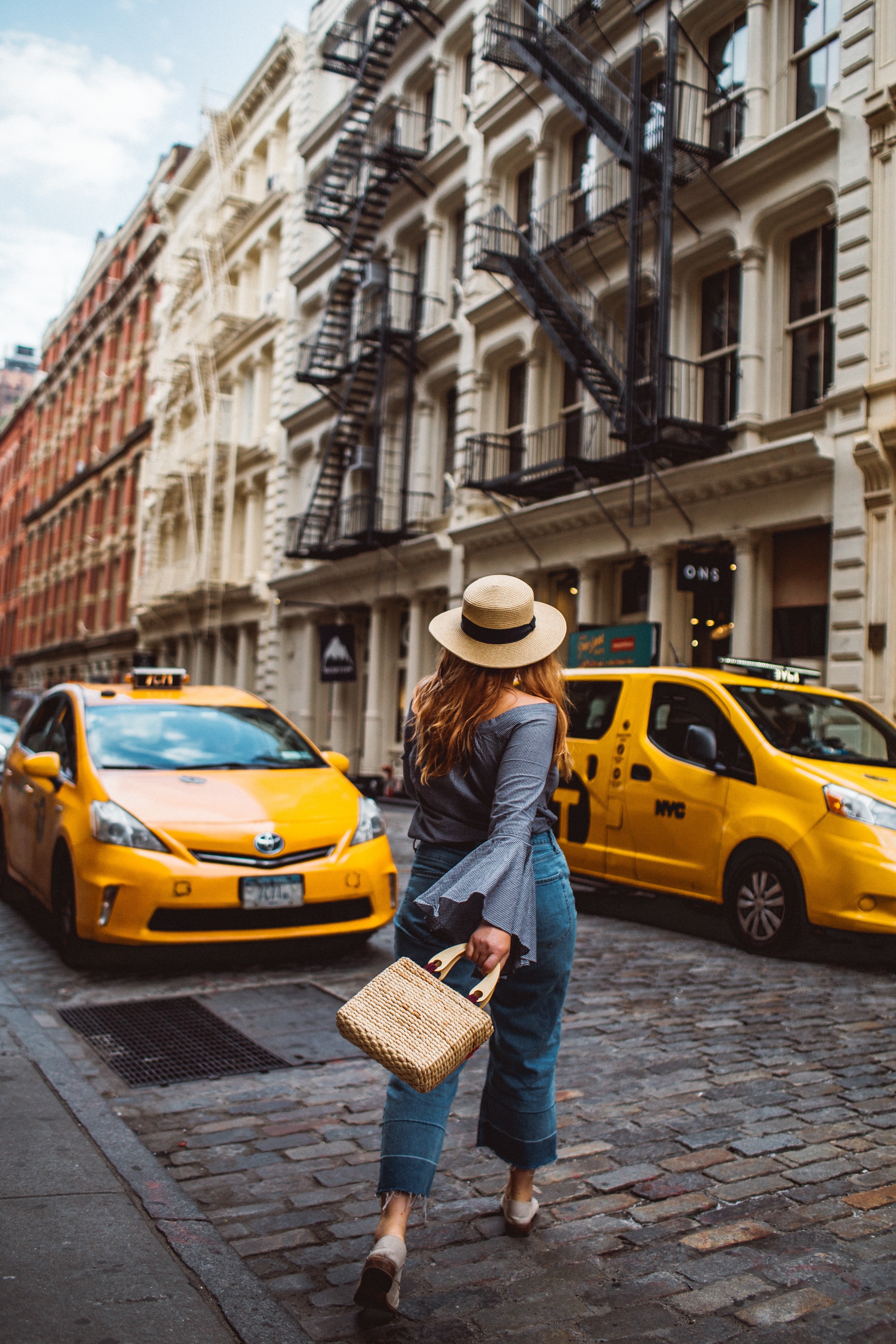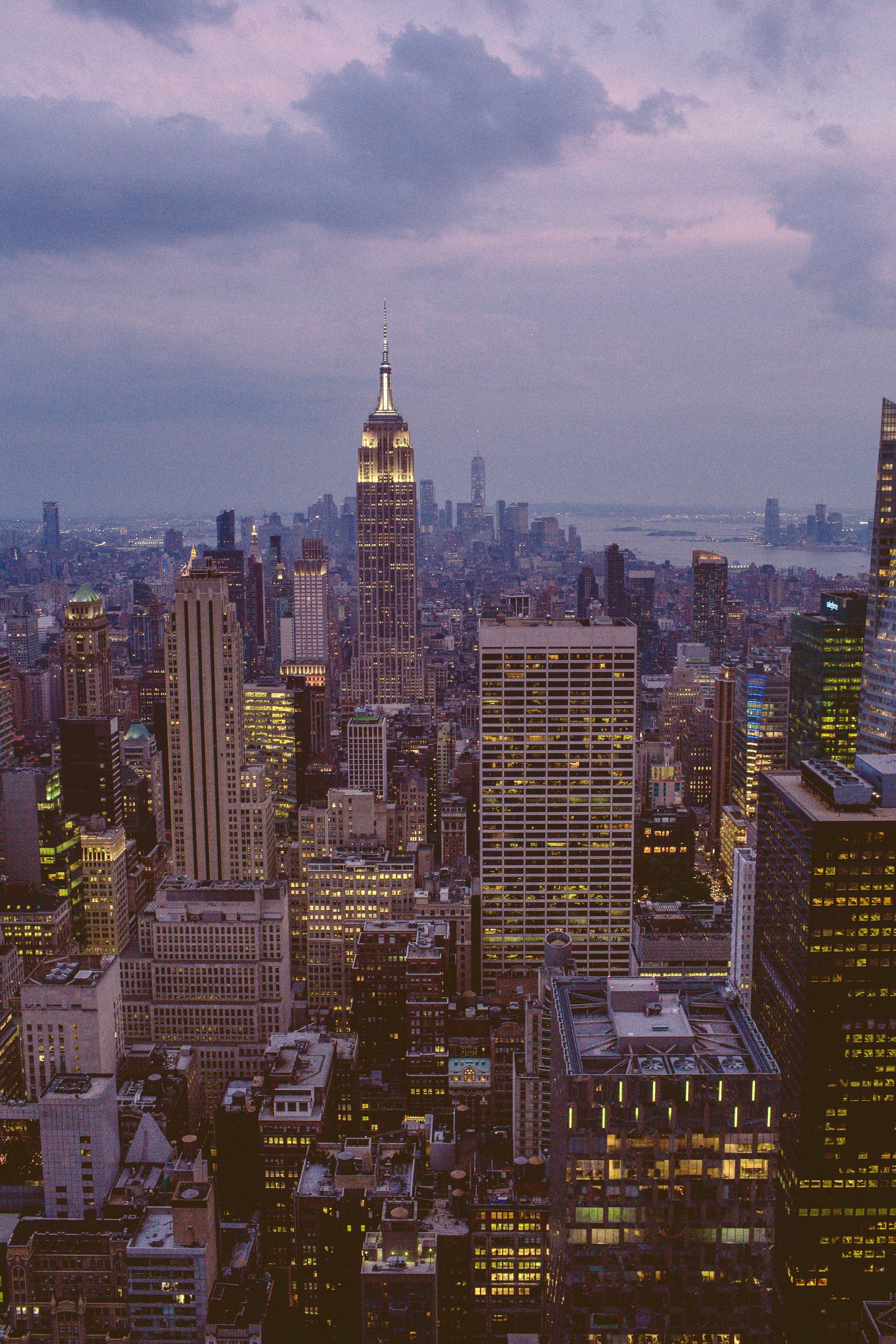 [cmtoc_table_of_contents]
---
JFK 101
---
There are three airports in the NYC area, so it can be hard to know where to fly into and how to get from that airport to your hotel. Flights to New York can go to all three! We flew from SFO – JFK on a non-stop flight on Alaska Airlines (non-stops are the best and so needed on long coast to coast flights!)
How to Get from JFK to Your Hotel: Real talk – it's really difficult (and expensive) to get from JFK to Manhattan via car. It's the biggest city in the United States, after all! Taking the train is a must.
After you land, head to the Airtrain and take it to Jamaica Station or Howard Beach, depending on your final destination.
It cost $5 to enter or leave, and you can pay at a machine with a credit card upon leaving.
From there, follow the signs fo the Subway and you can take a train into the city! It'll easily take an hour, possibly even up to 1.5 hours, but it's the most affordable method and honestly, the fastest.
That being said, if a subway doesn't run near your hotel, at the very least, take it closer to the city center and from there grabbing an Uber to save a good $50.
Alaska Airlines Lounge at JFK: I love lounge life and the Alaska Airlines lounge at JFK is one of my favorite lounges in the entire world. From the modern decor to big windows offering lot so natural light, to the Starbucks machine (yay!!), I highly recommend getting yourself a day pass and using the lounge during your next visit. We love lounges at all times of day, but especially around meal times, as the Alaska lounge has unlimited food and beverages (that includes alcohol!) Alaska also sometimes has cheap flights to New York, so set an alert email up for yourself.  Grab yourself a cheap flight for your first time in NYC! Especially if you are going to New York alone for the first time.
Double Check Your Terminal: There are a lot of terminals in JFK and some airlines, like Alaska, operate out of more than one. There is also a lot of construction going on right now, so it's a good idea to double check your confirmation emails to make sure you got the right terminal. There is a train that will take you between them but it can take a while. Alaska Airlines sent me text alerts reminding me of our terminal.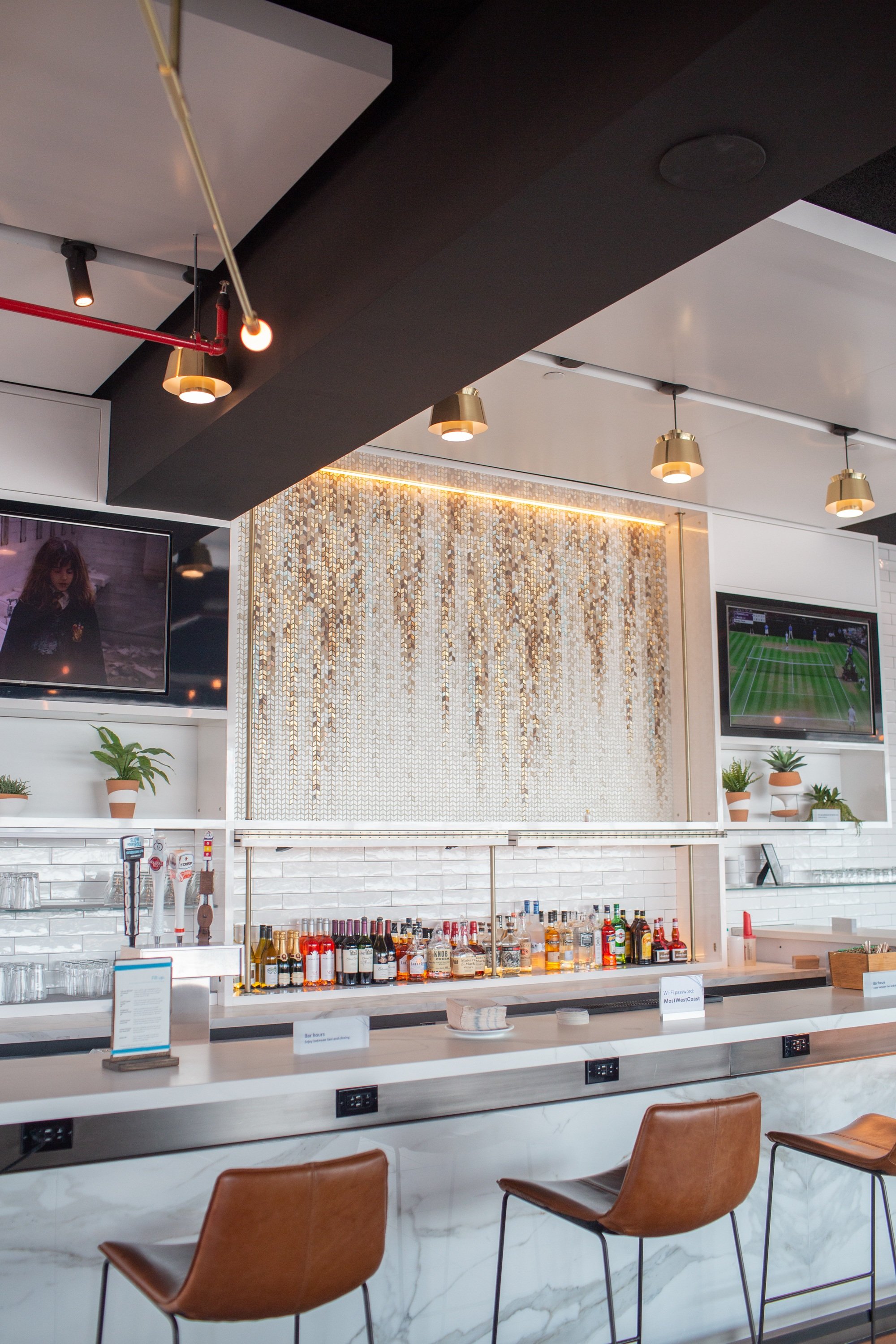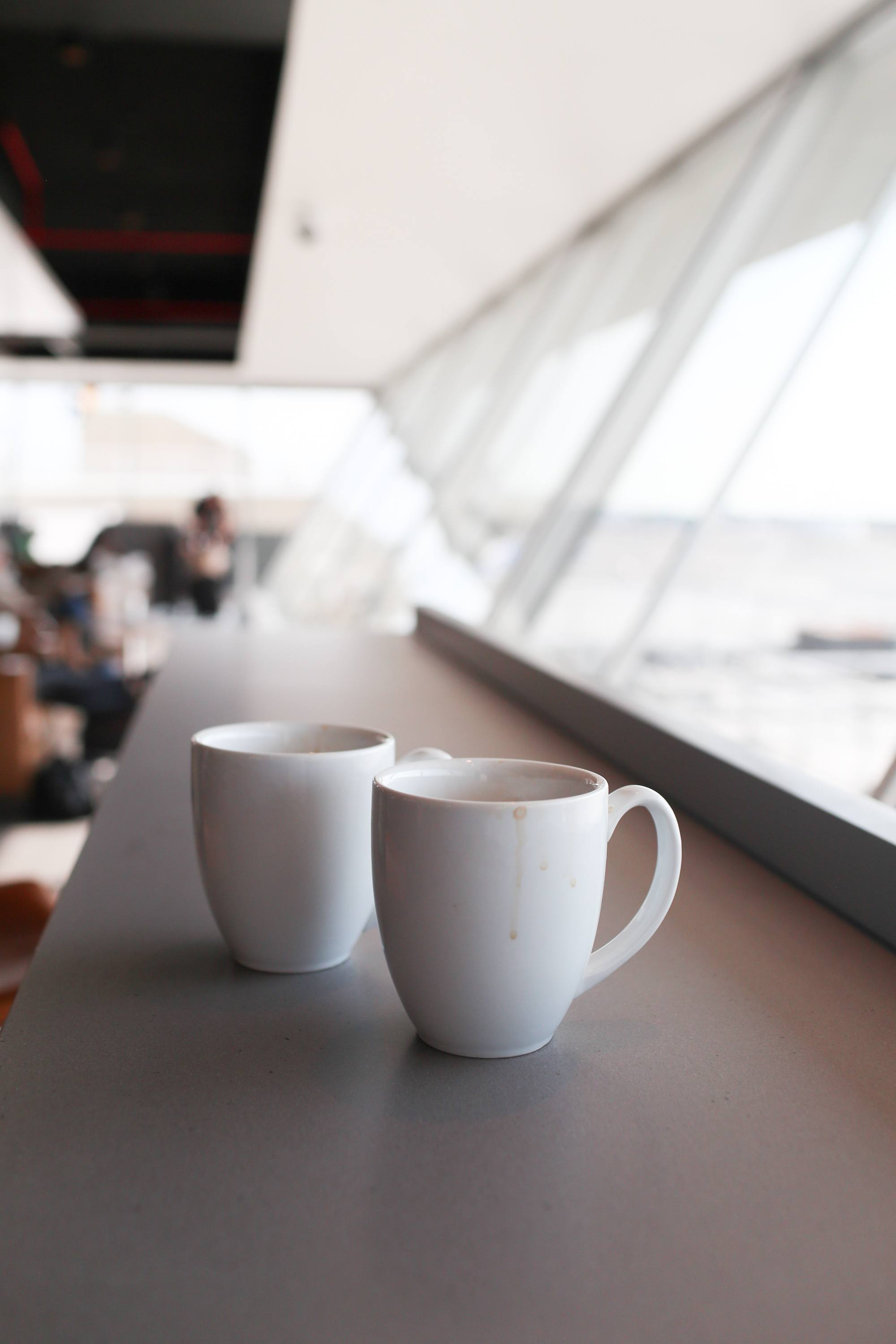 ---
First Time in New York Where to Stay
---
Visting New York for the first time? Well, it's good to know that New York is HUGE. There are five boroughs and 8 million people in them. It looks small on the map, but it's sprawling. I recommend staying in hotels in either in Manhattan or Brooklyn as both are where most of the sites you'll want to visit are located. Skip Staten Island or New Jersey for another time! It'll be easy getting around and make visiting New York for your first time smoother.
Hotel Indigo Lower East Side: We loved the Lower East Side. It's a bit of a party, which means you don't have to walk far or take a train to find anything from a good late-night pizza joint to a trendy German bar or the best vegan restaurants in the city. We were on the 17th floor and had amazing views of the city. We loved that they welcomed us with bubbly and the pool – oh my, the pool is just too good for words, so look at the photos! We visited in July and loved our pool time as it gets HOT in the city!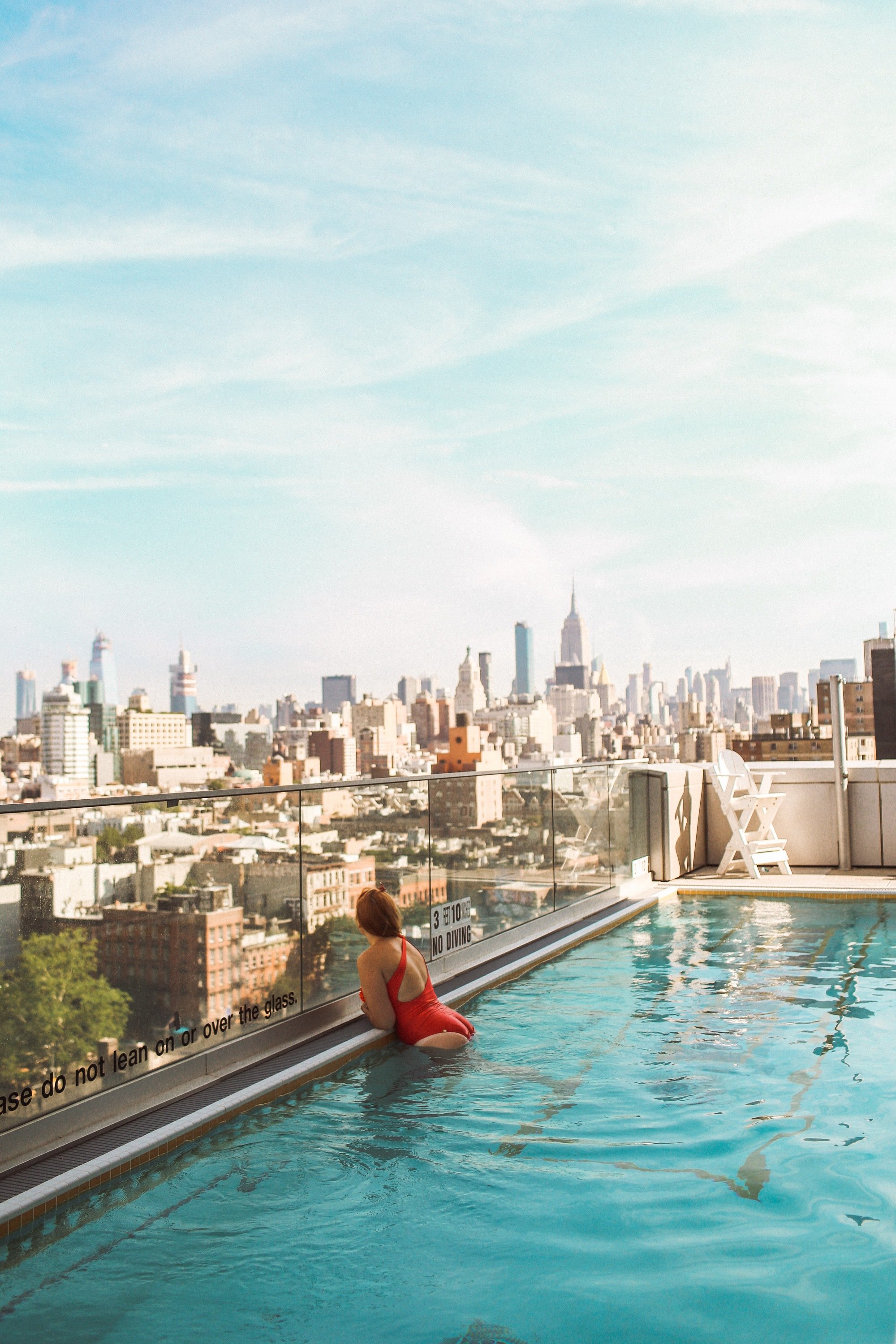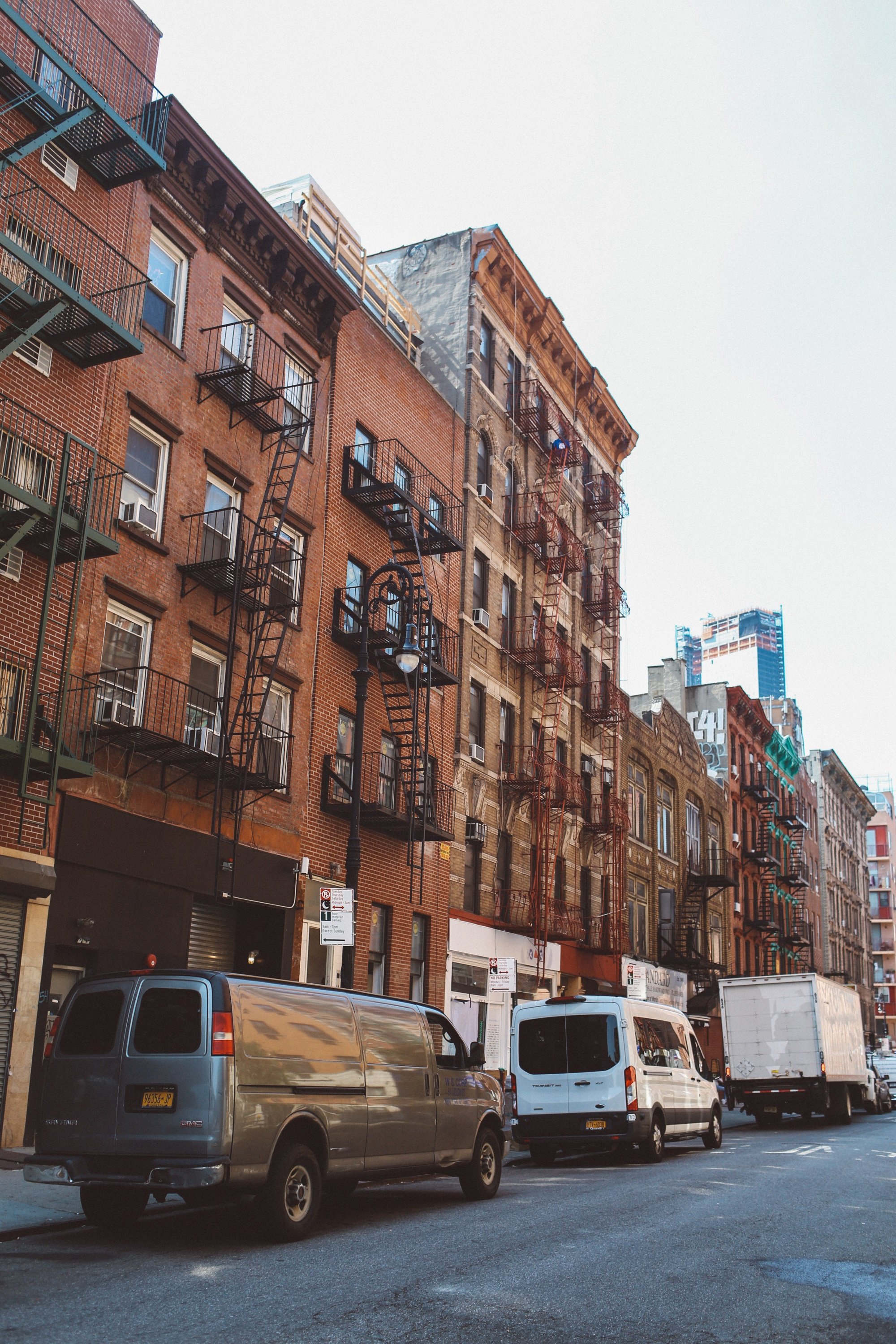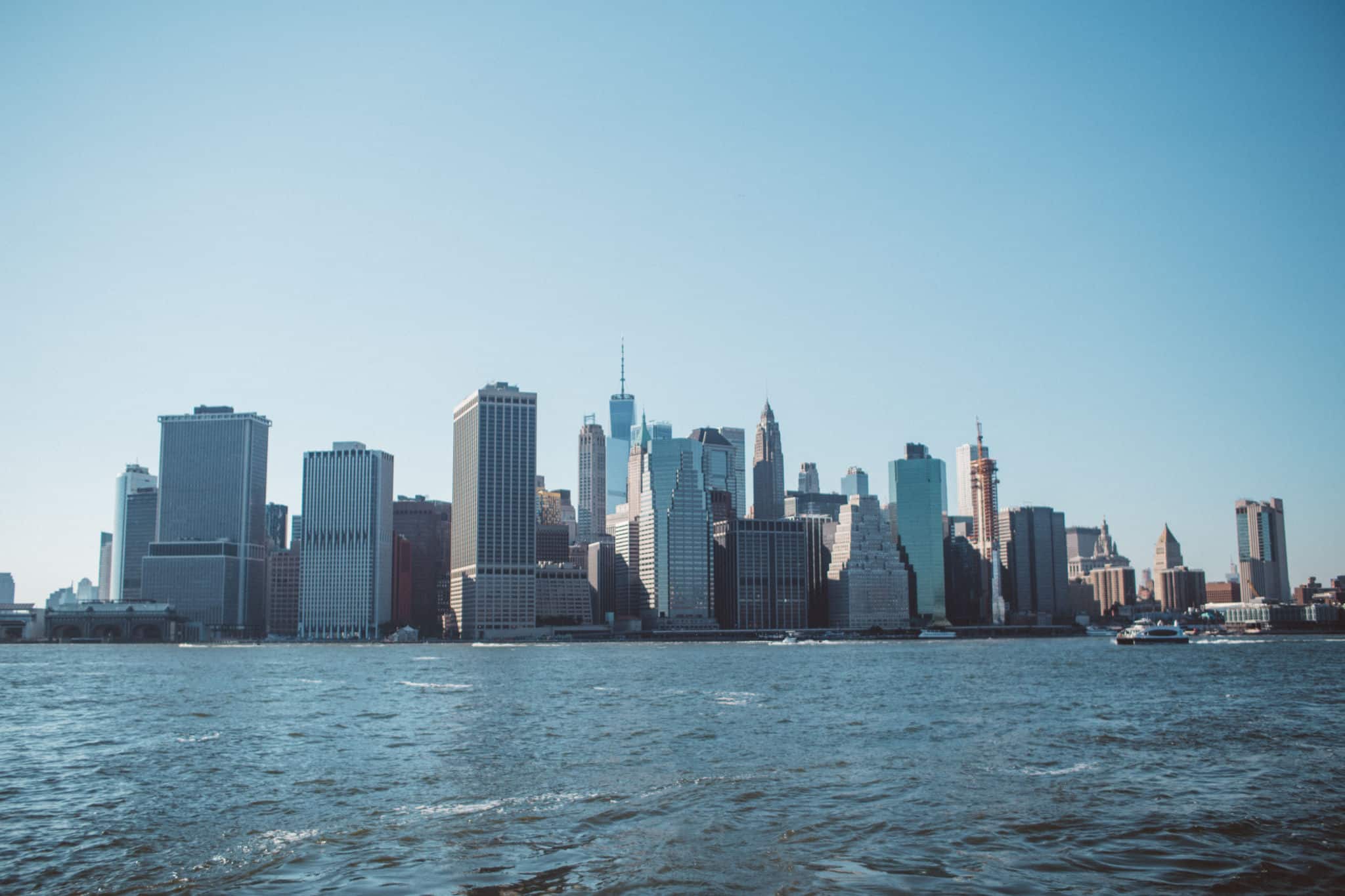 The Williamsburg Hotel: A trendy chic hotel in Williamsburg that opened last year. I fell in love with all the decor touches – from the marquee letters out front, the green tile in the bathrooms to the rooftop pool's stripped lounge chairs. Oh, can't forget to mention the amazing view of Manhattan from the rooftop! Read more in-depth about our stay here.
Airbnb: New York has so many great Airbnb options! Whether you're staying for more than a few days, or are traveling as a party more than 2 people, you probably want to look into an Airbnb. New York Hotel rooms can be shockingly small and that space can be cramped real quick! Vacation rentals through Airbnb can be cheaper or the same price but offer more space and perks like a kitchen. Get $40 your stay with THIS link.
Pst – visiting New York City on a budget is hard unless you want to lodge in a hostel the entire time, which usually run at least $90 a night and isn't that much cheaper. I think it's worth it to stay in a nice hotel! Treat yo-self.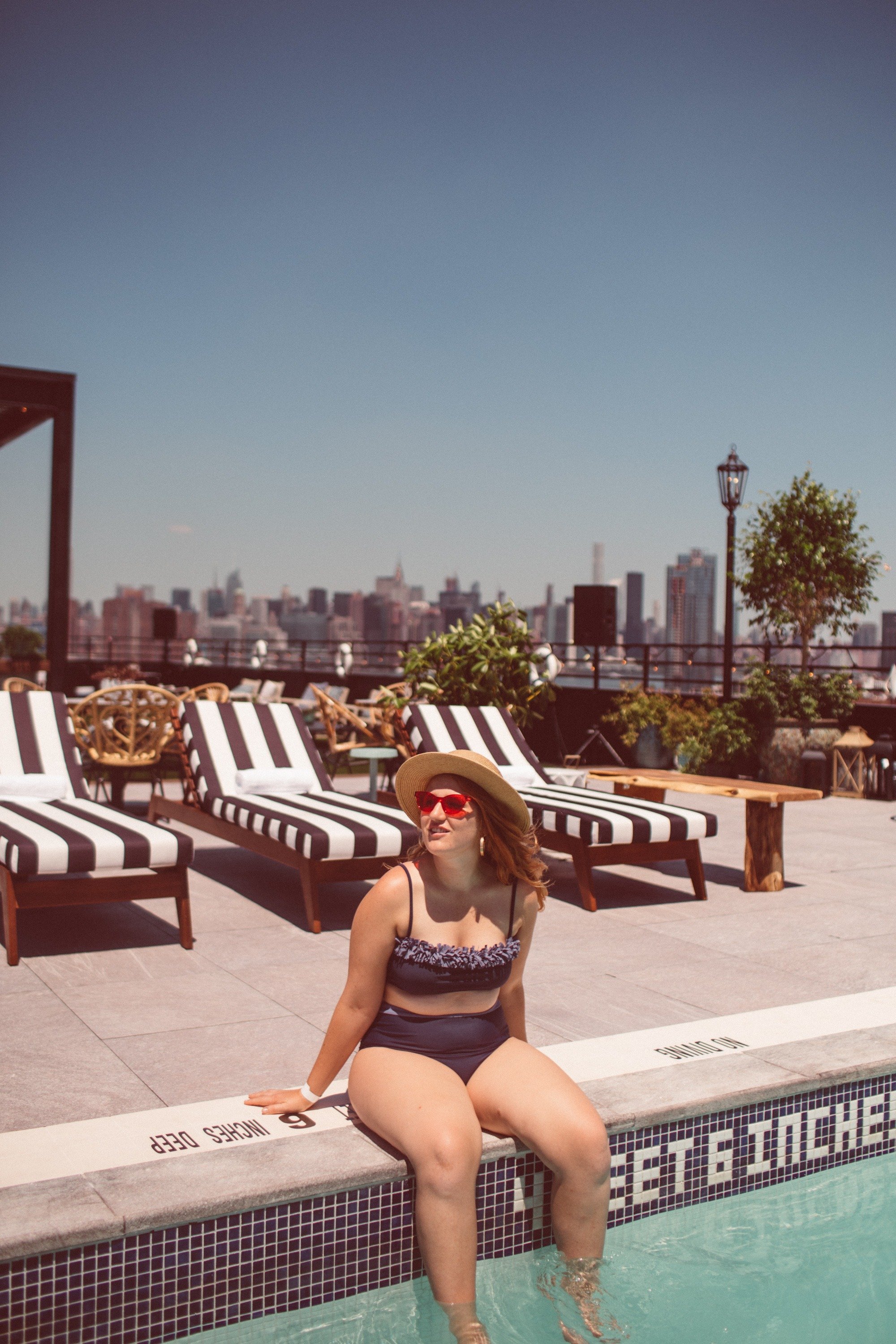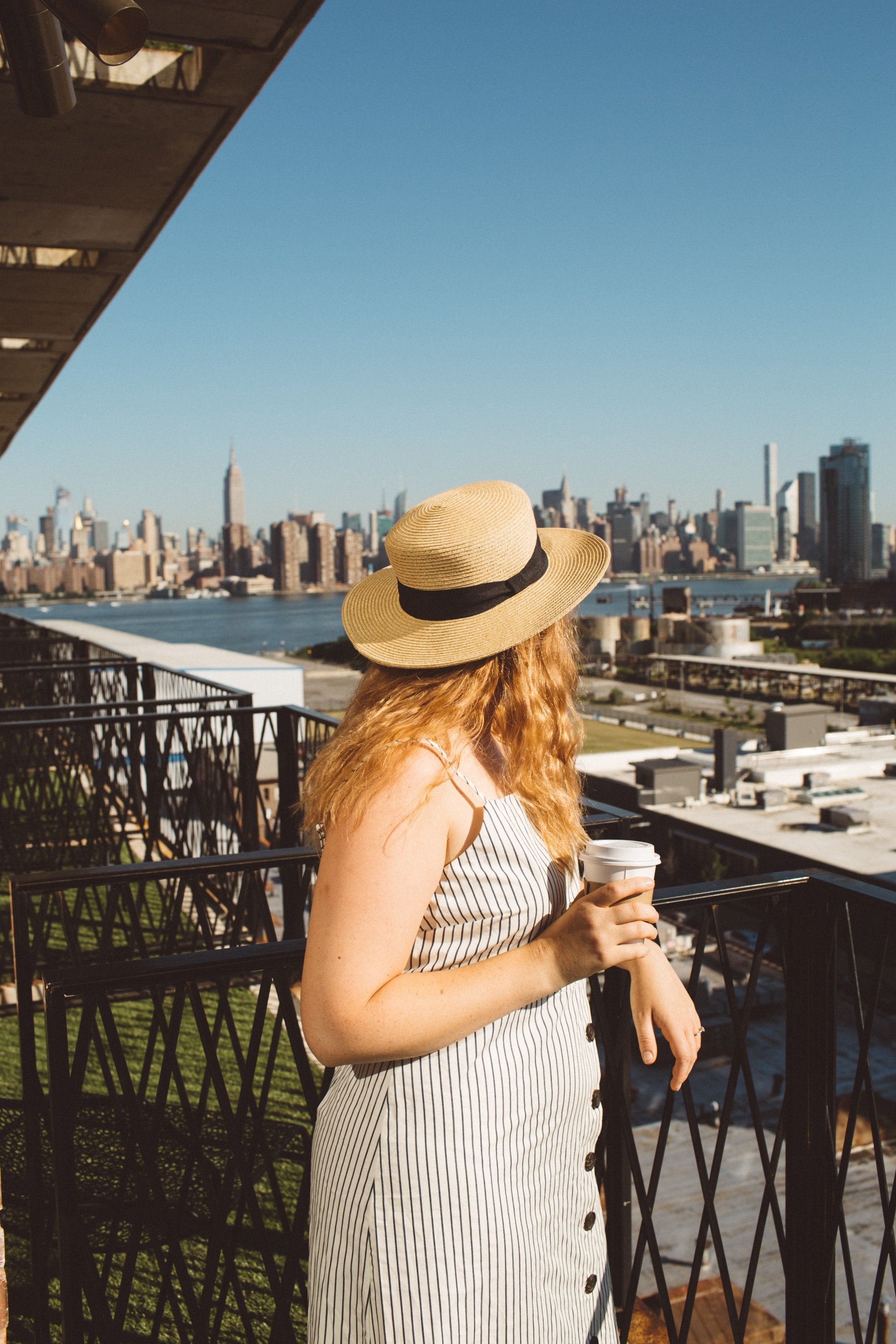 ---
How To Use The New York City Subway
---
May sound silly, but the subway is legit in New York, which also means it can be confusing for visitors to use. It helps you save money on your trip to New York City, so you'll want to take it! Here's some quick tips to help you navigate the subway!
The subway entrances are marked with green lamps. They look like the photo below! They blend in a bit to the cityscape and can be hard to spot at first. Red lamps mean that station isn't open 24-hours.
Uptown means North. Downtown means South. Or, Uptown means towards Central Park and Downtown means towards the World Trade Center building. Always know if you are going "Uptown" or "Downtown" to determine which platform to grab a train on as the subway is designed around those two directions in Manhattan.

Remember – uptown or downtown changes based on where you are currently located!

It's called the "subway" or "train", not the metro.
Ignore the colors of the trains and instead look for the letter or numbers (A, F, 2, etc) Multiple trains run on the same color, so asking a local where to catch the green line won't mean anything to them.
You can buy a metro card at any train station and either refill it or buy a week new york pass. We opted for a week pass for about $33 per person as it provides unlimited rides for the week and we used the train multiple times a day.
There are a lot of things to do in New York City that are all over the city. Try to plan your day around neighborhoods so you aren't taking the subway back and forth… as it frequently breaks down!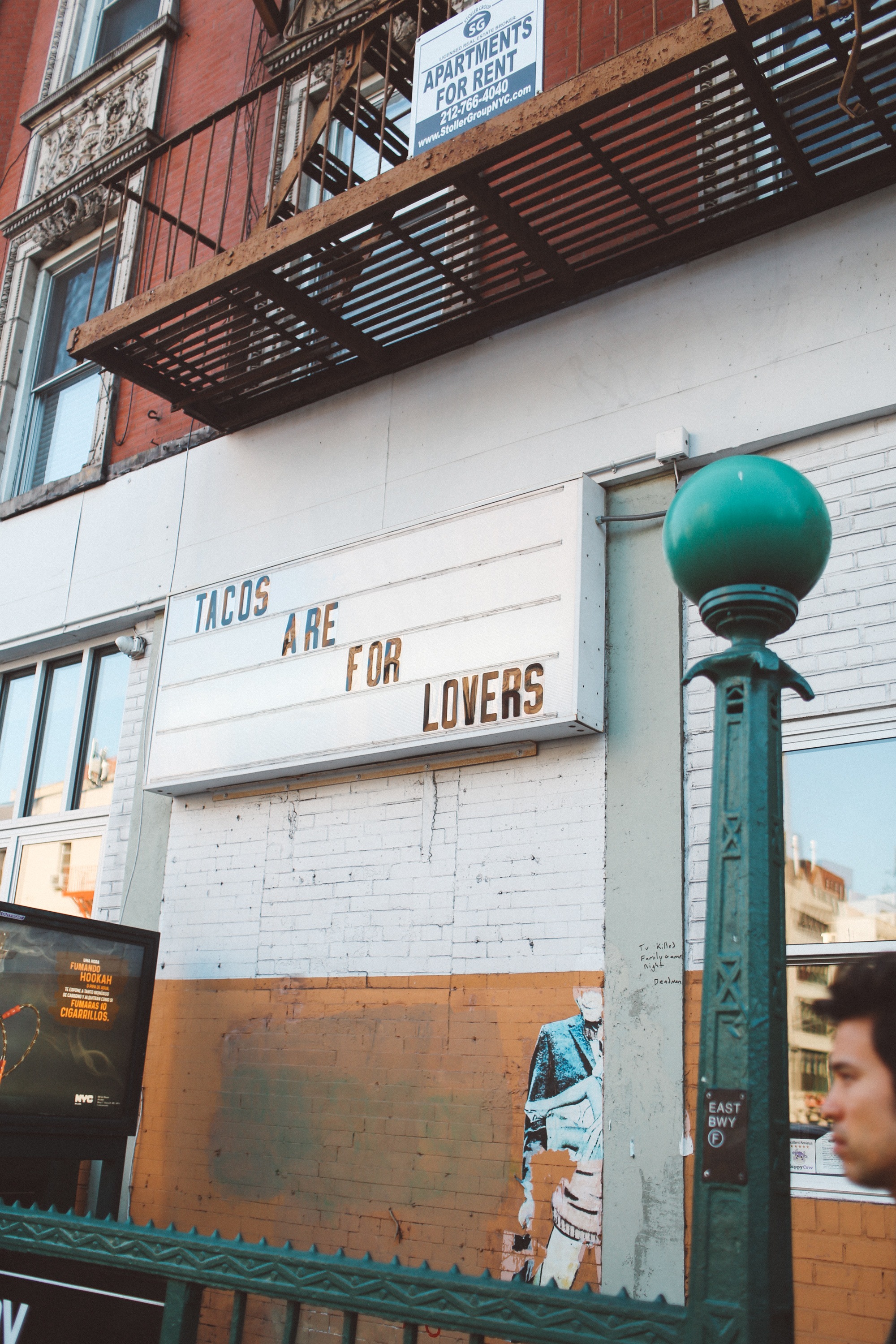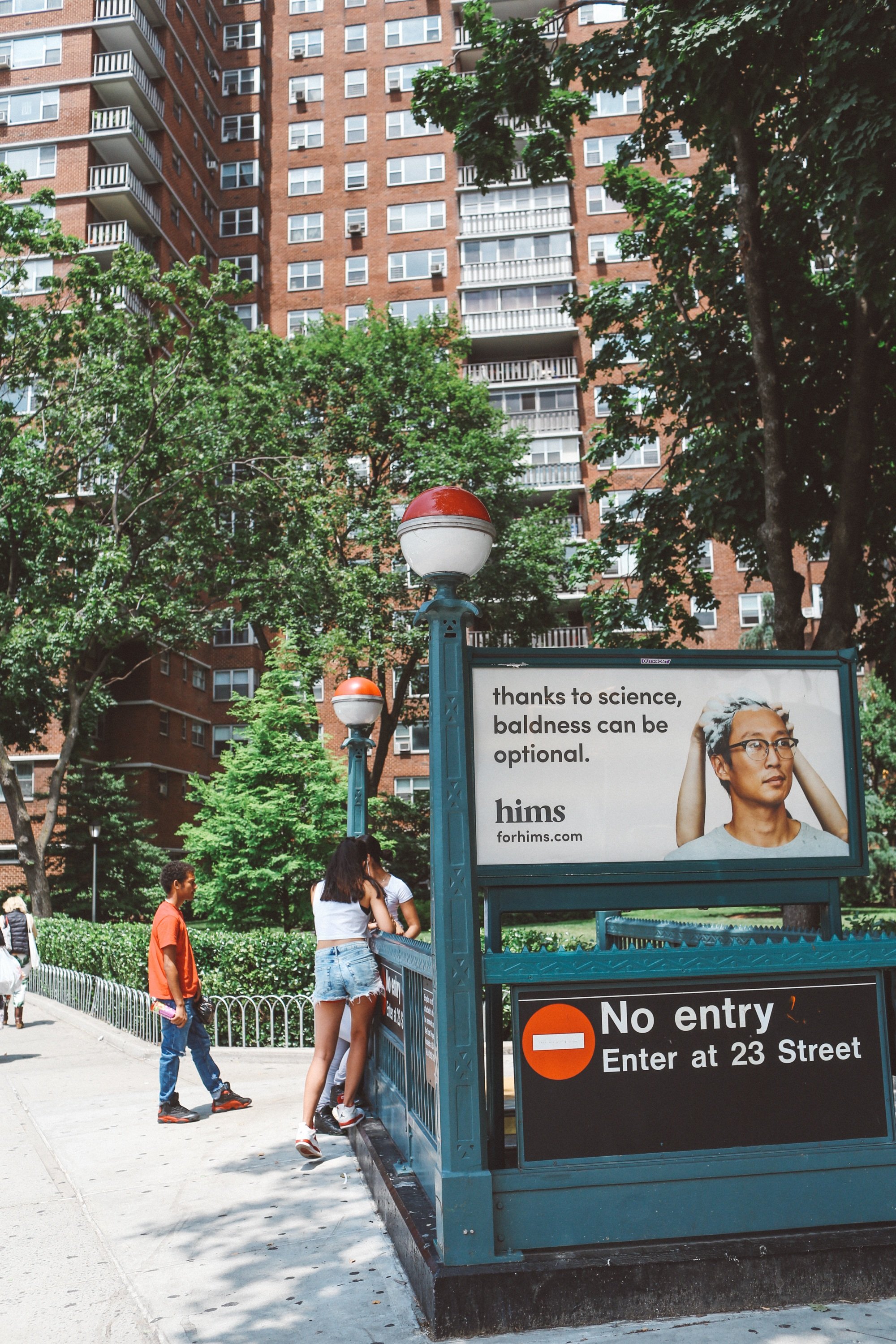 ---
What To Do In New York City
---
What to do in New York City? Let me make this clear – you cannot see and do everything on your first visit to New York City unless you plan on being utterly exhausted each day, or have at least 2 weeks there. I mean it. I had such a hard time narrowing down my list of New York attractions to visit on this first trip to the city and, after a harsh slashing I ended up with at least 30 things on my spreadsheet. That was still too many to fit into a 6-day trip! In the end, I slashed even more items from my visit list and ended up with a busy trip, but one that wasn't too overwhelming. I suggest you do the same on your first time to NYC. Below I have recommended what we saw, as well as some of the things to do in New York that didn't make my list. Pick the ones that are most important to you and try not to overload your itinerary!
Psstt – consider buying a City Pass! It's a pass that has bundles tickets for major attractions so you can save serious cash. Tickets to the MET, Top of the Rock, Statue of Liberty (what the pass covers go on!) are not cheap and they are fun things to do in NYC. If you plan on visiting more than one hot spot, get this pass.
Alright, New York for first timers… these are the must dos in NYC!
One of my favorite stops! The views are incredible from up here. You get a perfect view of the Empire State building and on the other side, Central Park. The best time to visit Rockefeller Center + Top of the Rock is a golden hour or sunset as the city looks the best in that golden glow. You can then stick around long enough to watch the city go from day into night – twinkling lights aplenty! For photos, the best time to visit is the first slot of the day before the crowds come. Make sure to buy tickets online ahead of time, not at the door! If you are visiting New York for the first time, this needs to be on your list!
*Brooklyn Bridge
Is it overwhelming? Totally. Is it just as beautiful as it looks in photos? Totally. There is something about walking on the bridge that feels like a right of passage for NYC visitors. I suggest entering in on the Brooklyn side because the Manthanna skyline as a backdrop is swoon-worthy. The entrance on that side is a bit hard to find. Head towards Cadman Plaza and look for a staircase under the overpass. This will take you right up to the bridge! This will always make my list of "best things to do in New York City".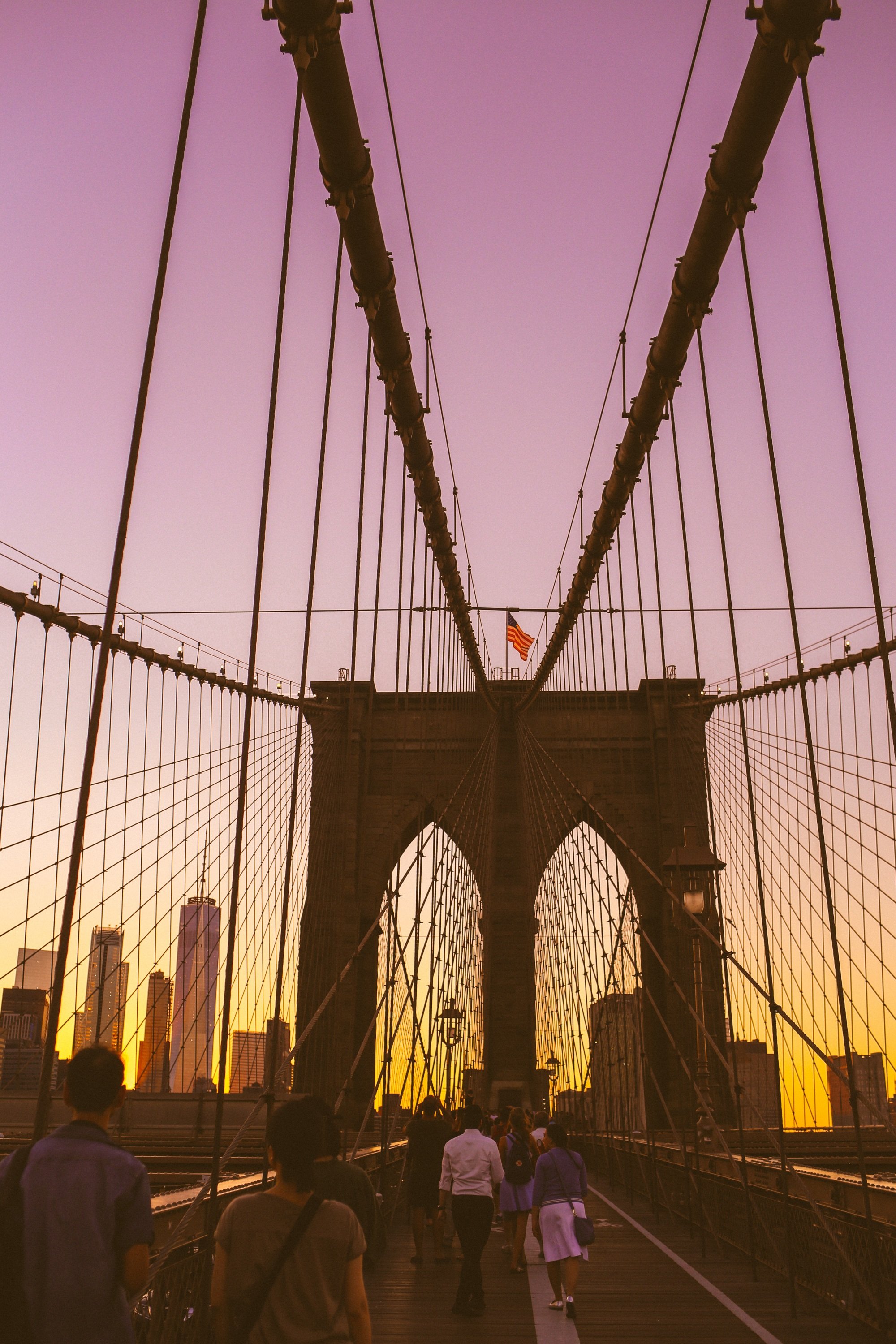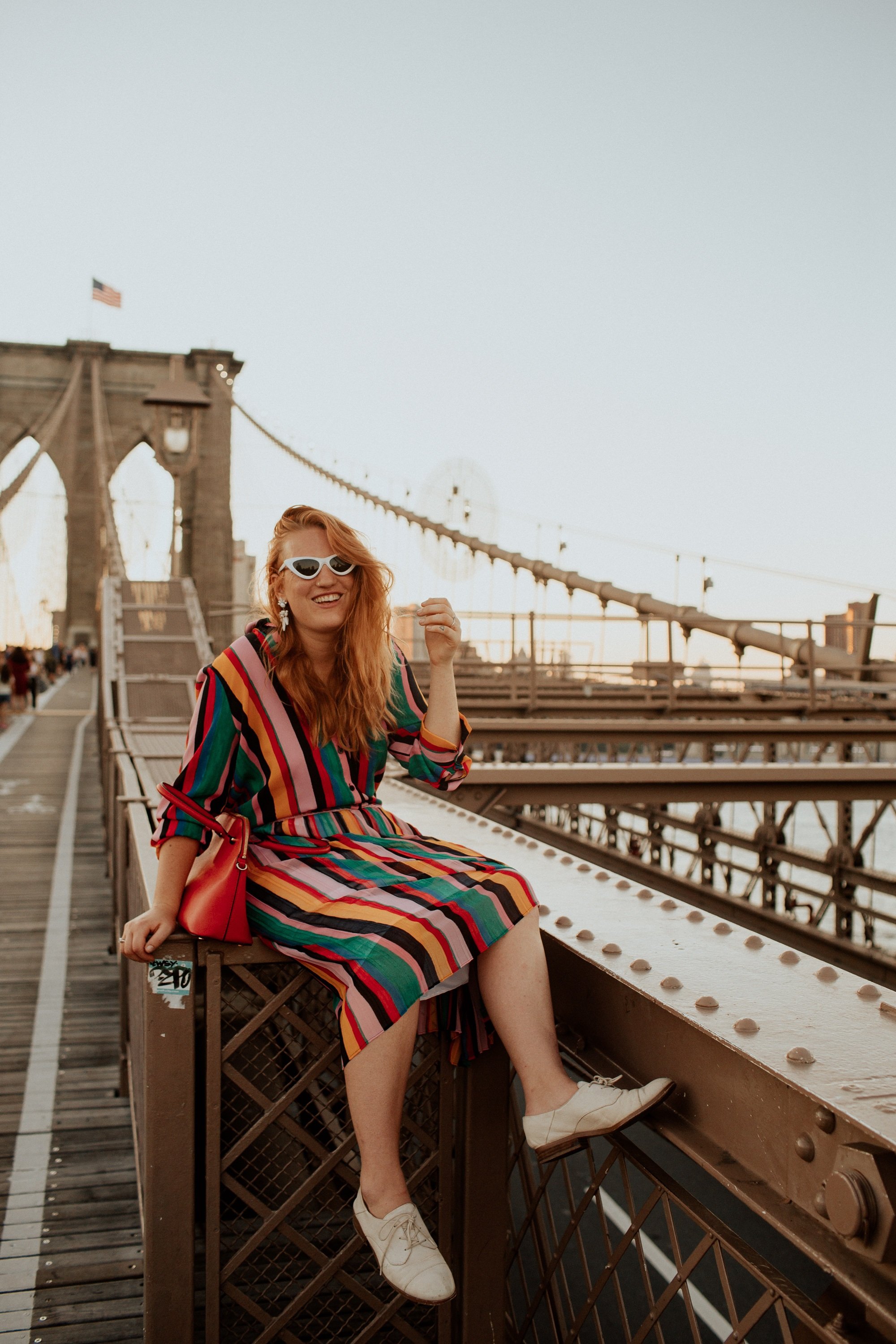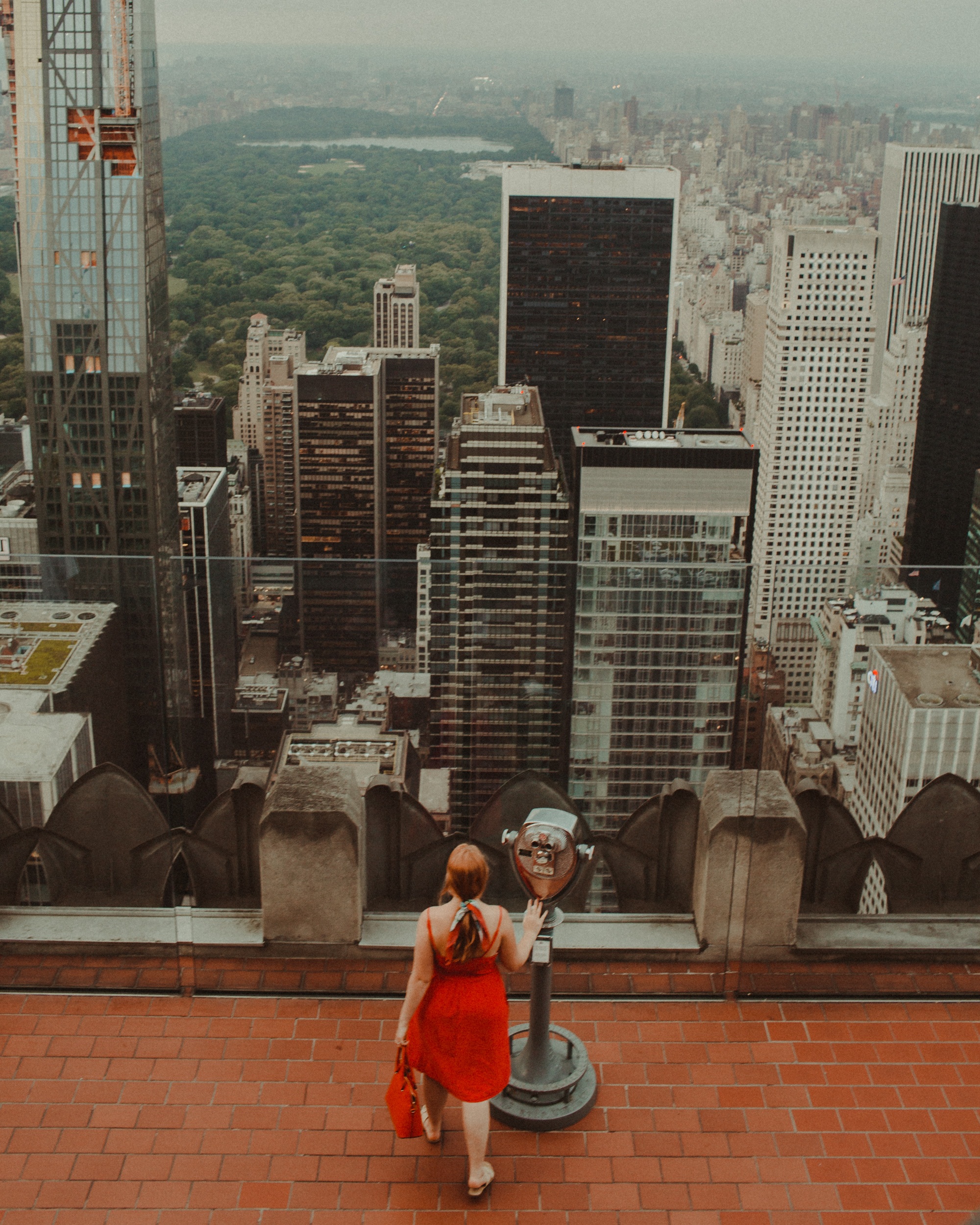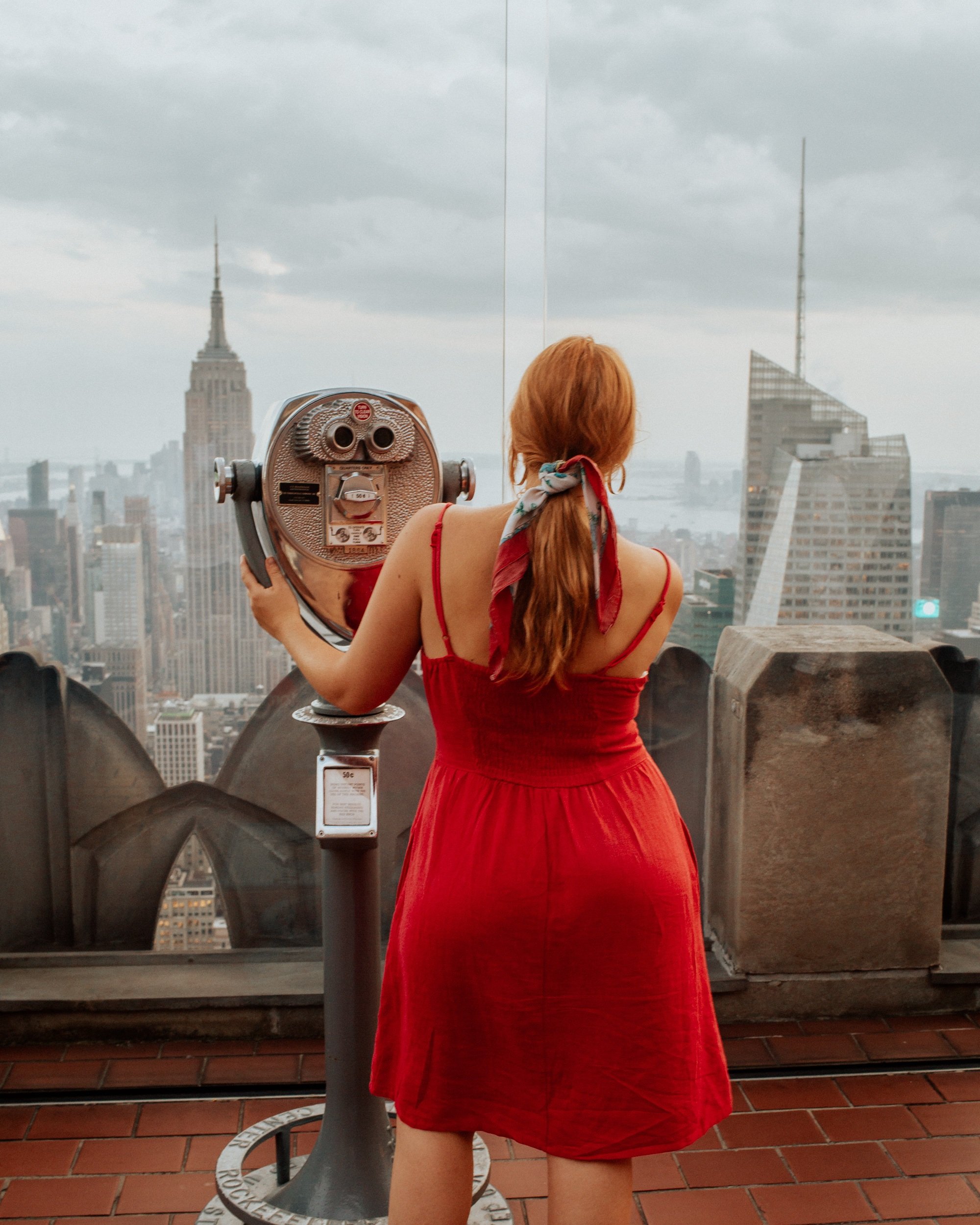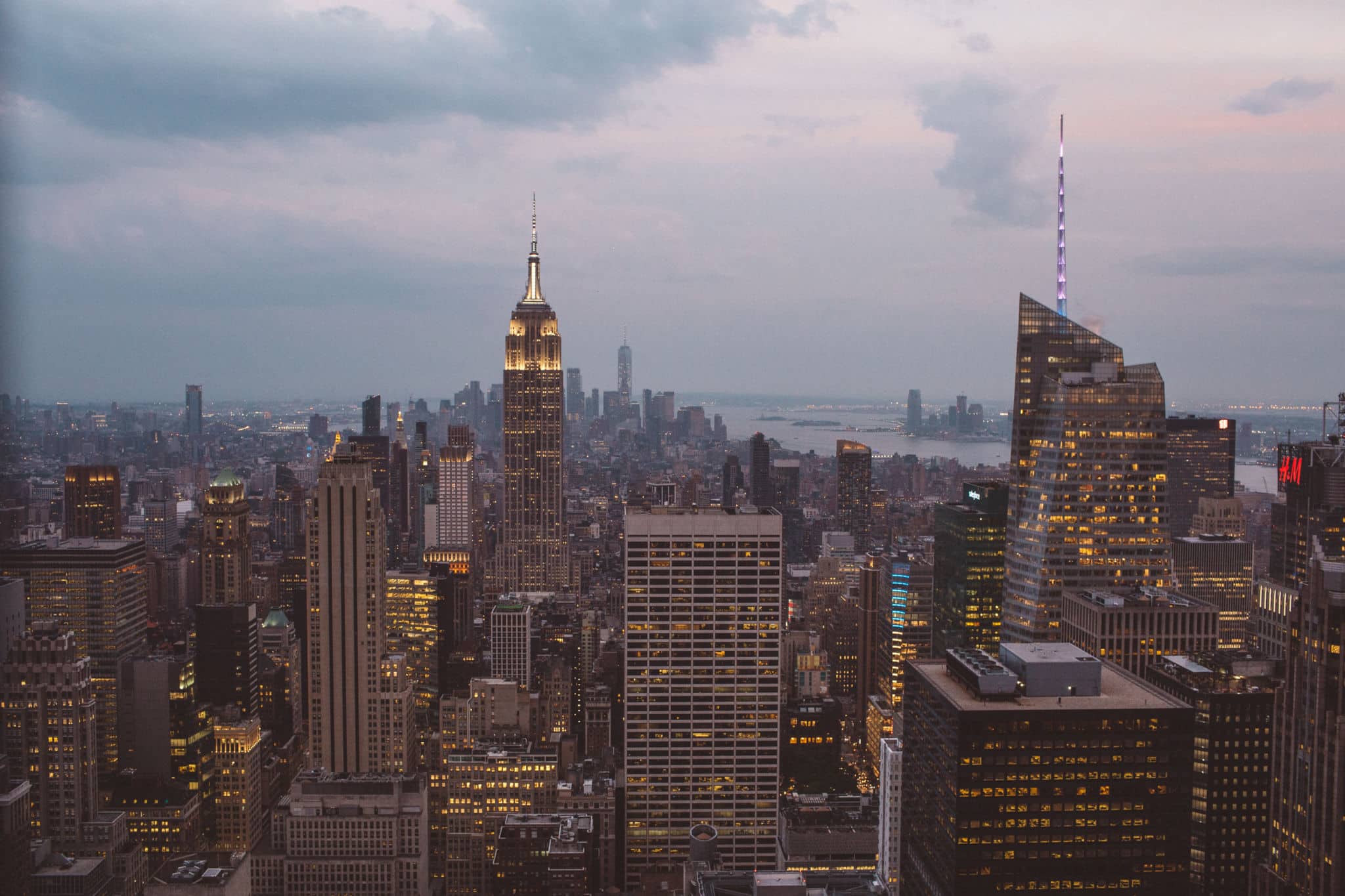 Chinatown
The New York Chinatown is one of the biggest outside of China. There are so many things to do in Manhattan, but if you haven't been to a Chinatown yet (there's usually one in every major city in the USA), it's worth a stop! Though, I do like the Chinatown in San Francisco a lot better.
Dumbo
That classic shot of the Manhattan Bridge peaking between buildings is in Dumbo. You probably recognize it from the opening credits of Good Morning America, among other things. It's pretty near the entrance to the Brooklyn Bridge, so you can tack it on easily.
If you don't choose to go to the Top of the Rock at Rockefeller Center, then consider the Empire State Building's observation deck. It's open until 2am! You can buy tickets here. This is on most people's list of top things to do in nyc.
World Trade Center Memorial
We didn't a chance to visit the memorial/ One World Observatory, but from everything people have told me, it's incredibly powerful and moving. There are various tours you can buy tickets here to the memorial, including guided tours to learn more about the events.
*Times Square
Get in, get out, call it a day. I think Times Square a place that everyone should visit at least once in their lives, but it's not a place to hang out in. It's not fun, it's so crowded and overwhelming. But take 20 minutes to visit if you are visiting nyc for the first time.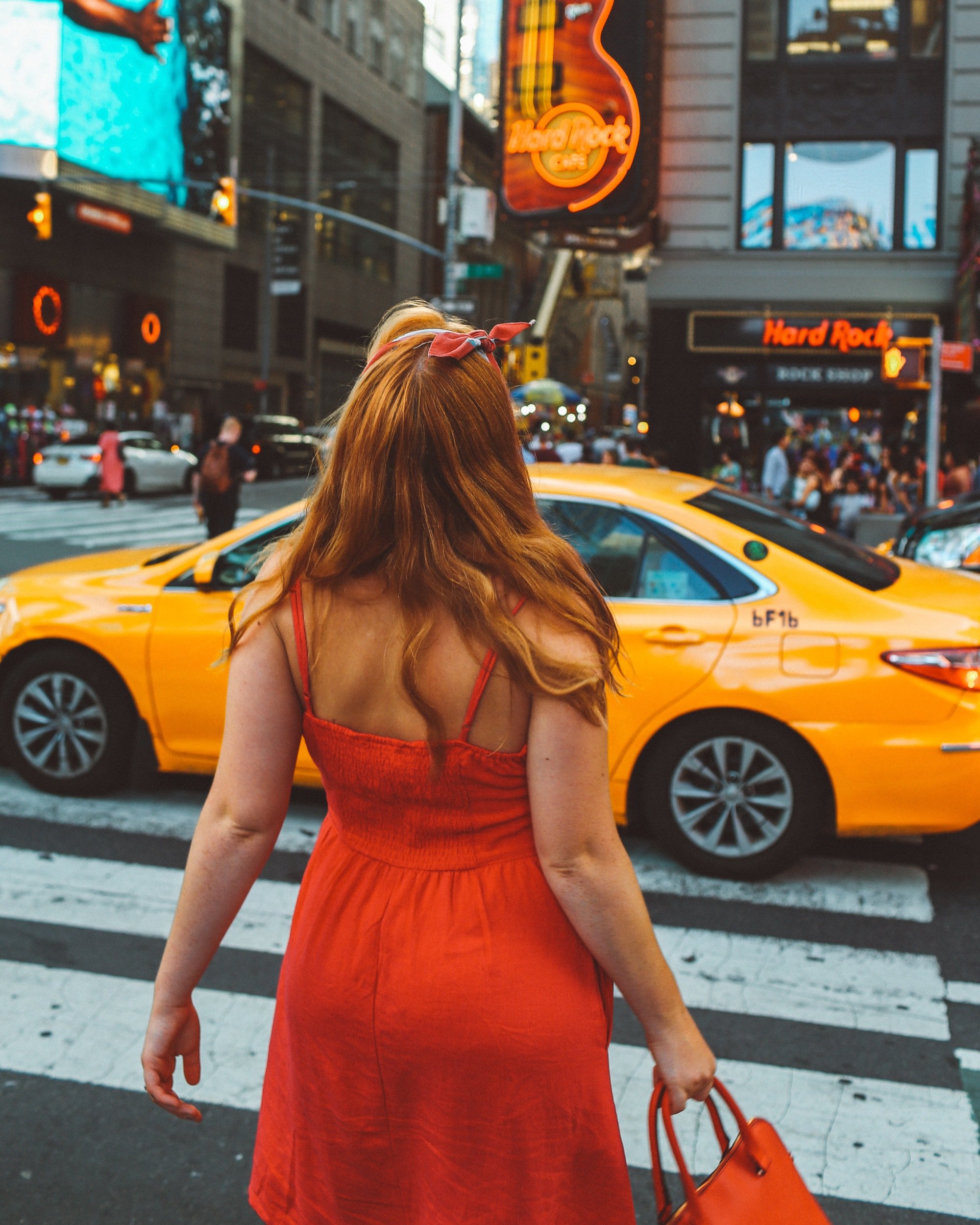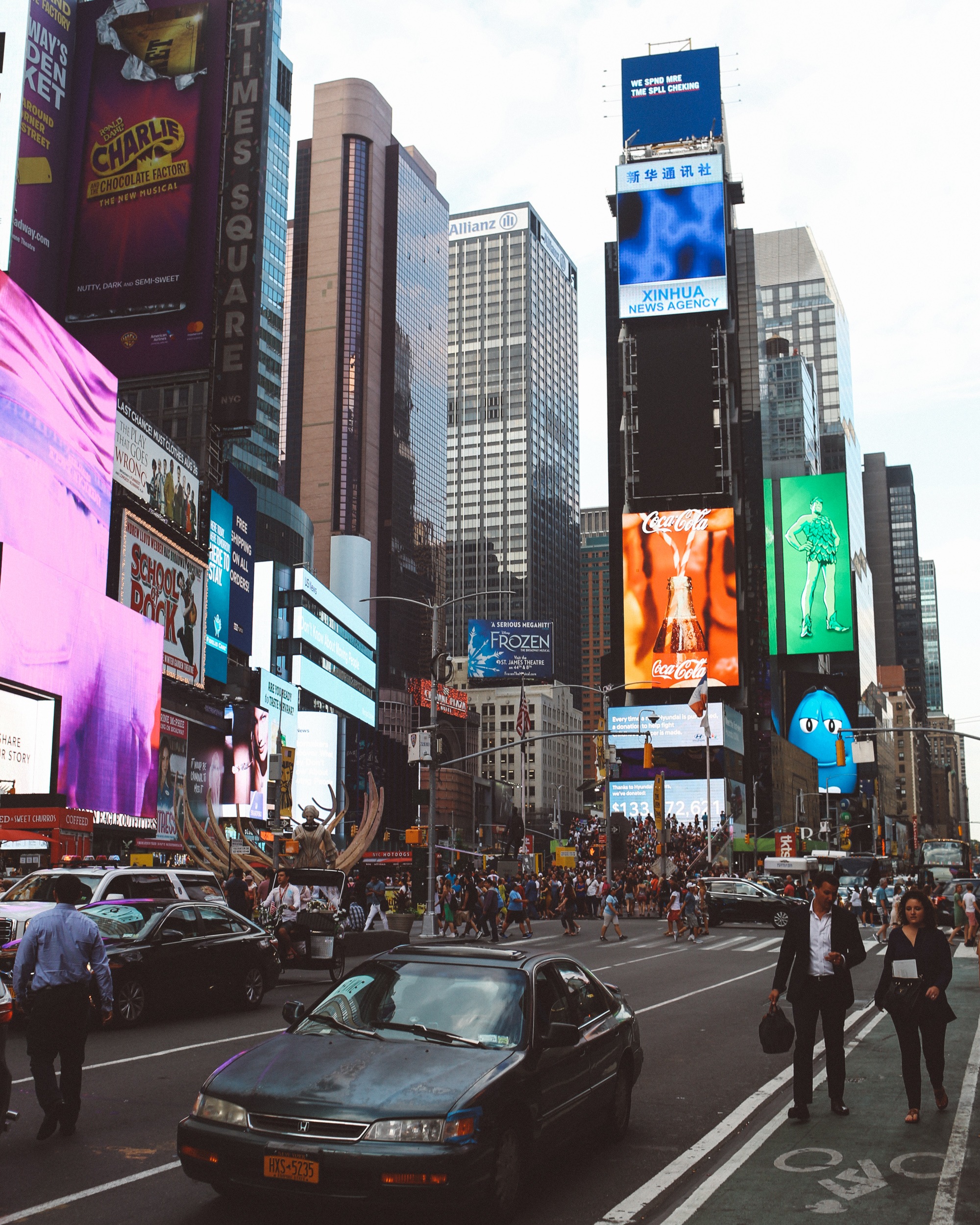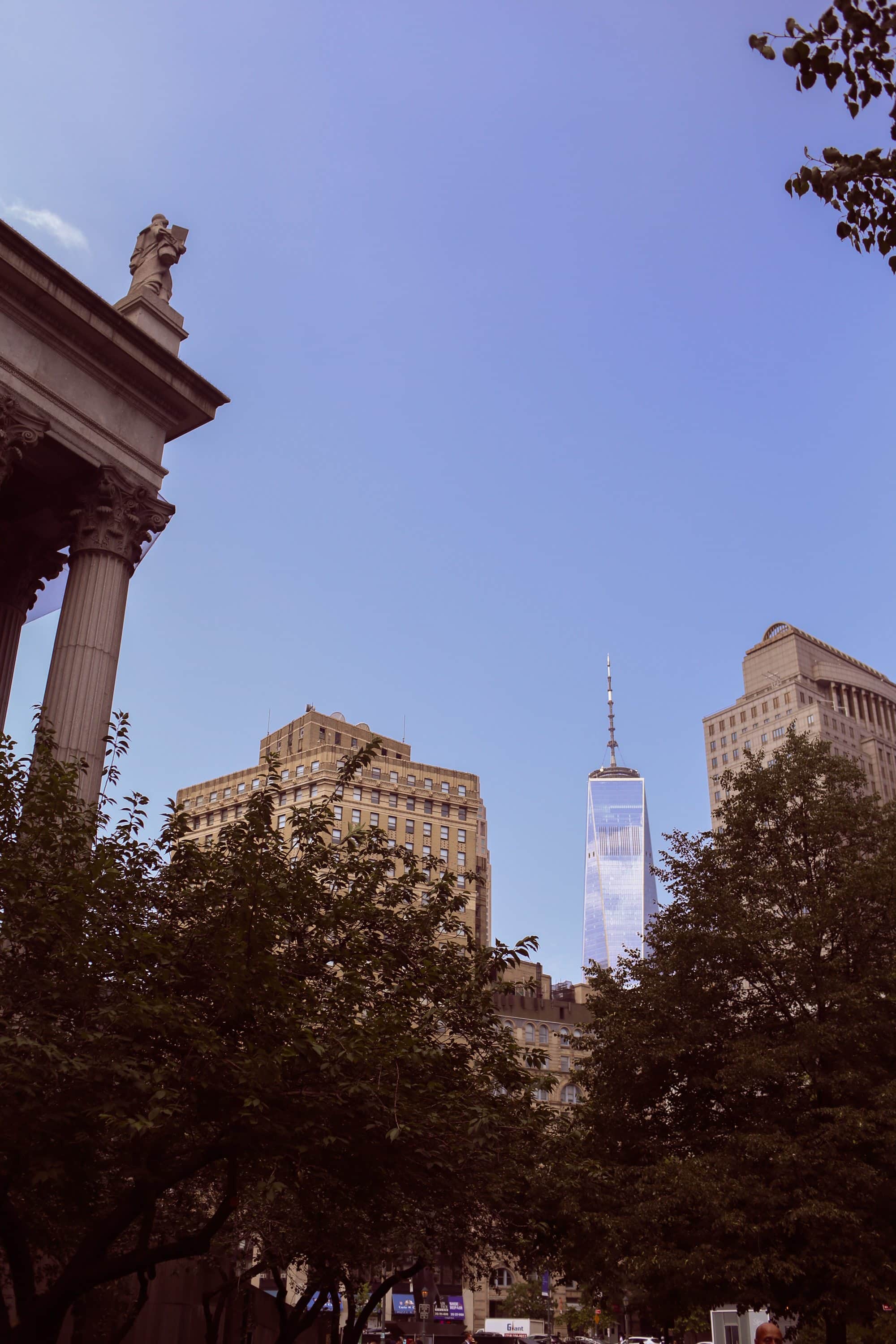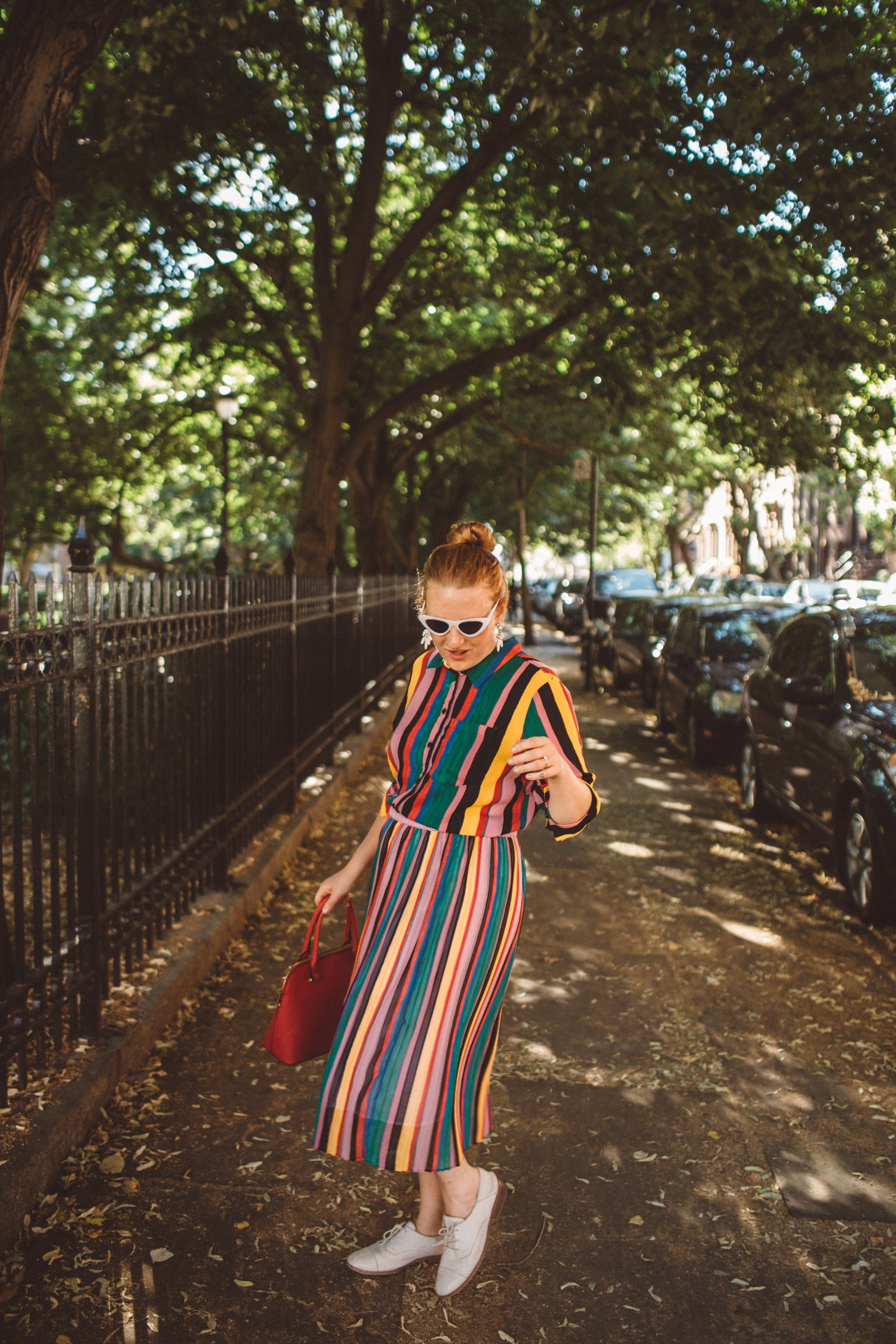 Another museum we didn't get a chance to visit this round, but if you're an art lover, this is the museum to visit! It's a top things to do in nyc for sure. Tickets include a 3-day pass. I recommend upgrading to the audio tour option so you can learn even more while visiting. Buy tickets in advance here.
History buff? Visit this museum! You can do self-guided or guided tours. It's on the edge of Central Park, so it's easy to visit the park before or after getting your dose of history. Buy tickets here.
*Central Park
It's big, but there's so many hidden gems in Central Park! I suggest starting towards the middle on their the Upper West Side or Upper East Side (check out 5th Avenue first!) because this section of the park is WAY less crowded. Visit the boathouse, Strawberry Hill, the Turtle Pond area and the work your way South towards the Gapstow Bridge and Umpire Rock.
Pstt – if you get lost, use the lamposts in Central Park to find your way! The first two digits are the street (like 82nd) and the last two digits are if you are closer to the East or West Side of the city. Even is East, Odds are West. So, if the numbers on the post is 8203, you are near West 82nd!
Saw this activity in Elf and was sold. Of all the best things to do in nyc, this is the top of my list for the holidays. We visited in the summertime, so there was no ice skating rink, but it's on my NYC holiday bucket list. It's probably crowded, especially in the evenings, but dang, give me hot chocolate, Christmas music, and a cute beanie and I'm all in. Buy tickets here.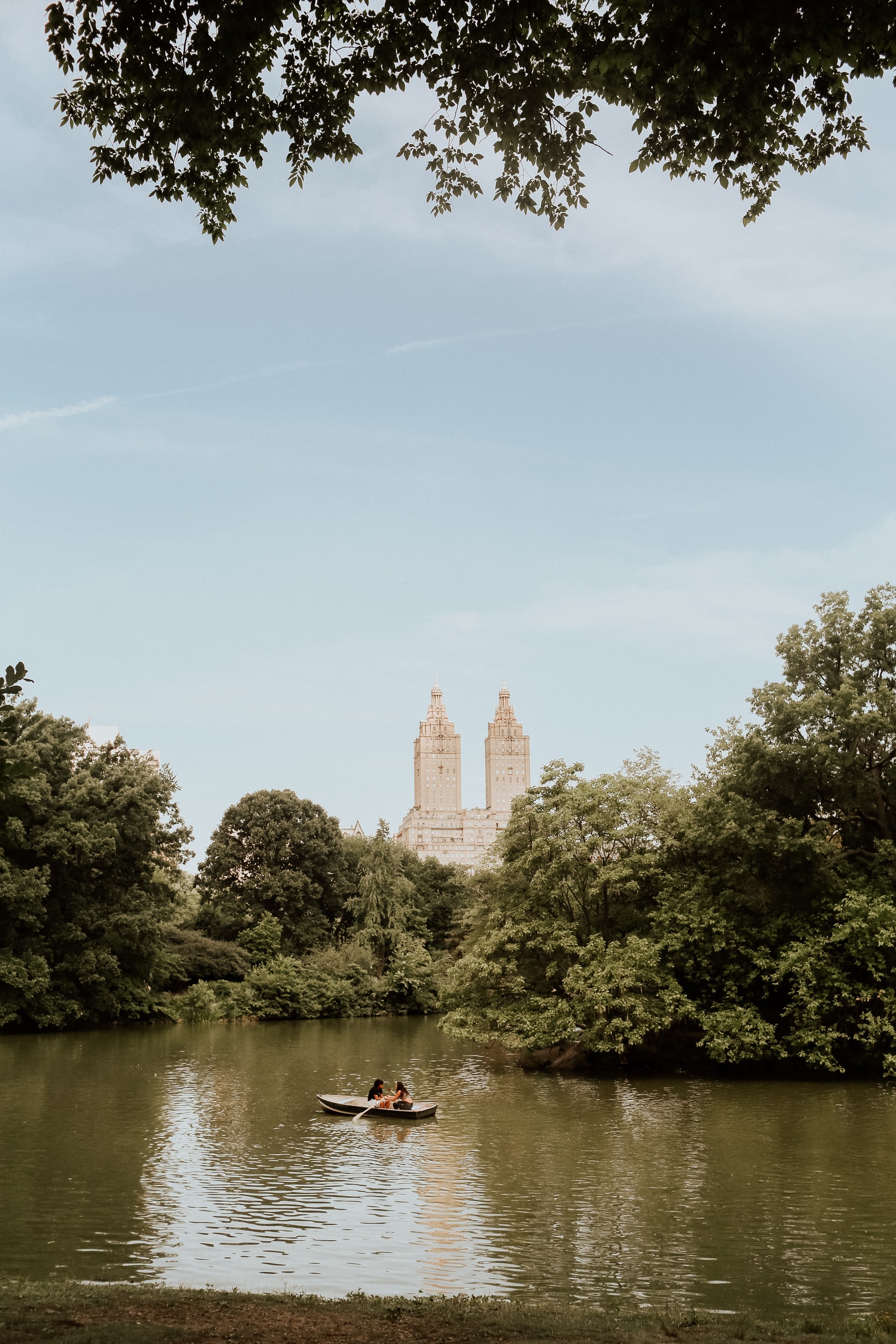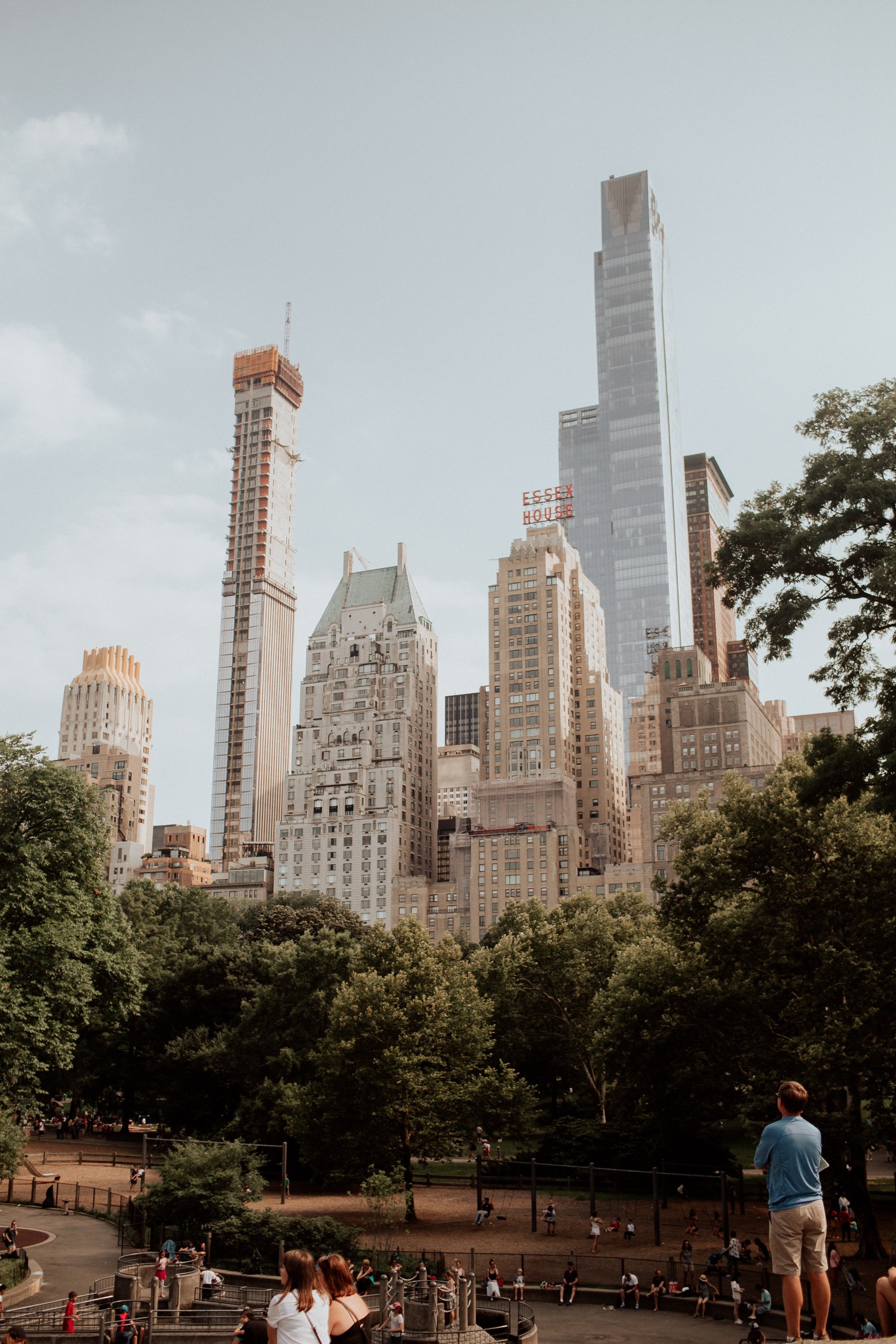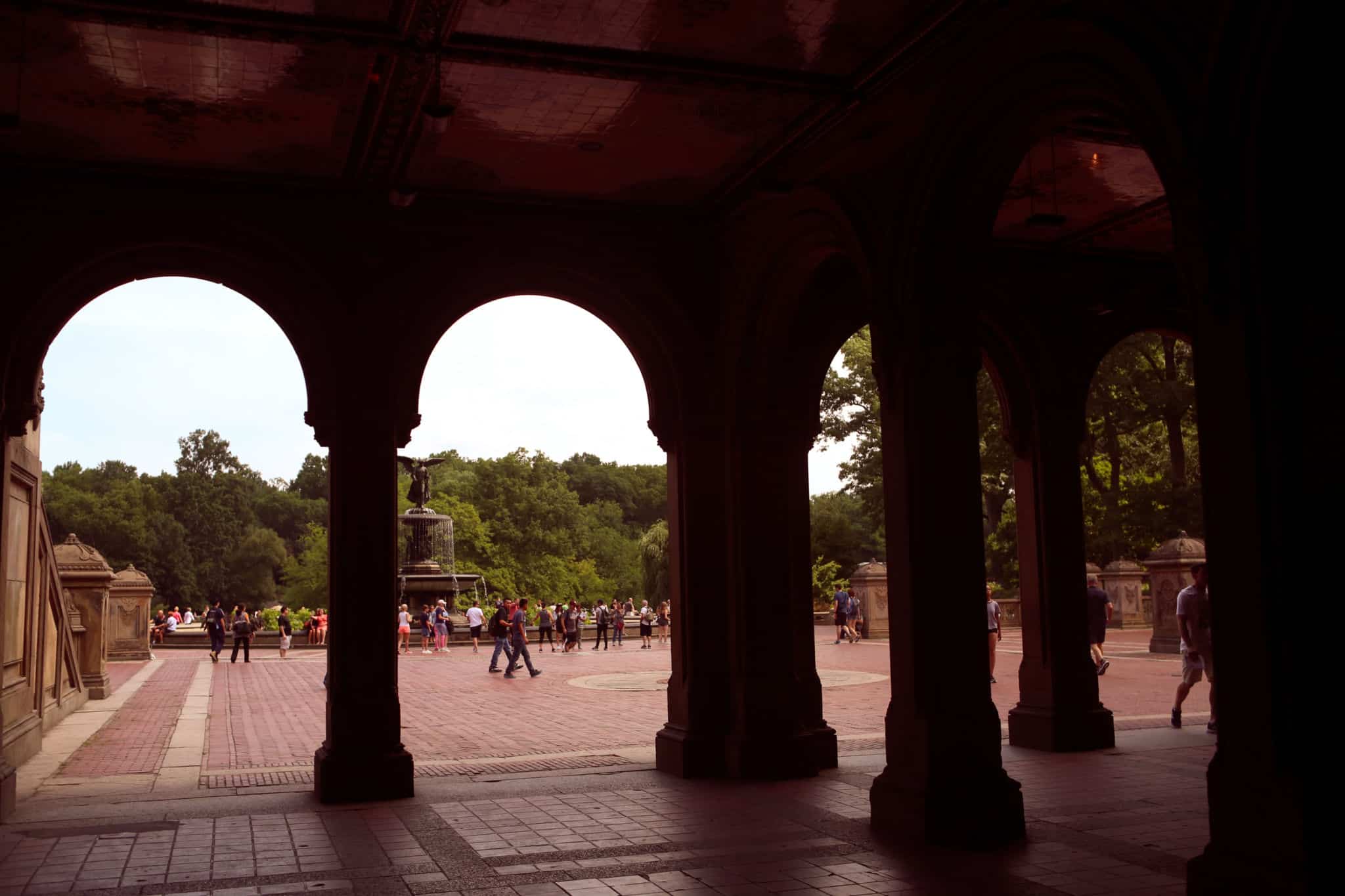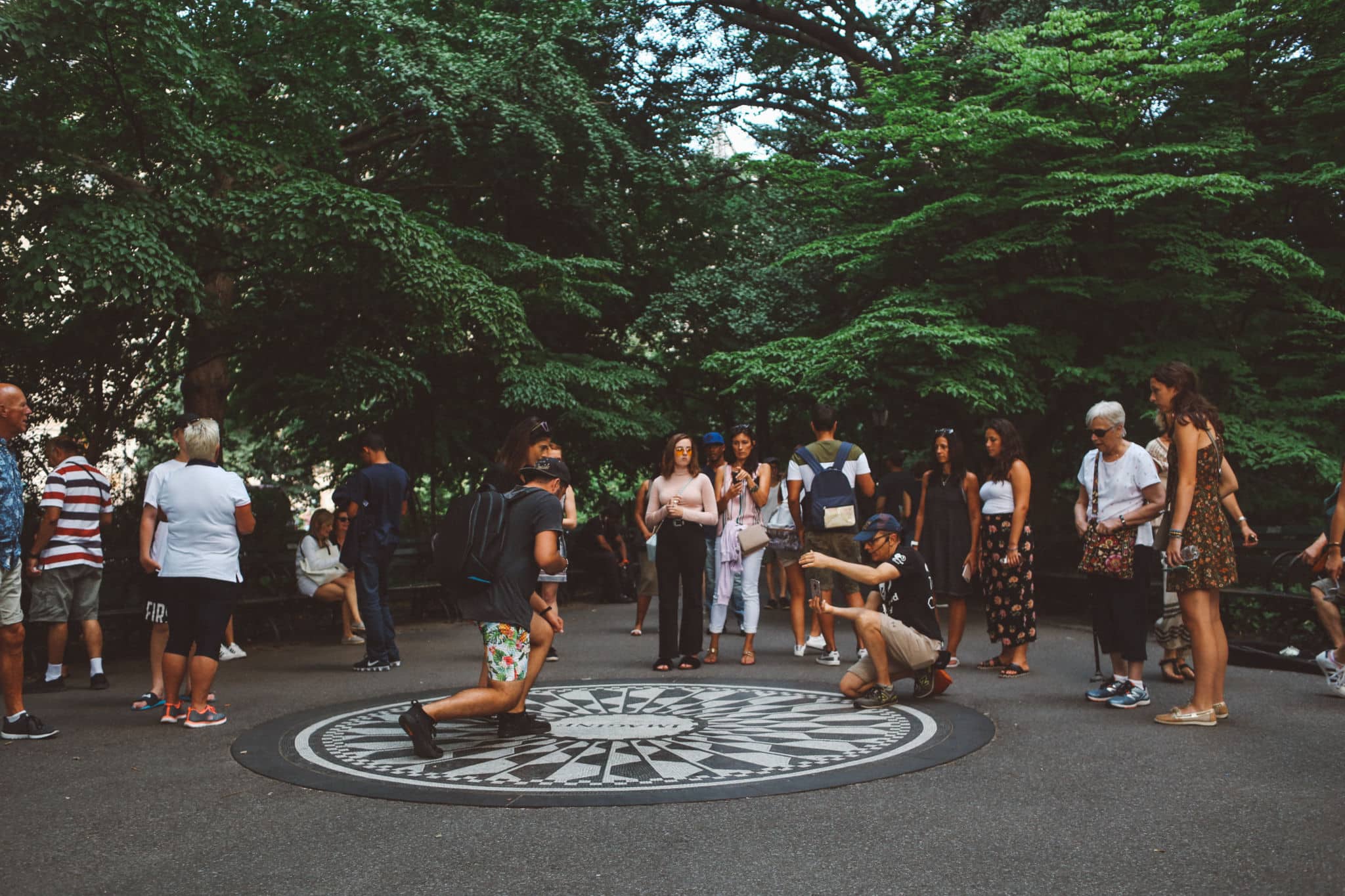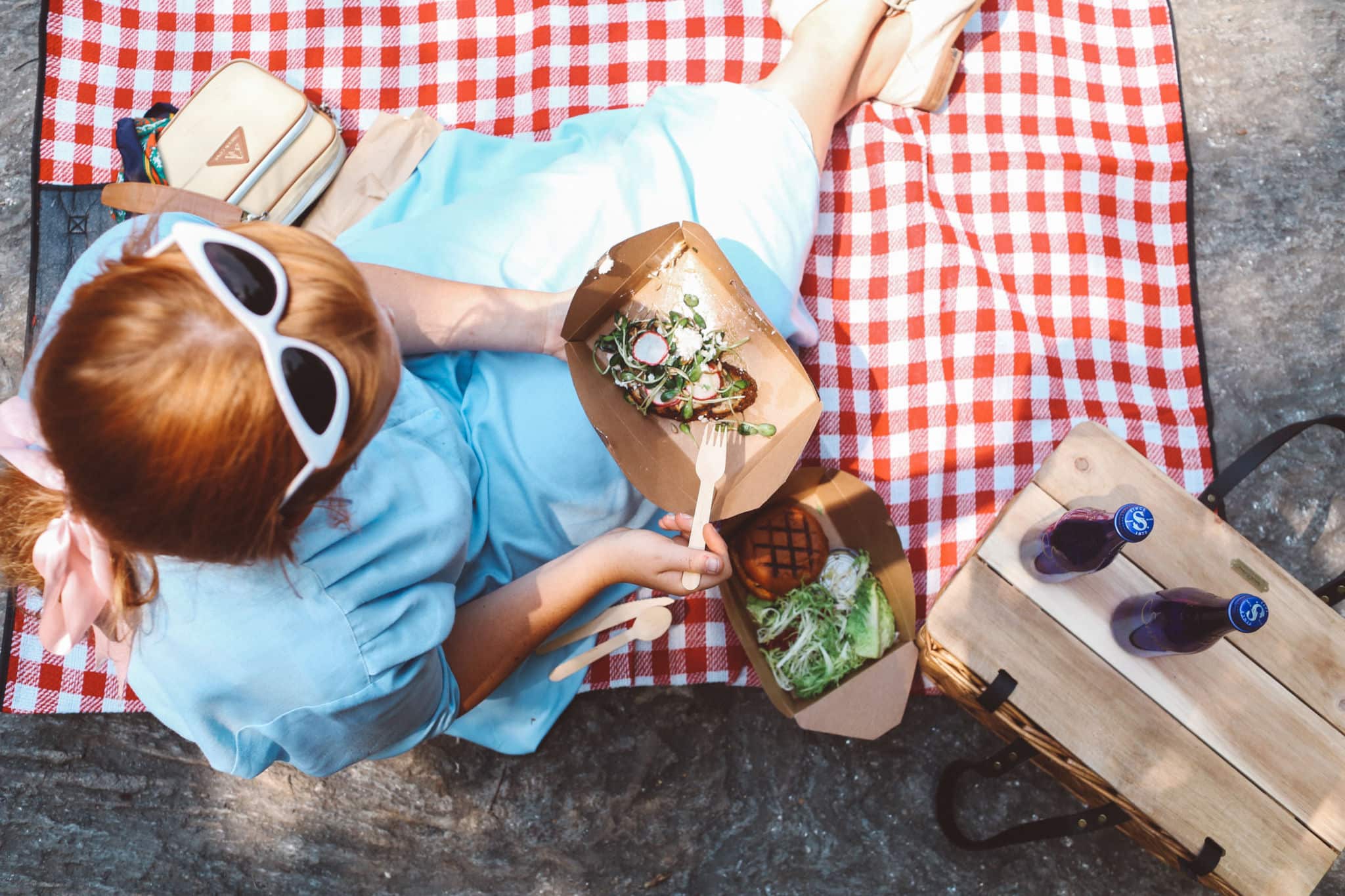 Governor's Island Day Trip
I wanted to squeeze this in so badly, but we didn't have time. Take a ferry to Governor's Island, rent a bike and bike around the scenic island that has city views. For lunch, stop by Island Oysters for their cute yellow awnings and a killer view.
The High Line
Make sure to take a walk on the High Line! It's an above-ground park that stretches about 1.5 miles. In the summer, the air has a flowery perfume smell to it. Vendors sell ice cream, kids run around. It's a great spot to escape the hustle below.
Flat Iron Buidling
Another iconic building that makes for a great photo backdrop and makes my list of best New York things to do!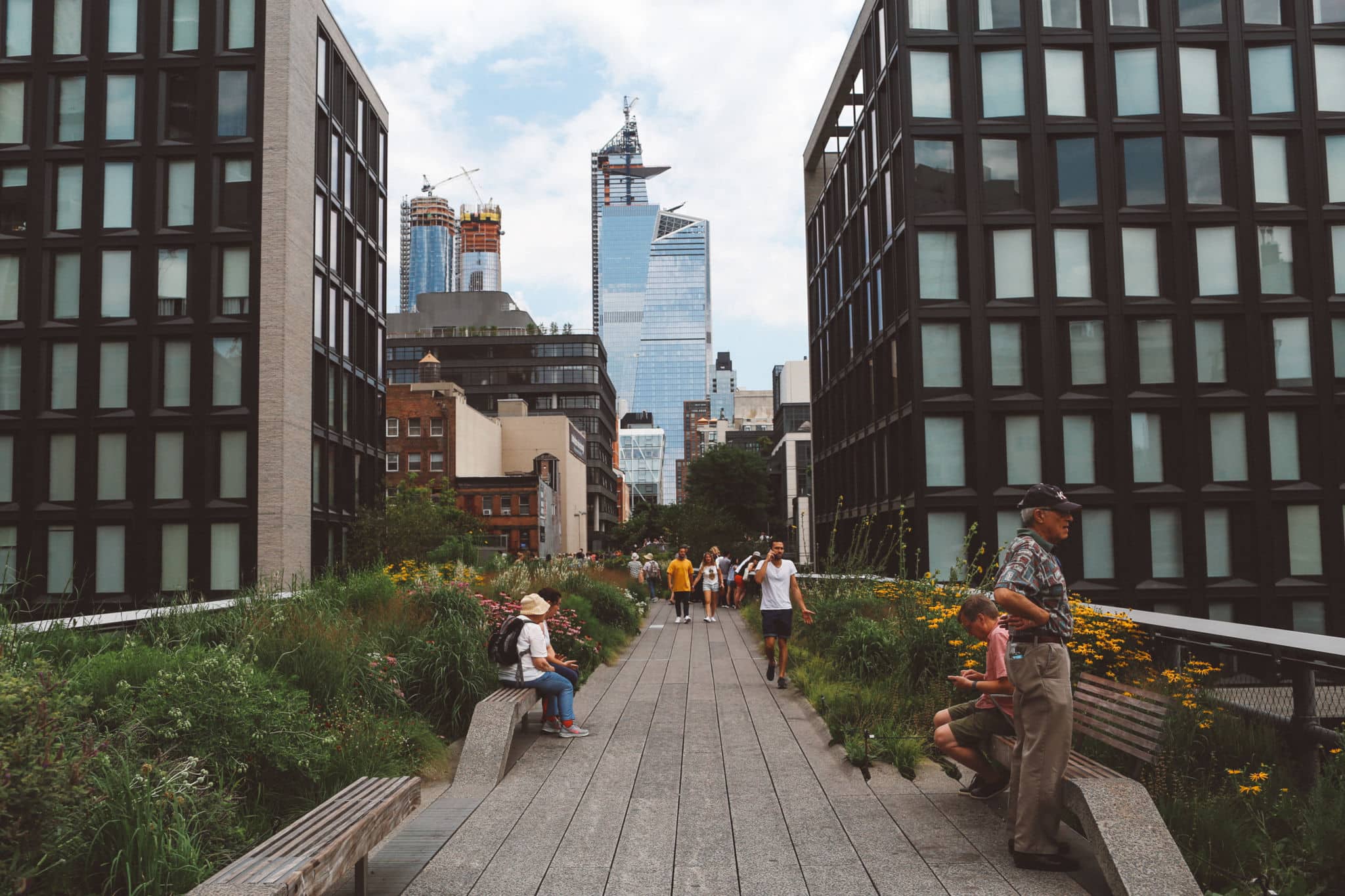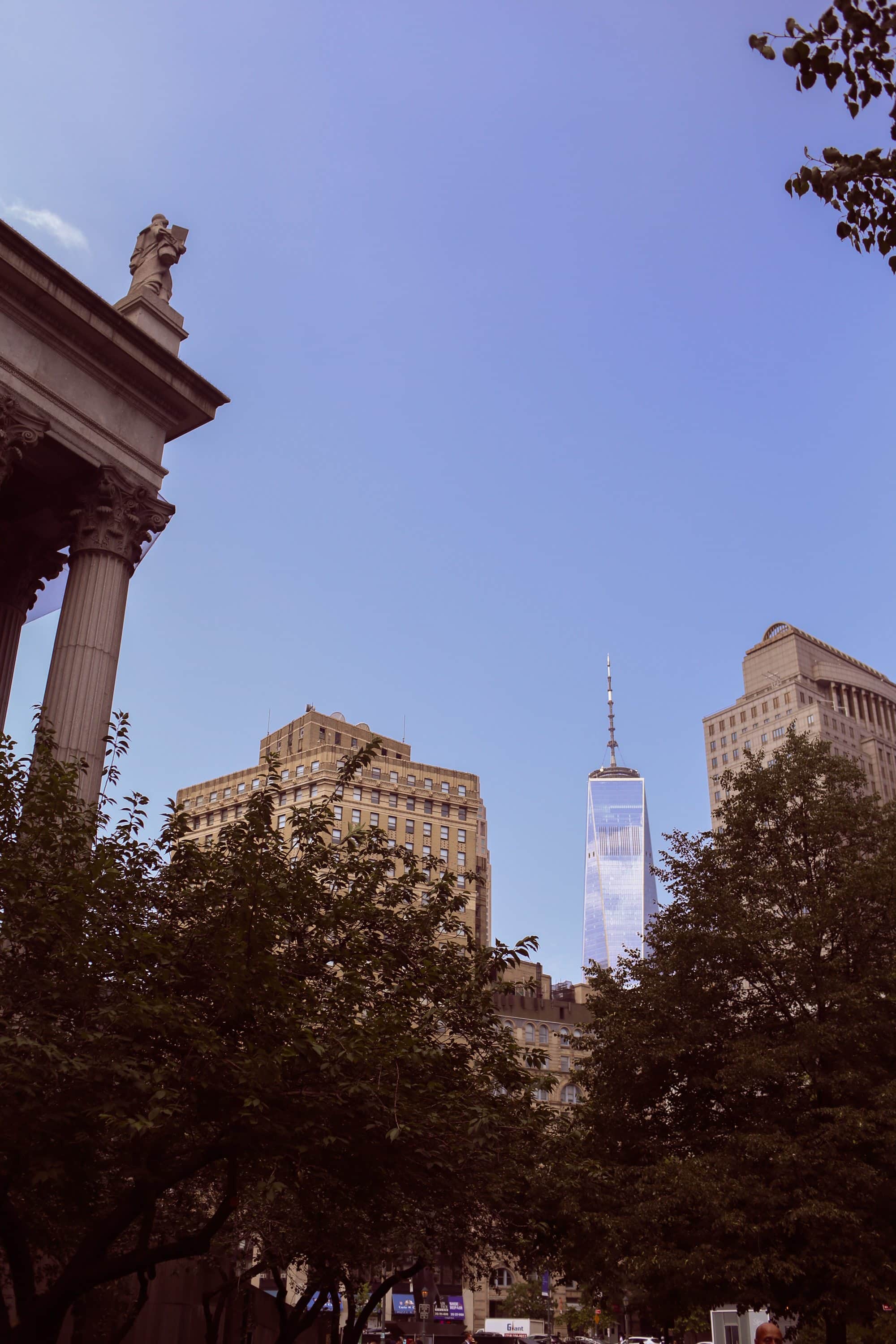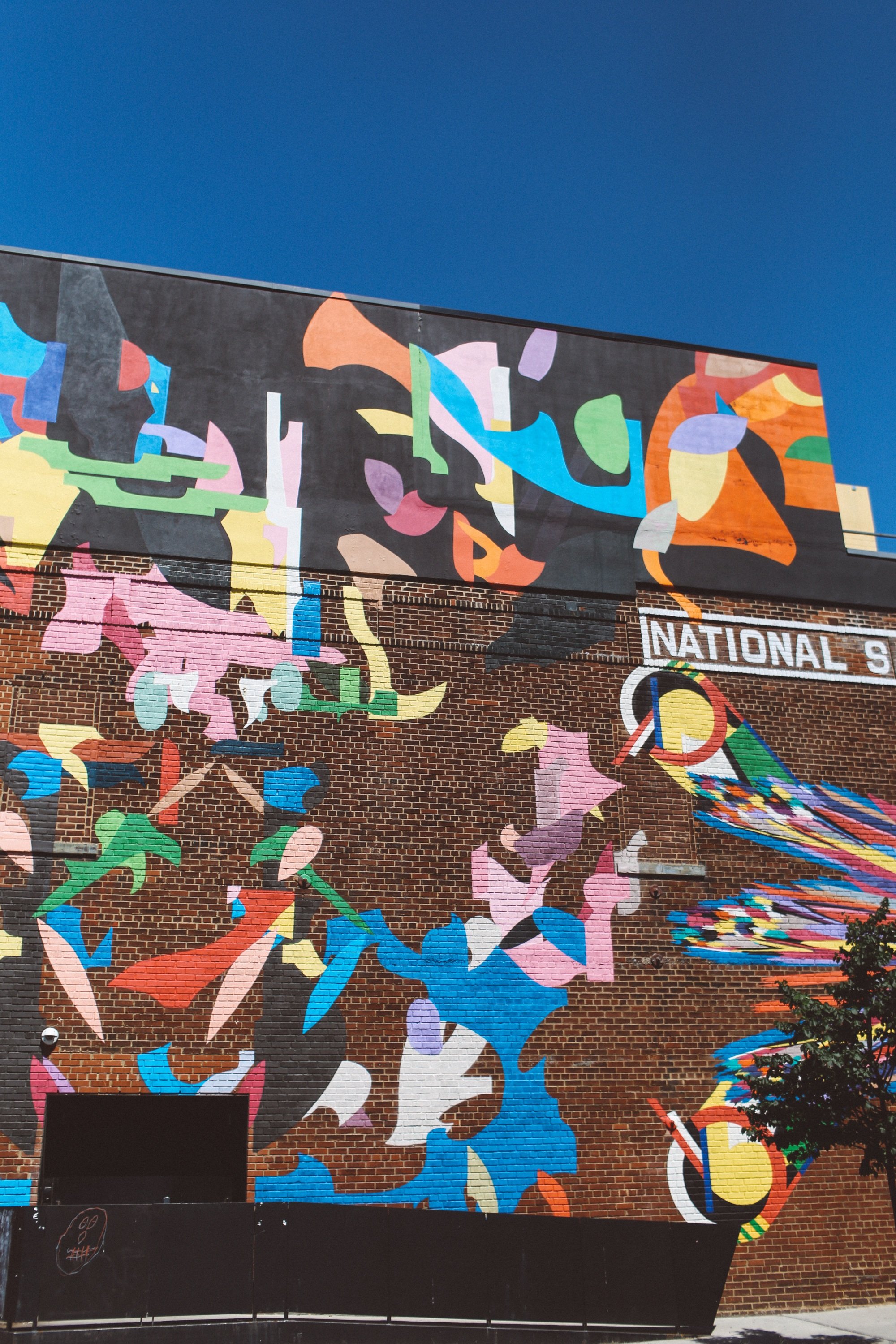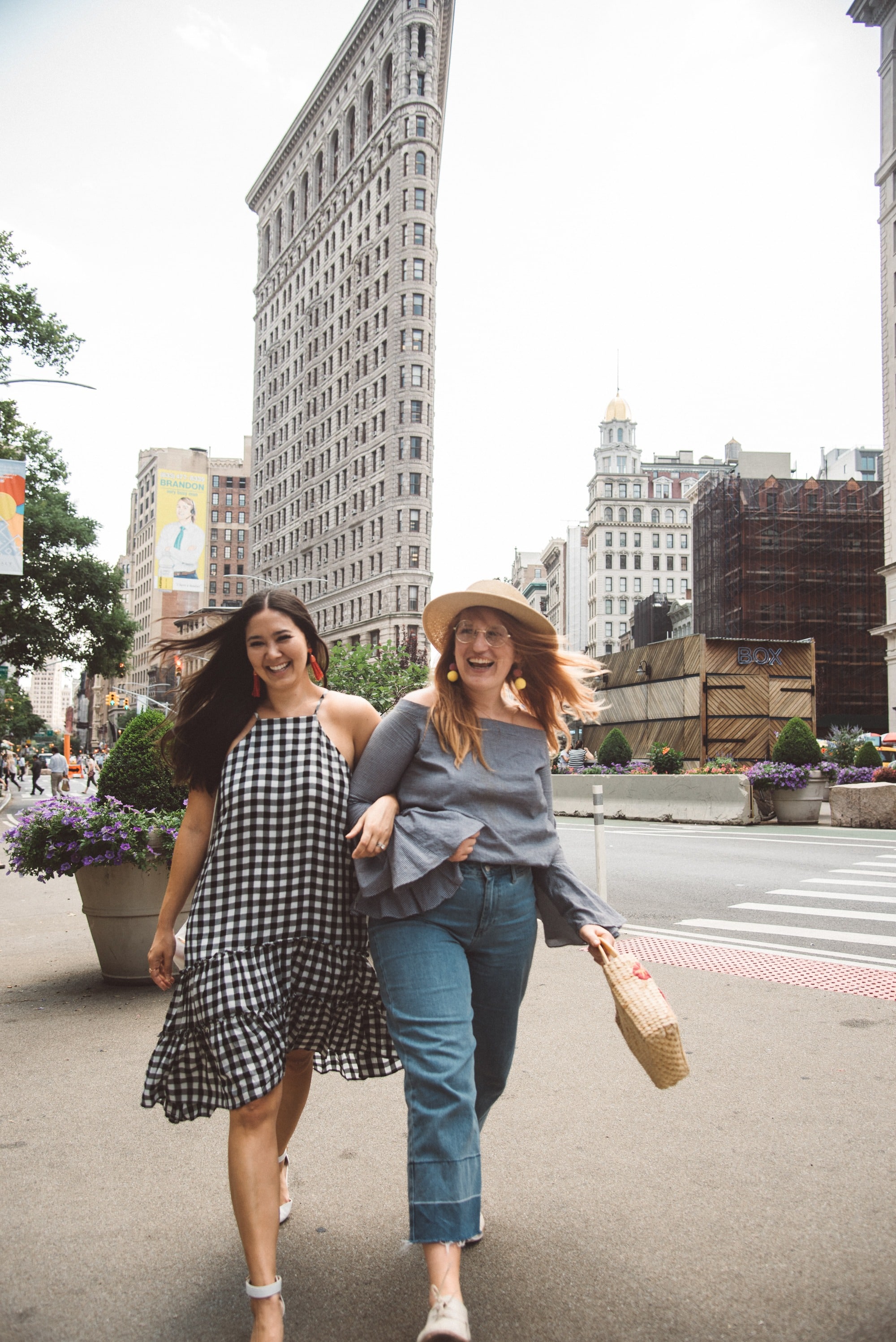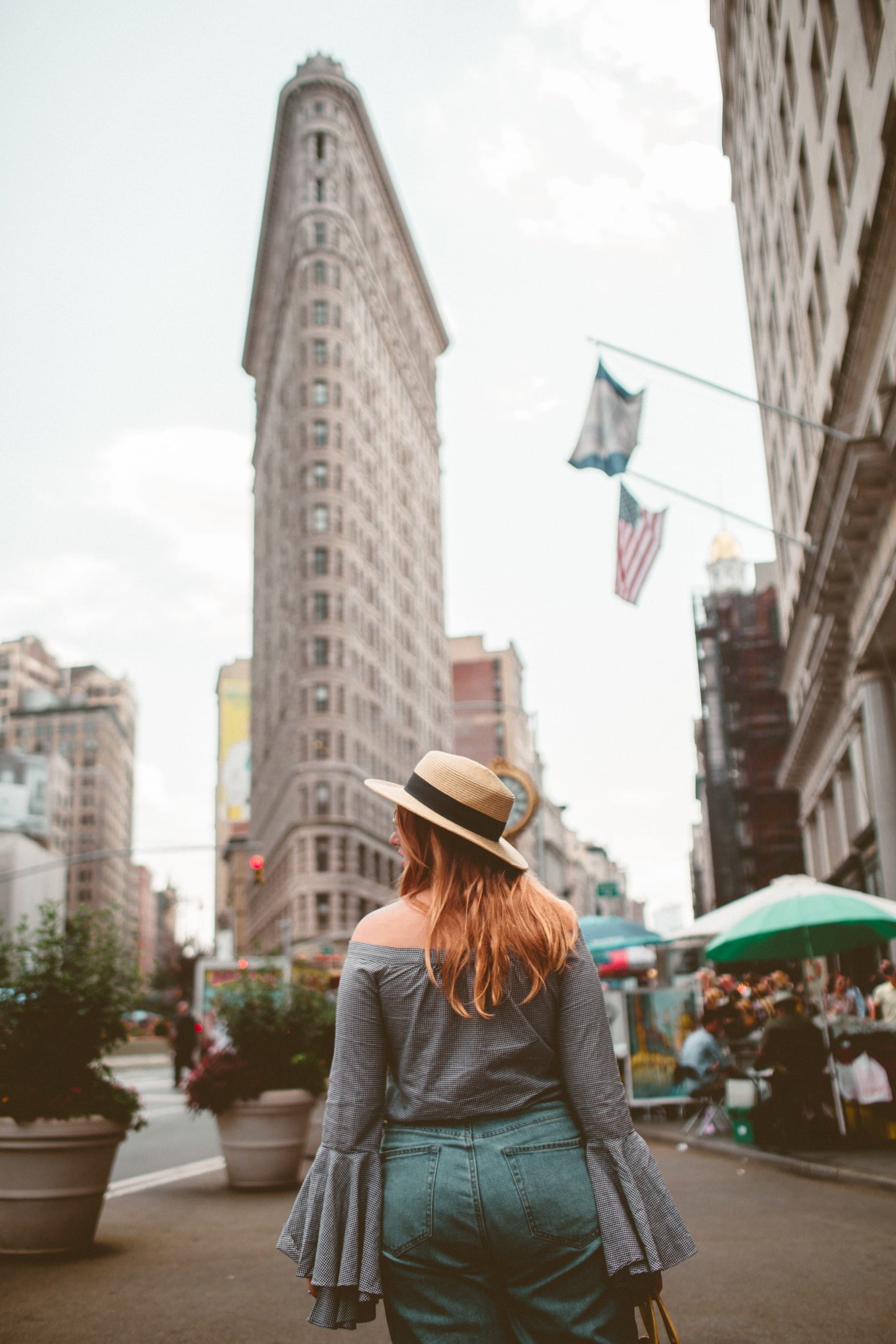 ---
What To Pack For New York City
---

For most travel guides, I list out shoppable roundups to help you pack, but NYC has 4 strong seasons. It can be below zero, or 100 in the summers. So, instead of listing out outfits for each season, below are the items that I think are necessary to survive a trip to New York no matter the year.
Comfy, flat shoes as you'll be doing SO much walking each day! We averaged between 10-12 miles a day, some people report walking up to 20 miles a day while visiting NYC.
An anti-theft purse (like this one from Arden Cove) is handy to keep all your valuables safe while still providing room for souvenirs. We didn't experience any unsafe moments on our trip, but I know big cities can make some people anxious, so get this bag!
Portable phone charger – my phone died about 3 times each day because we were constantly googling train directions, etc.
Hand sanitizer is a must! New York is dirty AF and you'll want to use it after each subway ride so avoid catching a cold during your vacation!
And two seasonal tips:
Gloves – if you are visiting in the winter and are from a state that doesn't get harsh winters or snow, remember to pack gloves!! Your fingers will thank you.
Anti-chaffing bands are a must if you are visiting in the summer. My legs were rubbed raw on the first day and it was so painful to walk around. These bands will save your legs on hot days!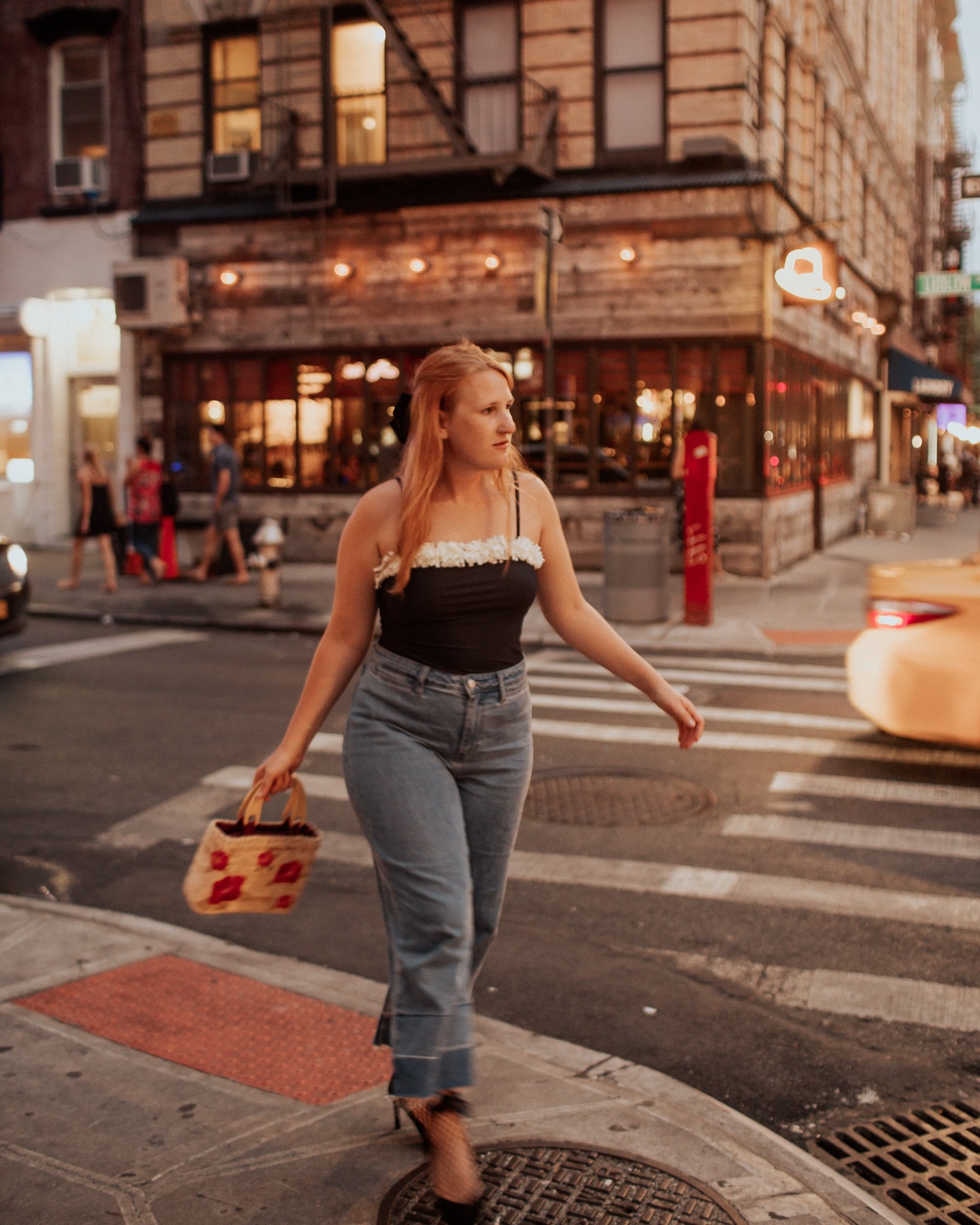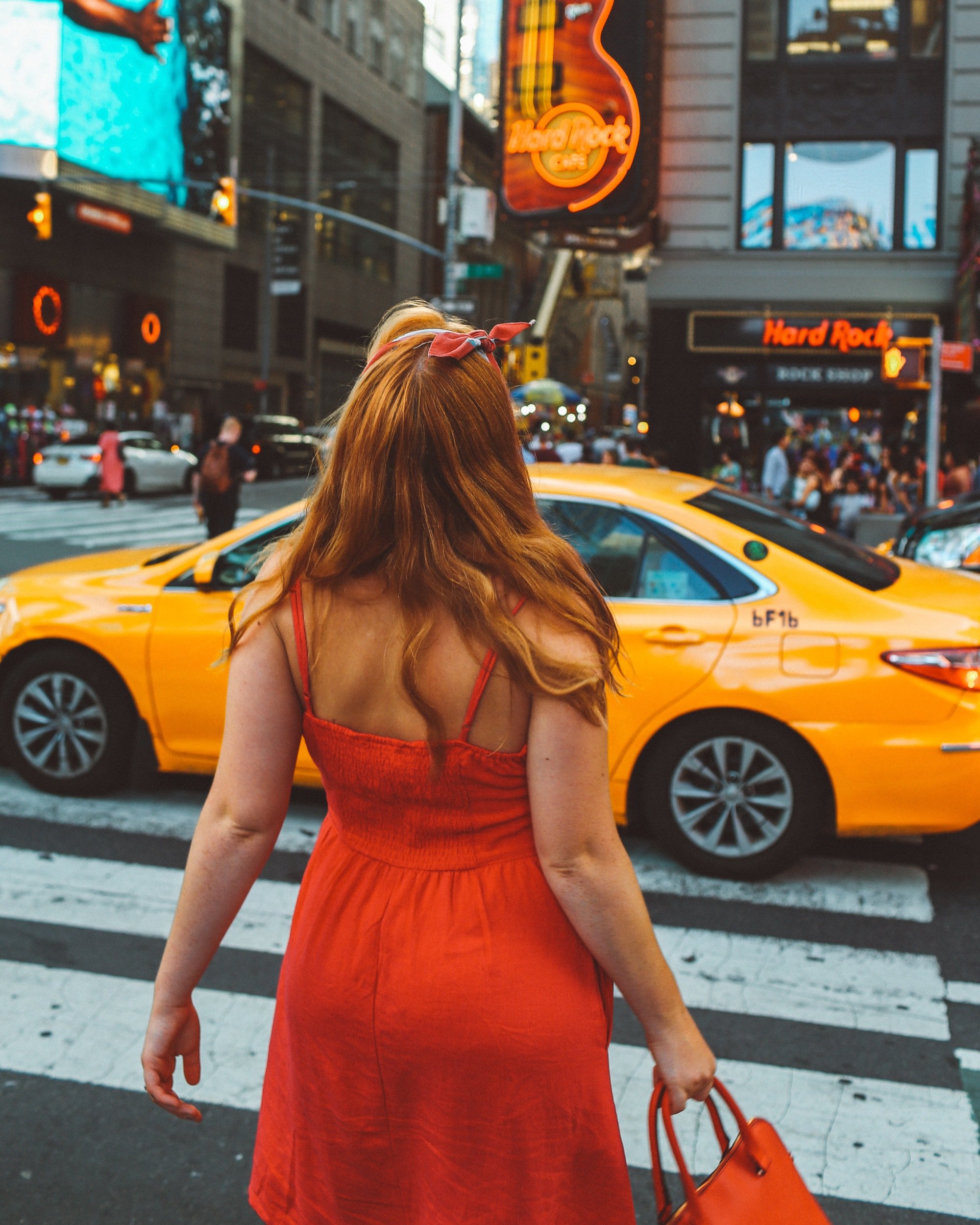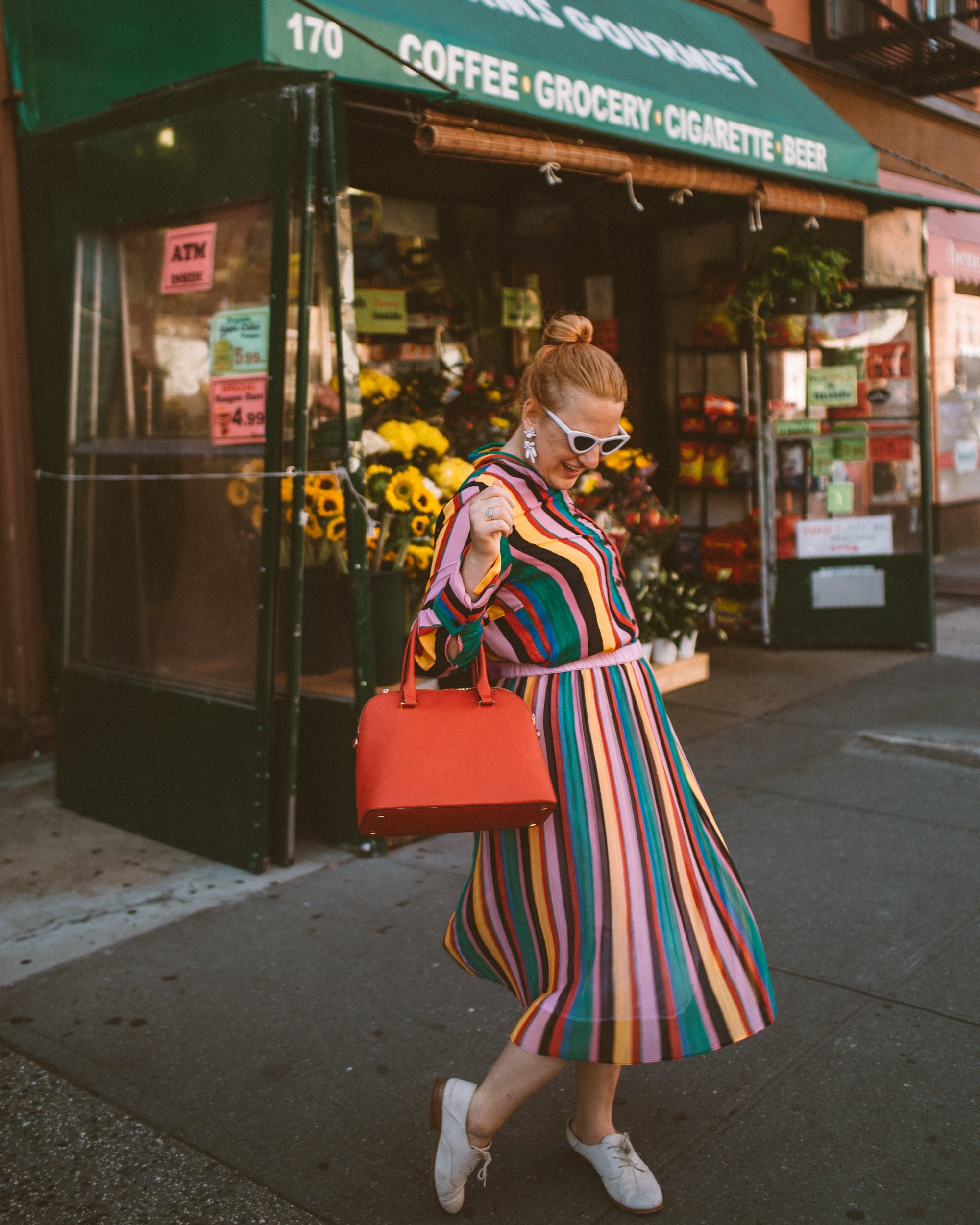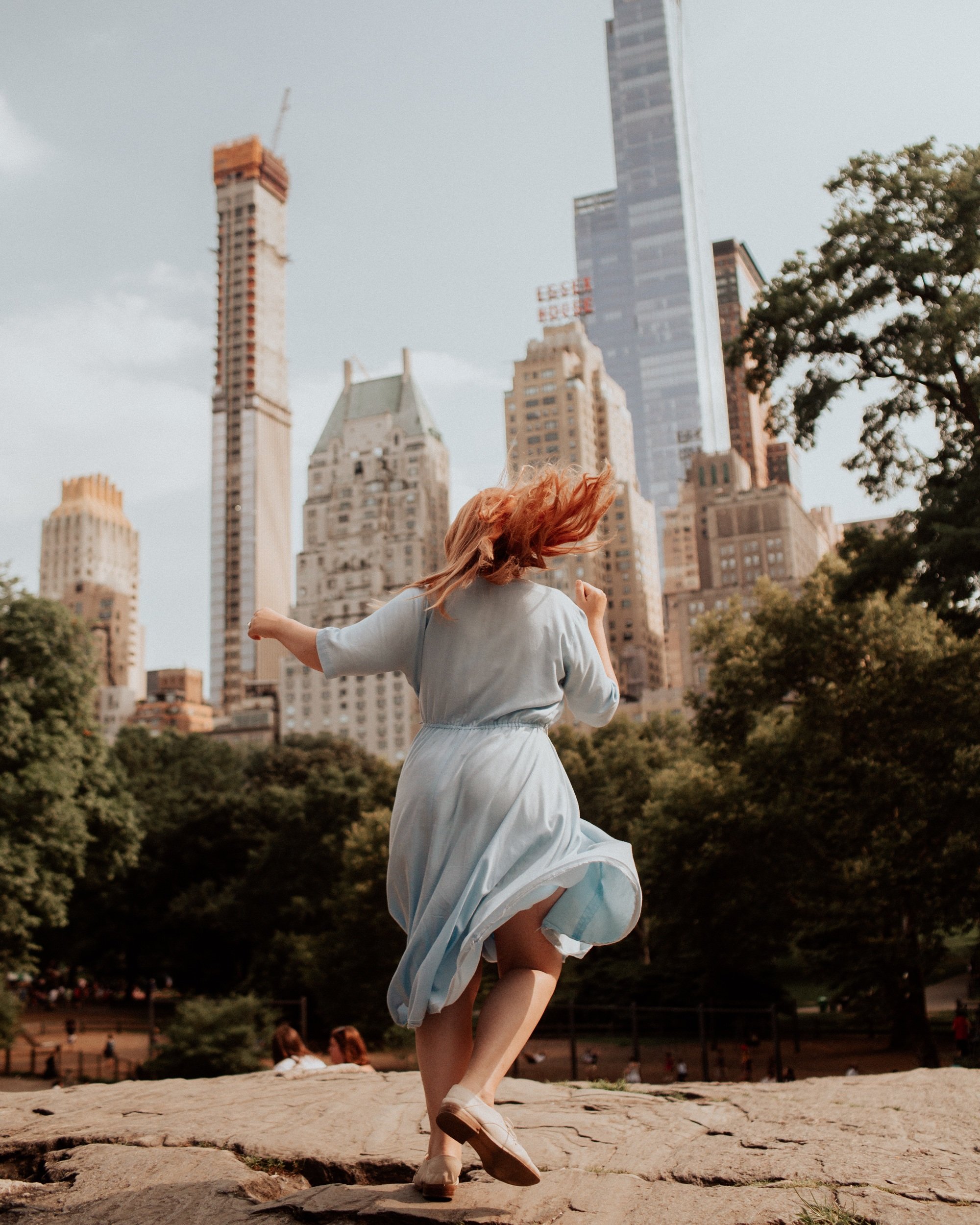 ---
Best Restaurants in New York City
---
Oh my, you could spend forever eating here. Of all the best things to do in New York City, eating is at the top! This list is just a place to start for your first time NYC!
*Jajaja: A vegan Mexican spot in the Lower East Side that makes literally the best vegan food I've ever had (and I live in California, so that's saying a lot!) I didn't tell Robin it was vegan and he didn't even notice the "meat" wasn't actually meat.
*Joe's Pizza: One of the most classic NYC pizza by the slice joints. There's a few locations around the city, so you'll probably find one near your hotel. I suggest trying a classic cheese slice.
Artichoke Pizza: Another famous pizza restaurant that we didn't have a chance to visit, but multiple trusted friends highly recommended this place for a pizza.
*Ludlow Coffee: A trendy chic coffee shop in the Lower East Side that has some pretty dang good avocado toast.
*Native Bean: A coffee/bagel joint with fantastic smear. It's cash only, but worth it. Try the lox smear!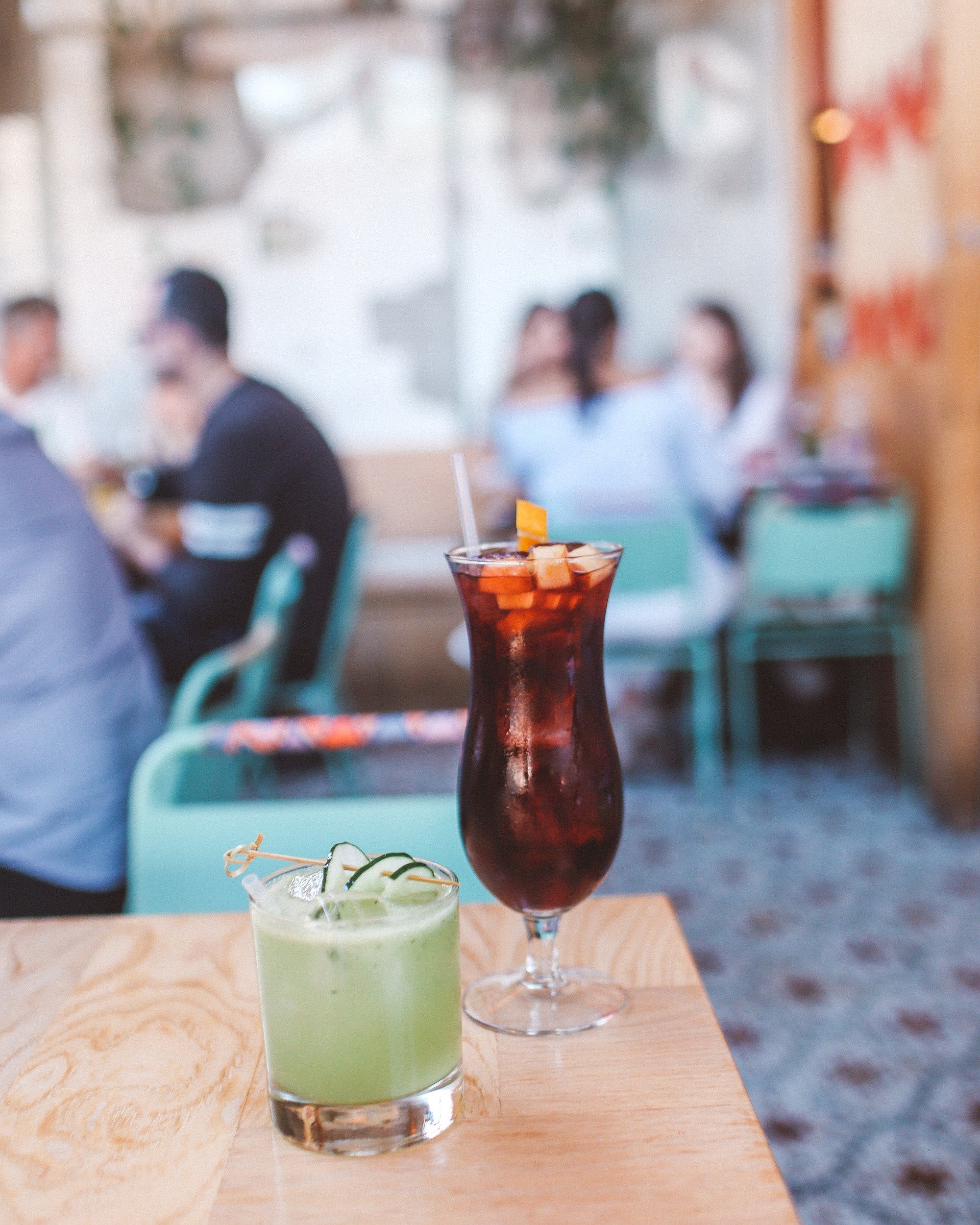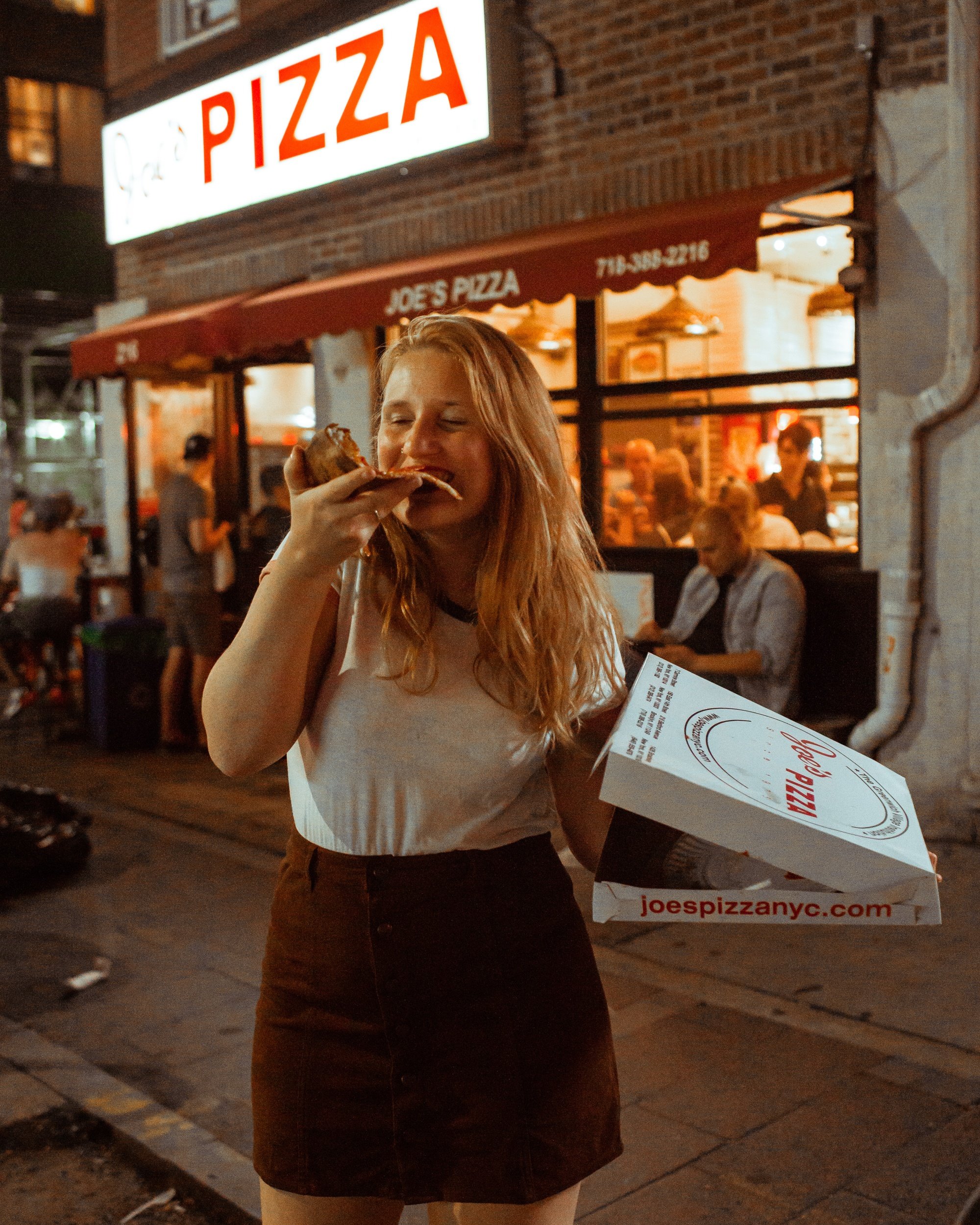 *1803: This is a must stop! Everything from the fun palm wallpaper to the upstairs railing that hints at the Garden District, this place is a little slice of New Orleans from the moment you step in the door. We were blown away by the food here – fried, but not greasy in that perfect Southern style. They make housemade Sazerac and also housemade tomatillo and chili garlic hot sauce. If you're craving New Orleans style cuisine, head here.
*Monarch: If I lived in New York, I'd probably be doing a lot of happy hours at Monarch. It's a rooftop bar new the Empire State Building that has amazing views of the city and top-notch cocktails. I tried the "All The Way Up" cocktail that has a slice of watermelon in it. Seriously, so refreshing on a hot summer day! Don't miss their small plates, like the tacos!
*Barlovento: A latin bistro with the friendliest staff and a cute glass patio that brings in a beautiful natural light and makes for great people watching! Make sure to try their paella and pair it with a glass (or two!) of sangria. They offer it in red or white. I also loved their Cuban Avocado Salad.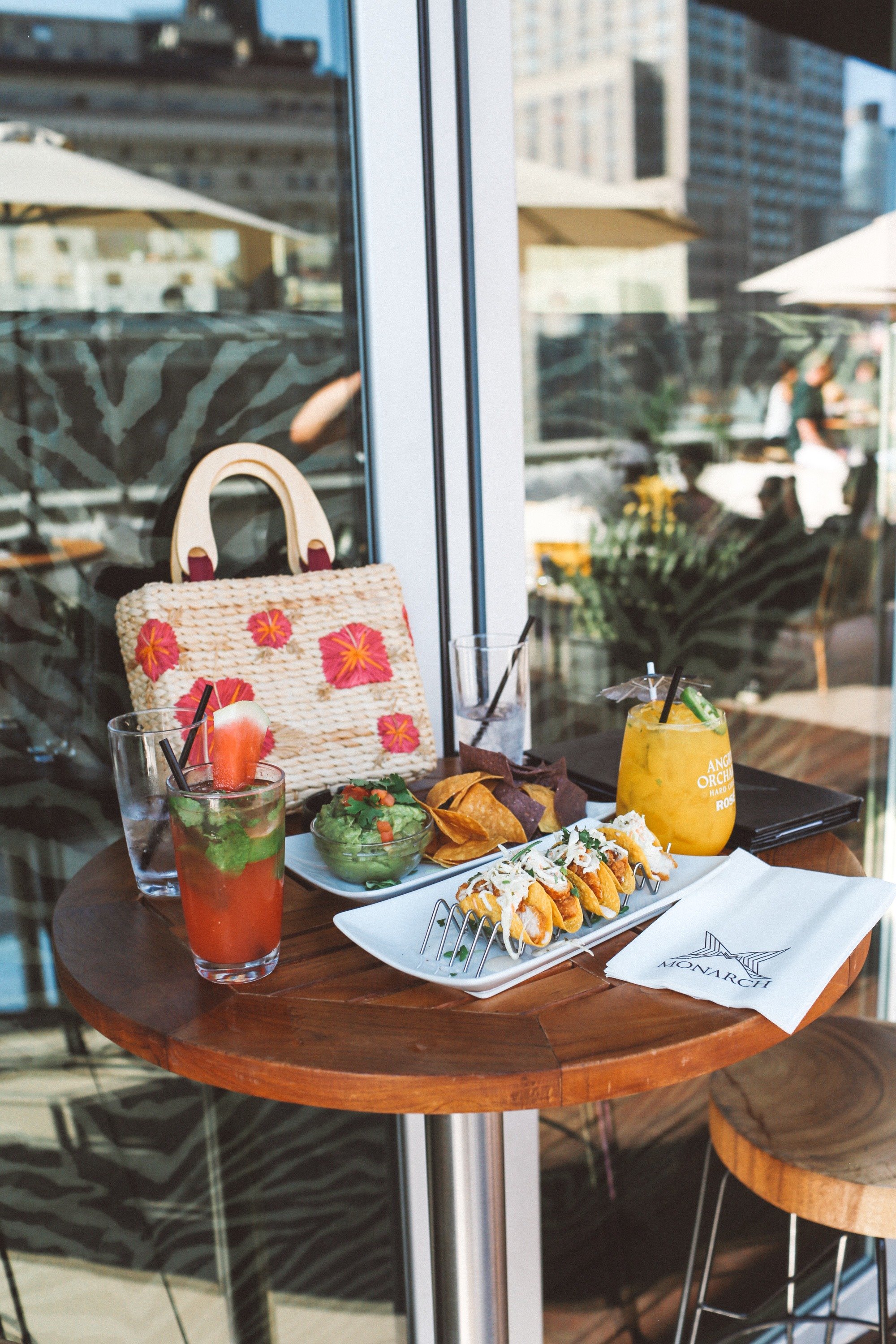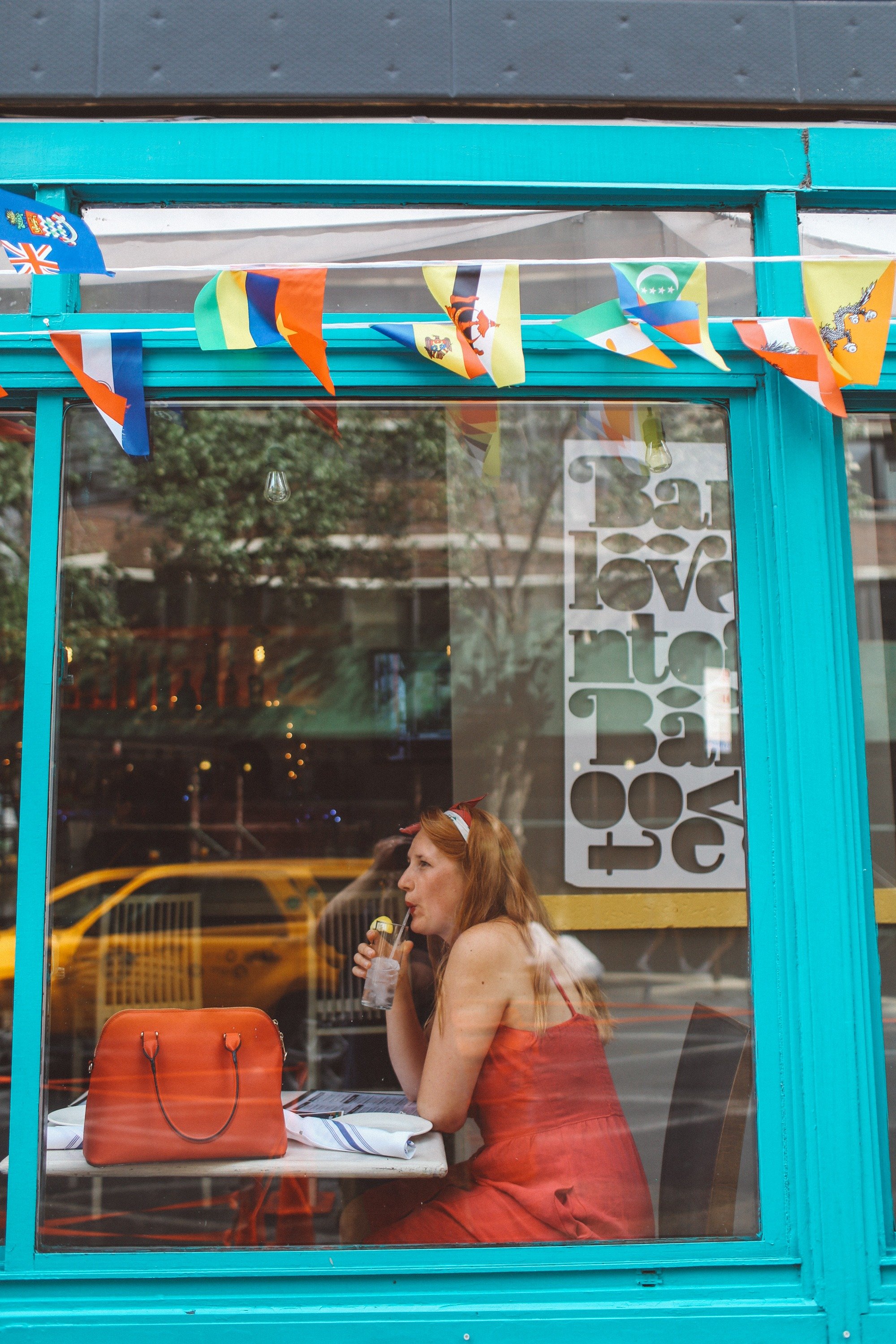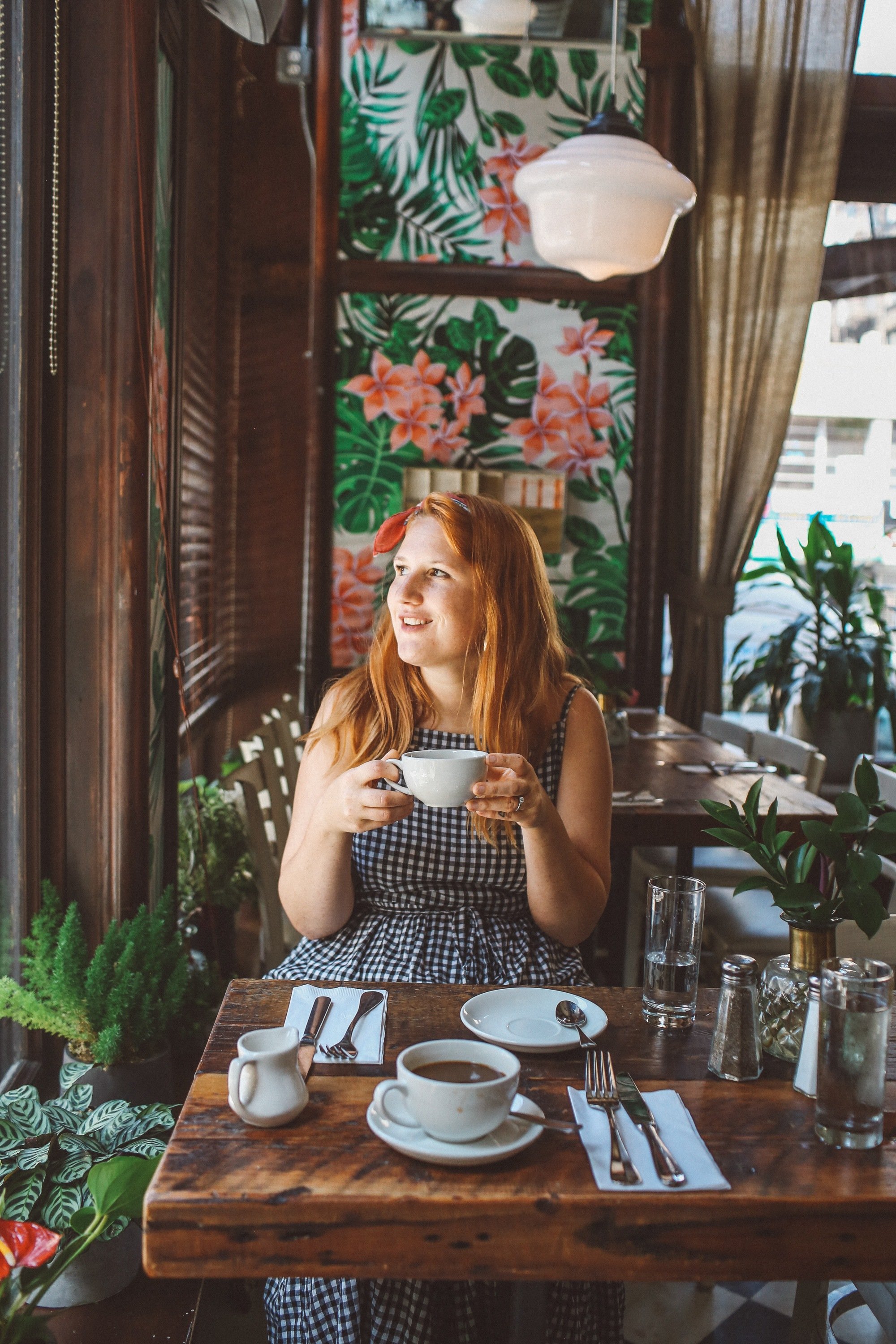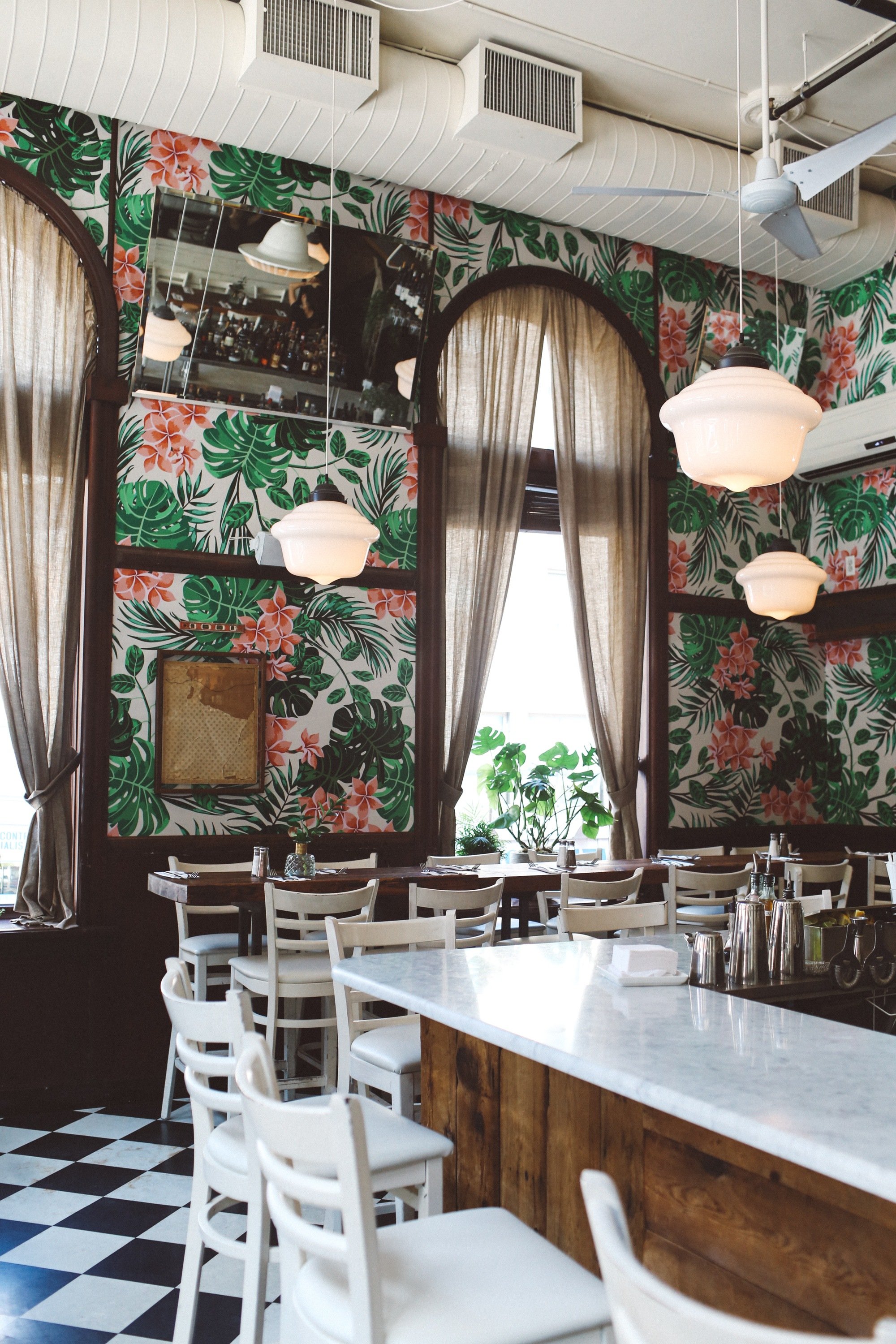 *Pilot: OMG you have to visit this restaurant if you are in NYC during the summer! They took an old pilot ship and transformed it into an oyster bar. If you can, grab a seat at the captain's table, but anywhere will have sweeping views of the Manhattan skyline. On a summer evening, this is the place to be. All the food we tried was drool-worthy, but standouts include the Seabrined Martini, lobster roll, burrata and, of course, the oysters!
*Mayville: This American Whiskey bar is a great spot for cocktails, but also makes a fantastic lunchtime visit. The interior is delightful – from the marble countertops to the ceiling lights that are actually a map. Make sure to try the roasted oysters because I'm drooling a little just thinking about them. Everything on the menu is great, but I especially loved my carbonara. Don't forget to grab a cocktail. It is a whiskey bar, after all!
*The Milling Room: A few blocks off of Central Park in the Upper West Side is The Milling Room. You can eat there, but instead, I suggest grabbing one of their new picnic baskets. They'll fill it with delicious menu items like sunflower toast, steak, soup or theThe Milling Room burger. It comes with a cute checkered blanket and silverware. Take it into Central Park, find a good spot and enjoy a picnic in outside! Such a fun summer activity.
*Olio E Piu: Did you know I lived in Italy for a bit in college? After that stint,  I set my bar for Italian food pretty high. Olio E Piu is hands down some of the best Italian food. I've found outside of Italy. Everything about this place makes me feel like I walked into a Trattoria on Capri. Side outside if you can, as it's great people watching. I highly recommend the meatballs and risotto, with a pannacotta for dessert, but you can't go wrong with anything on this menu. It's a great date night spot, or a last hurrah before leaving the city!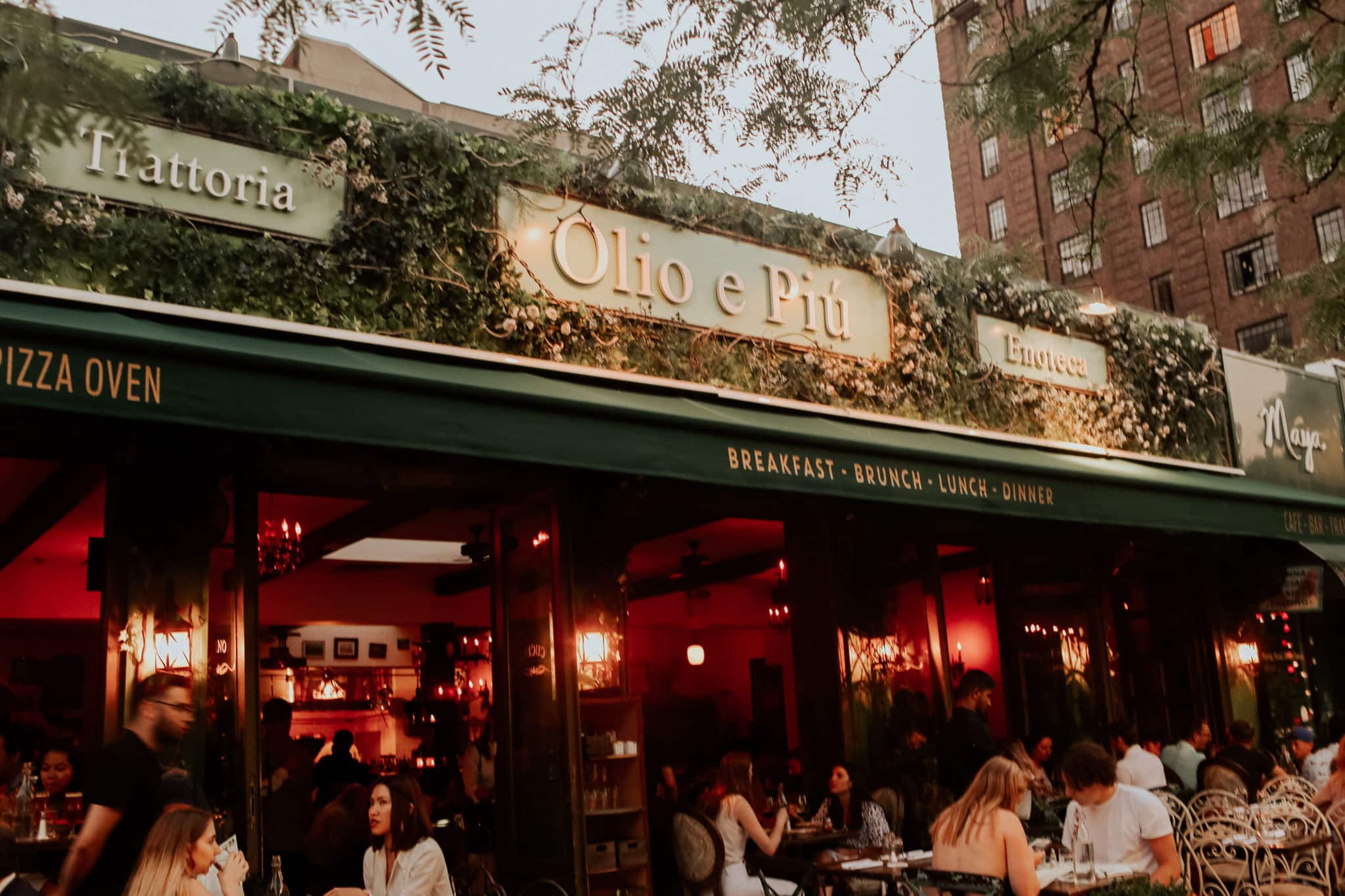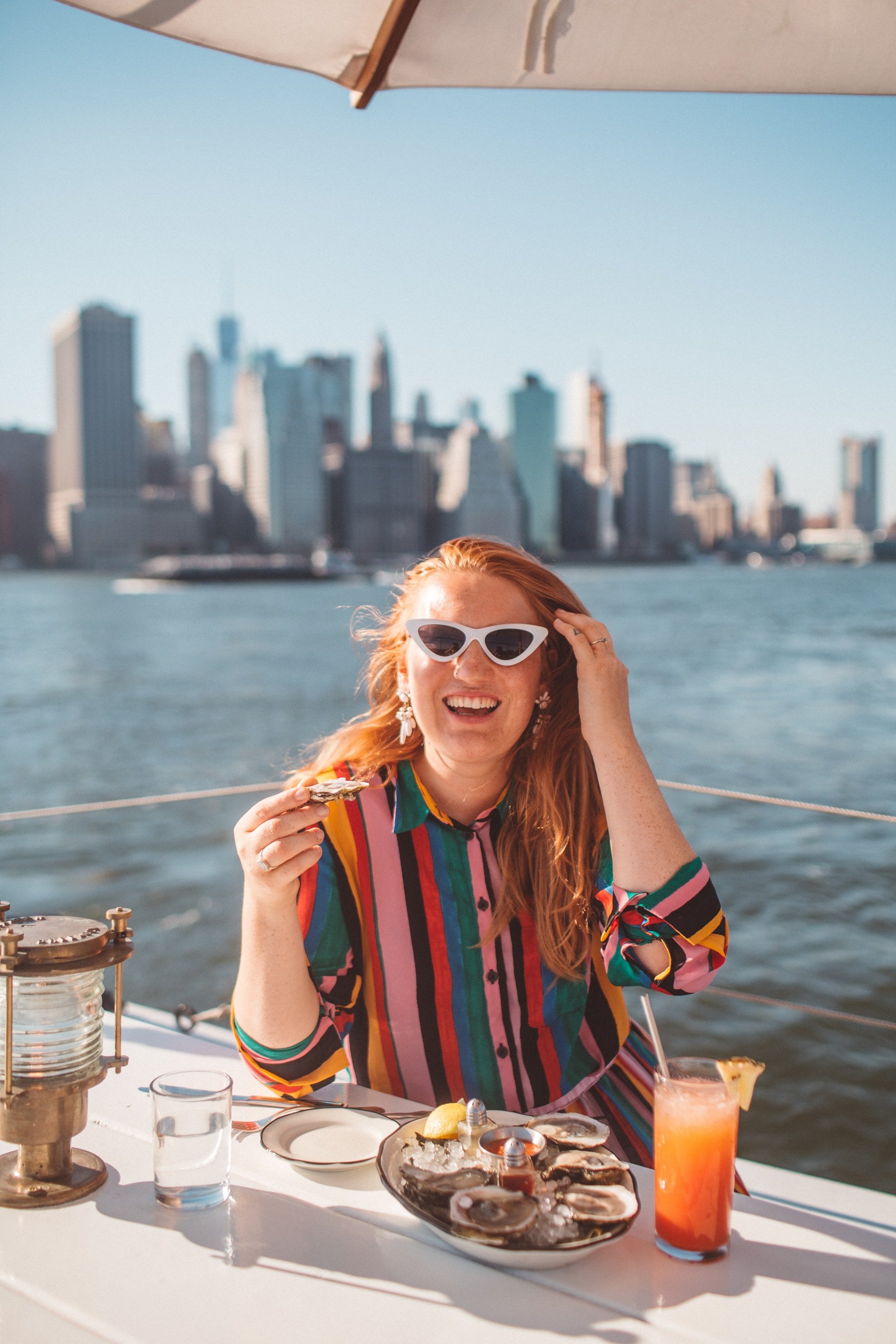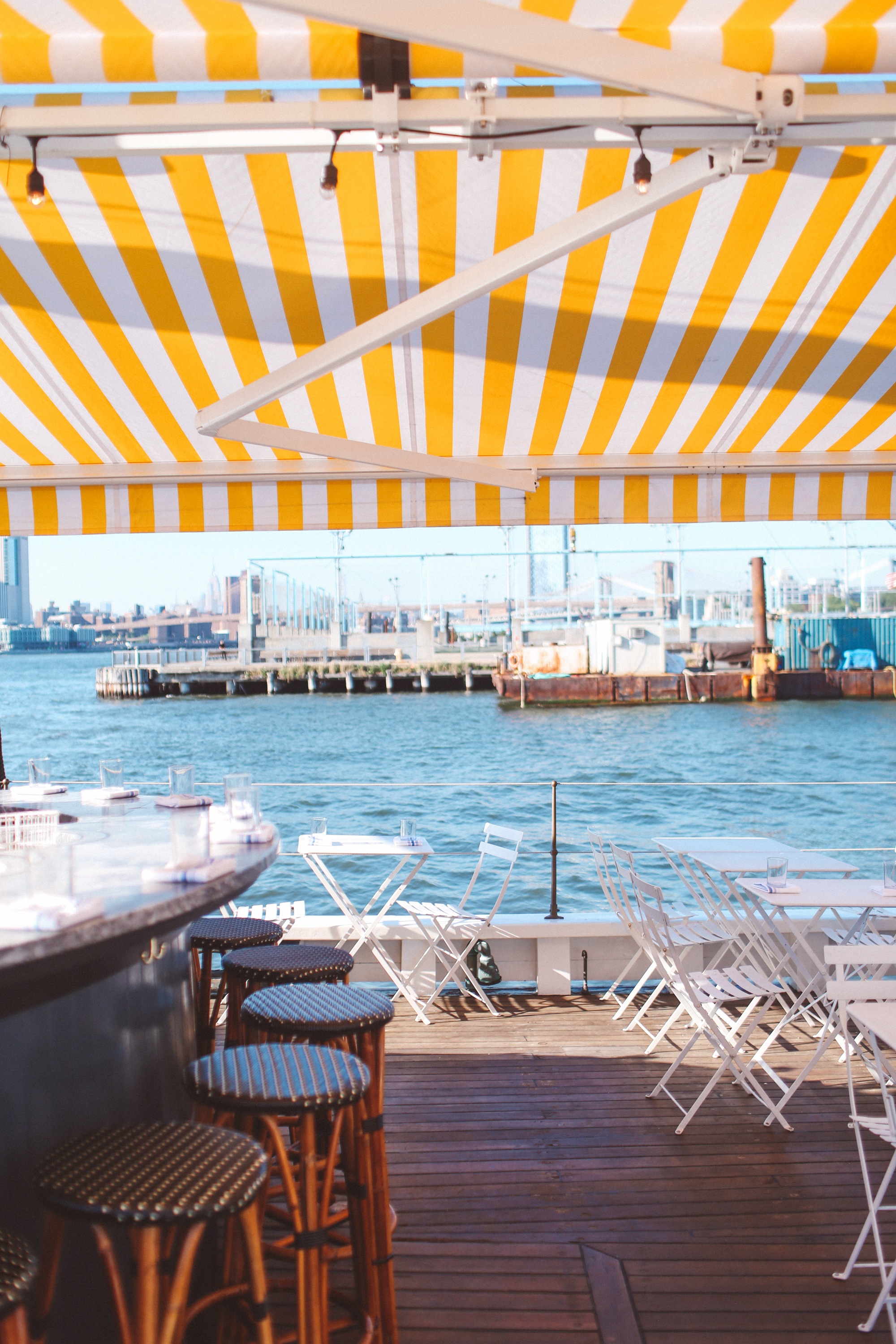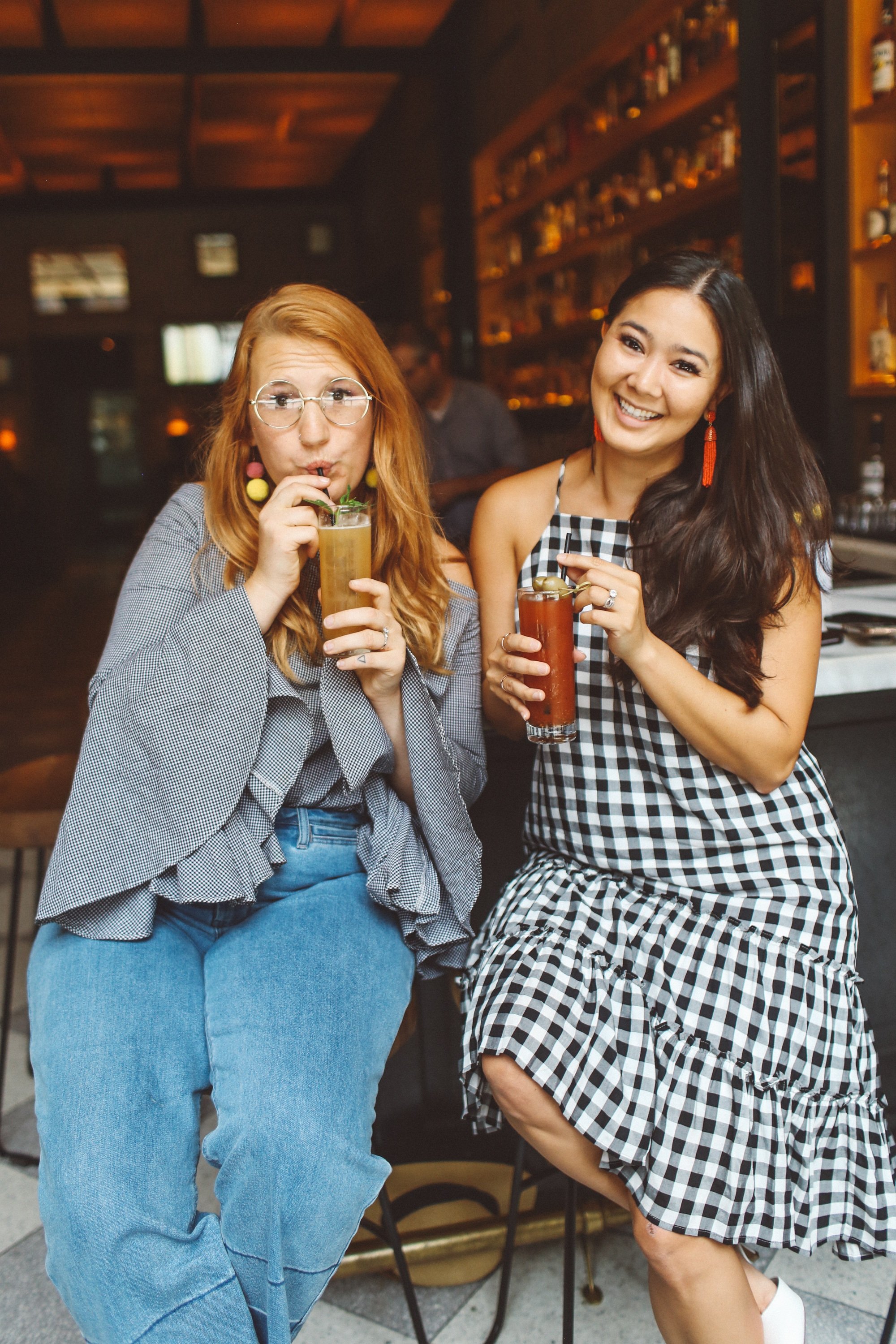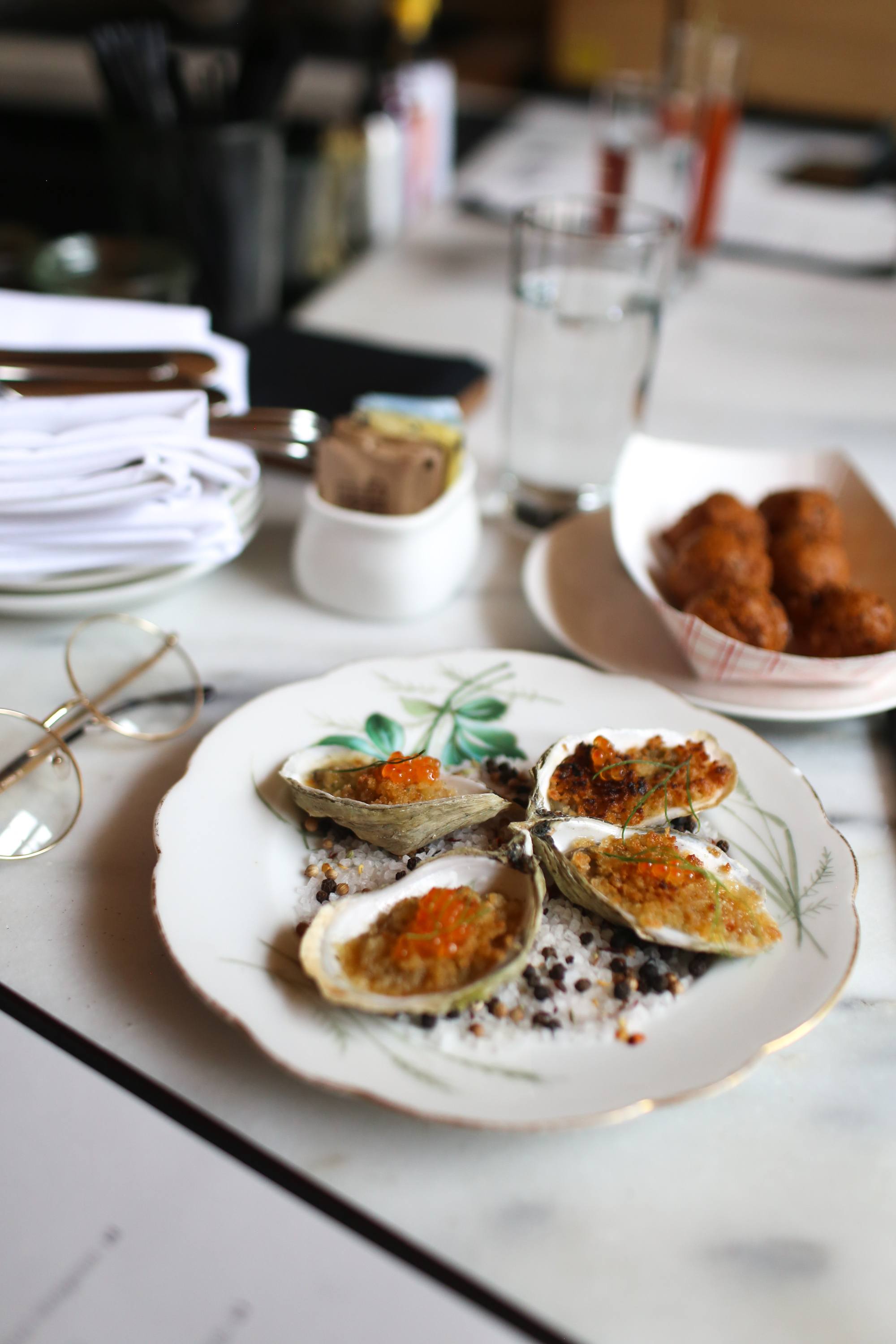 I hope this guide helps you plan your trip to New York City! If you have any questions at all, leave a comment below or shoot me a DM on Instagram @thewhimsysoul! Don't forget to use #whimsysoul on your travel photos so I can follow along YOUR adventures.
And remember to book through Alaska Airlines for quality service, in-flight entertainment, extra legroom, seat chargers, great airport lounges and more.