Oregon is a beautiful state with stunning scenery, some of the best food in the country and hidden gems at every turn. From snowy mountains to wine country, to painted hills and a rugged coastline, Oregon is a state we'll keep coming back to explore. We just visited in January and made this guide to showcase the best Oregon things to do while visiting in the winter. Don't be afraid to travel in the wintertime, it's a fantastic season to experience Oregon!

We spent 5 days in Oregon and while that was enough time to see everything we wanted to, I would recommend adding at least 1-2 more days on to your trip so you can take it a bit slower. For Oregon winter travel, follow our itinerary below! Scroll down to read my tips on each city.
1. Oregon's Mount Hood Territory
2. Oregon City
3. Bandon
4. Portland
(if you have more time, add on the following)
5. Bend
6. Crater Lake
7. Canon Beach
---
Oregon's Mt. Hood Territory
---

On my first trip to Oregon, it took us about 45 minutes to drive from the top of Mt. Hood to downtown Portland – it's that's close! Unlike the Sierras or the Rockies, Mt. Hood Territory is smaller and way more approachable. Instead of expensive ski villages, you'll find more relaxes ski places, on top of charming mountain towns, hiking, resorts, golfing, etc.
Hotel
I recommend staying the Resort at the Mountain, which has sprawling grounds, an outdoor pool and hot tub, a golf course and a fantastic spa. It's tucked near the base of The Territory, almost in-between Portland and the top of the mountain. You get the accessibility while still being surrounded by trees, fresh air and top-notch amenities.
If hotels aren't your thing, find a cozy mountain cabin on Airbnb – get $40 off with this link.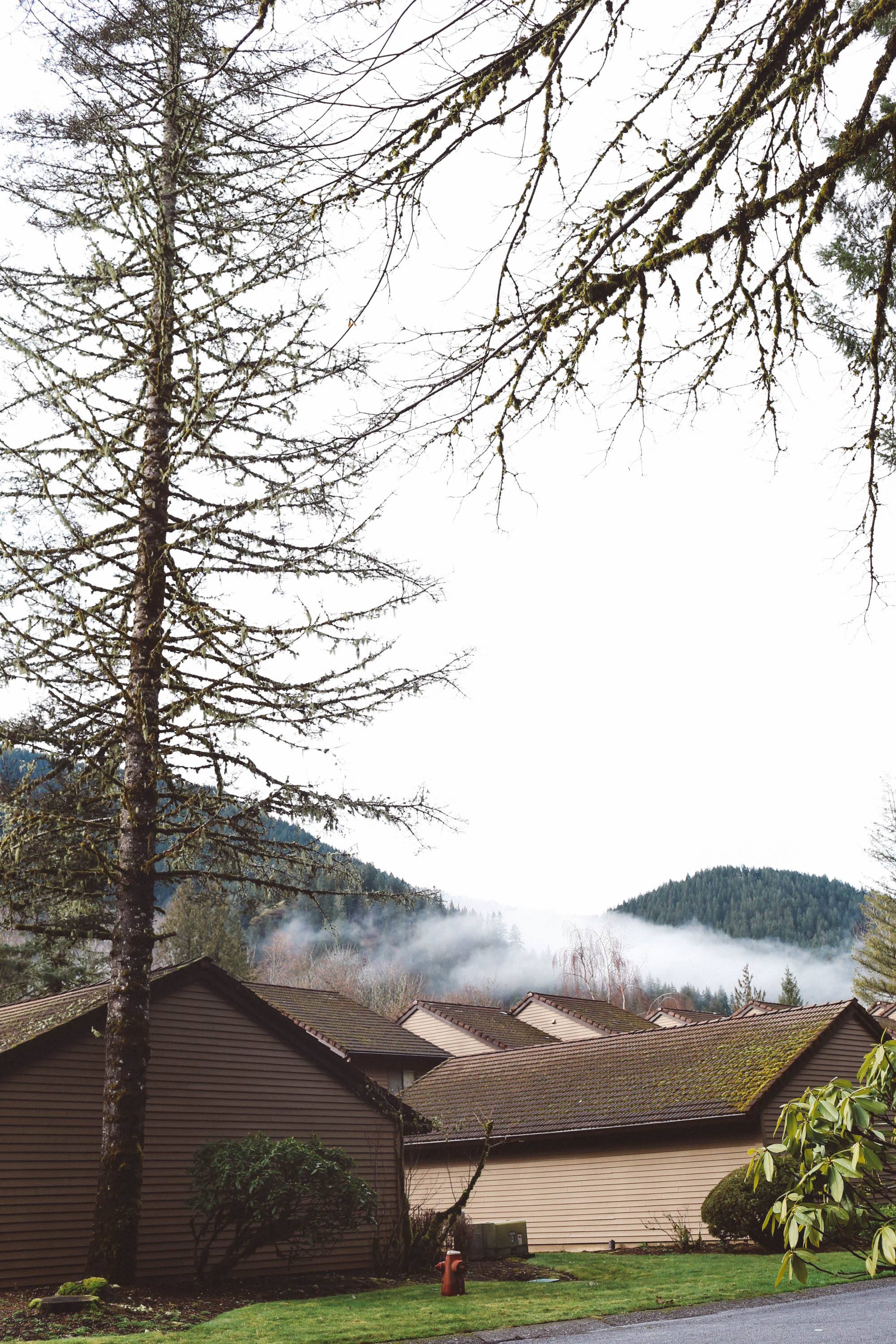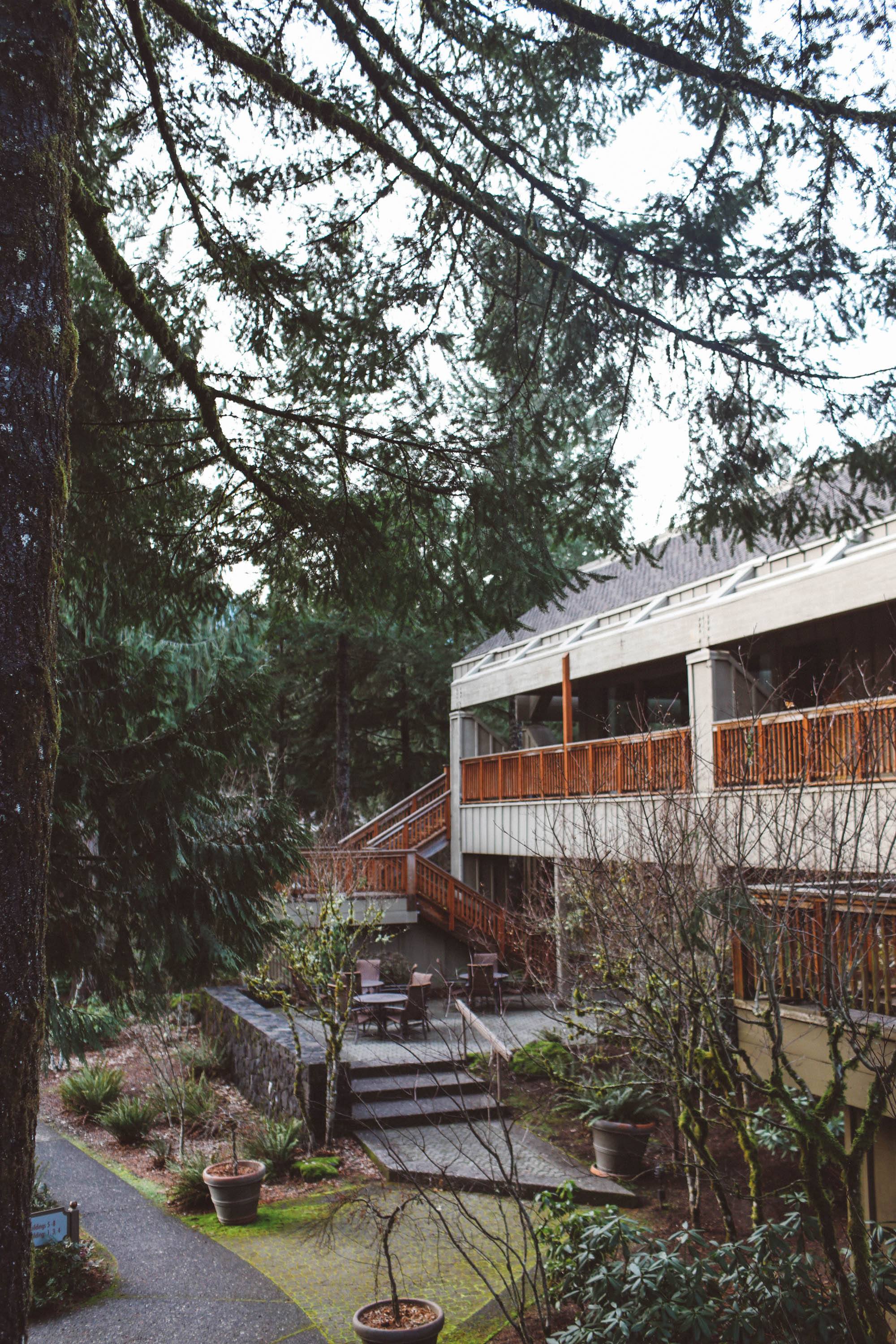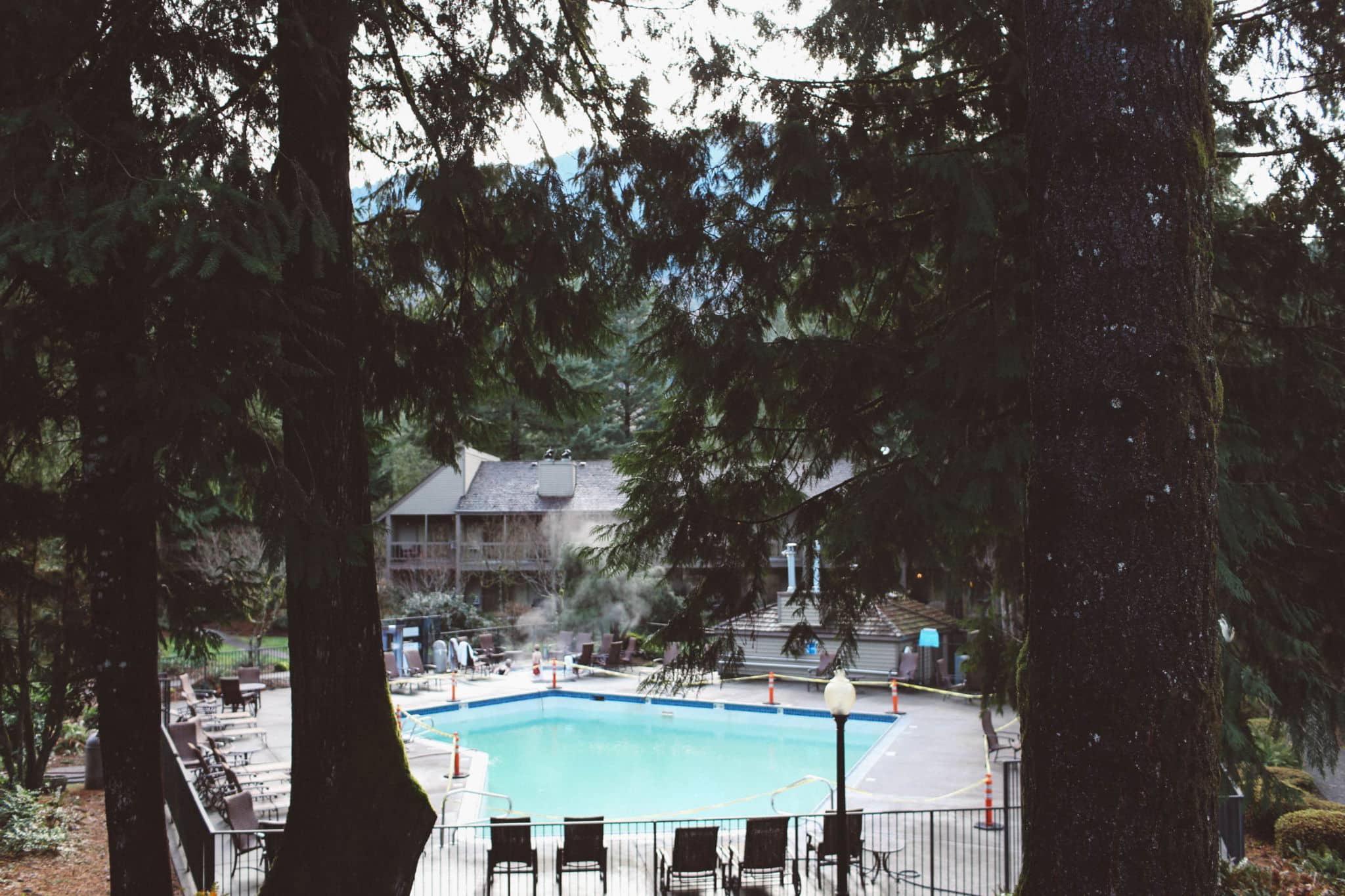 Where to Eat
In Sandy, we loved the Joes Donuts (get the lemon!) and AntFarm Cafe (try the breakfast sandwich!) In the mountain, grab hot chocolate from Timberline in the afternoon. For dinner, Mt. Hood Brewing is a cozy spot (we loved the Rubeun Pizza!) or Skyway Bar & Grill. In the morning, Wraptitude or Coffee Brewsters are great options.
Where to Ski
Timberline and Skibowl are the top two places to hit the slopes in the Mount Hood area! Timberline is father up the mountain and is almost as close to the peak as you can get. It has amazing views, but can be crowded on the weekends. Skibowl is lower down on the mountain and close to Government Camp. There's an East and West side of the resort.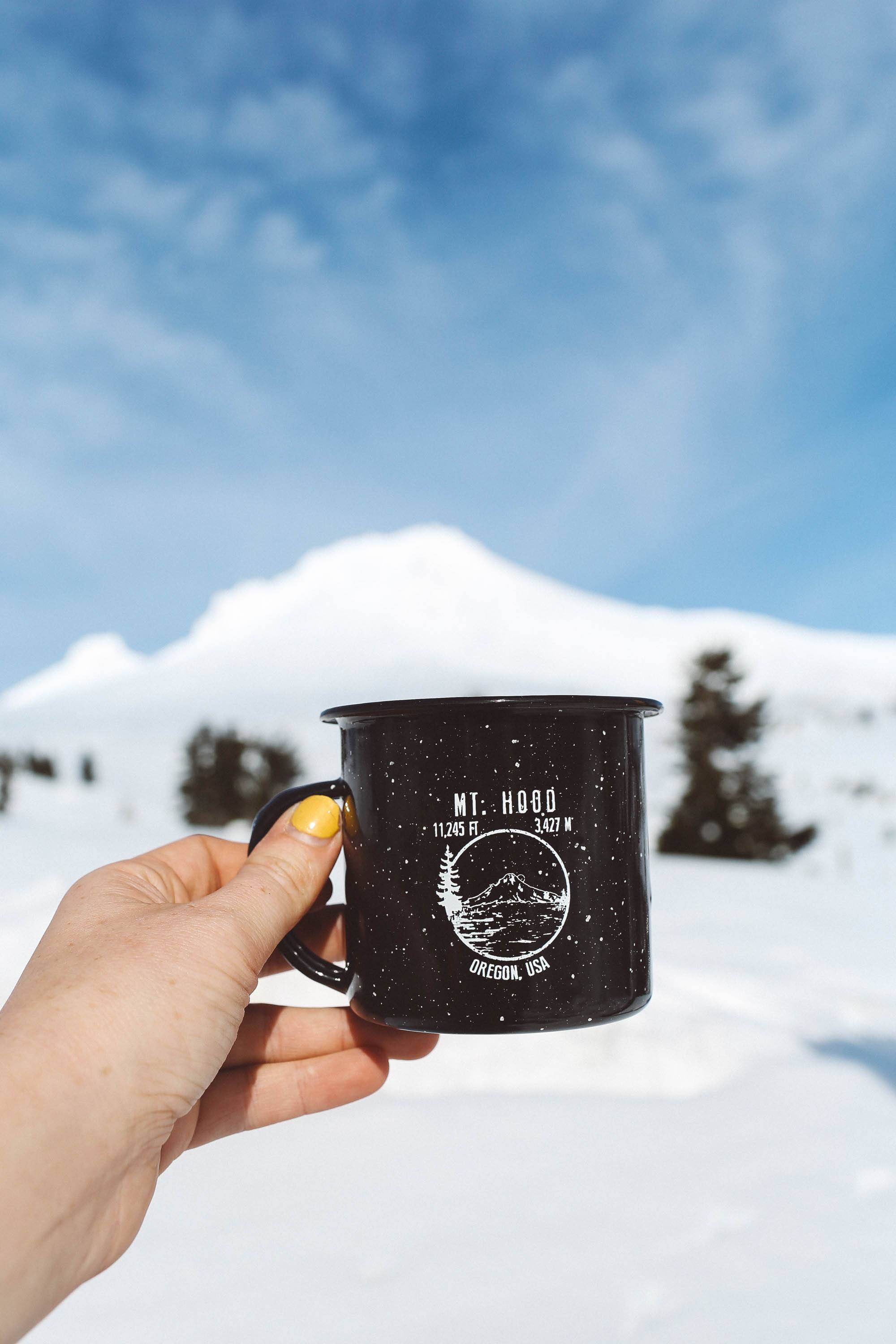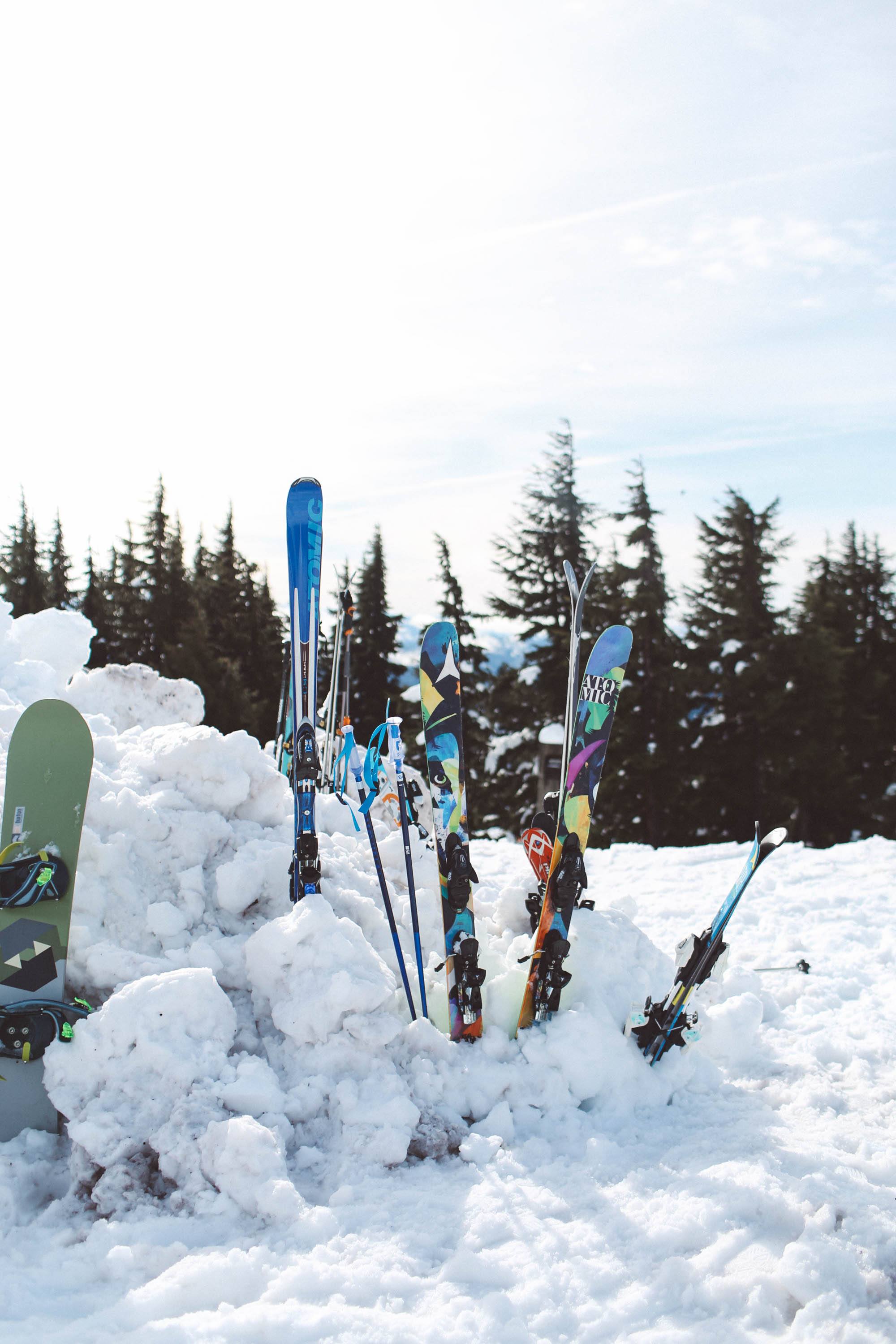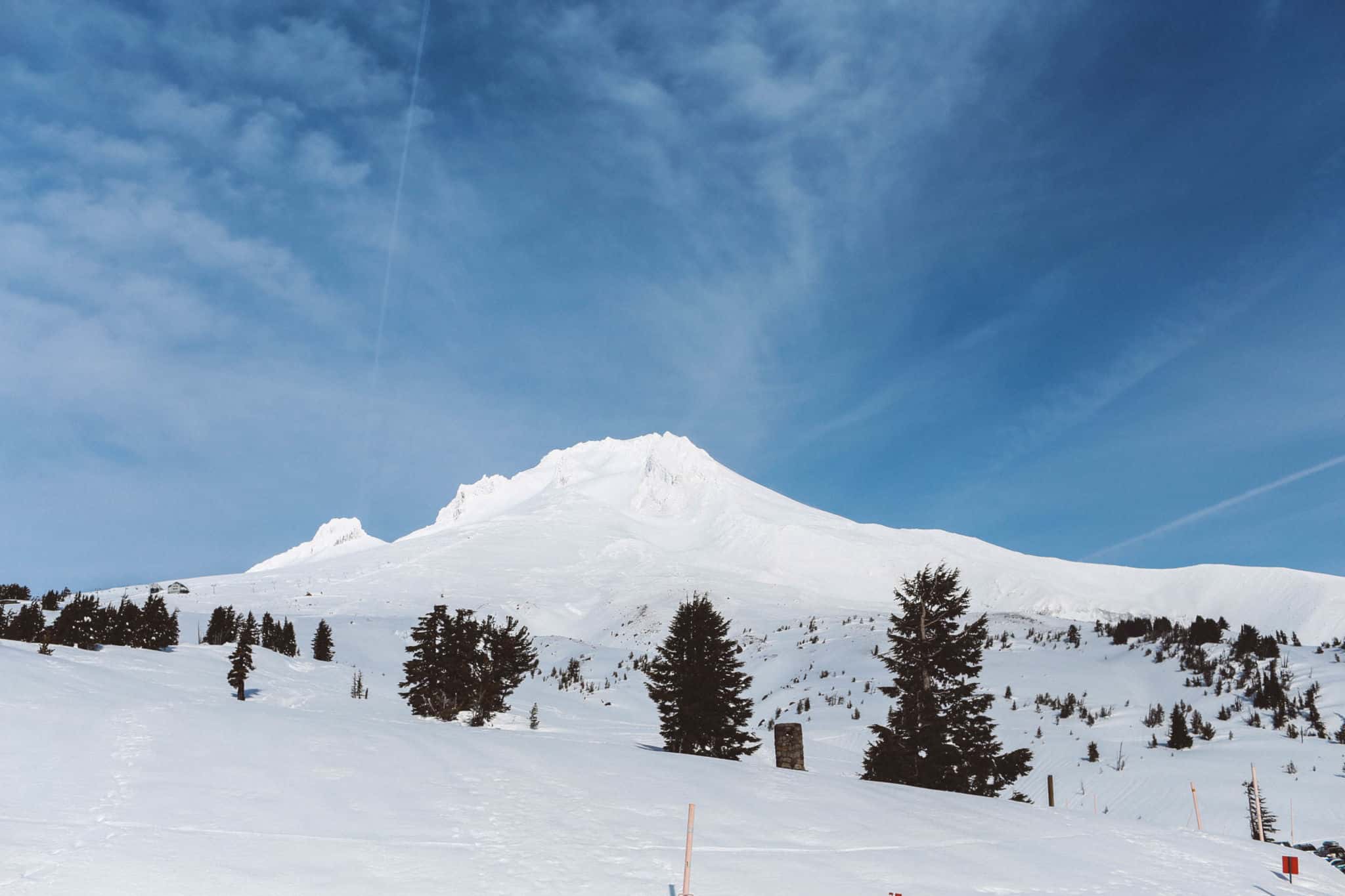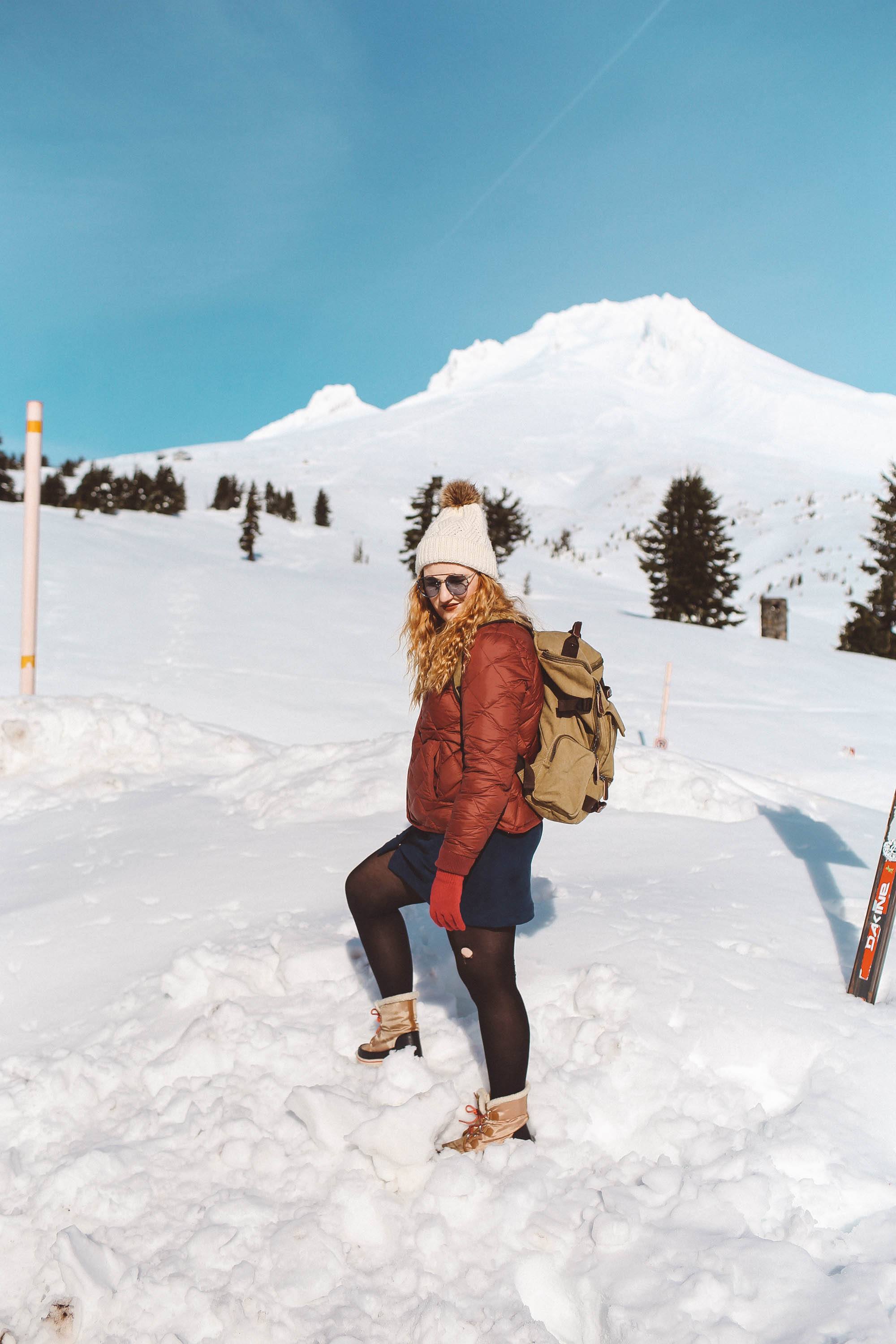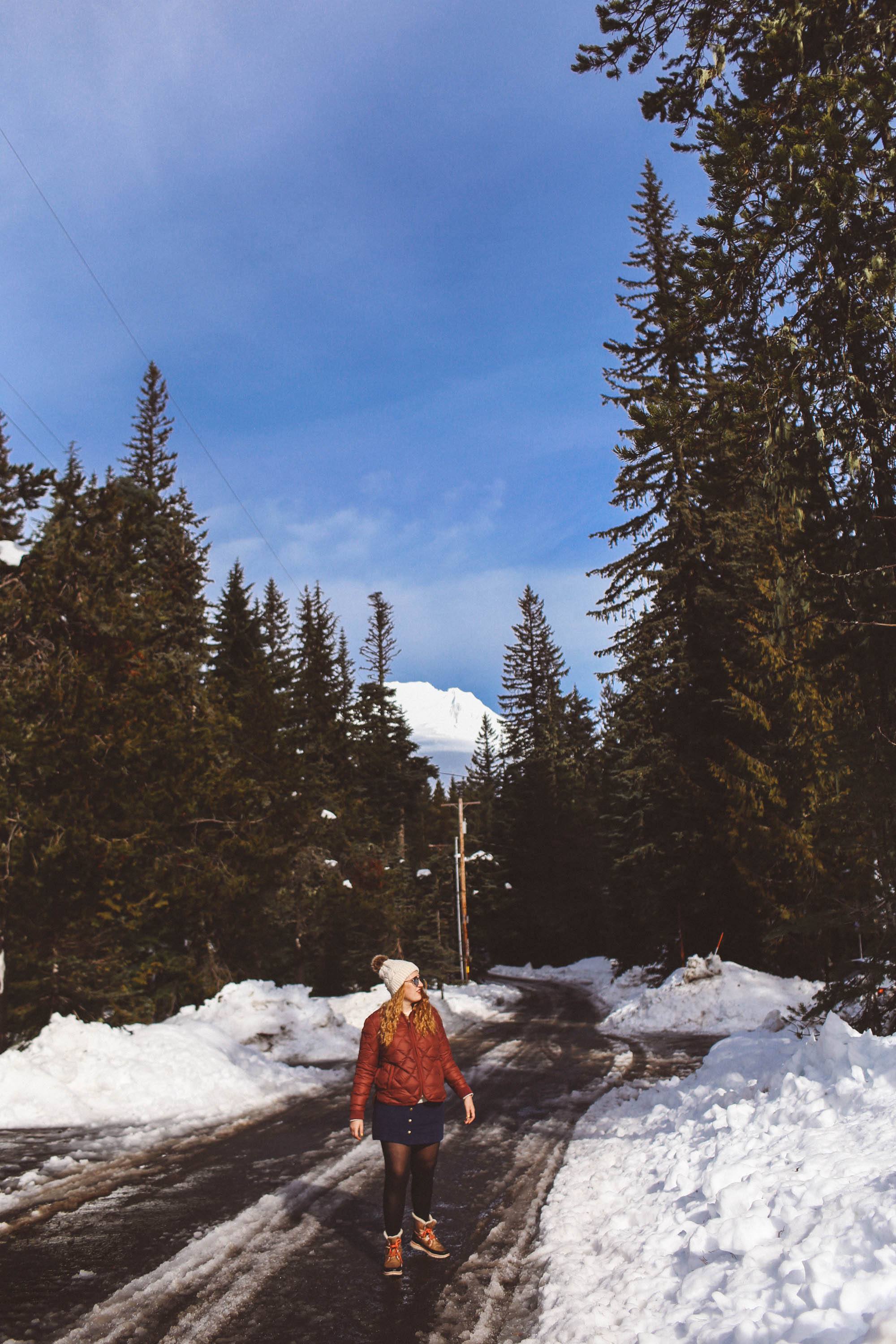 Cosmic Tubing
This is such a unique experience, it hands-down has to be on everyone's bucket list. Think rave meets sledding, all under the stars. The moon was bright the night we went, so we could even see the outline of Mount Hood on the horizon. Make sure to get tickets beforehand so you can roll right into tubing when you arrive to the East Skibowl area (right off Governement Camp.)
Tap Trail
Oregon is home to tons of top-notch craft breweries. Mount Hood Brewing is a beer to look for on tab, as well as Oregon City Brewing, Double Mountain, or Freebridge and so, so many more. Love beer like we do? Consider attempting the Tap Trail!
Relax
After a long day of skiing, hiking or drinking craft beer, The Resort At The Mountain Spa gave us one of the best massages I've ever had.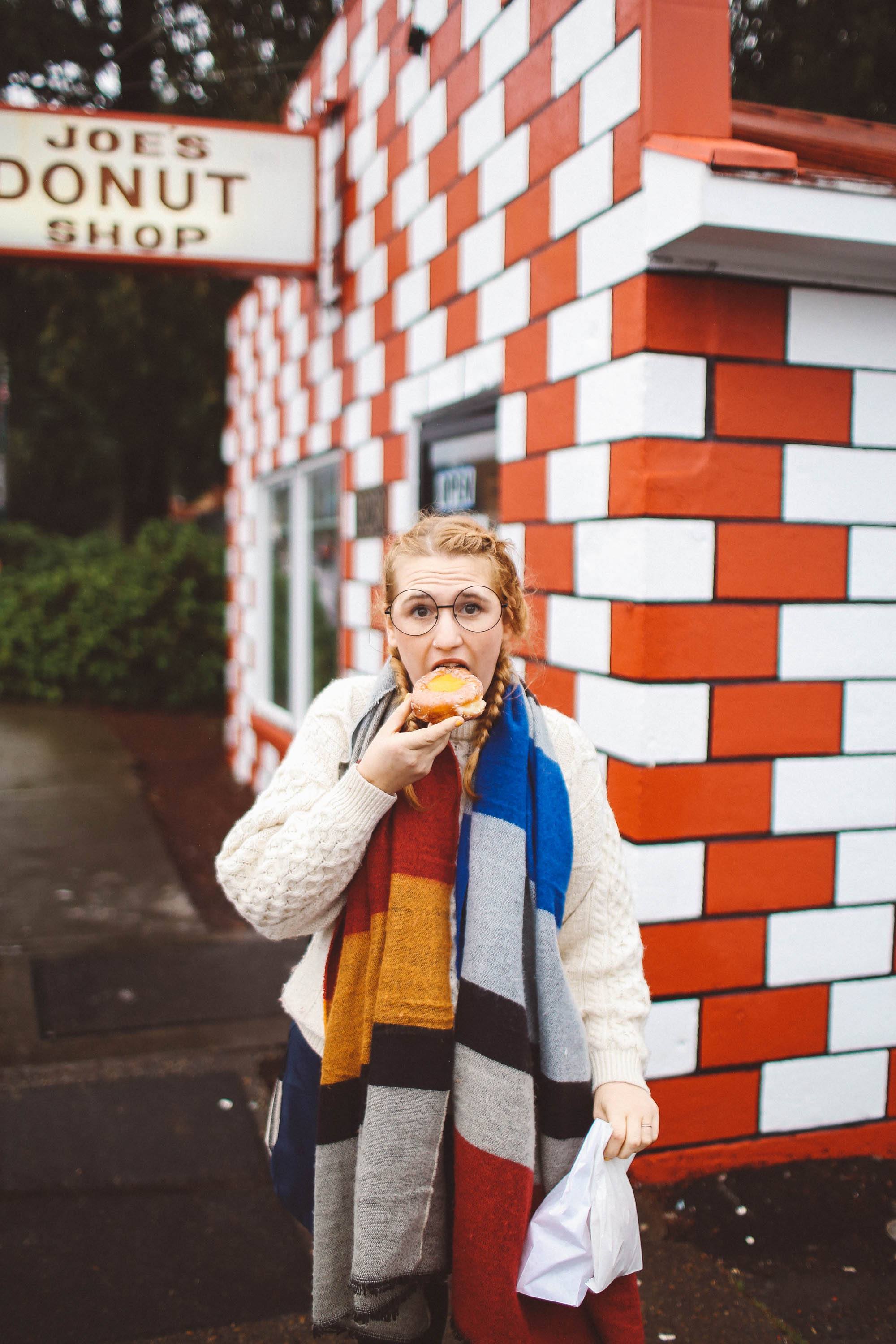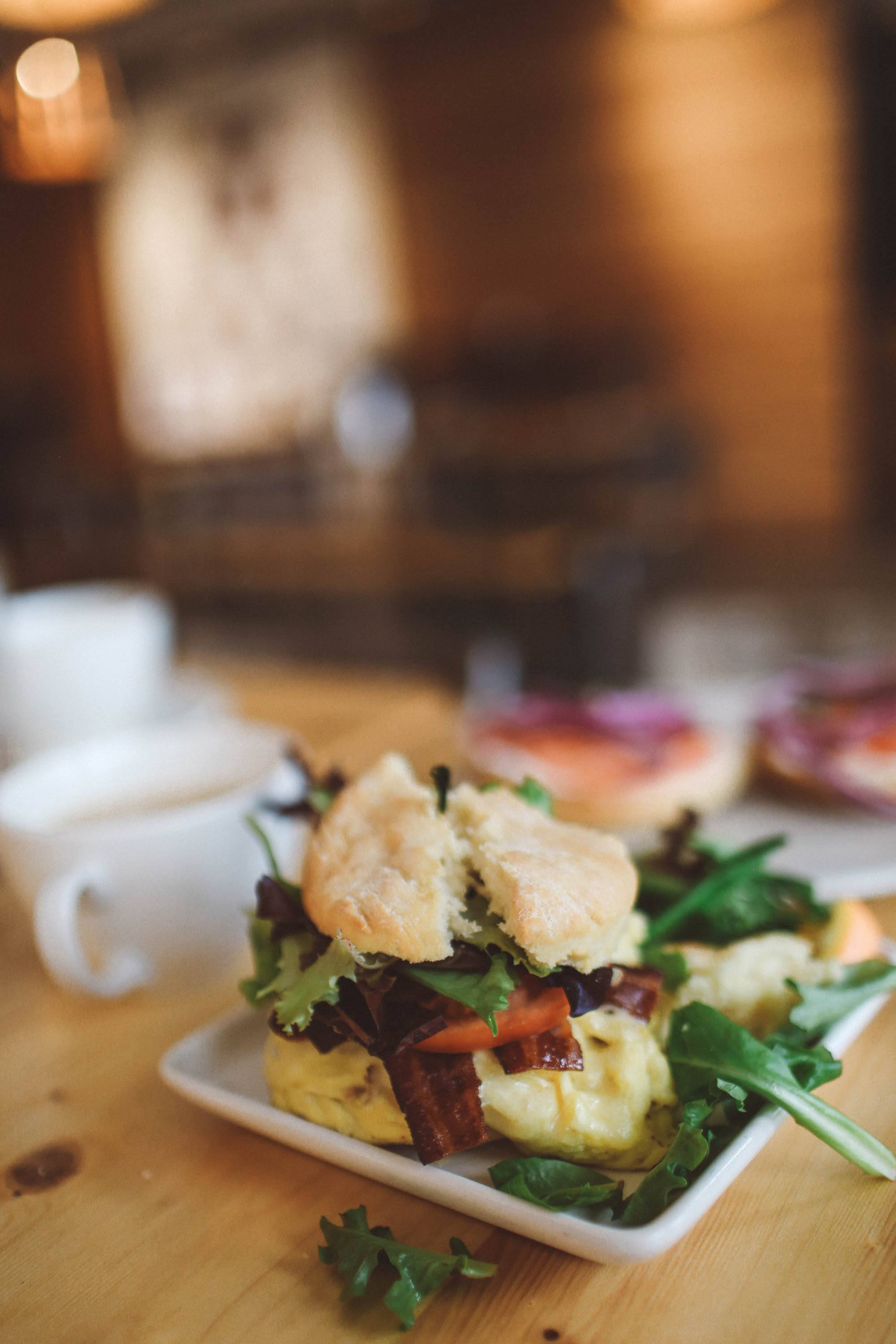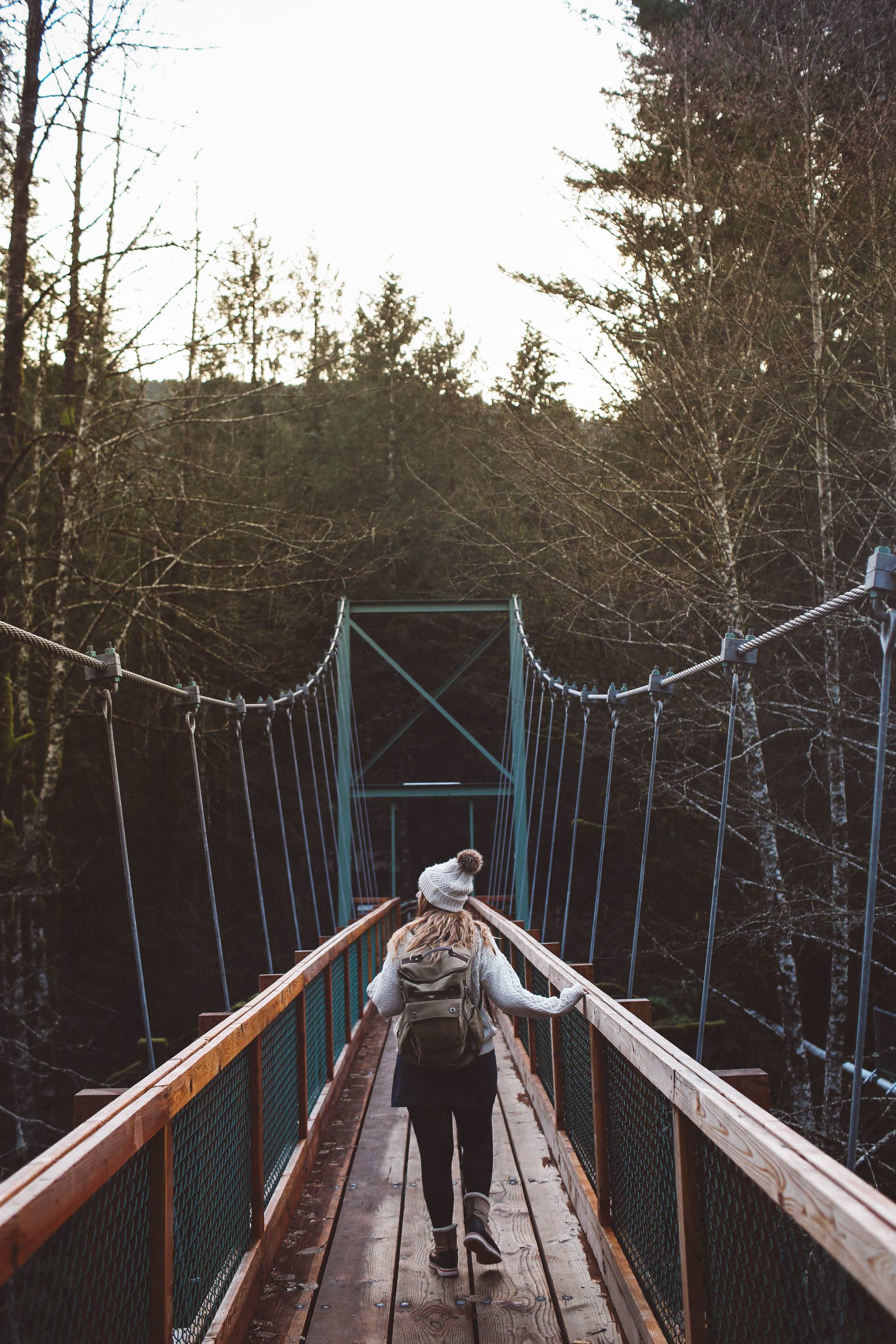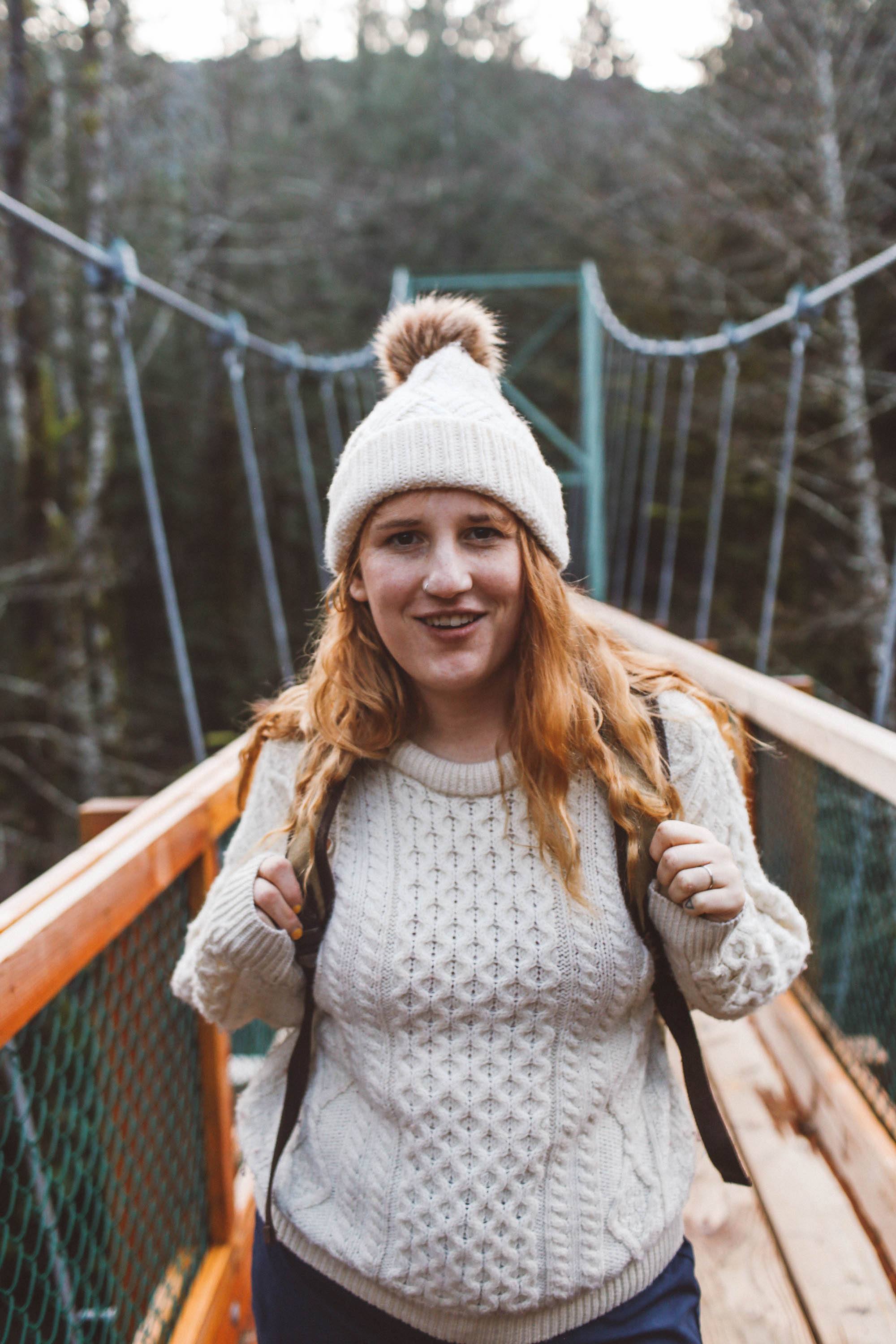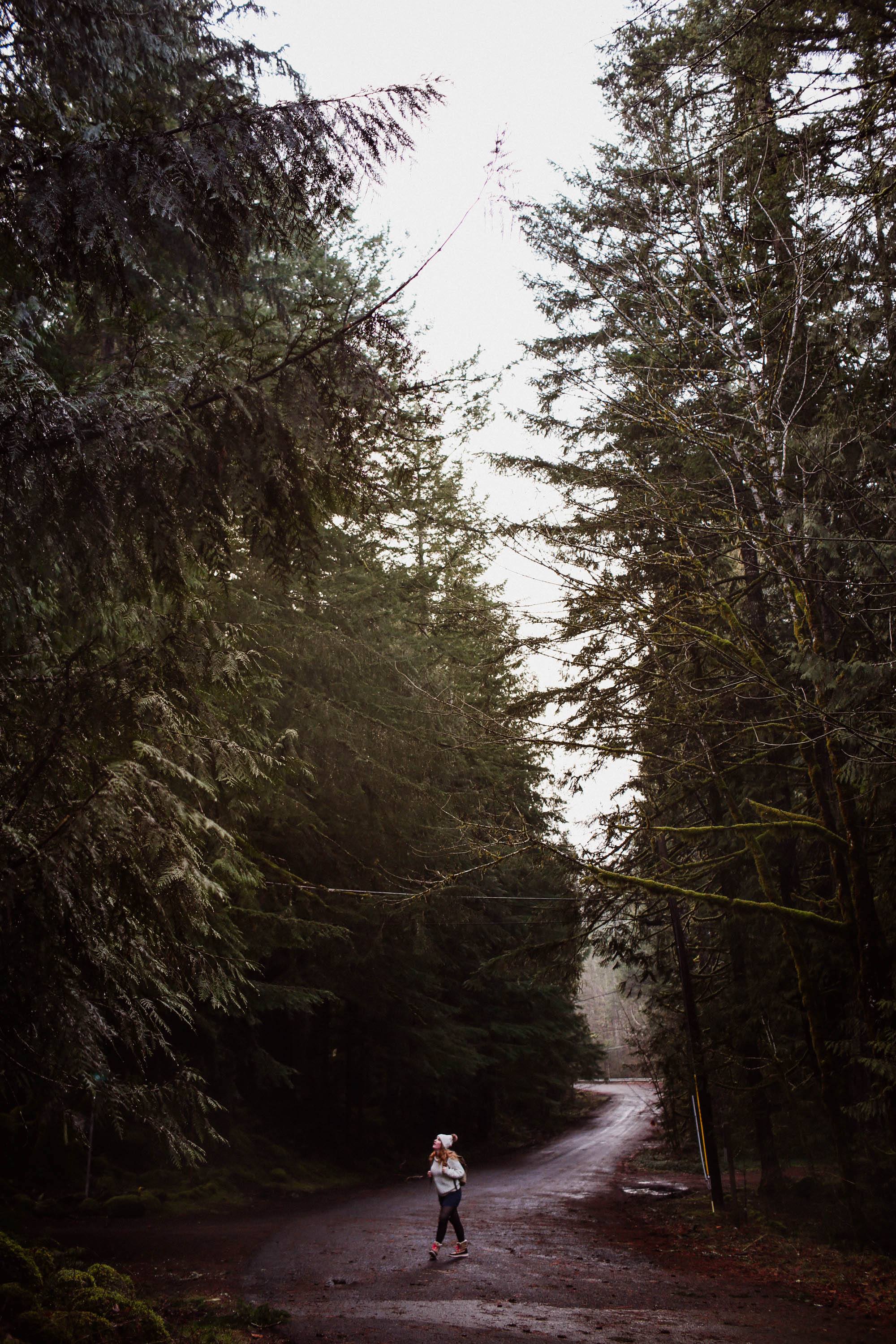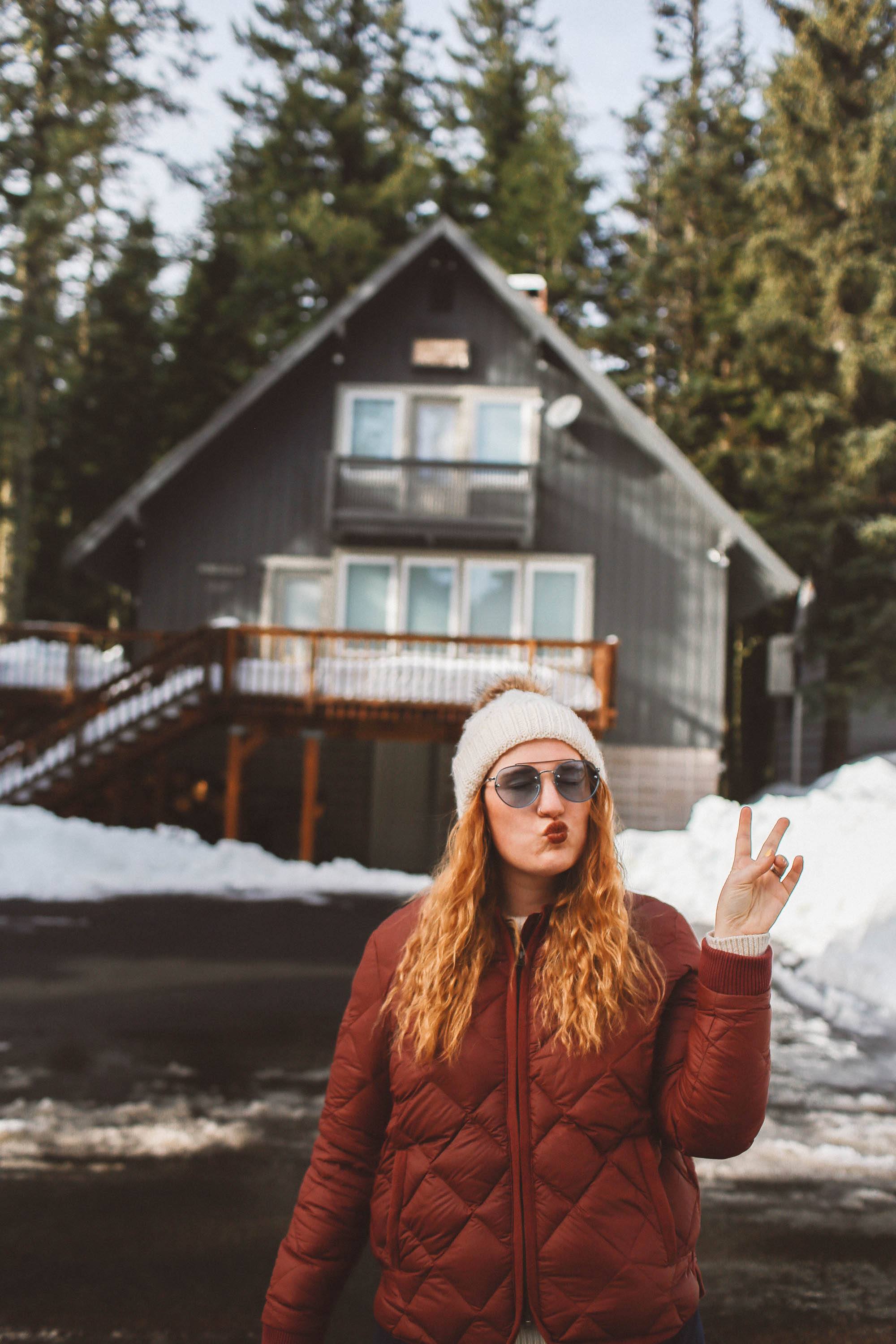 ---
Oregon City
---

A short drive from Mount Hood is Oregon City, which is famously known as the final resting place for the Oregon Trail!
Hotel
You can stay within Oregon City with an Airbnb, but if B&B's are your thing, I recommend Wonser Woods, which is about 30 minutes outside the city. A charming couple runs a large house as a B&B on a huge sprawling property. It's so peaceful.
Where To Eat
We adored our lunch at OP Wurst which is inside Oregon City Brewing – get good food AND good beer! The brewmaster is known for trying unique flavors, like marionberry or guava. A tasting flight (or two) alongside a Mac & Cheese wursts is a flavor explosion. For dinner, try the fish 'n' chips at the Highland Stillhouse Pub (locals love this one) and a cupcake from FAT Cupcake.
Tastings
Oregon City Brewing tasting flights (try all the unusual beers!) and then after, head to Trail Distilling. This was my first time at a distillery tasting and I didn't know what to expect, but Trail has so many fantastic products, this was the perfect place to have my first tasting. Make sure to sample both of their gins – one is floral (I loved this one!) and the other is smoother.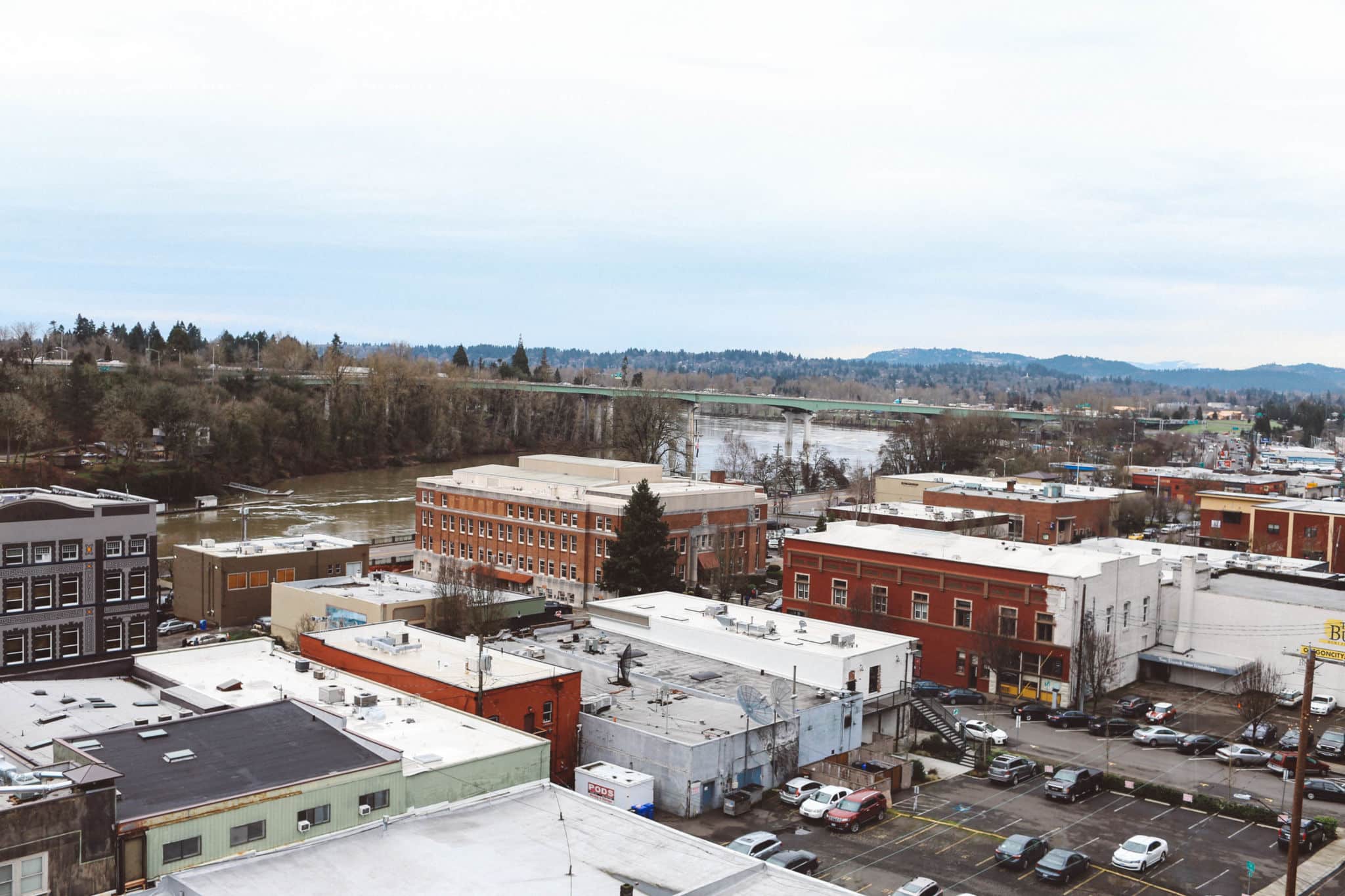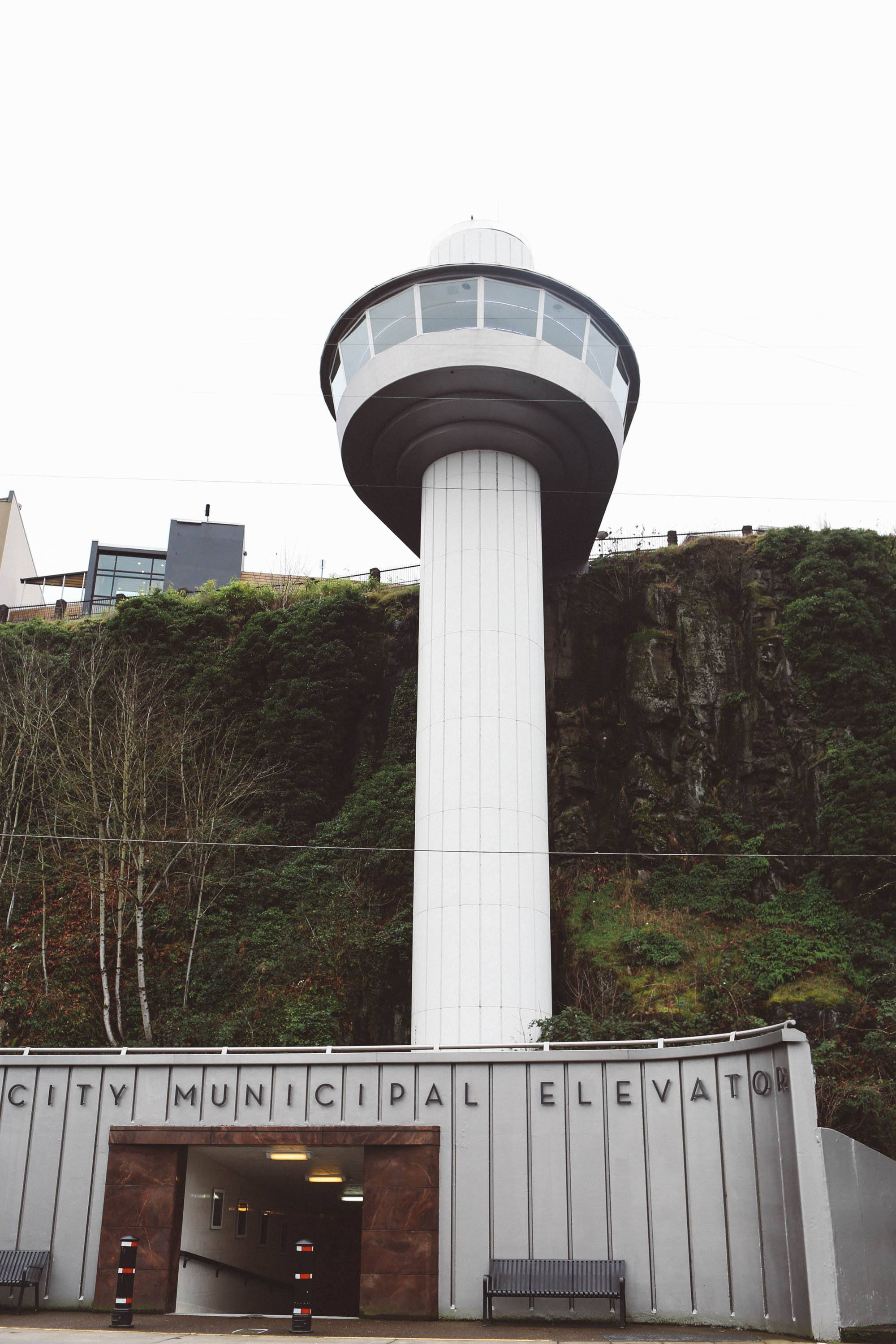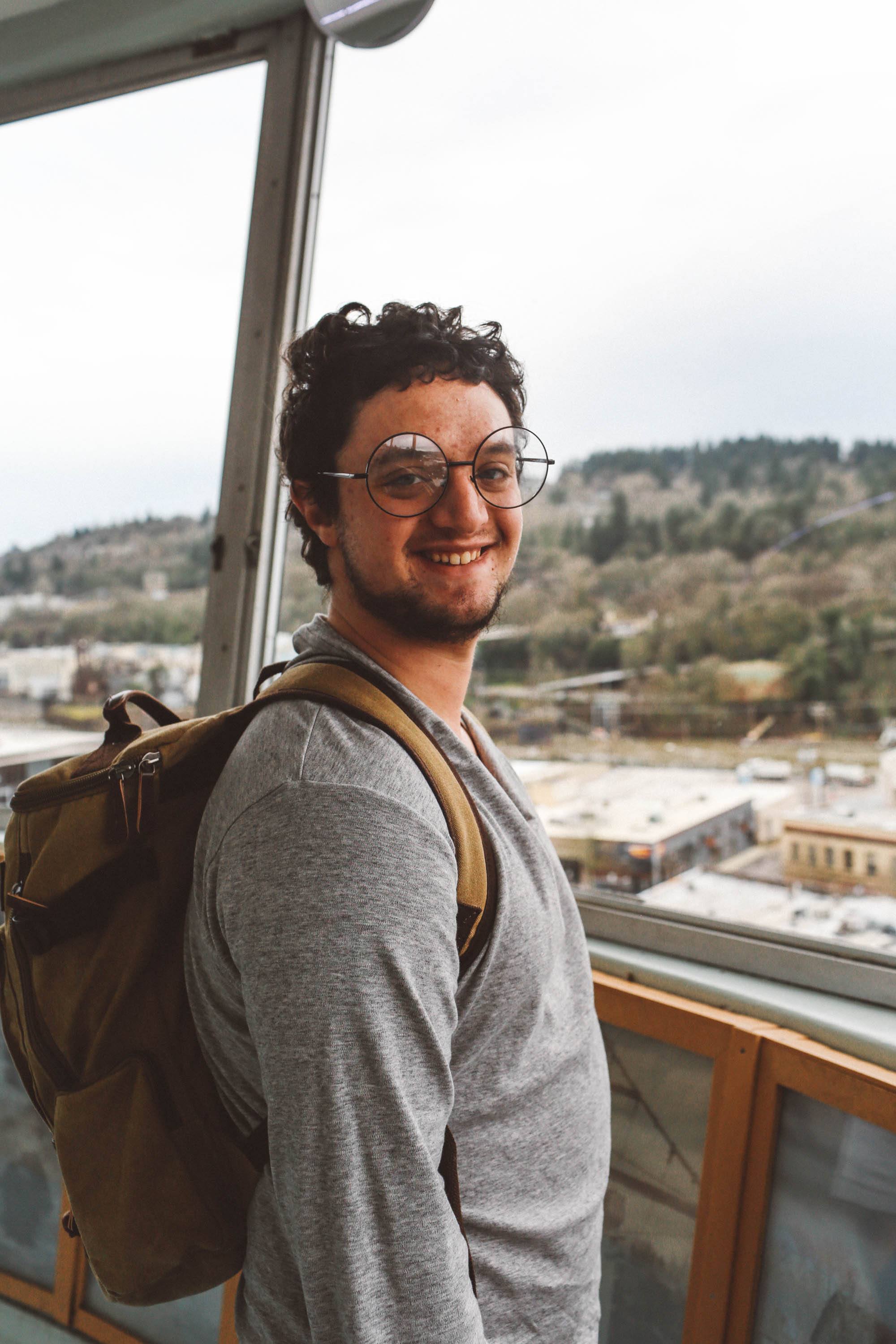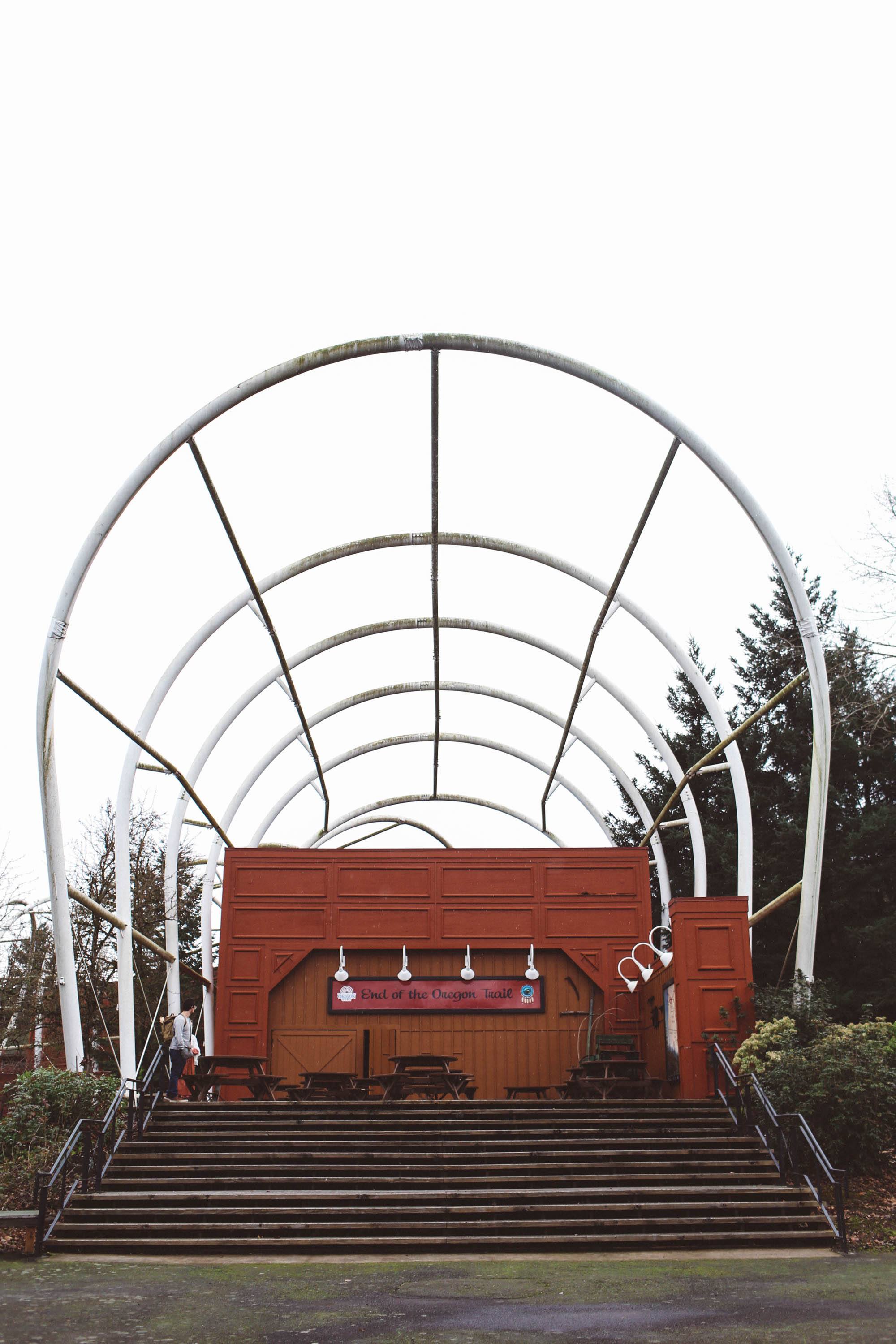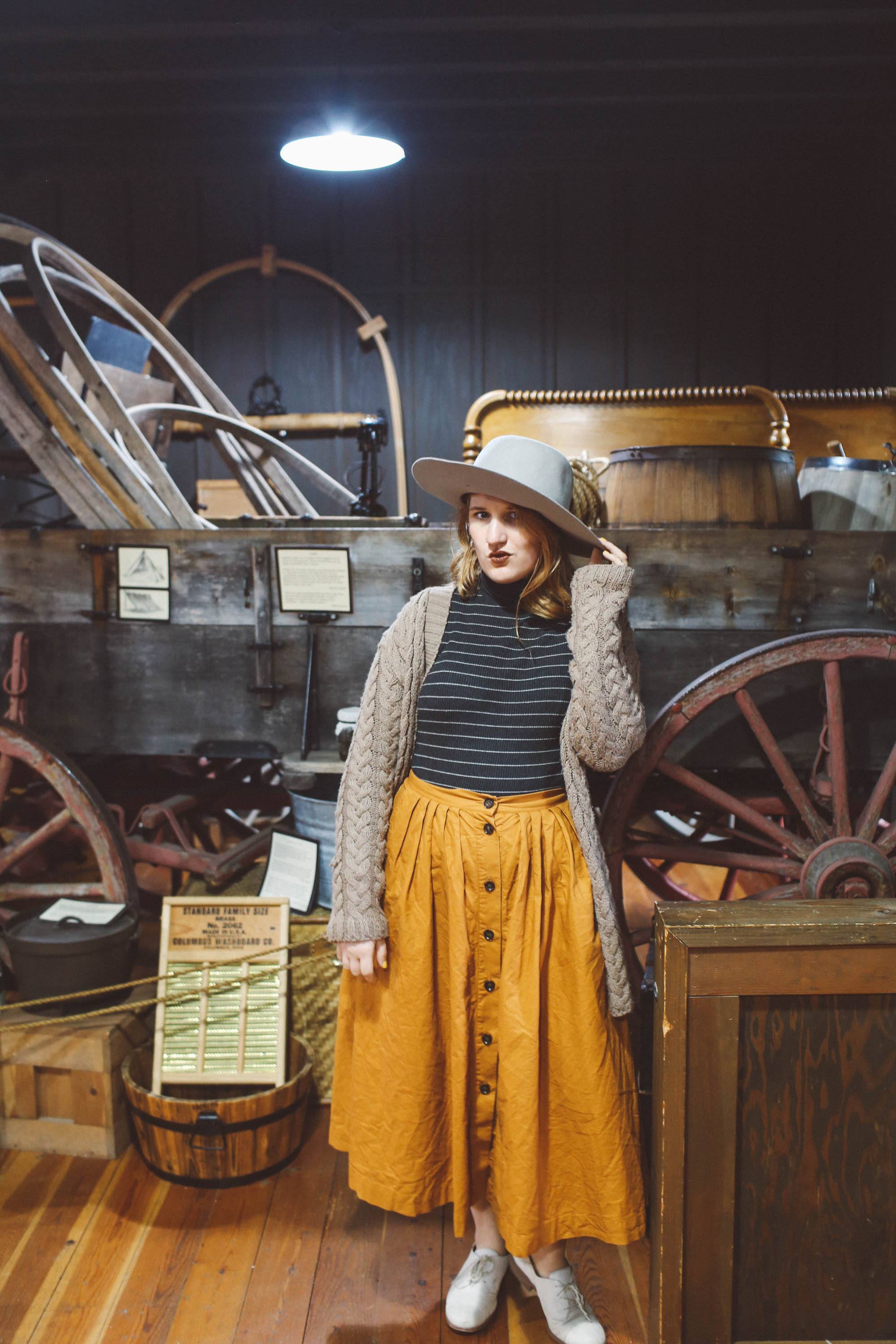 Things To Do
A MUST visit is The End of the Oregon Trail Interpretive Center. Sometimes history museums can be a snooze fest, but this is anything but. It's full of things to look at and touch. You can even make candles the old fashion way to pretend like you are a pioneer! We learned so much here and had such a fun time. Afterward, explore downtown Oregon City and make sure to visit Oregon City Municipal Elevator and Willamette Falls.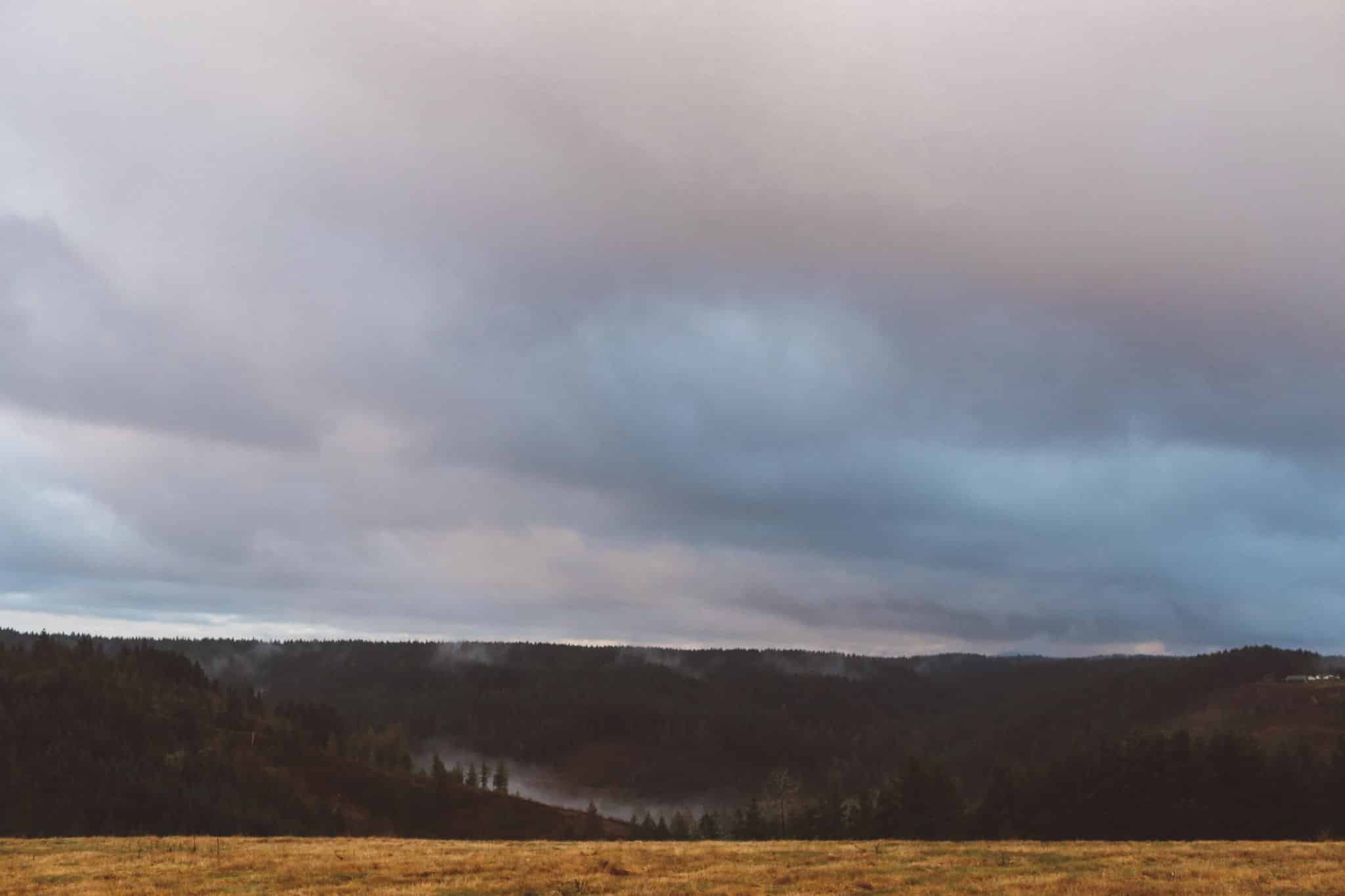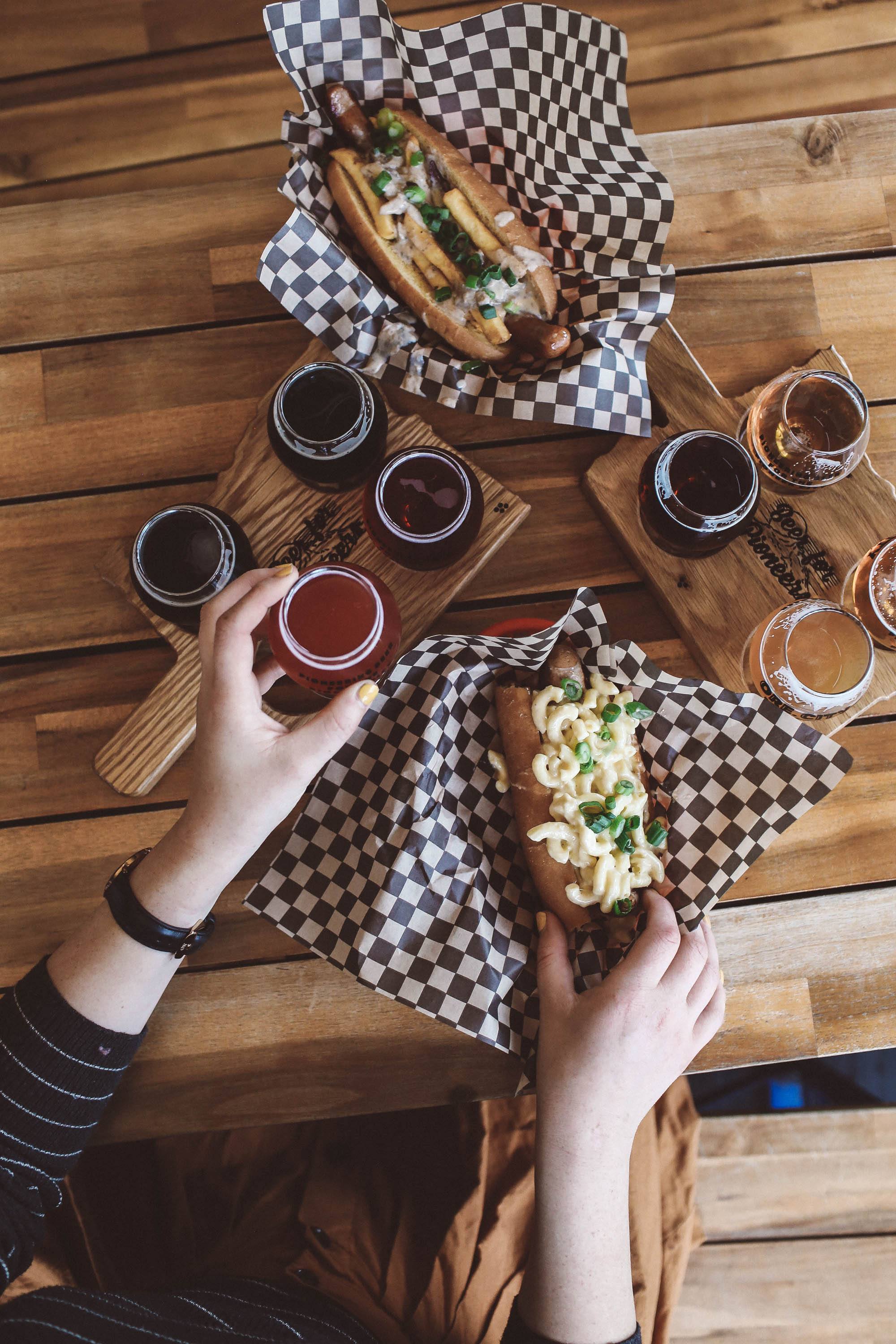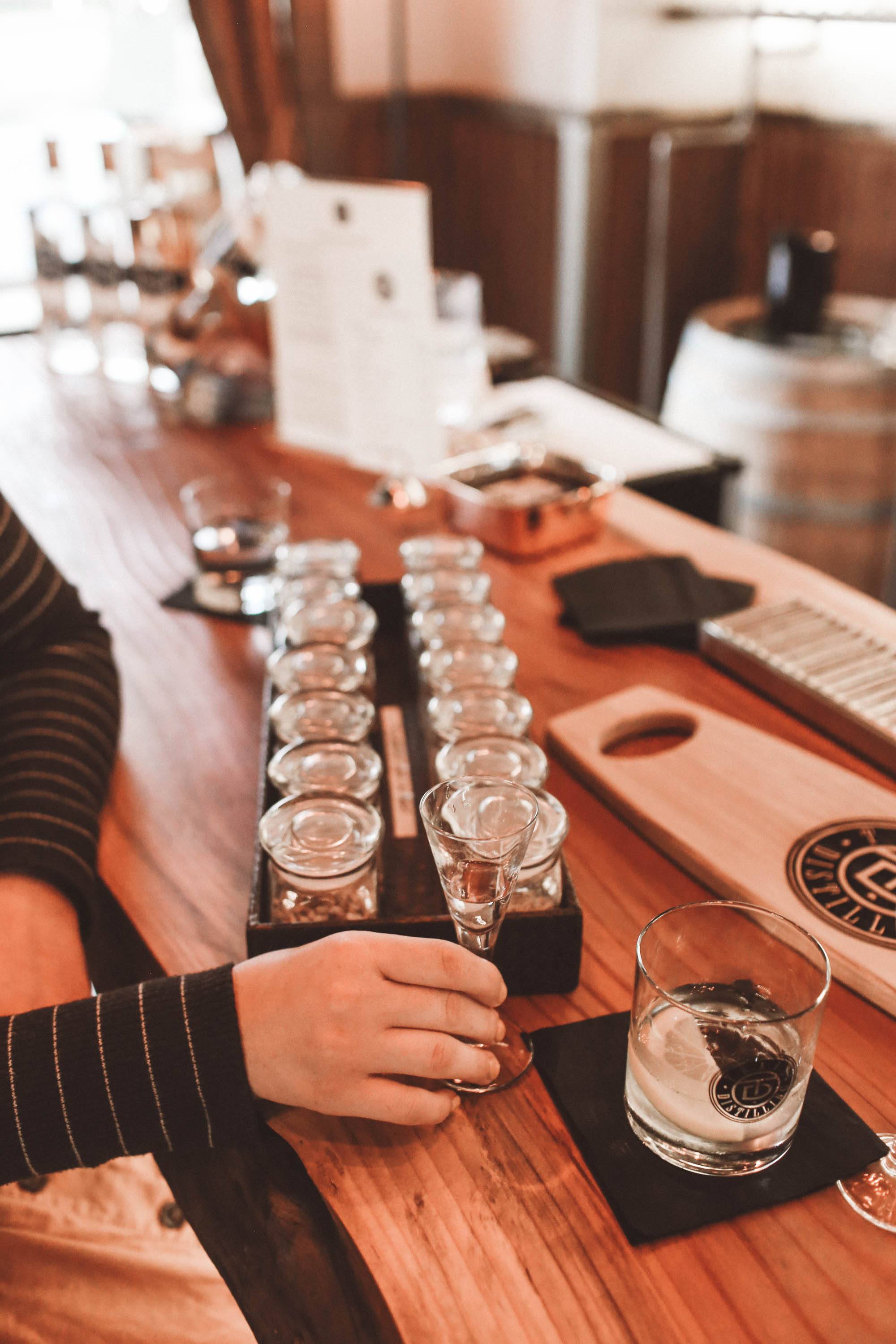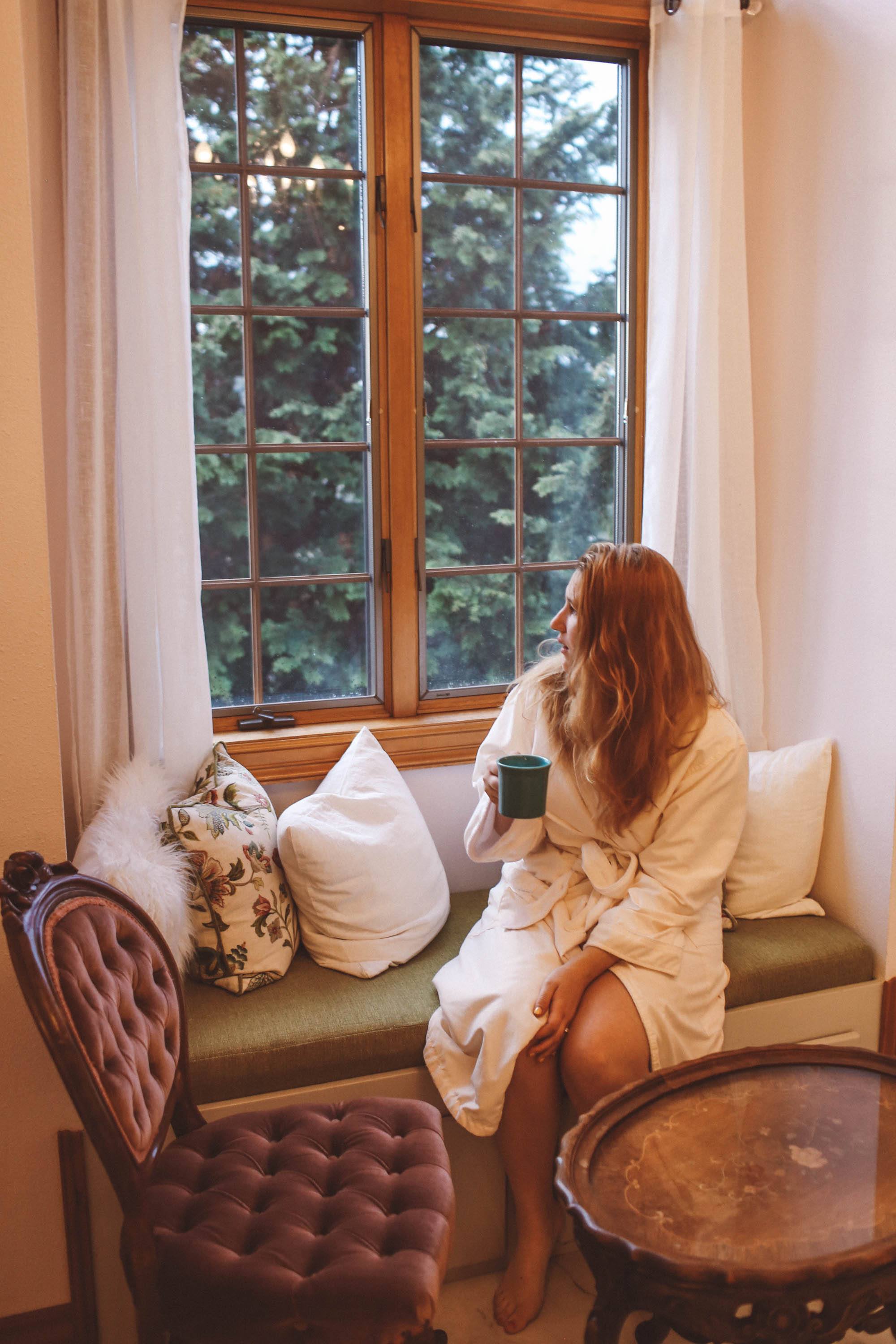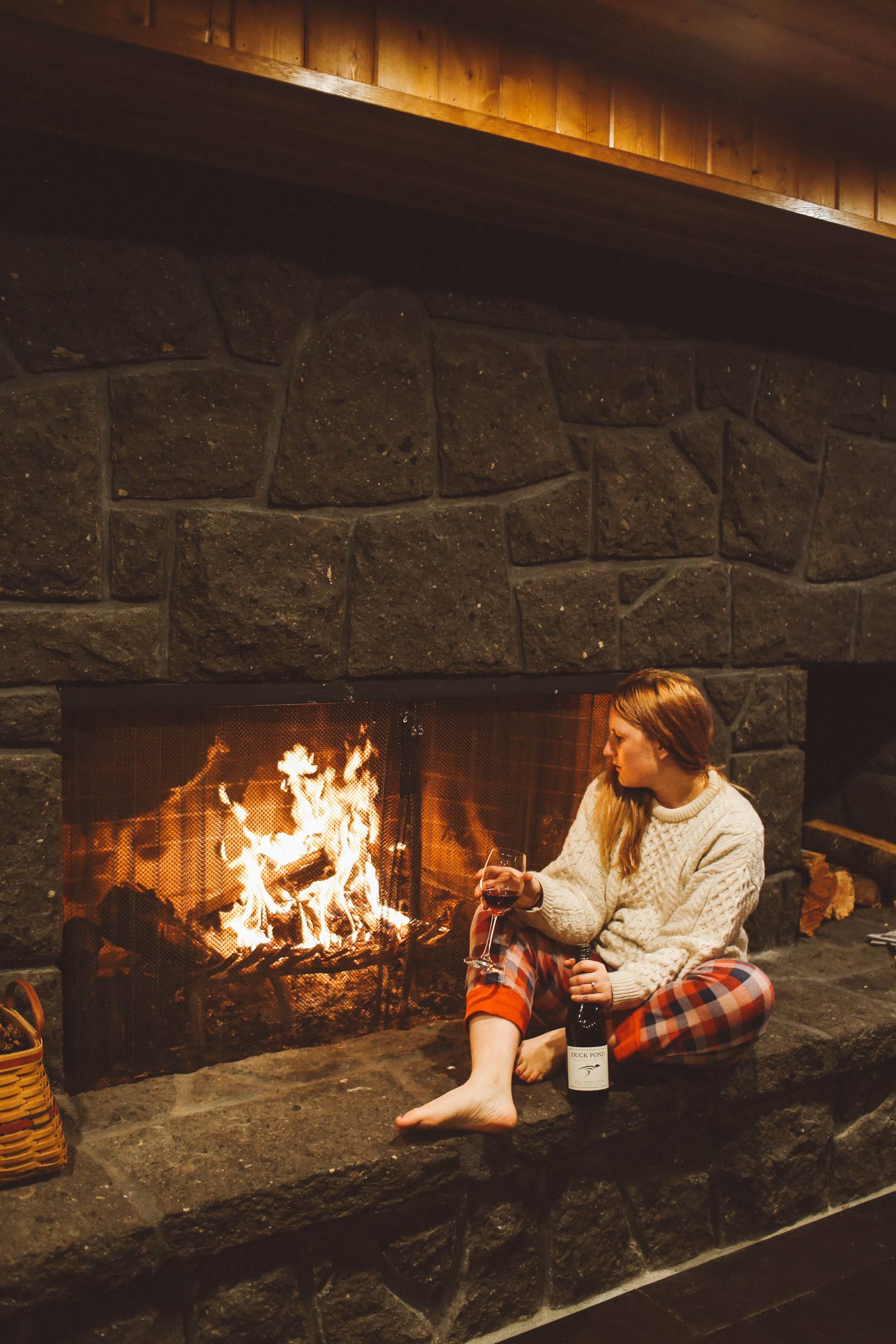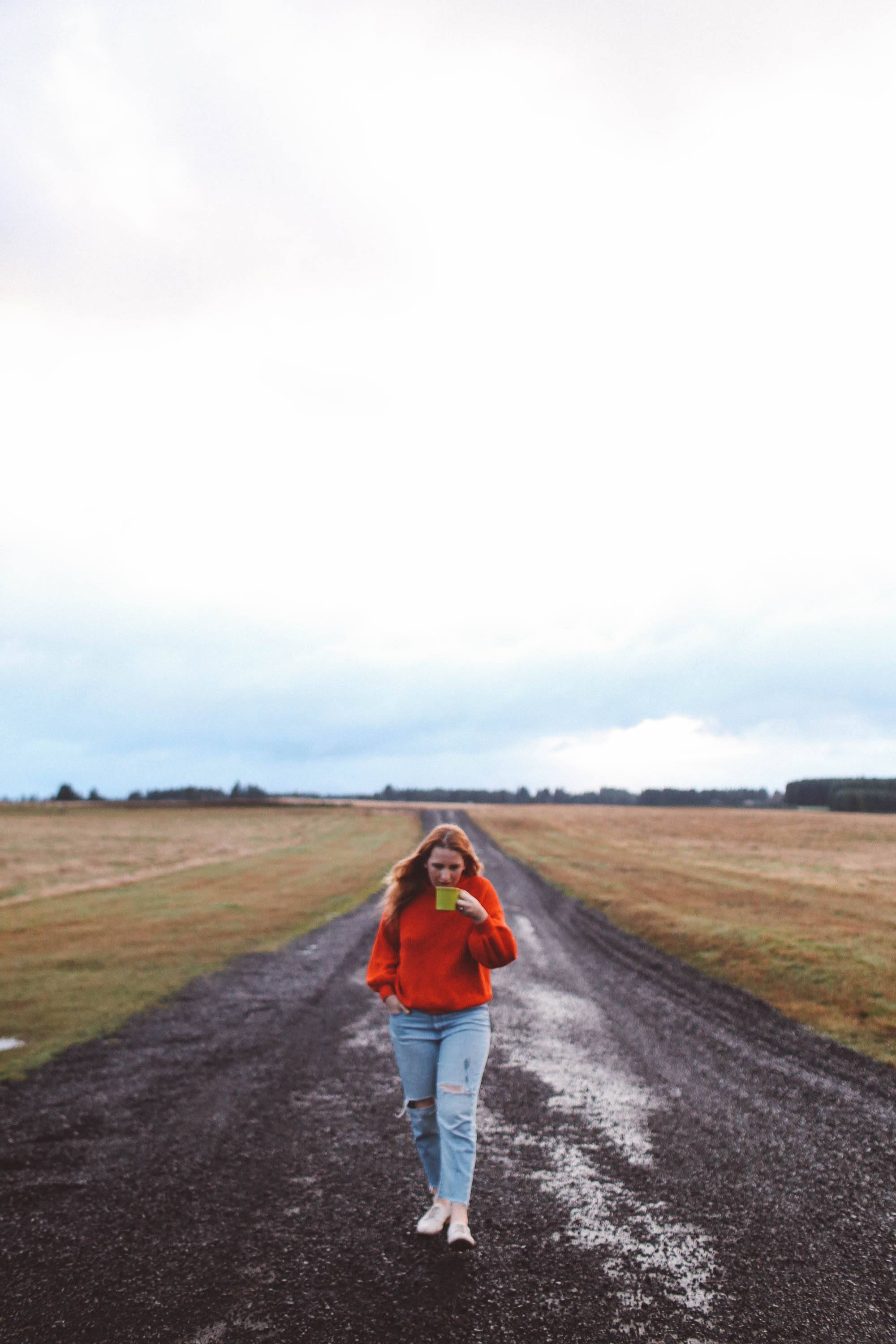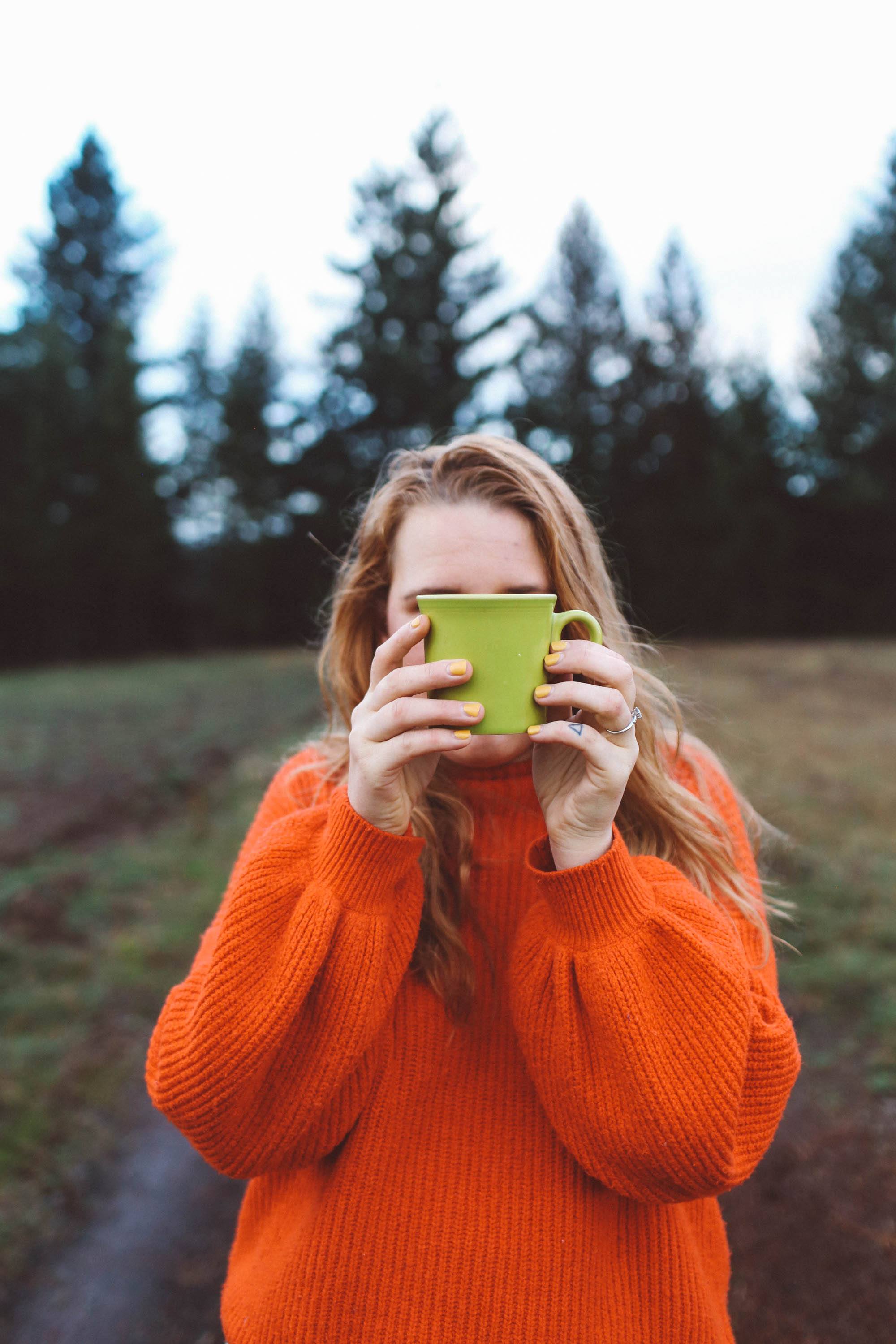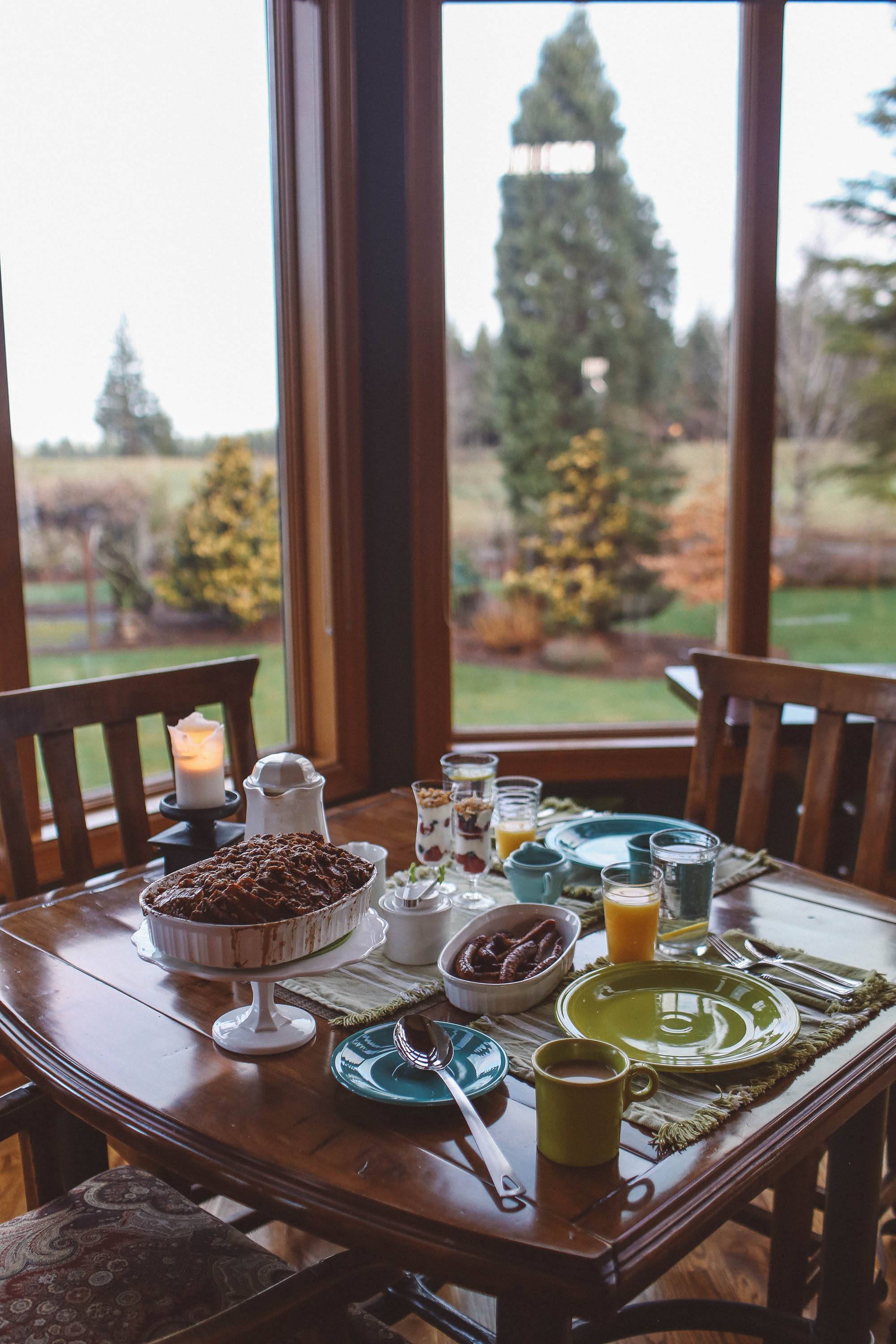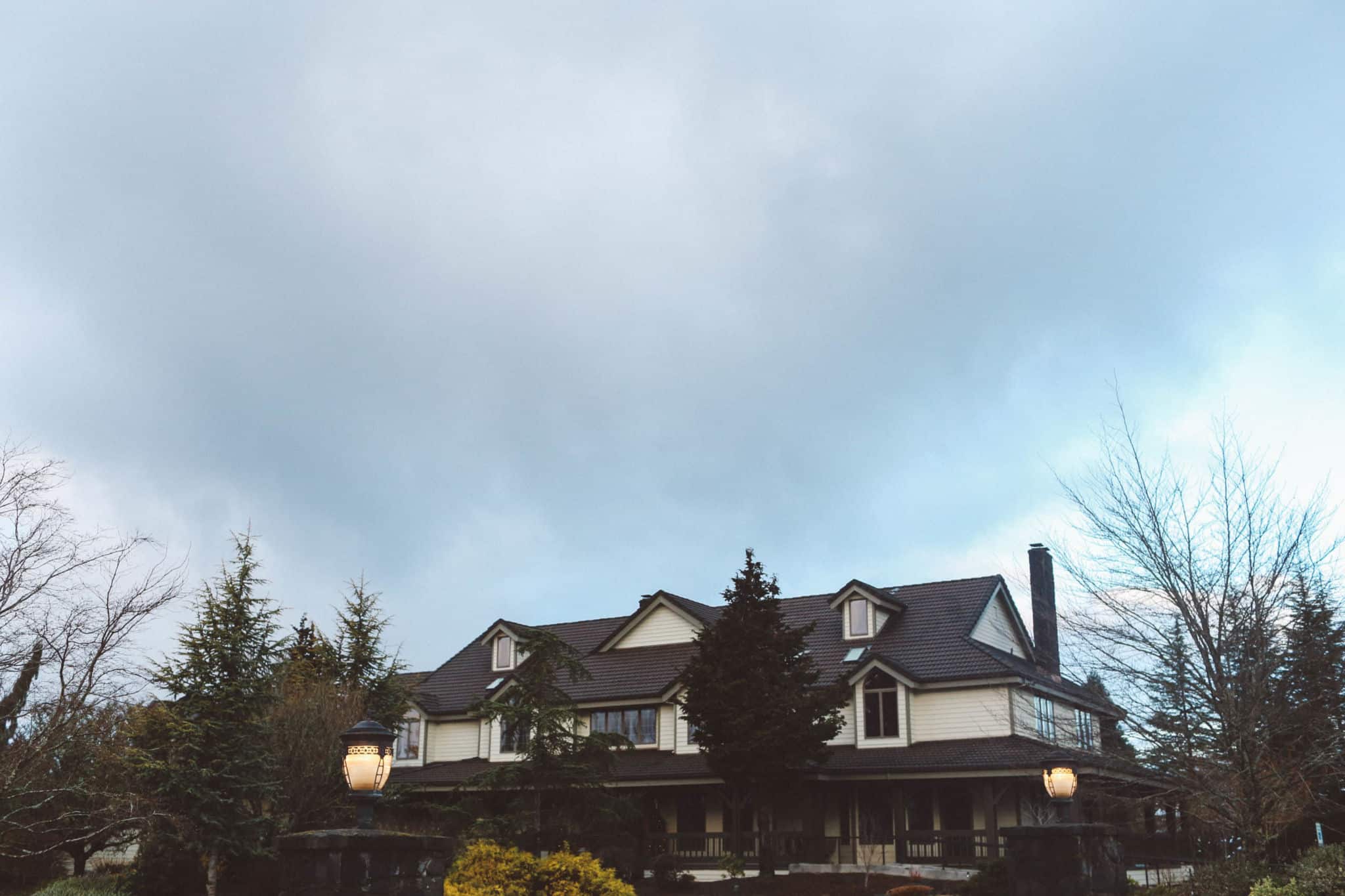 ---
Bandon / The Oregon Coast
---

After soaking up the mountain air, head to the Oregon coast. It's about a 4 hour drive from Oregon City and the road takes you through beautiful green hills and along the seaside. Basically, it goes by fast because the scenery is so pretty!
Start in Bandon, a charming coastal town that's home to the famous Face Rock (and Face Rock Creamery!) as well as tons of great food, fat tire biking and a cute lighthouse. Spend two nights in this area so you can kick back and relax.
Hotel
My favorite stop of the whole trip was WildSpring Guest Habitat in Port Orford, about 30-45 minutes south of Bandon. It's a magical place with 5 cabins dotted amongst towering trees and a forest bed of ferns. There's a fairy circle and whimsical touches of fairy houses and things everywhere you look. At night, turn on the hot tub that overlooks the ocean. WildSpring is run by the nicest couple and they'll make you the tastiest breakfast in the morning. I wish we stayed more than one night, and on the drive back up to Portland the morning we checked out, we were already making plans to visit WildSpring again in the summertime because it's that magical. It's one of the best cabin rentals in Oregon for sure.
We also stayed one night at the Bandon Inn in Bandon. It sits on top of a hill and all the rooms overlook the old city and the bay. It's a fantastic view and is about a 3-minute walk down the hill to the old town of Bandon (aka the cute parts you'll want to hang out in.) If you want to spend a night in Bandon, stay there.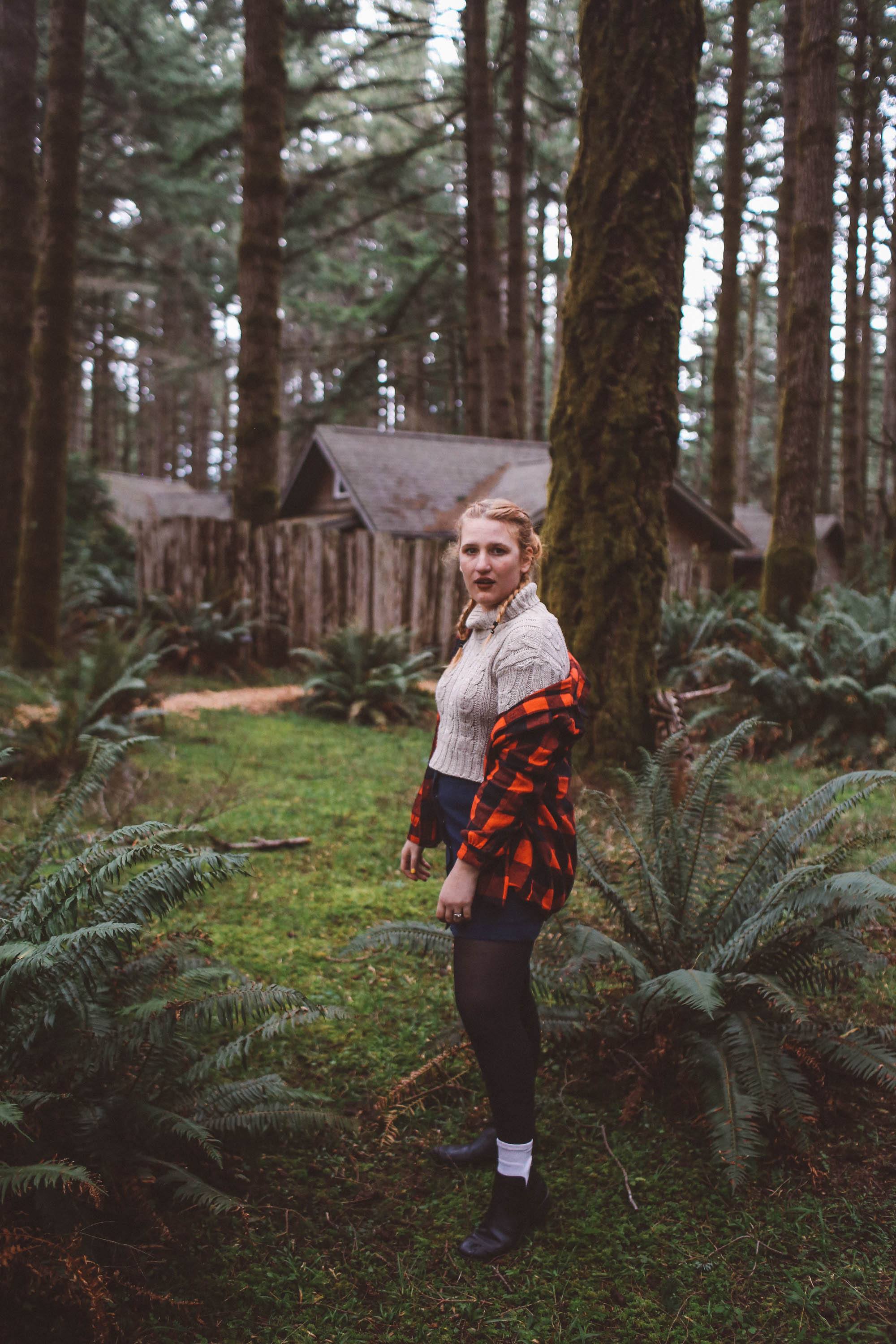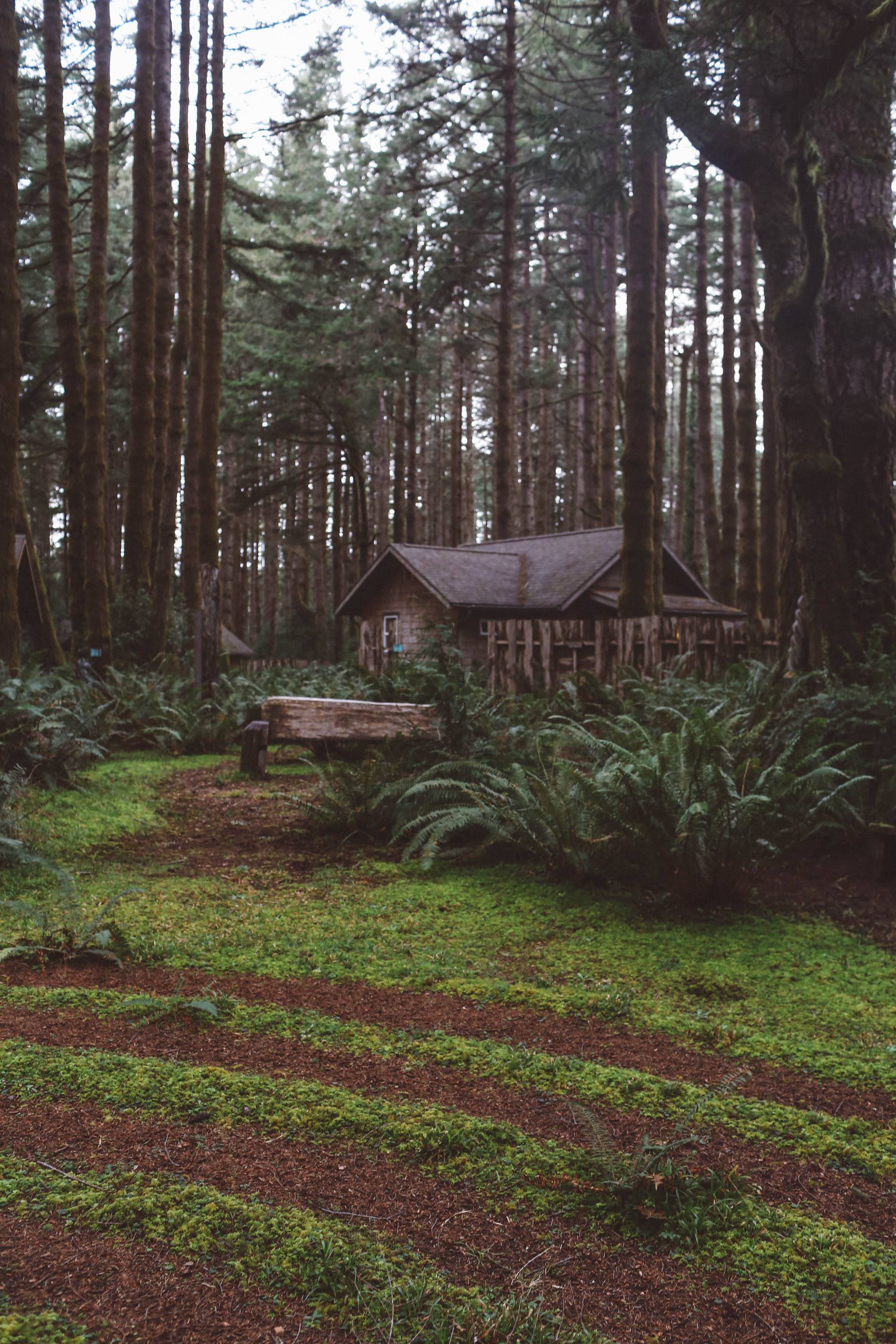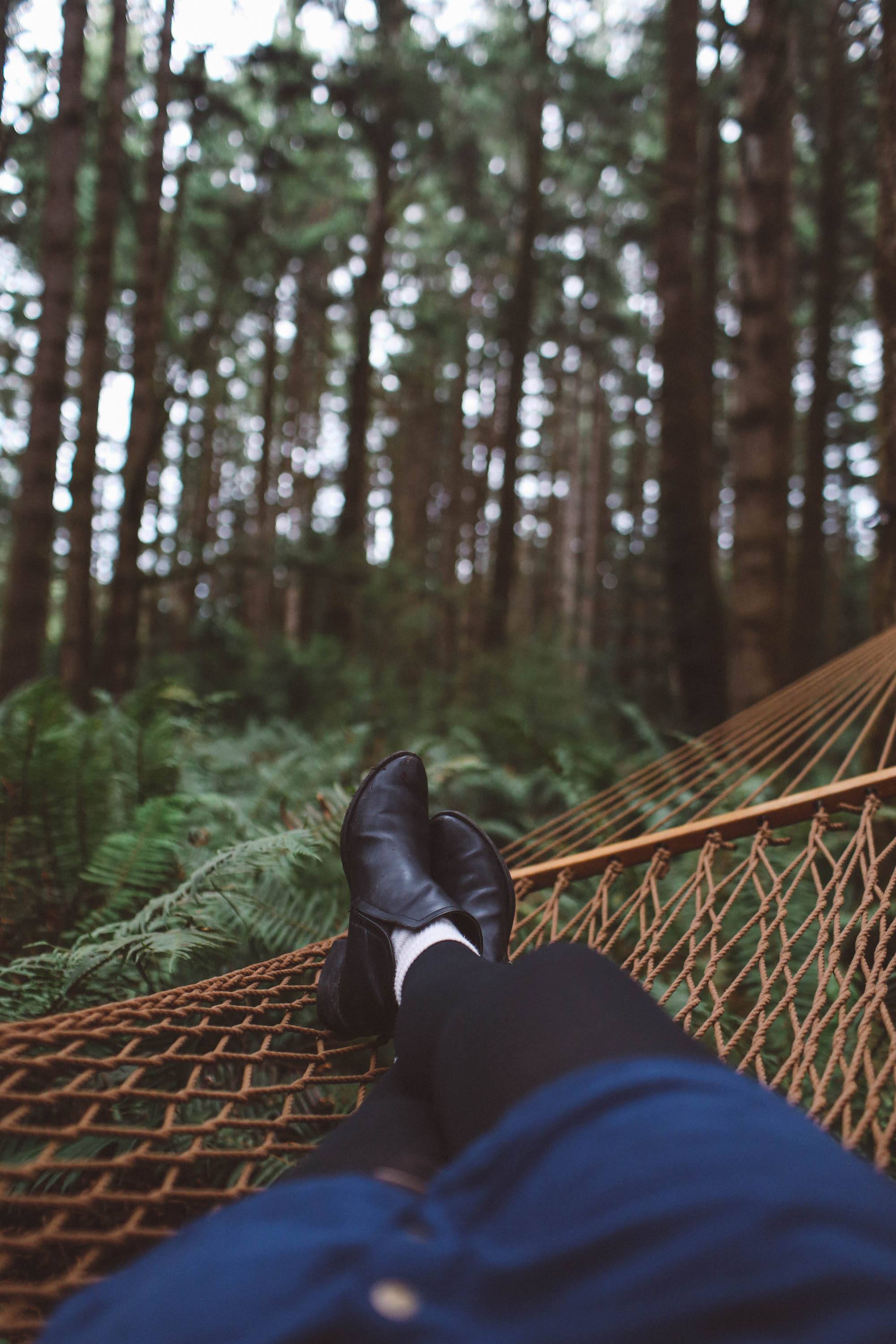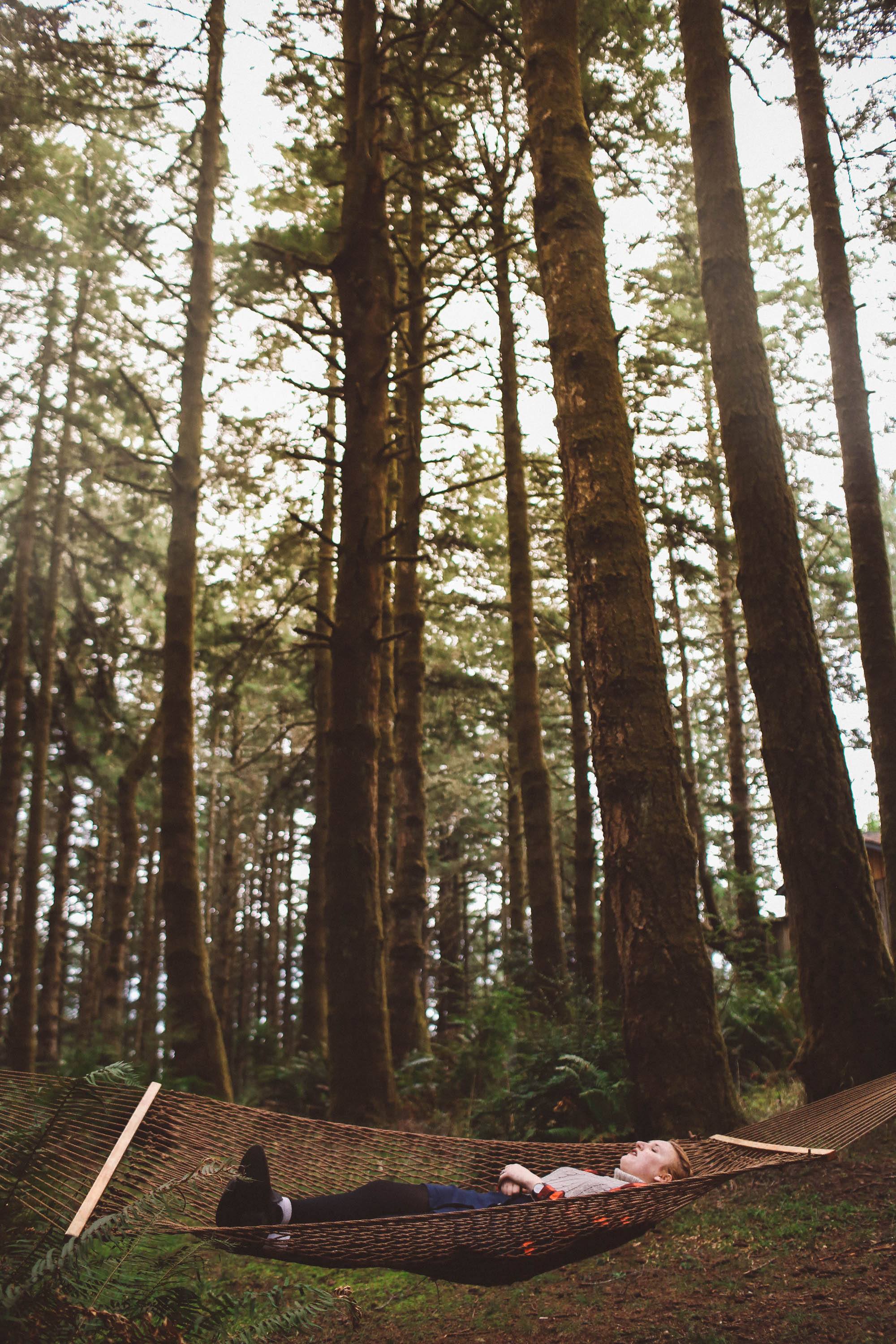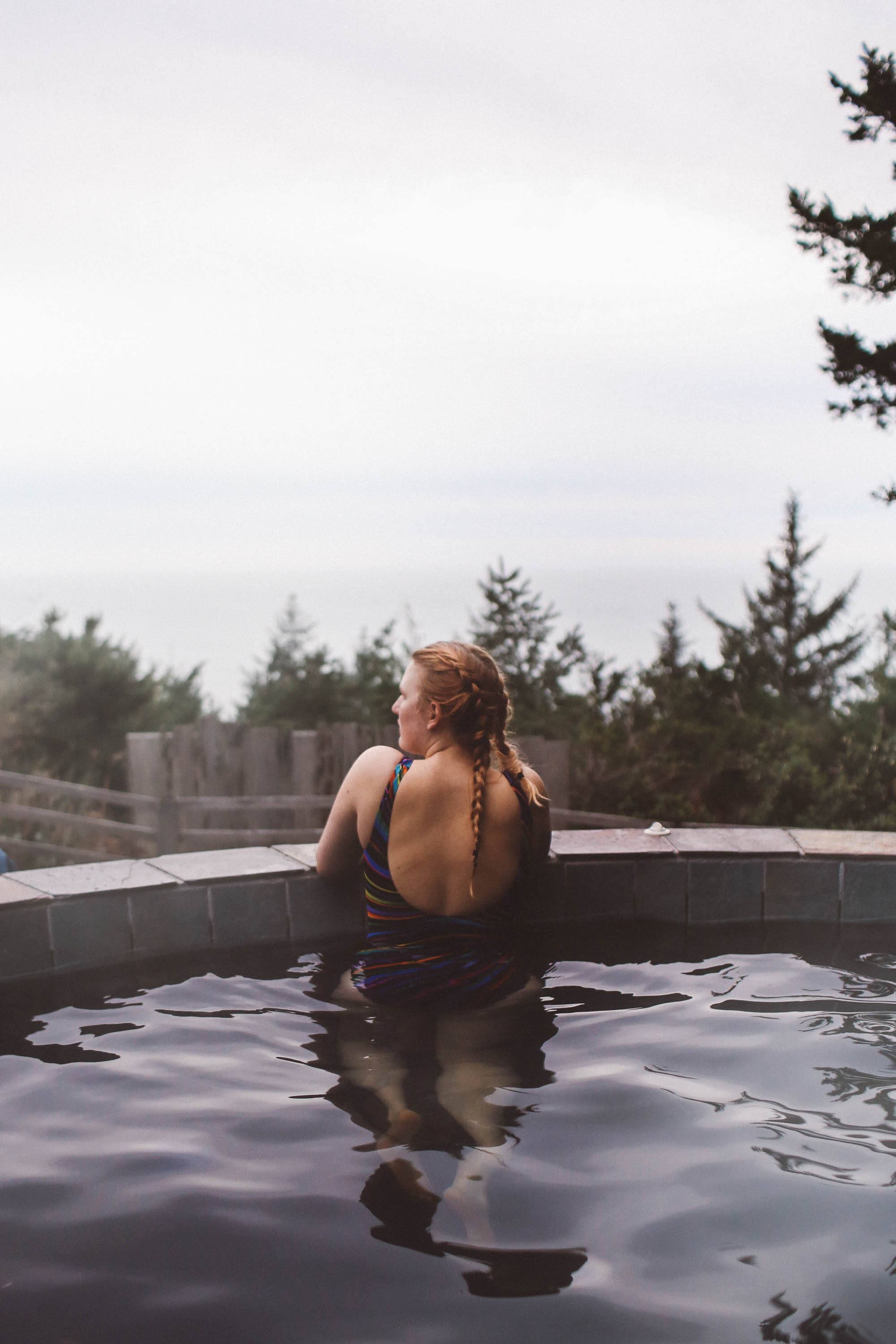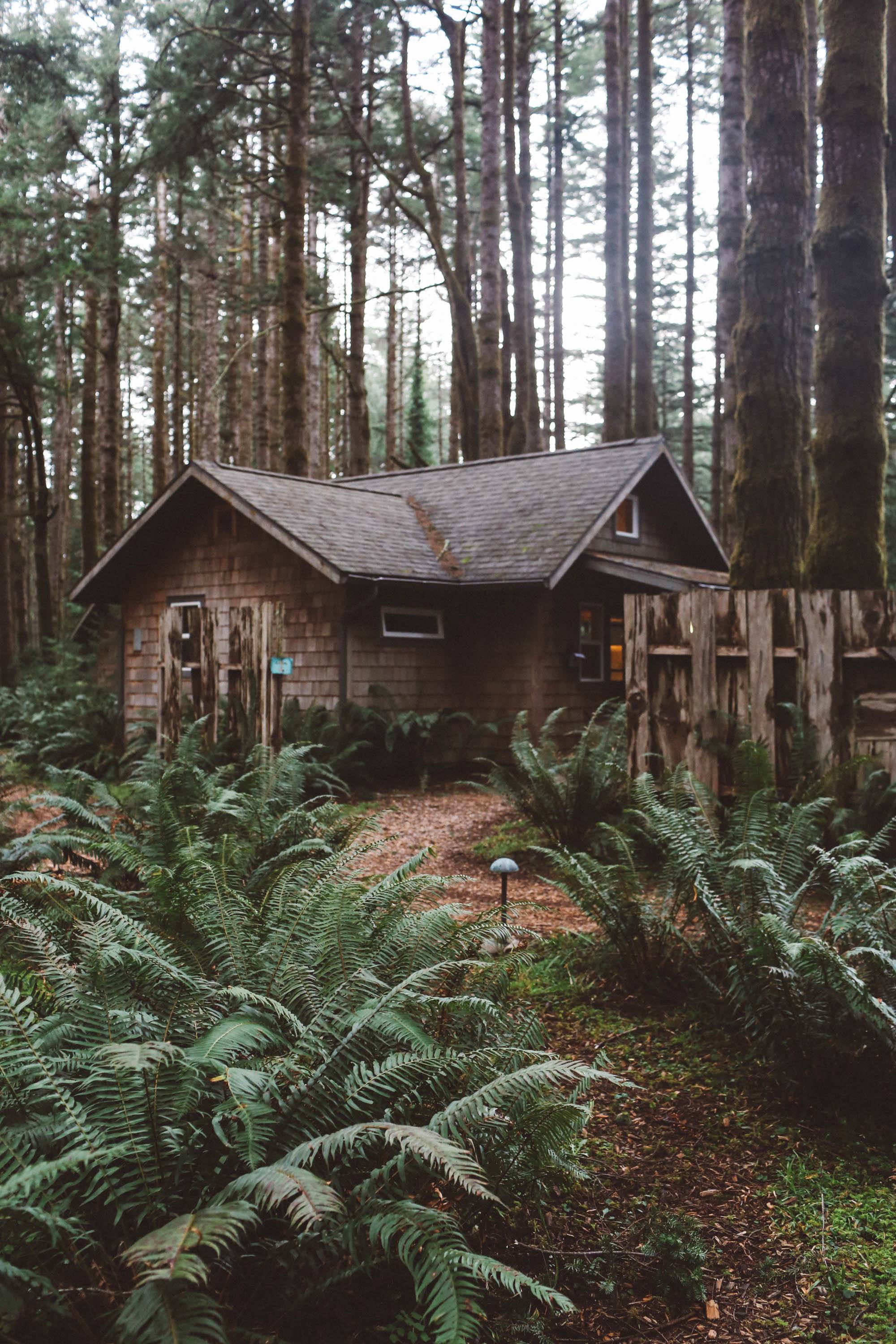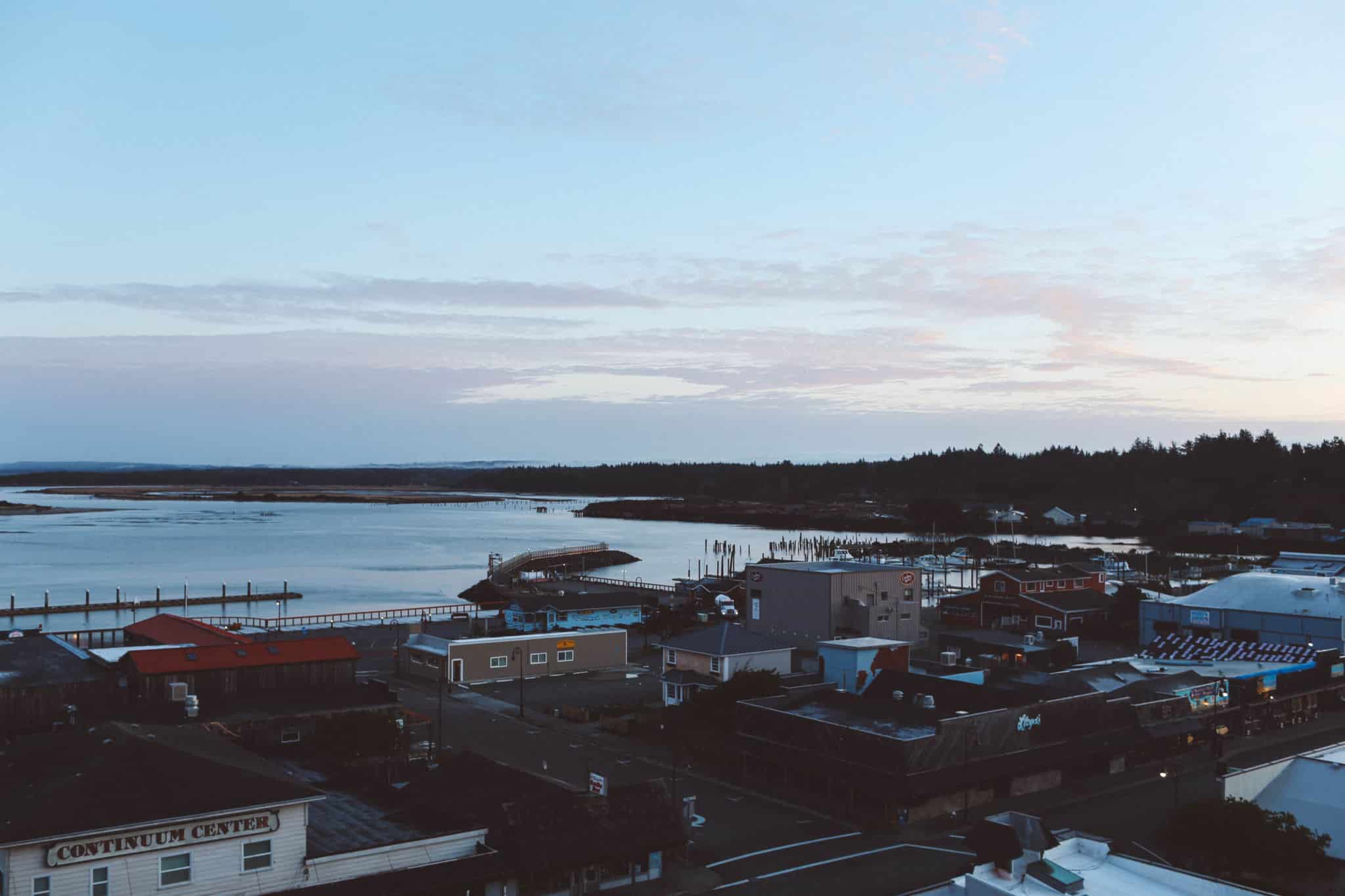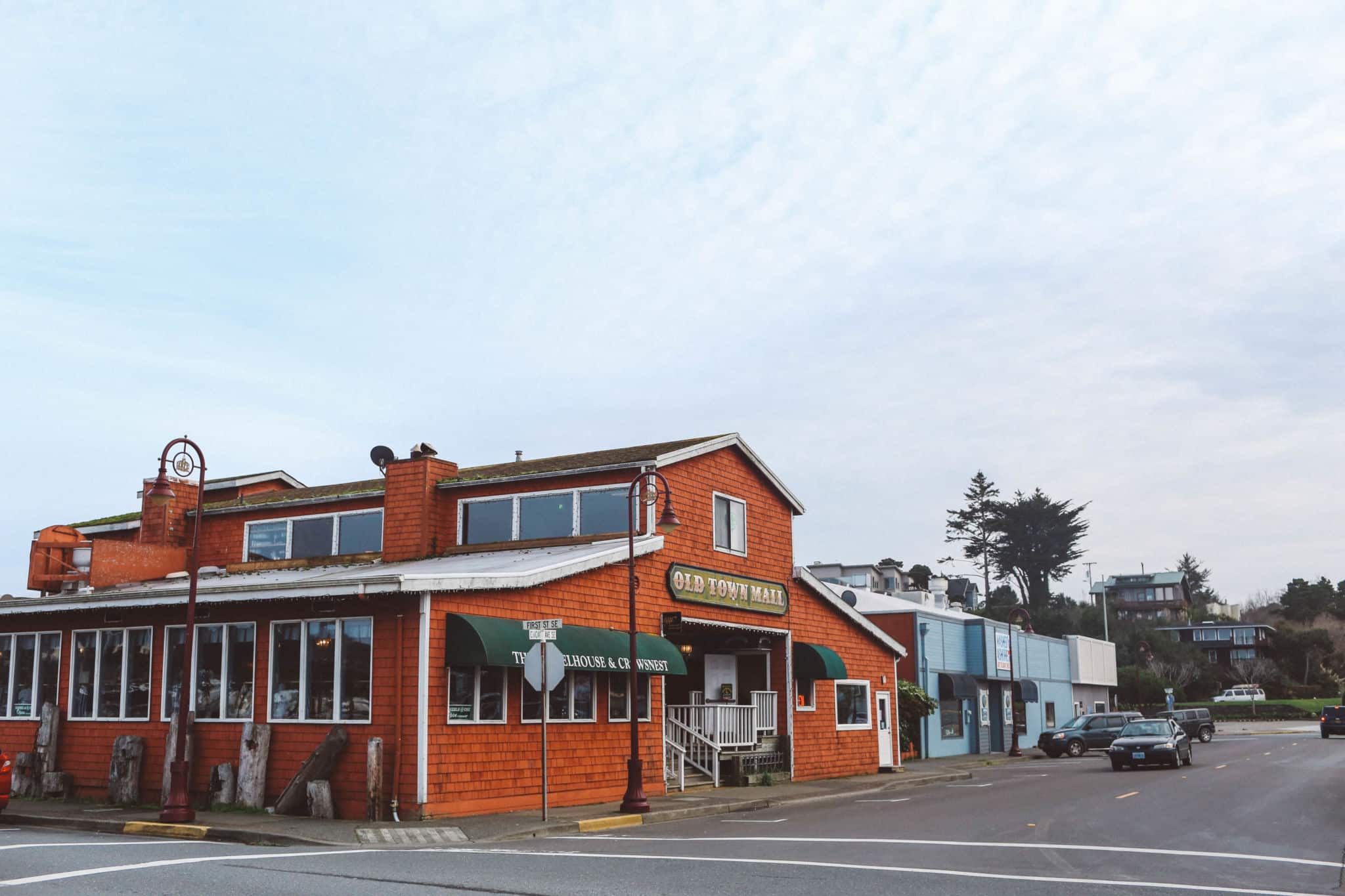 Oregon Dunes
On your way down to Bandon, make sure to swing by the famous Oregon Dunes. It's about 60 miles of coastline, but our favorite spots to visit is the Umpqua area near Reedsport as the dunes are most impressive around here! We didn't have time to go on a dune buggy ride this trip, but if you have the time, make sure to take a ride on the dunes! Entry to the state park is $5 for a day pass.
Where To Eat
Tony's Crab Shack in Bandon is a MUST on a sunny day. Sit outside, dine on fresh seafood and soak in the sunshine. I loved my fish tacos, Robin got the crab cakes. Both were tasty. Or, have dinner at the Fish Market right nextdoor. They have indoor seating and some pretty tasty salmon chowder in bread bowls. The Face Rock Creamery has a great lunch special ($7.95 for a sandwich, chips AND a beer). In Port Orford, try TJ's Diner, a 50's style joint with HUGE breakfast servings. Or, grab dinner at Redfish which has a view of the ocean.
Fat Tire Biking
We had a blast riding our fat tire bikes on the beach. It's a totally unique way to see the Oregon Coast and it's really easy! I was worried that it would be hard to pedal, but these bikes are designed specially to make it easy to ride on sand. Grab a fat tire bike rental from South Coast Bicycles and head to Devil's Kitchen Beach, a little south of Face Rock. Here you'll find wide beaches, so you can take your bike out even at high tide. Put this on your "must do" list!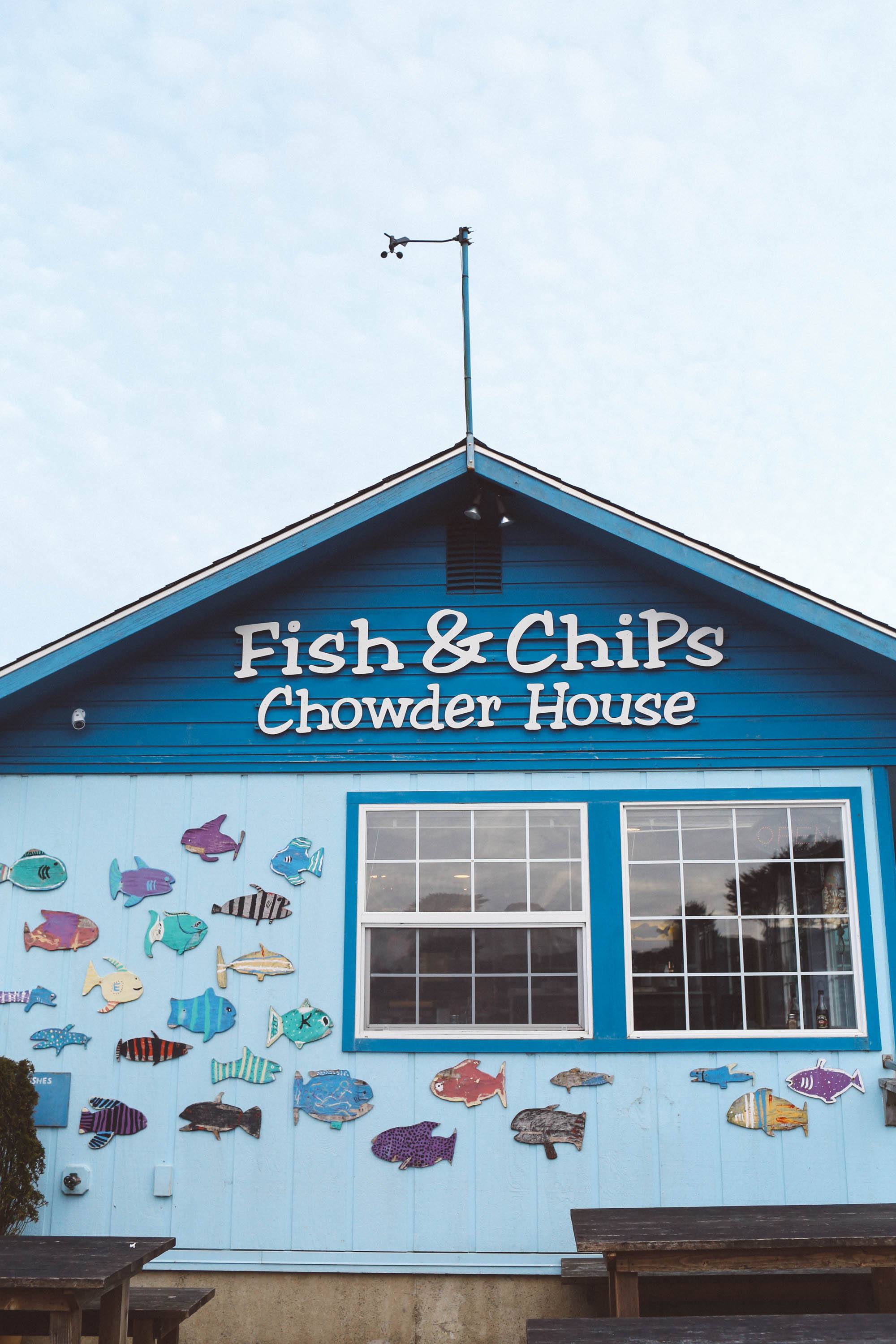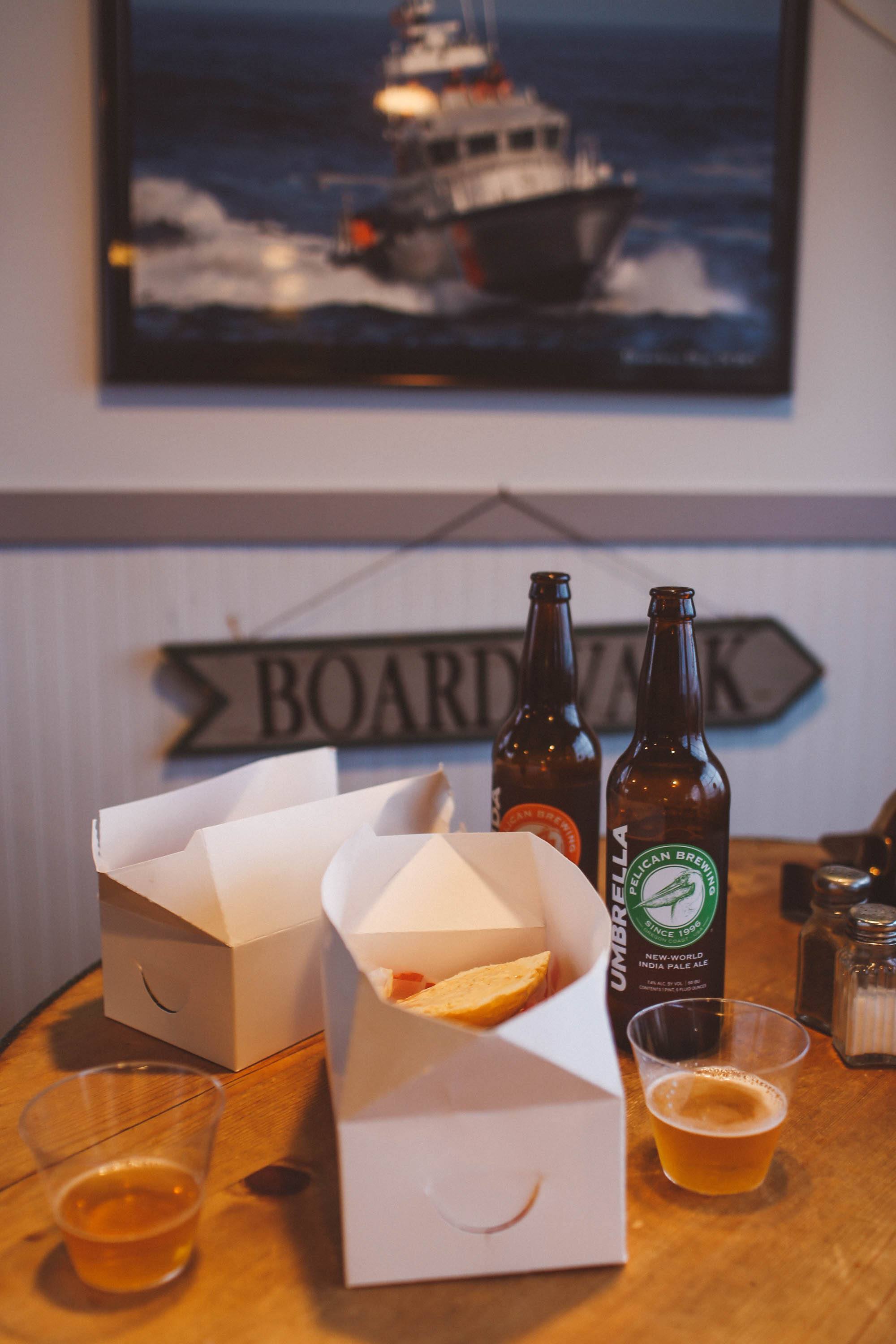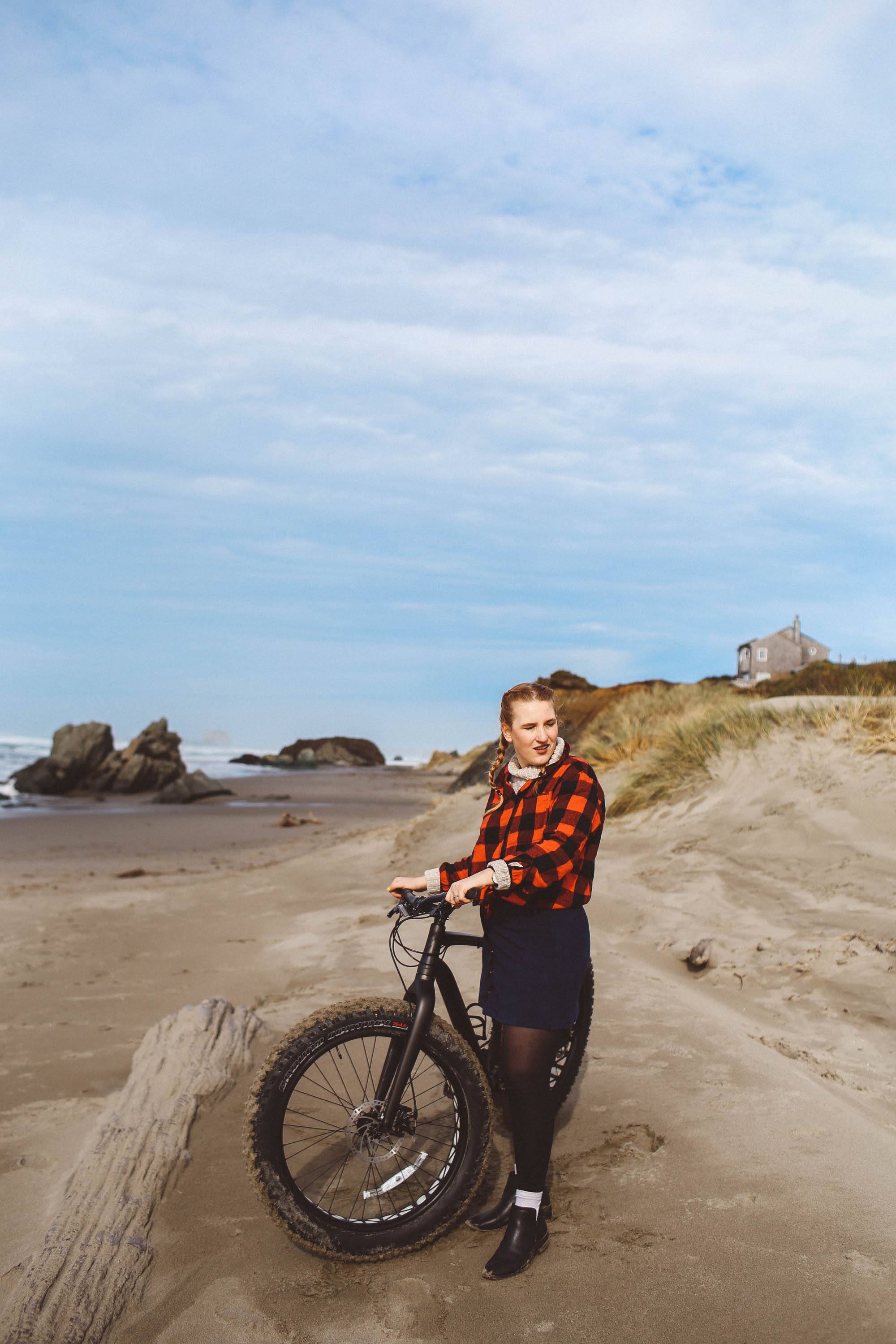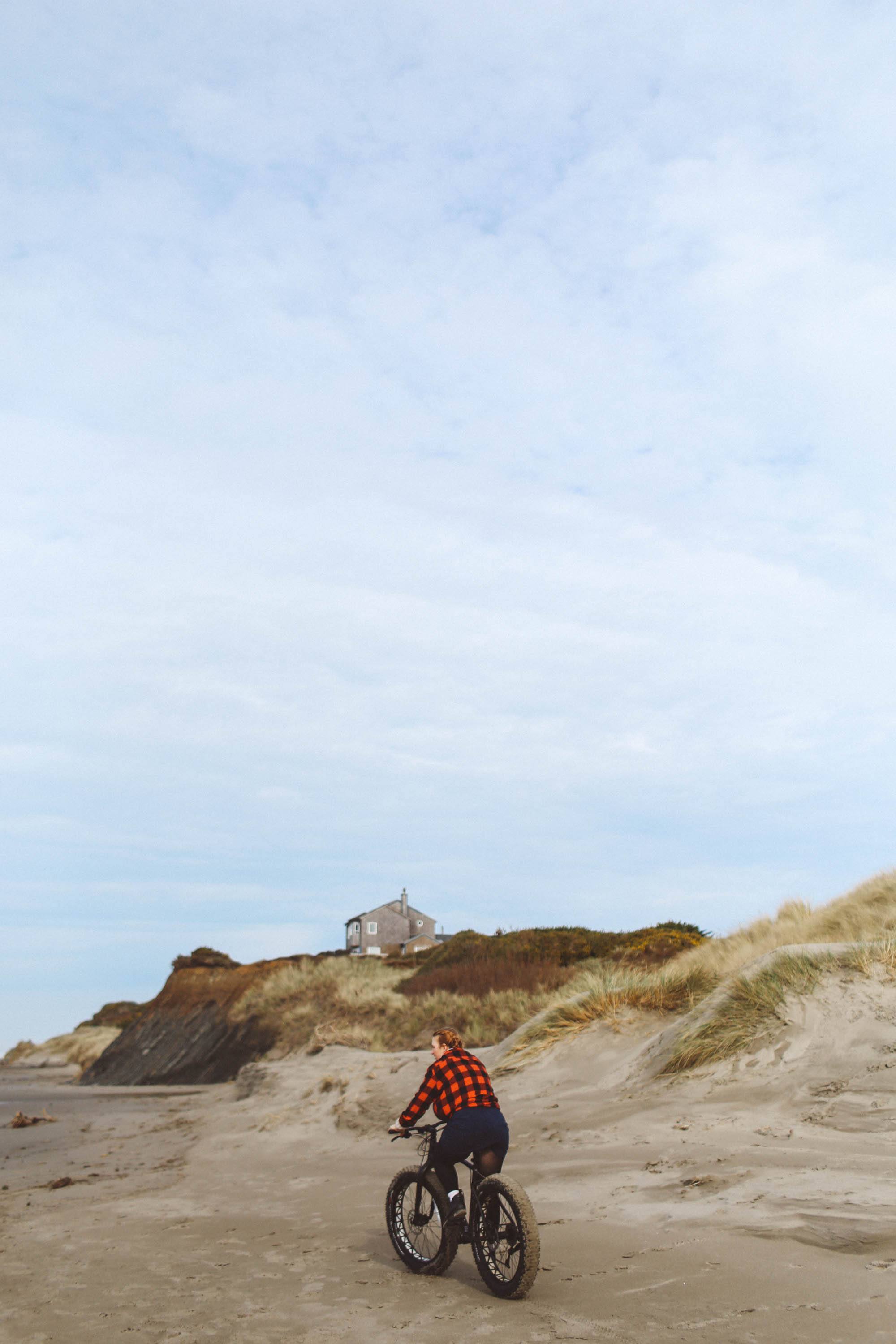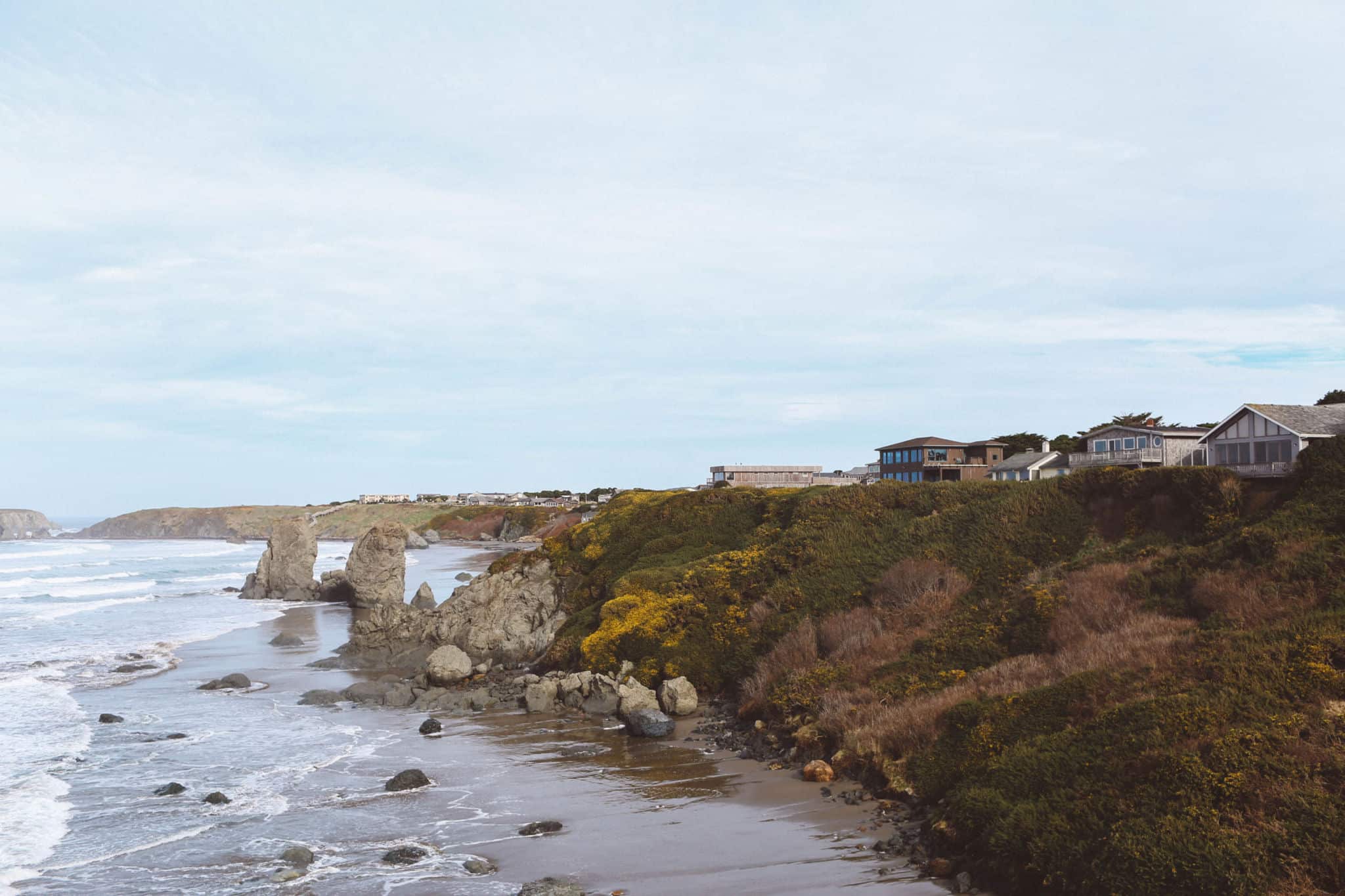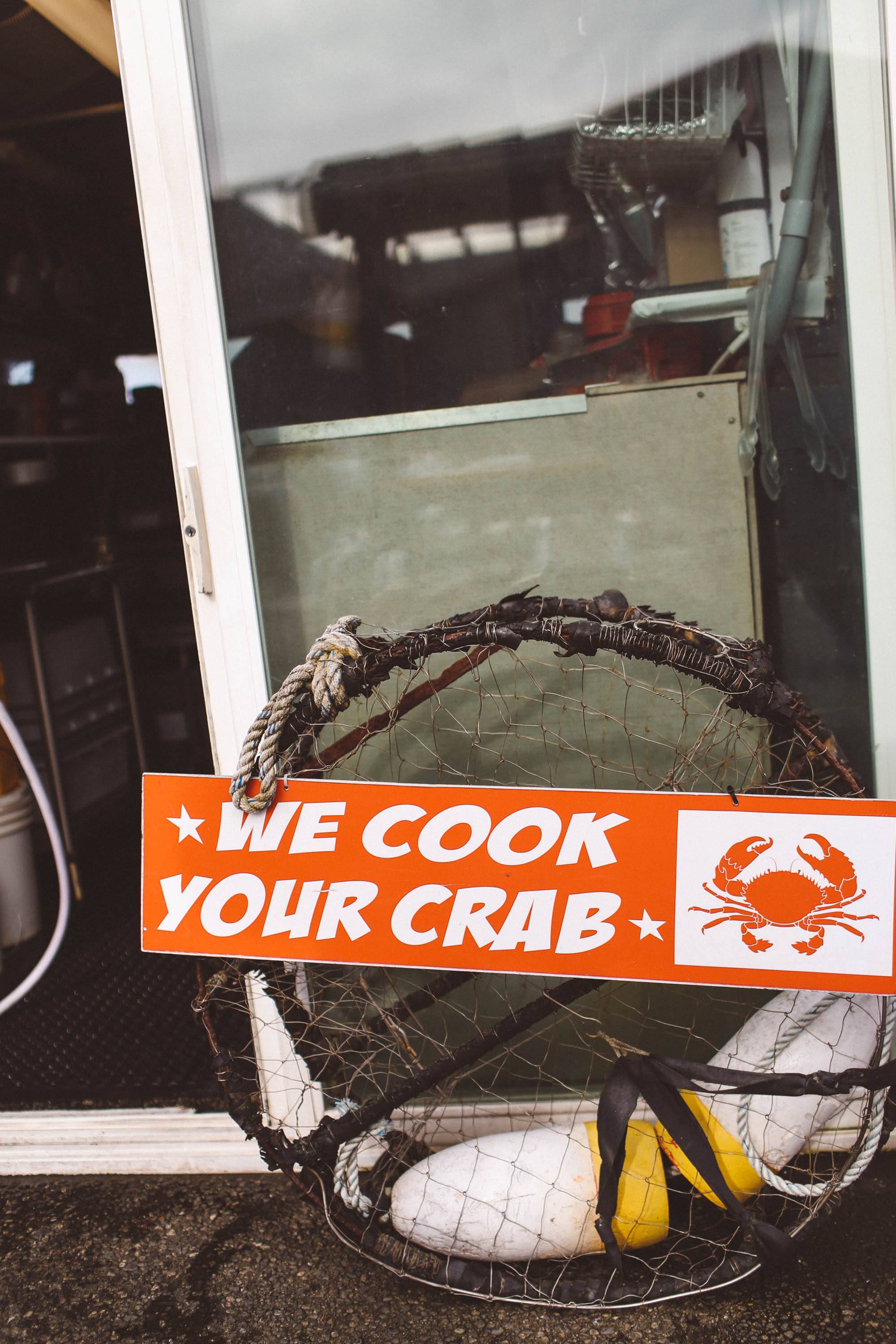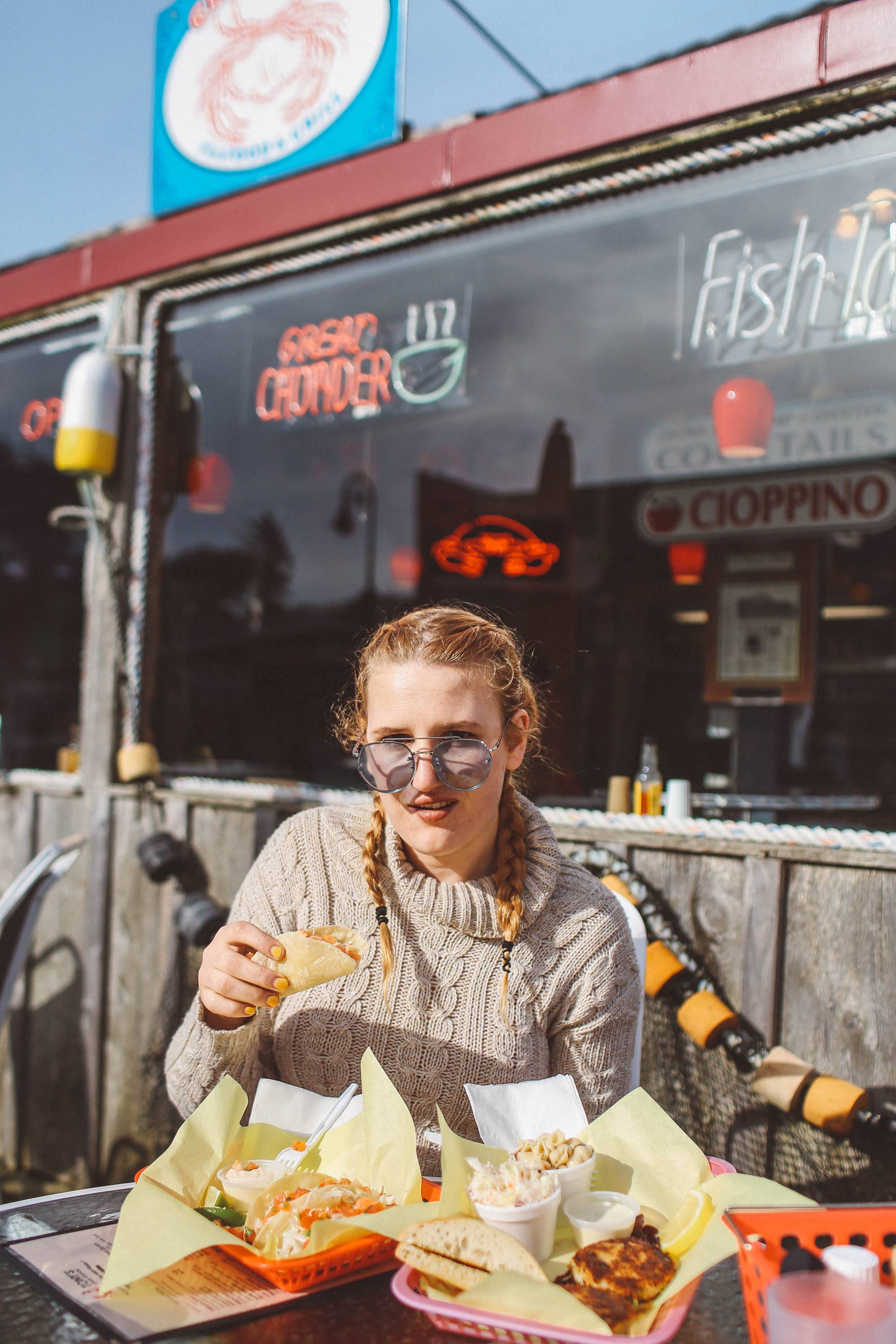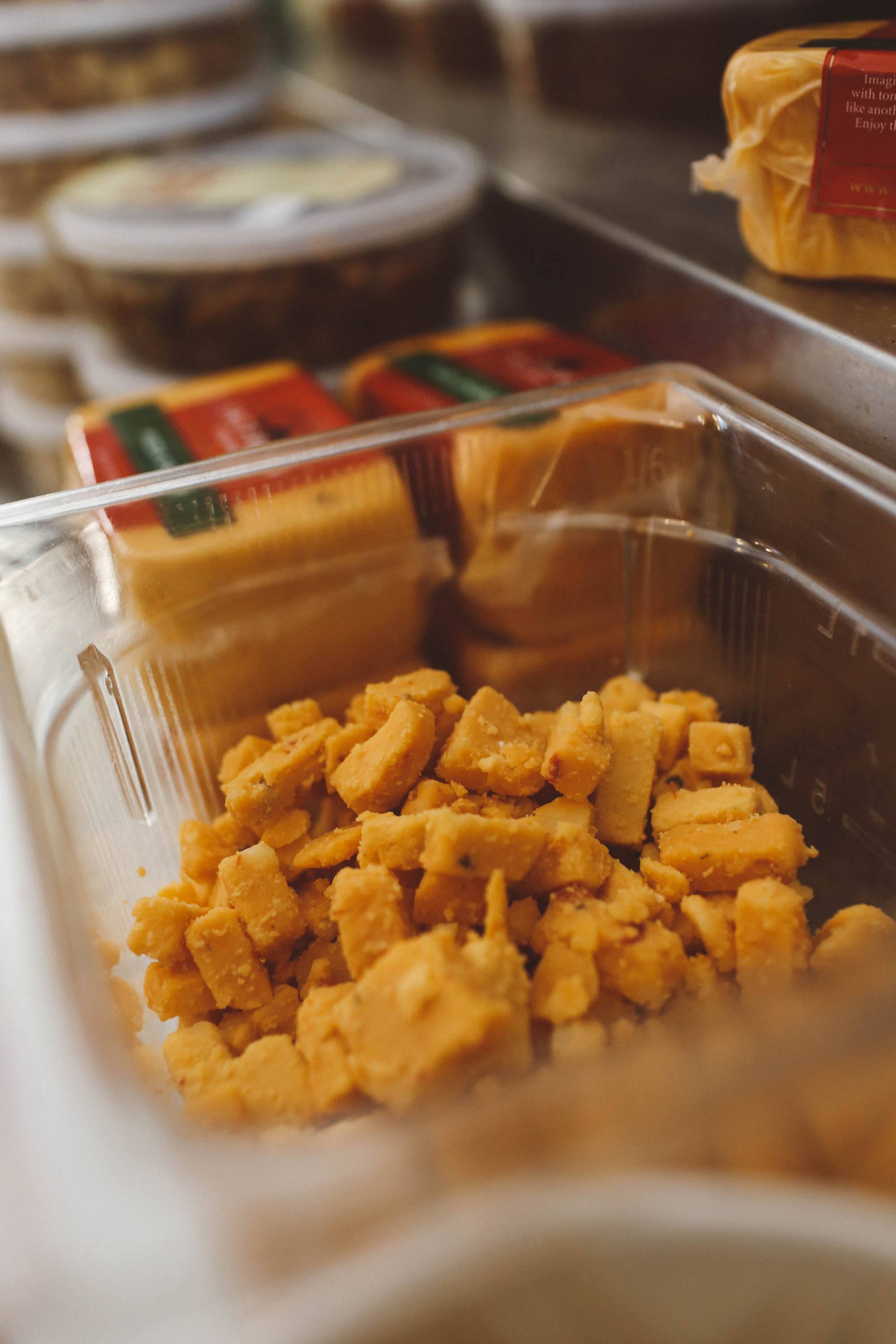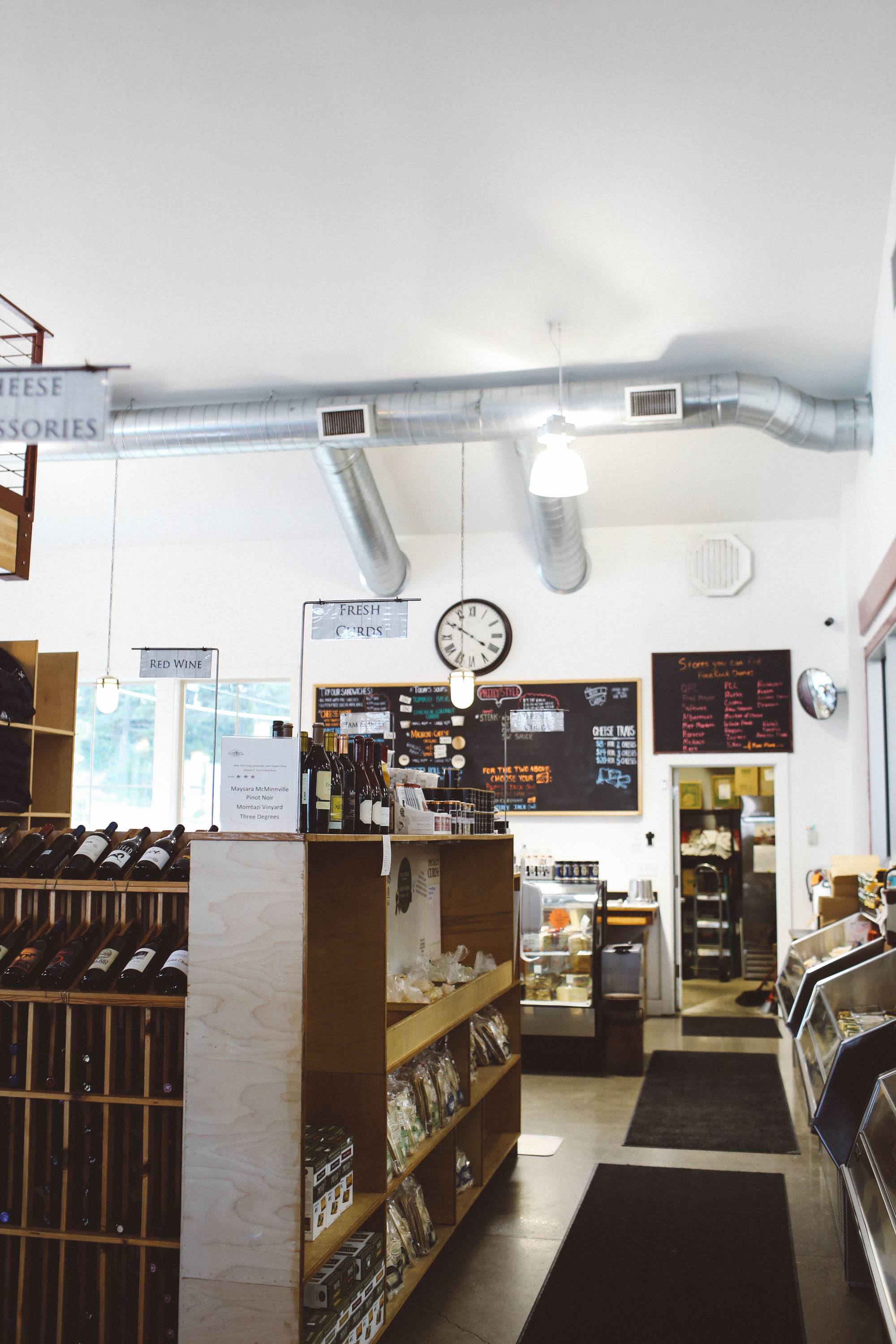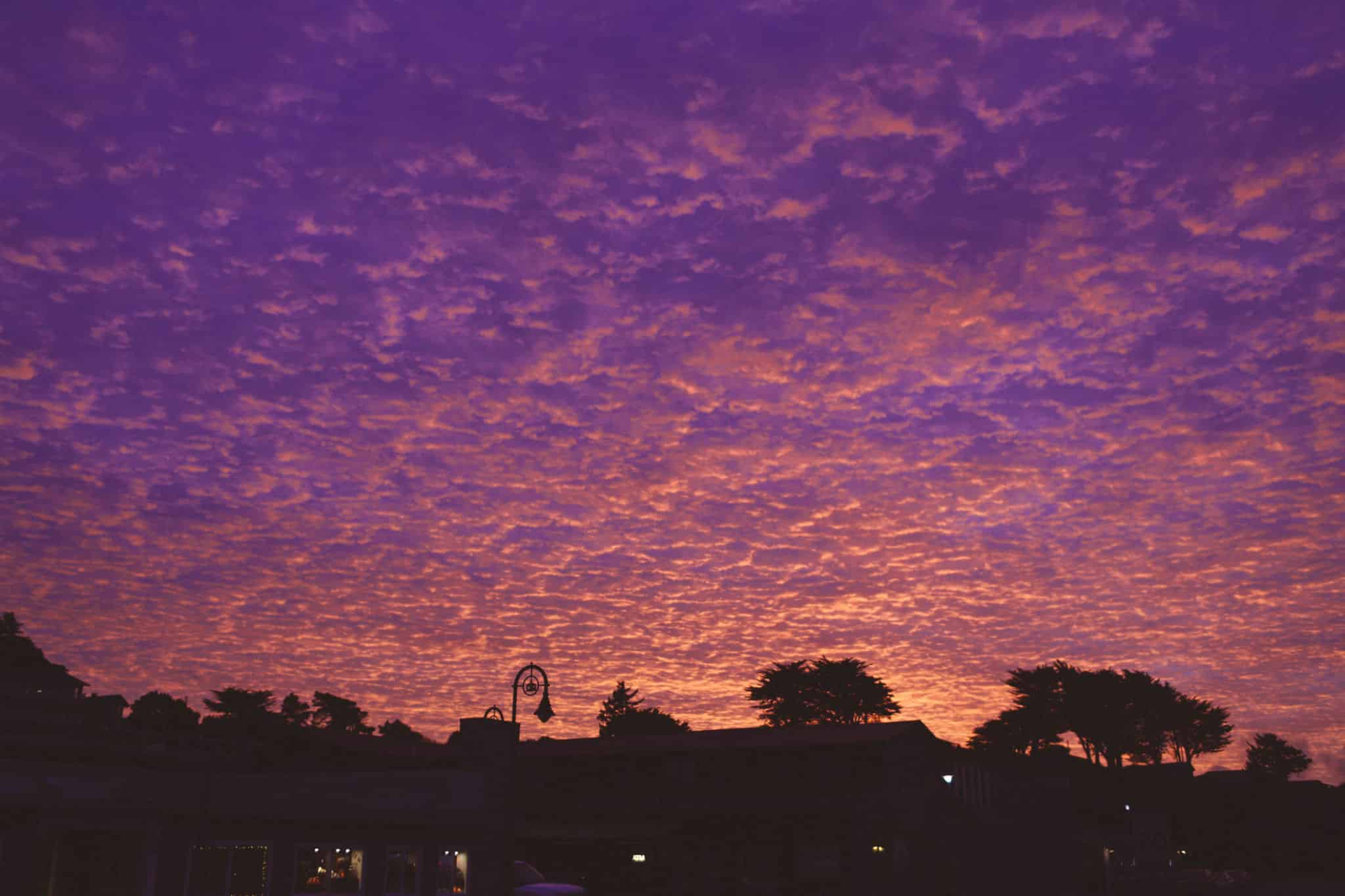 Lighthouses
Oregon has SO many lighthouses and each one is unique in its own way. On this itinerary, the best two lighthouses to stop at are Coquille River Lighthouse, which is across the bay from Bandon. They're open during the summer and is tucked right next to a pretty beach area. Also, stop at the Cape Blanco Lighthouse. During the summer you can drive up close to it, or park at the first lot and walk up. This was sweeping views of the ocean, as it sits high on a cliff. It can be windy.
Wine Tasting
On your drive from Oregon City to Bandon, you'll most likely pass through the Willamette Valley, which is Oregon's most famous wine producing region! Carve out some time to visit one or two wineries on your drive down if you have the time.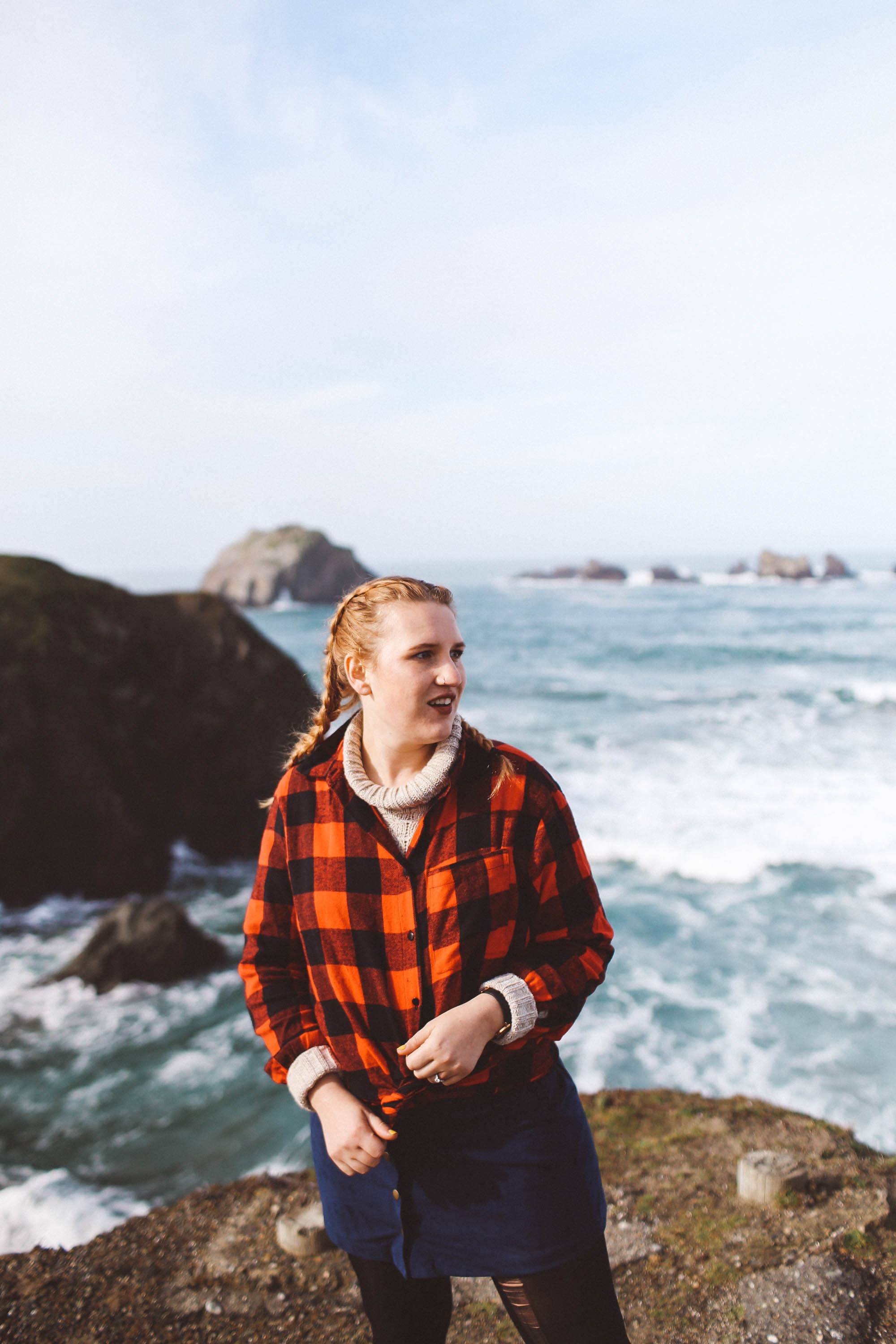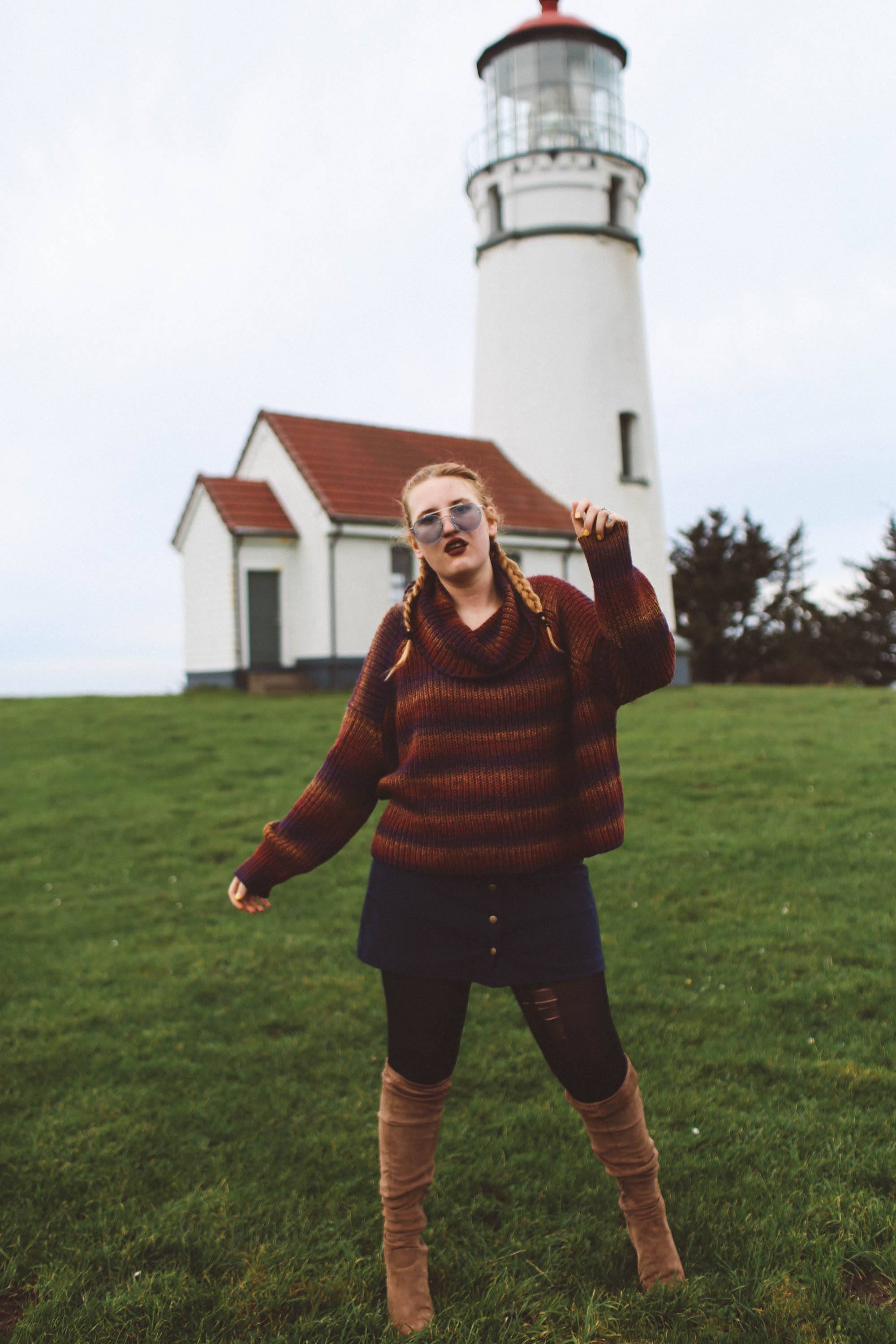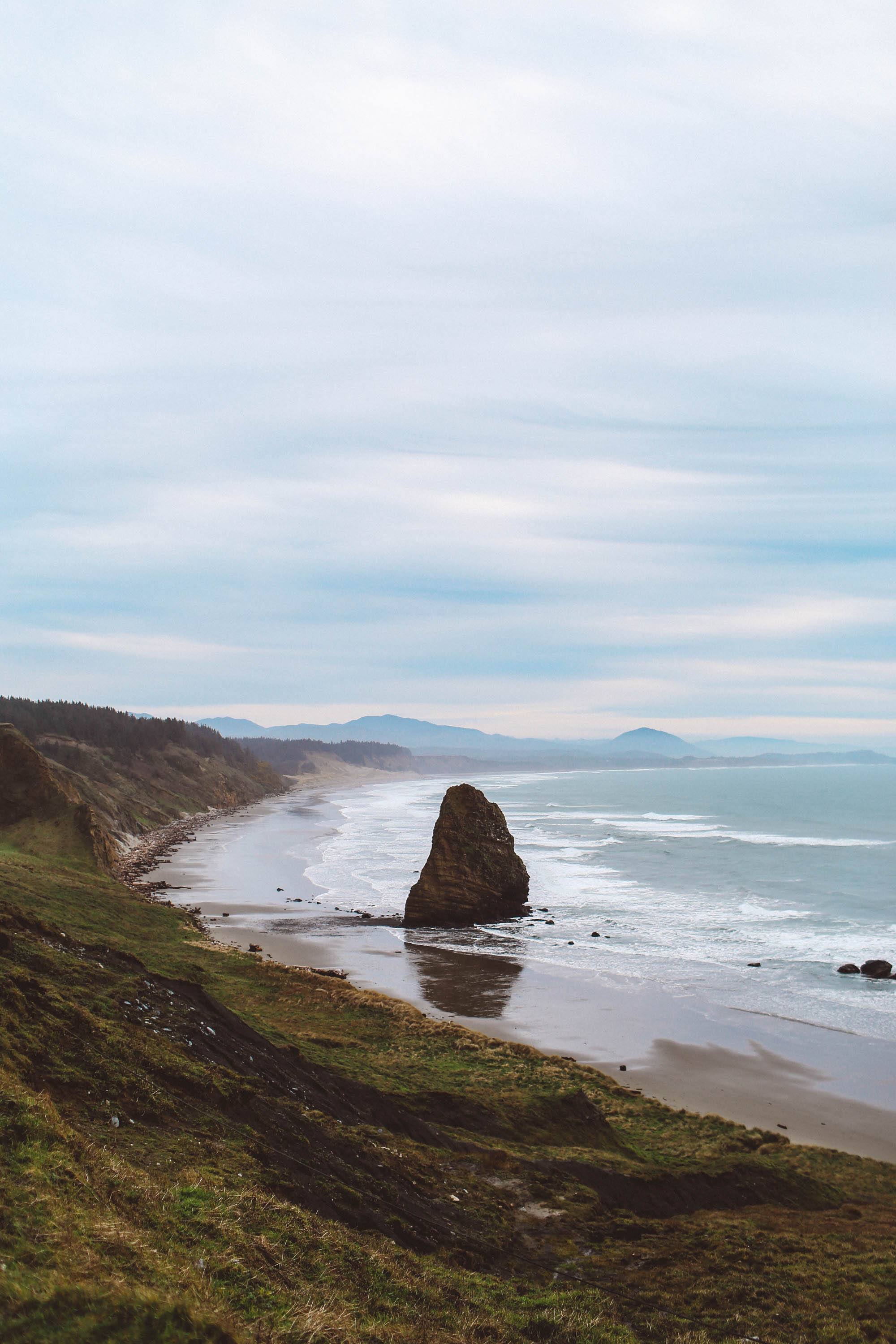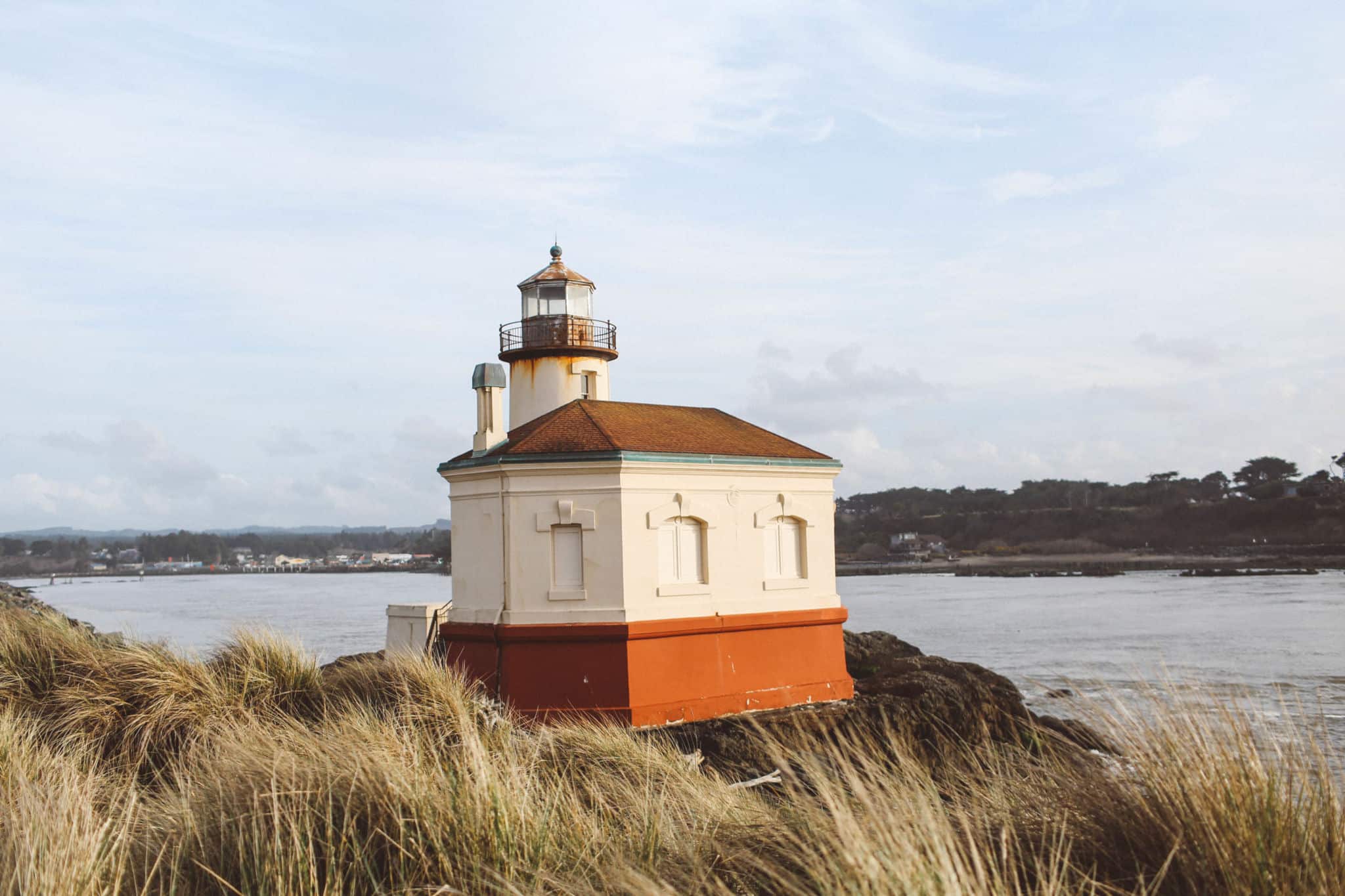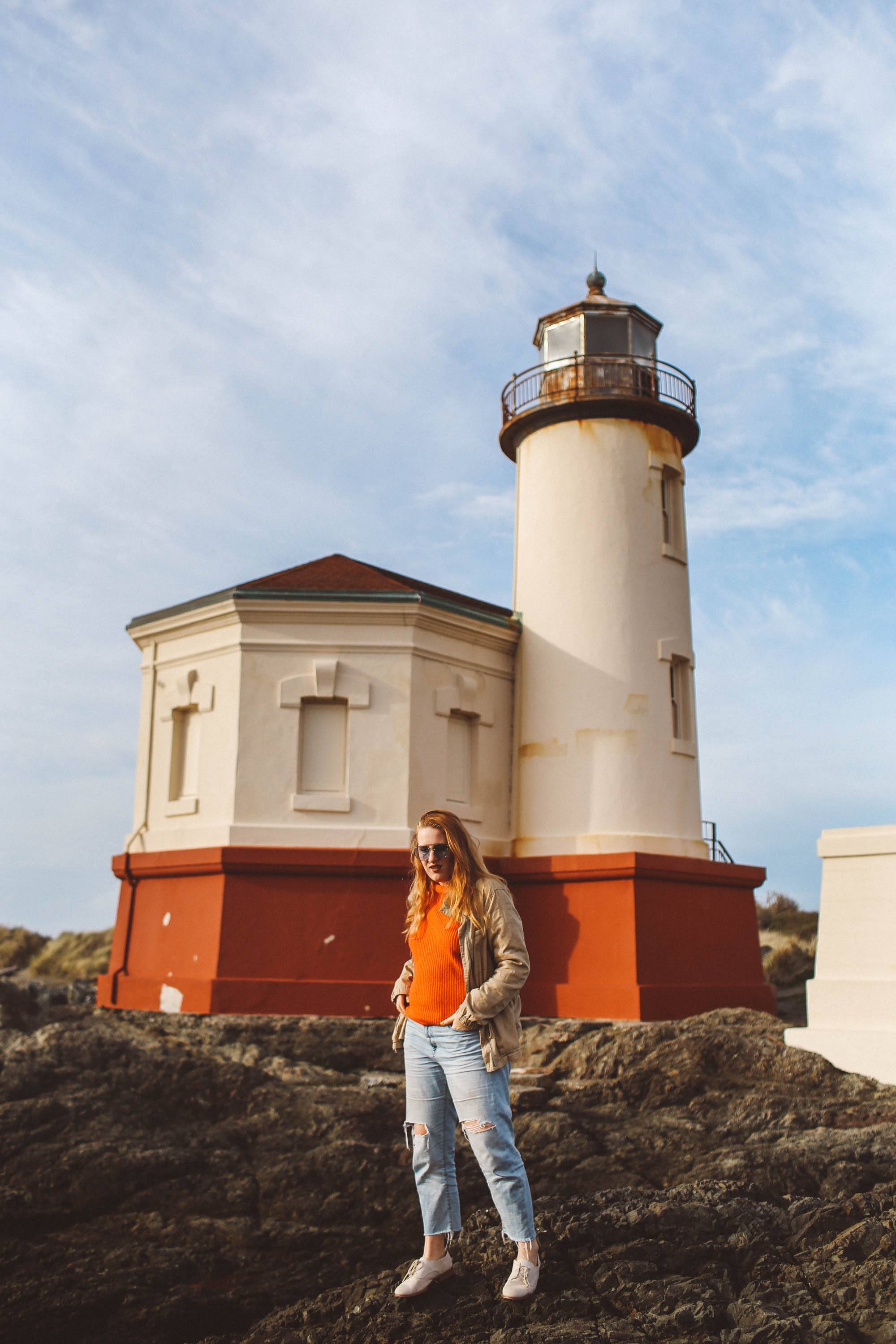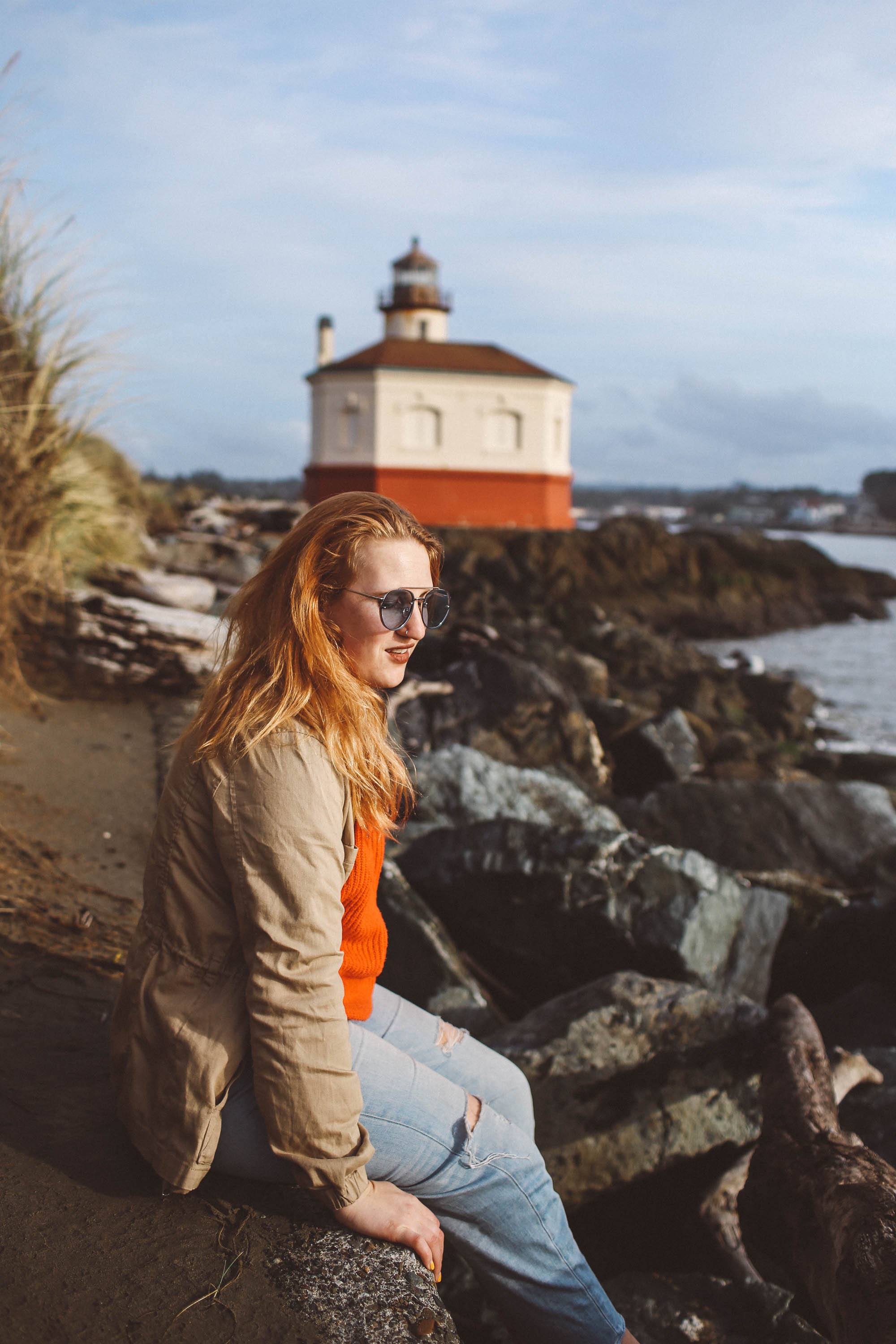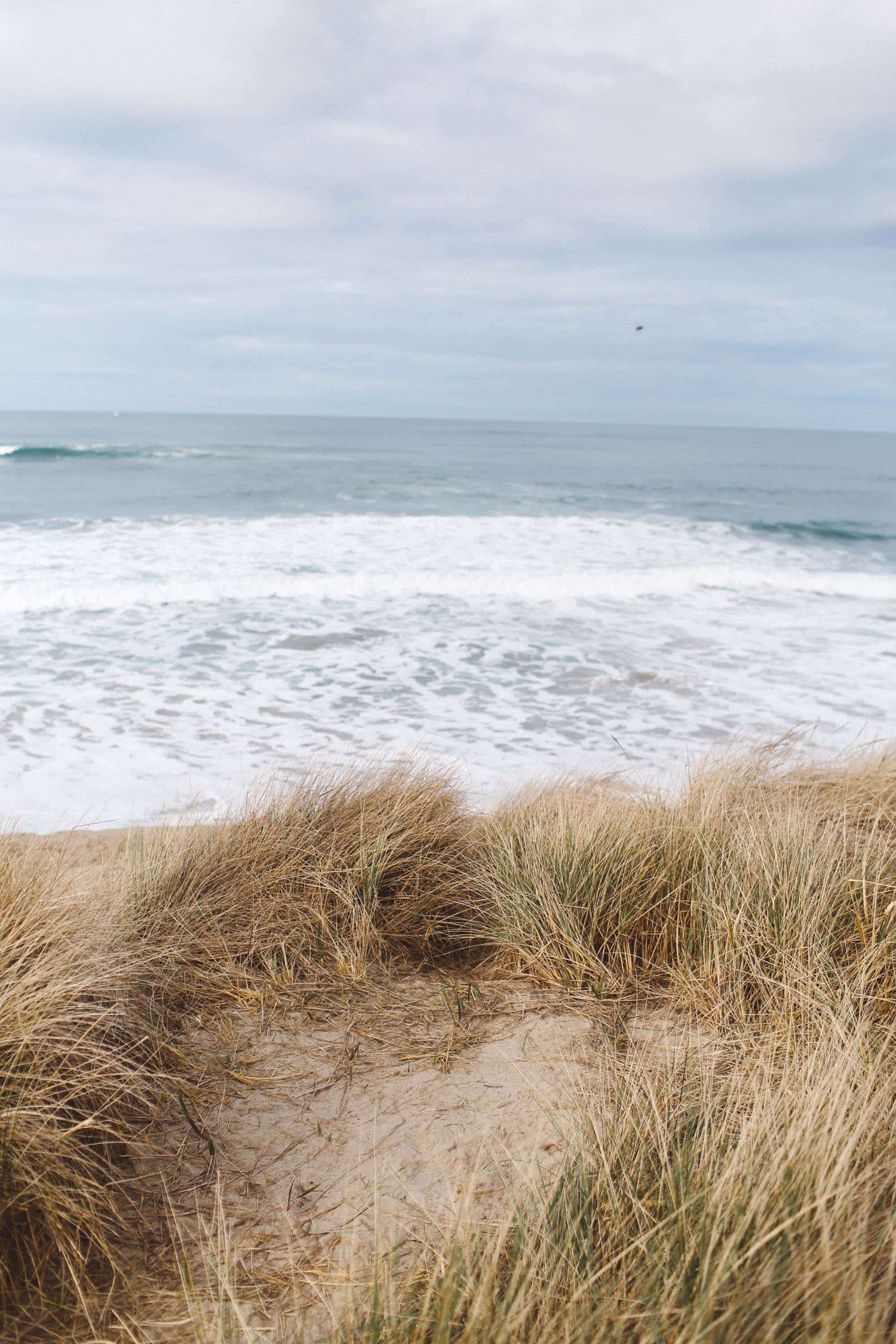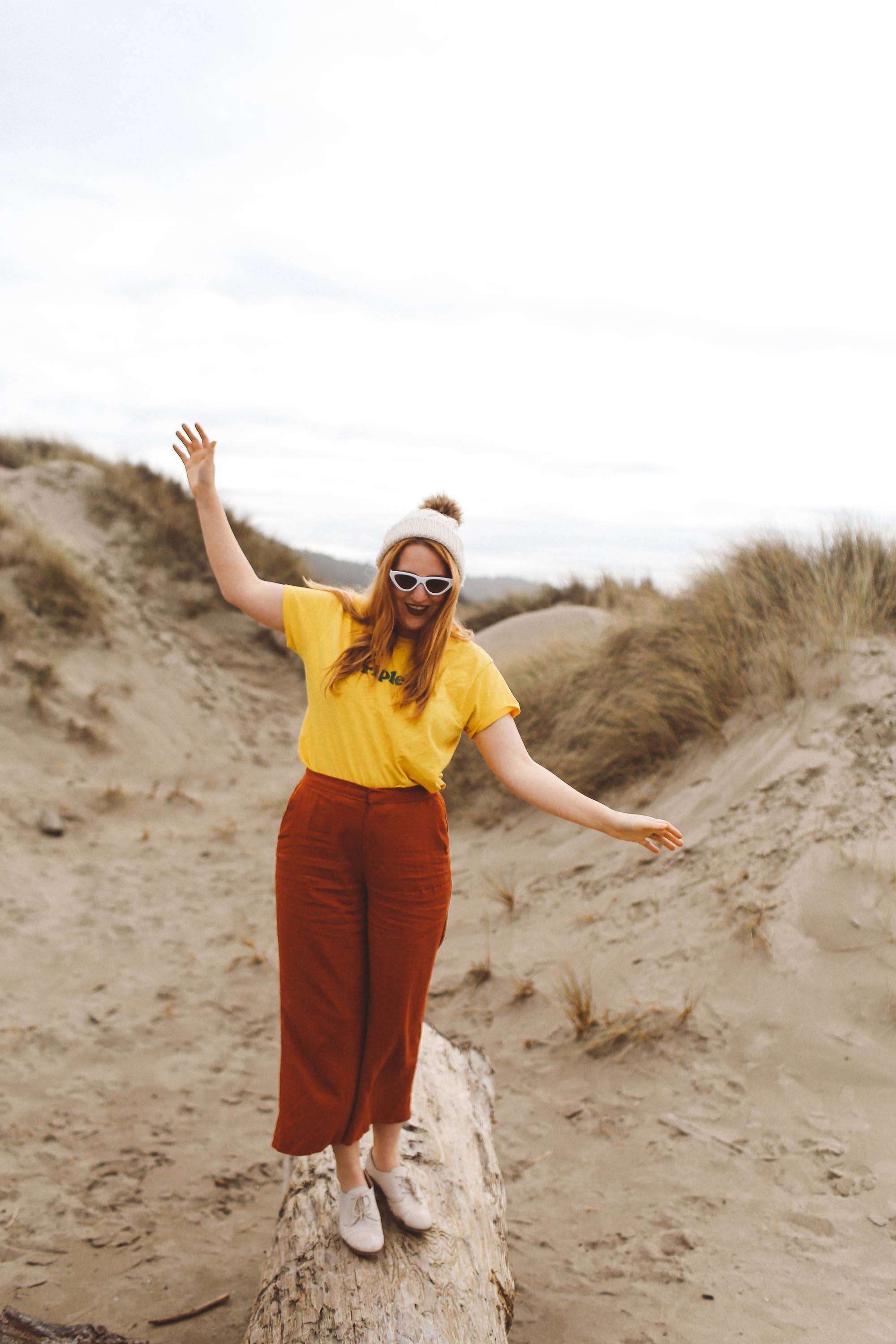 ---
Portland
---

On the trip, we only were able to spend a few hours in Portland before we had to catch our flight. That being said, I spent a whole 3-Day weekend in Portland last year and have a whole blog post dedicated just to things to do in Portland. Check it out here!
My highlights are below, though read the Portland Travel Guide for way more details.
Hotel
On my first trip to Portland, we stayed at Hotel Monaco, a Kimpton hotel, which has the cutest decor and a free beer happy hour each day. It's right downtown and they let you borrow bikes, which is the best way to explore Portland. But, Portland has SO many cute Airbnb's that are decorated like a hipster's paradise. The next time we visit, I'll be booking an Airbnb. You can get $40 off at Airbnb with this link.
Best Donuts
There's a donut war happening in Portland and I side with Blue Star (instead of Voodoo.) My favorite two donuts are the Bourbon Blueberry Basil (say that 5 times fast!) and the Passion Fruit donut.
Things To Do
Biking is the best way to explore Portland, as it's a bike-friendly city. Make sure to visit the Japanese Gardens and take a hike to the Witch's Castle.
Where To Eat
This list could go on forever, as Portland is a foodie city. Make sure to stop by the food carts for your lunches, as those have amazing food at amazingly affordable prices. Check out my full Portland guide for more restaurant recommendations!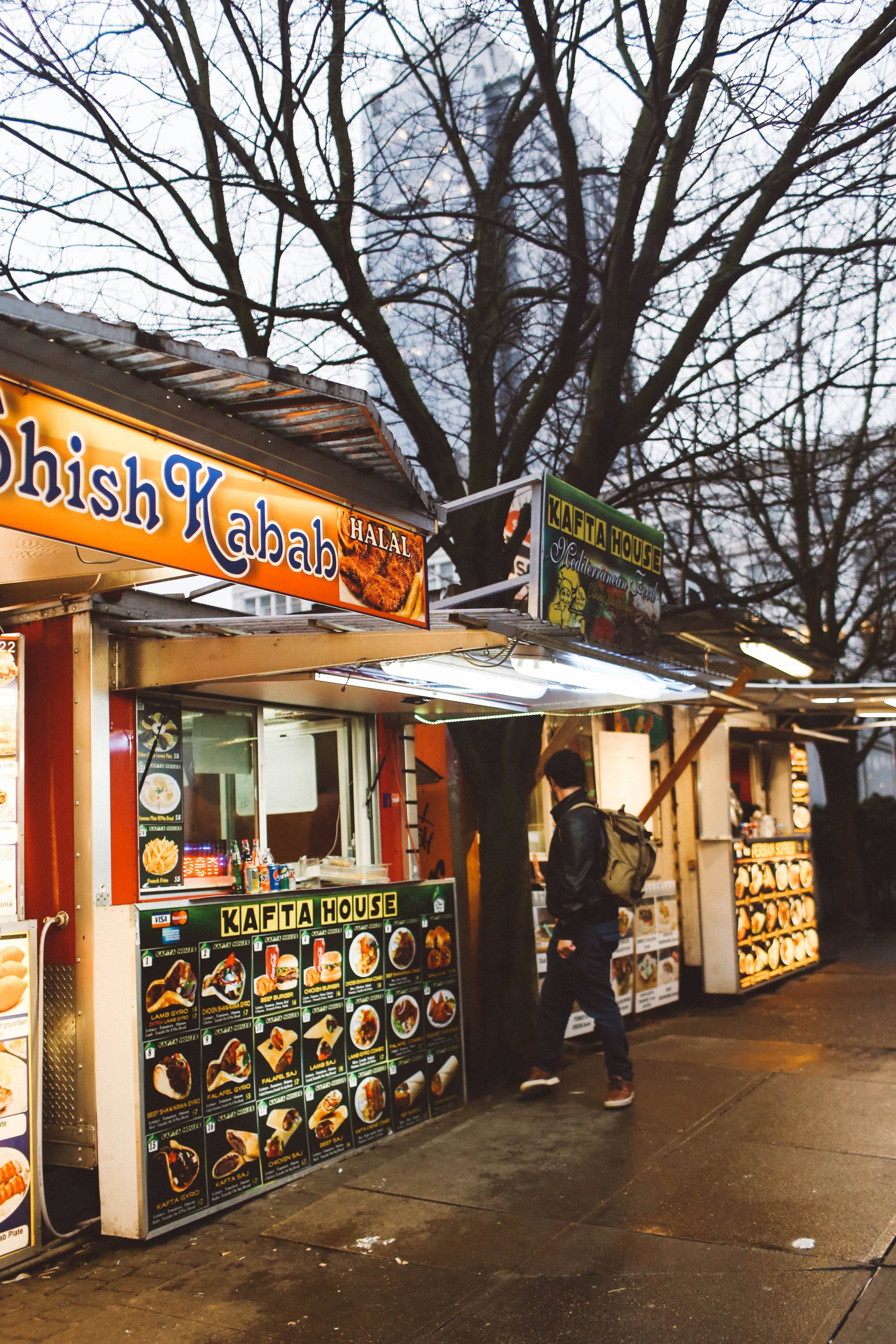 ---
I hope this helps you plan an amazing trip to Oregon in the winter! Oregon is a beautiful state with so many things to do and eat for all ages. Leave a comment below if you have questions or anything to add to this guide!