This year I've been on a major recycled materials kick. Activewear made from old plastic, compost bins constructed with sustainable materials, heck there's even water bottles you can buy now that are made from 100% recycled plastic bottles. *mind blown*
When my trusty backpack suddenly broke on me a few months ago, instead of replacing it I decided to find a new brand. I found this backpack made from recycled plastic bottles and here's why you're going to love it for work, travel, travel and anything else life throws at you (like sunrise picnics amongst pink coastal flowers!)
My New Eco-Friendly Backpack Made From Recycled Plastic Bottles
Here's the thing: I'm super picky when it comes to backpacks. As a photographer and a girl who low-key carries around my entire life with me whenever I leave the house, I totally need a workhorse. And despite my wardrobe being mostly full of color, when it comes to a backpack I always lean towards basic black bags. Versatile, functional, practical.
Here's the marks any new recycled backpack would have to hit for me:
Tons of pockets, including a security pocket from when I'm on trips
Adjustable straps that don't dig into the shoulders
Be a gender-neutral design
Designed to hold and protect a 15-inch laptop
Can fit my DSLR camera
Rated well from past shoppers
Made using at least some eco-friendly materials
Can be used as a work bag, a travel bag OR as a day pack for hikes and urban adventures
Fabric doesn't easily stain (as I get my backpacks dirty!)
Water resident
My old backpack that broke had the audacity to do so while I was standing on top of sand dunes hundreds of miles from home. It was a scramble to make it back to the car hugging my belongings to make sure nothing was left in the sand. Right up to that moment, I loved the design so I was on the hunt for similar-looking backpacks made from recycled materials (and with like, way stronger zippers!)
There's a lot of different backpacks from recycled materials out there. I chose this one from HP as it looks very similar to my previous broken backpack (RIP) and was at a similar price point, but this one is made with 7 plastic water bottles.
I took it on a test drive last week with my husband. I packed my HP backup with homemade breakfast sandwiches, coffee, water and sweaters, then dragged him out of bed at 5am to catch a sunrise on Montara Beach next to a bunch of really pretty flowers. This exact lookout spot is on the Southernmost part of the beach. There's a trail from the beach that takes you to the top of the bluff where these flowers are (and a really cool view of the rugged shoreline below!)
That trail was super dirty but the fabric of this backpack made it easy to brush off. I loved the comfy straps and pockets. It was just what I was looking for. I know I can stuff this baby with a laptop, camera, chargers and tons of other things like snacks, a water bottle and hand sanitizer on future work trips or day adventures.
HP doesn't just have sustainable backpacks – they just launched other items made from recycled plastic bottles if you're looking for a different style!
[shop-page-wp id='26483,26485,26487′]
One thing I really love about this HP backpack is how there's a dedicated laptop compartment that's padded. Other recycled backpack brands like Terra Thread don't provide that additional protection which is one of my deal breakers on a laptop backpack. I don't want to risk it falling out or banging around next to food.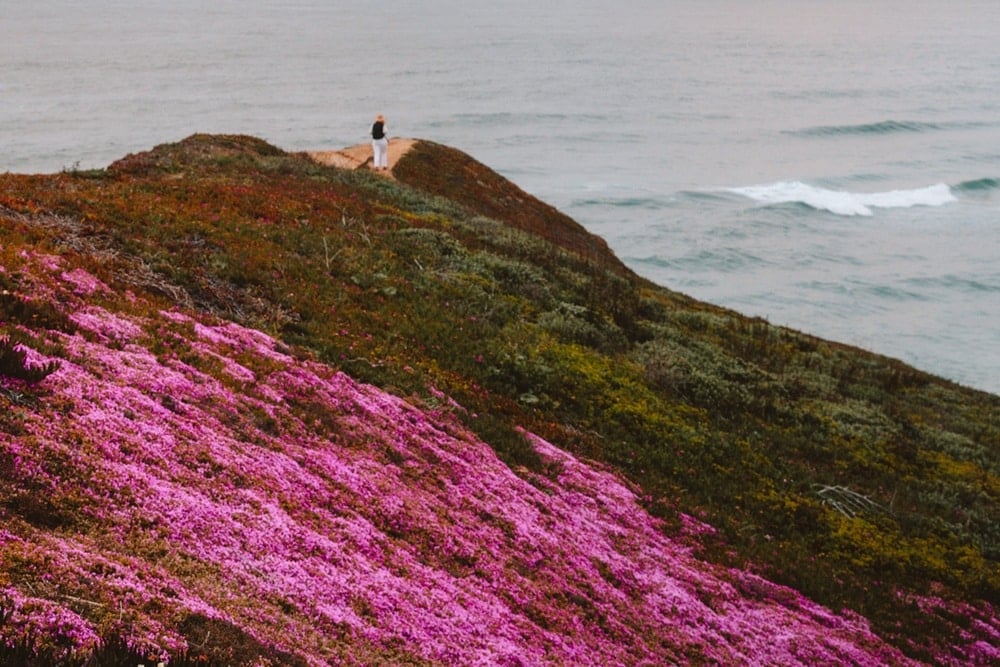 How Are HP's Eco-Friendly Backpacks Made?
HP's recycled backpacks are made with 7 water bottles. It has a cool process similar to how recycled nylon is made. Bottles are collected and melted down into pellets, which are made into a very thin fiber. This fiber is then spun into yarn and that's used in the making of the backpack.
Cutting down virgin plastic is one of the steps taken in the supply chain process to reduce carbon footprints, and it keeps landfills a little cleaner.

Real Talk Kara: Isn't Partially Recycled Products Just Greenwashing?
Elephant in the room: greenwashing. I've chatted on the blog about ethical fashion and greenwashing before. A product made from 100% recycled polyester or all organic cotton canvas isn't the same as a product made with partially recycled materials. Of course, it's not.
The uncomfortable truth is it takes privilege to only shop 100% zero waste, ethical and sustainable products. There are some sustainable backpack brands out there at cost upwards of $200 which is absolutely not attainable for everyone. Anyone of any income should be able to combat plastic waste on an individual level, and shop for environmentally friendly products that fit their budget. That's why I love this backpack offering from HP!
I love my upcycled backpack. It's going to be my carry-on whenever I finally fly again, and always be what I grab when it comes time for shooting work projects or even just going on day hikes. Making bags from recycled materials should be the standard for any brand, periodt. And I'm happy to add this to my collection of cool things that used to be water bottles.