I couldn't wait to write my Portland Travel Guide for you! Below, find all the best things to do in Portland, Oregon. I was excited to write this guide because we had a great time, but also largely because Portland wasn't at all what I expected and I wanted to share my experience with you.
Based on how media talks about Portland and it being a major west coast hub, I expected it to be much larger – like, the size of Seattle. In reality, Portland has more of a small town feel where it takes 10 minutes or less to drive anywhere you want to. By the middle of the first day, I had the downtown area memorized. Not a bad thing, but not what I expected. Good thing we planned a whole day outside of the city in the woods, or I would have gotten a little stir crazy as there is only so much food and drinks you can pack into your body in one day!

My friend Justina and I visited for three days on a girl's trip and this is what we did! I hope this guide will help you plan your own trip to Portland/Oregon. We flew into Portland late on a Thursday night to extend our 3-day weekend longer.
---
THURSDAY
---
Hotel: We stayed at Hotel Monaco in downtown Portland.  This place is so freaking cute! Think fun wallpaper, bright colors, classy decor and dogs to make friends with because it's a pet-friendly hotel. They also have a free happy hour each night in the lobby, bites included! You can also borrow bikes so you can explore the city.
Portland is also home to a LOT of very well decorated Airbnb's. In a land of hipsters, they do Airbnbs right. Get $40 off Airbnb with this link.
After checking in, we shared some wine and then headed out to grab a slice of late night pizza. Just the beginning of our food journey here in Portland.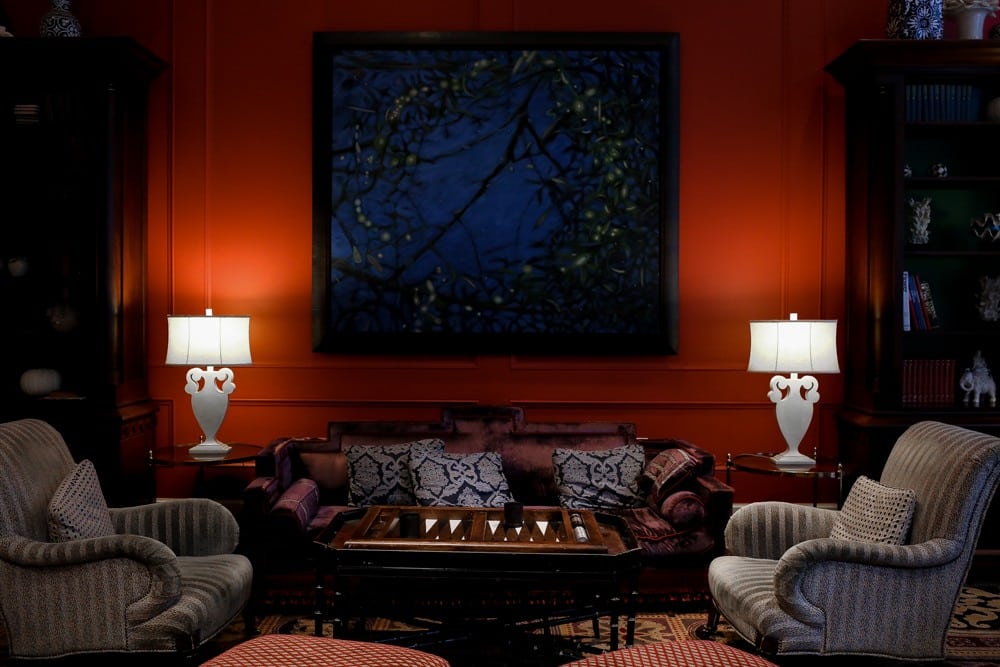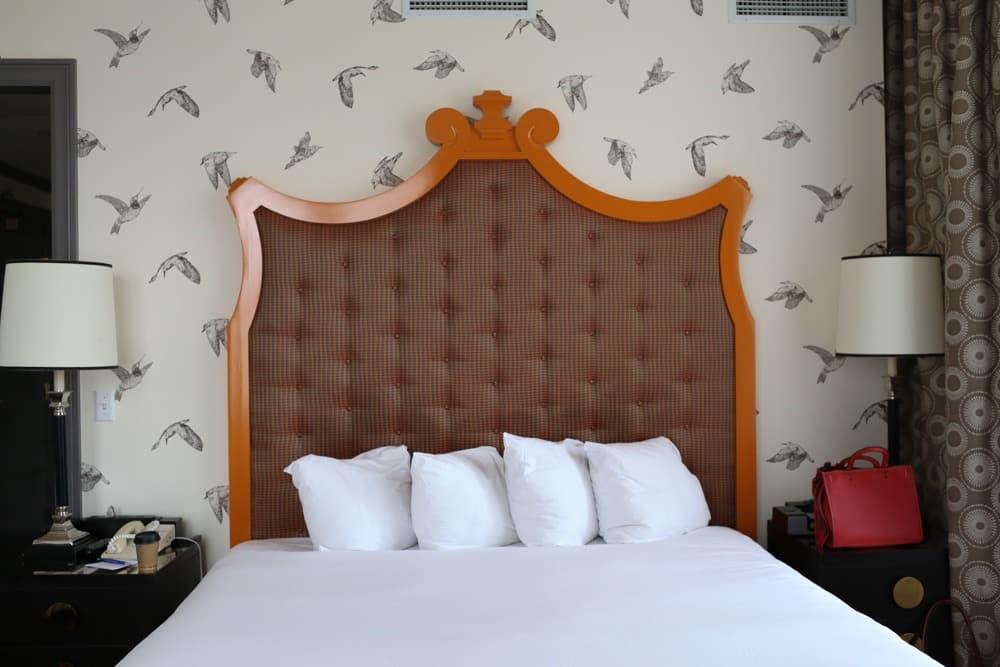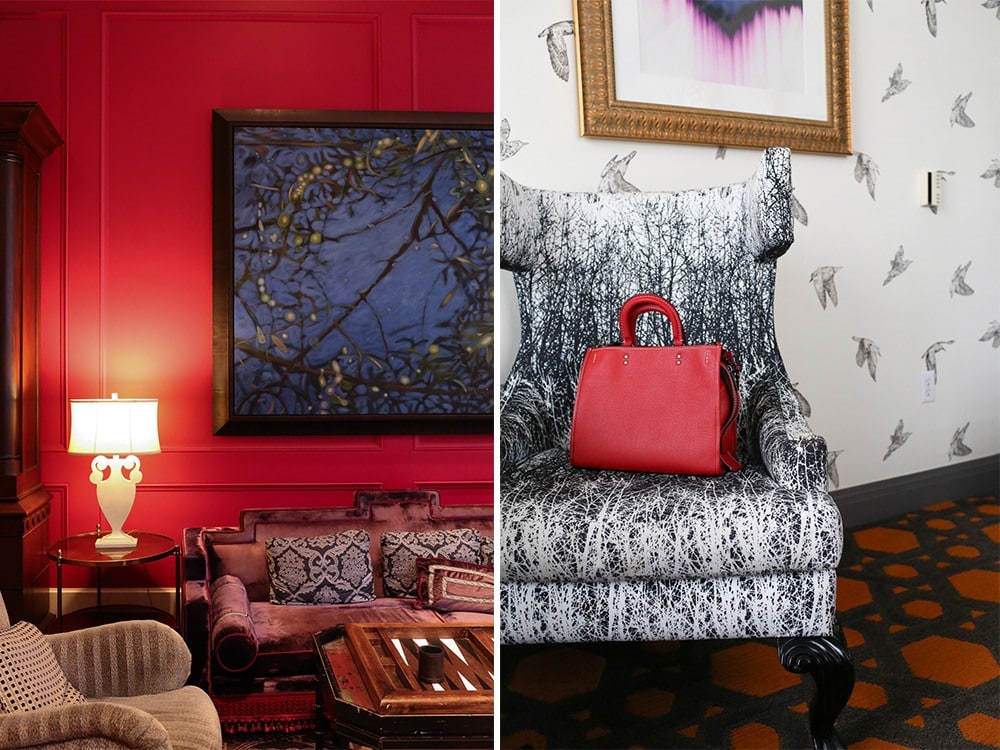 ---
FRIDAY
---
Breakfast: For breakfast, head to Blue Star Donuts. There's a few of them in Portland. If you're staying downtown, head to the one on Washington Street. Robin has been talking about Blue Star's Bourbon Blueberry Basil donut for months now and I must say, the flavor lived up to the hype. They have outstanding donuts and frostings. I also tried the passion fruit with cocoa nips and holy cow! I've never tasted a more flavorful donut in my entire life. Voodoo is that famous place you always hear about, but every local knows their donuts look pretty, but don't taste as good as Blue Star.
Bike: We borrowed uber cute vintage-style bikes from Hotel Monaco and opted to explore the city that way for the morning. Vintage bikes are kind of tricky to ride the first time, but you'll get used to it. They have about 7ish bikes and it's first come, first serve, so make sure you claim one early if you want it. If you're staying in an Airbnb, use Biketown, the Portland city bike share program. If you plan on biking more than one day, I recommend signing up for the monthly pass for $12. Portland is so bike friendly, you'll want to take it everywhere!
We biked to the base of Washington Park, looped down through the Pearl District to the riverfront, weaved through Chinatown and Downtown back to Hotel Monaco around Noon. The city is very peaceful and there wasn't as many cars downtown as I thought there would be.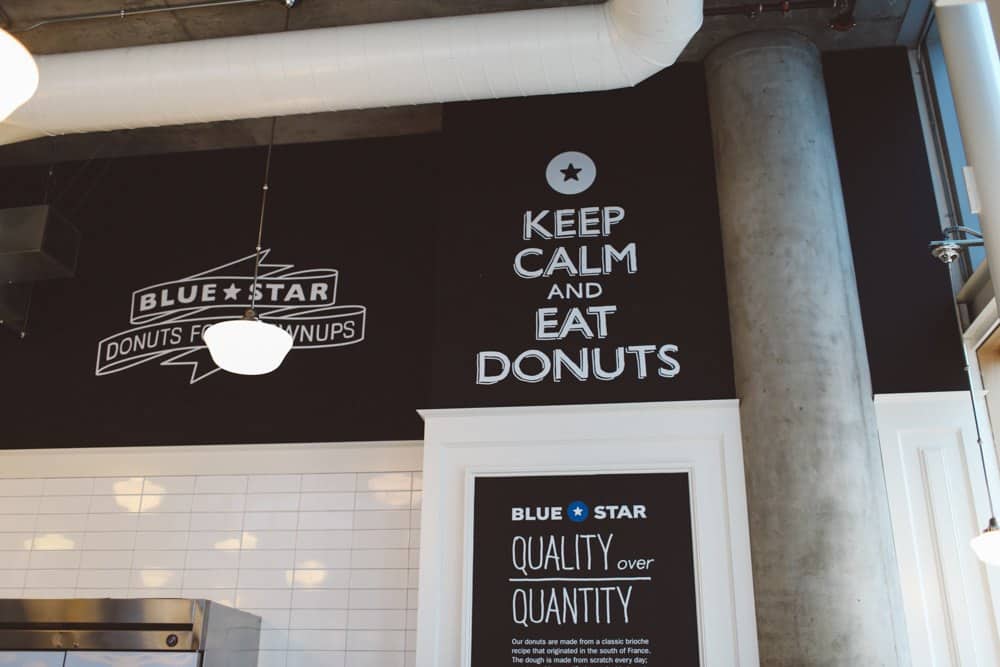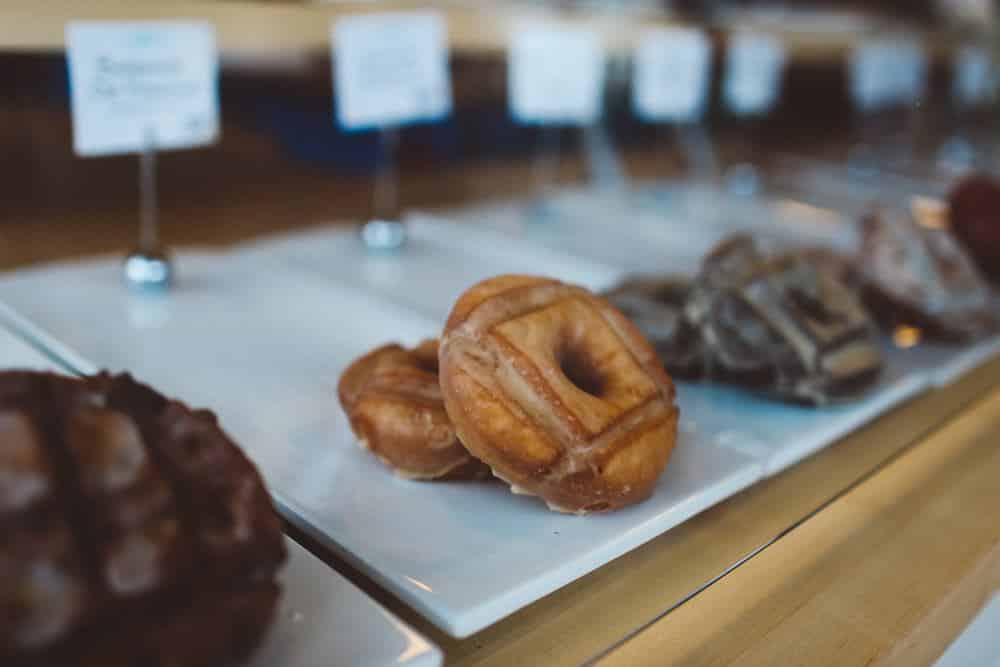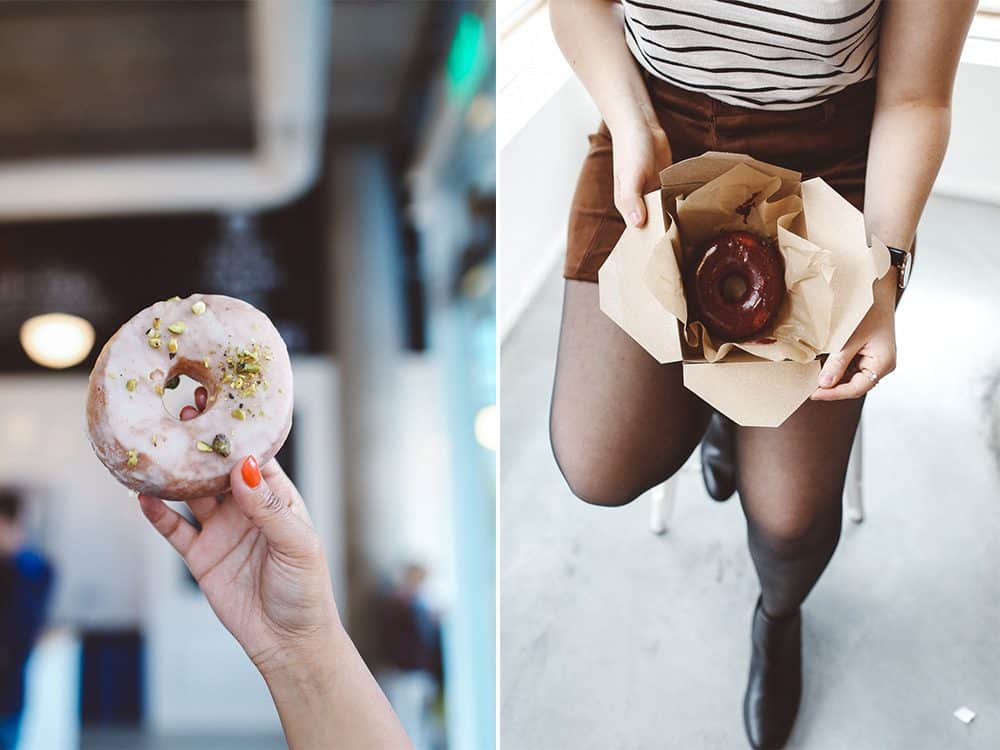 Coffee: I loved Heart, a small coffee shop chain in Portland with the best spicy chia I've ever tasted.
Lunch: Tasty n Alders, a restaurant on Alder and 12th street. For some reason, at 1pm on a normal Friday afternoon, the waitlist was over an hour, so I recommend making reservations. While waiting for our table, we walked around the local shops and checked out the food cart squares. At Tasty on Alders, we just grabbed food, but looked like they had a great tap menu and wonderful sides to try as well.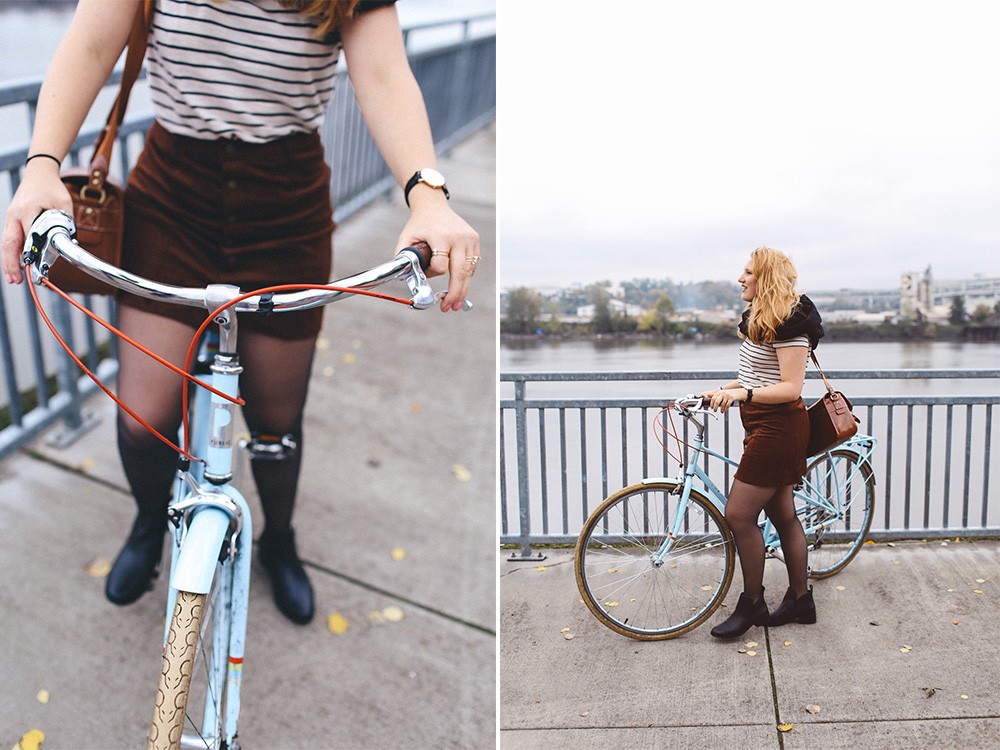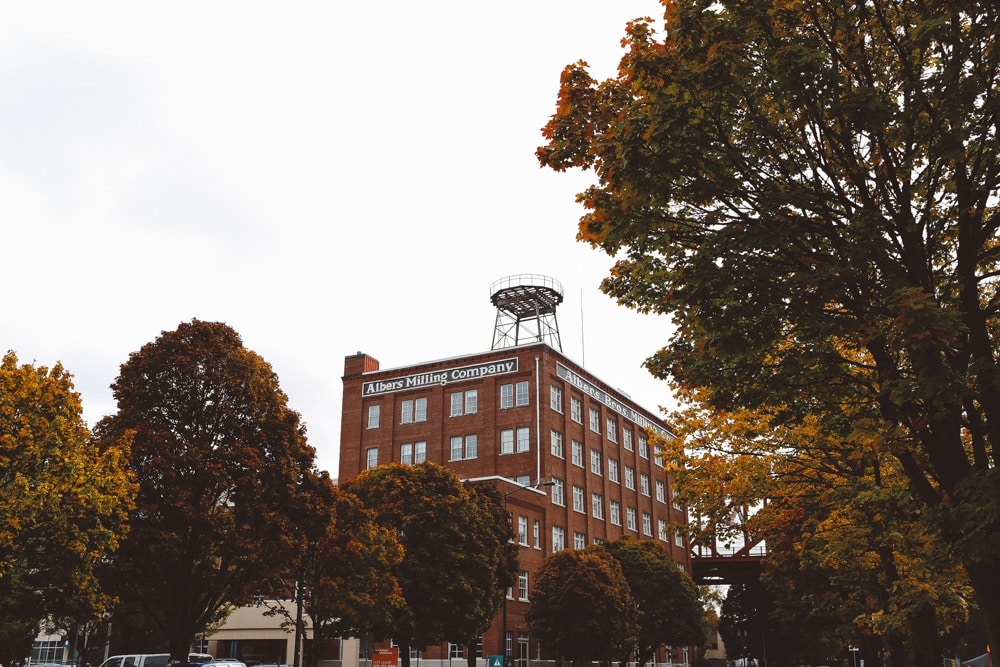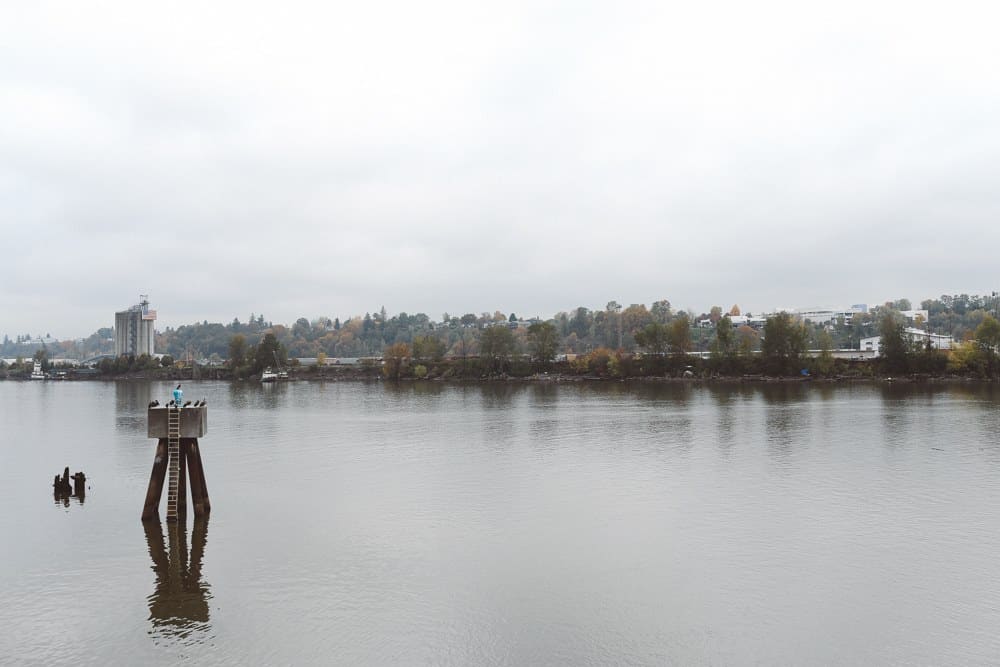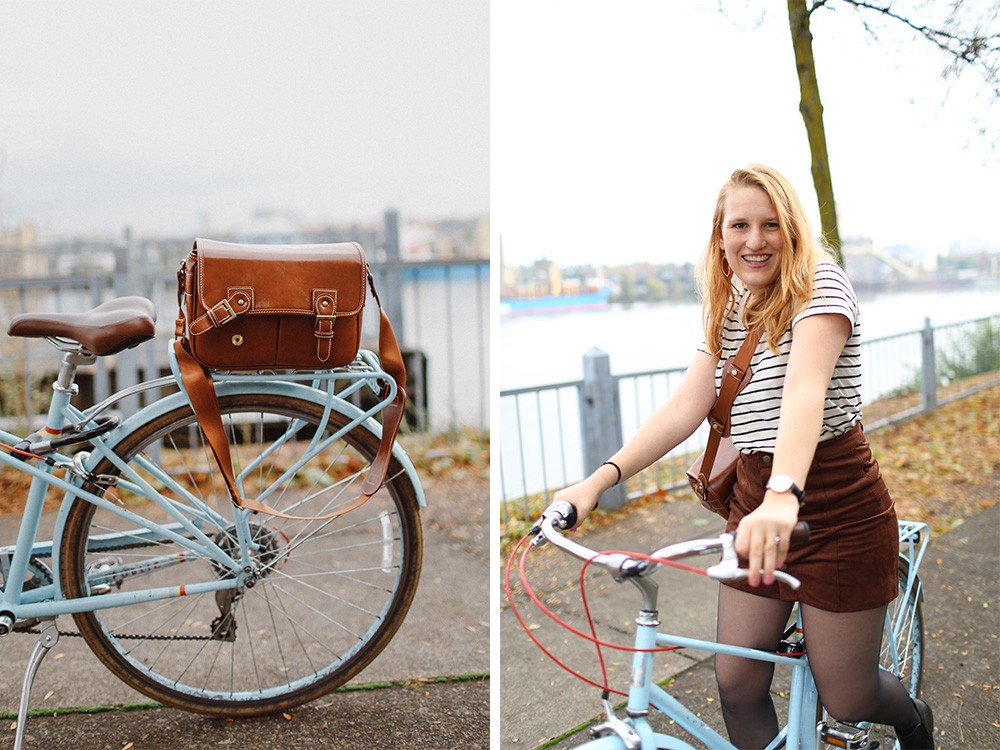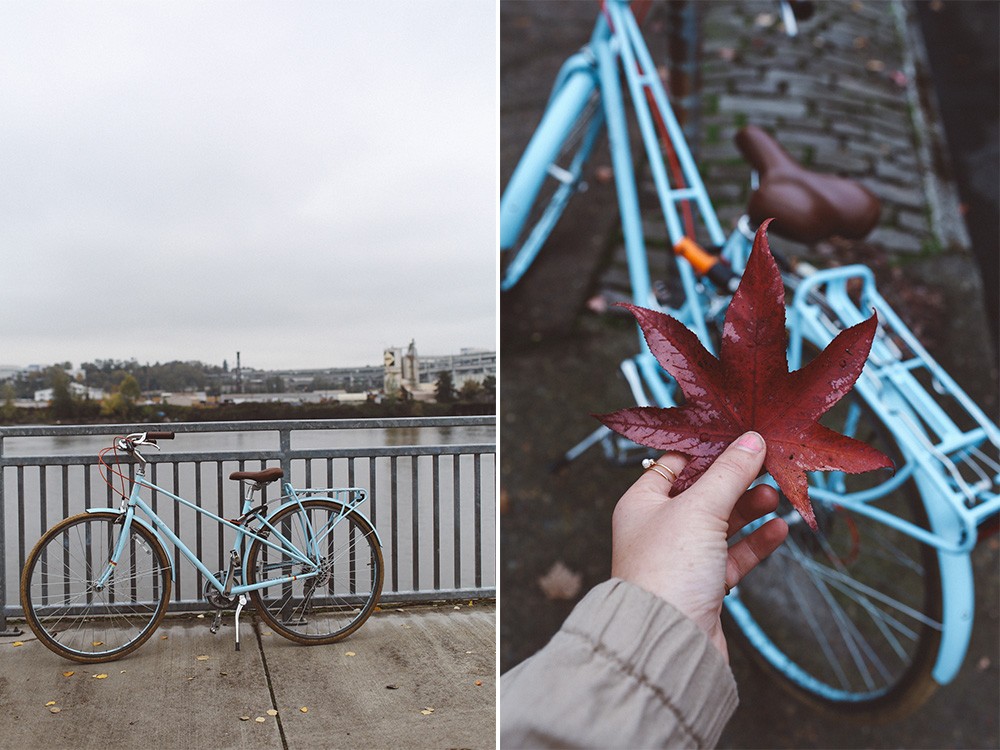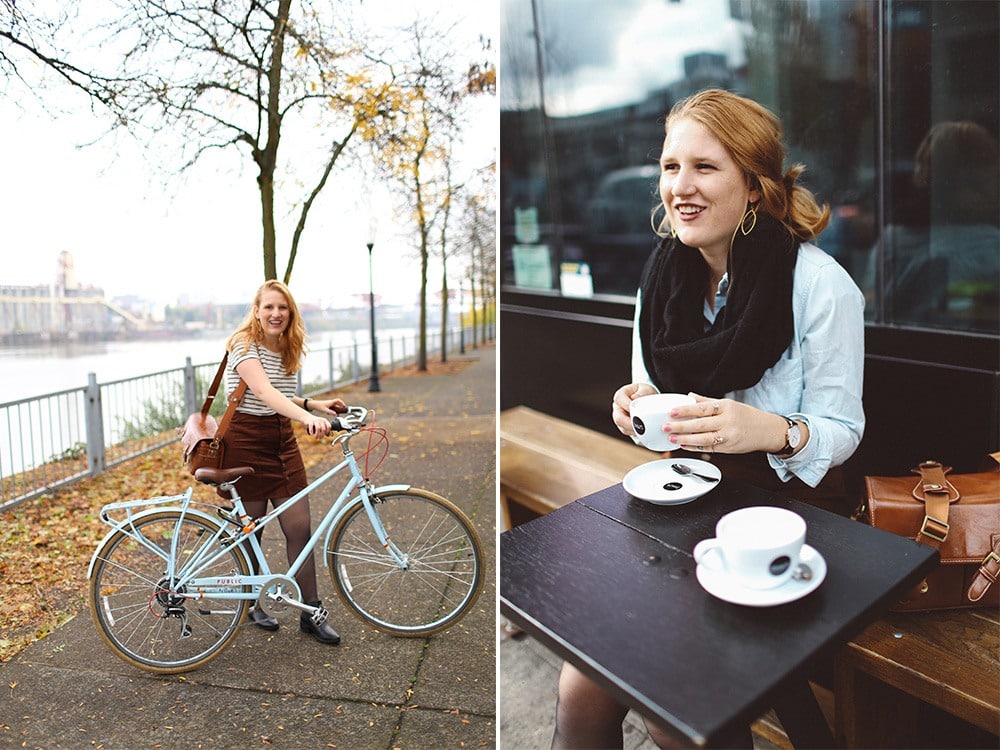 Happy Hour + Bites: Head to Portland City Bar Grill which is on like the 30th floor of downtown building. As someone who loves drinking on tall places, this was a favorite of mind.  I recommend heading there closer to 4pm when happy hour starts so you can grab a seat next to a window, watch the sunset over the city and stay for the evening. They have jazzy piano music and a very classy, romantic vibe. Happy hour beers were under $5 and I got Mac n Cheese for $6.
Late Night Drinks: Go to the Whisky Library to try and sample some fabulous whiskey in a fabulous spot. It has an old-world library feel, almost makes you feel like you walked into a Scottish library. Make sure to make reservations for here, the wait can be up to 2 hours if you don't.
By 8 pm, we had realized that the Portland crowd is an earlier one then we're used to. There was also just fewer people out than there would be in San Francisco. Because of this, the "west side" of Portland felt a bit dead to us.We hit up another cocktail bar, which was full of old people, then moved onto Kelly's, a dive with motorcycles hanging from the ceiling. This was more my scene-  cheap but good beer, tasty bar food, cozy booths and people watching. We ended the night at around midnight.
---
SATURDAY
---
Breakfast: Stop by a food truck for breakfast! Portland is crawling with so many food truck options. It's the thing to do there and you can't leave without stopping by at least one.
Witch's House: Strap on your hiking boots and go explore the outdoors around the Portland area today! Start at the Witch's House, a small hike within the city of Portland. Park on the road, walk down the surrounded by green trees to find an old stone "house" hidden in the woods!
Multnomah Falls: A short drive from Portland is this beautiful waterfall. On weekends the lot can be full, but it's worth it. Multnomah Falls is stunning. Walk up the hill to stand on the bridge. You can feel the mist of the waterfall, it's that strong!
Mount Hood: Keep driving and circle around Mount Hood. The scenery leading up to the mountain is just stunning. Read a complete guide to Mount Hood here. If you have more than a 3-day weekend, I highly recommend spending a night in the Mount Hood Territory. If you don't have the time, it's just about 30-45 minutes from downtown Portland, so you'll be back before happy hour!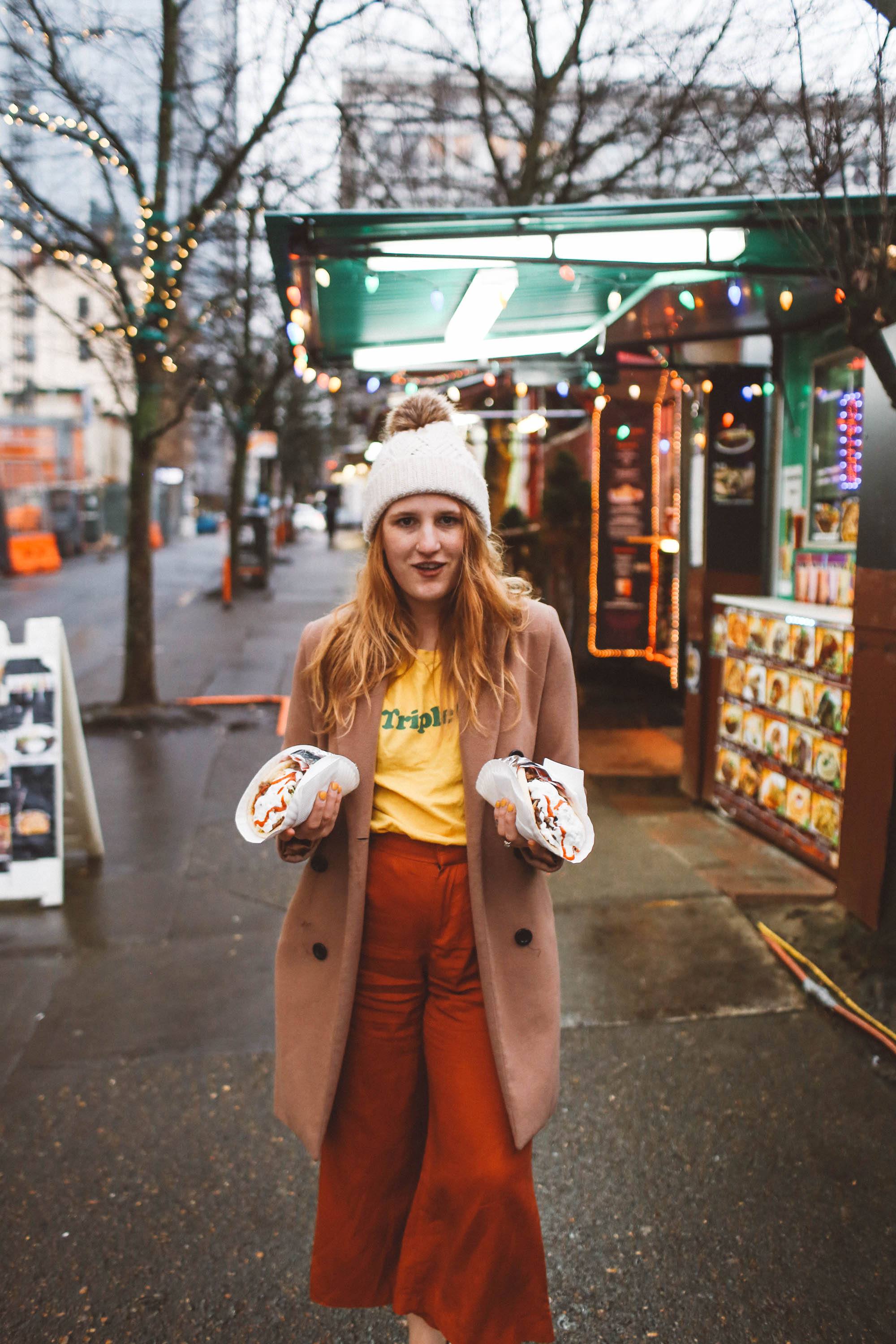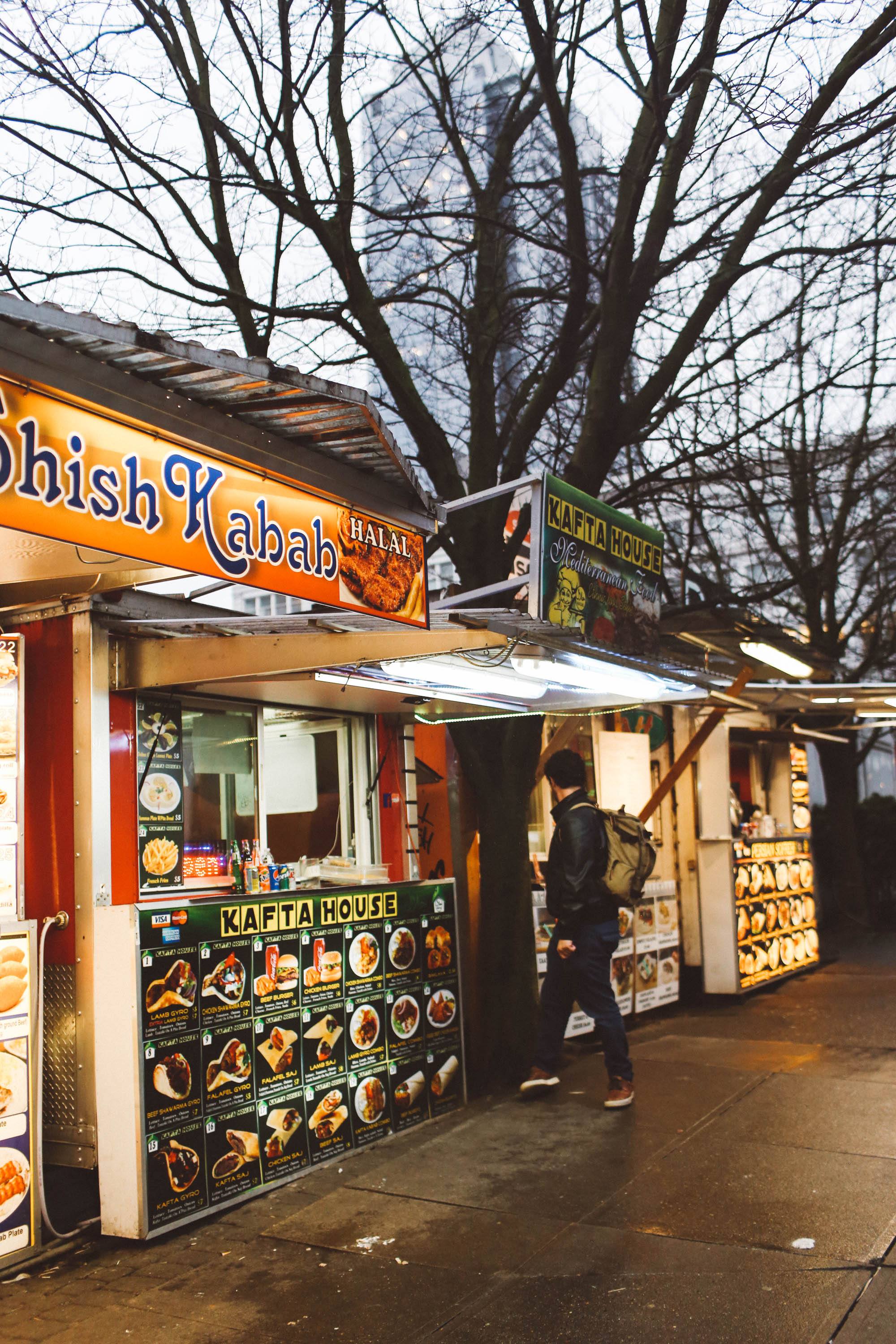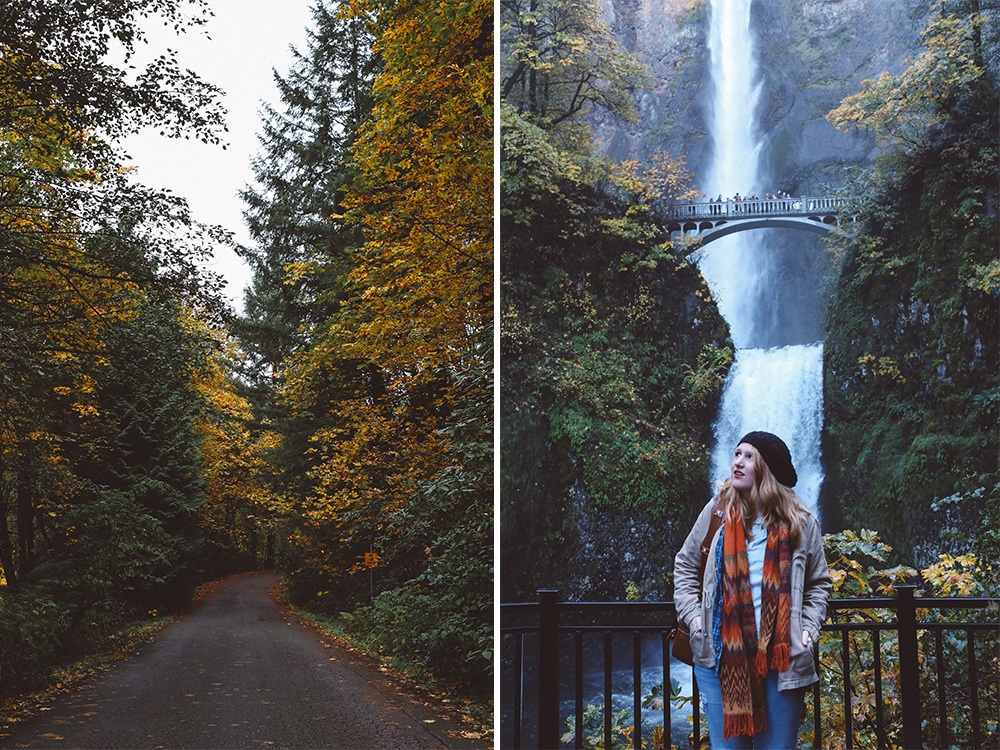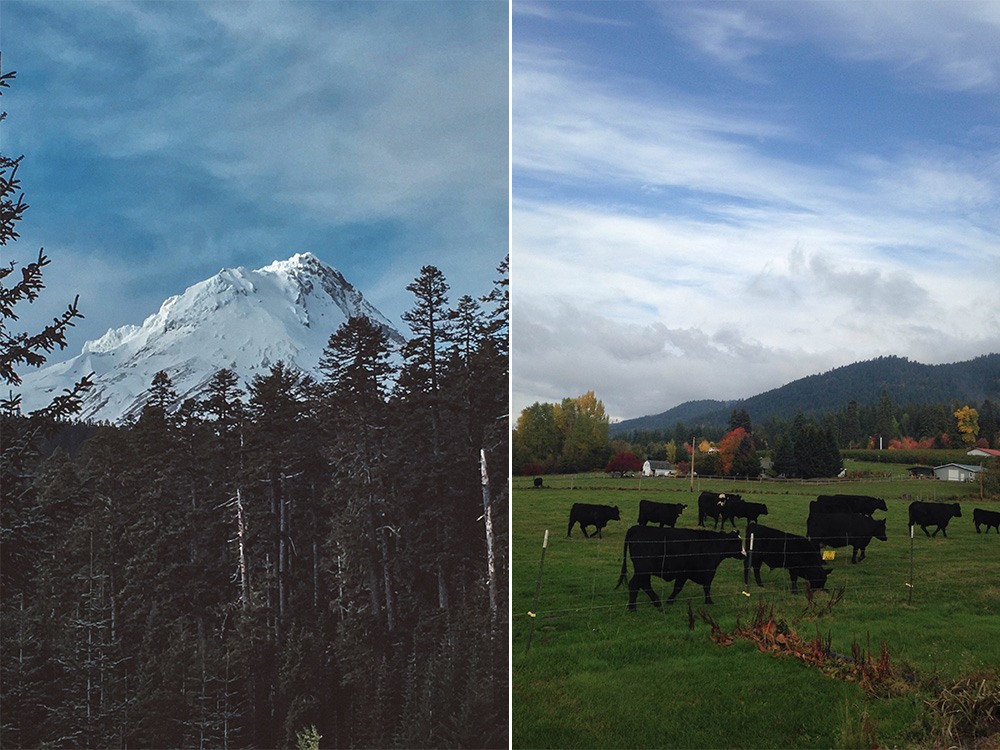 Drinks: Hop over to the East Side of the river on Burnside Street to Ron Tom's, a local favorite. The inside is wide open with lounge seating, but the outside patio is the best. it's covered and has fires going, so it was cozy place to sip on drinks.
Dinner: For dinner, pop over either to the pizza joint next door to Ron Toms, or The Fireside. They focus on organic, local farm foods and offer a patio to sit on during warm evenings.
---
Sunday
---
Brunch: We were craving a good brunch and headed out to Screen Door on the East Side around 11am. They also had an hour wait, so we wandered around the area and grabbed another spicy chia at the east side Heart coffee shop. The guy at Screen Door told us it would be at least an hour before we get a table and to check back then — we checked back a little before an hour only to learn they decided to move some names around and already gave our table away. And instead of putting our names right back on the top, we had to wait for another 3-5 tables before we got seated. This bothered us a lot, but the lesson is to not walk away from Screen Door even if they tell you that you can. I'm happy we waited even longer than we should have because I loved my brunch. I got the Garden Grits which were perfectly cheesy and savory. Justina had the oyster sandwich and it tasted so fresh. People around us were having the fried chicken and waffles. Be warned, this dish is meant to serve two people because it's stacked with 3 HUGE pieces of chicken on top. Everything on the menu looked so great and is a place to go for southern food in the city.
Screen Door is famous for their huge fried chicken and waffles!
Ice Cream: Salt and Straw is famous in Portland, so famous they opened up a few locations here in California! Opt to do an ice-cream flight and try a lot of flavors. We tried olive oil, lavender, strawberry basil and brittle flavors. My favorite was the olive oil. You wouldn't think it would be good, but it was!! So unique and nothing I've ever had before. They always have seasonal flavors, so try some of the extra strange ones, too.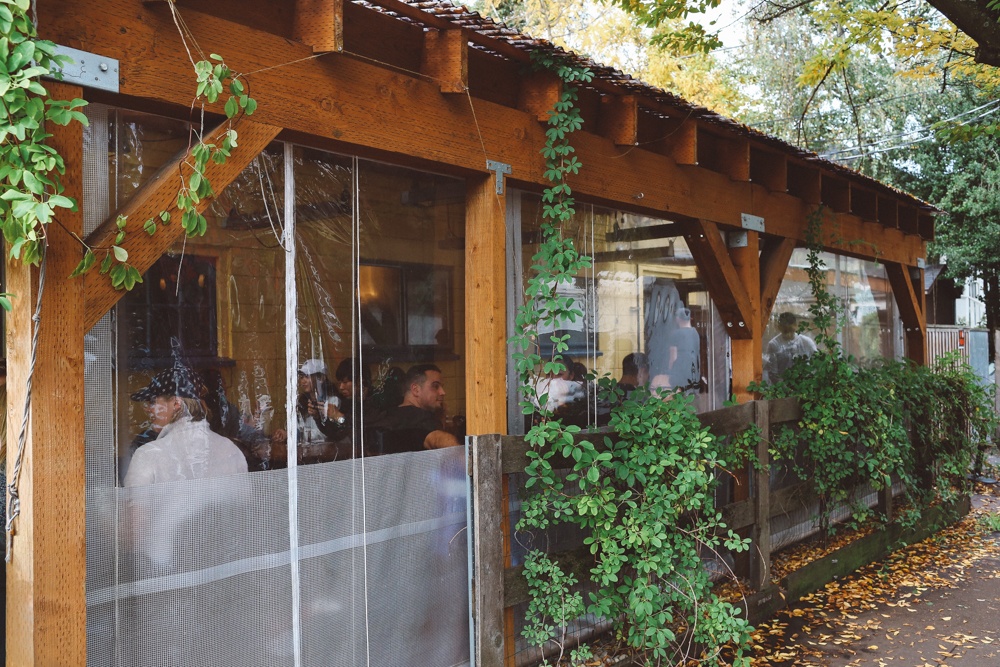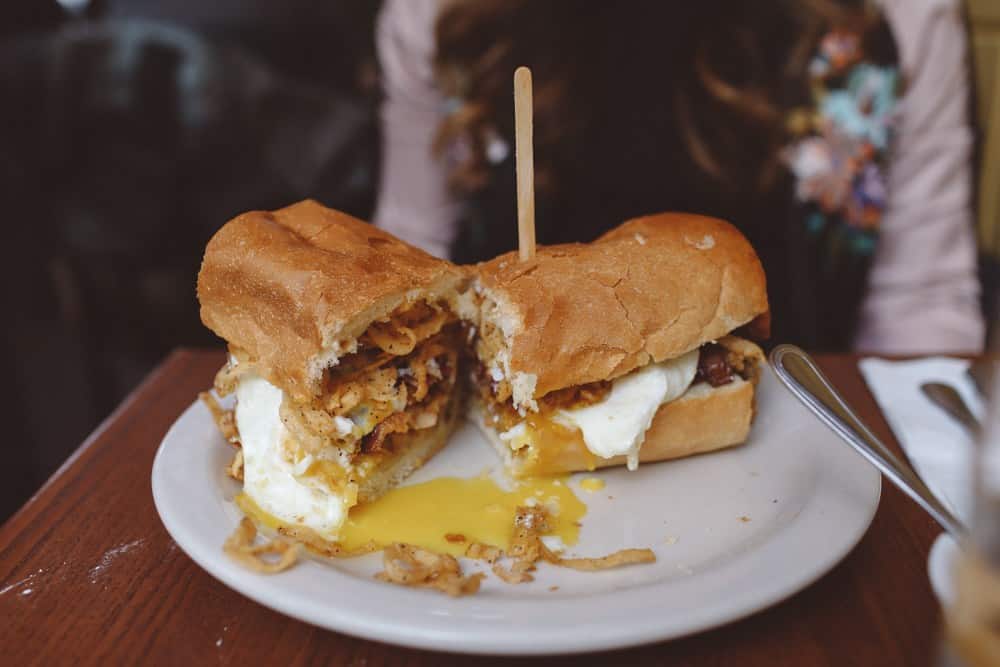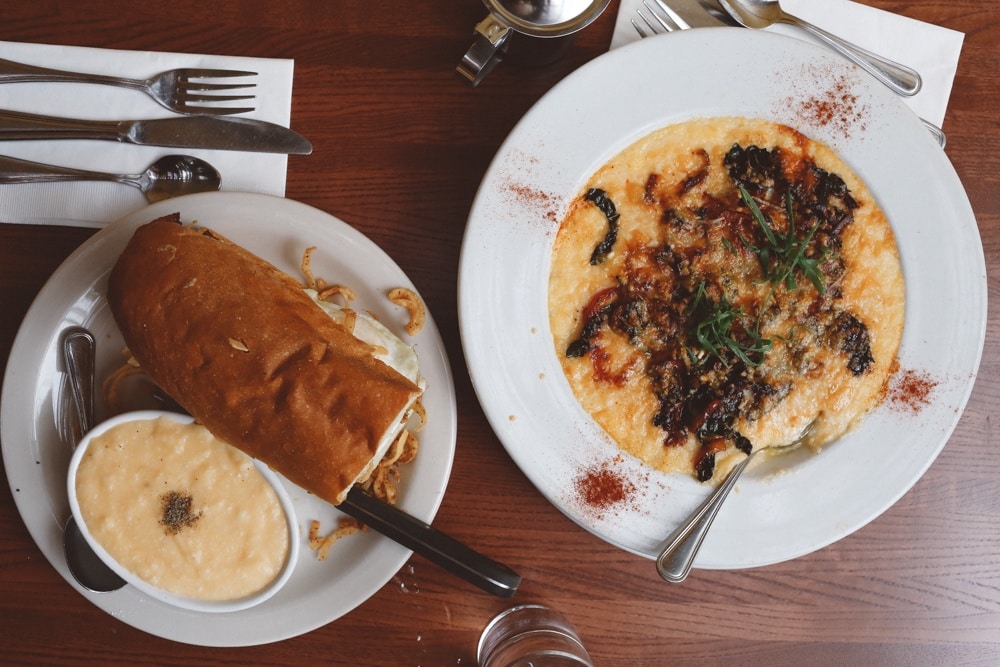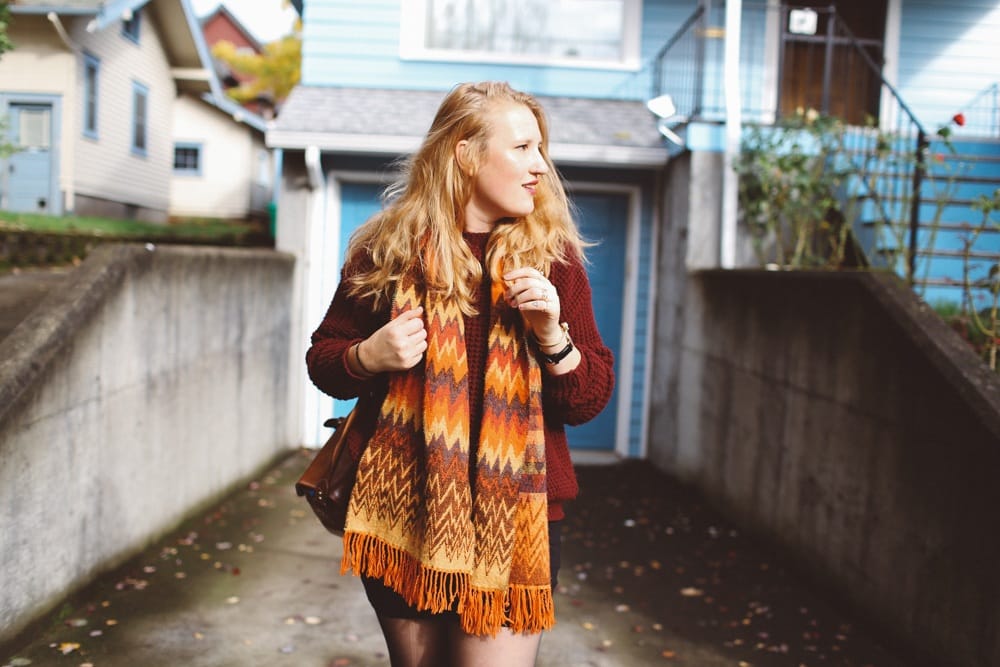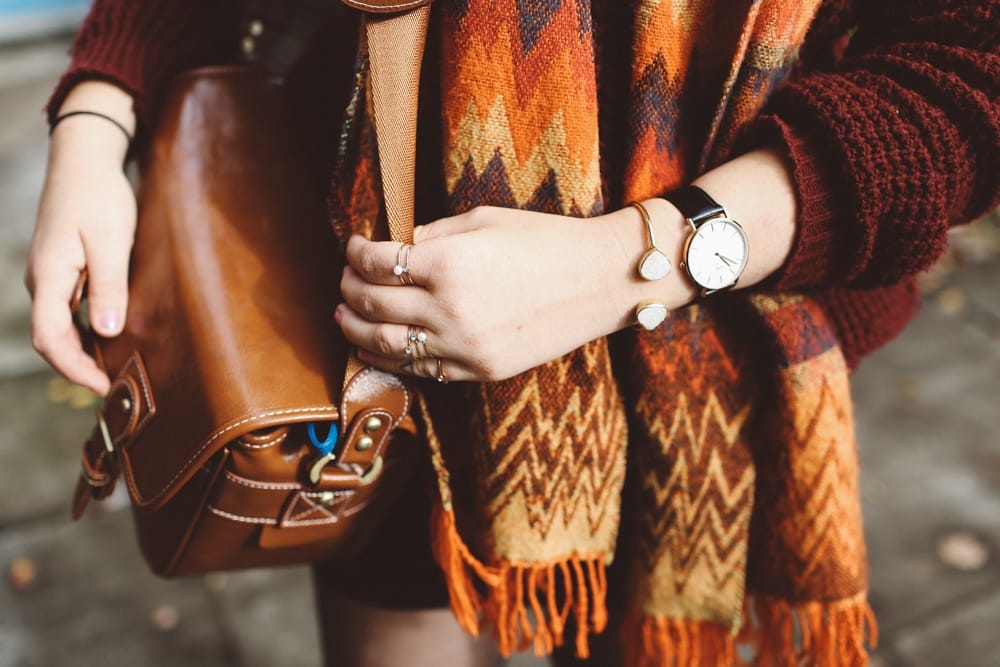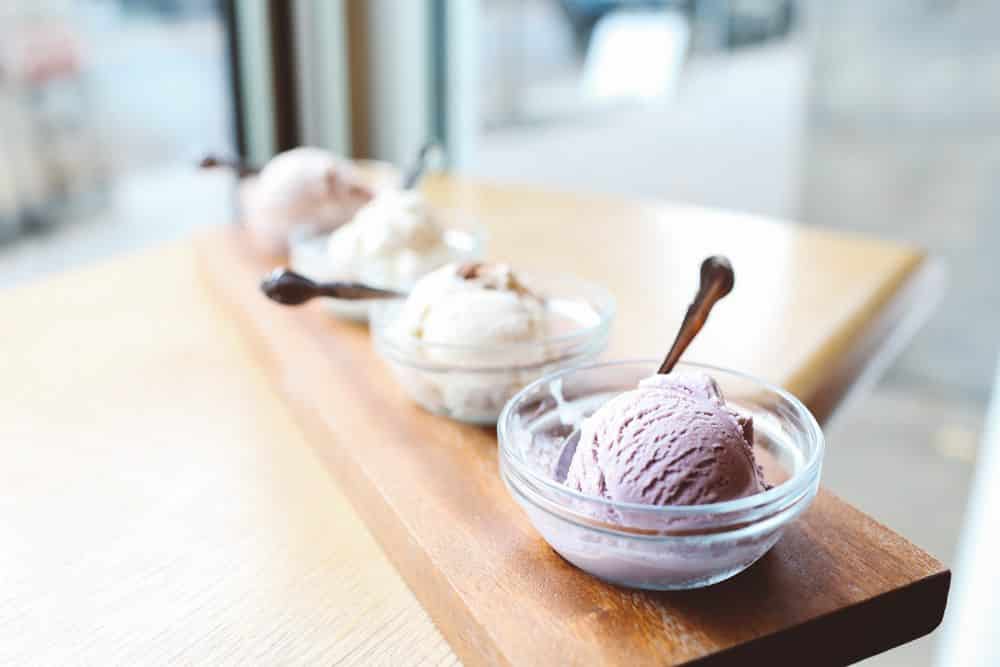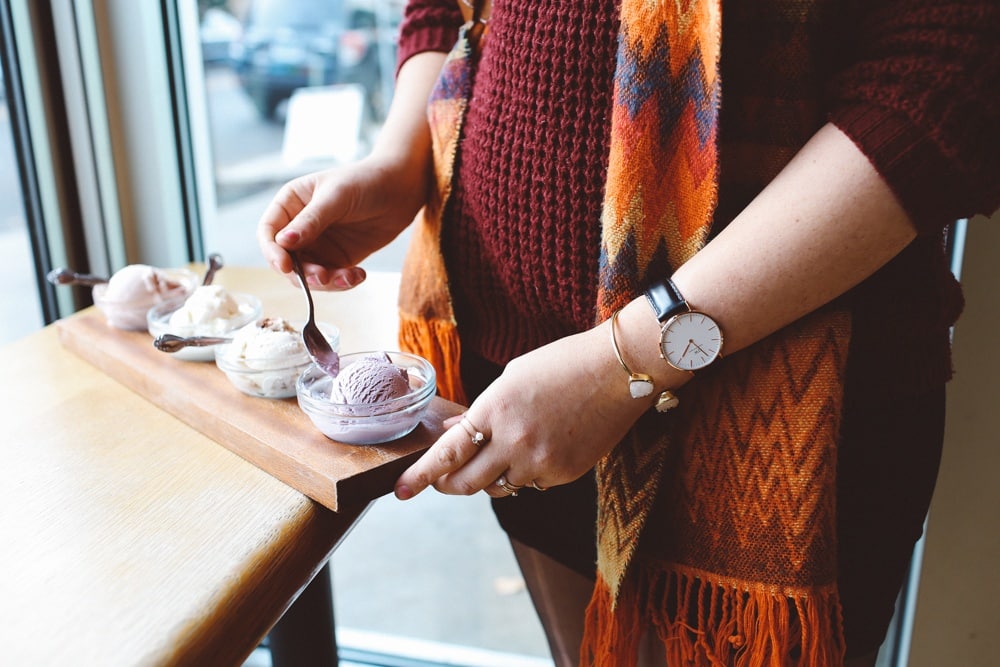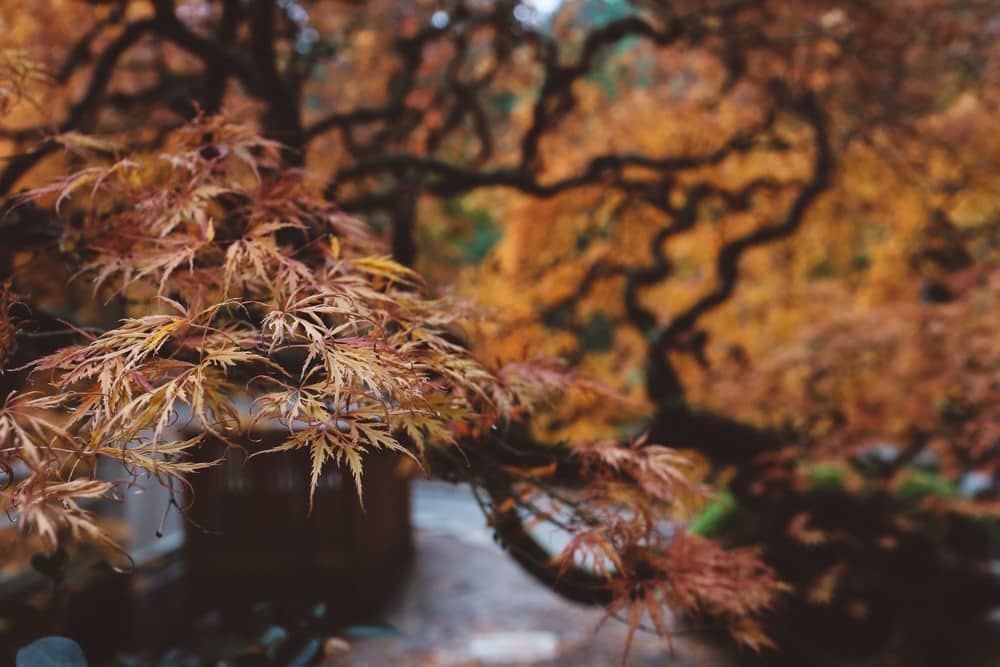 Gardens (Maybe): Afterward feeling even more full, we headed to the Japanese Botanical Garden which we've heard great things about. I'm going to be honest – it was beautiful, but really small. I don't feel like it was worth the $10 to enter. We tried taking our time walking around it and it still only took about 25 minutes to walk around the whole thing. It was pretty in the fall with the changing leaves, but I imagine it's drop-dead gorgeous in the spring with the trees blossoming. If you really love gardens and/or need to kill a half hour in Portland, then head to the gardens. If not, maybe save some money and avoid them.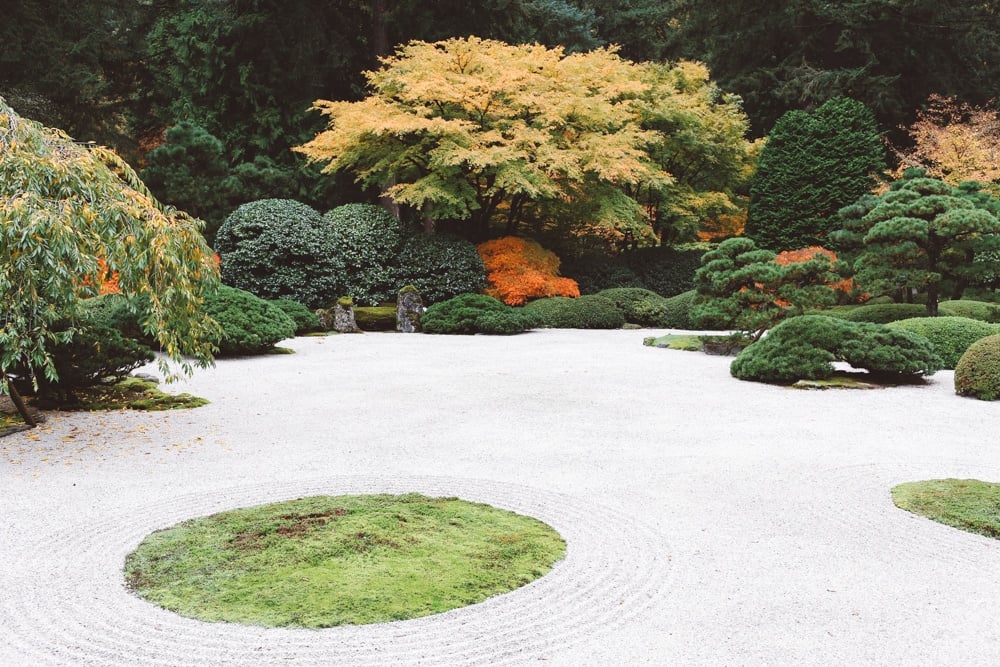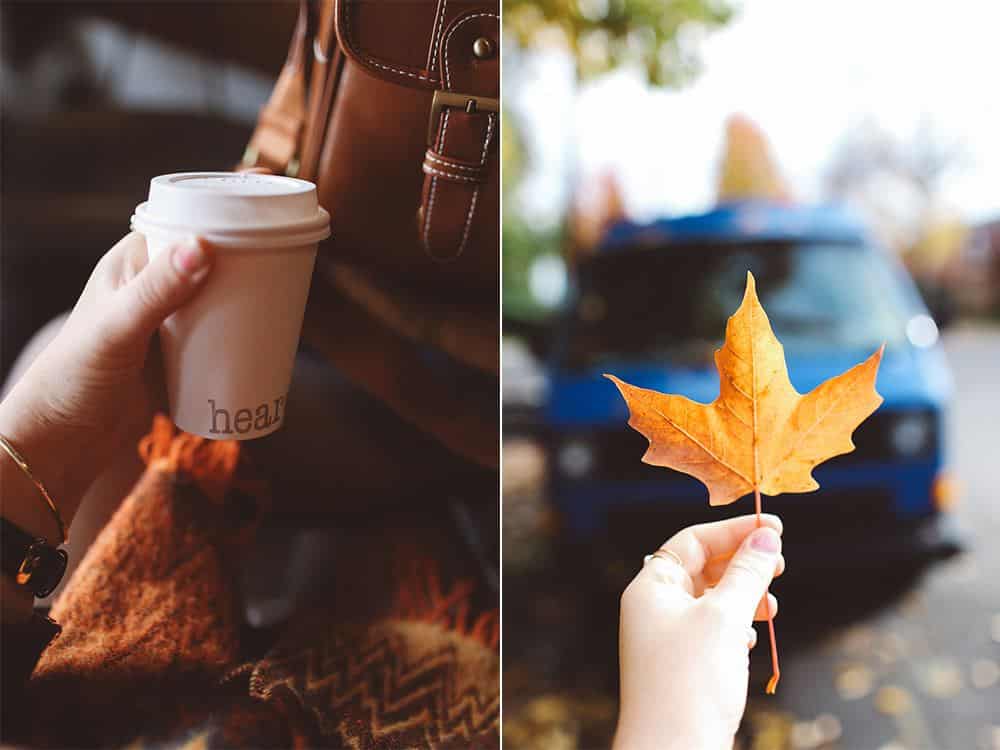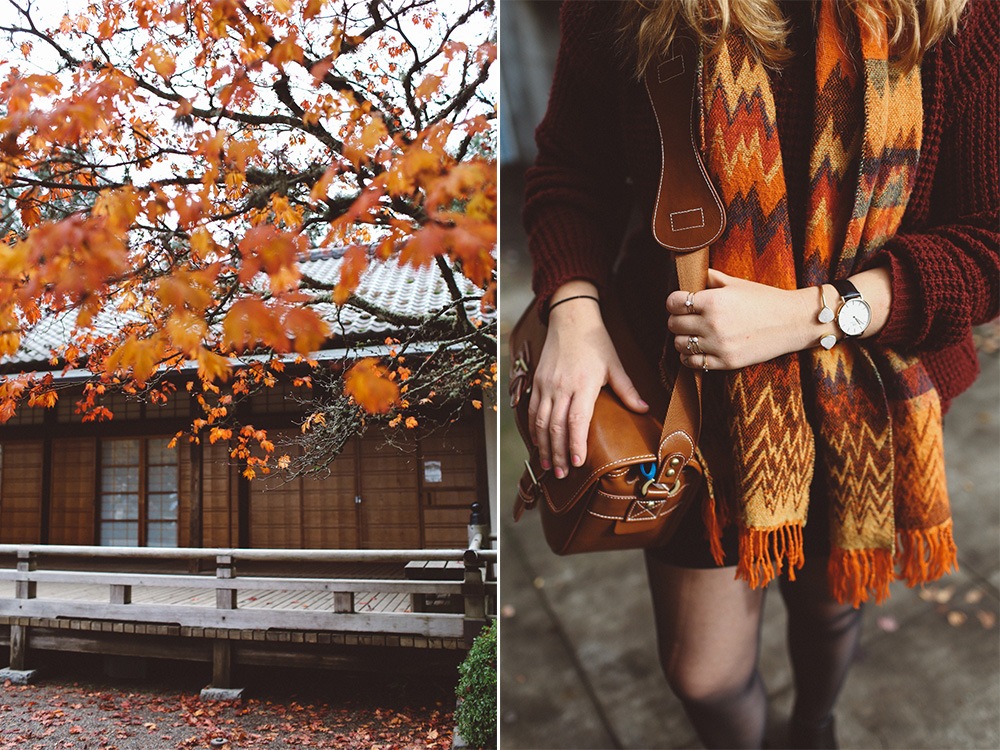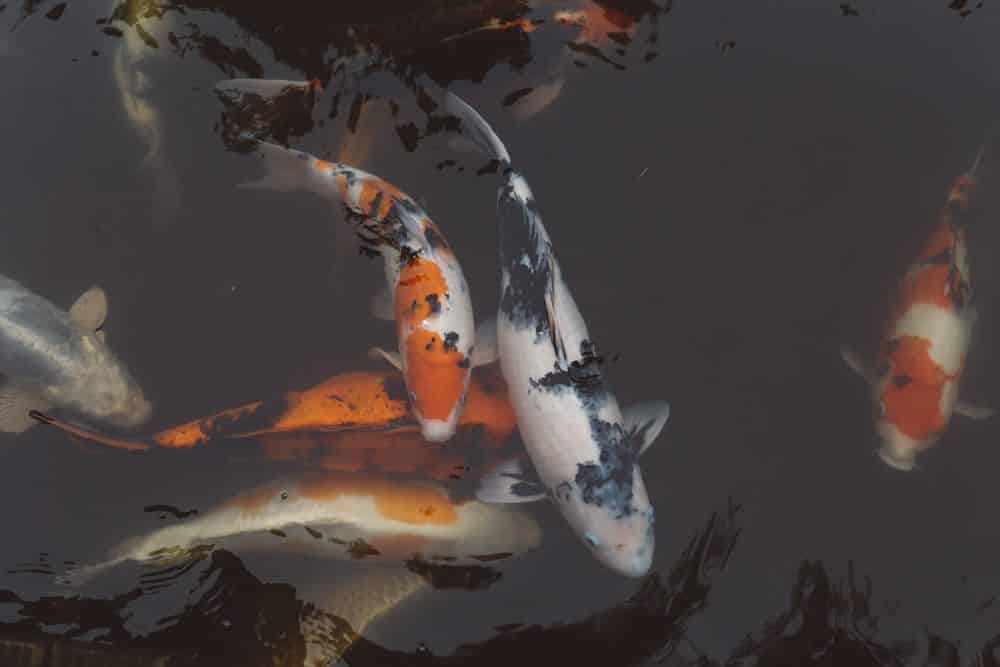 After the gardens, it was time for us to head to the airport! I hope this guide helps you plan an amazing trip to Portland!
Staying in Oregon longer? Check out my full Oregon Travel Guide here! Find out where my favorite cities in Oregon are.