One thing I really was not prepared for in adulthood is how dang expensive rugs are. Nobody told me rugs easily run hundreds to thousands of dollars. So, when my husband and I moved into our first apartment together right after college and learned we have to cover our floors 80% with rugs within 30 days of moving in, we freaked out a little bit.
I remember frantically searching online for cheap rugs and came across Rugs USA. They were having a massive 70% Christmas sale and we were able to add the needed rugs on time.
That was almost 7 years ago, and I have learned first hand that some Rugs USA rugs are amazing. And, some are not. In this post, I'll be chatting about my first hand experience shopping Rugs USA. There's also a few buying tips I've learned along the way to share with you before you hit "add to cart" so you have the best rugs for your home!
Rugs USA Reviews: Pros & Cons After 7 Years Of The Rugs In My Apartment
My Rugs USA Complaints
No free returns
Not all rugs are created equal
Some rugs don't last very long
RugsUSA Positive Reviews
Incredibly affordable, even large rugs
Different rug pad options and sizes
Fast shipping
Tons of designs and sizes
Machine washable rugs (new!)
Ok, let's get into the details of breaking this down.
I love our little San Francisco studio apartment, but I do NOT love our 80% rugs policy. (Landlords, am I right?) As you can imagine, 24-year old broke AF me did not have the same decor taste as I do now at age 30. Within that time frame, we have also had an elderly cat with blatter problems, and have spilled more than our fair share of wine around.
Basically, we've bought a LOT of rugs over the past 7 years. And Rugs USA has always been our go-to store for more of them since they are so dang cheap.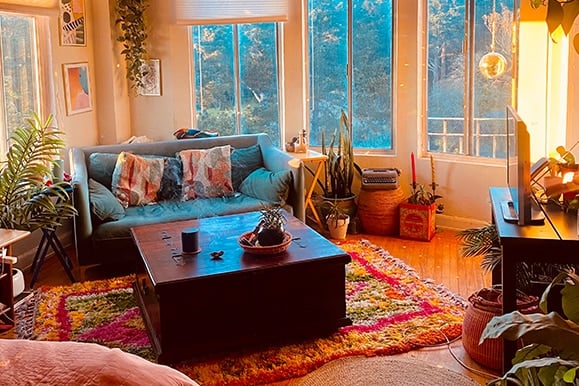 What I Bought From Rugs USA Over The Years
AND, I just bought a new Rugs USA Moroccan rug for my living room! I love my boho area rug we've had for a few years but over the past year I've been redecorating and have always felt like that rug was great, but not the perfect fit. I finally pulled the trigger on a new area rug during a Black Friday sale ad I'm obsessed!
Shop All My Rugs

Is Rugs USA Legit?
So yes, as you can tell from my years buying Rugs USA, yes – they are legit (most of the time.)As I noted above, not everything they sell are quality rugs that I would buy again. I chat more about that below (scroll down to find that section if you want to jump there!)
But yes – even though they constantly have 70% sales running and offer rugs at an extreme discount, most of the time the rugs you buy will last a while and get the job done.
That being said, Rugs USA reviews BBB are oddly not positive. They have a 1 star rating on Better Business Bureau and it seems like most people have had bad customer service experiences. I can see why if you are a new customer, you are wary of buying rugs from them. How can something so cheap and with so many bad reviews actually be good?
Why Is Rugs USA So Cheap?
Well, for the cheap part, that's the whole business model. The entire rug industry – much like the jewelry and high fashion industry – relies on hefty markups. This brings us back to the opening statement for when nobody prepared me for how expensive rugs are, especially when they're not fancy smanchy handwoven Moroccan rugs.
Rugs USA built their business on a model that doesn't rely on those hefty markups. They figured out a way to cater to customers who can't drop $5k adding rugs to their apartments and instead offer them at affordable prices. They listen to feedback and create products they need, like washable rugs. SCORE.
ONLY Buy Rugs USA During Sales
On the note of being cheap, it's important to know before you buy that you should ONLY purchase a rug during one of their sales. If ou can wait until Black Friday, you'll save even more money. As you'll notice, there is always some 70% off Rugs USA sale running. For any minor holiday, they'll throw up a 70% off sale so wait a couple of weeks until that happens so you don't buying full price for a rug.
But, around Black Friday and other major shopping periods, there will be additional Rug USA coupons to become available to use. These aren't secret, you can find them on the homepage easily!
Like, I just bought a Rugs USA 8×10 rug that was already 70% off, then also used a Black Friday Rugs USA Coupon and got it for about $160. The original markup would have been over $450. As I noted, I've been slowly upgrading all the home decor in our apartment away from early 20's decor pieces. I'm really happy to finally have a large area rug that didn't break the bank.
What NOT To Buy At Rugs USA
That being said, sometimes their rugs are so cheap because they aren't good quality. My major take away for you to know after supporting Rugs USA for 7 years is their large area rugs are awesome and the best cheap yet quality area rug you can buy on the market (like, I've gotten huge 7 foot rugs for under $150 with them before!!)
BUT, their runners are not made well in my opinion. Buy runners somewhere else. To meet our rugs policy, we even have to have rugs in our hallways. We bought matching runners and these rugs are the bane of my existence. Unlike the other rugs, the fabric of this traps fur and dust like it's getting paid Jeff Bezos's salary to do so. I'll vacuum and within an hour, it looks dirty again.
They also roll around all the edges. The larger rugs are heavy enough due to their size that they stay flat, but the runners curl pretty quickly. Like, look how janky these are. If you need runners, invest in runners from a place like Ruggable that makes them higher quality so they don't roll or collect just.
Rugs USA Vs Ruggable
On that note, have you noticed Rugs USA has started offering machine washable rugs just like Ruggagle?! I haven't tried Rugs USA's machine washable rugs yet, so I can't really comment on them. From an outside perspective, they are the same price as Ruggable (but after one of their 70% sales, they are so much cheaper.)
The major difference seems to be their rugs don't have a backing like Ruggable rugs do. I'm not sure if that's a good thing or a bad since, since again I haven't bought one yet. If you have tried Rugs USA's machine washable rugs, please tell me below how you like it! I would love to hear some Rugs USA washable reviews.
But, I know these kind of rugs are great for homes with pets or children, or even using for outdoor spaces like patios since you can easily wash them. I totally see the appeal.
Rugs USA Return Policy
It's not the best. You can return items within 30 days of delivery but you have to pay $49 for a return label. And I also imagine, figure out how to wrap up a large rug in plastic and stuffing it in your car to take it to the post office, too. That doesn't sound easy. I've never had to return a rug to them before, mostly because the process sounds hard enough I was deterred.
You will get a full refund minus the shipping fee. But if you take into account how cheap the rugs are, sometimes it's not worth it to ship back to the company (ie, if your rug was $60, just sell it on Facebook Marketplace at that point, you'll get more money back.)
Rugs USA Customer Service Review
I've only had positive customer service experiences but I've had limited contact with them. You can contact Rugs USA on their website via email or chat. As noted above, the BBB reviews all say they have bad customer service so maybe I got lucky? I also have never tried to return a rug before, so perhaps that's why. If you had a bad experience with the support team, please drop a comment below so we can all learn about it!
How Long Does Rugs USA Take To Ship
Where is Rugs USA warehouse located? That I'm not sure but they always ship super fast. I've gotten some rugs in as fast as 4 business days here in California. Sometimes, they take a few weeks after my order. They are headquartered in New York City, but it's unclear where the rugs are actually made or stored but based on the speed they ship, I'm guessing somewhere in the USA vs China for sure.
My Rugs Have Started To Fade
Besides the runners being crappy, the only other major downside I've noticed is my rugs have lost their vibrancy over the years. I'm not sure if this is normal on all rugs, luxury or not. I do think living in a 400 square foot apartment with a cat and walking on our rugs all the time will lead fading faster.
But perhaps, the colors fade quicker than a high-quality rug. But at such a low price point, it's not a hassle to buy a new one every 5-7 years if needed.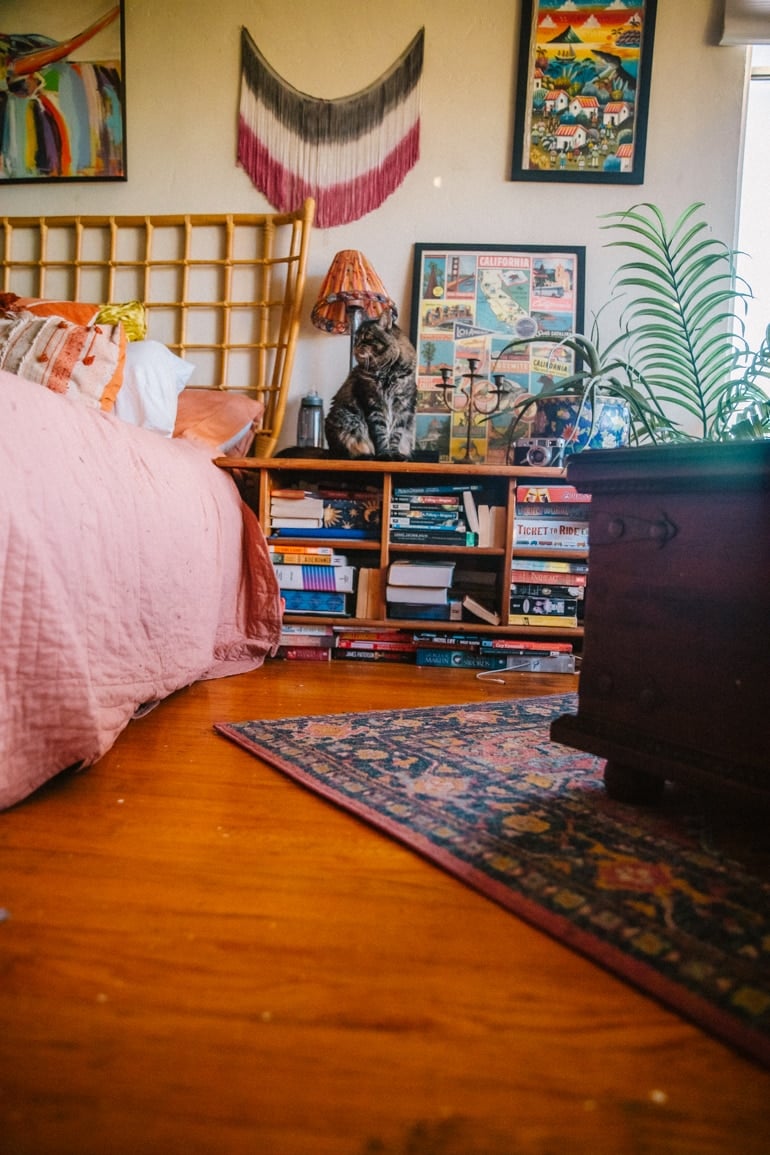 So, are rugs usa good quality? To recap, YES, most of the time they are, though I think not all their runners are the best. But the larger rugs are great. They ship fast and always have sales going to make them even more affordable.
Whether you are broke, trying to decorate on a budget or have a large house and not trying to drop thousands on rugs, you'll be happy with Rugs USA.
I hope this is helpful for you! If you have your one reviews on Rugs USA to add, drop a comment below so everyone can see your thoughts on the product.