There's always been something so romantic about taking a train ride.
I'm that person who even gets a kick out of riding on the orange and yellow 1970's subway in New York City, but I also love seeking out the unique train ride experiences around the world.
From snowy train rides around Yosemite to epic trips through the Scottish Highlands, these are all the luxury train rides to add to your bucket list.
Why Travel By Train?
Luxury train travel is such a unique way to see the world. It's slower than planes, but lets you soak up the views of the surroundings in a different way than by car.
Railroad travel allows you to dine while soaking up views, make stops in smaller towns not easily accessed by plane travel and channel old-world living.
Plus, fancy train rides are just pure fun. they are a secret passion of mine. Here's all the best luxury train vacations in the US and the entire world!
19 Top Luxury Trains Around The World To Add To Your Bucket List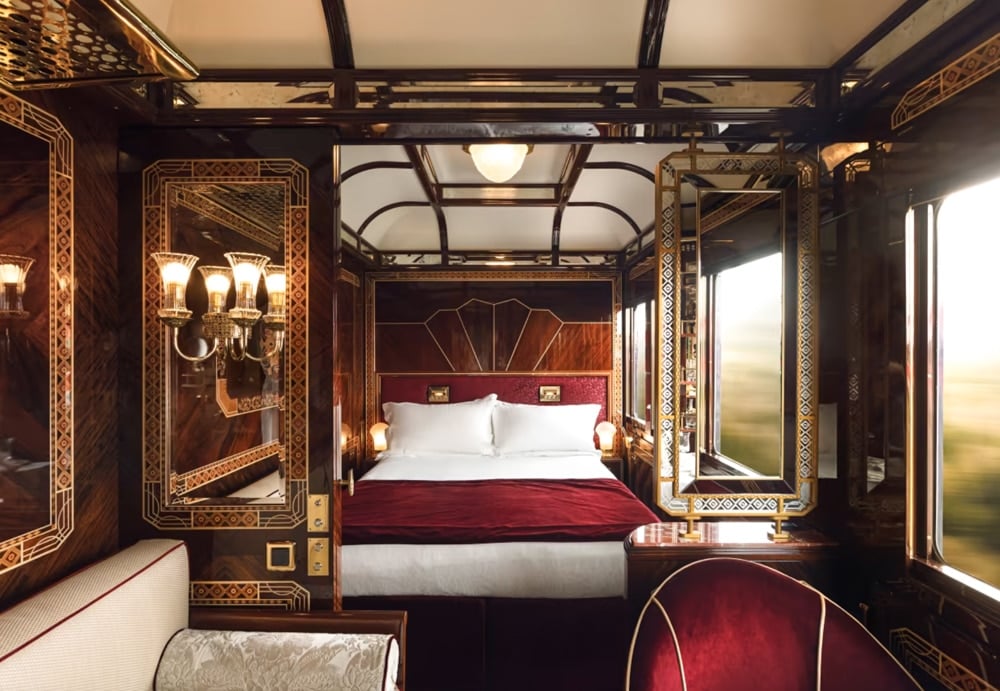 1. Venice Simplon-Orient-Express, Europe
Yes, the Orient Express is a REAL train! As a huge Agatha Christie fan, I was thrilled to discover the Venice Simplon-Orient-Express. one of the most luxurious train rides in the world goes from London to Venice, with stops in Italy and Paris in between on a route that's multiple days.
The attention to detail is evident in every corner, from the polished wood paneling to the delicate Art Deco accents in the dining car, it oozes old-school glamour. Food is sourced locally at each stop and made fresh by talented chefs so you can expect delicious meals paired with European views outside your window.
For an unparalleled experience, consider booking the iconic Grand Suite car, known for its marbled en-suite bathrooms, 24 butler, kimono and slippers to take home and luxurious ambiance, offering an unforgettable journey through the heart of Europe in utmost style and comfort.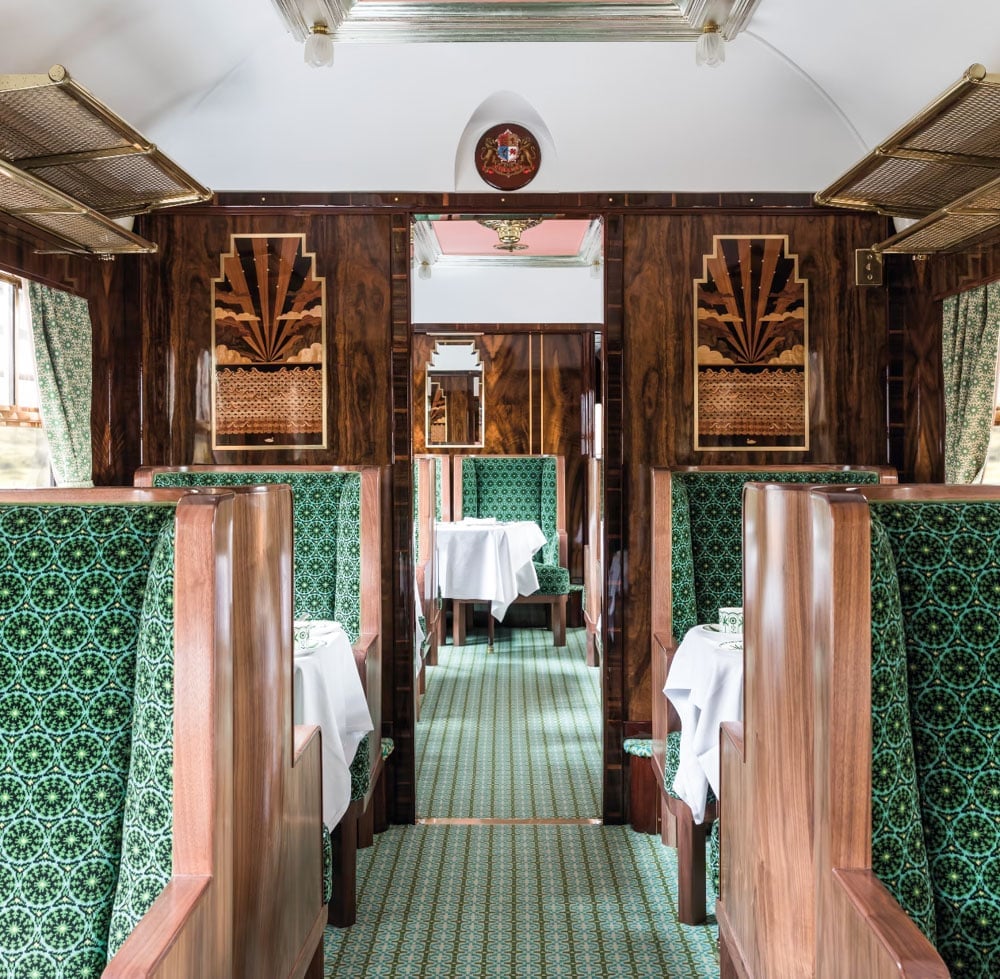 2. British Pullman, England
The British Pullman, a Belmond train in England, invites passengers to relive the glamour of the 1920s and 1930s in style that happens to look a lot like Wes Anderson. Its meticulously restored carriages boast plush armchairs, polished wood, and intricate marquetry, capturing the essence of a bygone era.
Stopping at various historical spots around England such as Bath (a Unesco world heritage site), York or Canterbury, the train offers scenic routes that showcase the picturesque English countryside, with charming villages and historic landmarks passing by.
Indulgence continues with an emphasis on exceptional dining. Onboard chefs craft gourmet meals ranging from lavish brunches to elegant afternoon teas and exquisite multi-course dinners, all served with attentive care. Each carriage carries its own character, like the elegantly appointed "Audrey" carriage or the "Cygnus" carriage built in the 1950s.
Oh, and there's a murder mystery luncheon in the dining cars! The British Pullman offers a timeless escape, combining history, luxury, and scenic beauty into an unforgettable journey through England's past and present.
PS – you can book the train out for private events or things like proposals (just saying). Pullman train trips are famous for a reason.
3. Napa Valley Wine Train, California
If you're looking for luxury trains in the USA, nothing is more famous in Napa Valley than the Wine Train. As the train winds its way through the picturesque vineyards and rolling hills of Napa, passengers are treated to a sensory journey that encompasses both the taste of exceptional wines and the sight of stunning landscapes.
This rail travel offers a distinctive opportunity to explore multiple wineries along the route, with stops that allow guests to disembark, sample exquisite wines, and learn about the winemaking process from the experts themselves.
I had a chance to ride this a few years ago and loved the history we got while dining on upscale food paired with rolling views of vineyards out the window. This is actually my first luxury train travel experience that got me hooked on these kinds of journeys.
Napa Valley is already a North American bucket list spot, so add this bucket list train to your trip!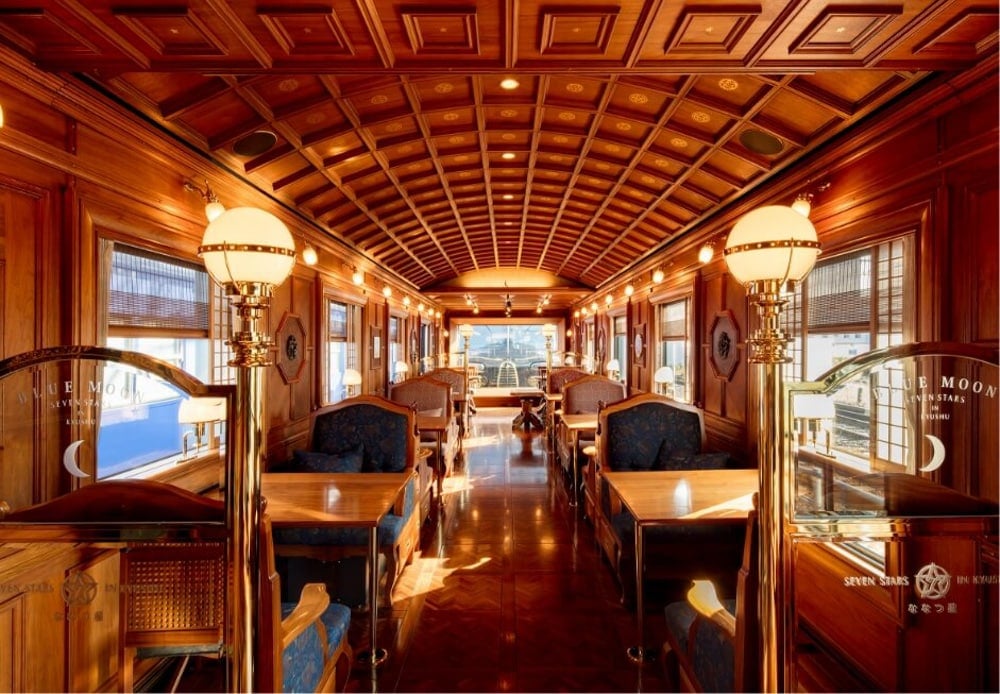 4. Cruise Train Seven Stars, Japan
Japan's Cruise Train Seven Stars is often called the most luxurious train service in the world since it pairs old-world charm with modern Japanese travel technology.
It's extremely popular, so you have to apply to ride and only winners are selected to experience this small but luxurious train ride through Japan's mountains and seaside.
But it's worth the wait. These train cars are drenched in Kanso interior style with a lot of wood and organic elements. There's a lounge car bar, dining car and a select number of guest suites, as this is an overnight luxury train.
They offer 3 different routes that vary in dates and locations, but again they are all competitive so apply early and cross your fingers.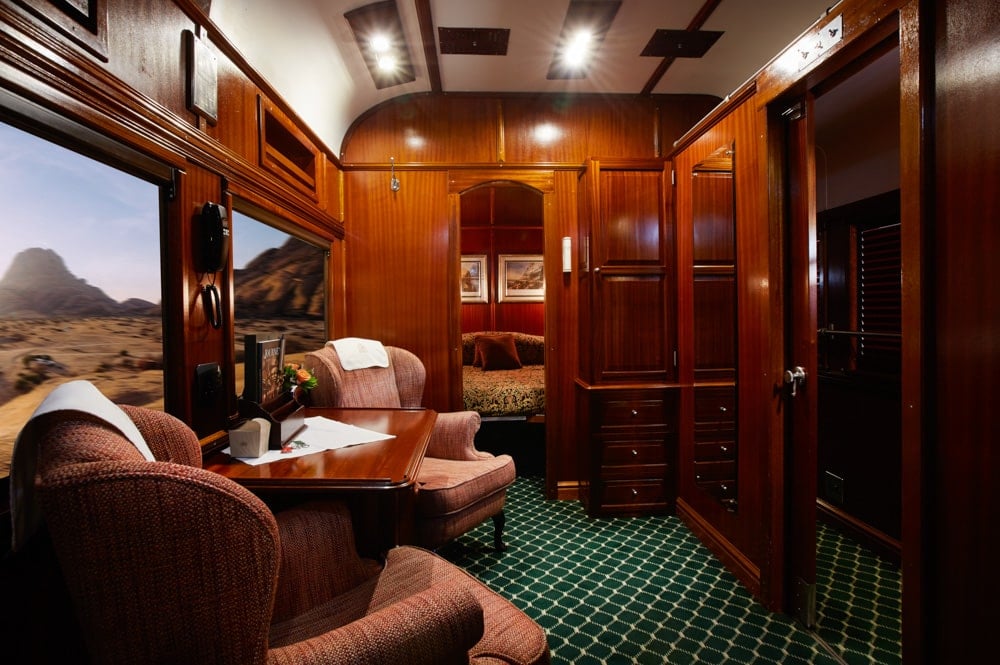 5. Rovos Rail, South Africa
This train features open-air balconies on the observation car so you can feel the wind in your hair as you chug along the vast landscapes of South Africa.
Every guest suite features private baths, tea facilities and fresh linens daily. Some even have tubs! Routes vary from Capetown to Safaris, and all dinners are paired with local South African wines.
The Rovos Rail also offers amazing excursions from elephant parks to exploring major cities like Cape Town, even stops at notable parks and wine country! If you're looking for luxury train journeys in Africa, this is the a very unique and special experience.
6. Golden Eagle Danube Express, Europe
Embark on an unparalleled journey of luxury and discovery aboard the Golden Eagle Danube Express, where opulence, history, and breathtaking landscapes intertwine. Step into lavishly designed carriages that exude old-world charm and modern comfort, adorned with intricate detailing and plush furnishings.
The decor transports you to a bygone era, with elegant wood paneling, polished brass accents, and sumptuous fabrics creating an ambiance of refined luxury. As the train winds its way through the heart of Europe, you'll be treated to an ever-changing panorama of scenic wonders, from medieval castles to picturesque villages.
The Golden Eagle Danube Express not only offers a feast for the eyes but also tantalizes the taste buds with a culinary experience fit for royalty. Expert chefs curate menus that showcase the best of regional flavors, using locally sourced ingredients to craft delectable dishes that reflect the countries you traverse.
Whether indulging in gourmet breakfasts, elaborate multi-course dinners, or delightful afternoon teas, each meal is a celebration of European gastronomy. The luxurious experience extends to every detail, from impeccable service to exquisitely appointed cabins that become havens of comfort after a day of exploration.
With its meticulously designed decor, captivating routes, and culinary excellence, it sets a new standard for luxury train travel, offering ultimate leisure and an unforgettable way to experience the cultural tapestry of Europe.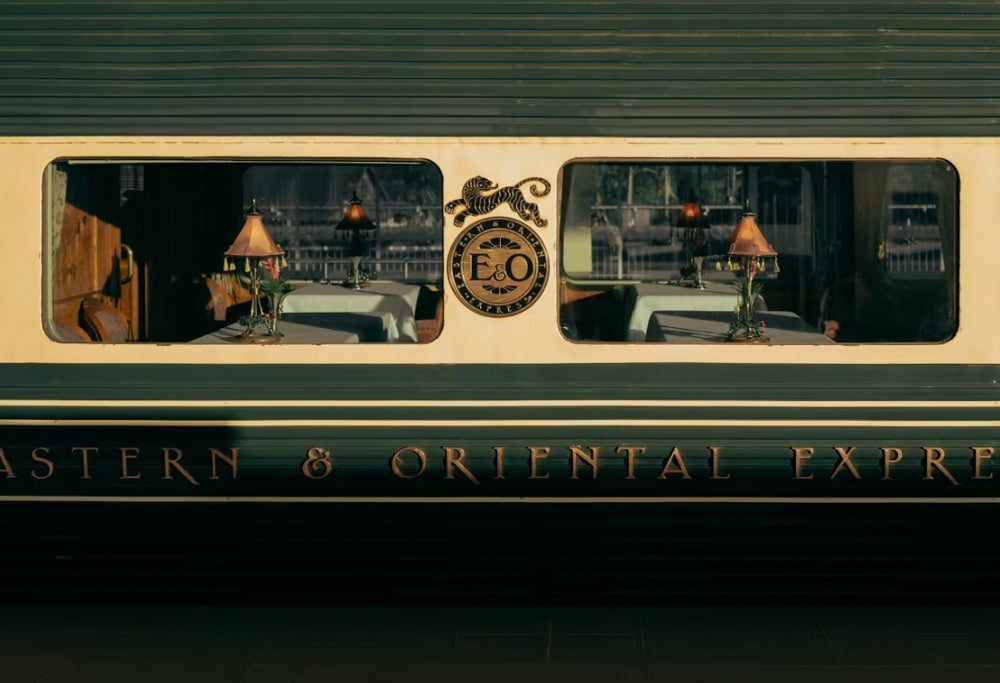 7. Eastern & Oriental Express, Asia
For nearly three decades, the Eastern & Oriental Express has been a beacon of luxury, connecting three of Asia's most enchanting cities: Kuala Lumpur, Bangkok, and Singapore. Drawing inspiration from the allure of the 1932 Marlene Dietrich film "Shanghai Express," the train's interiors are a masterpiece of elegance.
Every detail has been meticulously considered, from the opulent Thai silk to the intricate Malaysian embroidery that adorns the carriages. The ambiance is further enriched by the warm cherrywood paneling that exudes a timeless sophistication.
As the train gracefully journeys through verdant rainforests and past ancient temples, the views become a moving tableau of natural and cultural wonders, amplifying the sense of immersion in Asia's splendor.
Indulgence extends beyond the visual feast, as the Eastern & Oriental Express promises a gastronomic journey that's equally exceptional. Prepare for enchanting evenings by packing attire that befits the scene — as dinner unfolds, an elegant evening wear is a must.
Immerse yourself in an exquisite culinary experience that's as enchanting as the landscapes passing by. The train's commitment to luxury extends to every aspect of your journey, from the plush accommodations to the impeccable service.
As you step aboard the Eastern & Oriental Express, you step into a realm where history, opulence, and the mesmerizing beauty of Asia converge to create an unforgettable voyage.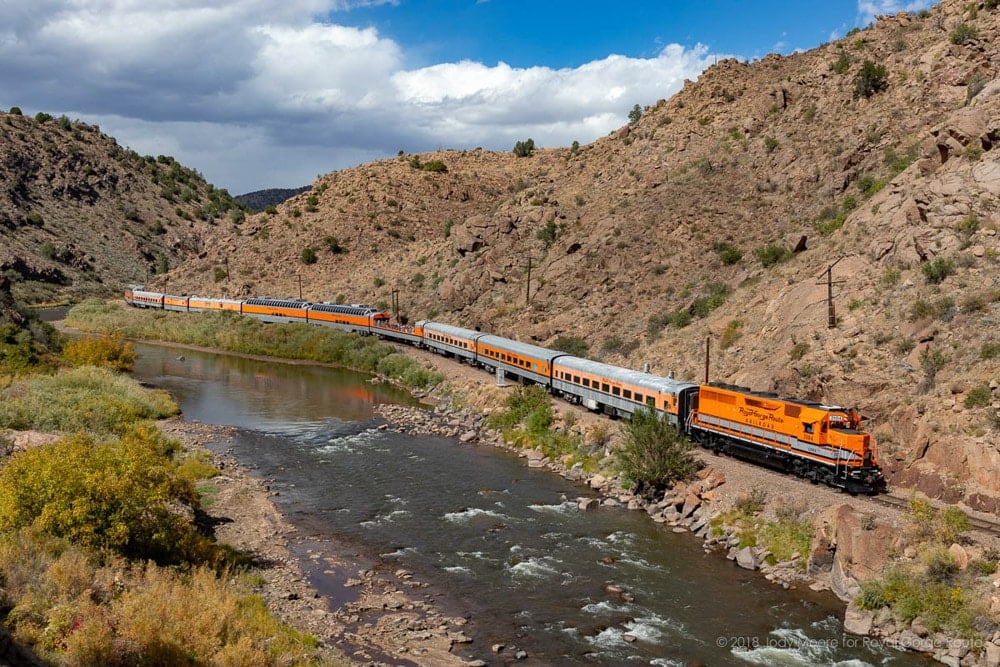 8. Royal Gorge Route Railroad, Colorado
It's hard to find luxury train travel in the USA but the Royal Gorge Route Railroad always in Colorado travel guides. It's been on my bucket list for ages!
The highlight is undoubtedly the dome car, where panoramic windows envelop travelers in breathtaking vistas of towering cliffs, meandering rivers, and vibrant fall foliage during the autumn months. This elevated vantage point allows you to witness the transition from lush greens to a riot of reds, oranges, and golds, turning the journey into a living canvas of seasonal artistry.
As winter blankets the landscape in glistening snow, the Royal Gorge Route Railroad transforms into a magical winter wonderland. The dome car becomes a cozy cocoon, offering the perfect vantage point to admire the snow-draped scenery outside.
The train's commitment to luxury extends to the culinary offerings as well, with carefully crafted menus featuring locally inspired flavors.
Whether you're savoring the vibrant fall colors or the tranquil winter scenes, the Royal Gorge Route Railroad presents an opportunity to immerse yourself in the beauty of Colorado's changing seasons while relishing in the comfort of vintage rail travel. It makes a great winter stop after Vail skiing, or a fall stop after visiting Denver!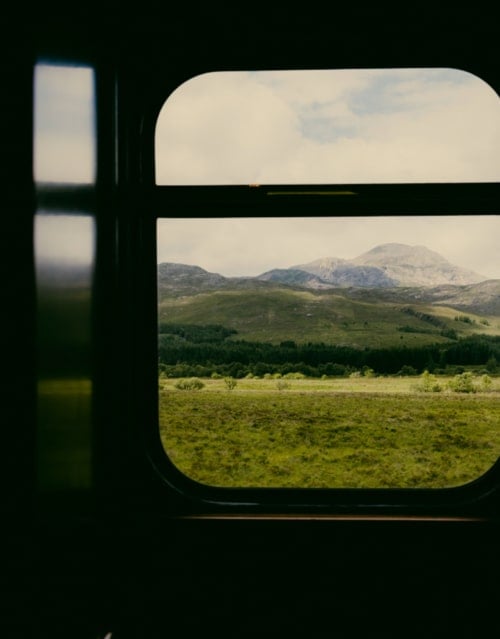 9. Belman Royal Scotsman, Scotland
Embark on a captivating journey through Scotland's enchanting landscapes, where lush lochs, majestic castles, and verdant countryside come alive from the comfort of the Royal Scotsman. As this elegant train winds its way through the Highlands, you'll find yourself ensconced in luxury within your well-appointed suite, enveloped by the warmth of tartan wool blankets.
For those seeking the epitome of indulgence, the mahogany-clad dining car beckons with a rich ambiance, providing the perfect setting to savor the finest scotch and culinary delights inspired by the region. They even have a whiskey route!
Yet, what truly sets the Royal Scotsman apart in the realm of luxury trains is its exceptional onboard spa. As the stunning vistas unfold outside your window, the spa car offers an oasis of serenity and rejuvenation.
Immerse yourself in a realm of tranquility, where you can pamper yourself with a range of treatments, from soothing facials to indulgent massages and meticulous manicures. This unique blend of relaxation and breathtaking scenery elevates the Royal Scotsman experience to unparalleled heights.
With the soothing touch of the spa's expert therapists and the ever-changing landscape of Scotland's Highlands, every moment aboard the Royal Scotsman becomes a symphony of luxury, comfort, scenic train rides and natural beauty. I've had this on my Scotland trip ideas for years.
10. Belmond Andean Explorer, Peru
Stepping into the carriages of the Belmond Andean Explorer is like stepping into a vivid tapestry of local culture and elegance. I wish I had a chance to ride this went I visited Peru in high school (I'll just have to go back!) The interiors are a testament to Peruvian artistry, adorned with exquisite Peruvian tapestries woven from the fine fibers of alpacas.
These sumptuous details grace the beds, creating an ambiance that's at once indulgent and rooted in the region's rich heritage. Amidst these breathtaking landscapes, the rear observation bar car emerges as a sanctuary for both the senses and the soul. Here, travelers can savor the iconic pisco sours, served against a backdrop of panoramic views that shift from towering peaks to verdant valleys.
As the Belmond Andean Explorer meanders through this ancient land, it not only reimagines history but also presents an opportunity to experience the captivating blend of tradition, luxury, and natural splendor that defines modern travel through the heart of Peru.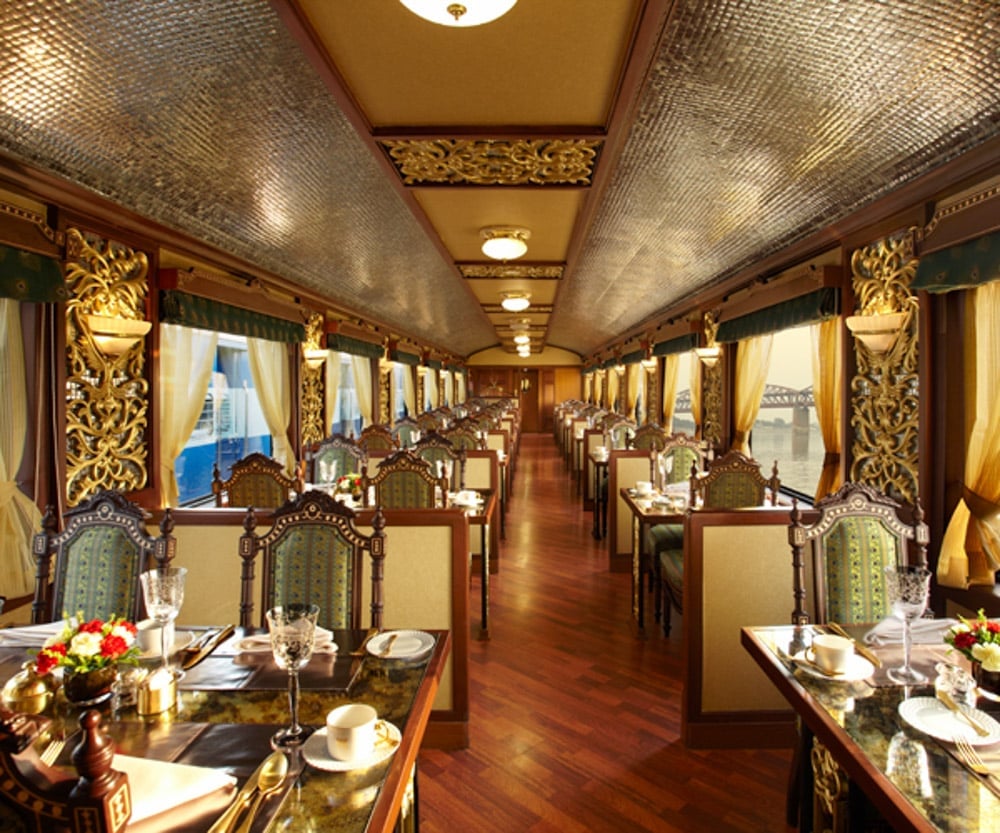 11. Maharajas' Express, India
At the heart of the Maharajas' Express allure is the coveted seven-day Heritage of India tour, an itinerary that weaves through a tapestry of India's most captivating destinations.
This journey unfurls like a grand odyssey, with Mumbai, Udaipur, Jodhpur, Jaipur, Agra, and Delhi as the luminary stops on this radiant route.
While the train gracefully traverses the tracks, guests find themselves immersed in a cascade of experiences, from the regal charm of Udaipur's palaces to the imposing magnificence of the Taj Mahal. Amidst the plush interiors of the train, guests are enveloped in the embrace of world-class amenities and exceptional service, creating an environment that rivals the lavishness of the destinations themselves.
As the Maharajas' Express unfurls its remarkable chapters, it bestows a journey that transcends mere travel, granting passage to a world where luxury, history, and discovery entwine to create an unforgettable escapade.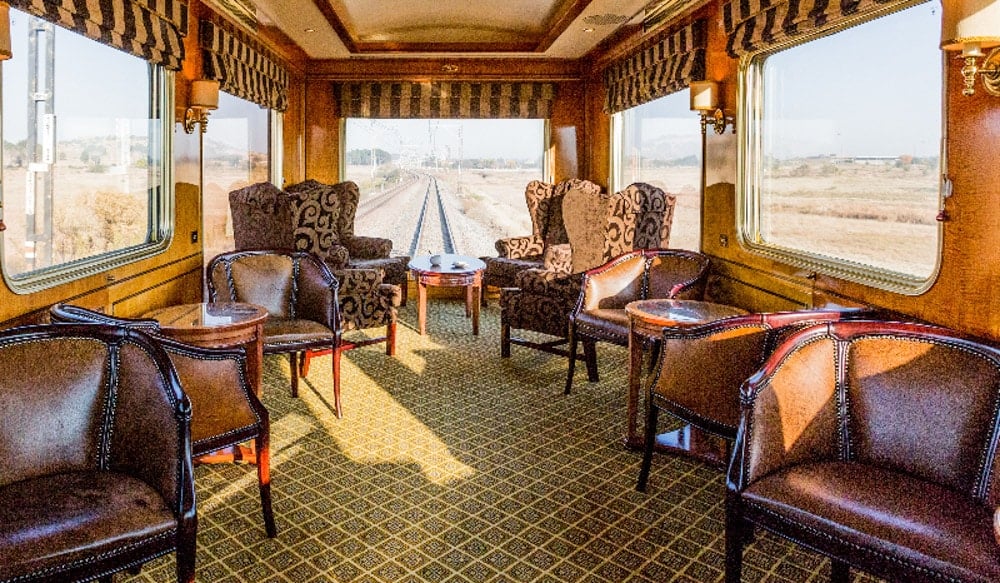 12. Blue Train, South Africa
The Blue Train in South Africa redefines luxury travel with an unparalleled experience that seamlessly blends opulence and adventure out of Cape Town. As guests step aboard this iconic train, they are transported to a realm of sophistication where every detail has been meticulously crafted to exude elegance.
The interiors are adorned with lavish decor, from plush upholstery to polished wood finishes, creating an ambiance of timeless glamour. Beyond the breathtaking decor, the culinary offerings onboard are a celebration of South Africa's finest flavors.
Passengers are treated to gourmet dining experiences that showcase the country's diverse culinary heritage, accompanied by a selection of fine wines that perfectly complement each course.
From the ever-changing landscapes outside the window to the sumptuous interiors and indulgent cuisine within, the Blue Train promises an unforgettable journey that encapsulates the essence of luxury, leaving travelers with memories of a lifetime.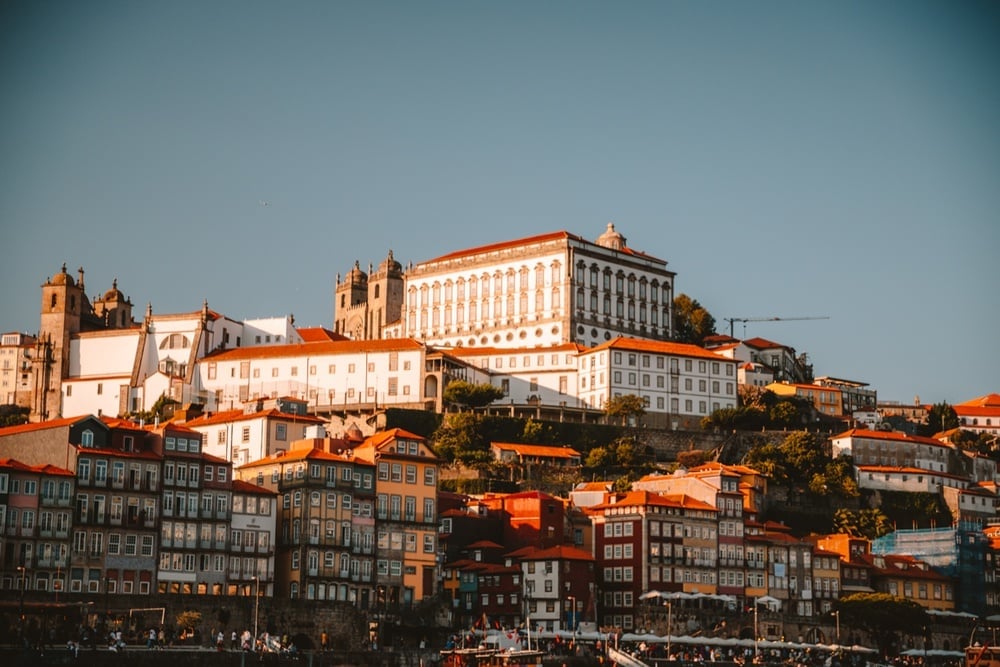 13. The Presidential Train, Portugal
Introducing the epitome of gastronomic delight, the Presidential Train of Portugal beckons travelers to immerse themselves in an extraordinary culinary journey amidst the enchanting Douro Valley (which is very close to Vinho Verde spots I got to visit on a wine trip)
This region, now celebrated globally for its culinary prowess, serves as the perfect backdrop for a remarkable train expedition. Embarking from the vibrant city of Porto and winding its way to the resplendent Quinta do Vesuvio on the Douro Valley's eastern edge, the Presidential Train welcomes a distinguished lineup of world-renowned chefs.
For a captivating span of ten hours, these culinary maestros infuse their expertise into an array of dining experiences, where the world's freshest ingredients are transformed into edible masterpieces. Every course is harmoniously paired with wines sourced from the surrounding vineyards, culminating in an epicurean symphony that unfolds amid breathtaking scenery.
It is currently NOT running but it returns to service every few years so it's important to keep watch and jump on the change when it opens.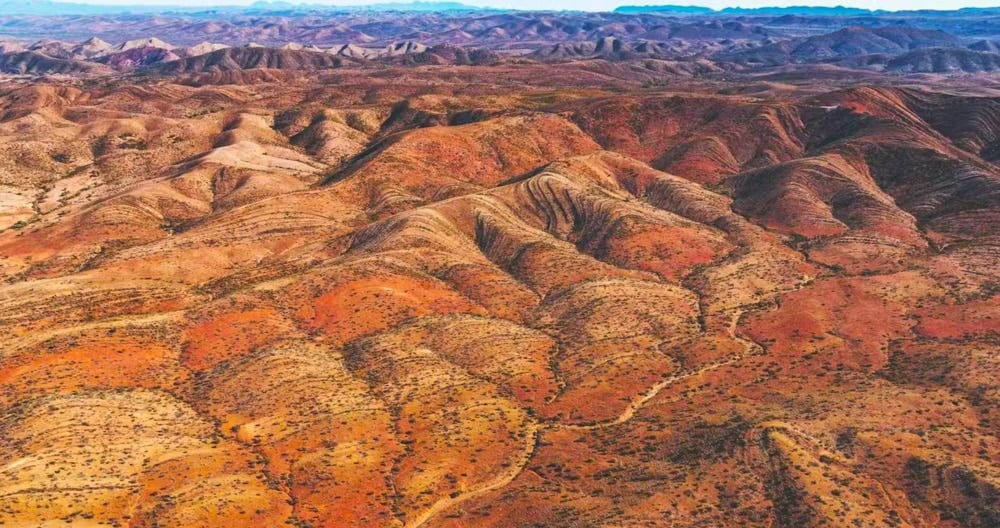 14. The Ghan, Australia
Escape to the heart of the Australian Outback with a journey that defies convention, where the rugged allure of the land meets unparalleled luxury aboard The Ghan Expedition. This four-day odyssey from Darwin to Adelaide offers an exquisite blend of adventure and opulence, encapsulating the timeless spirit of the region while embracing the utmost in modern comfort.
Originating in 1929, this legendary train has evolved to cater to the discerning traveler, seamlessly intertwining history and innovation. As the crimson hues of the desert landscape roll by, onboard experiences unfold that celebrate Australia's rich culinary heritage.
Indulge in the essence of the land through an array of culinary delights, where each meal is a gastronomic voyage in itself. From the delicate saltwater barramundi, a tribute to the country's coastal treasures, to the bold flavors of grilled kangaroo fillet, every bite becomes an exploration of Australia's diverse and captivating tastes.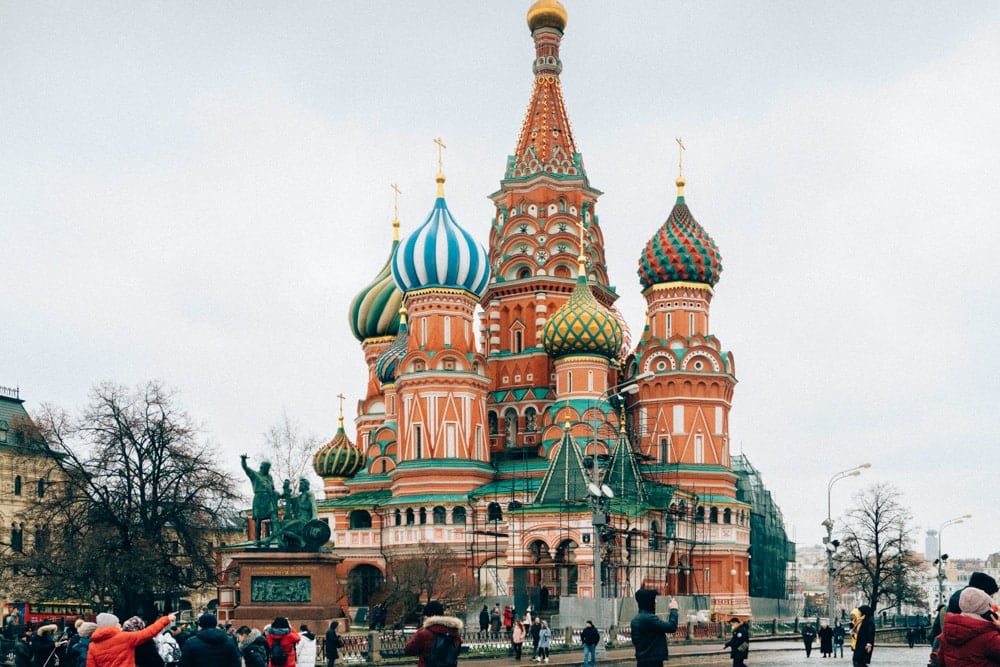 15. Golden Eagle Trans-Siberian Express, Russia
Celebrating over a century of elegance, the Trans-Siberian Express offers a wealth of luxurious experiences. Running from Moscow to Vladivostok, passengers can learn Russian, dance to live music, and enjoy an ever-open bar. Meals are important here.
From the delectable flavors of borscht, a traditional beet soup, to succulent servings of Siberian sturgeon, each meal is a gastronomic journey that traverses the expanse of Russia's rich culinary heritage.
Beyond the tracks, the journey crafts a 15-day narrative, embracing cultural lessons, camaraderie, and culinary delights. Priced at $19,825 per person, is an extraordinary adventure through time and place (and makes it one of the most expensive luxury train trips in the world).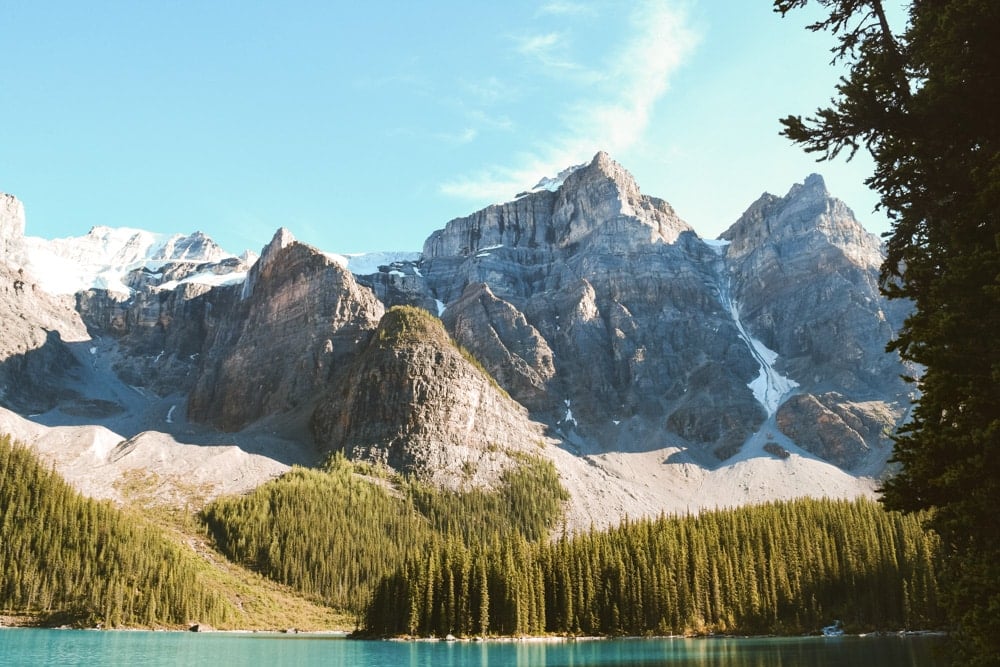 16. The Canadian, Canada
The Canadian, stretching its services from Toronto to Vancouver, unveils a magnificent journey that unfolds over four uninterrupted days across The Great White North. The train's interior décor echoes the grandeur of the vistas it traverses, featuring plush furnishings, rich wood paneling, and large windows that frame the ever-changing panorama.
As you remain cocooned in luxury, the train reveals a tapestry of sights, from captivating waterfalls and quaint villages to the majestic expanse of the Rocky Mountains. Opting for a winter adventure promises an even more enchanting experience, as snow-draped peaks and vast fields of glistening powder paint a picture of breathtaking beauty beyond compare.
Beyond the mesmerizing scenery, The Canadian indulges passengers with a culinary journey that's as remarkable as the landscapes. The onboard dining embraces the essence of Canadian flavors, from succulent locally sourced meats to delectable seafood, all masterfully prepared by skilled chefs.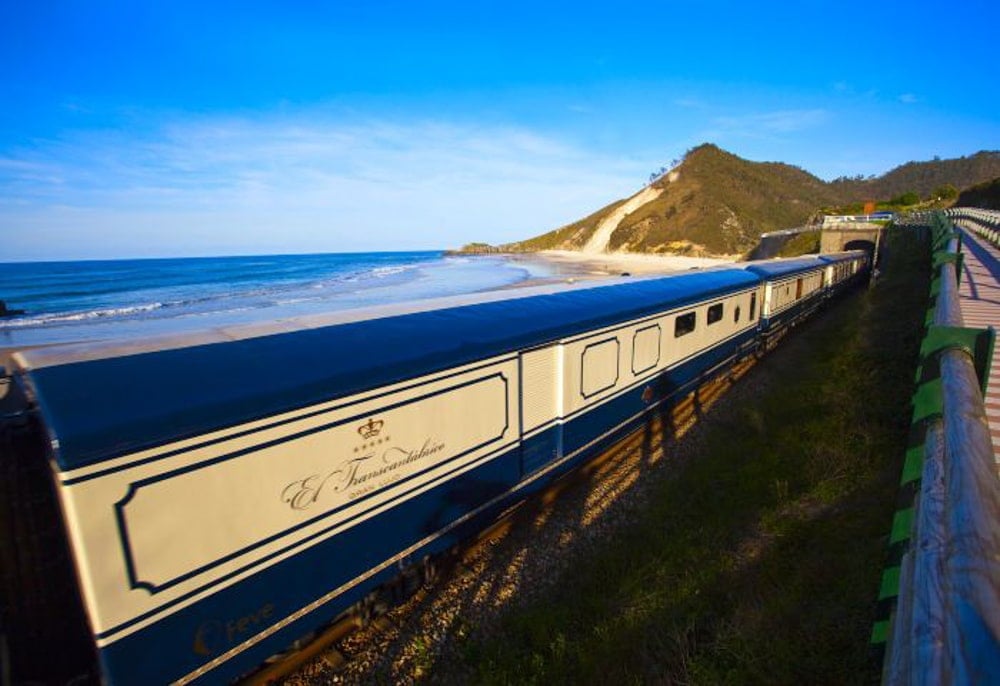 17. The Transcantábrico Gran Lujo, Spain
For a seamless blend of opulence and history, consider embarking on a journey aboard the Transcantabrico Gran Lujo, where the allure of luxury is magnificently entwined with heritage. Four of its cars are immaculately preserved original 1923 Pullman cars, creating an ambiance that harkens back nearly a century.
Stepping aboard is akin to stepping into a time capsule, with meticulously recreated decor that immerses travelers in the past. Offering an enchanting panorama of Spain's finest landscapes, a dedicated panoramic viewing car allows passengers to relish the nation's stunning vistas to the fullest.
This unparalleled journey unfolds along the northern coast, tracing its route from the charming San Sebastian to the revered Santiago de Compostela, presenting a unique opportunity to explore the diverse beauty of Spain's coastal treasures in ultimate comfort.
18. Royal Rajasthan on Wheels, India
Embark on a regal odyssey through India's vibrant tapestry aboard the Royal Rajasthan on Wheels, where luxury, culture, and heritage converge in a symphony of opulence. This exquisite journey traces a path through the heart of Rajasthan, unveiling the rich history and architectural marvels of cities like Jaipur, Udaipur, and Jodhpur.
The train's meticulously designed carriages reflect the splendor of a bygone era, adorned with intricate detailing, plush upholstery, and sumptuous interiors that immerse passengers in the ambiance of royalty.
As the train weaves through this captivating landscape, passengers are treated to a gastronomic adventure that celebrates the flavors of Rajasthan. Every meal is an artful fusion of local ingredients and culinary traditions, complemented by impeccable service that mirrors the grandeur of the surroundings.
The Royal Rajasthan on Wheels is more than a mere journey; it's a seamless blend of luxury and cultural exploration that invites travelers to experience the allure of India's royal heritage in a manner that truly befits kings and queens.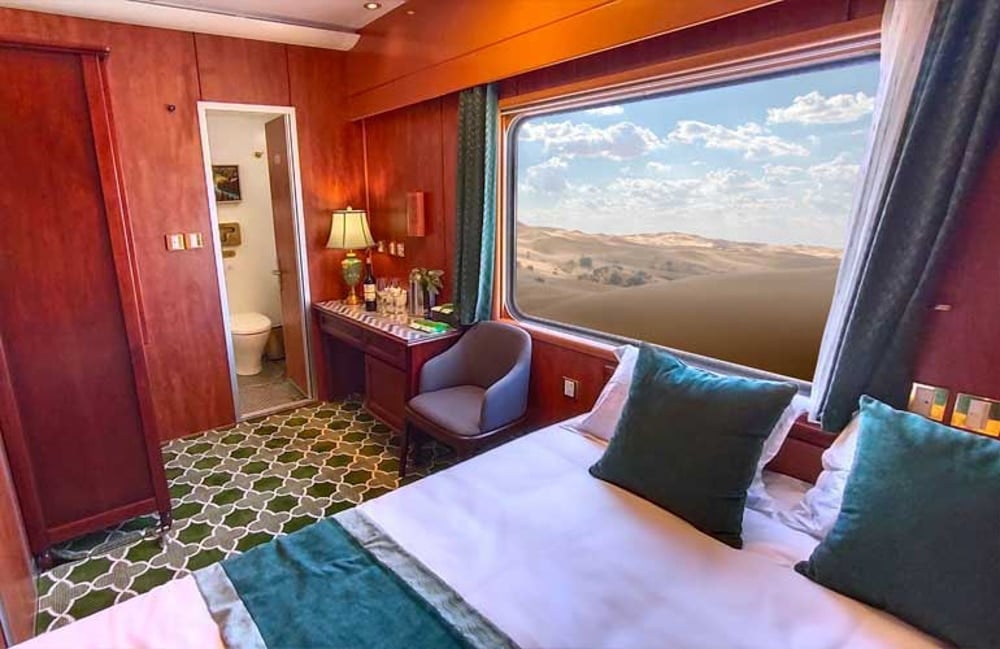 19. Shangri-La Express, China
Embark on a journey of pure luxury aboard the Shangri-La Express in China, where ornate decor and plush interiors create a timeless atmosphere reminiscent of a bygone era. As the train meanders through China's diverse landscapes, panoramic windows offer passengers a constantly evolving view of bustling cities and serene countryside.
The culinary experience is a highlight, with authentic Chinese cuisine crafted from local ingredients, transforming each meal into a gastronomic exploration. This voyage isn't just a train journey; it's an immersive encounter with China's cultural treasures, where opulent cabins, captivating scenery, and exquisite cuisine converge to redefine luxury travel.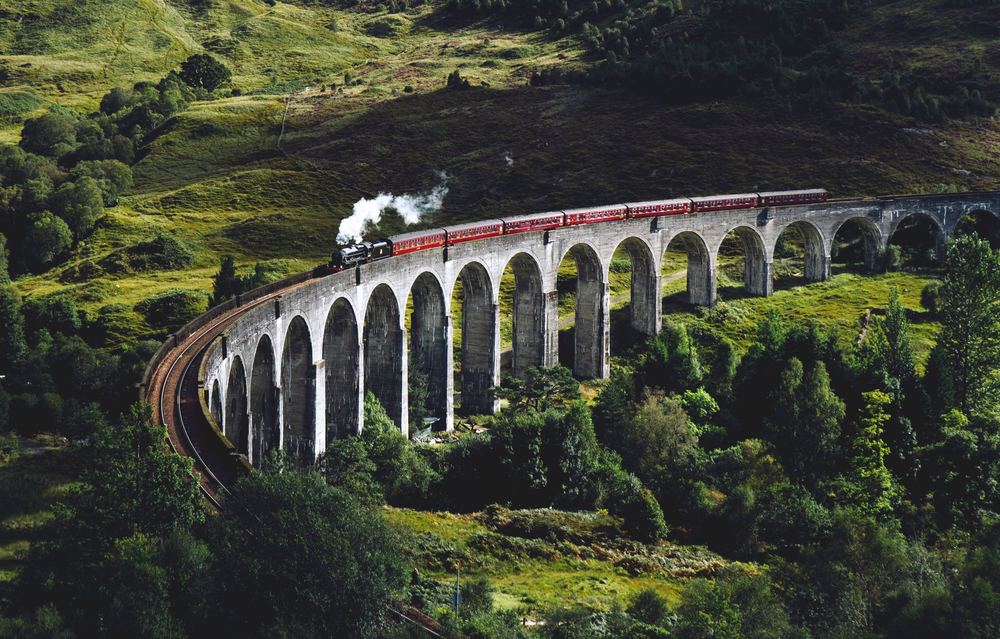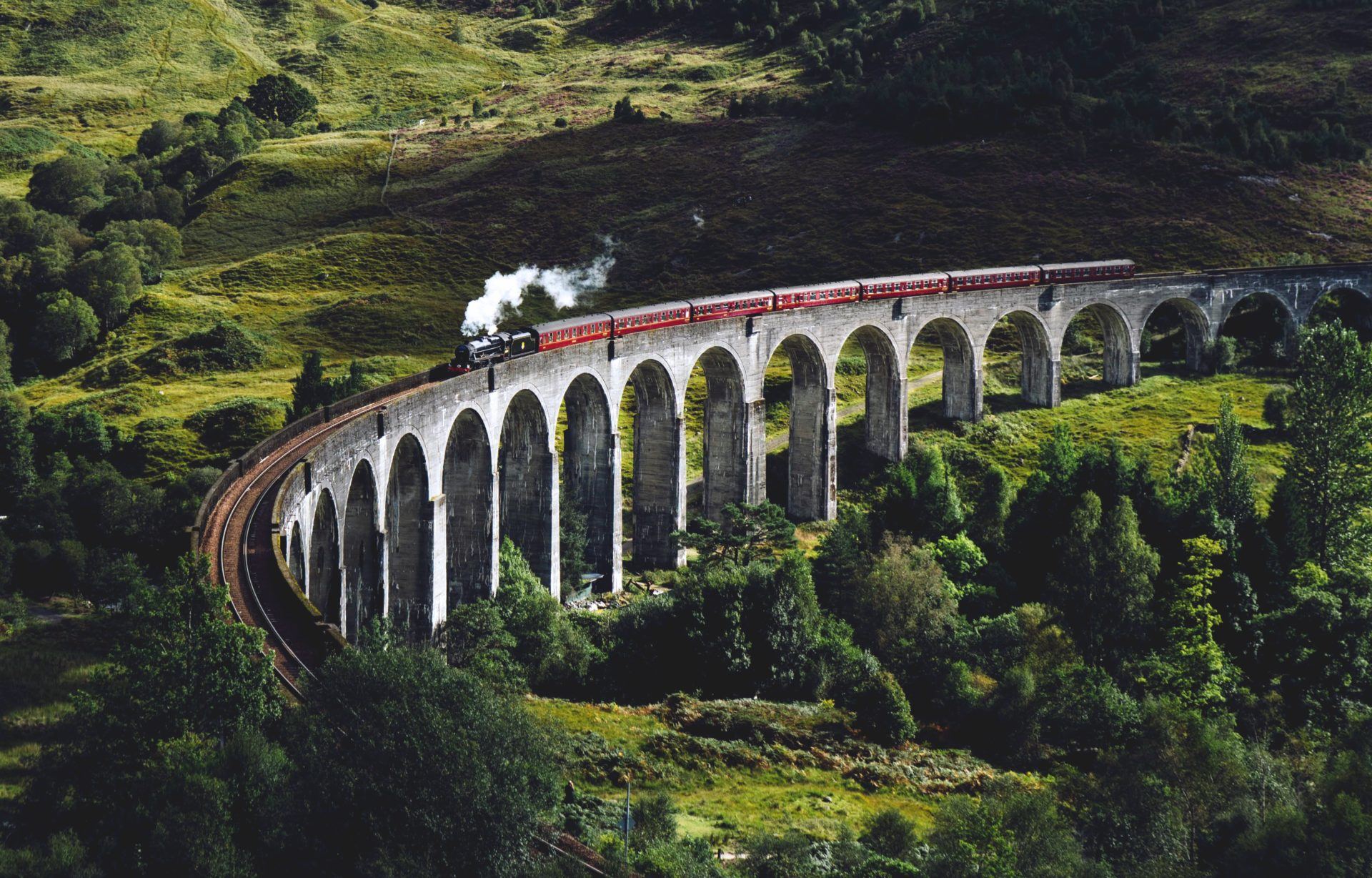 I feel like I can't end this post without mentioning two other trains. They aren't fancy luxury sleeper trains, but a good runner-up is the Harry Potter Train! Aka The Jacobite Steam Train, which is always making the news as a top Harry Potter sight to visit for fans since it's basically Hogwarts Express.
Sleeper train trips in the USA are hard to come by but the Amtrak Grand National Parks Of the Southwest Grand Cayon is a beautiful route. Nothing compares to the luxury of the Orient Express but you'll get amazing views.
I hope this helps you discover some of the best luxury train trips to take one day. I know I'm plotting future trips all around some of these rides… Orient Express has to be the number one next stop.
Maybe I'll see you in a coach car soon?