It's been almost 4 years since I discovered evanhealy products. I first learned about them while attending an event at Fioli Gardens – there was an esthetician there giving facials and she couldn't stop raving about evanhealy skincare products, especially for those with sensitive skin like myself.
Of course, I had to try them out and here I am 4 years later and the brand still has a firm and permanent spot on my beauty shelf. It's been fun to see the brand grow and and evolve over the years – they now have quite a bit of options. I get questions all the time on Instagram about what my favorite evanhealy products are, and where to start if you're new to the organic line. I've tested (almost) everything from evanhealy – these are my 5 favorite skincare products I think everyone needs in their bathroom.
Let me be clear – it was hard narrowing this down. I love evanhealy so much because they are a true clean skincare brand with ingredients I feel good about putting on my face. (No preservatives. No GMOs. No parabens. No artificial fragrance (they use essential oils) No sulfates. No silicone. Not tested on animals. Vegan / plant based, and gluten-free with with the exception of a couple products.)
I grew up with eczema and while I have grown out of the super rough patches as an adult, I still have sensitive and dry skin. It's hard finding skincare that truly works for me, but evanhealy always does it right.
Evanhealy Reviews: My 5 Favorite Organic Skincare Products You Need
1. Wild Carrot Nourishing Balm
The Wild Carrot Nourishing Eye Balm is my holy grail evanhealy skincare product. This baby is made with cold-pressed wild carrot seed oil and our own handmade whipped shea butter, so it can be used anywhere on the face or body but is specially made for the delicate skin under your eye.
I use it for under-eye hydration but also chapstick when I'm in a pinch. See, It's shaped like a chapstick tube, but larger while still small enough to carry in my purse. It's especially handy on trips when I have limited suitcase room!
If you wanted to really lean into the balms, I recommend you also try their Face Balm Trio set for all skin types.
Blue Cactus Cooling Balm: Ideal for sensitive, reactive dry & devitalized skin.
Rose Vetiver Harmonizing Balm: Ideal for dry & combination skin.
Patchouli Frankincense Rejuvenation Balm: Ideal for mature, dry & dull skin. It smells REALLY good!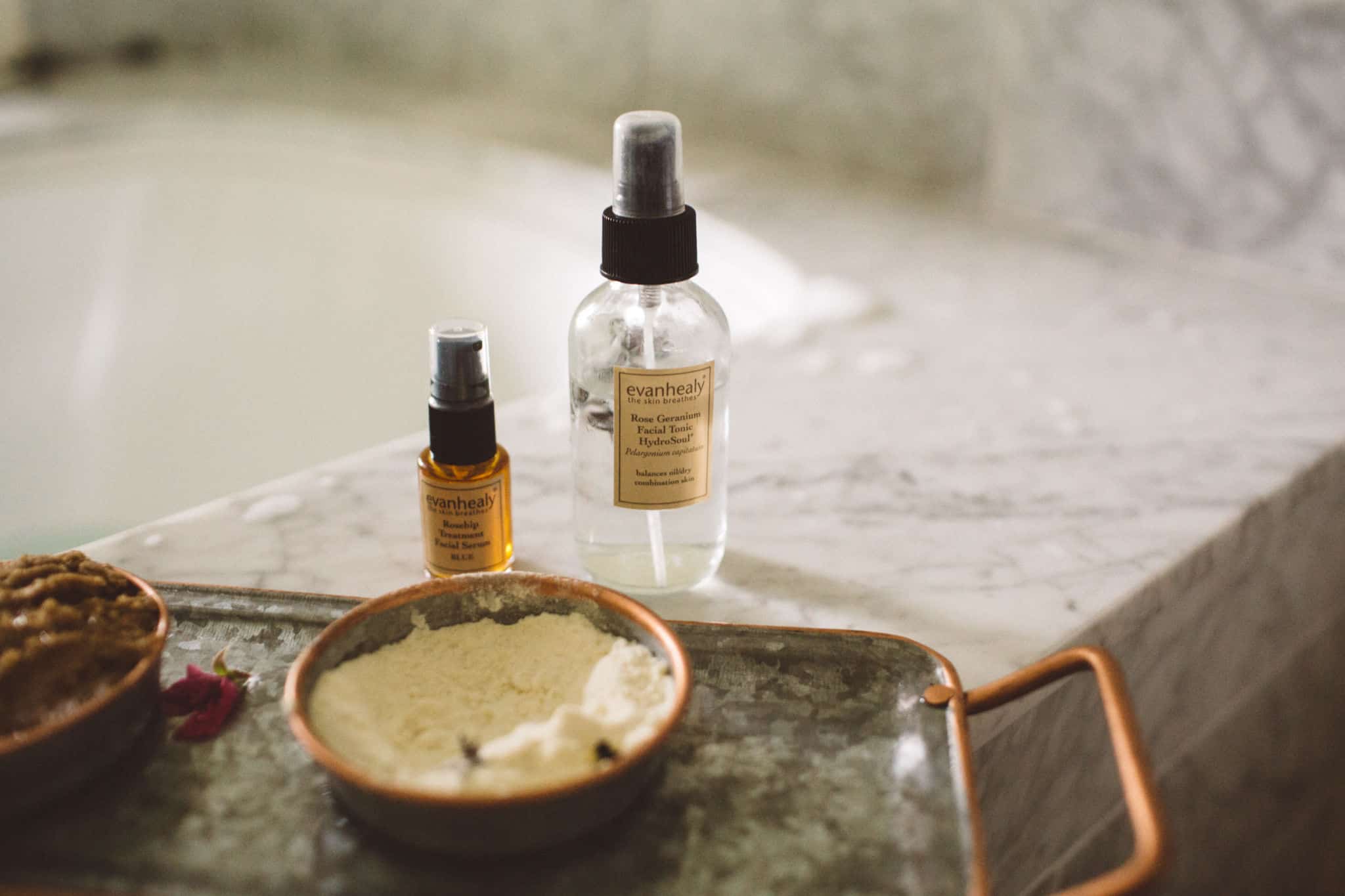 2. Rose Geranium HydroSoul Facial Tonic + Rosehip Treatment Facial Serum Combo
If you're on a limited budget, my other must-have is their HydroSoul + Rosehip serum combo. This is actually the first product I tried from evanhealy and the one that got me hooked. Their Rose Geranium HydroSoul is a 100% fresh plant hydrosol tonic water that you mist on your skin.
They sell it in a bundle with the Rosehip Treatment Facial Serum and also on its own. With the serum, you get the essential fatty acids, antioxidants and both water-soluble and fat-soluble phytonutrients of the products delivered to your skin in a way that keeps my face hydrated all day long. I really don't need other products if I didn't want to. It's super powerful.
I also love to use the mist throughout the day to rehydrate dry skin. I always keep some nearby as I work, especially in the winter when my skin is just drier. I have a tiny spray bottle of the HydroSoul that I always pack with me on planes as of of my long haul flight beauty essentials since that recycled air makes my skin super sad!
3. Green Tea Clay Mask
I used to use the internet-famous Aztec Healing Clay Mask to battle breakouts, but then I found evanhealy's Green Tea Clay Mask and loe it so much more. Their mask is super powerful but not as harsh as the Aztec mask, which can be a little much on sensitive skin since it requires apple cider vinegar to activate.
The Green Tea Mask is my go-to after a long trip to reset my skin, or when I feel like I'm breaking out to curb blemishes. This mask uses clay to help loosen pores and essentially clear them out, leaving my skin oil free and ready to heal.
This was a hard tie between their Rose Clay Mask. This one is more gentle if you have super duper-sensitive skin.
4. Whipped Blue Cactus Body Butter
This whipped shea butter is my favorite evanhealy moisturizer for the winter months. It's super heavy duty! I always apply some to my face and hands in one go (I don't know about you, but i sometimes pay too much attention to my face and not enough to my body and hands.) Trying to be better about anti-aging methods on my hands especially, so this helps a lot.

This body butter uses Lipid-rich sunflower and sesame, jojoba, and vitamin e rich prickly pear seed oil as the base. It smells like blue tansy, sacred sandalwood, intoxicating ylang ylang blossoms in full bloom, you'll be addicted to the smell and the results.
5. Sanctuary Bundle: Balm & Serum
evanhealy's Sanctuary line is probably their most luxurious, and the one that gives back so it's a double whammy. ($5 from each bundle of the Sanctuary Collection goes to non-profit organizations that support human rights or environmental justice, with a new organization as the recipient every month. See this month's current organization here. )
Beyond paying it forward, this stuff is like liquid gold. The dou always leaves my face feeling super hydrated but not sticky or heavy. It's what I usually use in the summer or warmer months but great year-round. The Nectar Balm seals in moisture and prevents trans-epidermal water loss, so this combo is also something that I reach for when my skin is really irritated or enflamed for whatever reason (usually i ate too much sugar or got sunburnt.)
Again, this was hard to narrow down to a top 5 must-have list! Some other favorites of mine are their body oils, especially the Vetiver Hinoki Body Oil and Blue Cactus Body Oil. Makes me feel super posh and leave my skin smelling great all day.
I'm a makeup wipes type of gal, but if you love a facial cleanser at the end of the day, then try the evanhealy rose cleansing milk. It uses natural yucca root to create a foaming wash that's gentle on the skin and removes makeup in a flash.
My Favorite Evanhealy Makeup
Last year, evanhealy branches from skin care products and also launched makeup!! While some days I got big with fun eye looks and contoured face, usually I just wear a minimal makeup look. And some of my go-to products are evenahealy. Here's my favorites:
Medina Color Balm Blush
This clay-colored blush is creamy and the perfect tint to leave my cheeks rosey. It's made from shea butter, Al Amal Co-operative argan oil, rosehip oil, and organic beeswax. The texture makes it easy to blend to look natural, and the color stays all day.
Elysium Glow Balm
This is their highlighter! As a pale and freckly person, finding the right highlighter that looks natural is hard. I love the Elysium Glow Balm because it leaves me looking dewy, not shiny or like I went overboard under the ring light. It's just as creamy as the blush so it's also super easy to blend in and apply.
Tinted Oil Serum Foundation
Come wintertime when my skin is always extra dry, I reach for the shade 15 or 20 Tinted Oil Serum Foundation. This stuff is super hydrating but applies color at the same time so it can replace a BB or CC cream easily. Because it's an oil serum based foundation, my skin is moisturized all day long which I love.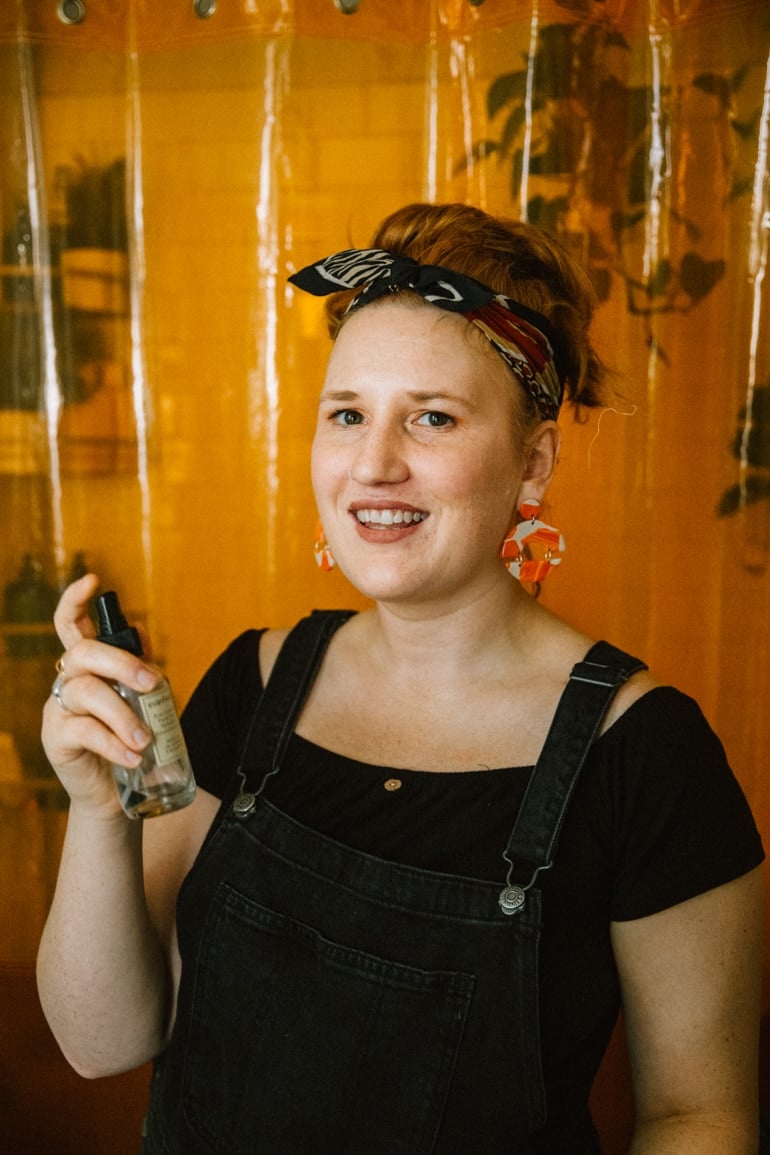 Where Can I Buy Evanhealy?
I hope this helps you pick the best evanhealy products for your skin! If you're just new to the brand, you'll love those top 5 products. And get ready – you'll soon get addicted and have the whole line.
Have you tried evanhealy beauty before? I would love to hear your thoughts on your favorite products! Drop a comment below so everyone can see.