Last week, Robin and I were in Seattle on a whirlwind work trip. 2 days, one night and while that doesn't sound like a lot of time to see the city, I kind of fell in love with the idea of taking more literal weekend trips (not that 3-day, taking time off work weekend trips!)
It helps that we've been to Seattle before (read my whole detailed Seattle travel guide here) but I think the city would be a very fun and easy weekend trip for you travel lusters with limited PTO.
So, keep on reading to learn how to do Seattle in a weekend!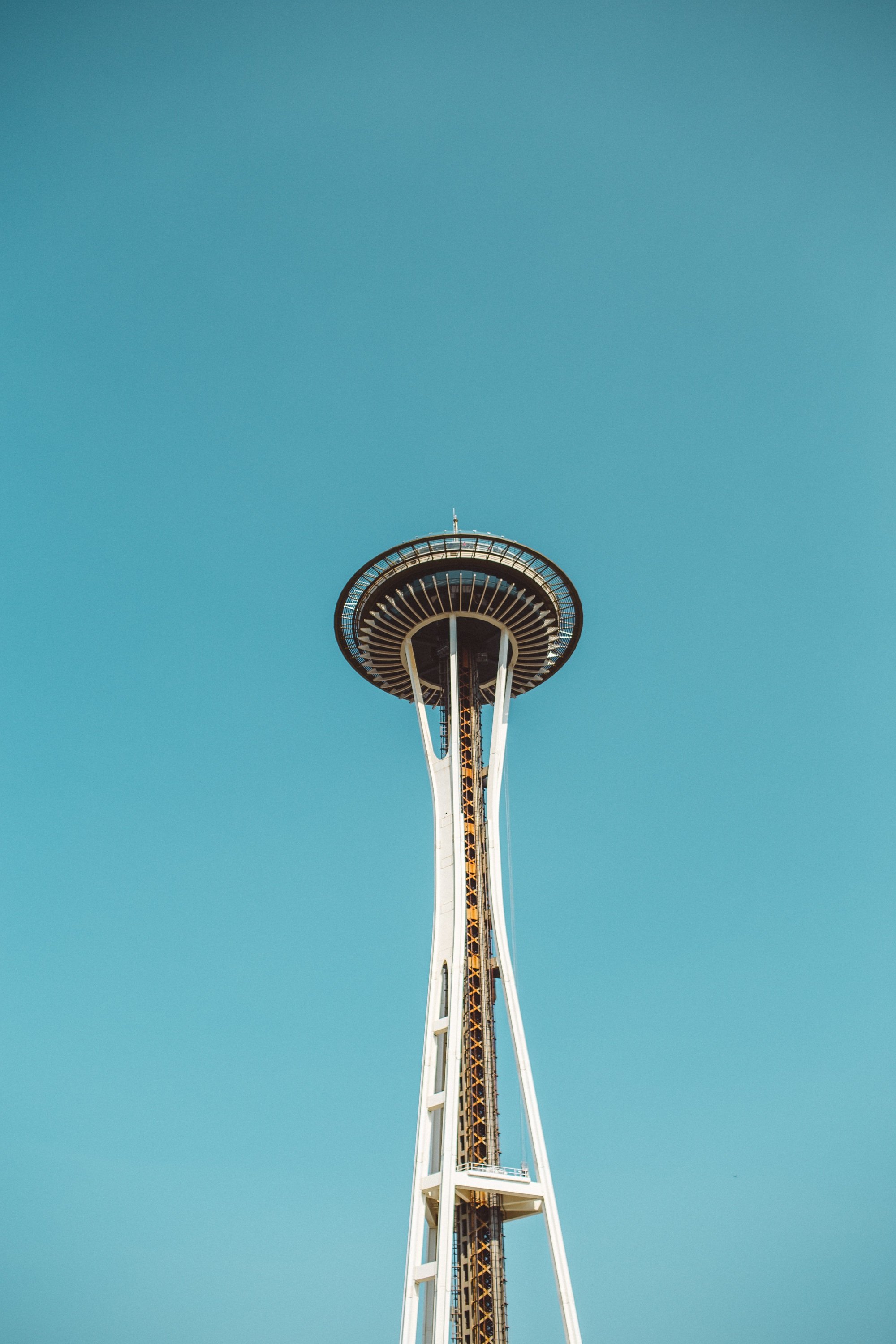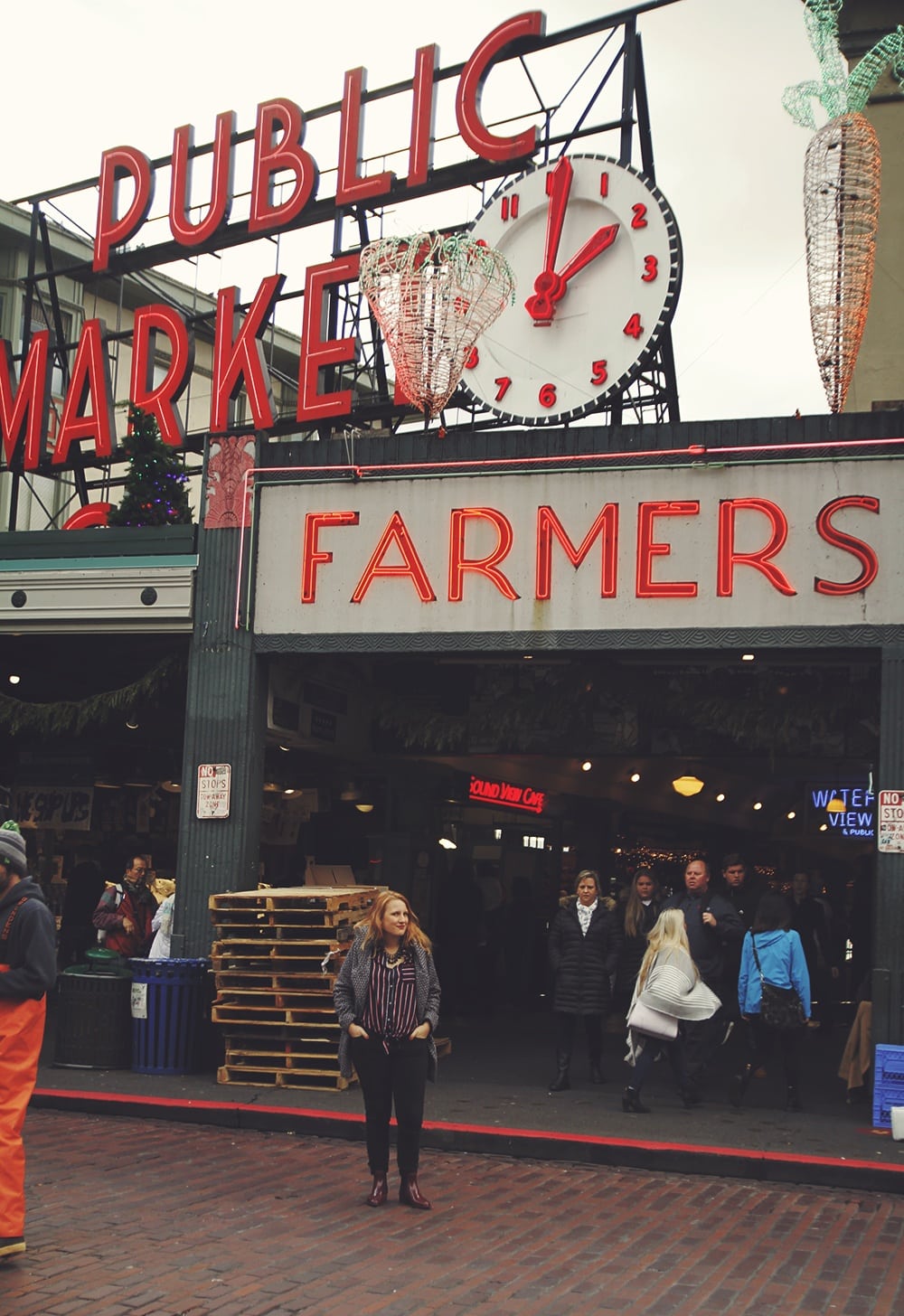 *a Star means we have personally been here, stayed at this hotel, eaten here, etc. It's basically our personal stamp of approval!
Note: this weekend guide is written for longer daylight hours (spring, summer, early fall, etc). If you are visiting in the winter with shorter daylight hours, please adjust the itinerary as needed.
Want more travel inspo? Follow me on Instagram @thewhimsysoul!

Seattle Hotels
First up, hotels! Seattle is a major city and has a lot of hotel and lodging options. Because this travel plan involves storing luggage at your hotel, I highly recommend booking at a trusted hotel vs. a little cheap motel. You want to know they'll take good care of your suitcase! I also love using Airbnb, but you can't store luggage there, so skip the cute Insta-worthy loft this time. Start your Seattle in a weekend trip with a good hotel.
*Hotel Max: We've stayed there twice and have loved each visit. It's a funky art deco hotel that has a great staff. We were actually able to check-in around 11am (score!) and checkout isn't until Noon, which was extremely helpful in our one day trip. They offer free pour over each morning plus a free happy hour each evening (hello dranks!) Learn more about Hotel Max + book right here.
Hotel FIVE: I haven't been here, but we almost booked a stay there. It's a StayPineapple hotel, which is a national boutique hotel chain. I hear they're trendy and clean, things I love about a hotel! It's also in a really great spot, pretty close to the Space Needle.
A Kimpton Hotel: I say "A Kimpton Hotel" because there are a couple in Seattle. I freaking love Kimptons – each one is decorated in a unique style that's usually fit to the location. Like Hotel Max, Kimpton's usually always have free nightly happy hours and free coffee. Sometimes they even have vintage cruisers bikes you can borrow as a guest and many are dog-friendly. Check out the Hotel Monaco, Hotel Vintage or Alexis Hotel.
SATURDAY
9am-10am: Land at SEA. Make sure you book a flight that gets in no later than 10am otherwise you won't have enough time to do cool things!
10am-11am: Take the Link into Seattle. Follow the signs at the airport – it's a bit of a walk, but you may be able to catch the free "shuttle" cart. The link is $3 into the city or $6 for a day pass. Just purchase the one-way ride.
Skip Uber and take The Link (public train) into Seattle. It's fast and only $3!
11am-11:30am: Take this time to check-in and refresh a bit!
11:30am-12:30am: Lunch time! Walk over to *Rachel's Ginger Beer in Post Alley and grab a housemade ginger beer. They have so many great flavors – I personally recommend the guava. Order it to go and walk a storefront down to join the line for *Pike Place Chowder. The line may be long, but it shouldn't take more than 20ish minutes for you to get to the counter. This place is world-famous for chowder in a bread bowl and while it may seem touristy, it's amazing! I recommend the classic chowder, though the salmon one is pretty dang good too.
IG Worthy: Rachel's Ginger Beer offers colorful drinks and looks pretty #nom next to a bread bowl chowder. Hello flatlay.
I know it may be tempting to walk over to Pike Place down the street after lunch, but don't! It's insanely busy this time of day and very overwhelming. You'll head here tomorrow morning instead.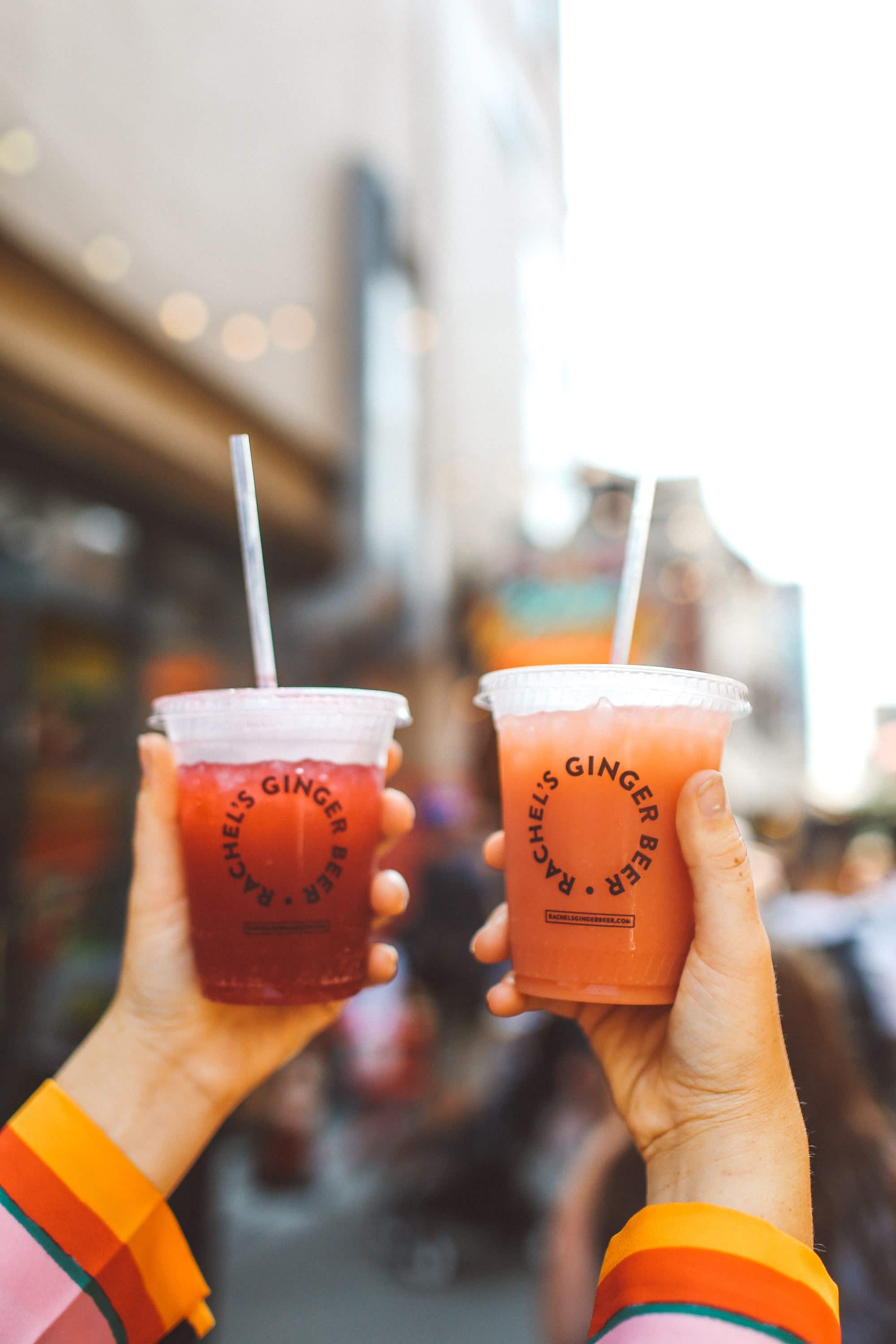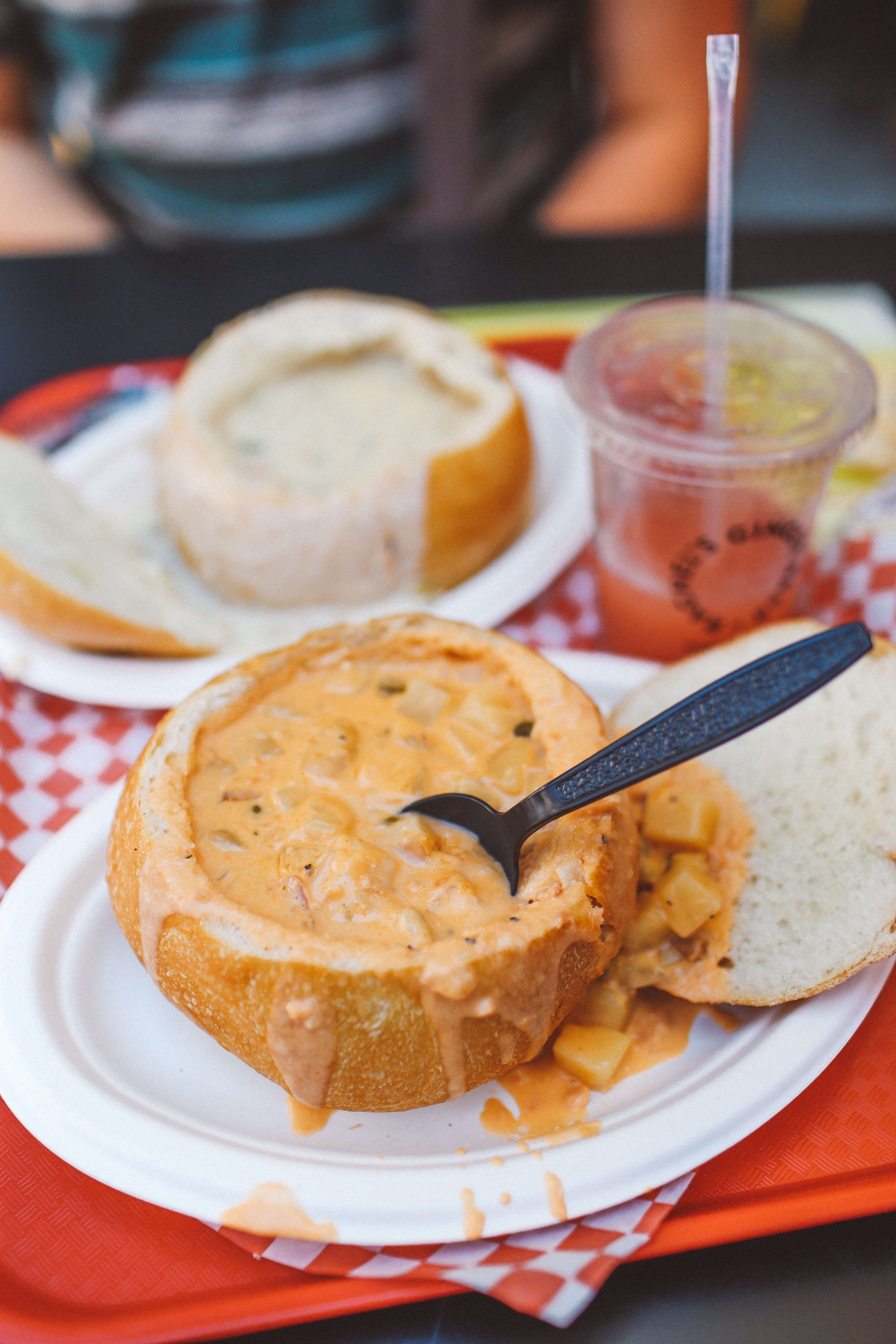 12:30-3pm: Take this time to casually wander around Downtown Seattle! Some fun places you can choose to visit and explore during this time:
3pm-5pm: *The Space Needle! I give you 2 hours because the line up can sometimes take a while and if you're anything like me, you'll want to spend forever gazing out over the city and the Puget Sound. Buy tickets ahead of time HERE. It will save you a good hour just waiting in line to buy tickets (no joke!)
IG Worthy: The afternoon and evening hours offer the best lighting for photos (hello golden hour!) For the best photo, head to the outside decks and use the viewing things as a prop. Wait for people to move so you don't have any photo bombers.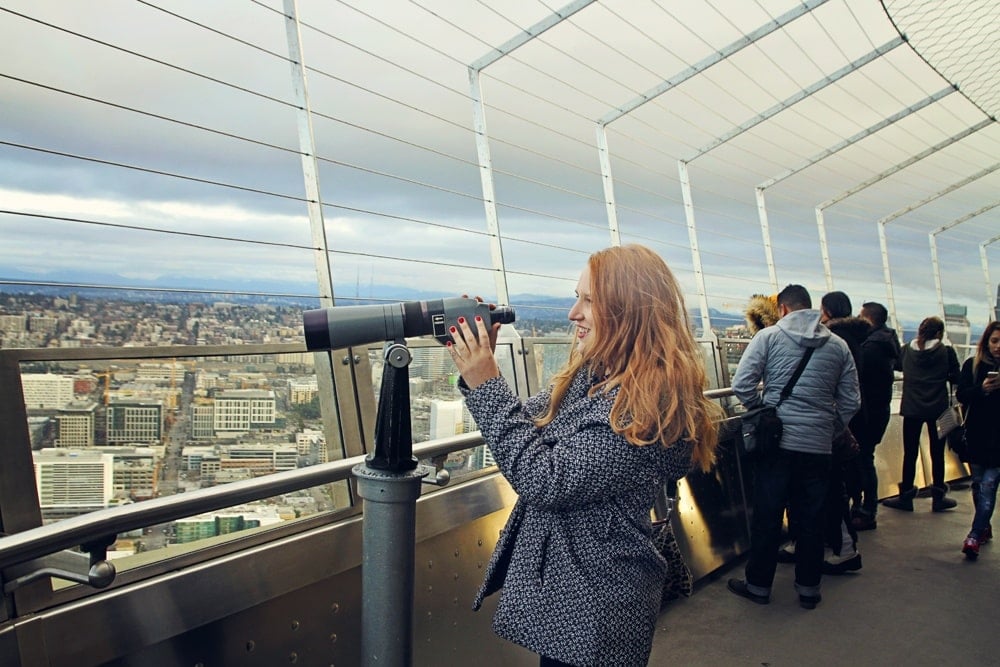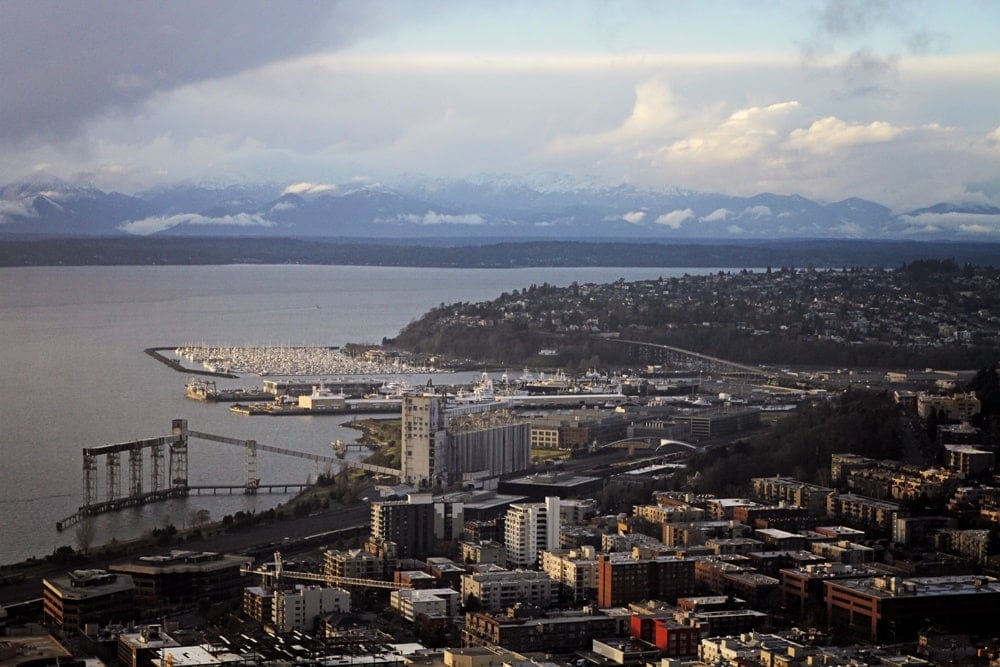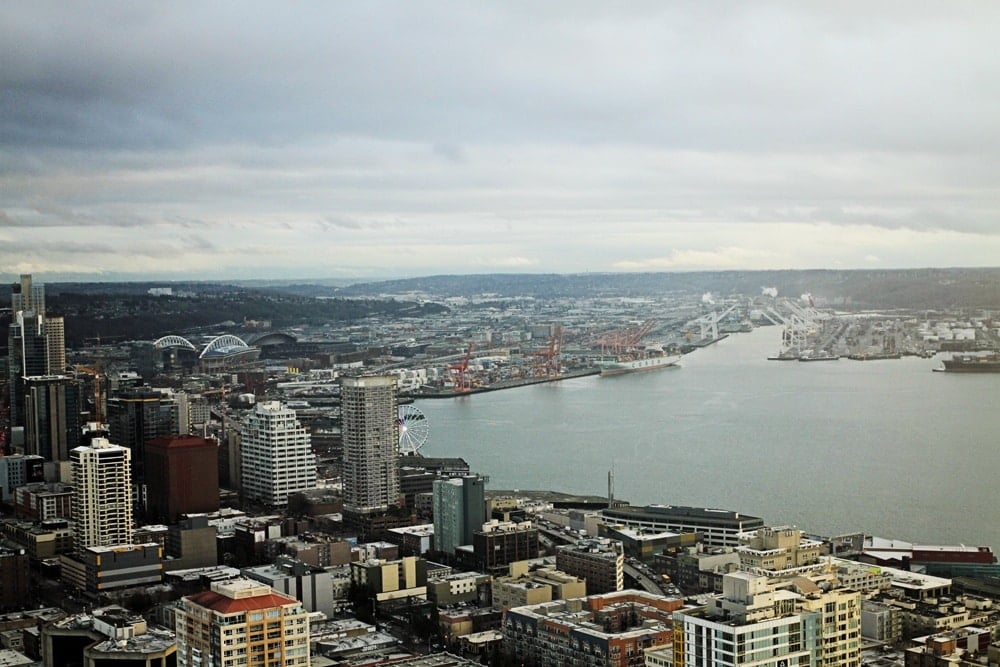 5:30-6:30pm: Head back to your hotel for that free happy hour! *Free beer or wine always taste better! Plus, you can use this time to refresh and relax a bit. If your hotel doesn't have a happy hour or you don't want to attend it, skip it and head straight into your dinner plans.
6:30pm-8pm: Dinner! Head to *Queen Anne or *Lower Queen Anne neighborhood for dinner. You can bus, walk or take an Uber (we choose the later for time's sake.) Check out one of these restaurants for a fantastic meal!
8pm-9pm: *Kerry Park for sunset is next! Hold onto your butts – you're going to have to walk up a really big hill. The view on top is so worth it, though! This tiny park overlooks the Seattle skyline. On a clear day, you can Mt. Rainier! It's a favorite spot to visit at sunset and you'll likely have to elbow out photographers and tourists. That being said, it's a lovely place to watch the sunset!
IG Worthy: The small viewing area is going to be crowded. Instead of settling for people photobombing your photos, hop over the edge and head below to the grassy hillside. You'll have plenty of space to take photos with that awesome backdrop!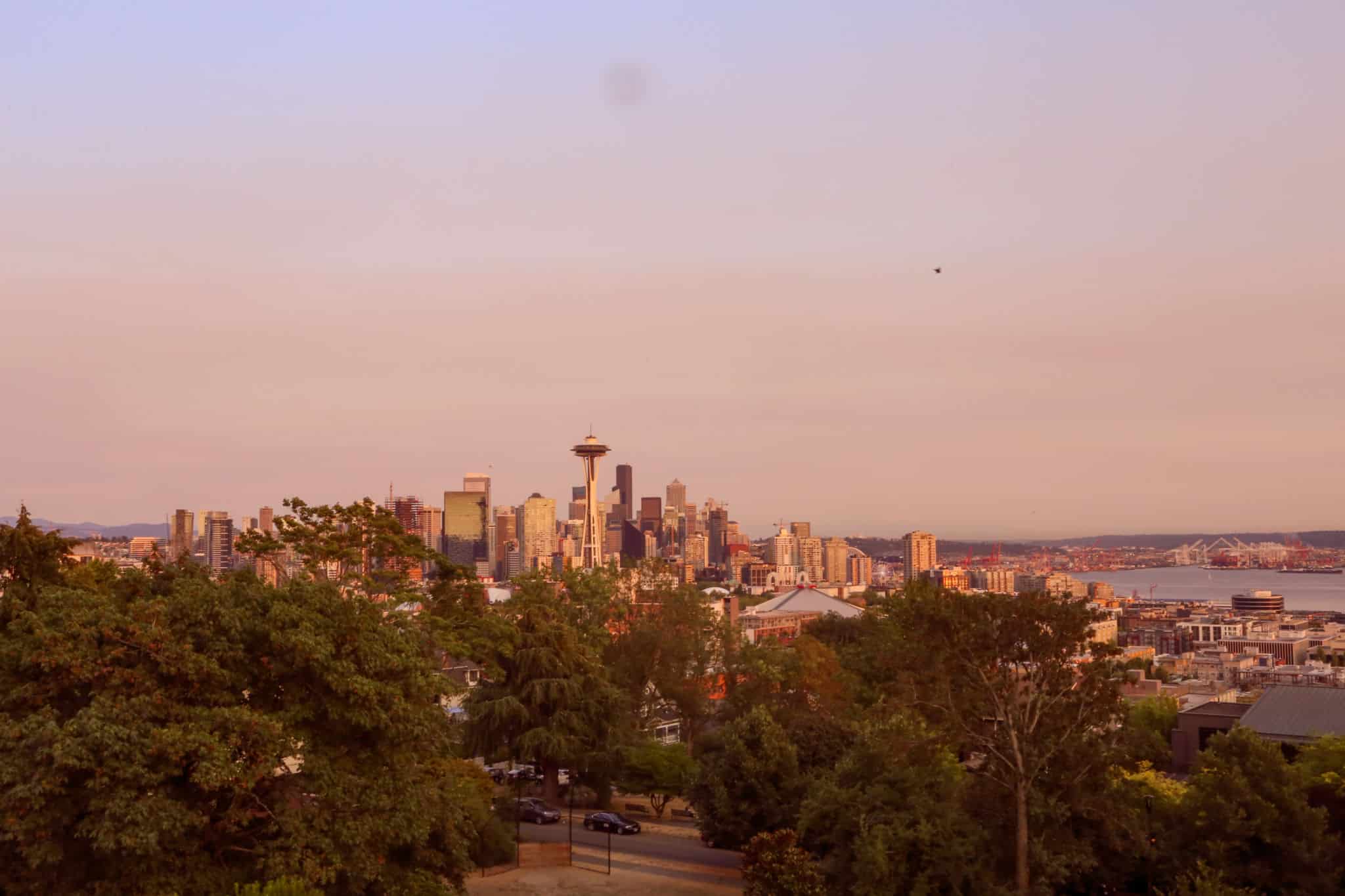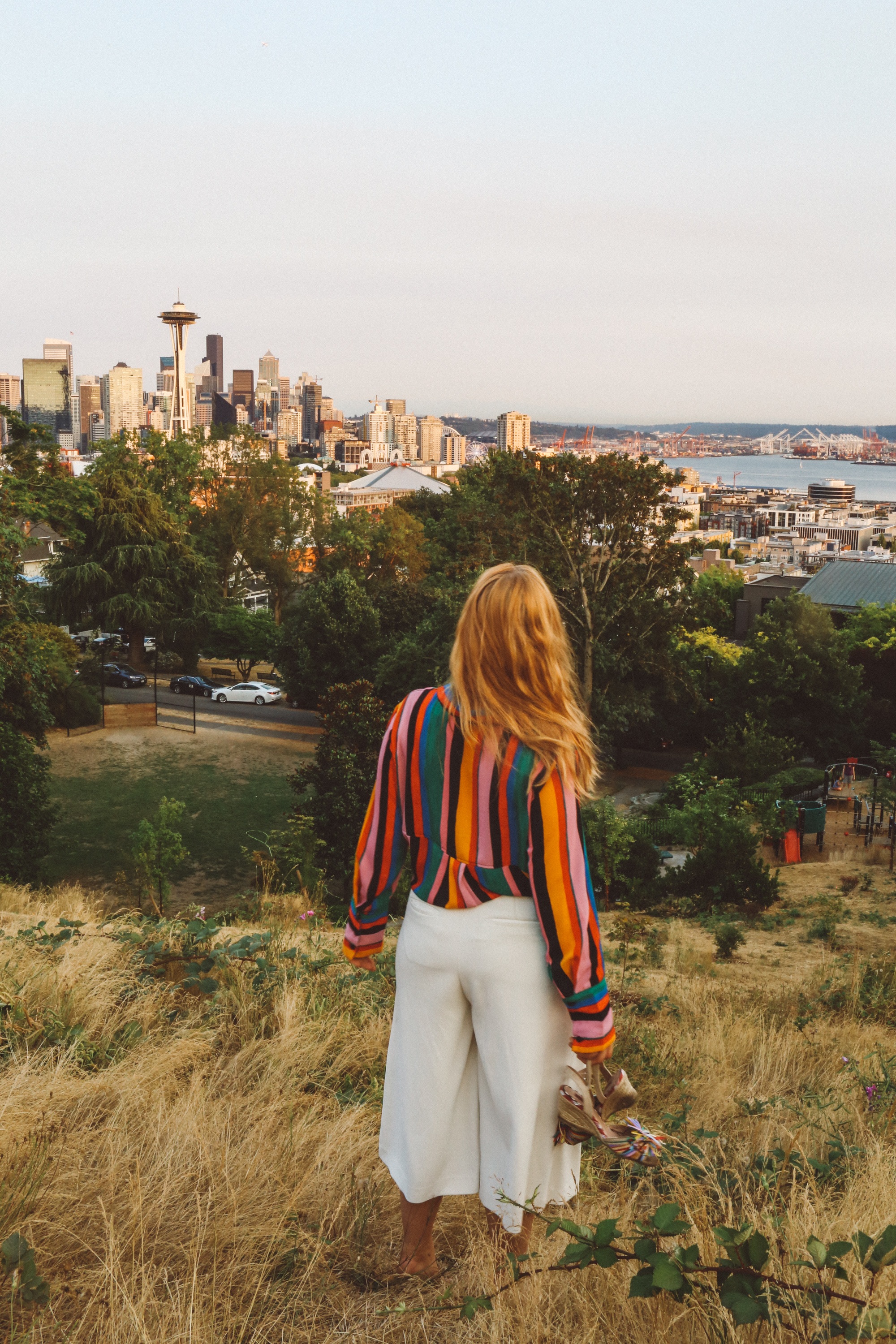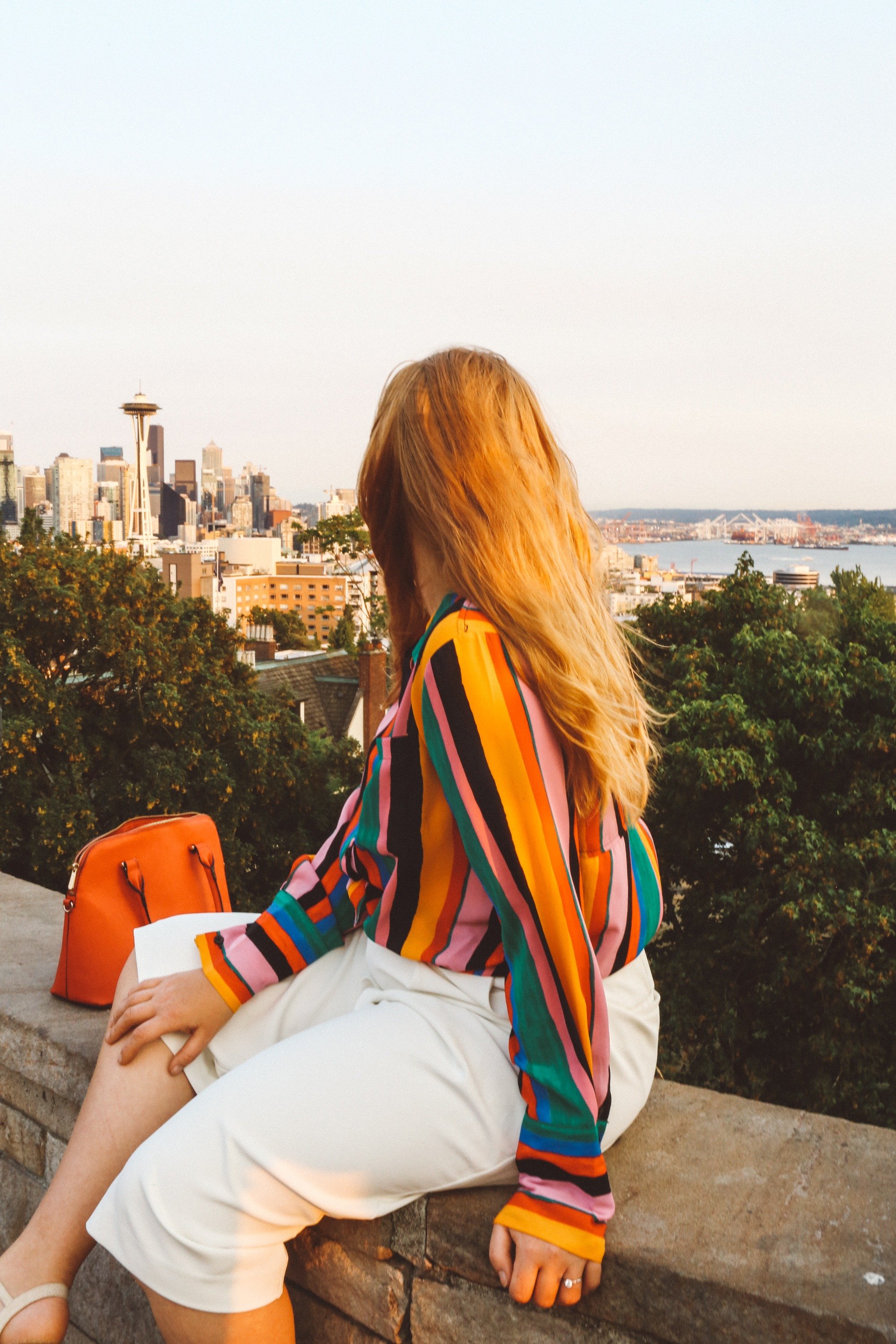 9pm-Bedtime: You can choose to grab late night pints somewhere if you want to keep the party going, or head back to your hotel. If you want to walk around to pick a spot, head to *Capitol Hill as there are so many great bars there. Or, start from my list below.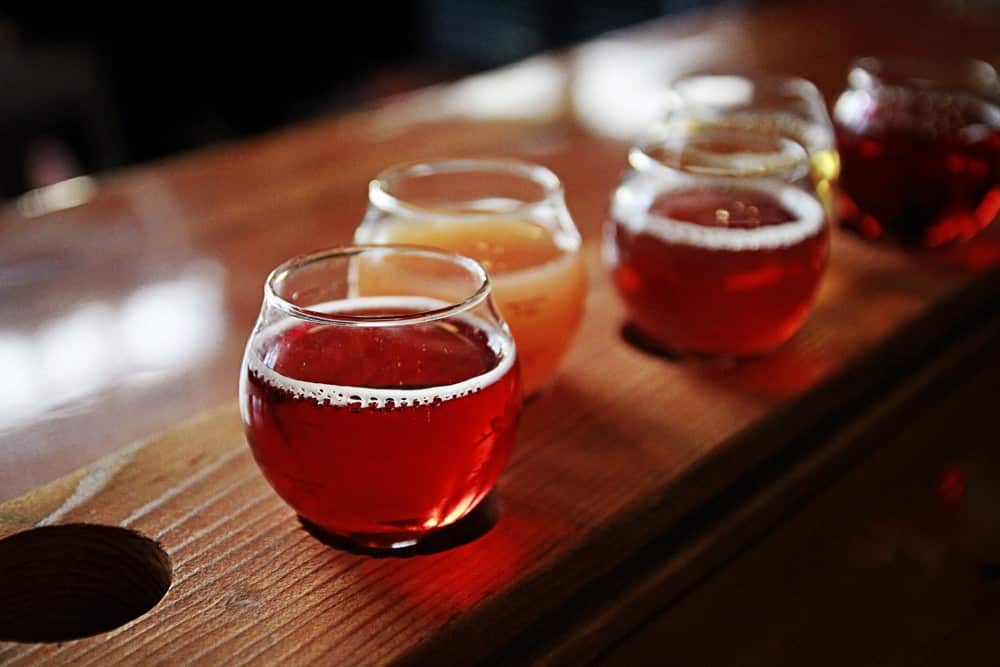 ---
SUNDAY
---
6:30am: Wake up! Yes, I know it's early, but the Original Starbucks at Pike Place opens at 6am and you'll want to hustle on down there to visit before it gets too busy. They literally set out a rope to mark a line because by around 8am, the place is crazy crowded with tourists.
The Original Starbucks is at 1912 Pike Place, Seattle
7-7:30am: Visit the *Original Starbucks store at Pike Place. Because of the historical significance, they keep the outside preserved in time and that includes the original logo on the signs! This tiny store transformed into a massive worldwide brand, and it all started there. This store serves all the same drinks you know and love, but the history makes them taste 100% times better. Even if you aren't a Starbucks lover, this is a must-stop for Seattle.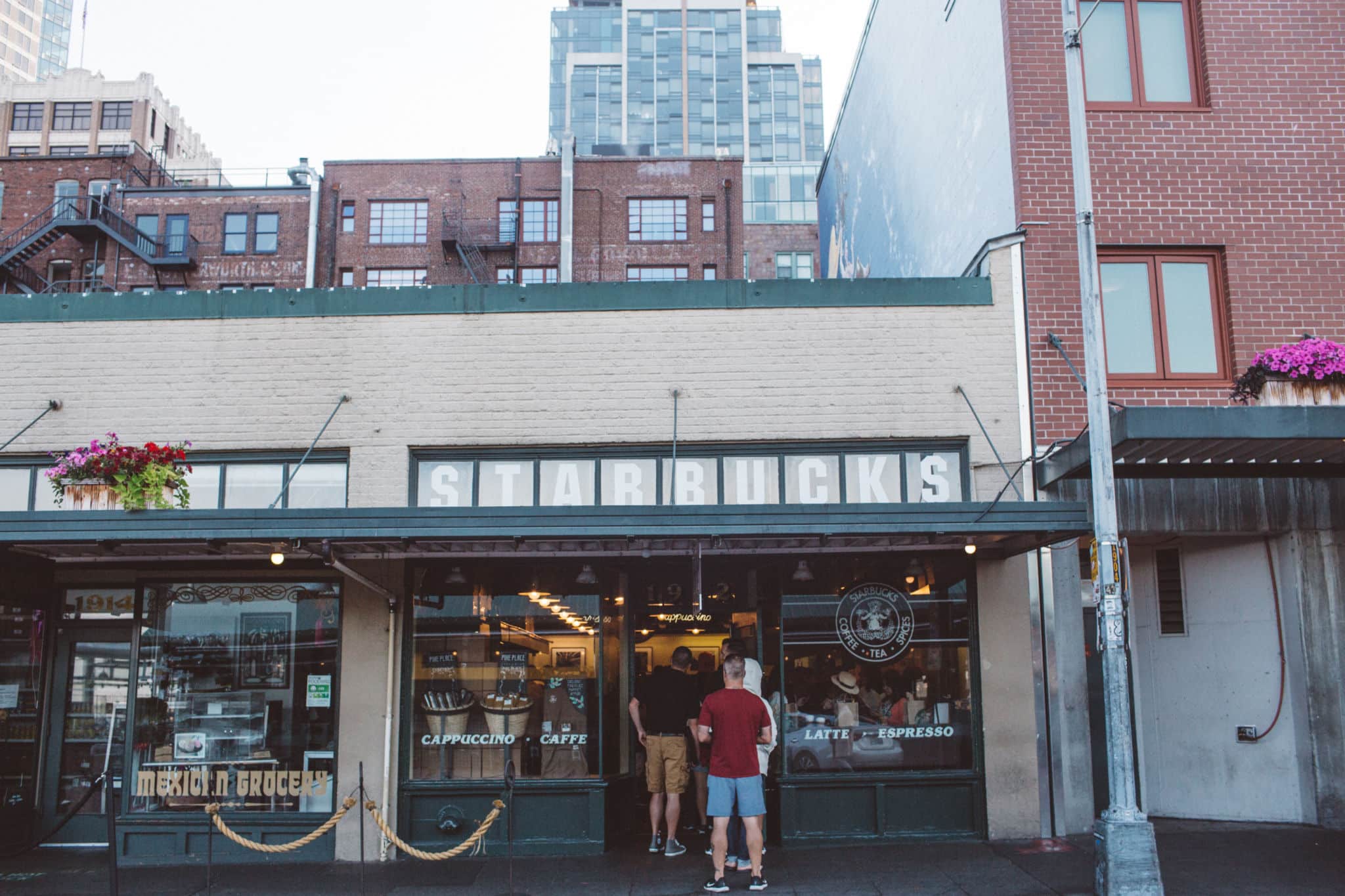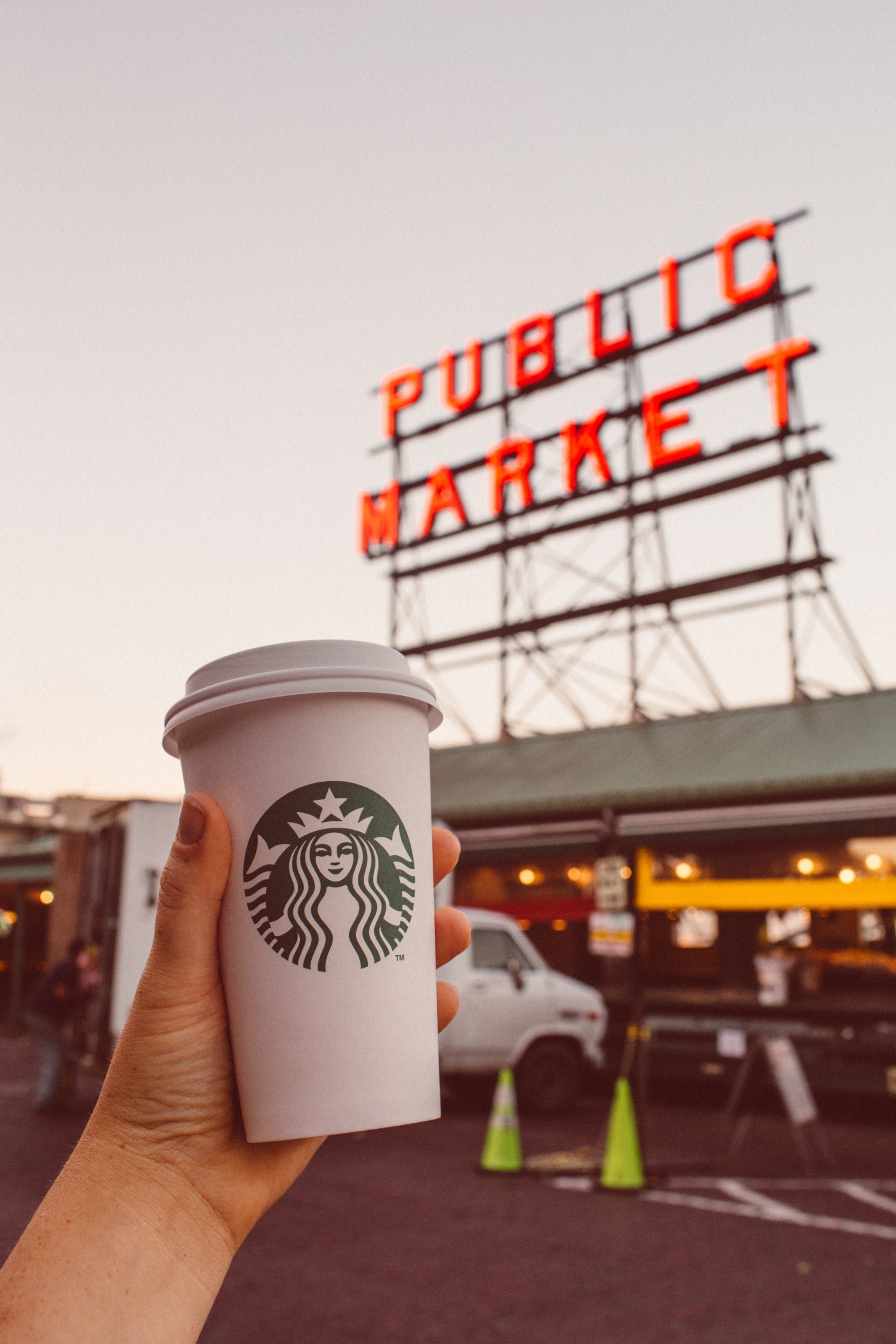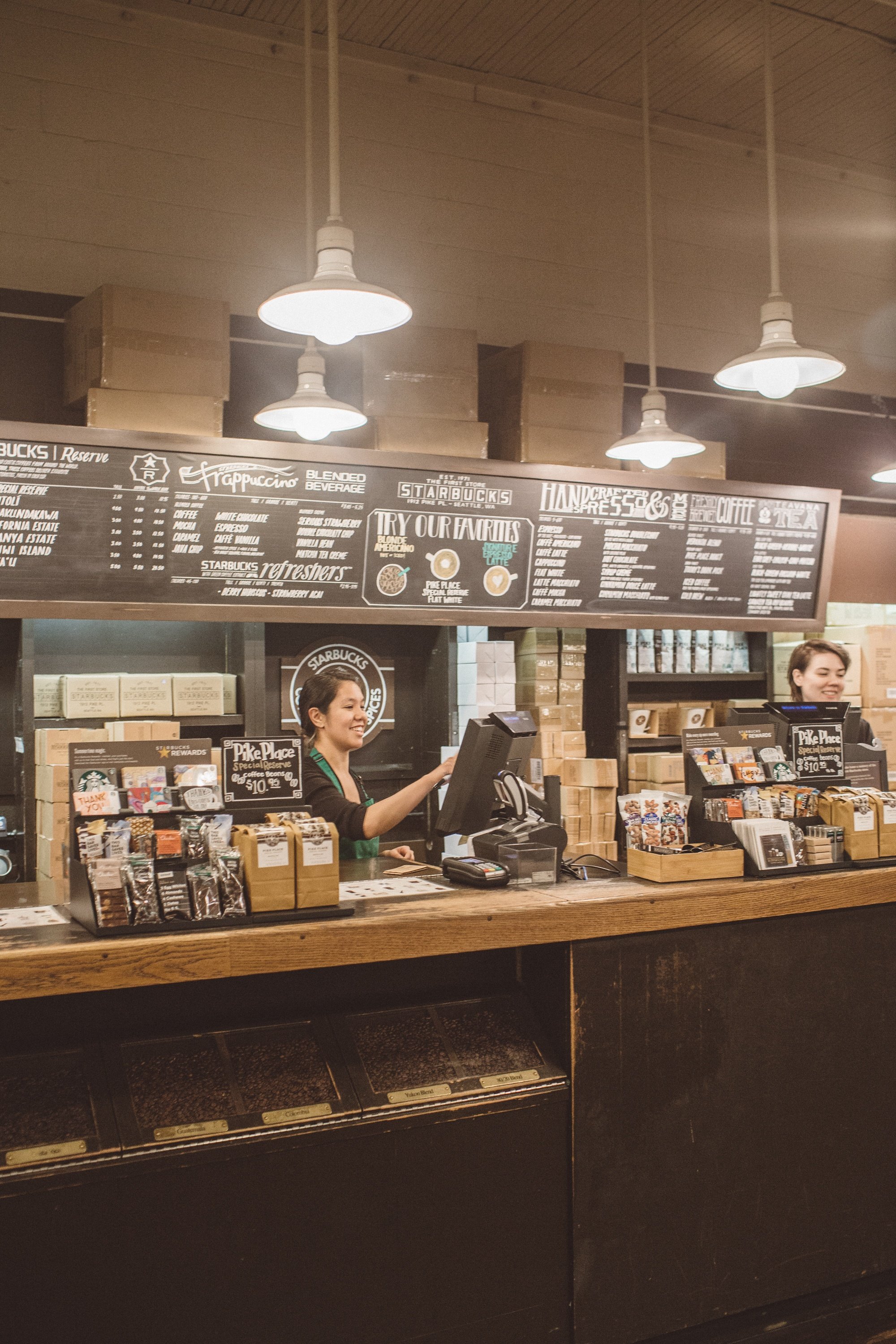 7:30am-9am: Take your Starbucks and walk around *Pike Place Market! First, head to *Seattle Bagel Bakery in the market (to the left of the pig statue) to grab yourself a bagel. I recommend the everything bagel with lox – they are so dang fresh! Find the viewing area in the marketplace and take a seat at the counter to enjoy your breakfast with a view of the water. On a clear day, you may be able to see Mt. Rainier from here! After eating, walk around Pike Place and look at all the shops!
IG Worthy: Before grabbing your bagel, stop in front of the Pike Place Market sign and snap a photo before it gets too crowded later!
9am-10am: Head back to your hotel. Drop off your morning jacket, pack your bags and check out. Leave your luggage at the front desk so you don't have to haul it around!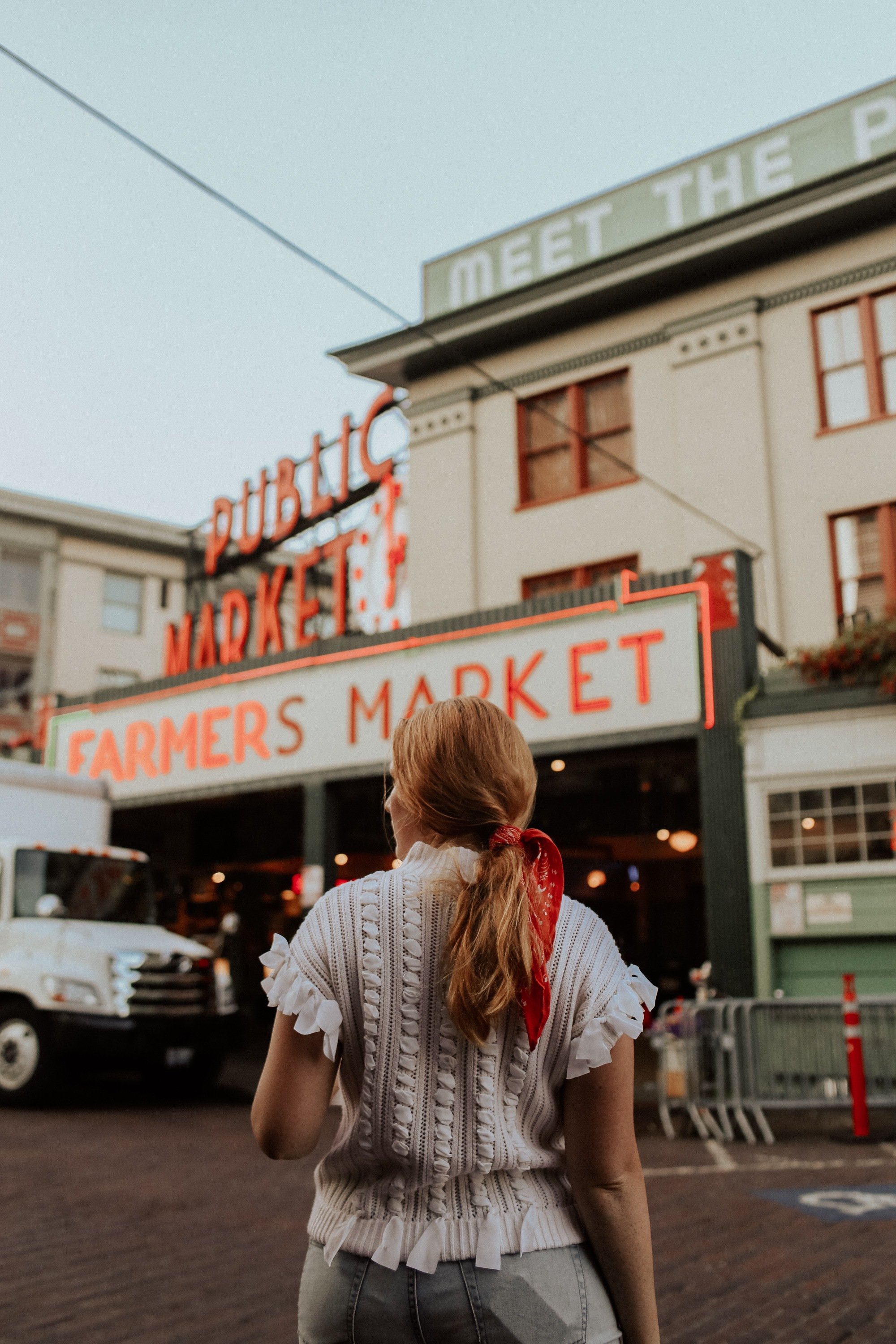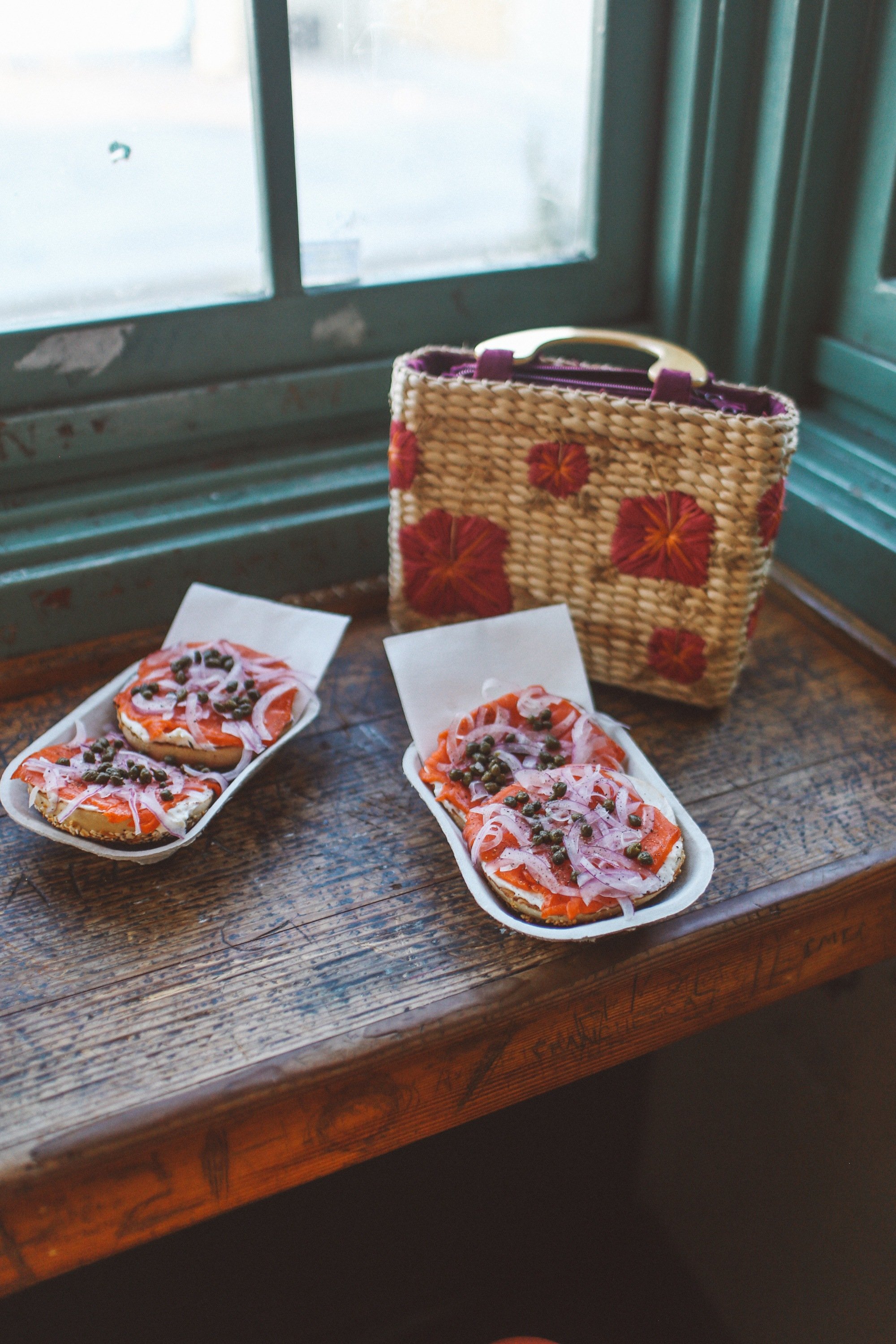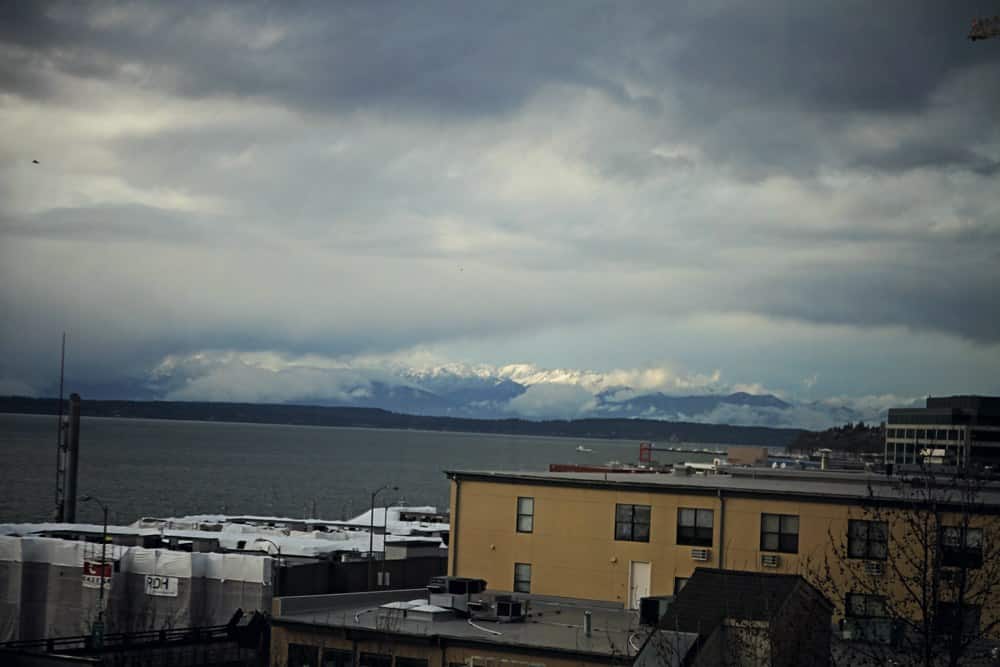 10-11:30am: Take an Uber to *Gasworks Park, one of Seattle's most famous parks. The former Seattle Gas Light Company-turned-park still has remnants of the machinery. It sits on Lake Union and has a great view of the skyline! It's a fun place to wander and explore.
IG Worthy: Before you leave the area, walk up the hill a bit and visit the *Fremont Troll! There's a huge iconic troll statue under the bridge that is whimsical and fun to pose with.
11:30am-12:30pm: Walk around *Fremont and take time to visit all the cute stores. There are bookstores, vintage stores, etc. There is also a whiskey museum in the area and a chocolate factory that you can tour if you desire!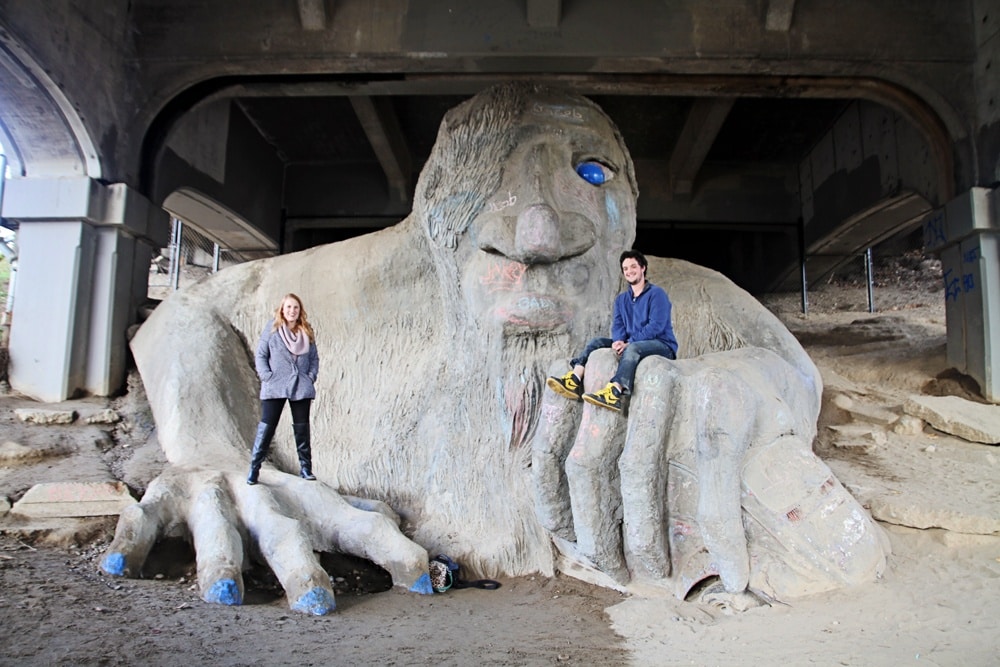 12:30-2pm: You can choose to walk, bus or Uber over to the Ballard neighborhood, just 2 miles North of Freemont. This is a hip waterfront neighborhood and where you should grab lunch! Walk down Market Street and see what calls to you. There's Mexican, Thai, Indian… everything!
2pm-3:30pm: Seattle is a brewery-filled city and Ballard houses over 10 alone! We suggest going on a mini brewery tour by picking 2-3 breweries to stop by. Order a flight at each and taste away! My favorites are: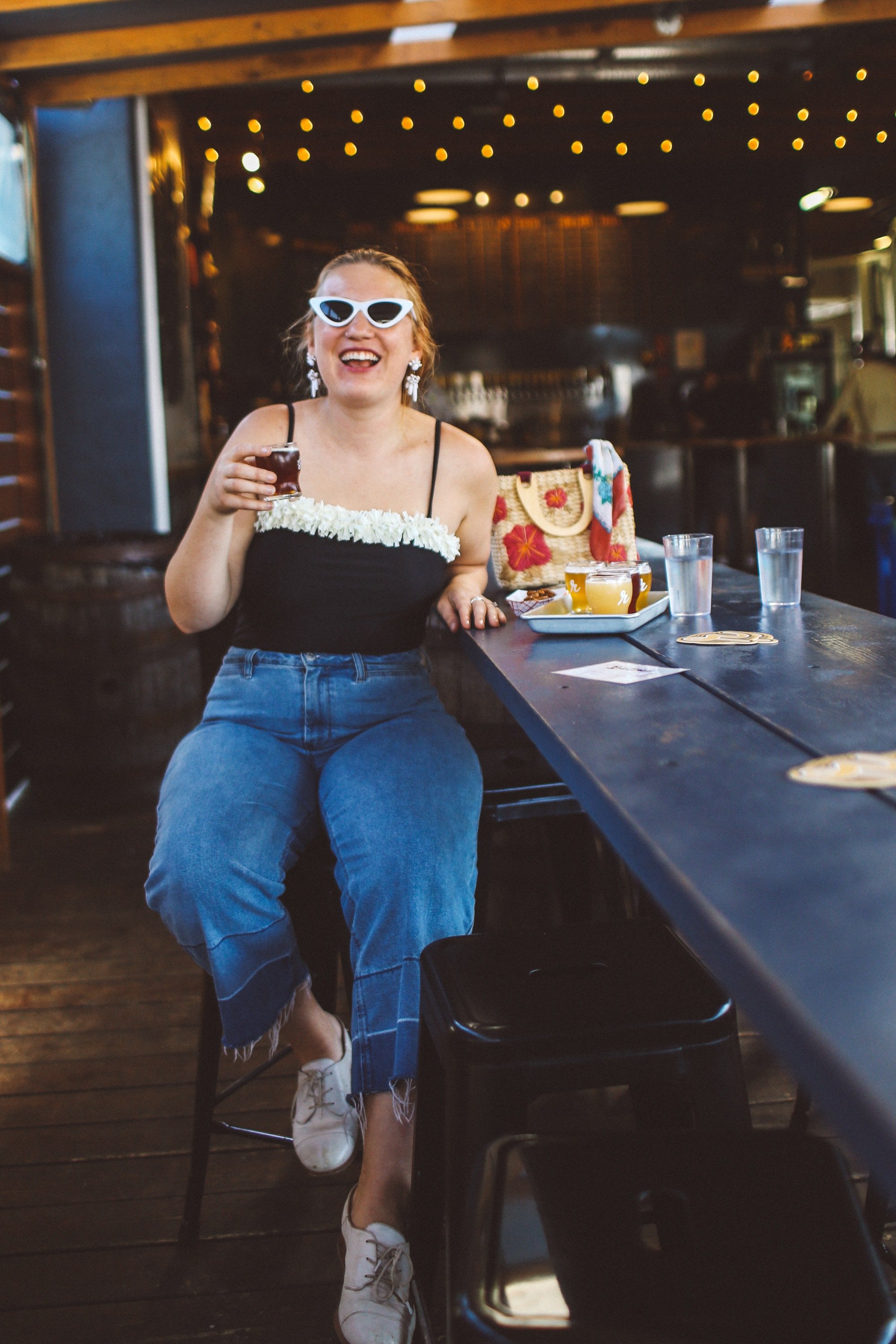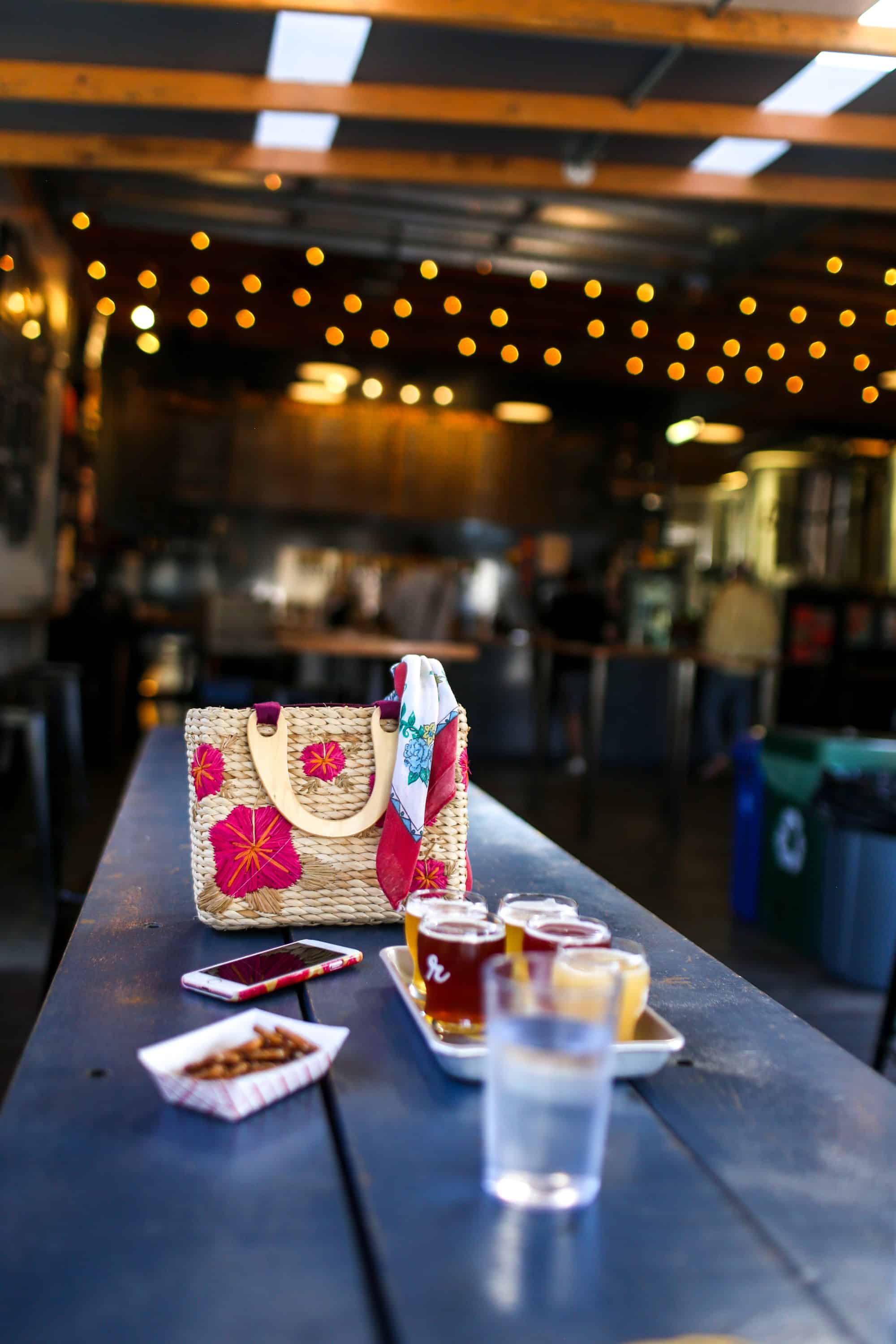 3:30pm-4:30pm: Getting back to downtown can take a while from Ballard. There isn't a great direct route and depending on traffic, you may get stuck in it (like we did!) To be on the safe side, give yourself a little extra time when getting back near your hotel.
4:30pm-6pm: Use this time for a quick dinner somewhere near your hotel! The food in Seattle is amazing, so this is one last chance to eat. Most likely you'll be able to dine on a happy hour special (three cheers for saving money!) Assuming you're at Hotel Max, check out one of these restaurants.
6pm-6:15pm: Check out of your hotel. Bye!
6:15-7:15: Walk to the train station and take The Link back to SeaTac. It will take about 45-60 minutes during rush hour.
7:15-Flight Time: Assuming you board around 8-9pm, you'll be at the airport with enough time to get through security. If you have time to kill, head to an airport lounge, there are a lot of them that take the Priority Pass at SeaTac! Priority Pass is an airport lounge pass program. You pay one annual fee and you get free access to lounges across the world. We use it all the time! Learn more here.
---
What To Pack
---

Obvisouly, you need to pack for your season. Summers get hot and humid. Winters are chilly and rainy, but usually not crazy cold. Below are some of the items that I recommend taking no matter what season you do your Seattle in a weekend trip, we've got you covered!
---
Have any questions about your Seattle in a weekend trip? Drop them below or DM me on Instagram @thewhimsysoul! Happy travels.