I stood under the rushing waters of Faery Falls, getting completely soaked & feeling so dang alive…
After a whole day of driving and hiking, finding this magical waterfall hike was the best way to kick of our weekend trip to the Mount Shasta area. In this post, I'm sharing directions on how to find Faery Falls (sometimes called Ney Springs) along with important safety information you need to know before you go and ideas of other fun things to do in the area.
Faery Falls: Directions Must-Know Tips For Finding This Mount Shasta Waterfall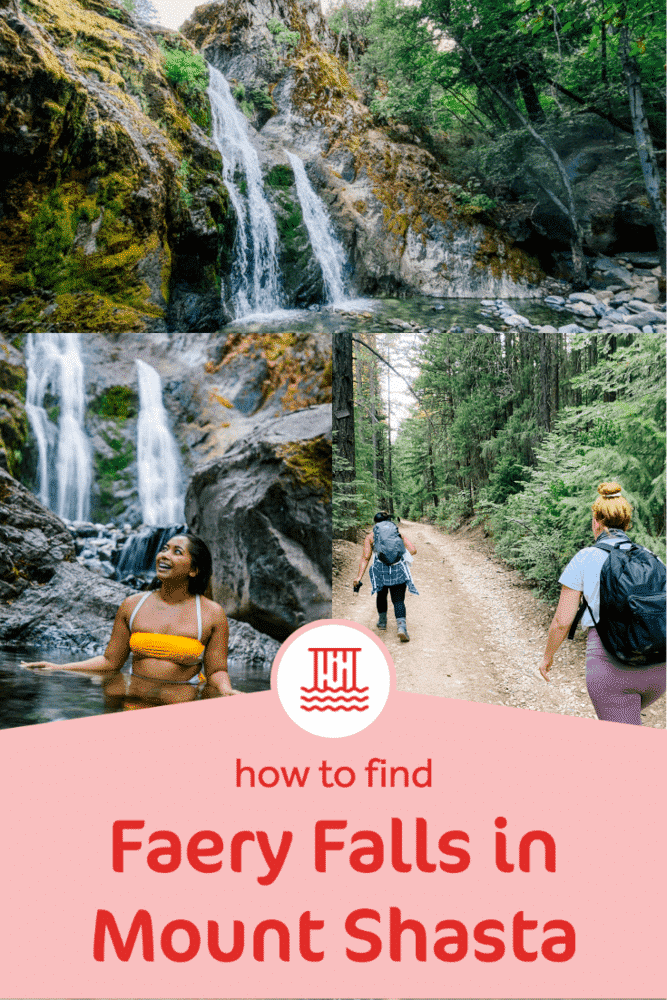 >> Got a question about Faery Falls that you need answered quickly? DM me on Instagram @thewhimsysoul and I'll be happy to help!
Distance Feary Falls:
From San Francisco: 4.5 hours (279 miles)
From Sacramento: 3.5 hours (223 miles)
From Bend: 4 hours (221 miles)
Note: Faery Falls goes by a few names: Faery Falls, Ney Springs Canyon Trail and Ney Springs Creek Falls. Don't get confused, it's all the same spot! (And yes, it's spelled Faery Falls but pronounced like Fairy Falls!)
There are a LOT of waterfalls up in Northern California. Unlike McCloud River Falls next door, which is large with three stunning tiers of falls, Faery Falls is more peaceful. It's wooded, and a smaller waterfall with a shallow pool at the bottom making it the perfect place last hike of the day to dip your feet in and cool off.
But, before I share directions, let's talk waterfall etiquette.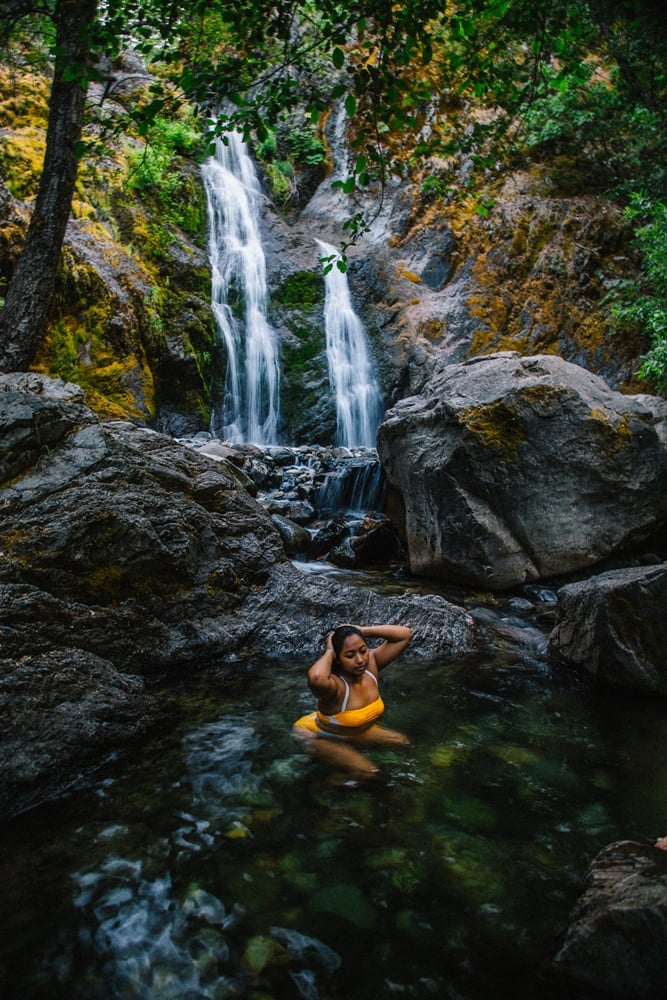 Waterfall Etiquette! Important! Safety! Tips!
I can't believe I have to say this in blog posts now, but apparently, some people don't know how to be in the outdoors so let's go over the basics. Pick up your trash and take it with you back to your car – Faery Falls does not come with a personal attendant to clean up after you.
There are no trash cans here, so come prepared with compostable trash bags so you can pack out your trash. (I love these bags!) I also encourage you to pick up other trash you may find – leave the trail better than you found it!
This area is deep on forest service roads so if you have 4W drive, use that car. There's very limited service up here, so make sure to download your maps offline before driving so you can safely navigate out. On that note, tell someone where you are going before you go off the grid just in case something happens.
Lastly, be respectful of the trail and waterfall. Enjoy this beautiful gem and keep it beautiful for visitors after you 🙂 Ok, let's get started with directions!
Where Is Faery Falls
Faery Falls is located in Northern California outside the Mount Shasta city near Lake Siskiyou. There's Mount Shasta (the mountain) and Mount Shasta (the city) which are right next to each other. This area is commonly referred to as "Shasta". It's close to the Oregon border.
Is Faery Falls Open
Should be! It's on forest service land so it's free to visit and there's no tickets or gates. It's always open for visitors wishing to experience the magic in-person (though if you are visiting in 2020 please follow safe COVID travel practices!)
How To Get To Faery Falls
The exact Faery Falls location is tricky to find when you just use Google Maps. It will probably lie to you! It lied to us. We put what we thought was the Faery Falls address in and Maps took us to a dried-up creek at the end of a mile-long hike.
We almost gave up but did a lot of digging on the maps we downloaded and finally found the correct spot. Instead, use these directions below to navigate to the trailhead. I recommend screenshotting this page so you can reference it while you are hiking!
Use Google Maps for directions to Mount Shasta. You'll probably be taking Hwy 5 for most of the trip up.
Take exit 738 off Hwy 5 and drive towards Lake Siskiyou.
Drive past the Mount Shasta Resort on South Old Stage Road
Shortly after driving past the lake, turn LEFT on Ney Springs Road. It's a sharp turn so slow down.
Go straight – do NOT turn right onto Castle Lake Road.
Keep driving down Ney Springs Road. Its bumpy so drive slow. You'll eventually find a medium-sized dirt parking lot and a trailhead on your right.
Park here. There is no fee since this is on National Forest Service land.
Hike up the trailhead. It's about a mile hike up the hill. On the way, there are some side trails where you can pop down to Ney Springs Creek to view lower waterfall tiers and some old ruins.
Keep hiking and look for a small trail on your left (See photo below for reference). This is the path down to Faery Falls! There are a few trails that look like this trailhead so keep going if you don't find the falls on your first try.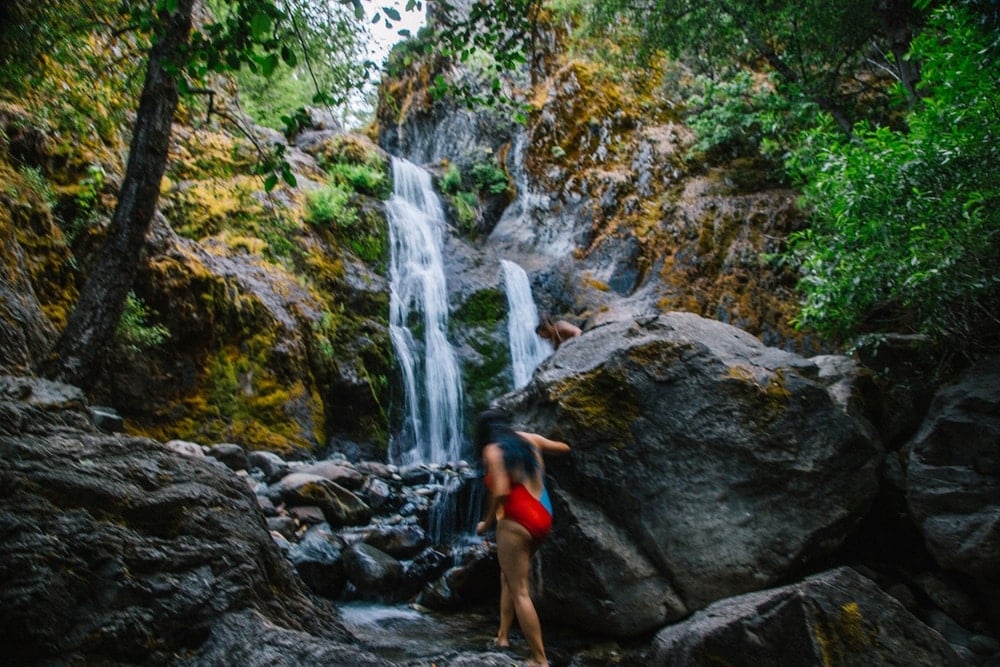 The base of Faery Falls is small but there's few boulders that are perfect for sitting on and enjoying the waterfall. You can also scramble down a bit and swim in the second pool, which is deeper and more private compared to the main pool.
Bring a swimsuit and stick your head under the waterfalls! It's magical!
My friends and I hiked this in the evening and it took us about 30 minutes to get to the waterfalls. There were a few people there but we found it to be pretty empty and after about an hour everyone but one group of teens were left.
As with any outdoor activity, if you visit in the morning or evening on a weekday, you'll probably have an empty trail. Expect more visitors on a weekend and in the middle of the day.
Shop Cute Swimsuits

Can You Go Faery Falls Camping?
Yes! This area is on Shasta- Trinity National Forest Land and regulated by the Forest Service, which means you can camp for free here. There is some room back behind the parking lot to fit vans and tents. You'll spot it! The road down is a bit bumpy but most van builds and RVs should be able to make it if you take it slow.
My husband and I did a lot of "free-range" camping last summer when we rented our van for a road trip from California to Oregon. We actually found a great spot on Mount Shasta to spend the night (called Sands Flat if you want to check it out!) We fell asleep under the peak and woke up with the best view of the peak while making breakfast.
Where To Stay In The Mount Shasta Area
If camping isn't your thing, that's ok! There's a handful of hotels and resorts up here. This is where I recommend spending the night:
Dunsmuir Railroad Hotel: This SUPER unique hotel's rooms are all inside old train cars! That's right, you can sleep in a converted caboose! How cool is that?! I haven't been personally yet but it's high on my bucket list to do one day.
Comfort Inn Central Weed: My girlfriends and I wanted to stay at the railway hotel but it was all booked up. So instead we booked a cheap basic motel room at the Comfort Inn. It's nothing interesting but a safe, cheap and clean place to spend the night. The staff is really friendly, too.
Mount Shasta Resort: Looking for something swankier? Try the Mount Shasta Resort! This is really close to Faery Falls so it'll be easy to explore from. The property is really pretty, I've driven by it a few times.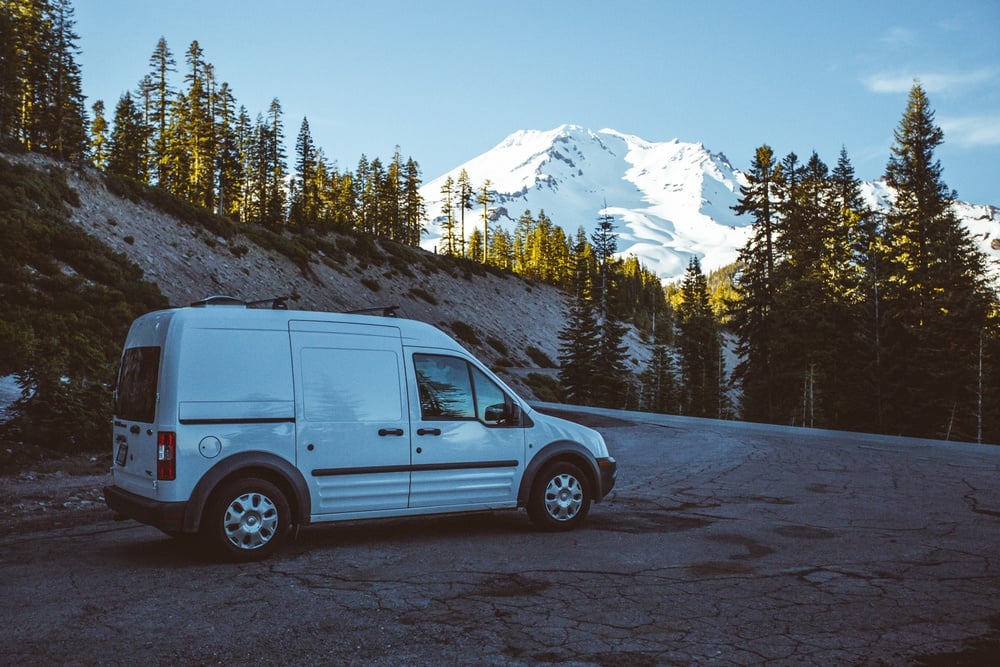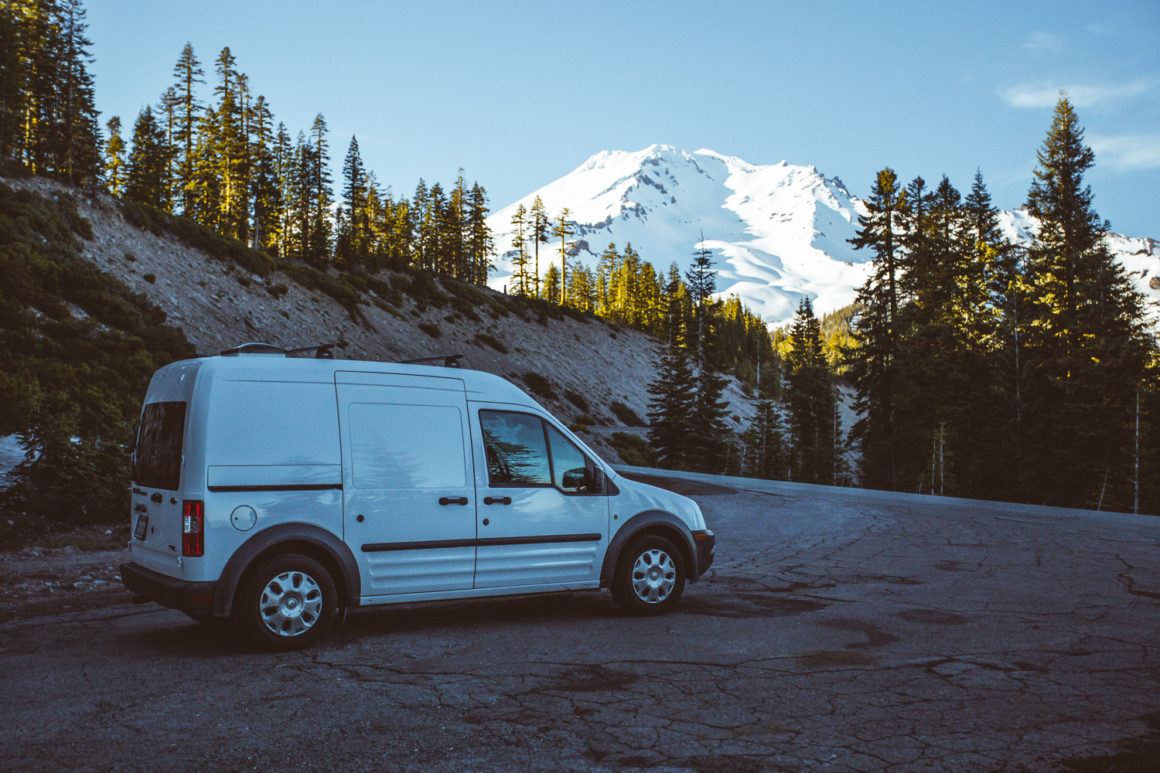 Other Fun Things To Do in Mount Shasta
I LOVE the Shasta area. There's something about this region of California that feels almost spiritual. It reminds me of the feeling Sedona, Arizona gave me. There are endless trails, waterfalls, lakes, creeks and cute local businesses to visit. Here's some of my favorite things to do in the area after your visit to Faery Falls!
Morning Swim at McCloud Middle Falls
Rise with the sun and go on a morning swim at McCloud Falls (about a 45-minute drive from the town of Mount Shasta.) This is my favorite of the Mount Shasta waterfalls. There are three tiers (lower, middle and upper) and the Middle is my favorite. It looks a lot like Burney Falls – it's over 100 feet wide! And you can swim at the base.
You can hike the McCloud River Falls Trail or just drive to each of the parking lots, depending on how much time you have or what you want to do that day. There's also McCloud Falls camping sites here if you couldn't find any free spots at Faery Falls or on Mount Shasta.
Spend A Day On Lake Siskiyou
This lake is actually a reservoir of the Wagon Creek and the Sacramento River. It's really pretty – Lake Siskiyou has stunning views of Mount Shasta and evergreens lining the shore. You drive right past it on your way to Faery Falls! There's lots of stuf to do around here. You can boat, fish or go hike the Lake Siskiyou Trail Loop. The parking lot fills up fast so if you're eager to get on the water get there early.
Visit Mount Shasta Brewing
As a former Wisconsinite, my husband and I LOVE craft beer. We got to stop by Mount Shasta Brewing on our summer van trip and I loved this place. The beer fantastic, their taproom is open & airy, they allow dogs and do growler fills. Stop by here for happy hour to pick up a growler to take back to your campsite.
Hike to Mossbrae Falls
Another favorite Mt. Shasta waterfall of mine is Mossbrae Falls! This is a secret waterfall that can only be accessed via a hike on train tracks. I especially recommend hiking this during the fall since all the trees will be bright orange and yellow on your way to the waterfalls.
Other waterfalls in the area are Hedge Creek Falls, Potem Falls, Burney Falls and Burstarse Falls. The first two are sometimes closed off by landowners but Burney Falls is always open. Burstarse is in Castle Crags State Park and thus also always open.
Day Trip To Lassen Volcanic National Park
I just went camping in Lassen Volcanic National Park a few weeks ago and holy cow, I'm obsessed with this under the radar national park! It's about an hour's drive from Redding / Shasta area and full of natural gems. Highlights include a volcano you can hike (seriously) geothermal pools (like you find in Yellowstone), enchanting flower fields in the summer, and tons of alpine lakes you can swim in.
History Check: Faery Falls + Siskiyou County History
Faery Falls was "discovered" in 1887 by John Ney. He built the Ney Springs Resort which was a wellness hotel complete with boardwalks throughout the forest for guests to stroll. The New Springs Resort eventually went out of business and you can still see the 100+-year-old ruins of the building on the trail as you hike up.
But of course, this white man did not truly discover this waterfall. The Shasta People have been living in this area well before the California Gold Rush brought Westerners in to "discover" this land. There were many different small tribes that lived here in small family groups.
They came to the area, specifically McCloud Falls, in the summer months to fish, hunt and gather. Much like their Lake Tahoe counterparts, during the winter months, they usually traveled a bit down south to warmer climates. There are still Natives living in the area and one tribe assists the park service out in maintaining McCloud River Falls park. You may spot a few elders fishing the creeks if you visit early in the morning!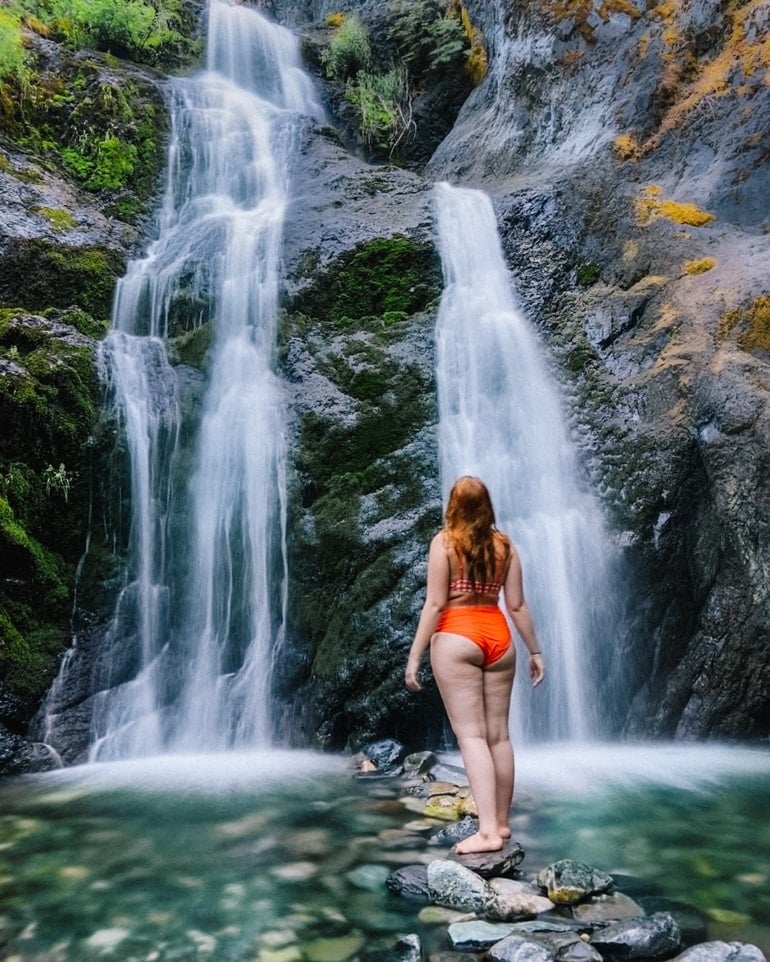 So, that's my guide to finding Feary Falls and fun things to do in the Shasta Area! I hope this helps you have a fun, safe and responsible visit to these waterfalls and special place in California. Again, keep this spot clean for future visitors and enjoy!
If you have any tips to add, leave a comment below so everyone can see. Got a question? Drop a comment or DM me on Instagram @thewhimsysoul and I'll be happy to help!