Shower plants — I've seen them all over Pinterest and home decor blogger Instagram feeds. But, the big question was: can I actually keep bathroom plants alive?
As an amateur plant lady, I've certainly struggled to keep plants alive in my bathroom in the past. Putting plants in the shower has always been something I want to do but I was always worried about murdering them. Well, I finally pulled the trigger!
In this post I'll be sharing with you what shower plants I chose, how I styled them and other good bathroom plants you can choose from for your own decor project!
I've been living in my studio apartment for 6 years and we just renewed the lease so we're staying here for at least one more year. My bathroom was fine before — you can check it out on my boho apartment tour here.
Maybe it's turning 30 this year, or maybe it's the desperate pull of 2021 to shed the bad juju of 2020, but I really wanted to redecorate our bathroom. Not only make it function better, but just be a more enjoyable place to be. And for me, that meant lots and lots of shower plants.
My bathroom has a south-facing window that does get direct light for a few hours a day – that is, if the San Francisco fog isn't too strong. (Then it's very low light.) But the light from my window doesn't really cover most of the bathroom, which means anything I put in there has to be chill with low light situations.
And I think most of your bathrooms are probably the same. (If you have a skylight or big window I'm absolutely jealous!) I'm here to show you that YES – you can keep plants in your bathroom, NO, they won't die (if you pick the right ones of course) and YASSS – they're freaking awesome and make your entire bathroom smell like a magical earthy jungle.
How I Styled My Shower Plants
I went with Boston Ferns for my shower since they thrive with humidity and indirect light. They aren't the easiest of houseplants to keep alive it needs a lot of water, constantly moist soil and humid air. It's recommended to mist ferns a few times a day, which makes them perfect for your shower which is naturally humid!
I used swag ceiling hooks and made homemade macrame hangers to hold my Boston Ferns. The ceiling hooks were easy to install, but totally a pain in the ass so set aside a whole day so you can take arm breaks if you're also installing hooks.
I used this macrame and decided to hang two single pots close to the showerhead that my husband and I could both stand under easily. And then in the corner, I made a two-tier plant hanger to really fill the space out. Lastly, I keep one fern on the bathtub corner below the hanging shower plants for more vibes.
Now my shower feels like a jungle!!
I have a clear shower curtain from Quiet Town Home, which not only is a cool design but it's great for shower plants since it still allows light in through the curtain. The leaves of the ferns do sometimes fall down in the tub but they're easy to scope out and keep clear of the drain.
On my shower caddy pole, I do have a few fake shower plants. Sometimes the best plants for bathrooms are fake ones, I won't sugar coat it. This corner is the furthers away from my window and I just didn't want to deal with keeping these guys alive, so I opted for these $5 faux plants from Target. They look nice and you can't really tell they're fake since they are styled in the same shower as real ferns!

7 Best Shower Plants For Bathrooms
1. Boston Ferns
These are the shower plants I have! They are some of the best plant for bathrooms with low light as they're tropical. They're a bit tricky to keep alive but love low light, indirect light and humidity. You still need to water them about 1-3 times a week, depending on your shower and the bathroom conditions. When the green leaves turn brown or yellow, that's when you know you are probably underwatering. Make sure to keep the soil constantly moist!
2. Lucky Bamboo
These bamboo plants live in water and low light, so all you have to do is pot them into a tall vase (not glass in case it breaks) and pop it in your shower. Just keep it full and you're good to go! I personally wold put this on my bath caddy or side of the tub, or maybe even on a bathroom shelf if I didn't want it in my shower.
3. Peace Lilies
A Peace Lilly can be hung in your shower or kept on a shelf somewhere in the bathroom out of direct light. If you're keeping it in your shower, I would make a macrame hanger and put it on the opposite side of the showerhead and hung high to keep it from being flooded and to keep cats from nibbling it.
4. Pothos
My favorite indoor plants to have! They live long lives and are pretty easy to care for. They love water and indirect light so they can grow pretty much anywhere in your house but love your bathroom. I used to keep one as a shower plant growing up. My bathroom back then has a skylight and I don't think pothos normally enjoy that much direct light, but that plant was THRIVING.
They're water monsters so I would directly spray it with water every time I showered and it grew over 30 feet long. So, if you have a skylight, get a pothos or two, they make great plants for the shower.
5. Spider Plants
I LOVE spider plants!! They guys are funny- they'll grow little babies that you can pluck off and repot so once you get spider plant that's consistent at churning out babies, you never have to buy more. Growing up we had a lot of these in my greenhouse — once we forgot to harvest the new spider plants and it turned into this massive family with babies that were the size of full-grown plants.
Treat these like pothos. I would hang them with cute macrame hangers and water them about once a week with a normal fertilizer routine. Harvest whenever the babies look big enough.
6. Chinese Evergreen
These babies love humidity but need to be drained out before you water them again. That's why they make great hanging plants for the back of your shower or bathroom — all the humidity it wants, but the water can drain out the bottom of the pot with ease!
7. Snake Plants
Ok – this one is. a bit of a cheat as you shouldn't put snake plants in your shower directly but pop this baby next to it and it'll be happier than a millennial with her skinny jeans and side part. With the humidity of a bathroom, you may not even have to water your snake plant much. It should grow and thrive well in your bathroom, as long as the room has some sort of light source.
No light? Try Eucalyptus plants in the shower!
If you're looking for the best plant for bathrooms with no light, skip a live plant and instead opt for fake ones for aesthetics, and eucalyptus branches for the smell. You can buy these at places like Trader Joes and hang the eucalyptus in bunches under your shower head. When you shower, the water will release the amazing smells to make your bathroom smell earthy and relaxing!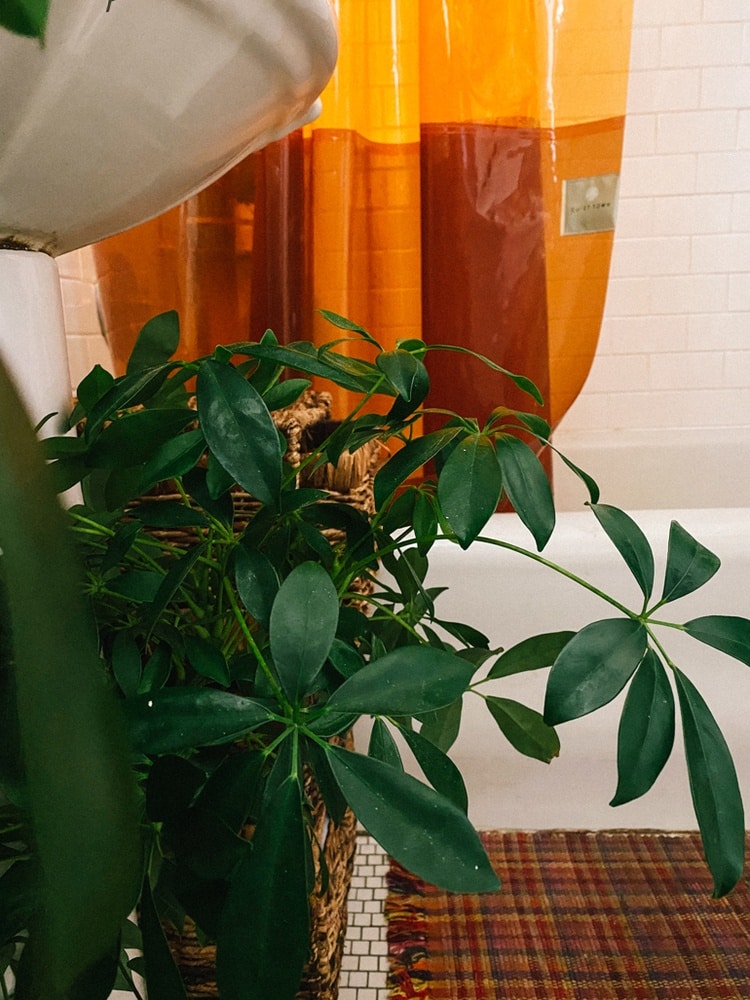 My Other Bathroom Plants
On top of Boston Ferns, I also have a few other plants in the bathroom. There are a few pothos plants in here hanging by the window. I'm hoping they'll grow really long and start wrapping around the walls. Fingers crossed!
I also have an umbrella plant on the floor. These guys are tropical plants, so they don't need bright light but do love humidity so that's why they do well in this bathroom. Then there's an aloe on my shelf and two air plants. The latter is really low maintenance, it sucks the water out of the air when we take showers so I really don't have to mist it too much.
My Favorite Plant Care Products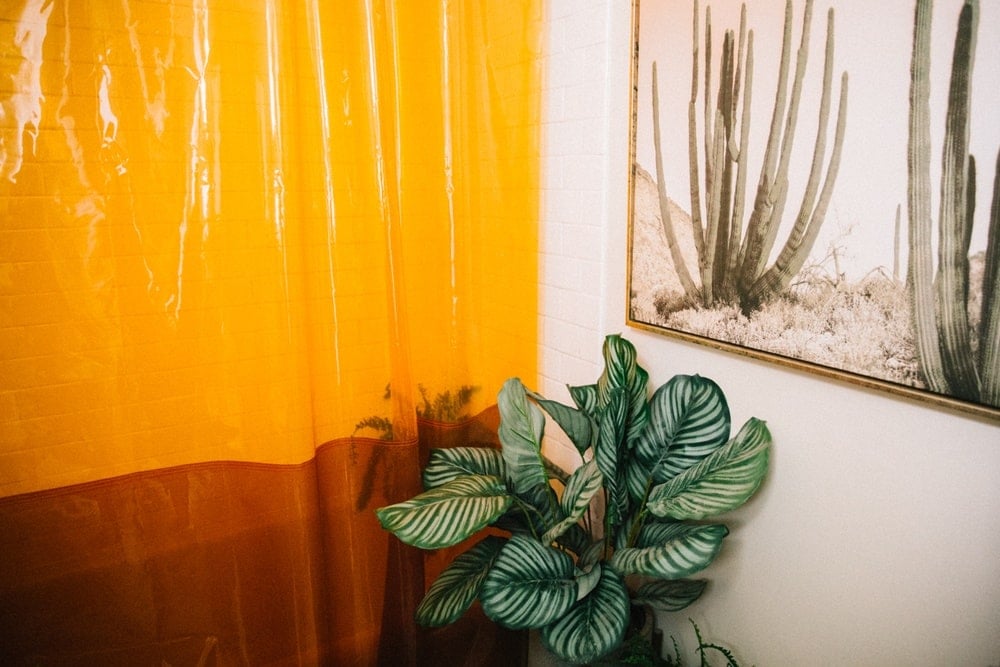 So, what are you waiting for?? Time to go hit up the local plant store and grab yourself a bunch of new plant babies for your shower! If you got any tips to add, leave a comment below. Questions? Drop a comment or DM me on Instagram @thewhimsysoul and I'll be happy to help!
More Home Decor Posts You'll Love