And there we were, sitting atop of a wagon and overlooking yellow sunflowers as far as the eye could see… summer has officially made it to Wisconsin.
I can't be the only one who loves wandering flower fields channeling my inner cottagecore babe. I rounded up all the best sunflower fields Wisconsin has to offer in this post plus tons of helpful tips for visiting a sunflower farm so you can have the best day ever!!
>> Got a question about sunflowers? that you need answered quickly? DM me on Instagram @thewhimsysoul and I'll be happy to help! I only accept DMs from followers, so hit the follow button before sending.
My husband and I grew up in Wisconsin (he's from Madison, I hail from Mount Horeb.) In 2014 we ran away to San Francisco to escape the cold winters and I've found some amazing sunflower farms in California that I visit every summer.
While visiting family in Madison this year, I realized we timed our summer visit perfectly for Wisconsin sunflower season!! I kept a close eye on Eugster's Farm Market for their Sunflower Day opening and went the day after they announced season dates. And boy – was it the BEST summer day in Wisconsin EVER!
Before I share a list of all the sunflower fields in Wisconsin, here's some quick tips: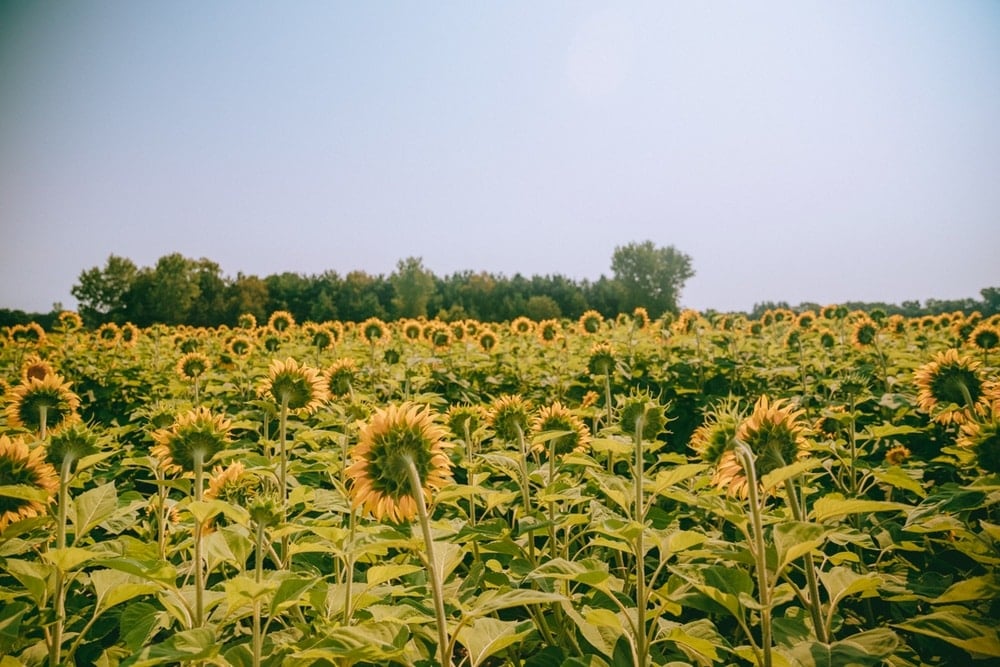 When Are Wisconsin Sunflowers In Bloom?
The flower fields in Wisconsin all bloom at slightly different times (this is based on location, sunlight, water, etc) but expect flowers to be in bloom from Late July – Early August.
Sunflower season is really short in the Midwest (as little as 2 weeks sometimes) so if you plan on going, keep an eye on the sunflower days event at the farm near you and plan a visit asap once they announce them.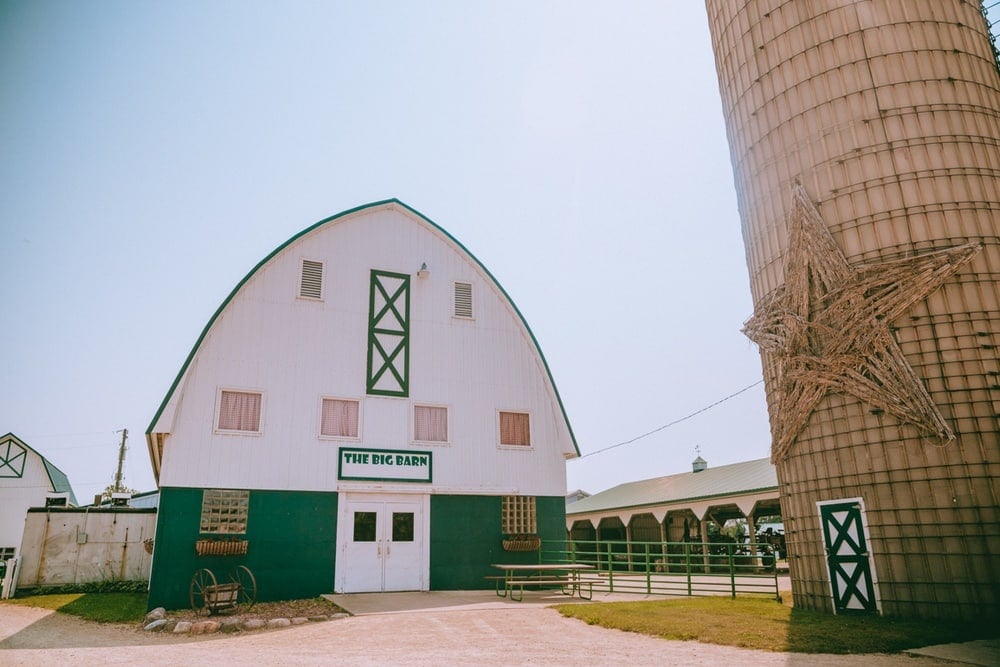 What's The Best Time of Day To Visit Sunflowers?
As early as possible so avoid the summer heat! The farm we went to was opened 10am-5pm, so we arrived right before opening. It was tolerable for the first hour but we were sweating in the humidity and hot sun by lunchtime. (To fair, we have lost all ability to handle humidity after moving to San Francisco so you may be just fine!)
Morning light is great for photos, too. If a farm is open later, like until 7pm or even sunset, I would aim for a sunset visit for not only amazing photos but for cooler temperatures.
Go On A Weekday If Possible
This is to avoid crowds. Trust me – feeling like you have miles of sunflower fields all to yourselves is way more magical and fun than sharing it with 300 other people and children.
The 12 Best Sunflower Fields In Wisconsin
1. Eugster's Farm Market
Address: 3865 WI-138, Stoughton, WI
Fee: $7.50 / per person
Eugster's is hands-down the best farm in Dane County!! Not just for sunflower, but also for farmy things. You can pick our own garden flowers here, they have fall things (like pumpkins, apple picking and mazes), a Lavender field and a huge petting zoo. The latter is so fun, I got to pet baby piglets that were just a couple weeks old!
And of course, they have a massive sunflower field! You can't see the sunflowers from the road but trust me, it's amazing. You can walk the distance to the field or hop on a wagon for a ride. You can't cut flowers in the field but you can buy them at the farmers market after. You should budget about 1.5 hours for this farm visit as there's so much to do. Make sure to buy a bottle at checkout so you can feed the baby goats, too!
2. Pope Farm Conservancy
Address: 7440 Old Sauk Rd, Verona, WI
Fee: $4
Over 10 acres of sunflower fields just outside Madison!! Pope Farm Conservancy Middleton offers sunflower tours and shuttle busses to the flowers from their off-site parking lot, so make sure to budget time for that. And buy your ticket online in advance!
Note: They didn't have a 2020 event and also canceled their sunflower fields 2021 event, but I expect them to be in back in action in 2022.
3. Lannon Sunflower Farm
Address: W204 N8525 Lannon Rd., Menomonee Falls, WI
Fee: $20
If you're looking for Milwaukee sunflower fields, Lannon Sunflower Farm is your spot! For $20 you get entry to the whole farm, the sunflower fields AND you get to u-pick 12 sunflowers to take home. How fun!! Just make sure to bring cash as they currently aren't set up for electronic payments.
4. Oak Rest Farm
Address: 6138 S. Pine St., Burlington, WI
Fee: $5
Oak Rest Farm is a cute little farm with sunflowers AND a field of pink corn flowers in honor of the owner's mother who battled breast cancer. It's cash only and there is an honor box to pay if nobody is there. They don't have a website but do post all their field updates on the Oak Rest Farm Facebook page.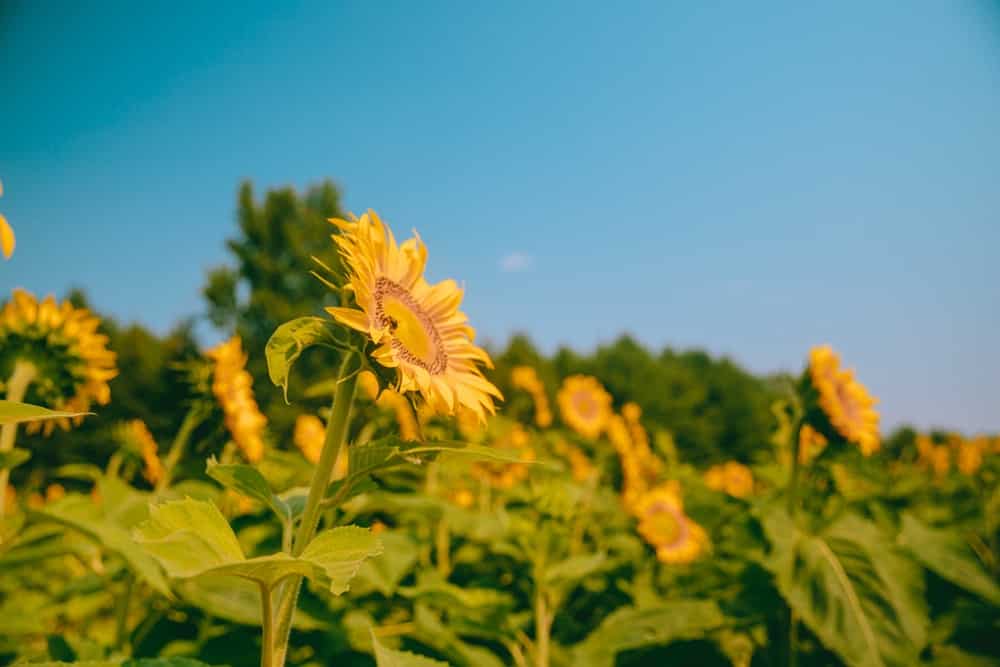 5. Bergsbaken Farms
Address: W2095 County Road E, Cecil, WI
Fee: None, but a $2 donation is suggested
One of the only free sunflower fields in Wisconsin I've found! (But they do suggest a donation so I would bring cash for that.) Bergsbaken Farms has wagon rides, kids activities, 3 walking trails with sunflower viewing platforms, live music, u-pick flower options and so many more fun things to do on the farm.
6. Babbette's Seeds of Hope
Address: W5725 State Rd. 85, Eau Claire
Fee: Free
Another free field, but all donations are given to cancer research so plan on donating a few bucks when you visit. Babbette's Seeds of Hope farm is outside Eau Claire and you have to keep tabs on their Facebook page to see when their sunflower days are open!
7. Thomspon's Strawberry Farm
Address: 14000 75th St., Bristol, WI
Fee: $12
Thompson's is the best sunflower farm Bristol has to offer. This year they expect to have 4 million sunflowers over 40 acres!!! *jaw drops* Every ticket includes entry to the farm, flower fields, sunflower maze, and 6 flowers you can pick yourself to take home. Just bring your own scissors and vases.
Of course, as you can tell from their name, they also have strawberry picking, raspberries, pumpkins in the fall and so much more! It's a fun spot for all seasons.
8. Shimon Sunflower Farm
Address: 2575 Co Rd CC, Slinger, WI
Fee: $20
Shimon Sunflower Farm has 10 different varieties of sunflowers that you can pick and take home (12 flowers are included in the ticket price!) This family put an emphasis on building special spots just for taking amazing photos, so don't forget your camera. They also have pumpkins in the fall.
9. For The Love Of Flowers Farm
Address: 12114 W 5 Mile Rd, Franksville, WI
Fee: $25-$45 for u-pick bouquets
This little u-pick flower field has over 35 different types of flowers (including sunflowers!) you can wander around and pick to take home. Super cute!
10. Leatherberry Acres
Address: S4067 Co Rd A, Baraboo, WI
Fee: N/A
Leatherberry Acres Farm is a special one. They build a large sunflower field maze every summer and have started to plant enough seeds so the flowers last until September!! So, if you missed the small window of sunflower days at other fields, head here.
Note: They weren't open in 2020 and it's unclear if they are open in 2021 for visitors, so check back to their website for more information.
11. Helene's Hilltop Orchard
Address: 1189 Quarter Rd, Merrill, WI
Fee: $10
Helen's Hilltop Orchard is mostly known for apple orchards and pumpkins, but they also have a small sunflower field open for visitors most summers! It's surrounded by farmland and totally beautiful. They also have a bakery so come ready to bring a couple of homemade pies home.
12. Skelly's Farm Market
Address: 2713 S. Hayner Rd., Janesville, WI
Fee: $9
Skelly's is another huge farm that goes all out for flowers. There's a walking field, a cutting field and a third separate field of garden flowers. It's made for photos and they welcome you to come take as many as you want! Your ticket price will vary depending on how many flowers you want to cut and bring home.
What To Wear To A Sunflower Field
It may sound bougie, but after visiting countless California flower fields, I'm crowning myself a flower field expert by now. I've learned some tips and hacks for what to wear to a sunflower field for the best photos:
Wear White or Yellow: these colors look so nice in a sunflower field! These are my favorite white dresses if you need inspo.
When in doubt, wear a maxi dress: flowy dresses look so perfect for sunflower photos!!
A straw hat: Especially handy if it's bright out. You can turn away from the camera instead of squinting and your photo will look so cool thanks for the hat!
Again, always keep an eye on the website of the farm you plan on going to so you can get alerted when their bloom starts! You can also follow the farm on Instagram which is usually a great way to keep tabs on bloom reports and opening days.
If you have any more favorite spots that didn't make the list, drop them below in the comments so everyone can see! Got questions? Drop a comment or dm me on Instagram @thewhimsysoul and I'll try and help. Please note I will only accept messages from followers.