I've been discussing the fashion and beauty industry quite a lot these past few months. Whether I was talking about the vagueness of size-inclusive fashion or how our current beauty standards have evolved, the one common factor across all articles has been the exploitation of our vulnerability in relation to our beauty.
Both the fashion and beauty industries have been built on telling people what is and isn't beautiful. It tears them down with standards and builds them back up by providing solutions to the parts they deemed "ugly".
Unflattering waistline? Here are some waist trainers that can, in the long run, damage your body permanently. Hair under your armpits? Here are some cute, pink razors that cost more than the "manly", gray razors (also known as the Pink Tax).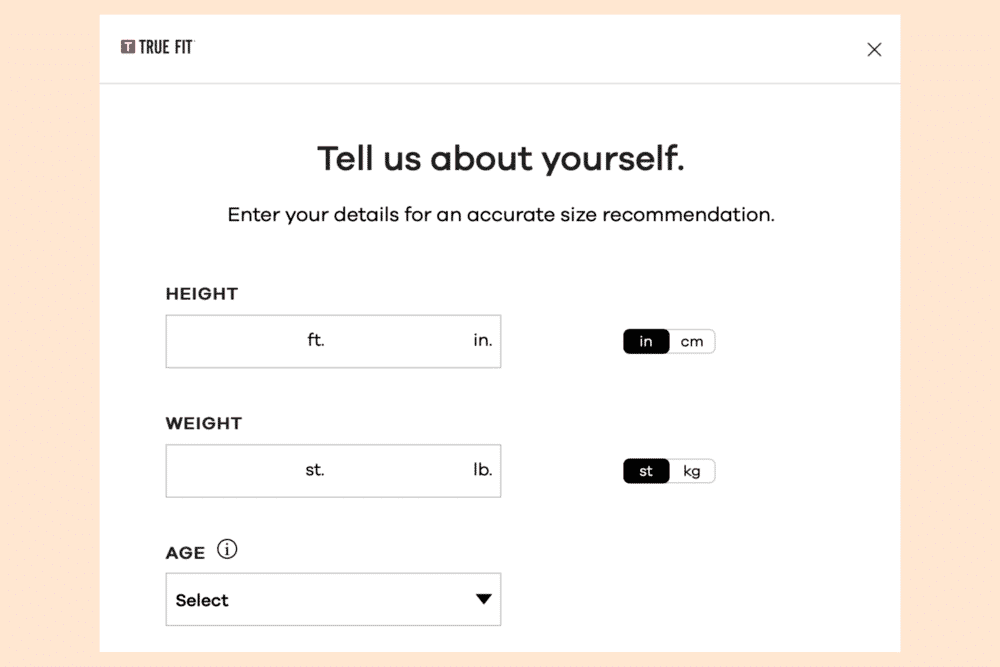 Despite many people calling out these companies for their sexism or constant spoon-feeding of lies, the fashion industry is globally worth 1.46 trillion dollars and the beauty industry is globally worth 511 billion dollars. It's safe to say that a lot of our money is going towards both of these industries. How can two industries that are so toxic to our mental health also be racking in this much money?
Personally, I believe that they have been around for so long that instead of us just throwing in the towel, we keep trying. While we could make the argument that the fashion industry is worth more money because everyone needs clothes, I think it goes a lot deeper than that.
How Do Size Charts Work?
The fashion industry relies heavily on the size of a person. They provide us charts that require us to measure every inch of our body to make sure the clothing fits. Logically speaking, who has the time to constantly carry a measuring tape every time they go shopping? Not many and the industry knows that.
To make fashion charts difficult to navigate, the industry has separated clothes into gender which requires two completely different sets of measurements. For women's clothes, you must know the measurements of your bust, hips and waist. For men's clothes, you need to measure your neck, inseam and arms. Of course there are instances where women's clothes need an inseam or neck measurement but no matter what, there will always be an "if" floating around us when shopping for clothes.
Our measurements seem to be almost like second-hand knowledge due to charts currently in the industry. We know when we walk into stores what our clothing size is. We grab the respective size and head home. It's not until we get home and try these clothes on when we realize that we have grown about 4 sizes overnight.
It's Not You, It's The Industry
The industry doesn't have one universal standard chart so while you might be a size 14 in one store, in another you'd be a size 20. The sizing for plus size bodies is even more difficult to navigate because most stores don't carry sizes that go higher than an XL (despite the average dress size for a woman being a size 16/XXL). That's how the fashion industry has multiplied their income as well as kept us under this mental prison of numbers.
For many people, including myself, shopping is an anxiety-inducing situation. Whether it be the social, public element (especially during COVID) or the simple fact that shopping for clothes makes someone hyper aware of their size—it's not always this fun thing to do. This is why, for many people, they much rather just shop their size and try it on at home.
Would it be more convenient to try the garment on in a changing room? Sure. However, many people have breakdowns if they don't fit into the size they once thought they were. So, it's just easier to have a breakdown at home than it is to have in a public fitting room while hearing a baby crying in the background.
If anyone needs to hear this, let me be the one to ease your mind and bring you some form of comfort: It's not you, it's the industry. Nothing is wrong with you or your body, no matter your size. Size charts are lying to us all—it's like telling us the sky is purple at night knowing damn well it's black.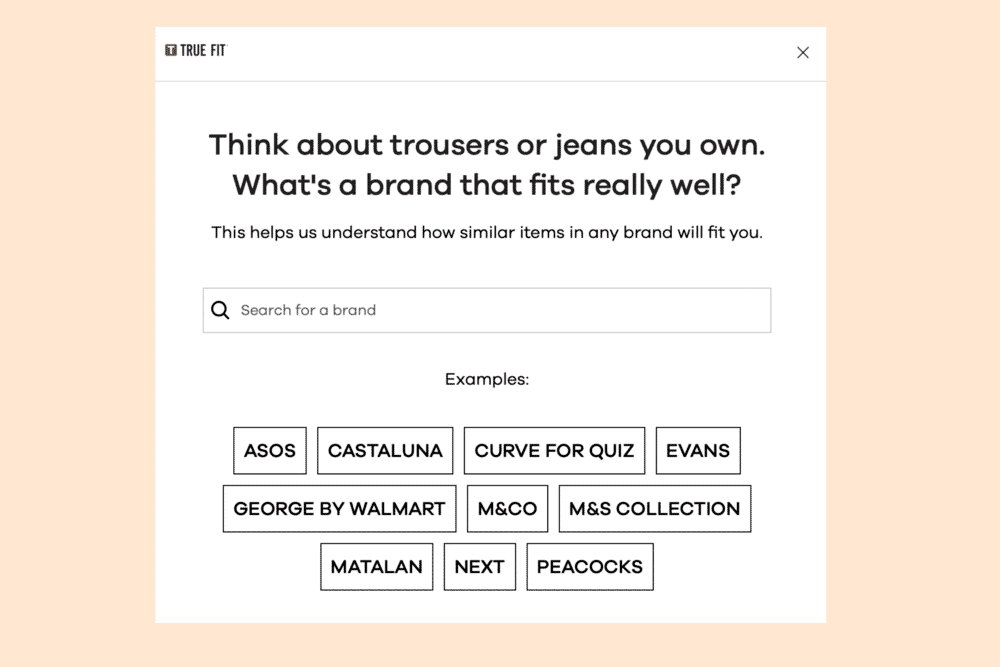 To keep the numbers game going even more, instead of just having the measurements to compare your body to, some stores brought in this concept of "True Fit." True Fit is where you enter in your weight, height and best fitting clothes for a program to guess what size you should get at a store. In short, it's a clothing size calculator.
Asking someone for their weight has nothing to do with their size.
The problem here is, still, this doesn't take into account the proportions of someone's body. The questions True Fit asks are as bare minimum inclusive as a computer program can get. It can be helpful, but only to an extent.
The options they provide for body shape only take into account your hips and waist when shopping for pants. Comparing pants from stores you know your size into the store you want to shop at is the only benefitting statistic I personally see with this program. Asking someone for their weight has nothing to do with their size.
To prove this, Whimsy Soul founder, Kara, asked her followers on Instagram to submit their weight if they were a size XL. Approximately 50 people responded and their answers ranged from 142lbs being the lowest to 282lbs being the highest. The purpose of this is not to highlight weight but to instead highlight how vastly different people's bodies are and how weight has nothing to do with how clothes fit someone.
The responses given in regards to the poll highlighted how different bodies are. "I carry all my weight in my stomach," said one user. Another user highlighted the even bigger issue with asking someone for their weight when shopping. "Sizes change, I don't weigh myself," they said.
As previously mentioned, shopping is very triggering for a lot of people. It forces someone to be hyper aware of their bodies. When recovering from an eating disorder, body dysmorphia or are simply trying to be less critical of your body, constantly weighing yourself just so you can find an item of clothing that fits you can be more detrimental than beneficial.
I understand the need to have sizes fit people accurately and I'm glad that these conversations are happening. However instead of creating software to calculate shopper's sizes, why does the industry not create a universal chart?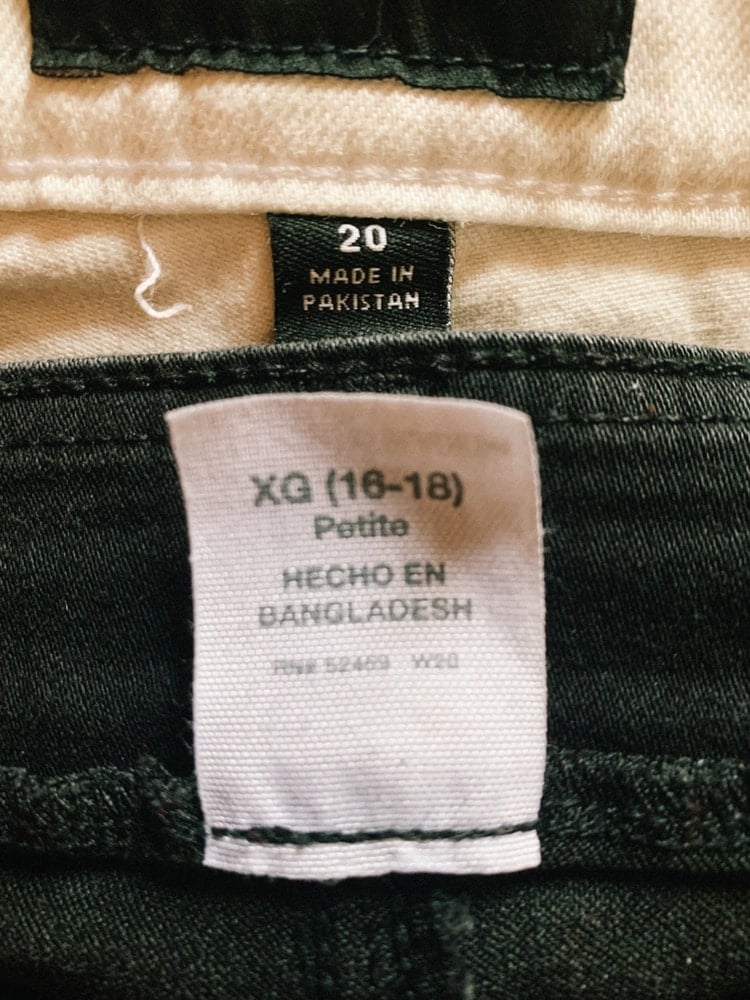 Exploitation Makes The (Fashion) World Go 'Round
The fashion industry thrives off of inaccurate clothing sizes. Imagine a world where an XL fits like an XL and doesn't "run small." Having clothes that—despite their tags being marked one size—fit as if they are a completely different size, keeps consumers on their toes.
Instead of having clothes fit us, we have to fit the clothes. "Oh I hope this fits!" is a common phrase uttered by so many people across the world as they try on clothes. Instead of just knowing a size 30 is going to fit, we have to practically pray that it fits.
Buying clothes should not be as difficult as it is. Shopping feels like you're back in math class trying to remember what comes after 3.14 (π). You have to keep a mental note of what size you are, what your measurements are in inches and also what your measurements roughly translate to in sizes just in case.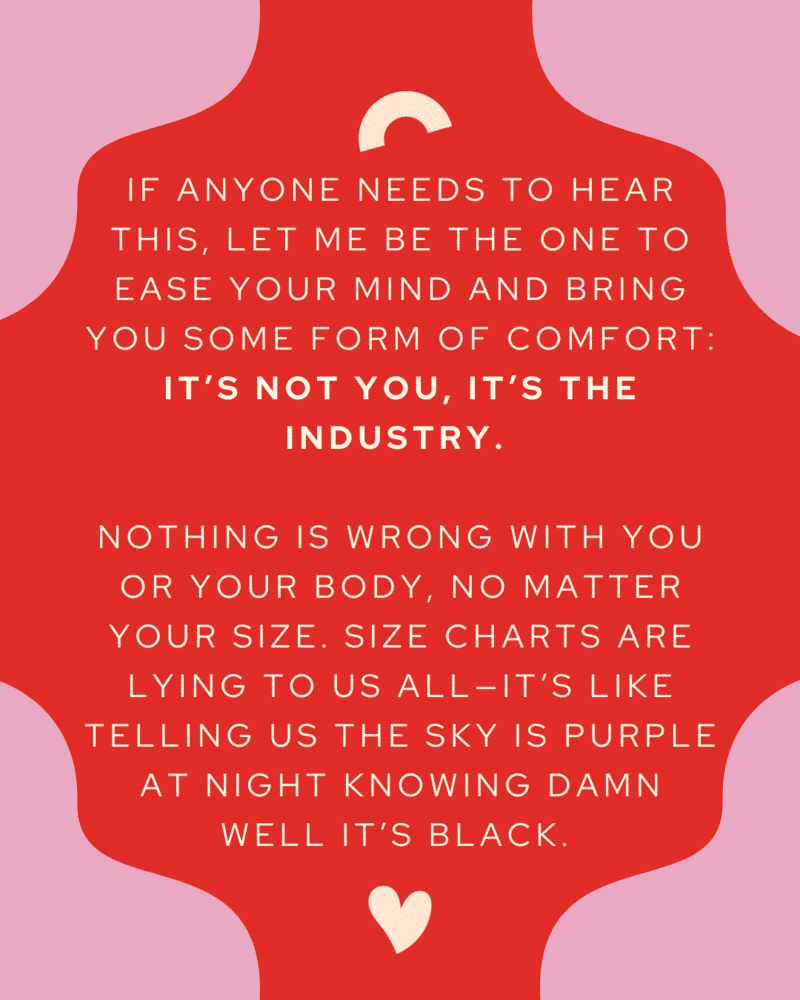 Many stores like Lane Bryant, Under Armour, Macy's and JC Penney (to name a few) use True Fit because they are trying to minimize this mental game of numbers. However—I'm going to sound like a broken record here—it would be much simpler for a trillion dollar industry to create one size chart that fits and includes all bodies.
I understand it's a lot easier said than done. Even with the universal size chart, body proportions wouldn't be taken into consideration. At the end of the day even if a thousand suggestions were given to make the fashion industry less problematic, they probably wouldn't take it.
The fashion industry thrives off being fatphobic and prioritizing thin bodies. Even when larger clothes are made, they aren't made to last long which contributes to fast fashion and global pollution. "There's no ethical consumption under capitalism," is a quote that has been circulating the internet for a while now.
While it sounds horrible, it's sadly very true. Whether the fashion industry is harming the environment, the workers who make the clothes or the consumers, there is always going to be something problematic and inherently bad about the industry. This isn't to shame people who buy from H&M, sometimes all you can afford is a $5 garment.
This quote is being mentioned because it's important to hold these corporations who make our clothes more responsible. Not everyone has the luxury of physically going to a store and getting clothes, not everyone can find their size in a thrift store, not everyone has the budget to spend money on a $70 pair of jeans that'll last them longer than a $15 pair from Target.
It's not as if these companies aren't aware of the problem, they are. Which is why software like True Fit comes out and tries to resolve the issue; the fashion industry just doesn't care. It's a very pessimistic way of seeing things but it's just how it is.
Without fatphobia or the exploitation of consumers and workers, the fashion industry would not be the trillion dollar industry it is today. They didn't grow into this global powerhouse by providing everyone true to fit clothes and paying everyone the wages they are due.