Ahead of me, our guide stepped under a branch hanging low with snow, disappeared from view for a second and then I heard him say "WOW, it looks just like Narnia over here!"
Fresh snow gently falling, Evergreens painted white, nothing but the sound of us stomping through the snow — I think all that was missing was a lampost and a lion, and I could totally believe we were snowshoeing in Narnia instead of the Sawtooth National Forest at Galena Lodge.
Snowshoeing Sun Valley: Our Narnia-Like Hike At Galena Lodge
Let's wind back a bit. Robin and I just spent a few days in Sun Valley Idaho to soak up some Christmas winter magic, and to visit a friend. Neither of us ski, and I know, I know, you're probably wondering why the heck anyone would visit a town literally famous for the world's first ski lift if they don't ski, but there's so much more in Wood River Valley than just on the slopes of Baldy.
Snoesnowing is one of them. Surpinglying, even though we both grew up in Wisconsin, neither of us have been on a proper snowshoe excursion before. There's tons of manicured Nordic skiing trails in town that double as snowshoe trails, but I wanted something a little more adventurous, a little more nature-forward.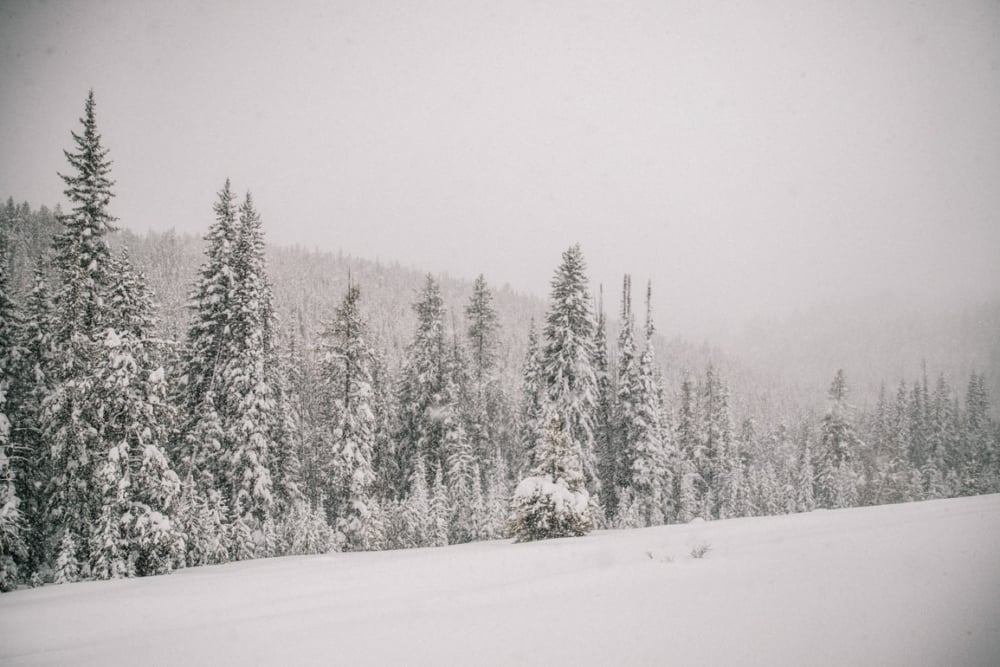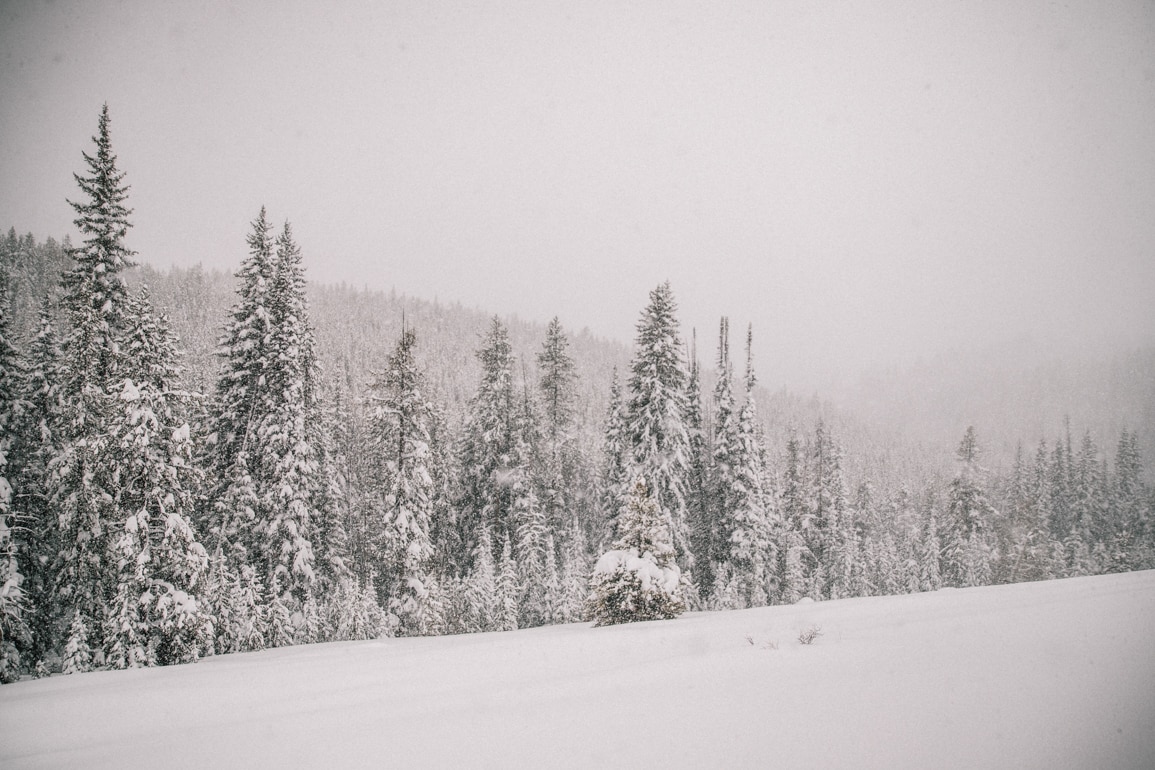 We Booked At Galena Lodge
Galena Lodge fit the bill perfectly. Tucked about 25 minutes out of town (well, 50 for us that morning as it was snowing heavily and the plows hadn't caught up), Galena Lodge sits in the Sawtooth National Recreation Area. In the 90's, the Blaine County Recreation District helped build over 62 miles of skiing and snowshoeing trails here.
And it's super charming. The main building is built from lodge pins (think: classic log cabin vibes) and houses a restaurant, small shop and gear center. And a dog, which you may be able to borrow for your hike. Seriously – just ask! And then, up in the mountains are year-round yurts that you can also book, but you can only access them via snowshoe in the winter.
While you can rent out snowshoes and tackle trails by yourself since it was our first time we opted for a guided tour. I made these reservations about a month in advance. They only offer them 3 times a day, so if you know you want to go, book sooner rather than later. If you are trying to book last-minute, give them a call instead of filling out the form online as sometimes the wifi goes out all the way up there.
Go Snowshoeing In A Stormstorm, If You Can
In a stroke of luck, we has to bump our Sun Valley trip back a week which didn't feel lucky at the time (moving tons of reservations never is) but this meant we arrived to town in the middle of their huge first snow of the year. And it didn't stop, for 4 days.
Turns out, actively falling snow can make for some of the best snow for snowshoeing. Our guide set us up pretty quickly and gave a basic run-down on how snowshoes work, but it's not very hard to grasps. Then, we hit the trails. Within a few minutes, I lost sight of the lodge through the trees and falling snow, and all I could hear was the sound of our snowshoes hitting the ground.
And my heavy breathing – Robin and I live at sea level so jumping right into a 7000+ foot elevation hike in the middle of a snowstorm was a wee bit challenging. But oh so worth it. We hiked for 2 hours and every single corner felt like Narnia, or a real life snowglobe, or maybe Santa's Village all wrapped up into one. Other than one group of folks coming back from a yurt, didn't run into anyone else. It's like we had the whole mountain to ourselves.
Keep An Eye Out For Yurts
As noted, Galena Lodge doesn't just offer trails, they have a handful of year-round glamping yurts available for rent! These are only accessed via snowshoe in the winter, making them extra remote and social. If nobody is staying in them, your guide will probably let you peek into one. These babies are already equipped with a sink, propane, cooking tools, mattresses, a table, a wood stove and pretty much all the basics. All guests need to bring is clothing and food (and probably a lot of whiskey, that's what I would do.)
The sauna is the extra cool perk that sends this Idaho glamping spot over into rockstar hosting status. I mean, look at how dang cute it is covered in snow! Imagine waking up in a yurt with your best friends, going on a self-guided morning hike and ending in that sauna to heat up, followed by endless rounds of cards and whiskey. We want to come back to Ketchum in the summer and we'll absolutely book a night or two in their yurts.
Stay For Lunch At Galena Lodge
I recommend you book a 10am snowshoeing slot, this way you end your hike around Noon and can roll right into lunch. Trust me, you'll have worked up a big appetite. The restaurant at Galenda Lodge is SUPER good and fresh. If you eat meat, try the Meatloaf Sandwich, which sounds weird but trust me when I say, it's one of the best meals we had all week in Idaho.
They also offer full moon winter dinners! Come up for a special 3-course dinner followed by a moonlit snowshoe hike. These tend to book out quickly, so we didn't get to do one this round, but they sound magical.
Other Popular Places To Go Snowshoeing In The Wood River Area
So, that was our magical snowshoeing hike at the lodge! If Galena Lodge is all booked out, don't worry, there are many other cross country skiing and snowshoeing spots closer to Ketchum and Sun Valley that you can hit up. Keep in mind, these are usually flatter and probably on manicured trails that you will be sharing with skiers and snowshoers.
You'll also probably be going past things like luxury condos and the ski resort vs nothing but trees and yurts for miles. If someone in your group is on the fence about the winter season up at Galena, start them off in town on an easier, more approachable trail and then maybe get them up to Galena the next day.
Pro Tip:
If you are staying
at Hotel Ketchum,
which we did and loved, they offer guests free snowshoe rentals! Just ask the front desk. Sun Valley snowshoe rentals can range in prices, so it's way more affordable to just pay the trail access price.
Sun Valley Nordic Center at Sun Valley Resort: The Nordic & Snowshoe Center is right past Sun Valley Lodge and has over 40 km of trails that are groomed daily. I stopped by to take a look and the Nordic trails look pretty flat and easy for beginners. Day pass for snowshoe rentals are $25.
Wood River Trail (aka "the bike path"): A paved path in the summer turns into a snowy path for snowshoeing, winter hiking and skiing in the winter. Totally free to access!
More information and spots for possible snowshoeing are available HERE.
I hope this helps you find where to go snowshoeing in Sun Valley and Ketchum! We had such a fun time and it was one of our favorite memories we had during our trip to Idaho.
If you got questions, drop a comment below or DM me on Instagram @thewhimsysoul and I'll try to help out.
Stay adventurous!