THIS IS MY TIME TO SHINE!
I grew up in the Wisconsin countryside. As a moody teenager, I would frequently go on backyard winter hikes in -10 degrees, tromping through 8+ feet of snow and ~feeling all the feelings~. Now I live in California and love escaping to cold-weather spots like Yosemite or Tahoe for winter fun.
I'm a pro when it comes to cute winter hiking outfits that are also practical and don't break the bank. In this post, I'm sharing my favorite cold-weather gear and what I like to wear while hiking in the snow.
Cute Yet Practical Winter Hiking Outfits & Gear For Snow Adventures
>> Got a question about the winter hiking that you need answered quickly? DM me on Instagram @thewhimsysoul and I'll be happy to help!
What To Wear For Winter Hiking – Your Ultimate Cold Weather Hiking Gear Guide
Let's be honest – winter hiking gear can be expensive AF. Your favorite wanderbabe influencer or outdoorsy neighbor may swear by North Face puff jackets, but they're like, $200. And you can use a $50 jacket just fine. Save that coin.
In this post, I'm putting an emphasis on affordable winter hiking clothes, along with breaking down what you realistically will need to bring/wear when hiking in cold weather.
Must-Have Winter Hiking Gear
These are the winter hiking clothing and gear you absolutely need, no matter when or where you hike. Most of my readers are looking for advice on what to wear when hiking in winter for National Park visits, or a morning hike while in Banff before a nice lunch. More basic level adventures. Unless you are going on a long day hike or winter backpacking trip across the alps, or setting out while it's actively snowing, you will probably be just fine with what's on this list. No need to fork out extra cash for extra snow hiking gear.
Pack This!


Winter Hiking Boots
No, your normal trail shoes won't cut it. Your winter hiking boots need to have some traction to help your feet grip icy, slippery surfaces so you don't fall. (If it just rain or temps rose above freezing recently, the trails will be darn tough to walk-on!) But more importantly, they need to have an insulating layer to keep your feet warm. TRUST ME that your toes will be the first thing to go numb and it's super uncomfortable (not to mention dangerous on long hikes.)
I love these tall winter hiking boots for more extreme trails (like when we were in Sequoia and it was actively snowing every day so we had to break fresh snow on the trails). The grip is AMAZING on these boots and they keep my feet nice and warm.
I also sometimes wear shorter snow hiking books like this pair for average winter days that aren't actually snowing. Like when was I in Mariposa Grove when it was sunny and snow was already firmly packed on the trail from previous hikers. These are easier to pack in a suitcase since they take up less room.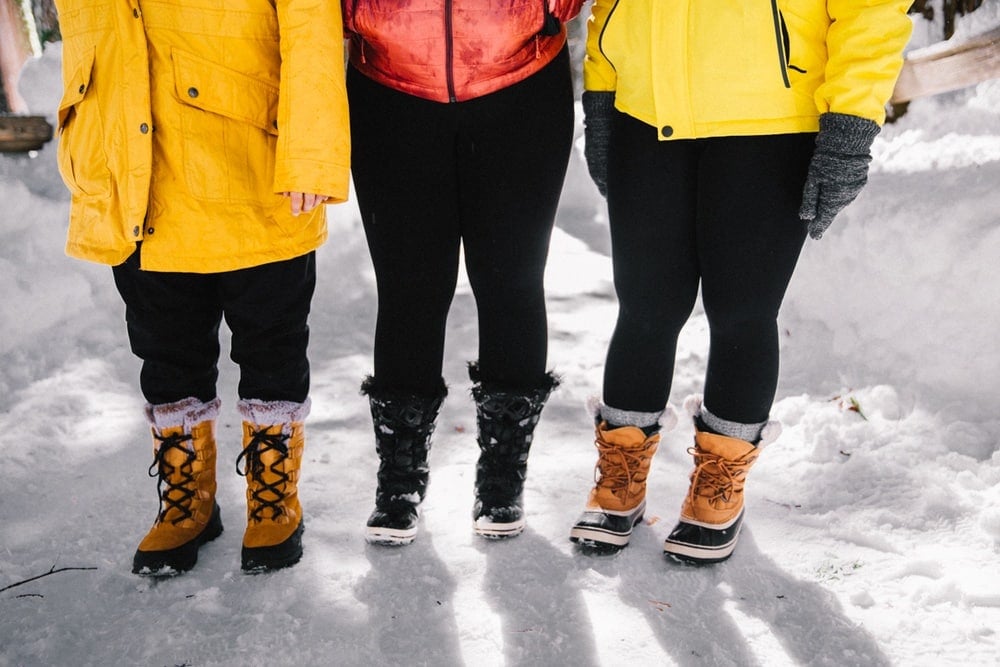 Base Layers
Ever heard the saying that when you visit San Francisco, you have to dress in layers? Hiking in the winter is the same concept. You'll want to have some sort of base layer action going on. This is because you work up a sweat while hiking and your body will warm up. I find that most of the time when I'm hiking in winter trails, I overheat on the way up and need to shed my outer coat.
But when that sweat cools off from the cold weather, you'll get super cold if you don't have base layers to help soak up the dampness (it could be dangerous -hello hyperthermia!) Super intense hikers will swear by a merino wool base layer AND a sweat licking layer. And sometimes another layer.
Look – I'm never hiking in snow for 10+ hours. I find I usually just need one single long sleeve base layer that's made from wool, fleece or another warm material over a t-shirt to help soak up sweat. If it's really cold outside (like I'm visiting Wisconsin in January) I'll add a second base layer sweater into the mix. But usually, I overheat with that many layers on. I recommend a bra, tshirt, and top sweater/base layer.
Winter Jacket / Insulated Jacket
Your outer layer needs to be a sturdy winter jacket or coat. Some people love puff jackets, I own this $40 jacket that is easy to fold in a suitcase but it's designed to be insulated enough to keep me warm while hiking. I also own a few various thick winter coats – the Wisconsin in me can't not have at least like, 6 coats in my closet.
I usually opt to wear a puff jacket while hiking, just since they are designed to be easier to wear for recreation (and easy to stick in your backpack when you overheat on the trail) but I've also worn my street style winter jackets on trails in the past and that works just fine. Plus, they look real cute in winter photos not gonna lie.
If you aren't really into winter outdoor activities or go visit snowy spots occasionally, then I wouldn't buy a whole new puff jacket unless you don't own any sort of jacket at all. Just plan on wearing your normal winter coat. But if you don't own anything, a puff jacket is always a good staple to have and you can find a quality one for under $50.
Tall Socks (And Extra Socks)
Snow WILL get in our boots. And it will melt. And your socks will get soaked, which is literally the worst feeling, not to mention dangerous (again – the biggest risk of cold weather hiking is not the temperature, but getting wet and not being able to get dry.) I always bring 2-3 pairs of socks PER DAY of my winter trips. Normal socks aren't the best, you really need tall socks as they do a better job of keeping the snow out of your boots/ off your skin.
Gloves
You know what my biggest pet peeve is when watching any movie or TV show taking place in snow? 99% of the time nobody is wearing gloves. They're throwing snowballs and laughing when in reality – your fingers will be literally frozen if you do that. My husband always makes fun of me when I scream at the TV when this happens haha. Please pack gloves even Hollywood says you don't need them. I prefer ones with finger holes like this pair so it's easy to grab things or put on tire chains. You may not need them on all points during your hike, but have them.
Sunscreen + Sunglasses
Sunscreen isn't just for summer hiking. I actually get MORE sunburnt when I'm hiking in the snow compared to warm months. That's because the snow is super reflective (like water) and bounces UV rays back up at your face. I always wear facial sunscreen on my face + neck, and a body sunscreen like this one on my hands, arms, etc. And you'll want a pair of sunglasses on hand for the same reason.
Beanie
My favorite winter hiking hats have always been puff beanies.They're cheap (usually under $20 at any store – this one I'm wearing in most photos is just $9), very warm and let's be honest: they look really cute. Especially in photos. I love colorful beanies to help my figure POP a bit more in my Instagram and blog photos.
Photo tip: I recommend getting a pink, red, or yellow/orange beanie for better winter photos (aka, colors that you won't find in nature, like green, blue, black, white, etc.) They POP in the best ways and will elevate your photos. Learn how I edit my Instagram photos here.
Waterbottle
No matter how long your hike is, don't forget to bring water! When it's winter, it's best to use a high-quality water bottle like this thermal insulated one from Stanley because it'll keep your water cold, but not let outside temperatures in too fast to freeze it. Take this as your warning: a plastic water bottle from the gas station may freeze in your backpack. Don't do it.
Backpack
As with any hike, you'll want a backpack! I prefer proper backpacks for winter hikes, instead of the smaller ones that can fit a water pack.. and maybe a granola bar? This is because I usually want to shed a layer at some point and stick that layer in my backpack. I use this Calpak backpack for EVERYTHING. Airport carryons, hiking, day trips, everything. It's sturdy, has tons of pockets and under $50.
Buff Mask
Duel purpose here folks. A buff helps keep the back of your neck from getting sunburnt and if your face gets cold (or a gust of wind picks up and starts blowing snow everywhere) you can just pull the buff up and BOOM, warm face.
But also, at the time of writing this post, we're in the middle of an indefinite pandemic. A classic mask poses too much of a risk for getting lost in the snow, so just wear a gaiter/buff instead. I use this one on the trails.
Thick Leggings Or Leggings Under Jeans
I find that for most of my winter hikes around places like Tahoe or Big Bear, I don't need fancy snow pants or winter pants. When hiking in the winter I usually opt for thick leggings OR a pair of thinner leggings under jeans. Denim gets REALLY cold in the winter and I find that legging materials keep my skin much warmer. If you want to wear jeans while winter hiking, layer on top of tights or leggings.
Things You May Need When Winter Hiking – TBD
Depending on your destination, temperature, length of hike, etc – you may also need extra hiking clothes for winter trails, or additional gear to help keep you safe. In the past 7 years of my life, I have needed these things exactly once while traveling and hiking. So, you probably won't need these, but check the weather before you go.
Snowpants / Winter Hiking Pants
If you plan on doing all day hiking trips, or if it's actively snowing during your hike, you'll then probably want to upgrade from thick leggings and wear snow pants or winter hiking pants (something that's water-resistant and lined with warm layers.)
When snowflakes hit your clothing, they will eventually melt and leave your clothes wet, which is why if it's going to be snowing you want something that is waterproof or water-resistant to keep your insides warm and dry. These types of pants can run super pricey but don't worry, you don't need to shell out a lot. I own this exact pair that's just $30 and they're great for snow trips. (Size up, they run a tad small.)
I found these to be a lifesaver during my Sequoia National Park trip since it snowed the day before and most of the trails weren't yet shoveled (so we had to break them ourselves.) Also, as a photographer, I was constantly bending down and/or kneeling to take photos and these babies kept my legs dry and warm. But the average hiker isn't doing this, so they aren't always needed.
Hand warmers
If you have gloves and it's a mild winter day, you probably won't need hand warmers. But if it's colder – as in, 10 degrees or under, or maybe it's really windy out – you'll be happy to have hand warmers. You can tuck these in your pockets and boots to help keep toes and fingertips warm!
Leg Warmers/Boot Cuffs
If you plan on hiking in deep snow / on trails that haven't been padded down yet by other hikers, then you may want leg warmers for additional warmth and snow protection. These babies are great for helping to keep snow out of your boots and melting everywhere. Plus, they look super cute.
Specialty Winter Hiking Items
I know I'll get some heat for this, but unless you are doing advanced hiking, you really won't ever need the following items. If you already own them, use them if you want but there's no need to buy these for a winter vacation.
Hiking rods
If you're able-bodied, you probably won't need hiking rods or poles to help you on most popular trails. The exception is if you're tackling something really steep. Check Alltrails before you go and see what recent past hikers recommend. (The other exception is if you aren't able-bodied, then hiking rods can be obviously really helpful.)
Rain Jacket / Waterproof Shell
You only need to pack along a rain jacket for a winter hike if the weather is forecasted to rain or snow AND the temperature is going to be over 32 degrees (freezing point). I'm never trying to go hike in this type of weather, it's not very fun. But you'll run across that weather sometimes.
And of course, if you live in the PNW, most of your winter hiking is probably going to deal with rain at some point. But you probably already own a warm waterproof jacket or waterproof shell.
Boot Spikes
Your hiking boots should already have traction on them, for reasons we chatted about before. Most of the time, you won't need additional boot spikes unless you plan on hiking steep trails. If you need hiking rods, you also probably need boot spikes.
Winter Hiking Safety Tips
Can't leave this post without chatting real quick on some winter safety tips. As with any hike, make sure you tell someone where you are going before you head out just in case of emergencies. It's also a smart idea to download Google Maps offline so you have a map of your wilderness area just in case.
If you are hiking in a National Park, make sure to grab a map from the ranger when you enter the park.
If you are hiking in the mountains, always check local weather reports for avalanche warnings and steer clear of those areas. These reports will also keep you updated on upcoming weather. Mountain weather changes FAST and you don't want to find yourself stuck in a freak blizzard when you only planned to be on the trail for an hour.
Lastly, I always like to keep extra layers in my car for after my snow adventure. For sure that extra pair of socks but sometimes even an extra pair of bottoms in case mine got soaked, or an additional sweater that's dry and comfortable to wear while driving home to my hotel.
I also always keep extra water in my car, no matter the time of year, as it's easy to under prepare on the amount of water you need to drink while outdoors. I thrifted a vintage water jug for $3 that's my forever car companion now.
I hope this helps you get cute winter outfit ideas and feel prepared for what you'll need while exploring nature in the wintertime. Again, my hiking outfit guide is really aimed for the average traveler, not someone looking to do advance, long hikes out in Alaska or something.
Got any questions about what to wear for hiking in winter weather? If you need to chat specifics, drop a comment below or DM me on Instagram @thewhimsysoul and I'll be happy to help.