It was sunrise and our bodies were still frozen from camping in near zero-degree temperatures the night before.
The sky above the mountains was turning pink as we quickly ran from our car to Wild Willy's Hot Springs, shedding our coats as we went. I remember the magical feeling of soaking in mud and hot water while the sun slowly came up over the horizon and thinking: I am so very much alive right now.
After that trip, I fell in love with hunting down as many hot springs and natural swimming holes that I could find in California (and beyond!)
I haven't had time to visit all of them (yet) but the below is a list of all the Northern California hot springs I have on my bucket list that you can visit!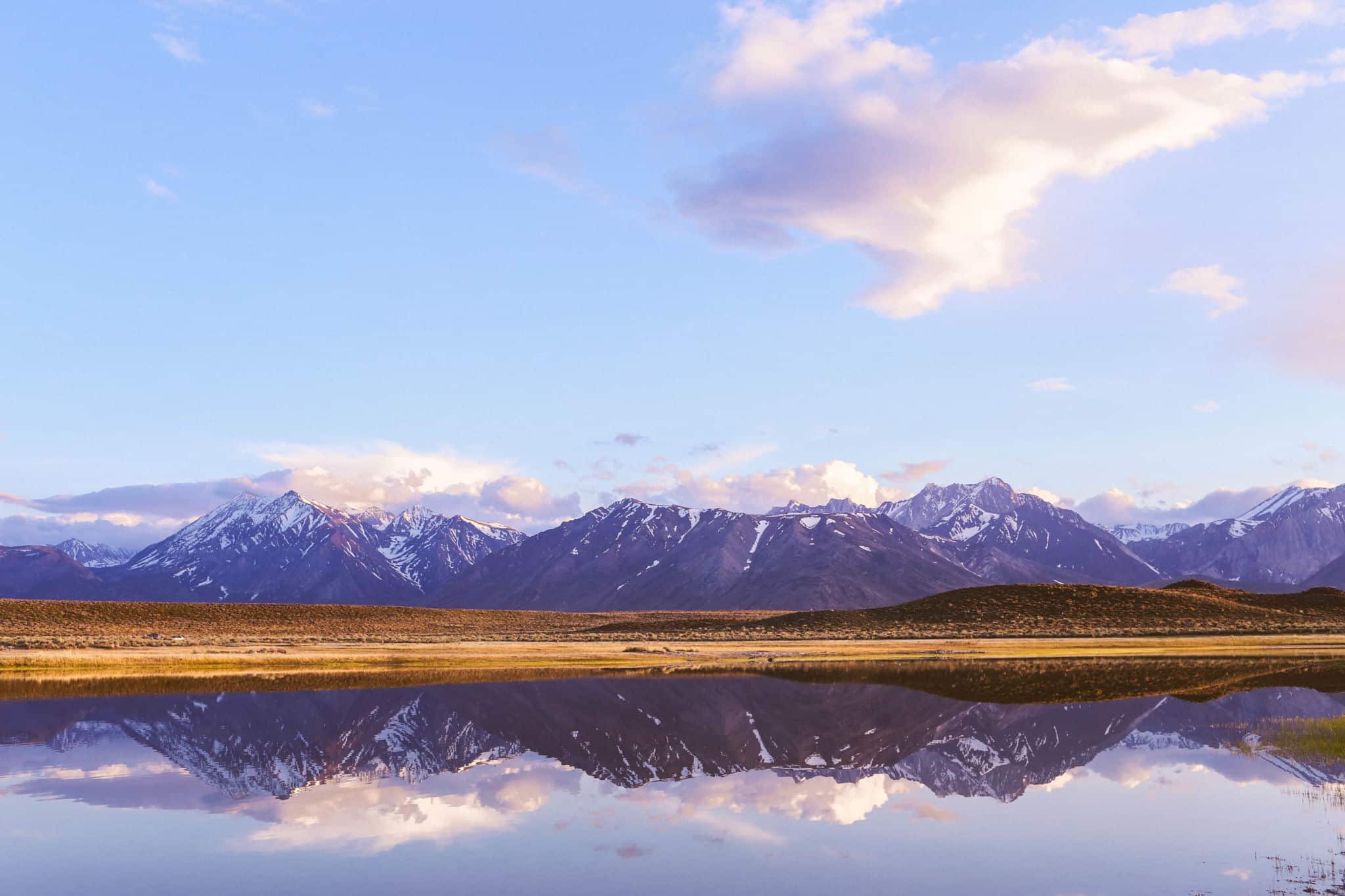 Natural Hot Springs Vs Mineral Pools
Alrighty, so in this blog post I've split up the Northern California hot springs up in three groups: Natural, Tubs and Mineral Pools.
Natural hot springs are those natural holes in the ground that are outside and rural. They're raw, muddy, and make you feel connected with nature. They are typically clothing optional and sometimes require a hike into.
Mineral Pools are like the ones you find at places like Wilbur Hot Springs Resort, where it's a fancy swimming pool that the hot mineral spring water is piped into. Some of these are a little less pristine & a little more rugged, but still require some sort of high-priced entry fee and are in a traditional hotel setting.
Tubs are the ones that fall somewhere in the middle. These are usually small concrete or wooden tubs where the hot spring water is piped directly in. Many are free, but some others may be located at places like rugged mountain cabin resorts that are out in the middle of nowhere but still may require some sort of entry fee to access.
I personally prefer the natural hot springs and tubs. I love arriving at sunrise to have the whole place to myself, nothing but friends, nature and good ole smell of sulfur. Visiting these is always an adventure and some of my favorite travel memories are around hunting out these hot springs.
I do appreciate hotel mineral pools, especially on spa focused trips or wine country trips with the girls. These are also easy for people of all abilities to access, usually open year-round and closer to major cities like San Francisco.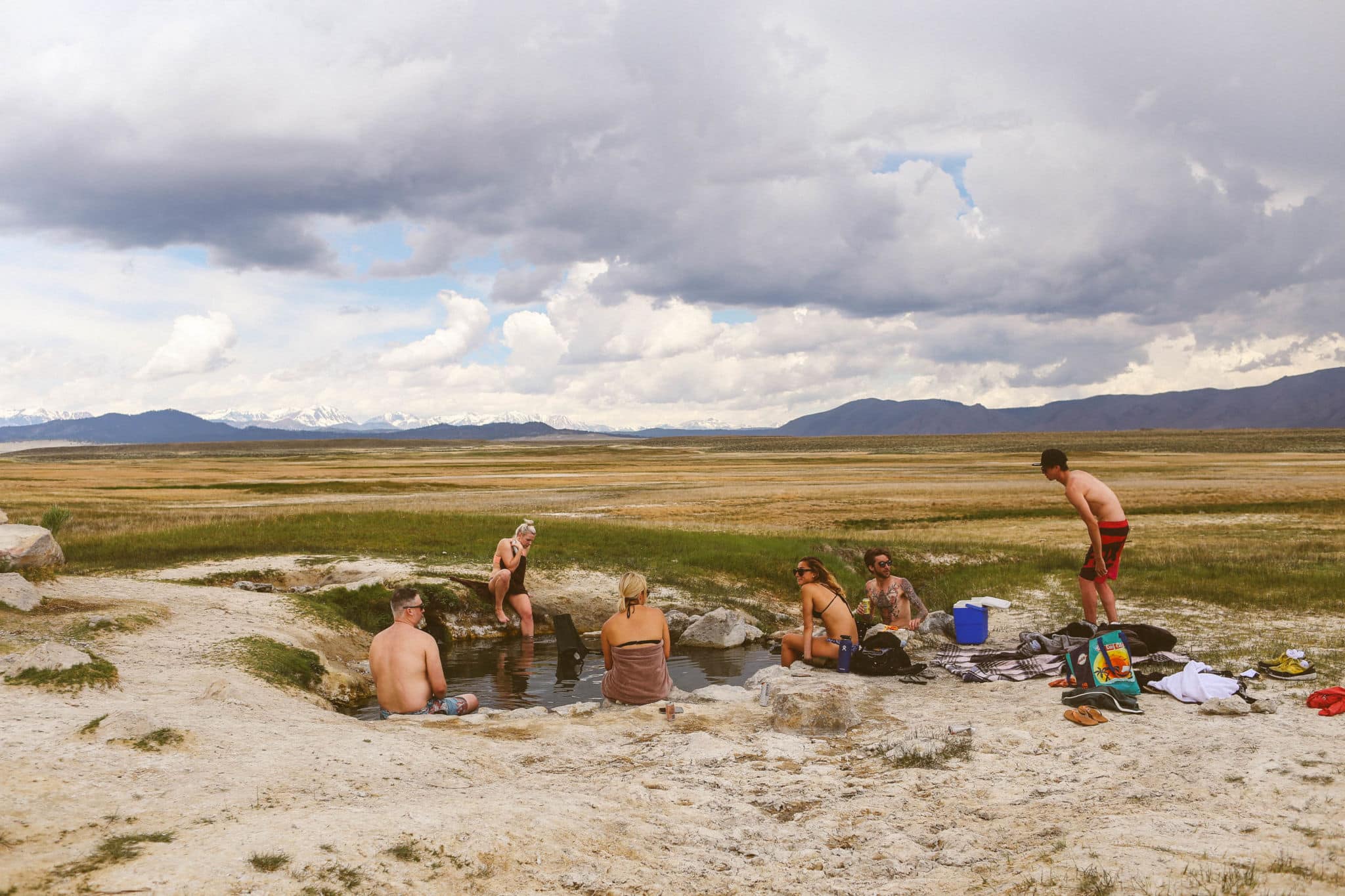 IMPORTANT! SAFETY! TIPS!
Before I share my list with you, let's chat about safety and hot spring etiquette. Remember that for the natural pools and tubs, there aren't staff to come in daily to clean and maintain it. It's up to YOU to keep it nice and available for others after you to use it.
Do not litter. Pack out your trash. Leave no trace. Don't bring glass into hot springs, it can hurt someone. Stay on trails. Be kind to nature. Share the pools. Basically, don't be a dick.
Also, the natural pools usually will have a naked man in them at some point so be prepared for nudity (also a great chance to try a naked dip yourself!) Lastly, before heading into the mountains without any cell service in most areas — tell someone where you are going and when you'll be back in case you get hurt or lost.
My Favorite Natural Hot Springs In Northern California
These are those rugged, rural hot springs that make you feel connected with earth. Usually, these are up in the Sierra Nevada Mountains, though there is one near Big Sur that I know of.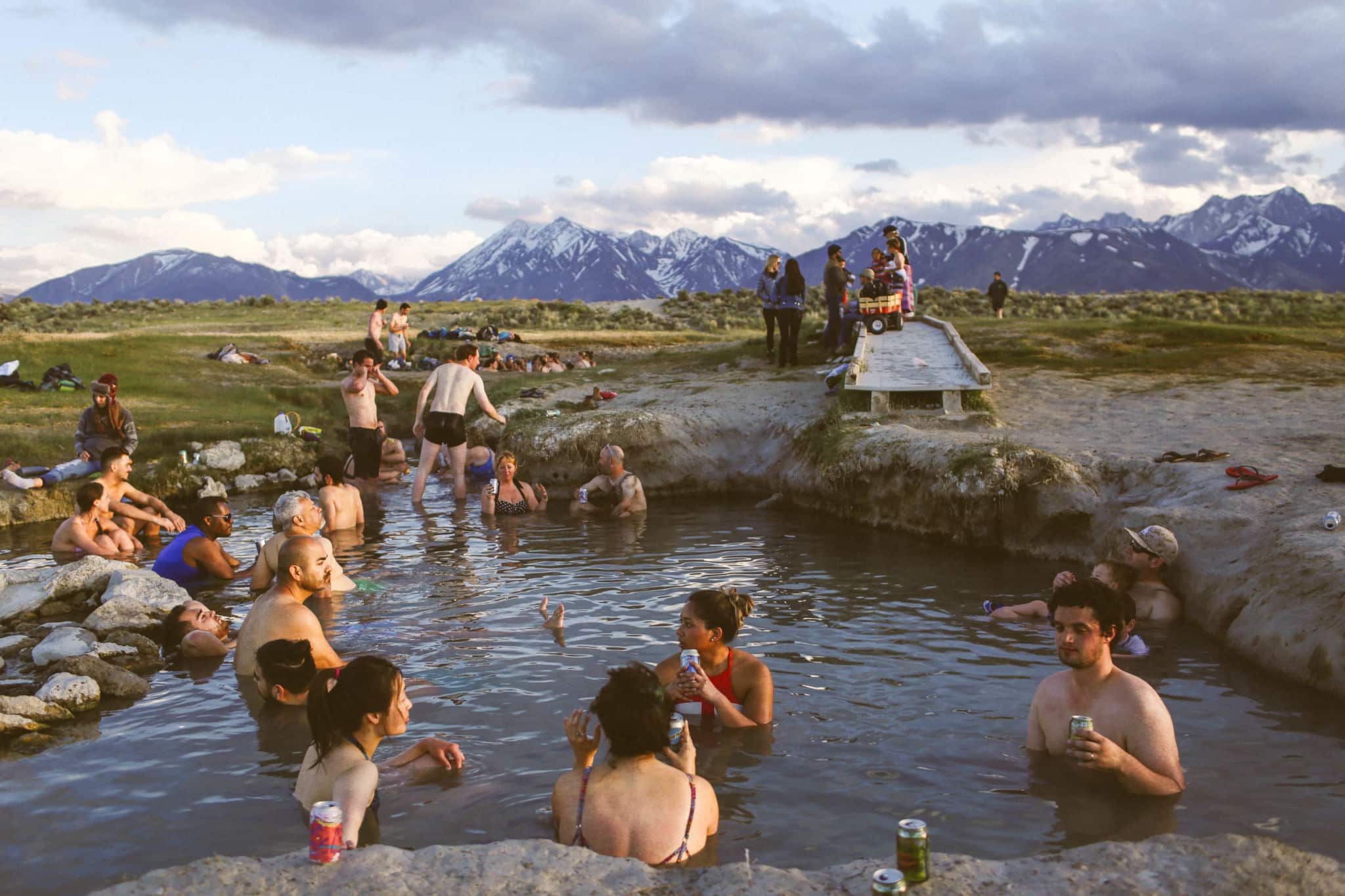 1. Wild Willy Hot Springs
Location: Outside Mammoth Lakes
Style: Natural Hot Spring
Fee: None
Wild Willy's Hot Springs is my favorite of the natural hot springs in California! This is the one I was talking about at the start of this article. I love these because they are located in the middle of a large field with 360 sweeping views of the mountains.
Wild Willy's has two pools. A large one that can fit upwards of 20 people and a small one that looks like a heart (seriously!)
This is a popular hot spring so it's usually bustling with locals and campers each evening and it's such a fun party spot to crack open a beer (in a can!) and watch the sunset together while soaking.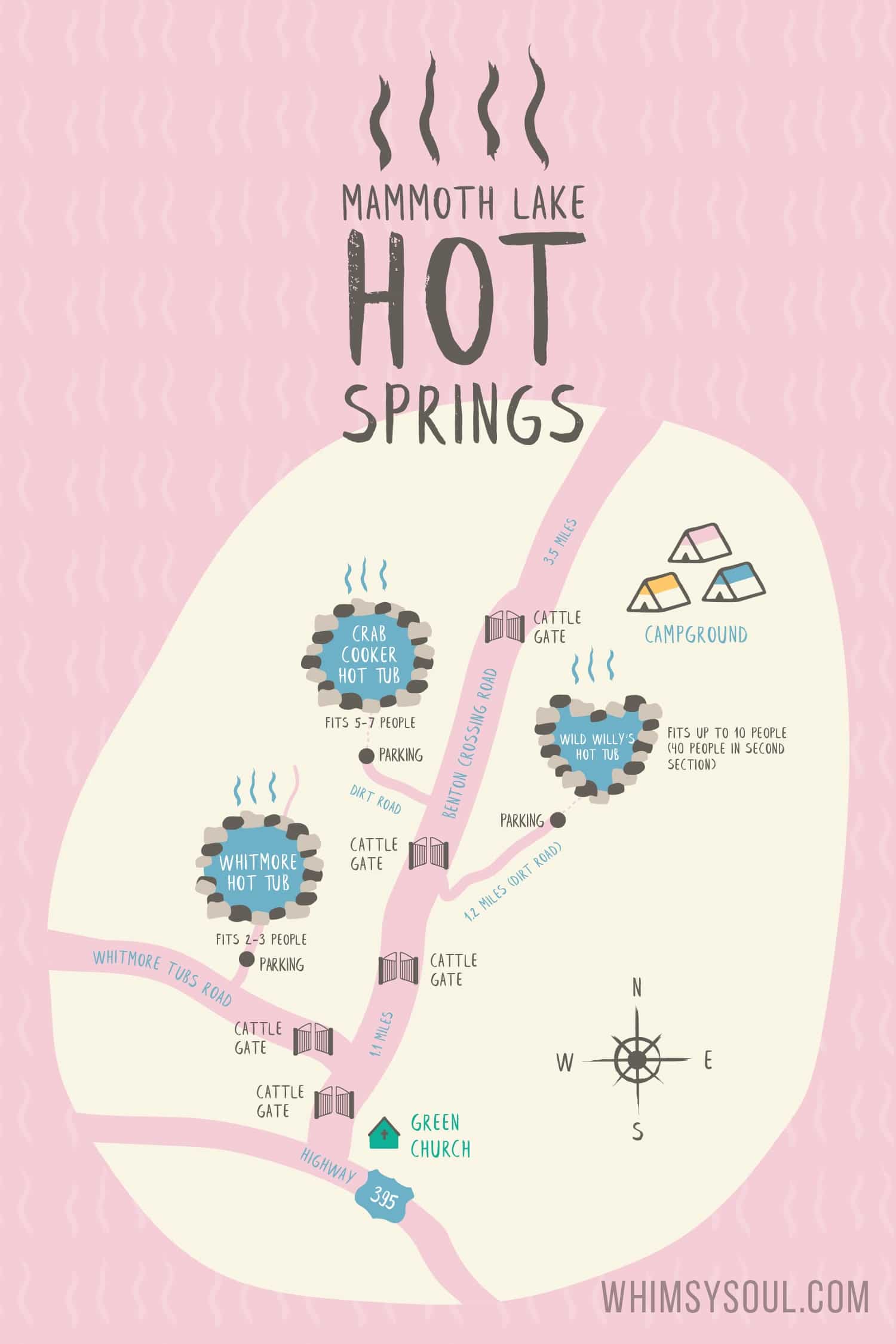 Mornings are more peaceful and if you arrive at sunrise you can probably have it all to yourself for a bit.
Wild Willy's is located outside Mammoth Lakes – and there are actually three hot springs in this field (the other two are tubs and are included on the next section!) The gravel road in is rough on short cars, but there is a large parking lot. There is a boardwalk in place to guide you the short walk over to the springs. No fee.
2. Buckeye Hot Springs
Location: Outside Bridgeport in Toiyabe National Forest
Style: Natural Hot Spring
Fee: None
OMG I just went to Buckeye Hot Springs and I'm totally in love with these pools. Not be dramatic but they quickly became my favorite California hot springs because of the waterfall cave and the fact it's right next to a creek.
I'm obsessed with cold plunging and there's nothing more refreshing than doing a cold plunge at a natural springs like Buckeye.
They're outside of Bridgeport in the Eastern Sierra Mountain Range and you'll need 4WD to safely access them but it's worth the trek.
We visited on a crowded Saturday afternoon but even with the other people, this soak was nothing short of magical. I loved sitting under the cave rock to get some shade and people watching from the other side of the hot springs waterfall.
It's also dog friendly and actually safe for dogs since the creek is right there for them to cool off. While we were soaking, another party had their dog who was having a grand ole time jumping in an out of the creek water!
If you're doing van life or have an RV, this has Northern California hot springs camping options with a paid campound and forest service land camping next door to the pools!
3. Sykes Hot Springs
Location: Big Sur (trailhead is Big Sur Ranger Station)
Style: Natural Hot Spring
Fee: None
If a long hike doesn't scare you, this hot spring is a true adventure to get to! About a 10 mile hike in, Skyes Hot Springs is a classic spring that people have been visiting for generations. You have to camp out there and there are some sites available, though on weekends and holidays the sites fill up quickly (so go on a weekday!)
There are 3 pools (two lower and one upper) and finding them can be tricky as there isn't any signage. This article does a great job at outlining the steps. I'm wildly out of shape and not keen on long hikes so I probably won't ever visit in person to update this post with.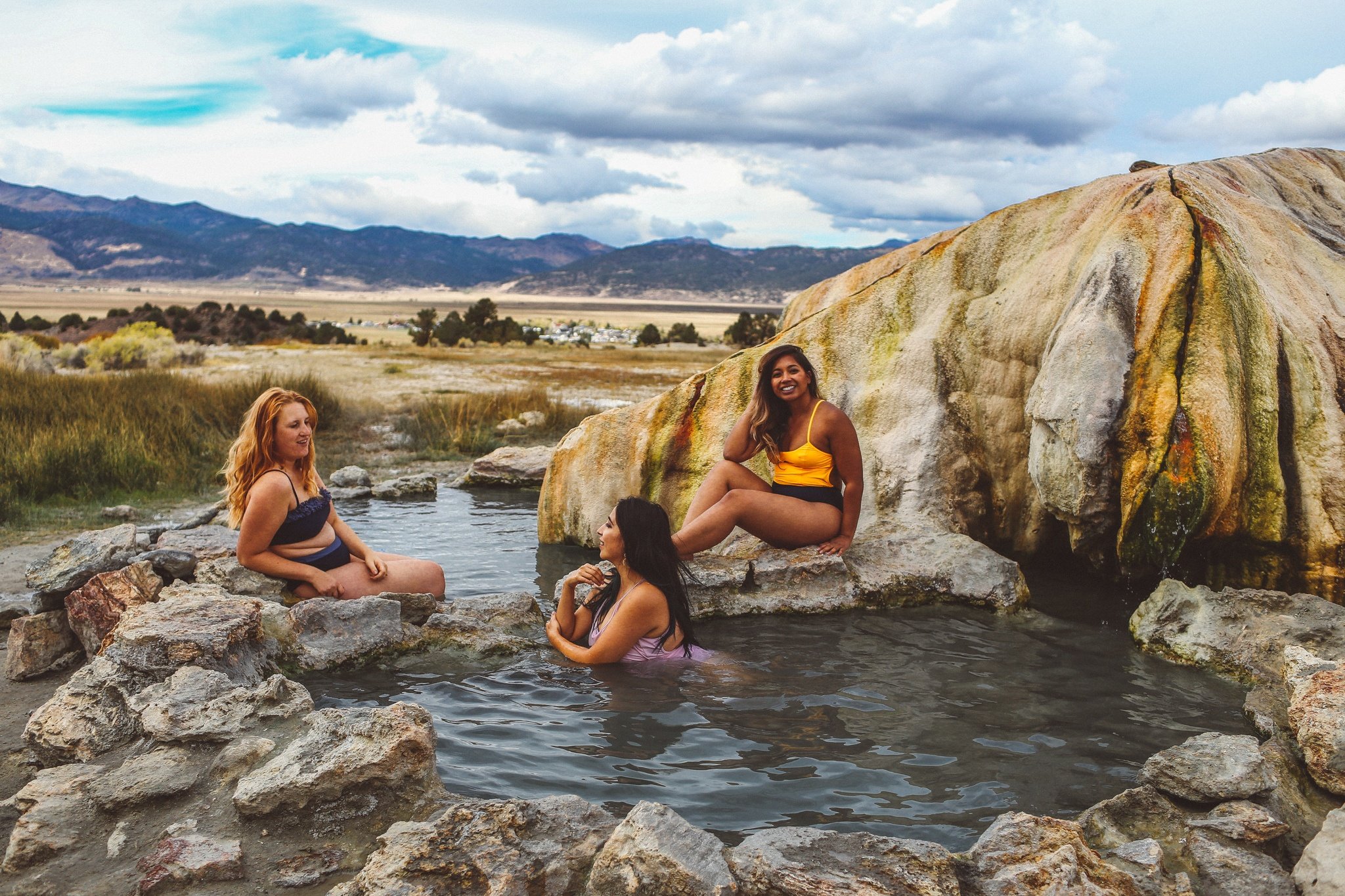 4. Travertine Hot Springs
Location: Bridgeport
Style: Natural Hot Spring
Fee: None
One of the other best hot springs in California. The views of the mountains are crazy cool here. This hot spring is just right outside town and super easy to access, making it the perfect stop on a road trip back home to the Bay Area after a visit to June Lake or Mammoth Lakes (or even on your way to Yosemite National Park.)
Travertine Hot Springs has a few pools. The largest and best ones in my opinion are pictured above and curl around a large boulder. There are a few smaller pools (usually colder water temps) a bit down the bluff for anyone wanting privacy. Read my full visiting guide here.
My Favorite Hot Spring Tubs In Northern California
I still prefer feeling mud between my toes while soaking but these hot springs tubs are pretty dang cool as well!
1. Crab Cooker + Whitemore Hot Springs
Location: Mammoth Lakes
Style: Hot Spring Tub
Fee: None
These two tubs are in the same field as Wild Willy's Hot Spring, so they're easy to hit up on the same weekend if you want! As you can see, they are smaller and can't fit as many people so these are more competitive to visit. I think these are the best natural hot springs in Northern California!
Crab Cooker is the bigger one in an open field on top of a small slope, with just the most stunning views of the mountain range sprawling out in front of you. The parking lot is large and the walk into the tub is easy. Whitemore is a tiny tub tucked into rocks next to a small parking lot that's usually filled with RVs (and the tub is filled with the people from the RVs!)
I'm like, 80% sure Whitemore is called Whitemore. The hot springs map our campsite gave us is the one I redesigned above BUT upon writing this article I found photos of a hot spring named Whitemore that doesn't look anything like the Whitemore I know. There may be two with the same name. Just wanted to point that out in case you got confused!
2. Feather Creek Hot Springs
Location: Twain
Style: Hot Spring Tub
Fee: $10 (included in room rates for overnight guests)
My husband and I are hoping to visit Feather Creek Hot Springs this fall on our way back from Lassen National Park! This hot spring tub is on the land of a small rustic resort. We plan on renting one of their cabins, which includes access to the tub. The tub looks to be next to a river with tons of trees nearby so it should be a fun early morning soak with a cup of coffee in hand.
3. The Inn At Benton Hot Springs
Location: Benton
Style: Hot Spring Tub
Fee: $60-70 per night
This is another rustic mountain resort that offers hot spring tubs to soak in! The Inn At Benton Hot Springs has 12 tubs and only the guests who rented it out for the night are allowed to access the tub (vs the whole camp sharing one tub) which means you don't have to worry about getting cozy with strangers.
This Inn is also on my bucket list. The have rooms, cabins and also RV / campsites with hookups available making it easy for any type of traveler to spot by and enjoy!
4. Orr Hot Springs
Location: Ukiah
Style: Mineral Pools
Fee: $70 for day use
Orr Hot Springs is up in Mendocino County and on my bucket list primarily because they have cats on the property and as a crazy cat lady, nothing sounds more fun than hanging out with cats in between private tub soaks. This resort is on 27 acres of land and a few private tubs available, making it another great option for those looking for a guaranteed soaking spot without others.
5. Mono Lake Hot Springs Resort
Location: Mono Lake Hot Springs
Style: Hot Spring Tubs
Fee: Unsure (perhaps $150 a night for a cabin?)
This spot is located deep in the Sierra wilderness. This resort is a little more allusive to find information on (the site doesn't look like it's been updated well since 2018) but from what I can gather, it's located in Mono Lake Hot Springs. (Not to be confused with Mono Lake!) This resort is super rural with acres and acres of trails, cabins, campsites and of course, hot springs!
From the photos it looks like most hot springs are tubs, though a couple look like maybe they are natural pools. I think there are a few tubs all on the same trail so I think it could be fun to road trip out, rent a cabin and spend a day just hot spring jumping from tub to tub!
6. Surprise Valley Hot Springs Spa Resort
Location: Cedarville / Modoc County
Style: Pools
Fee: Unsure
This is another spot I've found online but haven't visited in person. There isn't a lot of info but it looks like a high desert hot springs resort with large soaking pools and lake beds surrounding the resort. Guests rave about the large private soaking pools and rustic rooms nearby.
Top Mineral Pools In Northern California
These are hotels that have created pristine pools that pipe in mineral waters. Mineral water supposedly have tons of healing properties and thus it's popular for hotels and spas in geothermal areas to create pools that pipe in mineral water.
These are really great options for those looking to experience hot spring water but can't due to physical disabilities or during the winter when the mountain hot springs are usually too dangerous to access.
1. Wilbur Hot Springs
Location: Williams
Style: Mineral Pools
Fee: $59 for day use
Wilbur Hot Springs is considered one of the best hotels that merge the feeling of a natural hot tub with a hotel setting. Their pools are open day and night to guests (unlike others) and are clothing optional like the natural hot springs in the mountains (again, many other resorts would not allow this.)
2. Calistoga Mineral Springs
We love the adorable wine country town of Calistoga in upper Napa Valley. This town sits on a geothermal hotbed and has made a name for itself as the best place to get mud baths in California. Most hotels also have some sort of mineral pool available, too.
We've visited a few times (even got one of those famous mud baths which were intense to say the least) and these are the best hotels in the area in our opinion:

3. Vichy Springs Resort
Location: Ukiah
Style: Mineral Pools
Fee: $50 for 3 hours (at that rate, just pay $200 to spend the night, unlimited pool time is included)
Vichy Springs Resort is located on 700 acres of land (wow!) and has been hosting visitors since the early 1900's. Most people come for their spa and mineral pools which are naturally carbonated, apparently, the only kind in the North American. Their site does state that they have a waterfall and swimming hole located somewhere on the property that you can hike to.)
4. Sierra Hot Springs
Location: Sierraville
Style: Mineral Pools
Fee: $20 Day Use
A few years ago we drove right past this hot springs resort on our way to Greenhorn Ranch in Plumas County and I've been thinking about it ever since. Sierra Hot Springs has a super cool dome on the property next to the pools, called The Temple Dome. They're clothing optional and offer hot pools and cold pools for guests, along with spa treatments and outdoor trails for hikes. On our bucket list to visit in person!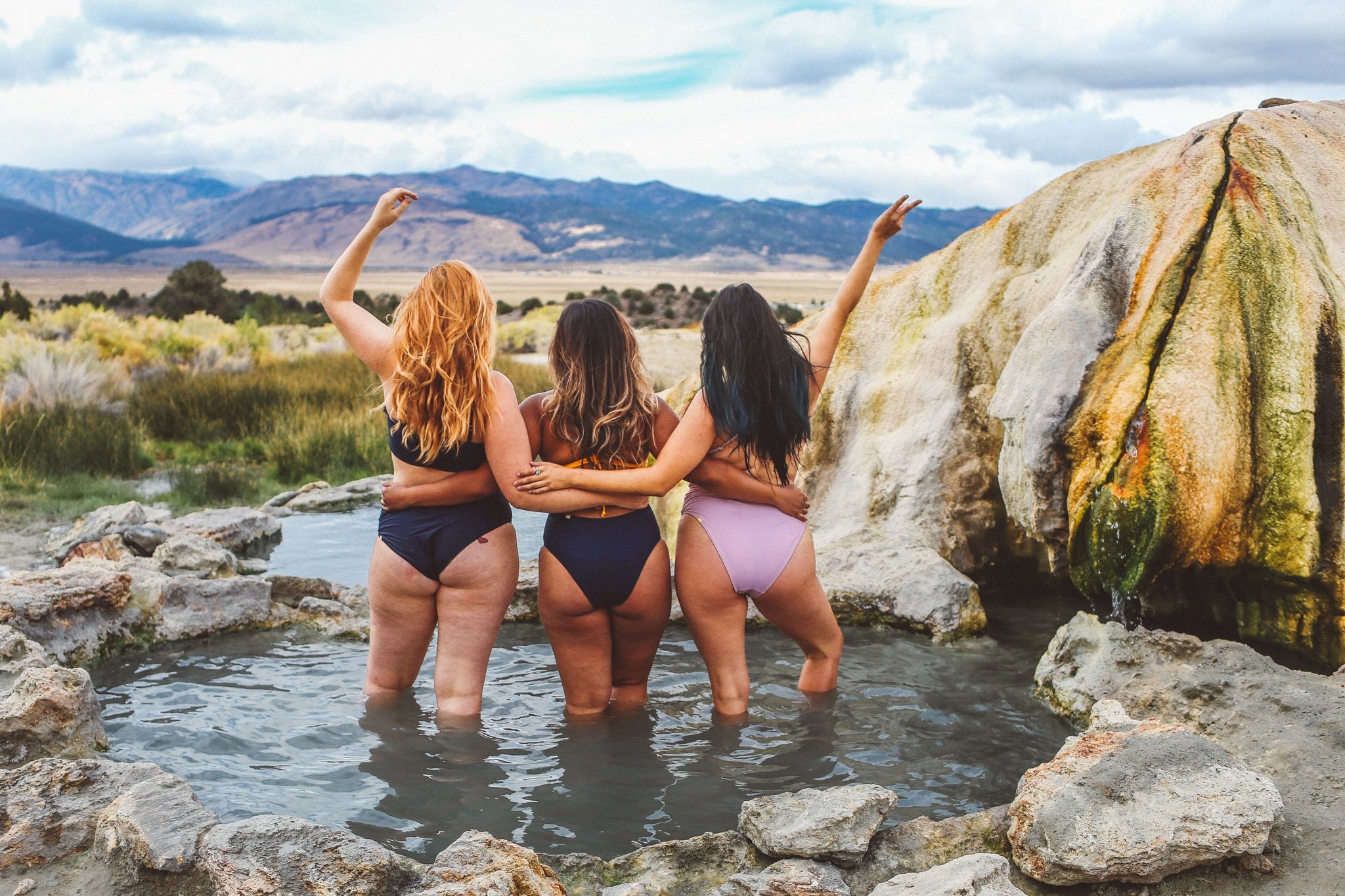 5. Stewart Mineral Springs
Location: Mount Shasta Trinity Forest
Style: Mineral Pools
Fee: N/A
I haven't stayed here but this spot is listed on the tourism website as a remote wellness center offering mineral pools to soak in, along with spa treatments and camping options. I love the Shasta area so much, it's home to McCloud Falls which is my favorite waterfall to go swimming in California.
Northern California Hot Springs Map
What To Pack For A Hot Spring Visit
Ok, so this depends a bit on which type of spring you are visiting and what time of year. The mineral pools are all at hotels so pack what you normally would for a standard hotel visit.
But, the tubs and natural holes need some extra prep. Remember, there may not be staff at these sites to maintain and clean up your trash, so be prepared to pack everything in that you bring.
Trash bags (both to pack out trash but also lay clothes and belongings like cameras on while soaking)
Towels
Swimsuit (mud will come out but maybe don't bring a white one just in case.)
Sunscreen (wear an eco-friendly one so you don't harm the natural hot spring!)
Drinking water + extra water for emergencies
Beer if you are drinking (no glass!!)
Snacks
Sandles that can get wet and muddy in the natural mineral springs
Flashlight or headlamp if you are visiting at night
Jacket in case the mountain weather shifts quickly
Cash in small bills ($5 and $1s) ATMs are hard to find in these small towns and you never know when you'll need to pay for a park entry fee, parking fee, or just food at places that don't accept cards.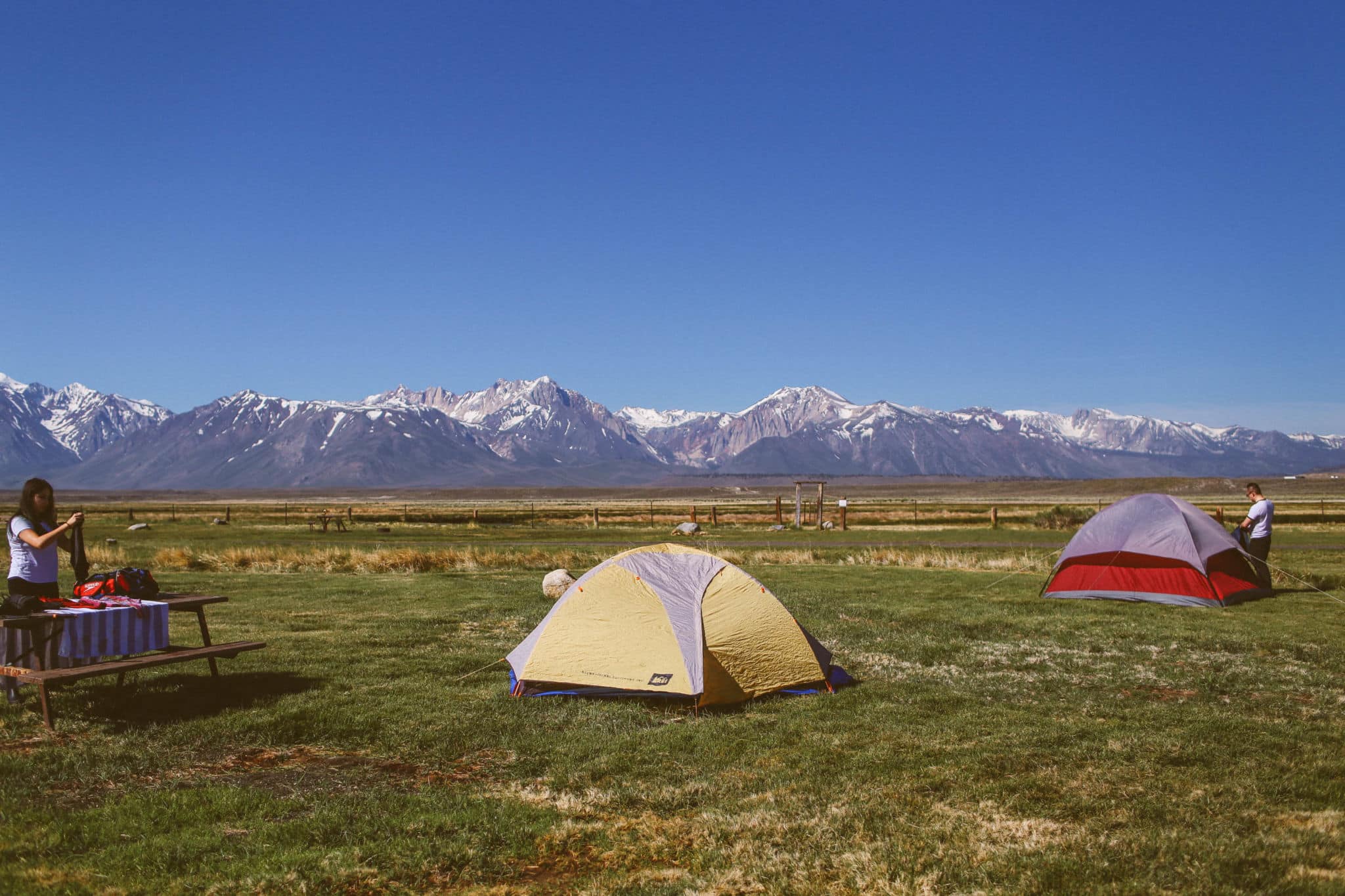 Where To Stay Near Hot Springs in Northern California
So, unless you are visiting one of the mineral pools inside a hotel, in which case book a room there, here's my advice for lodging when it comes time for visiting hot springs.
Camping: When possible I prefer to camp at a nearby campsite so it's super easy to roll out of your tent and zip over to the hot springs at sunrise before people get there. Hot spring hunting is such an "outdoorsy" activity that compliments camping perfectly. Keep in mind the weather and seasons of the location which may make camping hard or dangerous.
Motels & Inns: If you aren't a camping person, or there aren't any nearby campsites available or safe to use (ie in the wintertime) you'll want to hunt for the nearest motel or inn. These hot springs located in small rural mountain towns so you're unlikely to find a five-star resort anywhere. Prioritize a clean, safe place that is as close to the springs as possible so you can easily access them.
There are SO MANY more hot springs in the state of California than the ones I have listed here. So many are small and kept totally hidden from the public. Others are located in Southern California so I didn't include them on this list.
The ones in Southern California that I have my eye on are:
Remington Hot Springs (Between Bakersfield & Sequoia National Park)
Miracle Hot Springs (Nextdoor to Remington. I've been here and love them!))
Tecopa Hot Springs (Outside Death Valley National Park)
Saline Valley Hot Springs (Inside Death Valley National Park)
Keough's Hot Springs / Mineral Pools (Eastern Sierras close to the Alabama Hills area)
Desert Hot Springs (town closer to Palm Springs vs Joshua Tree with hotels offering mineral pools)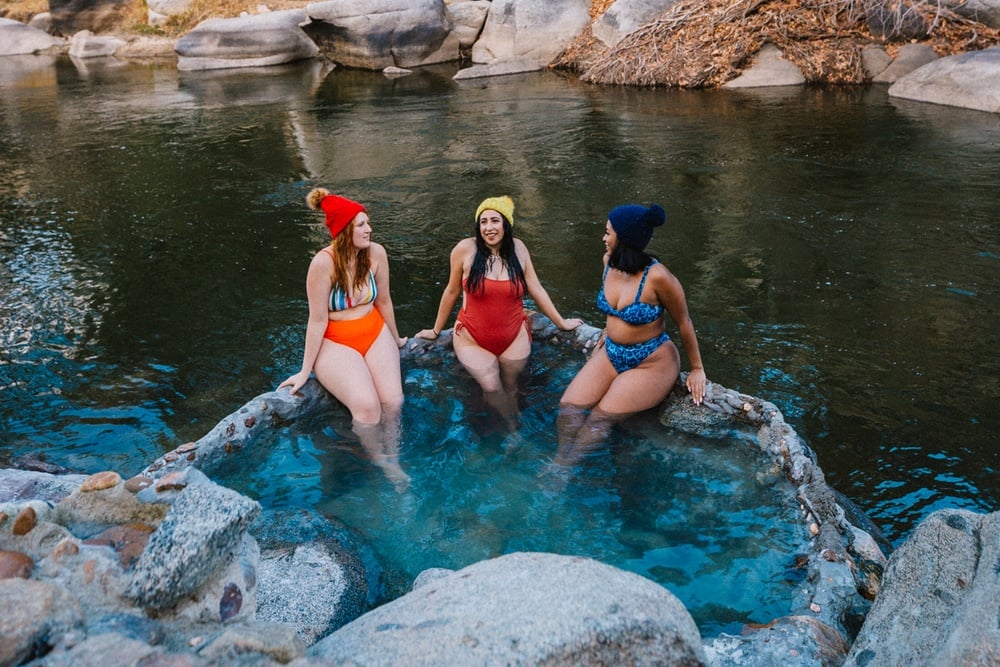 I hope this blog post helps you find the PERFECT hot spring to visit! I could spend a lifetime roaming around California soaking in all these holes, tubs and pools. Again, remember to practice safety and respect for the hot springs so they can stay intact for years to come.
If you have any tips to add, please leave a comment below so everyone can see. If you have any questions, comment or DM me on Instagram @thewhimsysoul and I'll be happy to help!