Where my curvy women at? Raise your hand if you have felt personally victimized by a swimsuit.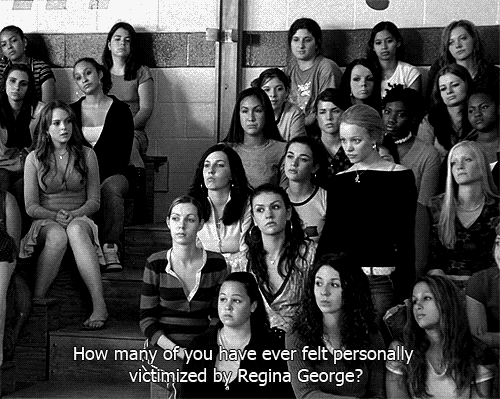 But for real, is 2022 and for some reason, it can still be a major struggle to find a swimsuit that actually fits us plus size and middle size ladies. (Asking yourself WTF is middle size? Read this post!)
Not to mention how tiring it can be to constantly only see ads for swimsuits worn by women that don't have the same body type as you (urgg).
As I was hunting around my favorite stores for this post, I was really appalled by just how underrepresented anyone above a size 6 is. I kept finding suits that were labeled for women with extra large chests, but the models were skinny women with small cup sizes. Like, how hard is it to put a swimsuit on the type of woman that suit was designed for?!
Excuse my rants.
I'm a size 12. (Update — I now am a size 14 but seem to still swear the same size swimsuits, around a Large or XL) I got a big butt, big thighs and I know how just how hard it can be finding flattering swimsuits for curves.
It's not rocket science, fashion companies! But, I also have a newfound low-key obsession with swimwear. I love scouring swimsuits online & probably own close to 25 one-pieces and bikinis (lolz)
My Top 4 Curvy Swimwear Brands
I've rounded up the cutest swimsuits for you to shop this summer. BUT, when in doubt, these are my favorite retailers to shop swimsuits from:
My Favorite 71+ Cute Swimsuits for Curvy Women (Best One-Pieces, Tankinis & Bikinis For Women This Summer!)
So, with summer around the corner, I'm sharing my top favorite bathing suits for curvy women. I did the hours of searching so you don't have to. Each are special in terms of style, fit and/or price. I think you're going to love all these picks!
Find your favorite bathing suits for your body type or style, and SLAY that beach girl! There's over 71 styles on this list, so you're bound to find something you love!
Best One-Piece Swimsuits For Curvy Women
I've said this before and I'll say it again: you don't have to wear a bikini to prove to yourself or anyone that you feel confident in a swimsuit.
I personally love one-pieces, they are my go-to style of swimsuit because I love how they "hold everything in" so to speak, and that makes me feel comfortable and thus confident.
Best Bikinis For Curvy Figures
I've only recently felt confident in a bikini again. I think the key was finding bikini bottoms that had tummy control / high waists. I think I so much of my time thinking that bikinis were only thin barely there things but that's so far from the truth! Bikinis CAN be curvy girl swimsuits!
And they can be so much fun, I've found myself reaching for a few of these bikinis of my one pieces this summer. Shop my picks below!
PS if you want even more ideas these are even more of my personal favorite bikinis for curvy bodies!
Best Swimsuits With Prints & Original Design
I know some women prefer basic swimsuits (and I have basic, solids as well) but I LOVE a swimsuit that has a good print for a fun design. I think magazines like Seventeen and Cosmopolitan trained us that plus size swimwear HAD to be black to "slim us down" and that curvy woman should never wear loud prints.
Calling bullshit on that one! I get the most compliments on the swimsuits that are the "loudest" plus I feel great in them! I think all sizes can rock a loud print at the pool.
Best Tankini Top Swimsuits For Women
When you want to wear a bikini but aren't quite there yet, a tankini-style bikini top is perfect! There are constantly new arrivals to some of my favorite stores with great styles.
Long gone are the days of tankinis swim tops only being for mothers or grandmas. These usually have adjustable straps if you want those so they're great curvy swimwear stables!
Our Pick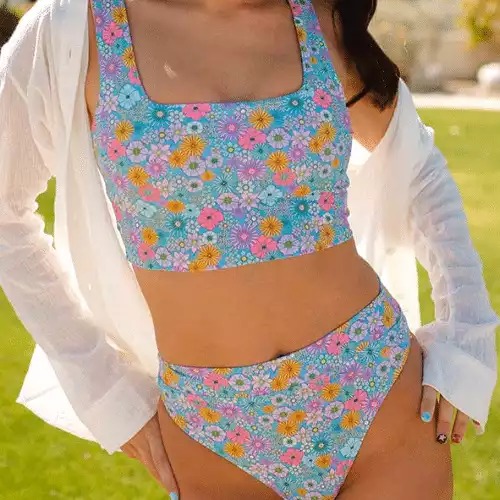 Oliva Swim Crop
ekk how fun is this floral pattern? This crop top bikini acts like a tankini for longer torso coverage.
Buy Now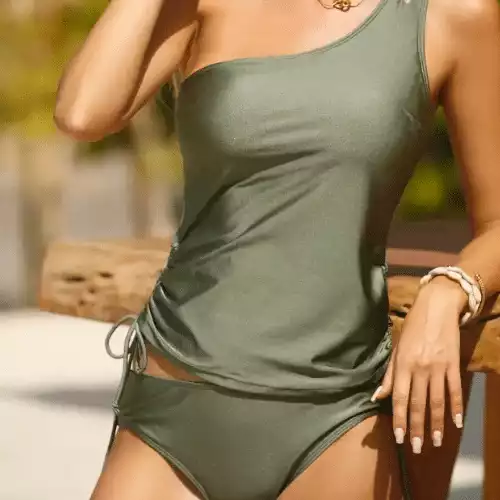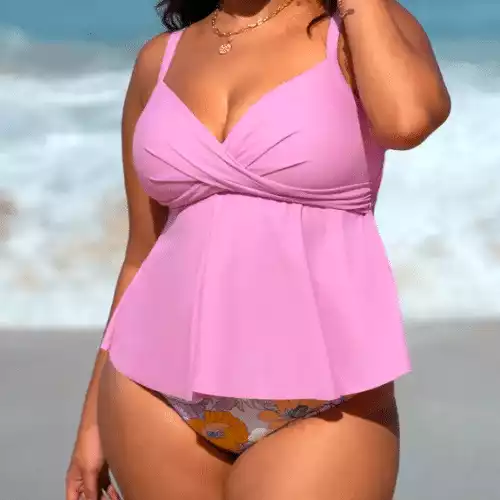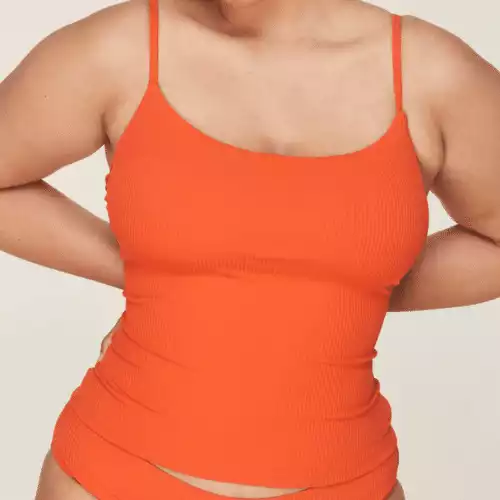 The Longline Tankribbed
This classic scoop tank has adjustable straps for the perfect fit, and all the coverage you need - served up in effortless style.
Buy Now
Best Active Wear Swimsuits
Maybe you're trying to find a hidden waterfall in a forest, surfing all day in Maui, or running around the Sierra Nevada Mountains trying to find all the hot springs (my personal favorite summer activity, by the way.)
Sometimes you have to skip the fun confetti details for a swimsuit that's practical and made for movement.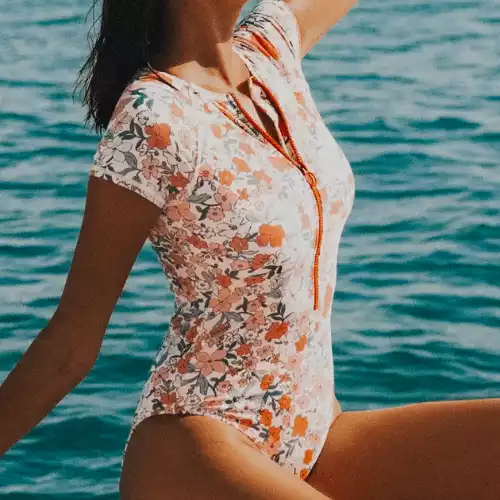 Elodie Ditsy Zipper
I adore this sporty one piece swimsuit! Instead of trying to find a bikini with sports bras built in, go with this cut surfer girl vibe that's great for water activities (and my fellow pale girls)
Buy Now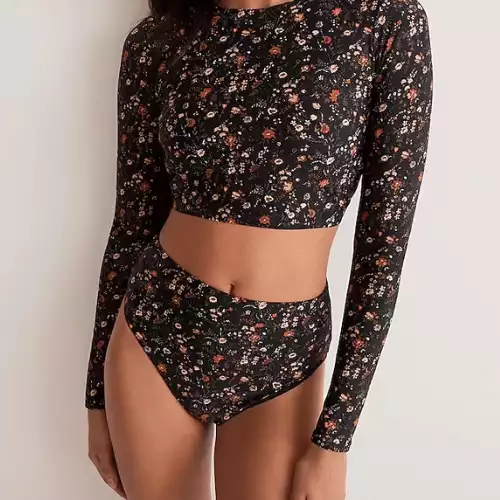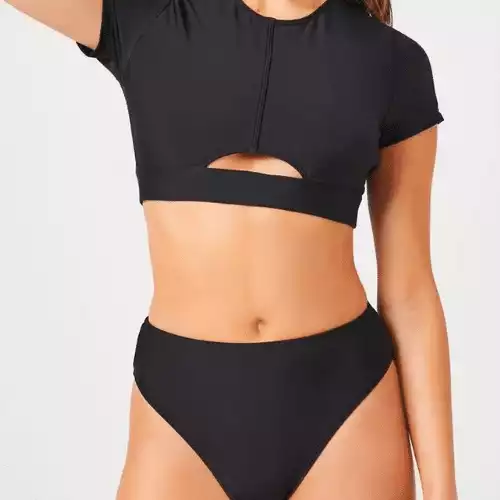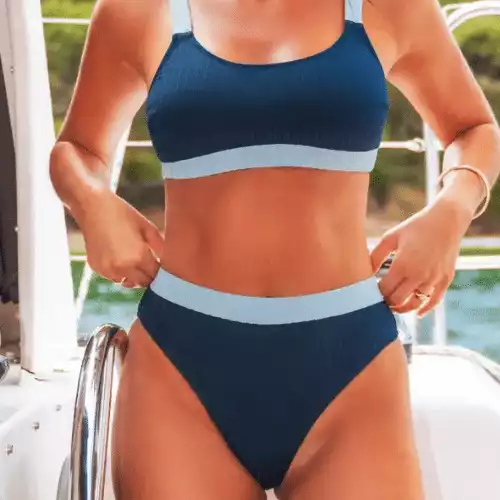 Rib Colorblock Bralette
A playful and sporty swimwear bikini that hints at retro gym class vibes. It has adjustable straps so it can be super cozy to your body.
Buy Now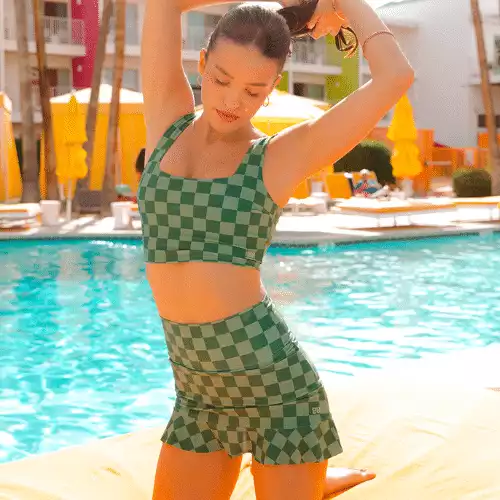 Green Swim Skirt Bikini
Green checkered pattern, high waisted and built in bottoms makes this the best curvy swimwear for active looks. I've never seen a bikini like this!!
Buy Now
Quick sidebar: I own about 12 Summersalt swimsuits and most of the styles on this list are from this company. That's because they are masters at designing bathing suits that fit ALL types of bodies and also with the expectation that those wearing their suits are going to be moving, a lot.
So many of you (the readers!) have bought these suits after I shared mine, and told me how much you love them.
I also recommend Swimsuits For All, they are basically an entire company dedicated to plus size bathing suits. This is where Ashley Graham has her swim line! (Plus they have great customer service!) They make the best plus size swimwear out there, but do sometimes fall short on trendy styles.
Best Cover-Ups & Beachwear
No beach day is complete without a pretty cover up or swim dress to duck into the bar in for more margaritas or roll right into dinner.
I love cover-ups that make me feel really pretty. Skip the boring cardigans, these pretty styles will make any beach or pool day extra elevated!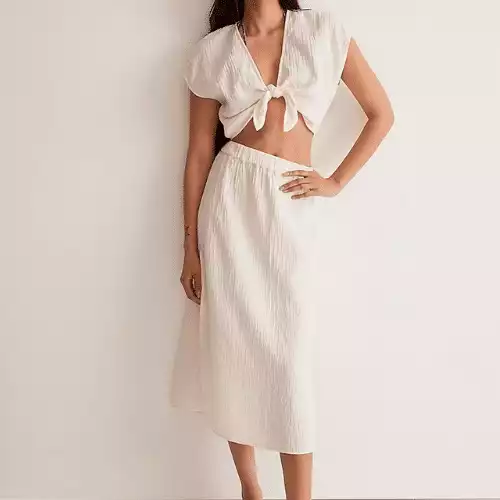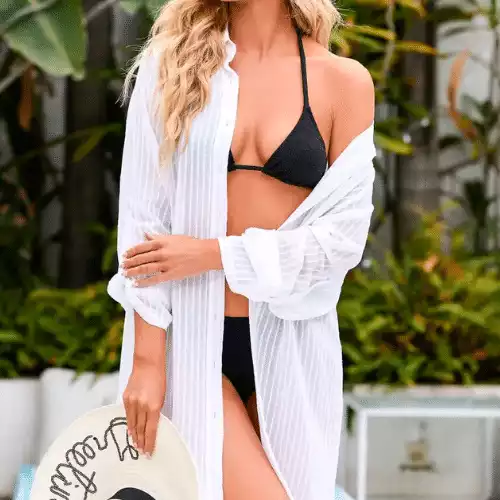 Our Pick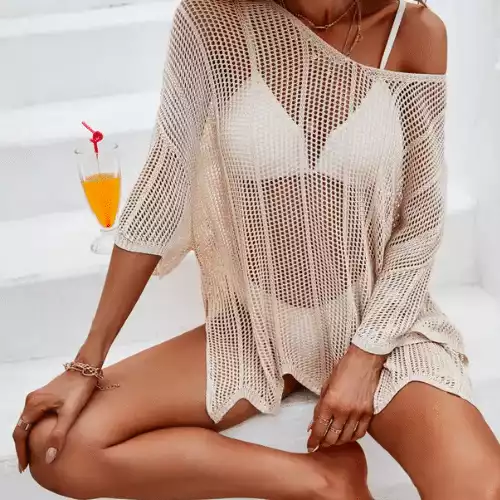 Our Pick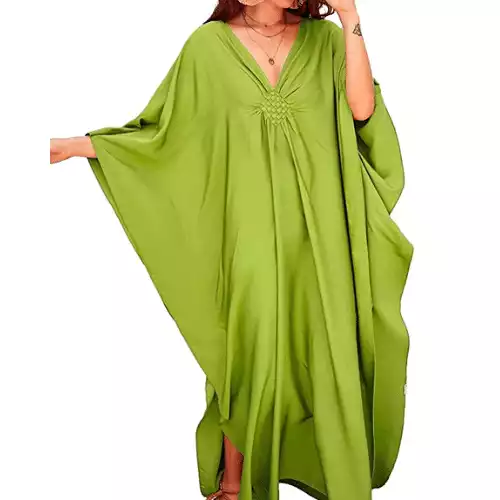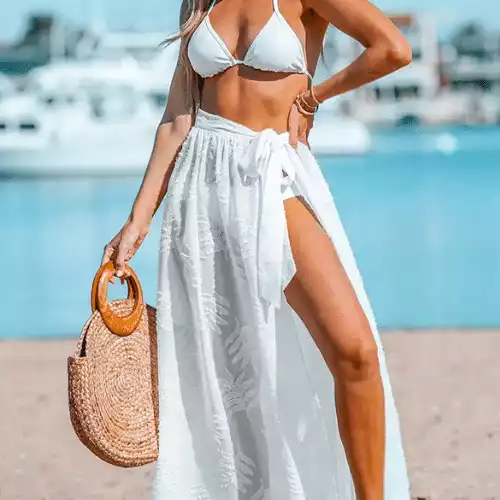 Belted Jacquard Cover-Up Sarong
Add a touch of fun to your summer closet with this woven sarong cover-up featuring a jacquard design, high-rise waist, self-tie sash belt, and maxi hem.
Buy Now
>> What I'm Wearing: In most of these photos, I'm wearing this bikini from Madewell. It's super comfy with the high waisted bikini bottom!
My other go-to bikini of the season is this swimsuit from & Other Stories. I love the yellow color scheme and get so many compliments when I wear it! It's not an underwire bikini but I still love it.
I'm also wearing this red swimsuit and also retro swimsuit from Cupshe in a few photos. They make some of the best swimsuits for curvy women that are also affordable!
Body Positivity Journey
As I rounded up all my picks for this huge best swimsuit for curvy women guide, I couldn't but think about how far I have come on my body journey.
Rewind 10 years ago and I was undoubtedly in better shape but I had a way worse attitude towards my body. I was working out every day, dieting and obsessing. I hated wearing swimsuits in front of other people and would also pull on shorts, a towel or a cover-up when I left a pool chair.
Now, I weigh more and I have way more jiggly parts, but I love my body. I have so much more respect for it and no longer cover up at the pool.
I'm not exactly sure, but I think it was a combination of age but also blogging. Taking photos of yourself every day and then sharing those photos with the world helps me in huge ways to embrace ME. And of course age.
Being a teenager is HARD, especially in the early 2000's before all the modern women empowerment movement started.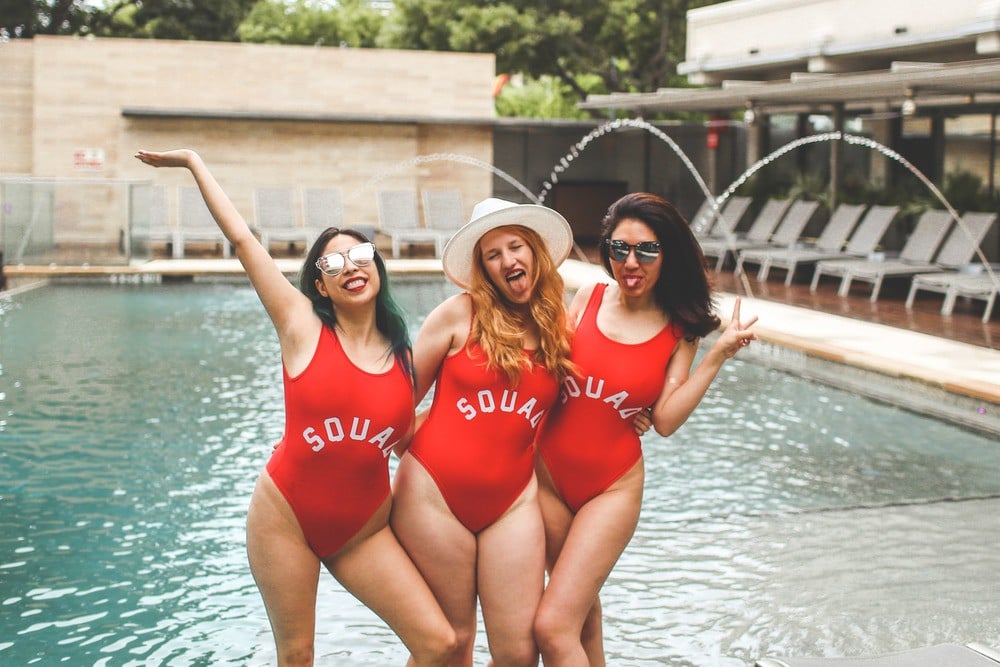 I had a realization on my bachelorette party back in 2017. We traveled to Austin and I got all the girls these cute red swimsuits with "Squad Goals" on them. T
hese are NOT the best swimsuits for curvy bodies mind you, they were these cheap things I bought on Amazon and the side of them cut up really high. Despite that, all of us on this trip were bloggers and wanted to shoot some fun photos of the swimsuits at the pool.
There was a moment when I realized that here I was – running around in a very skimpy swimsuit in front of strangers at a pool and I didn't care what so ever.
I hope you can get to this point as well! I used to fear the warm months because I meant I had to either miss out on fun pool days or subject myself to severe anxiety.
If you need more words of advice, check out my blog post called 5 Tips For Building Self Confidence where I share some of the ways I retrained the way I talk to myself and I also have a post on how to trick yourself into feeling confident in a swimsuit!
Lastly, when in doubt, Target swimsuits are usually good for all body types. They usually have trendy curvy swimsuits and plus size swimsuits.
Again, I also love Cupshe for a good curvy bikini that makes me feel hot all heck. Some stores won't make good curvy women swimsuits (excuse me, we want more than black and boring grandma prints!!) but Cupshe is great.
Especially if you are short or petite! They make great swimsuits for curvy petite gals. I boarder on petite – sometimes I need the shorter inseam or the petite versions of clothes fit me better.
Thankfully I can drift in between regular and petite, but regardless, Cupshe has good stuff (these are all my favorite Cupshe pieces right now)!
And of course, I hope this massive curvy swimsuits guide helps you find a style that you LOVE this summer! I want to see all of you curvy babes in bikinis out there on the beach, pool, etc rocking what your mama gave you.
Breaking down our society's warped view of beauty standards is super hard, but YOU deserve to feel comfortable in your own body and enjoy swimming or the beach just like anyone else.
Thankfully the past few years, we have been seeing more and more companies acknowledge the need for good swimsuits for curves or plus size folks, but there is still a long way to go. Especially with big brands.
As you can tell from this swimwear roundup, most of the pieces I love are actually from smaller brands who are choosing to fight fatphobia and clothing label gaps to make amazing swimwear & bikinis for curvy women (usually with a nice sustainable angle, too!)
The big guys haven't caught up nearly as much, but we'll get there. In the meantime, keep reminding yourself that you are more than a body, you are worth more than the shape of your body, but since we have to have a body, you deserve to wear something cute on it.
And you totally deserve to go swimming in a cute bikini. Even if we can see your rolls (in fact, I welcome them!!)
Make sure to tag me on Instagram @thewhimsysoul so I can see your favorite swimsuits and give you some love! As always, if you ever need someone to chat body image with, I'm always a DM away. Stay golden ladies!