I feel thankful that we live close enough to the park that we can walk over whenever we want. We've always taken advantage of the park for daily walks picnics. But, especially now, I'm grateful it's easy for us to slip in and wander the trails without a lot of other people nearby.
*note: these photos were taken a few weeks ago before the CDC recommended wearing cloth masks outside.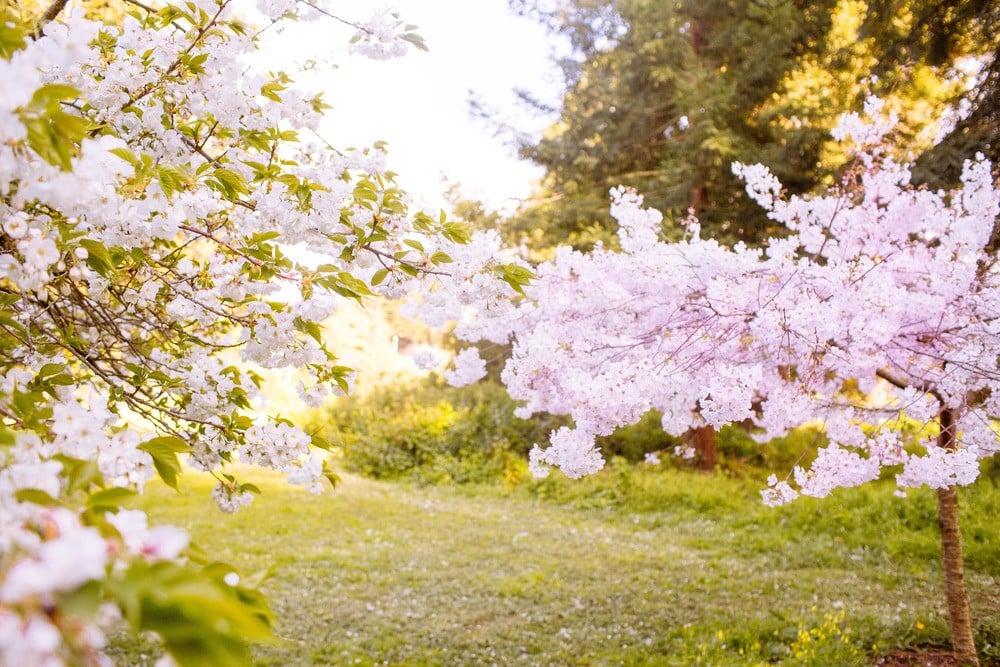 Mid-February is when the city starts to bloom but it's not until Mid-March that all the trees in the park start to blossom. This little grove of trees is my favorite as it's tucked back from the main pathway so it's very peaceful.
We love to wander over here in the springtime during golden hour when the sun streams through the branches and makes the whole scene just super romantic.
On this evening walk, wore a delicate white blouse from LOFT that has the prettiest fabric pattern to add a bit of texture. I think this blouse could pair well with jeans or shorts, too, but I went with a midi-skirt (I'm such a skirt kind of gal!)
As a curvy gal, I prefer high waisted skirts that are soft and forgiving (I hate being squeezed!) This olive midi skirt is so comfy and gives me slight "farm girl vibes" which I love. (Hey, I am a Wisconsin gal after all!)
It was a bit windy this day, so my hat kept blowing off, but I was thrilled. The breeze would blow the petals of the dress off and up and around – I felt like I was in a Disney movie or something.
Here's to more Springtime walks in the park. Hopefully, wherever you live, you can wander over to some nature. It's always good for the soul, but especially right now.
SHOP MY OUTFIT